These crispy and crunchy Air Fryer Zucchini Fries are easy to make and certainly pleases the crowd. It's a healthier substitute to the regular fries. Its an oil free and vegan snack or appetizer for all age groups.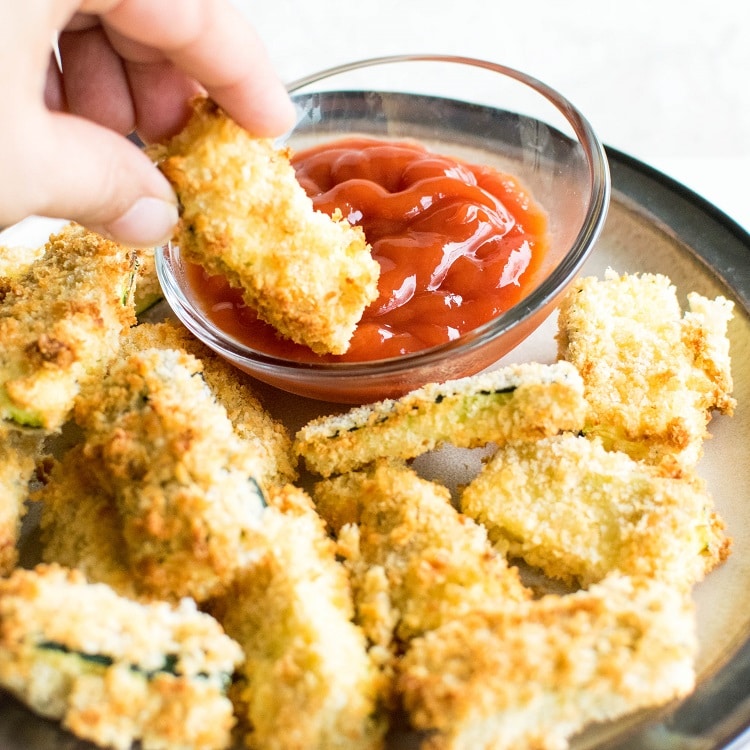 We are very fond of fried crispy and crunchy snacks. But because of its calories, deep fried snacks tend to be unhealthy. But these air fryer zucchini fries are the best so far.
However, since I got my Air Fryer, I have been experimenting quite a bit and these air fried zucchini fries has been our favorite. This also serves well as a side with pinto bean burger.
Now, we enjoy my version of fries' guilt free. Even kids are extremely fond of this zucchini recipe. Until, I innovated this recipe I did not know that fried zucchini in air fryer would be so awesome and comforting. We all are zucchini fan now.
Hence, I made zucchini hummus and zucchini chocolate chip cookies to add variations in our menu. However, savory zucchini muffins are the most popular ones.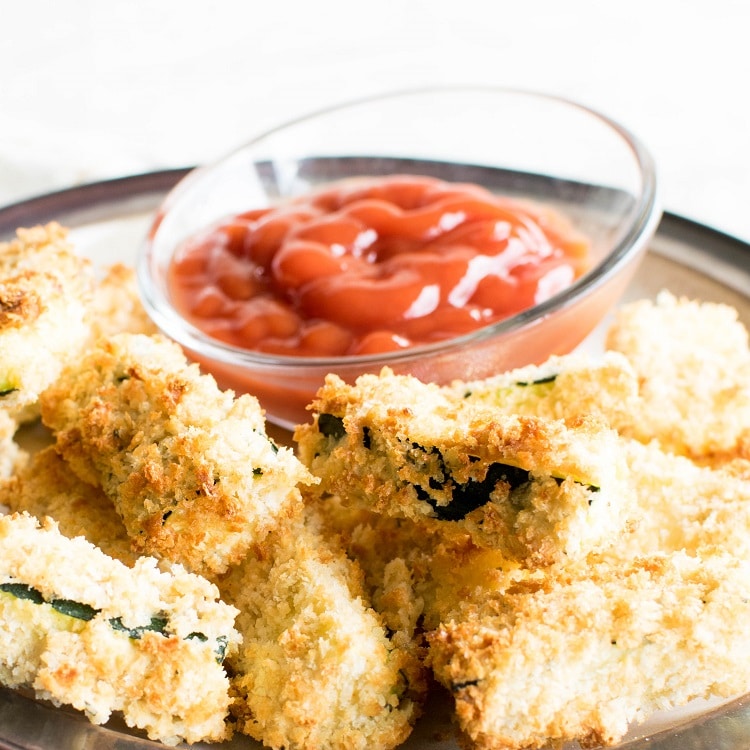 Health benefits of zucchini
This low calorie vegetable is easy to digest and packed with many nutrients. Its loaded with antioxidants and is a great source of water and fiber. It helps in improving blood pressure and regulates blood sugar as well. Moreover, its the best vegetable that aids in weight loss.
Ingredients for vegan Air Fryer Zucchini Fries
Zucchini
Chickpea flour
Oregano
Cayenne pepper powder
Salt
Dairy free milk
Panko crumbs
Overall, I have used only 7 ingredients in this recipe and they are easily available. Moreover, zucchini is in season right now and this healthy vegetable is the main ingredient here.
Ingredients notes:
Zucchini – I used large zucchini that was vibrant green in color without any blemishes in its skin. It can be easily refrigerated for up to 5 days in a loose plastic bag.
Chickpea flour – I used it to include a little protein into this recipe. Moreover, it's gluten free flour and fits well into most of the diets.
Dairy free milk – I used it just a little bit instead of plain water to give it a nice creamy taste to it.
Panko crumbs – I used this instead of bread crumbs because panko made these zucchinis crispier. I tried it with bread crumbs as well but panko worked best in this case.
For detailed measurement of ingredients, please scroll down to the printable recipe card at the bottom of this post.
How to make Air Fryer Zucchini Fries
Firstly, I sliced zucchini in thin length wise and in the shape of fries.
Secondly, in a mixing bowl, I combined chickpea flour, oregano, cayenne pepper powder, salt and milk
to form a thick batter.
Next, I tossed zucchini slices in the batter.
Then, rolled each slice in panko crumbs.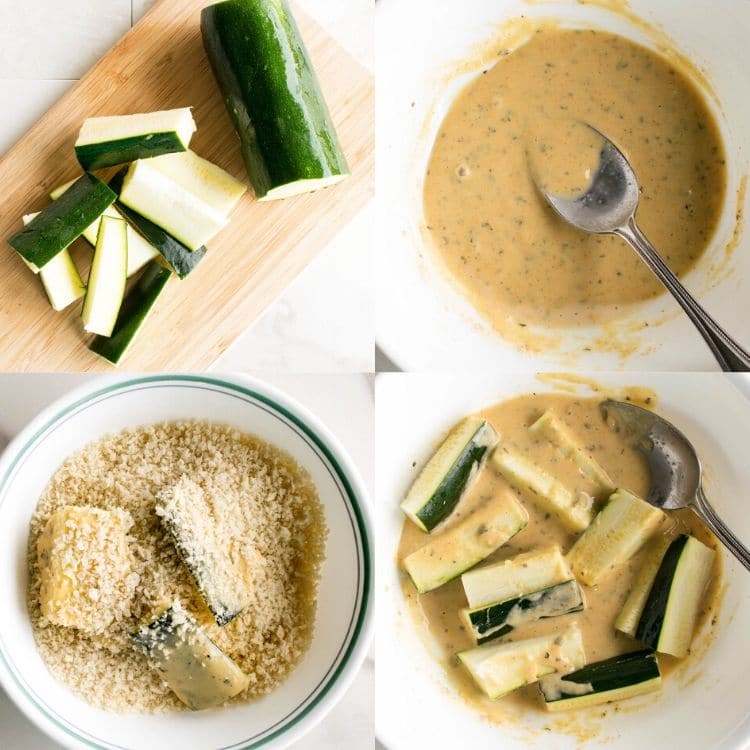 Thereafter, I placed them in the air fryer basket and air fried at 350 degree for 10-15 minutes.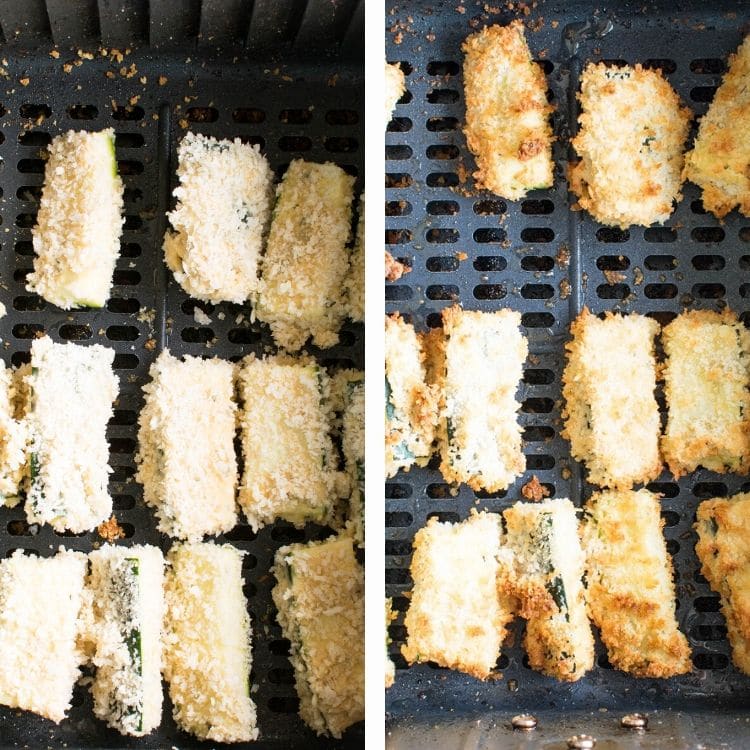 Lastly, I served them immediately with ketchup.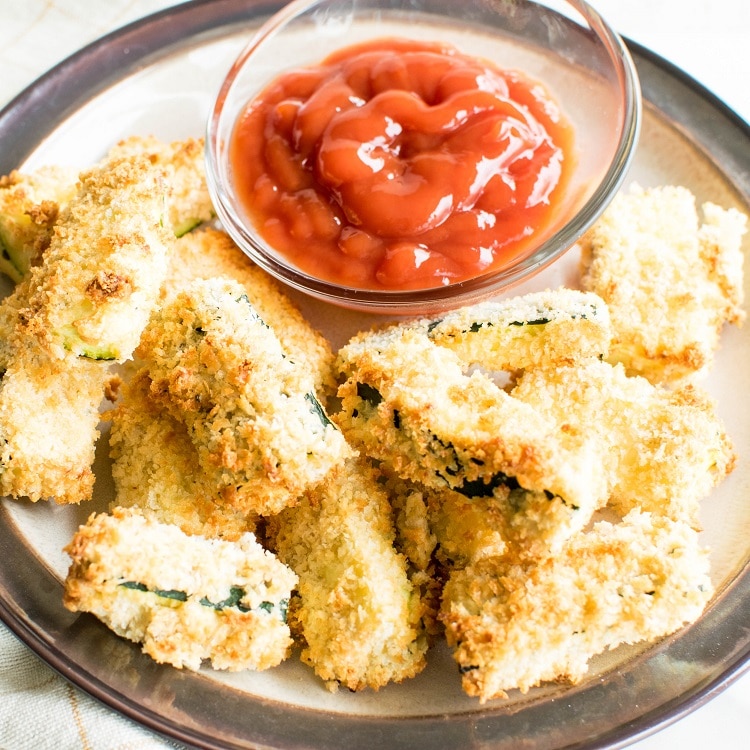 I am sure by now; you must have realized it is super easy to make. I would insist you to make these vegan zucchini fries immediately so that you and your family can enjoy.
It is also a great and easy party snack. I guarantee that your guests would love these and will appreciate you immensely for this zucchini recipe.
Dipping sauces to serve with air fryer crispy zucchini fries
oil free vegan mayo
vegan chipotle mayo
vegan ranch
lemon tahini dressing
jalapeno dip
Expert tips:
Make sure to generously quote each zucchini slice with panko to get the crispy texture.
You may toss all the zucchini slices in the batter at the same time but take each slice out and then cover it with panko to get neat pieces of fries as the end result.
Greasing them with cooking spray brings out a nice color and makes it crunchier. However, using cooking spray is totally optional.
Air Fryer Zucchini Fries FAQs
Can I make them ahead of time?
You may make the batter and marinate zucchini in it for about 2 days and refrigerate. When ready to use simply take it out half hour an before air frying and then follow the steps as mentioned in the recipe card below.
Can I oven bake them?
Yes, absolutely. I have tried baked zucchini version and it tastes equally good. Simply bake them at 425-degree Fahrenheit for 25-30 minutes or until done. I have explained it in detail in the notes below in the recipe card.
How do these vegan zucchini fries taste like?
They have a mild taste of everything. They are crunchy in every bite and has with a juicy soft vegetable inside. Overall, it a savory snack for all ages.
Are these healthy?
Zucchini is a healthy vegetable. I have made this zucchini fries recipe without any oil. Also, I used chickpea flour to add nutrition instead of regular flour. Therefore, these are healthier comparatively.
How do you cut zucchini sticks?
I have explained the details with the image in the recipe card under instructions. However, firstly, I cut it into 4 cylindrical shapes and then sliced them vertically into two slices. Then, again I cut each slice vertically into 3 triangle kind of shape.
Do I have to peel zucchini for this?
No, rinse it nicely and pat dry. Then, use it as explained in the recipe.
If you are not a zucchini person then I am sure I can change your mind with my recipe. I have provided two ways of cooking option.
So, whether you make baked zucchini fries or air fried zucchini, I guarantee you will love this vegetable and make these fries frequently.
Other air fryer recipes that you might like:
Air fryer apple fritters
Avocado fries
Air fryer eggplant
Air fryer carrots
Vegan spring rolls
Air fryer okra
Apple dumplings
Air fryer mushrooms
Sweet potato latkes
This post may contain affiliate links which means that if you click on them and also make a purchase, I will get a small commission. Moreover, I share only those products which I use personally and love.
I hope you enjoy this recipe as much as we did. I am very excited to hear back from you.
Where to find me?
Follow me on Facebook or on Twitter. You may tag @kiipfit on Instagram with your recipe remake images because I would love to see what you cooked.

Did you make it?
If you get a chance to make this recipe then please leave your feedback in the comments below along with the ratings.

If you would like to explore more delicious recipes of mine then you may checkout my cookbooks.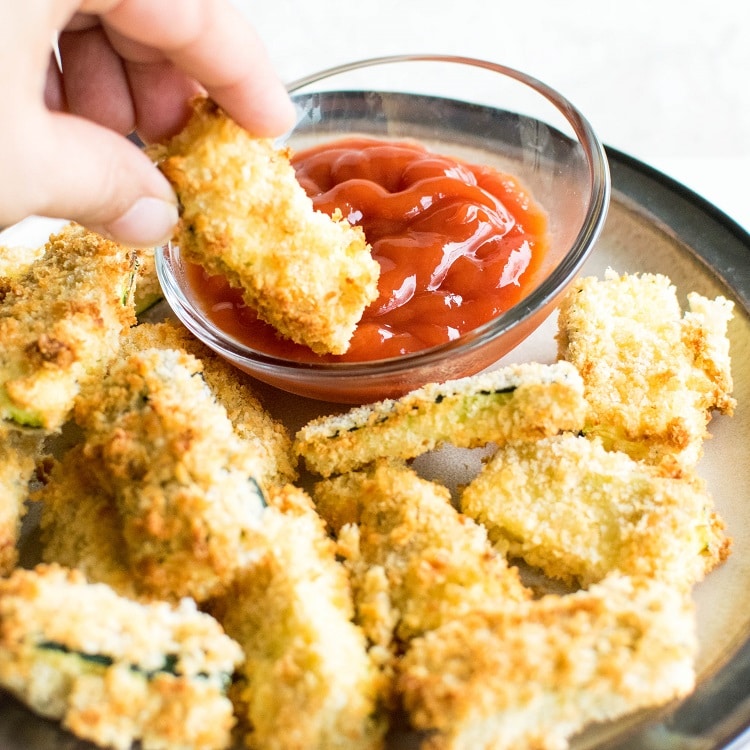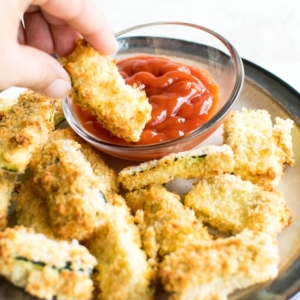 Print Recipe
Air Fryer Zucchini Fries
These crispy and crunchy Air Fryer Zucchini Fries are easy to make and certainly pleases the crowd. It's a healthier substitute to the regular fries. Its an oil free and vegan snack or appetizer for all age groups.
Instructions
Cut the zucchini horizontally into 4(cylindrical shape). Then slice each of them vertically into two halves. Then slice them again vertically so that they look like fries.

In a mixing bowl combine chickpea flour,oregano, cayenne pepper powder, salt and dairy free milk. Whip it up and make a thick batter. Keep panko crumbs ready in a separate bowl/plate.

Now, toss zucchini pieces into chickpea batter and mix gently with a spoon.

Then, take each zucchini slice that's well covered with the batter and roll them in panko crumbs generously. ( roll one zucchini slice at a time to get the neat pieces as the end result).

Place them in the air fryer basket. Grease them with cooking spray and attach the air fryer basket with air fryer and turn it on at 350-degree Fahrenheit and air fry them for 10 minutes. If it is crispy enough for you then take them out or else air fry them for another 5 minutes. (Do not exceed 15 minutes or else they will burn).

Serve immediately with your choice of dip.
Notes
For oven option: Cover the cookie sheet with a parchment paper and place each zucchini slices at regular gaps. Grease them with cooking spray and then, place the cookie sheet in a pre-heated oven and bake it at 425-degree Fahrenheit for 25-30 minutes or until golden brown and crispy.
This recipe tastes best when served immediately.
This recipe makes 24 zucchini fries and the serving size is 4 fries each person.
Nutrition
Calories:
45
kcal
|
Carbohydrates:
8
g
|
Protein:
2
g
|
Fat:
1
g
|
Saturated Fat:
1
g
|
Sodium:
46
mg
|
Potassium:
148
mg
|
Fiber:
1
g
|
Sugar:
2
g
|
Vitamin A:
95
IU
|
Vitamin C:
6
mg
|
Calcium:
27
mg
|
Iron:
1
mg