These beautiful golden brown easy Air Fryer Mushrooms are crisp and crunchy from outside along with being soft and moist from inside. Its made with only 8 ingredients and makes a great vegan appetizer.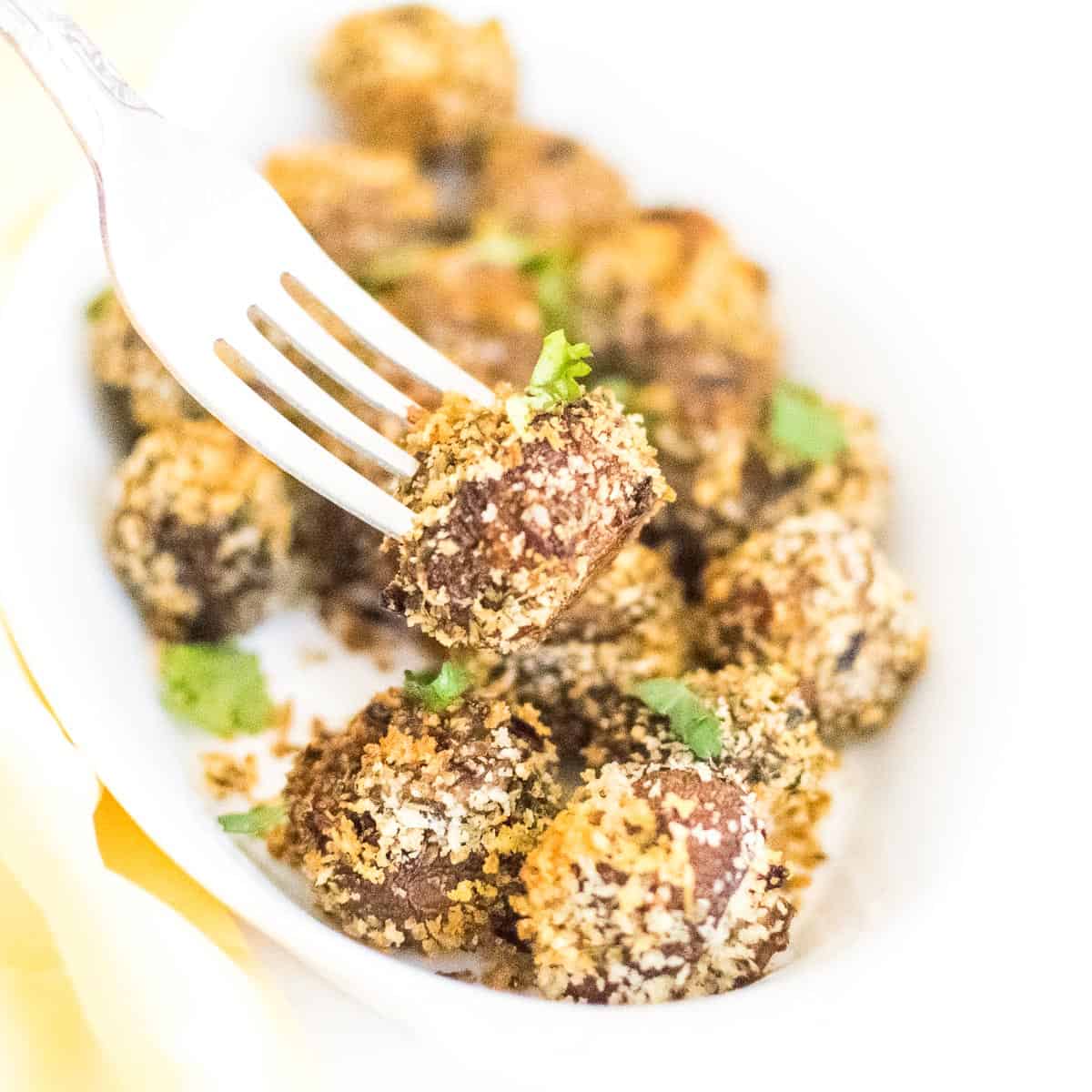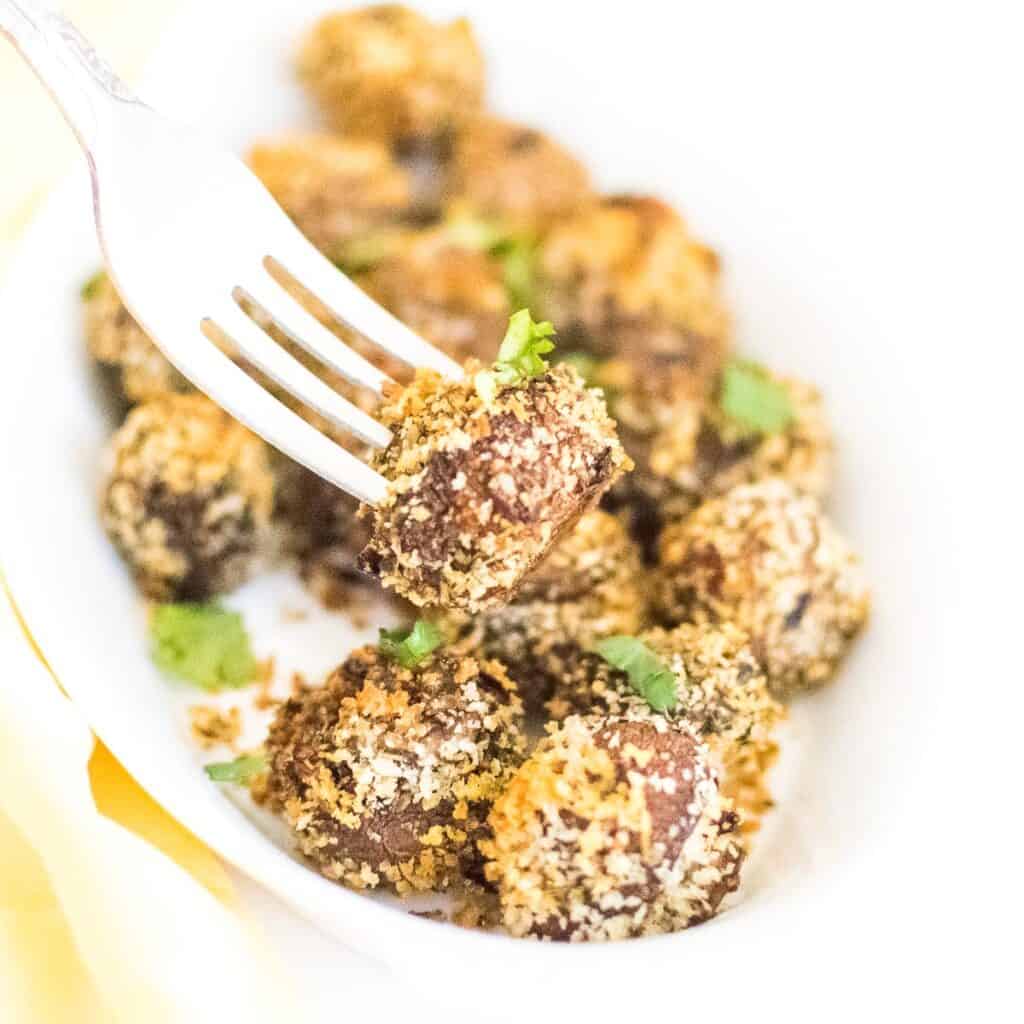 This recipe is definitely healthier as compared to the deep-fried ones. I have also provided the baked version of this recipe and its turns out as tasty as the air fried one.
Also, if you are looking to air fry some green vegetables then you must try my air fryer green beans.
This is great for snacking or serving as appetizer all year round on any occasion.
I love mushrooms in any form but this crispy and low carb air fryer mushroom recipe definitely is my recent favorite.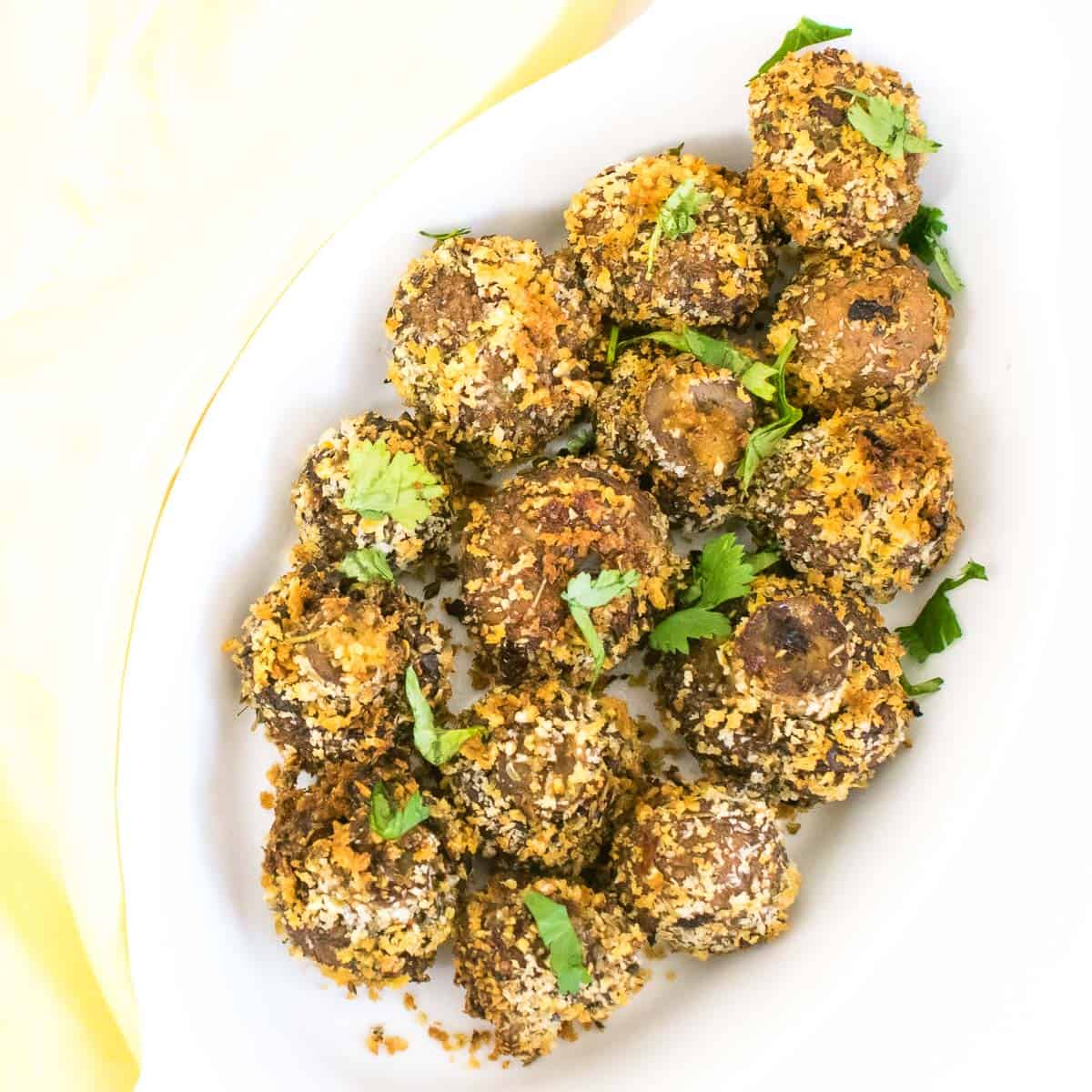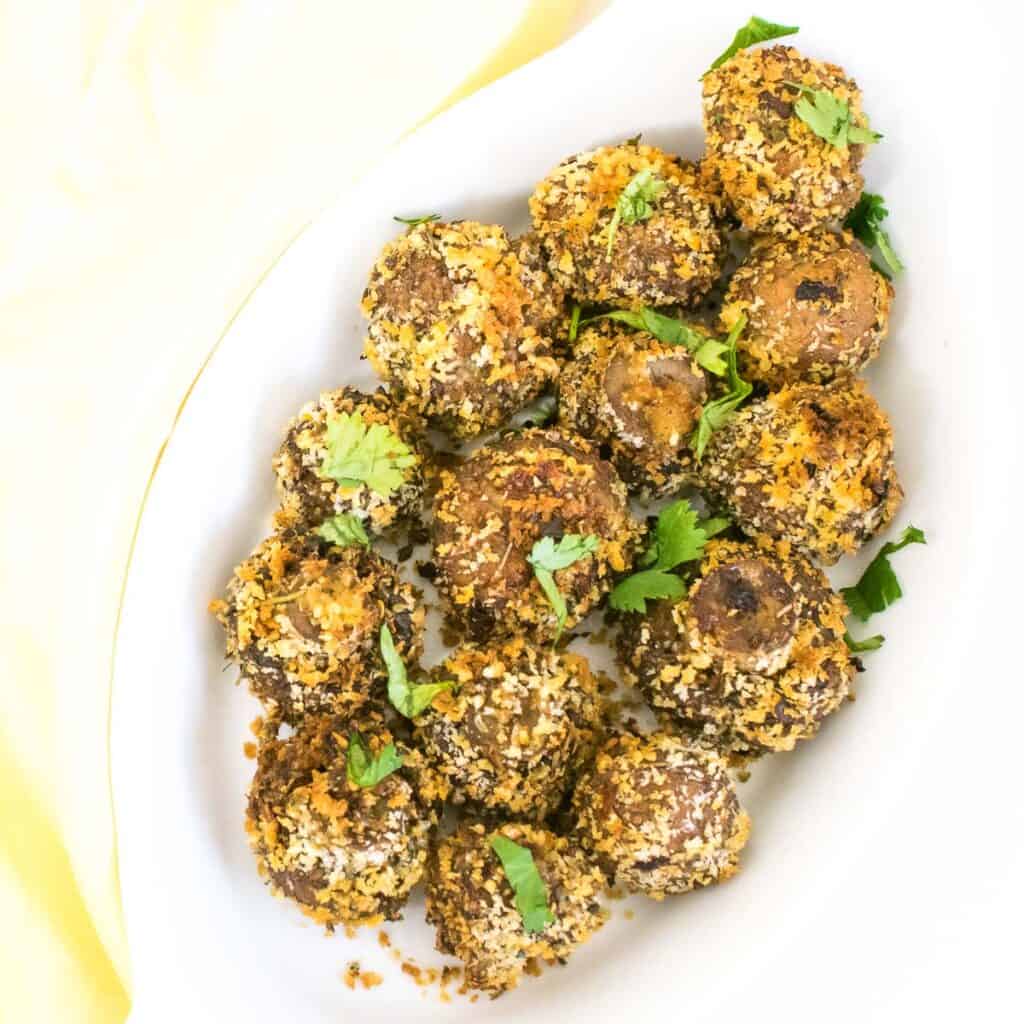 After few practices I am here to share this awesome recipe of vegan air fryer mushrooms with you all.
Ingredients you will need
Oregano
Parsley
Salt
Crushed chili flakes
Garlic powder
Olive oil
Mushrooms
Panko
I have used these easily available ingredients which you may buy from any local grocery store. However, I have provided links to few of them here for your convenience.
If you plan to buy from these affiliate links then I get a small commission which in turn encourages me to bring in more delicious recipes for you all.
Ingredients notes:
Oregano – it's herb which I used in a dried form for this recipe. It brings out a nice herb flavor and adds a lot of taste to this recipe.
Parsley – it is also herb that brings a lot flavor and taste to this recipe.
Crushed chili flakes – I used this to spice up the dish and make it more tantalizing to the taste buds.
Bella mushrooms – I used baby Bella in their whole form. It looks beautiful, attractive and moreover, these are great source for vitamin D. Its chewy meaty texture is absolutely decadent and is definitely a crowd pleaser.
Panko crumbs – this helps in crisping the mushrooms and enhances its texture and taste in every way.
So, by now, you must have realized that I used very few and simple ingredients in this mushroom recipe. Also, I made this recipe in very few simple steps and so its quick, easy and no pre-planning is required.
How to make Air Fryer Mushrooms
Firstly, I combined all the spices in a mixing bowl and added oil to it.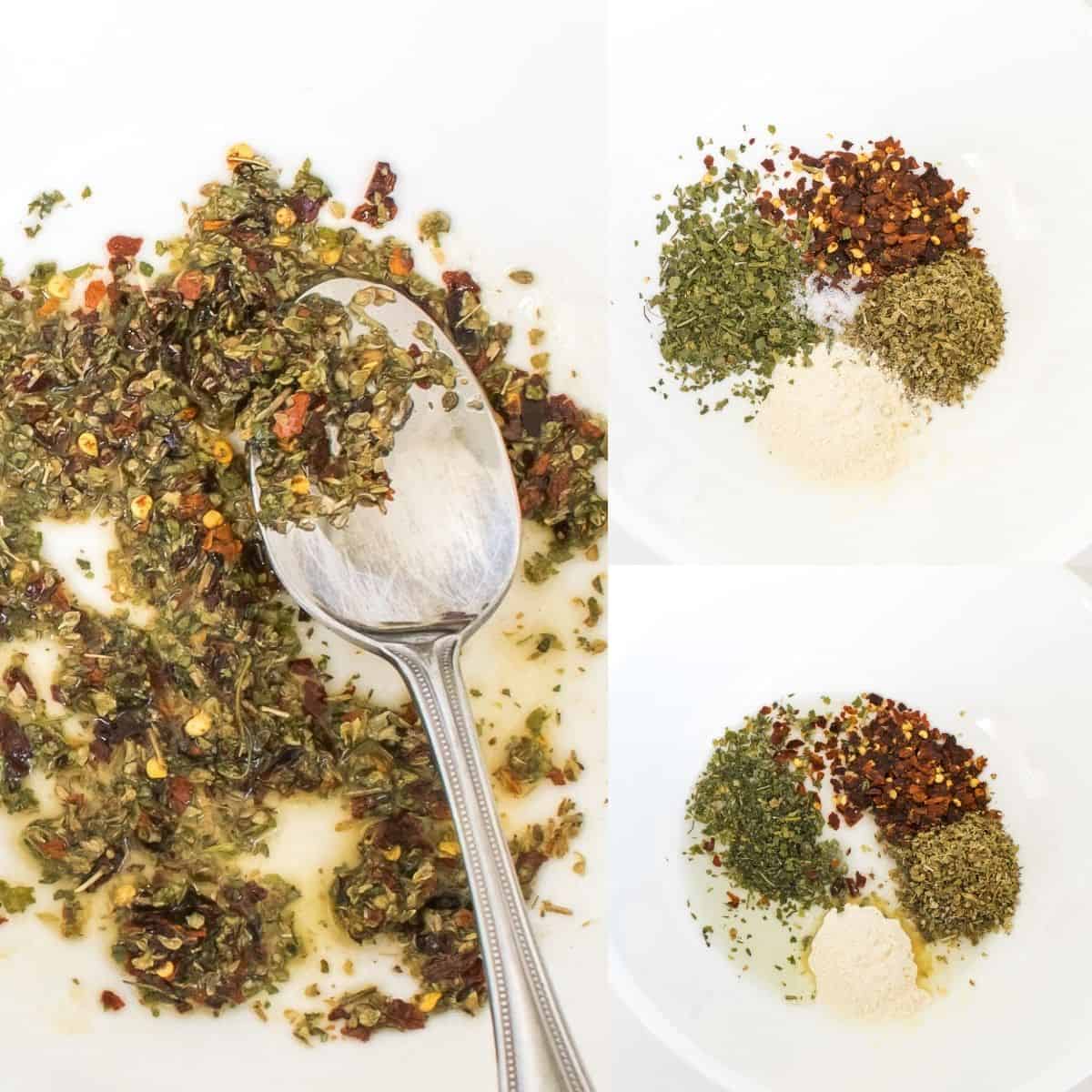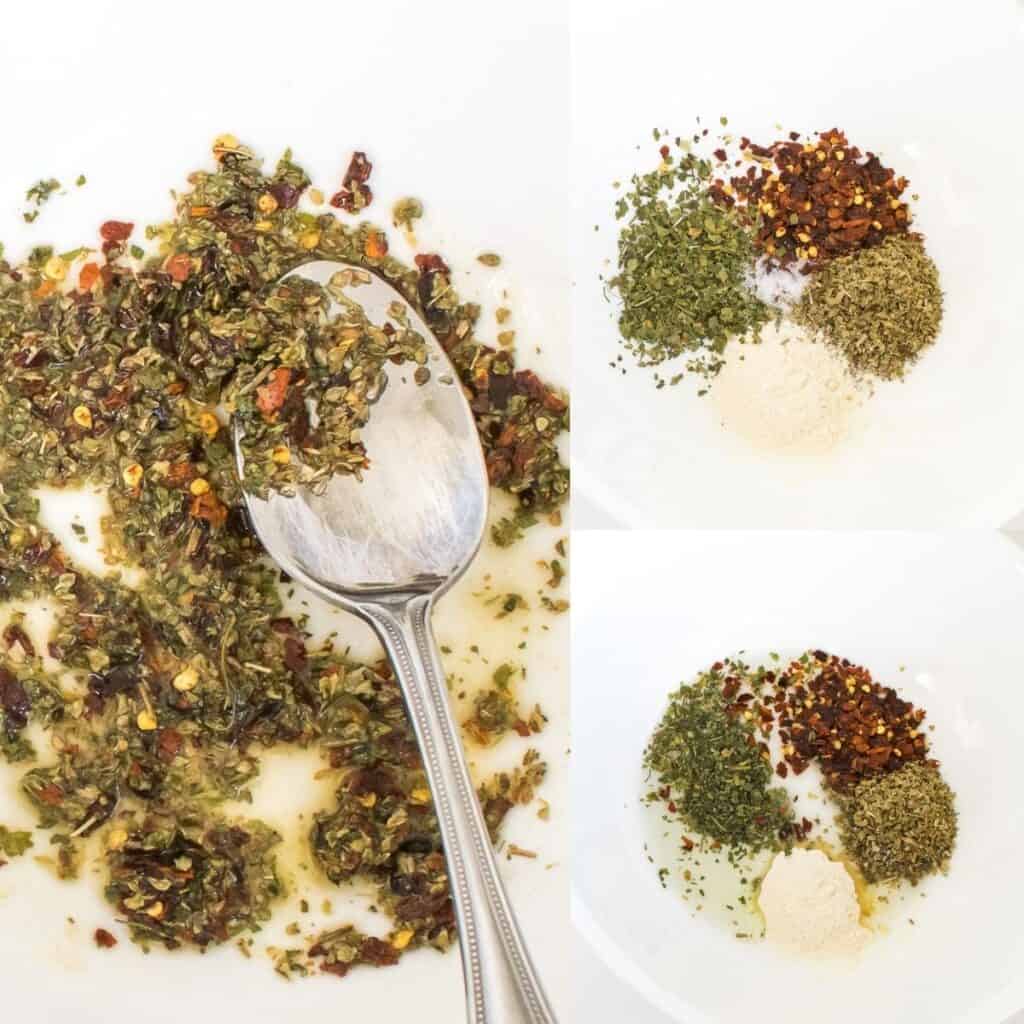 Secondly, I marinated the rinsed mushrooms in it and mixed it well. Then, I let it sit for about 10 minutes.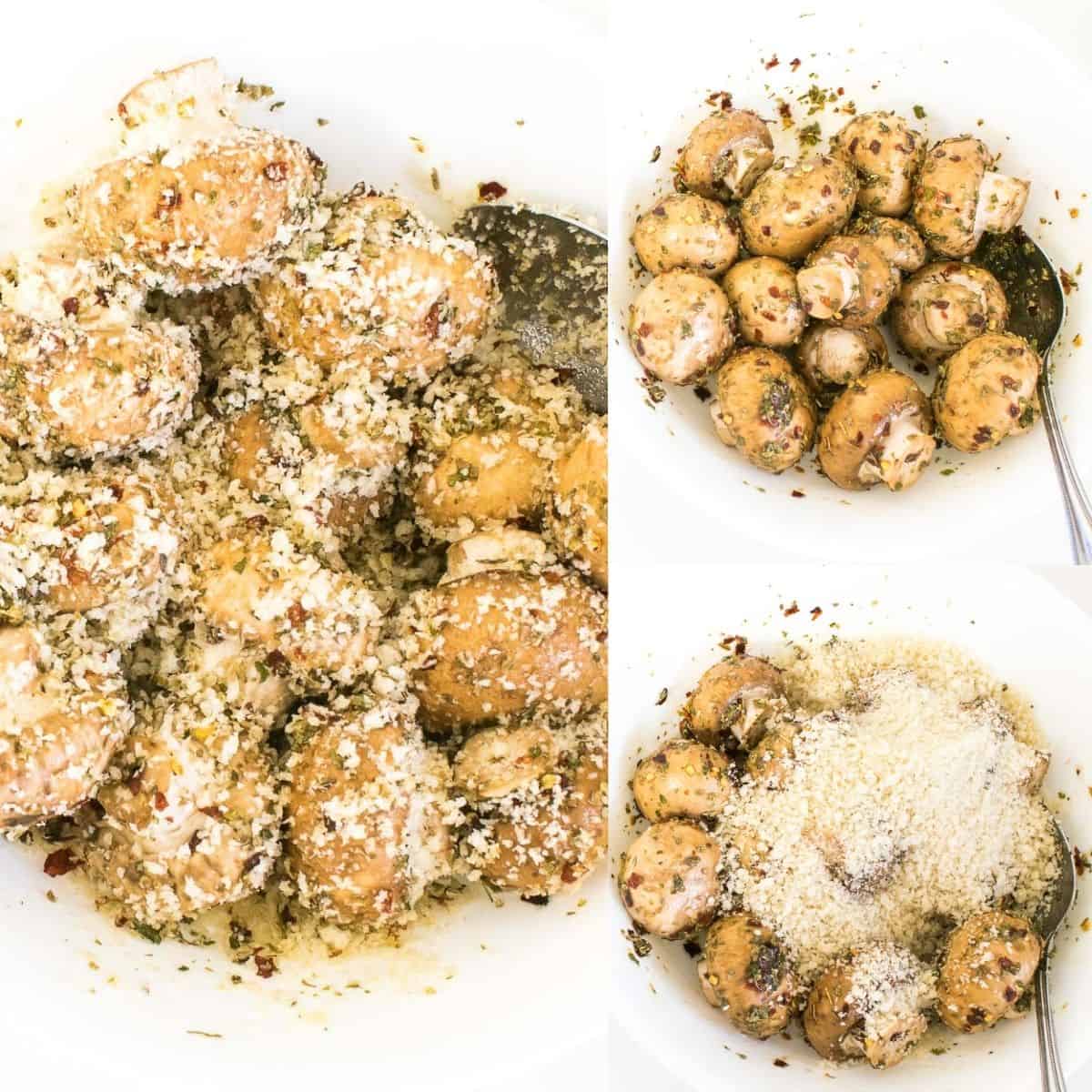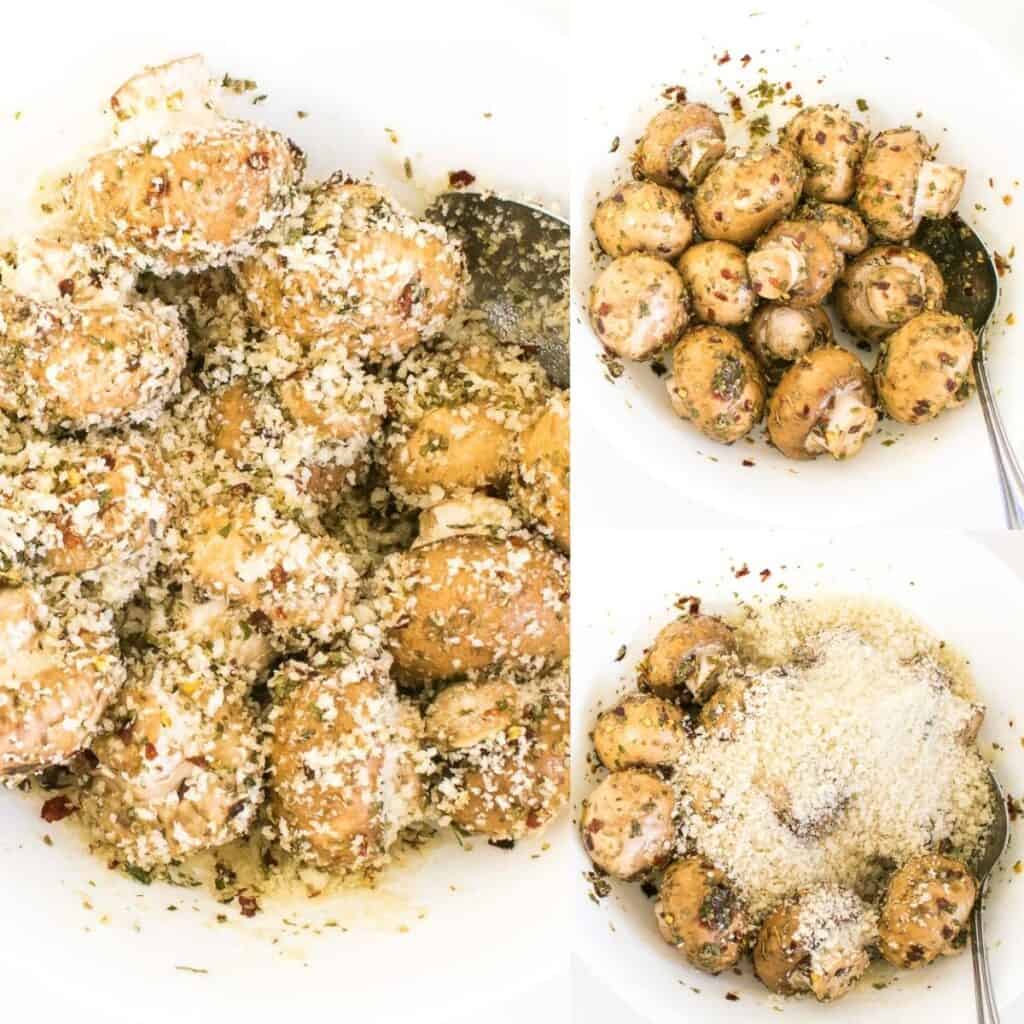 Next, I tossed in panko crumbs and immediately spooned them out in the air fryer basket.
Thereafter, I attached the basket to the air fryer and turned it on at 350 degree for 15 minutes or until all the of them were crispy and well cooked.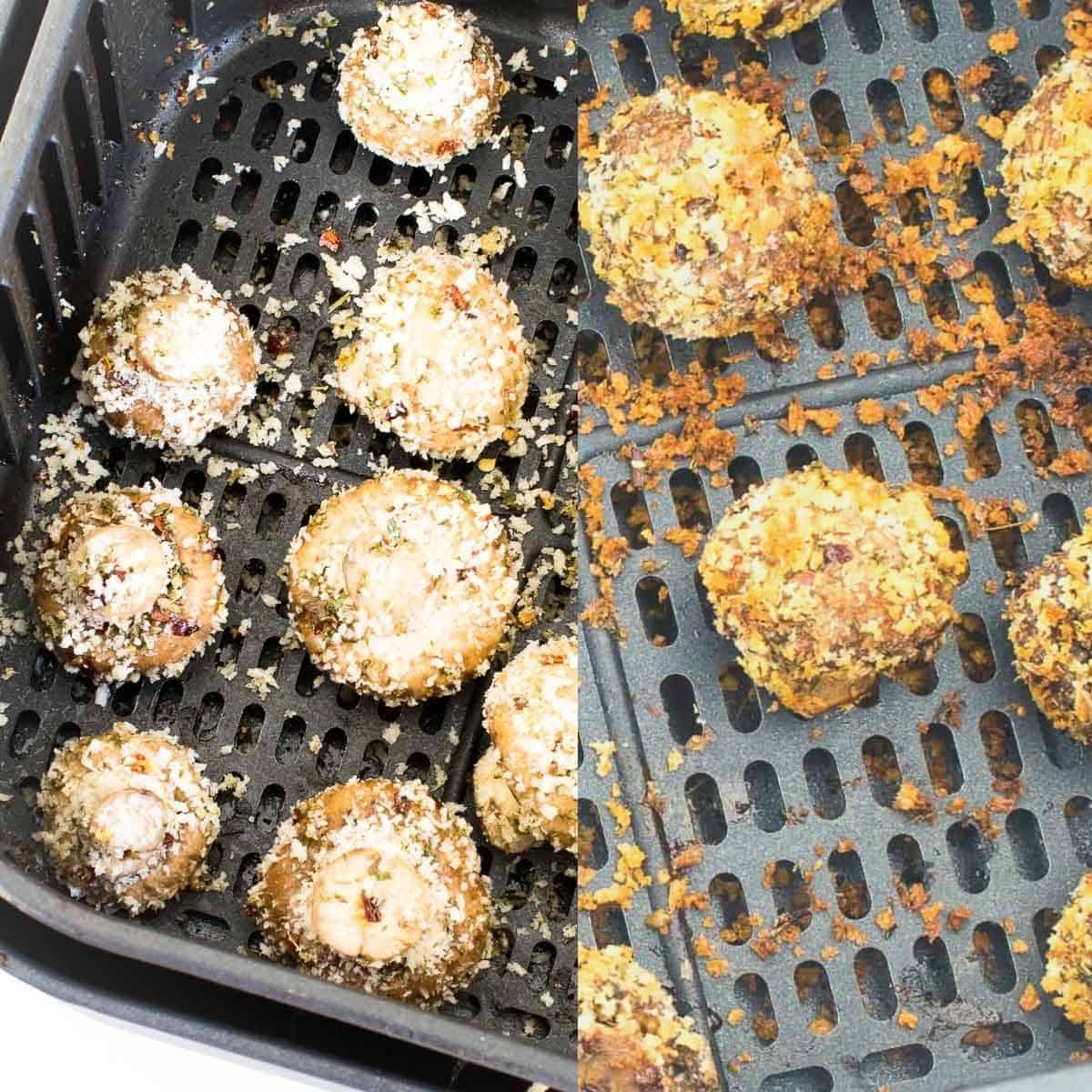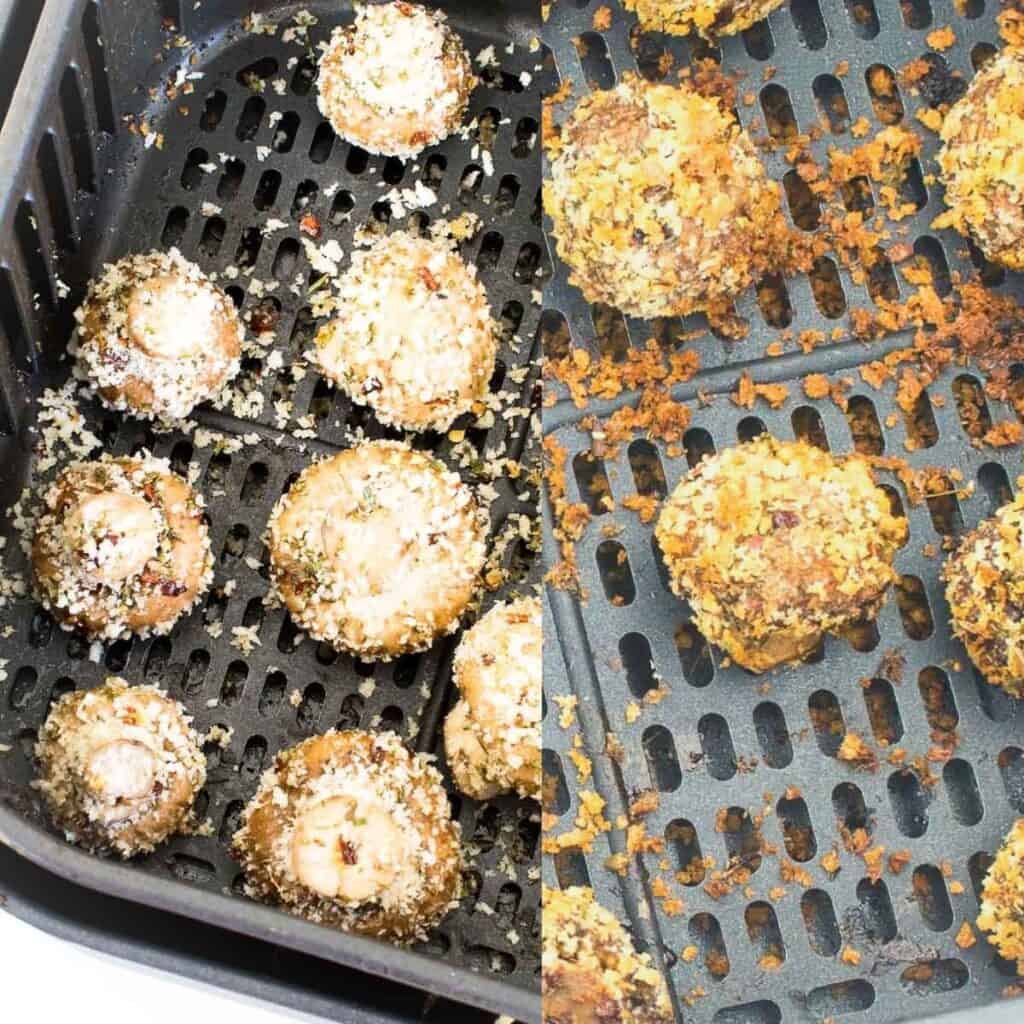 Afterwards, I spooned them out in a serving plate and garnished with fresh cilantro.
Lastly, I served it immediately. I was totally surprised and they were gone within minutes. We totally loved these.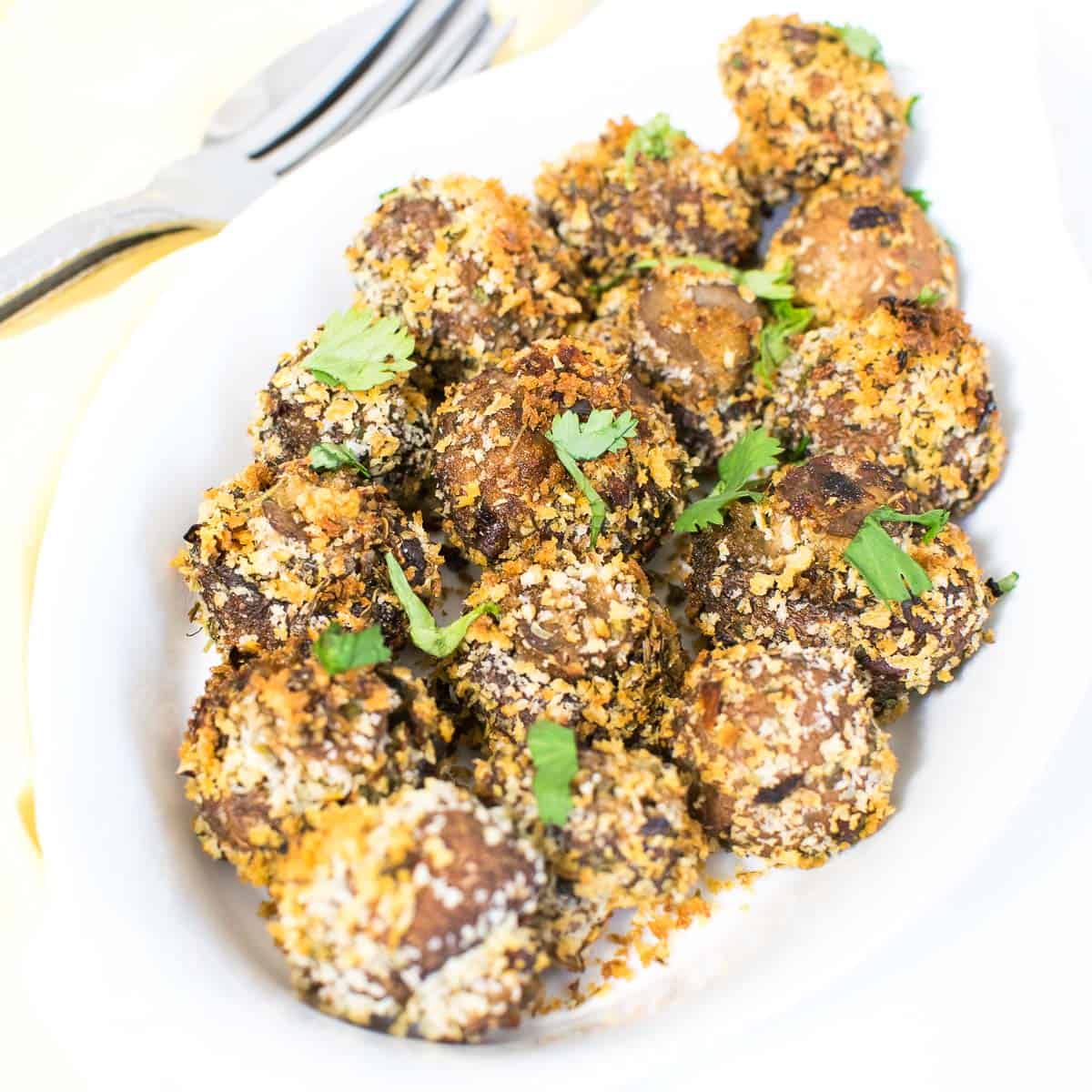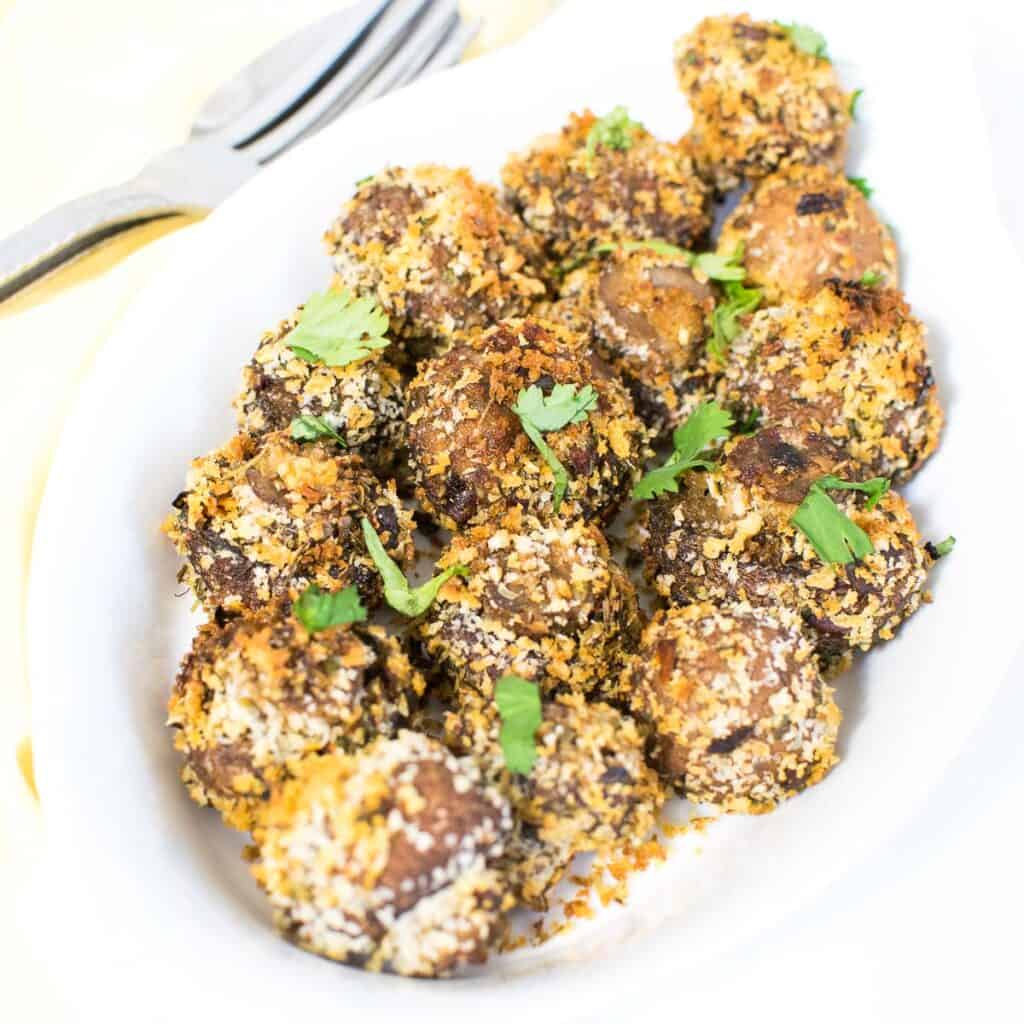 So, now, whenever I have mushrooms in my refrigerator, I quickly make this vegan air fryer mushrooms recipe.
Expert tips:
Make sure to let it sit for 10 minutes so that the mushrooms absorb the spices and oil.
After tossing in panko, it is important to immediately air fry so that panko does not become soggy.
It is important to note that after rinsing the mushrooms, drain out the excess water as much as possible. If required you may dab them in a tissue so as to make it easier to marinate and cover with panko.
Therefore, this mushroom recipe requires very few steps and tips. Moreover, I am sure you all must be having all the ingredients in your pantry already.
So, I would insist you that you must try it. This will definitely impress you with its texture and taste.
Air Fryer Mushrooms FAQs
How long does these last?
This recipe taste best when served immediately. If kept for longer the mushrooms become soggy and loses its texture.
How can I prep ahead of time for this recipe?
It's a very simple recipe so not much planning is required. The only prep you need is to marinate for 10 minutes.
Is it healthy?
It is not deep fried unlike other recipes. I air fried these and used minimum oil to coat the mushrooms with the herbs. The excess oil is drained in the air fryer, if any, while cooking make it healthier and more desirable. It's a low calorie, low carbohydrate, and easy appetizer or snack.
Can I bake them in the oven?
Yes, absolutely. Simply bake them in a preheated oven at 400-degree Fahrenheit for 30 minutes or so or until these are crispy and brown.
It's one of the easiest appetizers that you can imagine and absolutely luscious in every bit. Simply pair it without favorite beverage and enjoy.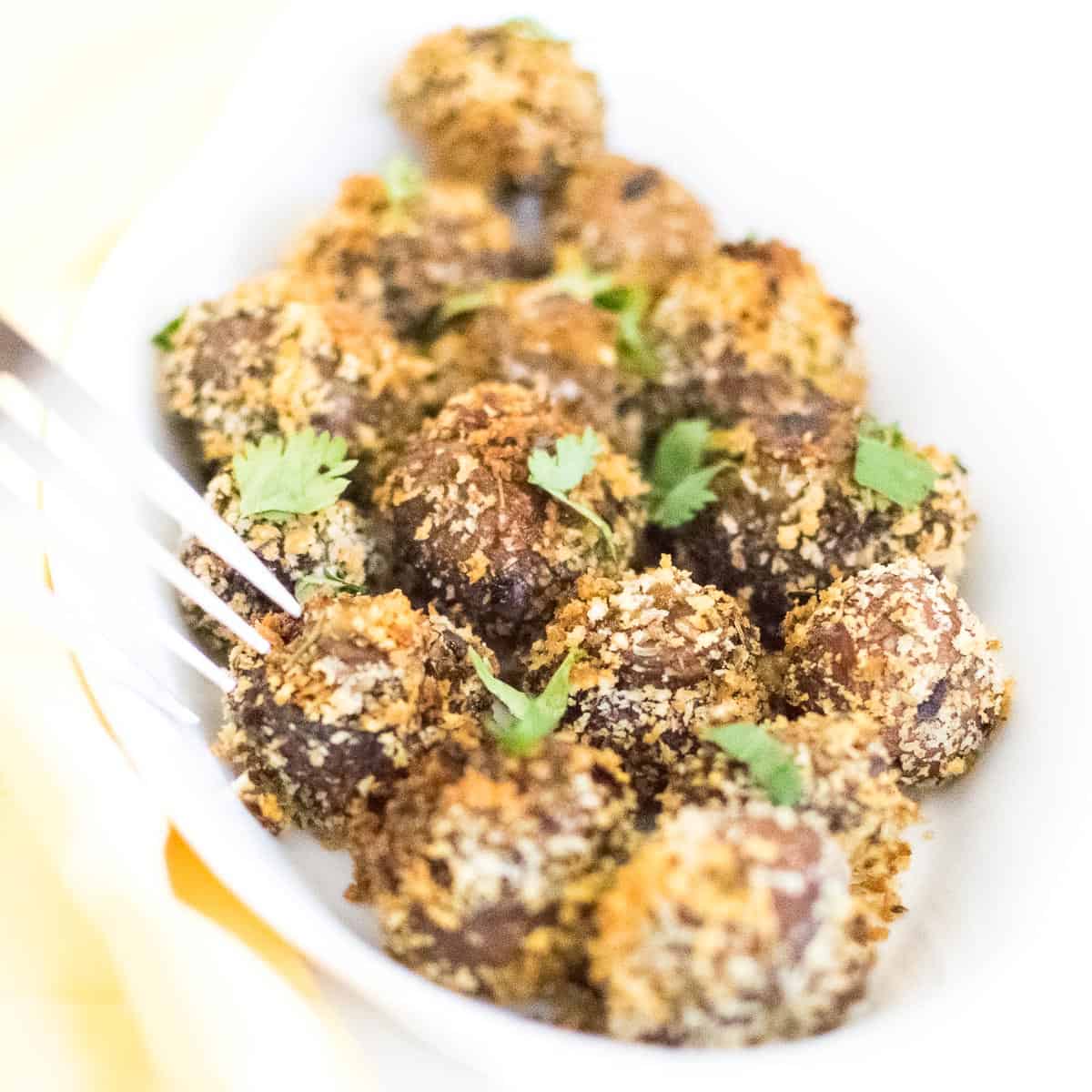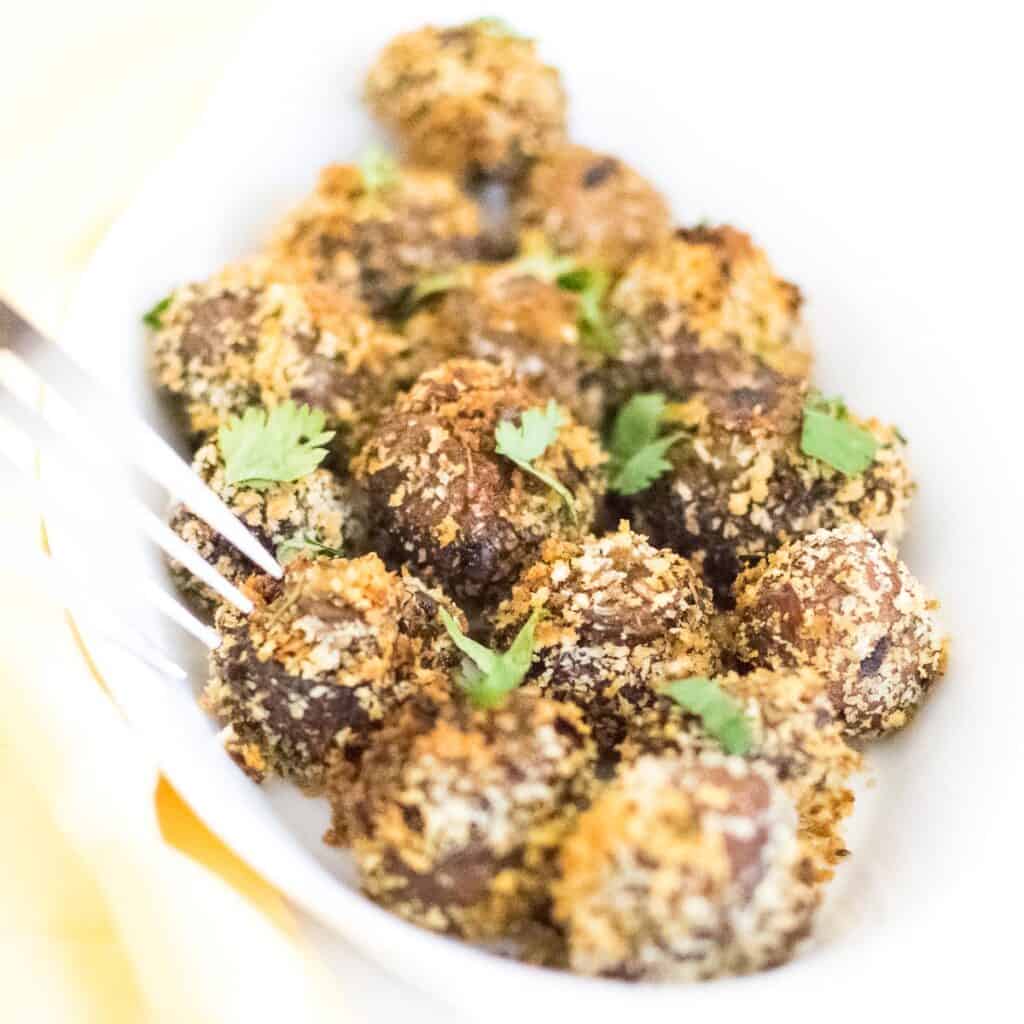 More air fryer recipes
Air Fryer Zucchini Fries
Sweet Potato Latkes
Vegan Spring Rolls
Crispy Broccoli
Air Fryer Sweet Potato Cubes
Did you make it?
If you get a chance to make this recipe then please leave your feedback in the comments below along with the ratings. In addition, you may tag @kiipfit on Instagram with your recipe images because we would love to see what you cooked.
If you desire to explore more of delicious recipes then you may checkout my cookbooks.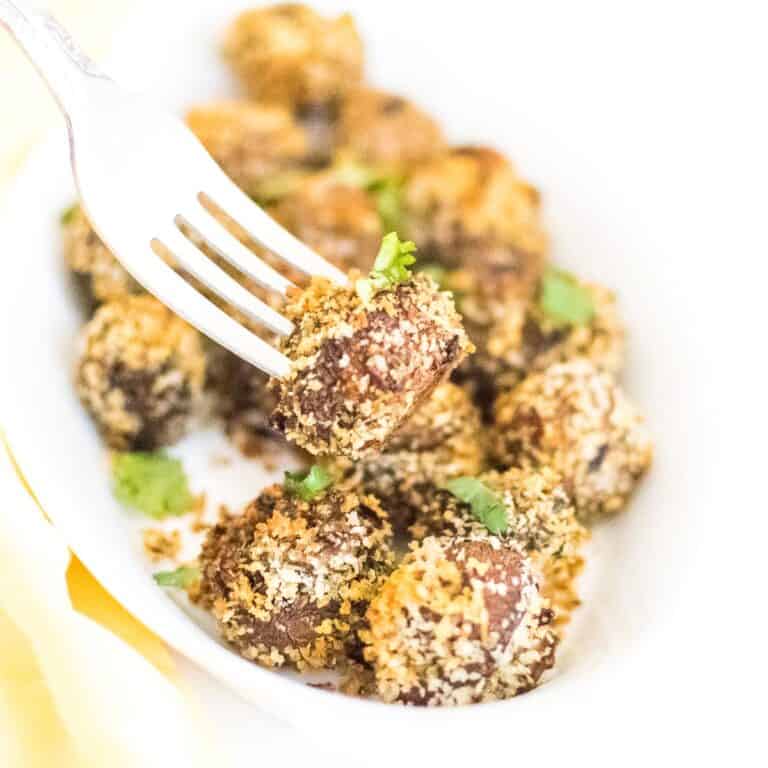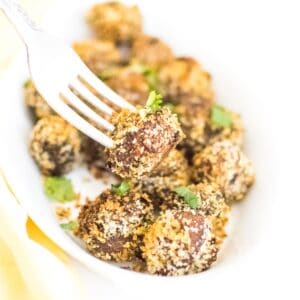 Print Recipe
Air Fryer Mushrooms
These beautiful golden brown easy Air Fryer Mushrooms are crisp and crunchy from outside along with being soft and moist from inside. Its made with only 8 ingredients and makes a great vegan appetizer.
Instructions
In a mixing bowl, combine oregano, parsley, salt, chili flakes, garlic powder and oil and mix it well.

Then, toss in mushrooms and mix well until all the mushrooms are well coated. Let it sit for 10 minutes.

Now, add panko crumbs to it and mix well until all the mushrooms are roughly coated with it.

Now, spoon out each mushroom in the air fryer basket and top each mushroom with the left-over panko mixture as much as possible. (Discard the leftover panko). Attach the air fryer basket to the air dryer and turn it on at 350 degree for 15 minutes. Once done, take out the basket and check if its golden brown and crispy from the outside and mushrooms should be soft from inside. If it looks done, turn it off and spoon out the mushrooms on the serving plate. Garnish with chopped cilantro if desired and serve immediately.
Notes
For oven option: Preheat oven at 400-degree Fahrenheit and prepare a baking sheet with parchment paper. Follow steps 1-3. Then, spoon out the mushrooms in the baking sheet along with the panko mixture and bake it in the middle rack for 30-35 minutes or until brown and crisp. Turn it off and serve immediately.
This recipe tastes best when served immediately and hot. If kept aside for longer it becomes soggy and mushy. So, toast them again in the toaster oven in this case.
Nutrition
Calories:
102
kcal
|
Carbohydrates:
6
g
|
Protein:
3
g
|
Fat:
7
g
|
Saturated Fat:
1
g
|
Sodium:
348
mg
|
Potassium:
35
mg
|
Fiber:
1
g
|
Sugar:
1
g
|
Vitamin C:
1
mg
|
Calcium:
18
mg
|
Iron:
1
mg