Are you team avocado or team fries? Crispy Air Fryer Avocado Fries (Vegan) is a healthier way to enjoy both. Creamy avocado covered with panko and cooked oil free in air fryer serves perfectly as a snack or as a side dish.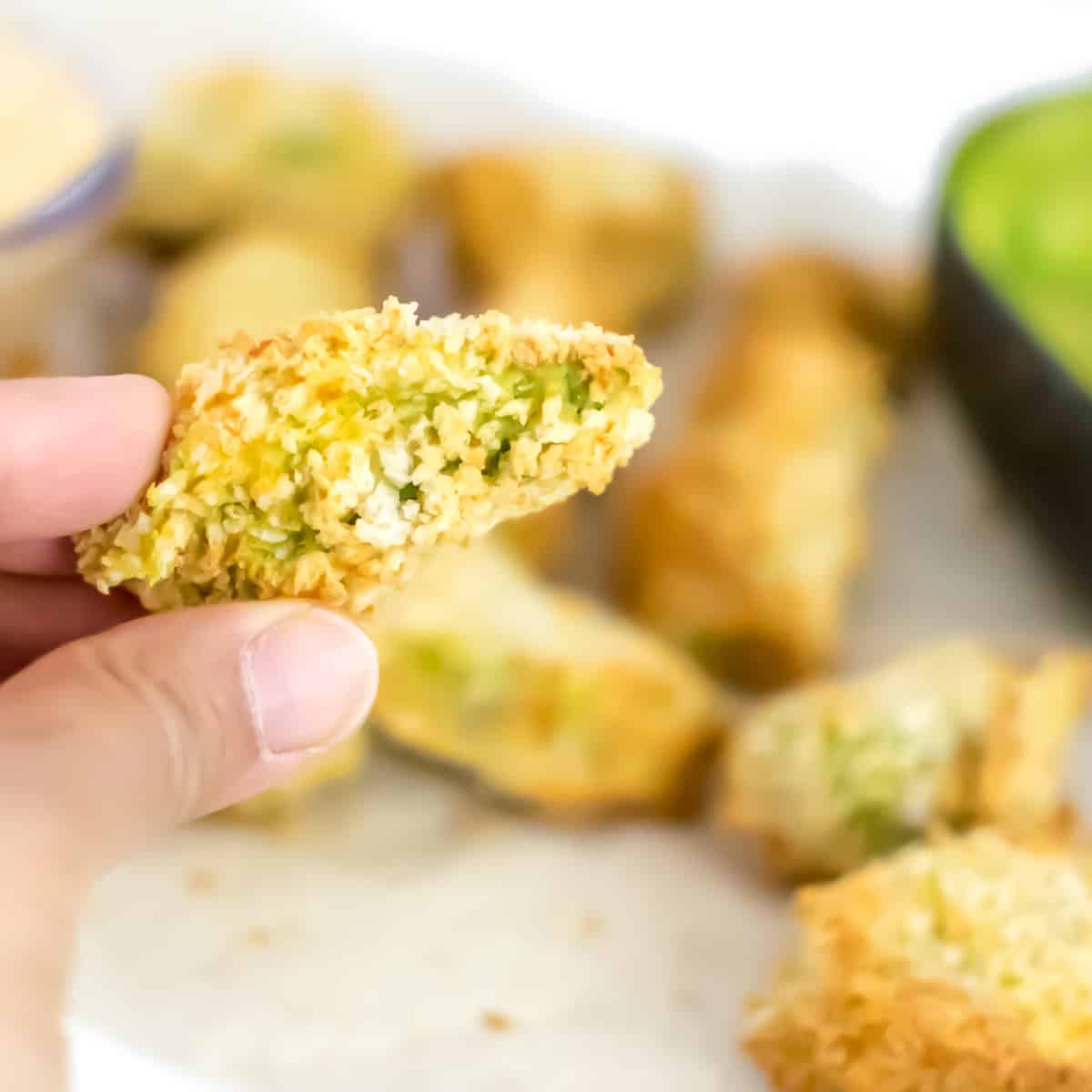 Healthy snacking made easier and delicious with air fried avocado.
Avocado is my favorite and I have been looking to be creative with it. Hence, I decided to create vegan avocado fries but healthy. Yes…. avocadoes can be safely cooked. It tastes amazingly delicious.
So, instead of deep frying, I chose air frying. Hence, my indulgent avocado fries in air fryer is the most favorite.
Recently, avocado fries have gained lot of popularity in the West. Its a healthier alternative to traditional fries because avocado in general has many health benefits.
Avocado itself has become popular all over the world. We only knew guacamole but now we have explore its versatility. Its used in dips, sandwiches, wraps and now with so much creativity round the globe we have discovered avocado fries.
Therefore, these air fryer avocado fries are a healthier and guilt free snack option for majority and its deliciously creamy from inside and crispy from outside.
I often blend creamy avocado shake to enjoy it in a different way.
Often I make avocado sauce pasta for an easy and quick meal with satisfying flavors.
What type of avocado works here?
The avocado should be large, ripe that means its skin should not be green but not extremely brown either. When you hold it, should be firm and when you press it, you should feel it a slight hard. Once you get the trick and the right avocado this recipe is a breeze and requires no babysitting.
Is it safe to cook avocado?
Yes, absolutely. It's a myth that avocado should not be cooked. Of course, the raw avocado is the best to consume to get the its maximum health benefits. However, cooking avocado at the right temperature and to the right time also has its own benefits. If you over cook avocadoes, it might taste bitter. Therefore, it important to follow the instructions in this air fryer avocado recipe.
Ingredients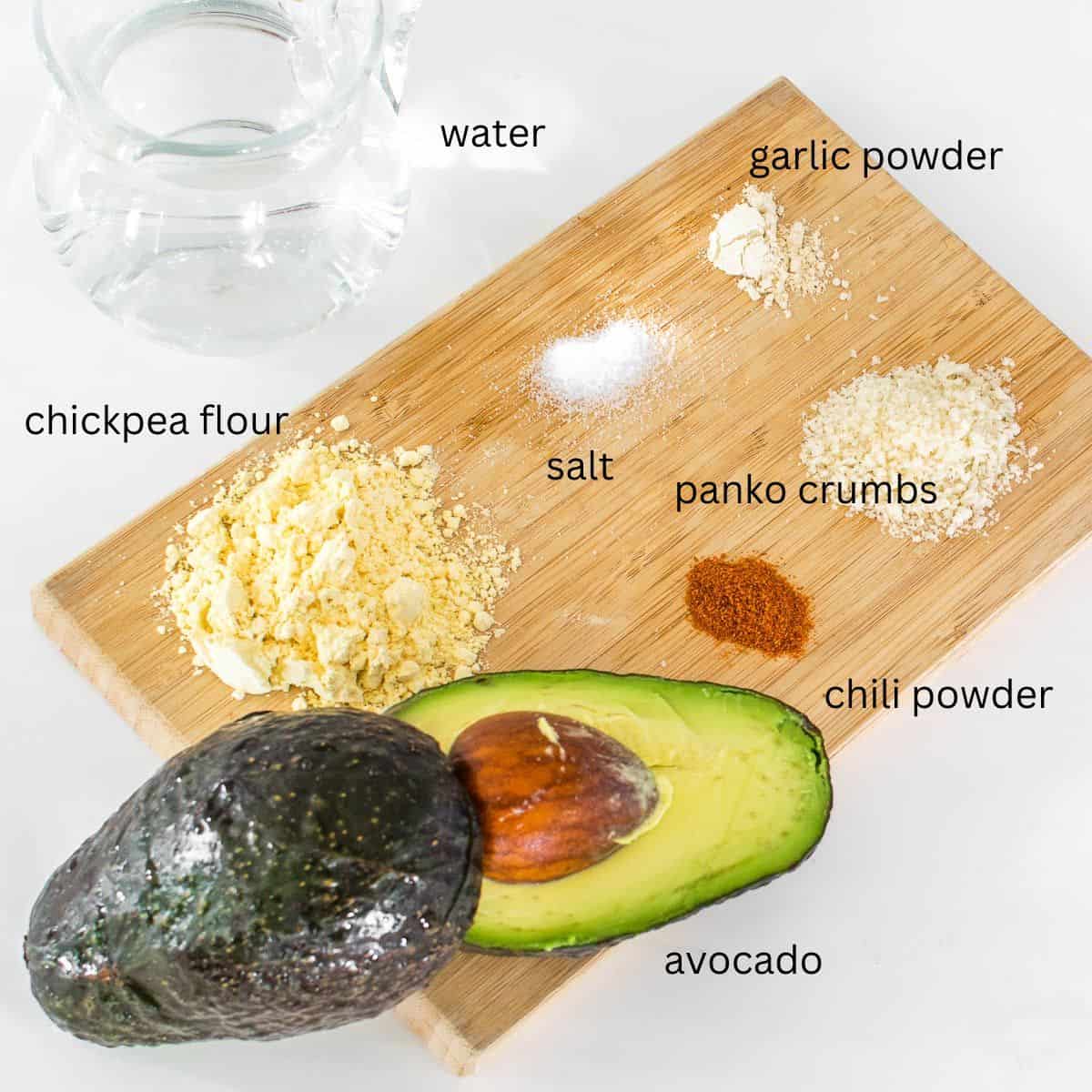 Ingredients notes
Avocado – it is healthy fats along with being fiber rich. But we also have to keep its servings in mind because it is also high in calories at the same time. Large firm avocado works great in this recipe.
Chickpea flour – its gluten free and high in protein. It's a whole grain and comes in two varieties. One made from garbanzo beans and the other made from chickpea lentils. Both works in this avocado fries recipe.
Panko crumbs – it's a Japanese style bread crumbs which is vegan naturally. It helps in crisping better than other breadcrumbs.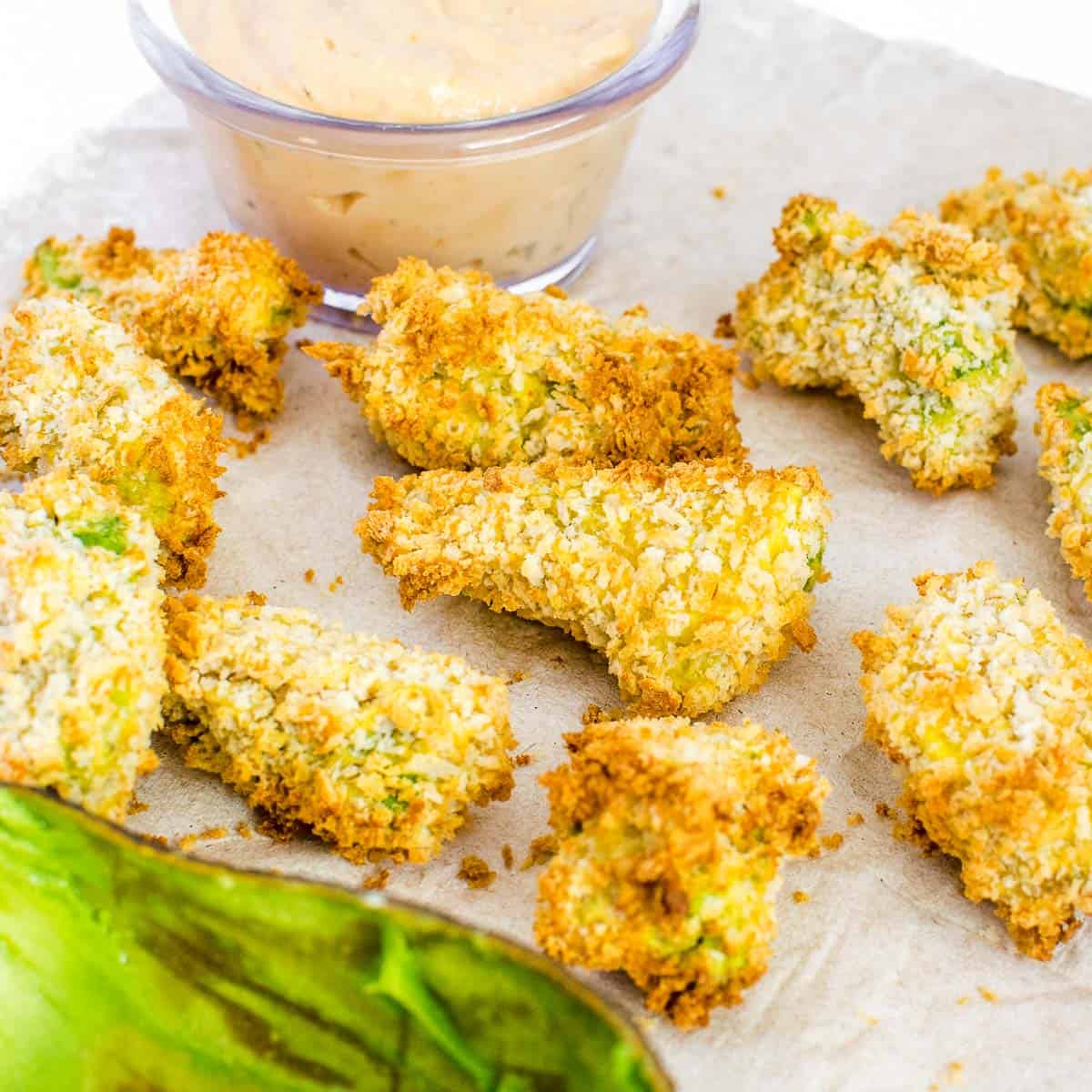 For detailed measurement of ingredients and baking instructions, please scroll down to the printable recipe card.
How to make
Step 1: Slicing
Firstly, I made a cut mark vertically on avocado with a sharp knife and separated them into two halves.
Secondly, I made thin slices of it while it was still with the skin and made a cut horizontal as well.
Next, with a spoon, I gently took separated each slice from its skin and kept it aside. The slices would look similar to wedges.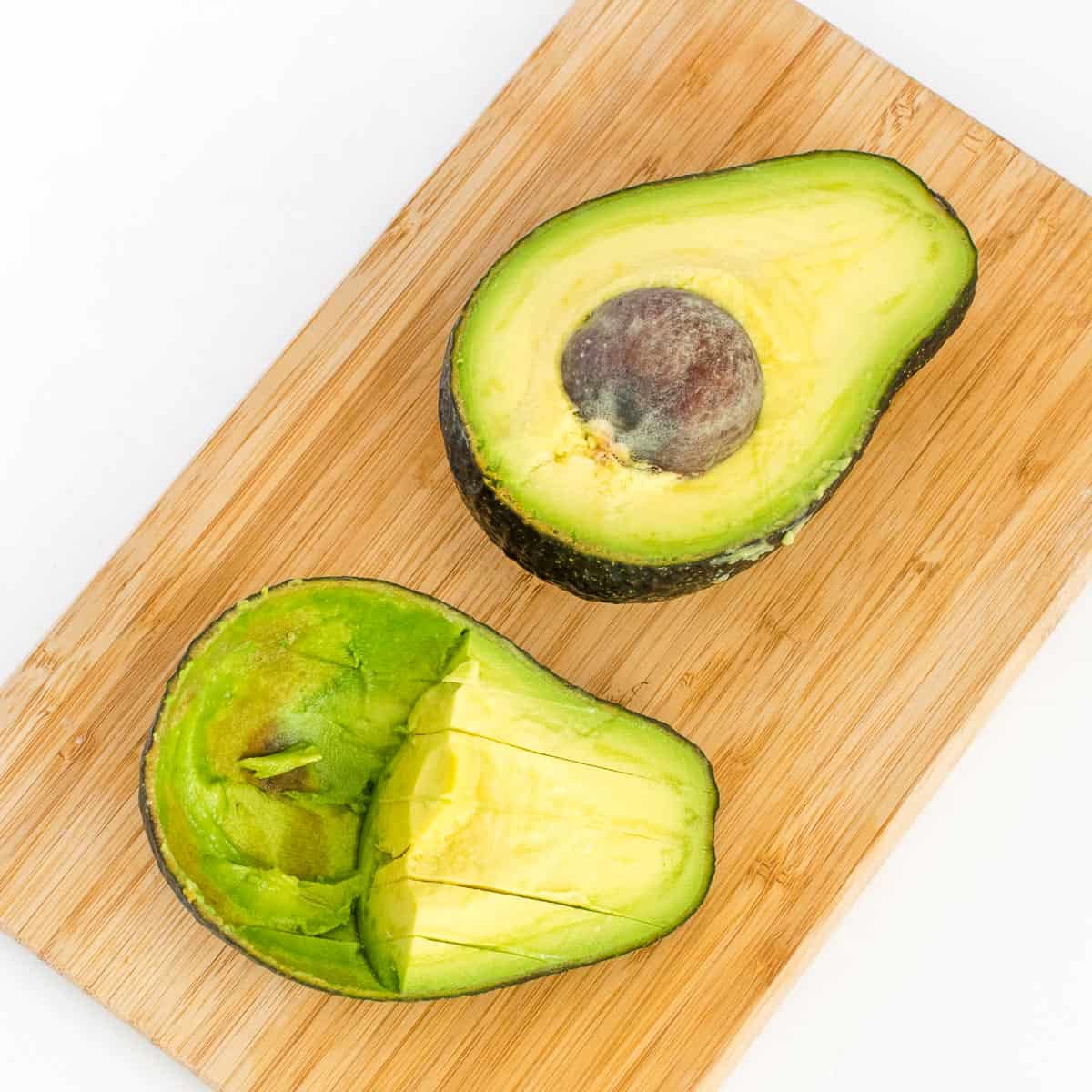 Step 2: Batter
Firstly, I combined chickpea flour, salt, garlic powder and chili powder in a bowl. Then, I mixed it with a spoon.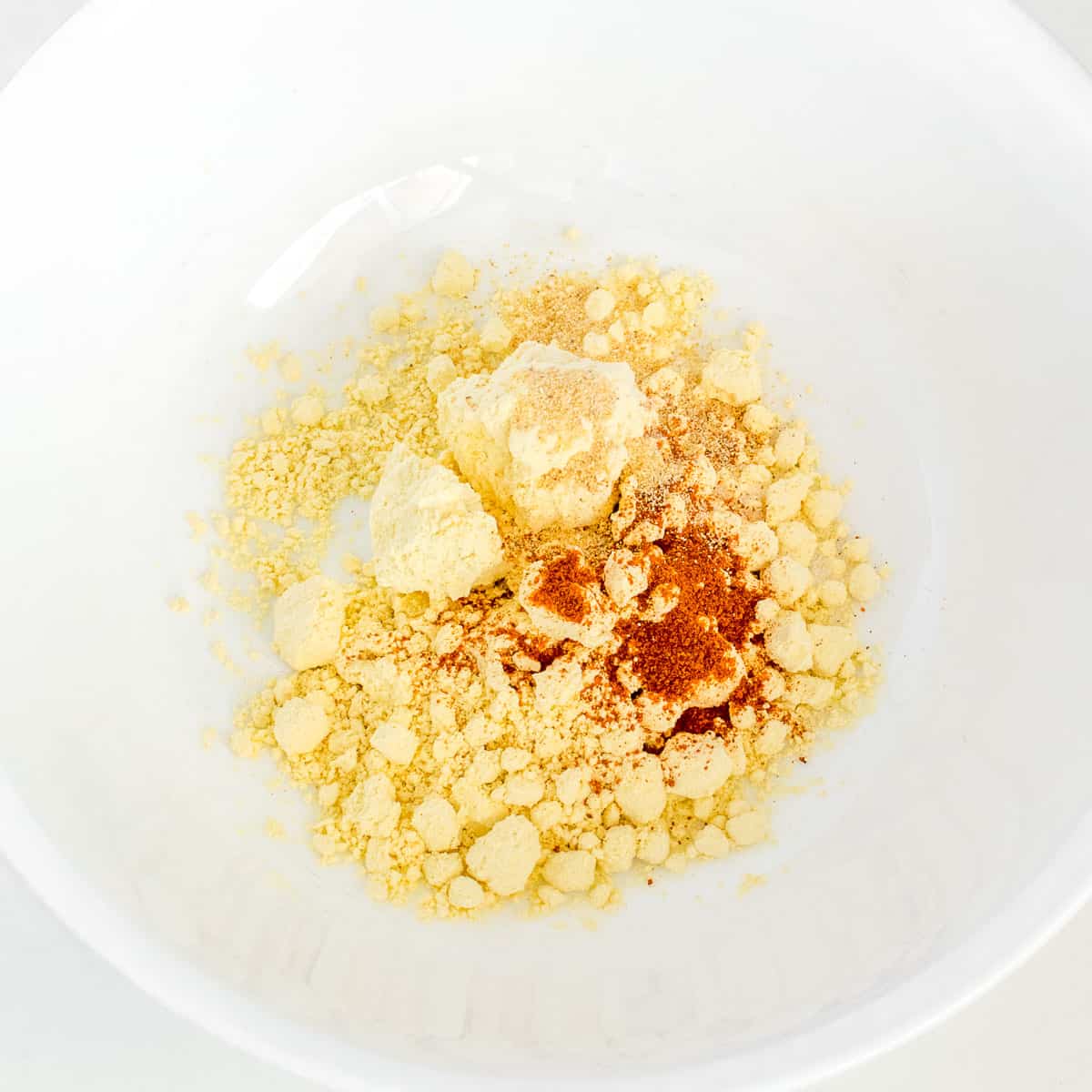 Secondly, I added water in it and whipped it into a smooth batter.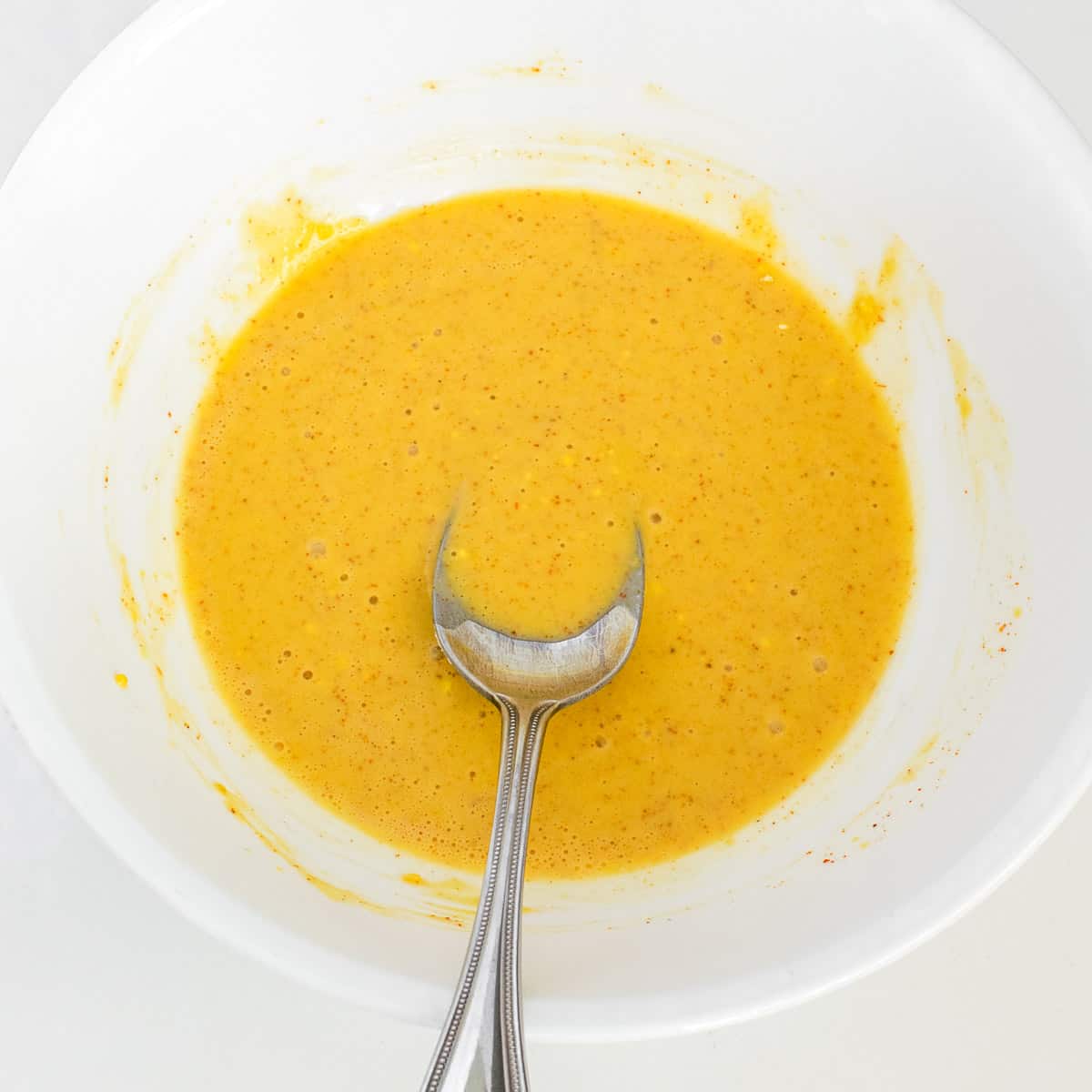 Also, I combined panko crumbs on a flat plate and kept it aside.
Step 3: Assemble
In this step, I dipped all the slices in the chickpea flour batter and gently covered each slice in the batter.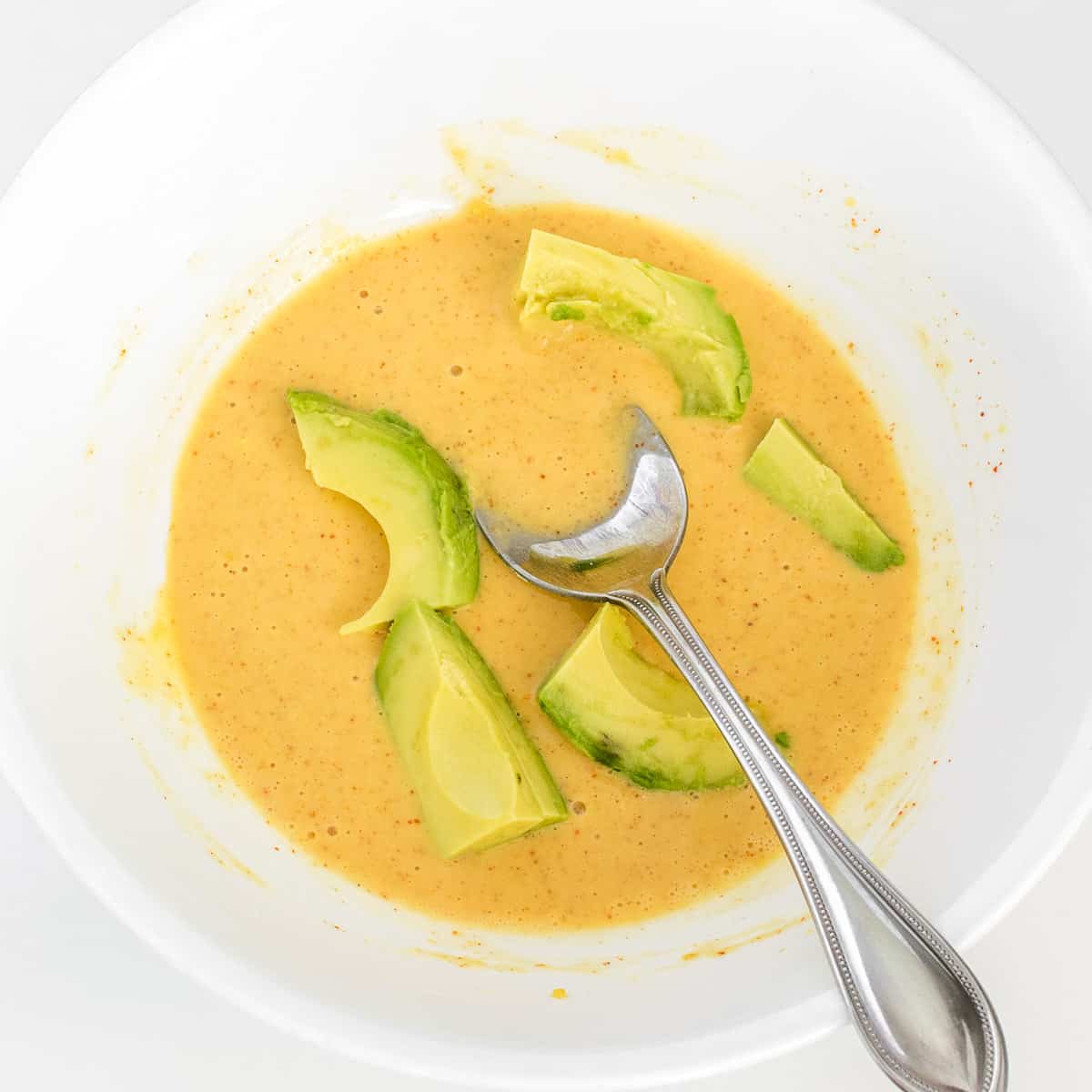 Secondly, with the help with a fork I rolled each slice in the panko crumbs.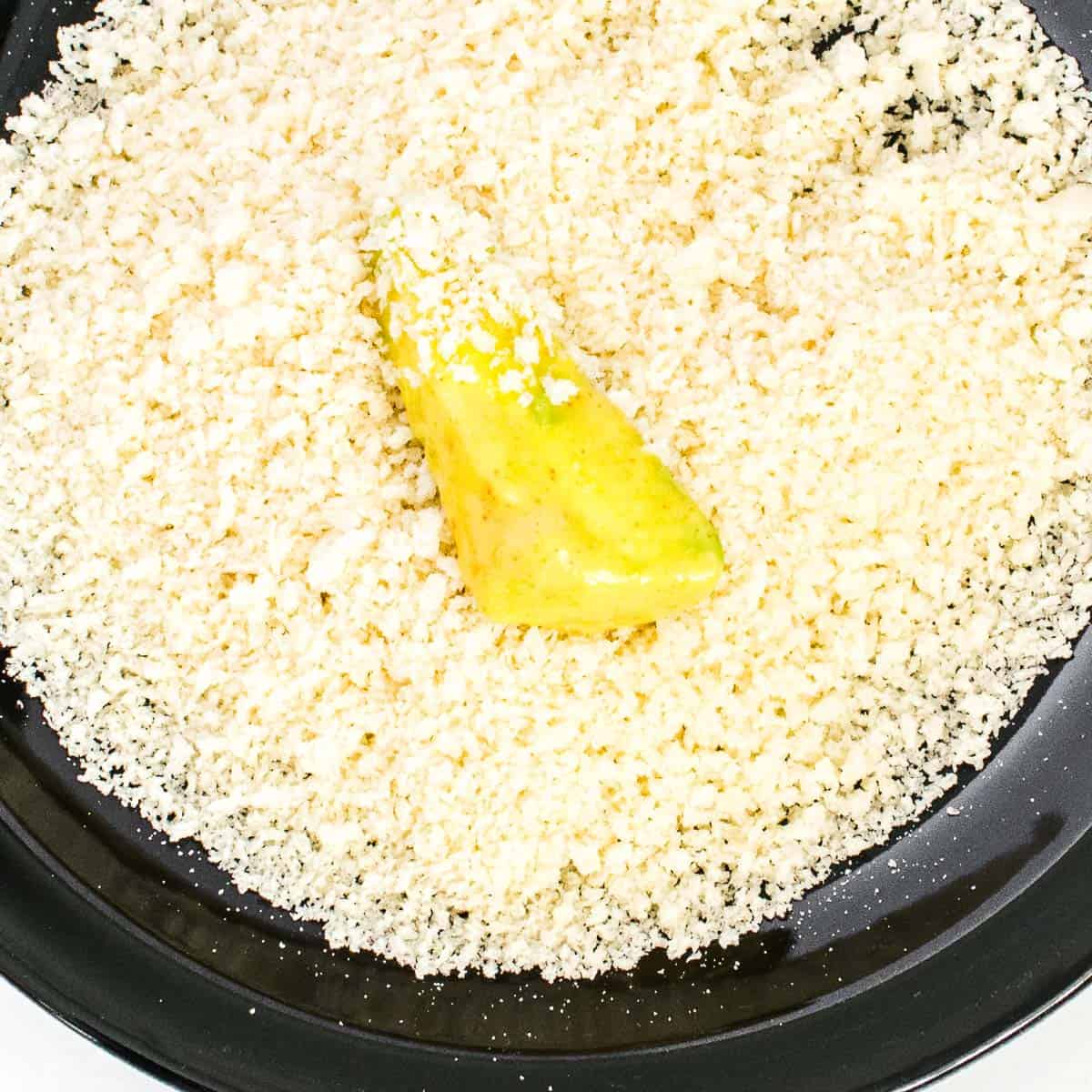 Step 4: Air frying
In this step I placed all the breaded slice in the basket and then attached it to the air fryer.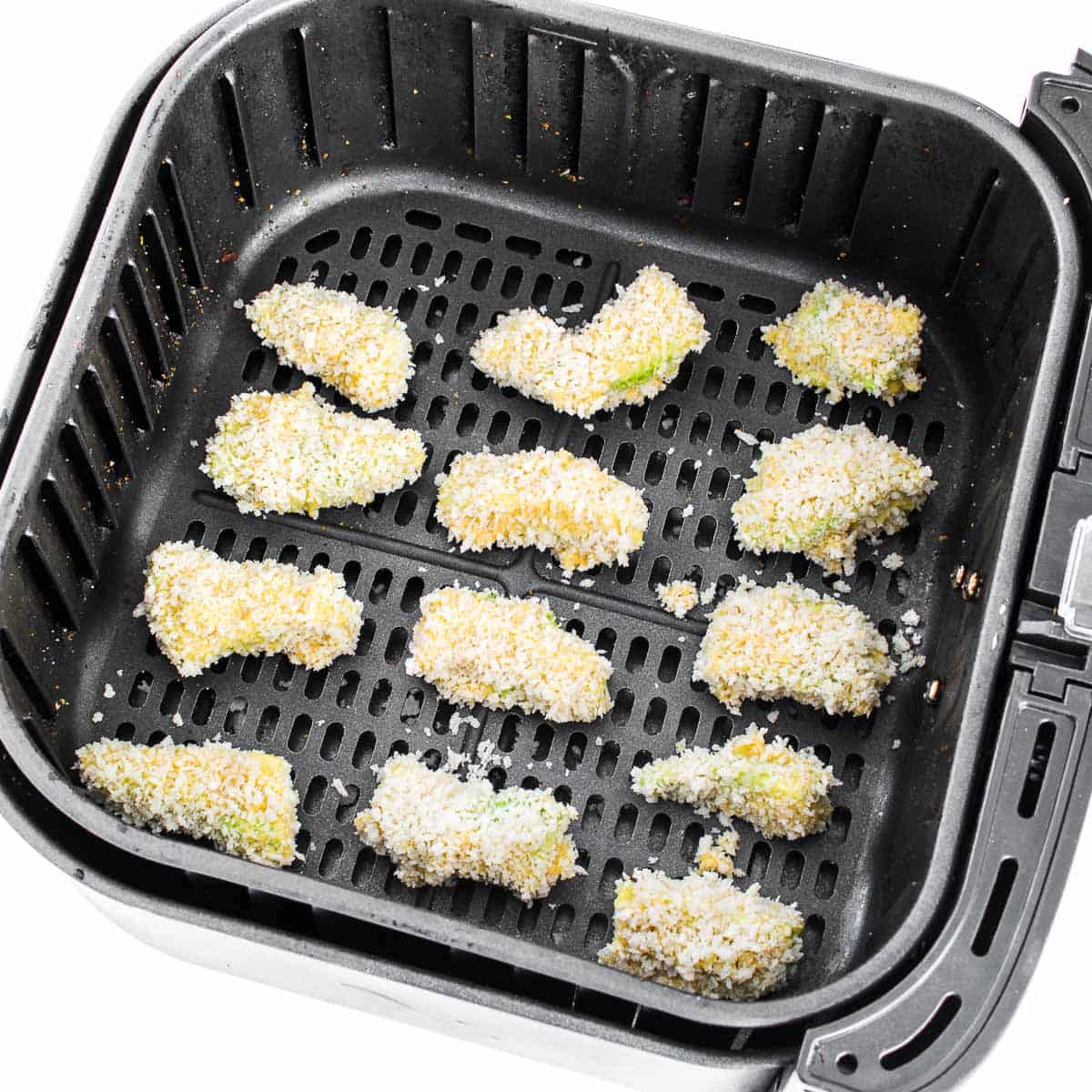 Next, I turned it on at 350 degrees for only 10 minutes.
Once done, I turned it off and took it out.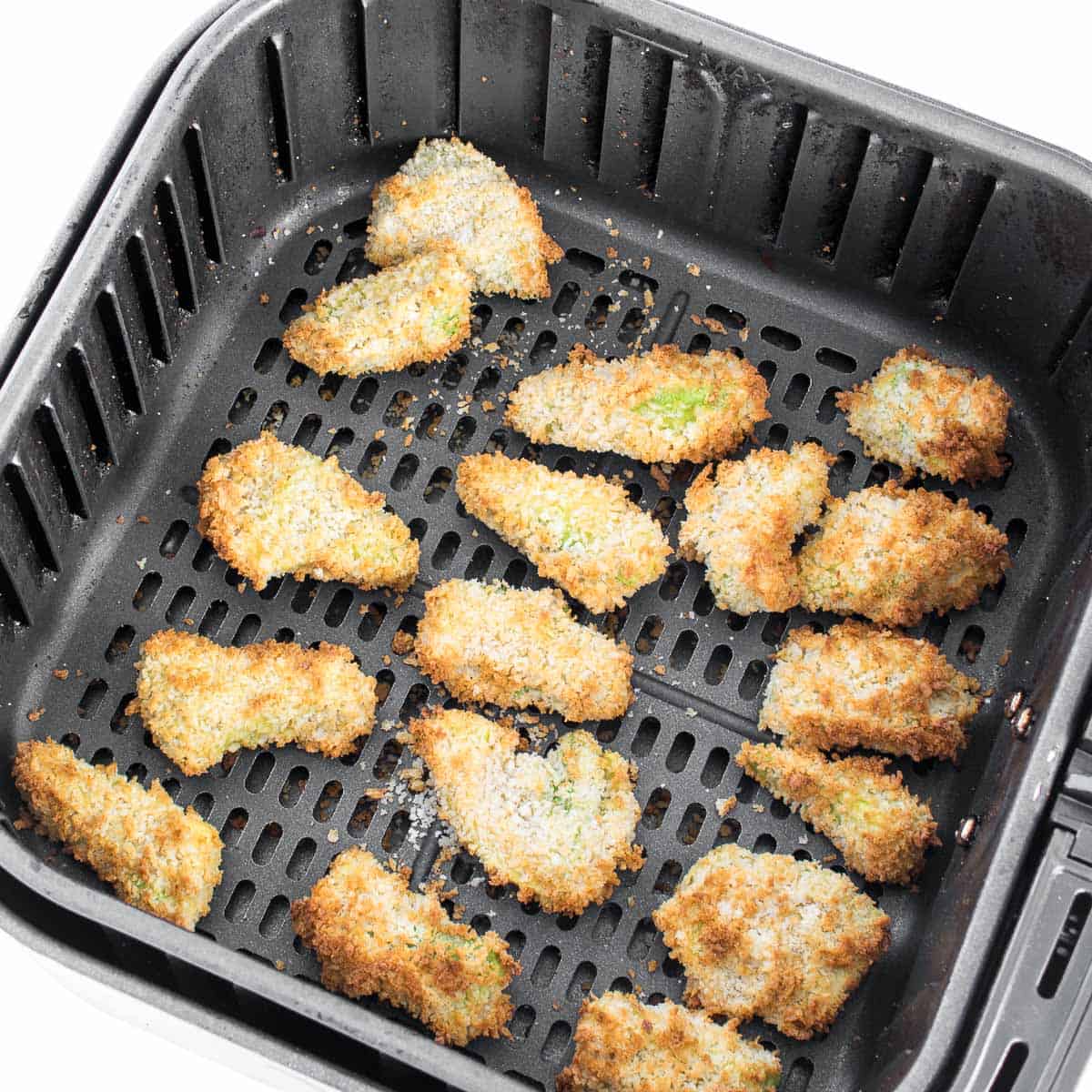 I immediately served these avocado fries. My family loved its crispy exterior and creamy bites from inside.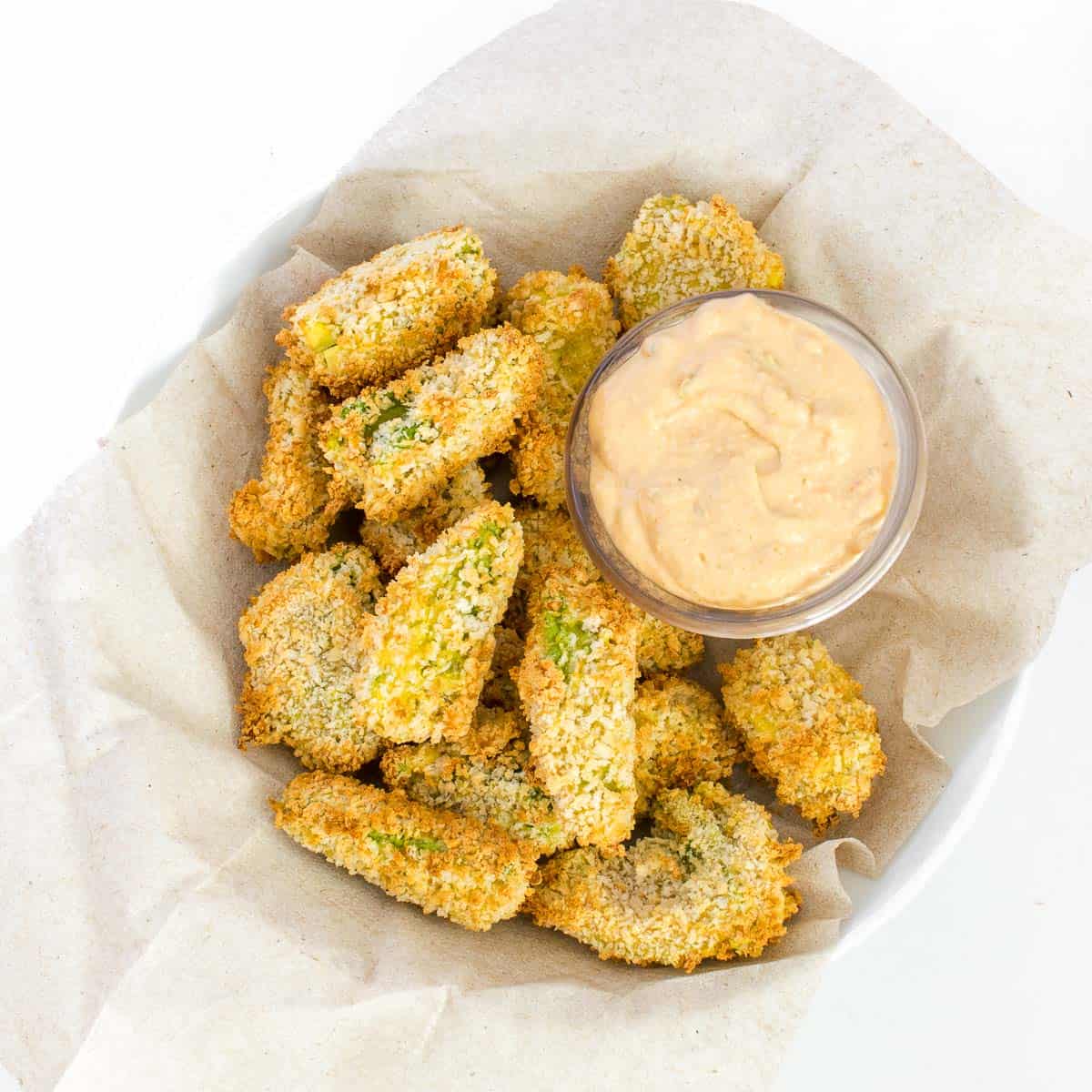 Baking option
Oven baked avocado fries also tastes great and very easy to make. Simply dip the slices in the batter and then roll in panko. Then, place them on the prepared baking sheet and bake them in the preheated oven at 375-degree Fahrenheit for only 20 minutes. Turn it off and take it out and then serve immediately.
Serving tips
This air fryer fried avocado pairs excellent with vegan ranch, vegan mayo, jalapeno dip or any dip of your choice.
Expert tips
Avocadoes tend to brown very quickly so the best trick here would be to prepare the batter first and then put all the slices in the batter.
Make sure to slice them while it's still in the skin. This keeps its color intact and handling is easier also.
It is important to follow the cooking time for the best results.
Frequently Asked Questions (FAQs)
How long do they last?
These avocado fries tastes best when served immediately. If kept for longer they might lose its texture.
Are these healthy?
I made this avocado fries recipe oil free. These fries can be baked and or air fried. It's made healthier chickpea flour and avocado with a coating of panko. Therefore, overall, it's a healthy snack that can be enjoyed frequently.
How do these avocado fries taste like?
They are crunchy in every bite but melts in mouth because of the creamy and buttery texture of avocado. It is salty with a slight spice and some garlic flavor.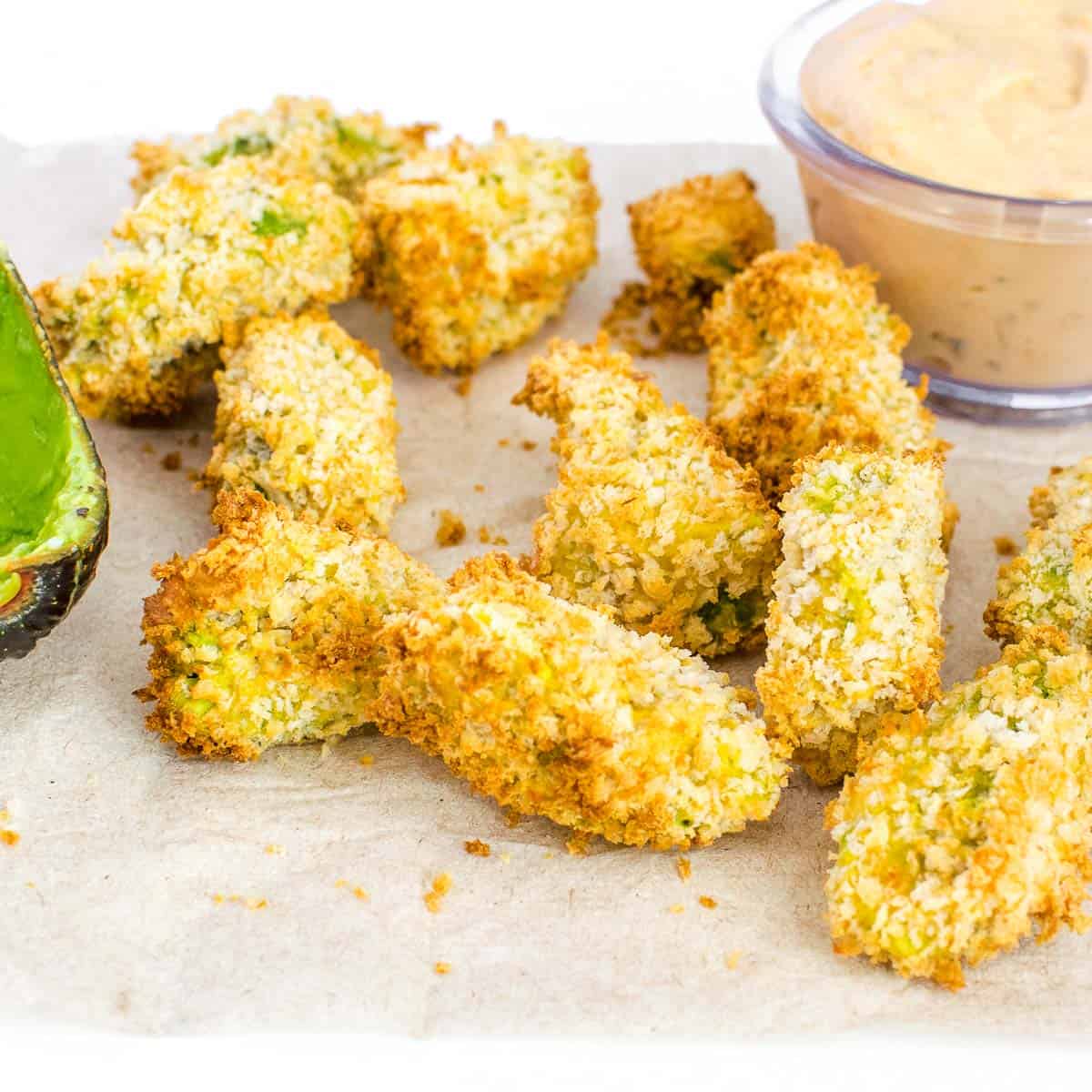 More vegan snack recipes
If you are enjoying this recipe then you might like tofu nuggets, bang bang cauliflower, sweet potato latkes and many more.
More air fryer recipes
Crispy Broccoli
Air Fryer Eggplant
Vegan Spring Rolls
Tempeh Bacon
Zucchini Fries
This post may contain affiliate links which means that if you click on them and make a purchase, I will get a small commission. Moreover, I share only those products which I use personally and love.
I hope you enjoy this recipe as much as we did. I am very excited to hear back from you.
Where to find me?
Follow me on Facebook or on Twitter. You may tag @kiipfit on Instagram with your recipe remake images because I would love to see what you cooked.
Did you make it?
If you get a chance to make this recipe then please leave your feedback in the comments below along with a 5-star rating.
In addition, you may checkout my cookbook for everyday comfort vegan recipes.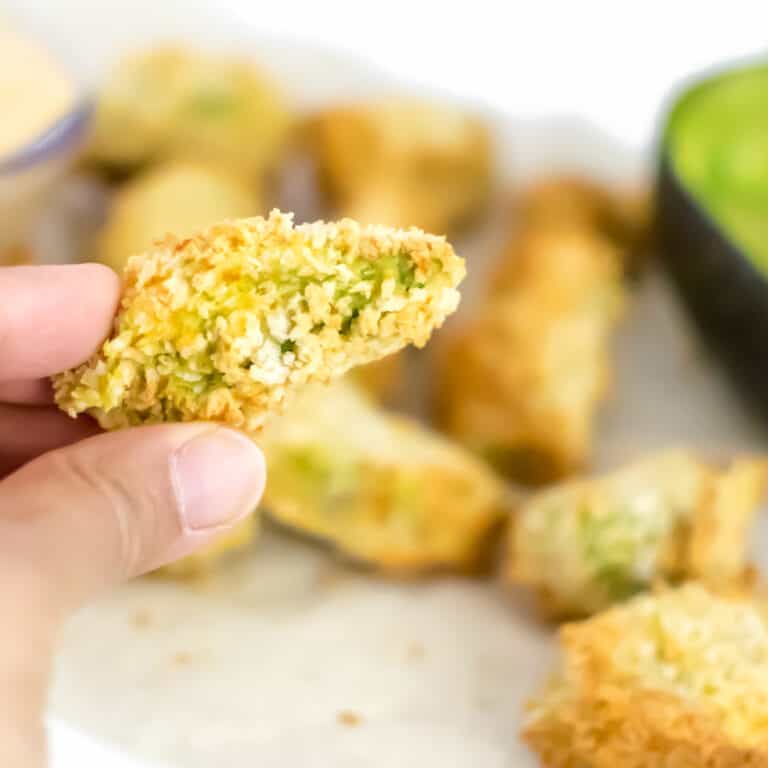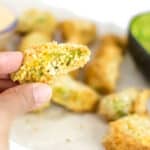 Print Recipe
Crispy Air Fryer Avocado Fries (Vegan)
These easy Air Fryer Avocado Fries are creamy from inside and crispy from outside. It's made with few simple ingredients and is a crowd pleaser vegan snack or appetizer.
Instructions
Make a slight cut vertically on the avocado with a sharp knife. Separate the two pieces. With the knife make thin slices vertically then cut it once horizontally from the middle while its still with the skin. Now with the help of a spoon gently scoop each sliced avocado from its skin. Keep it aside.

In a bowl, combine chickpea flour, salt, garlic powder, chili powder and water. Whip it into a smooth batter. Keep panko crumbs ready in a separate flat plate.

Now, put the all the avocado slices in the chickpea flour batter. Do not mix it too much or else it will become mushy. Gently, roll each slice in the batter or cover each slice with the batter roughly with a spoon without handling avocado too much. Pick it with a fork from the bottom and roll it generously in panko crumbs. Place it immediately in the air fryer basket.

Repeat the above step with the rest of the avocado slices.

Attach the air fryer basket to the air fryer and turn it on at 350 degree for 10 minutes. When done, turn it off and detach the basket. Serve immediately with your favorite dip.
Notes
Baking option: Preheat oven at 375-degree Fahrenheit and prepare a baking sheet with a parchment paper. Place all the breaded avocado slices on the prepared baking sheet and place it in the middle rack of the oven. Bake it for 20 minutes and turn it off. Take it out and enjoy immediately. (Do not exceed the baking time).
Also, do not exceed the air fryer time as well. If cooked for longer avocadoes may turn bitter from inside.
It's a filling recipe so be careful of the serving size.
This recipe tastes best when served immediately.
Make sure to buy ripe but firm avocado for the best results.
1 large avocado serves 4.
Nutrition
Calories:
110
kcal
|
Carbohydrates:
13
g
|
Protein:
3
g
|
Fat:
6
g
|
Saturated Fat:
1
g
|
Polyunsaturated Fat:
1
g
|
Monounsaturated Fat:
5
g
|
Sodium:
359
mg
|
Potassium:
331
mg
|
Fiber:
5
g
|
Sugar:
2
g
|
Vitamin A:
151
IU
|
Vitamin C:
5
mg
|
Calcium:
25
mg
|
Iron:
1
mg