Skip the meat and try this Pinto Bean Burger that's hearty, filling and packed with flavors. So nutritious, easy to make and delicious to eat.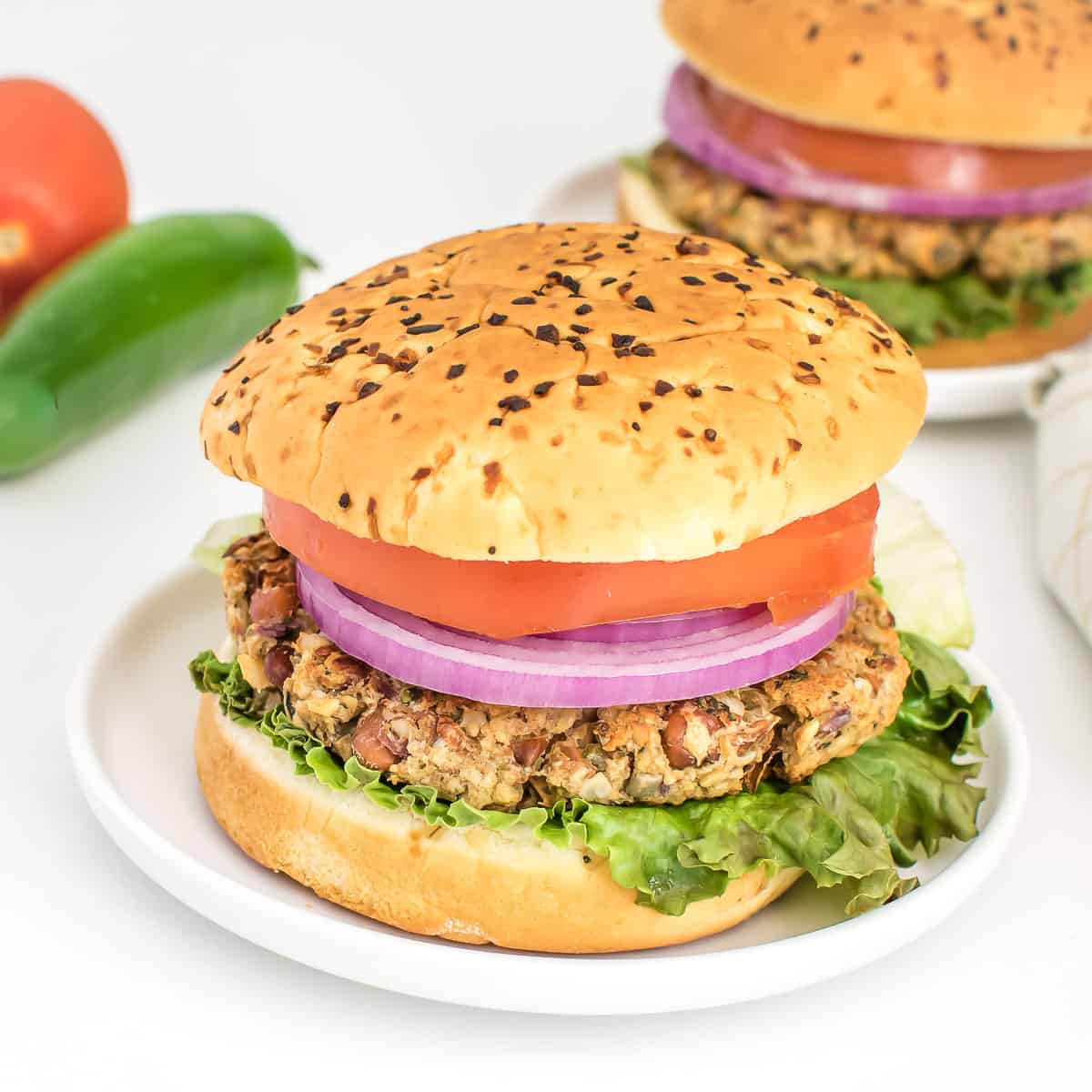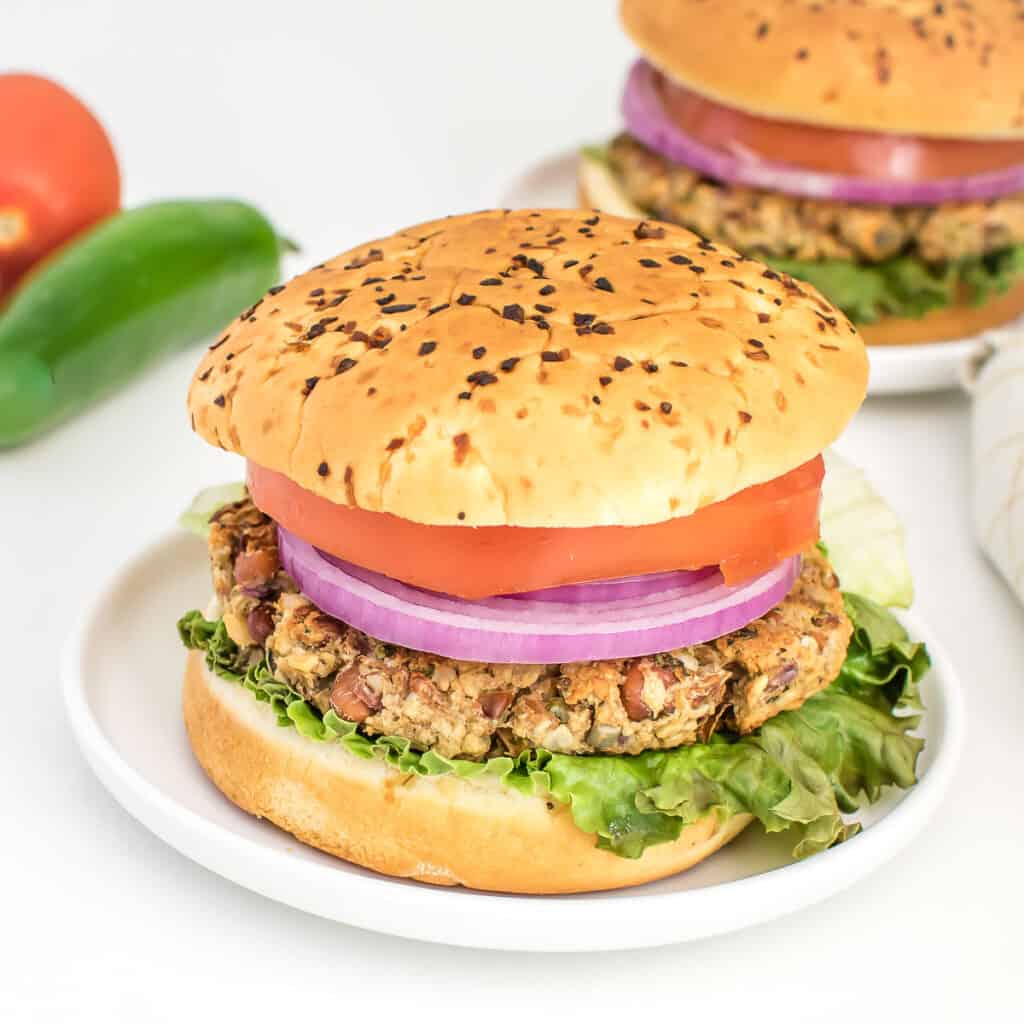 Burgers are quite liked by my family and we enjoy them all the year round. I like the flexibility of air frying or baking and so I worked on all the options with these pinto bean veggie burgers.
I guarantee that all the effort you put in here would be so worthy and you will be so delighted with the outcome.
Health benefits of pinto beans
Beans in general are the best vegan protein option hence, pinto beans are packed with protein, vitamins, minerals and antioxidants. They help control blood sugar and promotes good heart health.
My favorite is zucchini pinto beans kofta which is a beautiful and wholesome family meal.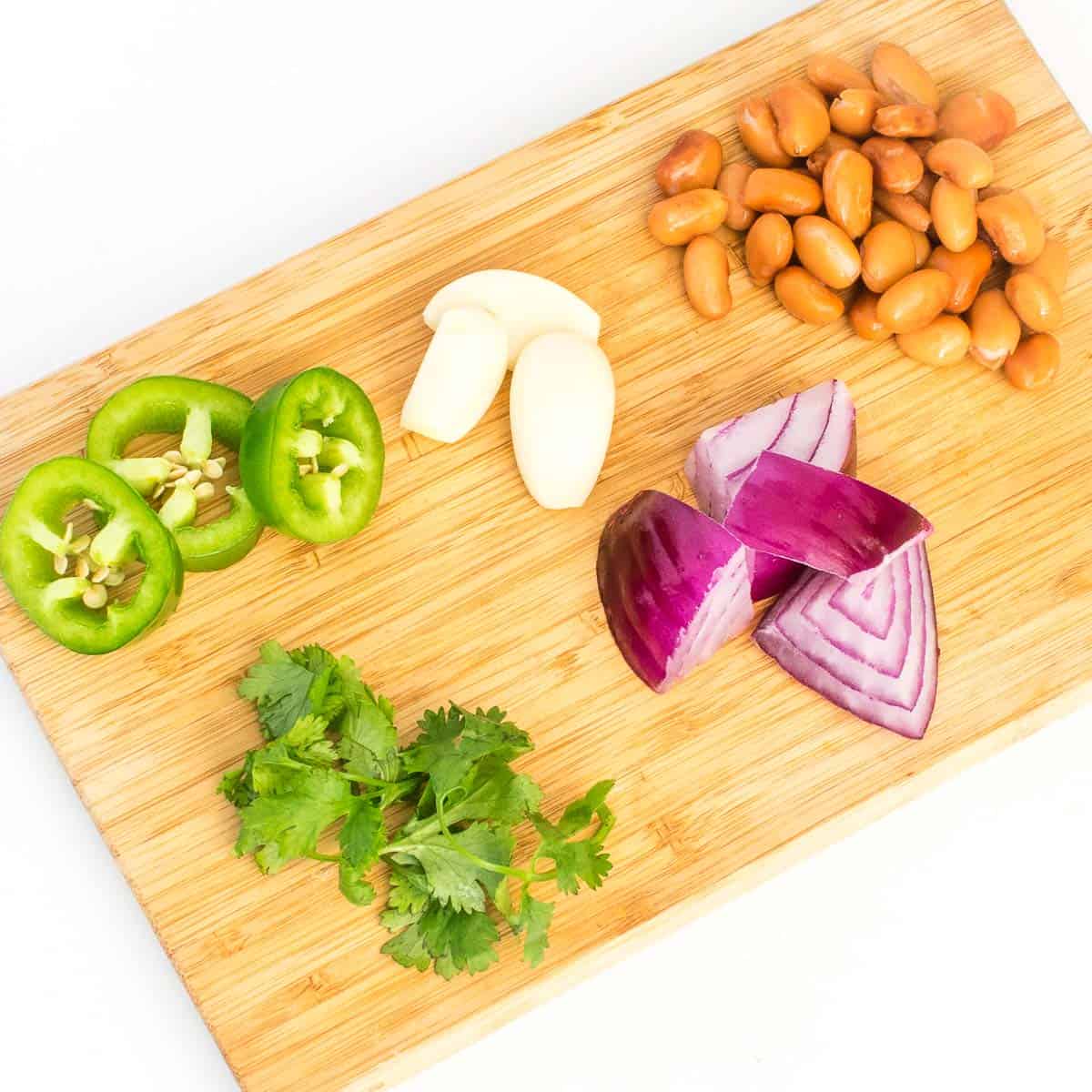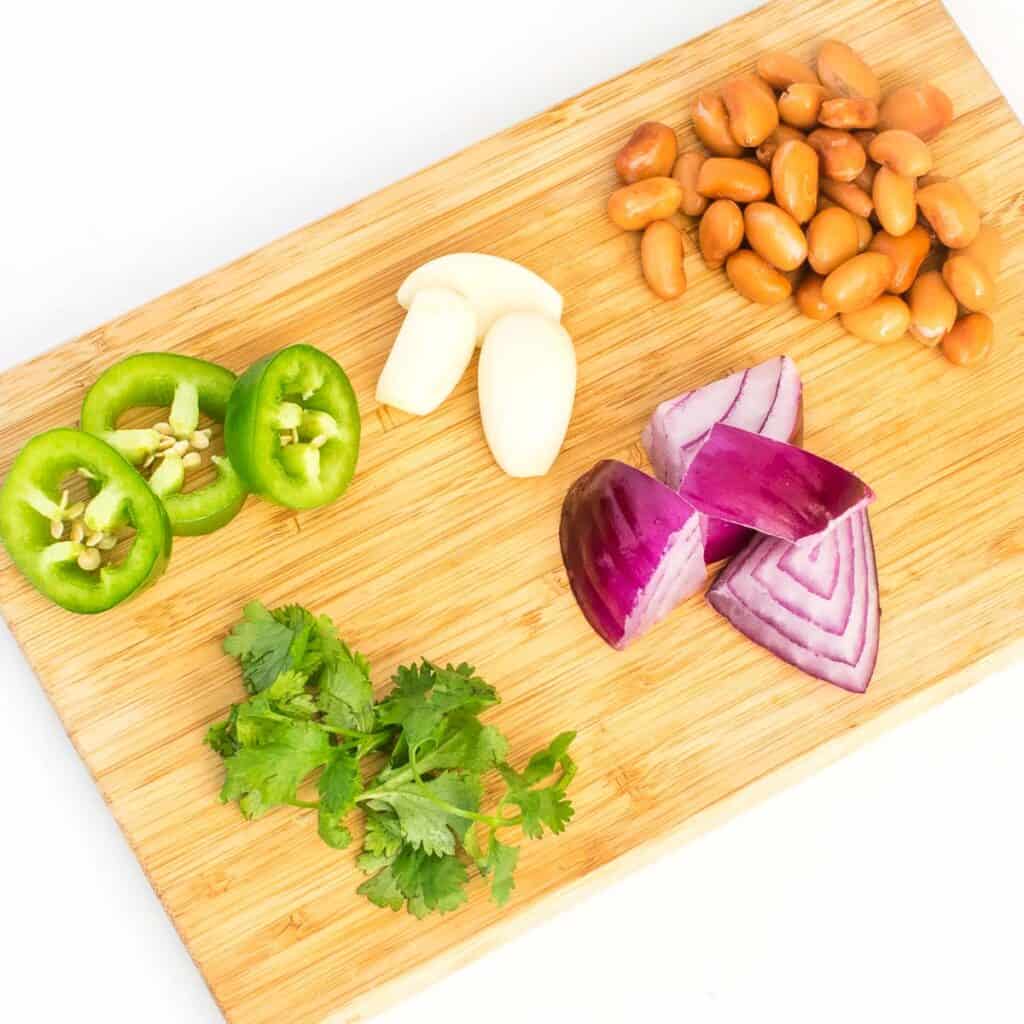 Ingredients for vegan pinto bean burger
Onions
Garlic
Jalapeno
Cilantro
Sunflower seeds
Cashew nuts
Salt
Paprika
Pinto beans
Panko crumbs
Burger buns
Veggies
Dressing of your choice
It's simple and so delicious plus kid friendly. Also, its great to pack lunches to school too.
Ingredients notes:
Pinto beans – I used canned pinto beans and that works perfectly fine. Just rinse and make these healthy bean patties to enjoy.
Sunflower seeds – make sure to use raw sunflower seeds. They taste great and brings a nice crunchy taste to these burger patties.
Cashew nuts – this adds a bit more flavor and plus adds more nutrition to this recipe.
Jalapeno pepper – make sure to use one whole pepper. However, if desired you may clean out the seeds before grinding but we loved it a bit spicy and trust me you won't feel the heat at all.
Panko – you may use vegan bread crumbs but panko makes them extra crunchy.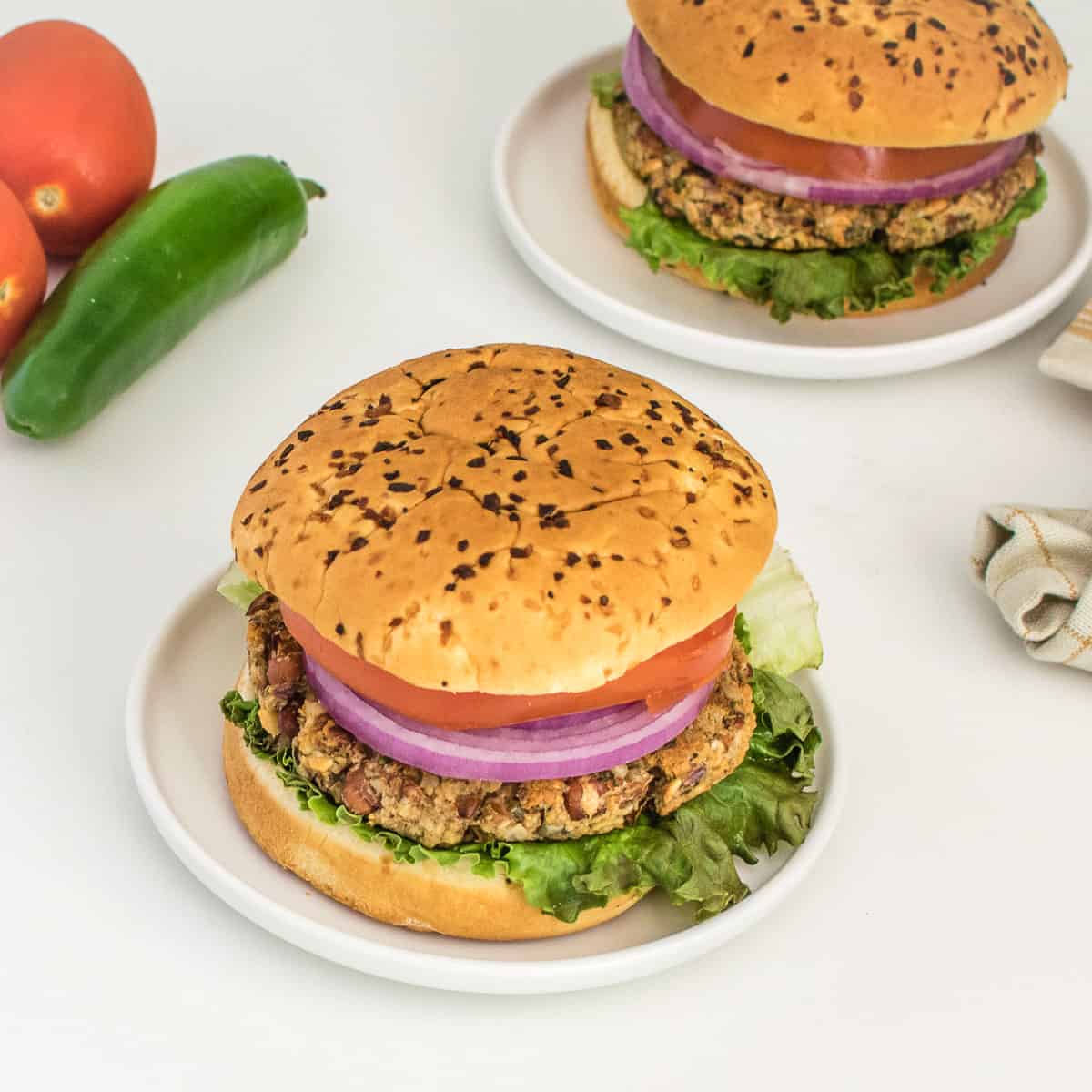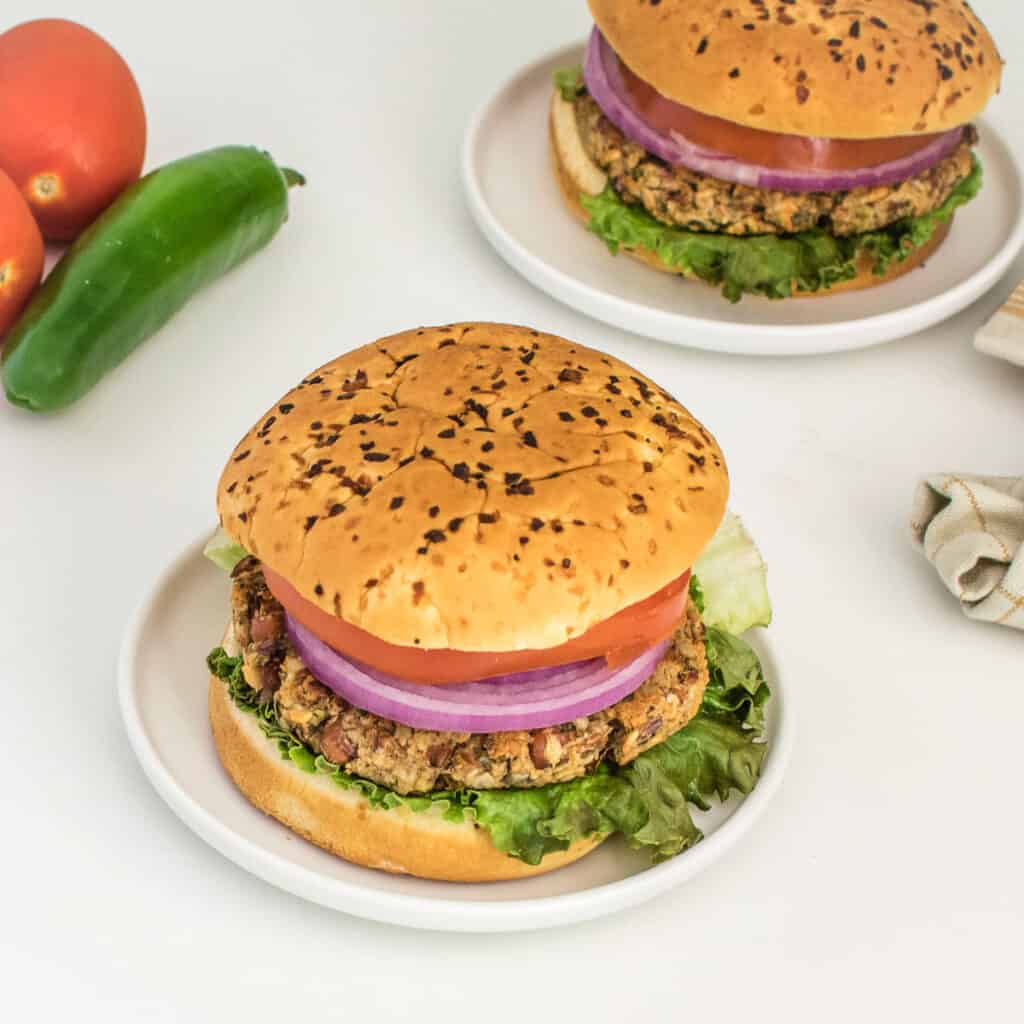 For detailed measurement of ingredients, please scroll down to the printable recipe card at the end of this post.
How to make Pinto Bean Burger
Firstly, in a food processor, I combined onion, garlic, jalapeno, cilantro, sunflower seeds, cashew nuts, salt and paprika.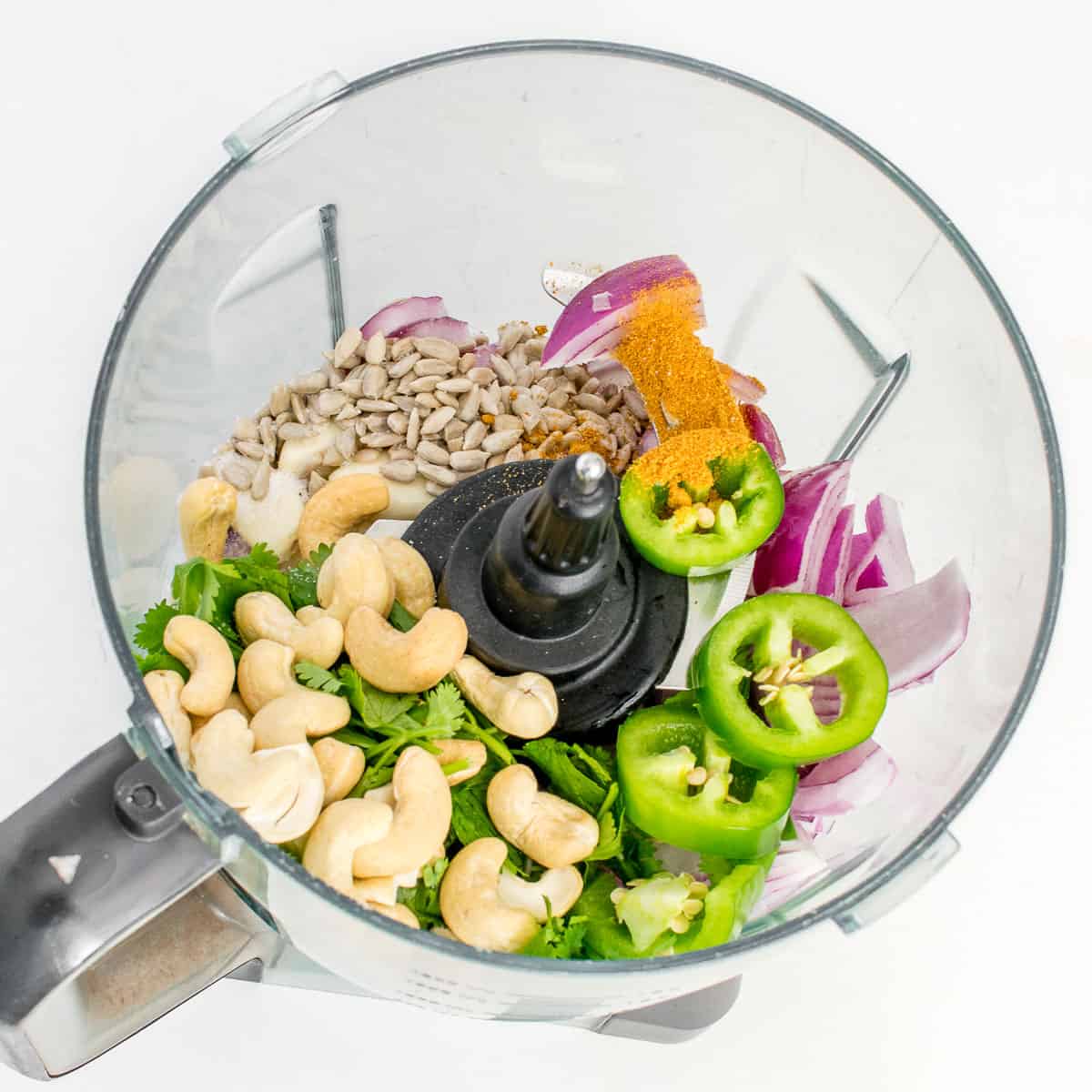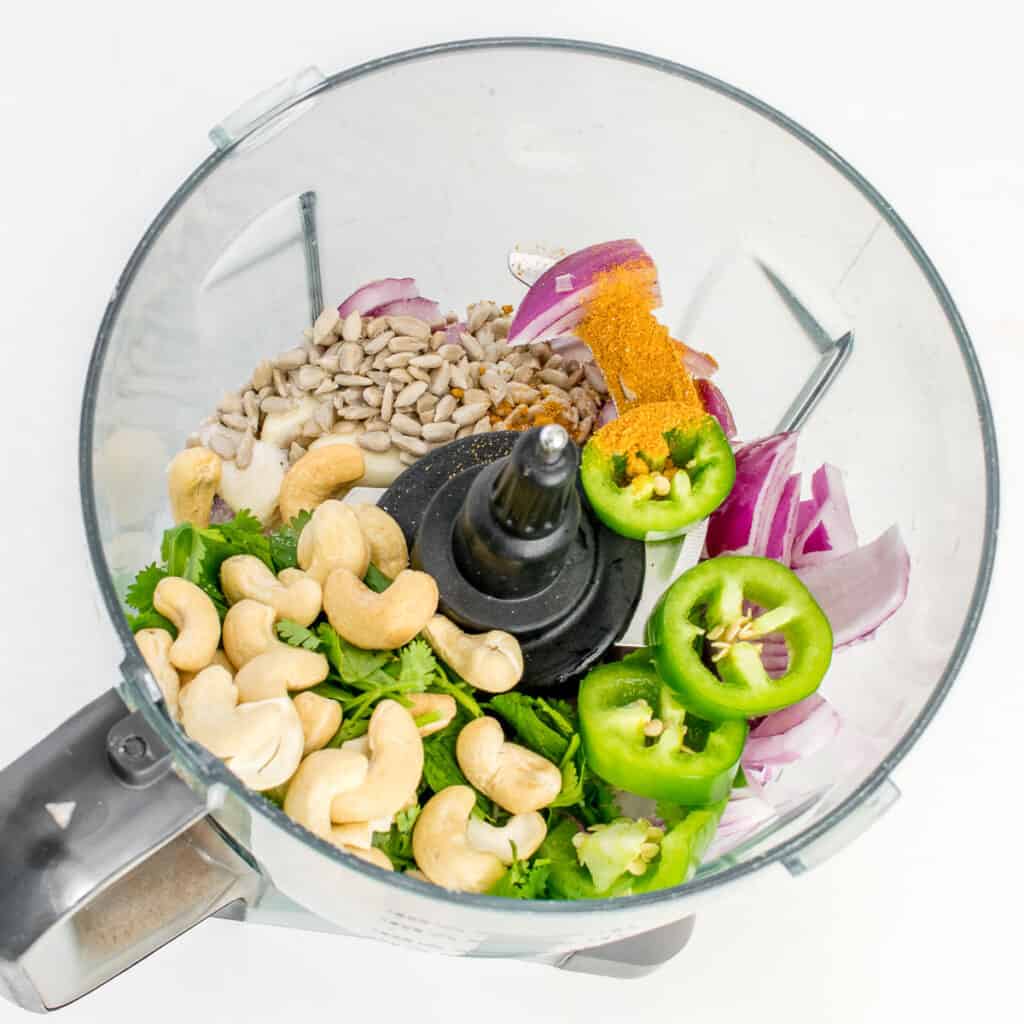 Secondly, I pulsed it in a crushed mode to get a finely chopped or crushed texture of the ingredients.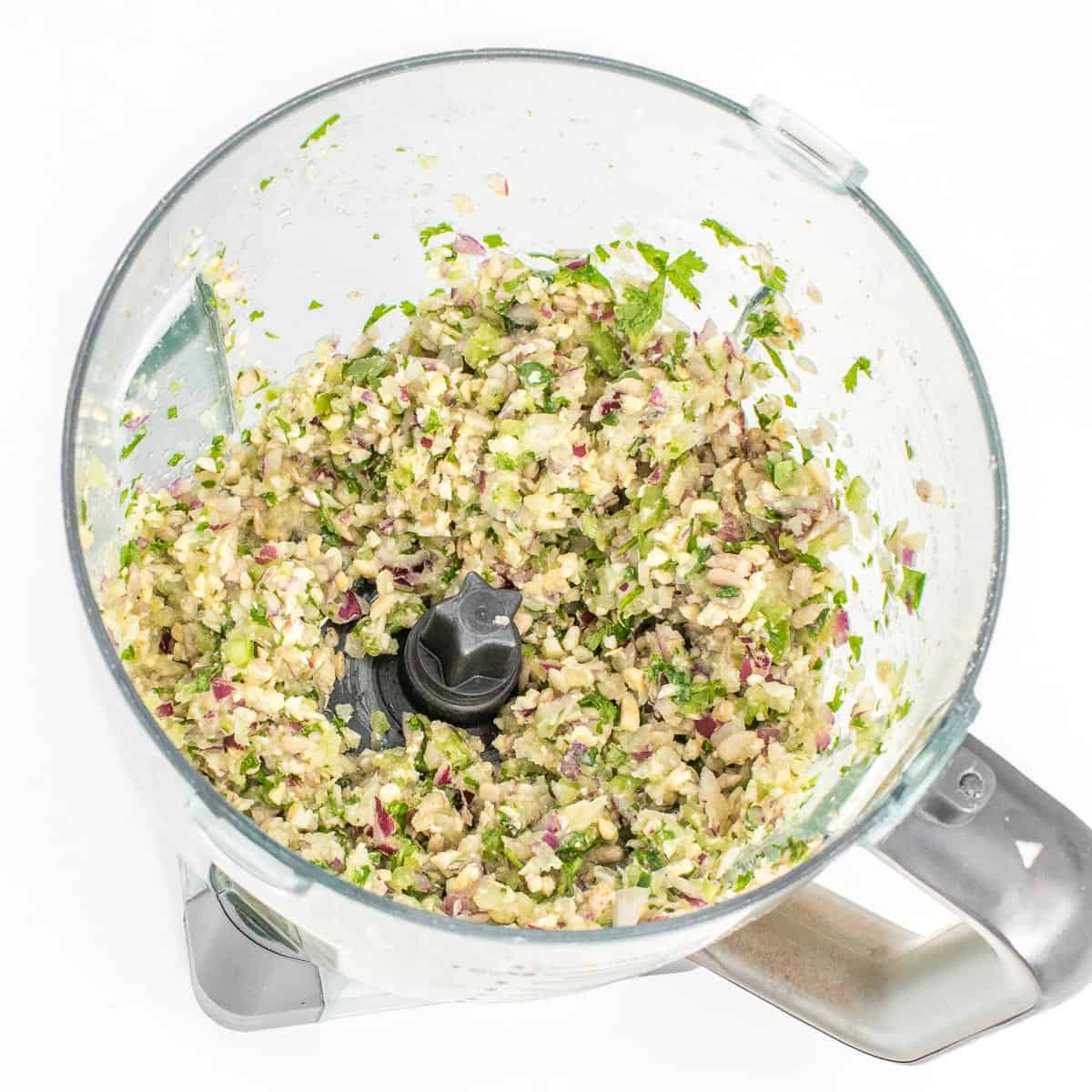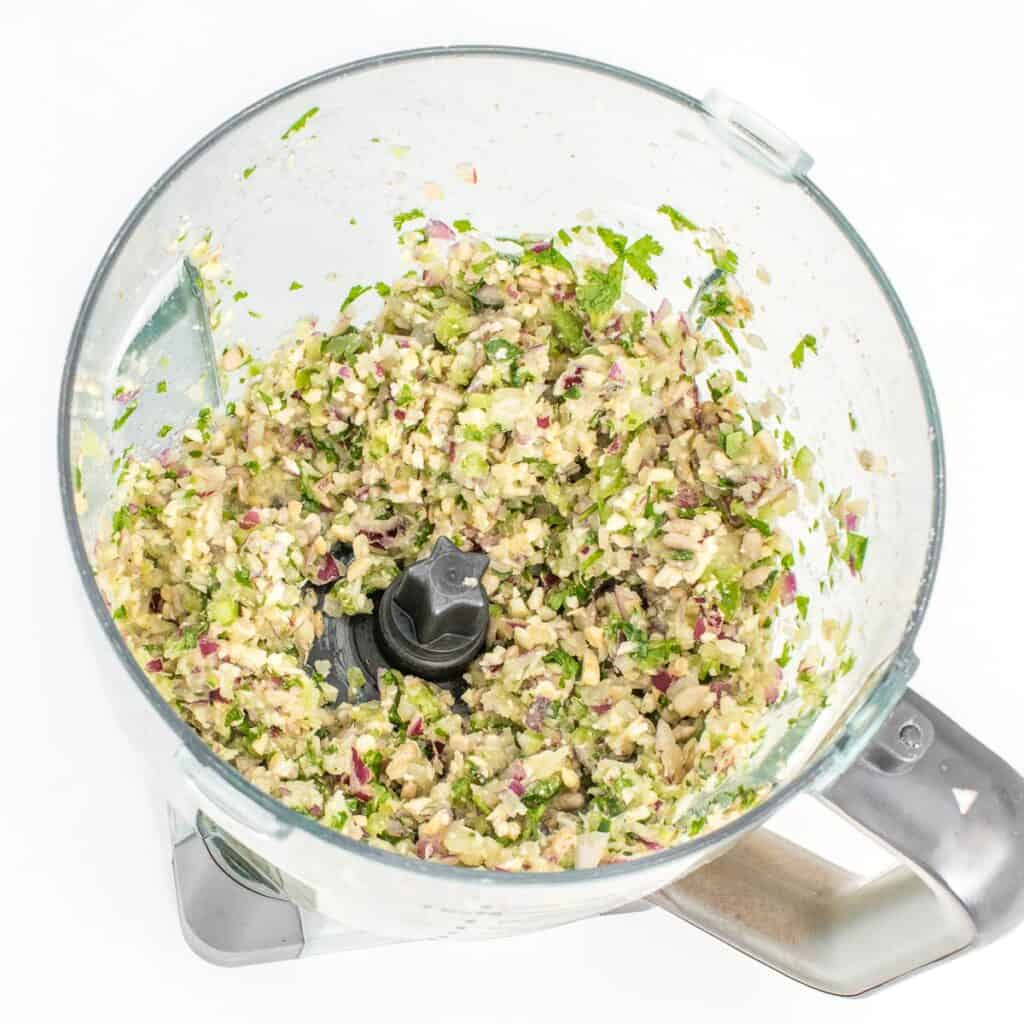 Next, I spooned it out in a bowl and mashed in pinto beans with my hands. Then, I mixed it well.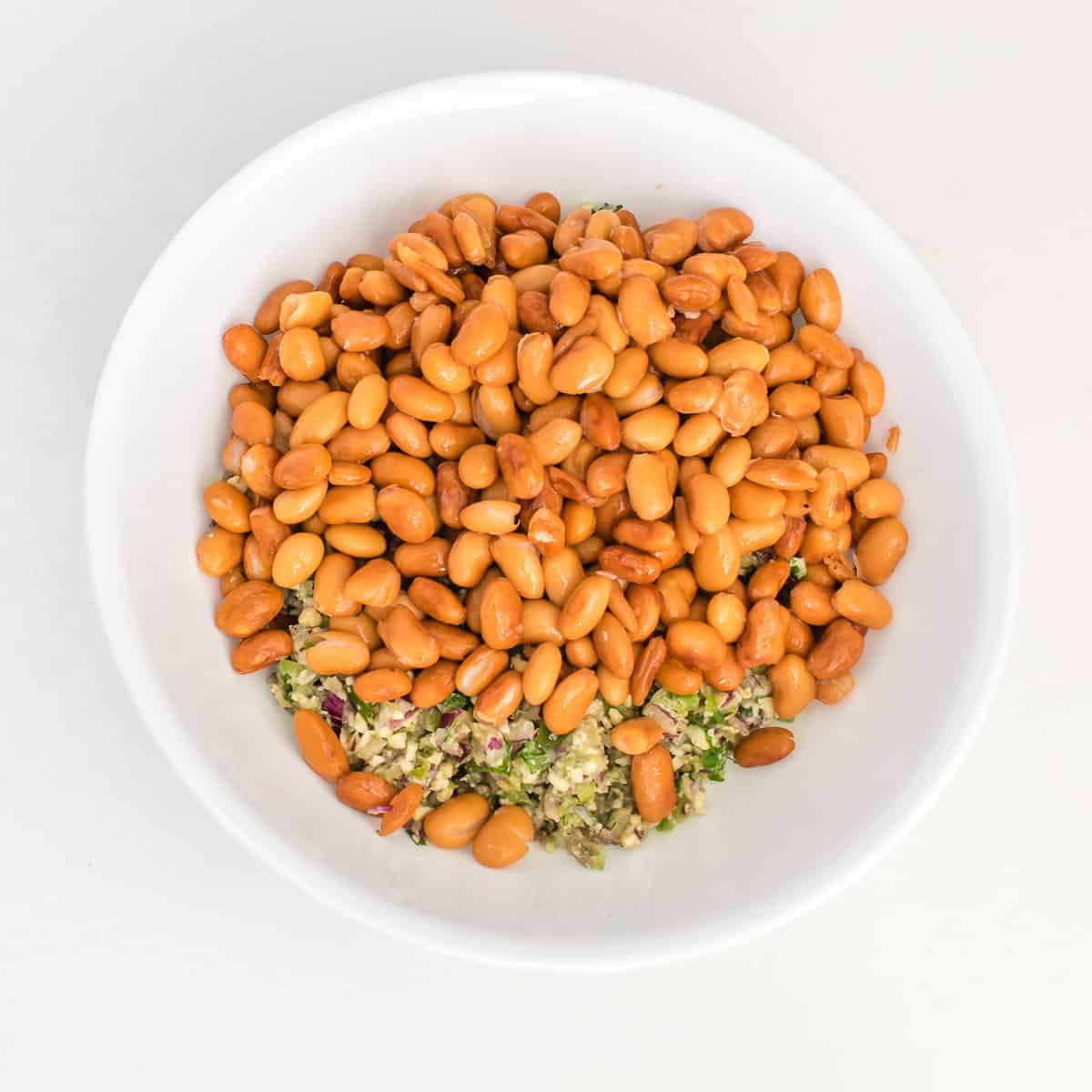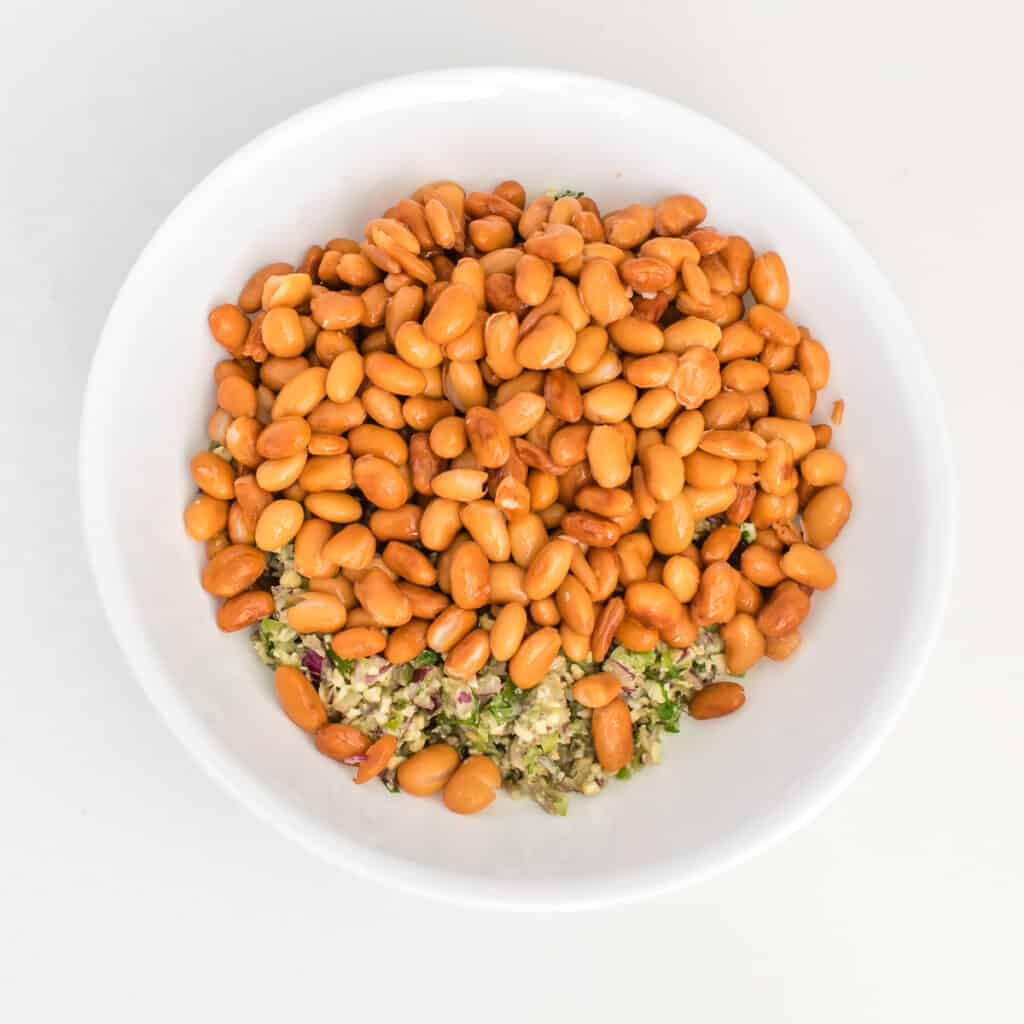 Thereafter, I folded in panko crumbs and mixed the dough well. Then, I divided the dough into four equal portions.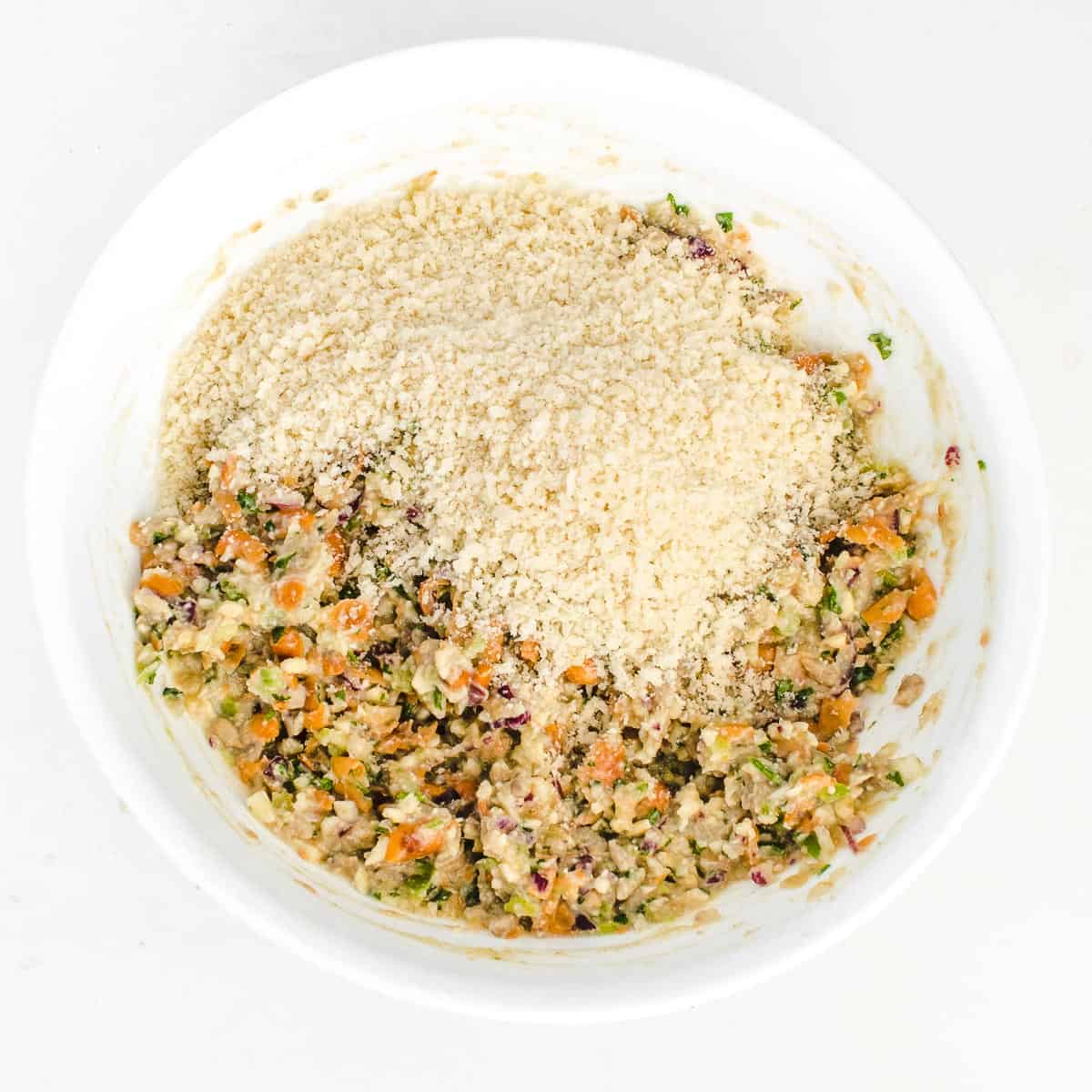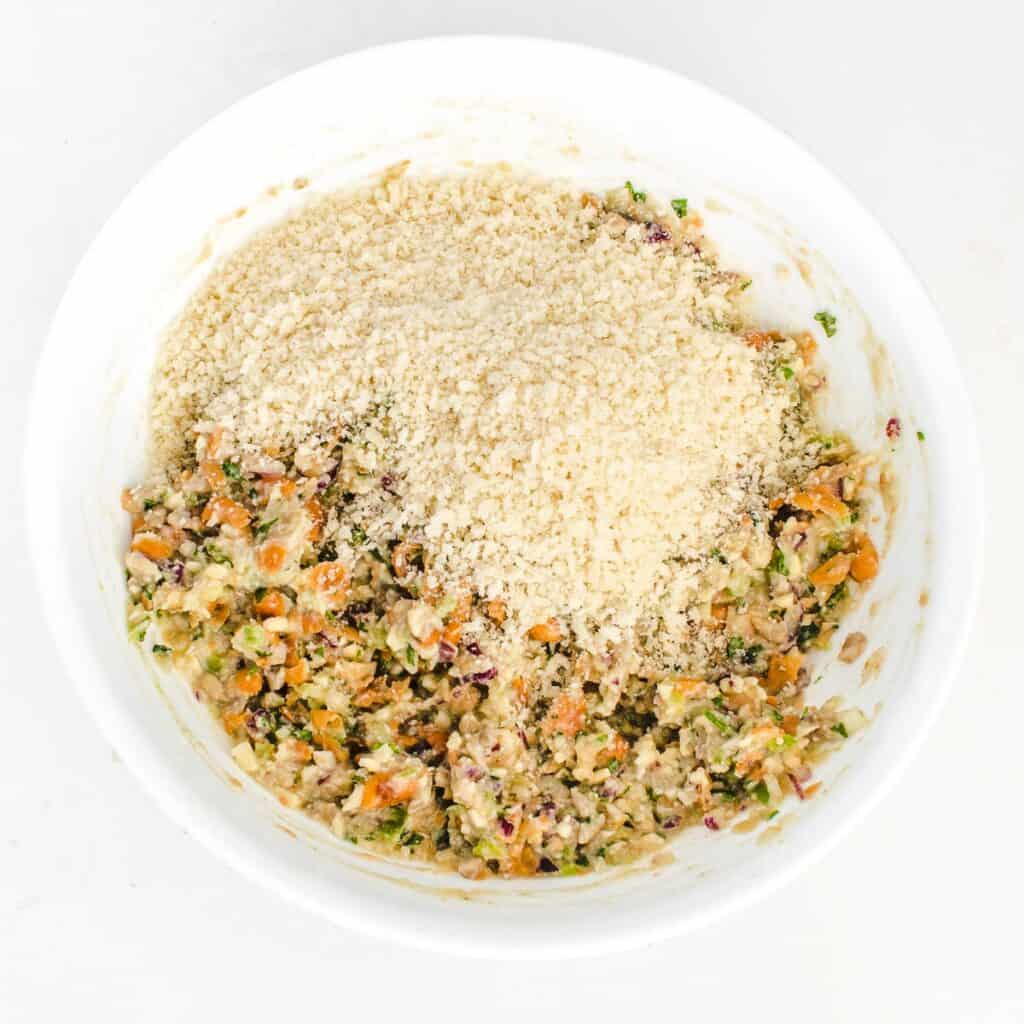 Afterwards, I made flat round patties between my palms and placed them on the prepared baking sheet.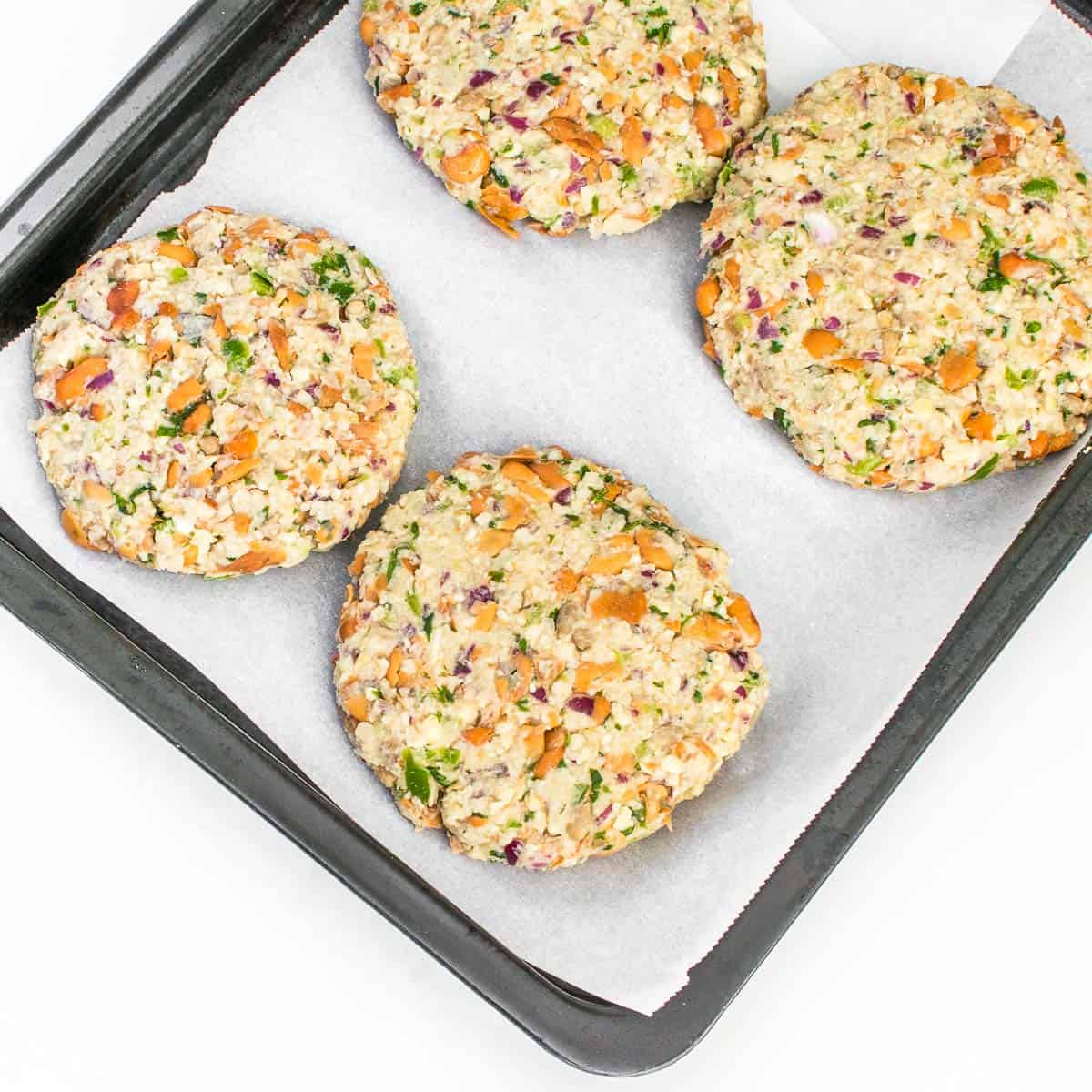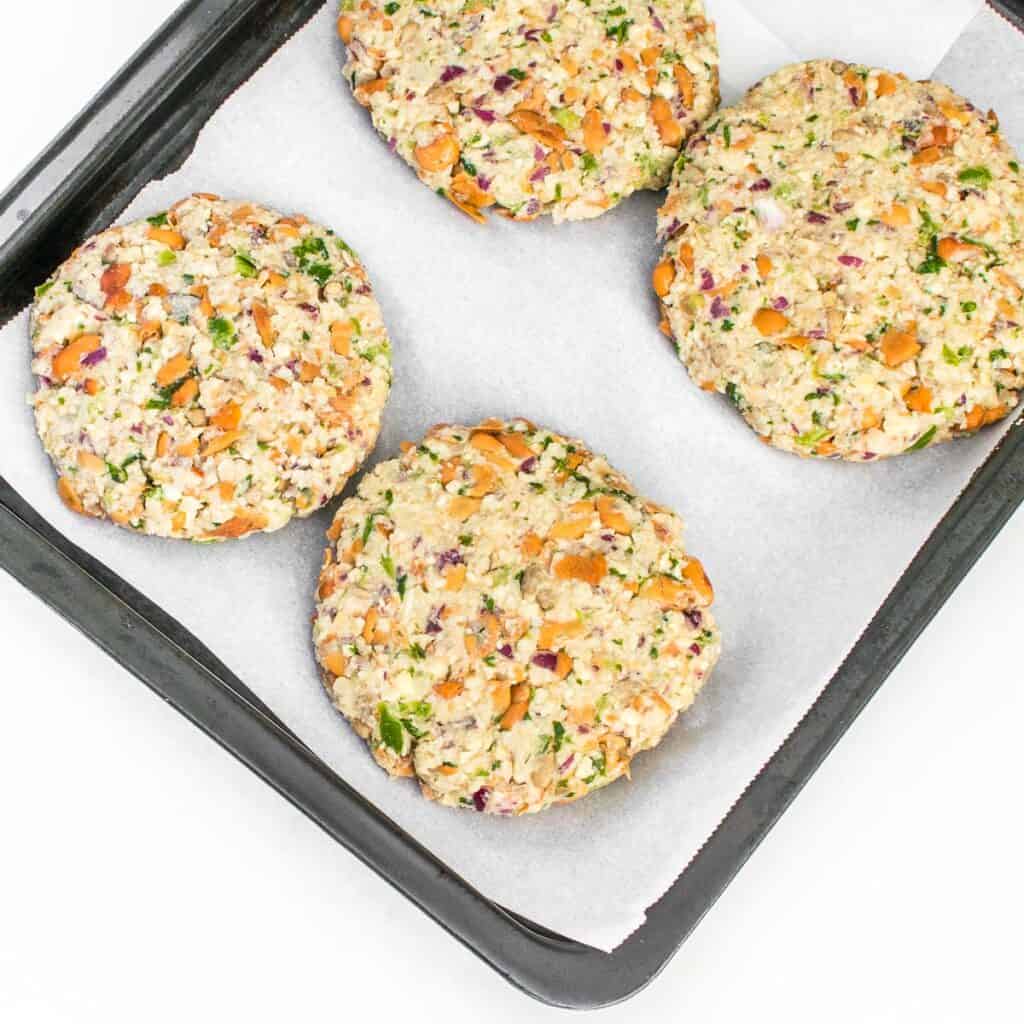 Then, I baked them in a preheated oven at 400-degree Fahrenheit for 30 minutes.
However, I flipped them once at 15 minutes to make sure its cooked from all sides.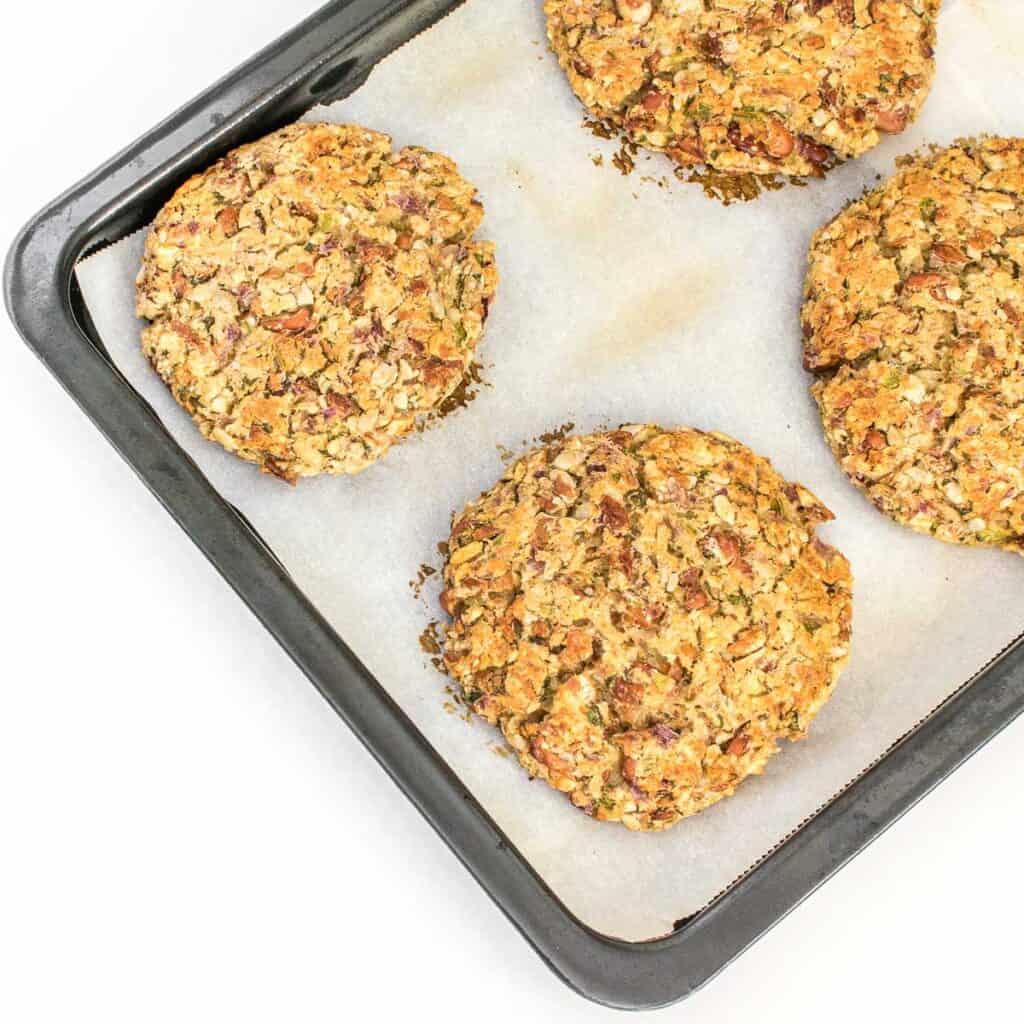 When done, I took the baking sheet out and placed it on a working counter.
Lastly, I assembled into burger and we all enjoyed it so much.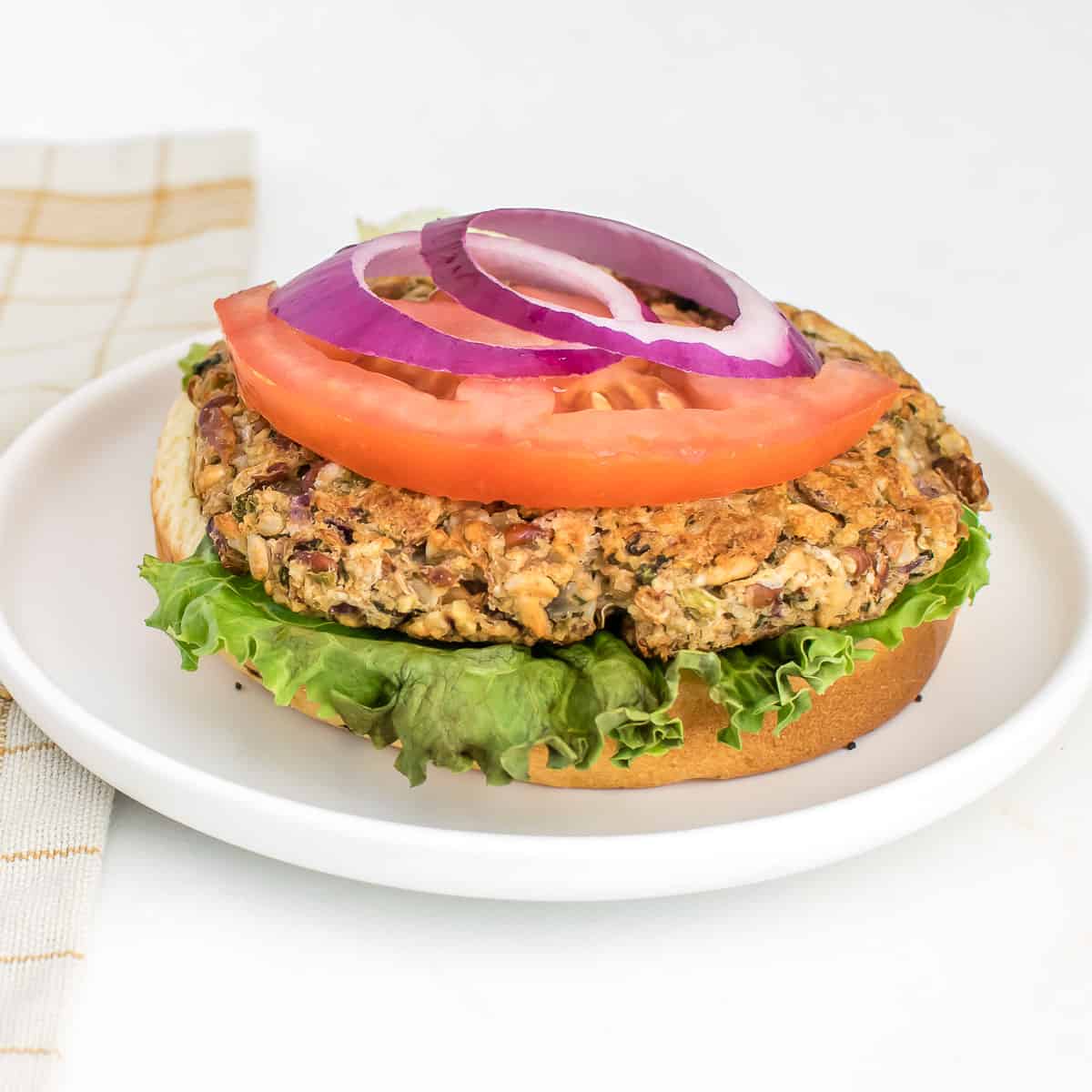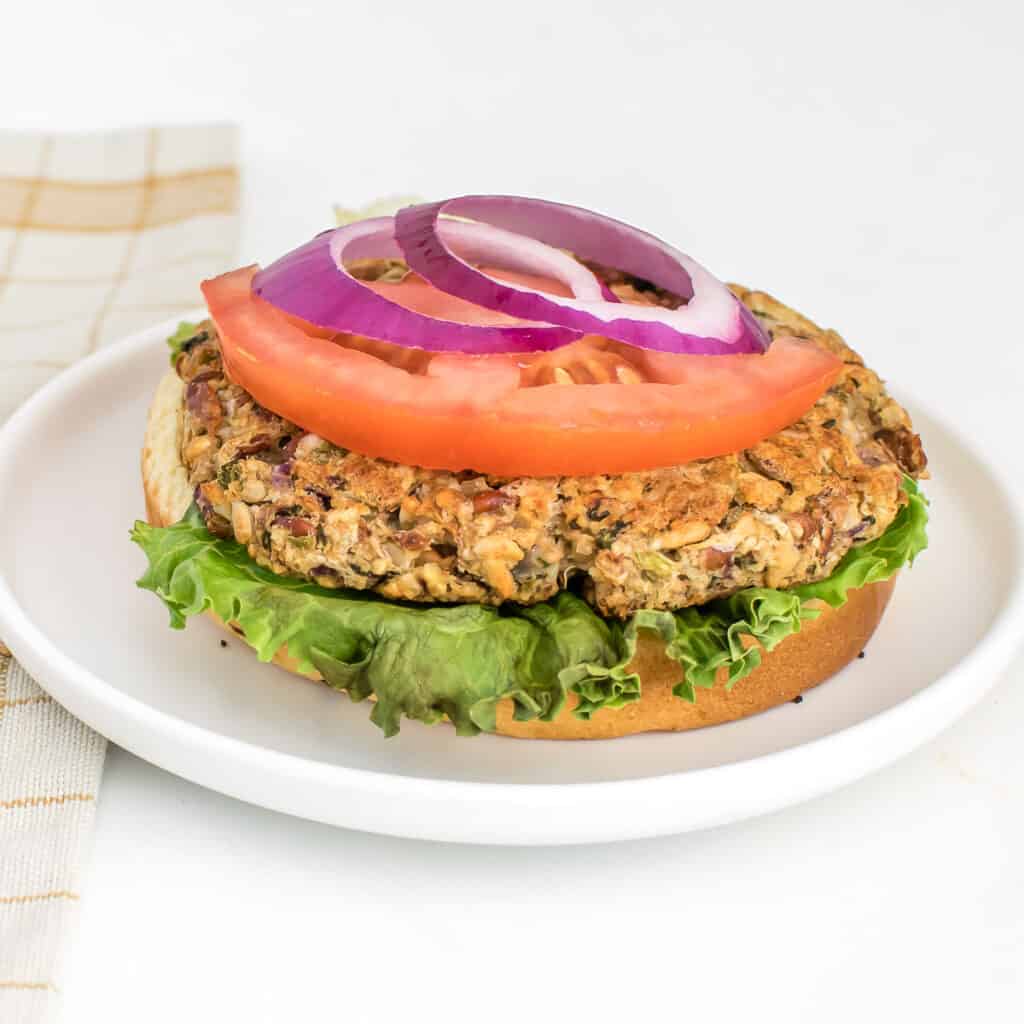 How to make pinto bean patties on the stove top?
Once the dough is mixed and round flat patties are made. Place them in a greased griddle or nonstick pan. Let the cook at medium-high flame until brown in color from the bottom and are little firm. Flip them with a spatula making sure they do not break apart and cook again until brown from the other side. Remove from flame and assemble into burger.
How to Air Fry
Place a small parchment paper in the air fryer basket making sure that it's not hanging from the corners. Place the round flat pinto beans burger patties in it and attach it to the air fryer. Turn it on at 350 degrees for 20 minutes or until brown and firm. Turn it off and detach the basket. Assemble into burger and enjoy.
What to serve with burger
We usually enjoy it with my vegan mayo as a dip and vegan ranch as well. However, you may serve it with zucchini fries instead of regular fries to make this meal healthier. You may also pair it with patatas bravas to make it a gourmet meal. A side salad of Mexican coleslaw also pairs well.
Expert tips:
When flipping them in the baking process make sure to use a flat spatula and not tongs since the patties would be soft and breakable at that stage.
It's important to mash pinto beans with hands to make the dough sticky and avoid it from falling apart. Hence, mash each bean with fingers directly into the ground mixture.
Most importantly, while shaping them make sure to bind them from side while flattening from the center.
Pinto Bean Burger FAQs
How long does this last?
This is a make-ahead recipe so make them and let them cool. Then refrigerate in an air tight container for about 3 weeks. Warm in the oven in a toast mode or microwave for 40 seconds before assembling into a burger.
Will they fall apart?
No! I have tested and re-tested this recipe and these burger patties hold well. Just make sure to follow the measurements and the steps carefully. Also, when shaping make sure to bind from the side at the same when flattening from the center.
Are these healthy?
Yes, absolutely. It's made with protein rich beans and fiber rich veggies along with antioxidant rich herbs.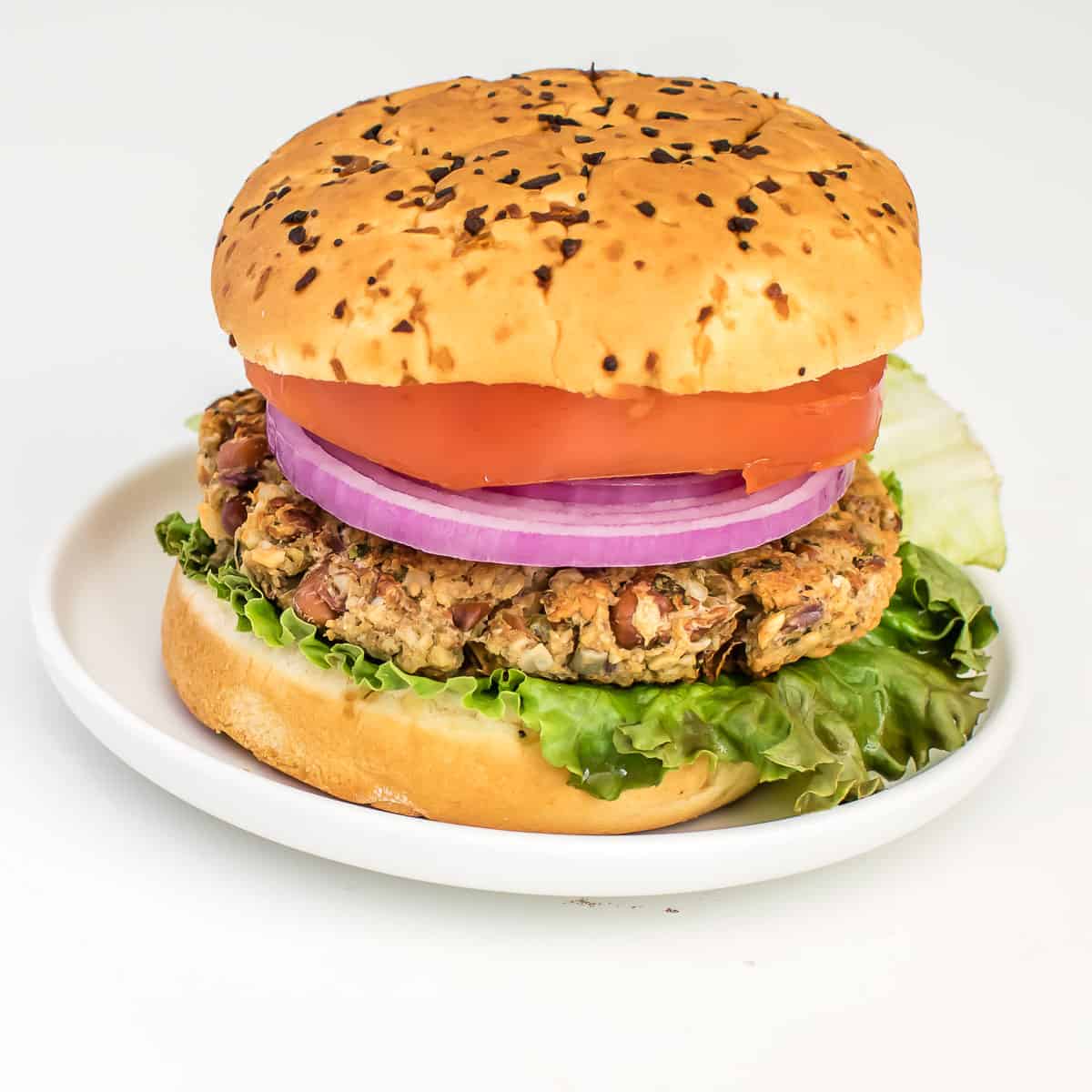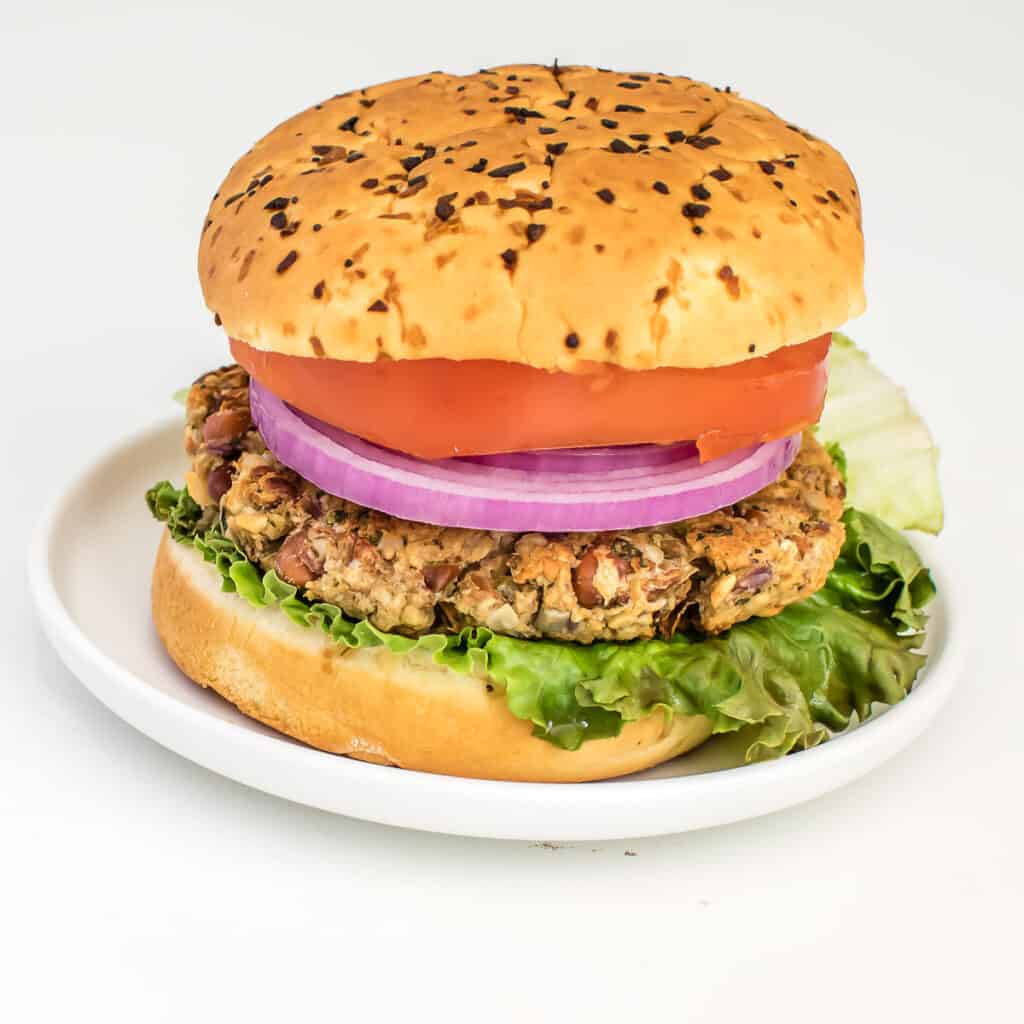 My other burger recipes are:
Beet Burger
7 Ingredients Green Monster Burger
Tempeh Parmesan Burger
Lentil Curry Burger
Chickpea Zucchini Burger
This post may contain affiliate links which means that if you click on them and also make a purchase, I will get a small commission. Moreover, I share only those products which I use personally and love.
I hope you enjoy this recipe as much as we did. I am very excited to hear back from you.
Where to find me?
Follow me on Facebook or on Twitter. You may tag @kiipfit on Instagram with your recipe remake images because I would love to see what you cooked.
Did you make it?
If you get a chance to make this recipe then please leave your feedback in the comments below along with a 5-star rating.
In addition, you may checkout my cookbook for everyday comfort vegan recipes.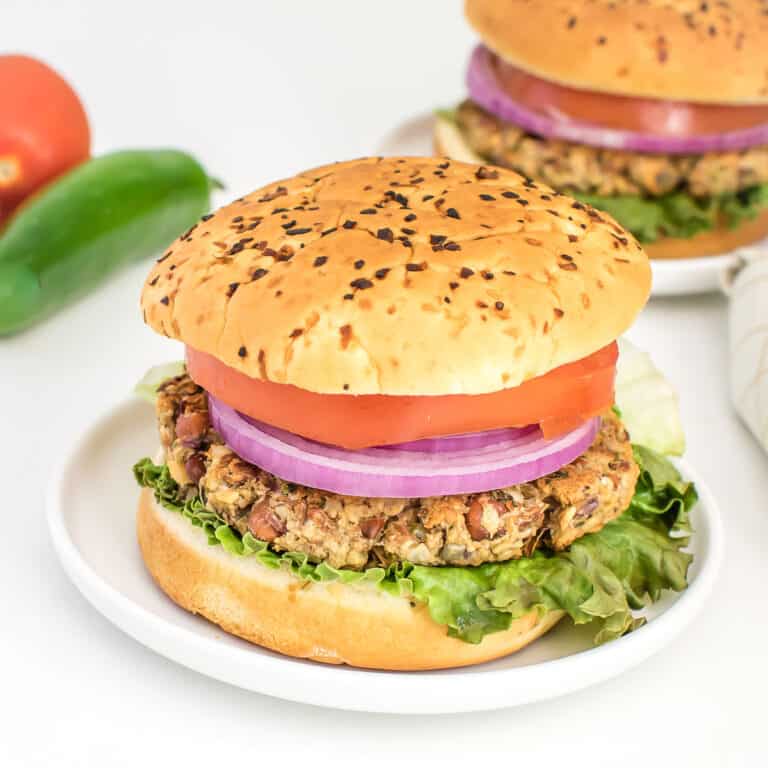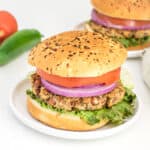 Print Recipe
Pinto Bean Burger
Skip the meat and try this Pinto Bean Burger that's hearty, filling and packed with flavors. So nutritious, easy to make and delicious to eat.
Ingredients
others
burger buns

lettuce

sliced onion

sliced tomatoes
Instructions
Preheat oven at 400-degree Fahrenheit and prepare a baking sheet with a parchment paper.

In a food processor combine onion, garlic, cilantro, jalapeno, sunflower seeds, cashew nuts, salt and paprika. In a crush mode, crush all the ingredients into finely chopped texture or pulse until finely chopped. Do not over blend because crunchy bite of the ingredients is required in this recipe.

Spoon it out in a bowl. Then, mash pinto beans with hands directly into the onion mixture bowl and mix well with hands. Test it by picking a small portion of it in your hand and see if it sticks to each other. The more you mash the beans the dough will stick better to each other.

Then, fold in panko crumbs and mix well. Divide the batter into 4 equal portions and make 4 round flat patties between your palms. Place them on the prepared baking sheet.

Place the baking sheet in the middle rack of the preheated oven and bake for 30 minutes. At 15 minutes take it out and flip all the patties with the help of a flat spatula. They would still be soft and breakable at this stage so use spatula instead of tongs. Place the baking sheet again in the middle rack of the oven and bake for another 15 minutes.

Once done, turn it off and take it out. The patties would be crisp and firm.

Assemble the burger by spreading ranch or mayo on one side of the bun and layering with lettuce, patty, onion, tomato and cover it the other bun. Enjoy.
Notes
Stove top option: Follow the steps 2 – 4. Then, place them on a greased nonstick pan. Cook until brown from the bottom side and then flip with a flat spatula to cook again from the other side until brown. Assemble as explained in step 7.
Air fry option: Follow step 2 – 4. Place a small parchment paper in the air fryer basket and place the patties in it. Attach the basket to the air fryer and air fry at 350 degree for 20 minutes or until brown in color and firm to hold. Assemble as explained in step 7.
These patties can be refrigerated in an air tight container for about 3 weeks. Reheat in the toaster oven for 5 minutes to get crispy patty or microwave for 40 seconds for a quick fix.
While measuring cilantro do not chop. Just pick handful from its bunch and measure it before grinding.
This recipe makes 4 large patties or 6 medium patties.
The nutritional value is shown for 4 large patties without buns. It will vary depending on the choice of buns you prefer for your burger. You may also opt for lettuce burger wraps with you are on a low carb diet.
Nutrition
Calories:
165
kcal
|
Carbohydrates:
25
g
|
Protein:
8
g
|
Fat:
4
g
|
Saturated Fat:
1
g
|
Polyunsaturated Fat:
2
g
|
Monounsaturated Fat:
2
g
|
Sodium:
348
mg
|
Potassium:
104
mg
|
Fiber:
1
g
|
Sugar:
1
g
|
Vitamin A:
196
IU
|
Vitamin C:
2
mg
|
Calcium:
26
mg
|
Iron:
1
mg