Soft, chewy yet crispy Zucchini Chocolate Chip Cookies are absolutely mouthwatering. Its made oil free and sugar free for a healthier treat with the same comforting flavors. It's a perfect after school snack or a dessert for all ages.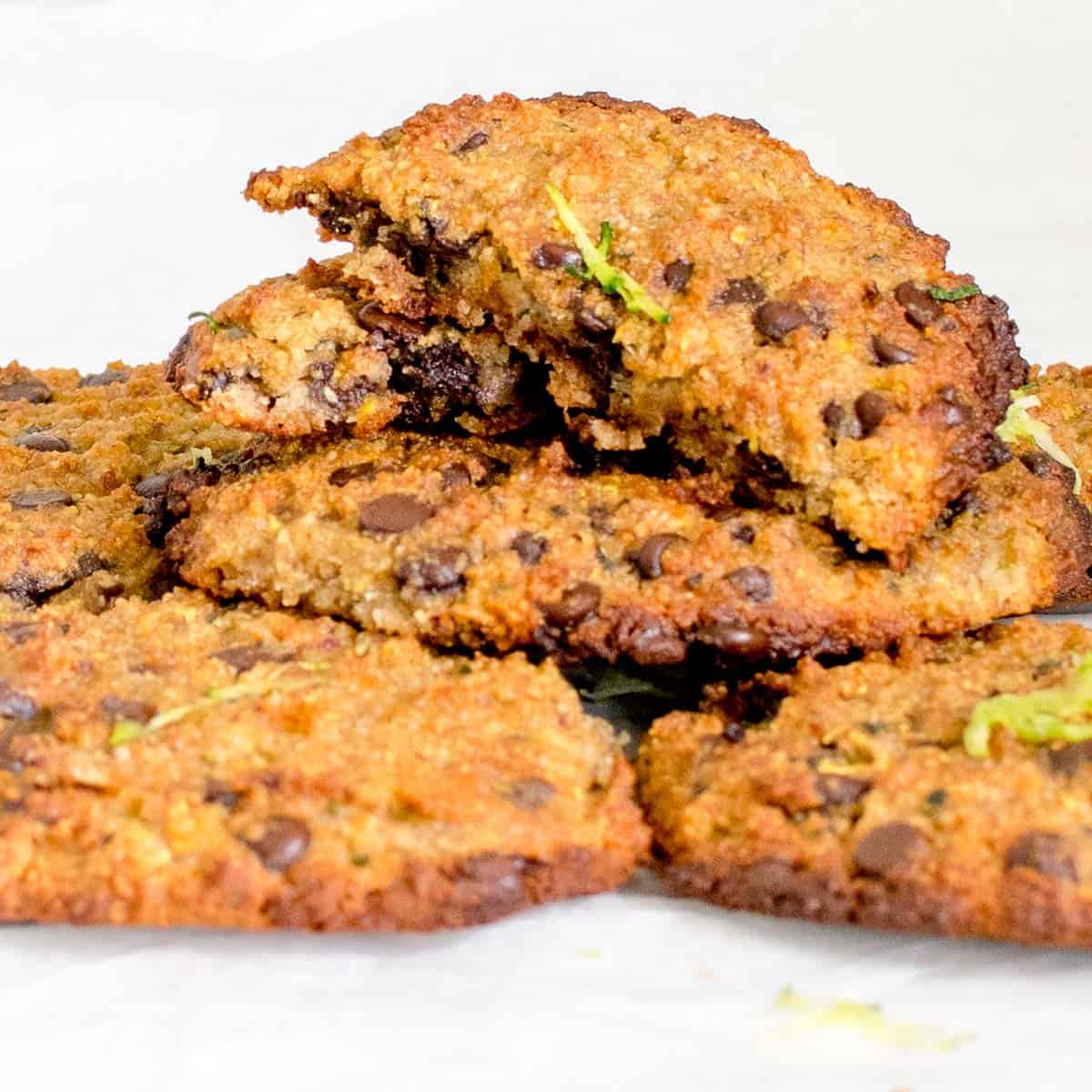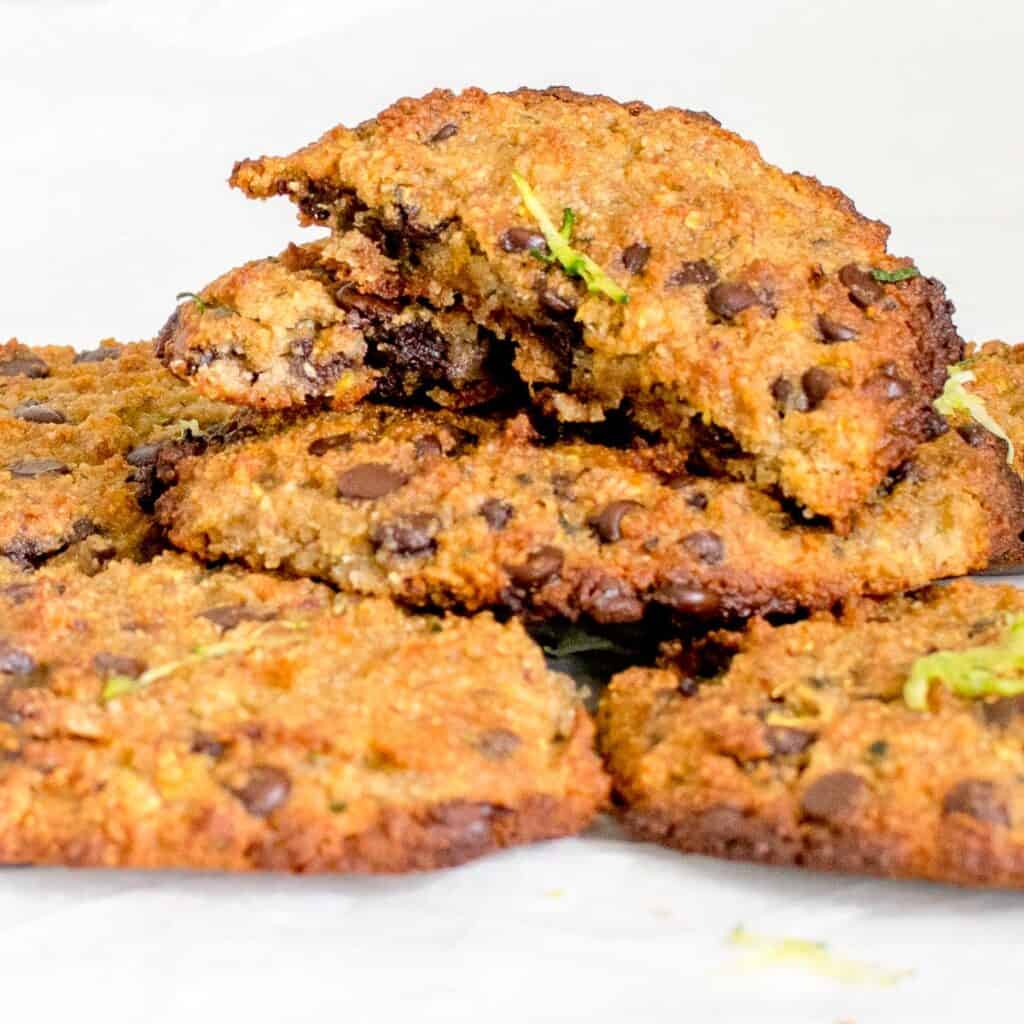 My family loves to snack on cookies frequently and so I usually have my pantry full of them. As we all know store bought ones are loaded with sugar and calories.

Therefore, I decided to work on a healthy dessert for my kids.
Zucchini is in the season and very nutritious. I have been wondering about adding it to our diet in a creative way and finally I innovated these delicious zucchini cookies.
In the first bite my daughter said…. these are better than the store-bought ones. I was delighted to hear her.
I made it thrice in a week because they like it so much that they end up making a meal out of these. Since these are healthy and nutritious, I allow them to enjoy these to their hearts content.
So, now you will find my fridge full of these healthy zucchini cookies.
It's very easy and scrumptious. I guarantee that you will love these as much as we do. The best past is that these are breakfast cookies so definitely you must bake them.
I have tried zucchini in savory recipes like zucchini fries, savory zucchini muffins, Zucchini tofu scramble, chickpeas zucchini burger and zucchini hummus .
My other cookie recipes that you may like:
Chai Cookies
Lemon Cookies
Snowball Cookies
Tahini Cookies
Almond Butter Cookies
Peanut Butter Sweet Potato Cookies
However, I am sharing zucchini chocolate chip cookies recipe.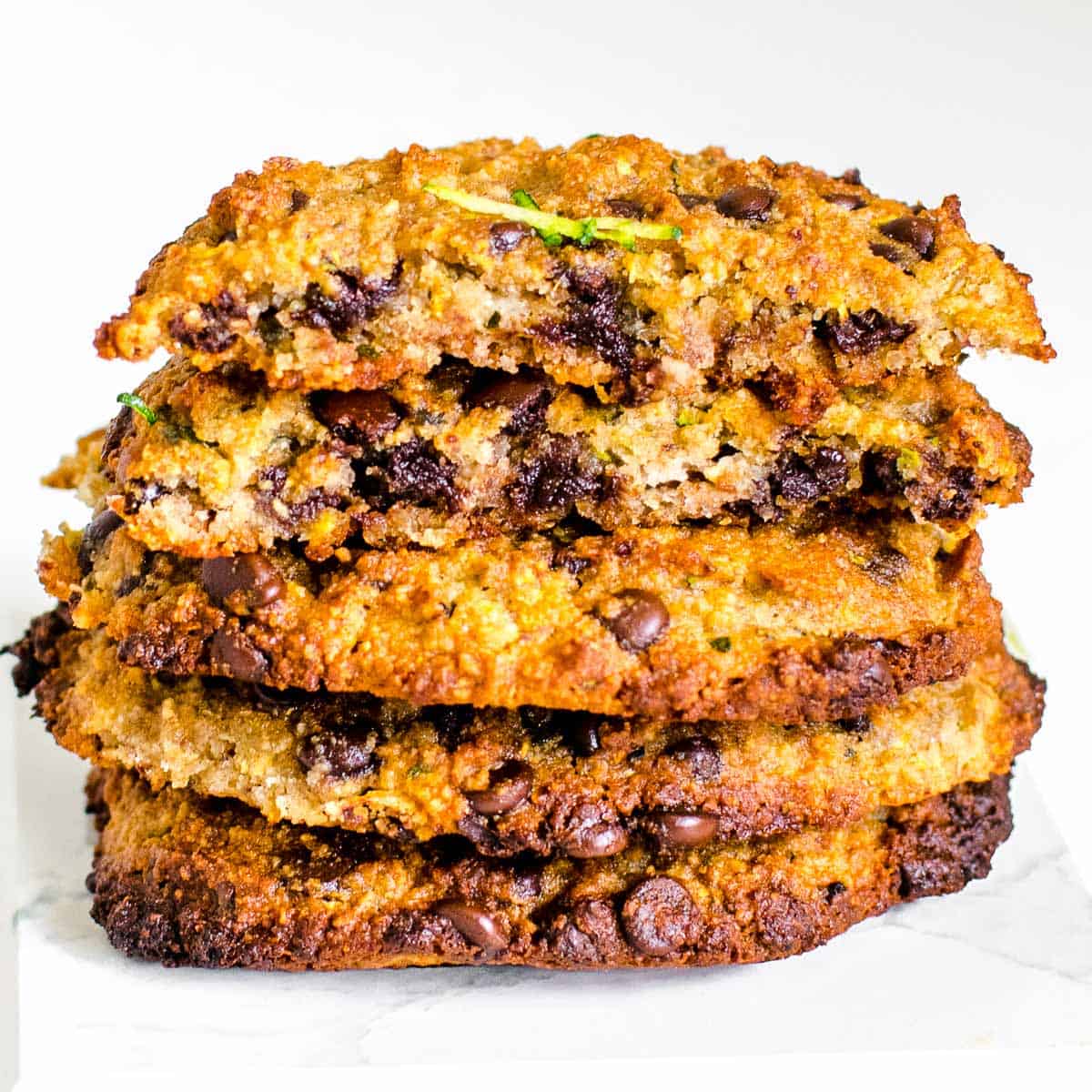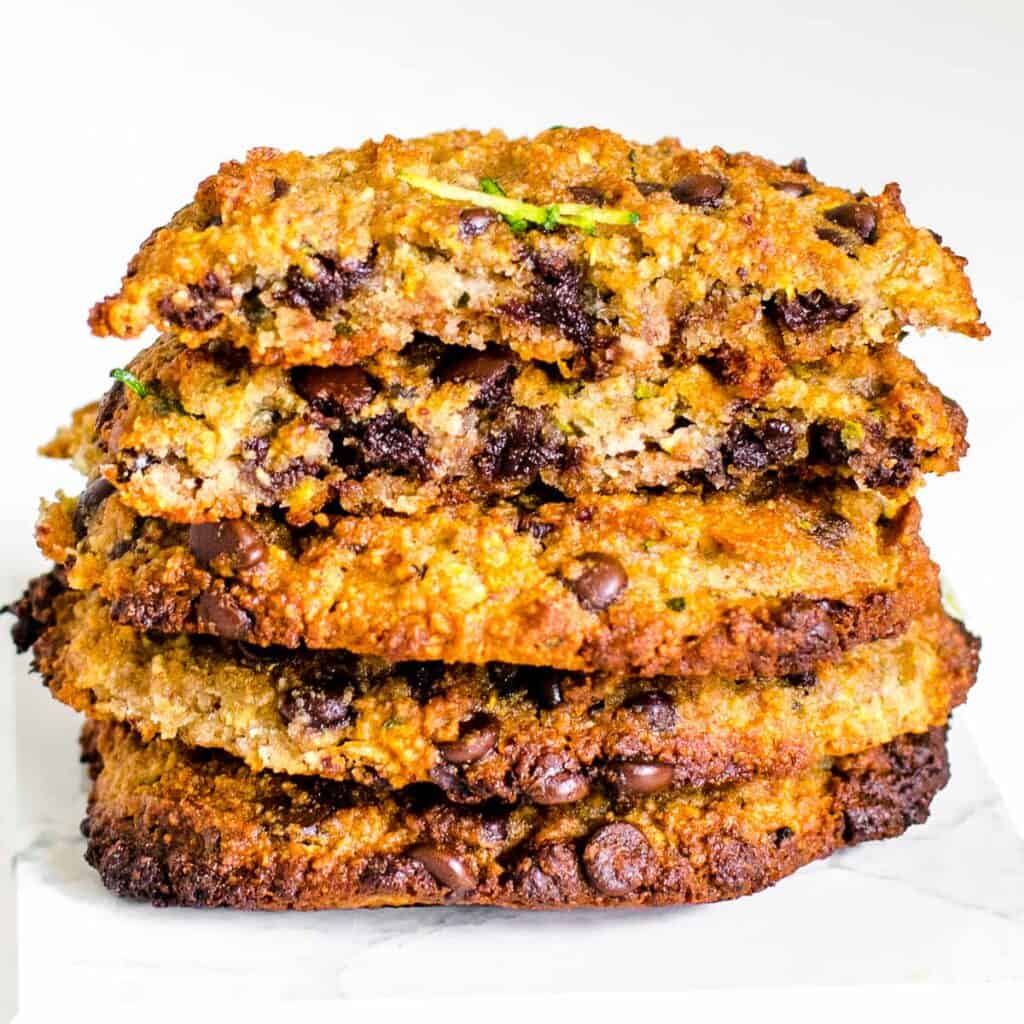 Ingredients you will need
Zucchini
Almond flour
Baking powder
Salt
Almond milk
Dates
Banana
Vanilla extract
Chocolate chips
I have used these easily available ingredients in in this recipe which you may buy from any local grocery store. However, I have provided links to few of them here for your convenience.
If you plan to buy from these affiliate links then I get a small commission which in turn encourages me to bring in more delicious recipes for you all.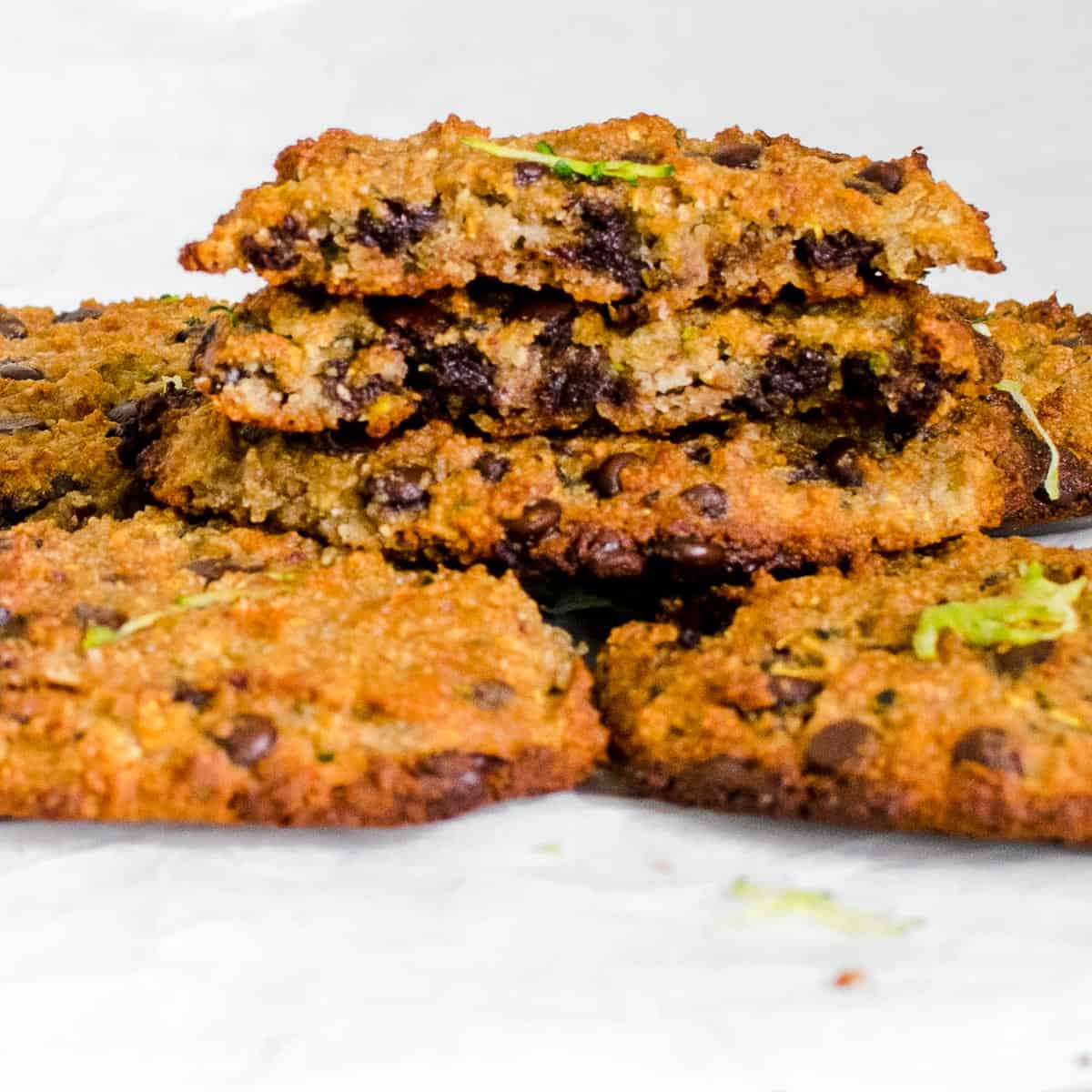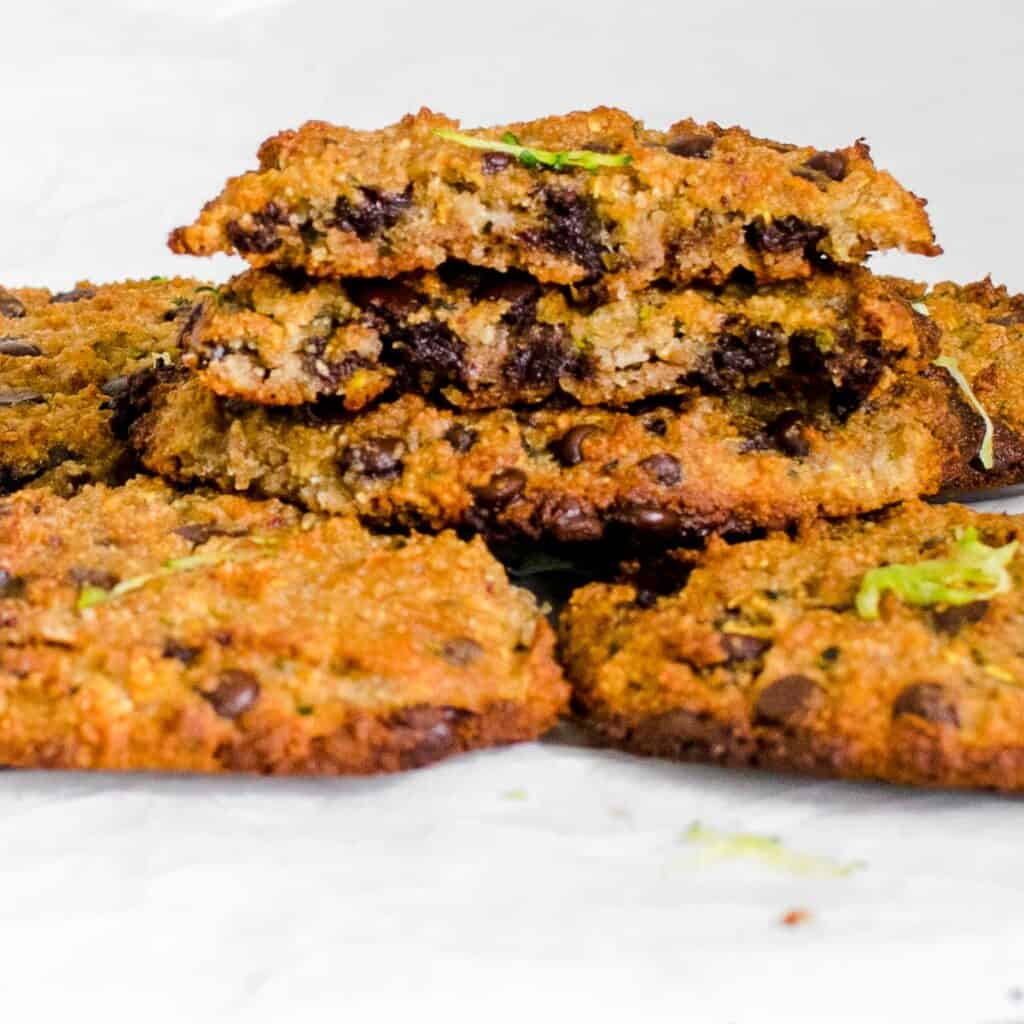 Ingredients notes:
Zucchini – it's the main ingredient in this recipe. Its low in calories a very nutritious. It has lot of moisture in it naturally so make sure to handle that with care so as to get the right texture of these cookies.
Almond flour – it is basically ground almonds in a powdered form. Its gluten free and has healthy fats. Along with being a good source of protein and fiber it is also a great source of omega3.
Unsweetened almond milk – its lighter and low in calories. However, any dairy free milk works in here.
Dates – its nutritious, fiber rich, natural sweetener and iron rich as well. I used pitted dates for convenience but you may use any dates. However, make sure to read the labels and that it should not have added sugar in it.
Banana – you may substitute it with brown sugar if desired but banana adds a lot of health and nutrition here. It also substitutes the egg well and naturally sweetens these cookies.
Chocolate chip – any dark chocolate chips work but I used dairy free mini chocolate chips for the best results.
After going through the ingredients all you have to do is to go through the steps very carefully. Then, bake these ASAP so you can have a deliciousness right in the comfort of your home.
How to make Zucchini Chocolate Chip Cookies
Step 1: How to prepare zucchini
Firstly, I combined roughly chopped zucchini in a food processer and crushed it well. (It should be crushed and not blended). You may grate them manually as well.
Secondly, I spooned them out on a kitchen towel and wrapped its top with another kitchen towel. Once they were wet very wet, I changed them with another set.
Then, I squeezed out a bit of moisture form zucchini and discarded the towels.
Later, I kept zucchini aside.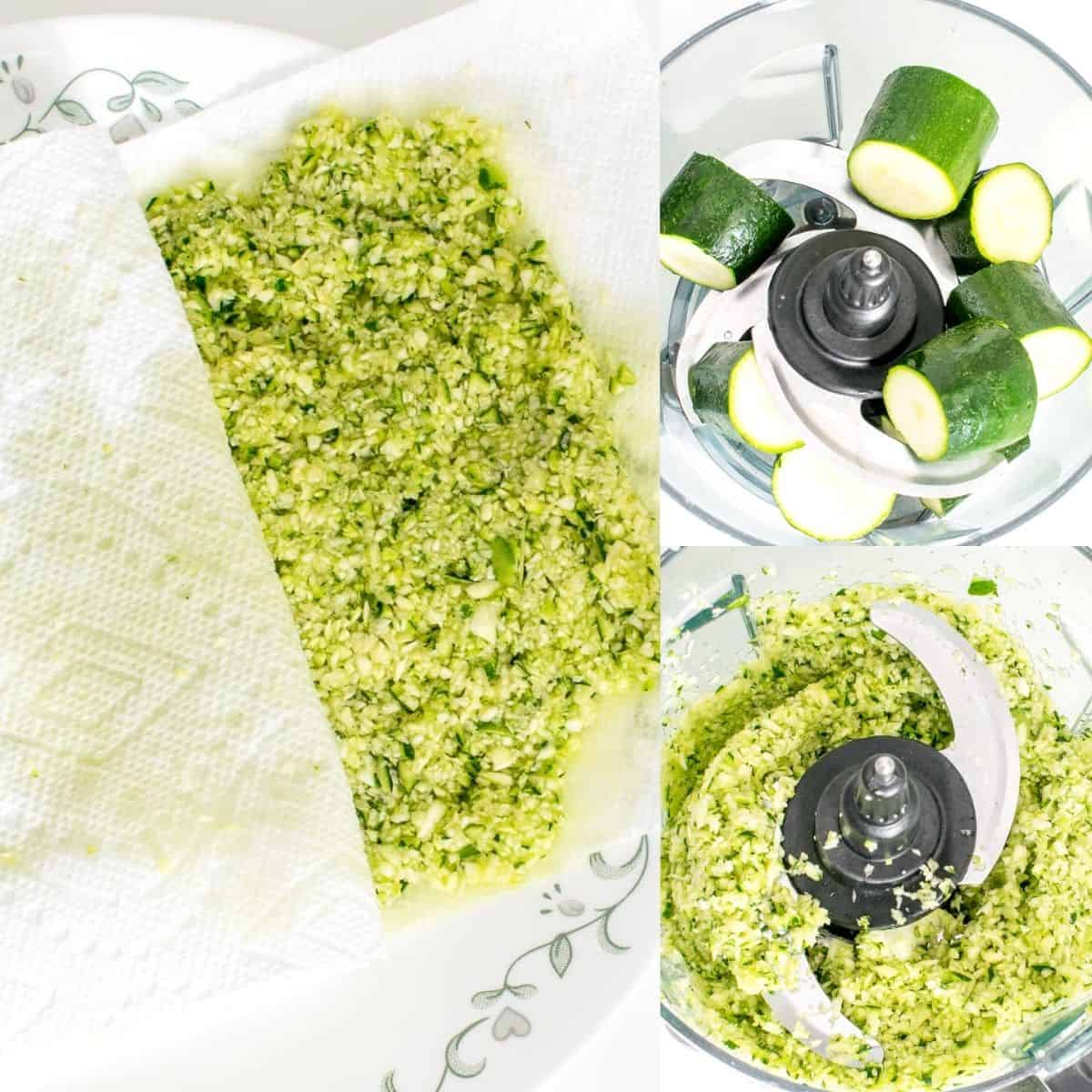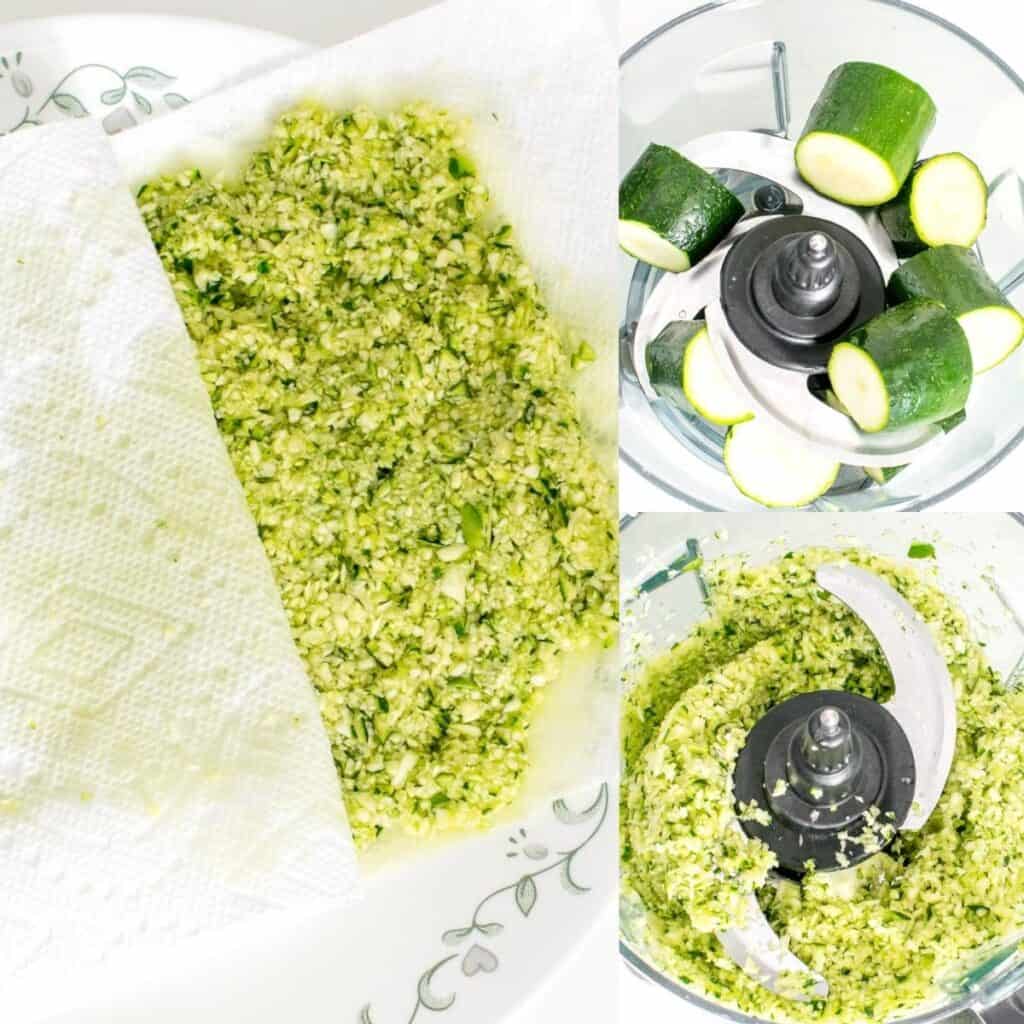 Step2: How to blend the wet ingredients
Firstly, I soaked dates in very hot water for 5 minutes or until they were soft enough to be blended easily. Then, I drained them with the help of a strainer.
Secondly, I combined almond milk, dates, banana and vanilla extract in a blender and blended it smooth.
Then, I kept it aside.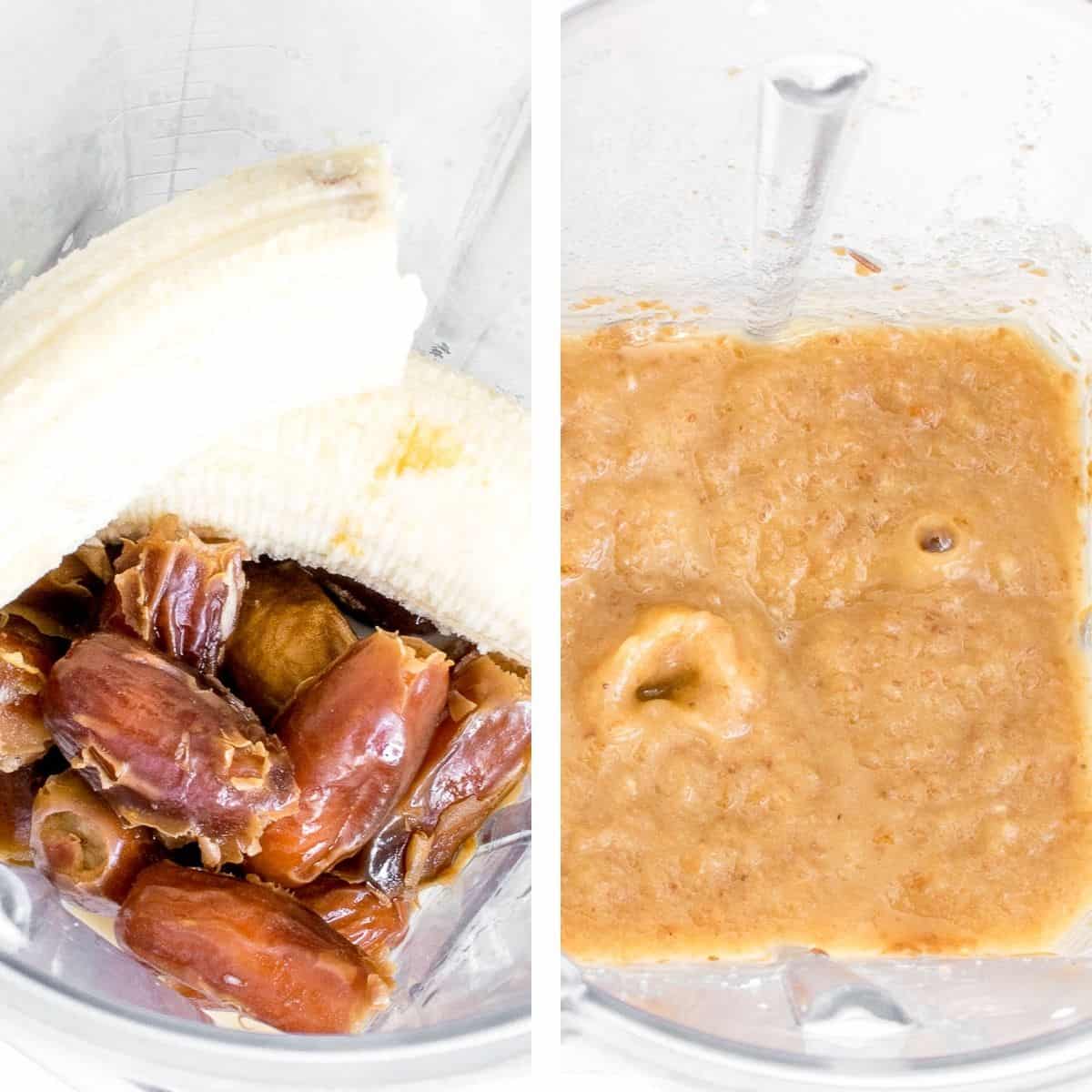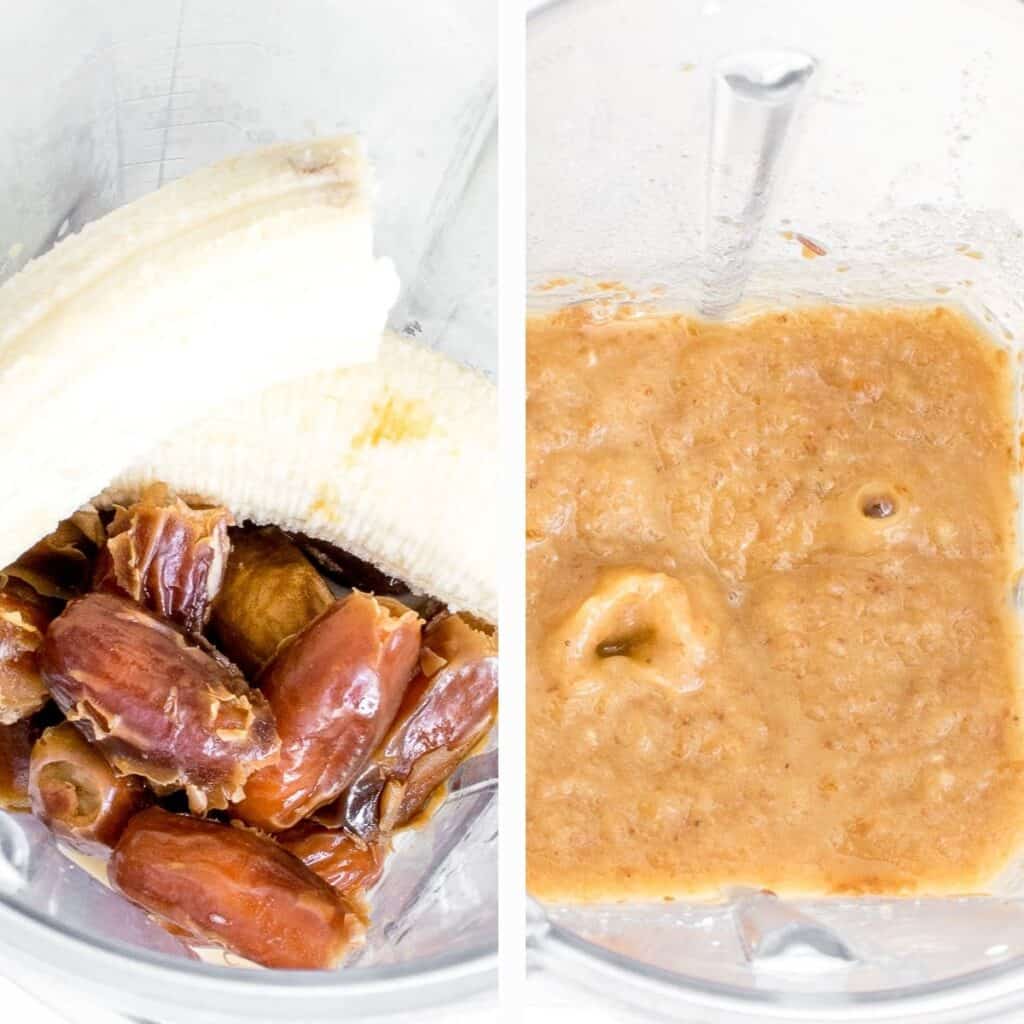 Step3: How to make the batter
Firstly, in a large mixing bowl, I combined almond flour, baking powder and salt and mixed it well.
Secondly, I poured the blended ingredients into the dry ingredients and mixed well.
Thereafter, I folded in zucchini followed but chocolate chips.
I mixed the batter well until a thick yet soft dough like batter was formed.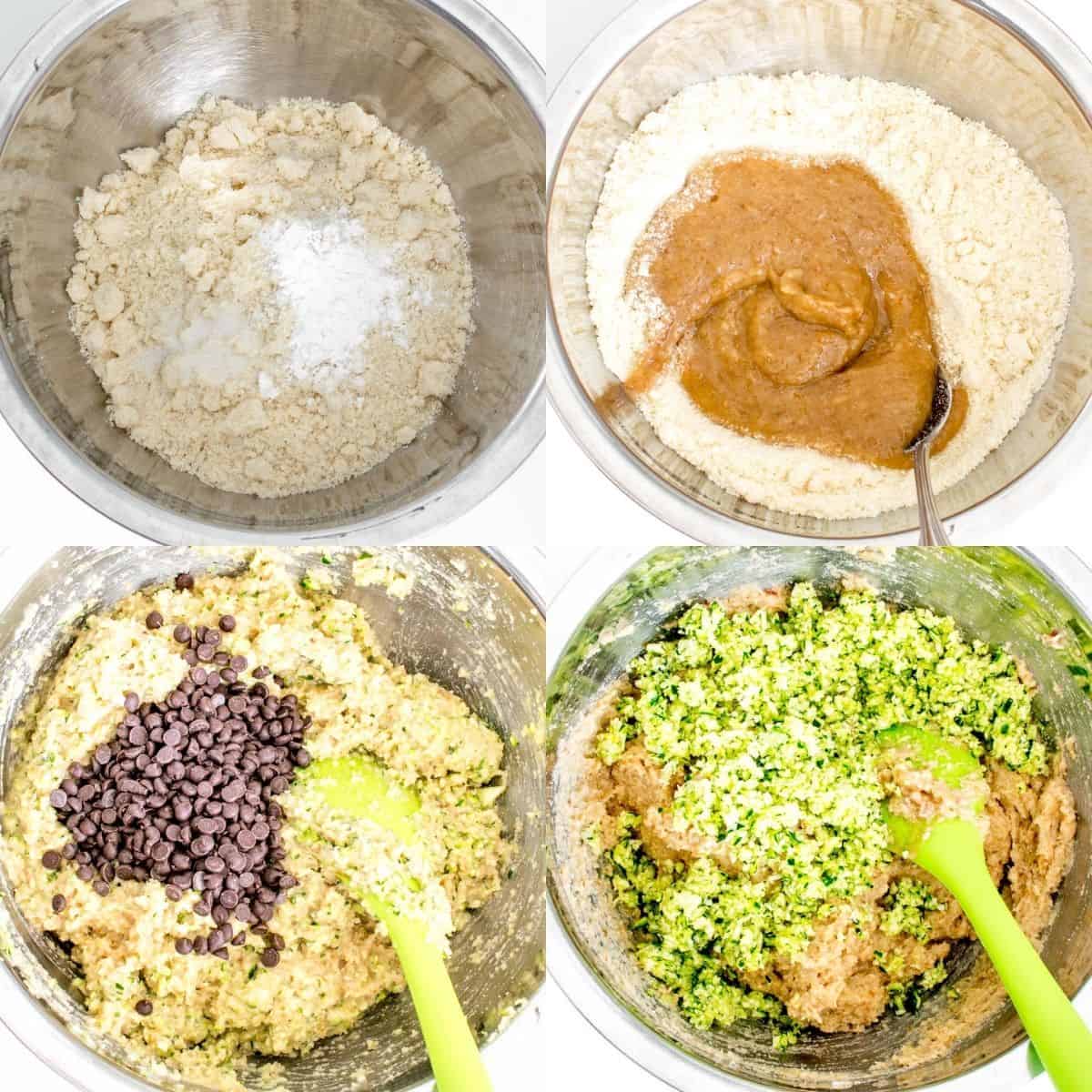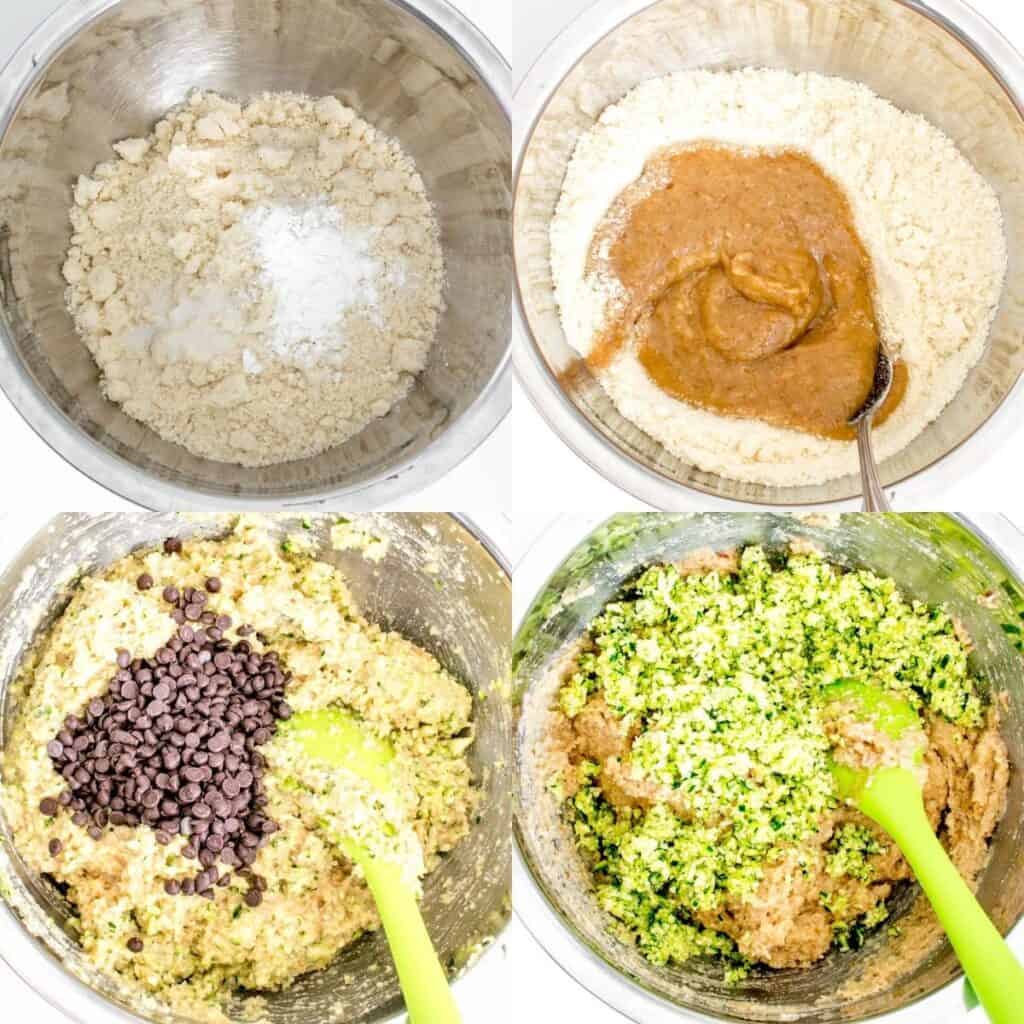 Step4: how to bake
Now, with the help of a cookie scoop, I placed the cookies on the prepared sheet and shaped them with the back of the bowl.
Lastly, I baked them in the middle rack of the oven at 350-degree Fahrenheit for 45 minutes and then turned it off. Then, I took them out and let it cool completely before indulging.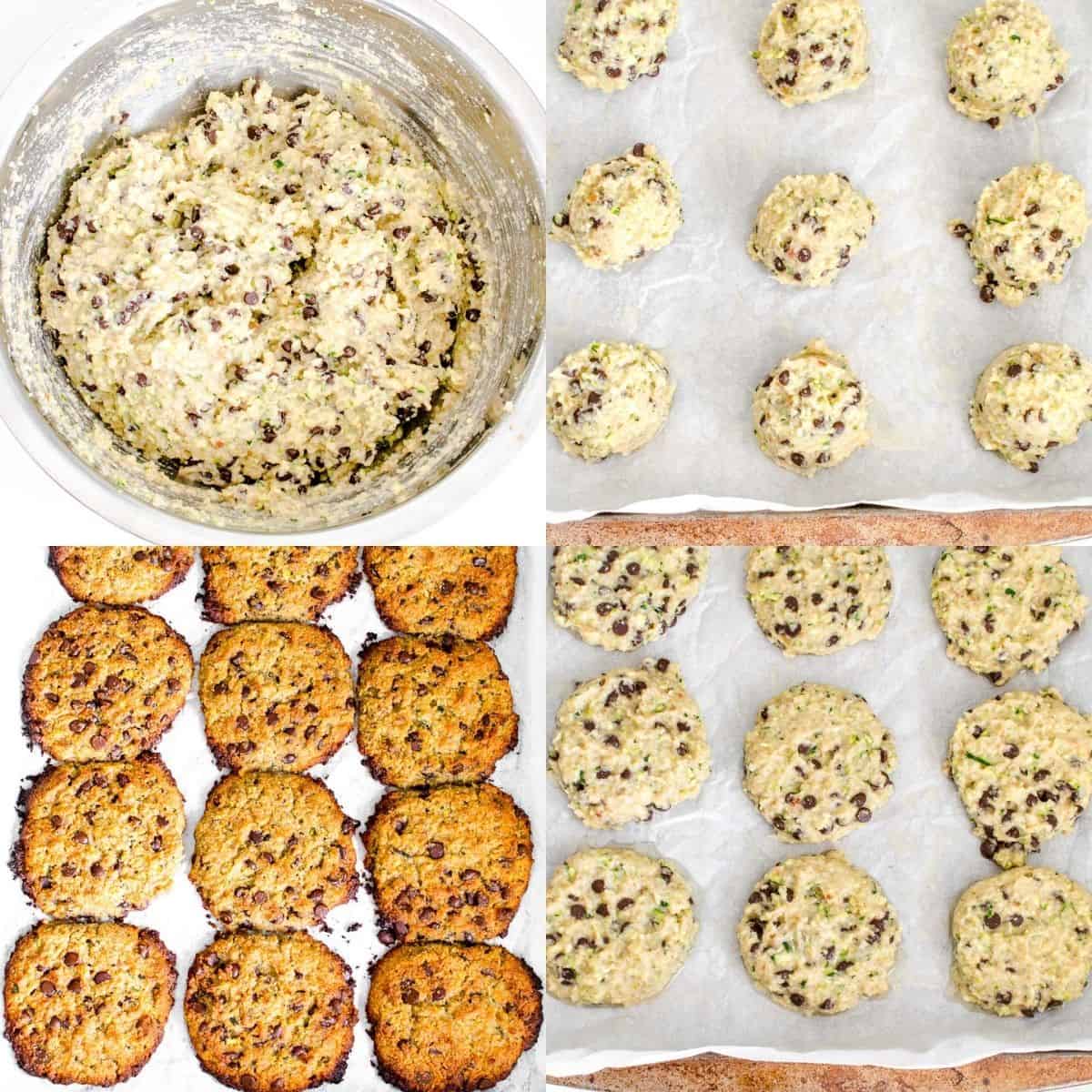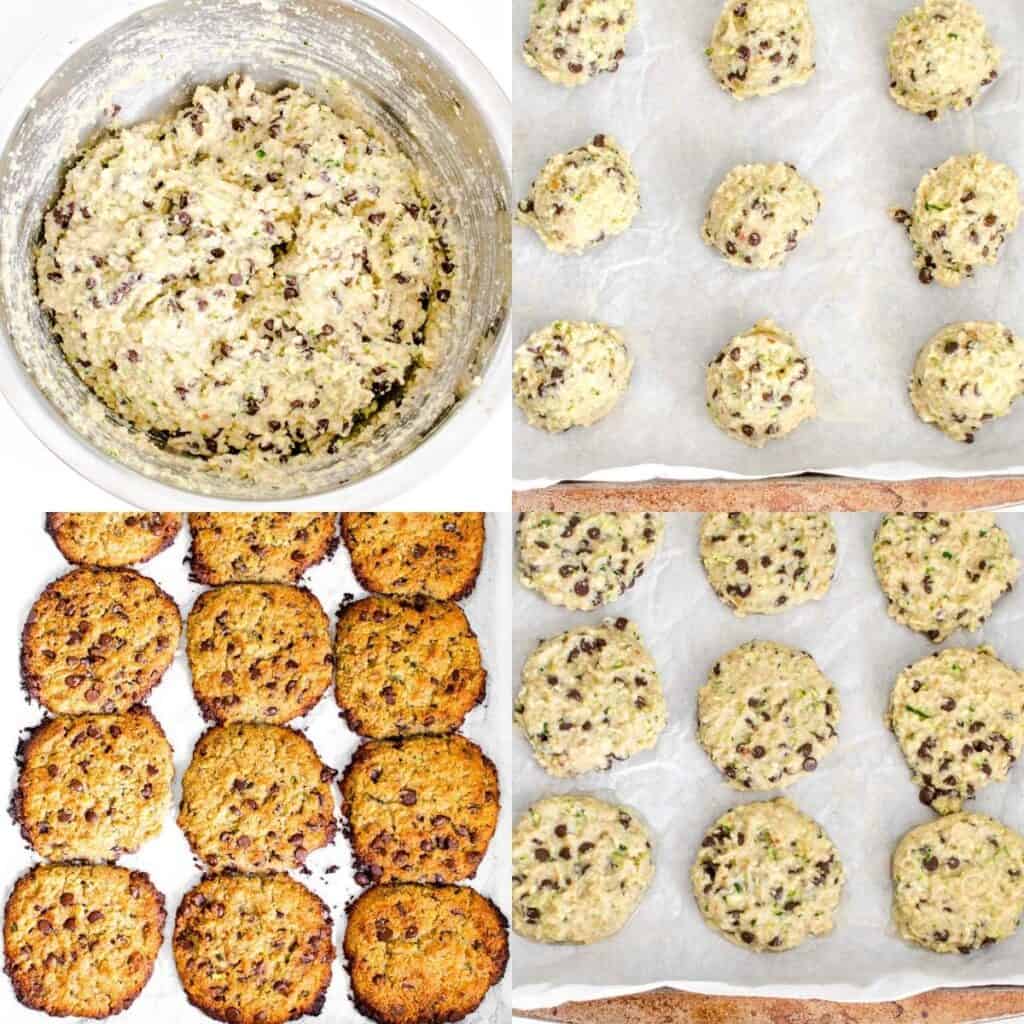 These were gone the same day and everyone was very happy.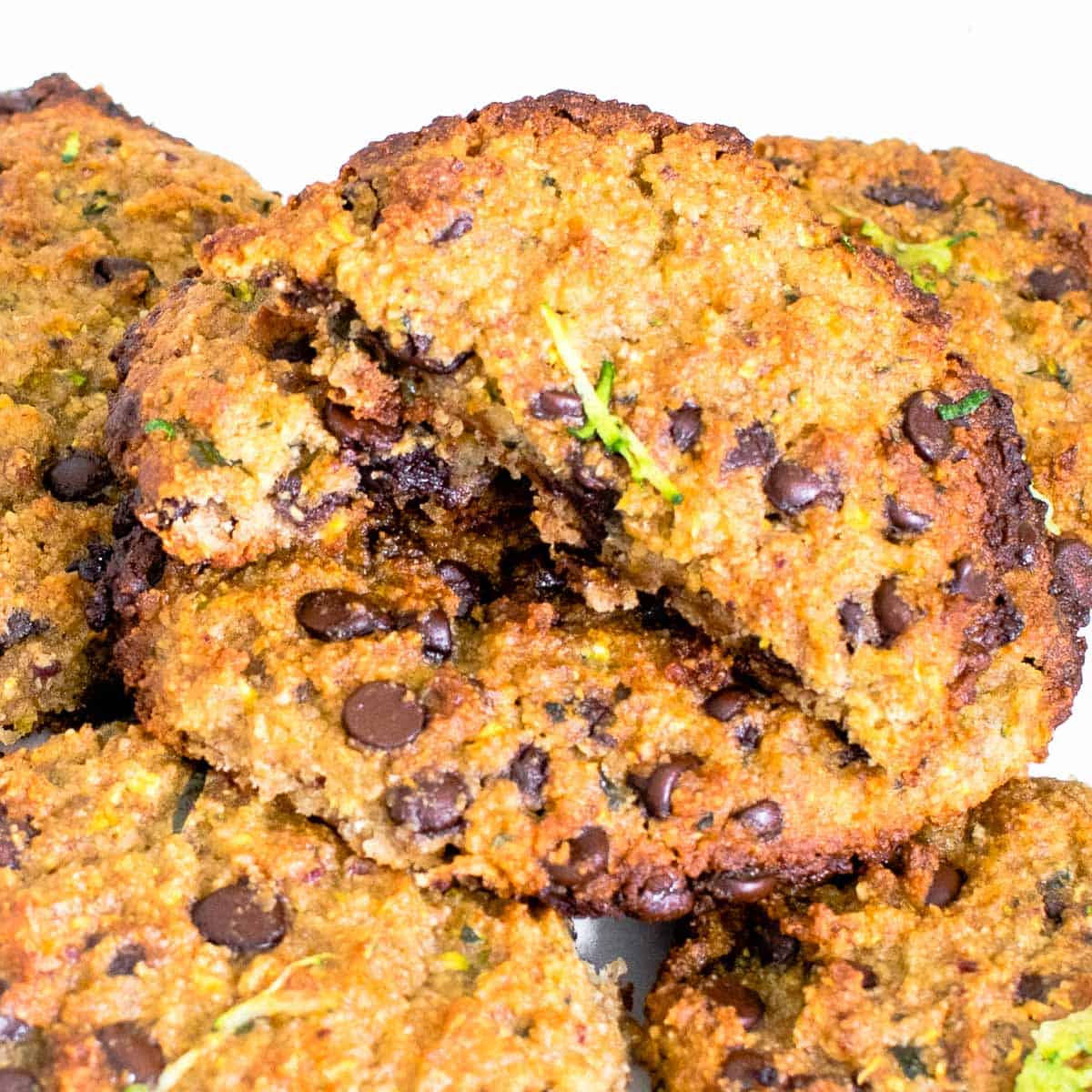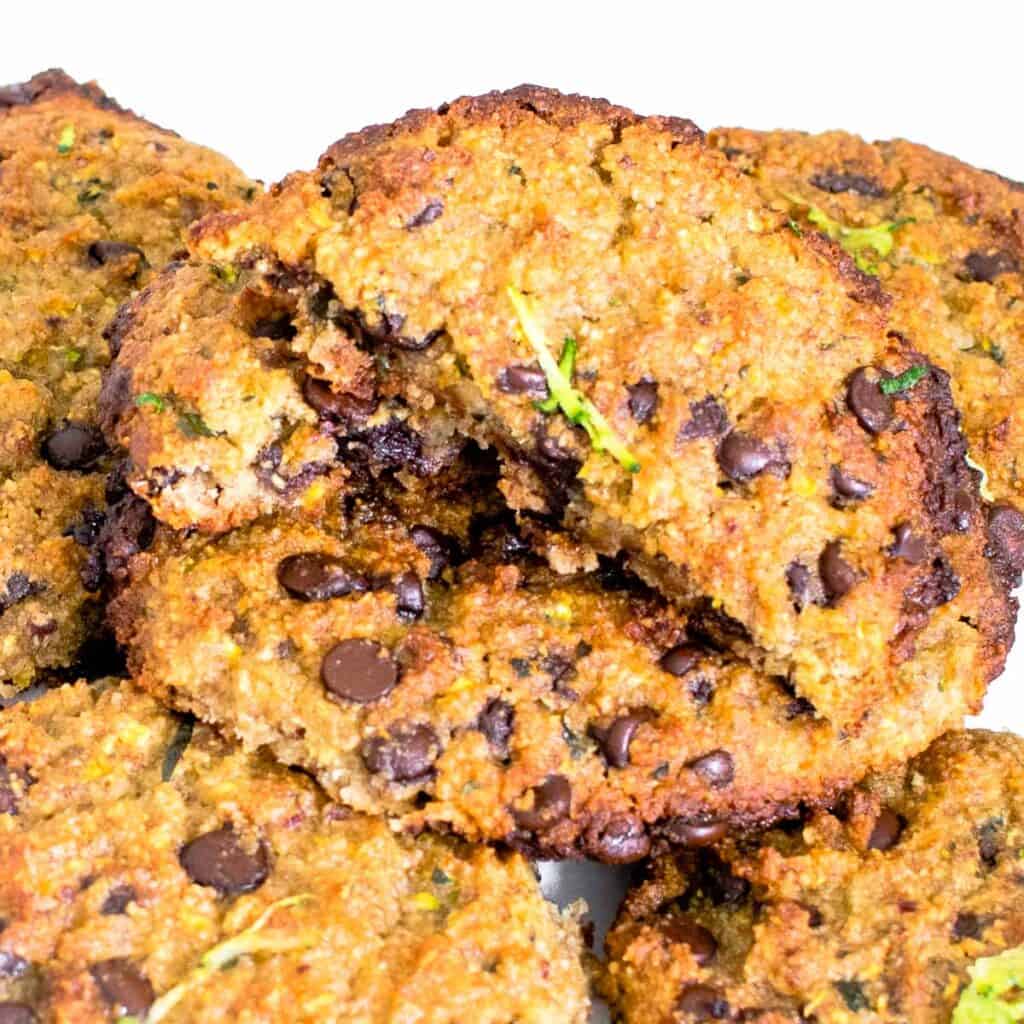 It's a must try for its nutty and sweet flavor. You wont even taste zucchini and yet you can feed your family this healthy vegetable.
Expert tips:
Make sure that your oven is preheated and the cookie sheet is prepared. As soon as you fold in all the ingredients zucchini will release its moisture so we need to be quick in placing and shaping the cookie and bake them. Or else the batter will start getting softer.
It is important to first fold in zucchini properly and fold in chocolate chips very well.
Dab the drained dates with a kitchen towel to avoid any extra moisture in the batter.
Zucchini Chocolate Chip Cookies FAQs
How long do they last?
These lasts for about 3 weeks in the refrigerator. Enjoy them directly or toast them in a toasted oven for 2 minutes and cool it for 30 seconds to crisp it again.
Are these healthy?
I made them oil free and sugar free by sweetening them naturally with dates and banana. I used almond flour which is a healthy flour to bake. Moreover, I used a green vegetable zucchini as the main ingredient. Therefore, these are healthier comparatively and can be enjoyed frequently.
How does these taste like?
These taste like any chocolate chip cookies that's gluten free. Its nutty, sweet and crispy from outside while being soft and chewy from inside. You won't taste zucchini prominently but it's a great way to hide the veggies.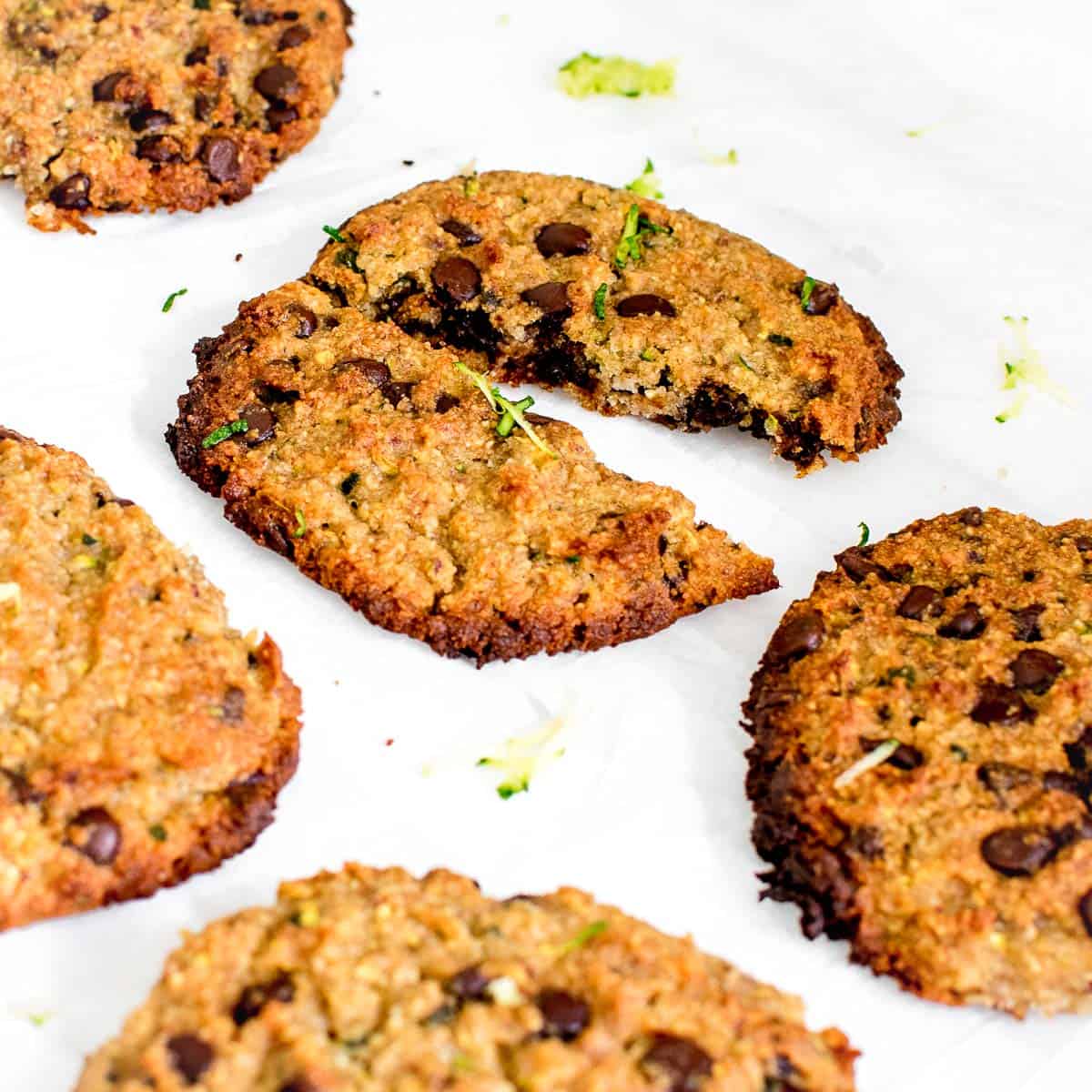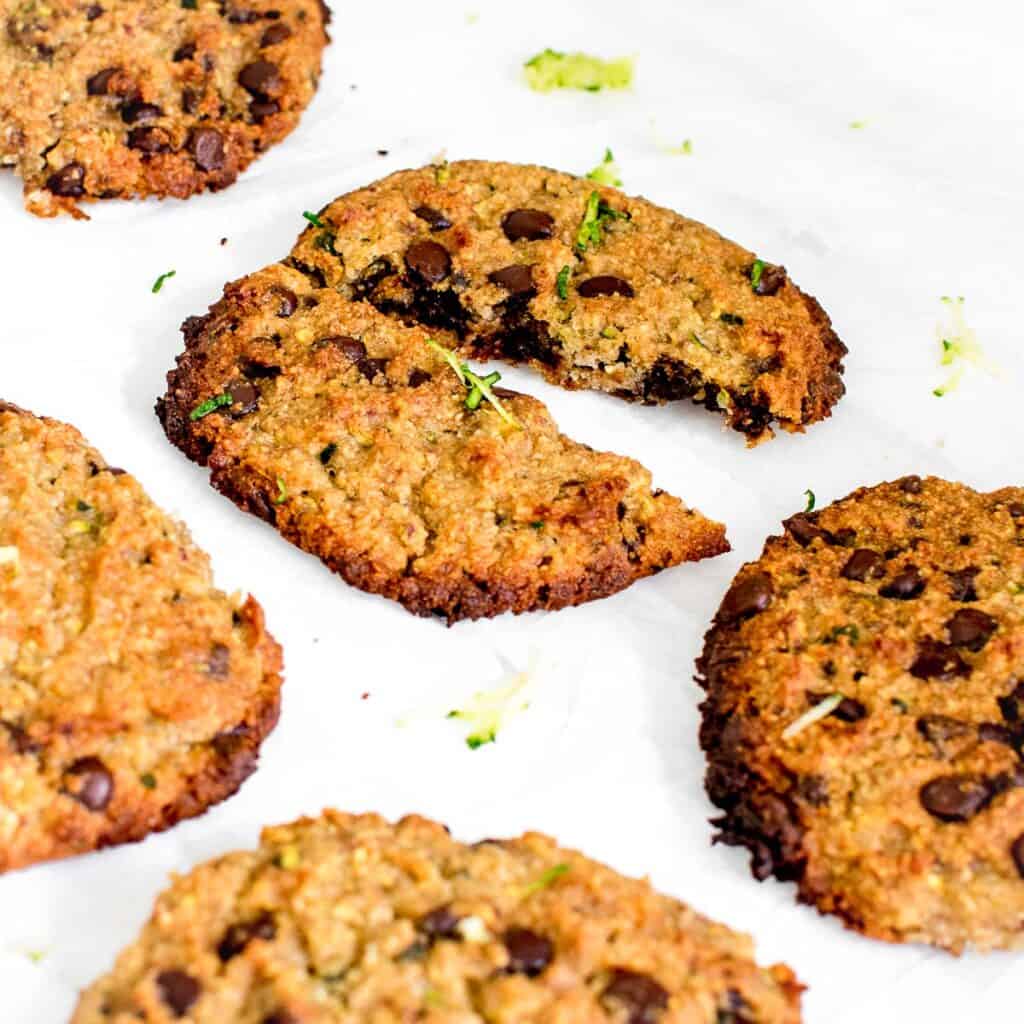 Did you make it?
If you get a chance to make these vegan zucchini chocolate chip cookies then please leave your feedback in the comments along with ratings.
You may tag @kiipfit on Instagram with your remakes and follow me on Facebook as well.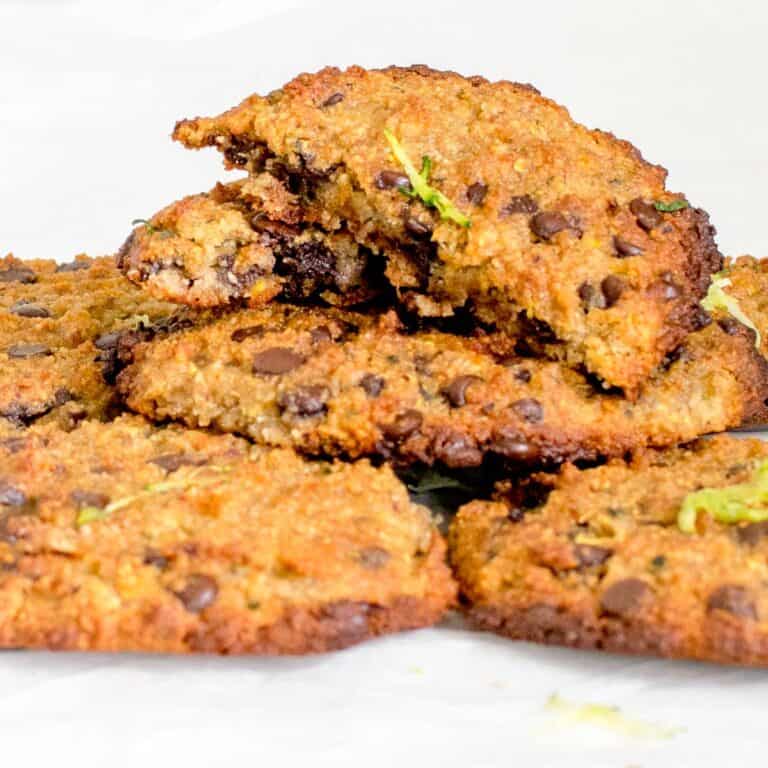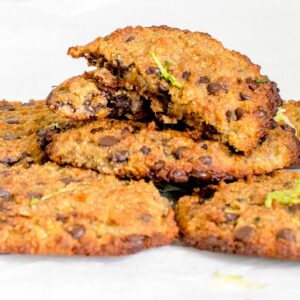 Print Recipe
Zucchini Chocolate Chip Cookies
Soft, chewy yet crispy Zucchini Chocolate Chip Cookies are absolutely mouthwatering. Its made oil free and sugar free for a healthier treat with the same comforting flavors. It's a perfect after school snack or a dessert for all ages.
Ingredients
2

cup

grated zucchini

2

cups

almond flour

2

tsp

baking powder

1/2

tsp

salt

1/2

cup

unsweetened almond milk

1

cup

pitted dates

(soaked and drained)

1

ripe

banana

1

tsp

vanilla extract
Instructions
Grind zucchini in a food processor or grate it manually. Now, place a kitchen towel on a flat plate or a cutting board. Spoon out crushed/grated zucchini on it and spread it. Place another kitchen towel on it and blot it as much as possible. Once the towels get very wet replace them with another set and blot as much as possible. Remove the kitchen towels and keep zucchini aside.

Preheat oven at 350-degree Fahrenheit and place a parchment paper on a large cookie sheet. You may grease it if desired or skip greasing for absolutely oil free option. In a large mixing bowl combine almond flour, baking powder and salt.  Mix it and keep it aside.

Now, in a blender combined milk, drained dates, banana, vanilla extract. Blend it smooth.

Now, pour the blended ingredients into the almond flour mixture and whip it well with a spatula.

Now add zucchini and mix again. Immediately toss in chocolate chips and mix again.

With the help of a cookie scoop place the cookies on the prepared cookie sheet with ¼ inch gap between each to allow them to spread. With the back of small bowl press the cookies gently from the center slightly to shape it a bit. (They spread while baking).

Place the cookie sheet in the middle rack of the oven and bake it for 45 minutes or until golden brown in color. Turn it off and take it out. These will be soft and tender at this stage.  Let it cool to room temperature for these to become crispy. Enjoy!
Notes
Refrigerate the leftovers in an air tight container. Simply toast it in a toaster oven for 1-2 minutes. Let it cool for 30 seconds to get the same crispy cookies. You may however, enjoy it directly from the fridge for softer cakey cookies.
For small sized and softer cookies, you may simply scoop the batter with the cookie scoop on the cookie sheet and bake it without pressing. These will take their own shape. Bake it for 45 minutes. These will be softer and less crispy though. But still tastes amazing.
2 medium sized zucchinis approximately measure upto 2 cups grated zucchini. Make sure to blot it well with kitchen towels to avoid extra moisture in the batter.
If you want to substitute banana then you may either add 1 tbsp. brown sugar or increase 1/4 cup dates making it 1 1/4 cups dates. 
This recipe makes about 18-20 cookies depending on the size of your cookie scoop. The serving size is 1 cookie per person.
Nutrition
Calories:
155
kcal
|
Carbohydrates:
18
g
|
Protein:
4
g
|
Fat:
9
g
|
Saturated Fat:
1
g
|
Sodium:
59
mg
|
Potassium:
41
mg
|
Fiber:
1
g
|
Sugar:
1
g
|
Vitamin A:
1
IU
|
Vitamin C:
1
mg
|
Calcium:
41
mg
|
Iron:
1
mg