This crunchy and crispy vegan Air Fryer Okra is a quick side dish with immense nutrition and flavors. Use fresh or frozen, these are mildly spiced and breaded with panko crumbs. Its an easy 15 minutes family friendly recipe for all ages.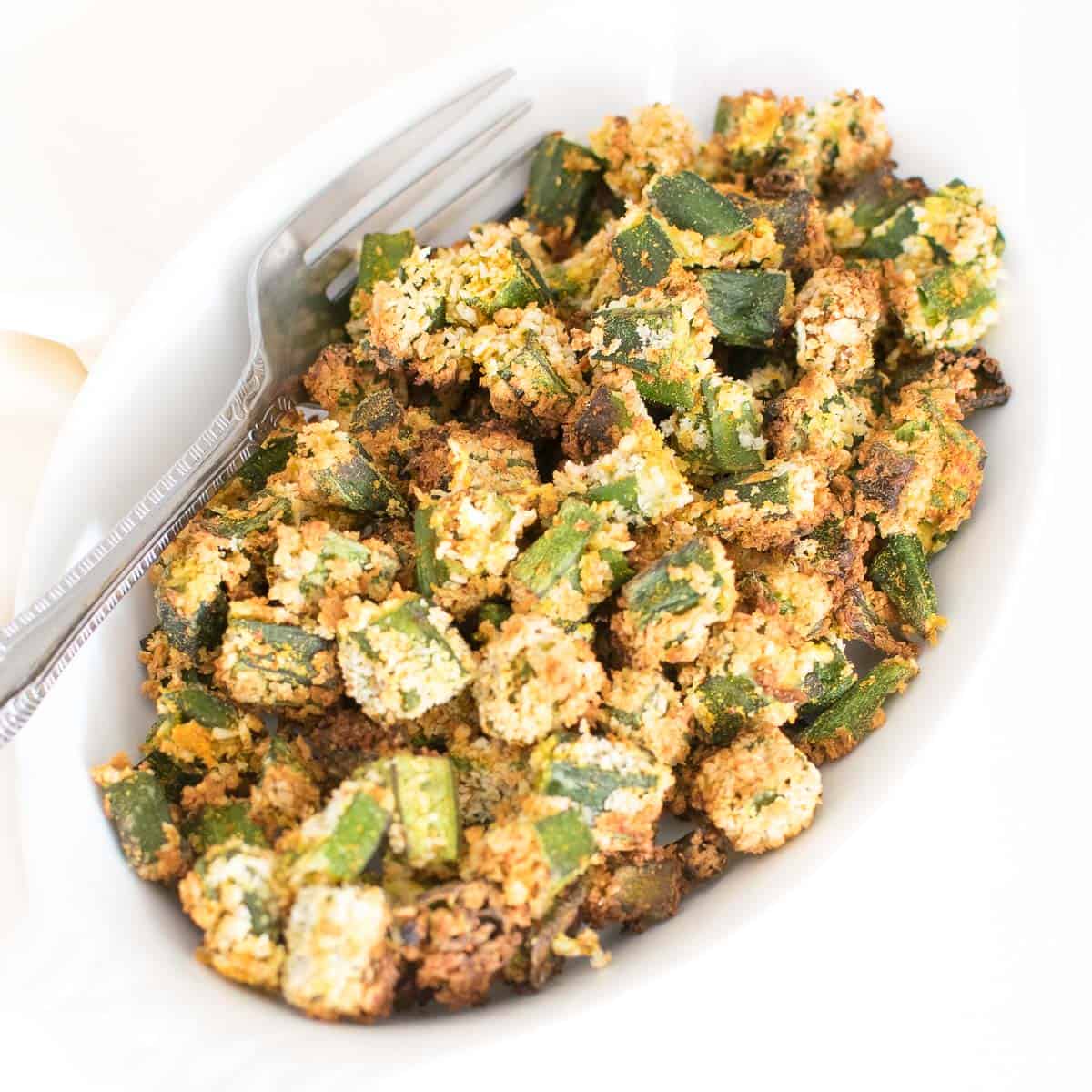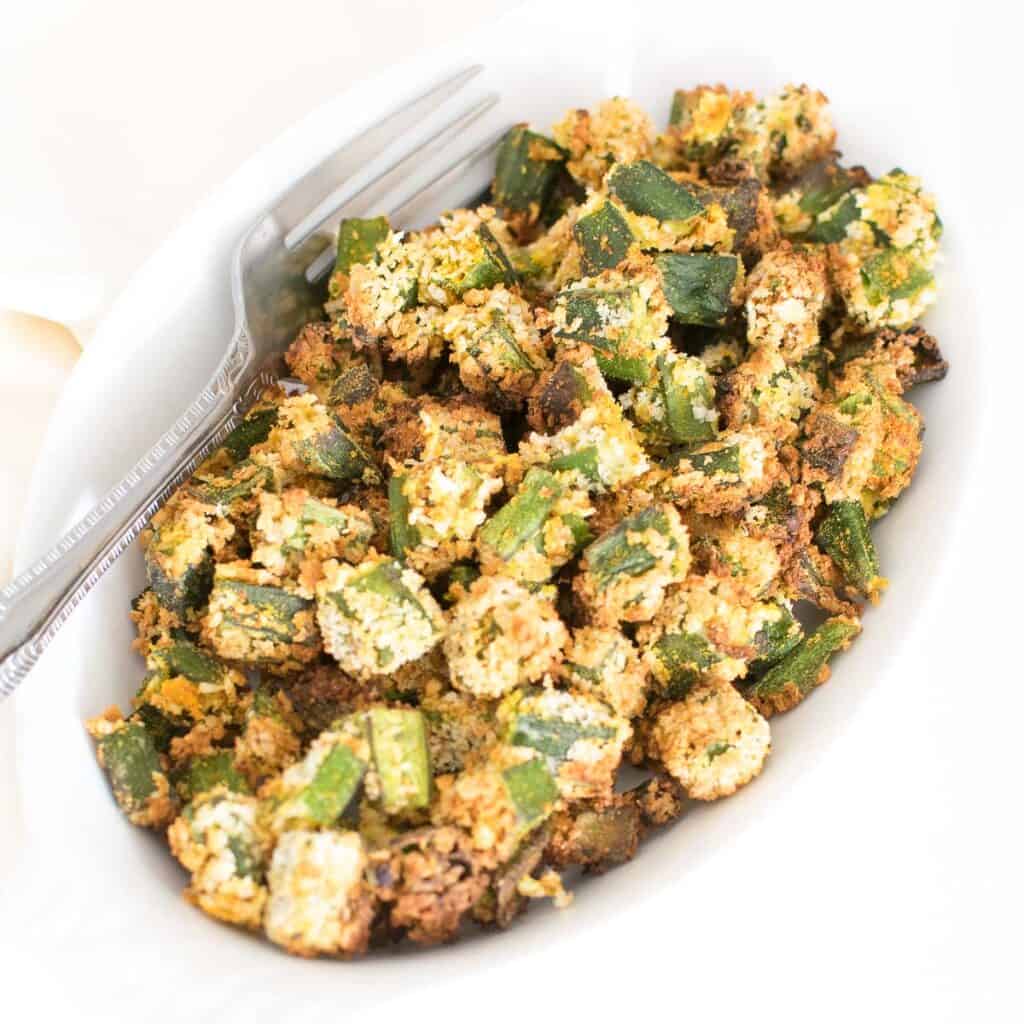 I have grown up eating okra in various styles. In India, it's called bhindi and was very frequent especially during the season.
At that age I always found ways to skip this nutritious green vegetable but after coming to the West, I missed my moms cooking and developed an immense love for okra.
It takes a bit of time to handle the fresh ones so whenever possible I try to use the frozen okra in air fryer. However, the fresh ones taste amazingly delicious when cooked well.
It is true the fresh okra are slimy but if you cook it cautiously it will become crispy and delicious. Moreover, its a healthy vegetable with immense nutrition.
There are a variety of ways to cook this vegetable but I decided to cook a very quick recipe which would resemble fries. So, I came up with the idea of using frozen okra to air fry.
I love my air fryer and enjoy most of my recipes in a healthier way. It's a blessing for a foodie like me.
I have tried many recipes in my air fryer which you may like:
Air Fryer Mushrooms
Apple Dumplings
Zucchini Fries
Sweet Potato Latkes
Air Fryer Tempeh Bacon
Vegan Spring Rolls
Air Fryer Crispy Broccoli
Other side dishes that you may like:
Bhindi Masala
Roasted Vegetables
Vegan Collard Greens
Whenever I make this recipe they are gone within minutes. Usually, I pair it with dal/lentil and rice but most of the time they munch on it as is.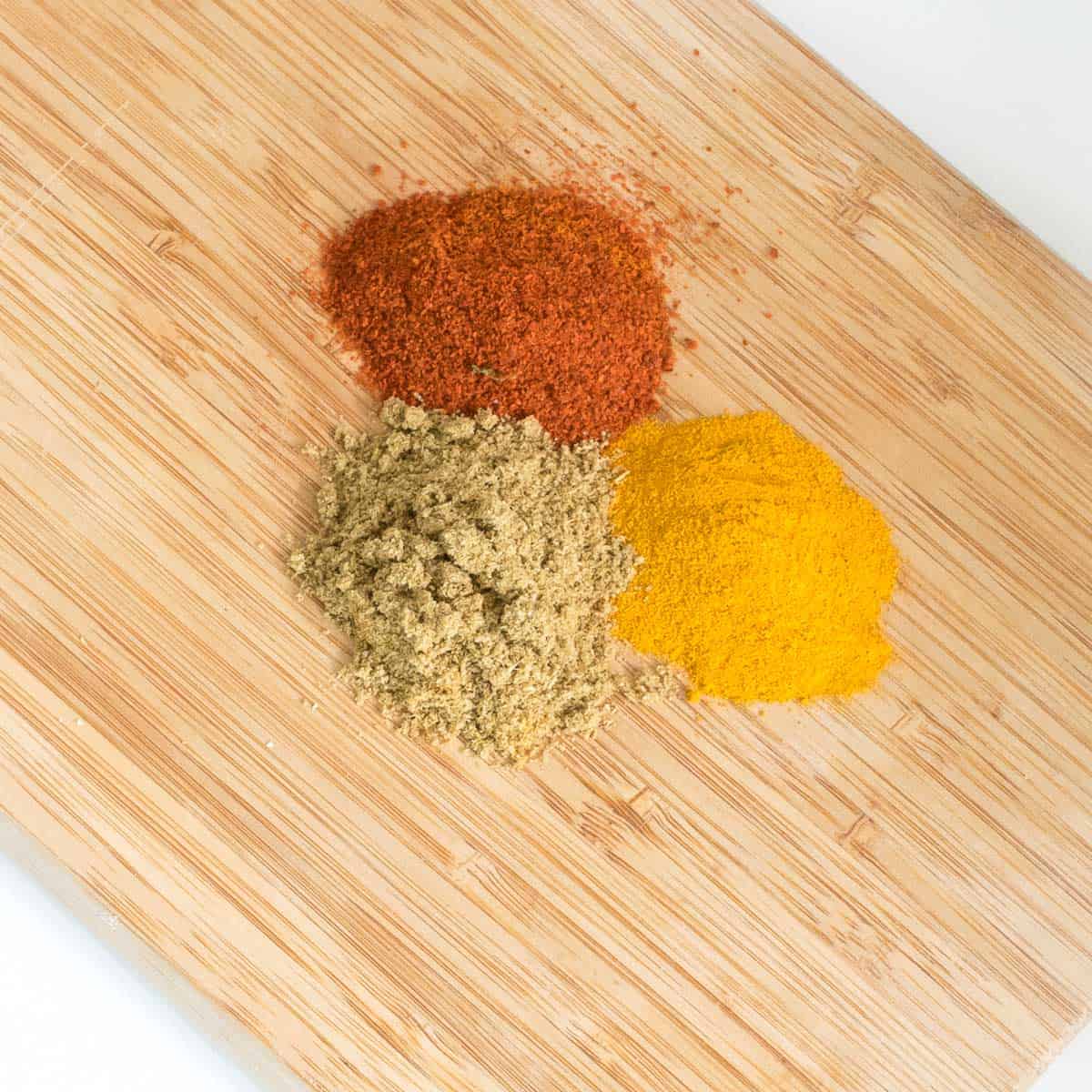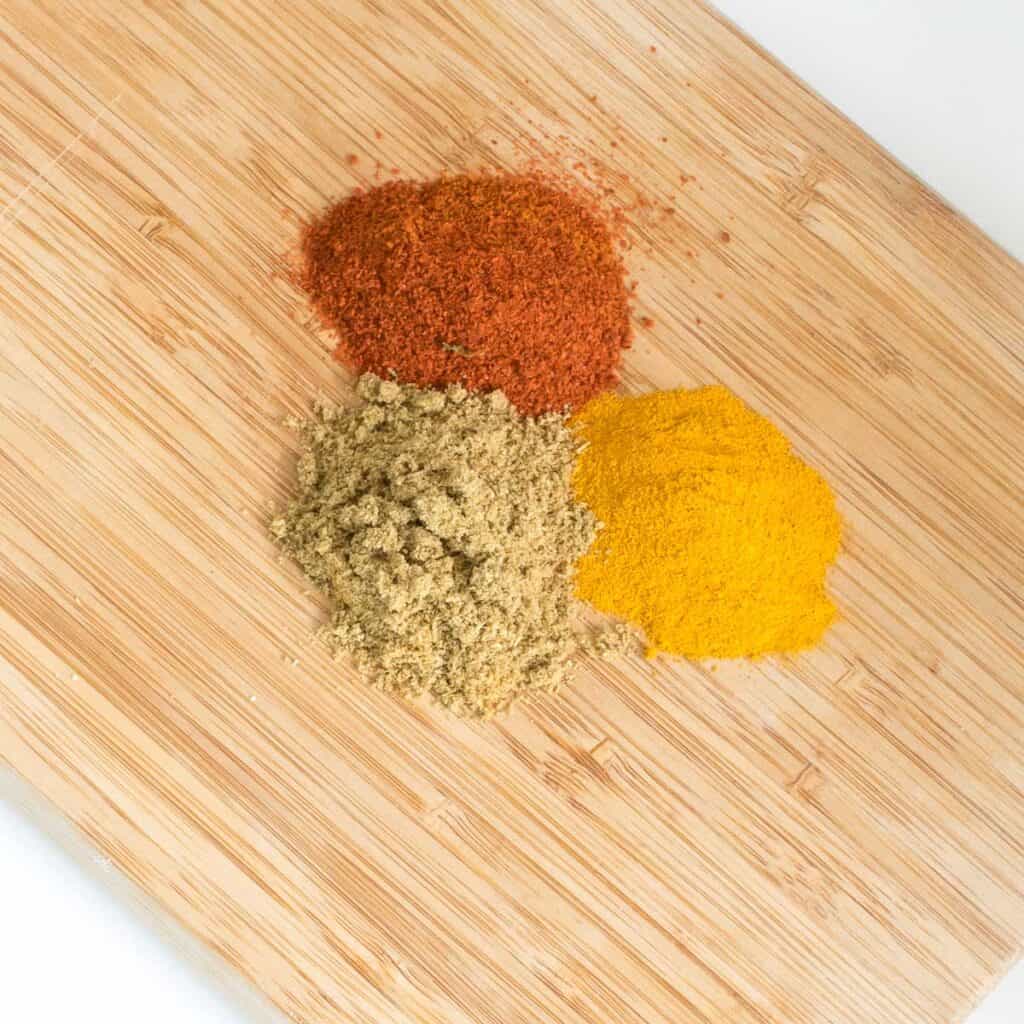 So, here I am to share this amazing air fryer okra recipe with you.
Ingredients for air fryer okra
Frozen okra
Turmeric
Chili powder
Coriander powder
Salt
Panko crumbs
I have used these easily available 6 ingredients which you may buy from any store.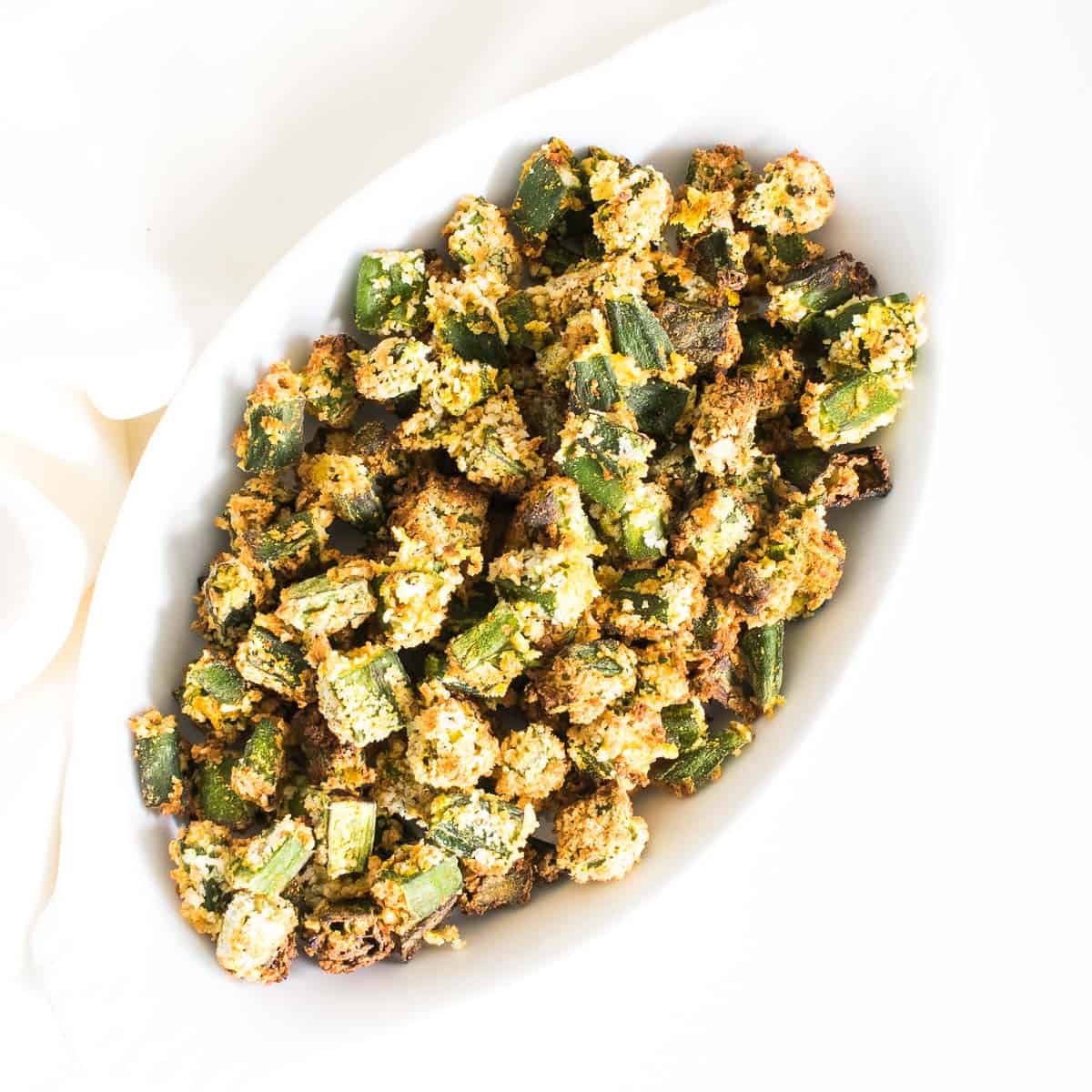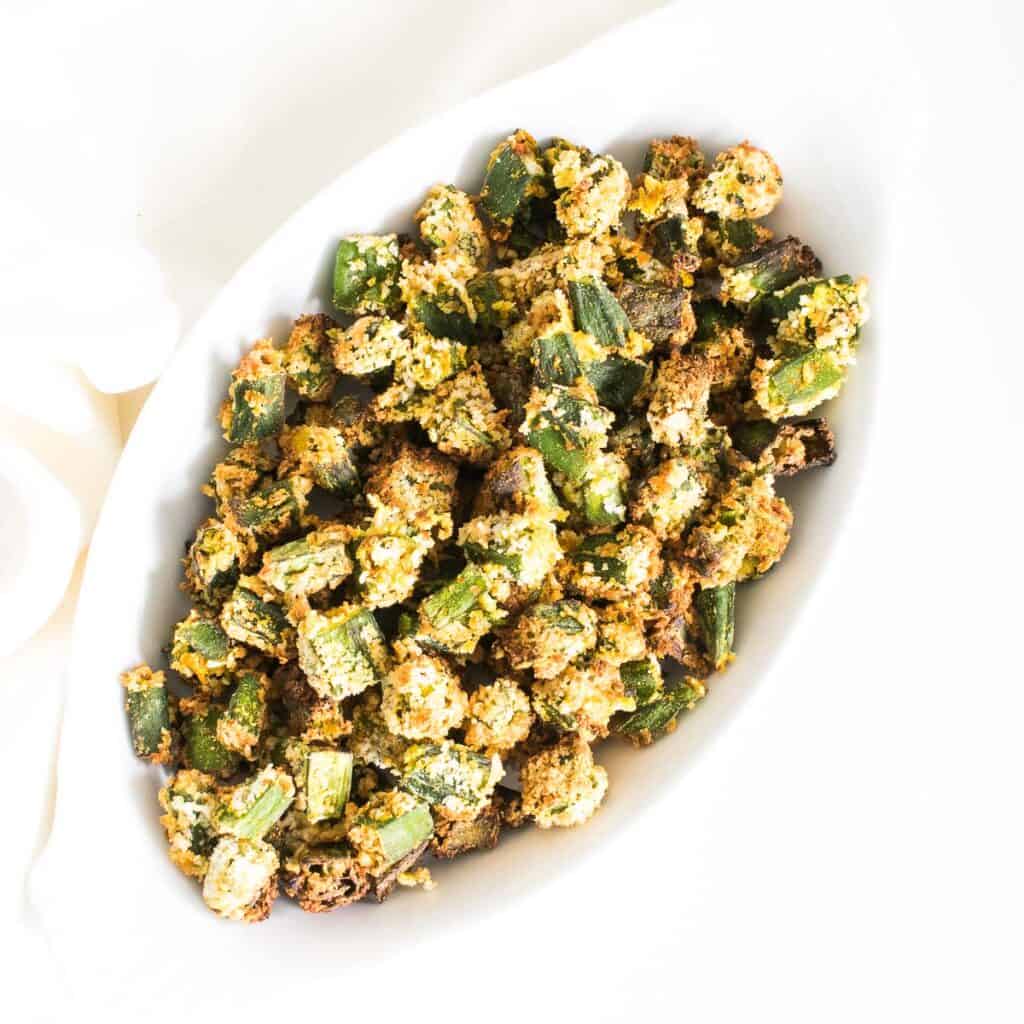 Ingredients notes:
Okra – It's a nutritious green vegetable with being rich in magnesium, folate and fiber. Along with being high in antioxidant it promotes heart health and lowers blood pressure. It's a common and very popular vegetable in India.
Turmeric powder – it has medicinal properties along with being anti-inflammatory and is loaded with antioxidants.
Chili powder – this adds a nice blend of spice and flavor to this recipe.
Coriander powder – it is basically an India spice and adds a lot of flavor and taste to this recipe
Panko crumbs – it is a kind of Japanese bread crumbs which makes this recipe extra crispy and crunchy.
For detailed measurement of ingredients, please scroll down to the printable recipe card at the bottom of this post.
How to make Air Fryer Okra
Firstly, I defrosted the frozen okra in a microwave.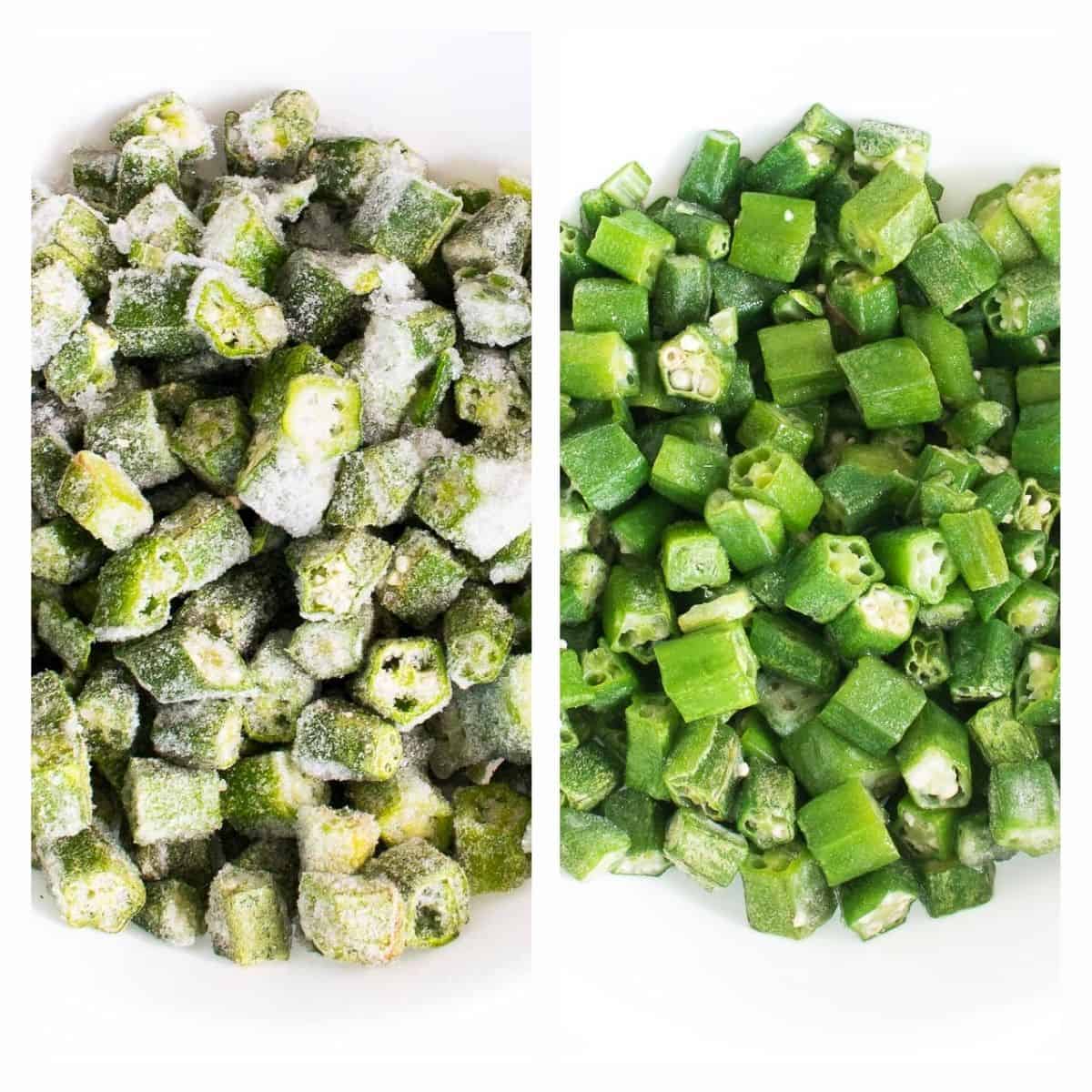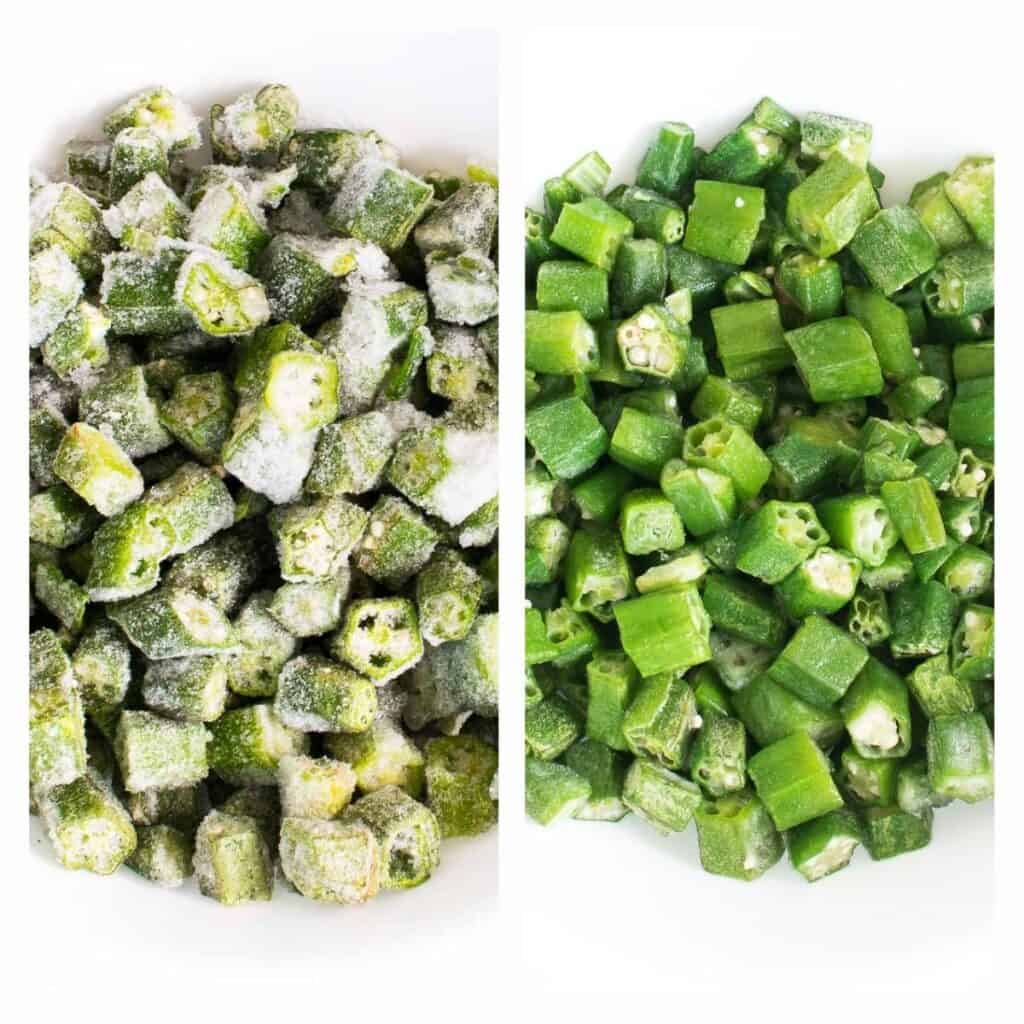 Secondly, I added all the spices like turmeric, chili powder, coriander powder and salt to it.
Then, I gently mixed it well so that each okra piece is well coated with the spices without breaking.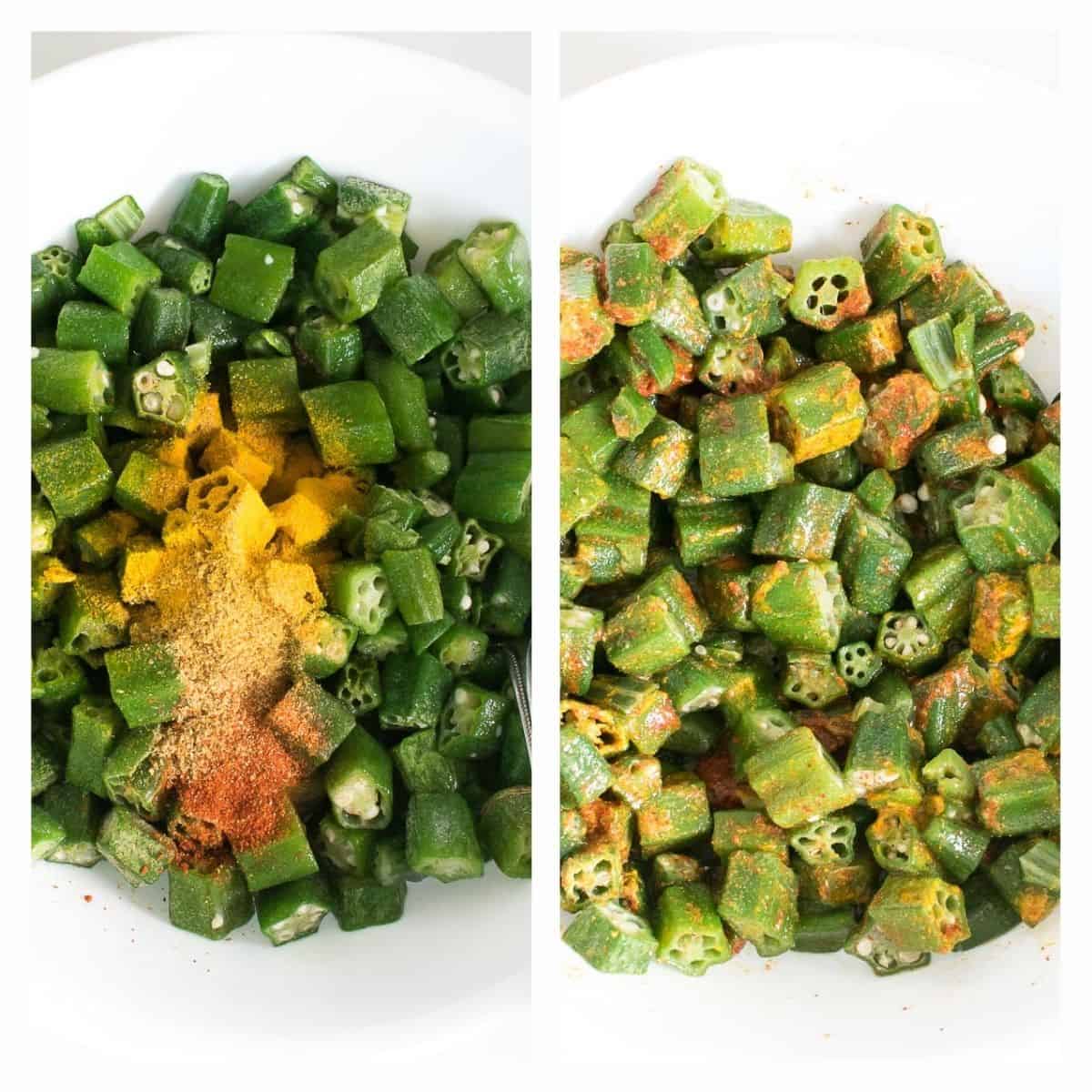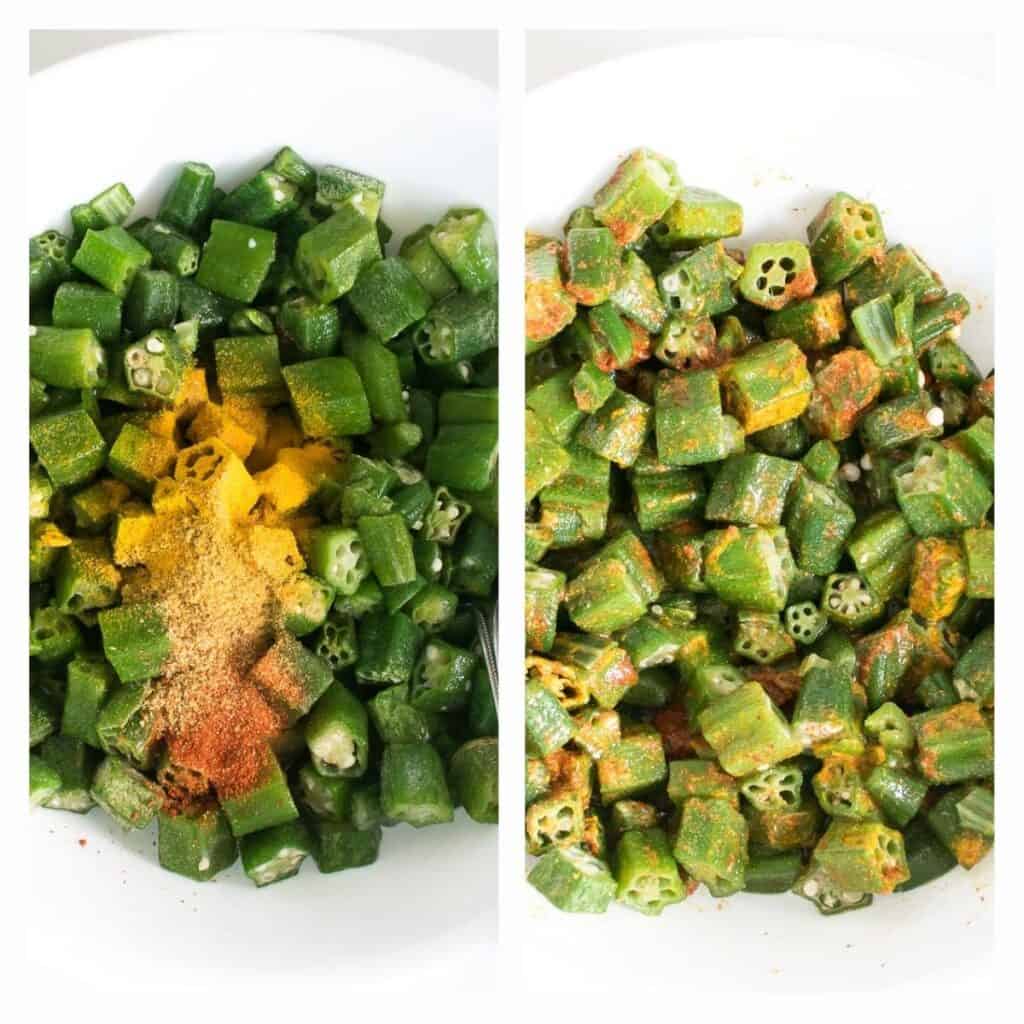 Thereafter, I tossed in panko crumbs to it. I mixed it gently and very nicely so as to cover each okra piece with the crumbs.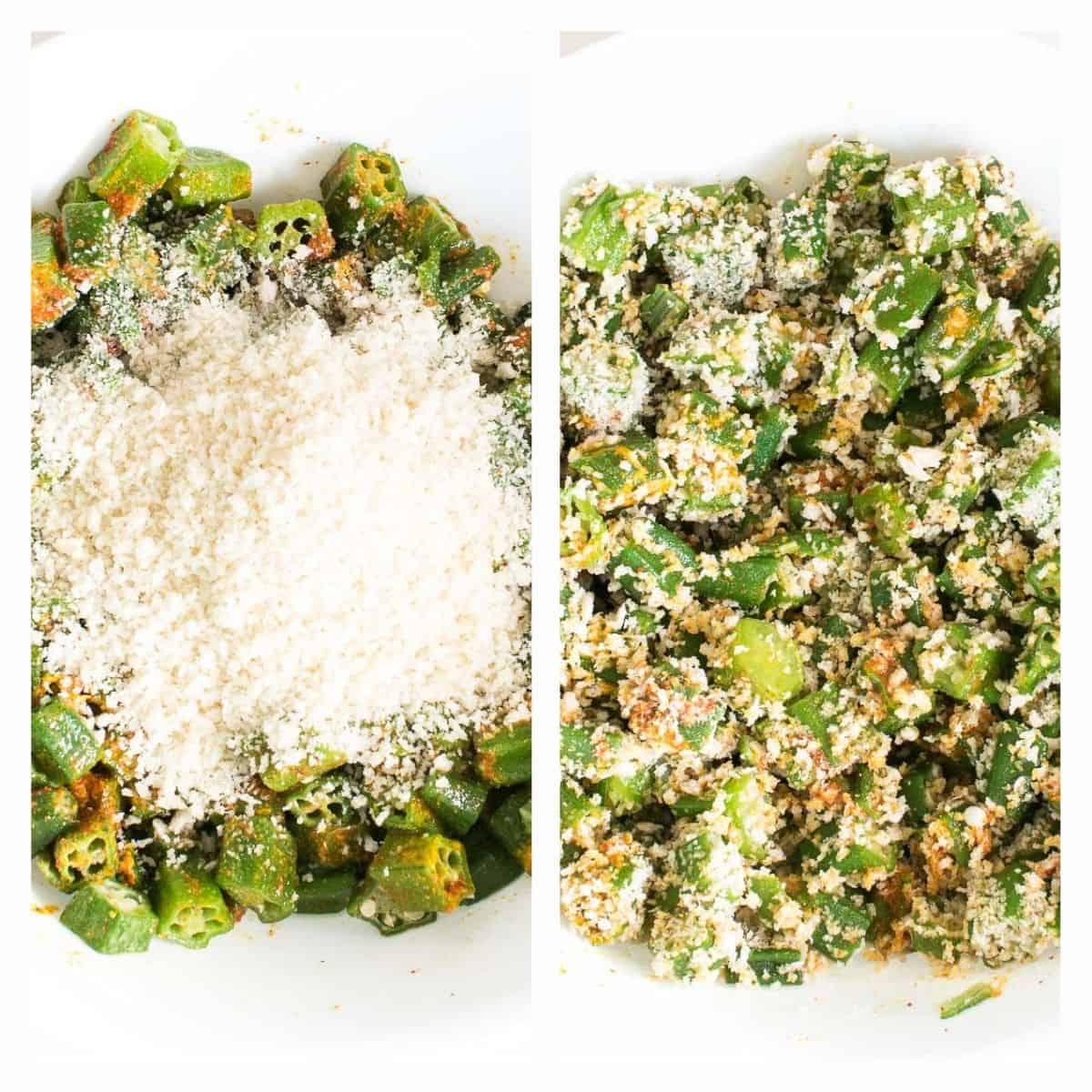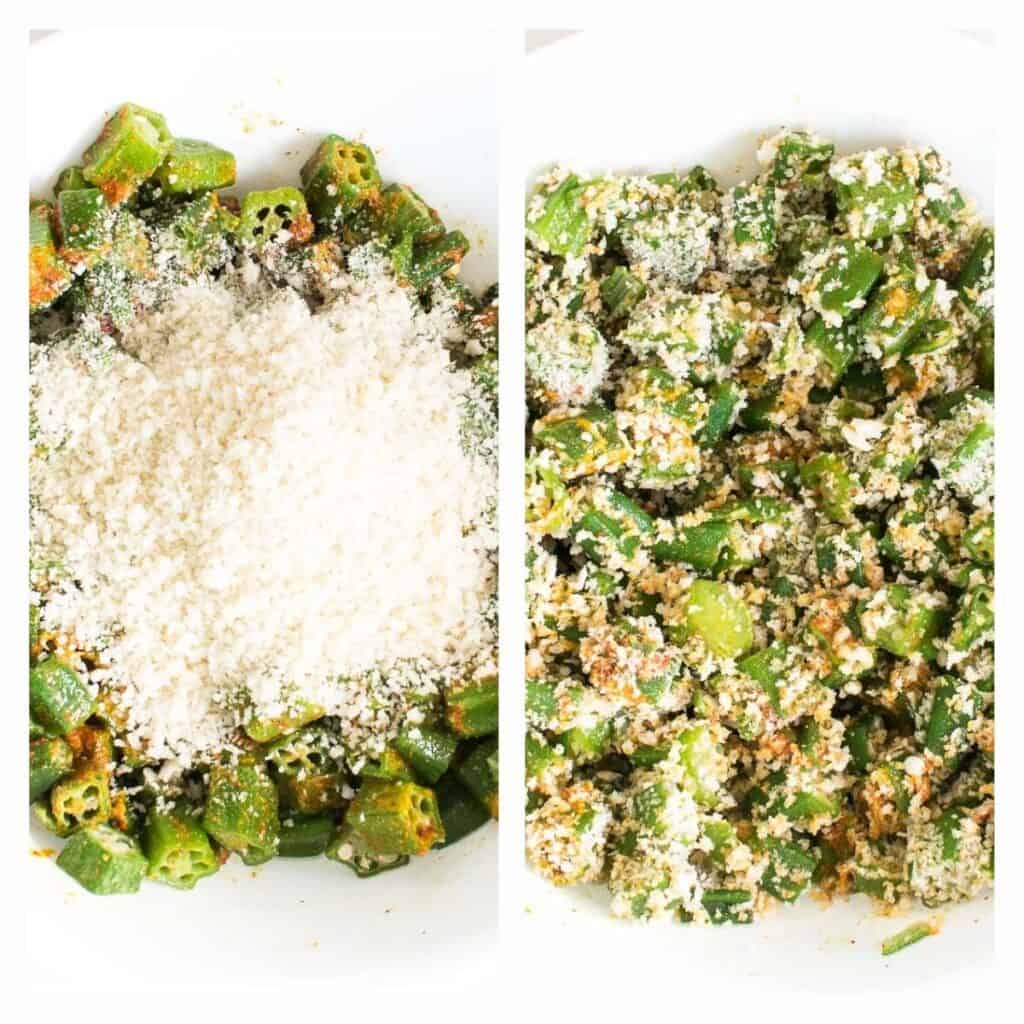 Afterwards, I spooned them out in the air fryer basket and spread it nicely in one layer.
Later, I attached the basket to the air fryer and turned it on at 400 degree for 15 minutes. However, I paused it and then I shook the basket after 7 minutes of cooking. Then, I attached it again and air fried the okra for the rest of the 8 minutes.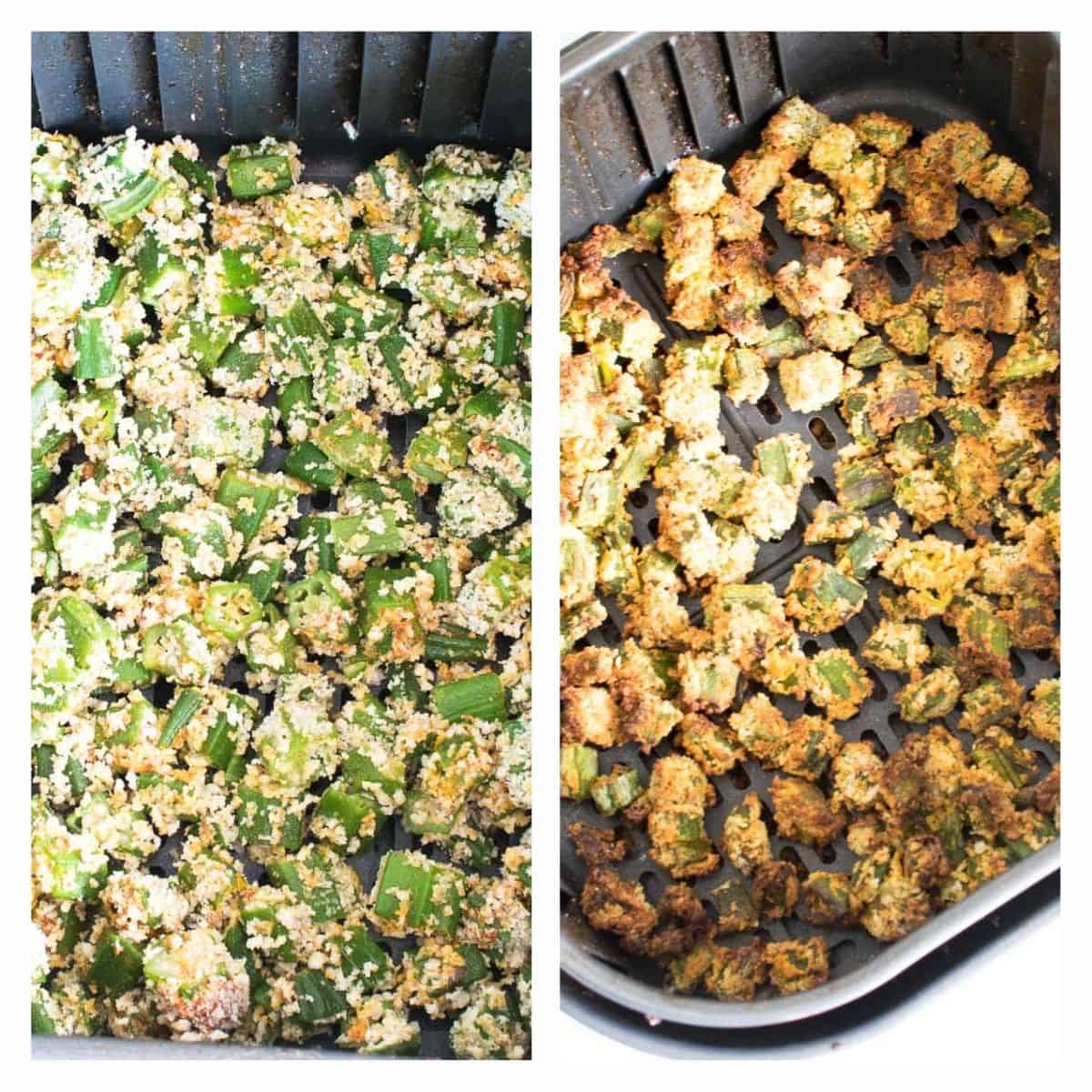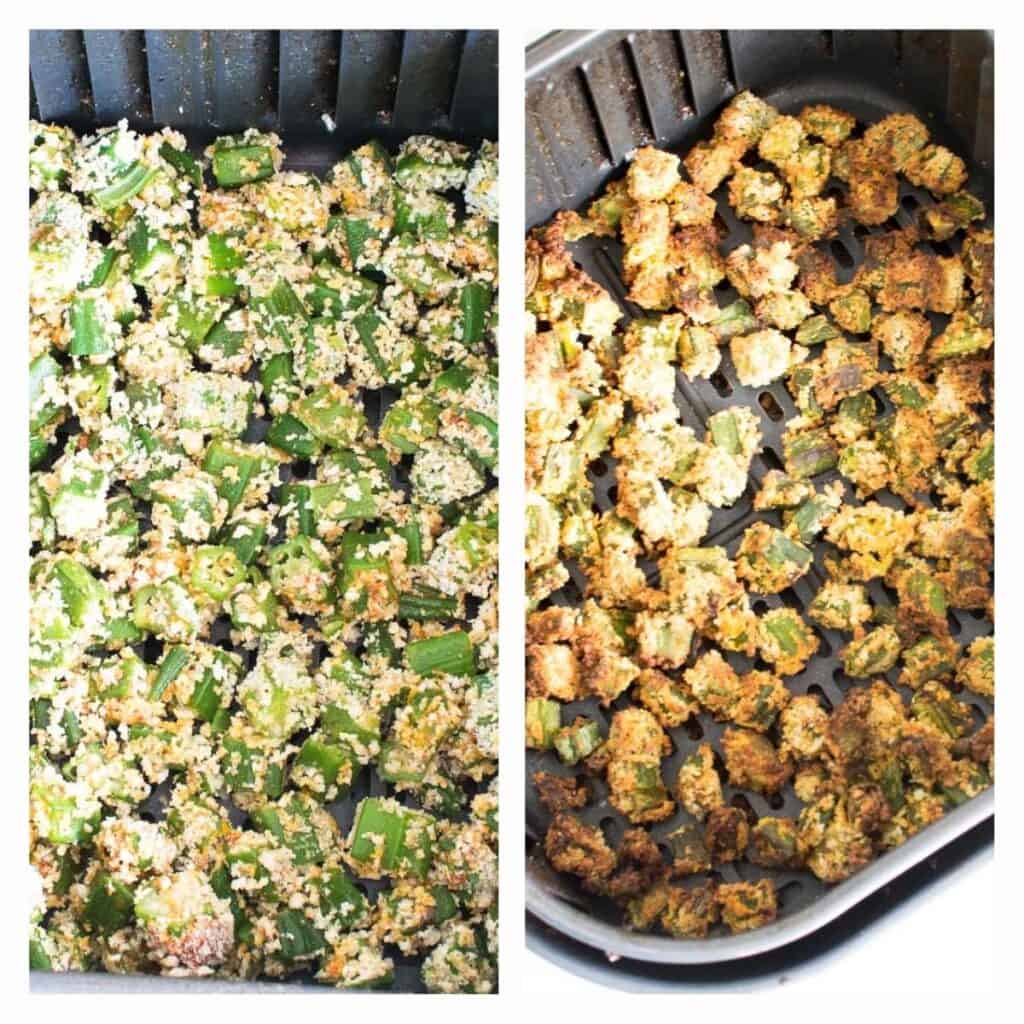 Lastly, I turned it off and served immediately.
It was an instant hot and was gone within minutes.
My kids loved this style so much that they ask me to make it every week.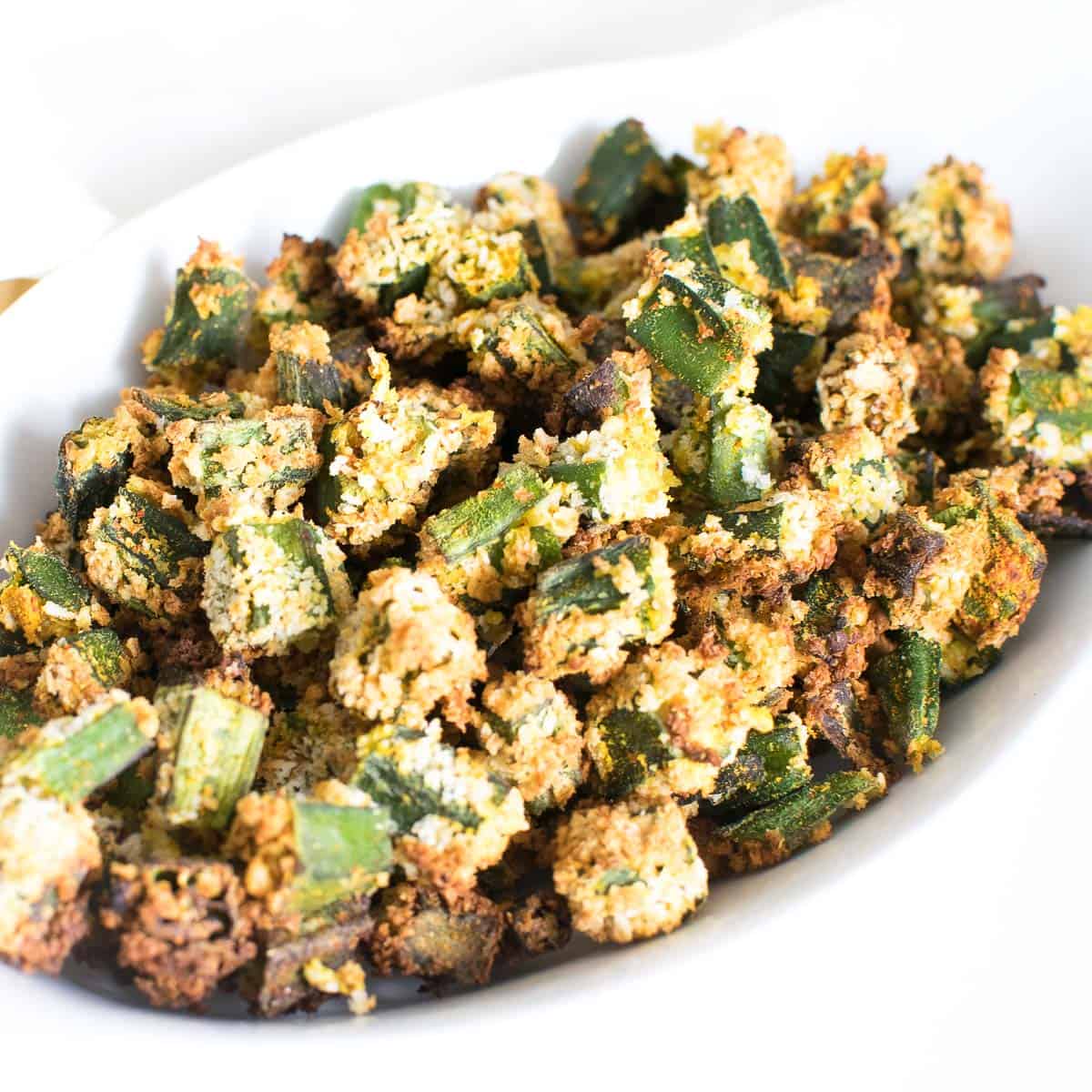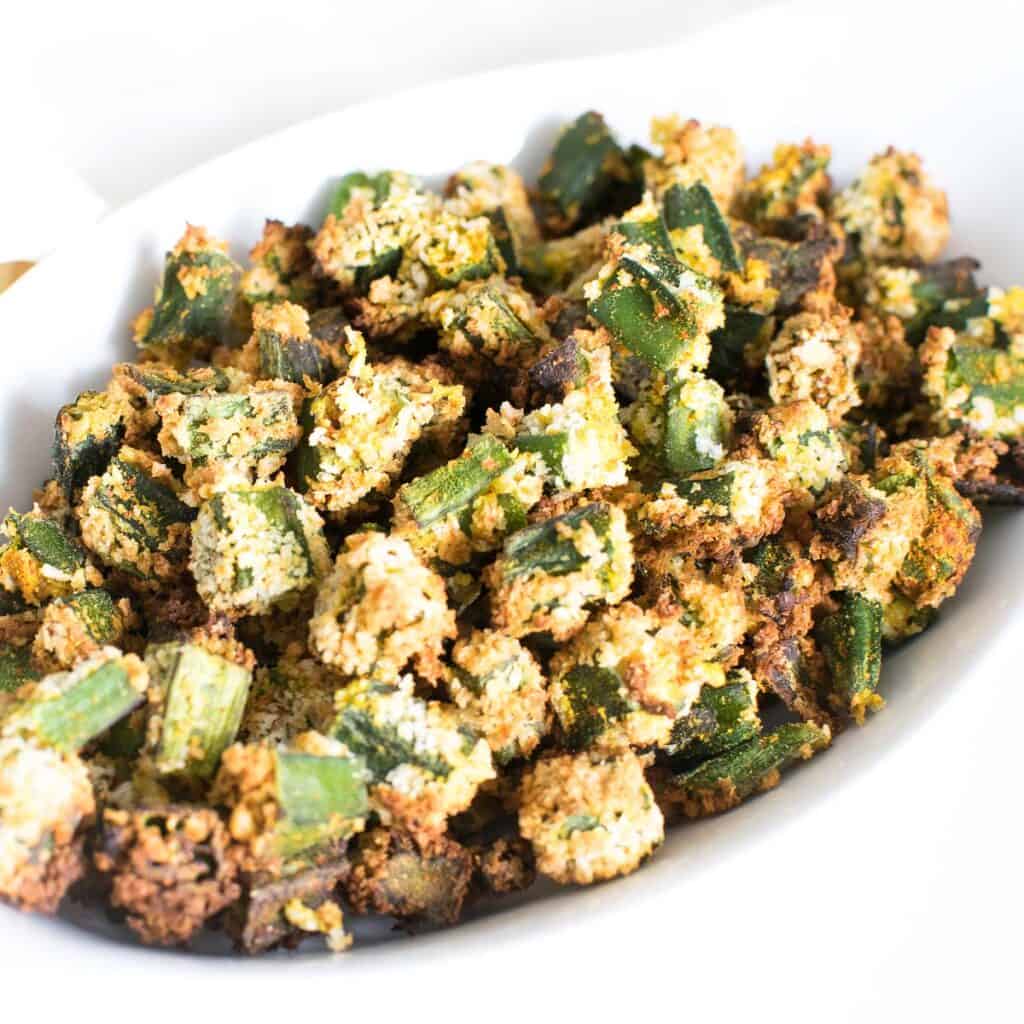 Its absolutely frequent in my home and I guarantee that once you introduce this style of okra recipe in your home, you are bound to make it frequently.
Expert tips:
Do not defrost it in water or else it will become too soggy and won't crisp. Therefore, the best way to defrost is to microwave for 1-2 minutes and the gently stir with a spoon.
You may use the fresh okra and for that make sure to dry each piece with a kitchen towel very well and then cut. It will leave a slimy texture behind so make sure its as dry as possible.
It is important to note that as soon as you mix in panko crumbs start air frying.
Air Fryer Okra FAQs
How long does this last?
This taste best when served immediately. If kept for long this recipe becomes soggy and soft.
Is it healthy?
Yes, first of all its oil free. Secondly, it's a green veggie mixed in with spices which have health benefits. The only processed food that I used is panko crumbs so as to crisp. Overall, it's a nutritious and healthy side dish with being low in calories. Therefore, you may enjoy it regularly on a daily basis
If I don't have an air fryer then how to I make it?
I have explained the variation in the notes below under the recipe card by giving a stove top option for this. You simply heat oil in a stick pan and toss in marinated okra, once its half-cooked toss in panko and let it cook until crisp and golden.
How does it taste like?
It's a savory, spicy and salty dish with crunch in every bite and yet chewy from inside.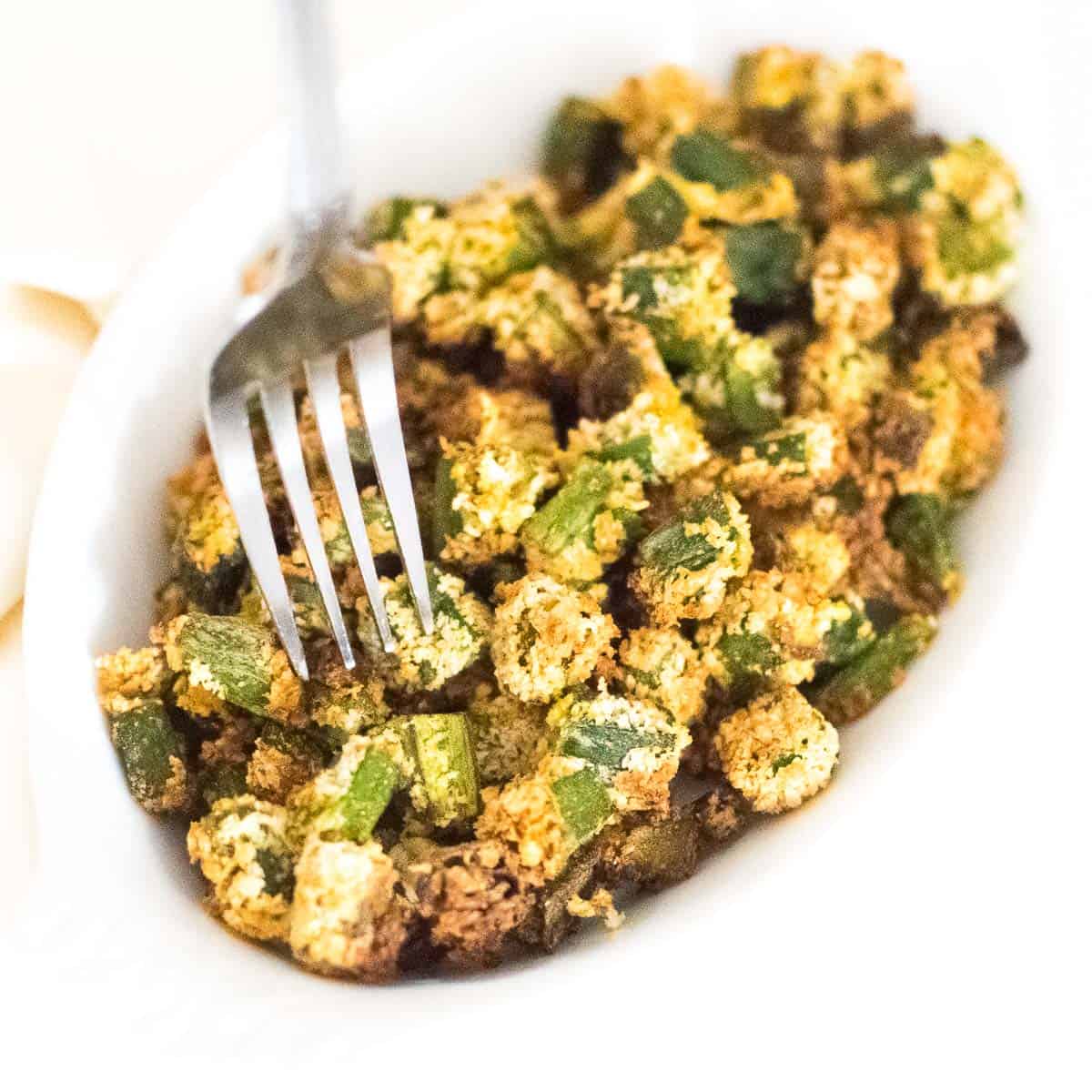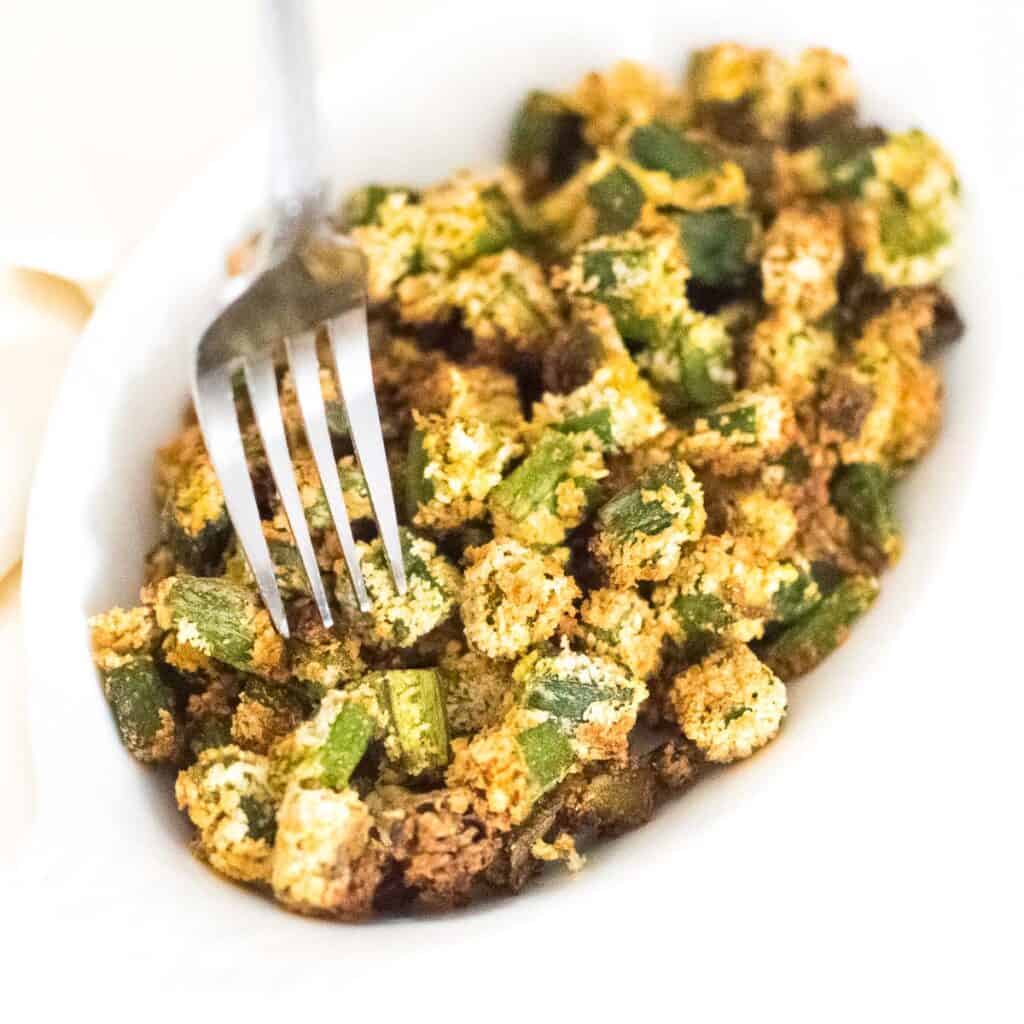 This post may contain affiliate links which means that if you click on them and also make a purchase, I will get a small commission. Moreover, I share only those products which I use personally and love.
I hope you enjoy this recipe as much as we did. I am very excited to hear back from you.
Did you make it?
If you get a chance to make this recipe then please leave your feedback in the comments below along with the 5 star-ratings. In addition, you may tag @kiipfit on Instagram with your recipe image because we would love to see what you cooked.

In addition, if you desire to explore more of my delicious recipes then you may checkout my cookbooks.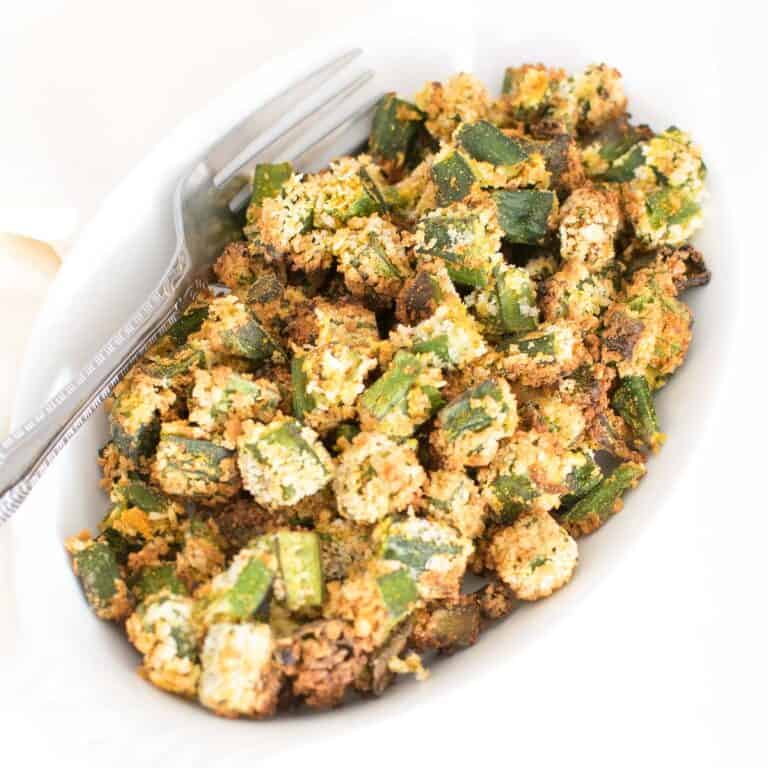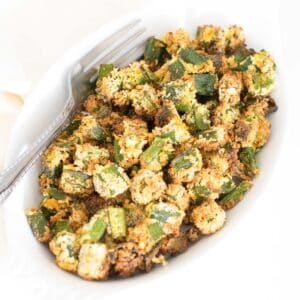 Print Recipe
Air Fryer Okra
This crunchy and crispy vegan Air Fryer Okra is a quick side dish with immense nutrition and flavors. Use fresh or frozen, these are mildly spiced and breaded with panko crumbs. Its an easy 15 minutes family friendly recipe for all ages.
Instructions
Defrost the frozen okra in microwave for 1-2 minutes (do not let it cook just defrost). Stir with a spoon. It will have slimy extract. Then, add turmeric, chili powder, coriander powder and salt to it. Gently mix it nicely so that each okra piece is well coated with the spices.

Then, toss in panko crumbs nicely so that again each okra piece is well coated with panko.

Now, spoon it into the air fryer basket. Attach it with the air fryer and turn it on at 400 degree for 15 minutes. After 7minutes simply pause it and take out the basket. Shake a bit and attach it again and turn it on again for the rest of the 8 minutes. Once, done turn it off, take out the basket and serve immediately.
Notes
Variation: Combine okra with spices and mix well. Keep it aside. Then, heat little oil in a nonstick pan and toss in okra. Gently sauté until okra starts to dry up. Add panko crumbs to it and let it cook at low – medium flame uncovered until its crispy and golden.
You may use fresh okra for this recipe but make sure to rinse and dry each piece well with a kitchen towel. I have used frozen cut okra for this recipe and then defrosted it in the microwave. Make sure it does not get cooked in microwave. We just need to defrost it.
Nutrition
Calories:
49
kcal
|
Carbohydrates:
11
g
|
Protein:
2
g
|
Fat:
1
g
|
Saturated Fat:
1
g
|
Sodium:
63
mg
|
Potassium:
43
mg
|
Fiber:
1
g
|
Sugar:
1
g
|
Vitamin A:
148
IU
|
Vitamin C:
1
mg
|
Calcium:
20
mg
|
Iron:
1
mg