These crispy Air Fryer Carrots are seasoned flavorfully and perfectly roasted. Its an easy one bowl side dish which can be used as a salad topping. This vegan recipe is healthy and beautiful to present with deliciously sweet and savory flavors.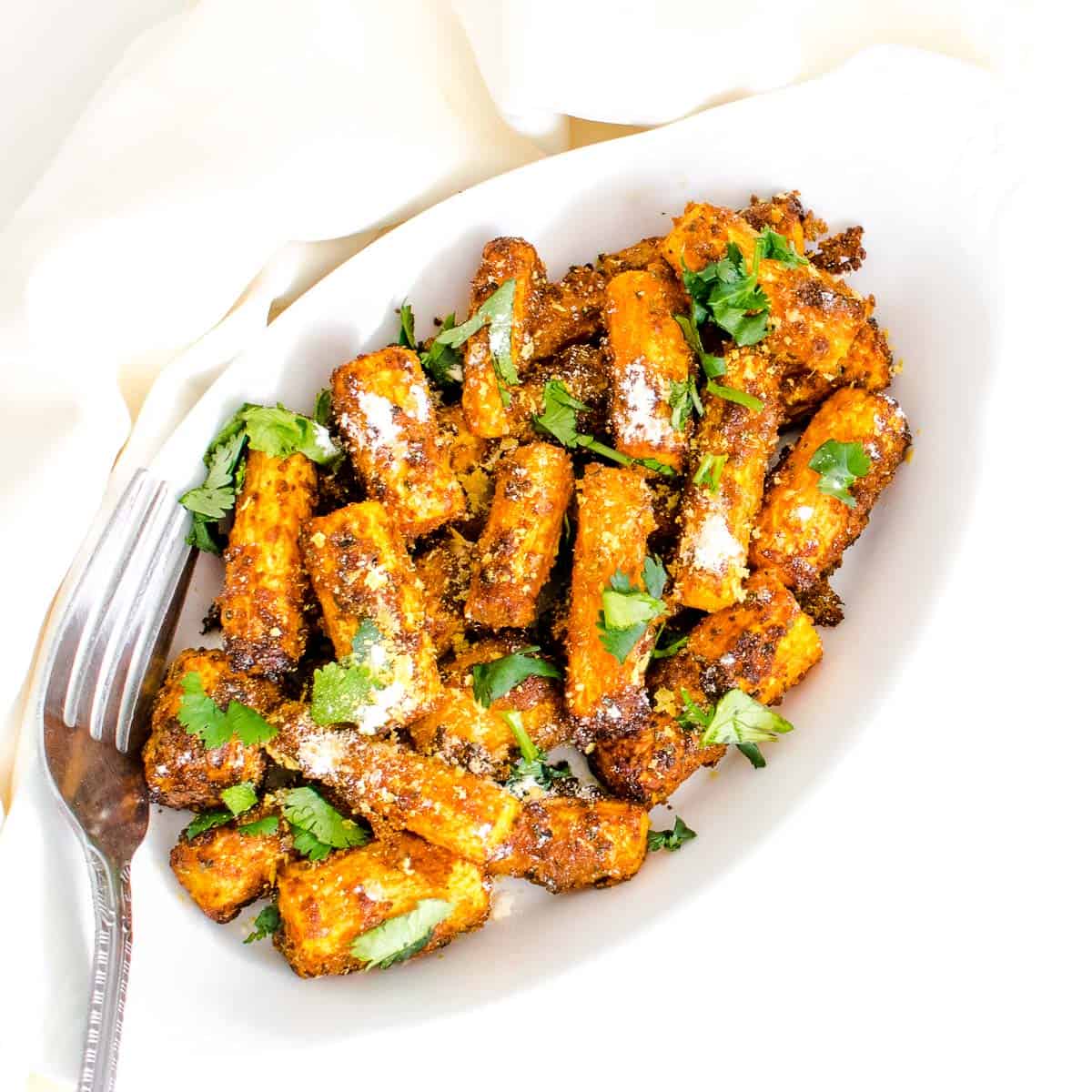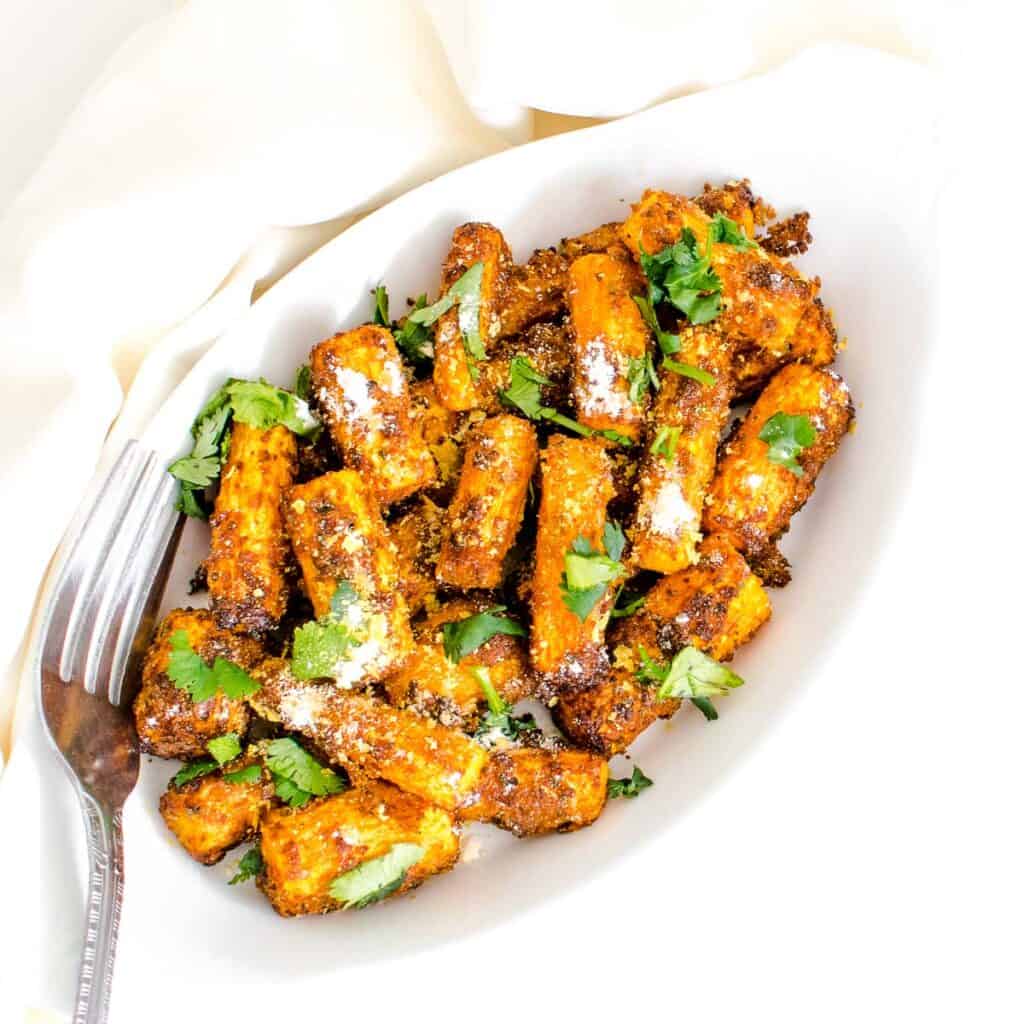 My toddler has developed a taste of carrots recently and I am experimenting few recipes with it.
It's a great veggie that works excellent in sweet and savory recipes.
One of my very popular sweet treats is vegan carrot cake and my other kid friendly savory recipe it carrot fritters. This time I tired it with my new craze for air fryer. It worked excellent and to my satisfaction.
We all are such a huge fan of this air fryer carrot recipe that I make it almost every other day. Personally, I love it on my salads and my kids munch on them as is directly from the air fryer basket.
We also like this spicy carrot amaranth soup which I made all winter. It's a great comforting meal to fight flue and cold during spring and or fall season.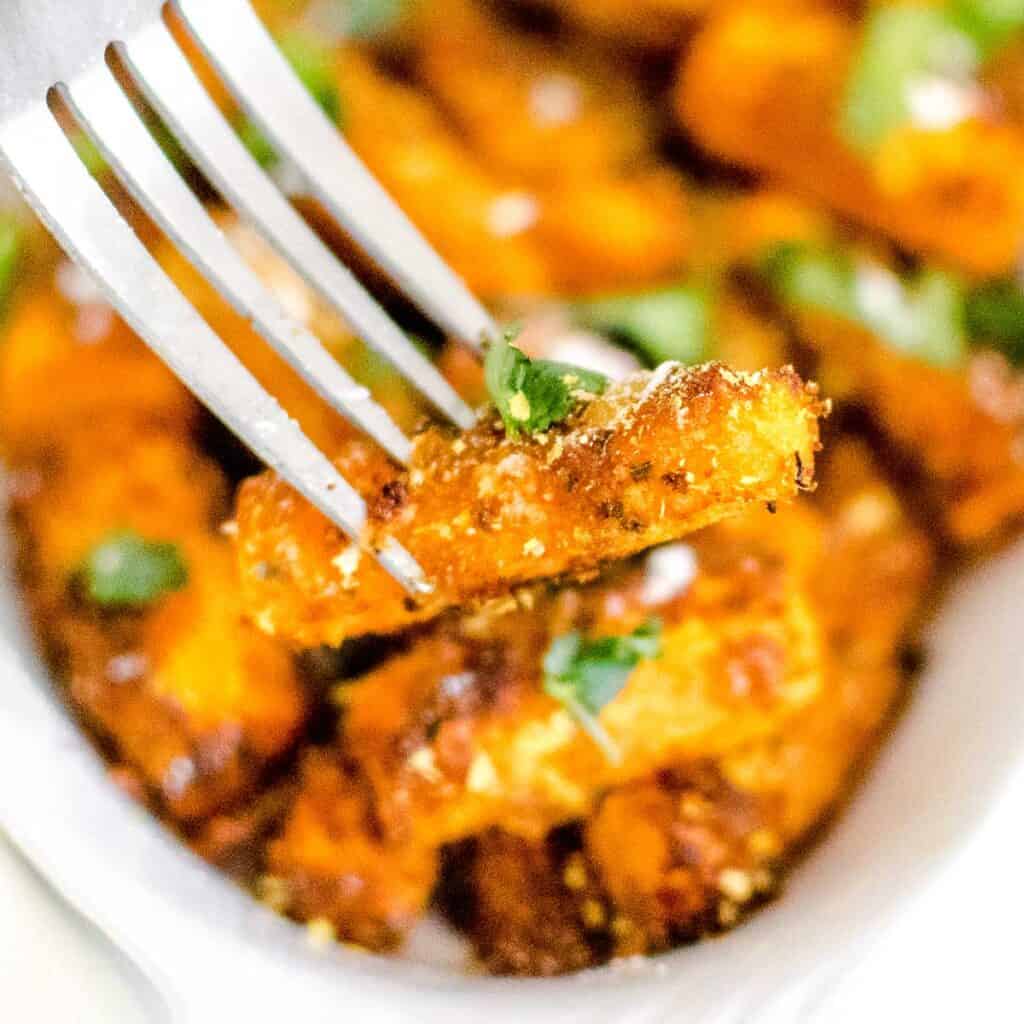 I have found a great way to feed this wonderful vegetable to my kids. Now, its fun to simply roast the carrots and my kids happily eat without any fuss.
To add more variety of vegetables into our diet I tried air fryer brussels sprouts and it worked like wonders.
Quite frequently, I use my Air fryer almost every other day to roast veggies, fries and many other recipes. Sometimes, to save on calories, I also air fry pooris and satisfy my childhood cravings in a healthier way.
My other air fryer recipes that you may like:
Sweet Potato Cubes
Air Fryer Okra
Air Fryer Mushrooms
Apple Dumplings in Air Fryer
Zucchini Fries
Sweet Potato Latkes
Air Fryer Tempeh Bacon
Vegan Spring Rolls
Air Fryer Crispy Broccoli
So, after lot of practices and appreciations from my family and relatives, I am here to share this vegan air fryer carrots with you.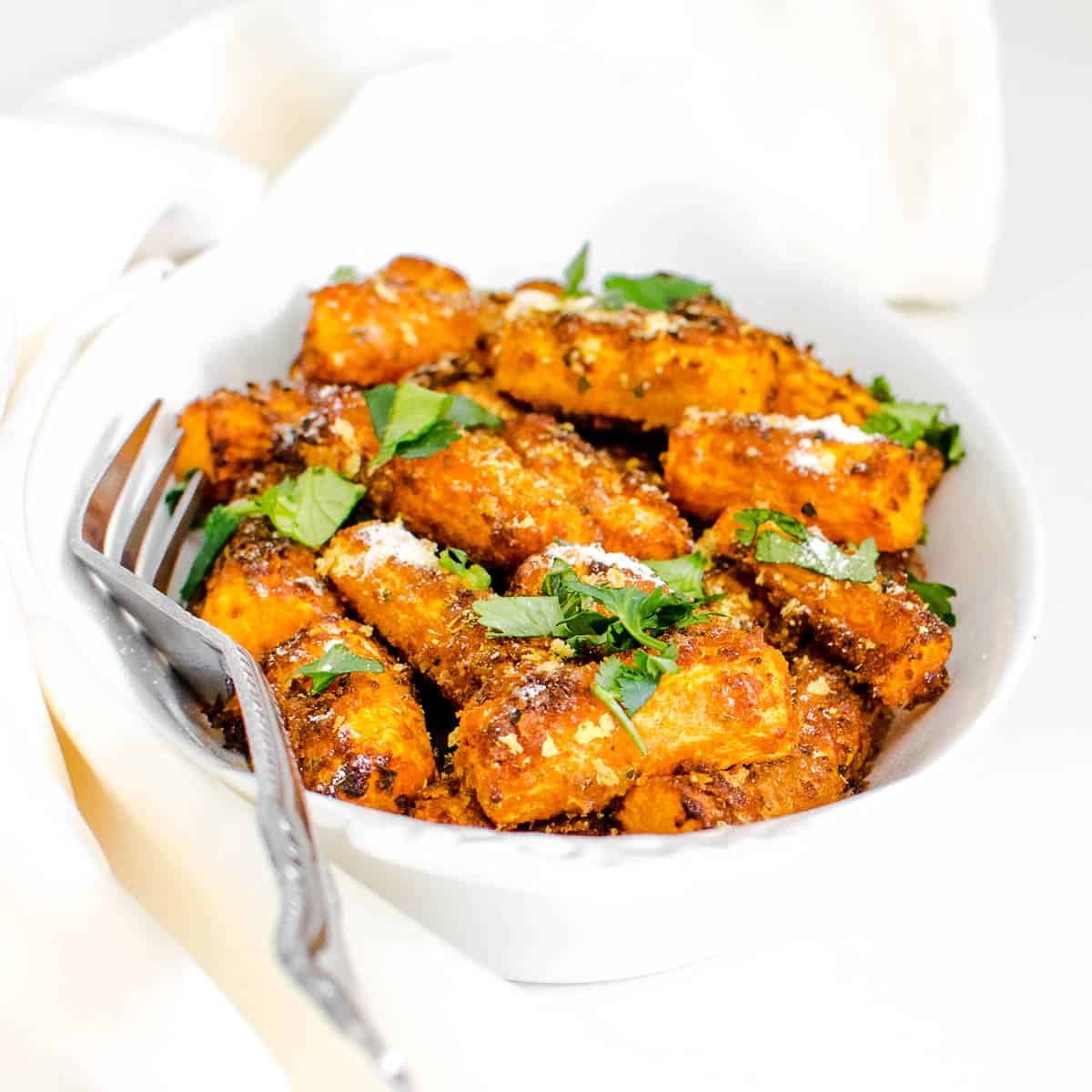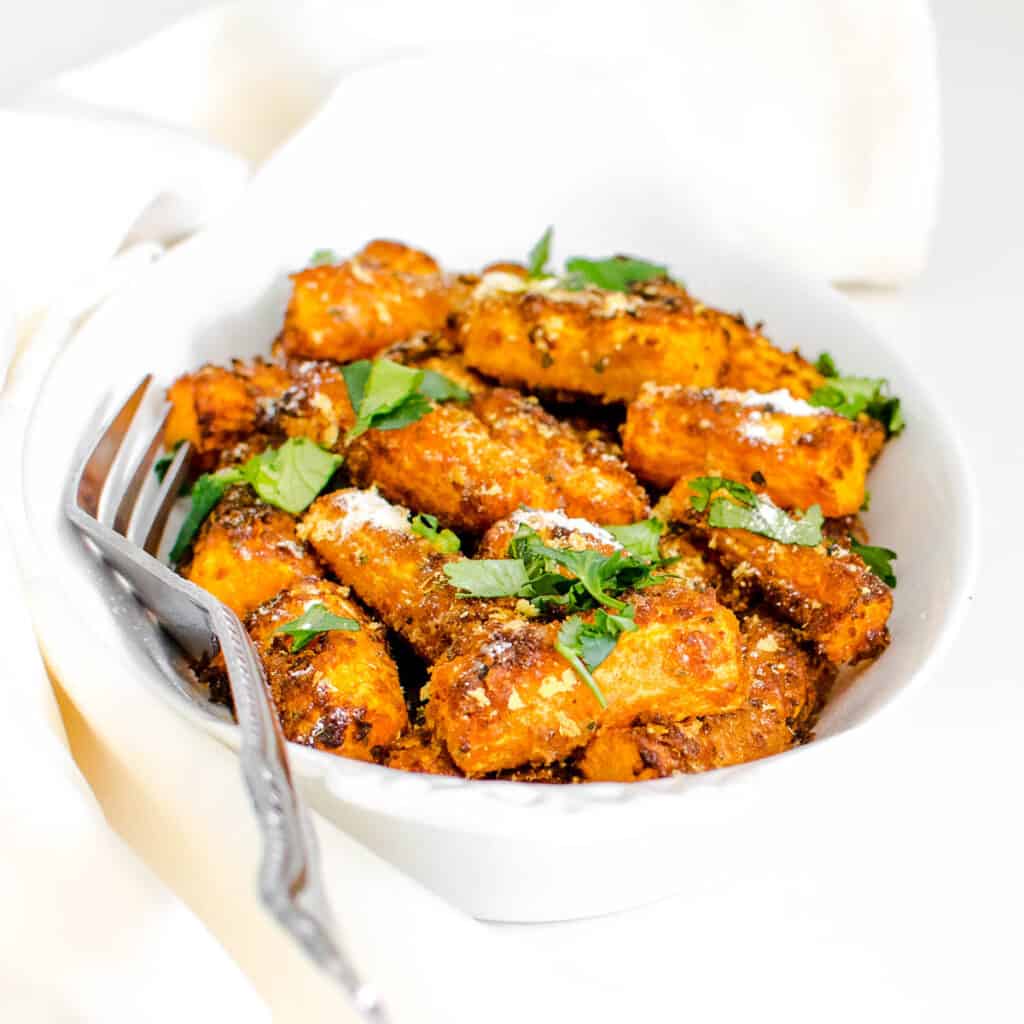 Ingredients you will need:
Nutritional yeast
Garlic powder
Onion powder
Oregano
Paprika
Salt
Olive oil
Carrots
I have used these easily available ingredients which you may buy any local grocery store. However, I have provided links to few of them here for your convenience.
If you plan to buy from these affiliate links then I get a small commission which in turn encourages me to bring in more delicious recipes for you.
These Air Fryer Carrots are the easiest, quickest and most delicious side dish for any time of the day. You may enjoy it as a snack at odd hours as well.
Ingredients notes:
Nutritional yeast – this makes the base of the coating along with providing a nice cheesy and nutty flavor to this recipe. It's a great source of B12 especially in a vegan diet.
Garlic powder – I used garlic powder to give a nice color along with the strong taste. Moreover, it's easy to make the marinate for this veggie.
Onion powder – this provides the real onion flavor and yet makes it easy to coat over all the pieces nicely.
Oregano – I used dried oregano here because it was handy for me. You may use dried parsley as a substitute as well in this recipe.
Carrots – It's the main ingredient in this recipe. I used the large ones for the best results but baby carrots also work quite well here. These are high in fiber which helps in maintaining the blood sugar levels. They are loaded with Vitamin A and supports bone health.
After going through the ingredients in detail, I insist you to quickly scan through the easy steps.
These crispy carrots are definitely a winner and will top your menu chart.
This recipe is the healthiest way to enjoy them and keep a health check.
How to make Air Fryer Carrots
Firstly, I combined nutritional yeast, garlic, onion, oregano, paprika and salt and mixed it well.
Secondly, I added oil in it and mixed it until it was crumbly in texture.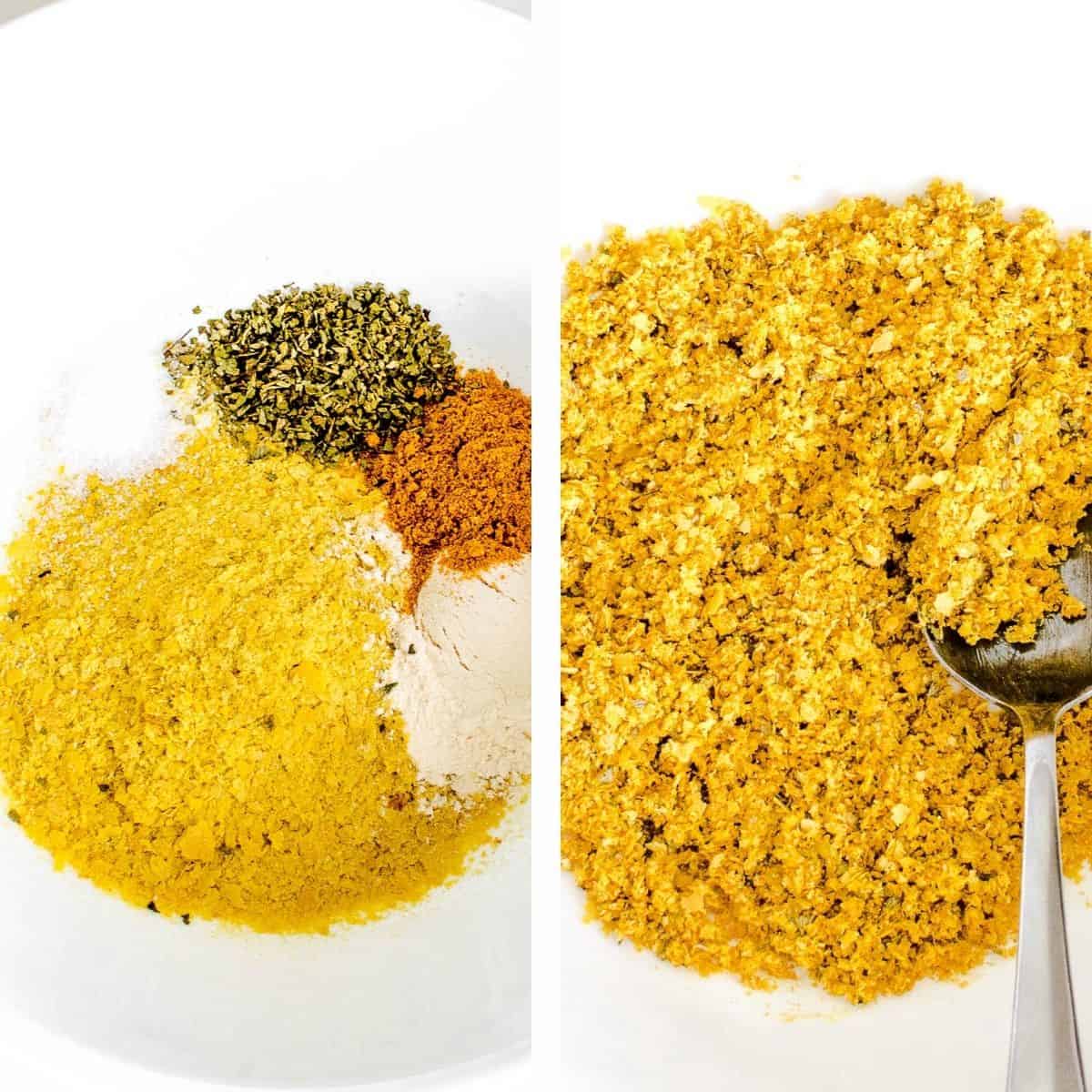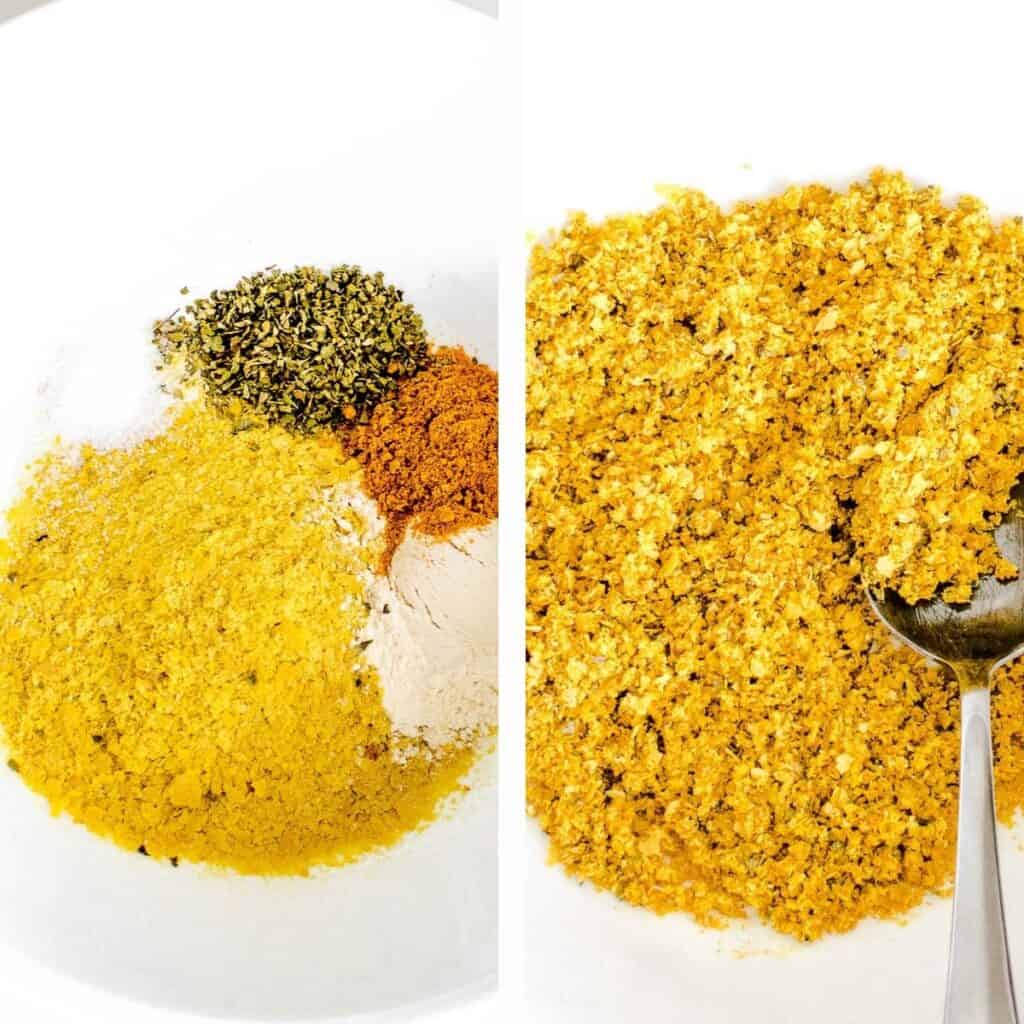 Next, I peeled the carrots and chopped them into big 3-4 pieces.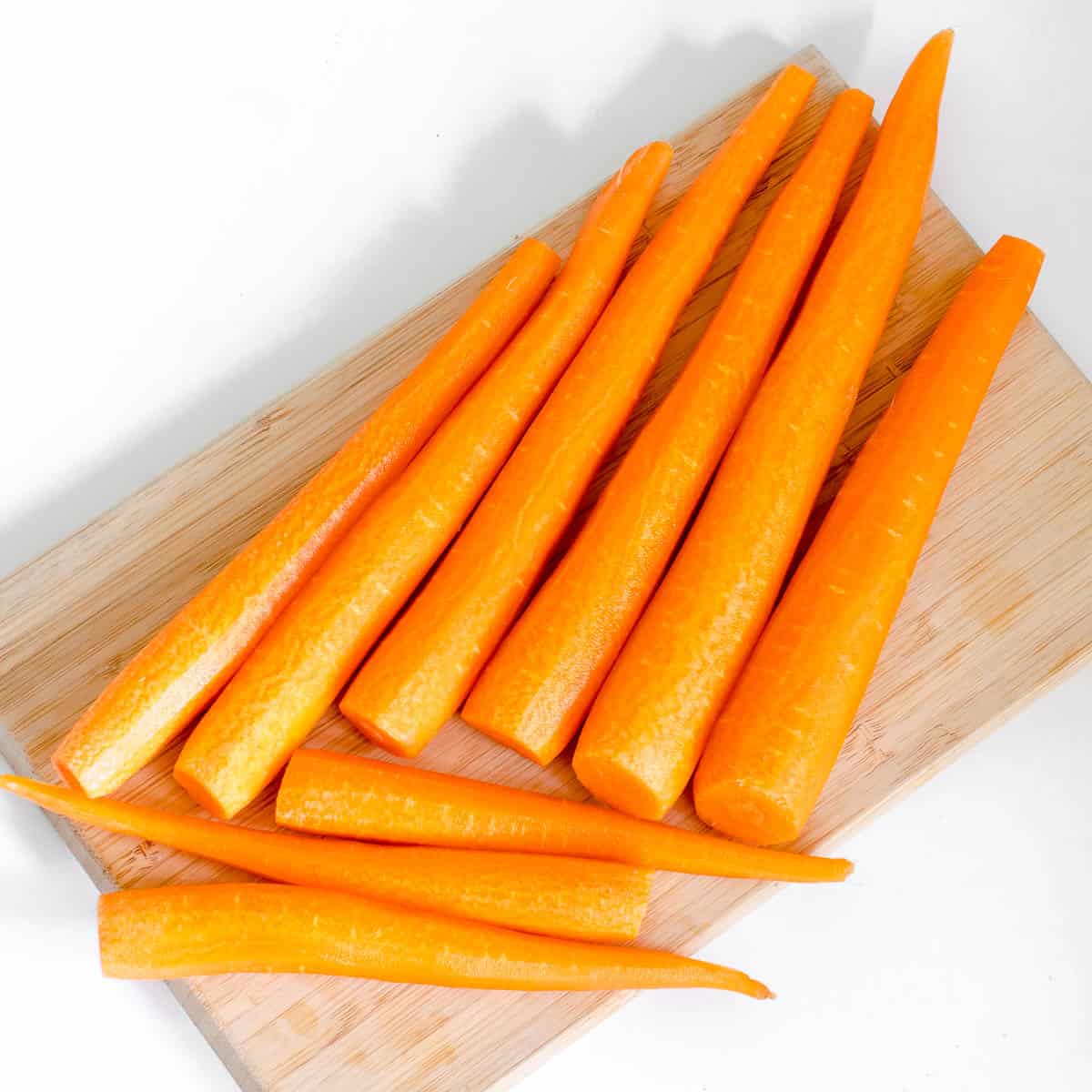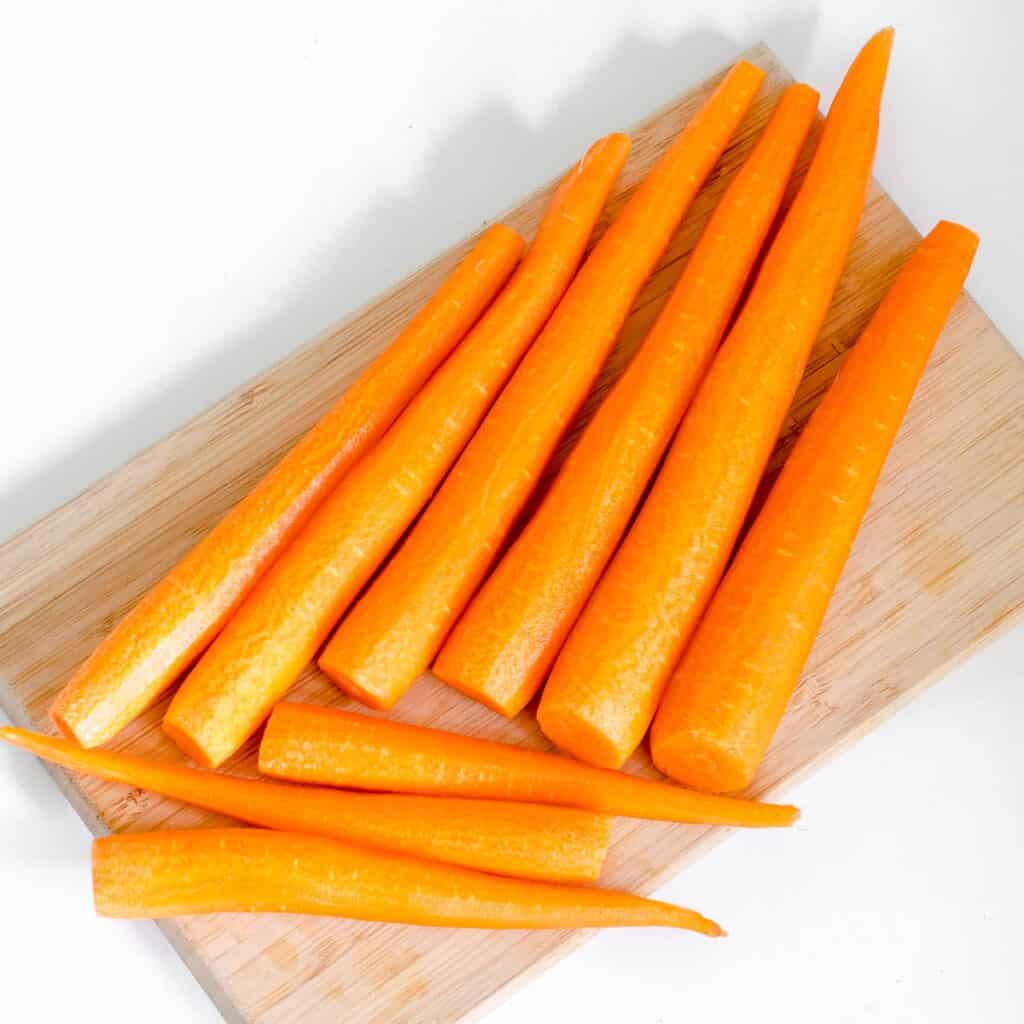 Thereafter, I tossed them in the marinate and mixed well until each piece was well coated.
Afterwards, I placed them in the air fryer basket and greased again with the cooking spray.
Then, I attached the air fryer basket to the air fryer and turned it on at 350 degree for 20 minutes.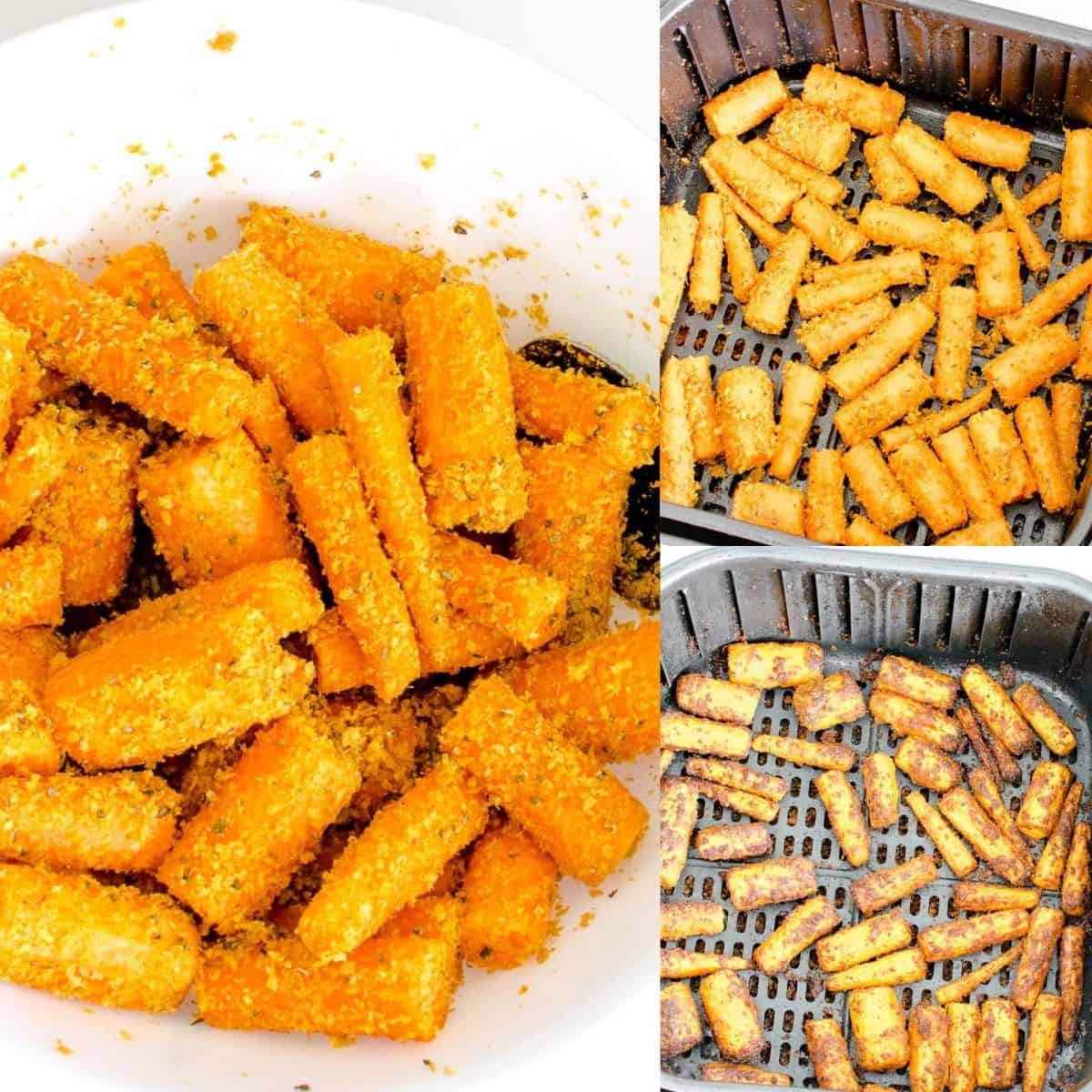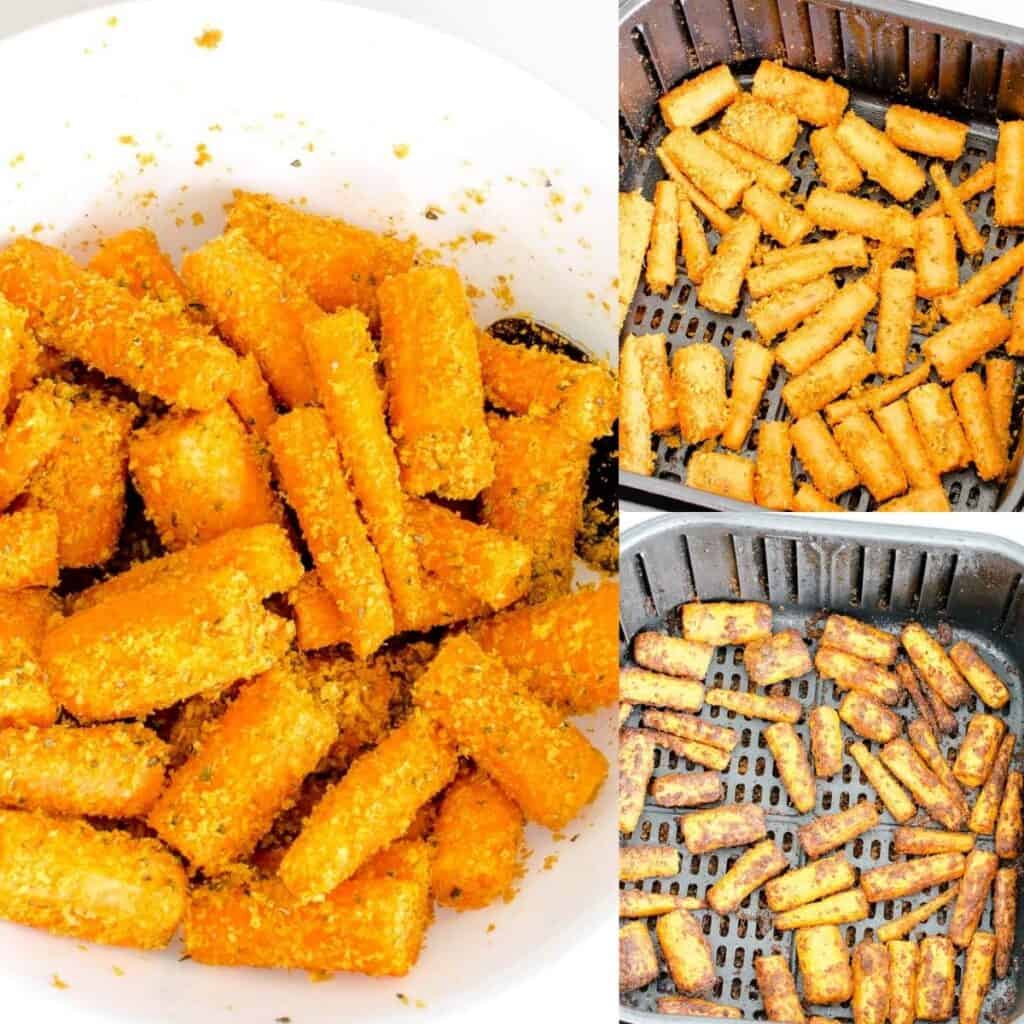 Once done, I took it out, garnished and served immediately.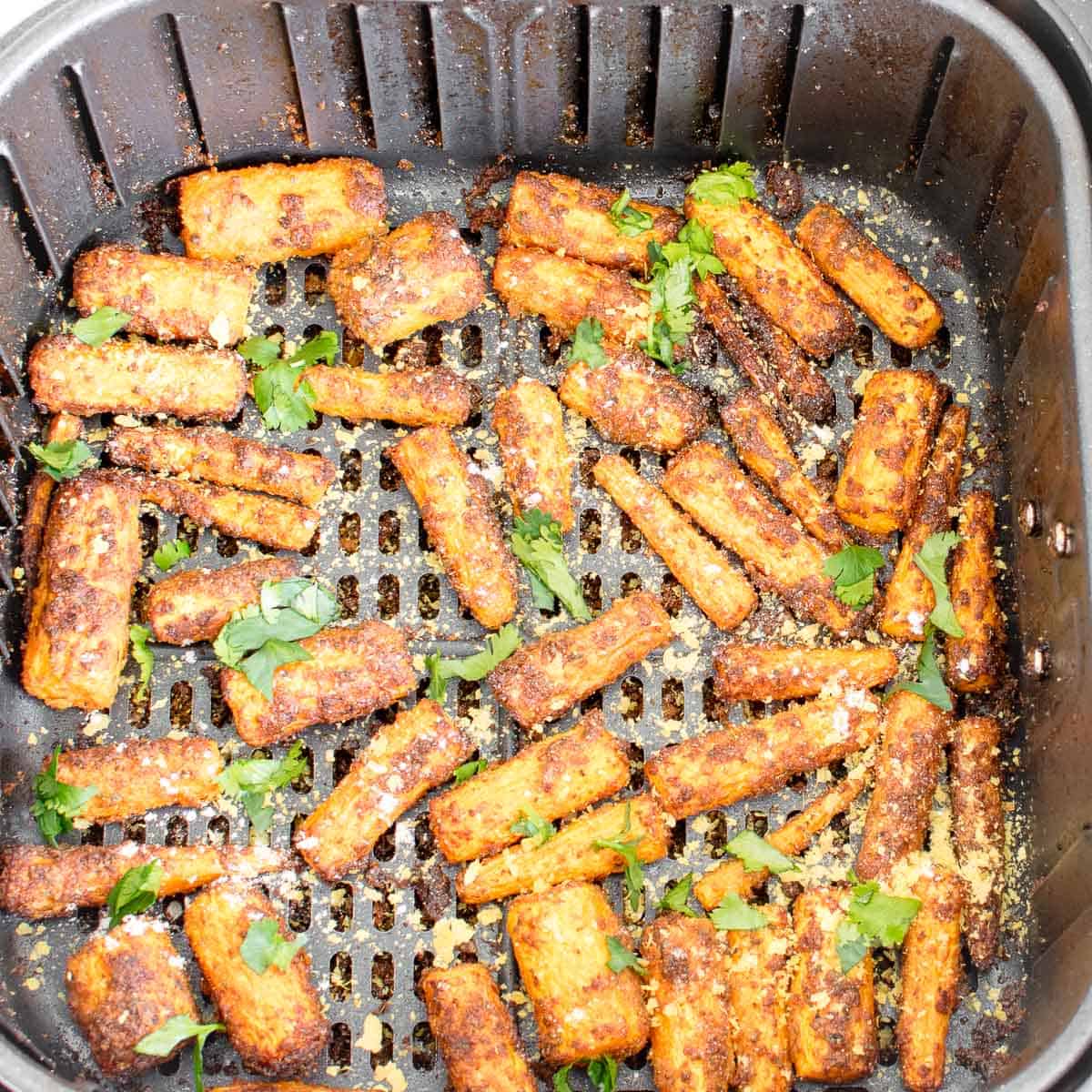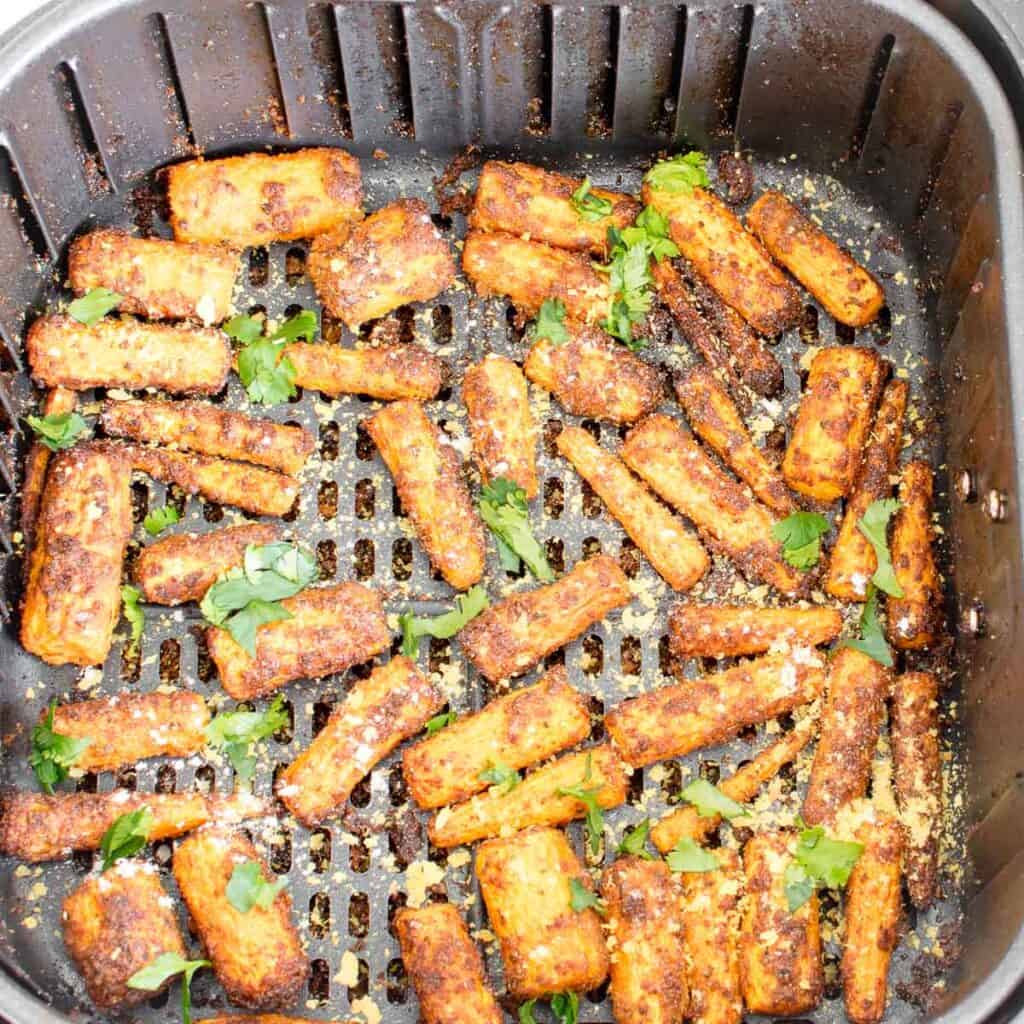 We hardly have patience to even spoon them out in a serving plate. Therefore, we end up finishing it while in the air fryer basket always. Its sooooo good.
I usually like to sprinkle some nutritional yeast for that extra cheesy flavor and some garlic powder. Then, garnish with fresh cilantro to make it look pretty and desirable. However, these garnishes enhance the taste even more.
I am sure, you are craving to make them ASAP because I have used simplest ingredients and made in the easiest steps here.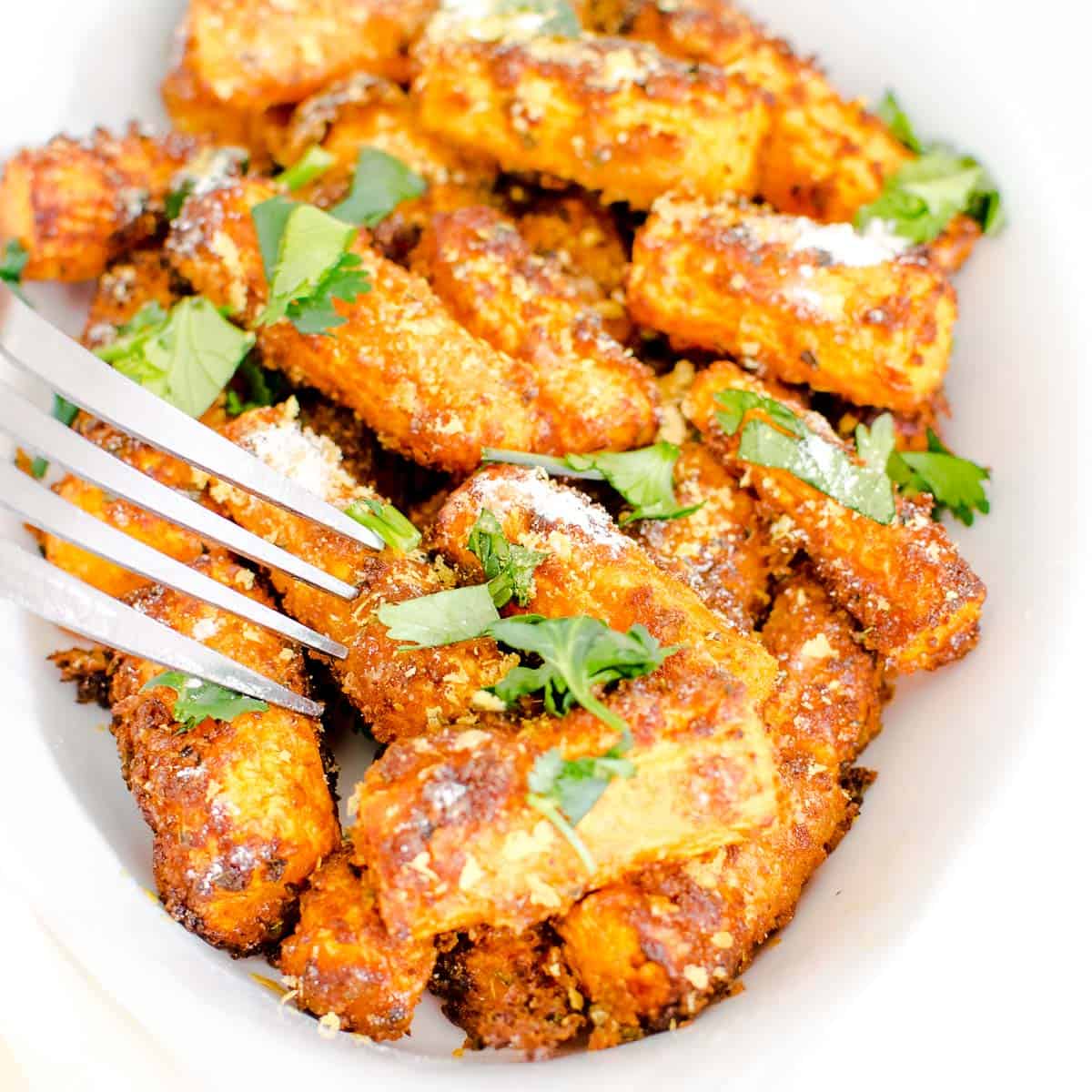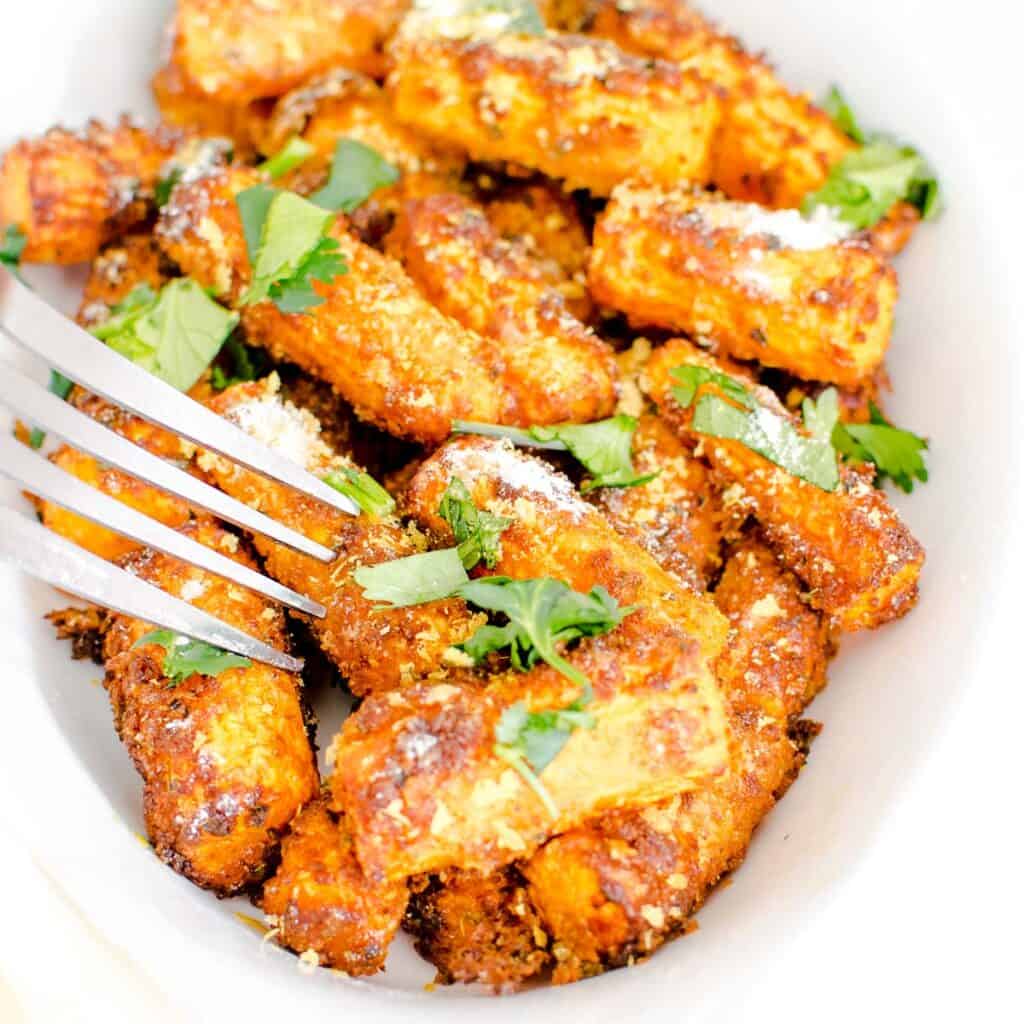 Expert tips:
Cut the carrots in a shape like baby carrots and do not slice or else they will cook fast from the outside and will taste burnt.
While placing the carrots in the basket spoon out the leftover marinate as well on the carrots.
While tossing the carrots in the marinate, make sure that each piece is well coated with the spices.
After adding oil to the spices, keep mixing with the spoon until its crumbly and moist. It might stick to the spoon but keep mixing in different directions.
This is such an easy recipe that you can simply fix it even at a short notice. However, you can be creative with the herbs as well. So just use any dried herb that you have handy in your kitchen and bring this dish together.
Air Fryer Carrots FAQs
How long does this last?
It tastes best immediately due to its crispy outer layer. If kept for long they start to soften.
How do they taste like?
They are savory, salty and mild spicy from outside and naturally sweet and juicy from inside.
Can I oven bake them?
Yes, simply place them on the prepared baking sheet covered with parchment paper and bake in a pre-heated oven at 380-degree Fahrenheit for about 45-50 minutes or until brown and crispy from outside.
Are these healthy?
Yes, its not deep fried so therefore we save on a lot of calories and fats. Moreover, the right texture of the vegetable is retained and its low in calories as well.
Can I air fryer frozen vegetables?
Yes, absolutely. Its very easy. Simply place the frozen vegetables without thawing and cook as directed.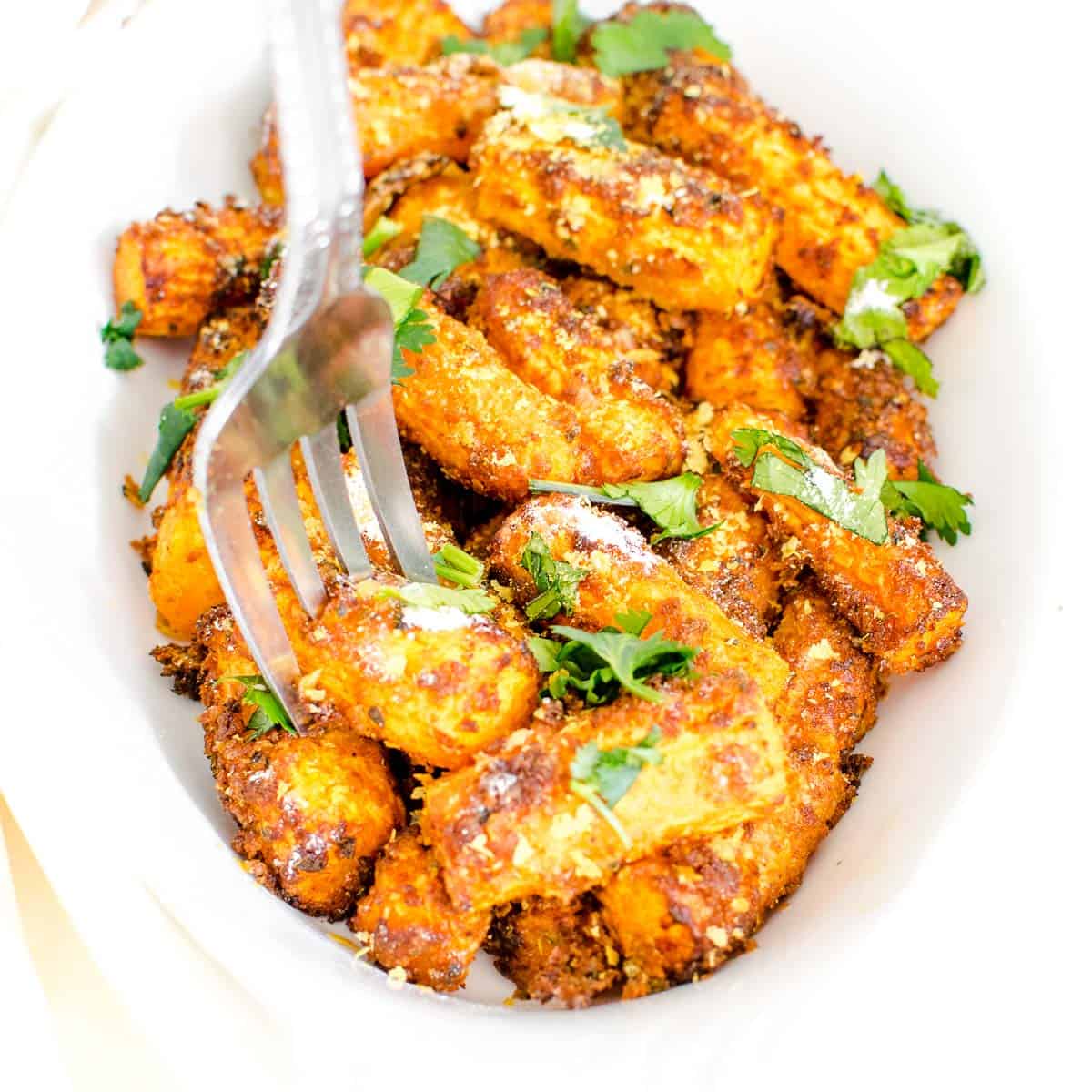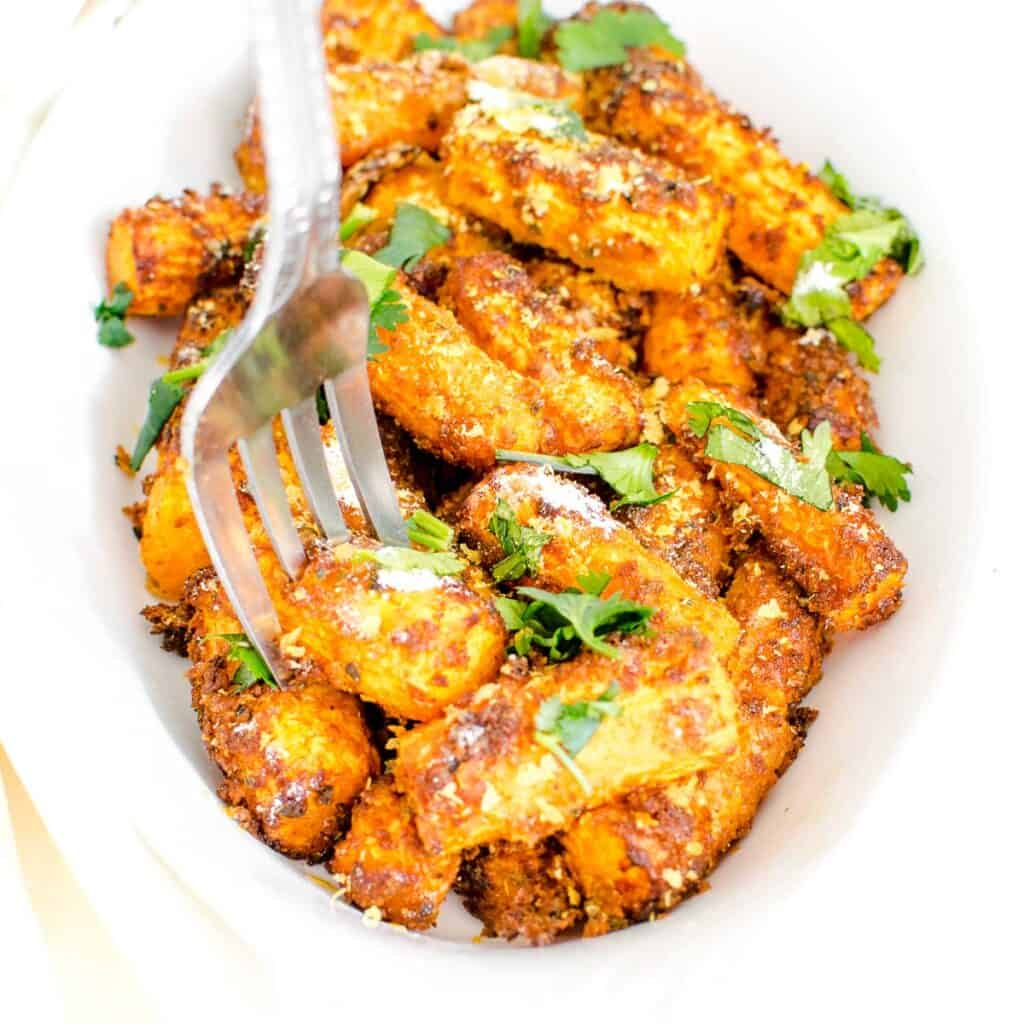 Did you make it?
If you get a chance to make these savory air fryer carrots then please leave your feedback in the comments below along with the ratings.
Follow me on Facebook or tag @kiipfit on Instagram with your recipe image because we would love to see what your remakes.
In addition, you may checkout my cookbooks for more delicious and everyday vegan recipes.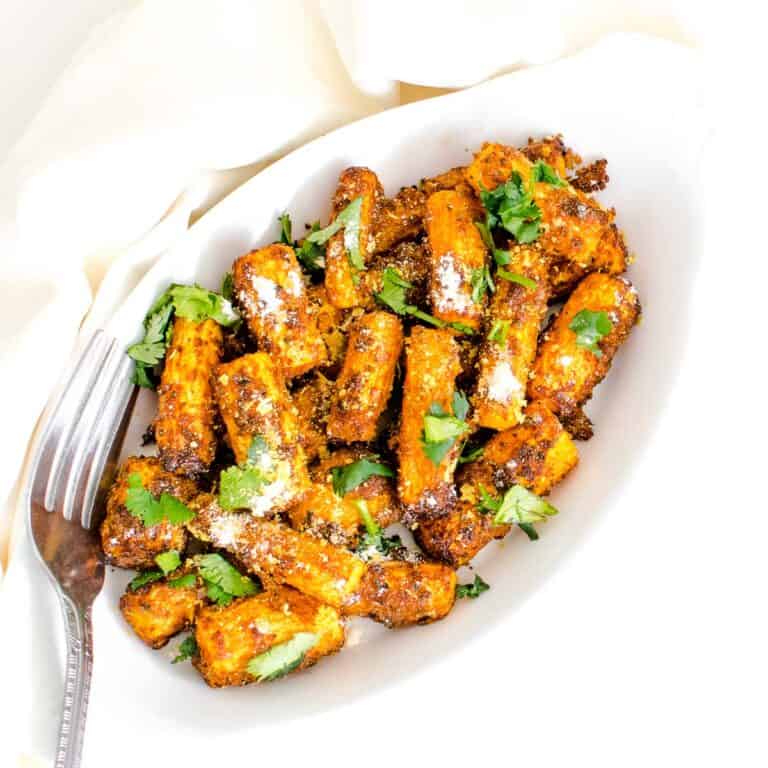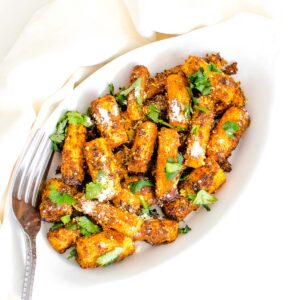 Print Recipe
Air Fryer Carrots
These crispy Air Fryer Carrots are seasoned flavorfully and perfectly roasted. Its an easy one bowl side dish which can be used as a salad topping. This vegan recipe is healthy and beautiful to present with deliciously sweet and savory flavors.
Instructions
In a mixing bowl combine nutritional yeast, garlic powder, onion powder, paprika oregano, salt and mix it with a spoon. Then add oil and mix it well until its crumbly.

Wash the carrots and peel them with a peeler. Then chop them into 3-4 big pieces horizontally. Toss the carrots in the marinate and mix well until each carrot pieces are well coated.

Place them in the air fryer basket. Grease them with a cooking spray and attach the basket to the air fryer. Turn it on at 350for 20 minutes. Once done turn if off and take it out. Garnish with more garlic powder and fresh cilantro. Serve immediately.
Notes
This recipe can be made with baby carrots but large carrots taste best here.
Make sure to cut the carrots in the shape of baby carrots and not length wise.
Oven option: Follow step 1 and step2. Then place them on a prepared baking sheet covered with a parchment paper. Bake in a pre-heated oven at 380-degree Fahrenheit for 45-50 minutes or until browned and crispy from outside.
This recipe is savory and can be used as salad toppings or as side dish or snack.
This recipe tastes best when served immediately out of the air fryer basket.
Nutrition
Calories:
59
kcal
|
Carbohydrates:
1
g
|
Protein:
2
g
|
Fat:
4
g
|
Saturated Fat:
1
g
|
Sodium:
1
mg
|
Potassium:
90
mg
|
Fiber:
1
g
|
Sugar:
1
g
|
Vitamin A:
292
IU
|
Vitamin C:
1
mg
|
Calcium:
12
mg
|
Iron:
1
mg