This delicious Fall flavored Vegan Pumpkin Smoothie just taste like pie in a glass. Its creamy in texture and easy to blend. It's made with handful of ingredients and is a healthy way to start your day!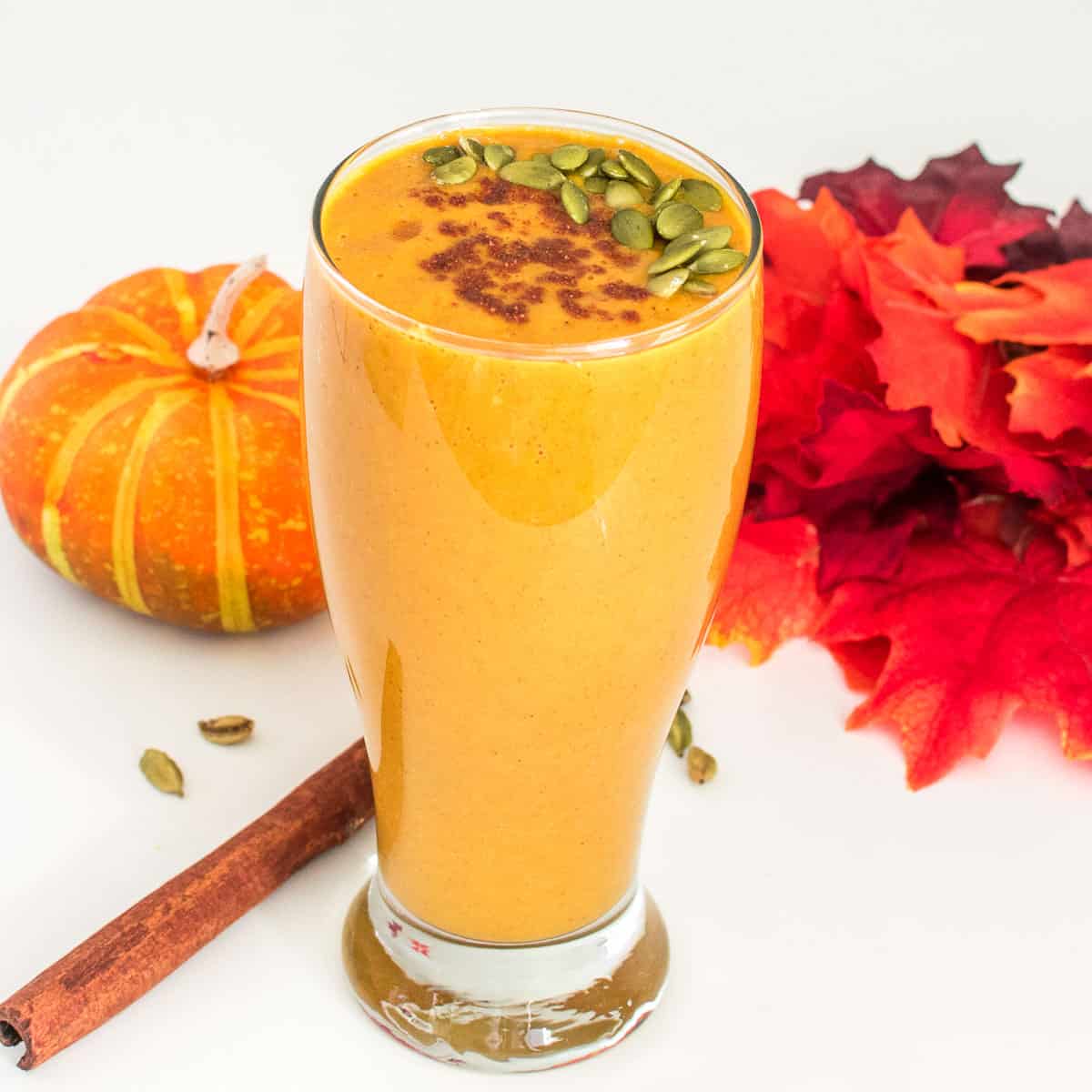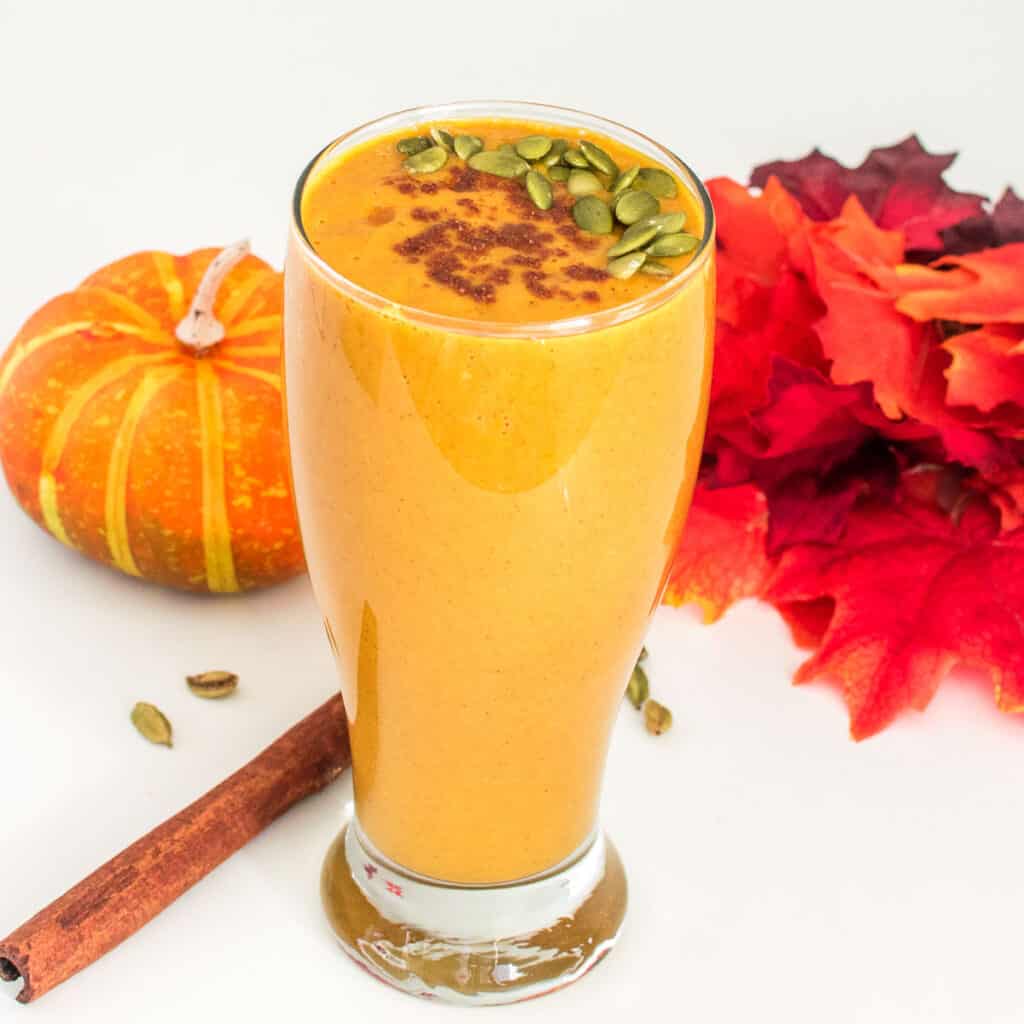 I love smoothie simply because it's satisfyingly hydrating and super nourishing also. By infusing pumpkin, this pumpkin smoothie tastes like a pumpkin pie in a glass.
My persimmon pumpkin orange smoothie is quite desirable and absolutely perfect for fall and winter. Often, I whip up my Iced Pumpkin Latte too.
Since its pumpkin season so it's a great idea for brunching with vegan pumpkin pancakes and dairy free pumpkin waffles and satisfy your sweet tooth with pumpkin oatmeal cookies. However, my favorite is no bake vegan pumpkin bars.
Therefore, pumpkin is so versatile that whether you blend it or bake or simply cook it in a savory curry style, it just always tastes so good.
Hence, if you are in an experimenting mood with food then you must try my pumpkin fettuccine and tofu pumpkin curry.
So, coming back to this easy vegan pumpkin smoothie, its everything that you will want for in a smoothie.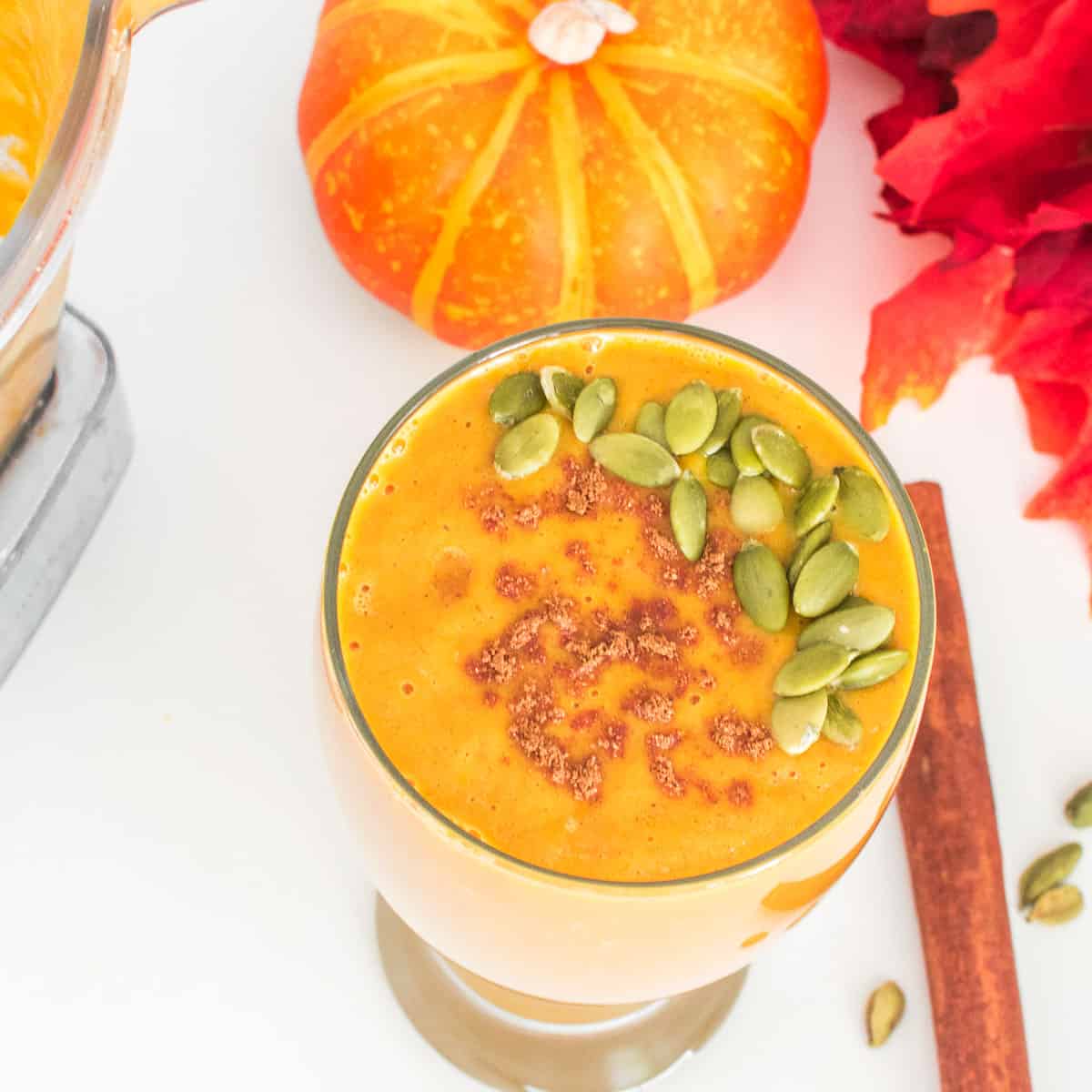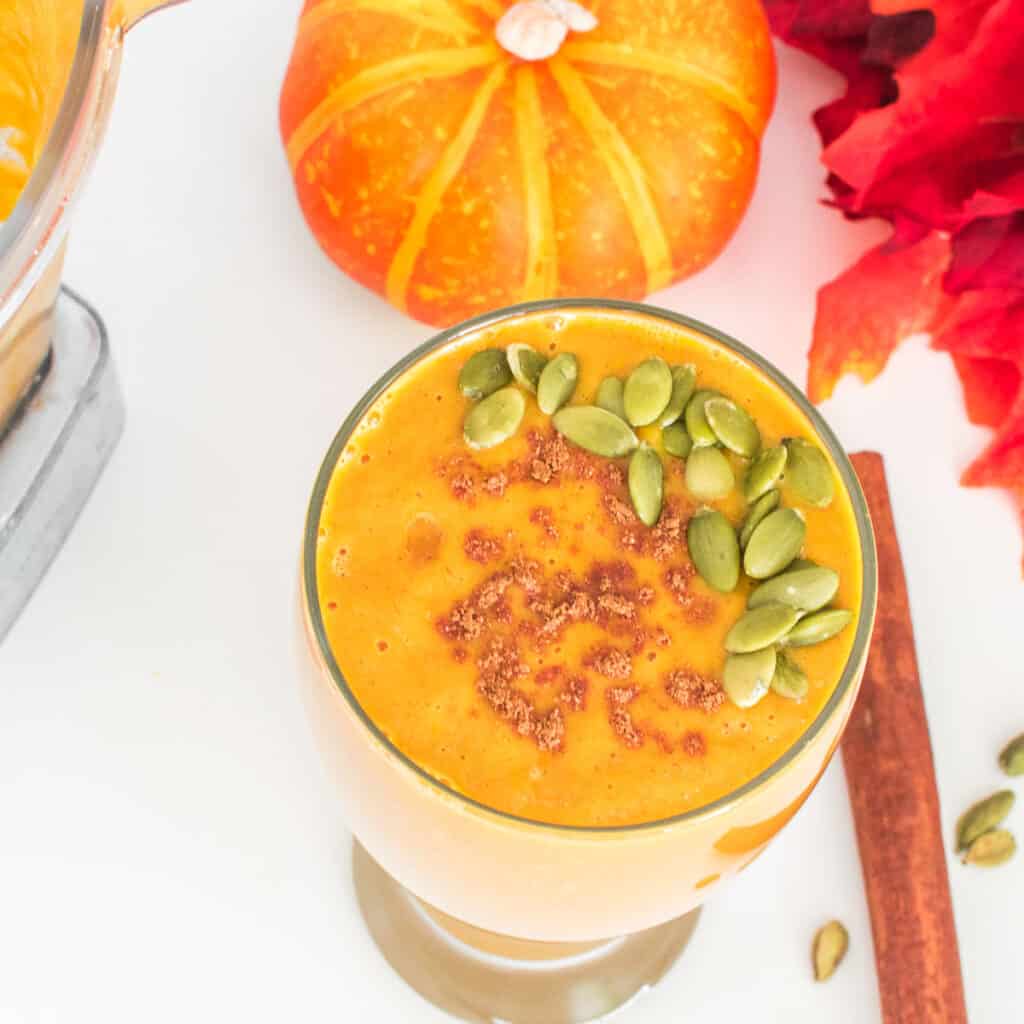 This thick, rich and velvety beverage is great as a dessert or a snack or a breakfast because its satisfying and nutritious.
This vegan pumpkin smoothie will make you believe that smoothies can be comforting because this one is made with real pumpkin puree and dates along with fall spices. Hence, it tastes just like fall in a glass.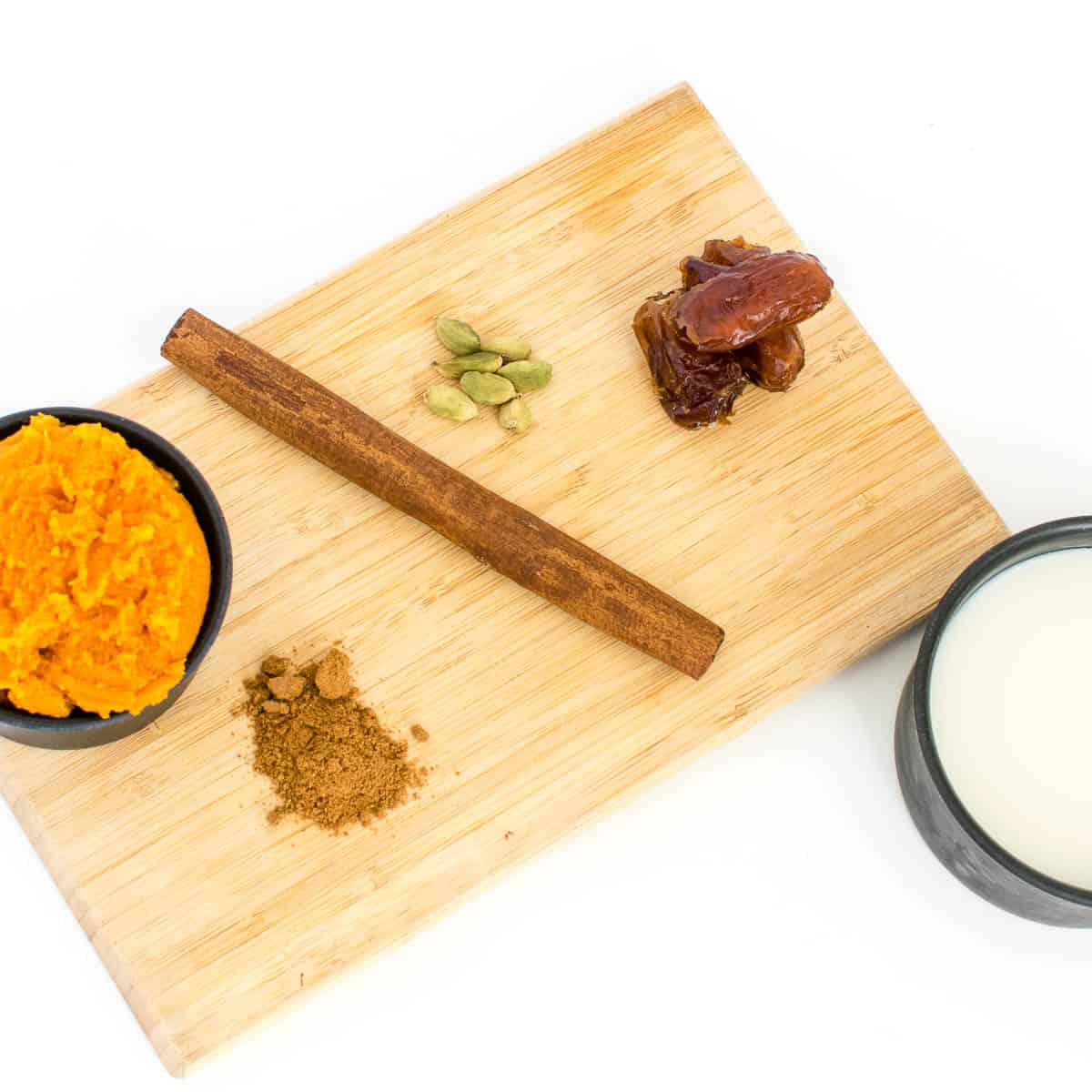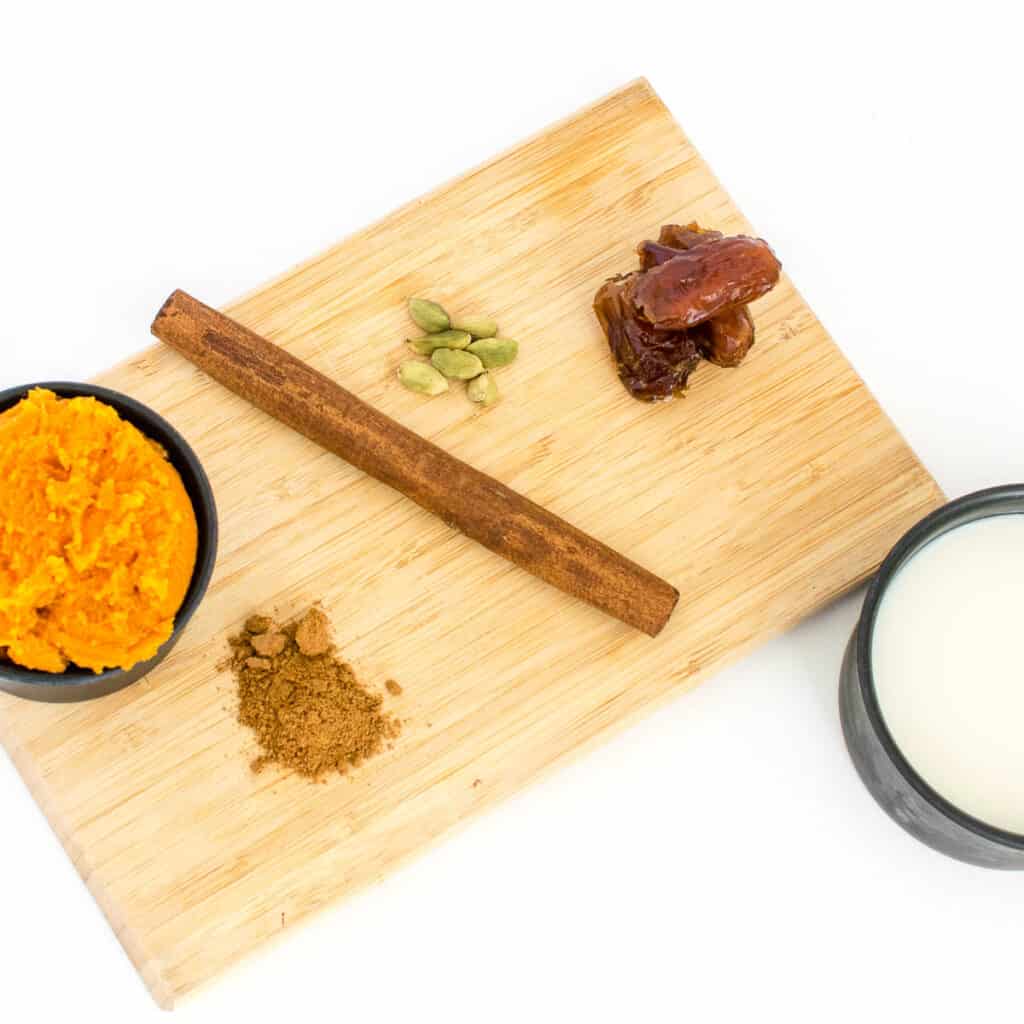 So, its a must that I share this pumpkin spice smoothie with you all today.
Ingredients for vegan pumpkin pie smoothie
Pumpkin puree
Oat milk
Dates
Vanilla extract
Pumpkin pie spice
Cinnamon
Cardamom
Garnishing
Pumpkin seeds
Pumpkin pie spice
Vegan whipped cream
Chopped walnuts
I have used these easily available ingredients in this recipe which you may buy from any local grocery store. However, I have provided links to few of them here for your convenience.
If you plan to buy from these affiliate links then I get a small commission which in turn encourages me to bring in more delicious recipes for you.
Ingredients notes
Pumpkin puree – I used a store bought one but you may use your own homemade puree as well.
Oat milk – I used this for its creamy texture and also to make this pumpkin spice smoothie nut free. But any dairy free milk works here just adjust the sweetener as per your taste.
Dates – it's a natural sweetener with lots of health benefits. It is rich in fiber and packed with antioxidants. It promotes natural labor and brain health too.
Pumpkin pie spice – by adding this pie spice mix this smoothie tastes wonderfully and becomes aromatic as well.
Cinnamon – I added this to add that extra punch of flavor to this vegan pumpkin smoothie recipe.
Cardamom – it's a simple spice ingredient which compliments the sweetener by enhancing the overall flavor.
For detailed measurement of ingredients, please scroll down to the printable recipe card.
How to make Vegan Pumpkin Smoothie
Firstly, I combined all the ingredients in a blender and blended it smooth.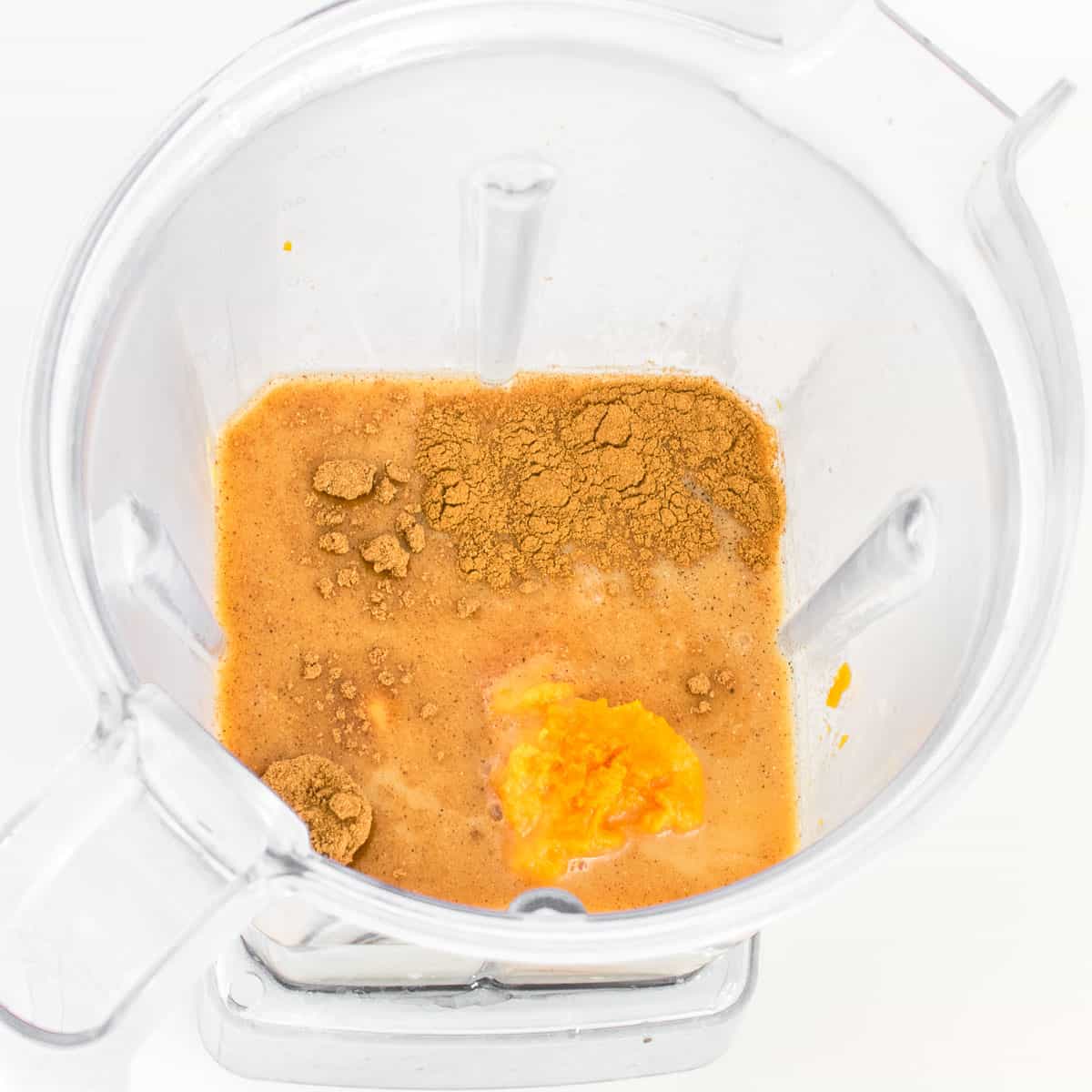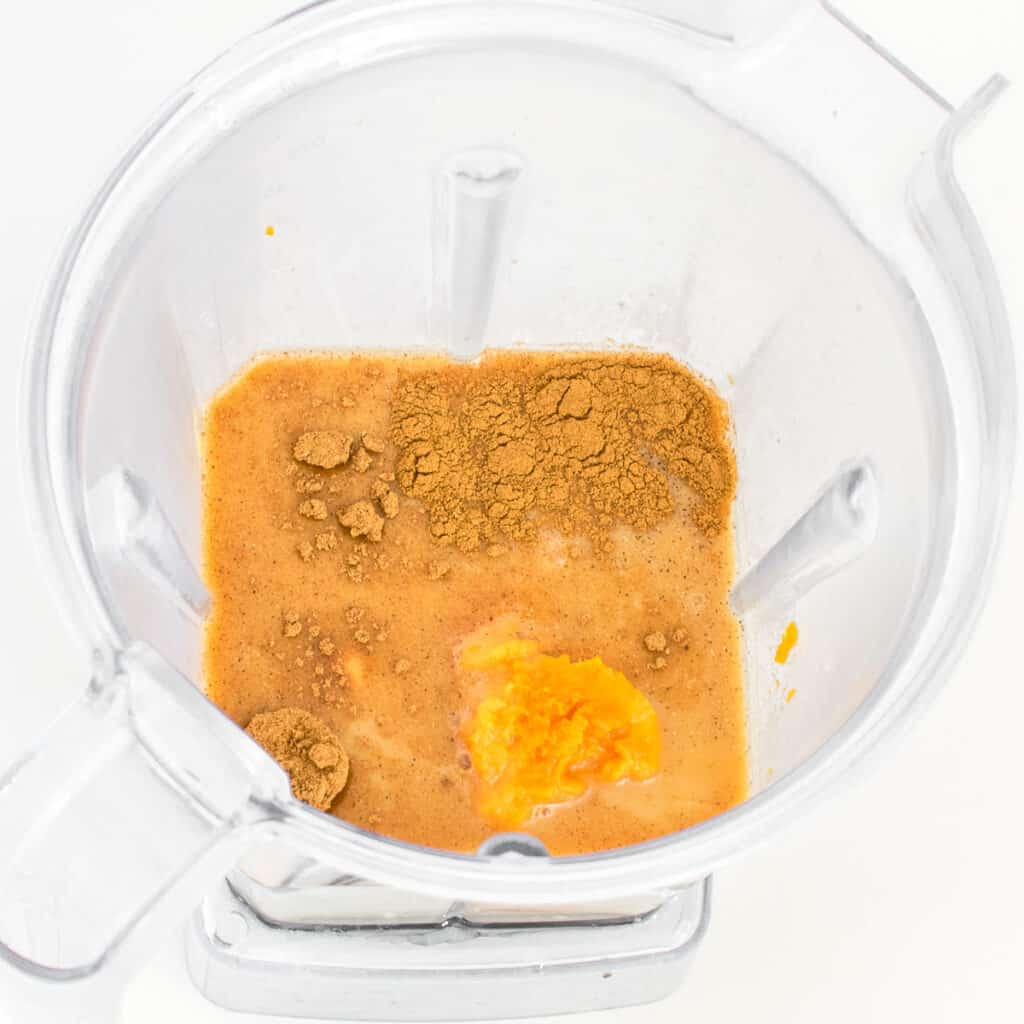 Secondly, I poured it in the serving glasses and garnished it nicely.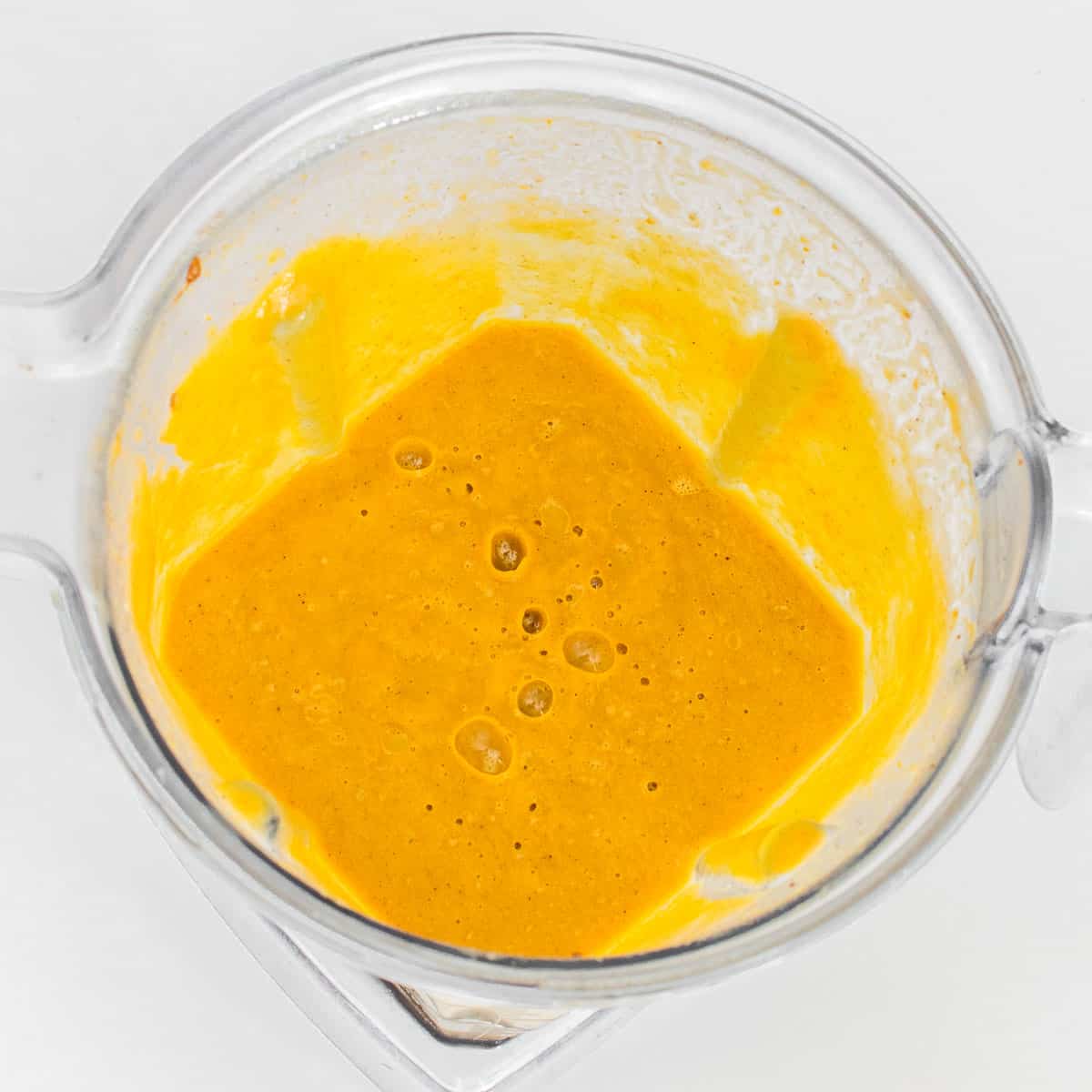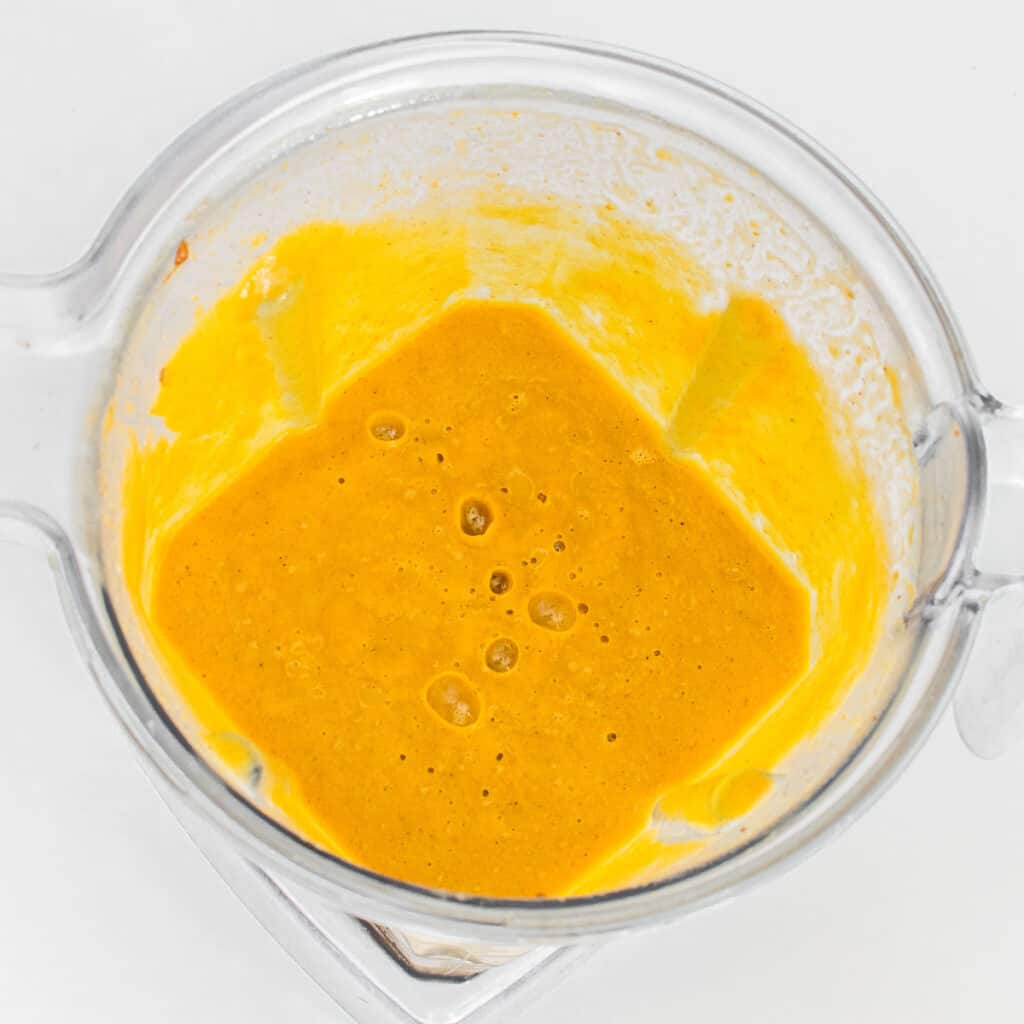 Lastly, I served it immediately.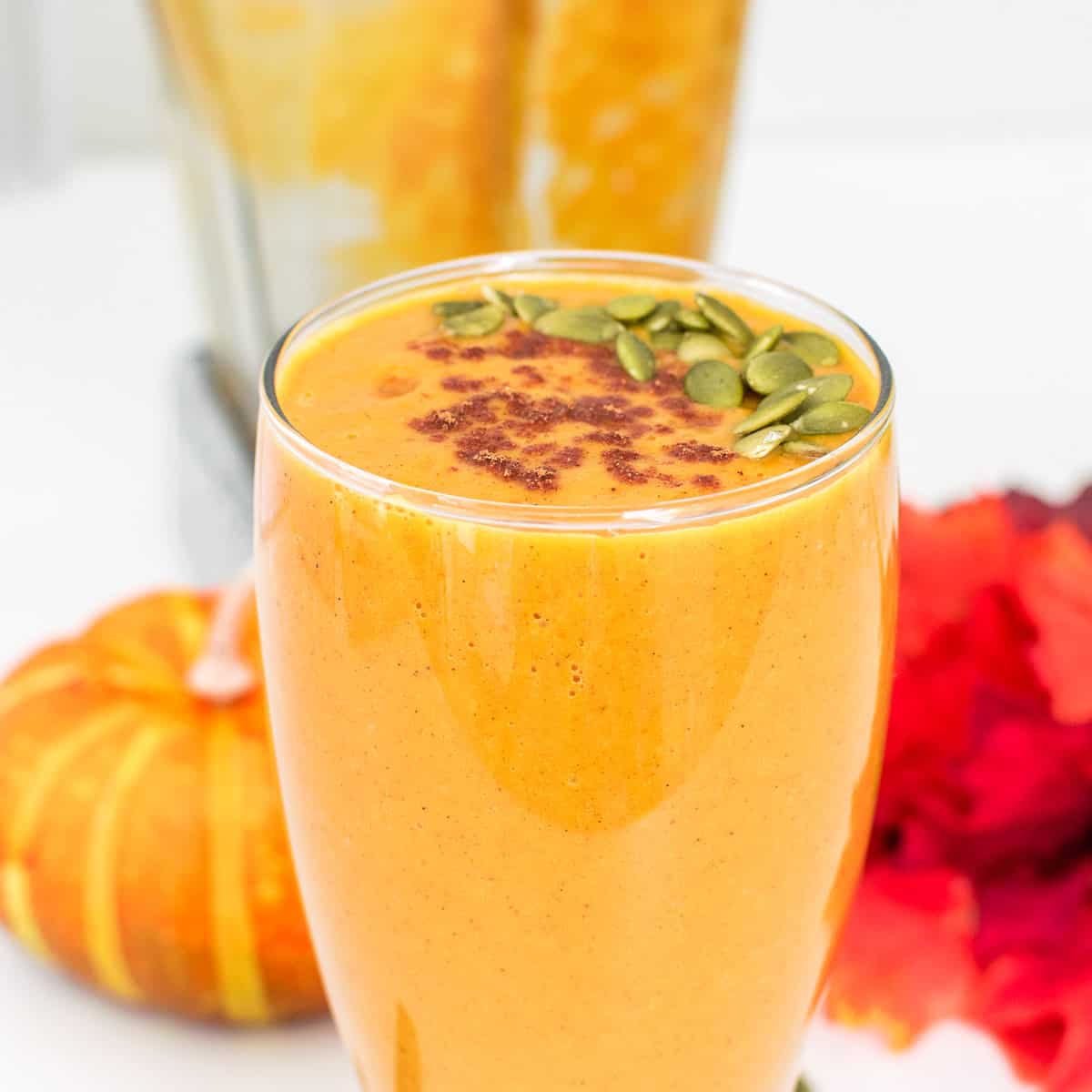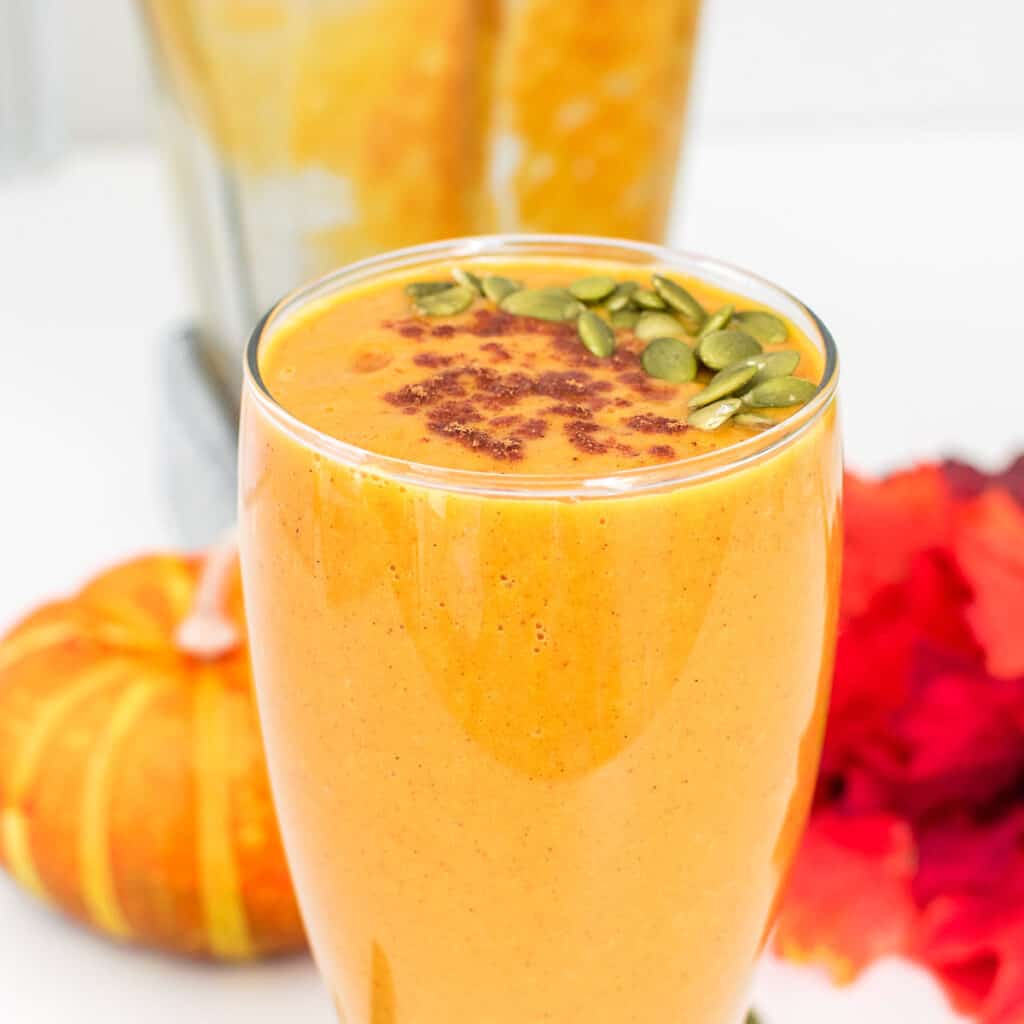 Every time I blend it, this dessert like beverage always vanishes immediately.
I am a big fan of this smoothie recipe and I am sure once you blend it you will becomes its fan too.
So therefore, I insist you to try this ASAP and I guarantee you will love it too.
It has a nice pudding like texture which suffices as a healthy dessert and makes it even more inviting recipe for all ages.
Do I need a high-speed blender?
Its better to blend it in a high-speed blender to get the smoothest texture since I have added dates to it. But if you do not have then soak the dates in warm water for 5 minutes. Then, drain it and blend them with the rest of the ingredients. This might take a little longer time but will tastes equally good.
How to serve?
Serve this healthy pumpkin smoothie in a glass as is which is my go-to style. Top it with the suggested garnishing. Or make it into a smoothie bowl and top it with your favorite toppings and include vegan chocolate chips or cocoa nibs for extra deliciousness. You may also top it with vegan white chocolate granola or cranberry quinoa granola.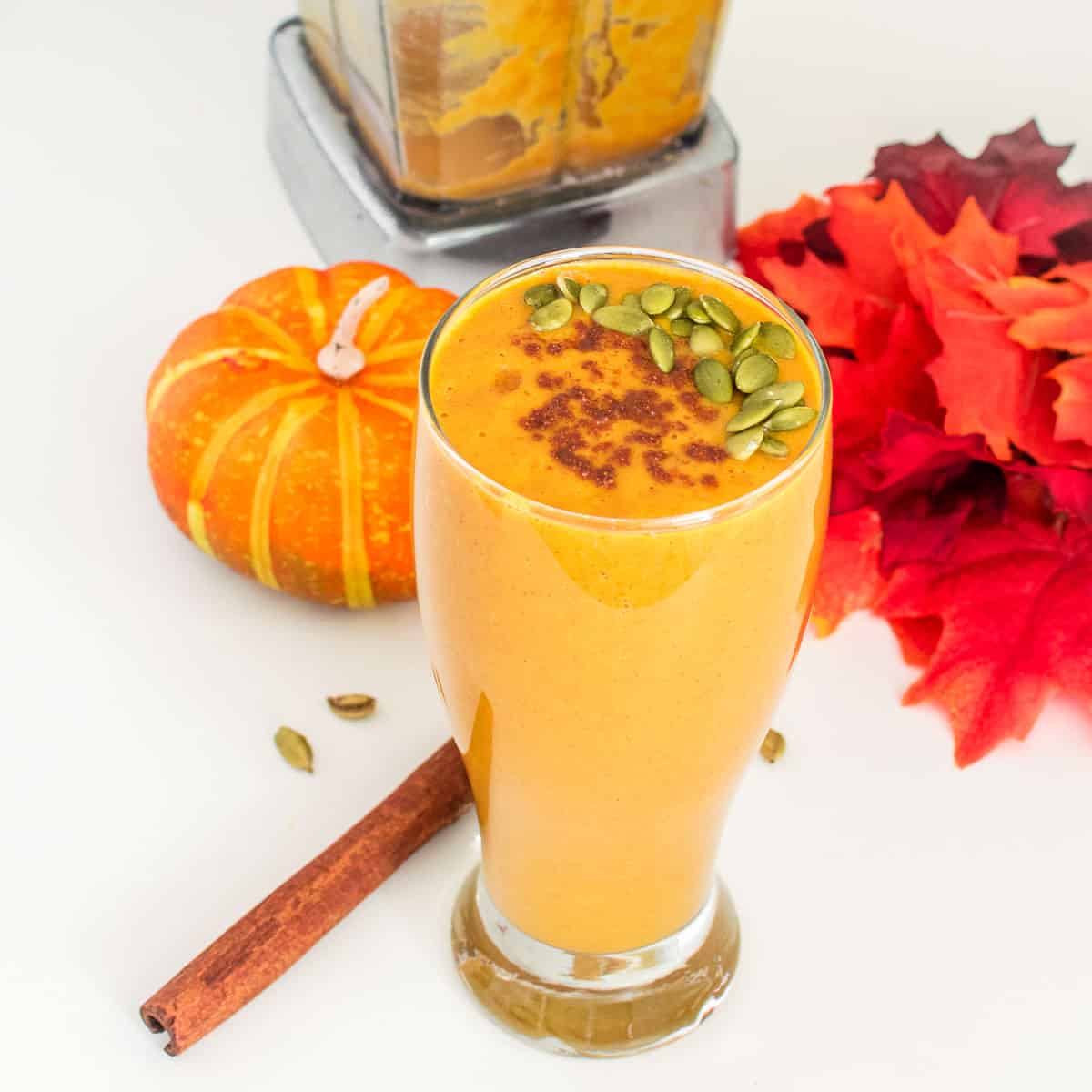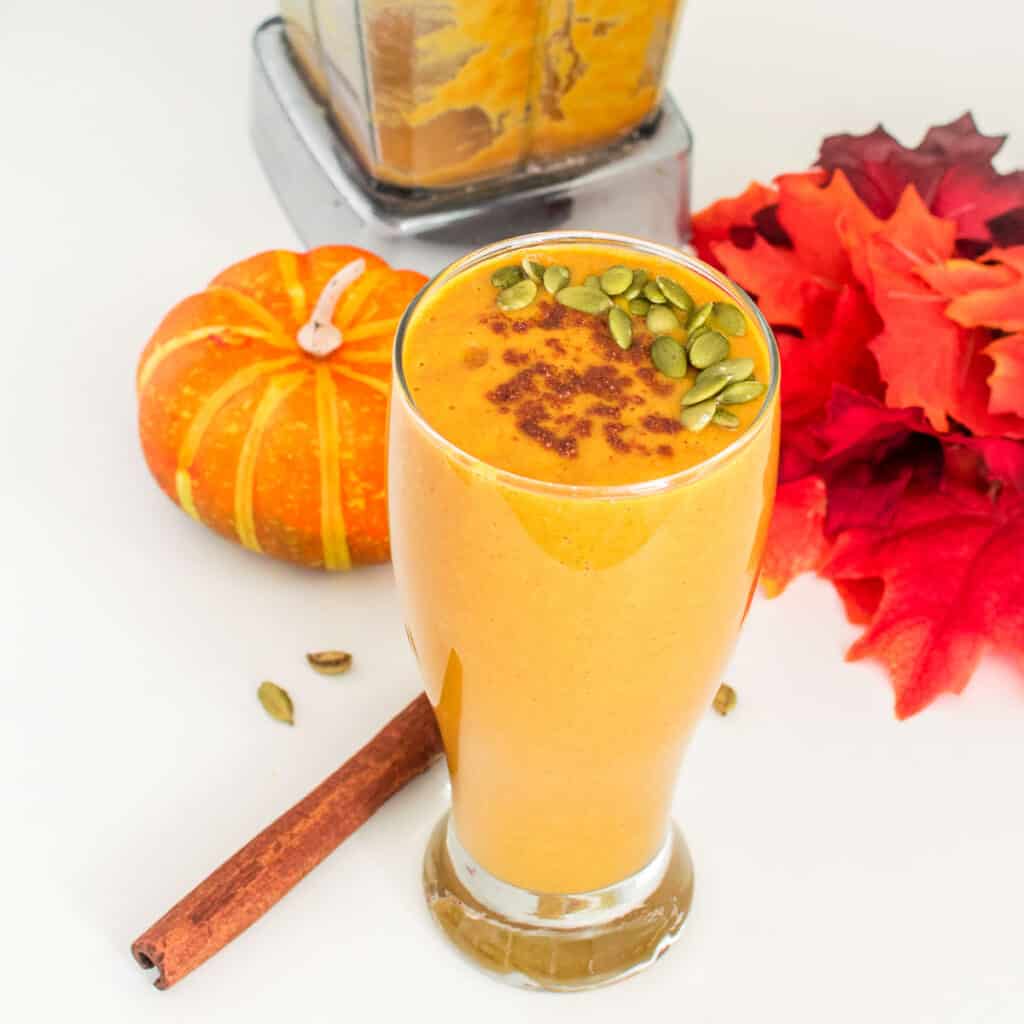 Expert tips:
While blending make sure to pause and scrape from the bottom to make sure that the dates are well blended. You may not want bite sized pieces of it in your smoothie.
You may adjust the spices as per your taste but sticking to the measurements will provided the utmost satisfaction.
Most importantly, all the garnishes are optional. But the more you add on the tastier it becomes.
Vegan Pumpkin Smoothie FAQs
How long does it last?
This tastes best when served immediately. However, if you have leftover then you may refrigerate it for the next day in the serving glass without garnishes. When ready just stir it nicely and garnish and serve.
Is it healthy?
Yes, absolutely. It is made sugar free and with natural whole food ingredients.
What variations can I do to this pumpkin smoothie?
You may add cooked oats to it so as to make it a complete meal. You may also add more nuts as topping if desired. Any vegan vanilla protein powder also goes well in this to make it a protein smoothie. Or you may also blend hempseeds with all other ingredients for natural protein content.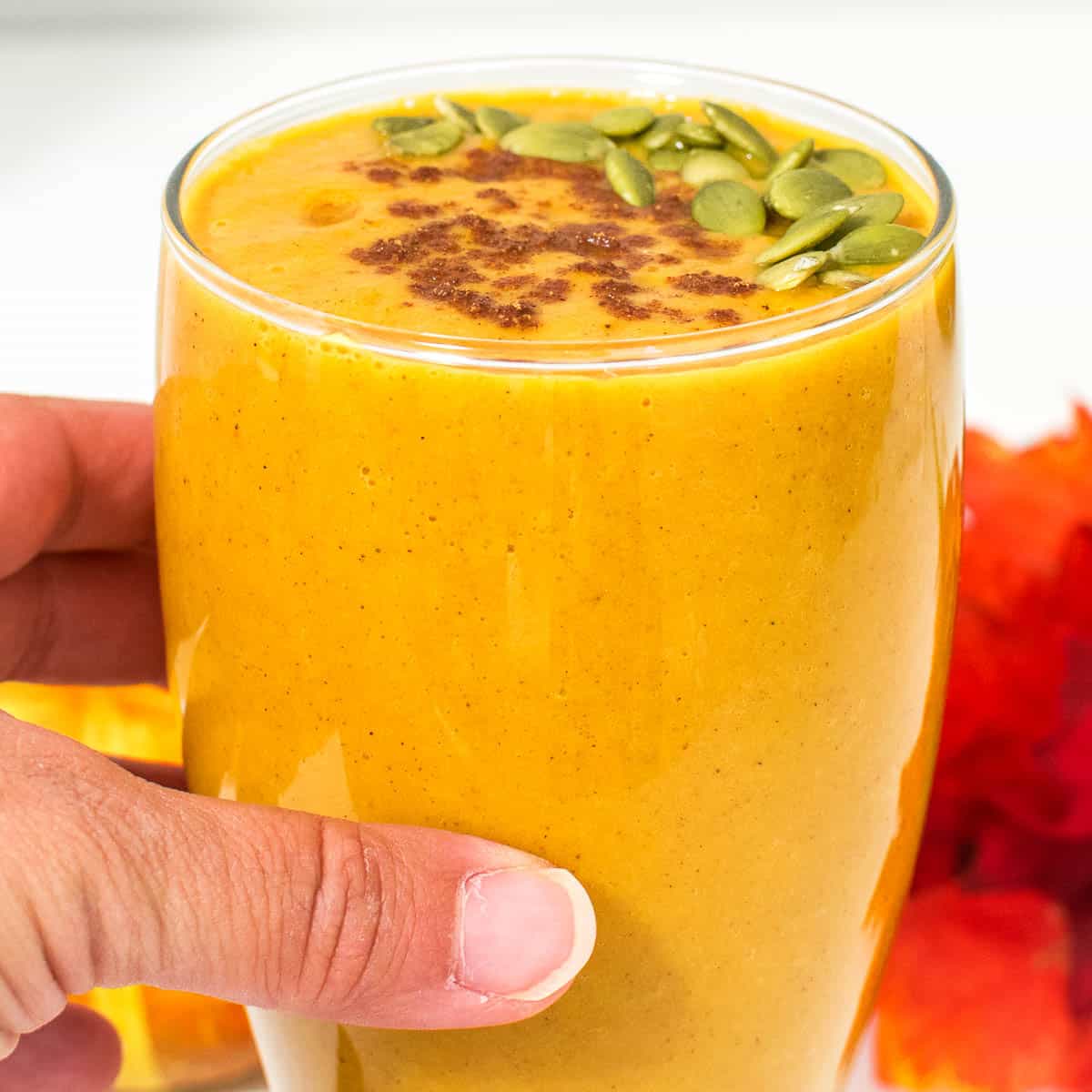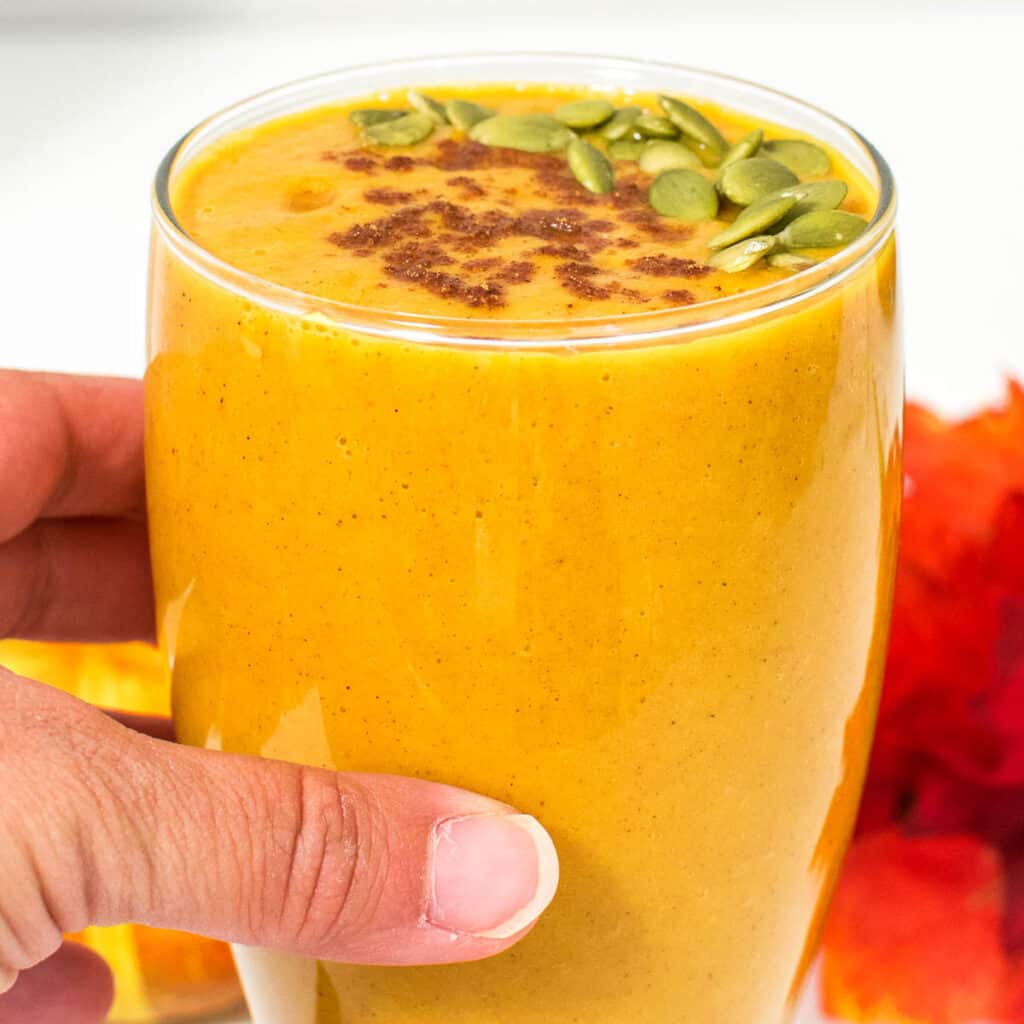 More smoothie recipes for you to try

Sweet potato smoothie
Oatmeal crème pie smoothie
Pear smoothie
Cranberry amaranth smoothie
How to find me?
Follow me on Facebook for updates or subscribe to my email list for recent recipes in your inbox. You may also tag @kiipfit on Instagram with your recipe image because we would love to see what you cooked.
Did you make it?
If you get a chance to make this recipe then please leave your feedback in the comments below along with a 5-star rating.
In addition, you may checkout my cookbooks for everyday comfort vegan recipes.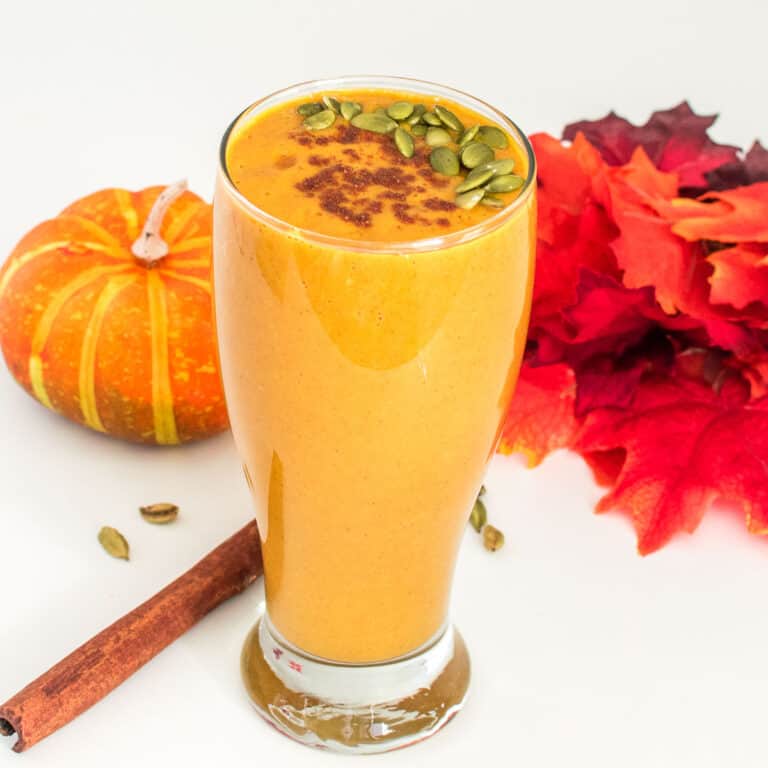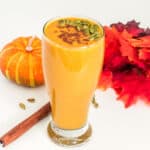 Print Recipe
Vegan Pumpkin Smoothie
This delicious Fall flavored Vegan Pumpkin Smoothie just taste like pie in a glass. Its creamy in texture and easy to blend. It's made with handful of ingredients and is a healthy way to start your day!
Instructions
In a blender combine all the smoothie ingredients and blend it absolutely smooth. This may take about 2-3 minutes. Make sure that dates are blended.

Pour it in the serving glasses and garnish as per your choice.
Notes
Make sure to use high speed blender like Vitamix. If using any other blender then soak dates in warm water for 5 minutes and then drain. Blending becomes easier this way.
This tastes best when served immediately.
The nutritional value will vary depending on your choice of garnishes.
To make it nut free skip walnuts as topping.
Nutrition
Calories:
221
kcal
|
Carbohydrates:
43
g
|
Protein:
5
g
|
Fat:
3
g
|
Saturated Fat:
1
g
|
Polyunsaturated Fat:
1
g
|
Monounsaturated Fat:
1
g
|
Sodium:
118
mg
|
Potassium:
378
mg
|
Fiber:
5
g
|
Sugar:
33
g
|
Vitamin A:
10028
IU
|
Vitamin C:
3
mg
|
Calcium:
375
mg
|
Iron:
3
mg