This creamy Sweet Potato Smoothie is naturally sweetened with dates, perfectly spiced and has pie like flavor. Its vegan and gluten free and deliciously hydrating. This is perfect for all ages all year round.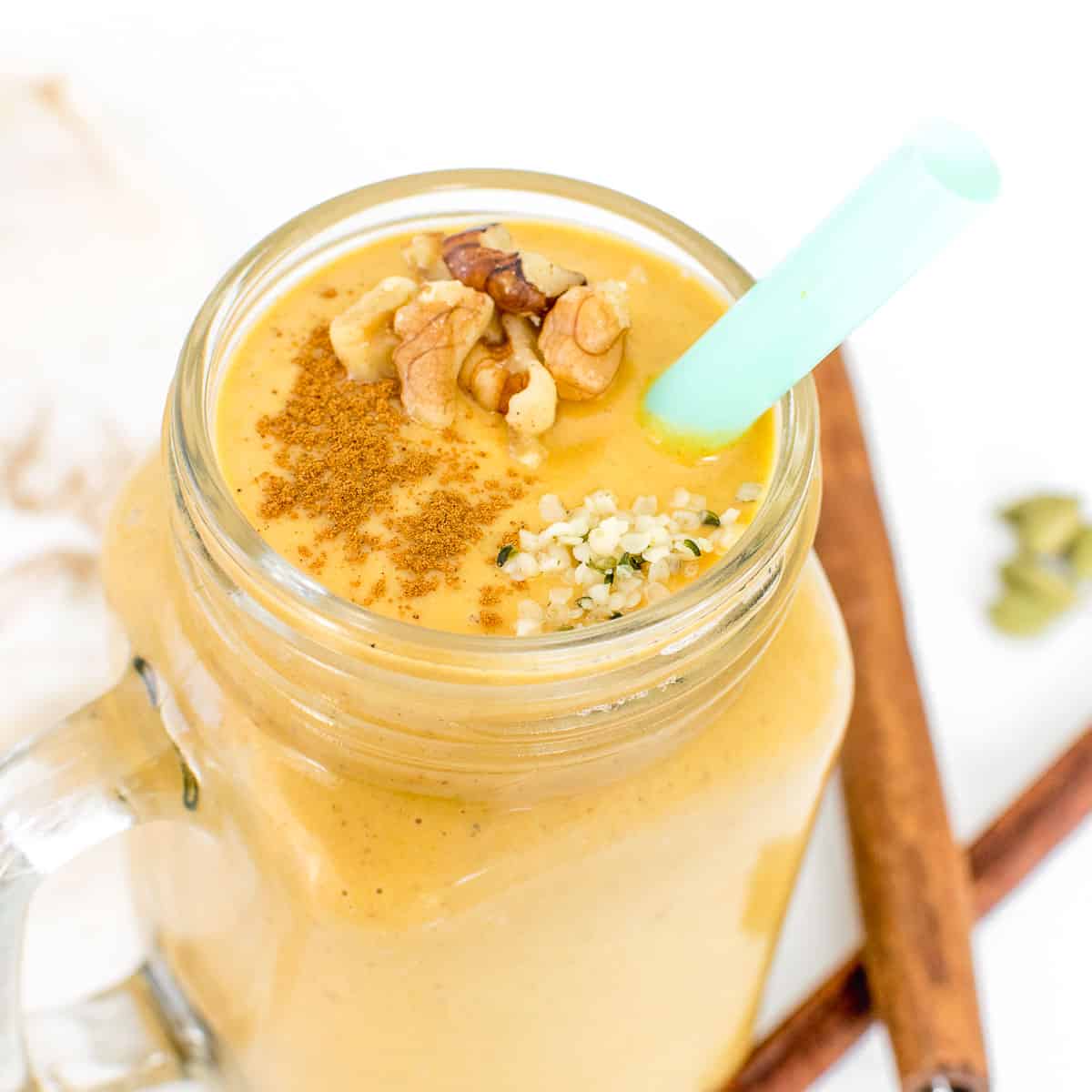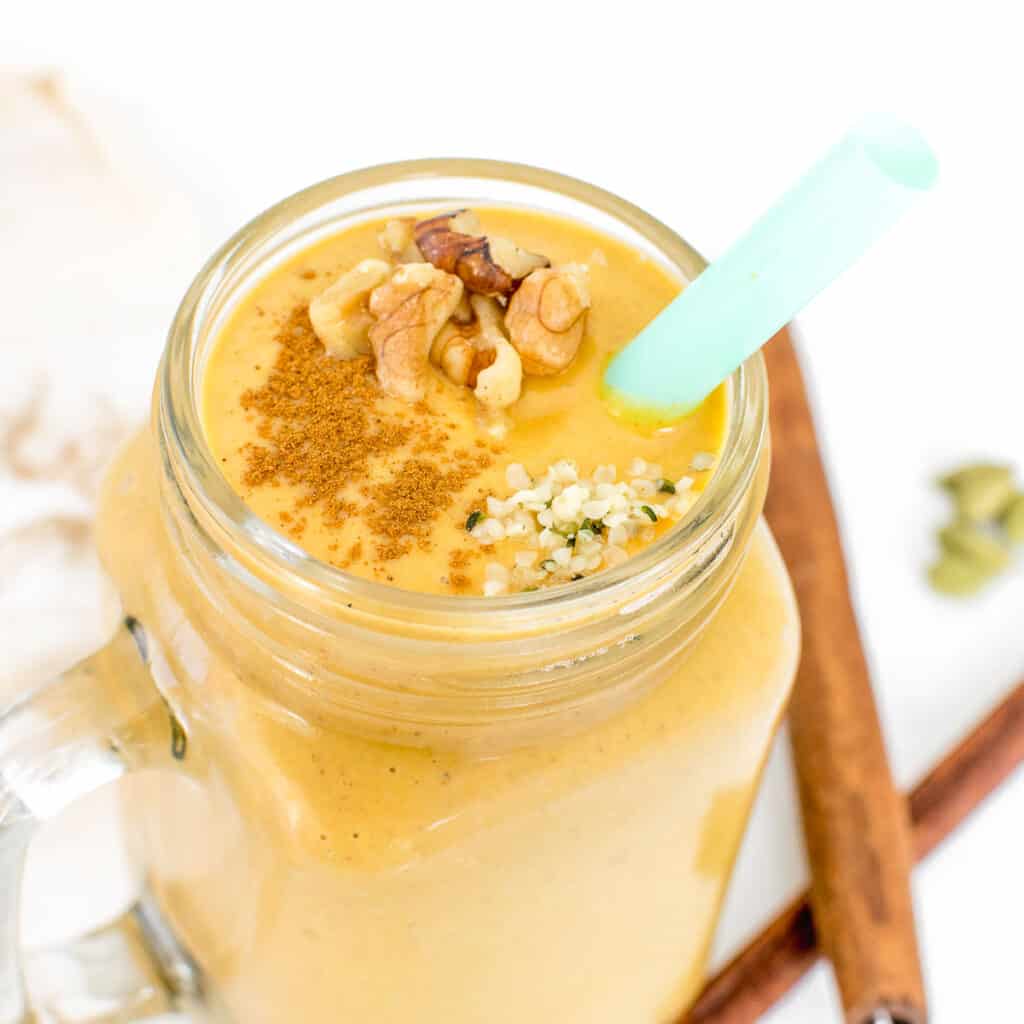 Sweet potato is a versatile vegetable and mostly its liked by all.
In my childhood days my mom used to make Indian chaat out of it. They were delicious. I have attempted making it here and we liked it too. However, my kids have more Western taste now and they like it to be subtle.
Therefore, I blended sweet potato in smoothie and they were amazed at its deliciousness. Its thick, rich and creamy. Moreover, it reminds of good holiday days even in summer.
At the same time, since I like to add natural protein to most of my recipes and so this one is protein rich too.
Hence, we can enjoy the same flavors all year round and make happy memories.
I have made few sweet and savory recipe with this vegetable like vegan sweet potato casserole, sweet potato brownies, sweet potato latkes, sheet pan sweet potato pancakes, sweet potato cookies, roasted sweet potato in habanero sauce, sweet potato salad and sweet potato pizza crust.
My other smoothie recipes that might interest you are:
Mango Lemonade
Chocolate Peanut Butter Smoothie
Kale Smoothie
Apple Smoothie
Matcha Smoothie
Pumpkin Orange Smoothie
However, today I am here to share this awesome sweet potato smoothie recipe with you all.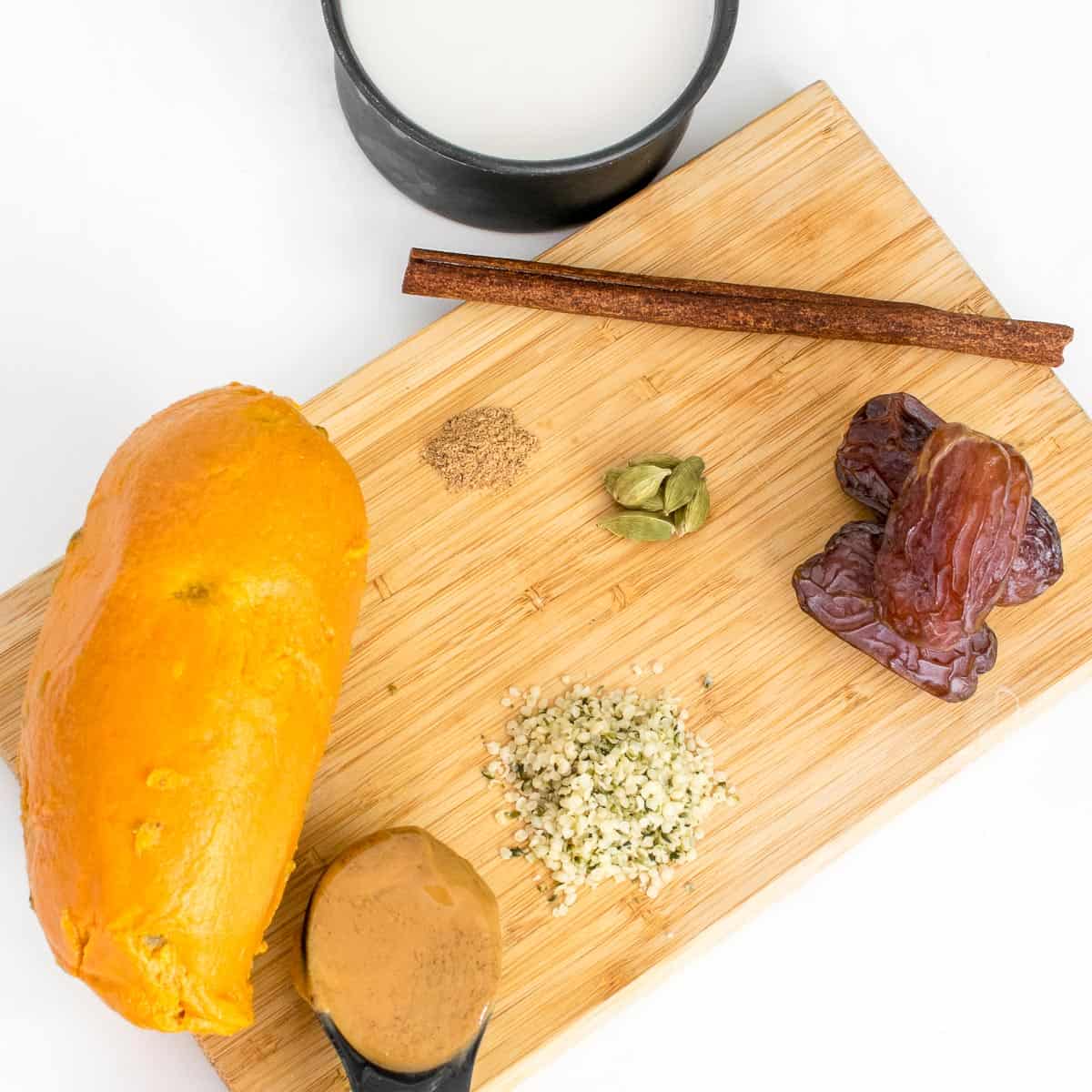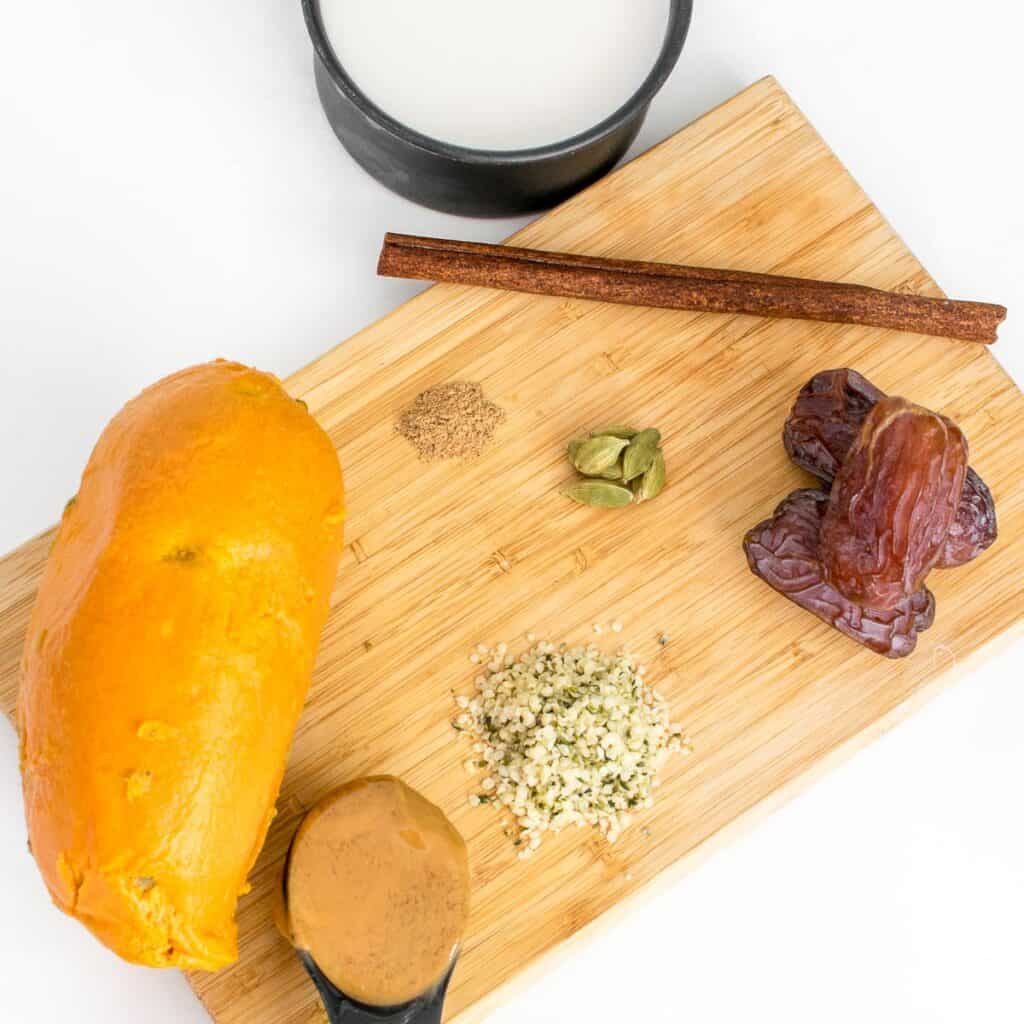 Ingredients you will need
Sweet potato
Almond milk
Dates
Cinnamon
Cardamom
Nutmeg
Hempseeds
Crushed ice
Walnuts
I have used these easily available ingredients which you may buy any local store.
However, I have provided links to few of them here for your convenience.
If you plan to buy from these affiliate links then I get a small commission which in turn encourages me to bring in more delicious recipes for you all.
Ingredients notes:
Sweet potato – it's the main ingredient and is high in fiber. Its naturally sweet and is a good source of iron and magnesium. Red sweet potatoes work best here when boiled properly.
Almond milk – even though any dairy free milk can be used in this recipe, I personally prefer almond milk to keep it light and low in calories. If you plan to use oat milk then adjust the dates to 4 since oat milk is sweeter in taste.
Dates – it's a natural sweetener with many health benefits. These are high in fiber and promotes natural labor. They also have antioxidants and boosts brain health.
Hemp seeds – it's a vegan super food that's high in protein, fiber and healthy fats.
Walnuts – These are heart healthy and are loaded with antioxidants. They are packed with healthy fats and are low in calories as compared to other nuts.
Now that you have gone through all the ingredients in detail, I am sure you are excited to get a taste of this healthy sweet potato smoothie.
So, lets dive into the steps and then enjoy it with your loved ones.
How to make Sweet Potato Smoothie
Step1: how to cook
Firstly, I boiled the sweet potatoes in a pressure cooker.
Once it was soft, I let it cool down to room temperature or refrigerate it.
Then, I peeled it and kept it aside.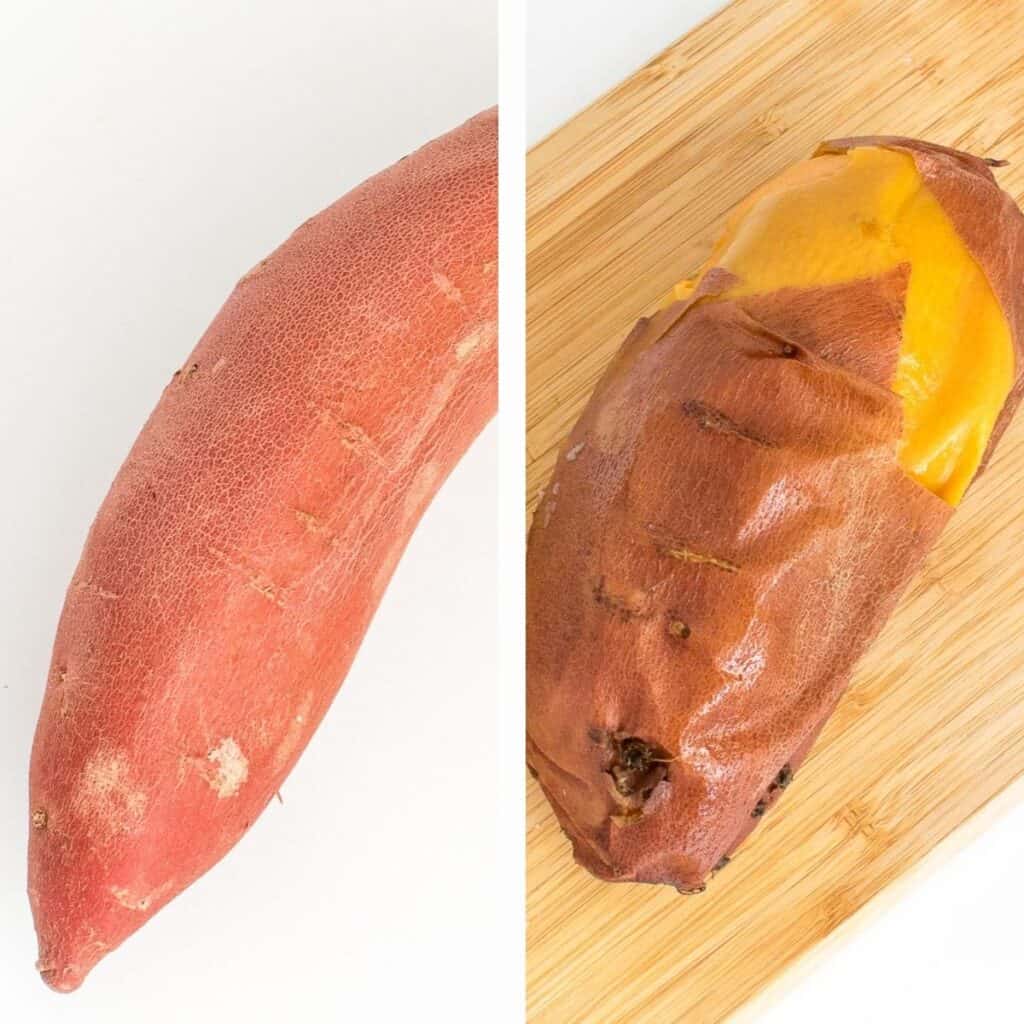 Step2: how to blend
Firstly, I combined all the ingredients in a blender (except ice and walnuts).
Secondly, I blended it smooth.
Then, I paused it and added crushed ice to the blender and blended it again.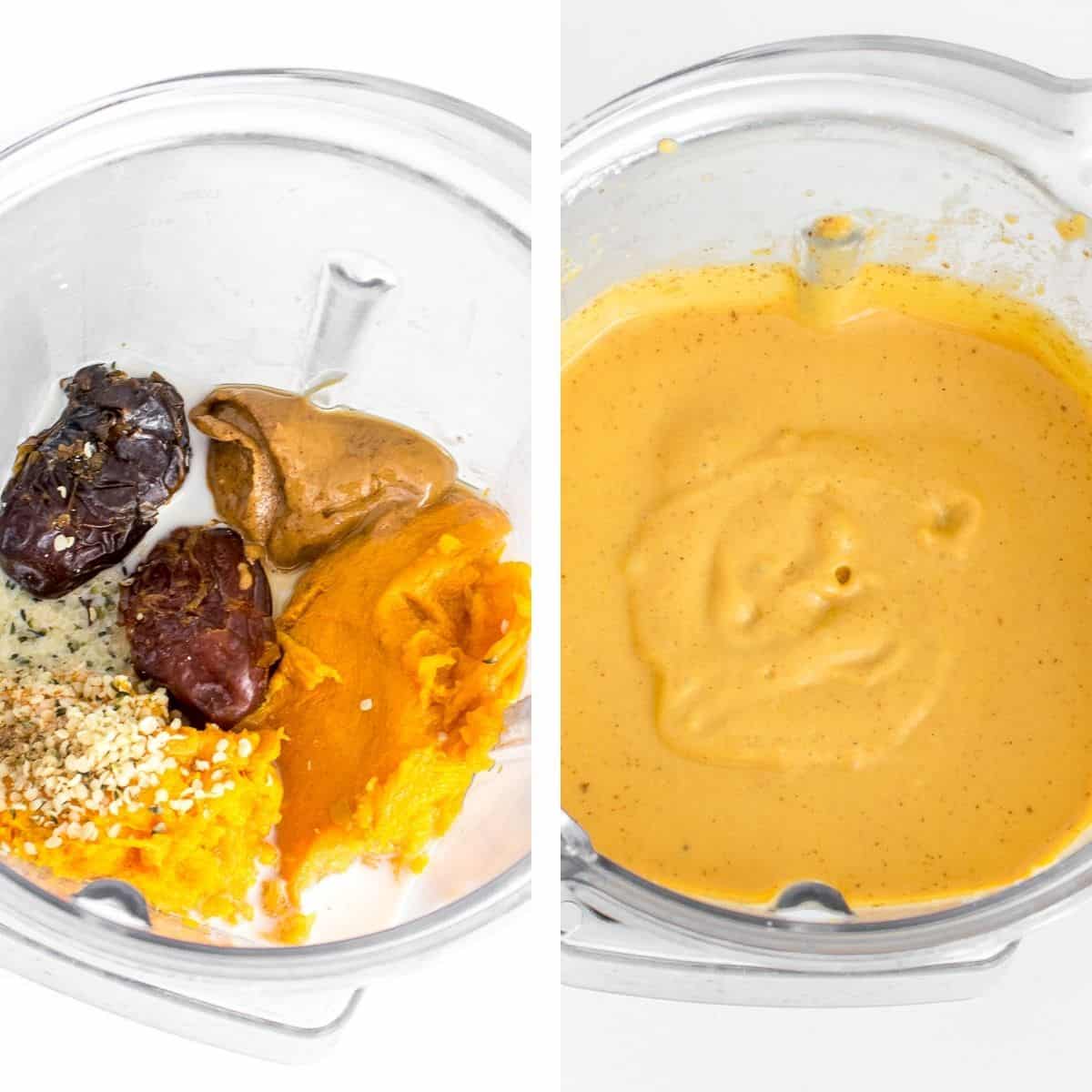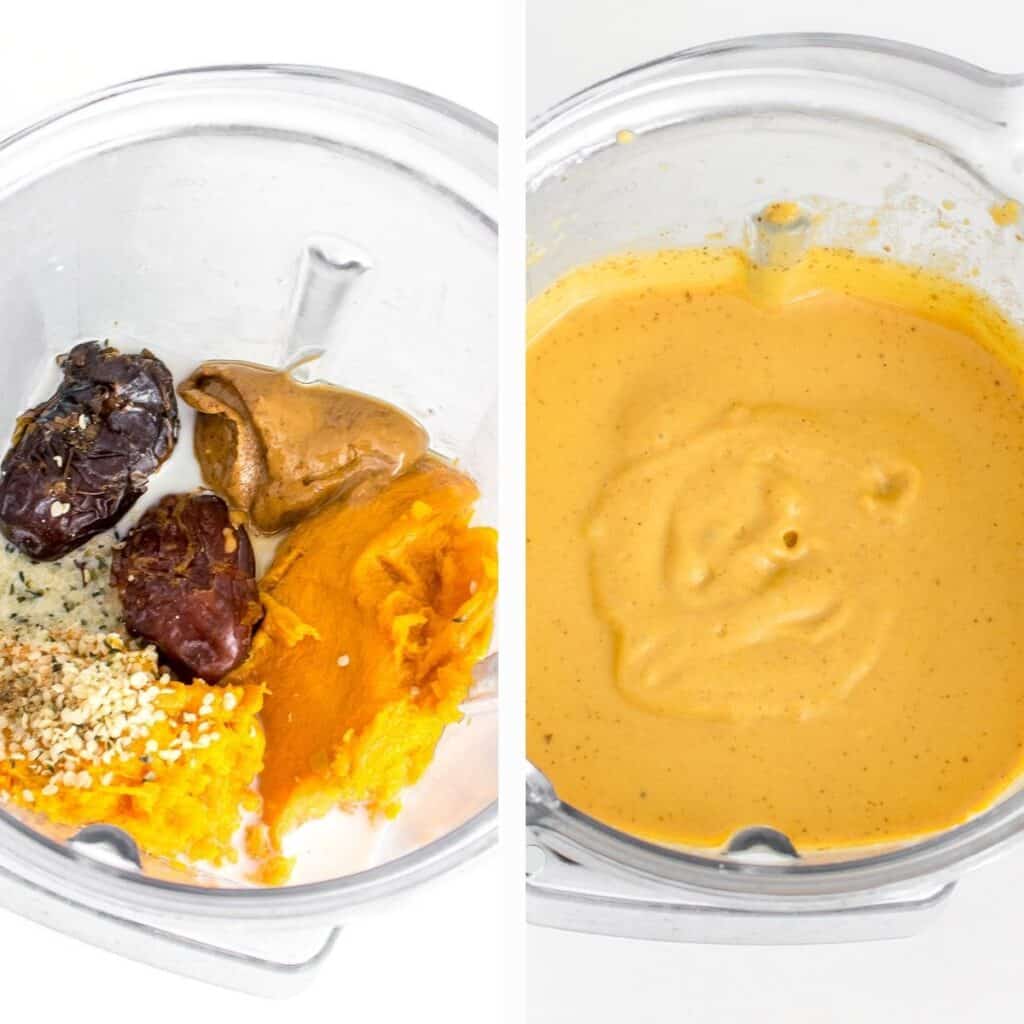 Lastly, I poured it in the serving glasses and garnished with chopped walnuts.
We were all very surprised by its taste and satisfaction and yet so nutritious.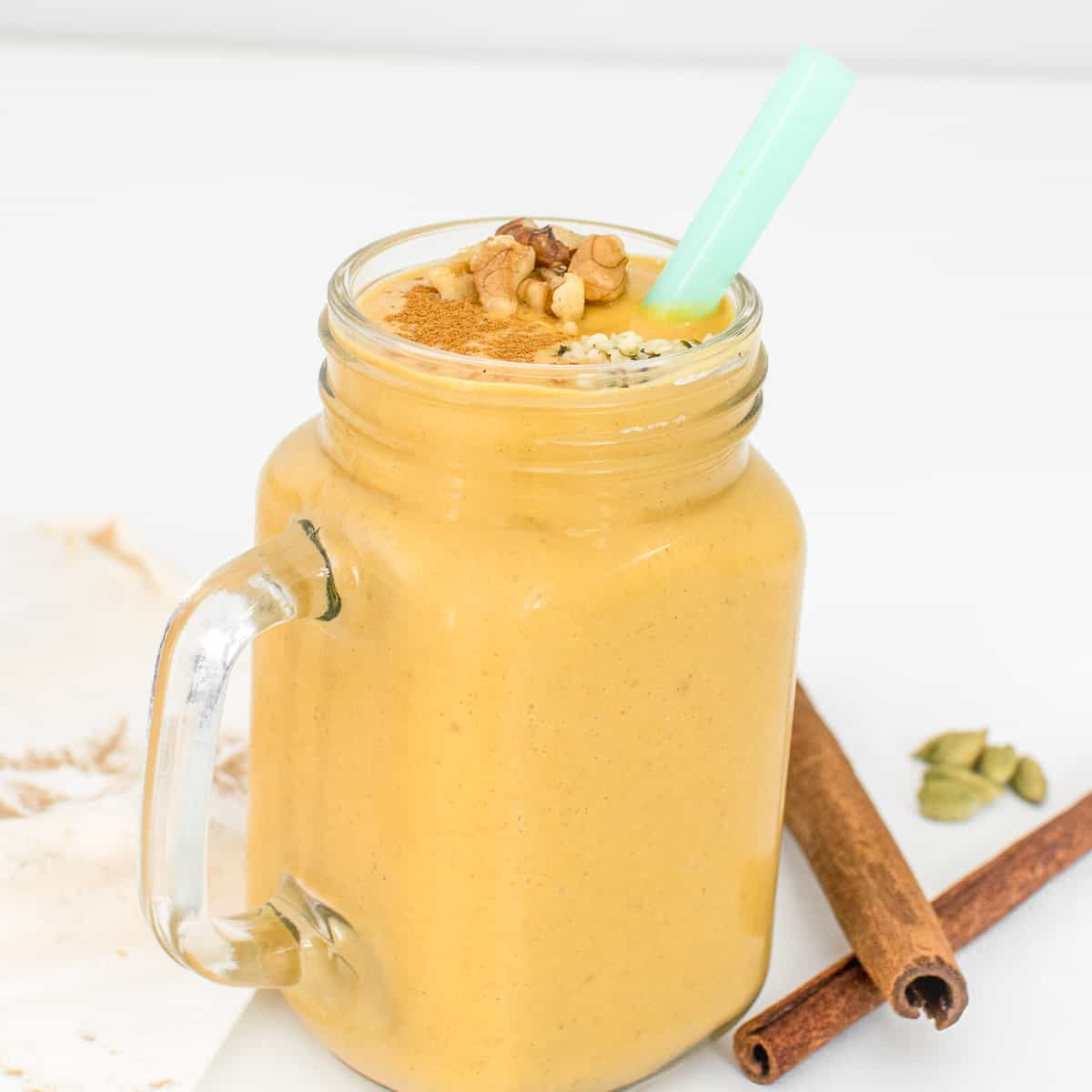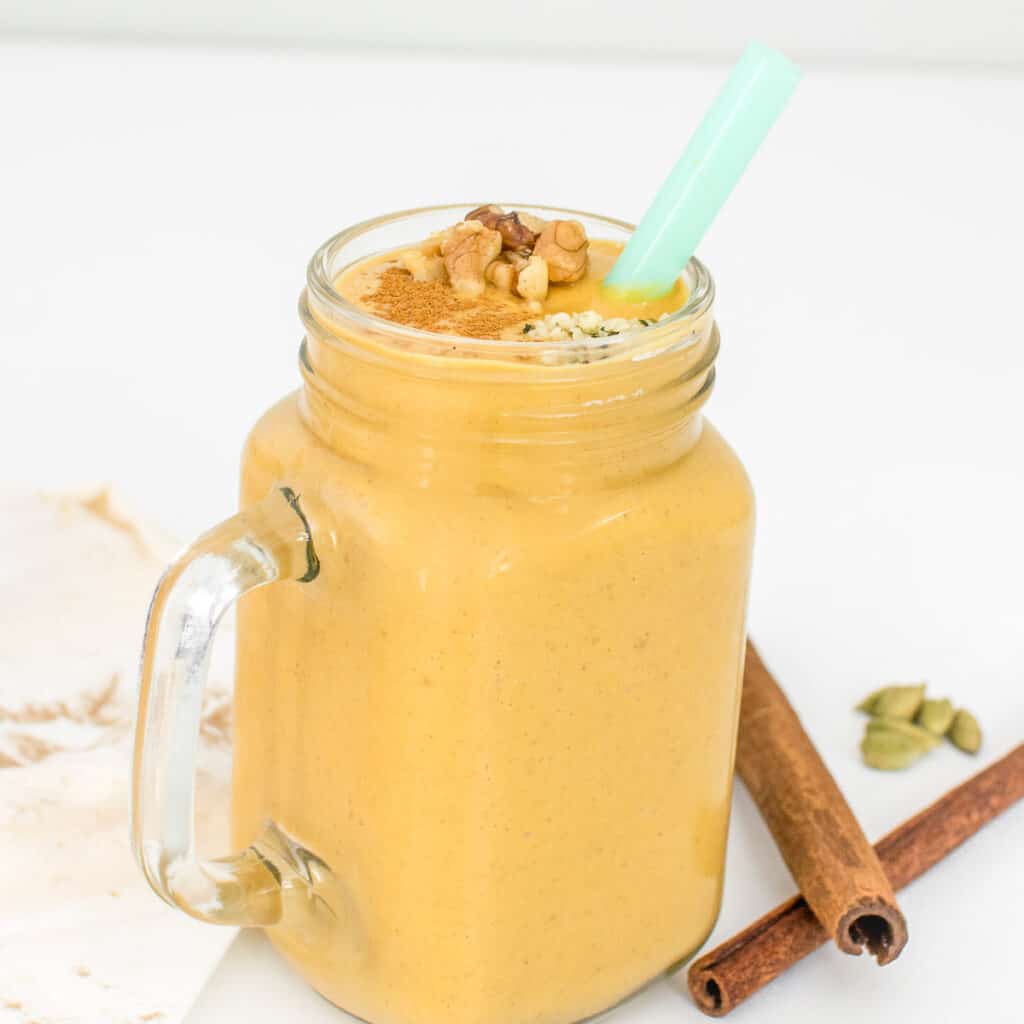 This was a dessert in a glass but healthier.
It was the ultimate drink I could ever imagine to enjoy in the middle of the year.
Totally, enjoyed every sip of it with my kids smiling throughout.
I also refrigerated some leftovers and enjoyed it for my breakfast in a bowl with a spoon.
Totally worth making it and so easy.
So, if you are looking for a variety of ways to enjoy this vegetable then this sweet potato smoothie without banana is the best thing that can ever happen to you.
Expert tips:
It is important to cook the potato very smooth that it can be easily mashed with a fork.
Most importantly, to achieve the right consistency of this beverage make sure to blend the ingredients first without ice. Once smooth then blend ice in it.
Sweet Potato Smoothie FAQS
How long does this last?
This tastes best when served immediately. However, I personally refrigerated the leftovers to enjoy it in a bowl for breakfast.
Is it healthy?
Yes, it is sugar free which means it is naturally sweetened with dates. It has hemp seeds for protein and is loaded with fiber and other micronutrients. Therefore, this can be enjoyed frequently.
How to cook sweet potato for this smoothie?

Stove top pressure cooker – depending on the six of your pressure cooker, add whole potato or cut into 2 pieces. Add enough eater to cover it properly but do not overflow the water. Close the lid and let it cook until 4-5 whistles. Turn it off and let it release pressure on its own. This will take bout 10 minutes. Once done open the lid and drain the water. Let it cool down.

Instant pot – add water and sweet potato in it. Close the lid and seal the valve. Turn it on at high manual for 10 minutes. Once done let the pressure release on its own. Open the lid and drain the water.

Microwave – in a microwavable bowl, add water and sweet potato. Microwave at high for 5 minutes. Take it out and turn the potato to the other side. Microwave again for another 5 minutes. Pause and check its softness. Or else microwave for another 5 minutes. Once done, take it out and drain the water and let it cool.
Can I use canned sweet potato?
It will taste better if you boil your own sweet potato. The flavors would be more authentic including its freshness.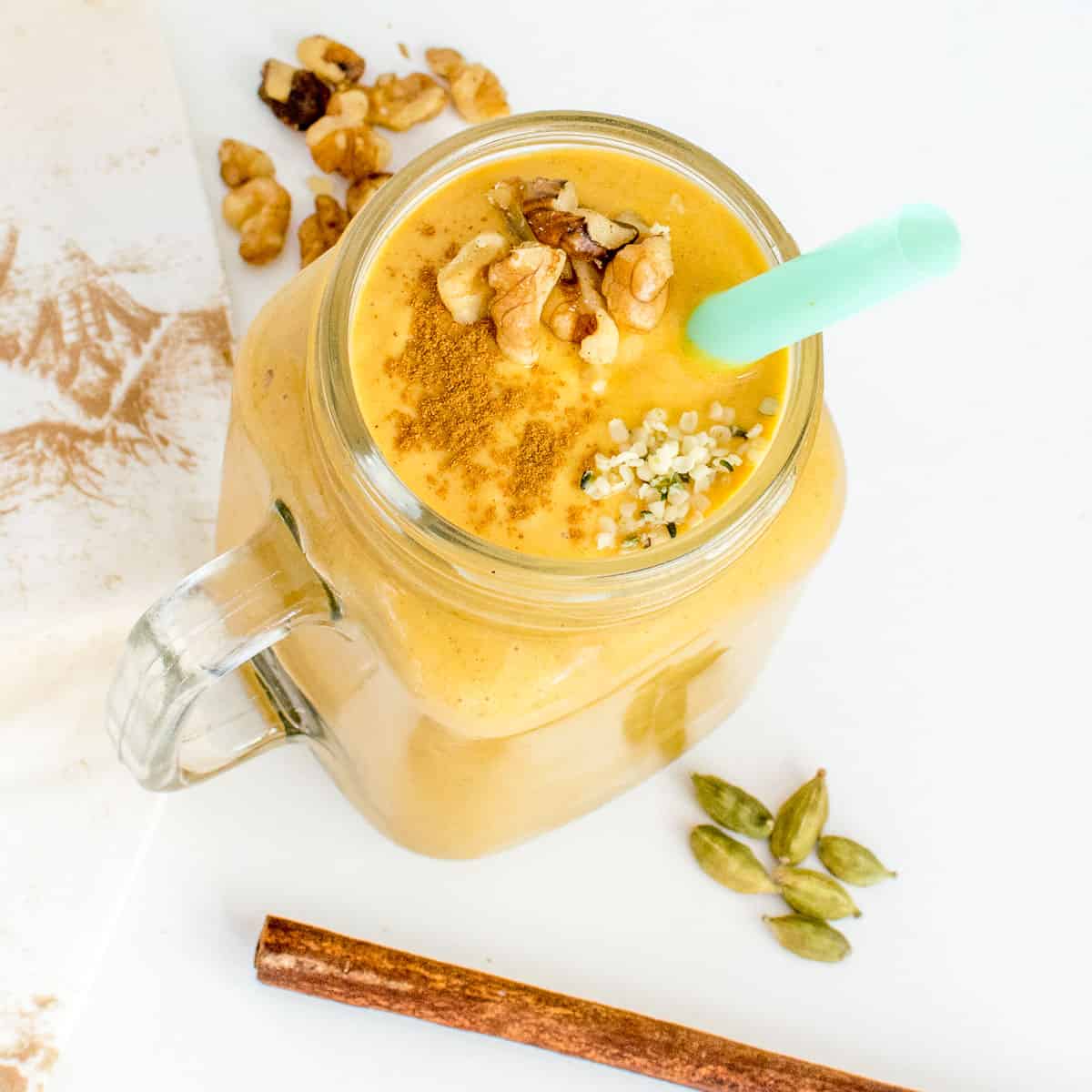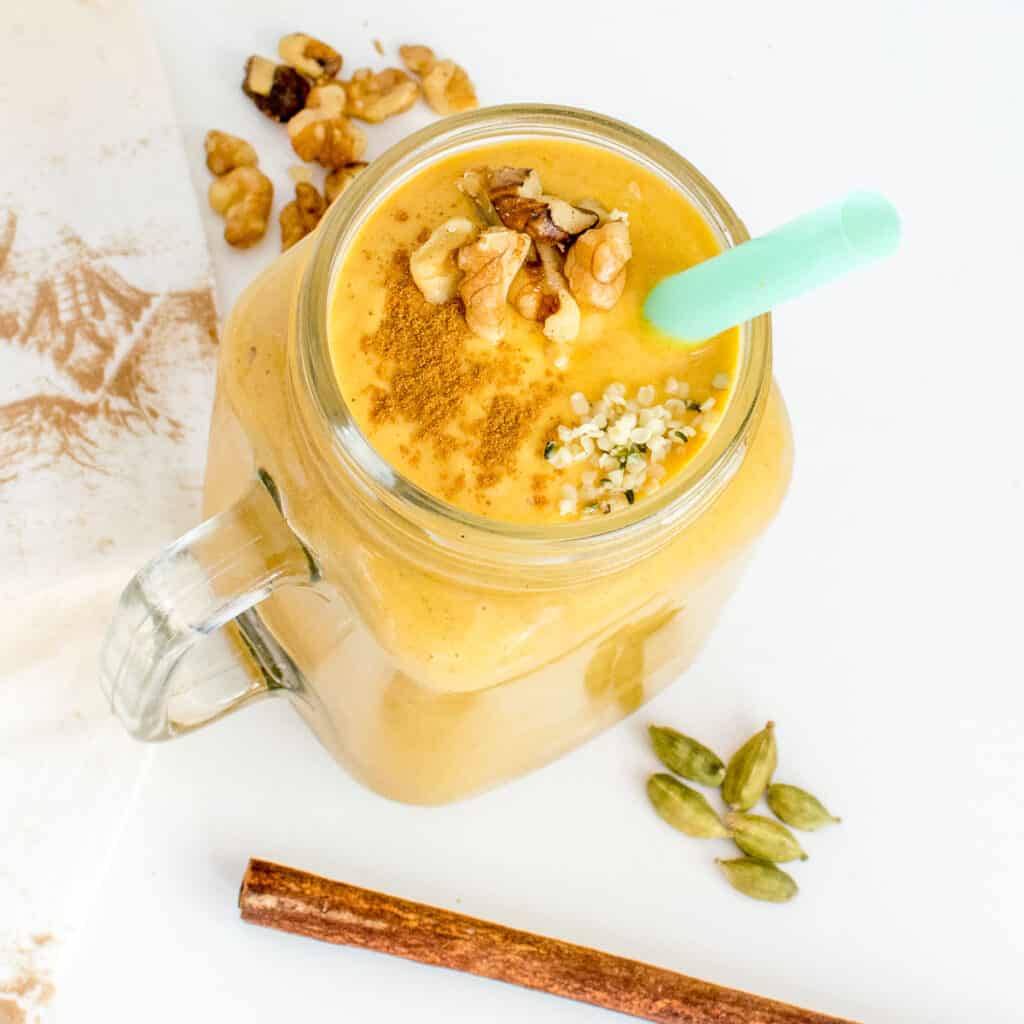 Did you make it?
If you get a chance to make this recipe then please leave your feedback in the comments below along with a 5-star rating. In addition, you may tag @kiipfit on Instagram along with your recipe remake image because we would love to see what you cooked.
You may also checkout my cookbooks for everyday comforting vegan recipes.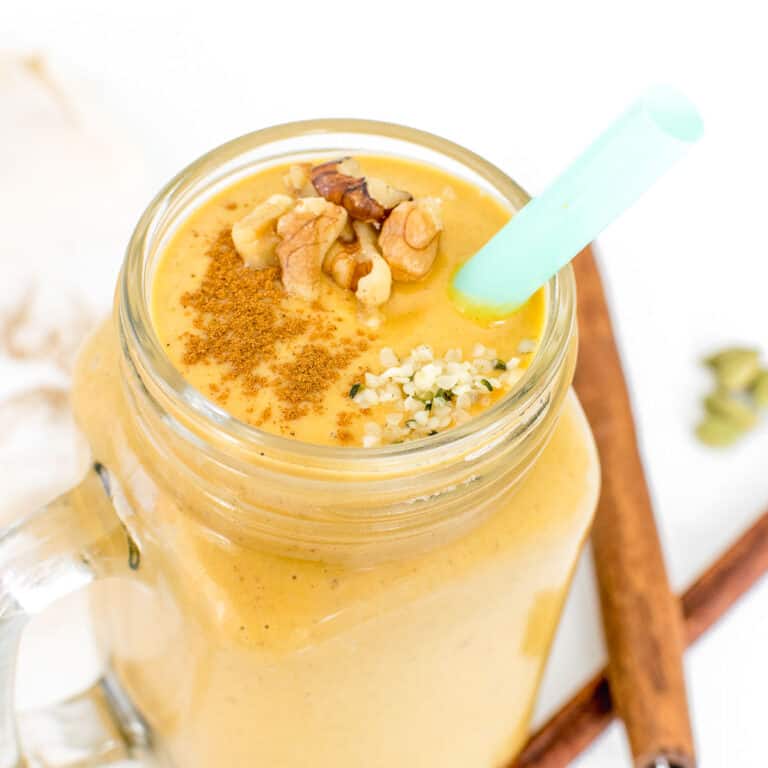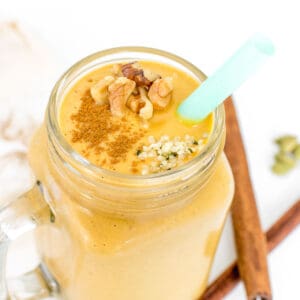 Print Recipe
Sweet Potato Smoothie
This creamy Sweet Potato Smoothie is naturally sweetened with dates, perfectly spiced and has pie like flavor. Its vegan and gluten free and deliciously hydrating. This is perfect for all ages all year round.
Instructions
In a blender, combine all the ingredients (except ice and walnuts). Blend it smooth. Pause and add crushed ice and blend it smooth again.

Pour the smoothie into the serving glasses and garnish with chopped walnuts and enjoy!
Notes
Make sure to cool down the cooked sweet potato. You may refrigerate it over night as well so that you get a cool blended smoothie.
This smoothie can be refrigerated overnight to be enjoyed as a smoothie bowl the next day for breakfast.
It's a thick and filling smoothie so I would recommend to stick to the suggested servings.
Nutrition
Calories:
292
kcal
|
Carbohydrates:
19
g
|
Protein:
12
g
|
Fat:
18
g
|
Saturated Fat:
1
g
|
Polyunsaturated Fat:
6
g
|
Monounsaturated Fat:
1
g
|
Sodium:
33
mg
|
Potassium:
261
mg
|
Fiber:
3
g
|
Sugar:
8
g
|
Vitamin A:
8082
IU
|
Vitamin C:
1
mg
|
Calcium:
43
mg
|
Iron:
2
mg