These vegan Almond Butter Pumpkin Oatmeal Cookies are made oil free and have delectable Fall flavors. Its soft and chewy yet melts in mouth deliciously.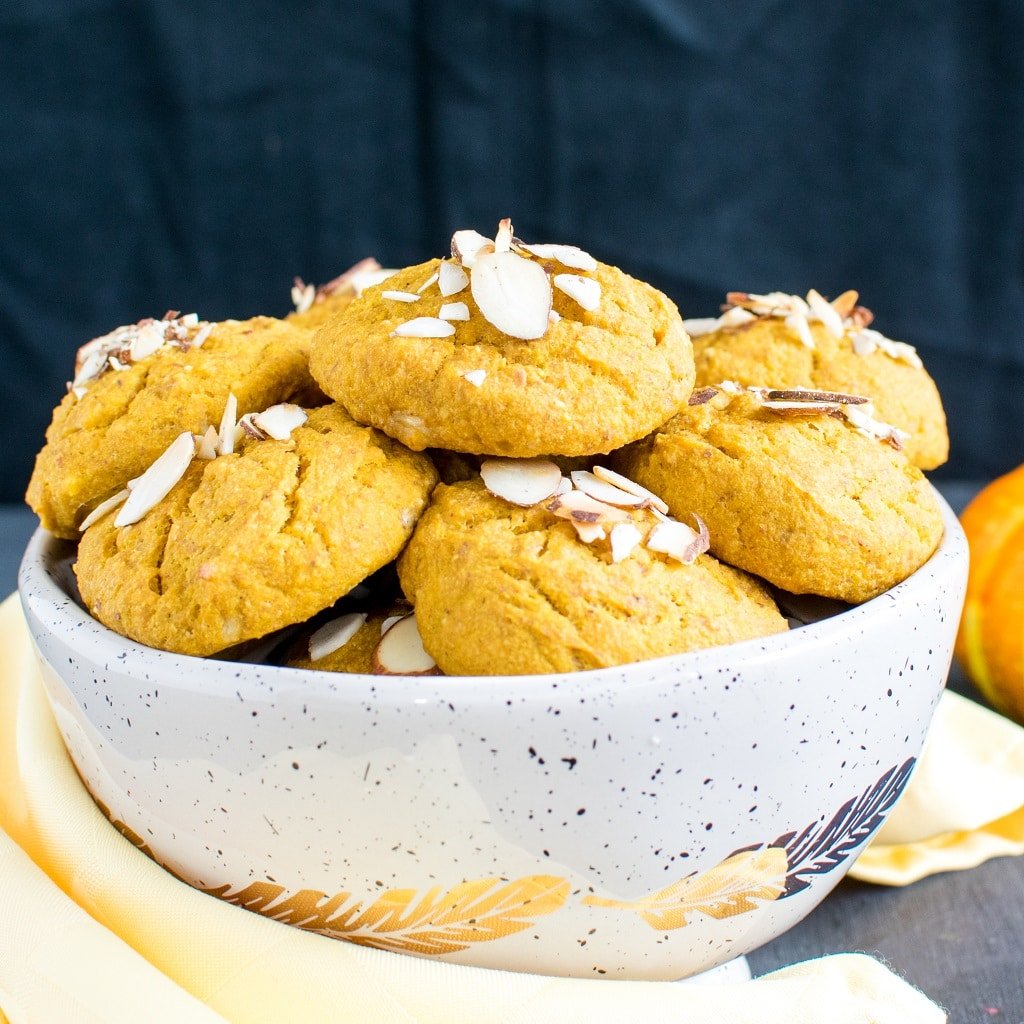 Recently, I have been baking vegan desserts quite a bit and I am enjoying it immensely.
My favorite ones being pumpkin brownies, vegan apple cake and applesauce bread. Interesting, I always try and bake some cakes as well for holidays like pumpkin cake and cranberry cake.
However, I intend to make my desserts healthier by using whole grains flour or make it flourless and most importantly oil free.
Every fall and winter, I make sure to improvise on my baking skills. Also, I feel it's the perfect time to be near the oven to get the delicious and aromatic warmth from it. To add to the happiness house smells soooo good and festive.
The leaves change into beautiful orange and red color and the mild wind sends chill all over our bodies.
It's the perfect time to enjoy these warm and fresh out of oven healthy Pumpkin Oatmeal Cookies.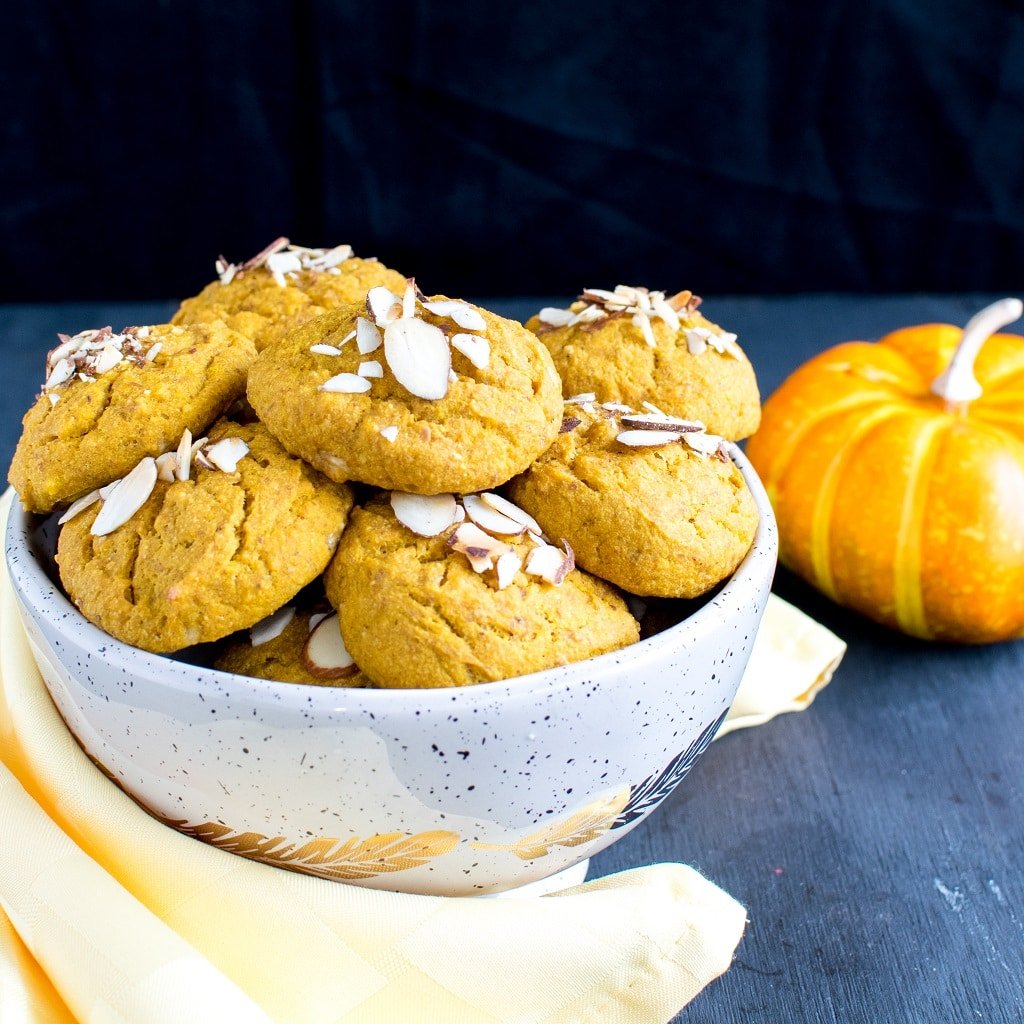 However, It's quite simple to bake these because all it requires is easily available 8 ingredients.
These are family's favorite fall dessert. So, whenever, I am short on time I quickly bake these and we all satisfy our sweet tooth happily.
Therefore, today I am sharing these pumpkin oatmeal cookies recipe with you.
Ingredients you will need
Oat flour
Baking powder
Salt
Banana
Almond butter
Pumpkin puree
Vanilla extract
Slivered almonds (to garnish)
I have used these easily available ingredients in this recipe which you may buy from any local grocery store. However, I have provided links to few of them here for your convenience.
If you plan to buy from these affiliate links then I get a small commission which in turn encourages me to bring more delicious recipes for you all.
Ingredients notes:
oat flour – you may use a store bought one or grind your own. Its a healthier grain with complex carbohydrates and is a great source of iron.
banana – I like to sweeten my desserts naturally so therefore, I used banana here as a sweetener as well as an egg replacer.
almond butter – try to use unflavored almond butter here especially that has no added sugar so as to make these pumpkin oatmeal cookies as healthy as possible.
Pumpkin puree – you may use your own homemade one but I used canned pumpkin puree for convenience.
For detailed measurement of ingredients, please scroll down to the printable recipe card.
How to make Almond Butter Pumpkin Oatmeal Cookies
Firstly, in a mixing bowl, I combined oat flour, baking powder and salt. Then, I mixed it well and kept it aside.
secondly, I whipped up the almond butter, pumpkin puree and vanilla extract in another bowl. Then, I kept it aside too.
Thereafter, I folded in wet ingredients to the dry ingredients along with mashed bananas. Then, I whipped it up into a thick and soft batter.
Afterwards, with the help of a cookie scoop I scooped 15 of them on a prepared cookie sheet and shaped them slightly.
Next, I topped each of them with slivered almonds and baked them in the middle rack of the oven for about 30 minutes.
Once done, I turned it off and took them out. I lay them on a flat surface to cool down completely.
We were so craving for these that we did not even let them cool completely. I decided to pop them while they were still warm.
So, I would highly recommend you to let these cool down completely. While cooling down, they firm up as well and becomes easier to eat also.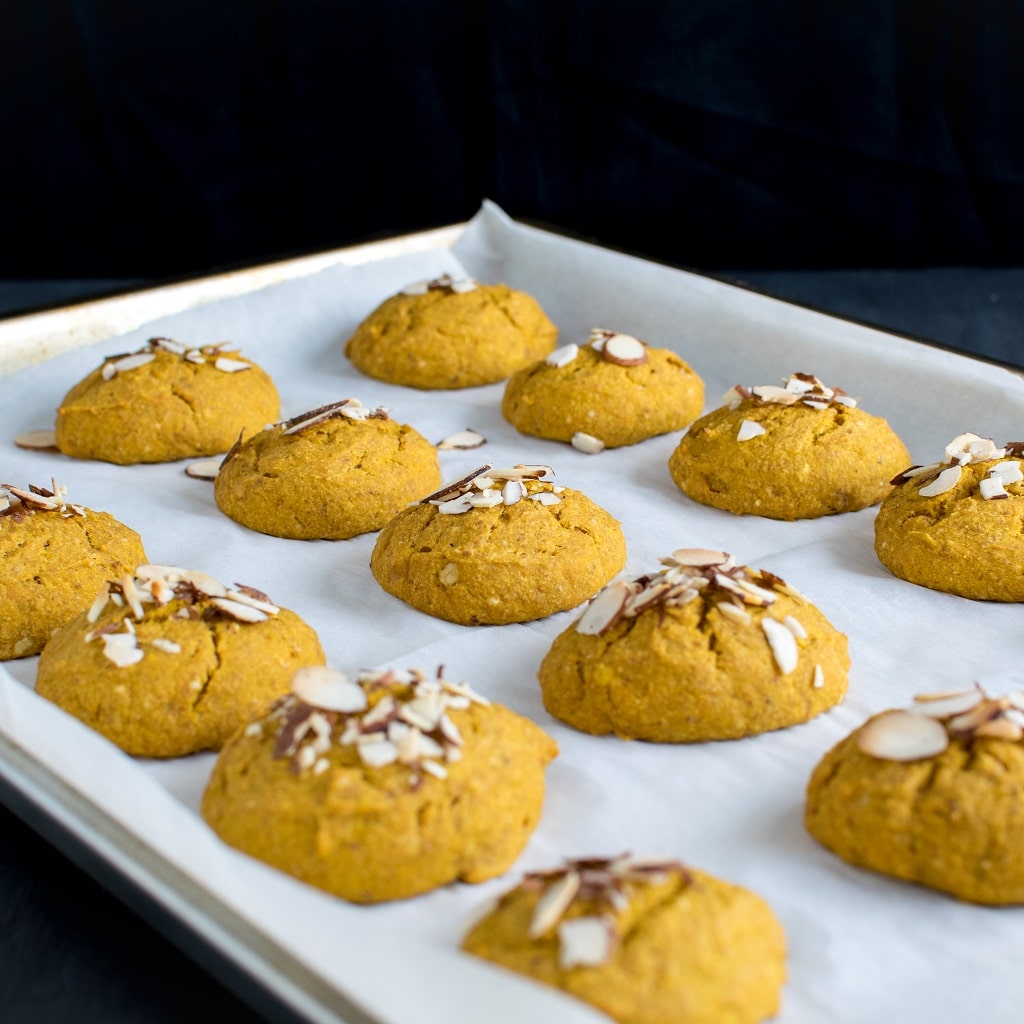 I did not use pumpkin pie spice because this time Yashvi wanted a pumpkin cookie without the spice. Trust me you wont even miss those spices and yet feel fall in every bite.
Also, I tried to make a versatile cookie recipe that would resemble Indian sweets because along with Halloween and thanksgiving coming up Indian festivals are also in the line.
Therefore, I tried to bake a versatile dessert that would be suitable to serve in the Indian Festivals as well as enjoy them throughout the fall season.
I would highly recommend try baking them and enjoy the festival season with this deliciousness.
Almond Butter Pumpkin Oatmeal Cookies FAQs
How long does it last?
these tastes best when cooled completely and the same day. However, store the leftovers in an air tight container at room temperature for up to 1 week.
Are these healthy?
Yes! Its oil free and naturally sweetened with fruits. Moreover, I used oats to bake them. Therefore, these are healthy enough to be enjoyed frequently.
How do they taste like?
They are soft and melt in mouth almost like a cake. However, it does not have any strong spices so therefore, perfect for almost all palates.
This is a low calorie dessert comparatively and still so moist and scrumptious.
I guarantee that once to bake them, you are gonna make them again for the entire season.
Most importantly, they are not overly sweetened and are perfectly balanced with other flavors.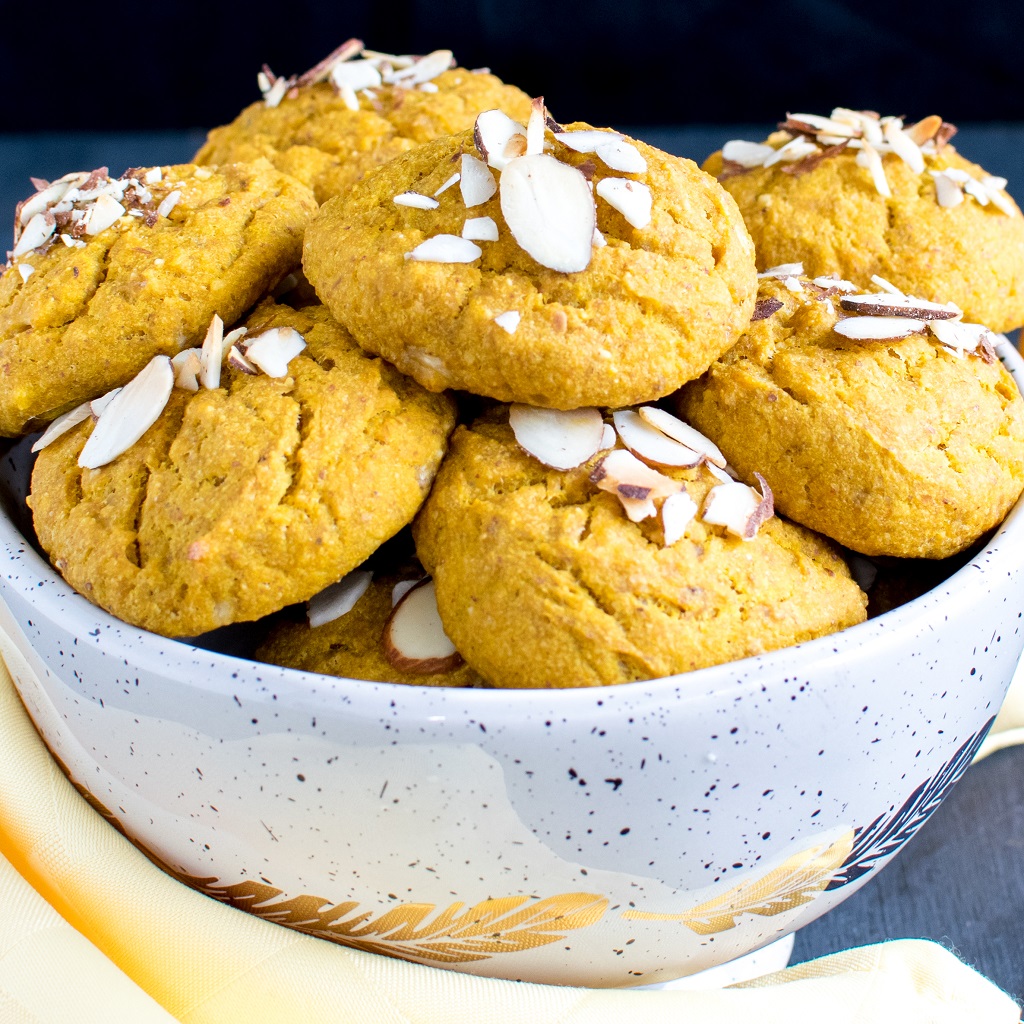 Hungry for more? If you are enjoying this recipe then I am sure you will love my other cookie recipes too.
Vegan Oatmeal Chocolate Chip Cookies
Did you make it?
If you get a chance to make this recipe then please leave your feedback in the comment section below and make sure to rate this recipe. You may also tag @kiipfit on Instagram and I will definitely shout it out there. I love to see what you cooked in your kitchen.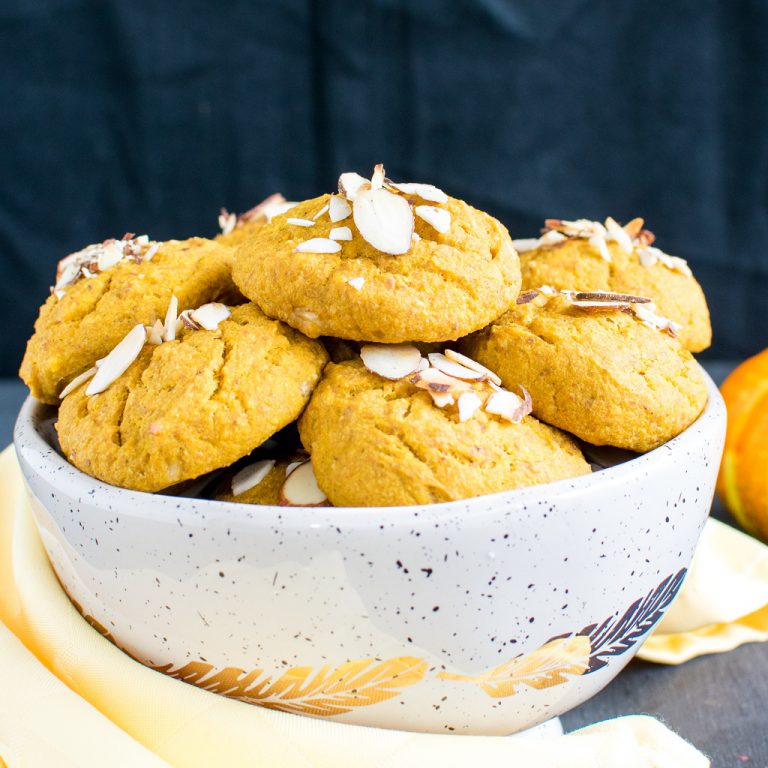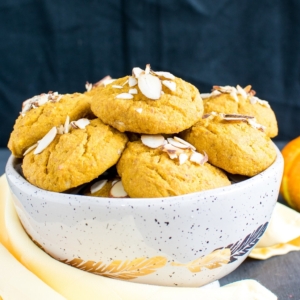 Print Recipe
Almond Butter Pumpkin Oatmeal Cookies
These vegan Almond Butter Pumpkin Oatmeal Cookies are made oil free and have delectable Fall flavors. Its soft and chewy yet melts in mouth deliciously.
Ingredients
1

cup

oat flour

(regular/glutenfree)

1

tsp

baking powder

1/4

tsp

salt

3

medium

bananas

(mashed)

2

tbsp

fresh ground almond butter

(unsalted and unsweetened)

1

cup

pumpkin puree

1

tsp

vanilla extract

1

tbsp

slivered almond

(for garnishing)
Instructions
Preheat oven at 400 degree Fahrenheit and prepare a cookie sheet with a parchment paper.

In a large mixing bowl combine oat flour, baking powder and salt. Mix well until all ingredients are well blended.

In another bowl combine almond butter, pumpkin puree and vanilla extract. Whisk it well until smooth and well blended.

Now, spoon the pumpkin batter into the dry ingredients. Add the mashed bananas and whip the batter extremely well until all ingredients are very well blended.

Now, with a cookie/ice cream scoop drop the cookies on the prepared cookie sheet. Top the cookies with slivered almonds.

Place the cookie sheet in the middle rack of the oven and bake for 30 minutes.

Take out the cookies and let them cool completely.
Notes
These cookies are very soft from inside and chewy from outside.
It's perfect for even those who are not very fond of pumpkins because you may not even taste pumpkin too much in these cookies.
For us the sweetness was perfect but if you are looking for sweeter cookies feel free to add 1 tbsp. of your choice of sweetener (preferably brown sugar) in the batter just before shaping them.
For gluten free option – use gluten free oat flour. If it isn't available just grind your regular gluten free oats into a flour form.
Store these cookies in an air tight container for upto a week at room temperature. 
Nutrition
Calories:
73
kcal
|
Carbohydrates:
13
g
|
Protein:
3
g
|
Fat:
2
g
|
Saturated Fat:
1
g
|
Sodium:
42
mg
|
Potassium:
186
mg
|
Fiber:
2
g
|
Sugar:
4
g
|
Vitamin A:
2557
IU
|
Vitamin C:
3
mg
|
Calcium:
26
mg
|
Iron:
1
mg