Oatmeal Creme Pie Smoothie is a satisfying and hydrating beverage with a distinct flavor of vegan vanilla frosting. It's a healthier way to relive your childhood memories of relishing oatmeal sandwich cookies.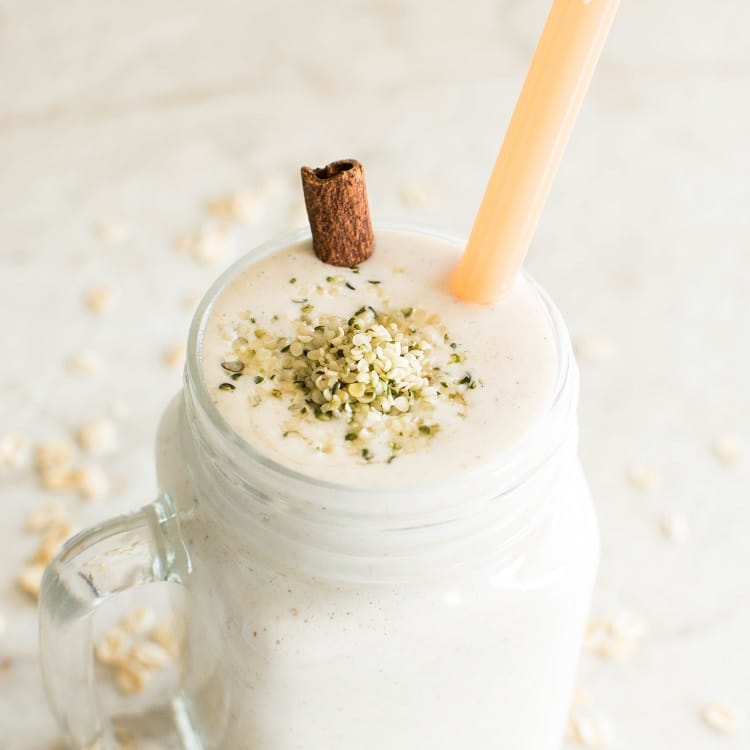 This smoothie is high in fiber and protein. It is also a great alternative to your regular oatmeal breakfast bowls. It's a quick, easy and delicious breakfast on the go.
I am a smoothie person and I endeavor to create as many flavors in it as possible. This way I never get bored of it.
I love smoothies because:
It hydrates me
Keeps me satisfied
Replenishes my body after a great workout
It's a great way to infuse balanced nutrition in the body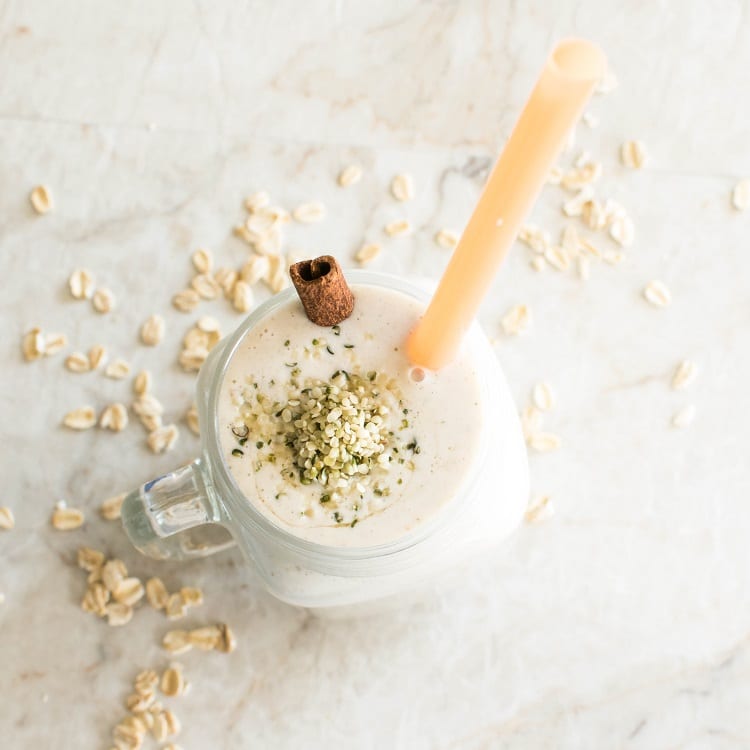 My other creative yet protein rich smoothies are:
Hazelnut Cheesecake Smoothie
Vegan Chocolate Mocha Protein Smoothie
Turmeric Mint Protein Smoothie
If you are like me then I am sure you will love my other smoothie recipes as well.
Why I like to add oats to my smoothie:
Oatmeal makes the smoothie wholesome and nourishing. It thickens the smoothie along with providing the required nutrition.
Raw oats vs cooked oats
Instead of raw oats I prefer adding cooked oats in my smoothie to make it easily digestible. Also, the tastes differ a bit and satisfies my taste buds immensely.
If you are like me and adds oats to your smoothie then you may also like
Salted Caramel Oatmeal Smoothie
Carrot Oatmeal Smoothie Bowl
Ingredients for Oatmeal Creme Pie Smoothie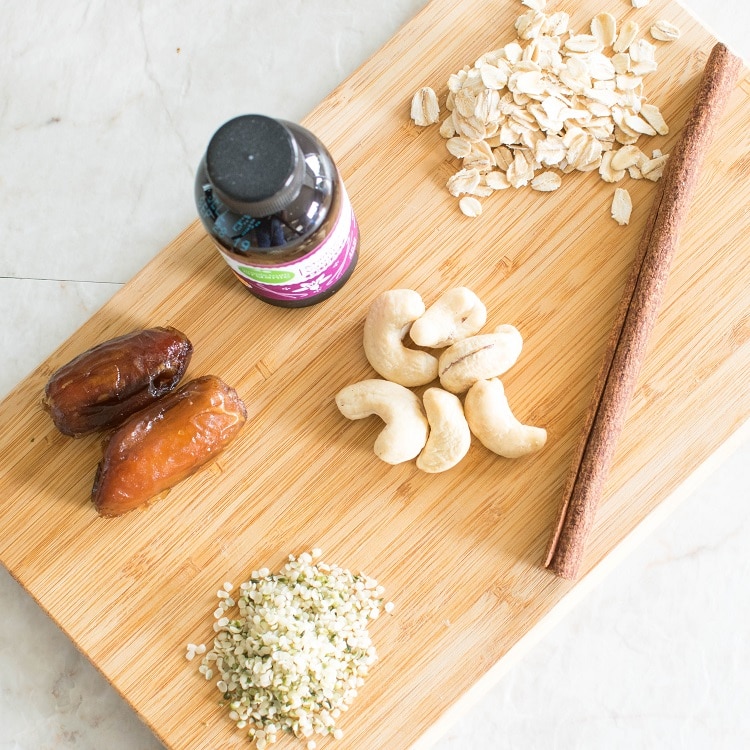 Old fashioned oatmeal – its high in fiber and keeps you fuller. Even though it takes a bit extra time than the instant one this old-fashioned oatmeal tastes much better. It also thickens the smoothie a bit and makes it creamier.
Vanilla almond milk – its plant based and low in calories. I personally find it lighter in consistency. I used vanilla for the extra flavor in the smoothie which makes it absolutely delectable.
Dates – I used it as a healthier sweetener. Also dates give this smoothie a thicker texture and a subtle caramel taste.
Raw cashew nuts – this adds little protein and other nutrients to the smoothie. Cashew nuts also provide the creaminess of vegan frosting to this smoothie which tastes amazing.
Cinnamon powder – it has many health benefits along with being a taste enhancer.
Hemp seeds – this adds protein and fiber to the smoothie. It's a superfood so it makes this recipe completely nutritious.
Pure maple syrup – even though its optional but a little addition enhances the flavor of this smoothie to a great extent. However, 100% pure maple syrup is high in antioxidant. In small proportion it is good for the body.
How to make Oatmeal Creme Pie Smoothie
In the first step, I cooked oats in water and salt.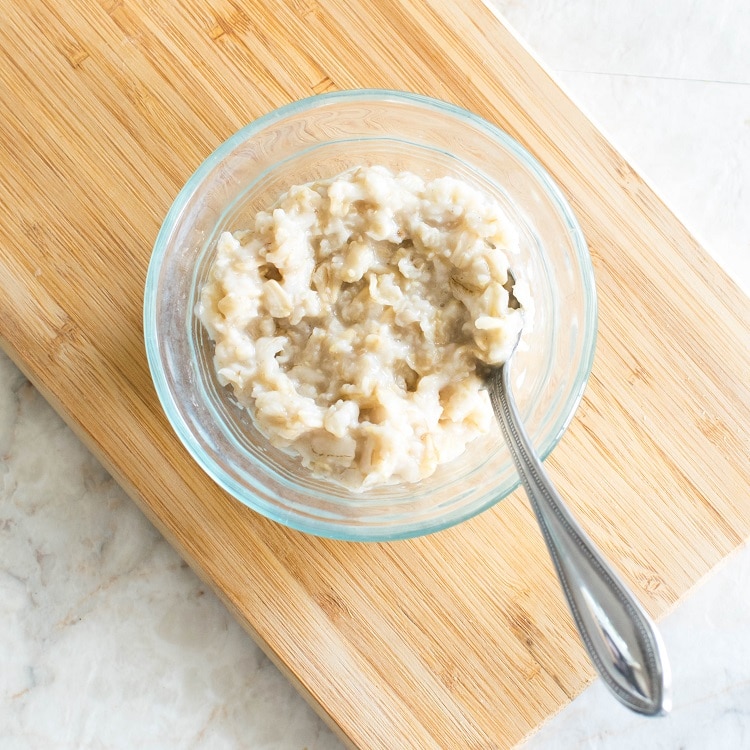 Once cooled, I blended all the ingredients in the blender including the cooked oatmeal.
Lastly, poured it in the serving glass and served immediately.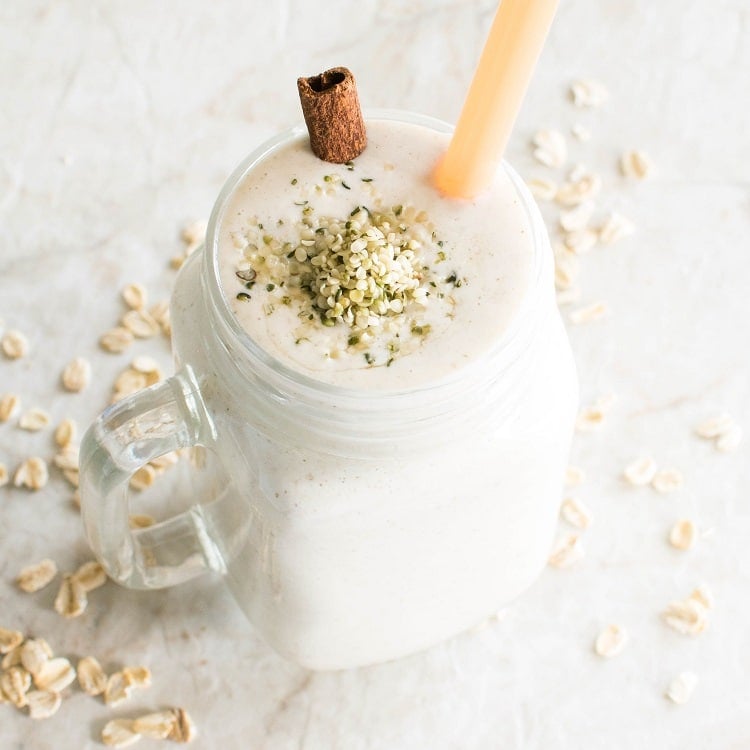 Expert tips
Cook oatmeal until all water is absorbed stirring occasionally.
Use a high-speed blender so the dates are thoroughly blended. This will help the flavors to come out in this smoothie excellently.
Make sure to use unsweetened vanilla almond milk. However, if using plain unsweetened almond milk – double the measurement of vanilla extract than mentioned in the recipe.
To quickly soften the raw cashew nuts soak them in hot water for 5 minutes.
FAQs
This smoothie can be made a night before and refrigerated in the glass container. It might thicken a bit but will still taste the same and creamier.
Tastes best when served immediately.
Any plant-based milk may be used in this recipe except coconut milk. Just make sure to adjust the vanilla extract and sweetener.
If you get a chance to blend this smoothie then please leave a comment at the bottom and don't forget to rate this recipe. You may also tag @kiipfit in Instagram and I will definitely shout it out there. I love seeing what's cooking in your kitchen.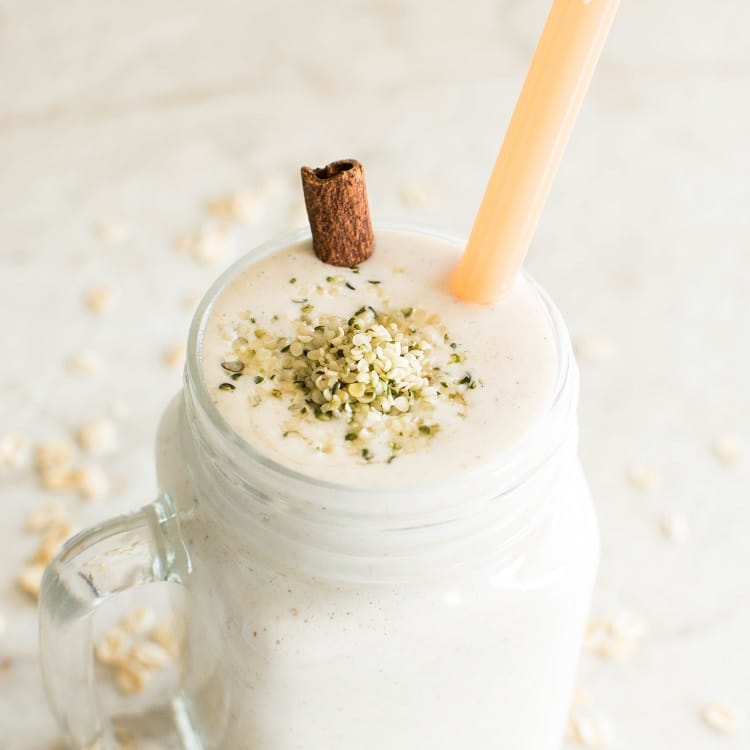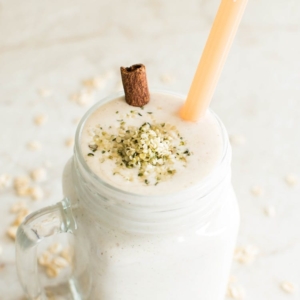 Print Recipe
Oatmeal Creme Pie Smoothie
Oatmeal Creme Pie Smoothie is a satisfying and hydrating beverage
with a distinct flavor of vegan vanilla frosting. It's a healthier way to
relive your childhood memories of relishing oatmeal sandwich cookies.
Ingredients
1/4

cup

dry old fashioned oats

1/2

cup

water

Pinch of salt

1 1/2

cups

unsweetened vanilla almond milk

2

whole

pitted dates

1/4

tsp

vanilla extract

1/4

cup

raw cashew nuts

(soaked and drained)

Pinch of cinnamon powder

2

tbsp

hemp seeds

1

tbsp

pure maple syrup

(optional)
Instructions
In a saucepan combine oats, water and salt. Cook
until the water is absorbed and oats softens, stirring occasionally to avoid
sticking. Turn off the flame and let it cool down.

In a blender combine all the ingredients including the cooked oats. Blend it smooth until creamy.

Pour the smoothie in the serving glass and garnish it with more hemp seeds if desired.
Notes
For quick cashew nuts soaking – warm some water in a bowl and soak cashew nuts for 5 minutes.
This Smoothie can be made a night before and enjoy it in the morning. It will thicken a little bit but will still have liquid smoothie consistency.
Unsweetened plain almond milk can also be used. Just increase the vanilla extract to ½ tsp if you like vanilla flavor.
Nutrition
Calories:
274
kcal
|
Carbohydrates:
35
g
|
Protein:
11
g
|
Fat:
12
g
|
Saturated Fat:
1
g
|
Sodium:
8
mg
|
Potassium:
45
mg
|
Fiber:
1
g
|
Sugar:
12
g
|
Vitamin A:
155
IU
|
Calcium:
64
mg
|
Iron:
4
mg