This easy Pear Smoothie is packed with deliciousness and health. It's spiced with ginger and cinnamon and sweetened with dates. You can make this vegan high protein beverage within minutes with a handful of ingredients.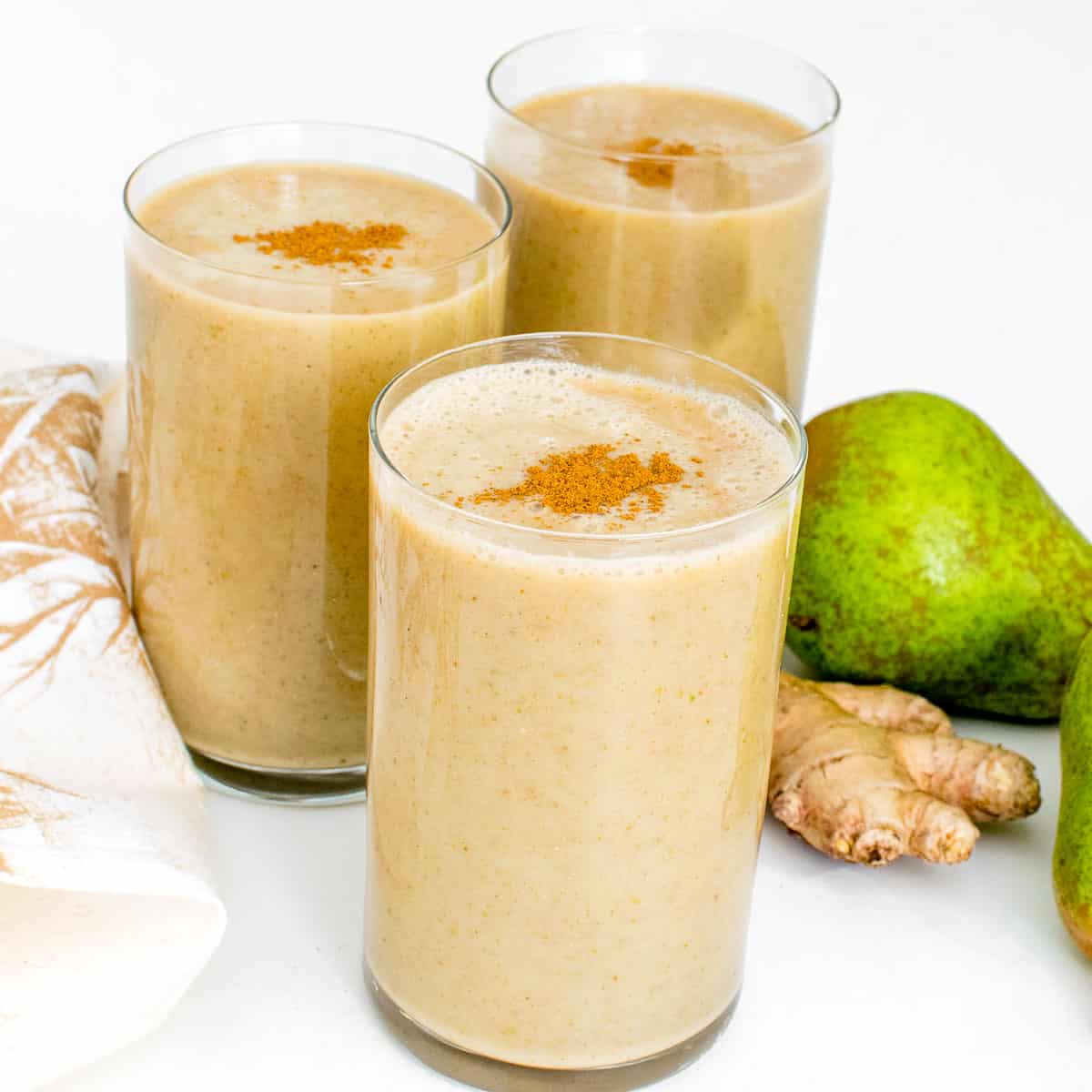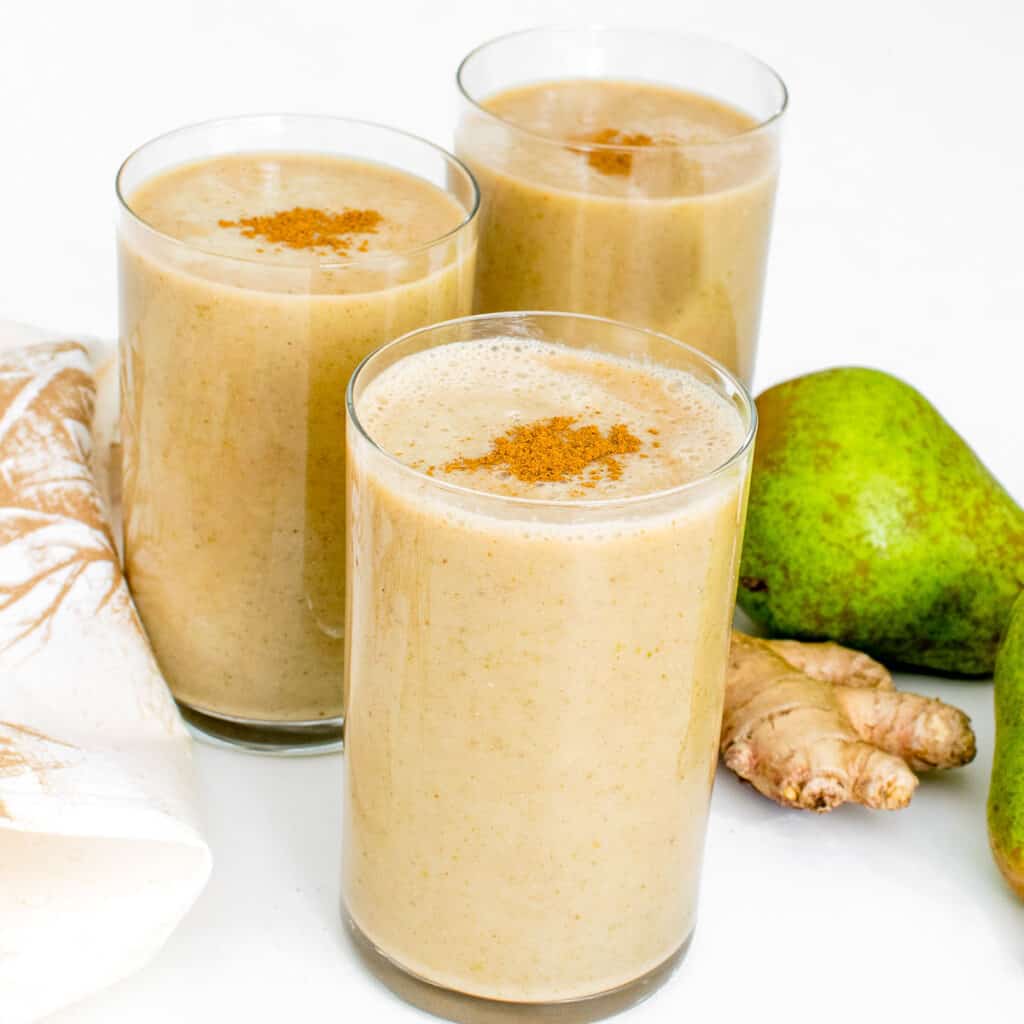 My backyard tree is blooming with green pear this season and we have been enjoying this organic fruit thoroughly.
Therefore, this idea of pear smoothie struck me since we all love it. Moreover, I blend smoothies everyday so this time pears had to be the star ingredient.
This juicy fruit is crunchy, sweet, tart and so satisfying. It's amazing when consumed at the right time. I like it when it's a bit hard. I think at that time it tastes best when its still slightly hard and green.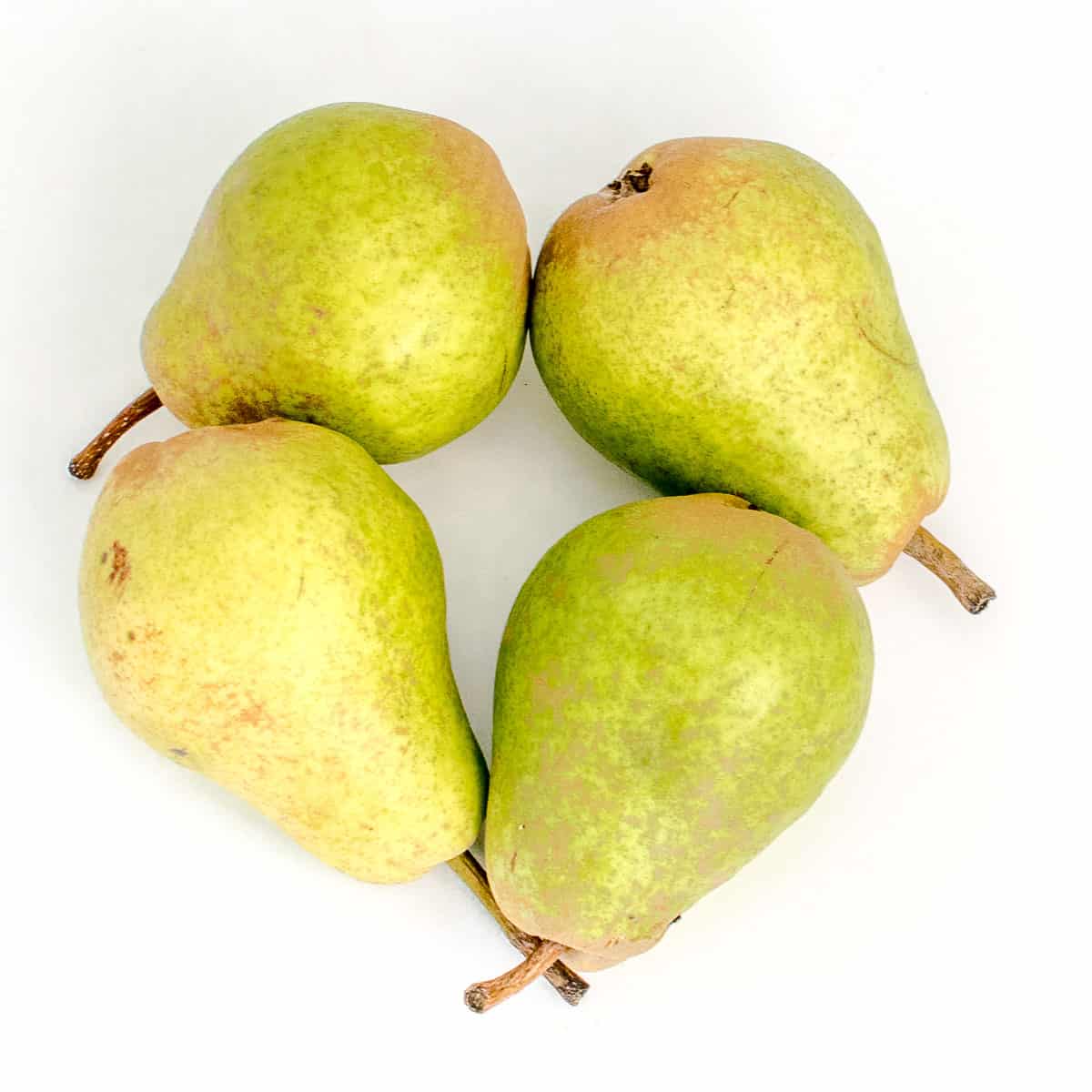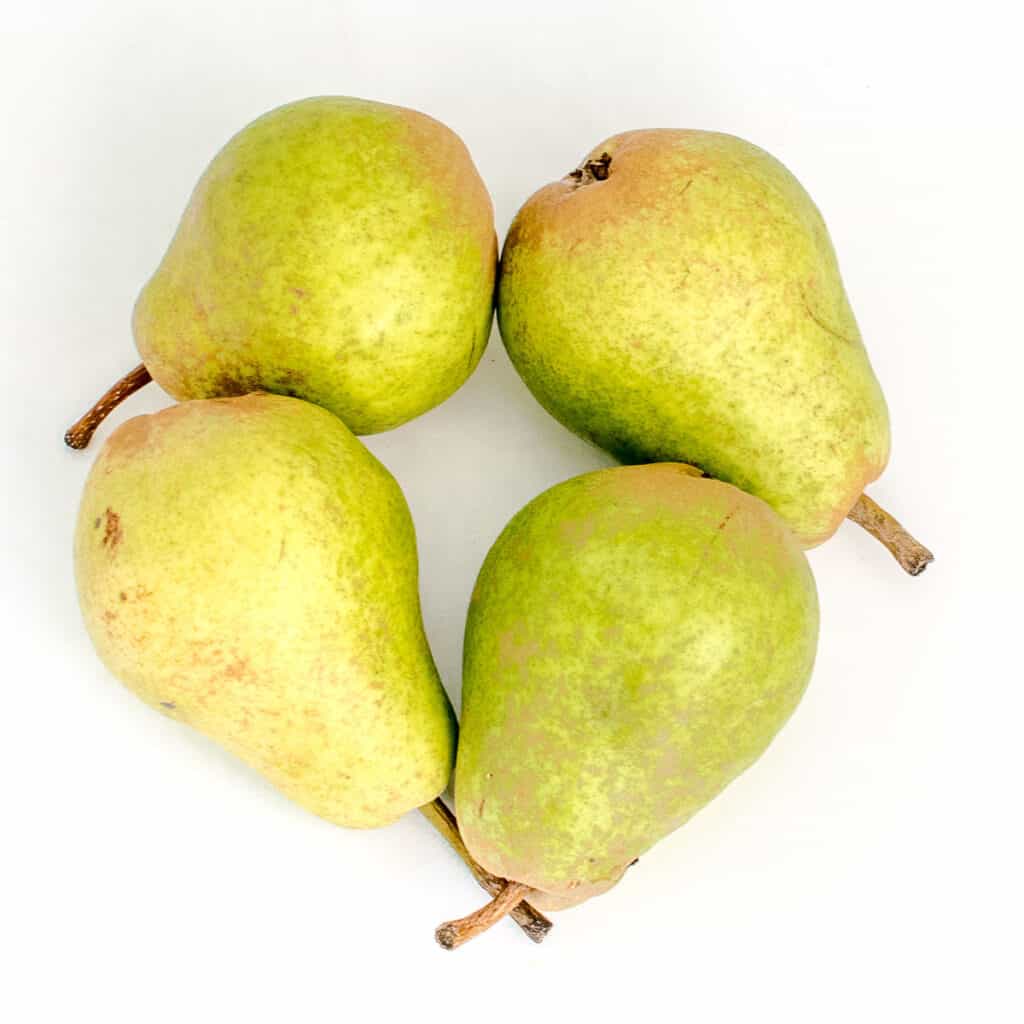 Every year I like to come up with few pear recipes which I have experimented in pear spinach soup and pear coffee brownies.
This time I wanted to go with a simpler and a quick recipe and hence I came up with this vegan pear smoothie.
I must have posted hundreds of smoothie recipes by now but every time I am amazed at the fact that it can be created in so many varieties and with new combination every time.
I am so much in love with this smoothie because its cozy yet cool and perfectly flavored with warming spices.
Its consistency is amazingly perfect being not too thick and not too thin and its well balanced sweet.
Hence today I am sharing this pear smoothie recipe.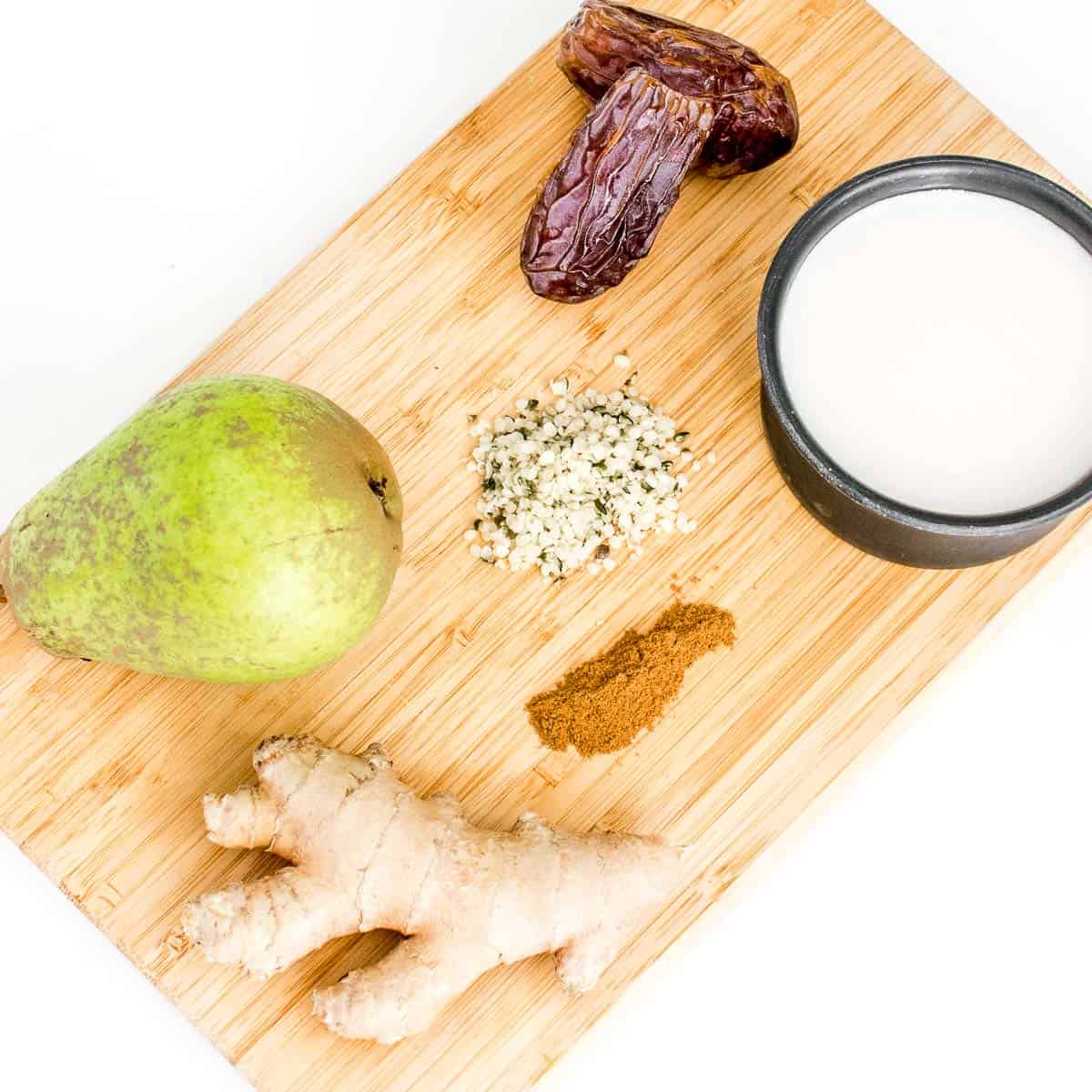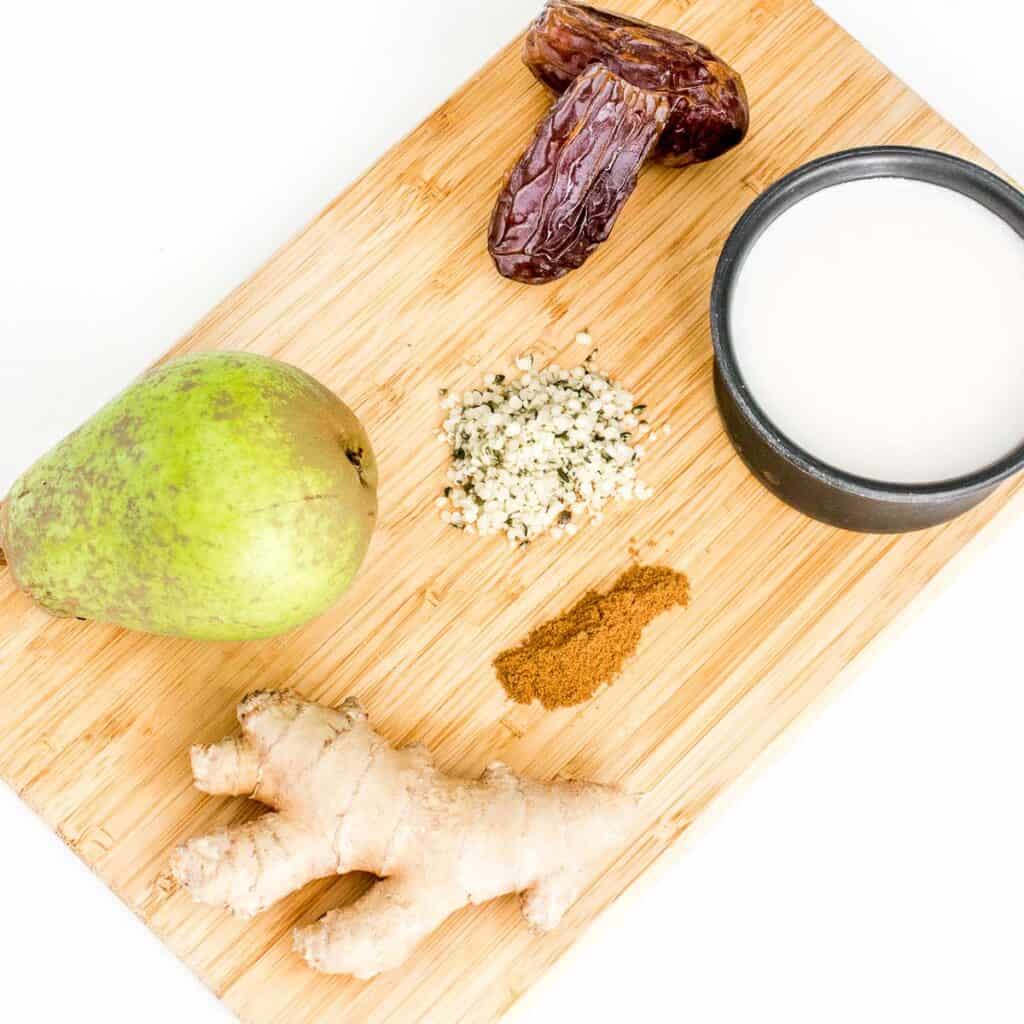 Ingredients you will need
Pears
Dates
Almond milk
Ginger
Cinnamon
Hempseeds
Ice
I have used these easily available ingredients which you may buy from any local grocery store. However, I have provided links to few of them here for your convenience.
If you plan to buy from these affiliate links then I get a small commission which in turn encourages me to bring in more delicious recipe for you all.
Ingredients notes:
Pears – these are seasonal and fiber packed. It's great if constipated. If your pears are soft and very sweet you may skip dates and blend the smooth with the rest of the ingredients. Taste test and then blend dates if desired.
Dates – they are high in fiber and antioxidants. It's a great natural sweetener with many health benefits.
Unsweetened almond milk – even though any dairy free milk can be used here, I preferred almond milk to keep it light. If you plan to use oat milk then skip dates in the beginning and blend the rest of the ingredients. Depending on your taste you may or may not blend dates.
Ginger – it's a great digestive and provides a subtle spiced taste in here. Make sure to stick to the measurement or else this smoothie will become too gingery.
Cinnamon – I have used a tiny pinch of it here for my family. However, I like to sprinkle a little more for myself.
Hempseeds – since, I like use to natural protein in my smoothies so instead of store-bought protein powder I added hempseeds. This way it becomes protein rich as well as includes healthy fats.
I am sure you must already be having all the mentioned ingredients so lets quickly scan through the steps.
You will be quite happy and surprise with the end result in many ways.
Its color and taste and quite unique and different. It's a camouflage of many ingredients and acquires it own unique color.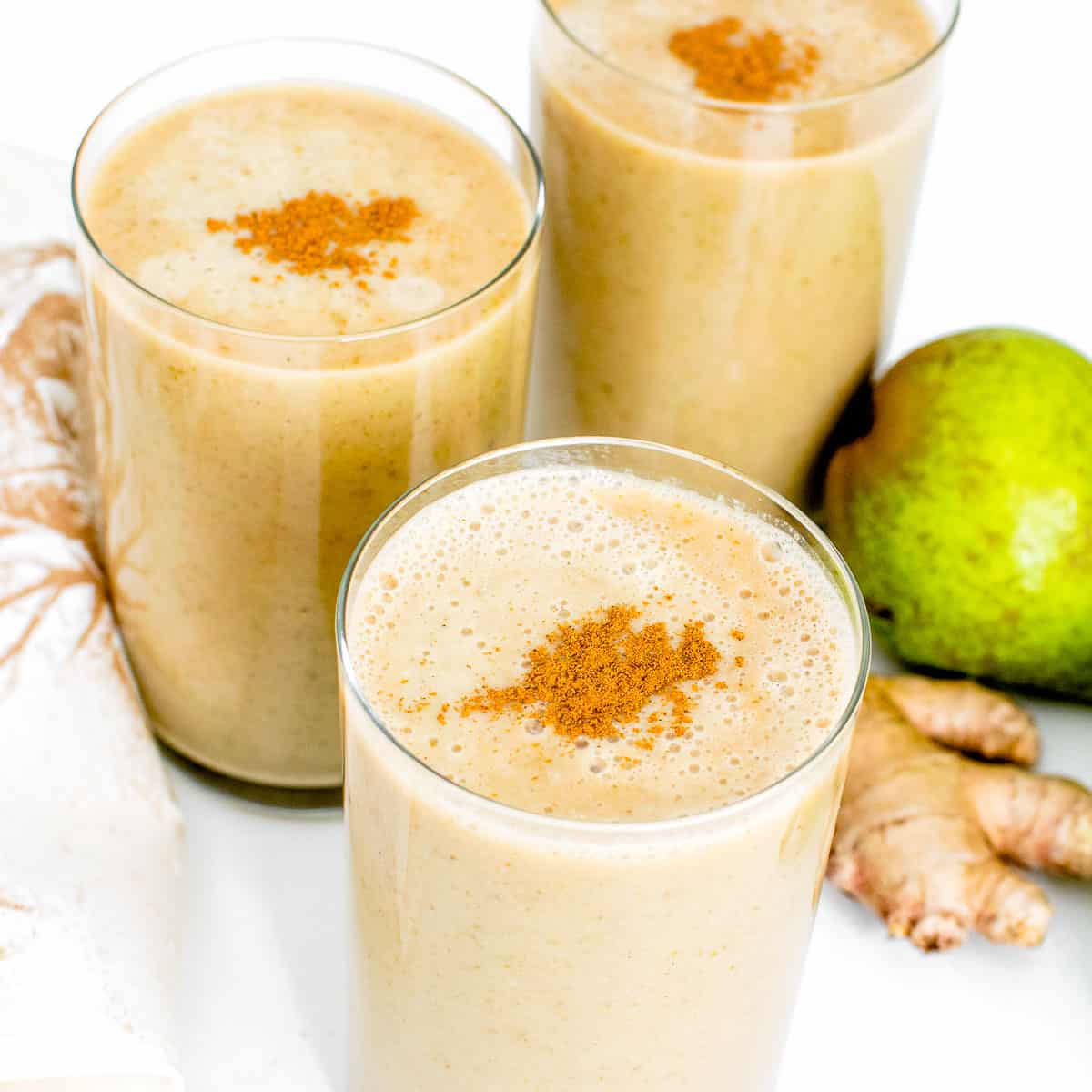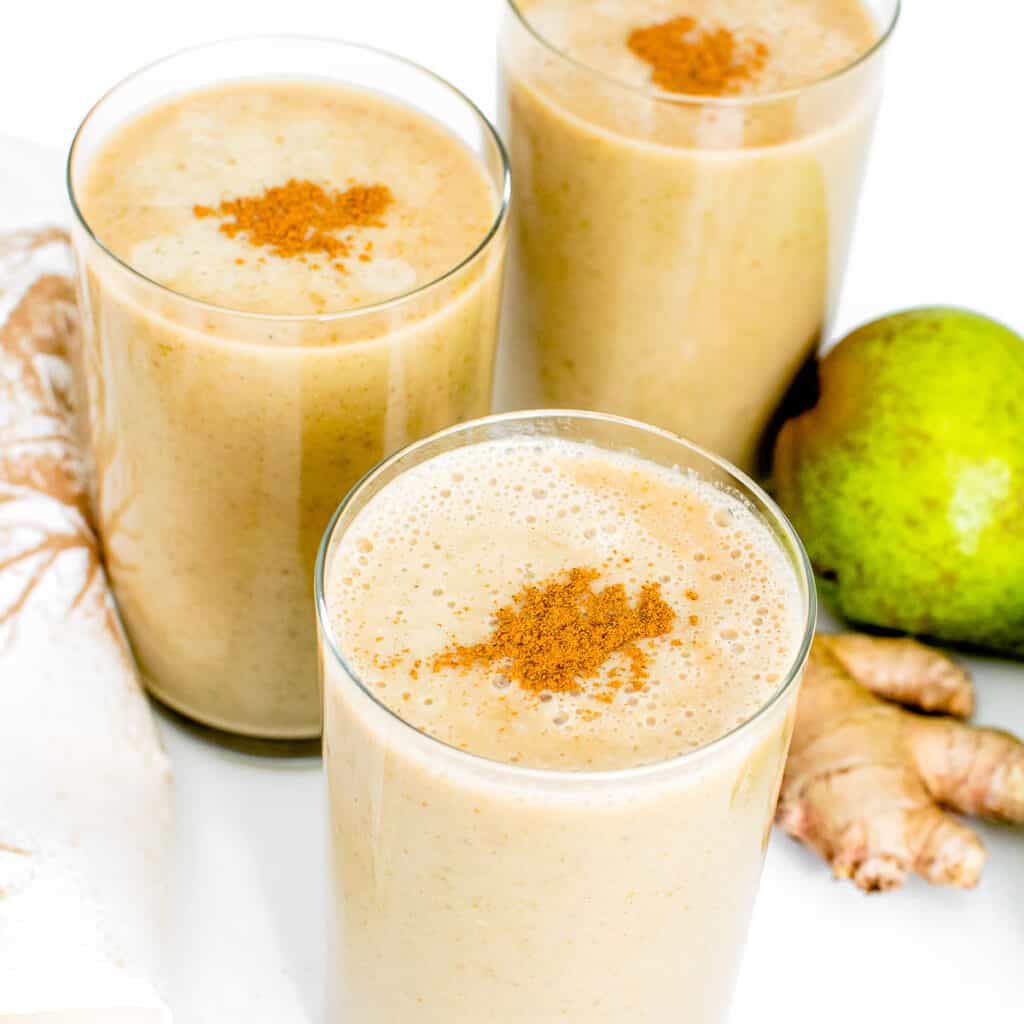 Also, every ingredient flavors this beverage in a unique way and you will get the taste of each one in a very gentle and subtle way. It would be so satisfying and refreshing.
You will feel the happiness of the approaching fall with its deliciousness.
How to make Pear Smoothie
Firstly, I combined all the ingredients in a blender and blended it smooth.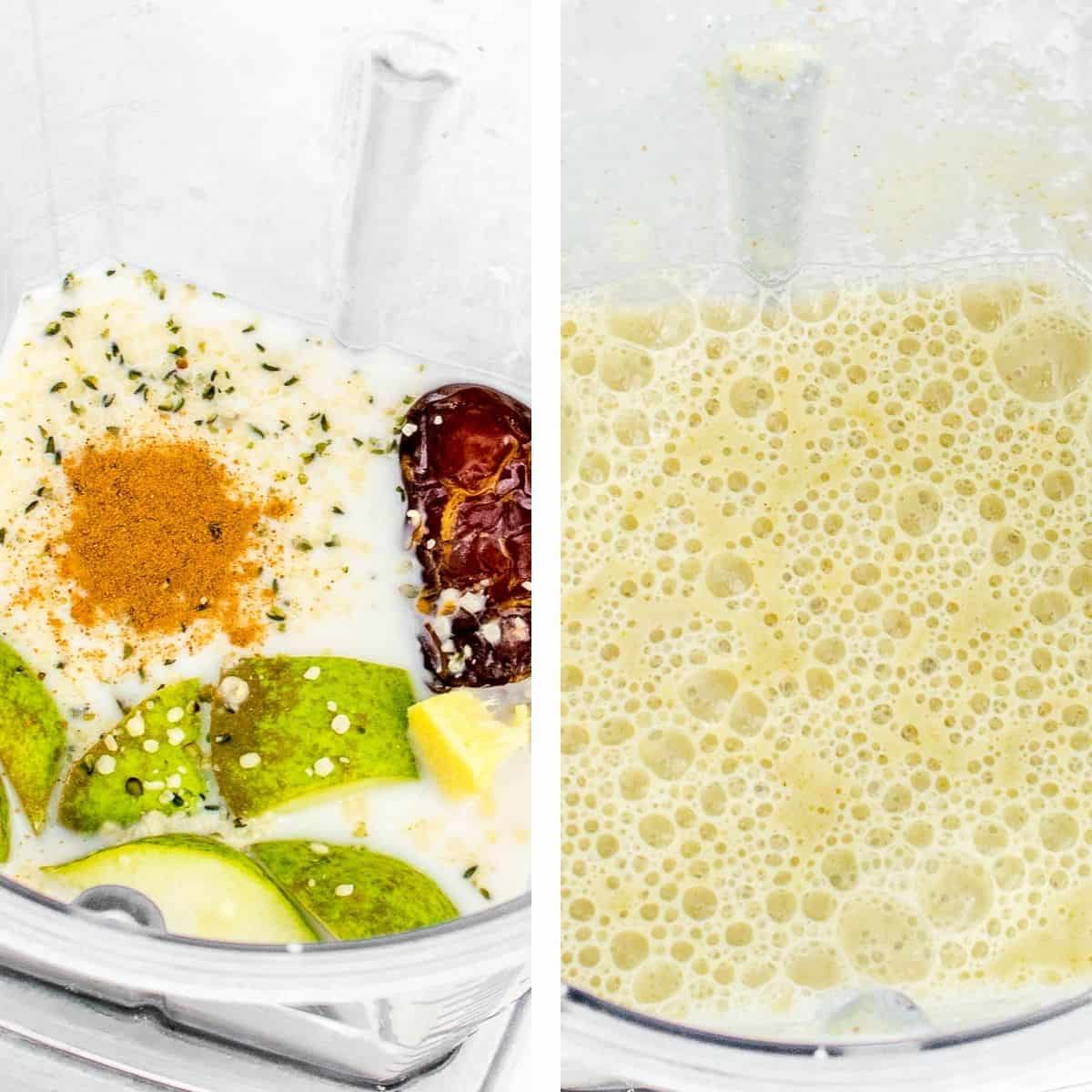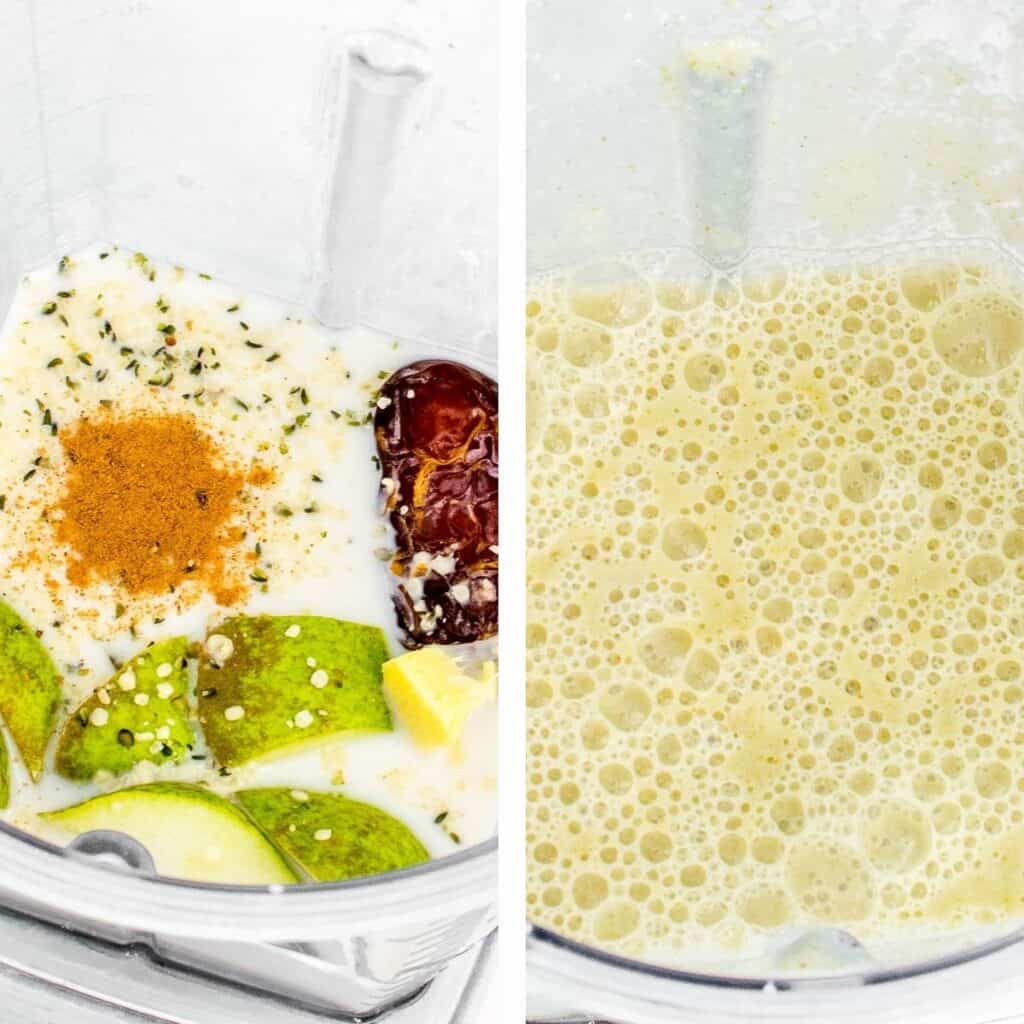 Secondly, I poured it in the serving glasses.
Lastly, I sprinkled some more cinnamon and served immediately.
We all were hydrated in a healthier way. In fact it was a great side for my lunch.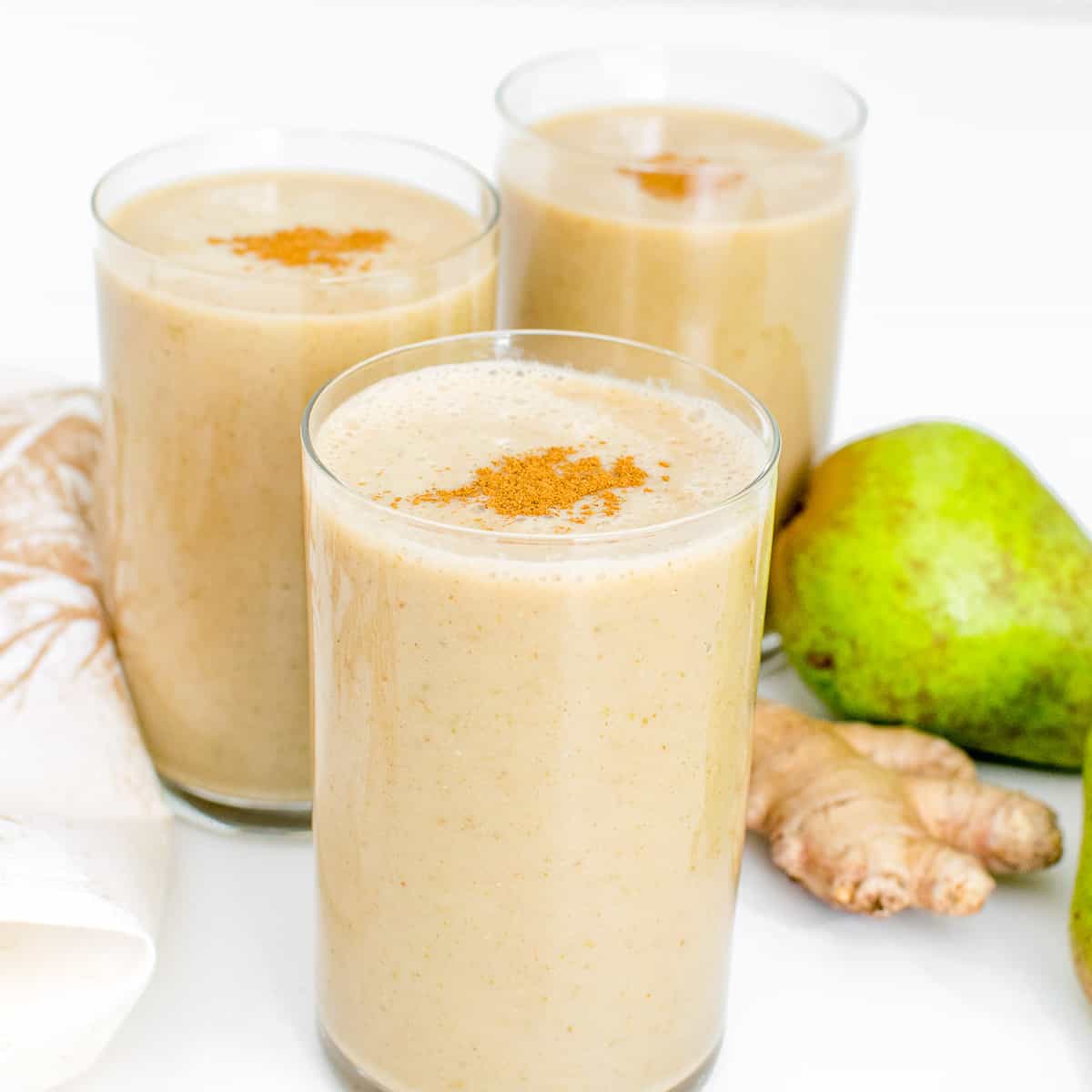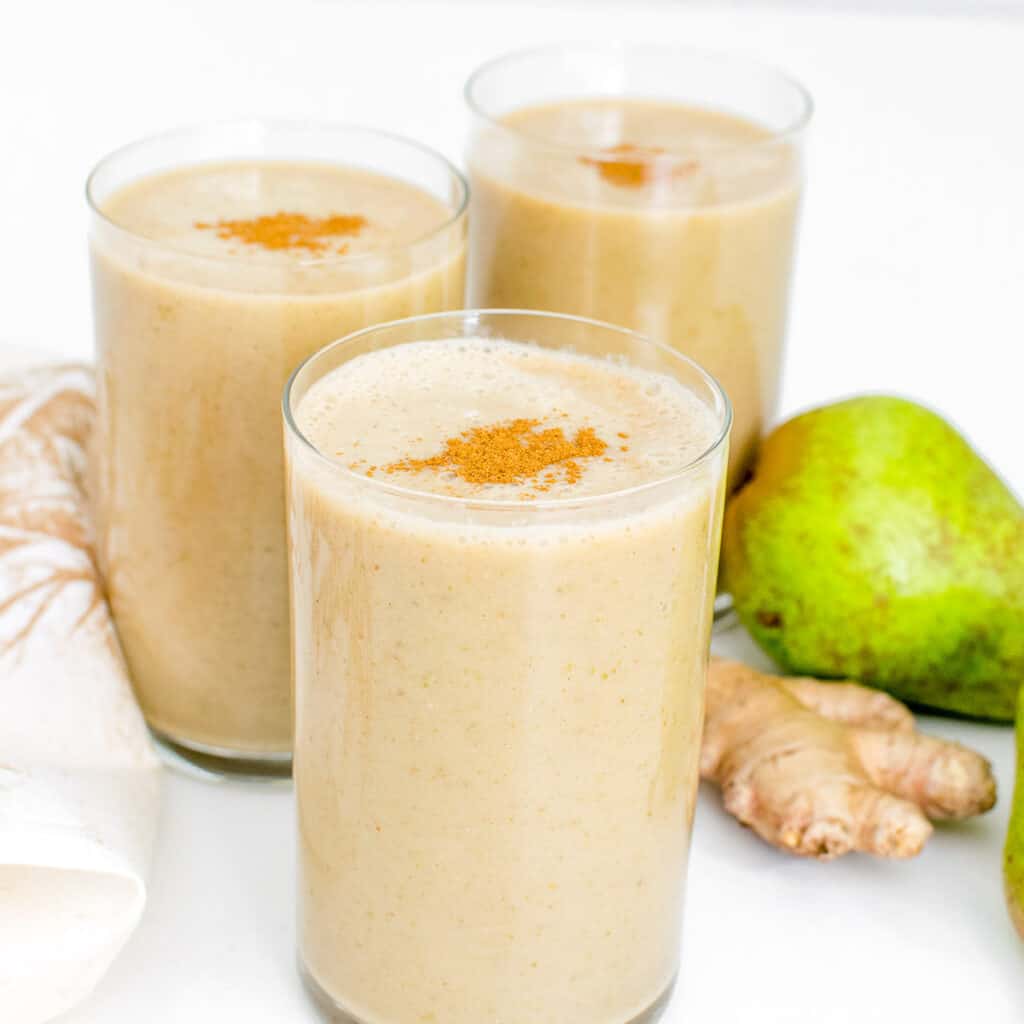 I also enjoy it as my post workout beverage during the season.
Expert tips:
While measuring chopped pears, you must chop it roughly and not finely chopped.
If you have Vitamix then simply blend all the ingredients. Or else soak dates for 10 minutes in warm water to make the blending process easier and faster.
It's a great energy booster along with being fiber rich and nutritious all in just one glass.
Pear Smoothie FAQs
How long does it last?
It tastes best when served immediately. If kept for long it loses it color and taste.
Is it healthy?
Yes! It's made with seasonal fruit and is naturally sweetened. Its dairy free and low in calories and yet high in protein.
What can I substitute dates with?
You may use 1 ripe banana instead of dates if desired.
Do I need to peel the pear?
No, use it as is but remove the seeds.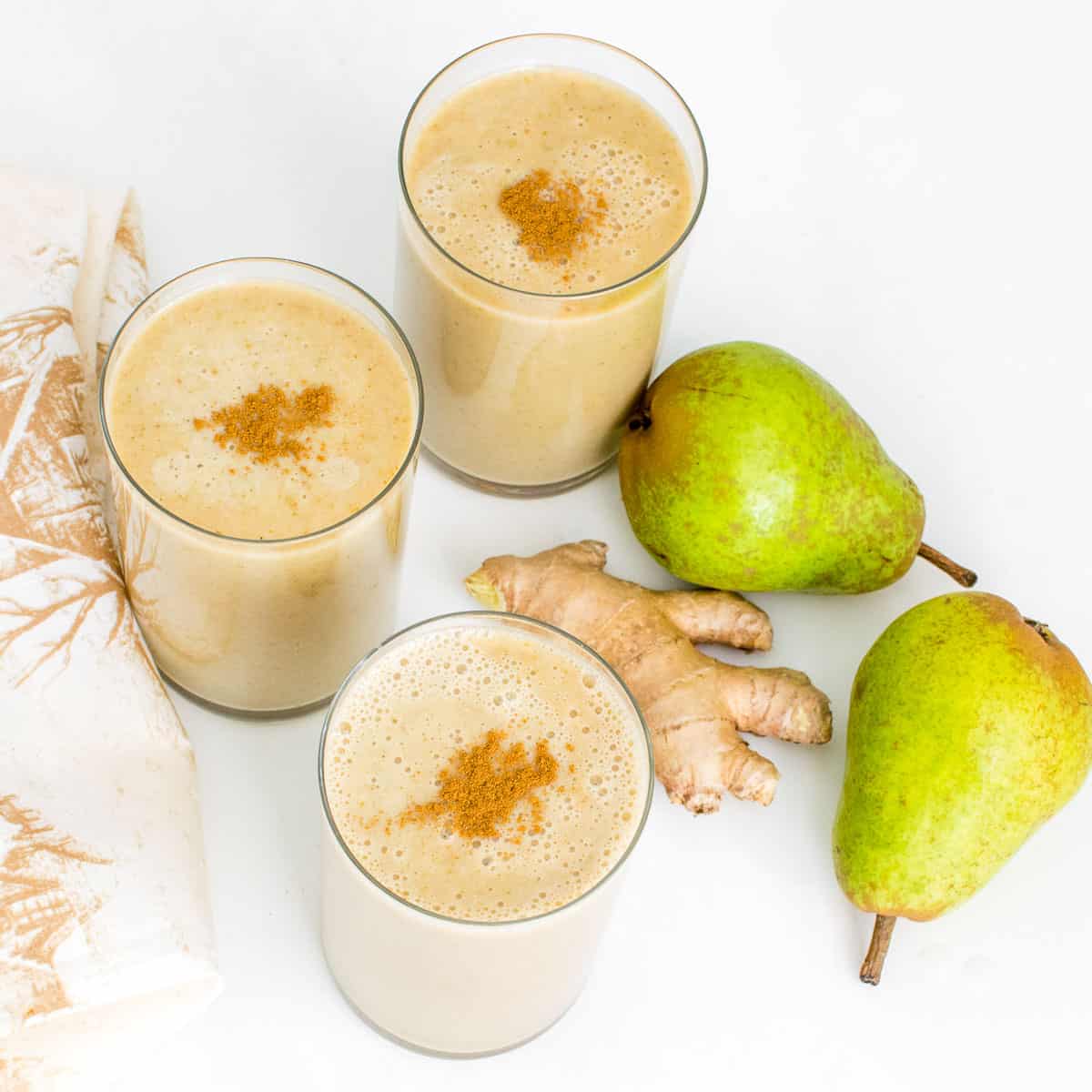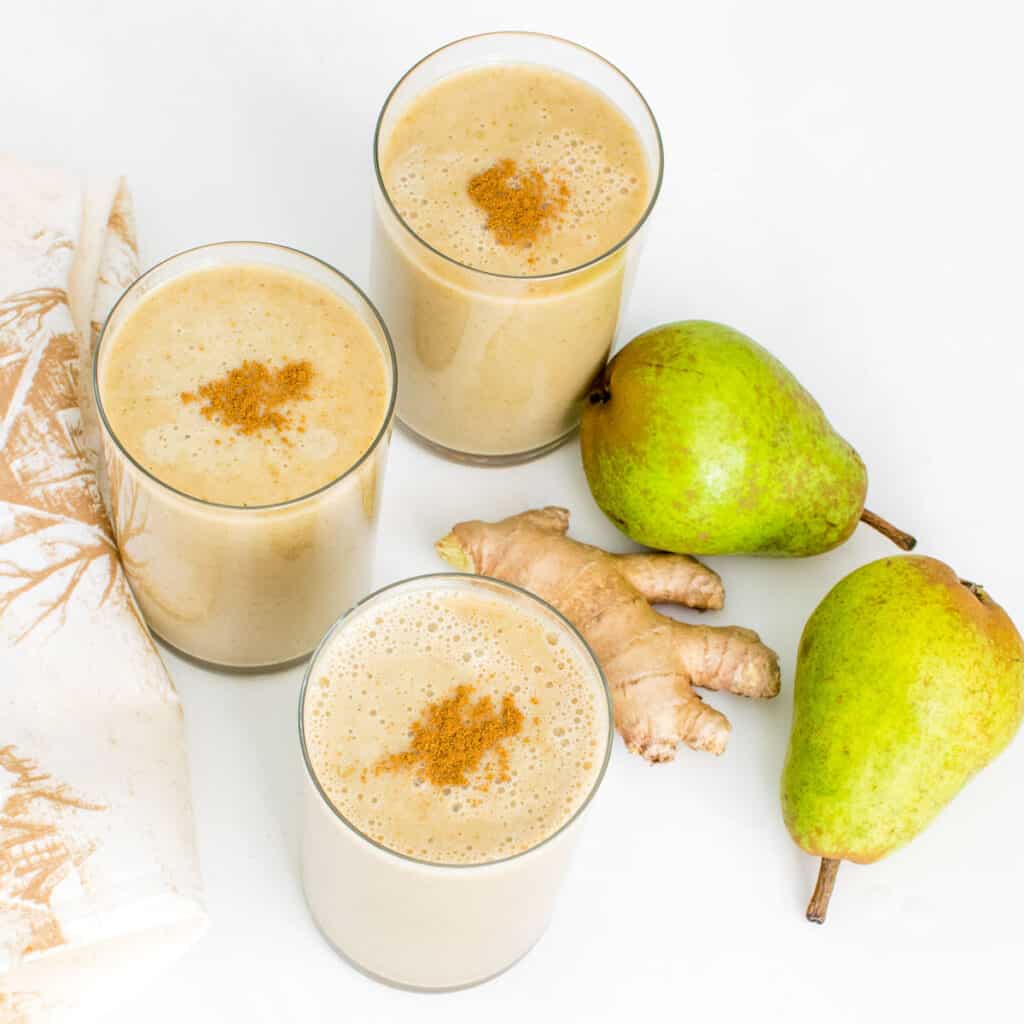 My other smoothie recipes that you may like:
Pumpkin Orange Smoothie
Sweet Potato Smoothie
Pear Spinach Mango Smoothie
Chocolate Peanut Butter Smoothie
Persimmon Carrot Hemp Smoothie
Almond Butter Hemp Smoothie
Did you make it?
If you get a chance to make this recipe then please leave your feedback in the comments along with a 5-star rating.
In addition, you mat tag @kiipfit on Instagram with your recipe remake images because we would love to see what you cooked. You may also follow me on Facebook for regular updates.
Also, checkout my cookbook for everyday comfort vegan recipes.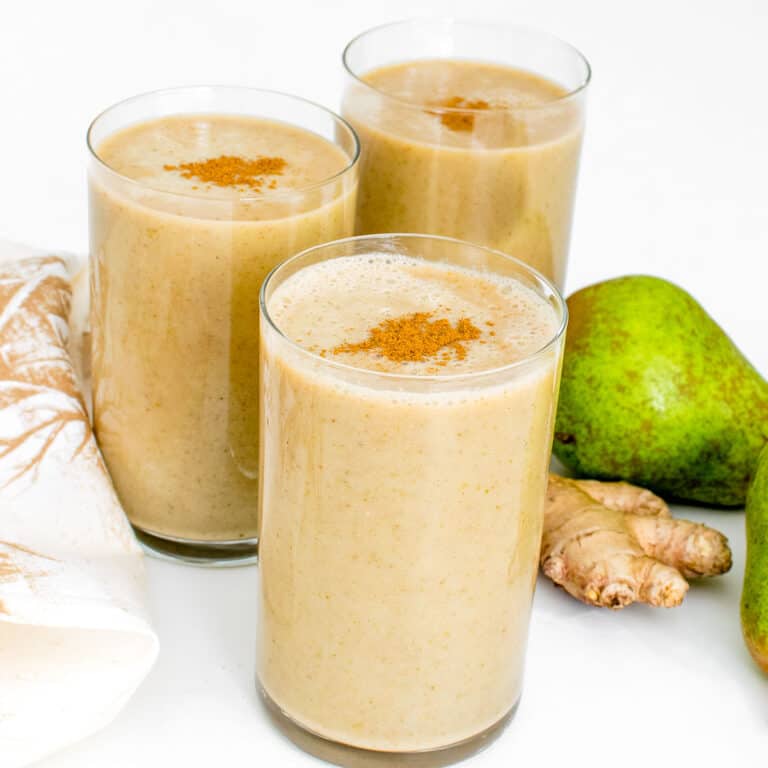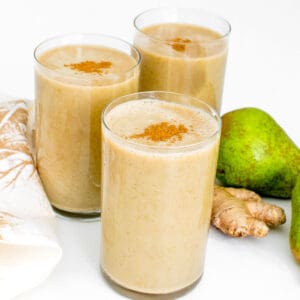 Print Recipe
Pear Smoothie
This easy Pear Smoothie is packed with deliciousness and health. It's spiced with ginger and cinnamon and sweetened with dates. You can make this vegan high protein beverage within minutes with a handful of ingredients.
Instructions
In a blender combine all the ingredients and blend it smooth.

Pour it in the serving glasses and enjoy immediately or sprinkle some more cinnamon and enjoy!
Nutrition
Calories:
194
kcal
|
Carbohydrates:
31
g
|
Protein:
12
g
|
Fat:
6
g
|
Saturated Fat:
1
g
|
Polyunsaturated Fat:
11
g
|
Monounsaturated Fat:
2
g
|
Sodium:
2
mg
|
Potassium:
51
mg
|
Fiber:
1
g
|
Sugar:
5
g
|
Vitamin A:
1
IU
|
Vitamin C:
1
mg
|
Calcium:
5
mg
|
Iron:
1
mg