These one bowl Vegan Pumpkin Pancakes are flavored with warm spices and makes perfectly healthy Fall breakfast. Its soft, fluffy and an easy recipe to enjoy with your family.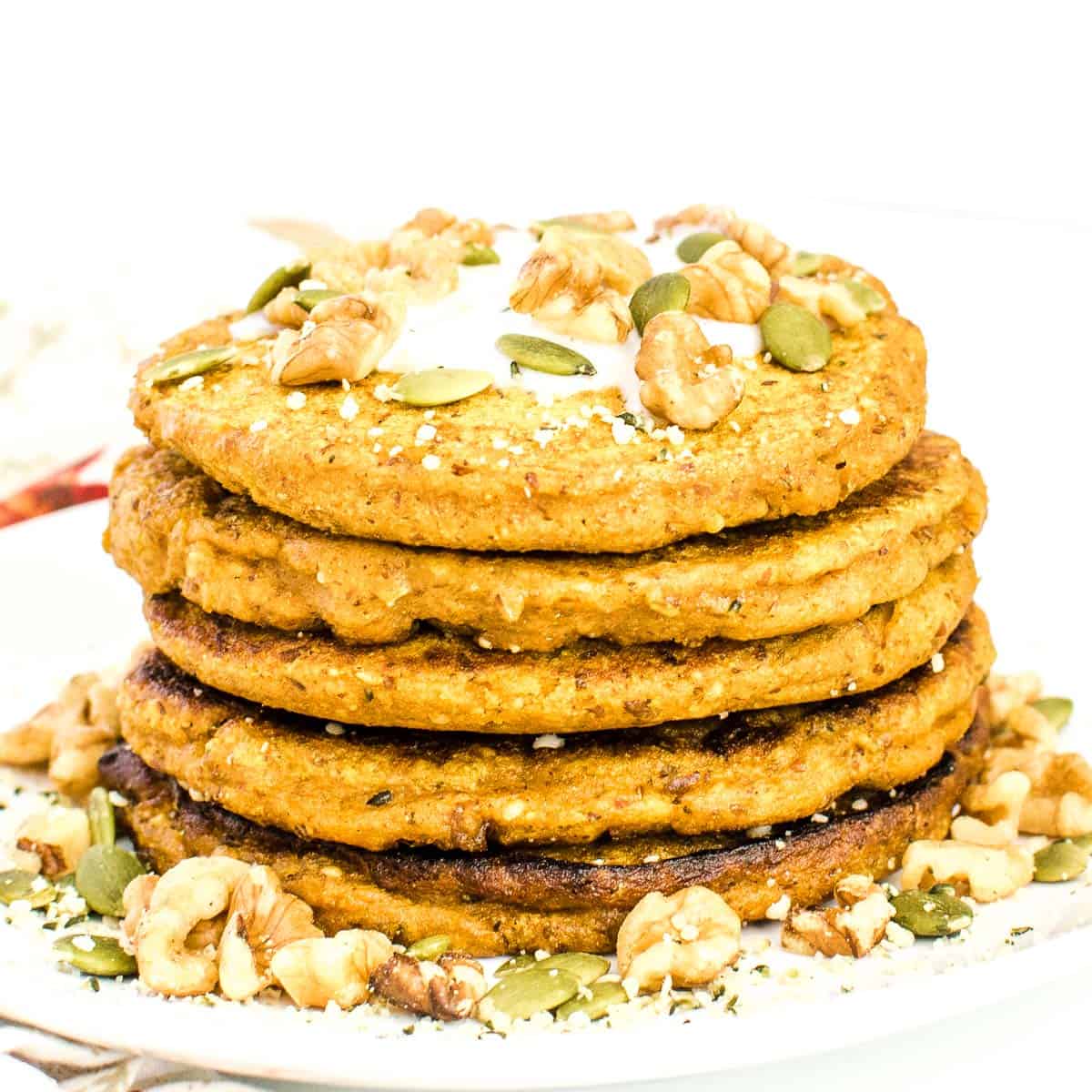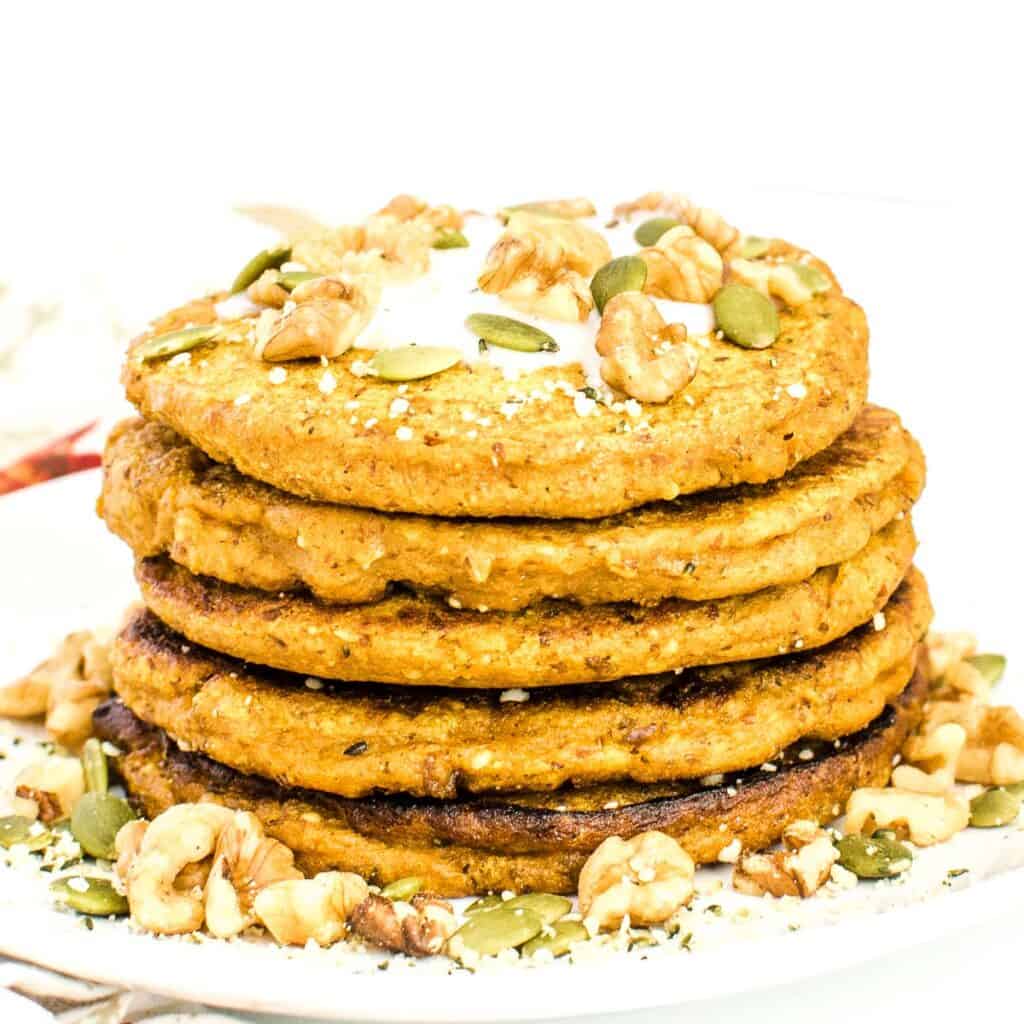 I made these pumpkin pancakes absolutely nut free. However, I personally like to top it with walnuts but you may skip it to make it absolutely allergy friendly.
On that note and since pumpkin season is here you must try out my very popular pumpkin cookies. If you are into baking mode then these pumpkin brownies are absolutely a winner. My vegan pumpkin muffins are our favorite treat.
I like to add a bit of protein and nutrition in my recipes. So, I added hempseeds to add some protein so as to balance out the carbohydrates.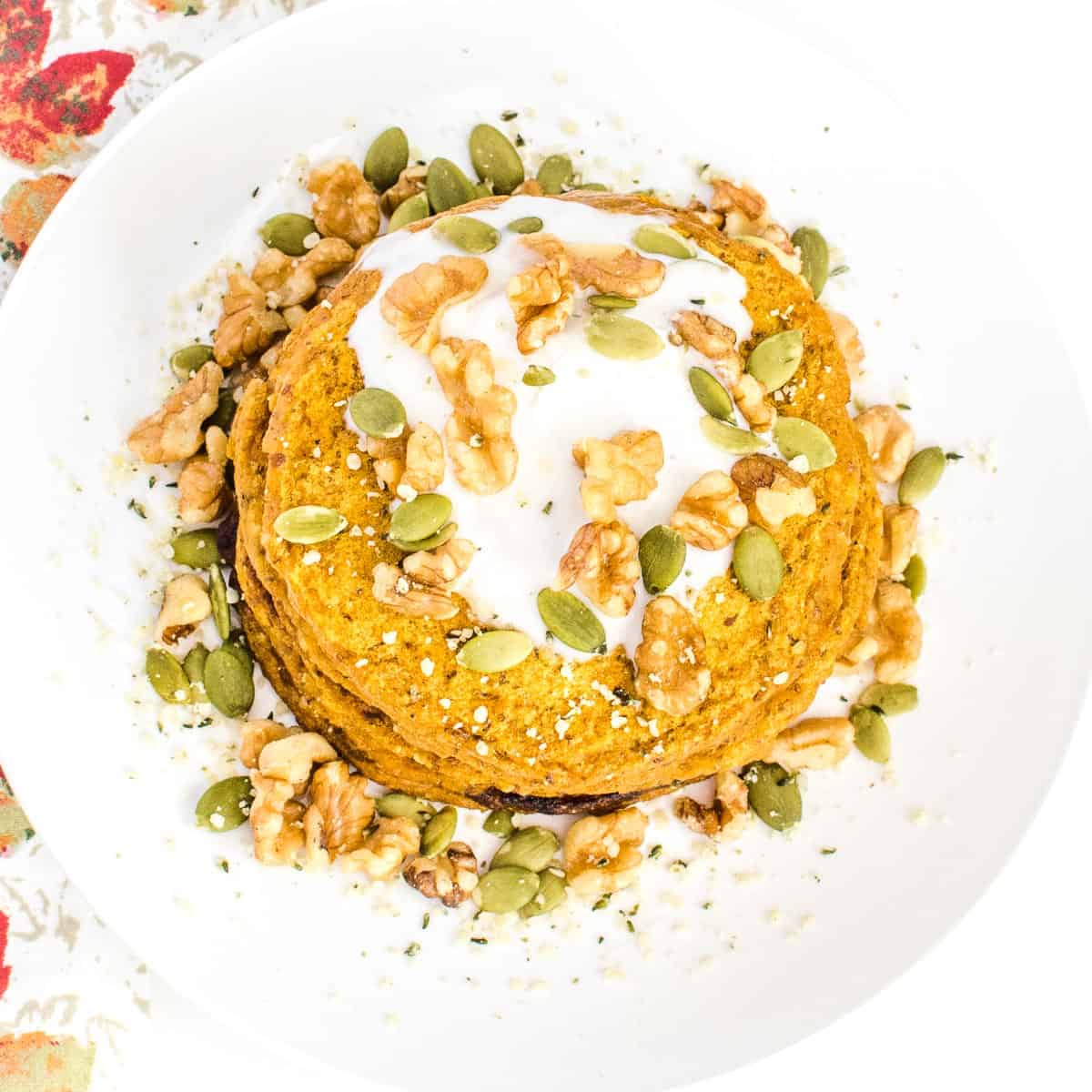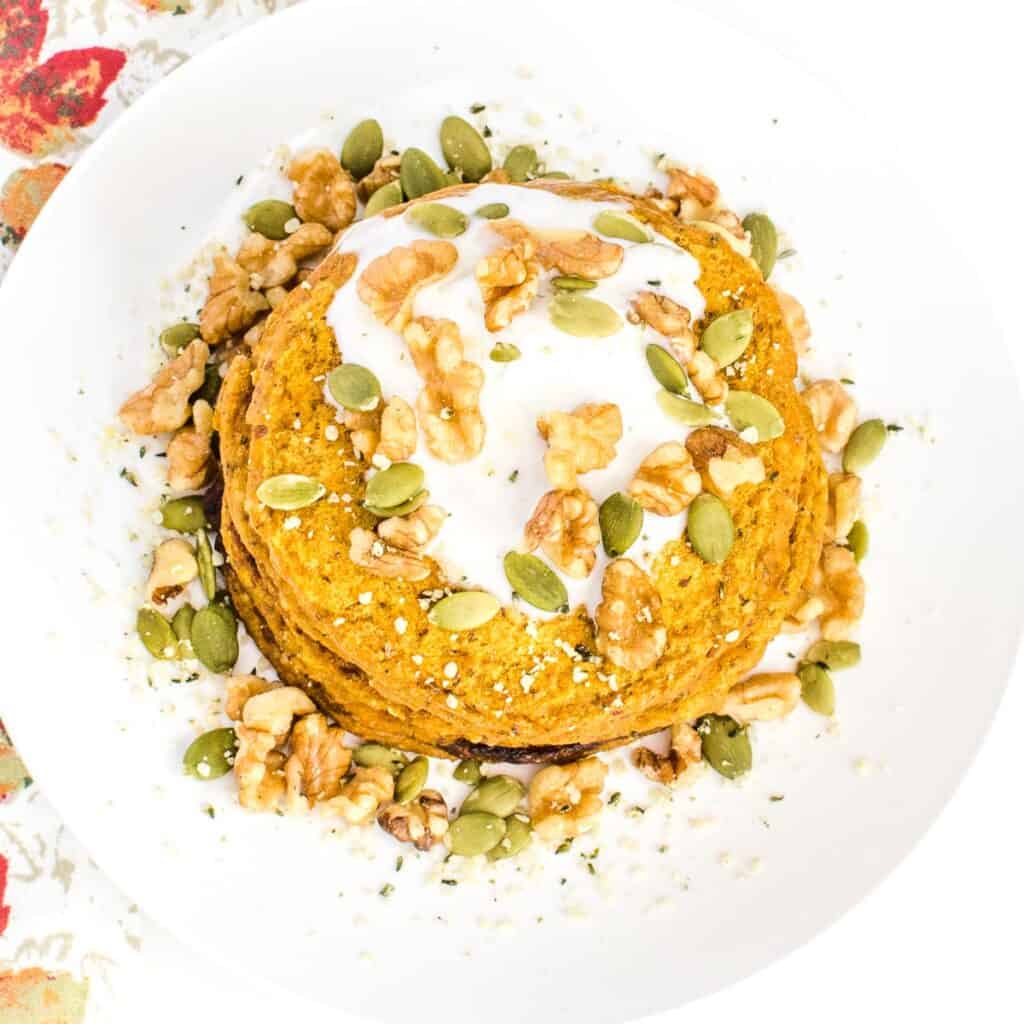 Therefore, these easy vegan pumpkin pancakes are kid friendly and flavorful.
Why we love these?
It's made in one bowl
Healthy and hearty
Only 10 ingredients
Made with 100% whole wheat flour
Has hempseeds for protein
Nut free and oil free
Can be refrigerated for days
These are the most attractive reasons for you try my eggless pumpkin pancakes.
Moreover, we love our family weekend brunch and so this is the most welcomed menu.
These pumpkin spiced pancakes are moist, delicious and beautiful as well.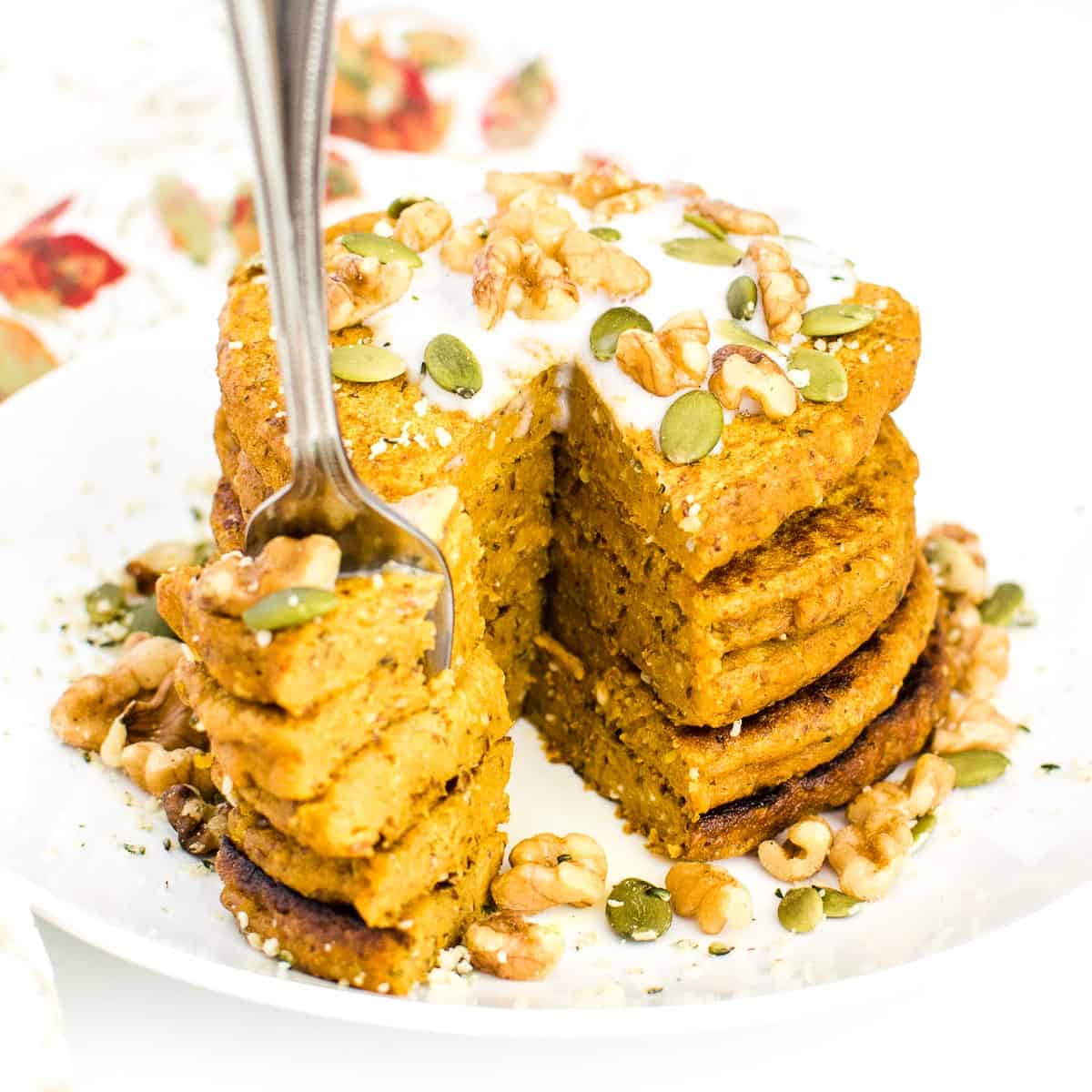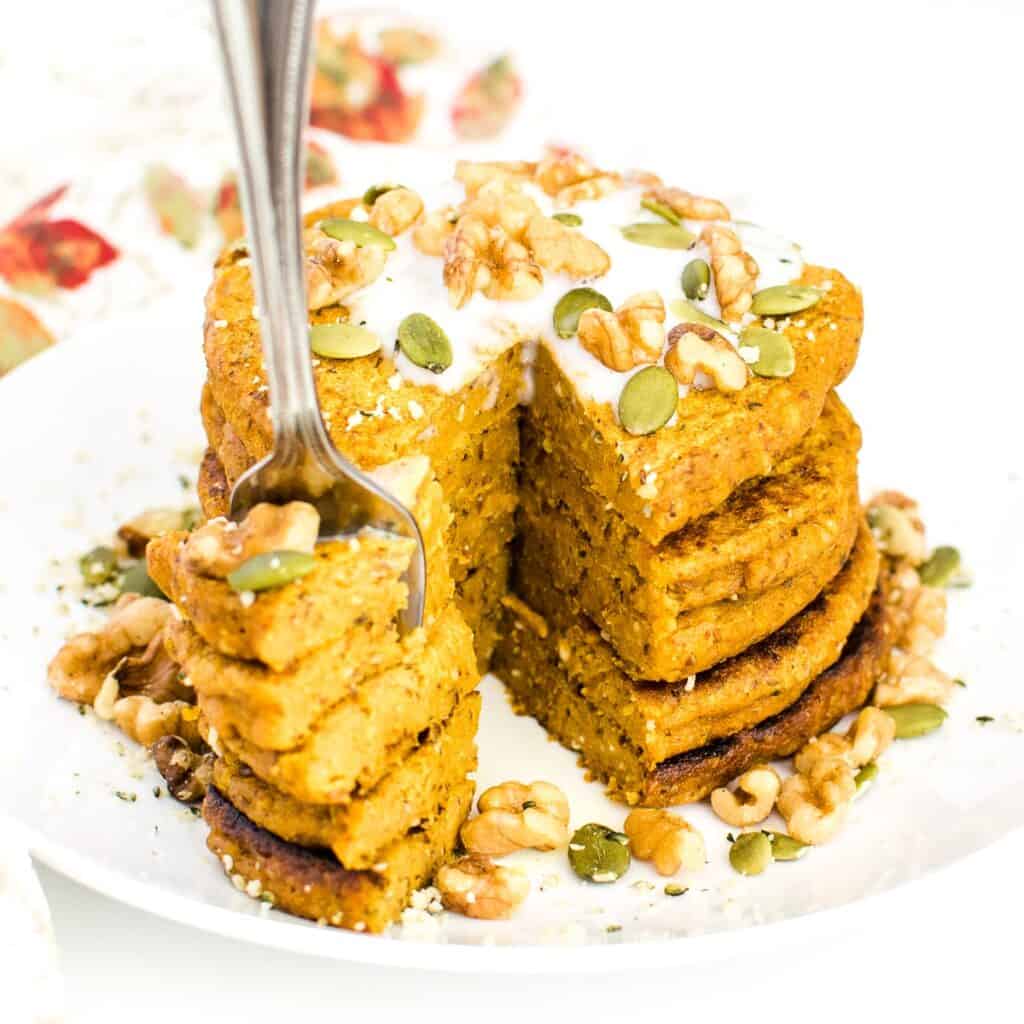 So, today, I am here to share this vegan pumpkin pancakes recipe with you.
Ingredients for healthy vegan pumpkin pancakes
Flaxmeal
Plant milk
Vanilla extract
Pumpkin puree
Maple syrup
100% Whole wheat flour
Baking powder
Hempseeds
Salt
Pumpkin pie spice
I have used these easily available ingredients which you may buy from any local grocery store. Its an easy and simple pancake recipe for your family to enjoy.
Ingredients notes
Flaxmeal – it's a great egg replacer and add healthy fats along with fiber. The whole ground brown flaxmeal works great here.
Plant milk – any dairy free milk is fine in this recipe. To make it absolutely nut free you may use oat milk which adds creaminess to its batter.
Maple syrup – it's a healthier sweetener comparatively. Also, it provides a nice caramelized flavor to it.
Whole wheat flour – it has more fiber and is less processed. Therefore, it's a complex carbohydrate which works great in these healthy pumpkin pancakes.
Pumpkin puree – I used canned puree but you may use your own homemade one as well.
Hempseeds – this adds protein and fiber making it healthier and more desirable.
Pumpkin pie spice – its easily available everywhere and adds a nice Fall flavor here.
Substitutes
You may substitute flaxmeal and maple syrup with 2 large mashed bananas. Make sure they are ripe but not brown.
For detailed measurement of ingredients, please scroll down to the printable recipe card at the bottom of this post.
How to make Vegan Pumpkin Pancakes
Firstly, I soaked flaxmeal in a large mixing bowl until it was thick and jelly like consistency.
Secondly, I added dairy free milk, pumpkin puree, vanilla extract and maple syrup to it. Then, I mixed it and kept it aside.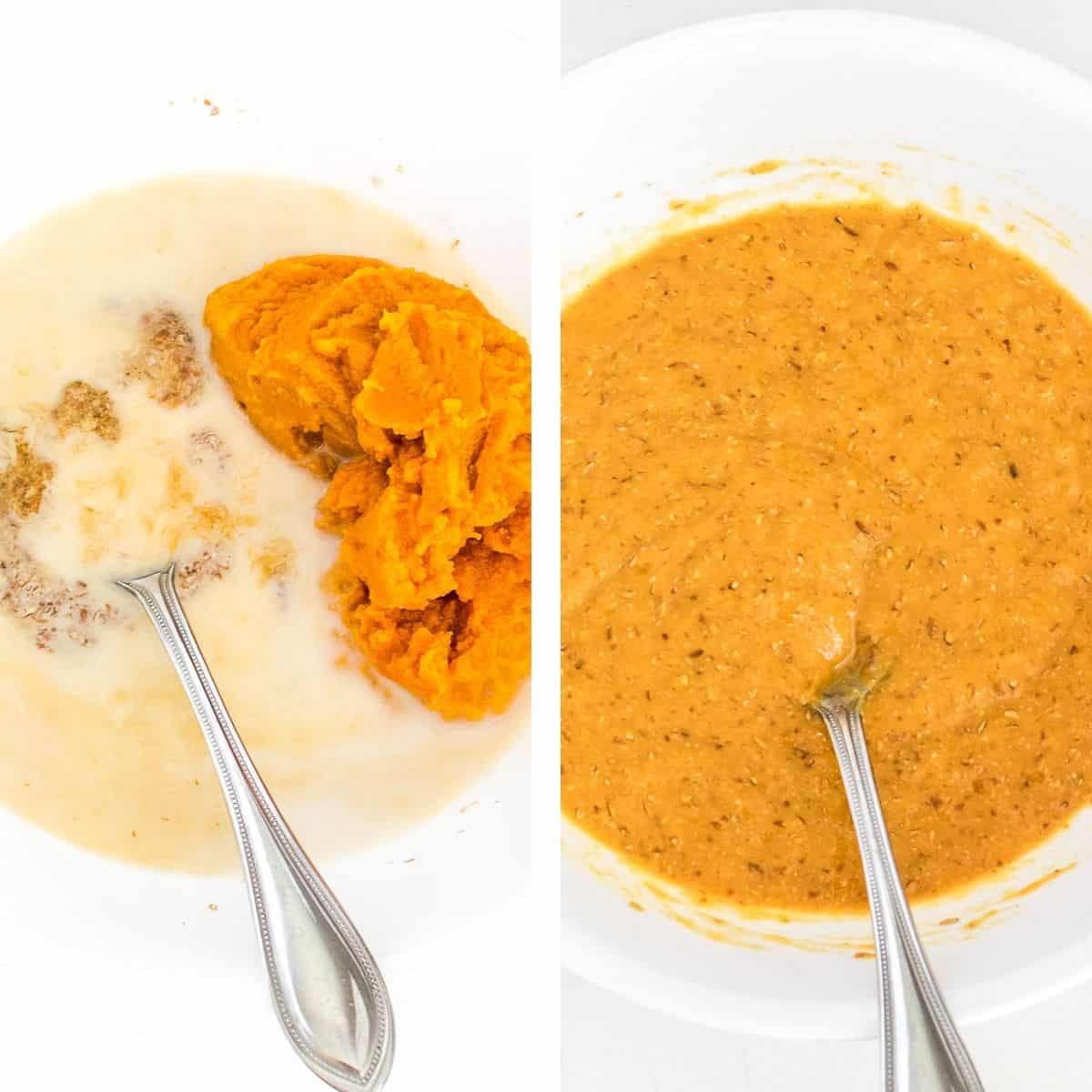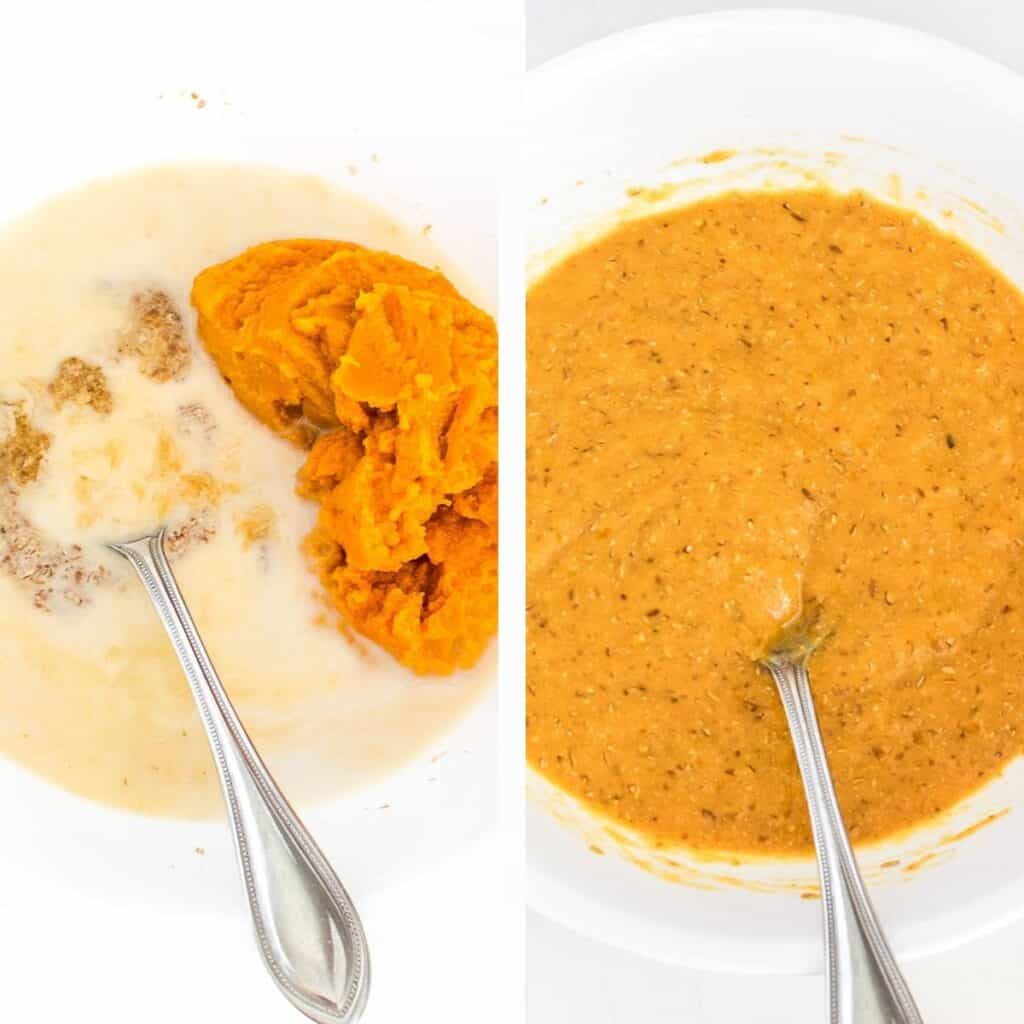 Next, I added rest of the dry ingredients to it and whipped it into a soft batter.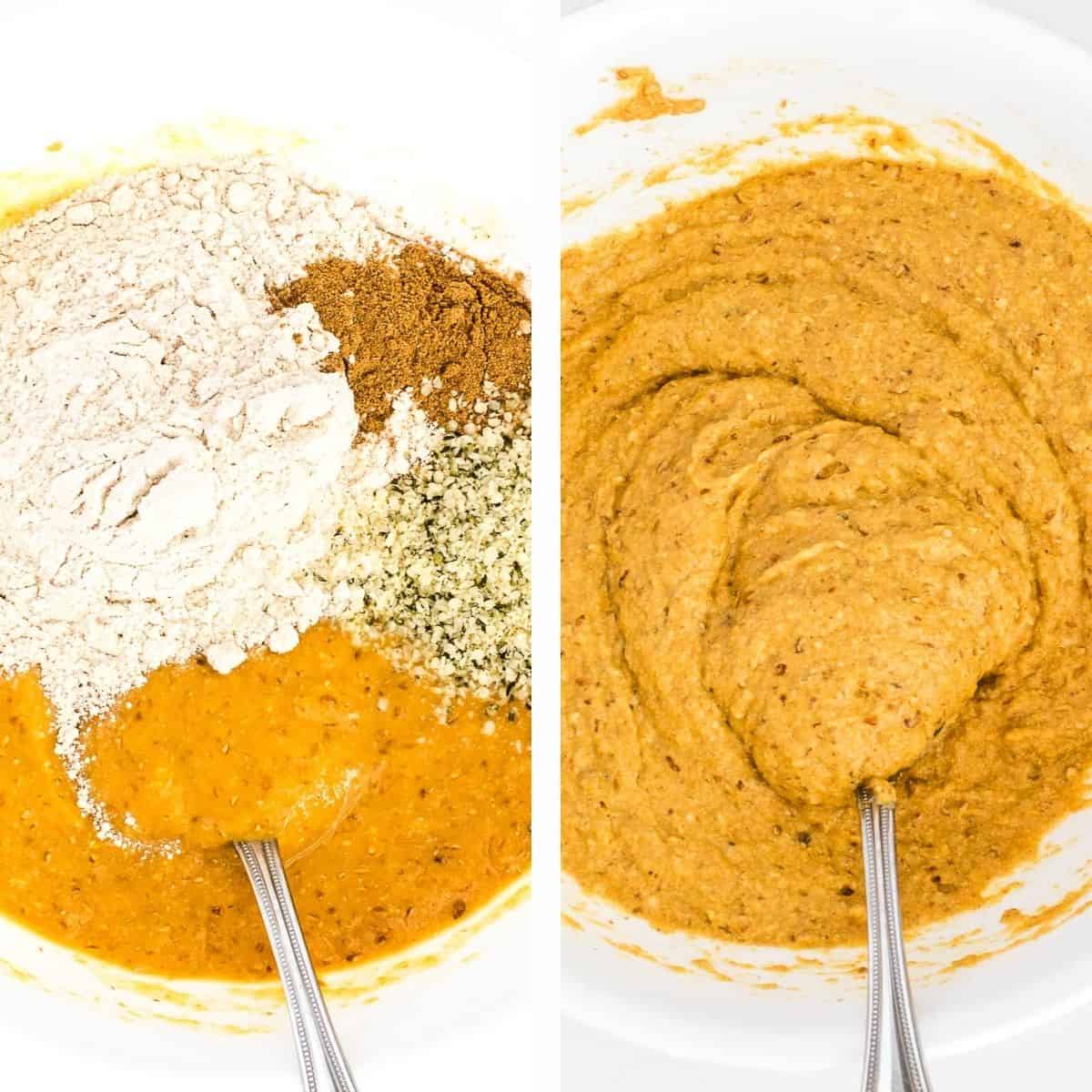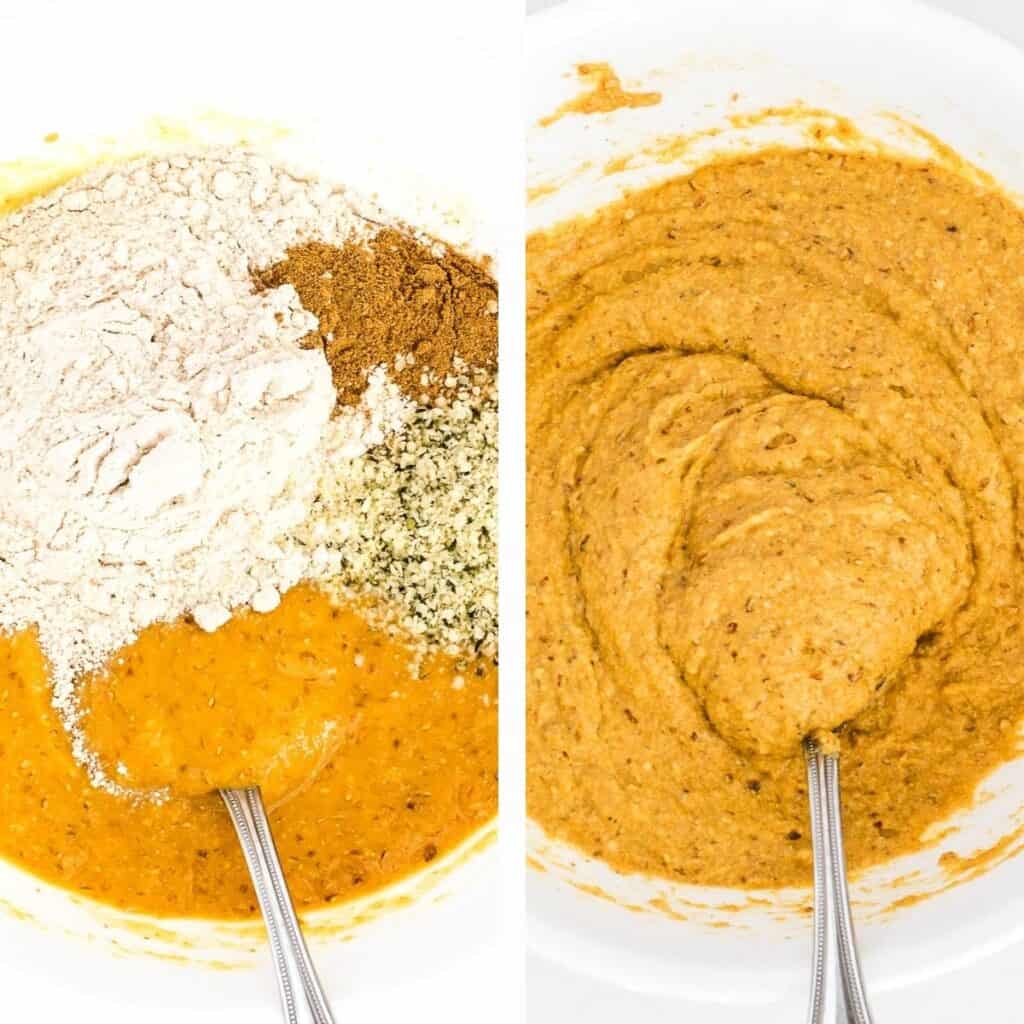 Thereafter, I heated a griddle/nonstick pan and greased it with a cooking spray.
Afterwards, I poured ¼ cup of the batter on the warm pan and shaped it into round with the back of a spoon.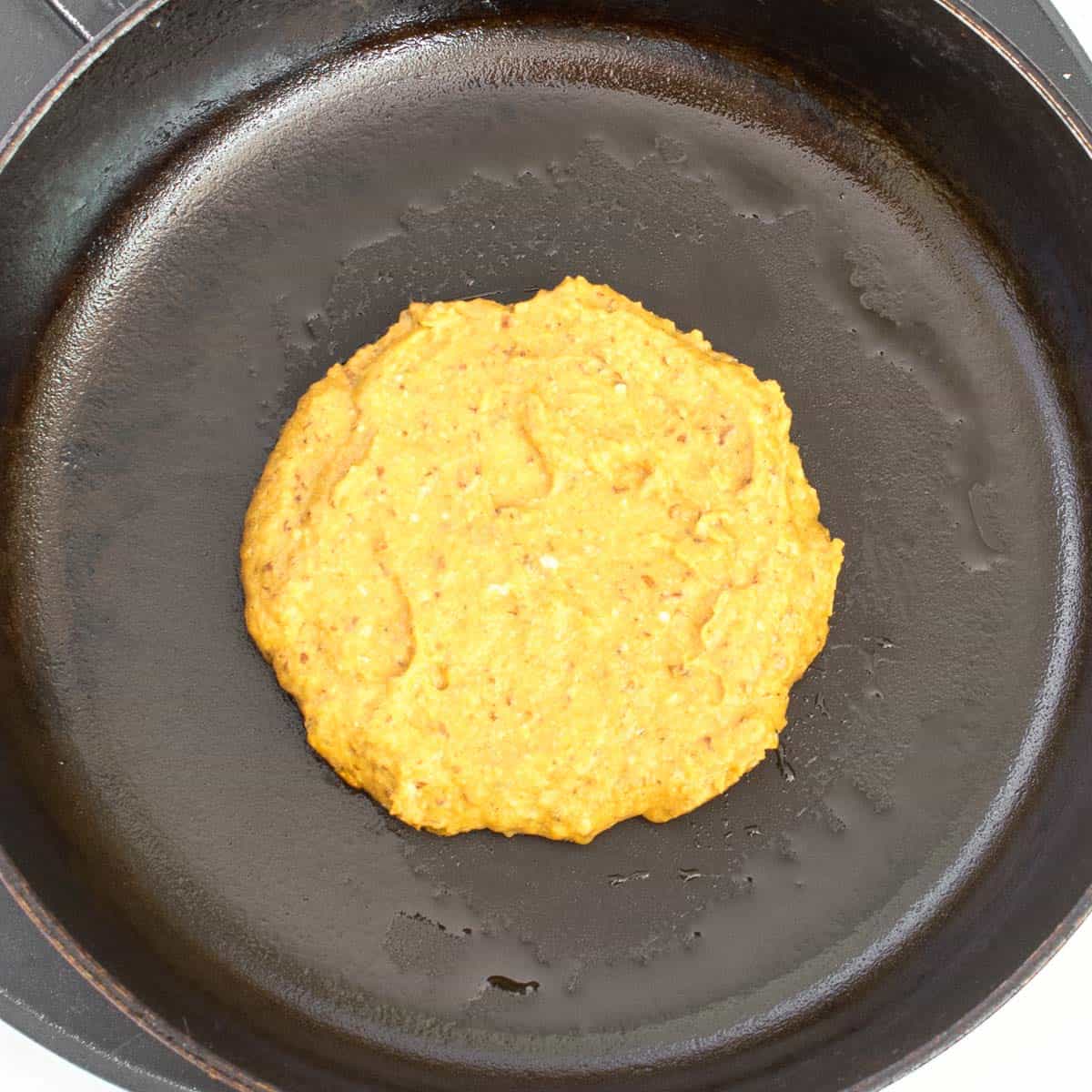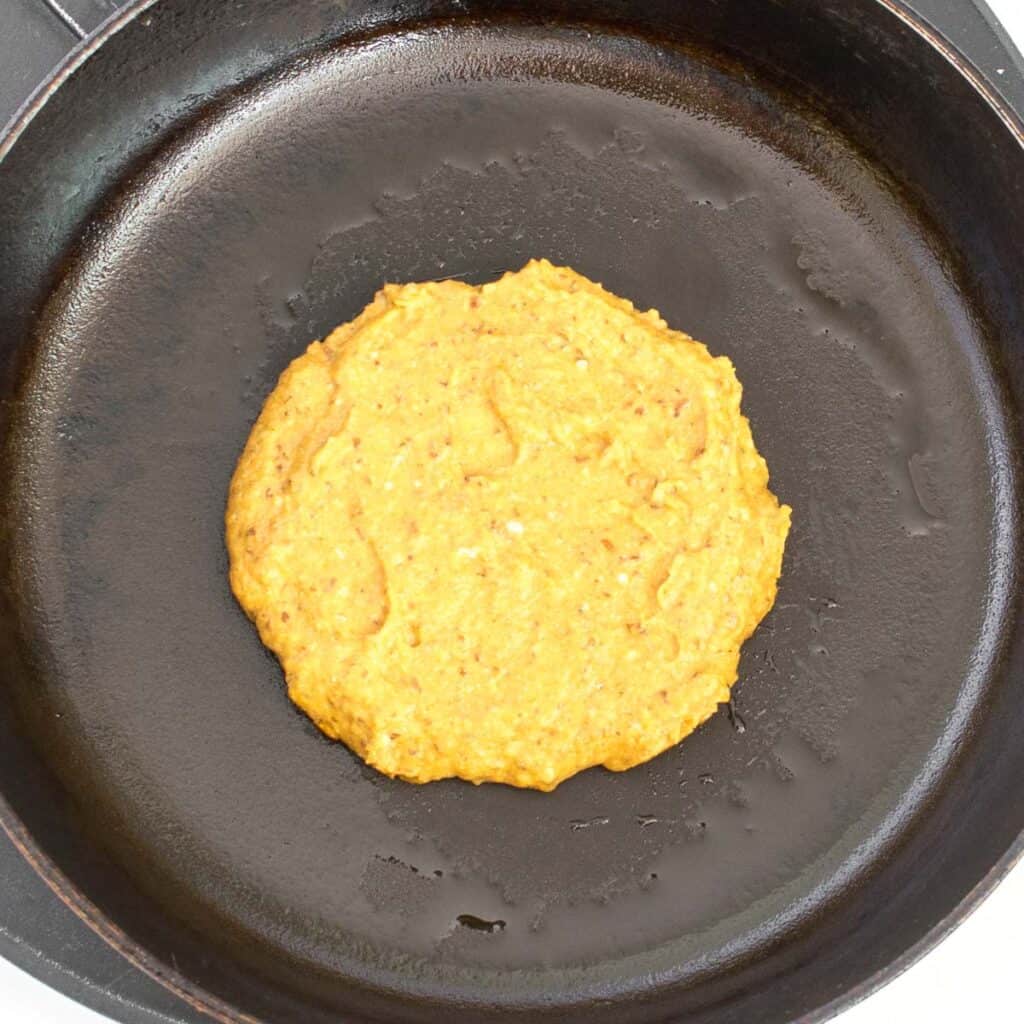 Then, I let it cook until the edges started to dry up a bit.
Next, with the help of a flat spatula, I gently flipped it to the other side and let it cook again until it was golden brown in color and dry.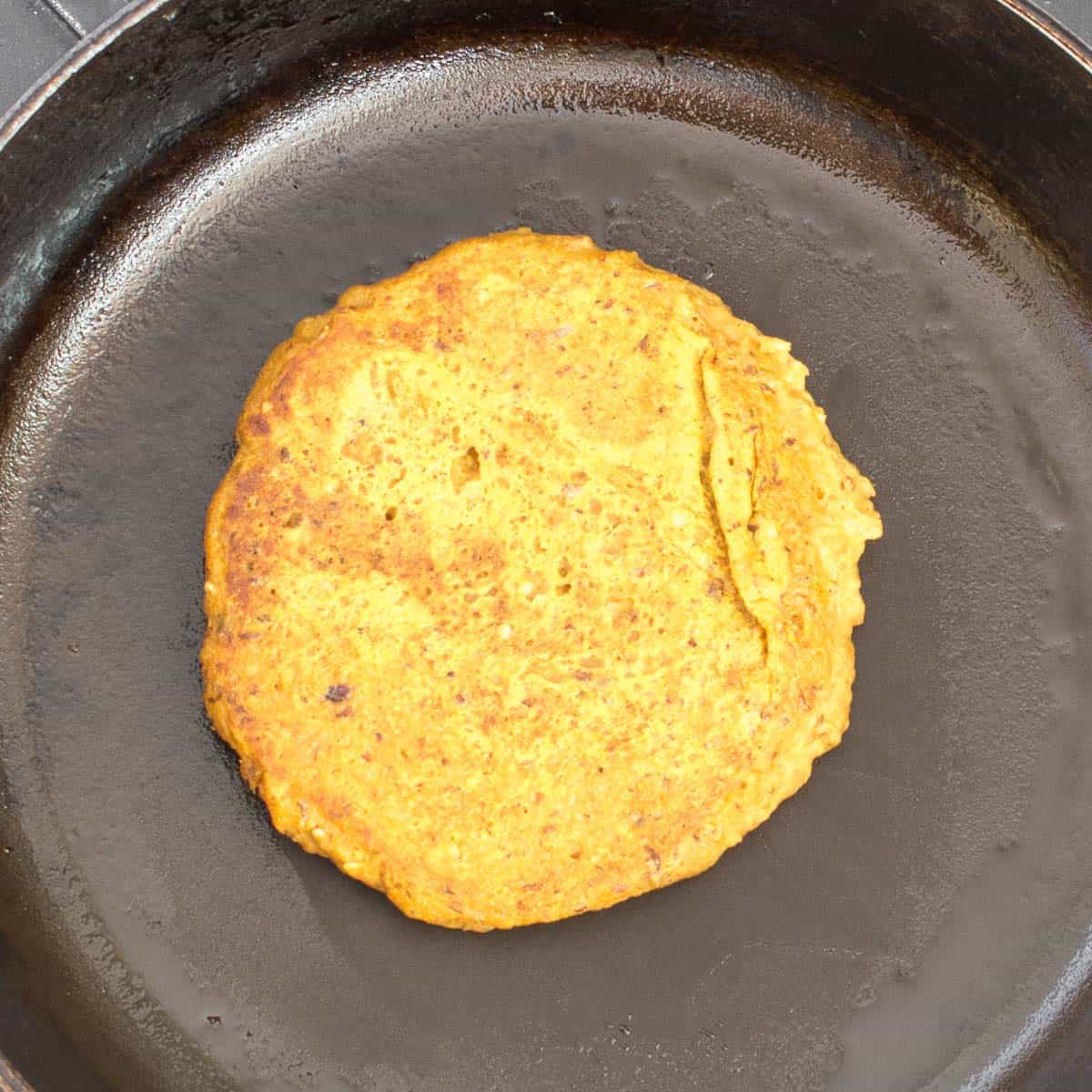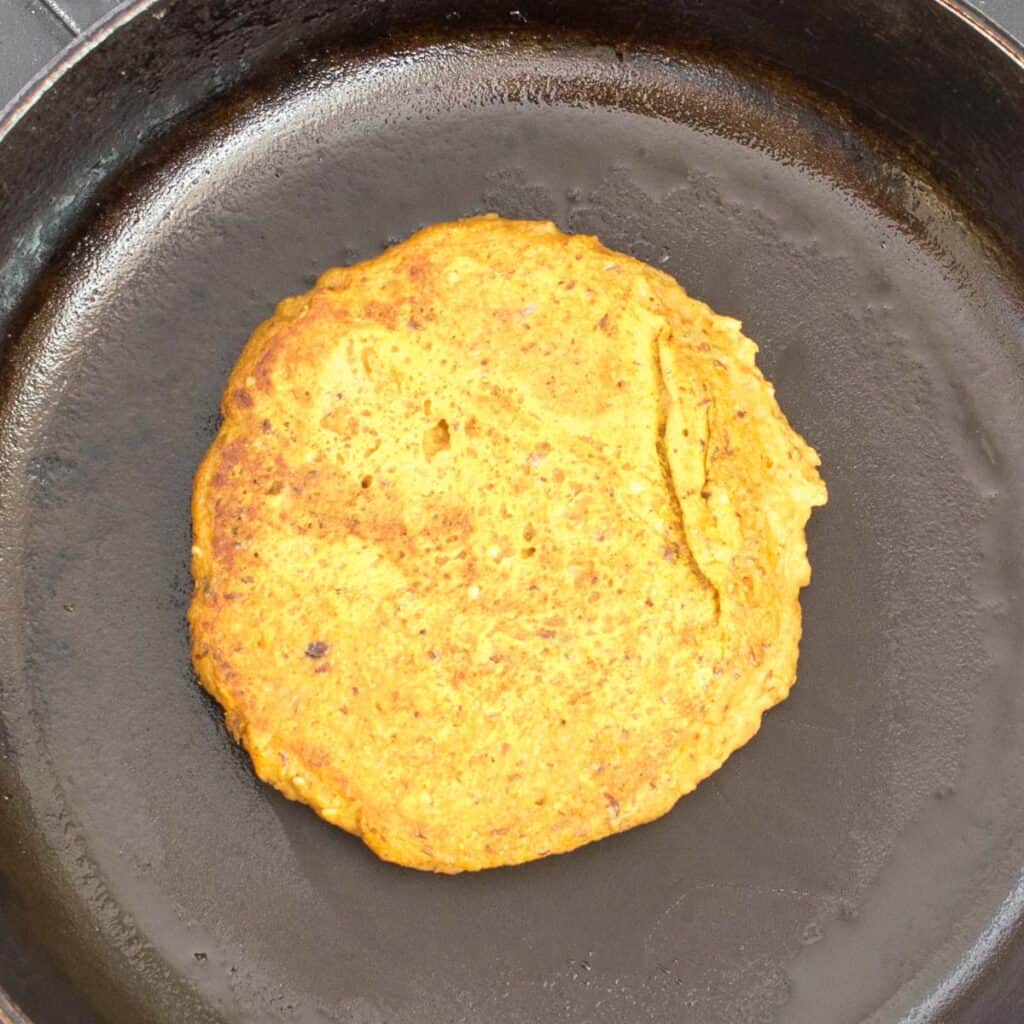 Lastly, I served them on a plate along with the toppings.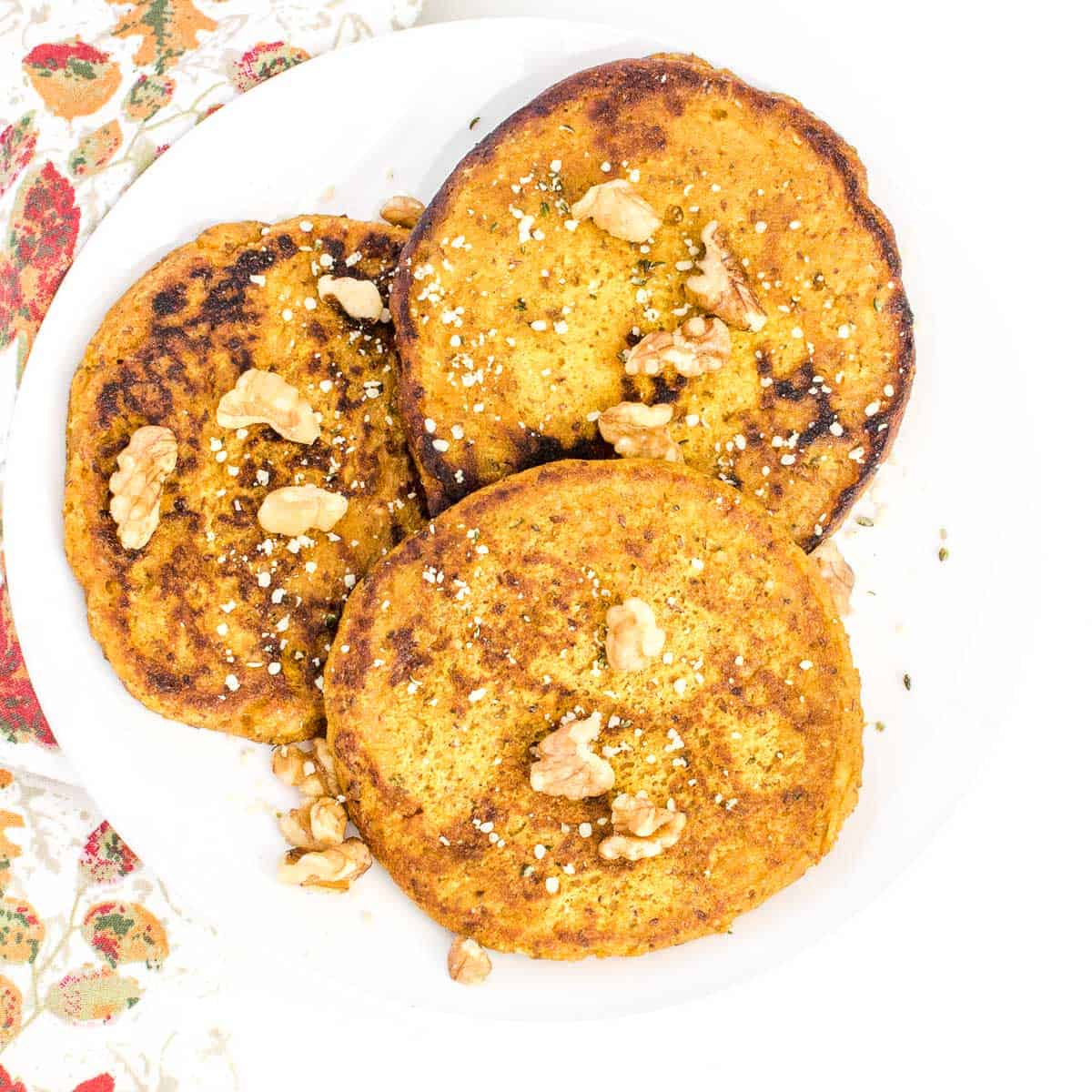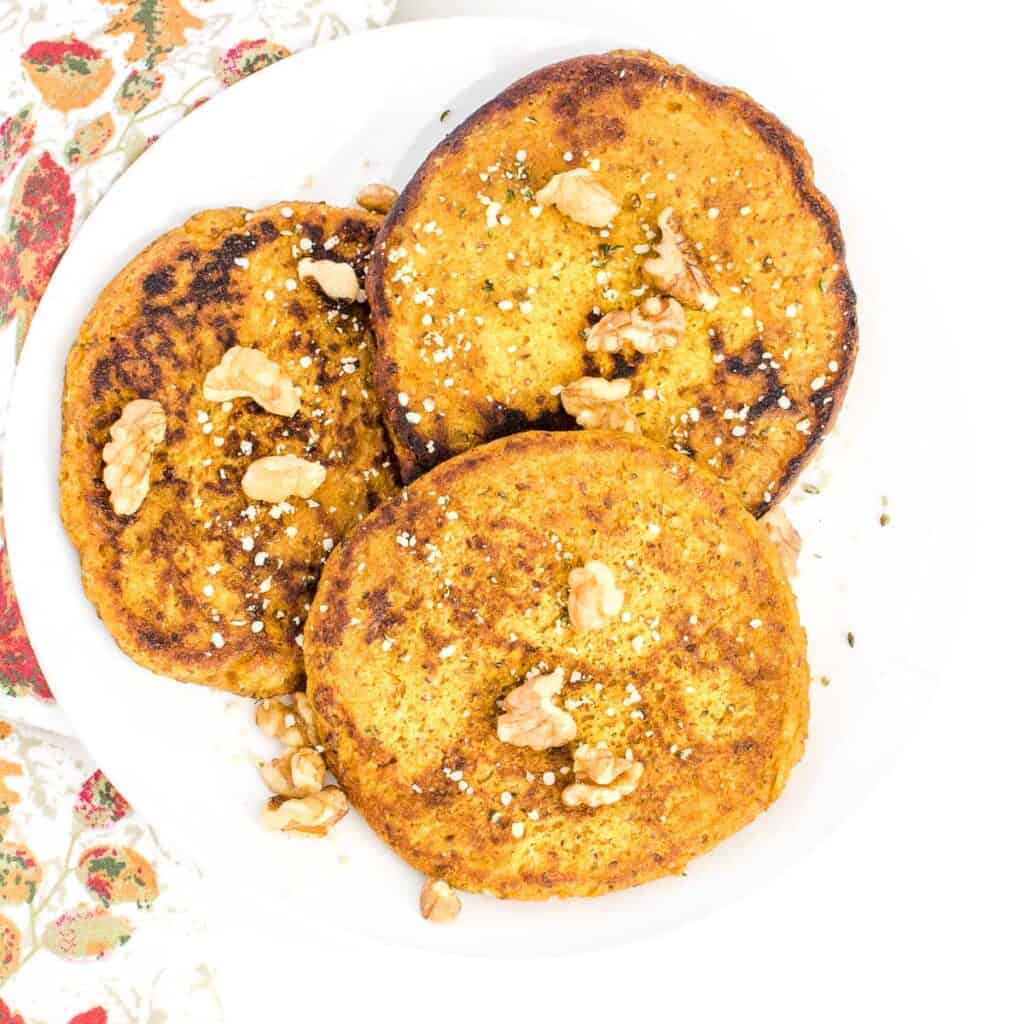 We all enjoyed our family breakfast thoroughly over the weekend.
I personally topped it with lots of fruits, nuts and seeds.
For kids, they loved it with drizzling maple syrup.
My husband enjoyed it with some vegan whipped cream along with nuts and seeds.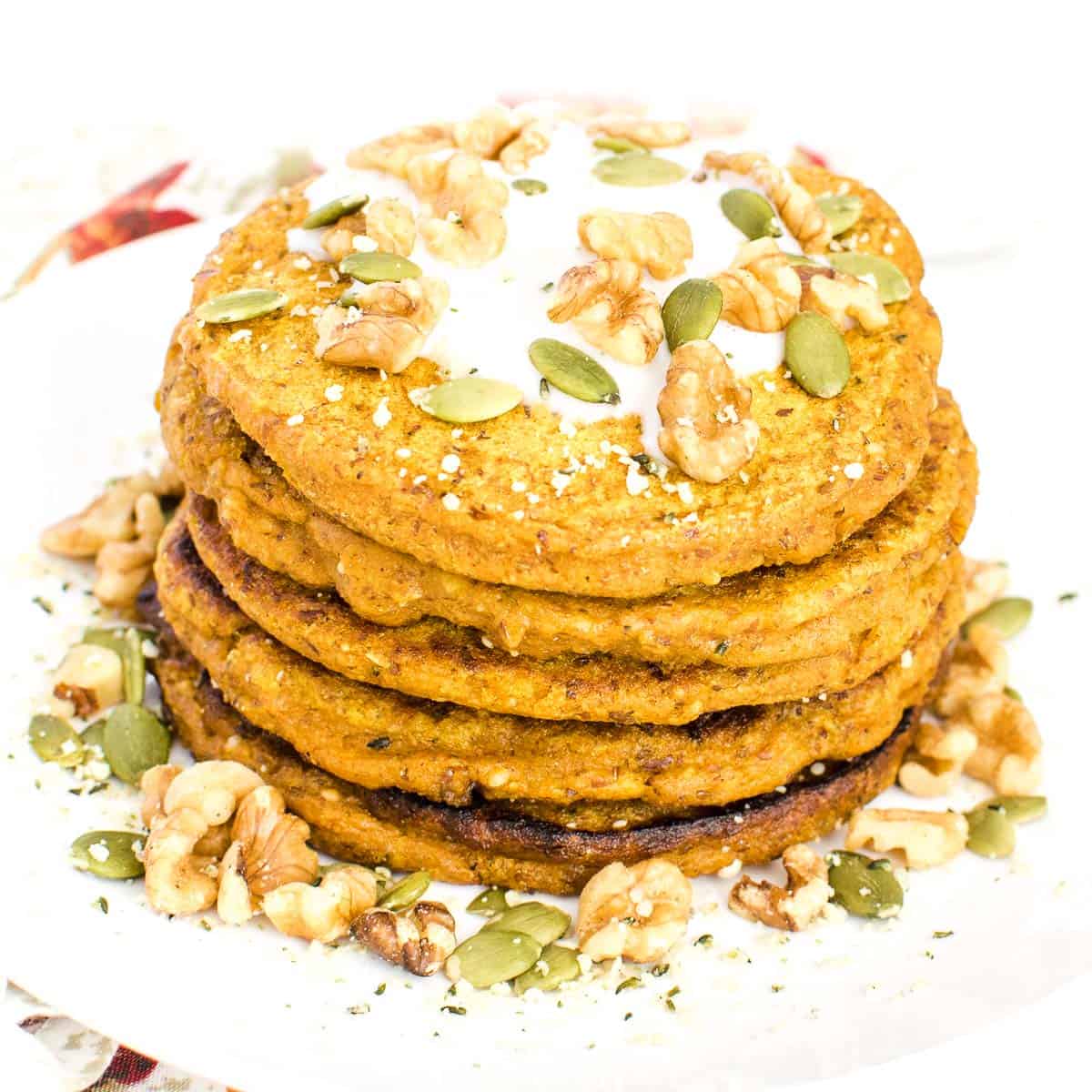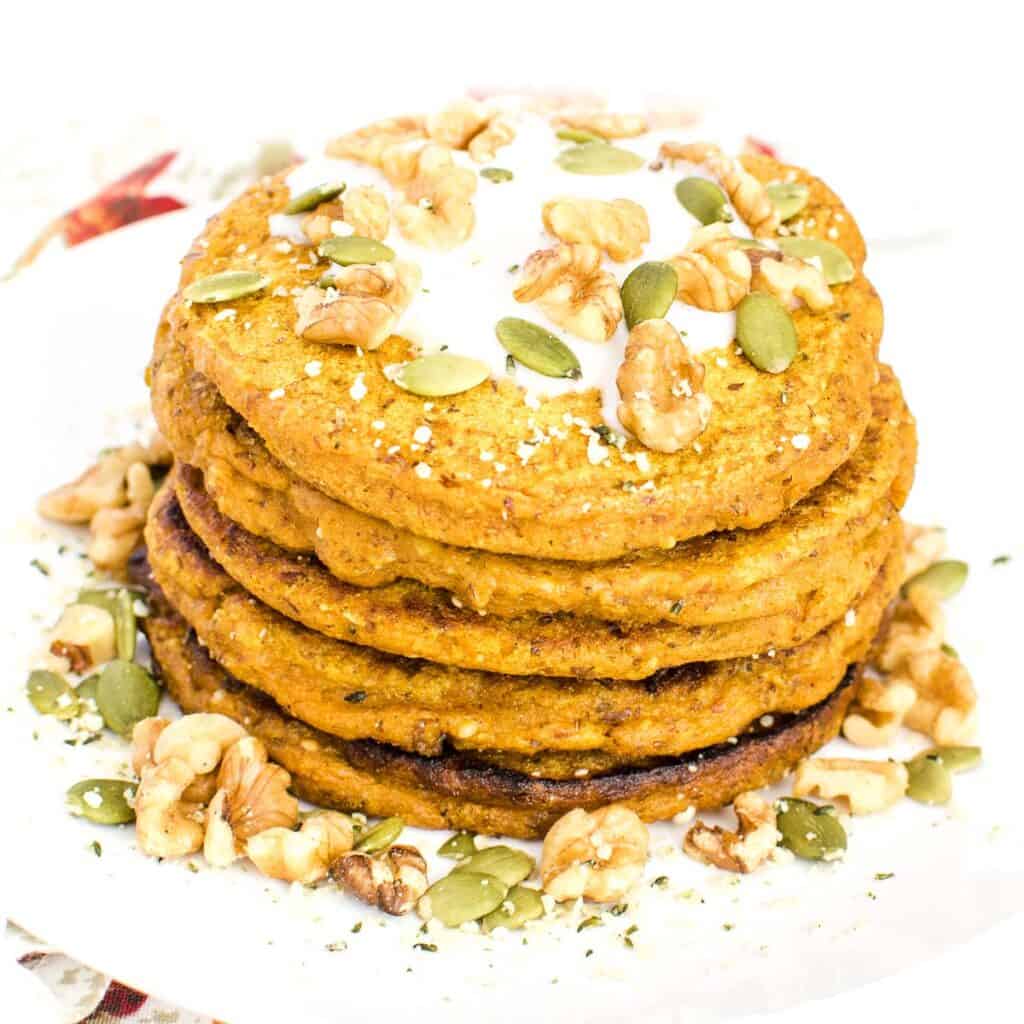 Therefore, you may simply top it with anything and enjoy it heartily.
Expert tips
It is important that the flaxmeal soaks well. You may also soak it overnight in the refrigerator. But make sure to bring it to room temperature before using it in this recipe.
Ideally, I like to use round shaped cutter on my pan and then I pour my batter for a perfect round shape.
Most importantly, cook on one side properly until net like bubbles form. After flipping cook again for a while like 4-5 minutes. Once the pancake releases from the pan make sure to touch the round edges to the hot pan/griddle so that its cooked from all sides.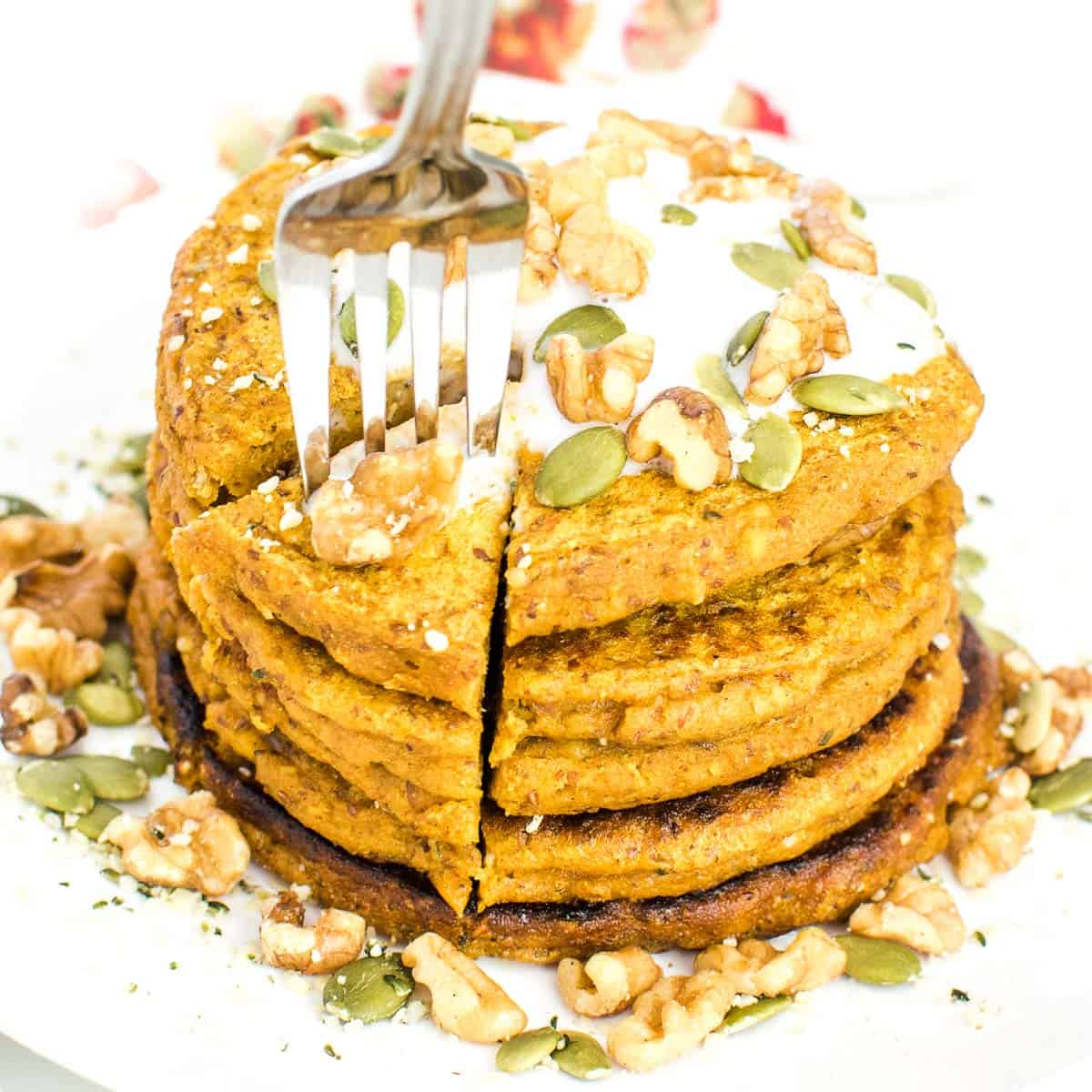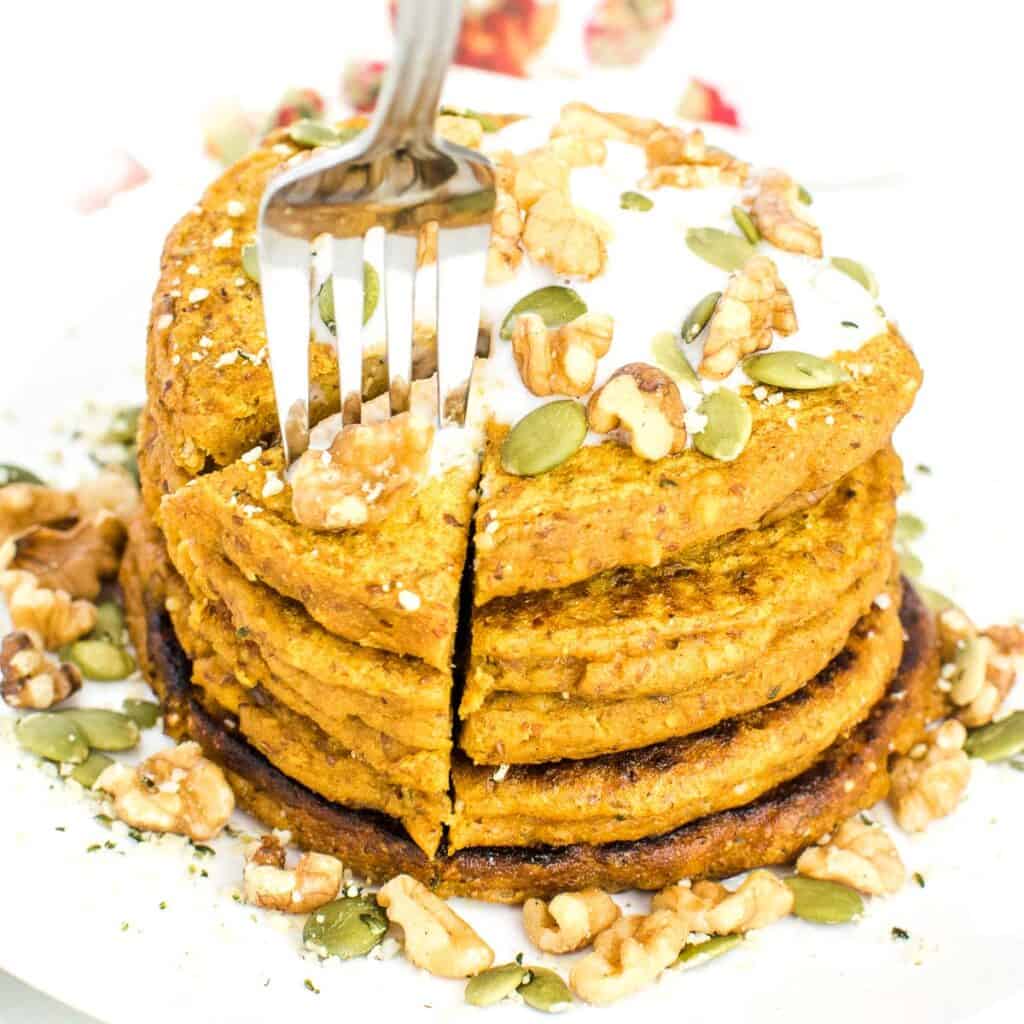 Vegan Pumpkin Pancakes FAQs
How long do they last?
They taste best when served immediately. However, refrigerate the leftovers in an air tight container for about 2 weeks. Warm it up in microwave for 10-15 seconds or in toaster oven for 5 minutes.
Are these healthy?
These are high on carbohydrates but since I used whole wheat flour it consists of good carbohydrates. It has seasonal pumpkin with nutritional benefits along with flaxmeal and hempseeds. Overall, it's a healthy breakfast recipe but if you are on a weight loss plan then make sure to stick to the servings. Moreover, the nutritional information would vary depending on your choice of toppings.
How do I make them thick and fluffier?
These are already thick and fluffy because I made its batter with dairy free milk instead of water. Moreover, the most important thing to note about a fluffier pancake is the thickness of its batter. I made this batter thick and soft.

Therefore, please follow the measurements as mentioned in the recipe to get the fluffiest and the best pumpkin pancakes.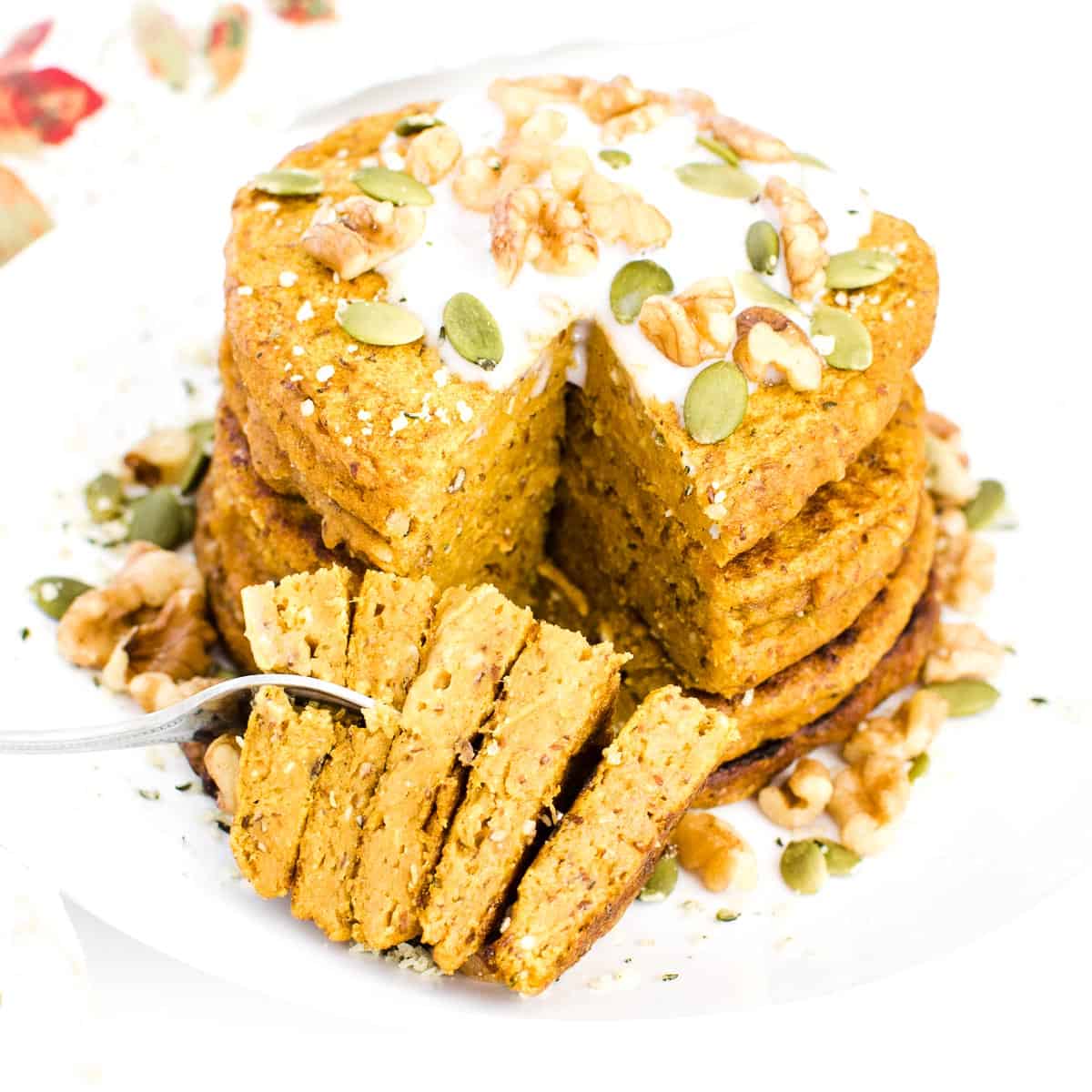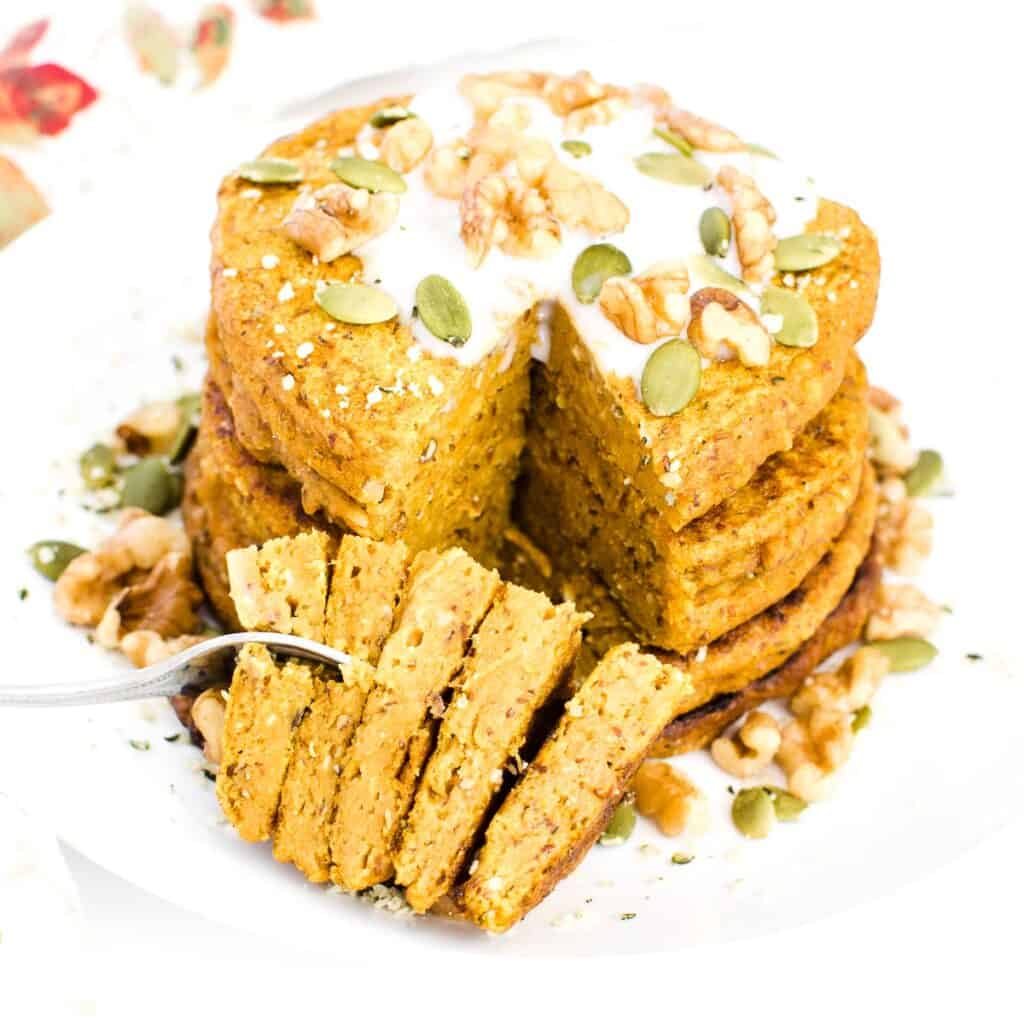 Hungry for more vegan pancakes
If you are enjoying this recipe then you may also like apple pancakes, hot chocolate buckwheat pancakes, chickpea flour pancakes and cranberry pancakes.
This post may contain affiliate links which means that if you click on them and also make a purchase, I will get a small commission. Moreover, I share only those products which I use personally and love.
I hope you enjoy this recipe as much as we did. I am very excited to hear back from you.
Did you make it?
If you get a chance to make this recipe then please leave your feedback in the comments below along with a 5-star rating. In addition, you may tag @kiipfit on Instagram with your recipe remake image because we would love to see what you cooked.
You may also checkout my cookbook for everyday comfort vegan recipes.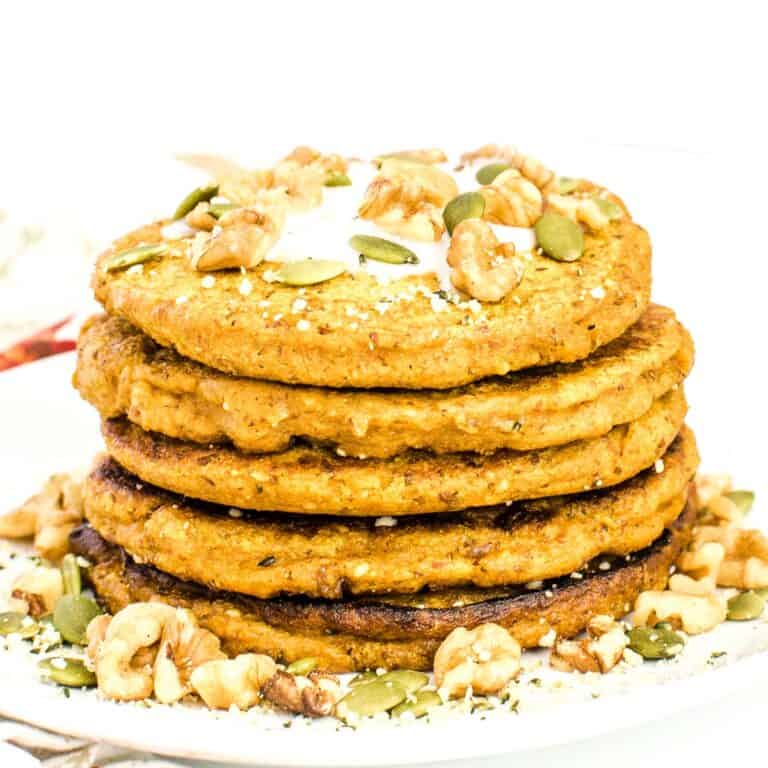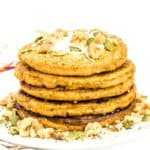 Print Recipe
Vegan Pumpkin Pancakes
These one bowl Vegan Pumpkin Pancakes are flavored with warm spices and makes perfectly healthy Fall breakfast. Its soft, fluffy and an easy recipe to enjoy with your family.
Instructions
In a large mixing bowl soak flaxmeal until it thickens well. Add, plant milk, vanilla extract, pumpkin puree and maple syrup to it. Whip it well.

Now, add the rest of the dry ingredients (whole wheat flour, baking powder, hempseeds, salt, pumpkin pie spice) and fold it with a spatula until a thick but soft batter is formed. (Make sure all the ingredients are well blended with each other).

Heat a griddle or a nonstick pan and grease it well with a cooking spray.

Pour about ¼ cup of the batter at the center and shape it round. Let it cook at medium-high until the edges starts to dry and a net like bubbles form at the top.

With the help of a flat spatula flip it gently to the other side and cook again for 3-4 minutes or until it cooks well through inside and dark brown in color. Once the pancake releases itself touch, with the help of spatula/tongs cook the sides of pancakes by rotating it from all sides. It tastes best when coked from all sides.

Repeat the above two steps for the rest of the batter. Place them on the serving plates. Garnish with your choice of toppings and serve.
Notes
These can be refrigerated for about 2 weeks in an air tight container.
Substitute: replace soaked flaxmeal and maple syrup with 2 large mashed bananas. Make sure to cook well until dark brown in color so that these pancakes are cooked from inside. Here, make sure to include maple syrup in your toppings to balance out the sweetness. In this case refrigerate for 4-5 days and warm it up nicely before consuming.
To make it absolutely nut free oat milk works great here.
This recipe makes 8 pancakes and the serving size is 2 pancakes per person.
The nutritional value will vary depending on your choice of toppings.
Nutrition
Calories:
213
kcal
|
Carbohydrates:
34
g
|
Protein:
11
g
|
Fat:
5
g
|
Saturated Fat:
1
g
|
Polyunsaturated Fat:
9
g
|
Monounsaturated Fat:
2
g
|
Sodium:
300
mg
|
Potassium:
450
mg
|
Fiber:
8
g
|
Sugar:
10
g
|
Vitamin A:
9536
IU
|
Vitamin C:
3
mg
|
Calcium:
112
mg
|
Iron:
3
mg