Crispy and satisfying, Mushroom Avocado Toast is a combination of umami flavors of mashed creamy avocado and herbed mushrooms on your favorite bread. Its easy, quick and a perfect savory breakfast.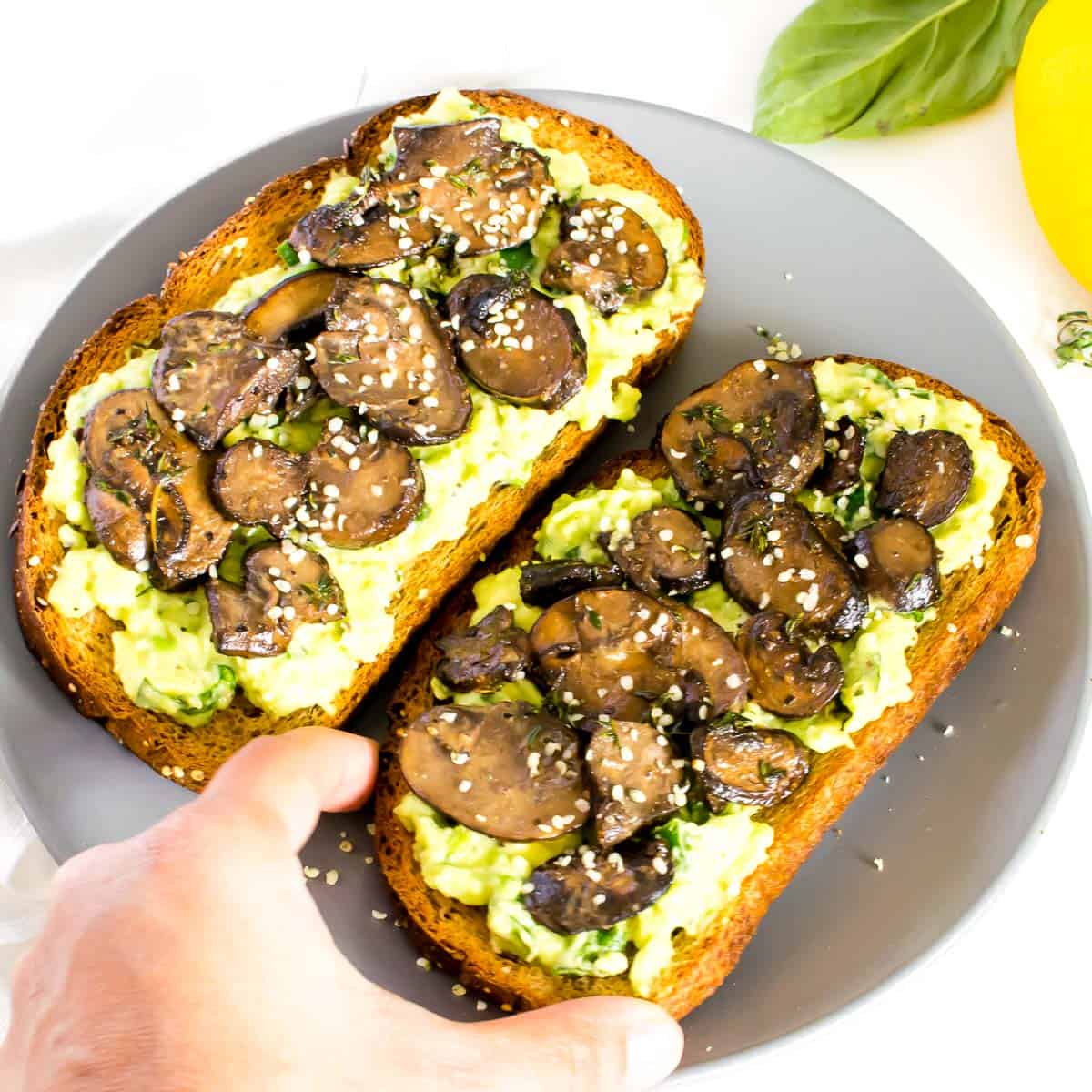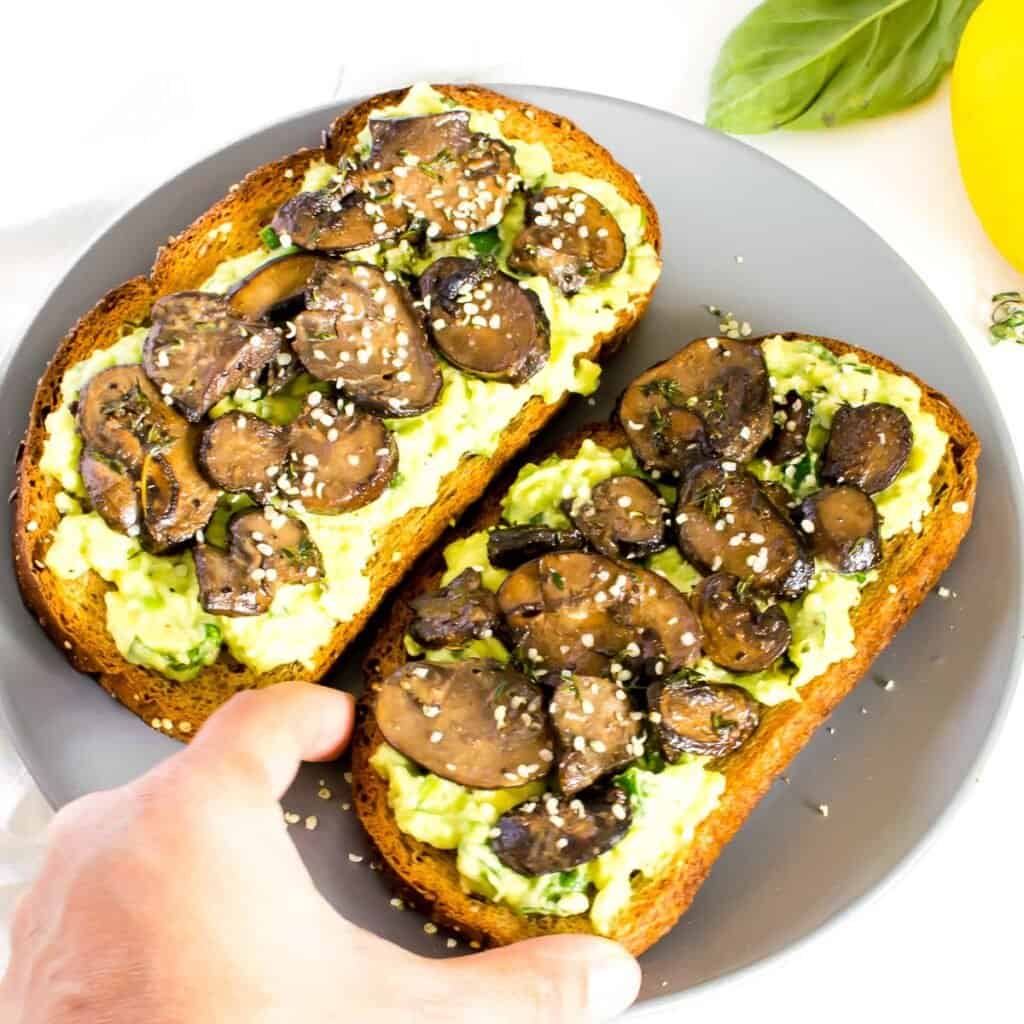 Toast with any topping is usually the most desired breakfast especially if you are on the go. For me, I like to start my day with savory breakfast and this creamy mushroom avocado toast is the most comforting morning meal.
For a high protein breakfast option that tastes like dessert, I love to make tiramisu oatmeal.
Sometimes, for a warm bowl of comforting breakfast, I like my millet porridge.
Its simple quick and warm with meaty texture and creamy avocado on my favorite crispy bread.
Moreover, its filling and healthy and a family friendly recipe.
I love to experiment with avocado so I tried avocado milkshake and it was delish.
Since, I am so fond of mushrooms I always make stuffed mushrooms recipe which is a crowd pleaser.
Health benefits of mushrooms
It's a great source of vitamin D. Along with supporting gut health mushrooms also support heart health. They are considered as super food because they are packed with many vitamins and boosts immune system along with bone health.
More mushroom recipes:
Mushroom Risotto
Air Fryer Mushrooms
Mushroom Wrap
Health benefits of avocado
First of all, it's a healthy fat that aids in weight loss and is packed with Vitamin B6, Vitamin B, riboflavin, magnesium potassium and vitamin K. It regulates appetite and keeps eyes healthy along with lowering cholesterol thereby supporting heart health. At the same time, it helps in absorbing other nutrients and improves skin and facilitates wound healing.
How to buy ripe avocado?
Usually, dark color avocadoes are ripe. It should not too green or too dark and sometimes may become confusing to pick the right one. Therefore, instead of going by the color, make sure to feel it by gently pressing the avocado with fingers. It should be soft and not mushy.
More avocado recipes:
Vegan Avocado Pasta
Air Fryer Avocado Fries
Mexican Coleslaw Salad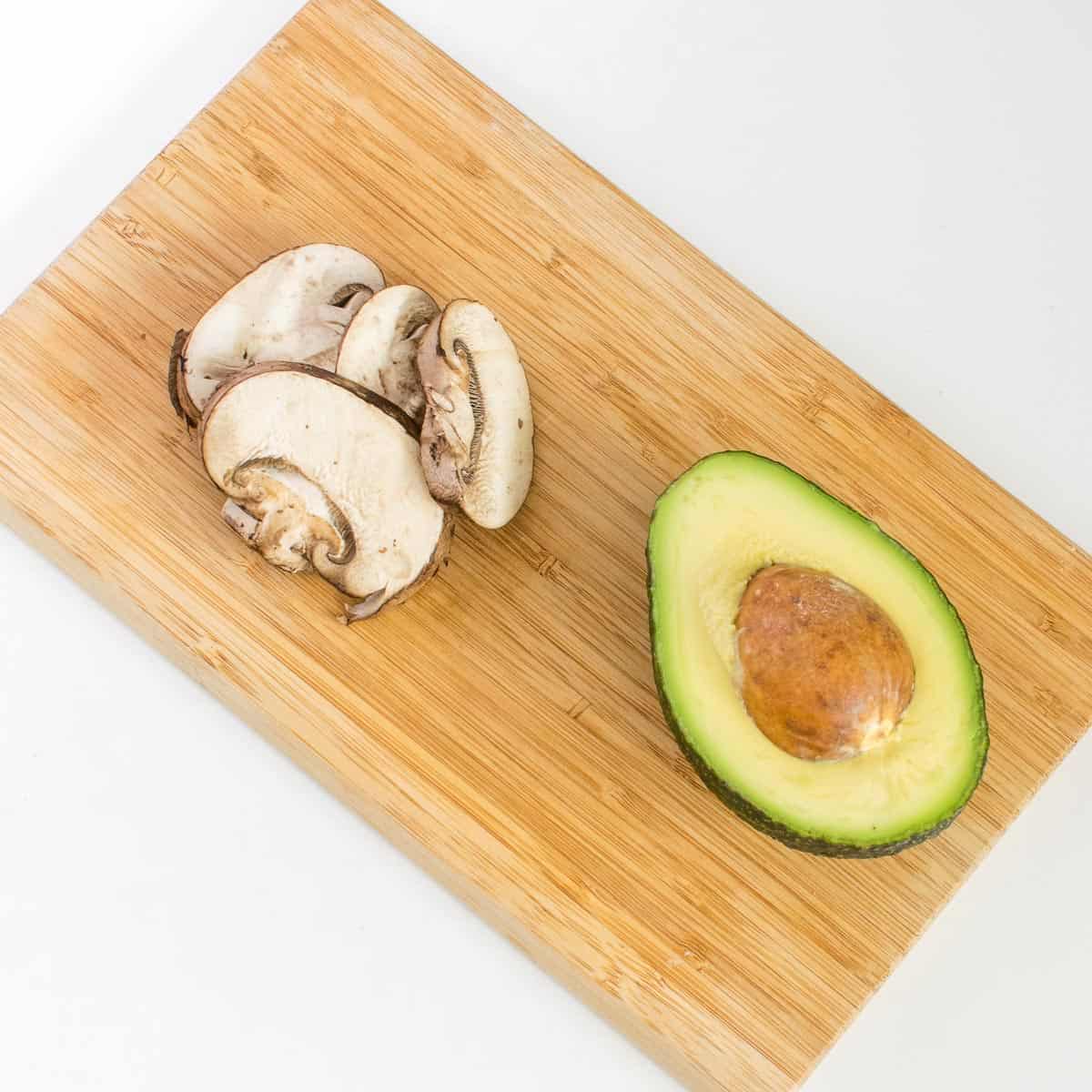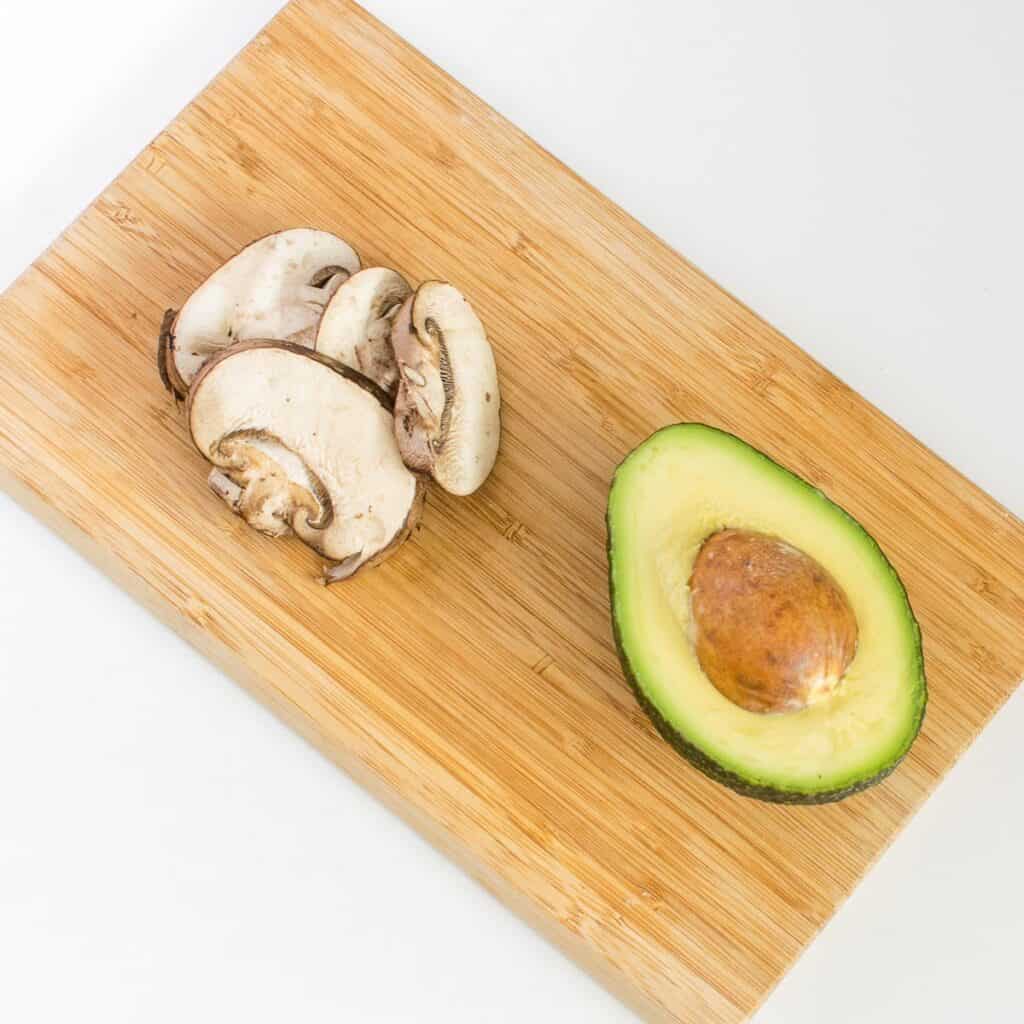 Ingredients for mushroom avocado toast recipe
Bread slices
Olive oil
Baby bella mushrooms
Thyme
Coconut milk
Salt pepper
Paprika
Avocado
Basil
Jalapeno
Lemon juice
I used these simple and easy ingredients with great taste and texture for crispy mushroom toast which is my favorite these days.
Ingredients notes:
Bread – any bread of your choice works here. However, I prefer ancient whole grains bread because its healthier and has more fiber.
Mushrooms – I personally got the ready to use sliced baby bella mushrooms for this recipe. However, sliced shitake would also work here or white mushrooms are also fine for this recipe.
Olive oil – it's the healthiest fat that I like but vegan butter to sauté mushrooms also tastes really good.
Herbs – I would highly recommend using fresh herbs here for the perfect taste of this vegan mushroom avocado toast.
Jalapeno – this brings a nice flavor without making it too spicy. However, you may skip this if making for kids.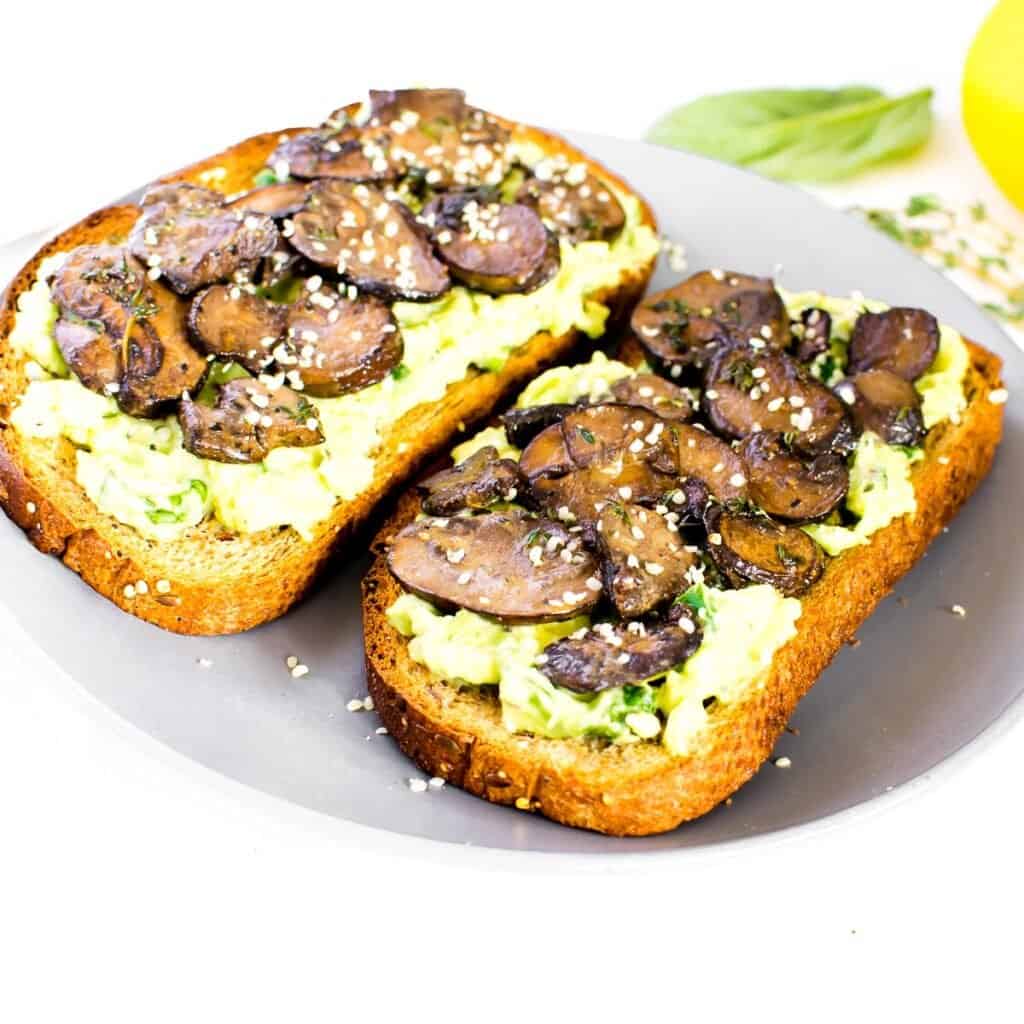 For detailed measurement of ingredients, please scroll down to the printable recipe card at the bottom of this post.
How to make Mushroom Avocado Toast
Step 1: prepare mushroom
Firstly, I heated oil in a nonstick pan and tossed in sliced mushrooms. I sautéed for few min and then let them cook covered at medium flame for 2-3 minutes. Then, I removed the lid and tossed them again scraping from the bottom. I let them cook until the they released its liquid and dried up and became brown in color.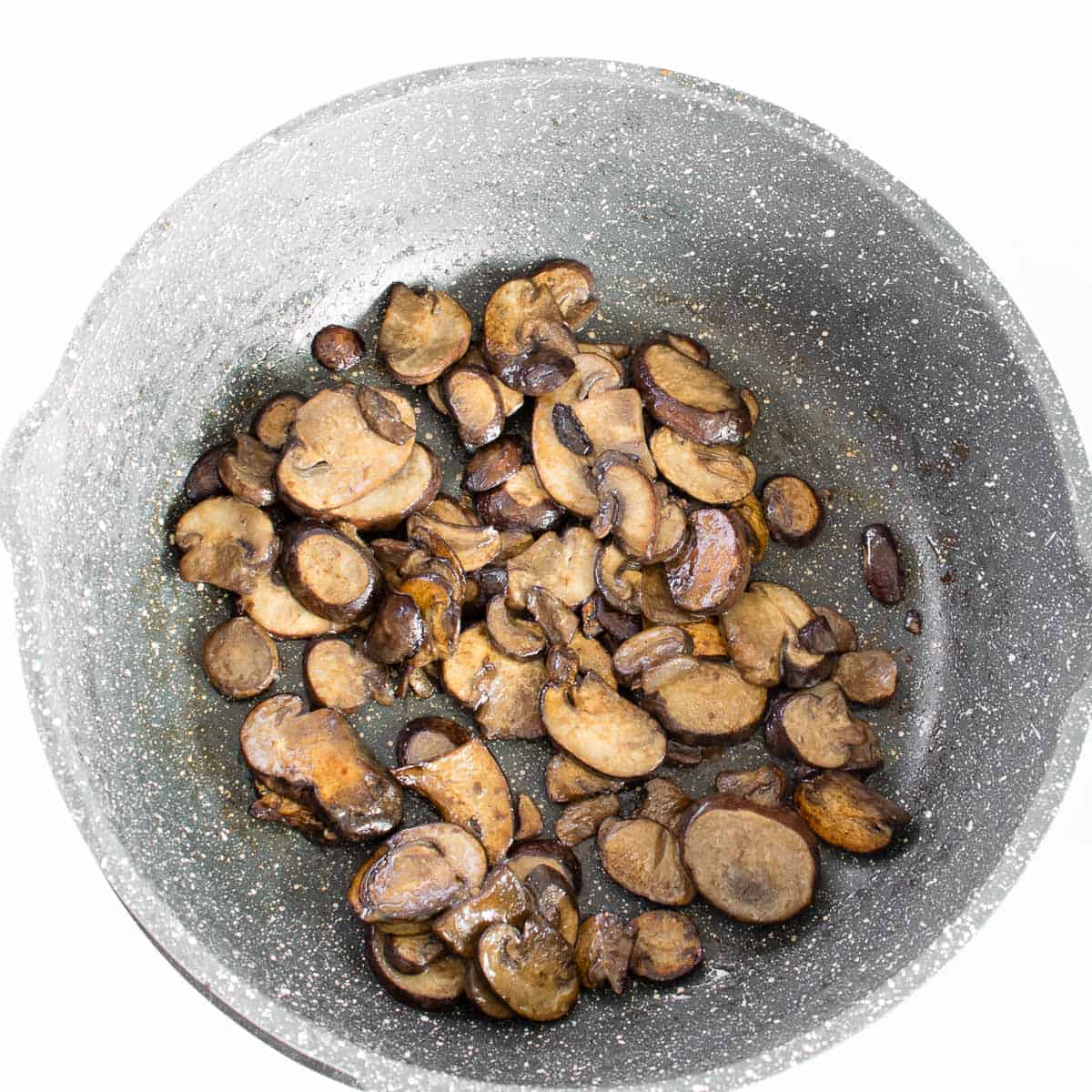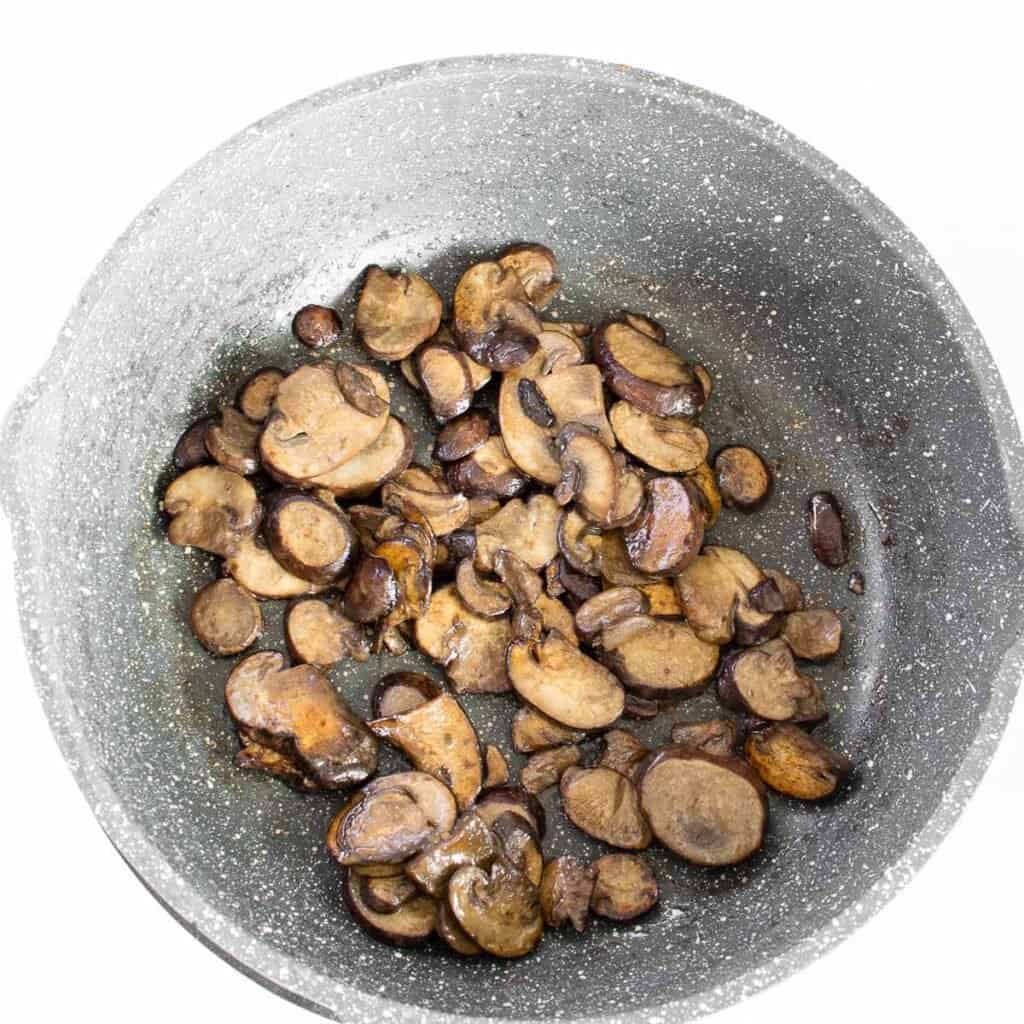 Secondly, I added thyme and the spices to it and mixed again.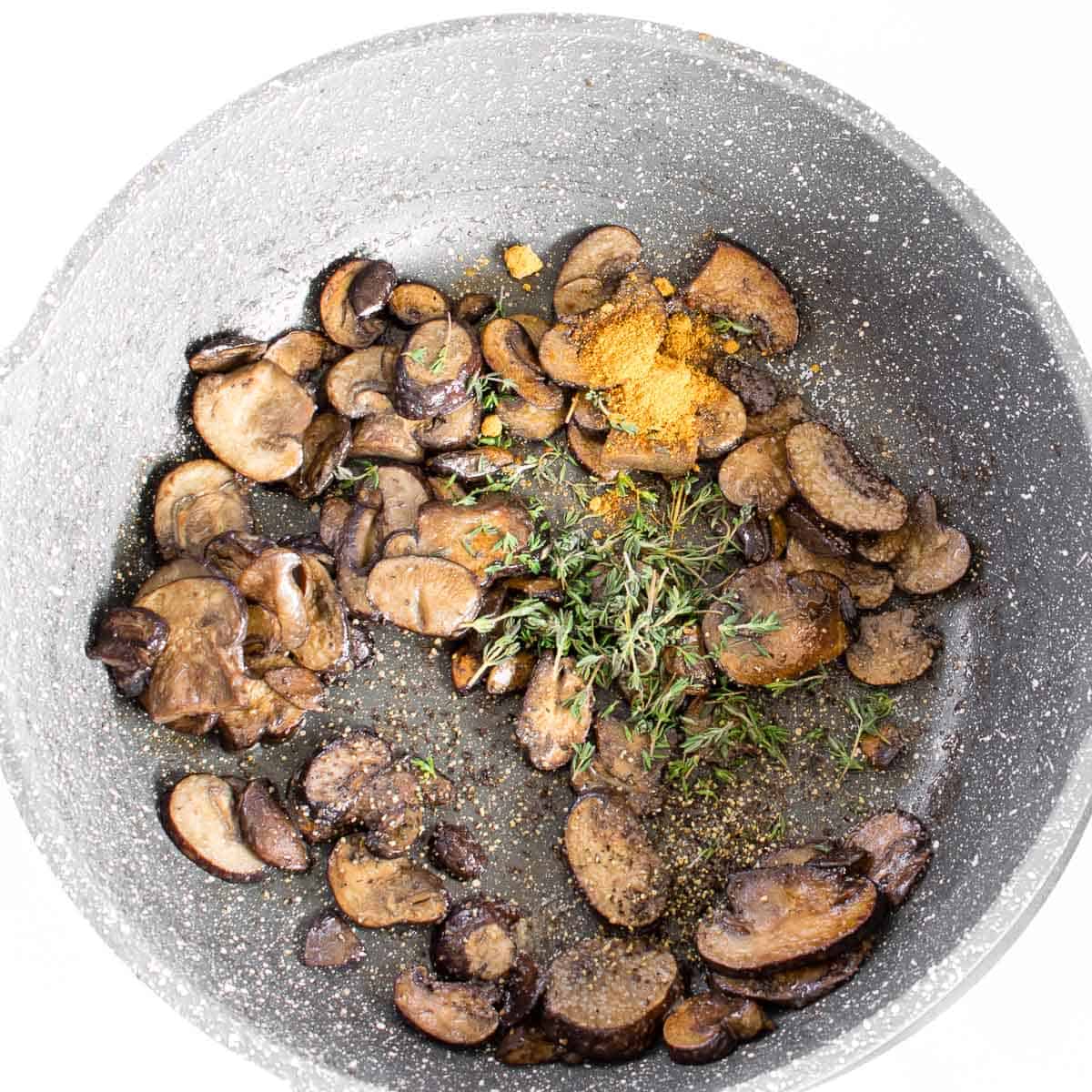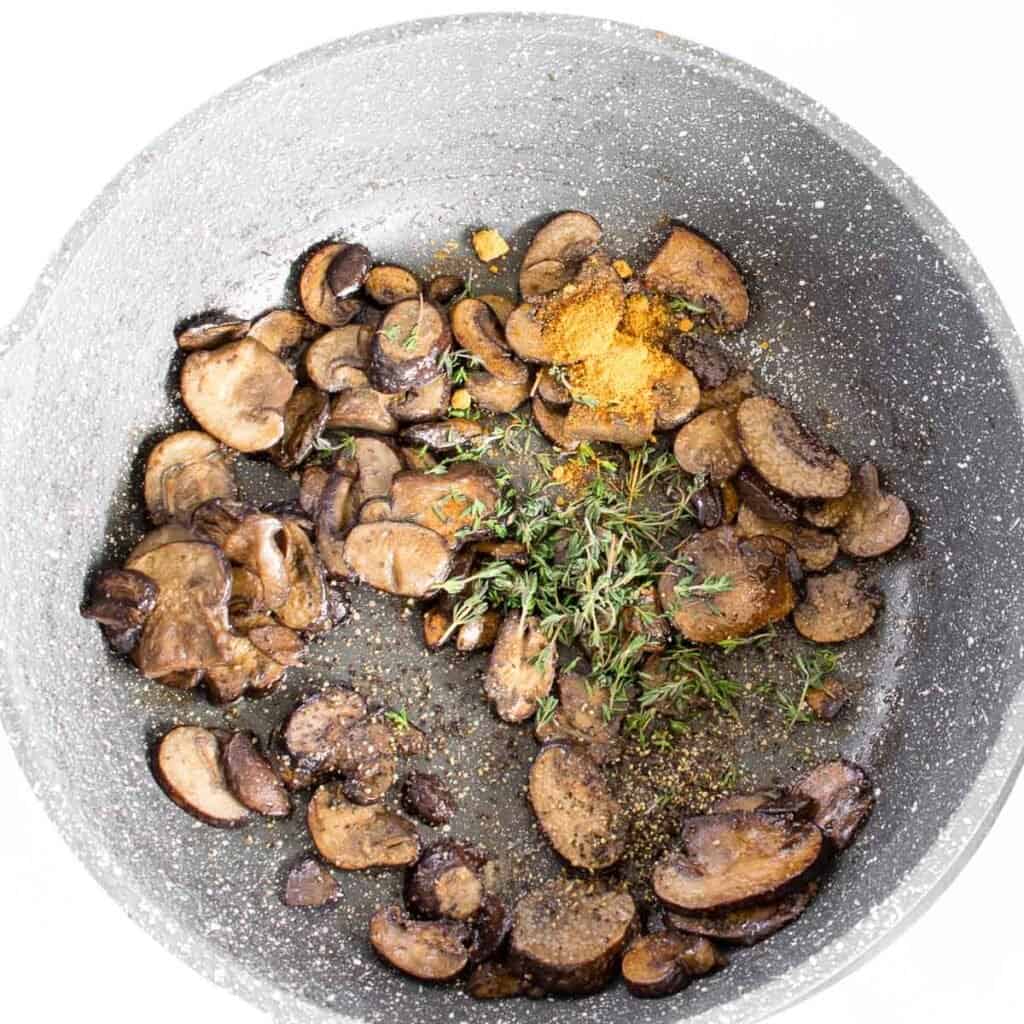 Next, I folded in coconut milk to it.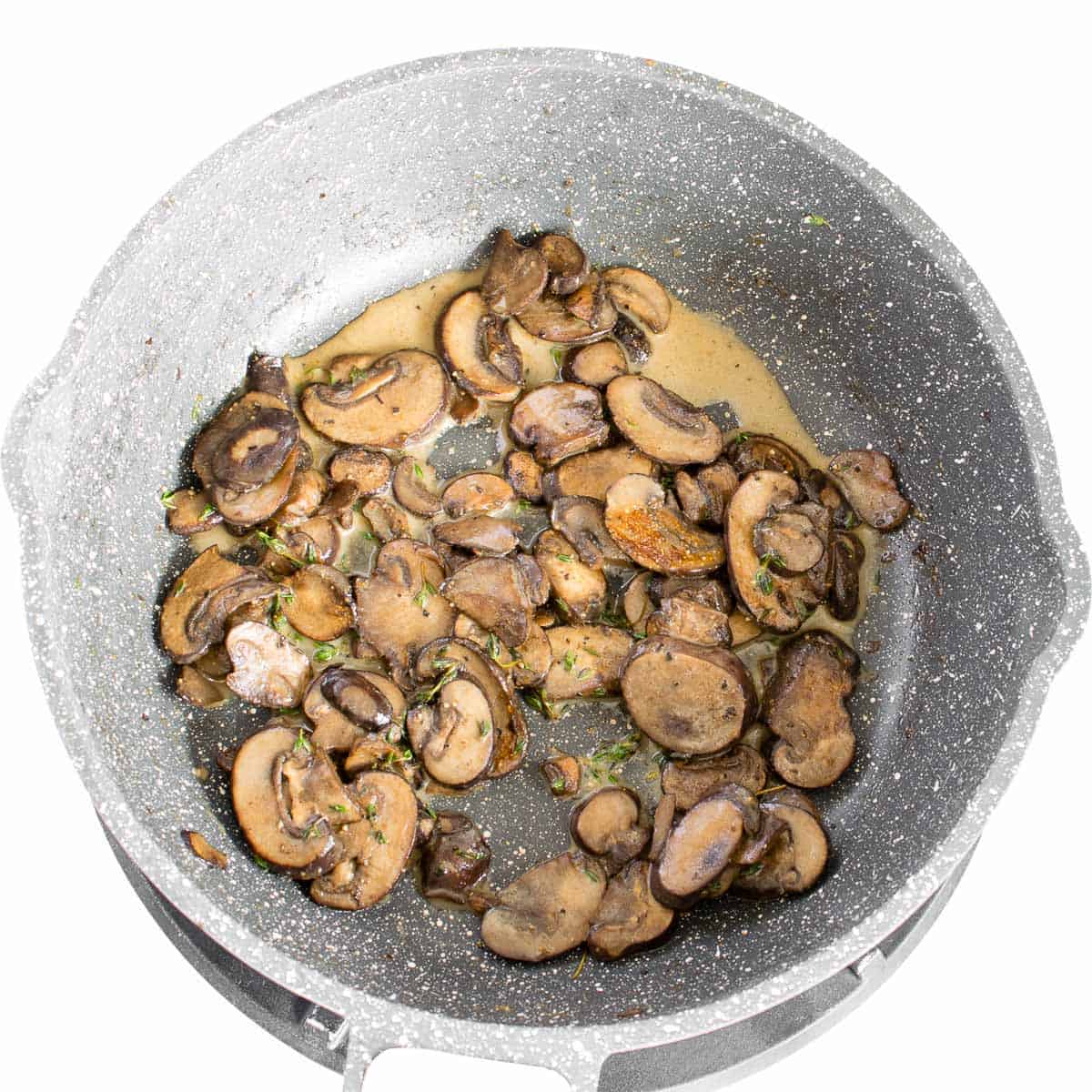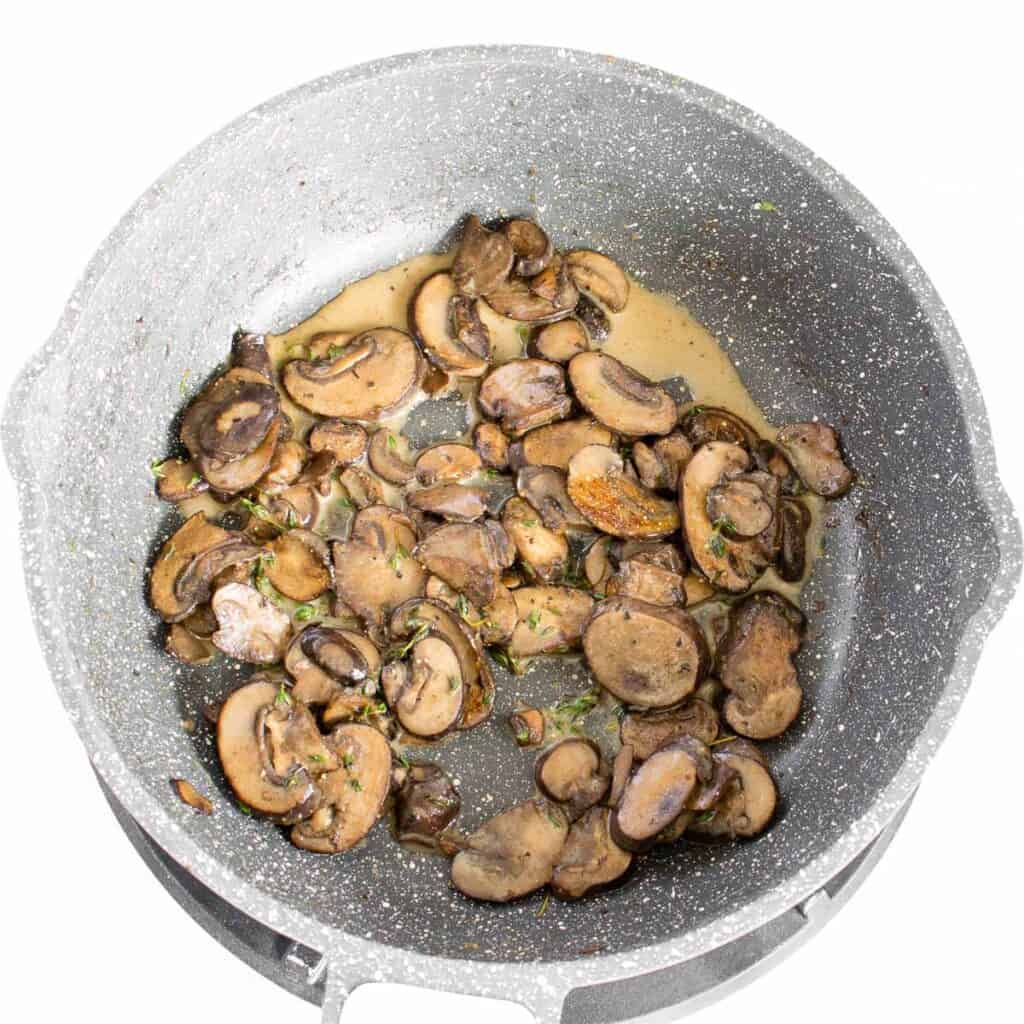 Lastly, I turned it off the moment the liquid was absorbed. I kept it aside.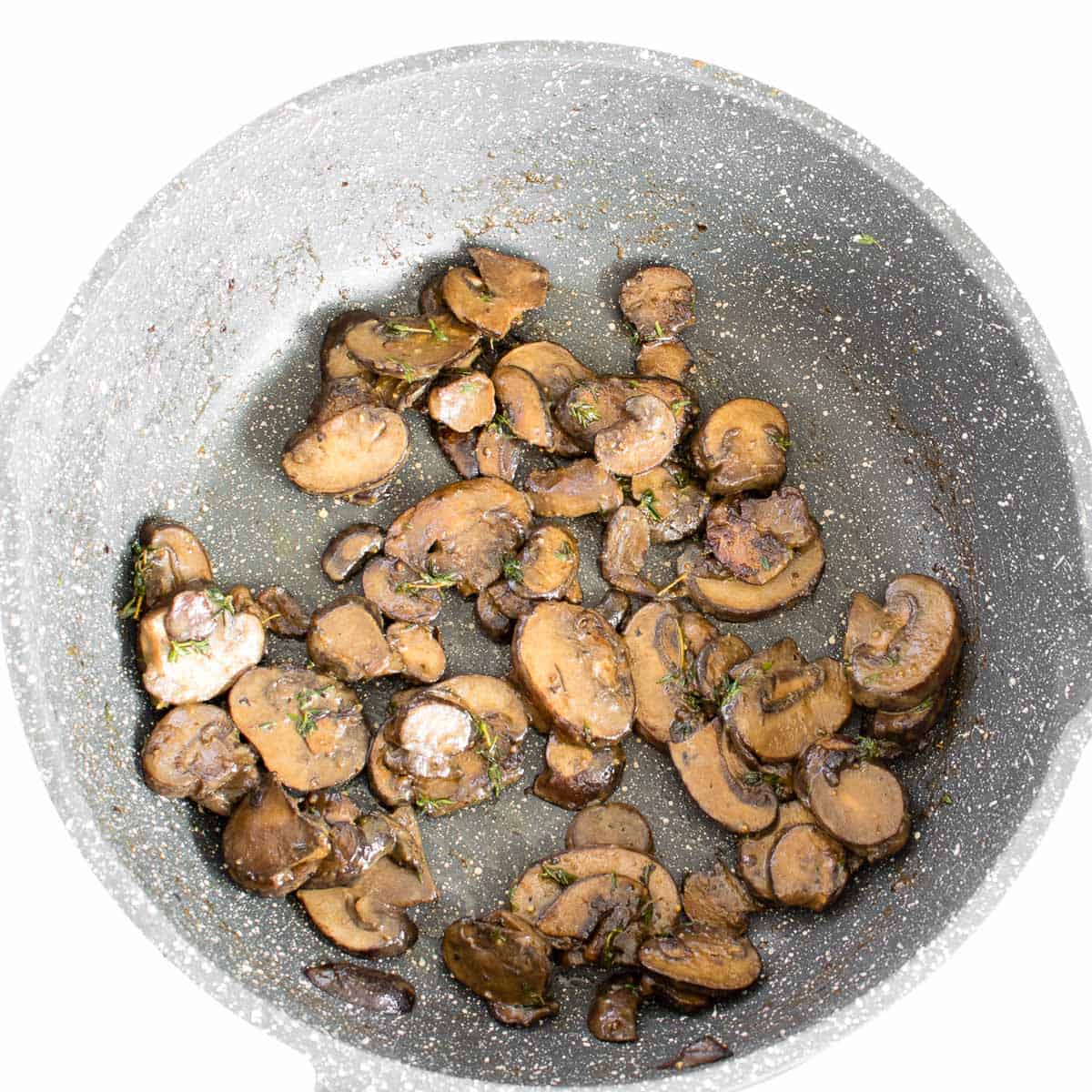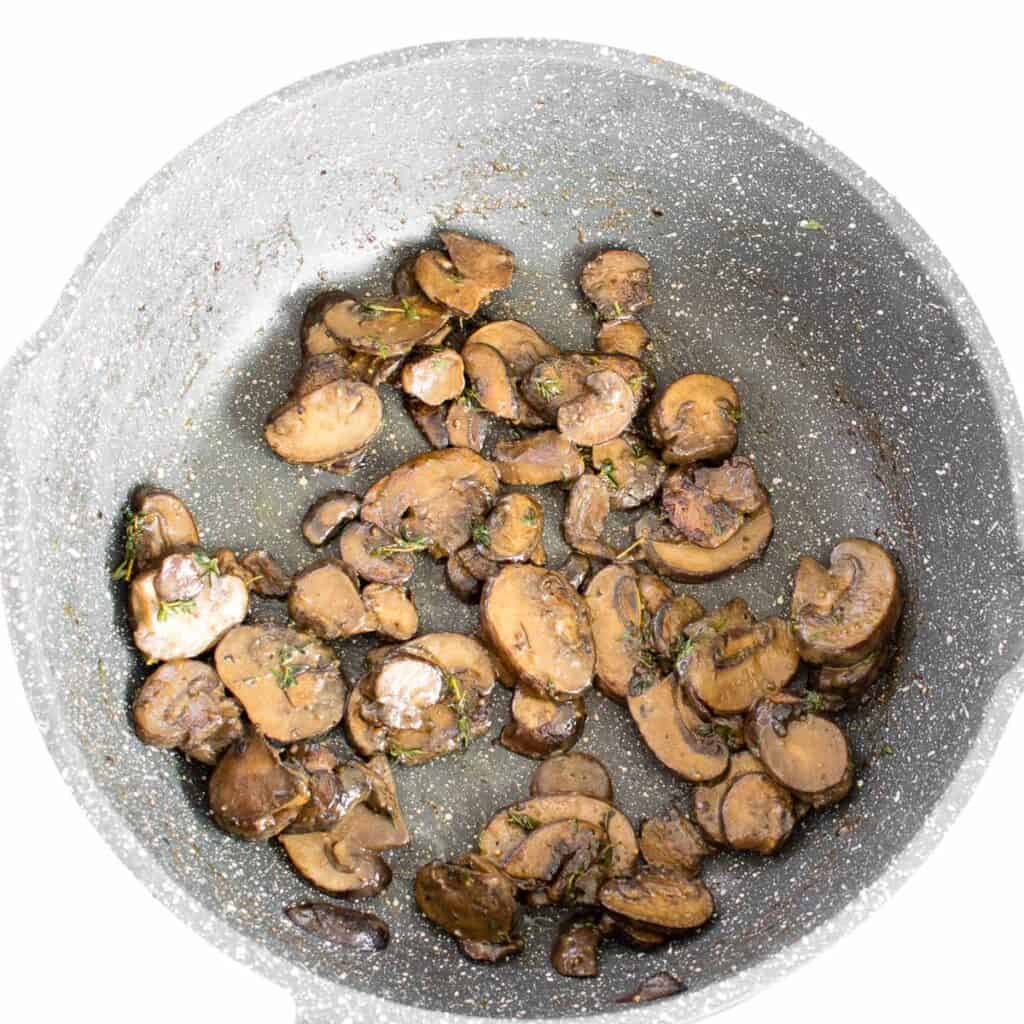 Step 2: mashed avocado
Firstly, I scooped avocado from its skin and discarded its seed. Then, I added all its ingredients in the mixing bowl.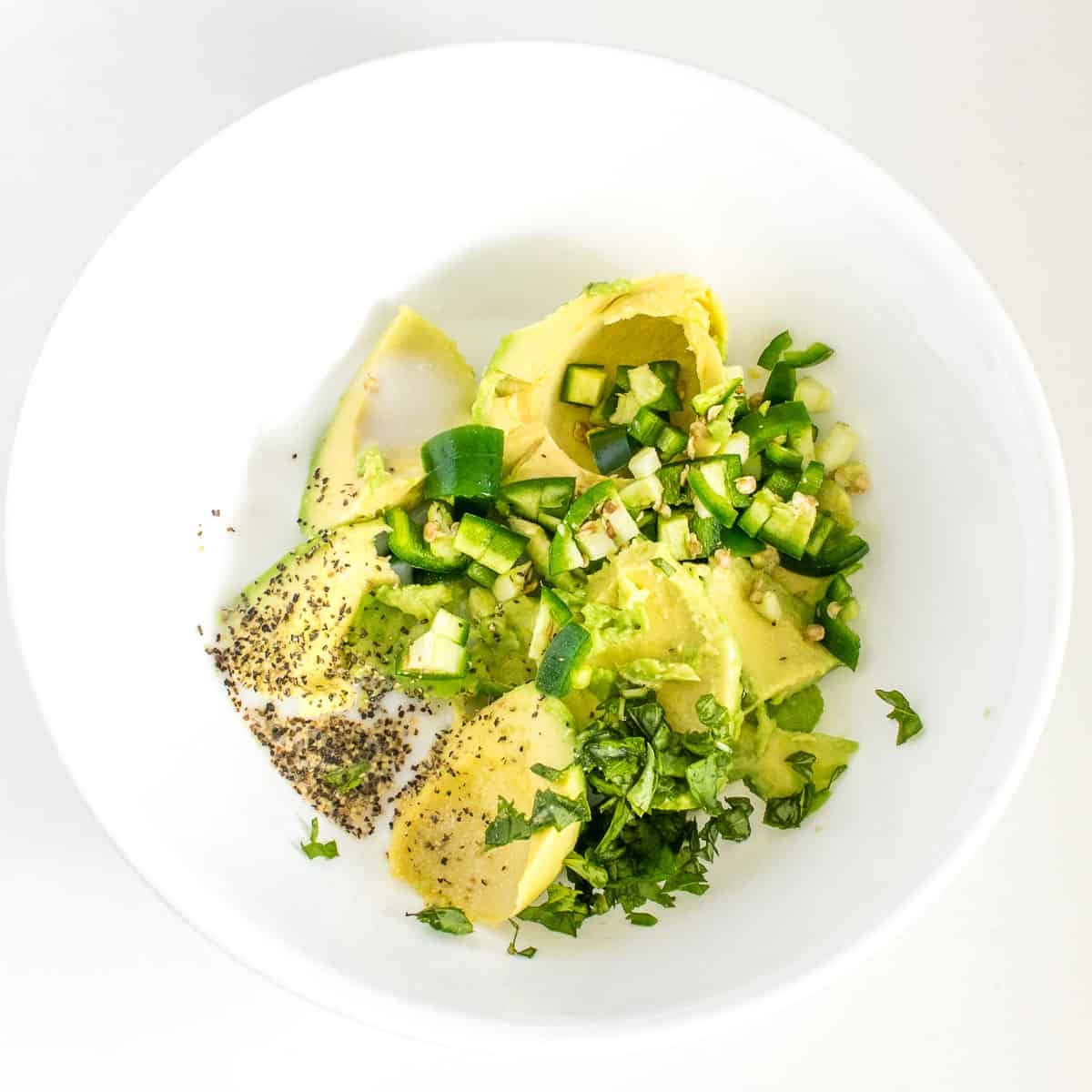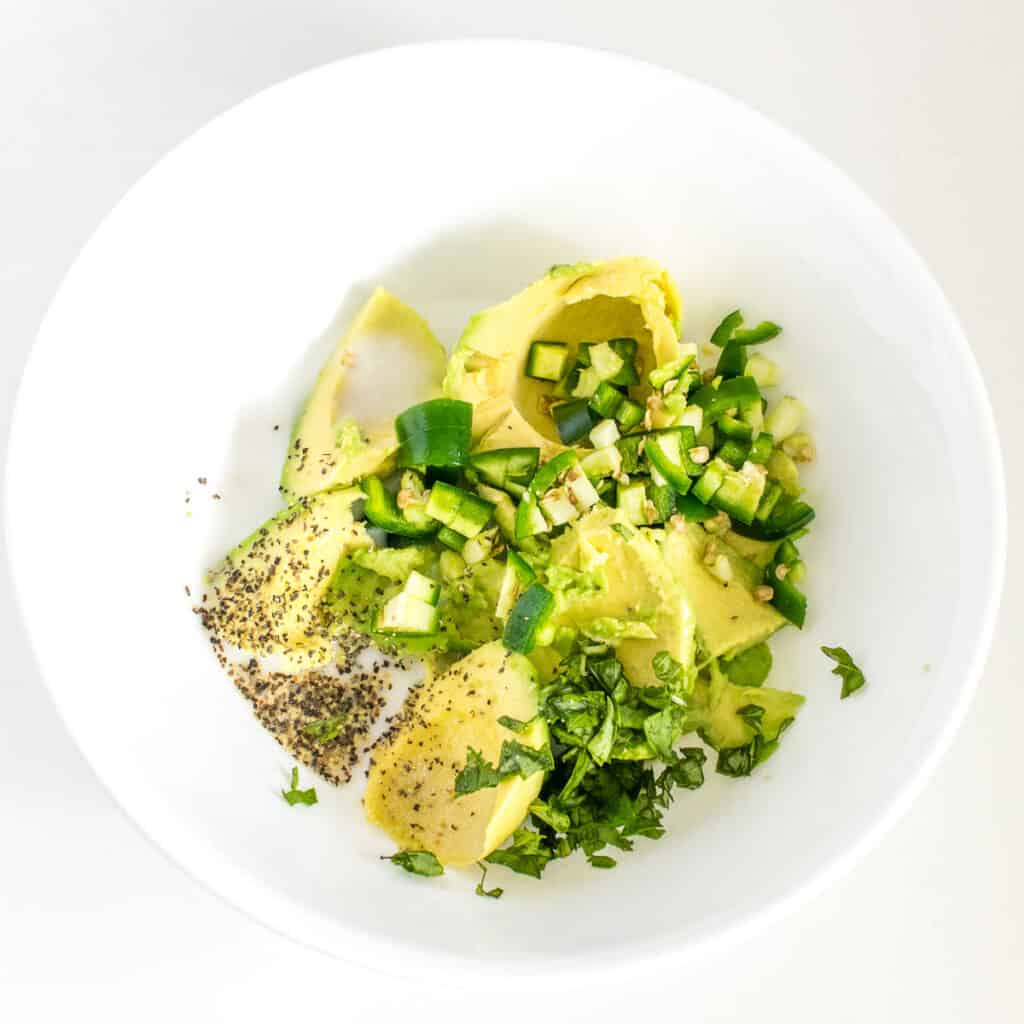 Secondly, with the help of a fork, I smashed it and mixed it well.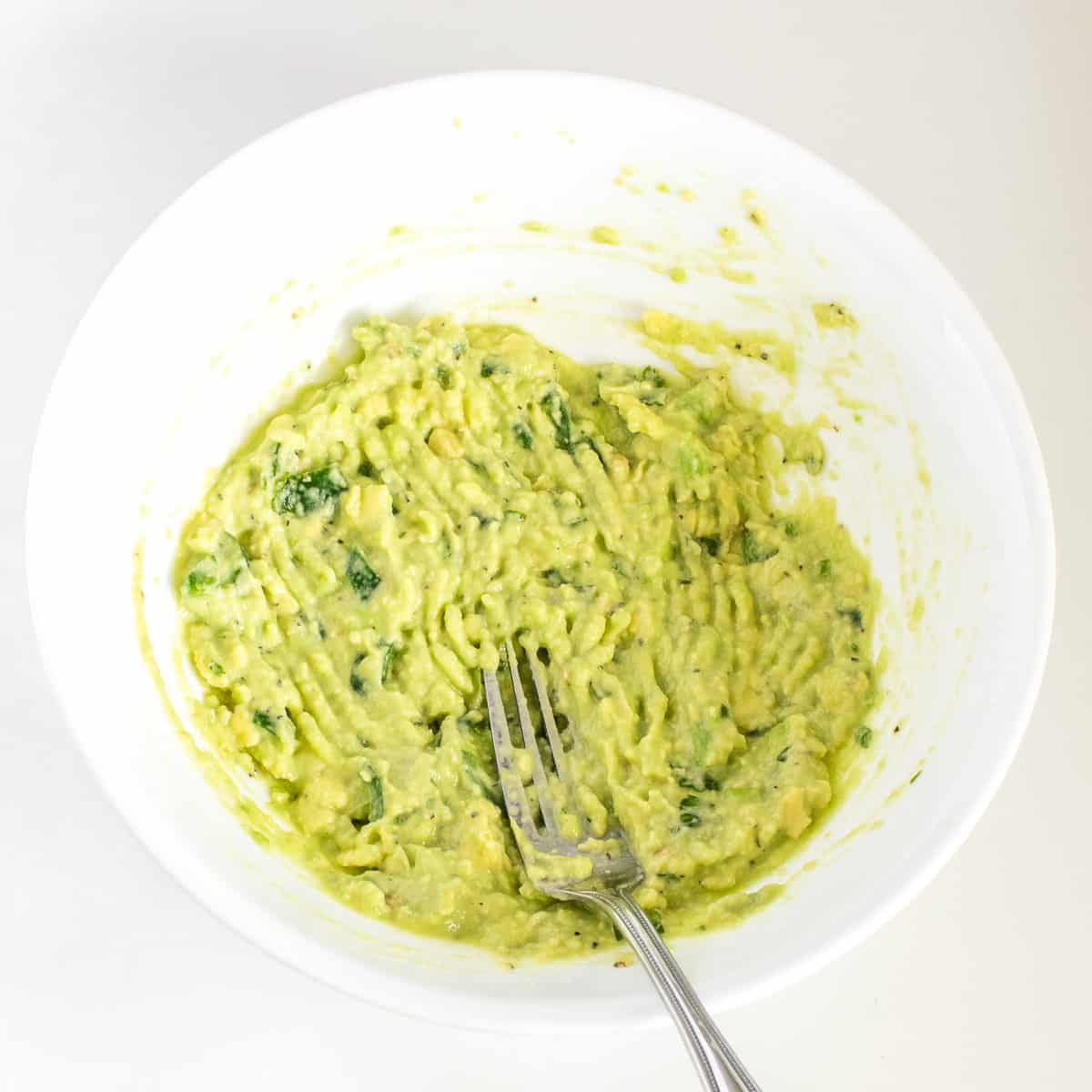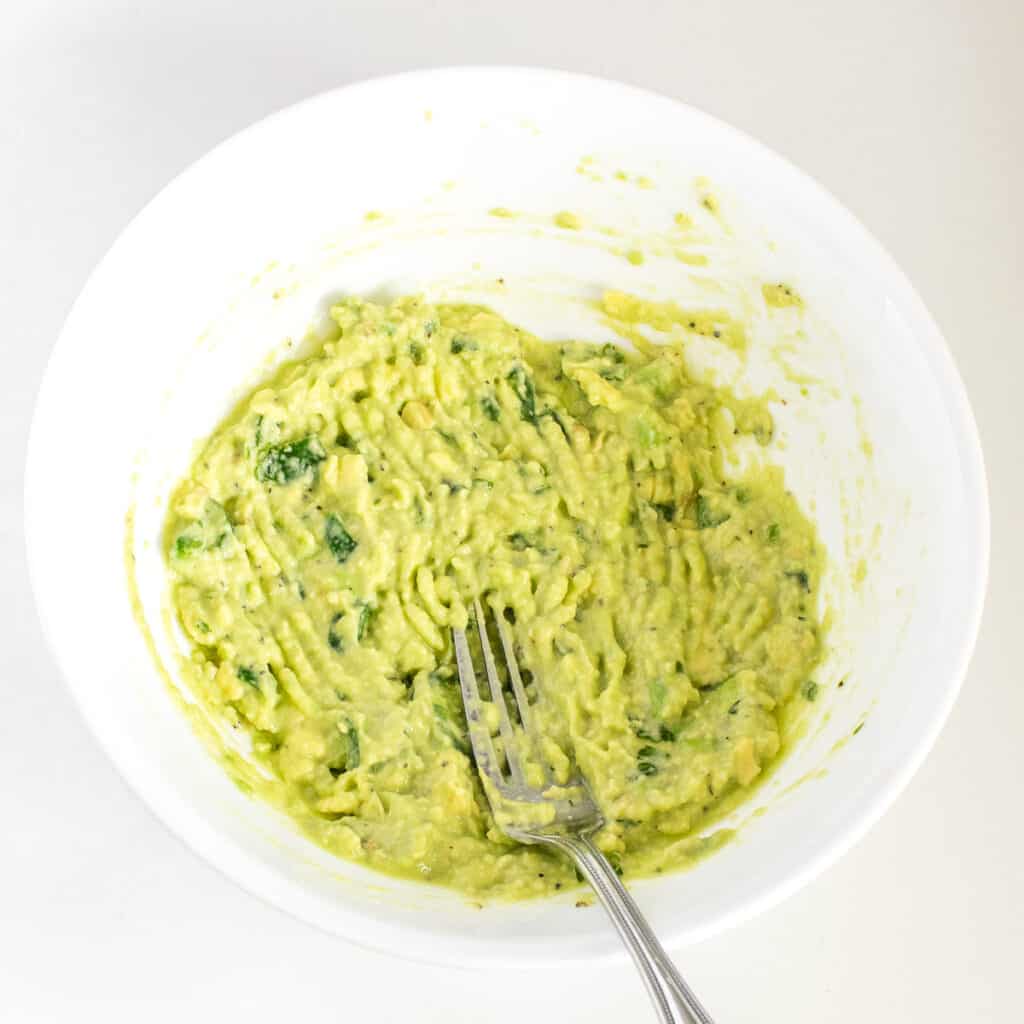 Step 3: how to assemble
Firstly, I toasted the bread slices and kept them on the serving plates.
Secondly, I slathered creamy avocado on each slice and then topped them generously with sautéed mushrooms.
Lastly, I garnished them with hemp seeds and drizzled few drops of lemon juice.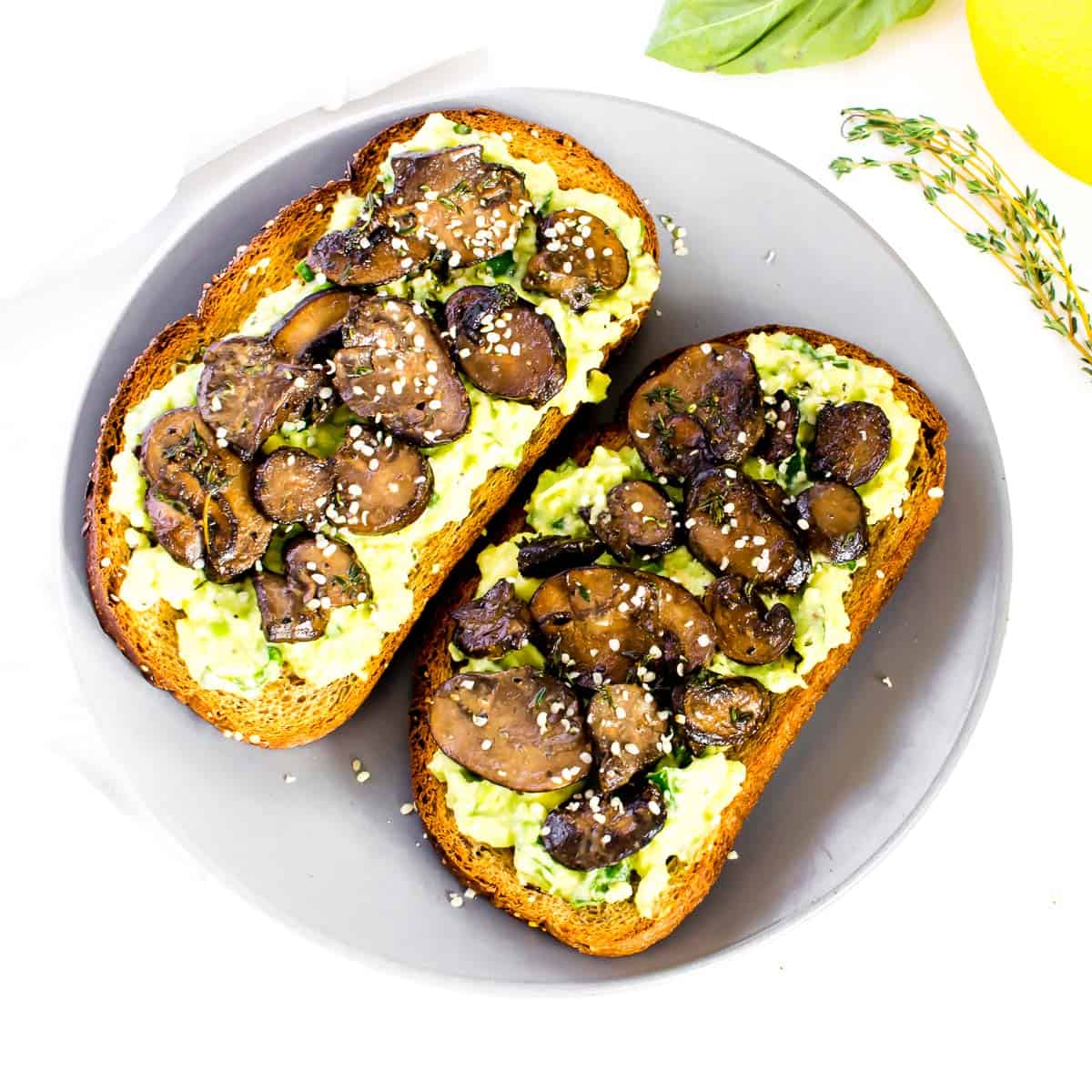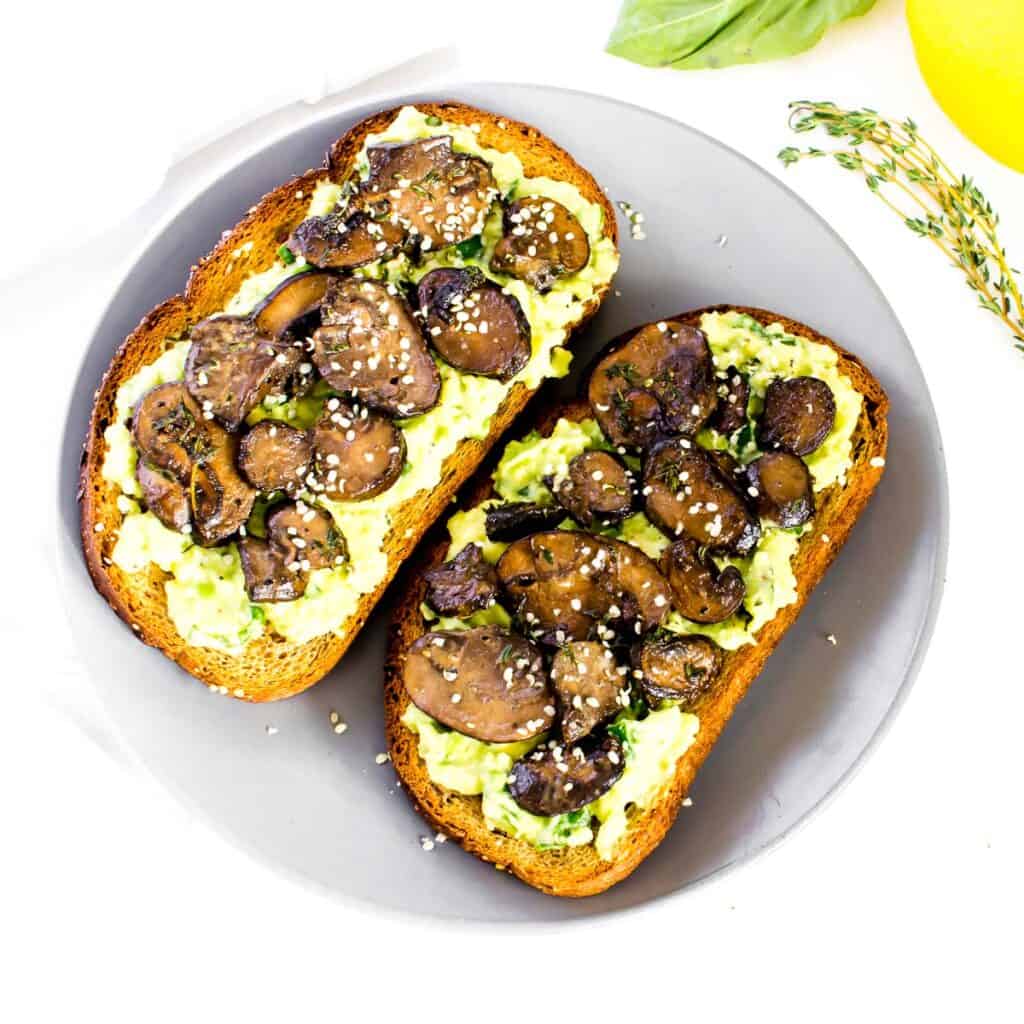 My family loved this healthy mushroom and avocado toast breakfast and it was a nice change from regular pancake and waffles.
Expert tips:
While cooking mushrooms make sure to let it cook covered on high-medium flame for its liquid to dry up before adding the seasonings.
Make avocado filling once mushrooms are ready or else it will start to oxidize and change in color.
It is important to start topping up the toast as soon as they are toasted or else, they will start getting soggy.
Mushroom Avocado Toast FAQs
Can I prep for this ahead of time?
Yes, you can make mushroom filling ahead of time and keep it at room temperature for few hours. When ready just warm up in the pan to make it fresh and warm again.
Is it healthy?
Yes! All the ingredients I have used here is healthy and nutritious. Depending on your taste if you choose whole grain bread then this becomes a great avocado toast breakfast.
What is the best way to cook mushrooms?
I like to cook them in olive oil because its healthier. However, mushrooms sautéed in vegan butter has a great taste too. Do not sauté them continuously and let them cook on their own at medium flame. I like to cover for speedy cooking. They release their own juice and then dry up, that is when they change their color to brownish. You must add salt and other seasoning after they change their color for the best results.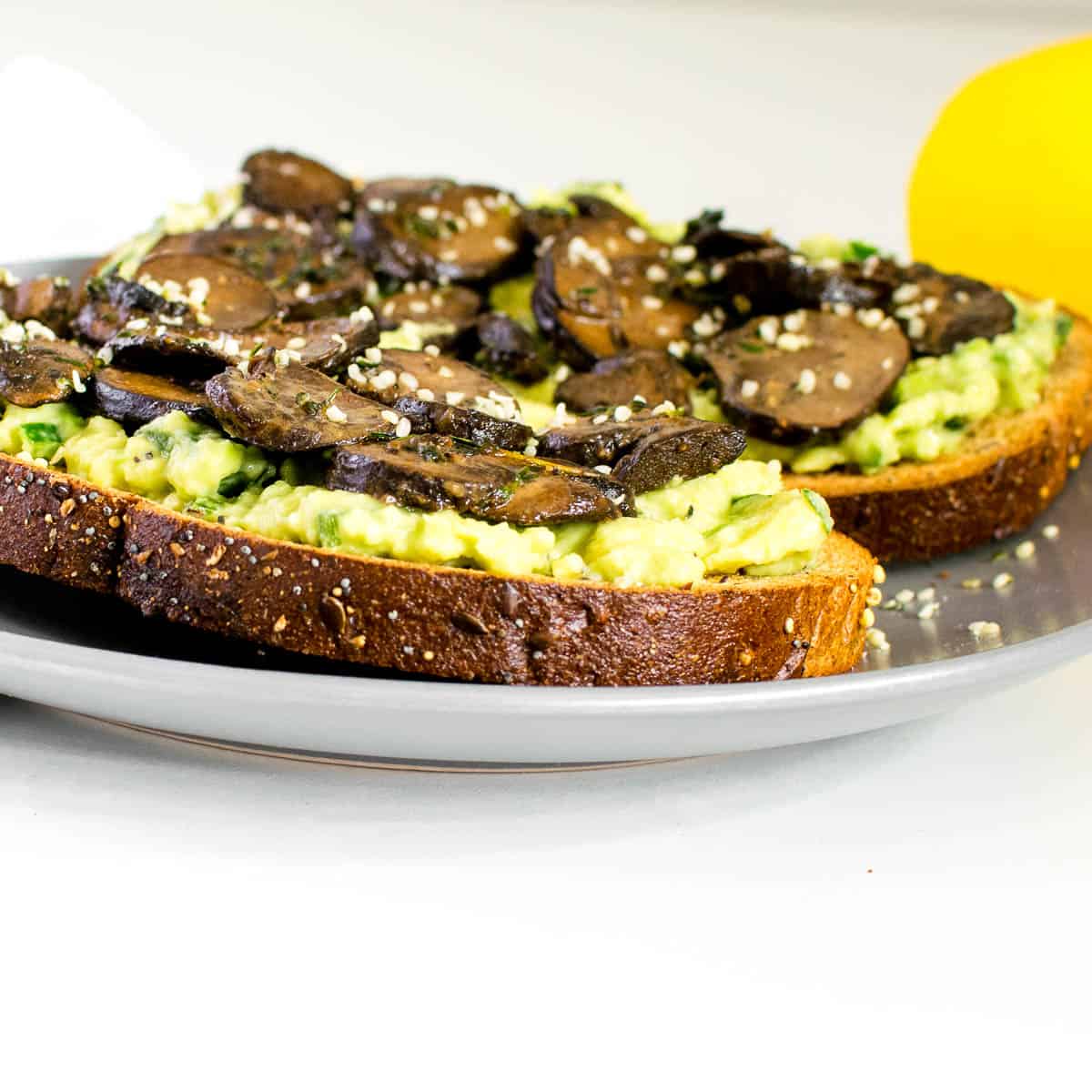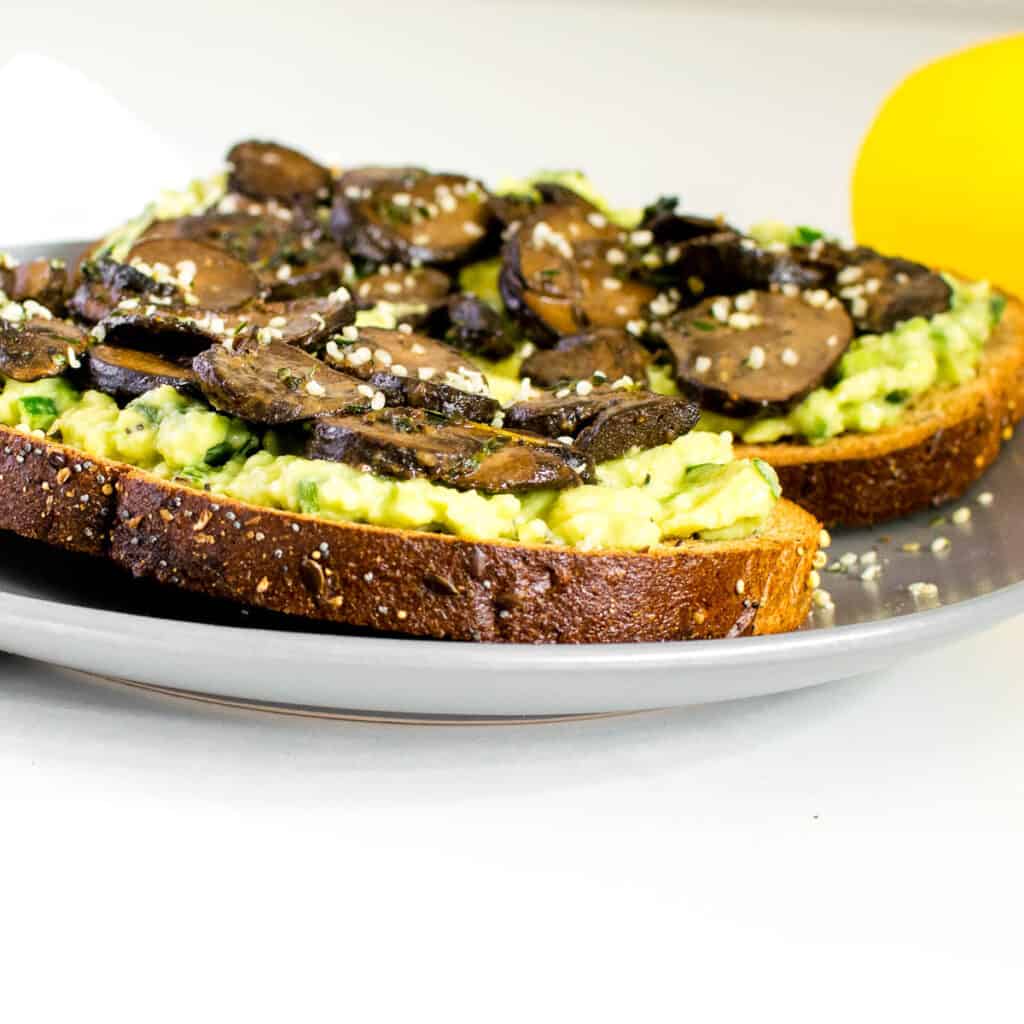 My other breakfast recipes that you might like:
Savory Zucchini Muffins
Savory French Toast
Kale Oatmeal Cups
Broccoli Oatmeal Breakfast Casserole
This post may contain affiliate links which means that if you click on them and also make a purchase, I will get a small commission. Moreover, I share only those products which I use personally and love.
I hope you enjoy this recipe as much as we did. I am very excited to hear back from you.
Where to find me?
Follow me on Facebook or on Twitter. You may tag @kiipfit on Instagram with your recipe remake images because I would love to see what you cooked.
Did you make it?
If you get a chance to make this recipe then please leave your feedback in the comments below along with a 5-star rating.
In addition, you may checkout my cookbook for everyday comfort vegan recipes.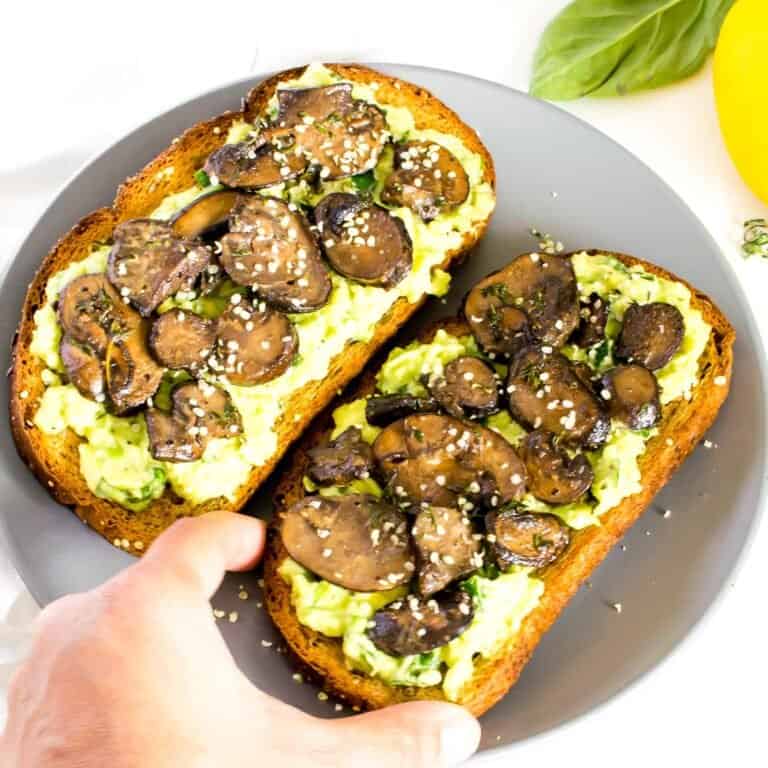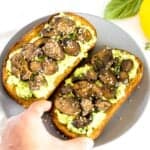 Print Recipe
Mushroom Avocado Toast
Crispy and satisfying, Mushroom Avocado Toast is a combination of umami flavors of mashed creamy avocado and herbed mushrooms on your favorite bread. Its easy, quick and a perfect savory breakfast.
Ingredients
4

slices

of whole grain bread

(toasted)
for mushrooms
1

tbsp

olive oil

2

tbsp

thyme

salt to taste

freshly ground black pepper

3/4

tsp

paprika

3

tbsp.

coconut milk
for avocado
1

medium

ripe avocado

1

tbsp

chopped fresh basil

1

whole

jalapeno

(chopped)

3

tbsp

coconut milk

salt to taste

freshly ground black pepper

1

tbsp

lemon juice
to garnish
freshly squeezed lemon juice

(few drops)
Instructions
sauté mushrooms
In a nonstick pan heat oil and toss mushrooms. Sauté once and let it cook at medium – high flame covered for 2-3 minutes. Remove the lid and mix again scraping from the bottom. Let it cook again until they release liquid and dry up and are brown in color.

Add, thyme, salt, pepper and paprika. Sauté for 30 seconds.

Pour in coconut milk and sauté continuously at high flame until the liquid is absorbed. Turn it off and keep it aside.
mashed avocado
In a mixing bowl, scoop avocado from its skin and discard the seed.

Add jalapeno, basil, coconut milk, salt pepper and lemon juice to it and smash it with a fork or use your hands. Keep it aside.
assemble
Place toasted bread slices on the serving plates. Spread the mashed avocado on each slice and then top them generously with sautéed mushrooms.

Garnish with hempseeds and drizzle few drops of freshly squeezed lemon juice.
Notes
I used whole grain bread but you may use any bread of your choice.
sliced shitake or sliced white mushroom also works here in place of sliced baby bella mushrooms. 
this recipe makes 4 slices and the serving size is one slice per person.
Nutrition
Calories:
235
kcal
|
Carbohydrates:
26
g
|
Protein:
7
g
|
Fat:
13
g
|
Saturated Fat:
5
g
|
Polyunsaturated Fat:
1
g
|
Monounsaturated Fat:
3
g
|
Sodium:
4
mg
|
Potassium:
84
mg
|
Fiber:
1
g
|
Sugar:
1
g
|
Vitamin A:
354
IU
|
Vitamin C:
8
mg
|
Calcium:
19
mg
|
Iron:
1
mg