A warm bowl of creamy Millet Porridge on cool mornings is the best breakfast you can ever imagine. It's a family friendly healthy morning meal that's protein packed, vegan, and so easy to make.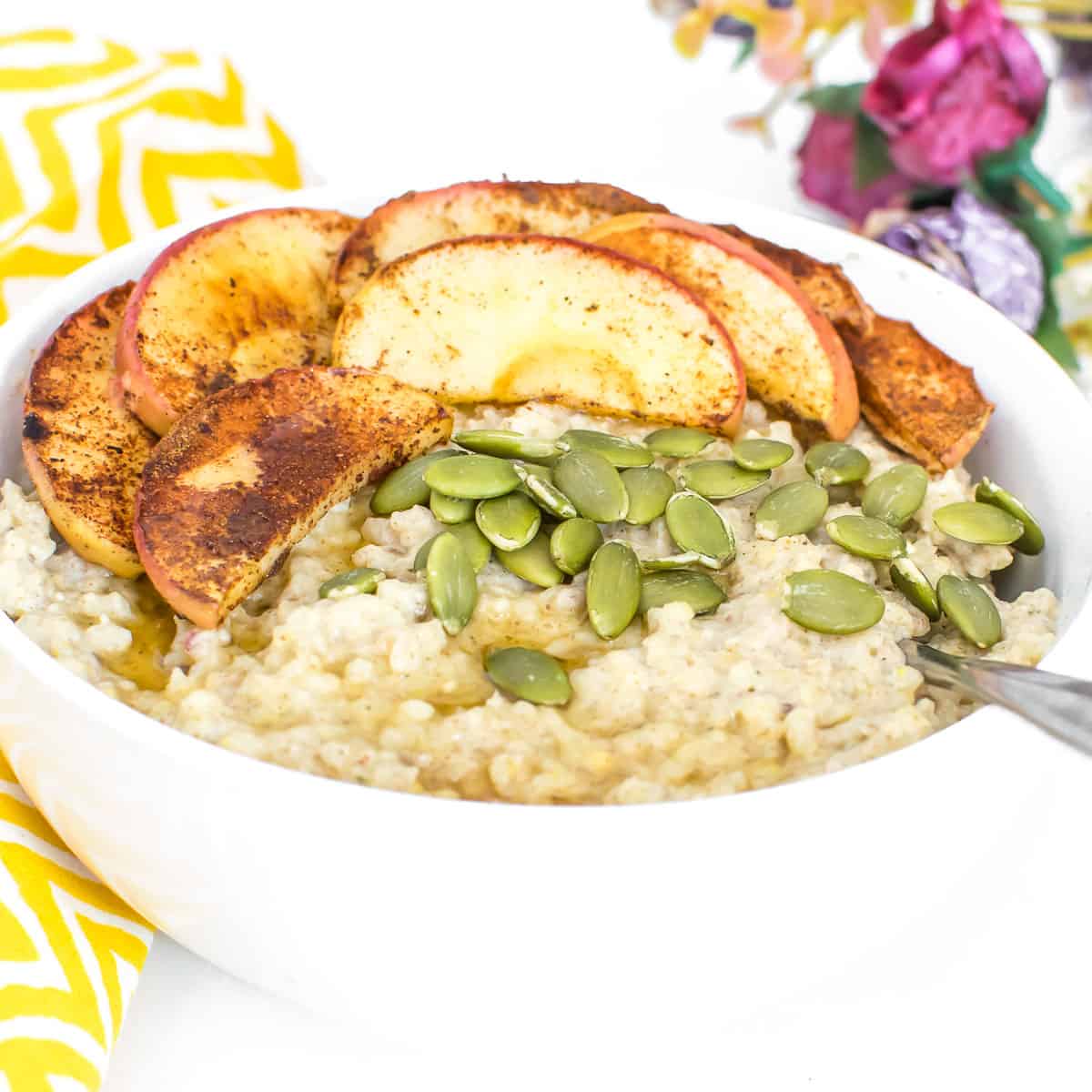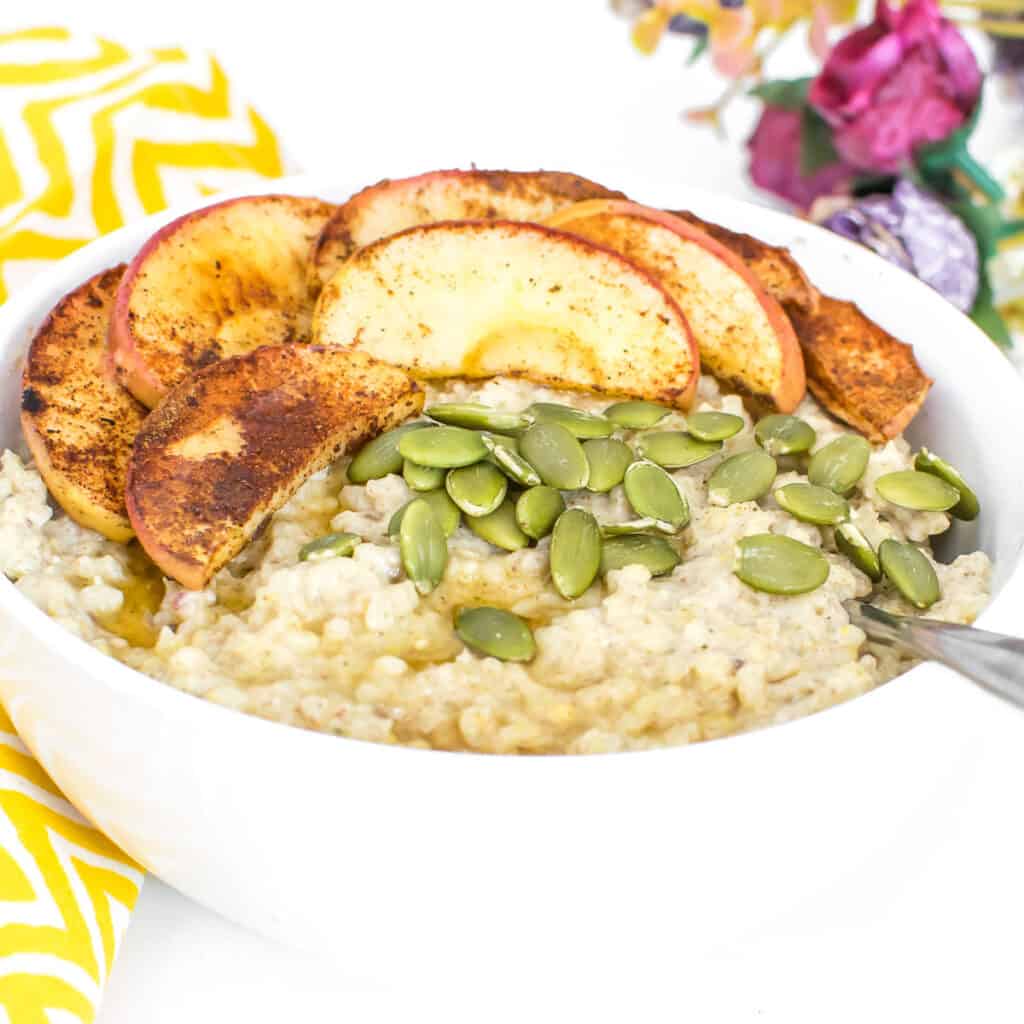 Porridge is always so comforting and so filling. It boosts the right energy early in the day and continues to provide energy throughout the day.
I basically love breakfast time and I like to make sure to get balanced nutrition right at the start of the day.
Hence, my millet breakfast porridge is my favorite and its gluten free too. Its simple and requires only handful of healthy ingredients.
My other favorite breakfast recipes are mushroom avocado toast which is a savory recipe. Spinach Banana Pancakes are the easiest blender pancakes and so nutritious. I also make my green waffles with is freezer friendly. Protein packed vegan omelette is a must try. I am also very fond of my overnight tiramisu oats.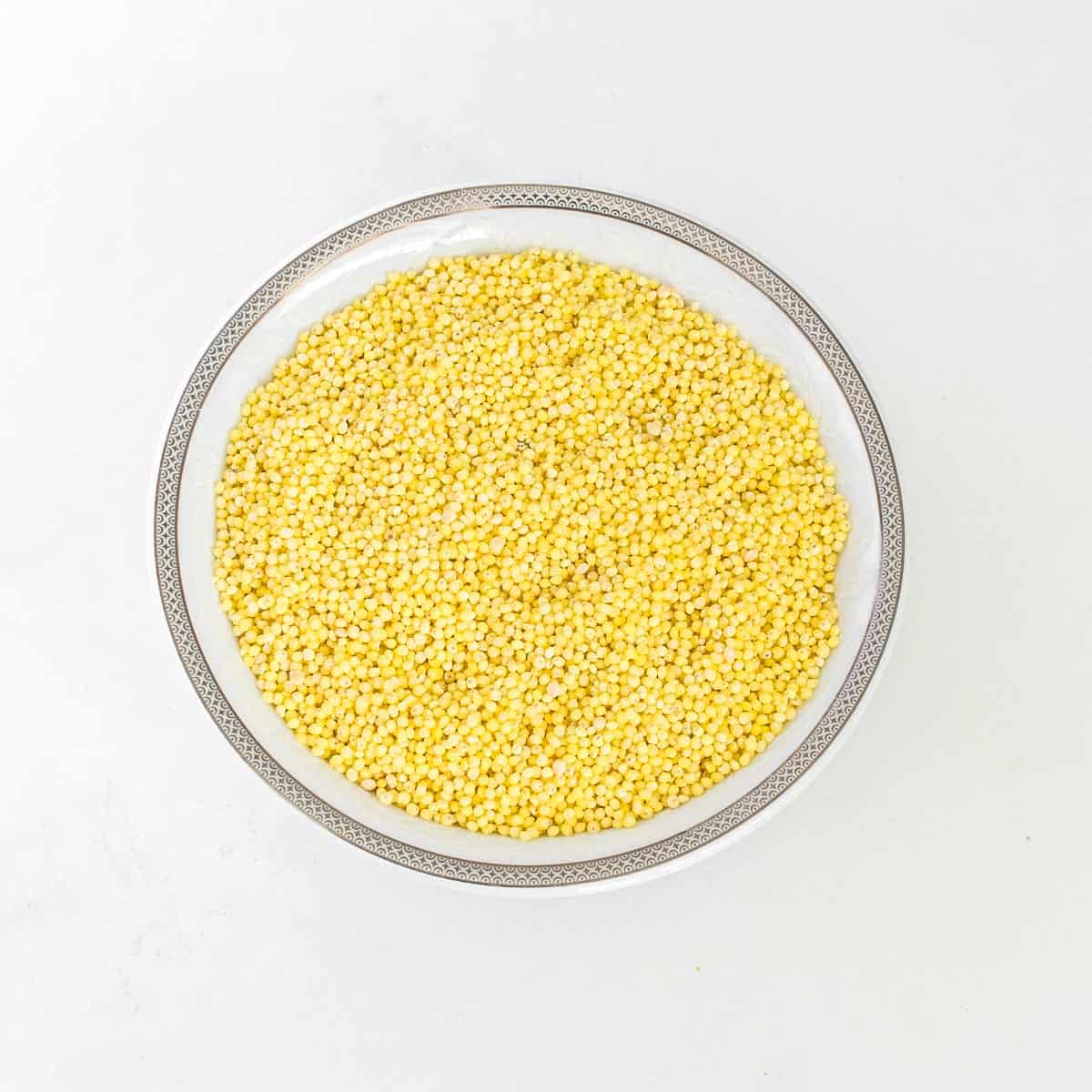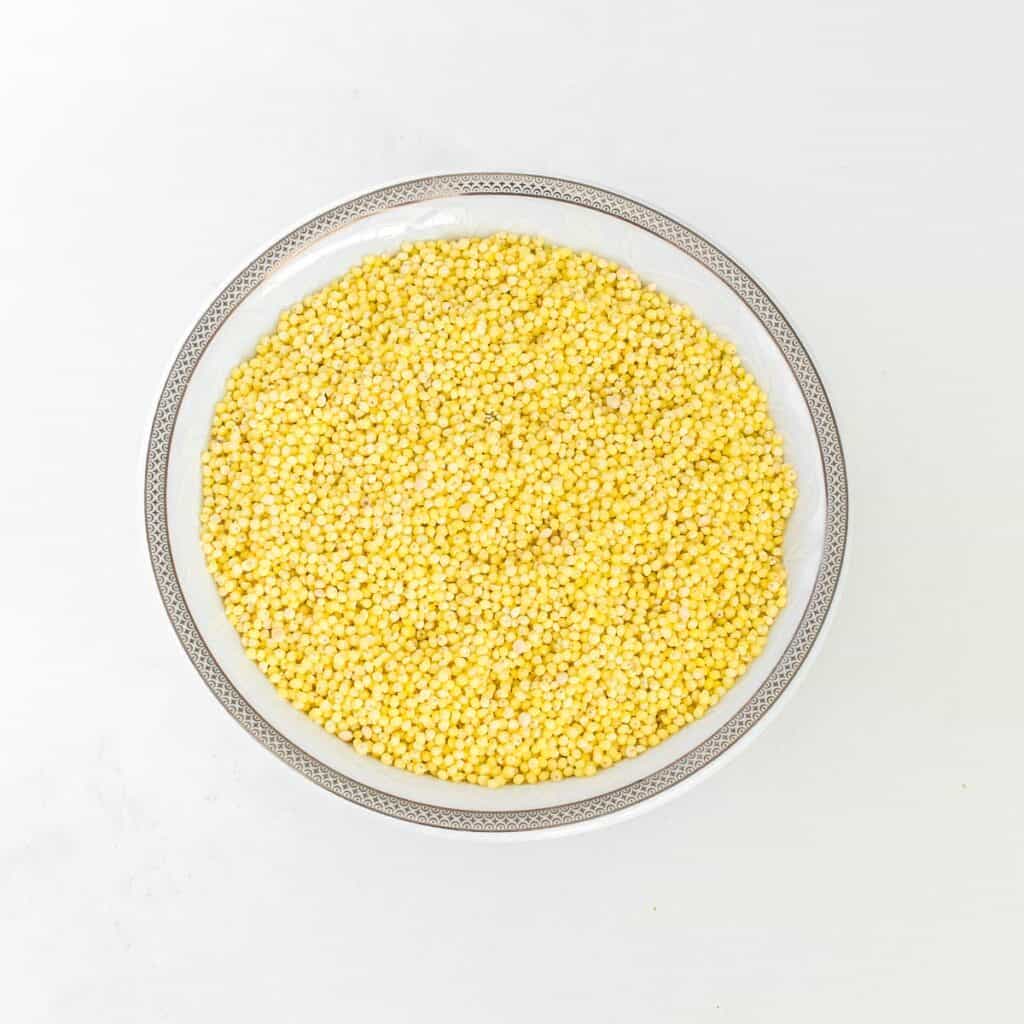 What is Millet?
Millet is a type of cereal grain from Poaceae family. It's a small round yellow grain with immense health benefits. Its mainly found in India and other Asian countries. Its naturally gluten free and packed with fiber and protein. It has a sweet nutty flavor similar to corn and its chewy texture is absolutely satisfying. In America, it is thought to be a bird's food but in the developing nations it's a staple in human diet.
A variety of millets are found like foxtail, pearl, proso, barnyard. Here in my recipe, I used hulled millet (pearl variety).
Health benefits of millets
Its rich in antioxidants and helps lower blood sugar. It is also known to help lower cholesterol and fits perfectly into gluten free diets.
Ingredients for millet porridge recipe
Oat milk
Water
Millets
Dates
Chia seeds
Hemp seeds
Vanilla extract
Apples
Cinnamon
Cardamom
Pumpkin seeds
I used simple and healthy ingredients for this flavorful vegan and gluten free breakfast porridge.
Ingredients notes:
Oat milk – I used oat milk to make it nut free but you may use almond milk as well for this recipe.
Millets – I used hulled millets that that a yellow small grain. Its better to rinse before using to avoid the after-taste bitterness which is again very subtle.
Dates – I used it to lightly sweeten the porridge in a natural and healthier way.
Chia seeds – this adds more fiber and omega 3 into this porridge recipe.
Hempseeds – I wanted to add more protein into this recipe and so I blended hempseeds into the milk which you won't even taste it.
Apples – any fruit works here but I love the combination of spiced apples over this millet porridge so I would highly recommend to try this recipe as explained.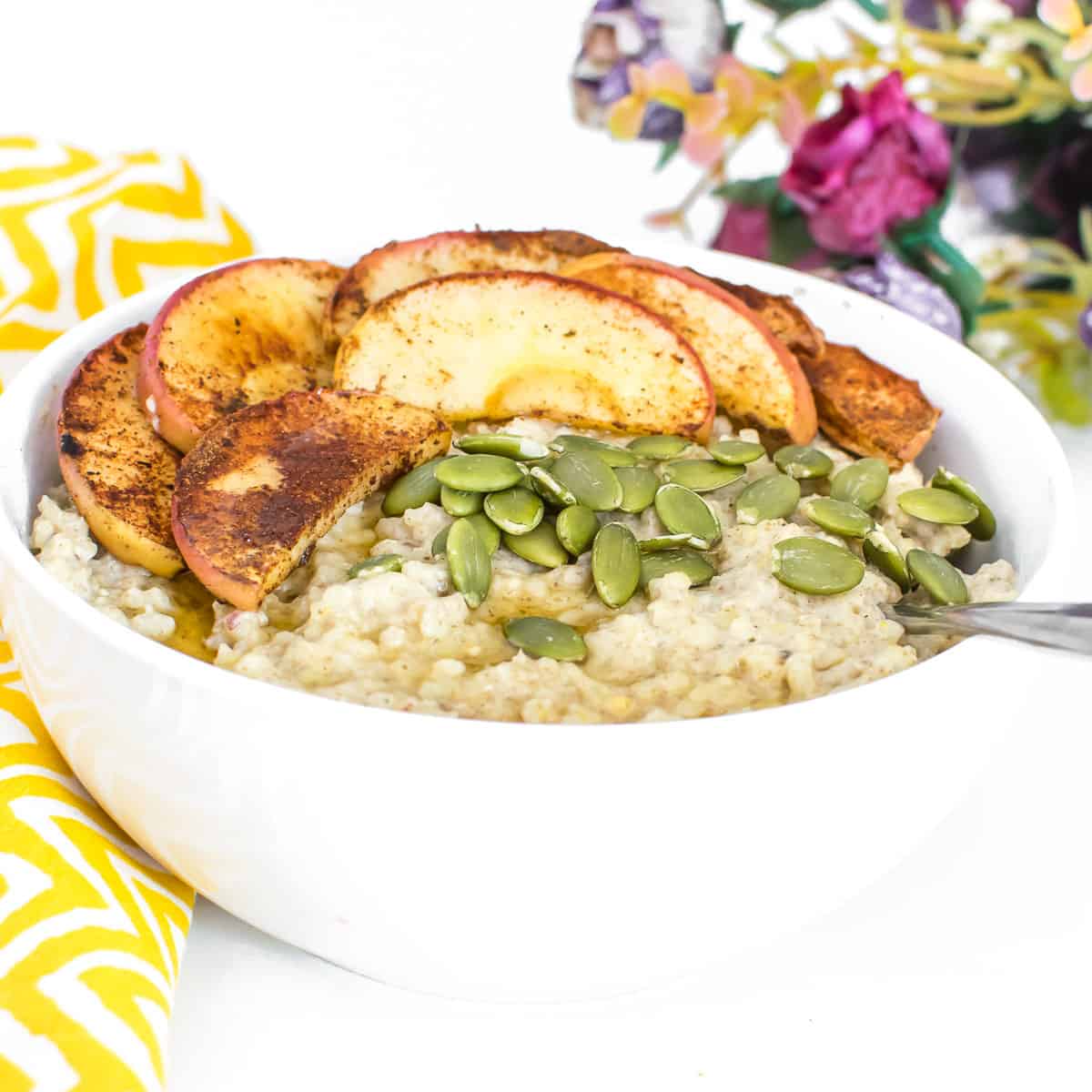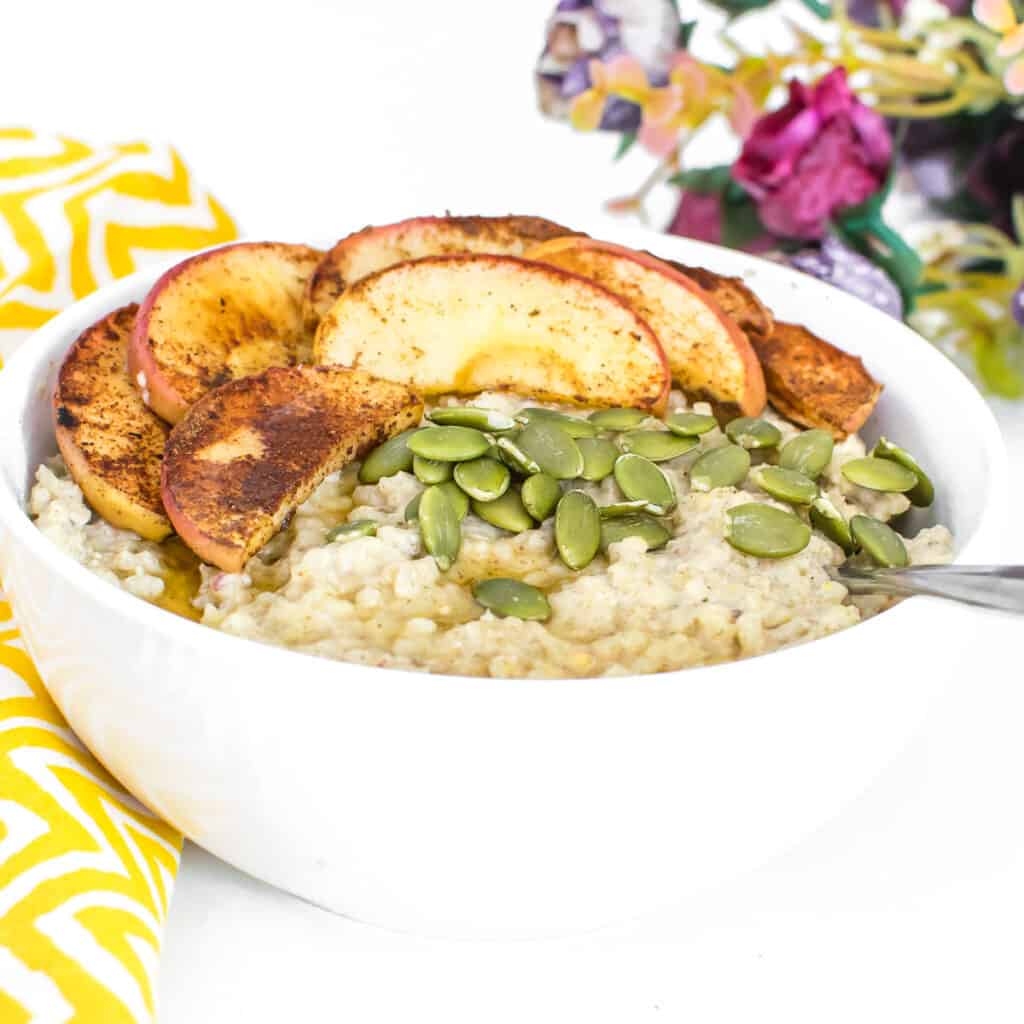 For detailed measurement of ingredients, please scroll down to the printable recipe card at the bottom of this post.
How to make Millet Porridge
Firstly, I blended ½ cup oat milk with date, vanilla extract, chia seeds and hempseeds and kept it aside.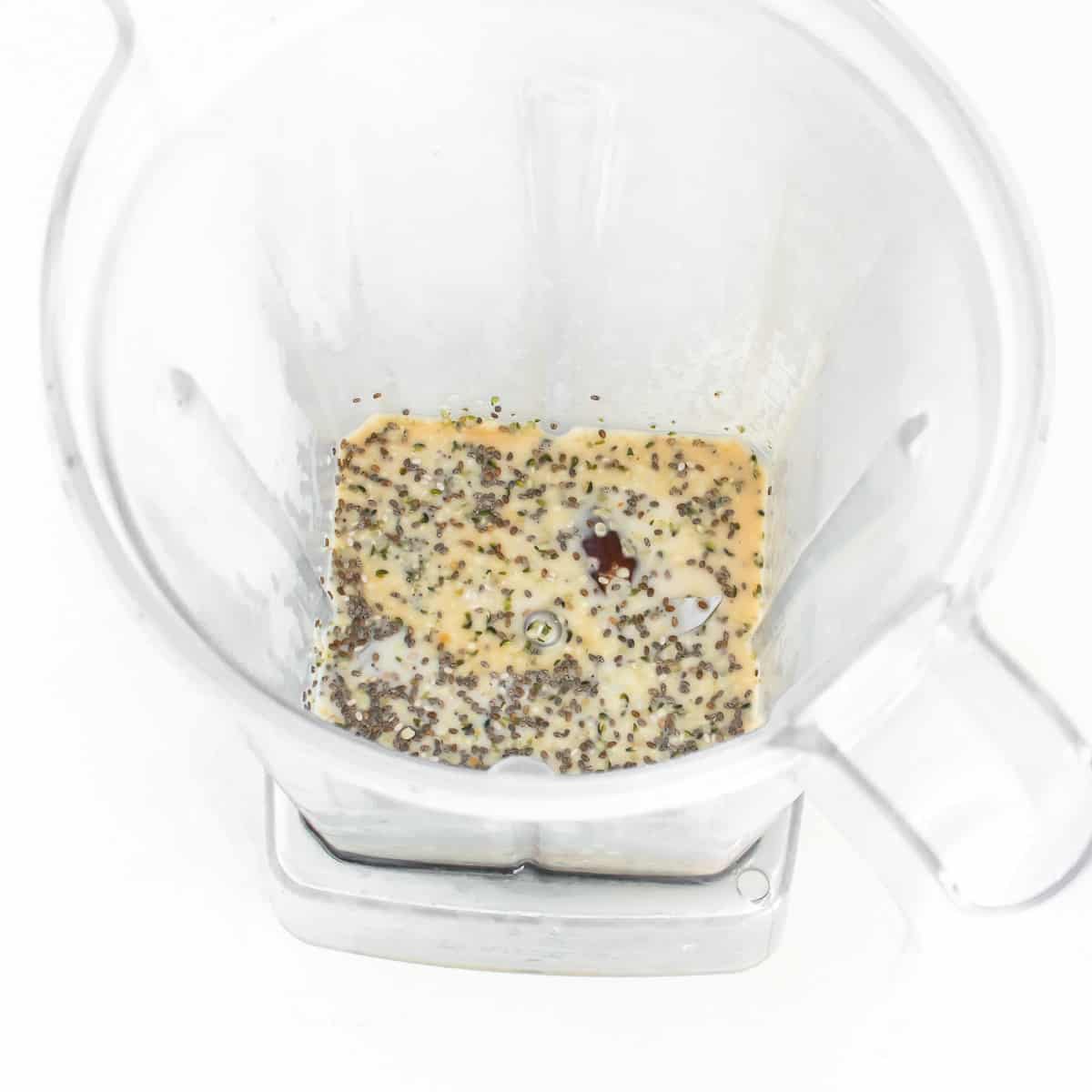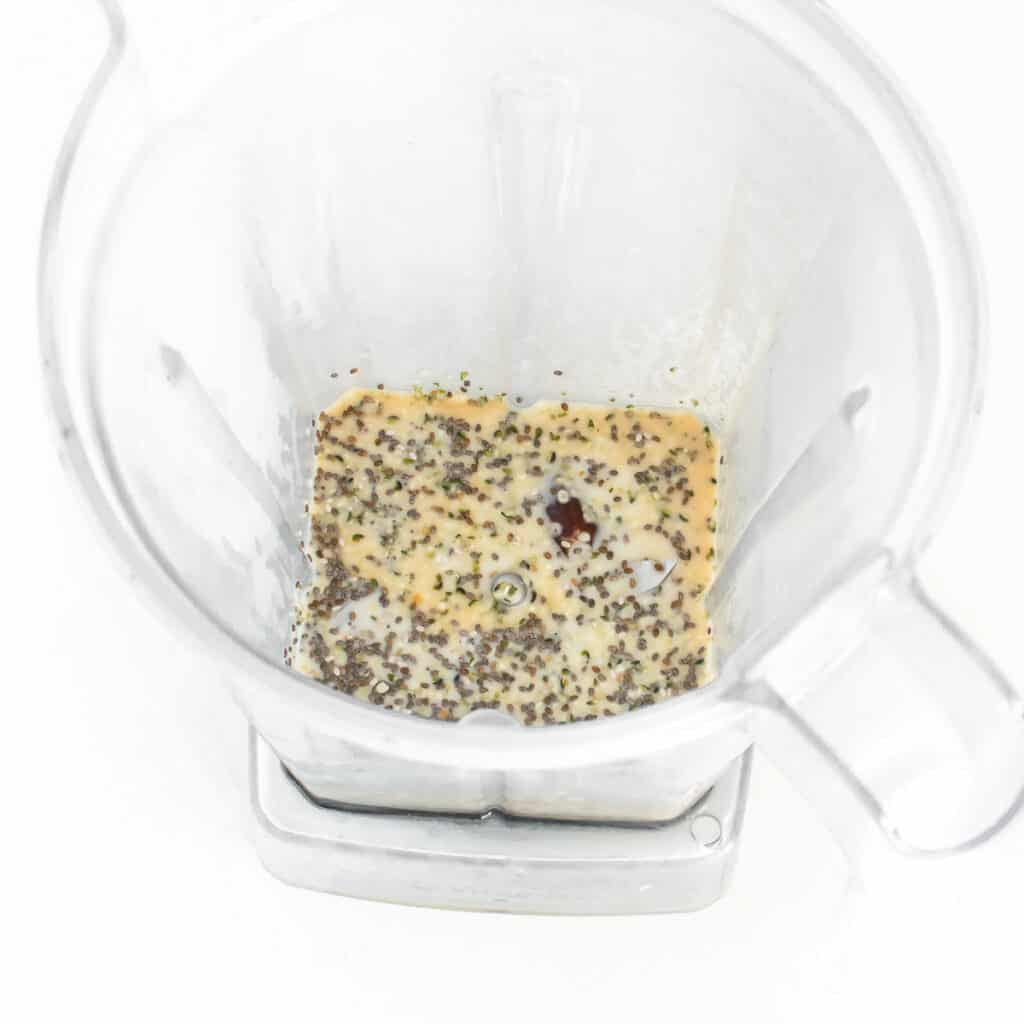 Secondly, I boiled the water in a saucepan and immediately stirred in the blended milk mixture.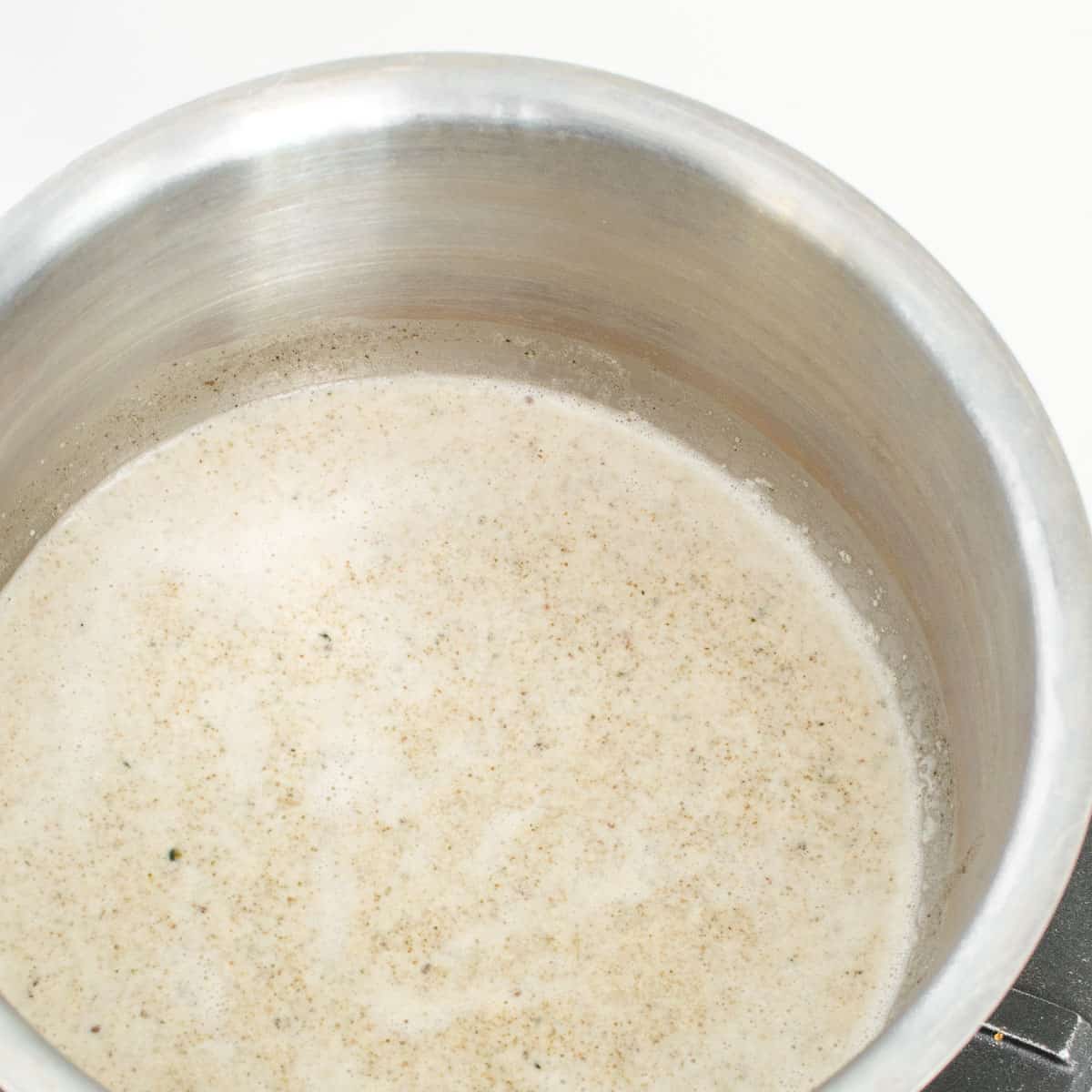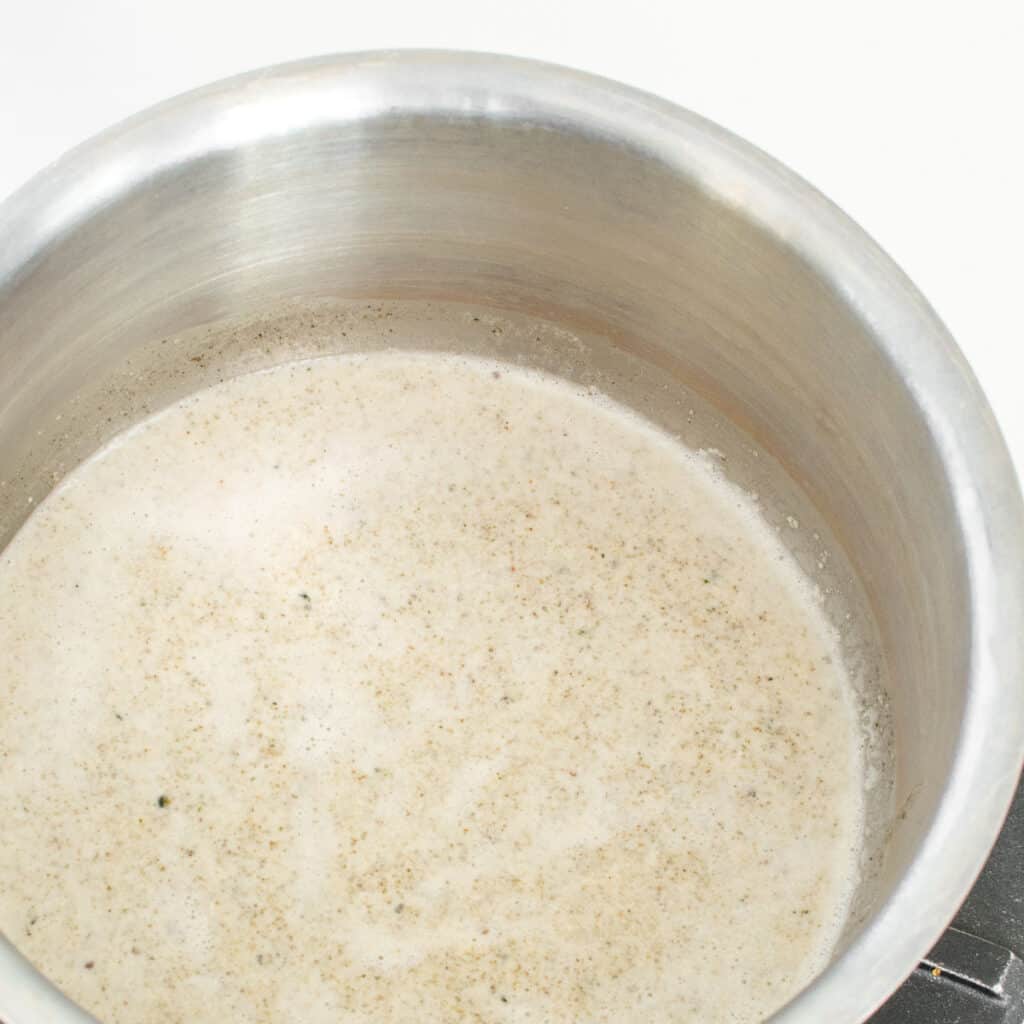 Next, I stirred in rinsed millet and let it cook for few seconds.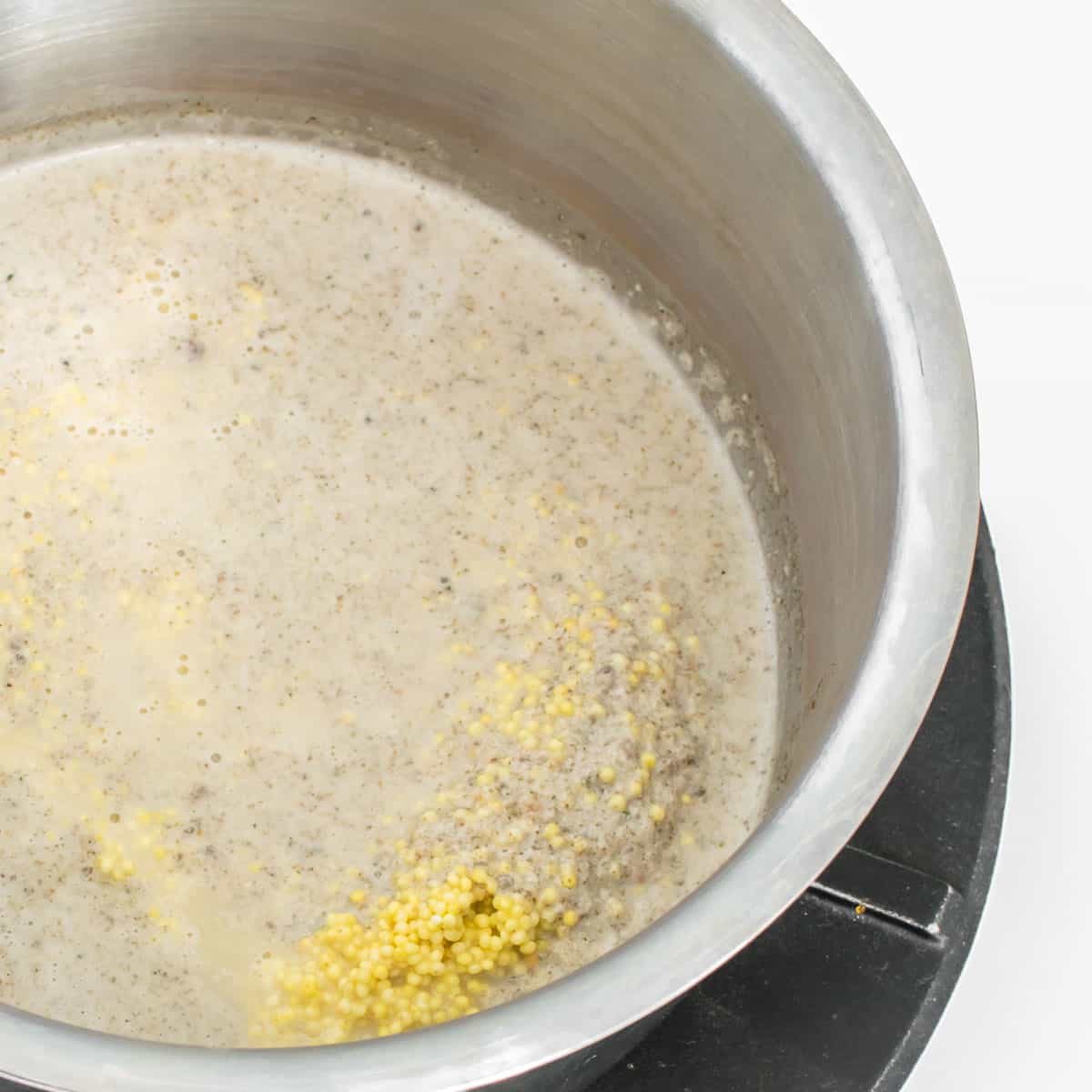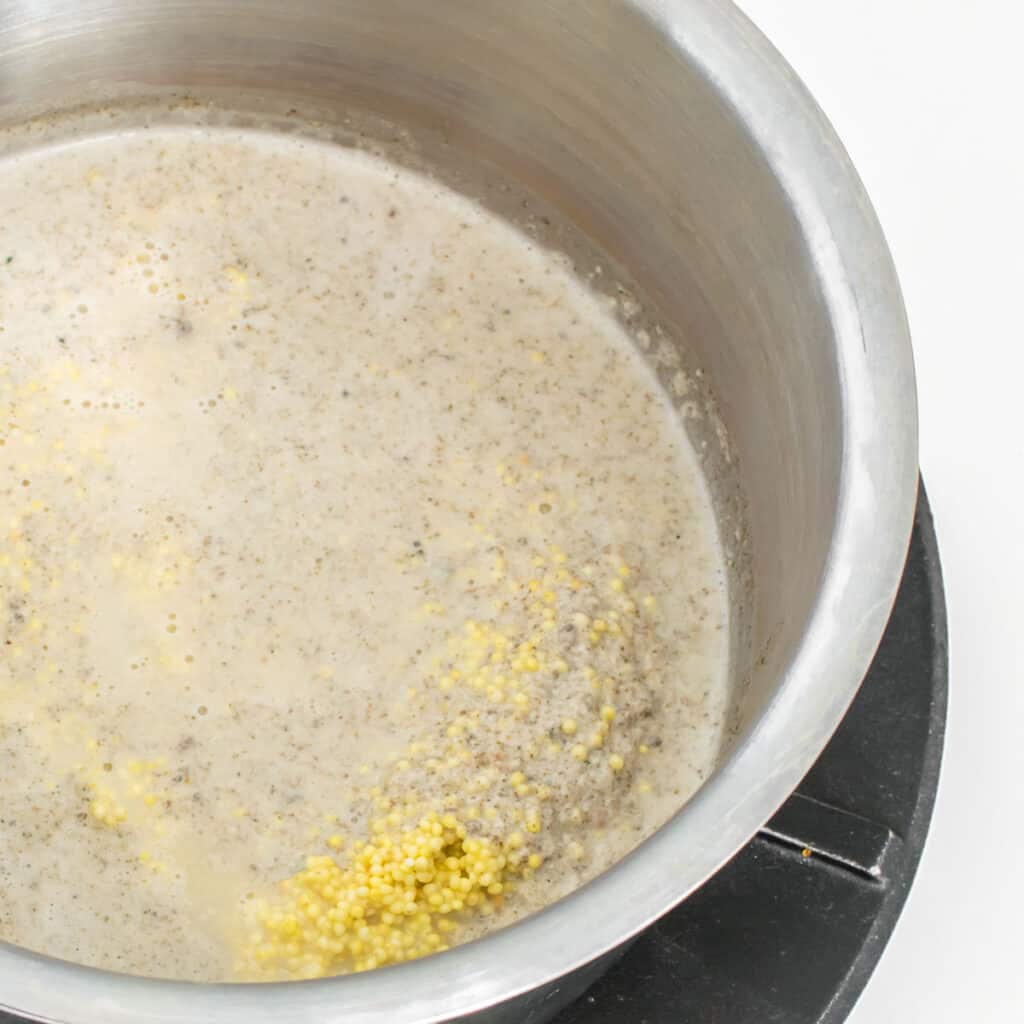 Thereafter, I added remaining oat milk into the saucepan and cook covered at low flame until millet was soft and chewy. However, I stirred it in intervals of 5 minutes to make sure it does not stick at the bottom of the saucepan.
In the meanwhile, I combined sliced apples with cinnamon and cardamom and cooked in a nonstick pan. I lightly sprinkled water on the slices so as to avoid them being super dry.
I cooked apples until they were slightly aromatic and yet crunchy.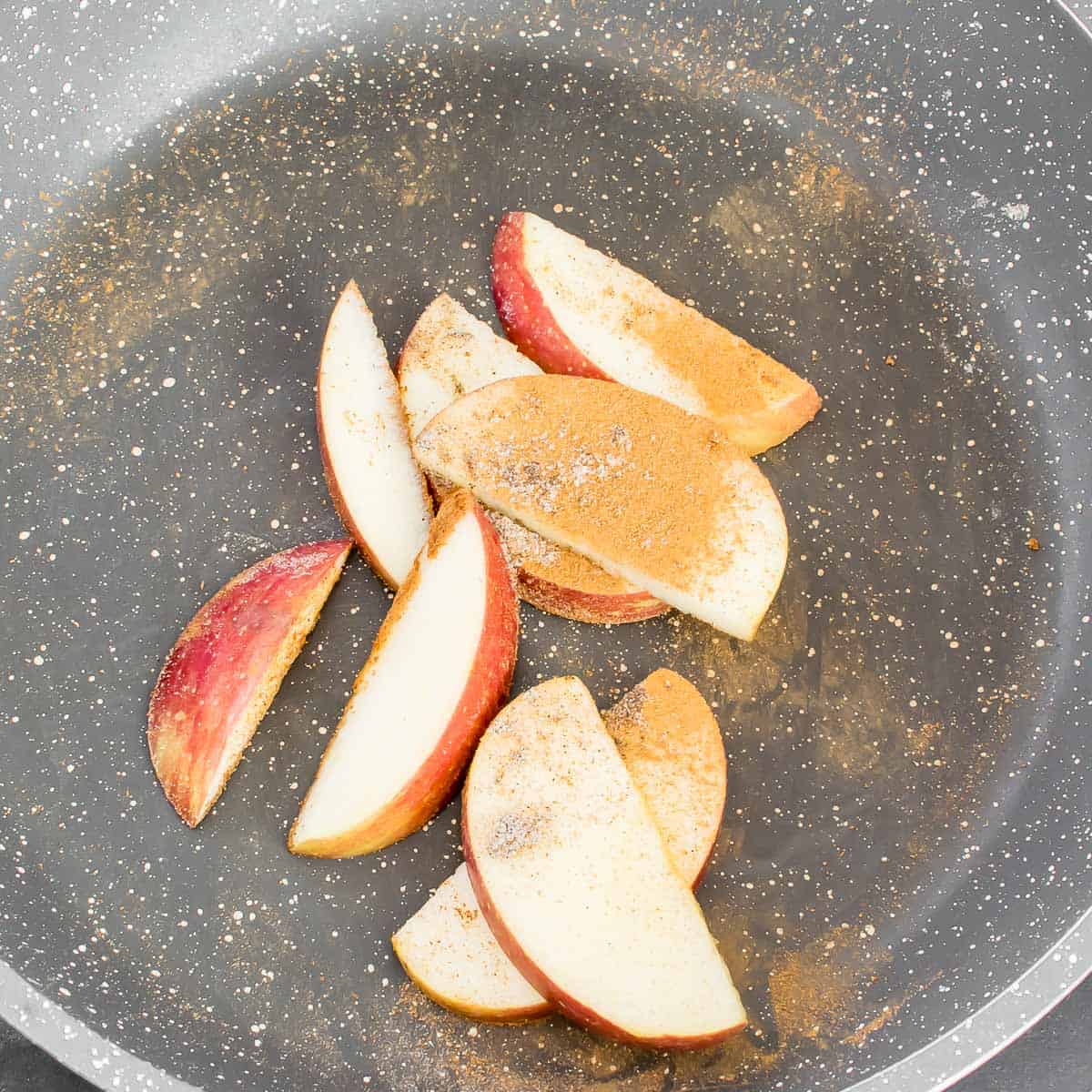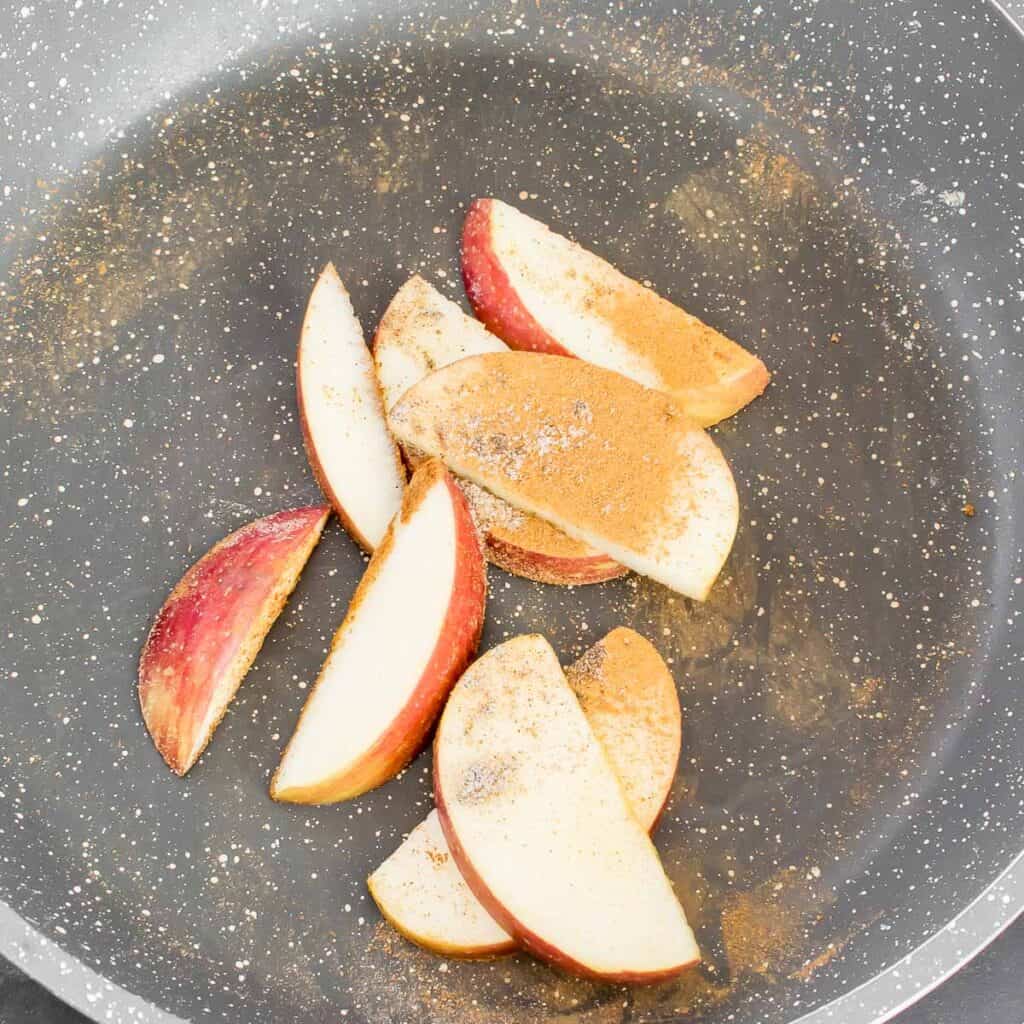 Once, the porridge was cooked, I turned it off and ladled it in my bowl. Then, I garnished with cooked apples and pumpkin seeds. I even drizzle a little maple syrup and it tasted heavenly.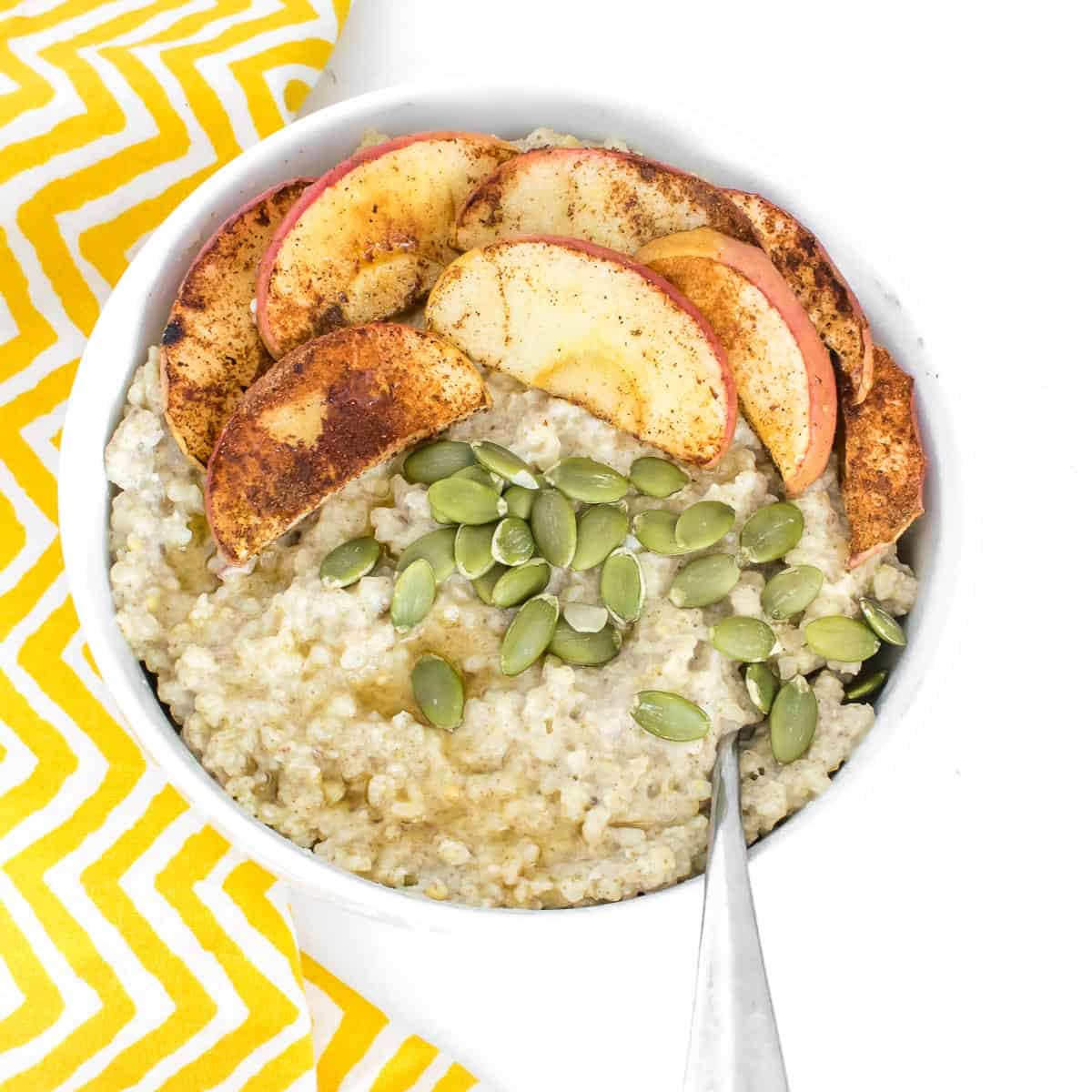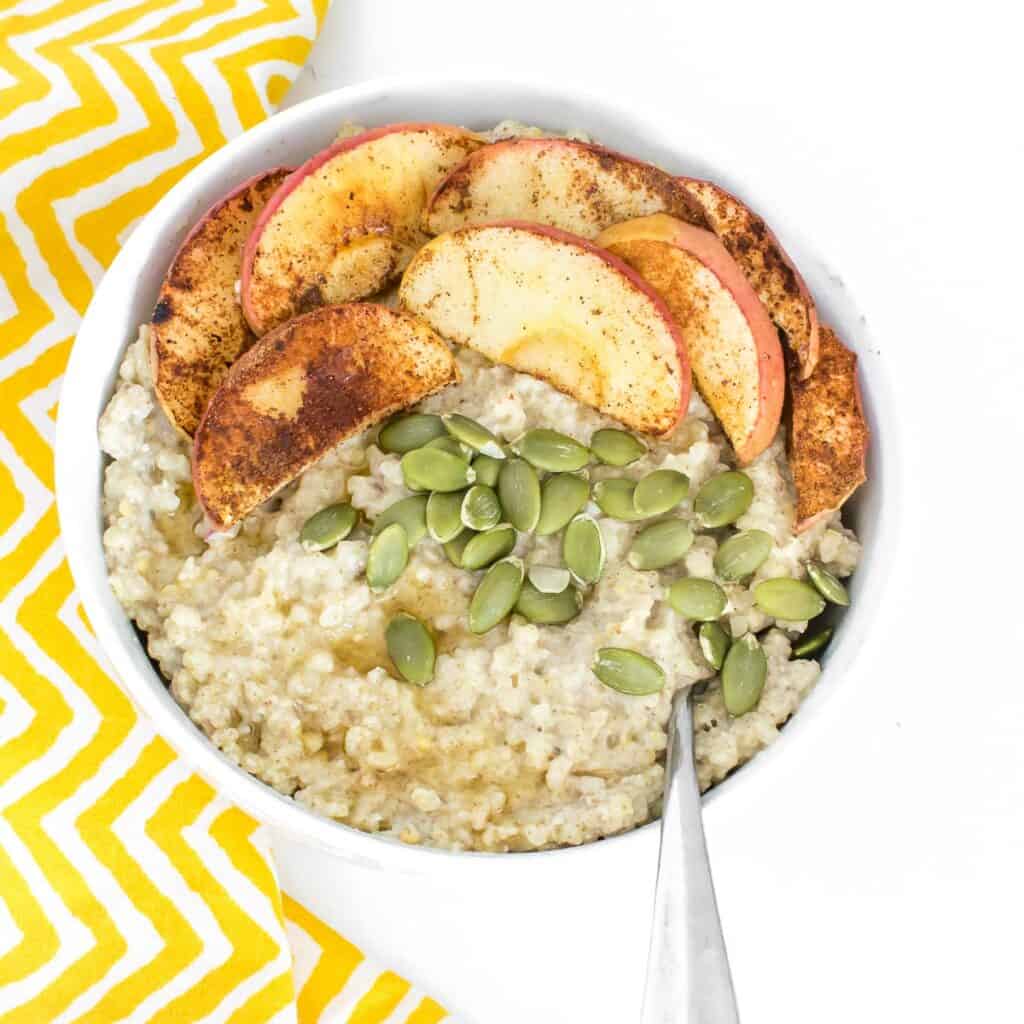 My entire family loved it and we have been enjoying our warm bowl of breakfast porridge every day.
Expert tips:
It is important to stir the porridge at intervals since millet absorbs lot of liquid. Also, I added chia seeds and dates which also thickens the liquid.
For a creamy porridge make sure to cook at low flame and do not rush through the process. It should be soft and chewy in texture.
Millet Porridge FAQs
How to store?
This taste best when served immediately. However, the leftovers can be refrigerated to be used the next day. When warming it up pour some milk over it and warm in a pan over the stove to get the same creamy texture. Do not cook, just warm it until the first two bubbles.
Is it healthy?
Yes! Its rich in fiber, protein and antioxidant. It's a great alternative to oatmeal. Overall, this recipe is very healthy.
Do I need to soak millets?
For this recipe, I would recommend rinsing the millets in a colander just like we rinse quinoa. Soaking is not required since we cook it pretty well here.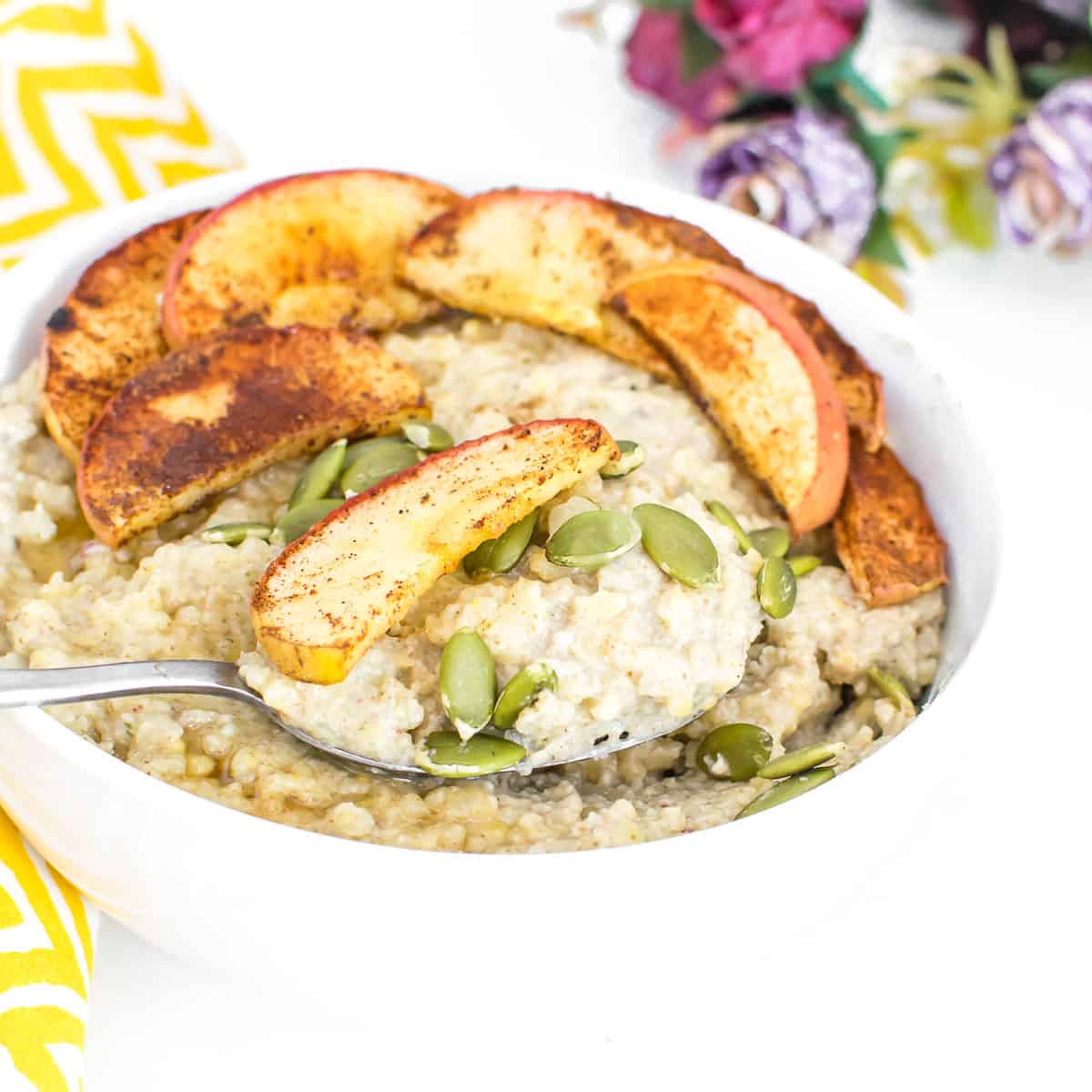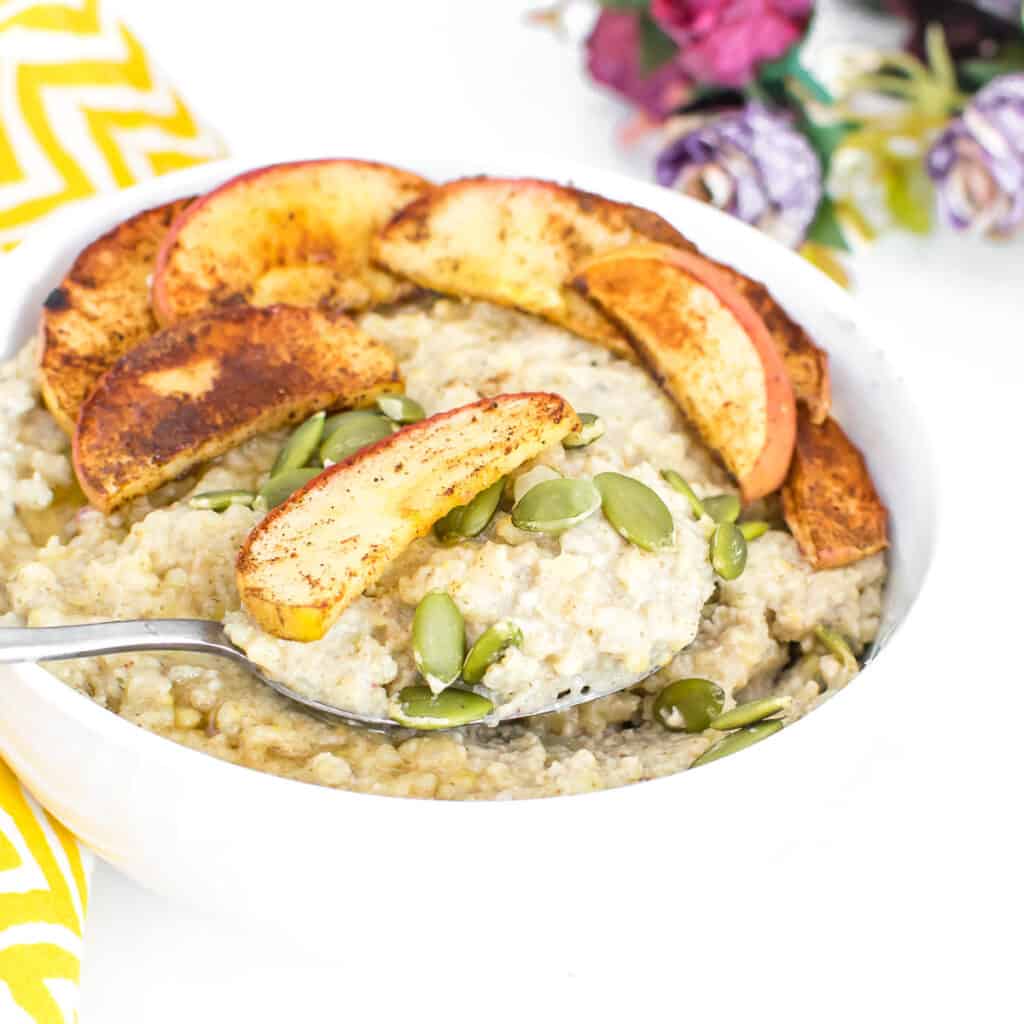 My other breakfast porridge recipes that you might like:
Pumpkin Oatmeal Porridge
Spinach Quinoa Porridge
Carrot Bulgur Porridge
Pumpkin Amaranth Porridge
This post may contain affiliate links which means that if you click on them and also make a purchase, I will get a small commission. Moreover, I share only those products which I use personally and love.
I hope you enjoy this recipe as much as we did. I am very excited to hear back from you.
Where to find me?
Follow me on Facebook or on Twitter. You may tag @kiipfit on Instagram with your recipe remake images because I would love to see what you cooked.
Did you make it?
If you get a chance to make this recipe then please leave your feedback in the comments below along with a 5-star rating.
In addition, you may checkout my cookbook for everyday comfort vegan recipes.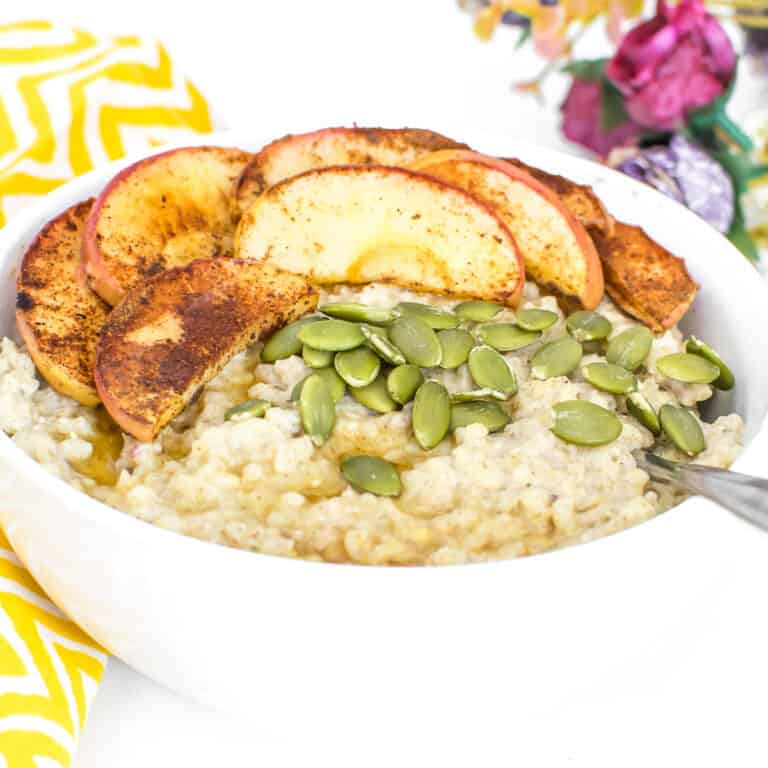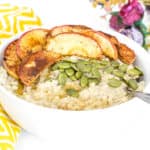 Print Recipe
Millet Porridge
A warm bowl of creamy Millet Porridge on cool mornings is the best breakfast you can ever imagine. It's a family friendly healthy morning meal that's protein packed, vegan, and so easy to make.
Instructions
In a blender combine ½ cup oat milk, date, vanilla extract, hempseeds and chia seeds. Blend it very smooth. Keep it aside.

In a saucepan bring water to a boil and immediately pour the blended milk in it. Stir nicely and bring the flame to medium heat.

Stir in rinsed millet and add another 1 cup of oat milk to it. Stir and cook covered at low-medium flame for 5 minutes.

Remove the lid and stir again to make sure it does not stick at the bottom. Add the remaining 1¼ cup of oat milk to it and stir well. Cook covered at low flame for 10 minutes. Remove the lid and stir to make sure it does not stick at the bottom. If millets are still not soft at this stage then cook covered for another 5–7 minutes or until millets are soft and chewy. Stir again at this stage and turn off the flame.

While you cook millets combine sliced apples with cinnamon powder and cardamom powder in a nonstick pan and cook for few minutes until the apples are slightly aromatic yet crunchy and juicy. You may sprinkle little water on the apples if you feel its getting dry. Turn it off.

Now, if you like your porridge to have a little loose consistency then add 2-3 tbsp oat milk in the hot millet porridge ( Do not cook at this stage, so make sure that the flame is turned off). Stir and ladle it in your serving bowls. Top it with the sliced cooked apples and pumpkin seeds. You may also drizzle maple syrup if you like your porridge little sweeter. Enjoy it hot.
Notes
This taste best when served immediately. However, refrigerate the leftovers to be used the next day. It might get thick and dry so combine little oat milk depending on your choice of consistency on the leftover millets. Warm it up in a saucepan over the stove until first two bubbles. Garnish and enjoy.
Since, I added chia seeds and dates the liquid is absorbed very quickly so make sure to stir at intervals of 3-4 minutes to avoid any sticking to the pan.
You may also drizzle little maple syrup if you like your porridge on a sweeter side. For us, the apples were sweet enough and paired well so we did not require extra maple syrup.
Nutrition
Calories:
352
kcal
|
Carbohydrates:
60
g
|
Protein:
11
g
|
Fat:
10
g
|
Saturated Fat:
2
g
|
Polyunsaturated Fat:
13
g
|
Monounsaturated Fat:
3
g
|
Trans Fat:
0.01
g
|
Sodium:
108
mg
|
Potassium:
286
mg
|
Fiber:
8
g
|
Sugar:
24
g
|
Vitamin A:
488
IU
|
Vitamin C:
3
mg
|
Calcium:
354
mg
|
Iron:
3
mg