This healthier Brown Rice Mushroom Risotto is a quick vegan take on the classic Italian dish. It's a one pot dish for a quick comforting dinner. Its creamy, soft and so cheesy with satisfying flavors.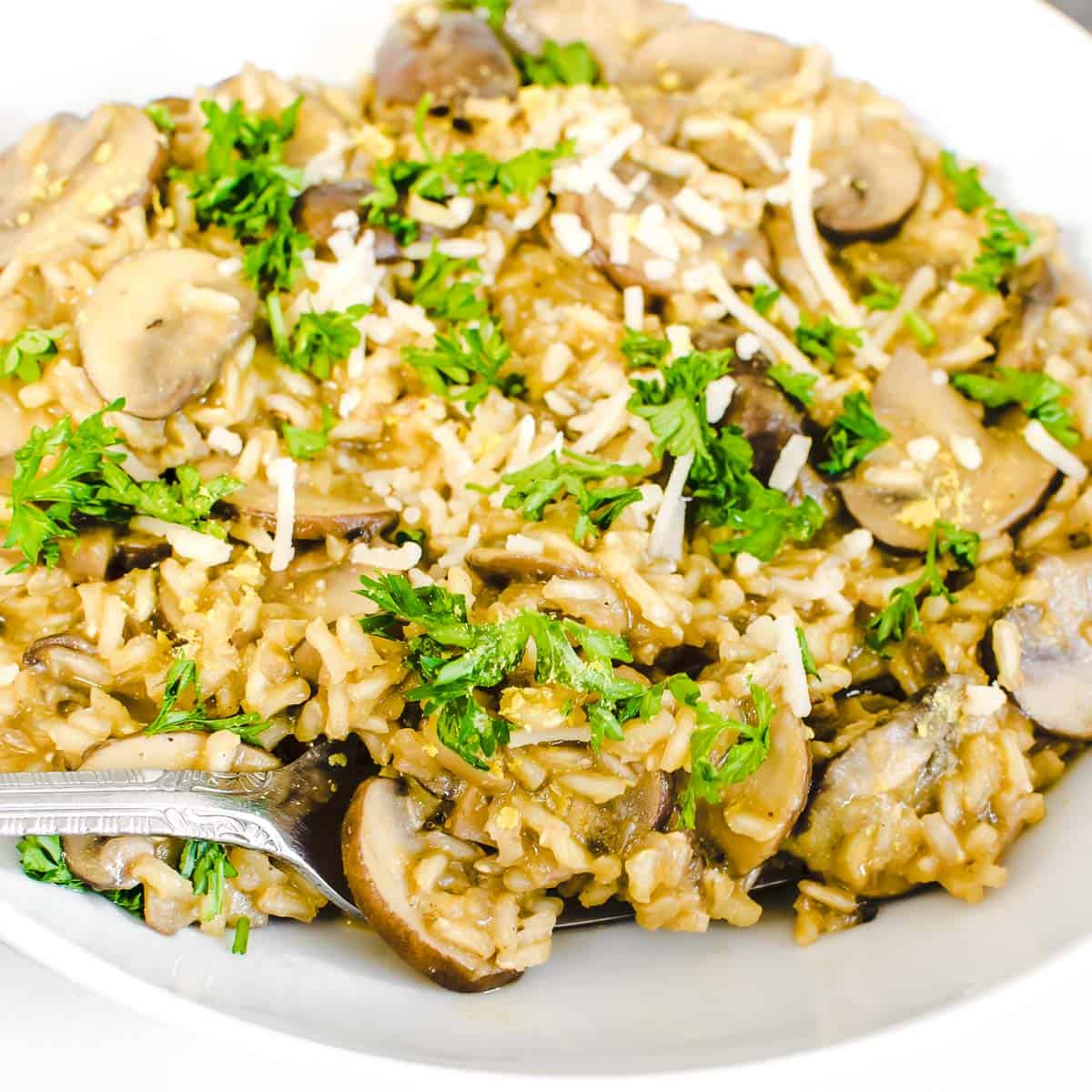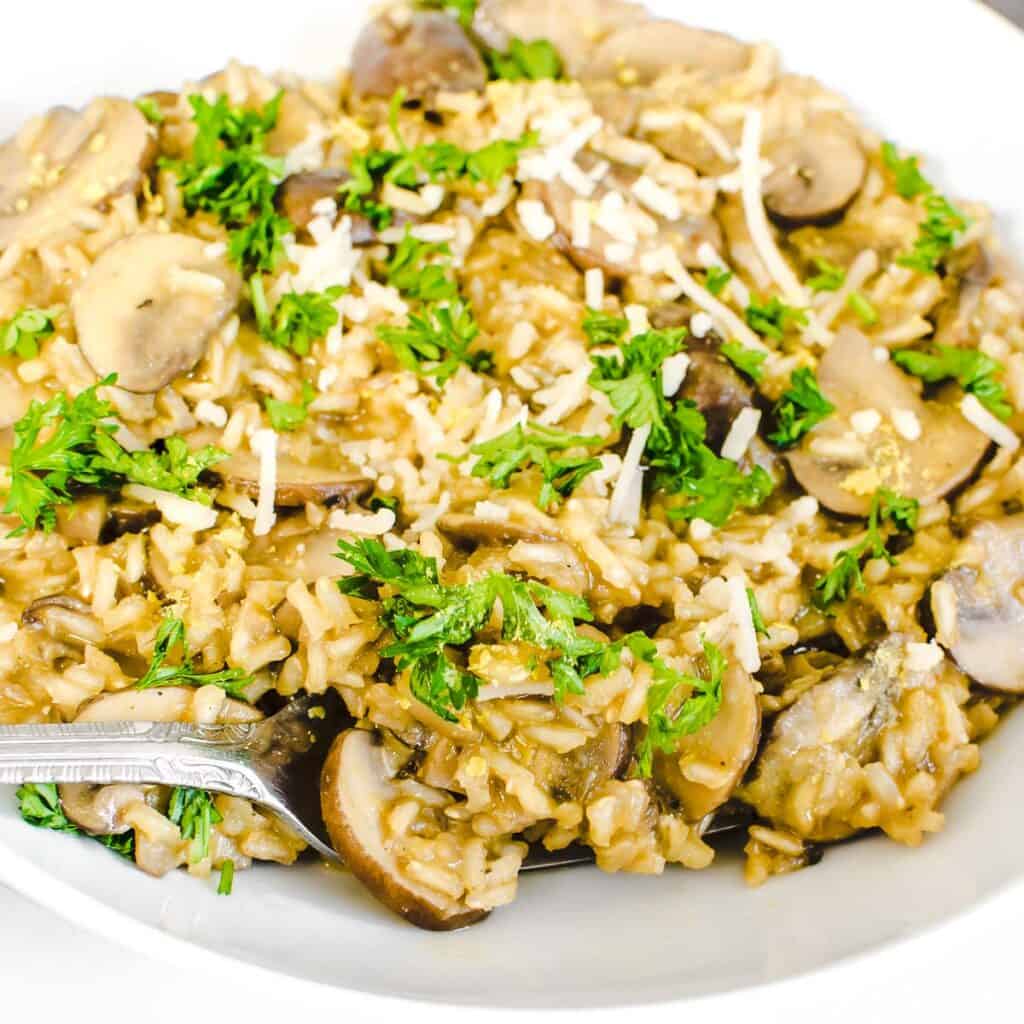 I love mushrooms so my air fryer mushrooms are quite regular in my home. I have made mushroom fried rice earlier and afterwards it has been regular at my end. My mushroom avocado toast is my family's favorite.
But after this vegan mushroom risotto, we have been gorging on it every week. Its outstandingly the best dish I have eaten. While developing this recipe I also figured it out to make it in simple steps plus it's a one pot meal.
What is risotto?
Riso means rice. So, therefore, risotto is an Italian dish where rice is cooked in broth until it reaches a creamy consistency. Originally, it is a starchy dish where rice is not rinsed, washed or drained and directly cooked. It's an Italian comfort food in which meat, vegetables, butter and cheese can be added for variation.
However, my brown rice risotto is easy, comforting and delicious. Moreover, with the addition of mushrooms it gives a nice meaty taste even though this is entirely a vegan recipe.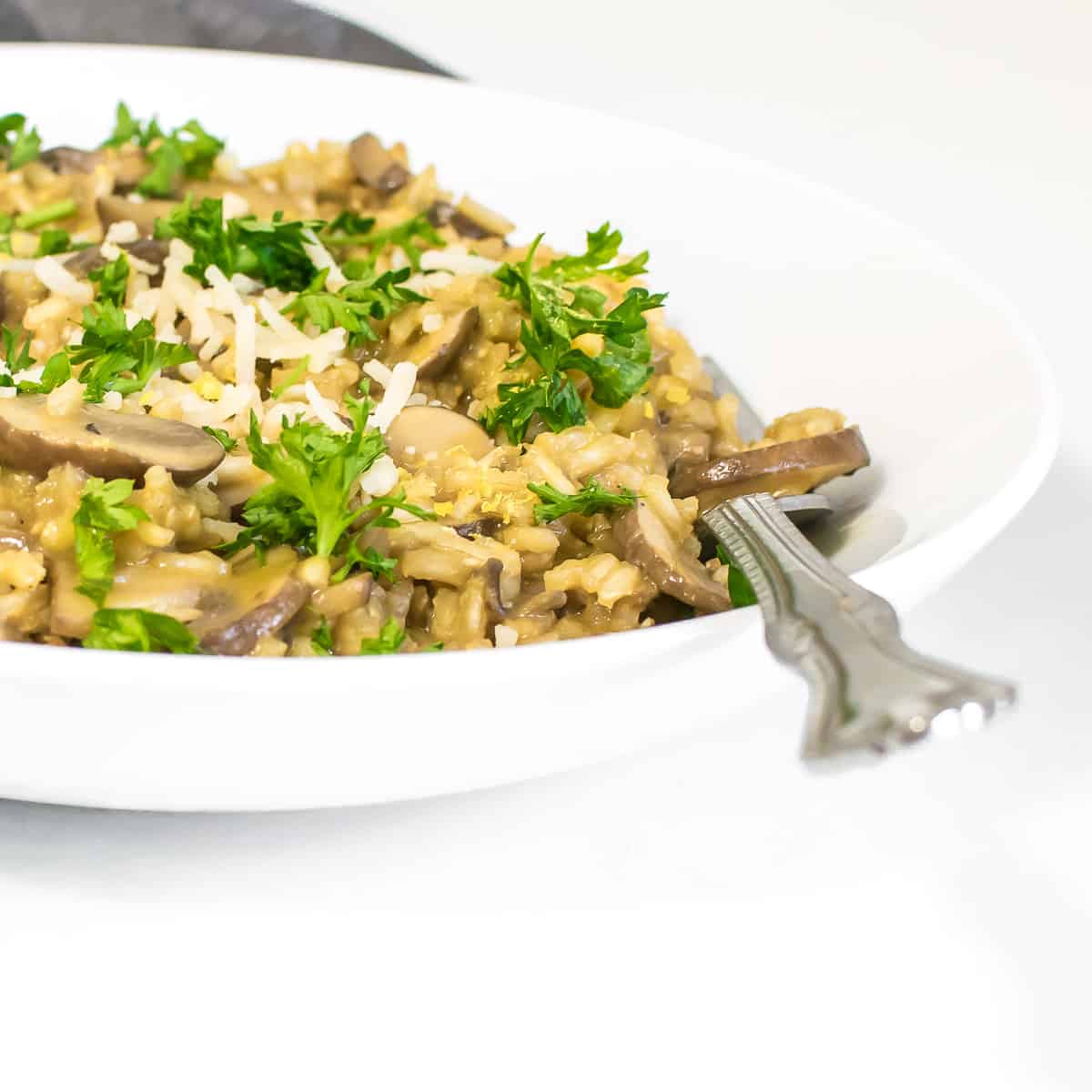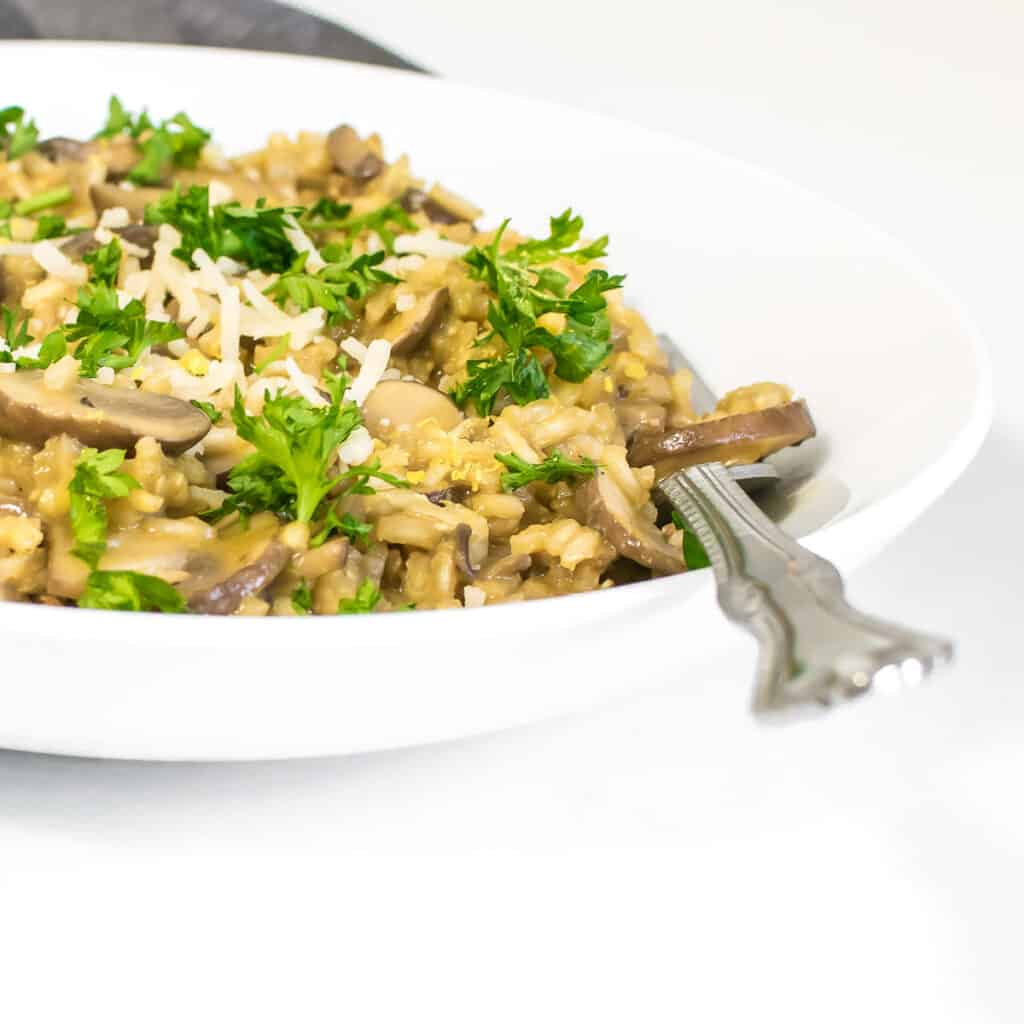 Hence, today I am sharing this brown rice mushroom risotto recipe with you.
Ingredients for healthy mushroom risotto
Olive oil
Onion
Garlic
Baby bella mushrooms
Brown rice
Vegetable broth
Water
Coconut milk
Nutritional yeast
Salt
Pepper
Vegan parmesan cheese
Parsley
You have may come across cremini mushrooms for a risotto. Hence, I would like to clarify that baby Bella mushrooms and cremini mushrooms are the same.
Ingredients notes:
Baby Bella mushroom – I like to buy whole baby Bella and slice it myself to keep its color and freshness intact.
Brown rice – short grain is preferred here but long grain also works.
Vegetable broth – this adds flavor and helps brining the right consistency too.
Coconut milk – usually, I prefer tetra pack one but canned coconut milk also works here. This helps in bringing the creamy texture of this dish.
Nutritional yeast – this makes it taste cheesy.
Vegan parmesan – since, I already used nutritional yeast while cooking this vegan risotto, I garnished it with shredded style vegan parmesan but powdered also works here.
Parsley – curly or Italian parsley both works but try to use fresh.
For detailed measurement of ingredients, please scroll down to the printable recipe card at the end of this post.
How to make Brown Rice Mushroom Risotto
Firstly, I heated oil in a heavy bottomed pan and sautéed onion along with garlic until translucent.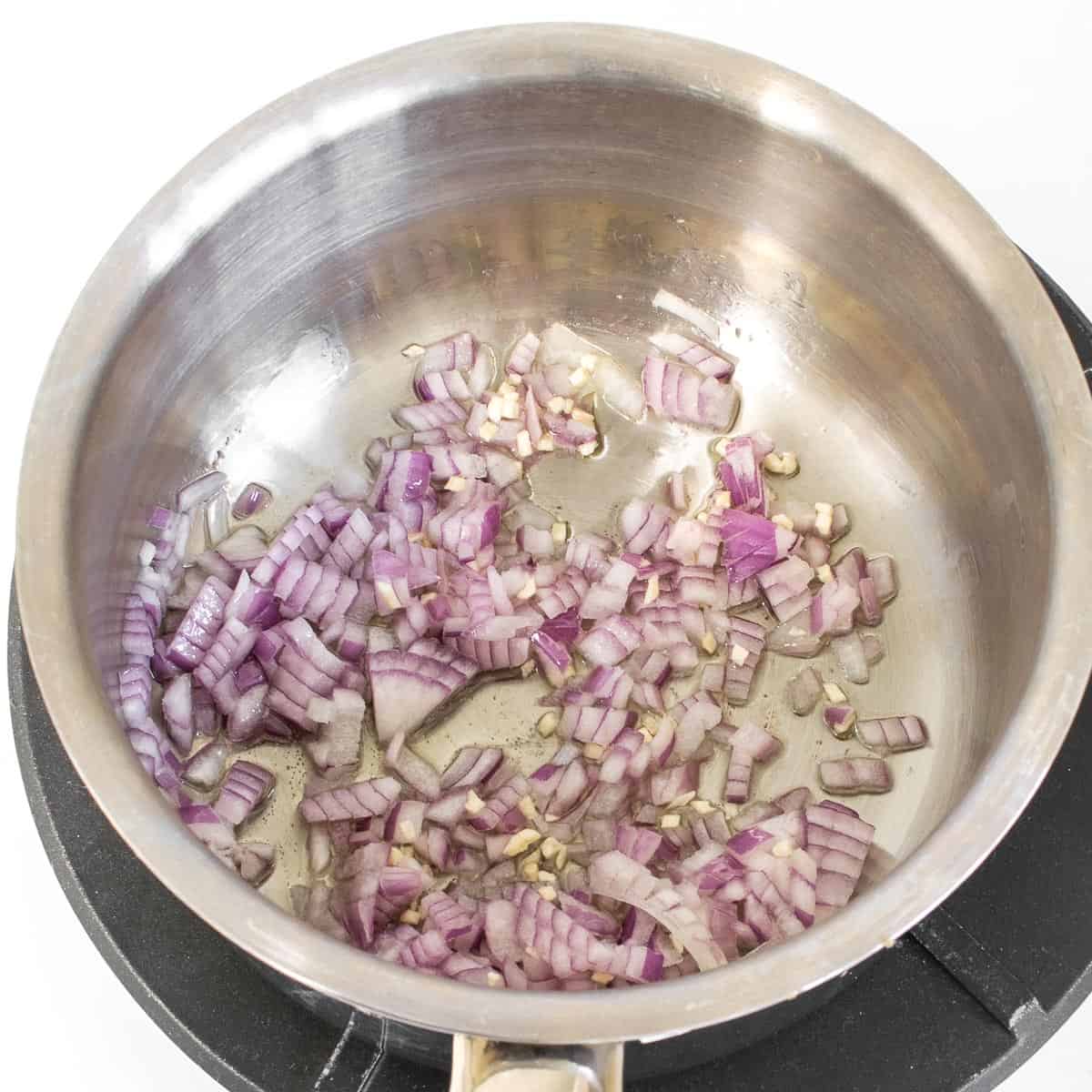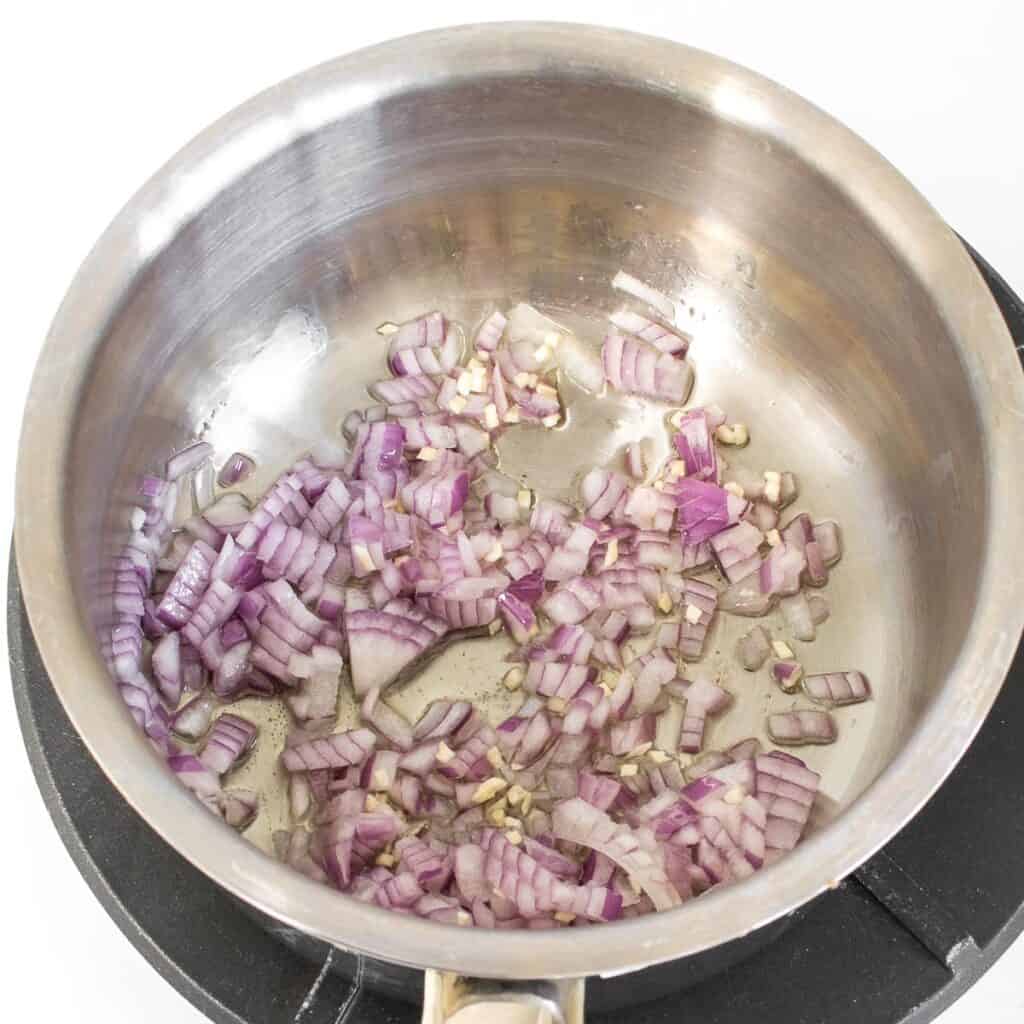 Secondly, I tossed in mushrooms and cooked until brown and released their juice and then dried up also.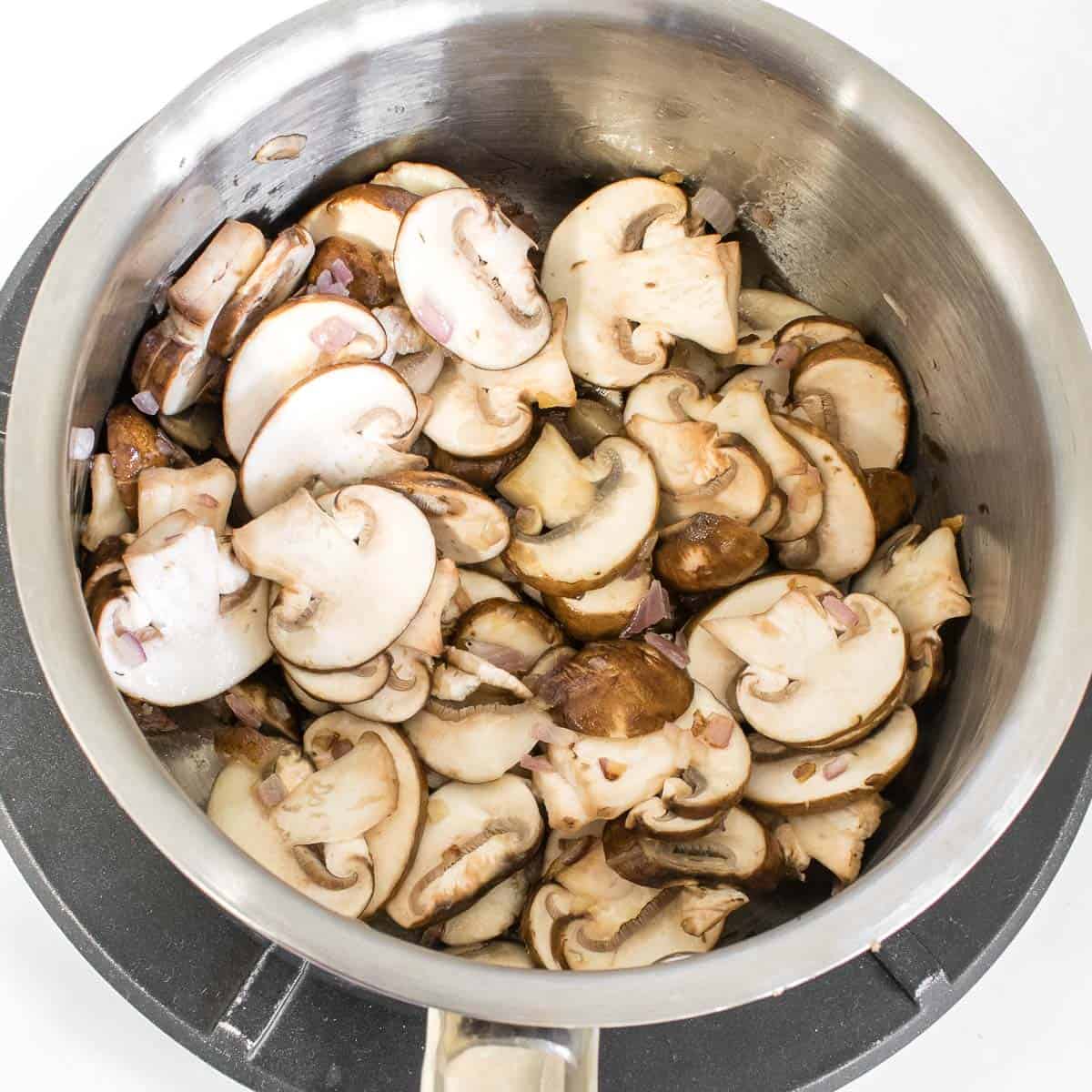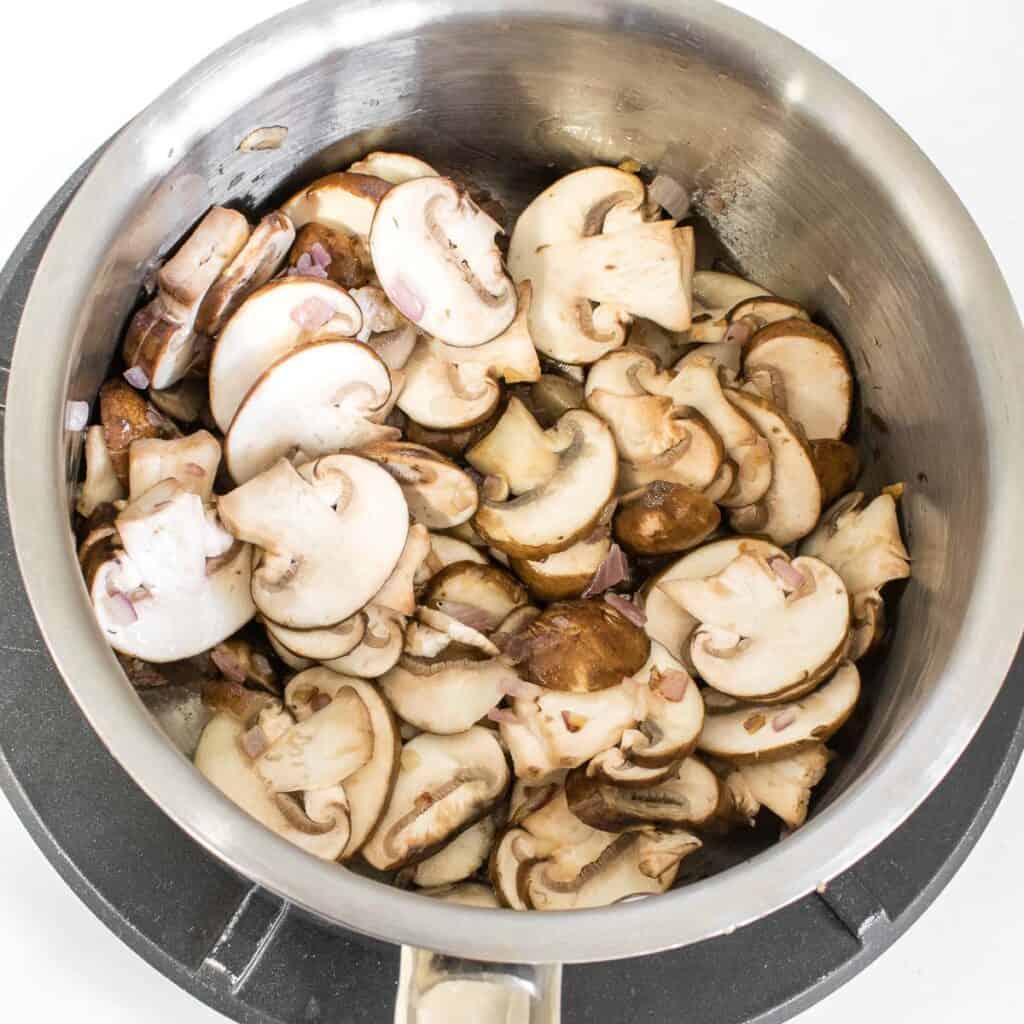 Next, I folded in brown rice and sautéed for few minutes to get a nice toasty effect.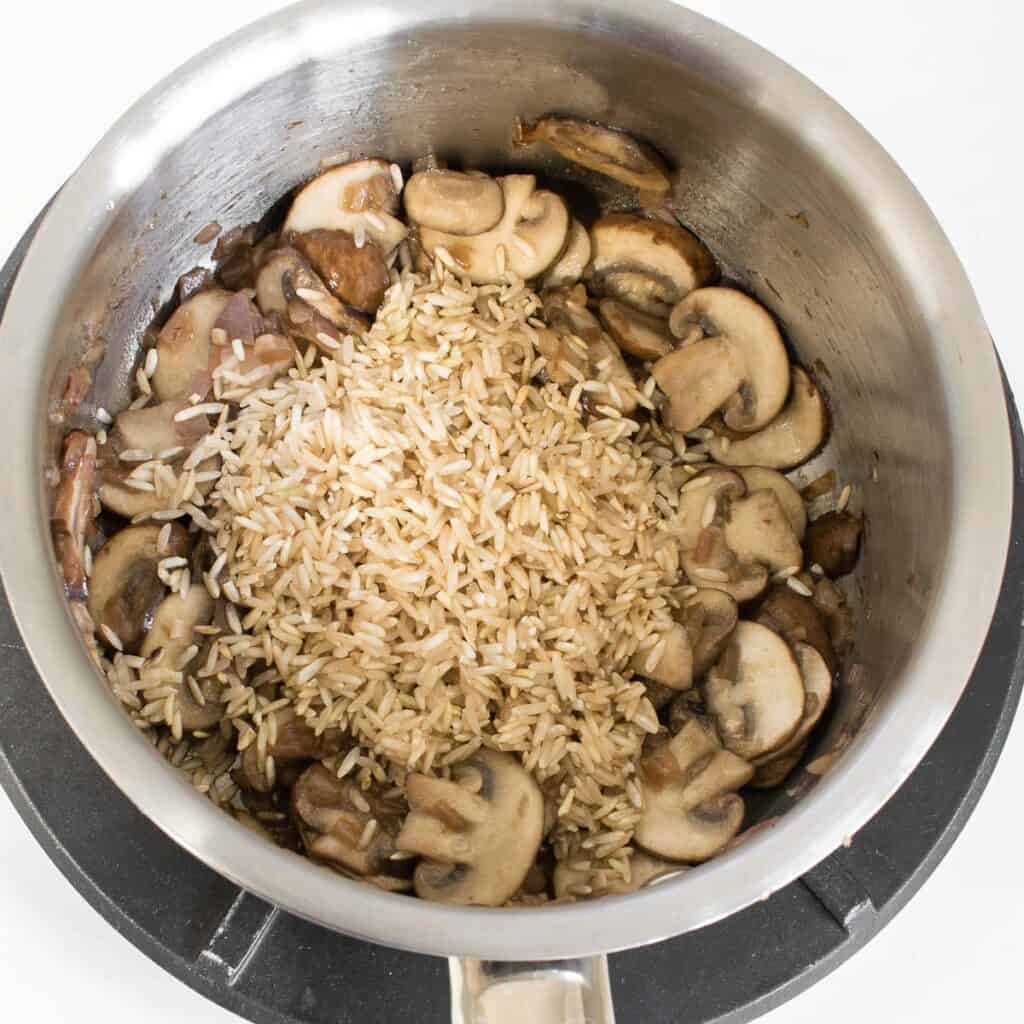 Thereafter, I added vegetable broth and cooked until almost all the liquid was absorbed.
Afterwards, I added water to it and cooked until rice was soft and liquid was almost absorbed.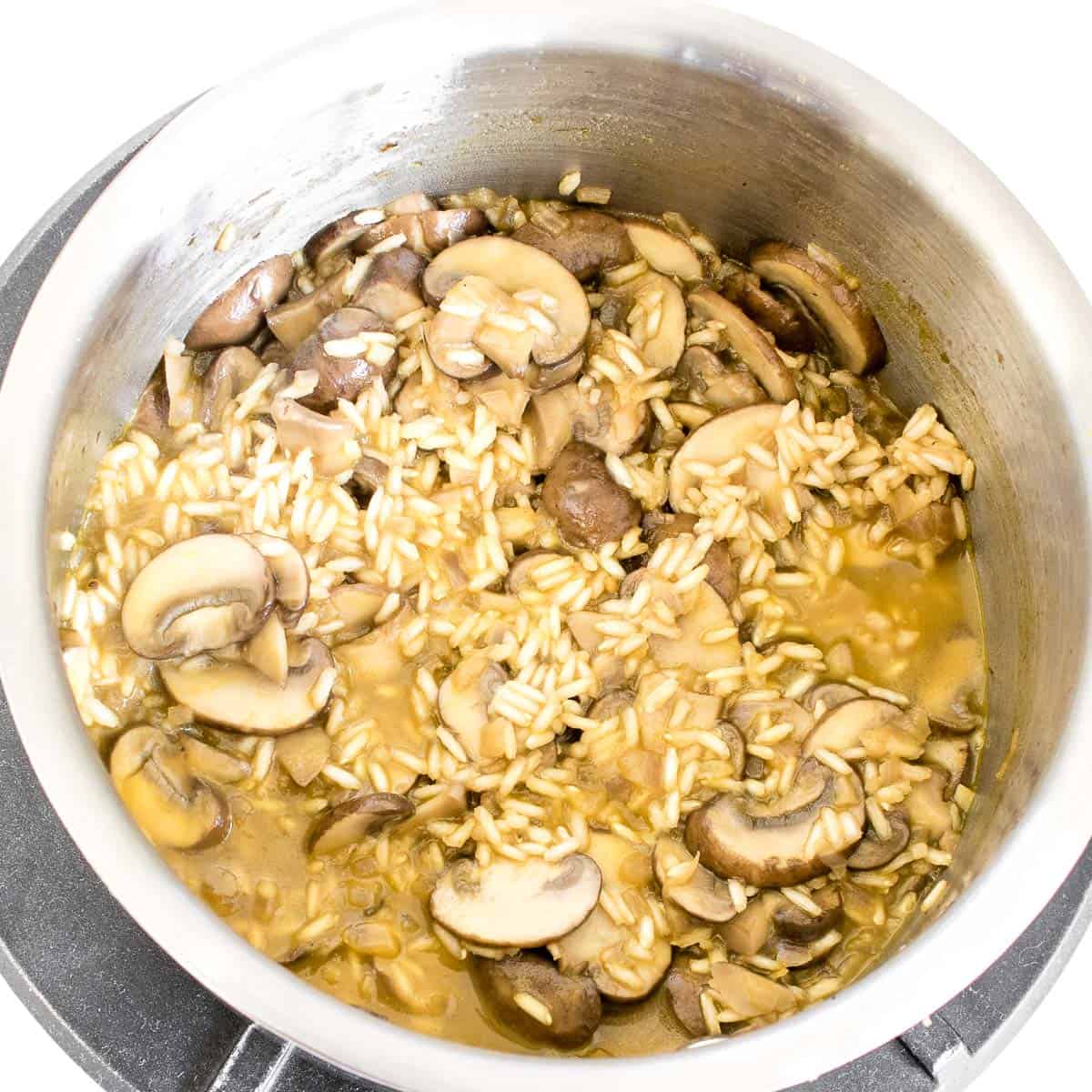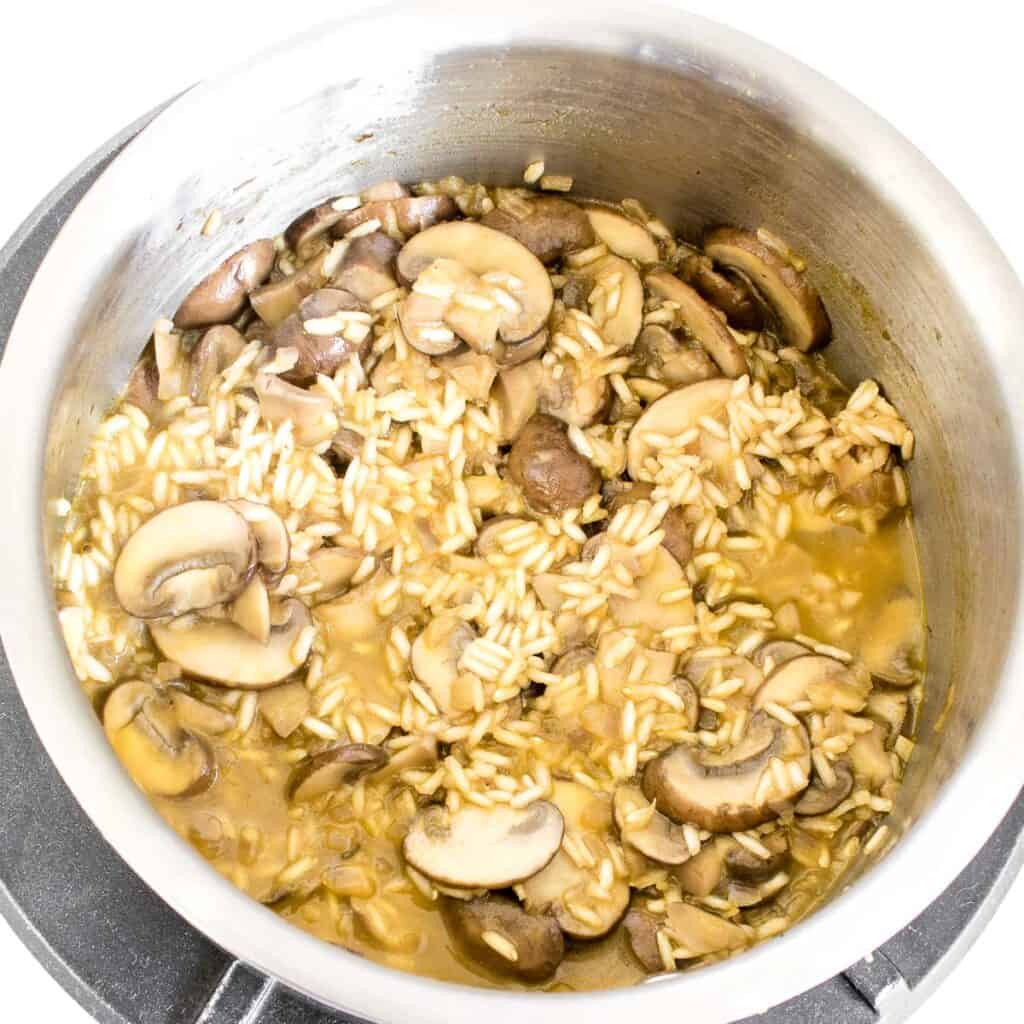 Later, I added coconut milk, nutritional yeast. Then, I seasoned it with salt and pepper. I mixed it well and let it cook at low-medium heat until it was creamy, soft and yet drier.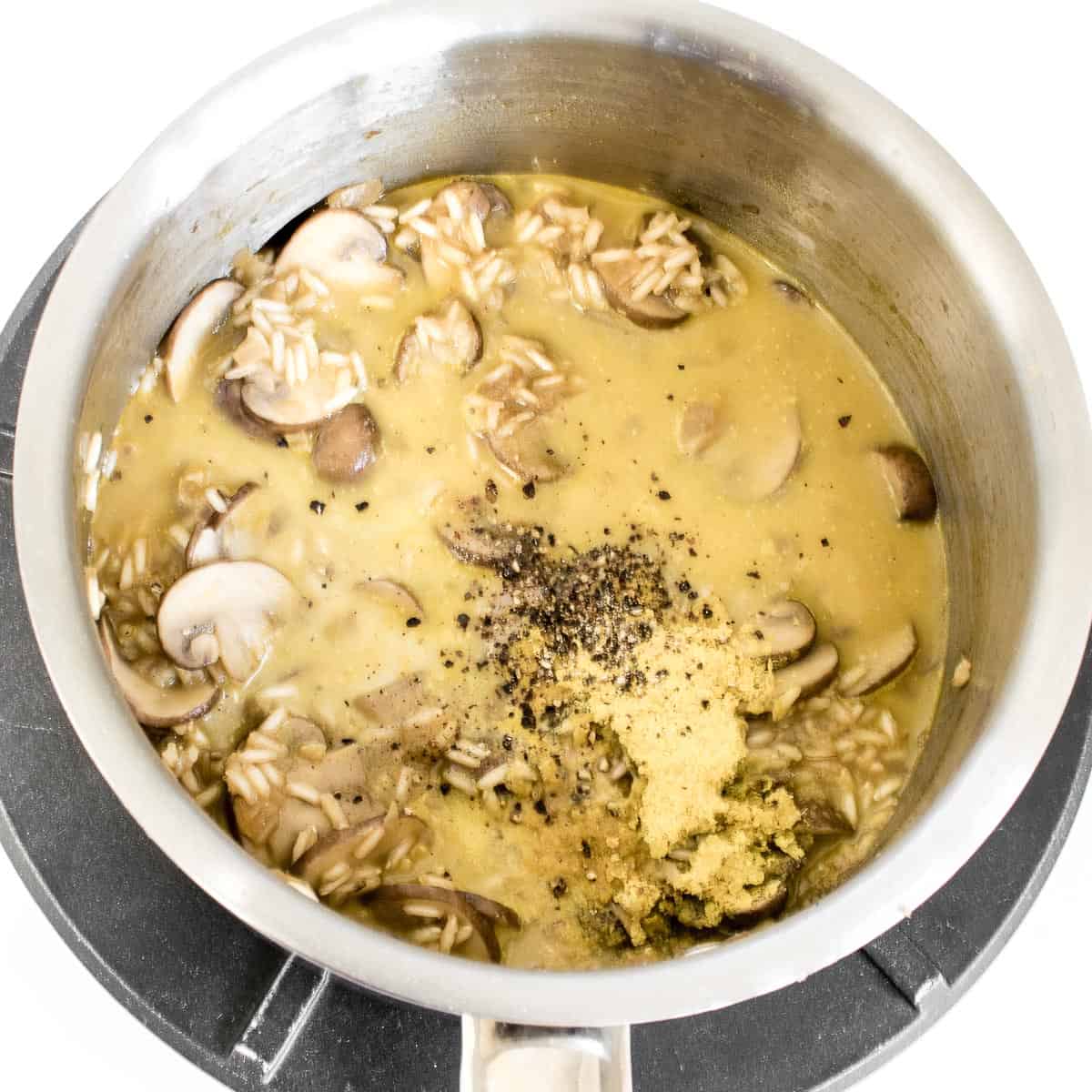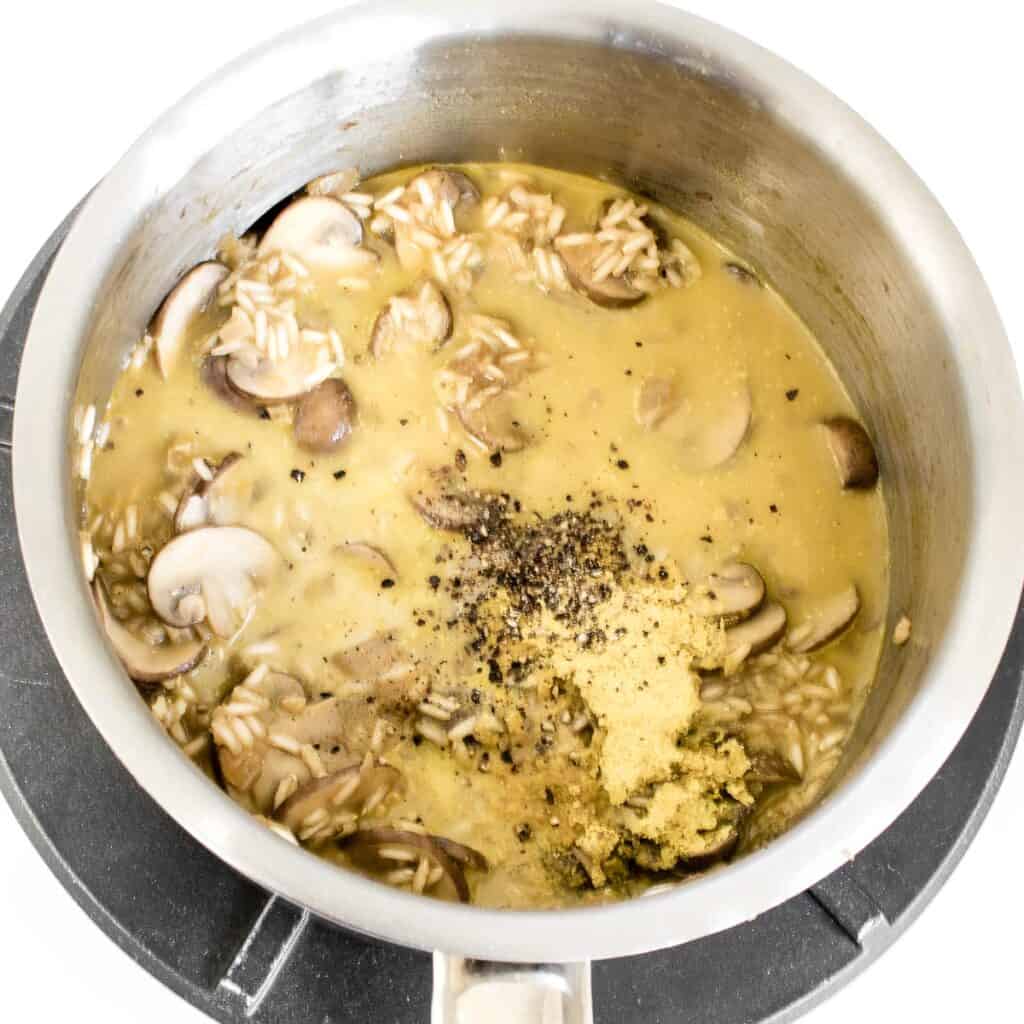 Lastly, I let it rest covered for few minutes. Then, I mixed it again and garnished.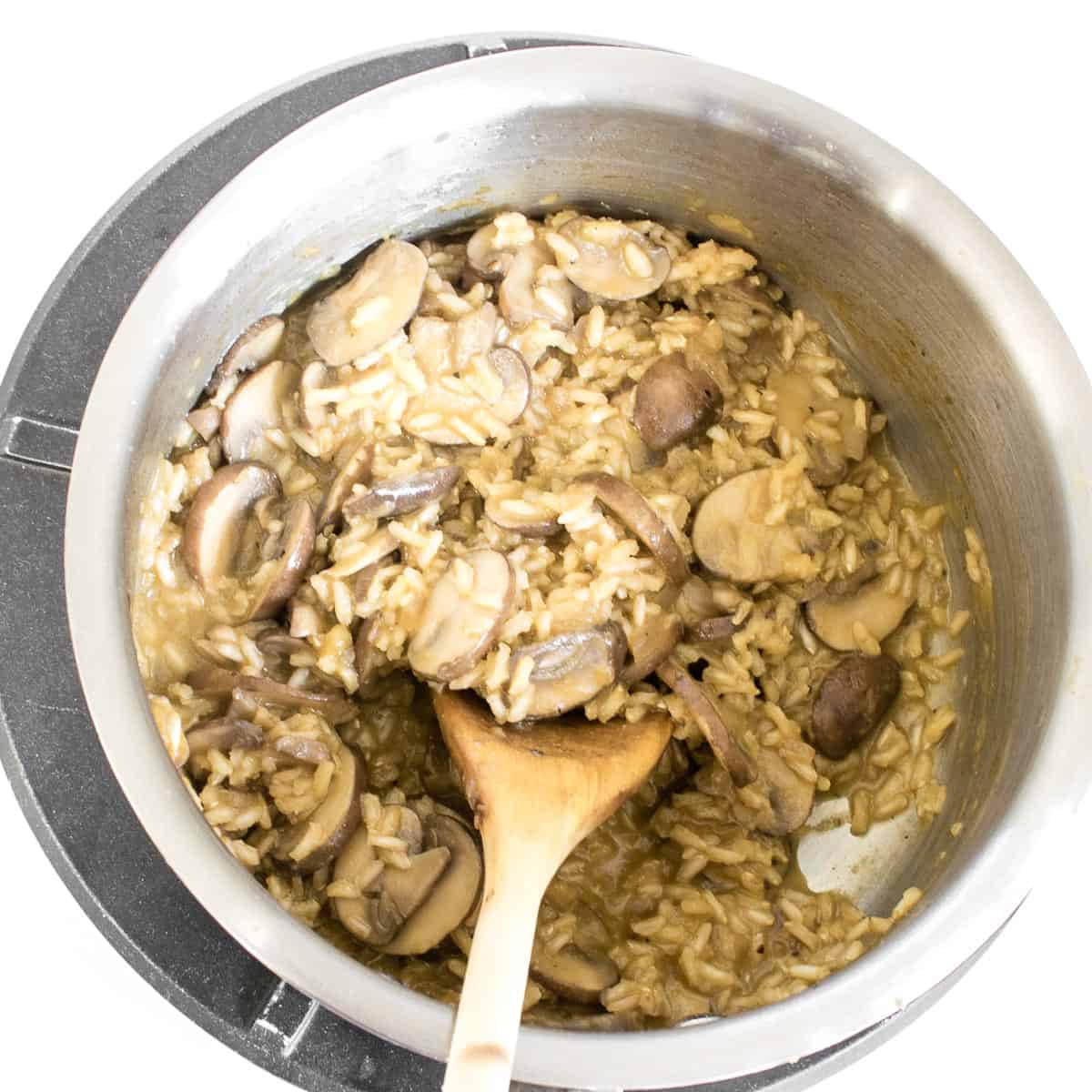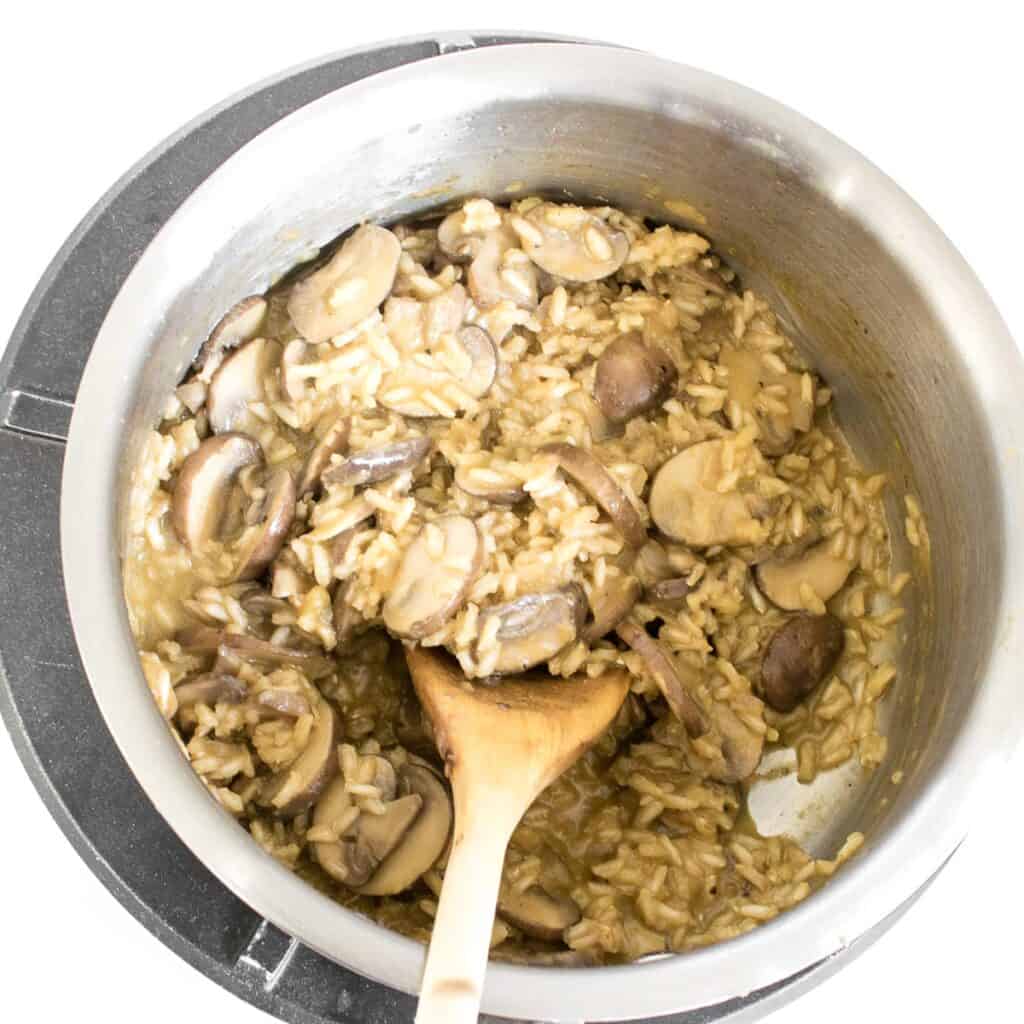 I served it hot and we enjoyed our dinner thoroughly. It tasted gourmet and so satisfying.
Moreover, since it was a one pot dish there was hardly post dinner cleanup.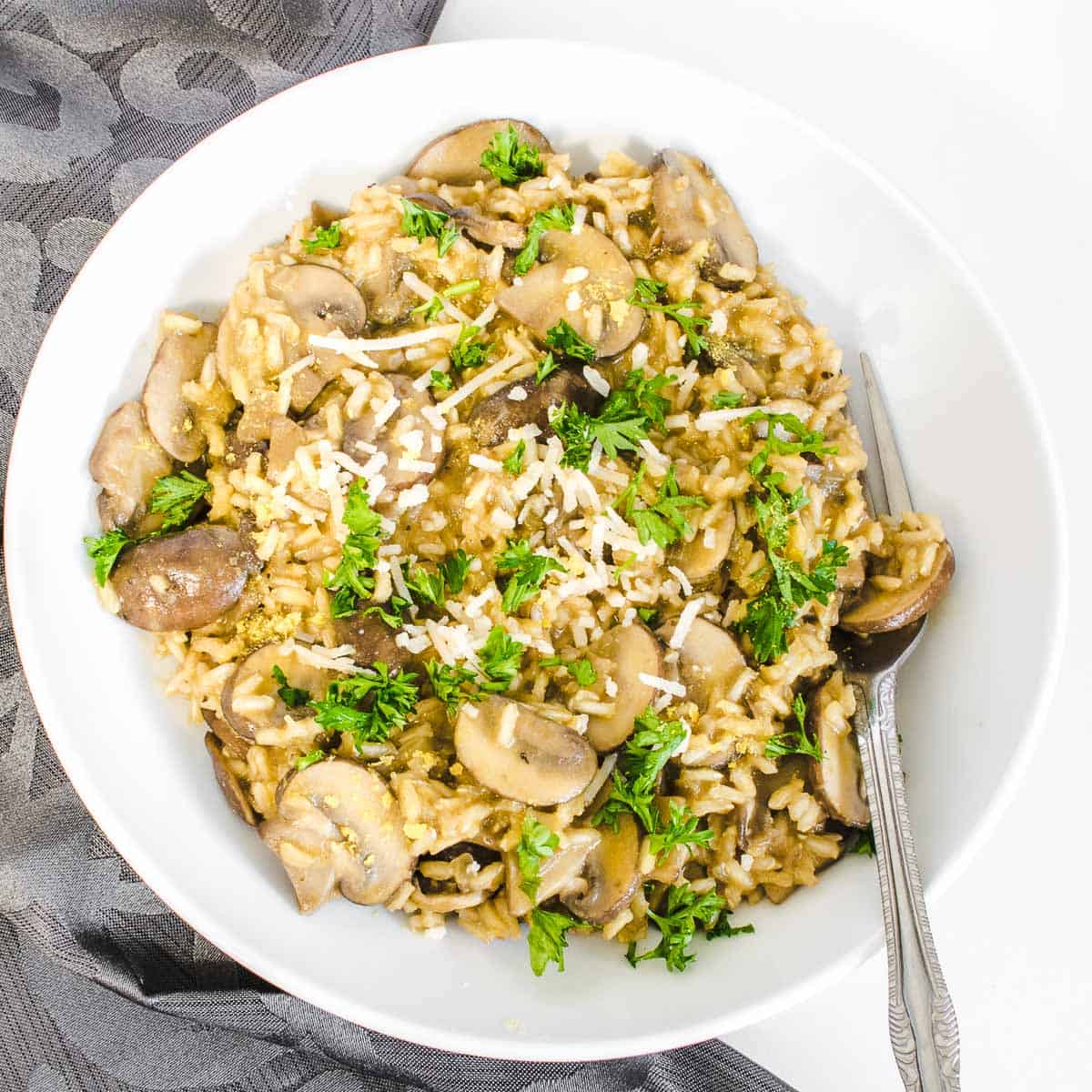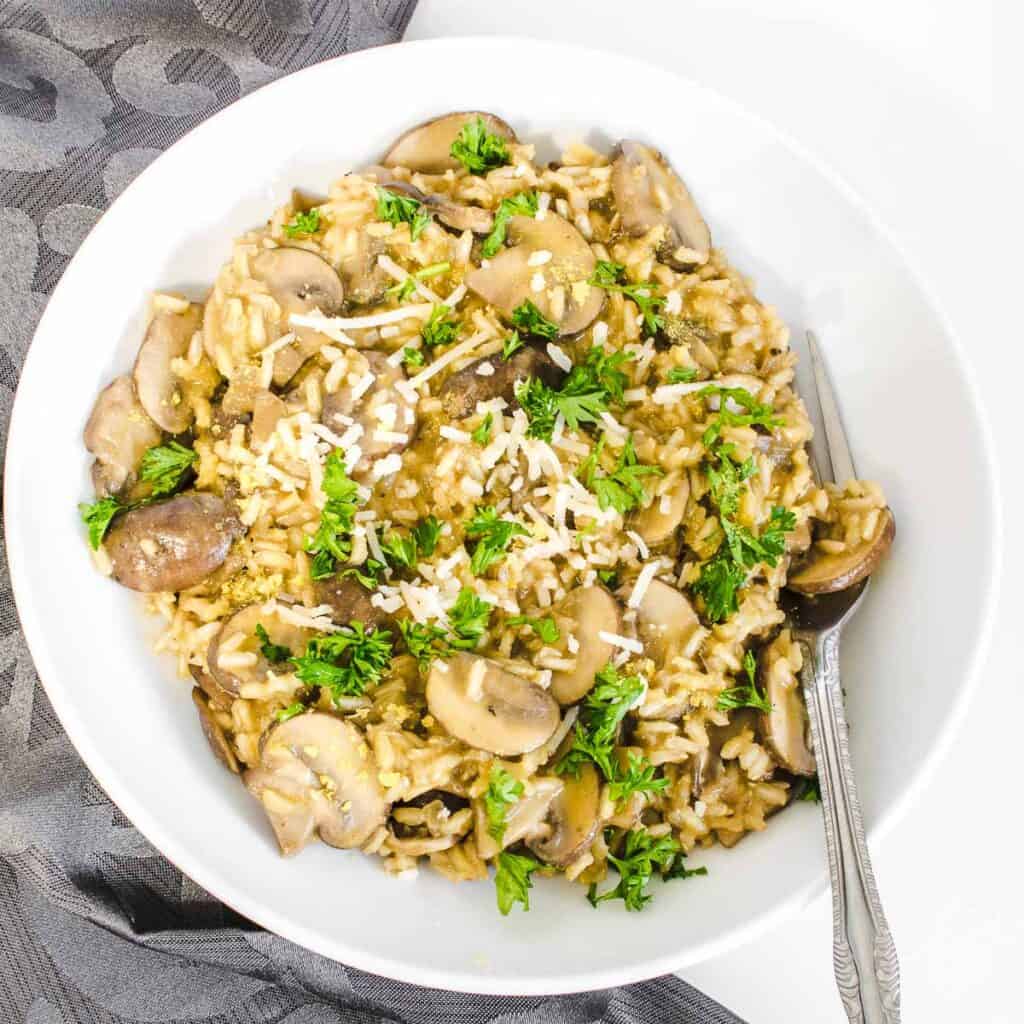 This was the best Italian dinner I have had at home and totally delectable.
Expert tips:
While cooking mushrooms make sure that they are browned and releases the juice. This gives a nice color and meaty chewy taste to this recipe.
It is important to not overcook this risotto recipe. However, at the end but the rice must be soft and the entire dish must be that of pudding texture.
Brown Rice Mushroom Risotto FAQs
How long does this last?
This tastes best when served immediately. However, the leftovers can be refrigerated to be used the next day.
How to I re-heat?
If refrigerated you may either simply microwave it. Or else put it in a pan and add very little coconut milk, just enough to be able to stir rice. Let it cook for few minutes at high-medium flame stirring at intervals. Once it reaches the creamy consistency adjust salt and pepper and serve.
What mushrooms are best for risotto?
Usually, all kinds of mushroom work in a risotto. However, cremini/baby bella, oyster, shitake works great in a risotto.
How do I know when is my risotto done?
It takes a bit of a time for risotto to cook especially if you are making it with brown rice. So, as I have explained in my recipe, after cooking all the ingredients, if you mix it again, the liquid will be almost all gone. However, it will have a creamy consistency like pudding but a little thicker and drier. Keep in mind it should be wetter than a fried rice.
How do I serve this mushroom risotto?
You may add a dollop of vegan butter. Lots of finely chopped fresh parsley enhances its aroma and presentation along with its taste. Foe extra cheesy flavor, top it with vegan parmesan. Risotto is usually served as is and on its own but you may go for a side grilled vegies like broccolini, or grilled asparagus. Sometimes, you may serve it with a crispy toasted baguette.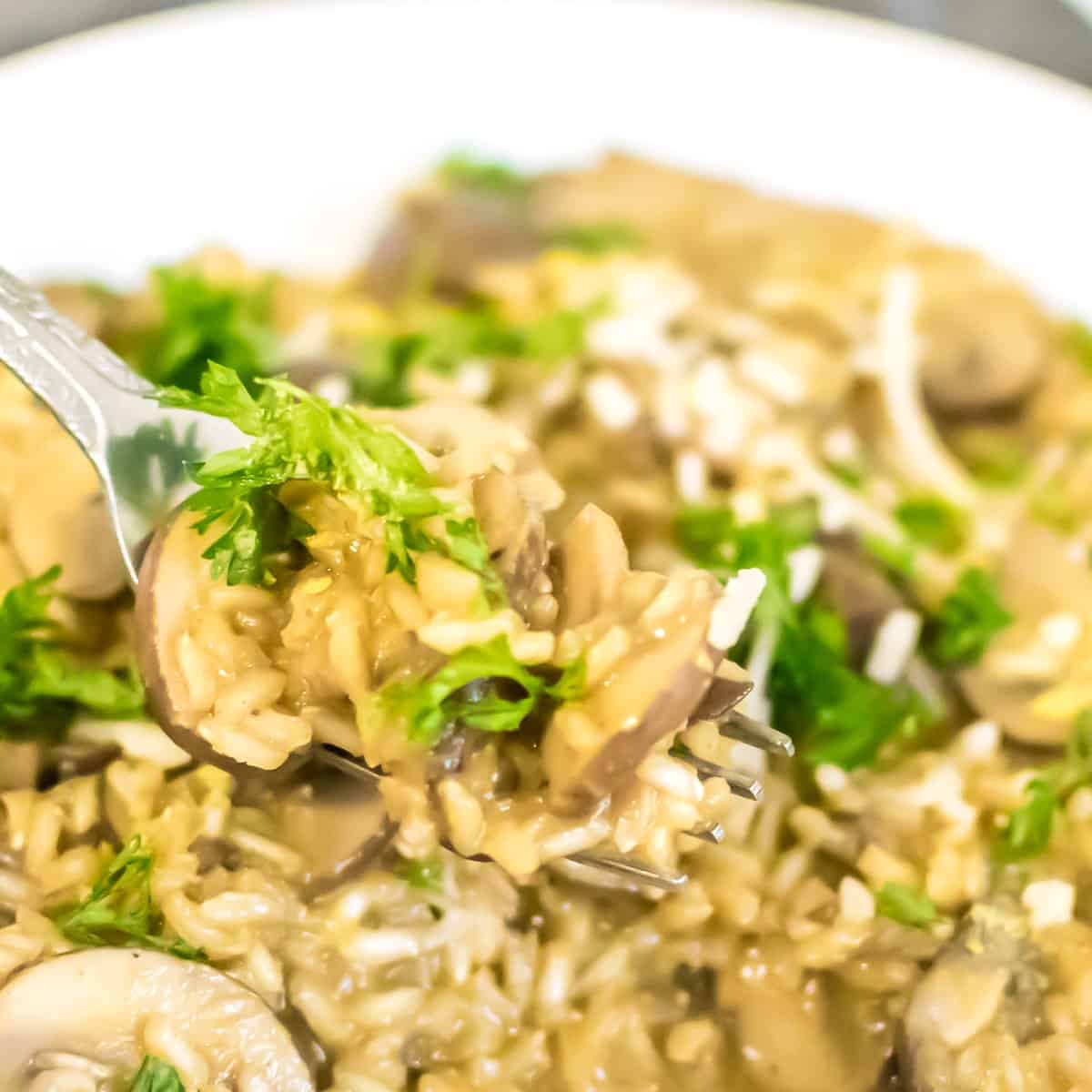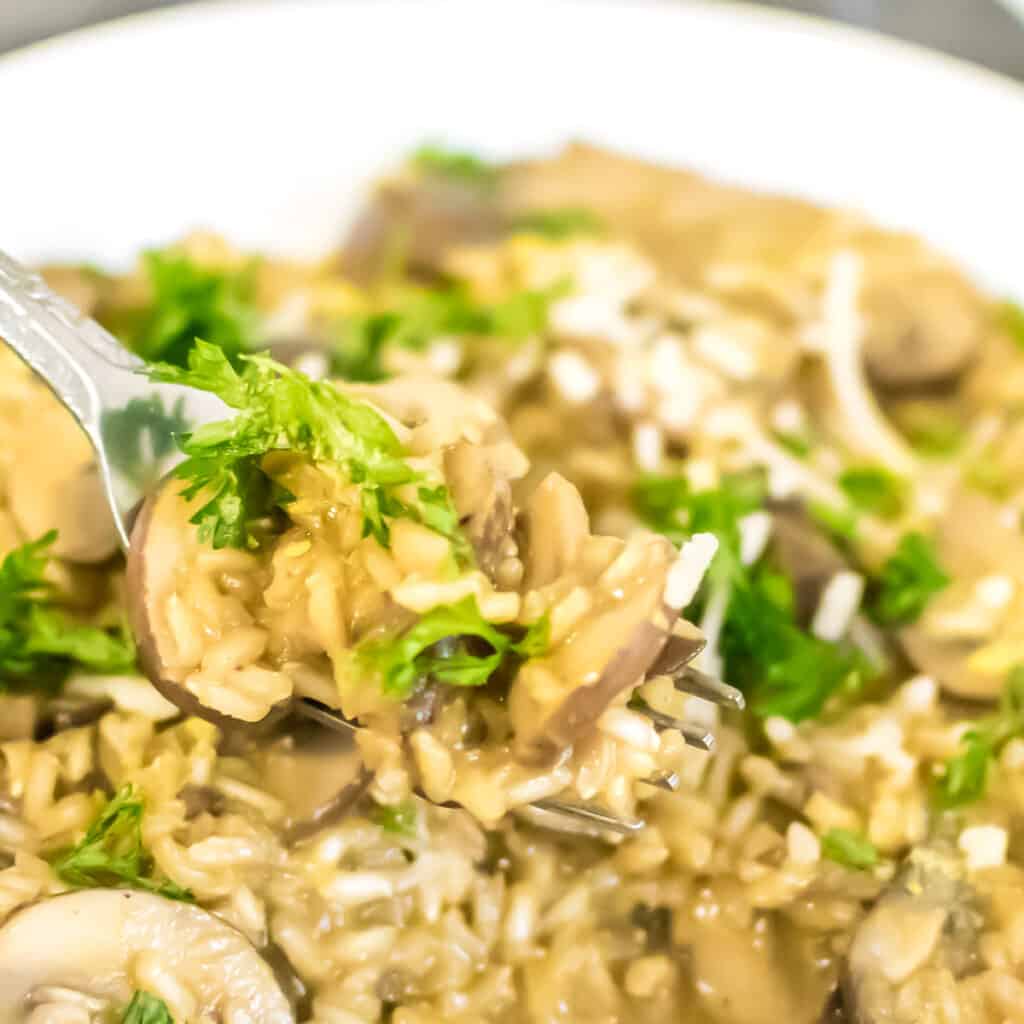 My other Italian dinner recipes that might interest you:
Spaghetti Aglio e Olio
Vegan Pasta Primavera
Vegan Cacio e Pepe
Lemon Pasta
Vegan Carbonara
Fettuccine Alfredo
Instant Pot Pasta Fagioli Soup
This post may contain affiliate links which means that if you click on them and also make a purchase, I will get a small commission. Moreover, I share only those products which I use personally and love.
This is the best vegan mushroom risotto and I hope you will enjoy this as much as we did. I am very excited to hear back from you.
Where to find me?
Follow me on Facebook or on Twitter. You may tag @kiipfit on Instagram with your recipe remake images because I would love to see what you cooked.
Did you make it?
If you get a chance to make this recipe then please leave your feedback in the comments below along with a 5-star rating.
In addition, you may checkout my cookbook for everyday comfort vegan recipes.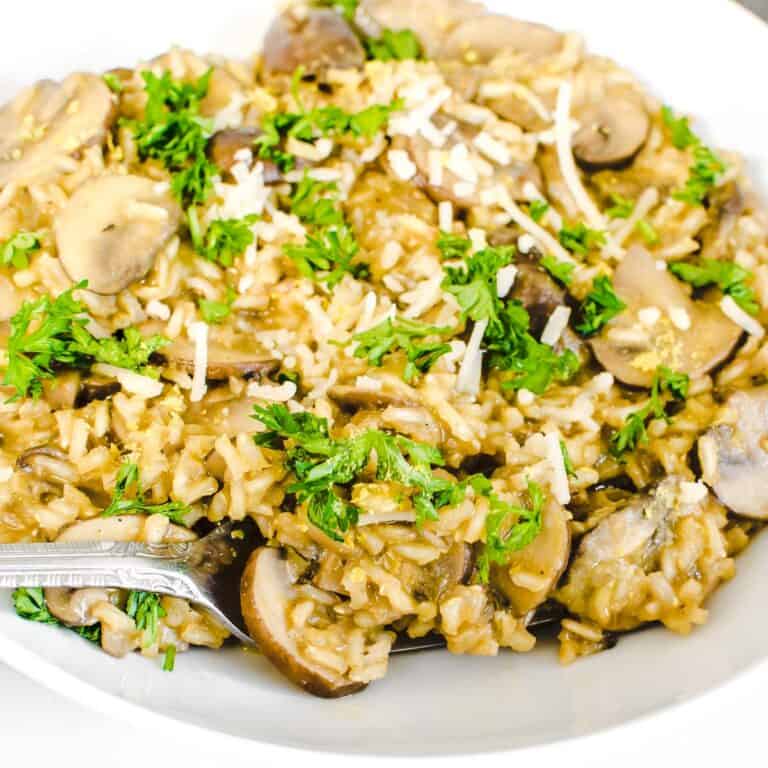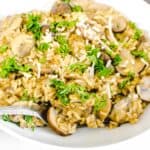 Print Recipe
Brown Rice Mushroom Risotto
This healthier Brown Rice Mushroom Risotto is a quick vegan take on the classic Italian dish. It's a one pot dish for a quick comforting dinner. Its creamy, soft and so cheesy with satisfying flavors.
Ingredients
to garnish
chopped fresh parsley

vegan parmesan cheese
Instructions
In a heavy bottom pan heat oil and sauté onion and garlic in it until onions are translucent.

Toss in sliced mushrooms and cook until its brown and releases it juice and dried up.

Add brown rice and sauté for 2 minutes for a toasty effect.

Add vegetable broth and cook at high until all the liquid is almost absorbed. Then add water and stir. Cook again covered at medium flame until rice is softened and almost all liquid is absorbed (this step may take about 25 minutes).

Stir in coconut milk, nutritional yeast, salt and pepper. Mix well and let it cook uncovered at low-medium flame until all the liquid is almost absorbed. It should be creamy and soft at this point. Turnoff the flame and let it rest covered for 5 minutes. Remove the lid and mix well.
Notes
It's better to buy whole baby bella mushroom and slice it yourself.
You may use long grain brown rice but do not go for extra-long brown rice.
This recipe tastes best when served immediately. However, refrigerate the leftovers to be used the next day. You may either microwave as is for a drier fried rice kind of version. Or put it a pan and add very little coconut milk (just enough to be able to stir it like a pudding). Cook at medium-high flame for few minutes. Cover and let it rest for few minutes. Remove the lid and mix again. It should be of the same consistency like when you cooked it the first time. Adjust salt and pepper and serve.
Nutrition
Calories:
230
kcal
|
Carbohydrates:
39
g
|
Protein:
8
g
|
Fat:
6
g
|
Saturated Fat:
1
g
|
Polyunsaturated Fat:
1
g
|
Monounsaturated Fat:
3
g
|
Sodium:
476
mg
|
Potassium:
55
mg
|
Fiber:
1
g
|
Sugar:
1
g
|
Vitamin A:
250
IU
|
Calcium:
4
mg
|
Iron:
1
mg