Easy creamy Vegan Avocado Pasta is a quick weeknight dinner for pasta lovers. It's so simple that it comes together in about 15 minutes and is healthy and so comforting.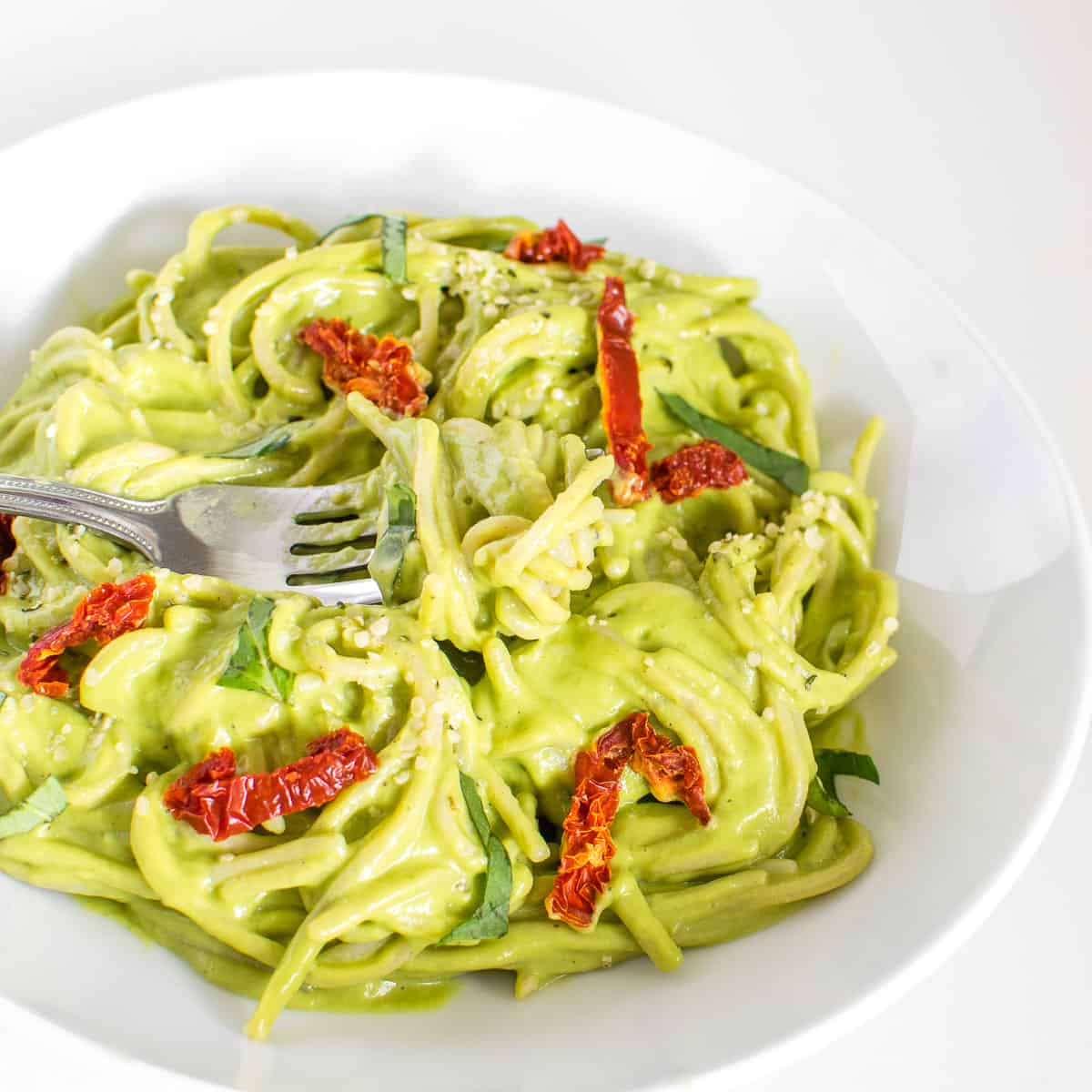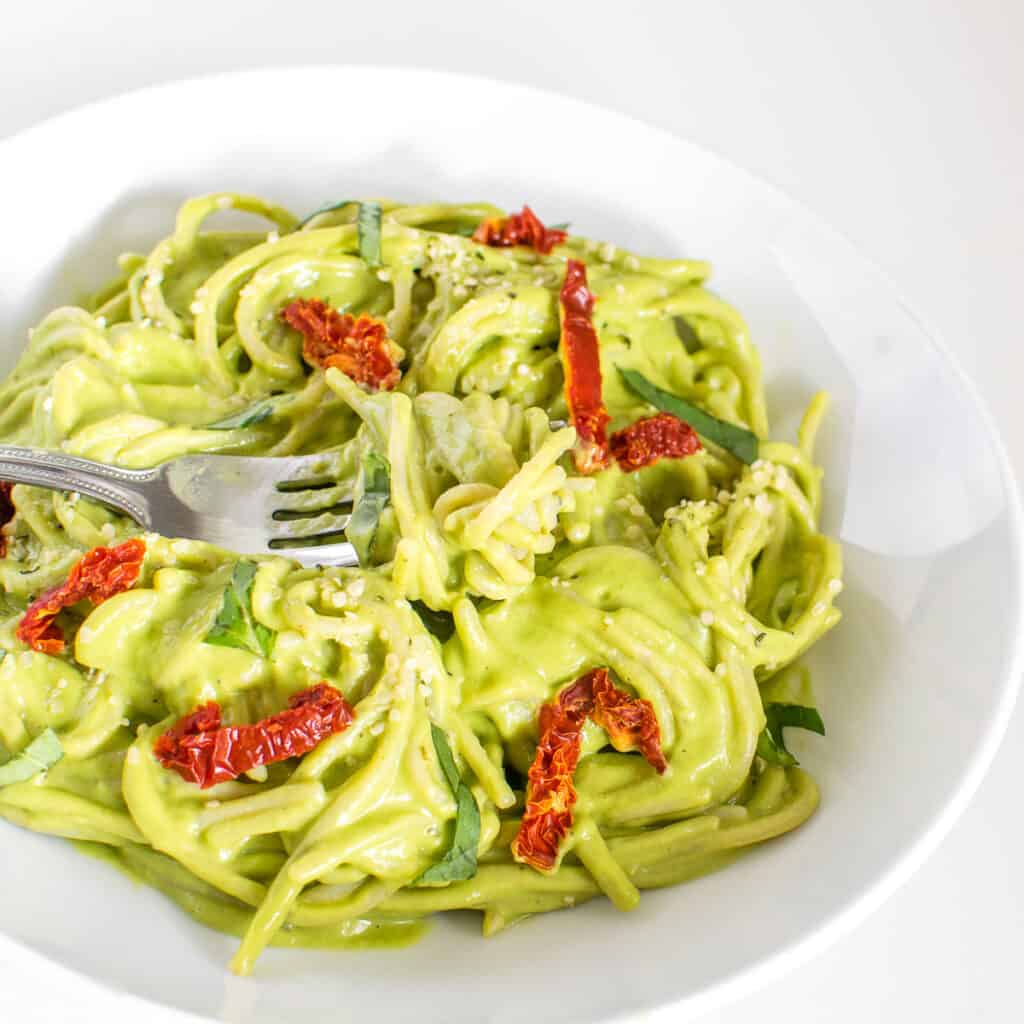 I never knew that avocado pasta sauce really existed. I was just trying to use up extra avocados from my fridge and I innovated an awesome dish. However, when I finally assembled the entire recipe, it was outstandingly delicious.
Even my kids ate it happily and they named it yummy pasta. My elder daughter calls it guacamole pasta.
It has beautiful green color and creamy texture and a crowd pleaser.
Moreover, I used healthy pasta here like chickpea pasta to add a of more protein or sometimes, I even use ancient grains pasta/spaghetti for this. Avocadoes are packed with healthy fats and top it all I made it absolutely oil free.
I guarantee you will love it in your first attempt.
Health benefits of Avocado
Its nutrient dense and is packed with many vitamins and is a rich source of riboflavin, magnesium and potassium. It also provides healthy omega 3 fatty acids along with beta carotene. Usually, ½ avocado a day is the right serving suggestion because it contains healthy monounsaturated fats which keeps you fuller between meals. Hence, it acts like an aid to weight loss many times.
I have made avocado milkshake and its regular for my kids when they want something so creamy and delicious.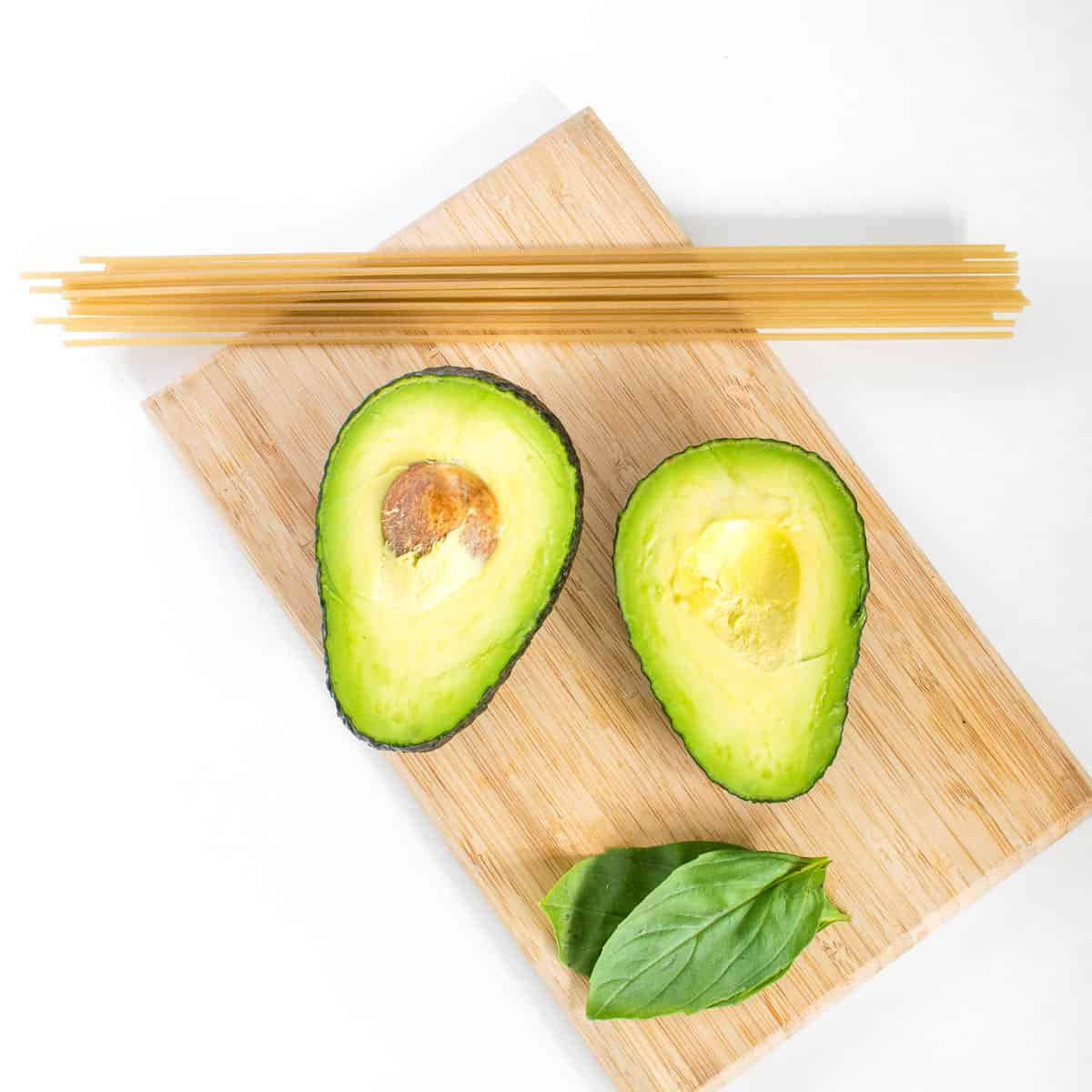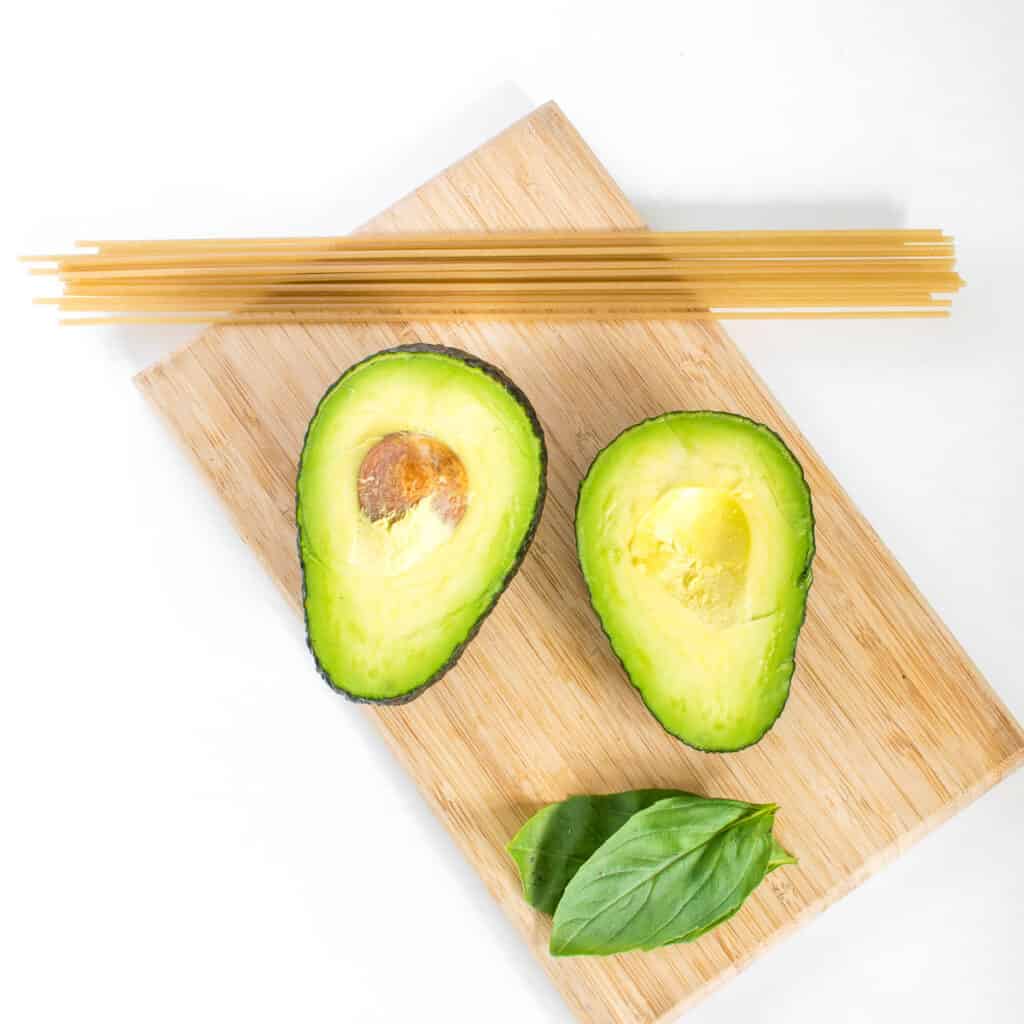 Ingredients for vegan avocado pasta
Avocadoes
Basil
Coconut milk
Nutritional yeast
Garlic
Lemon zest
Lemon juice
Salt
Pepper
Thin/regular spaghetti
I used simple and convenient ingredients for this recipe.
Ingredients notes:
Avocadoes – ripe avocadoes work best here. Small – medium size is enough for this recipe. If you find a large avocado the 1 is fine for a creamy avocado pasta sauce.
Basil – fresh basil leaves are the best to make this sauce. Thai basil or regular basil both works fine.
Coconut milk – I used tetra packed coconut milk here to keep it lighter and yet creamy. Coconut milk gives it a thick and rich base. You may use lightened canned coconut milk also here.
Nutritional yeast – it gives a nice savory flavor along with some cheesy and nutty touch to it.
Pasta – thin or regular spaghetti works great here. I use the healthy options like chickpea spaghetti or ancient grains but you may use regular spaghetti also.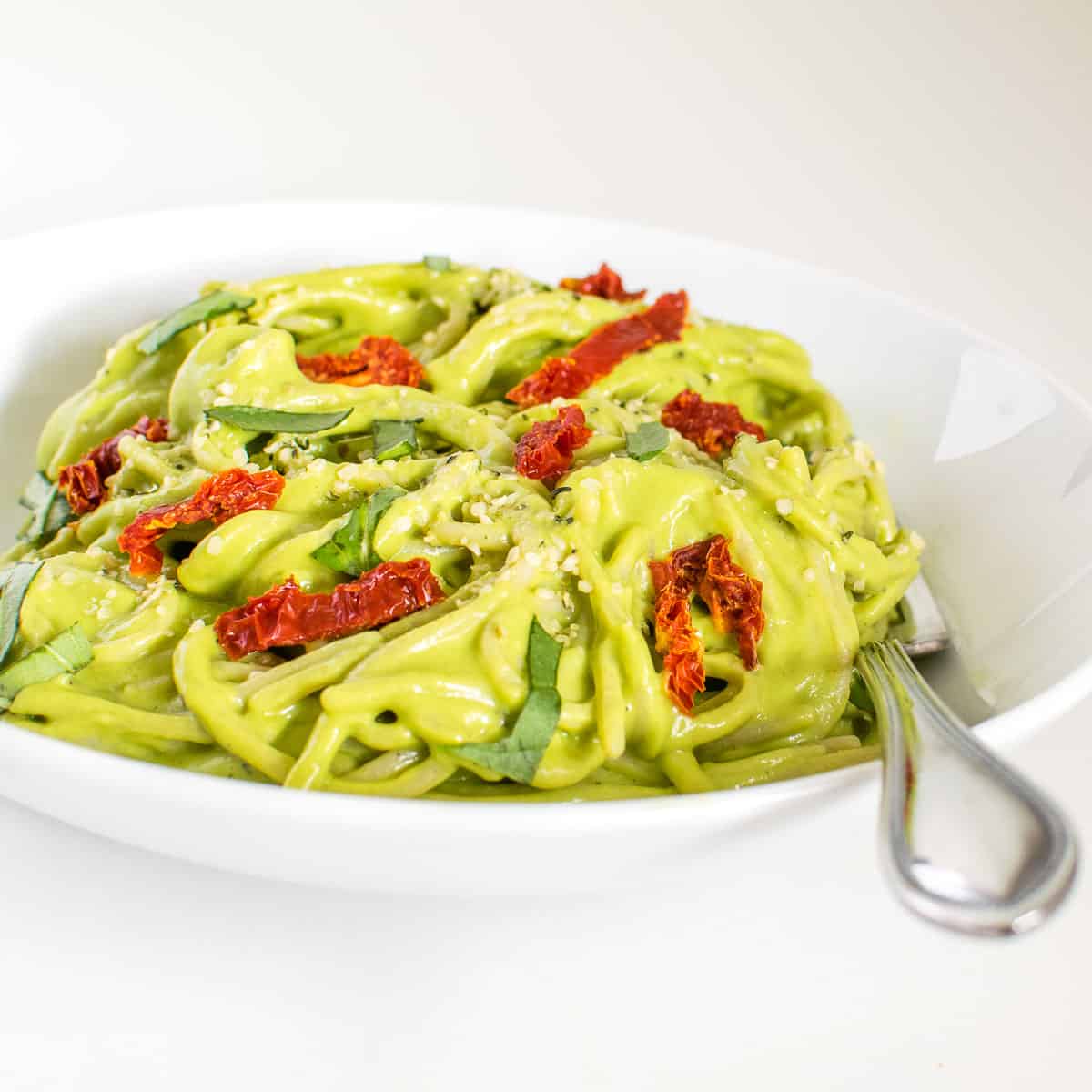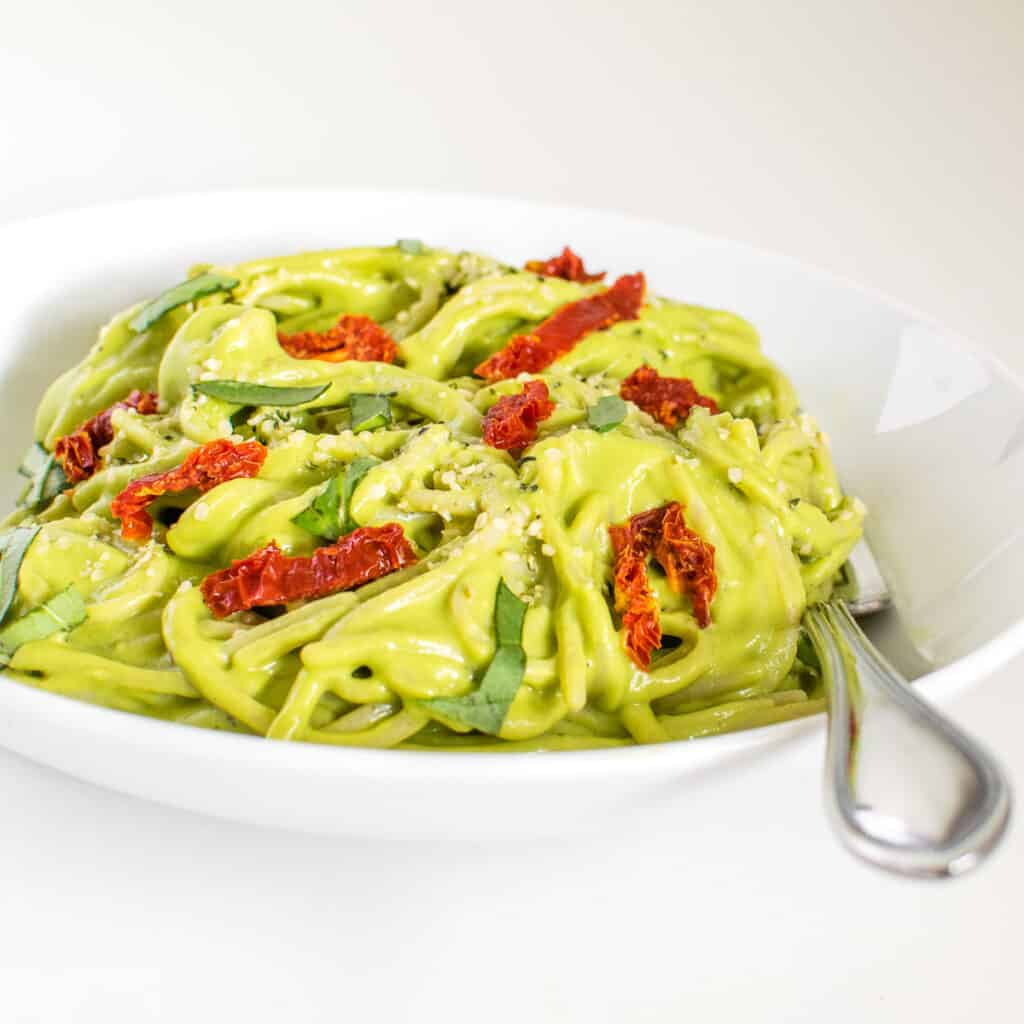 For detailed measurement of ingredients, please scroll down to the printable recipe card at the bottom of the post.
How to make Vegan Avocado Pasta
Firstly, I brought lots of water to boil and then I added spaghetti/pasta in it to cook.
Secondly, while the pasta was boiling, I combined all the sauce ingredients in the blender (avocado, basil, coconut milk, nutritional yeast, garlic, lemon zest, lemon juice, salt and pepper).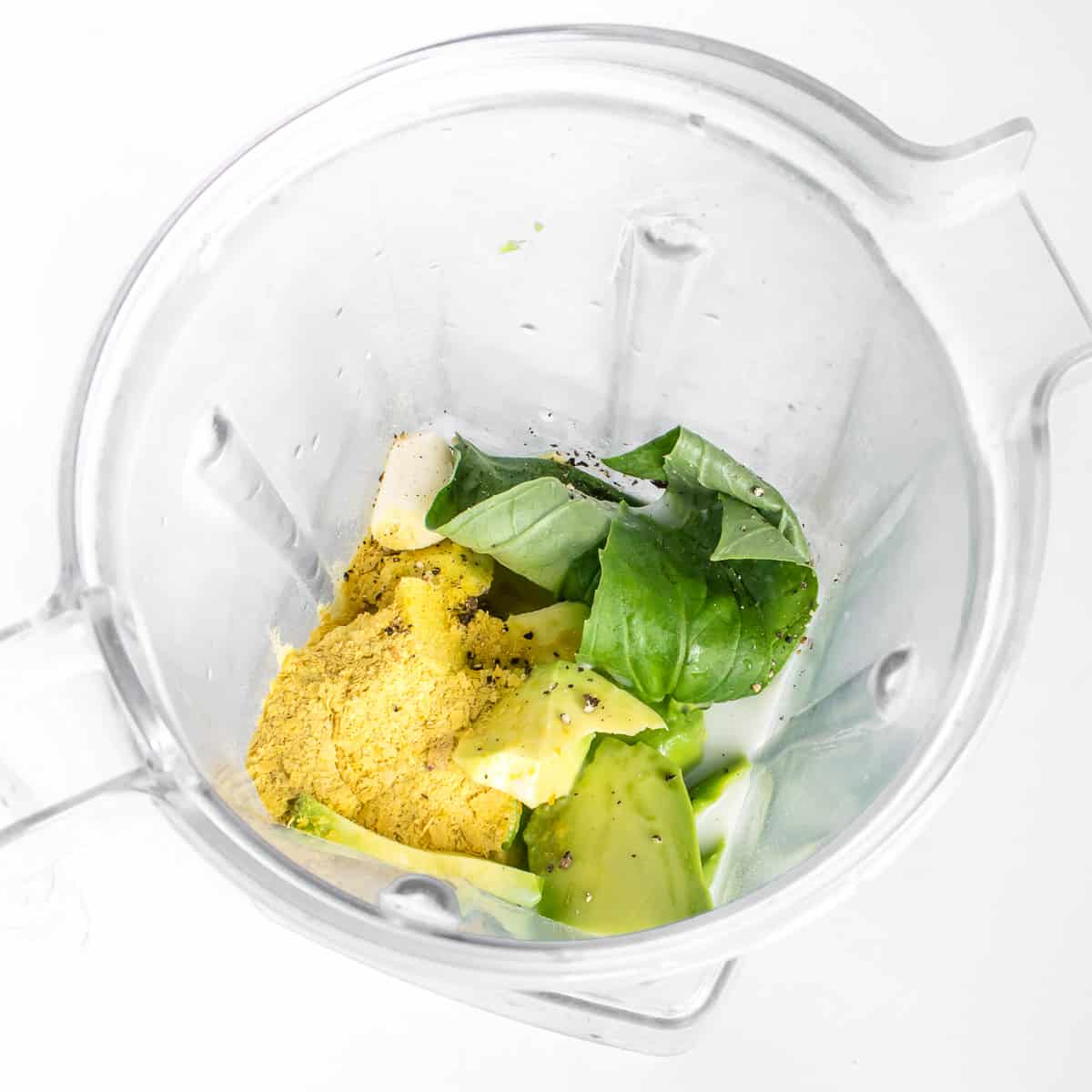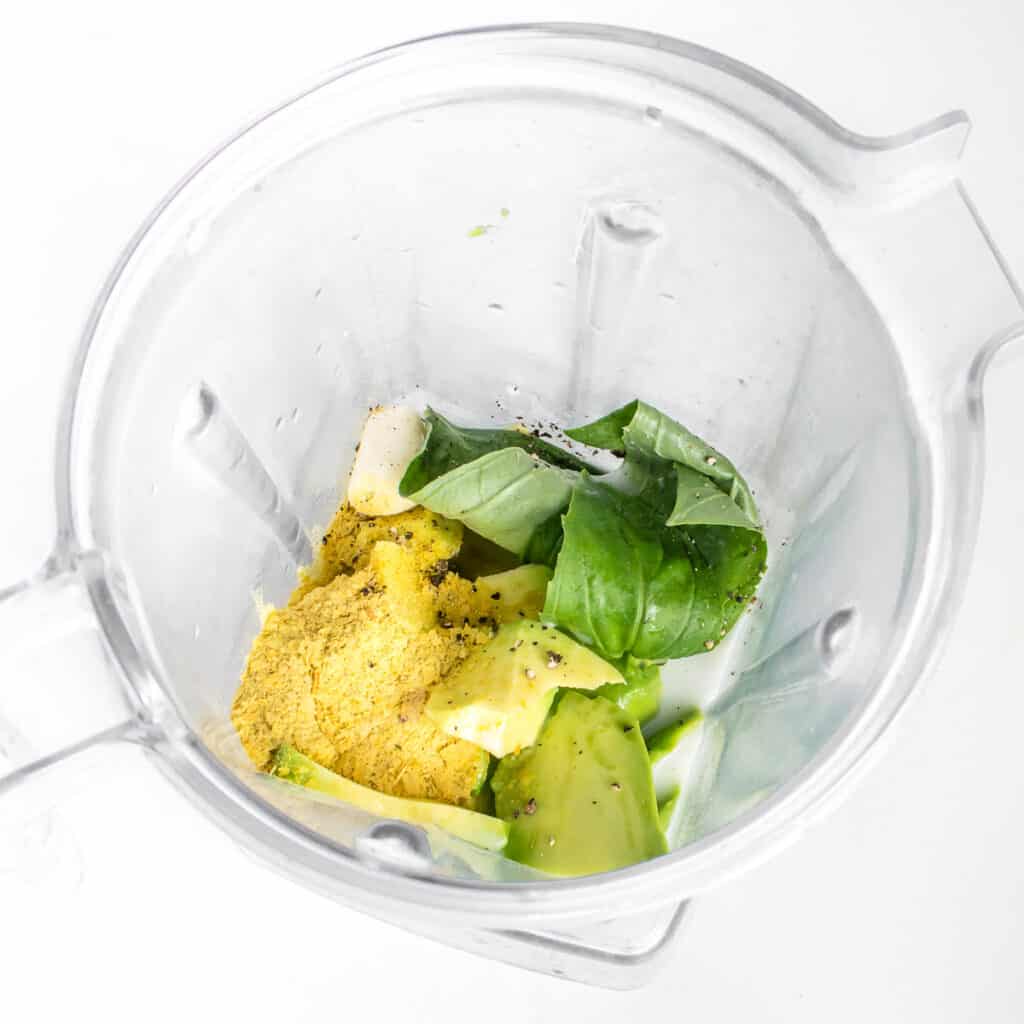 Next, I blended it very smooth and until it was creamy.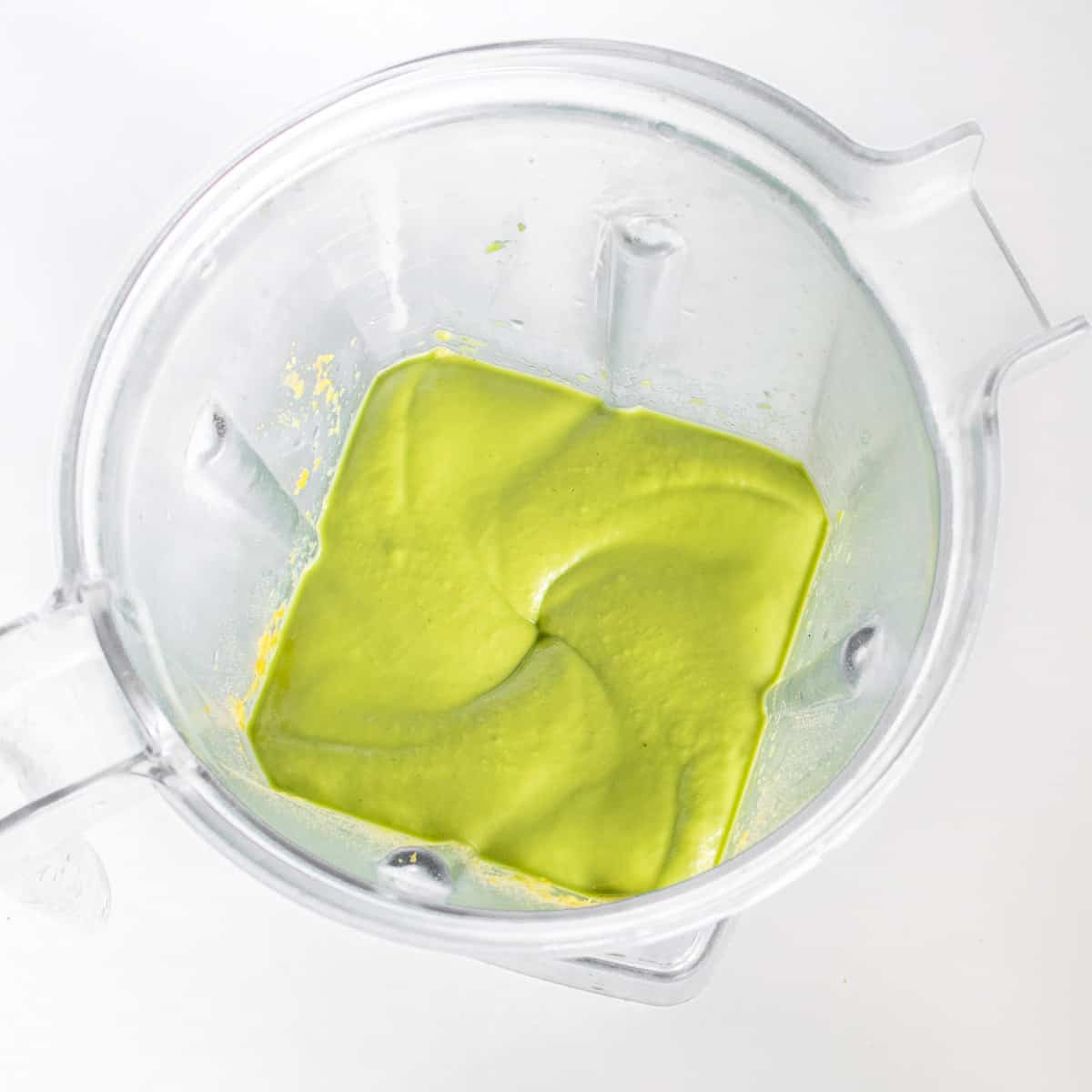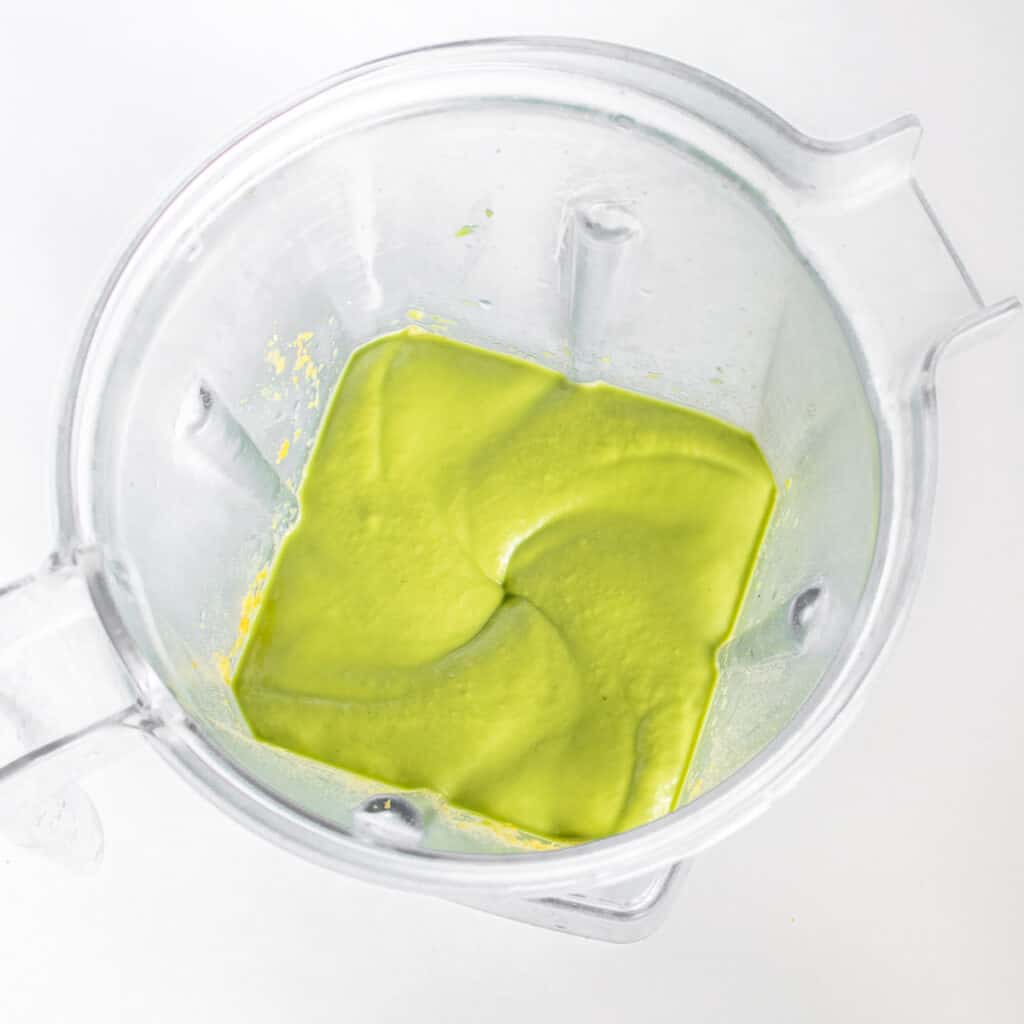 As soon as the pasta was almost done, I took out ¼ cup of its water and kept it aside.
Once the pasta was fully cooked, I drained it and quickly tossed it in the blended sauce along with the reserved pasta water.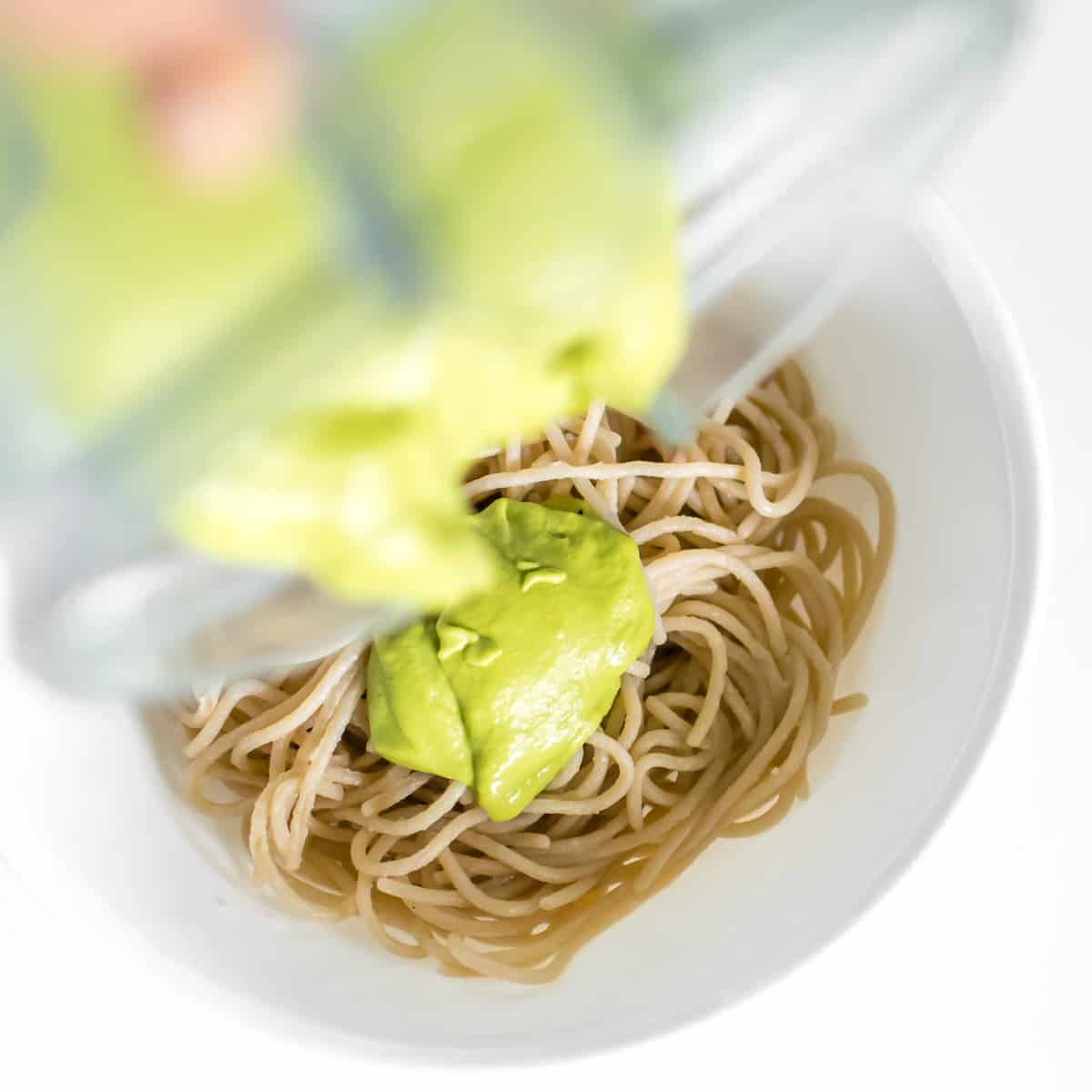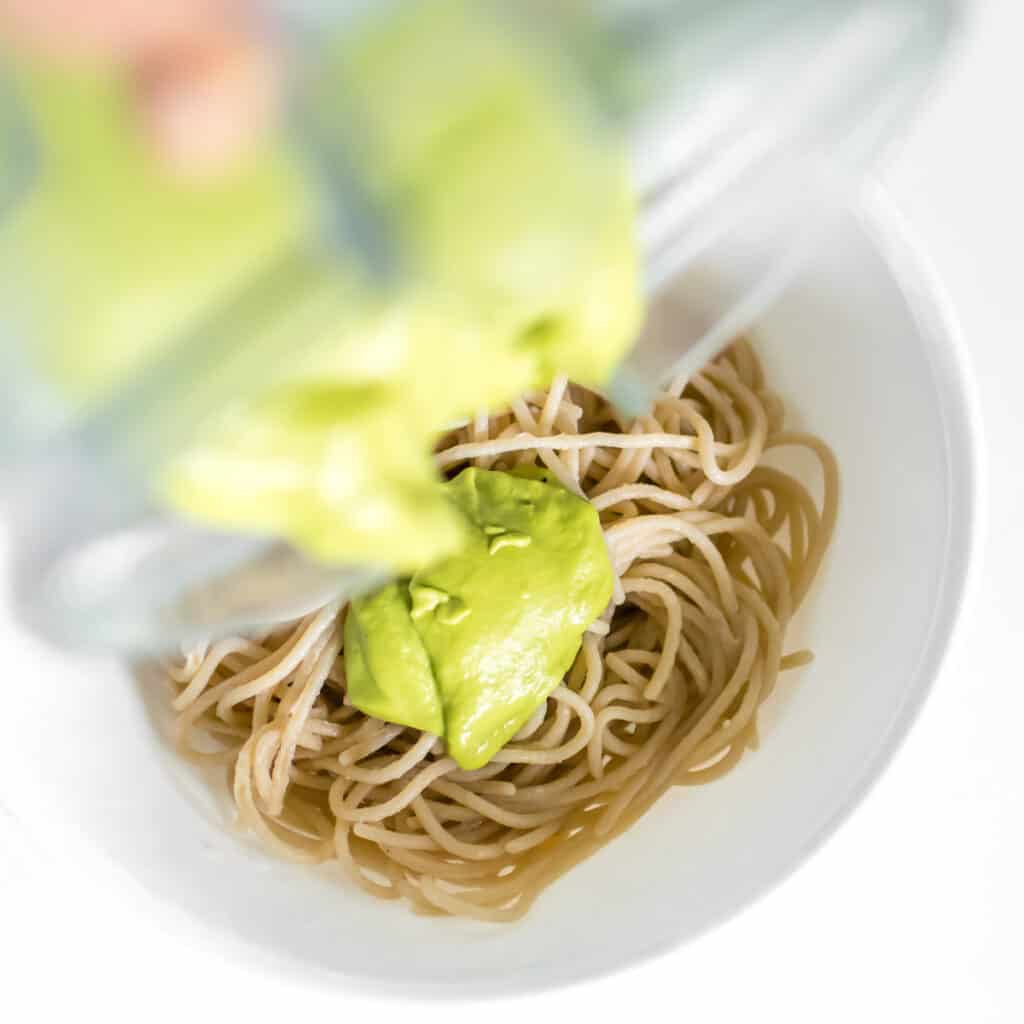 Thereafter, I adjusted its salt, pepper and lemon juice as per our taste and served it immediately.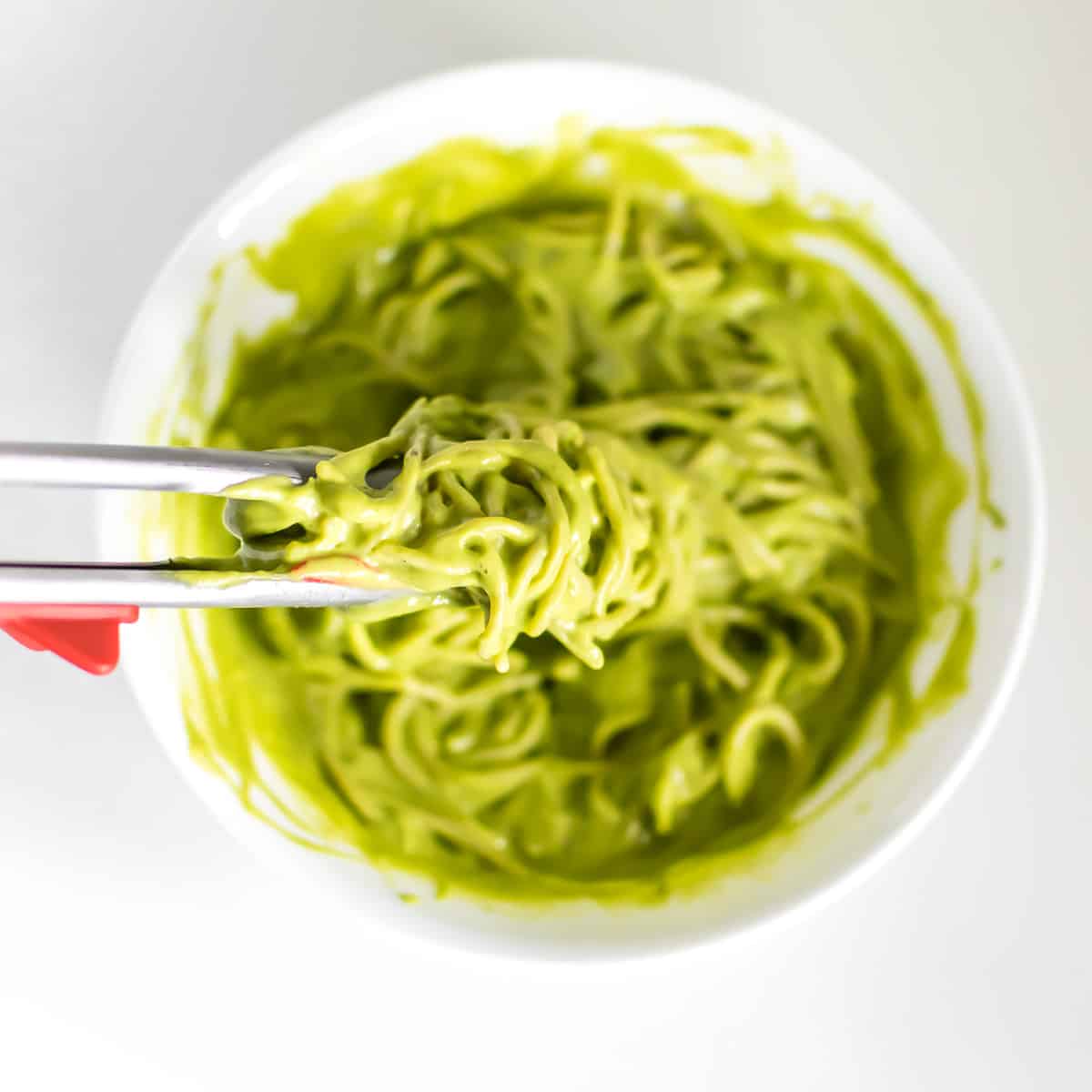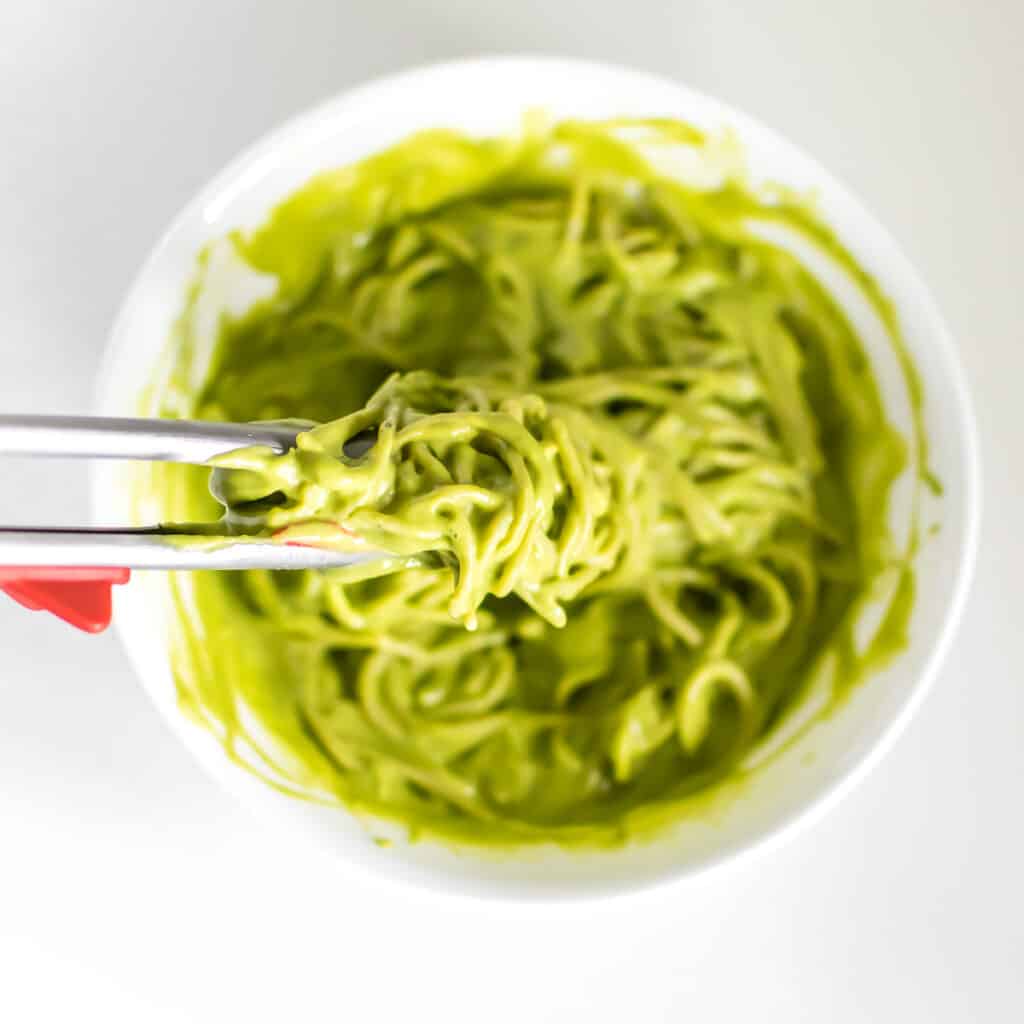 Personally, I garnished it with hempseeds and sun-dried tomatoes.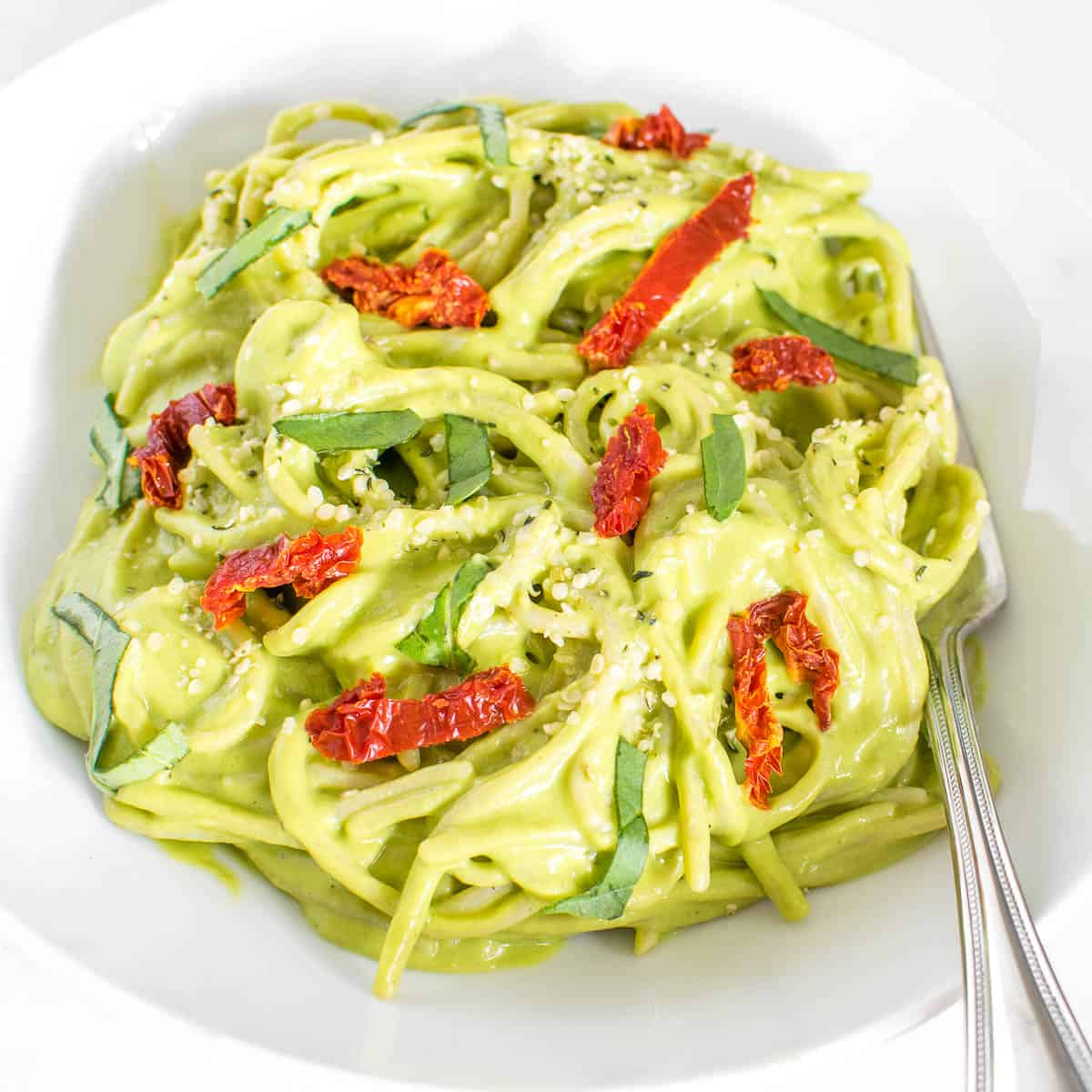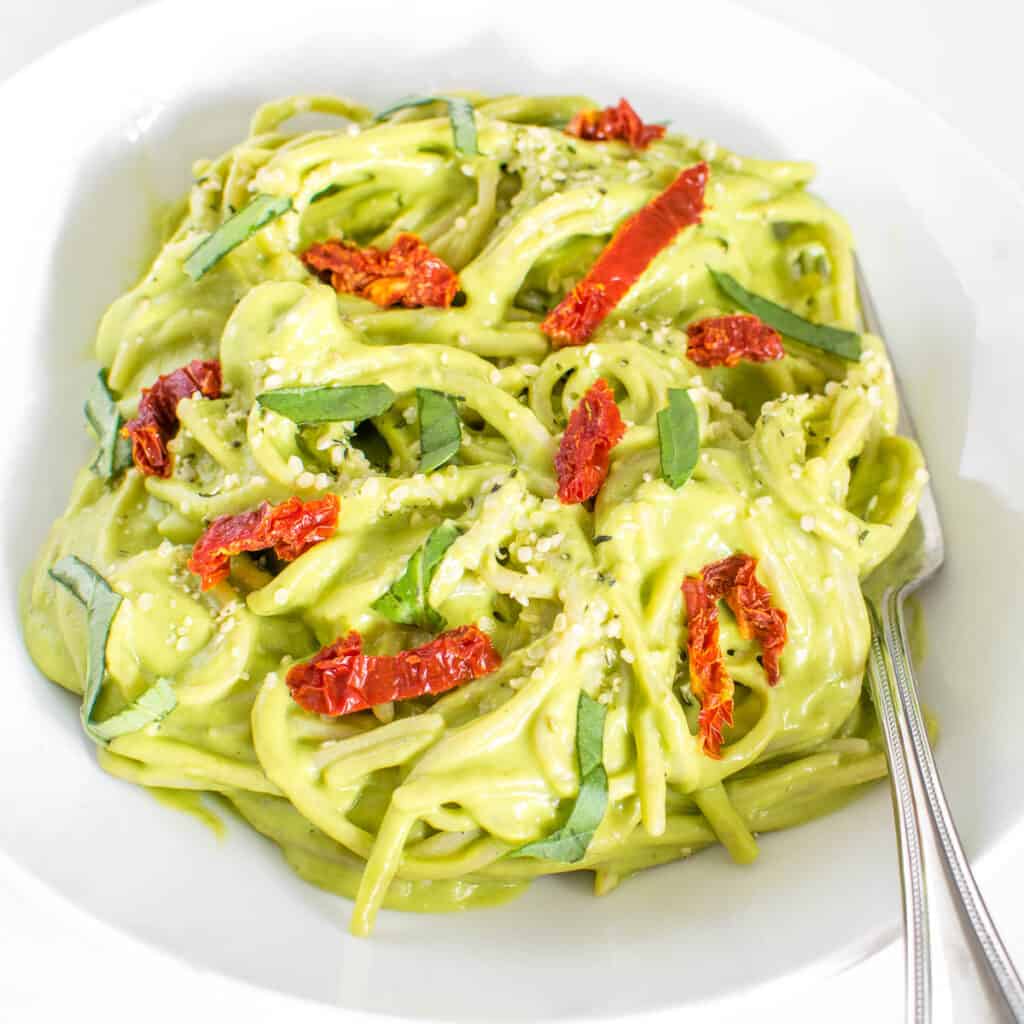 My family devoured every bit of it and has become our favorite comfort food.
Hence, when I crave for carbohydrates and fats, I simply make this recipe and enjoy.
My kids are happy too eating this delicious version of no tomato sauce.
Expert tips:
The sauce does not need much cooking so it is important to coordinate the boiling of spaghetti and blending of the sauce.
Toss everything as soon as you drain the spaghetti, therefore, make sure to blend the sauce and keep it ready.
If you have to warm it a bit, then, most importantly, make sure the bubbles do not form or the sauce does not start to boil. Turn it off just when it comes to that point.
Vegan Avocado Pasta FAQs
How long does it last?
Avocadoes oxidizes pretty quickly and so it tastes best when served immediately. However, I have tried refrigerating the leftovers in an air tight container to be used the next day. I warmed it a bit in the microwave the next day. It still tasted good.
Is it safe to cook avocadoes?
Usually, we eat raw avocado in salad form but when cooked properly and at the right temperature it does taste good. However, sometimes when heated too much it tends to get bitter. But my avocado fries are the cooked version and it tastes amazing.
What type of avocado should I use here?
Ripe avocadoes that are soft but not mushy. They should be green from inside and not brown but a darker outer skin.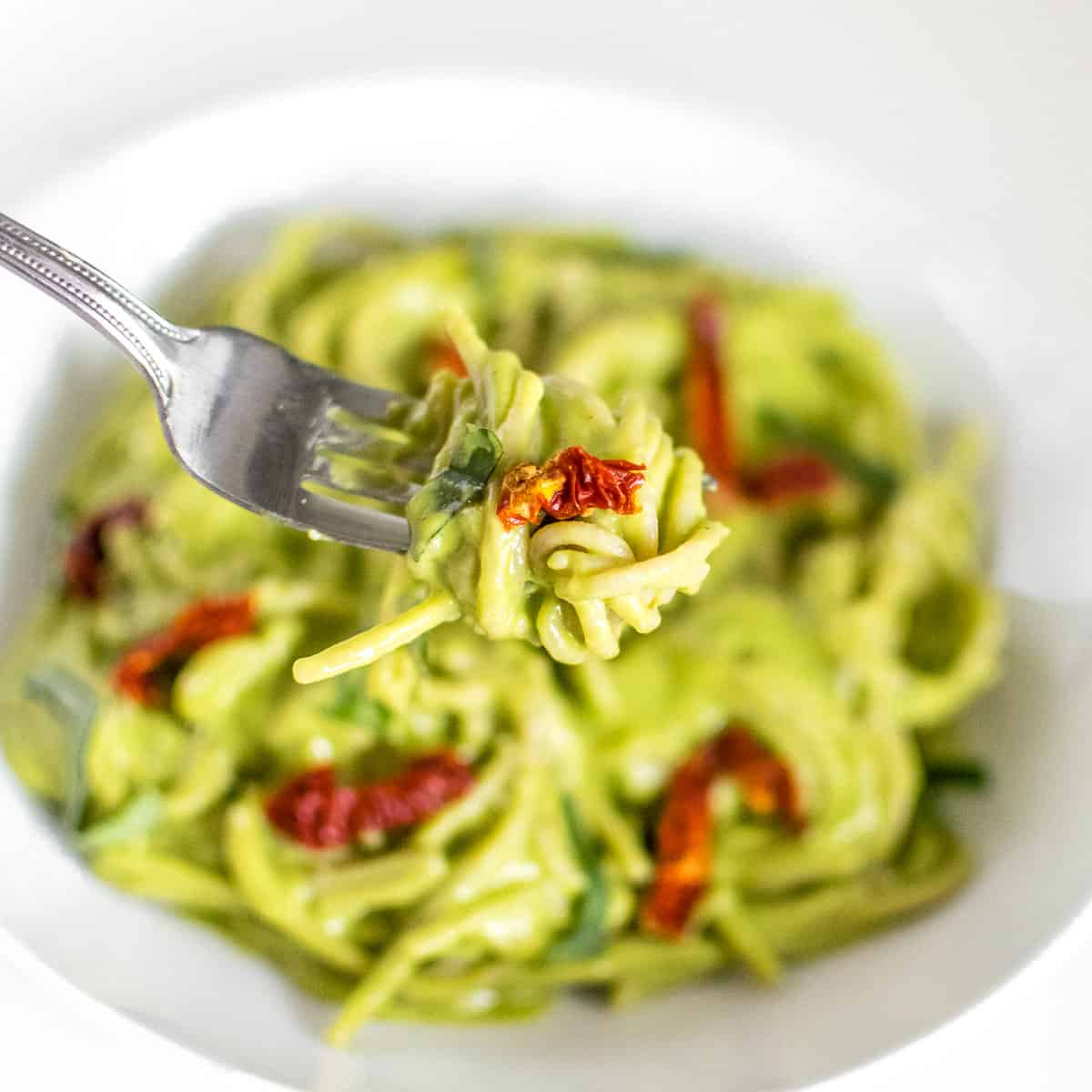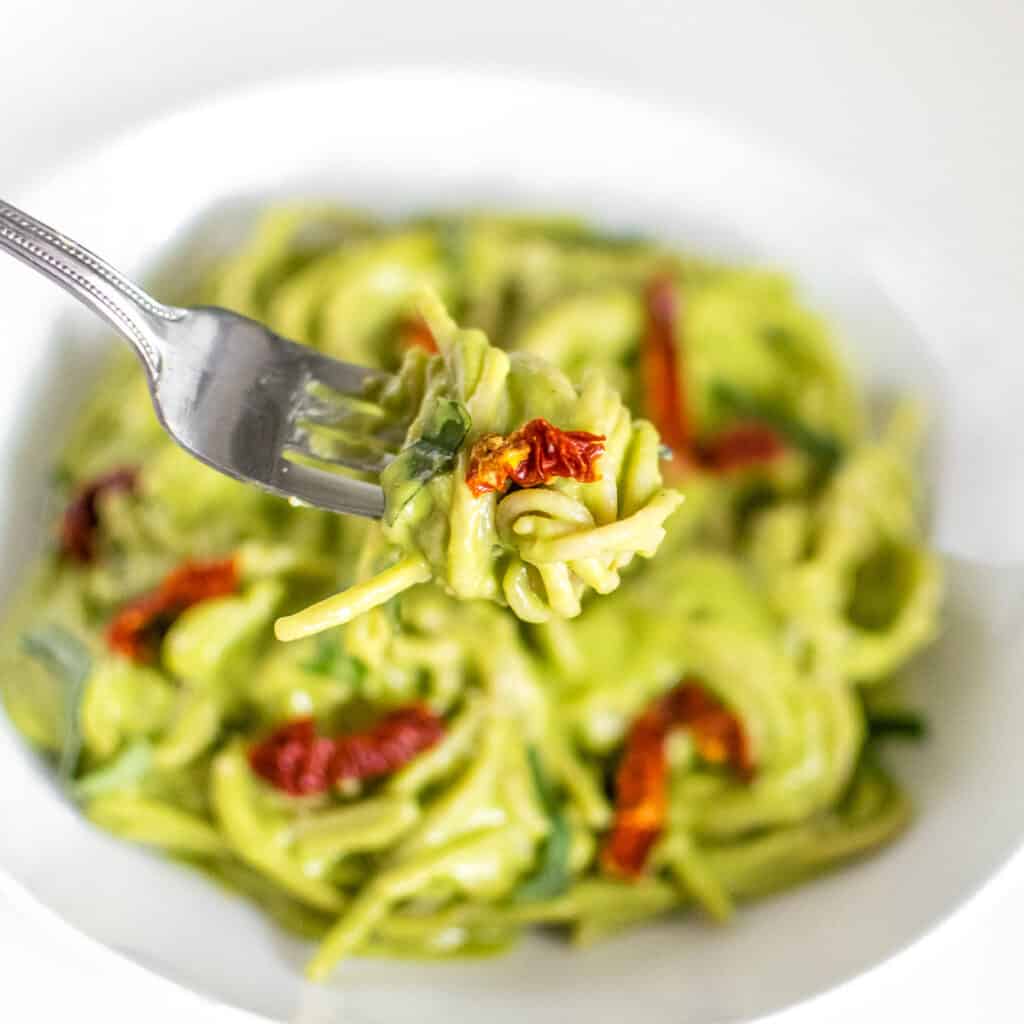 My other pasta recipes that you might like:
Tofu Steak Spaghetti
Spaghetti Aglio e Olio
Spaghetti in Broccoli Cheese Sauce
Vegan Pasta Primavera
Taco Pasta
Masala Pasta
This post may contain affiliate links which means that if you click on them and also make a purchase, I will get a small commission. Moreover, I share only those products which I use personally and love.
I hope you enjoy this recipe as much as we did. I am very excited to hear back from you.
Where to find me?
Follow me on Facebook or on Twitter. You may tag @kiipfit on Instagram with your recipe remake images because I would love to see what you cooked.
Did you make it?
If you get a chance to make this recipe then please leave your feedback in the comments below along with a 5-star rating.
In addition, you may checkout my cookbook for everyday comfort vegan recipes.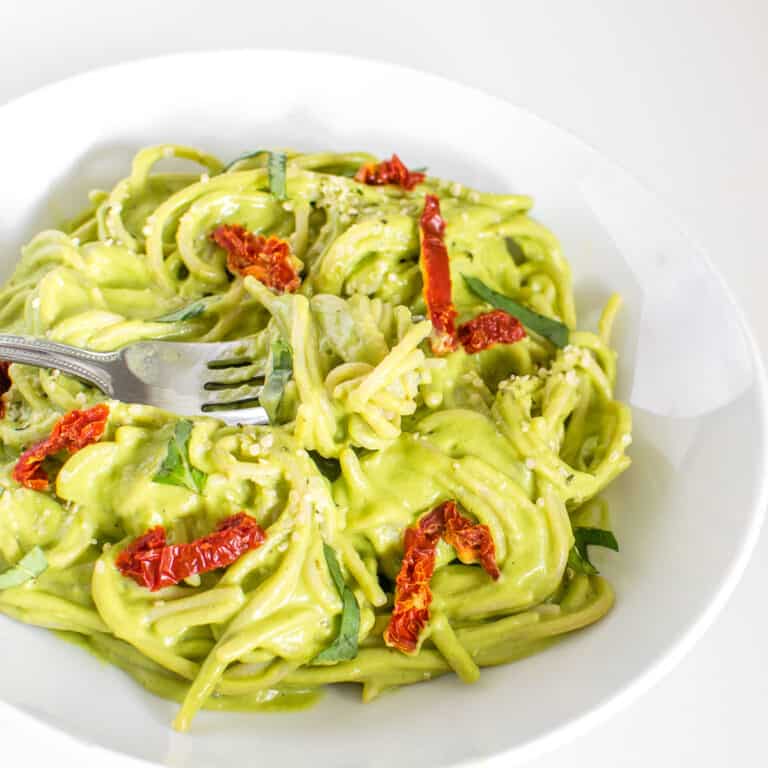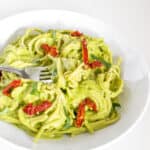 Print Recipe
Vegan Avocado Pasta
Easy creamy Vegan Avocado Pasta is a quick weeknight dinner for pasta lovers. It's so simple that it comes together in about 15 minutes and is healthy and so comforting.
Ingredients
2

cups

cooked thin/regular spaghetti

(6 oz. dry)

2

medium

ripe avocadoes

1/2

cup

unsweetened coconut milk

1/4

cup

fresh basil leaves

2

tbsp

nutritional yeast

2

garlic cloves

2

tsp

lemon zest

3

tbsp

lemon juice

salt to taste

freshly ground black pepper

1/4

cup

reserved pasta water
Instructions
In a large pot boil enough water to cook spaghetti as per the package instructions. When it's almost cooked reserve ¼cup of its water before draining.

In the meanwhile, combine avocadoes, coconut milk, nutritional yeast, garlic, basil, lemon zest, lemon juice, salt and pepper in the blender and blend it smooth and creamy.

As soon as the pasta is boiled drain it and immediately toss it in the sauce.

Add the reserved pasta water to it and mix everything very well.

Slightly warm it on the stove top and adjust salt and pepper and lemon juice as per taste. Do not cook just warm it at this point.

Garnish and serve immediately.
Notes
This taste best if the sauce can be blended while the pasta is cooking. As soon as the pasta is cooked drain and mix without delay. However, if it starts to getting to room temperature just warm it up on the stove for 2-3 minutes. Do not cook at this point.
This tastes best when served immediately but the leftovers can be refrigerated in an air tight container to be used the next day. Warm it in the microwave before serving.
I prefer using tetra pack coconut milk from SO or SILK but you may use any of your choice. If you use canned coconut milk the nutritional value will vary.
Nutrition
Calories:
378
kcal
|
Carbohydrates:
50
g
|
Protein:
7
g
|
Fat:
18
g
|
Saturated Fat:
8
g
|
Polyunsaturated Fat:
1
g
|
Monounsaturated Fat:
1
g
|
Sodium:
7
mg
|
Potassium:
237
mg
|
Fiber:
2
g
|
Sugar:
2
g
|
Vitamin A:
107
IU
|
Vitamin C:
10
mg
|
Calcium:
16
mg
|
Iron:
1
mg