We love desserts for breakfast. The luxurious taste of this High Protein Vegan Tiramisu Overnight Oats is a truly satisfying start to any day. Enjoy a delicious protein packed twist on your beloved classic Italian dessert.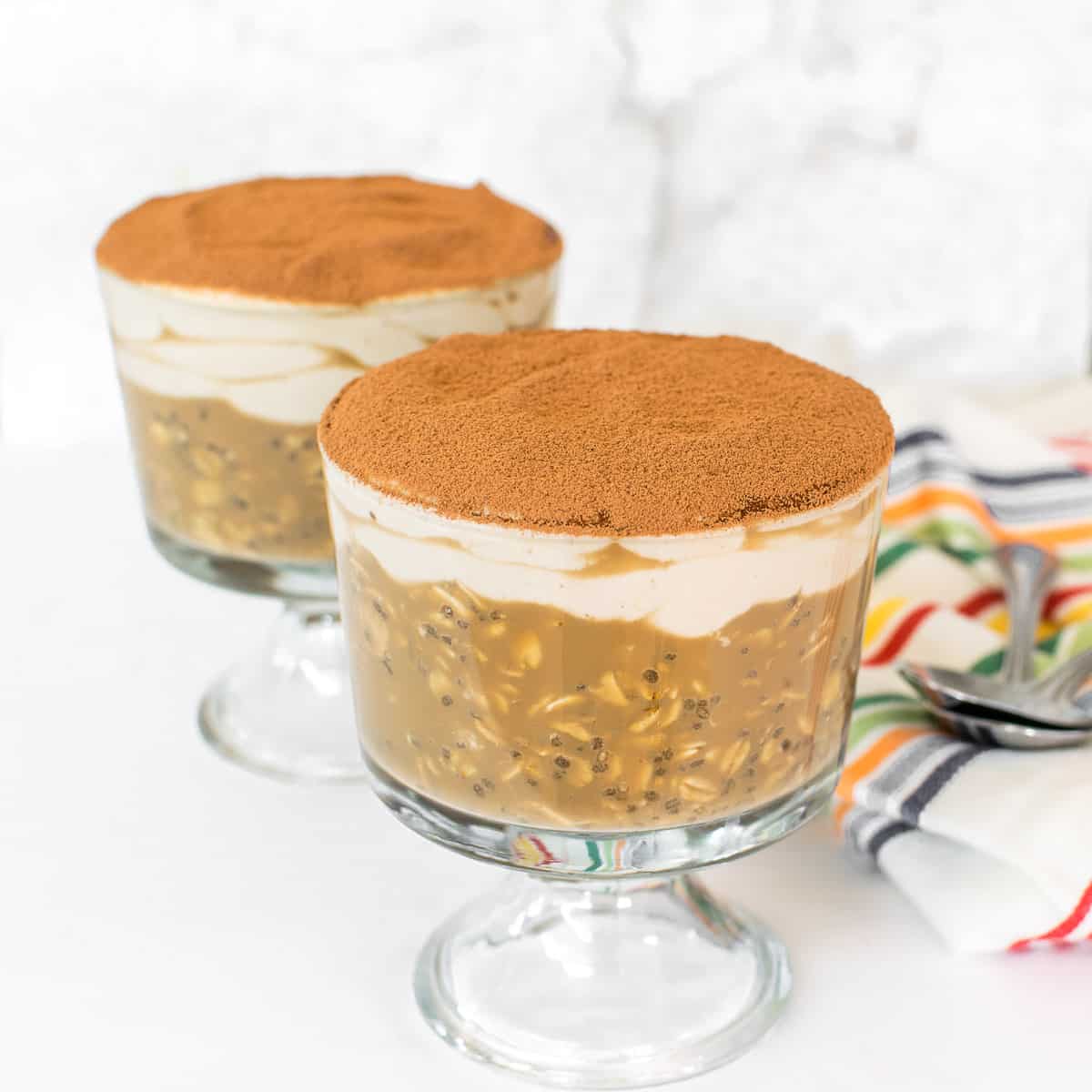 Overnight oats are super convenient and everyone likes this breakfast idea. So, its justifiable to make it tasty and luscious. Hence, tiramisu protein overnight oats. It is a guilt free treat and a pleasure to the taste buds.
My carrot cake overnight oats are a delicious blend of flavors and a desirable morning treat.
Peanut butter overnight oats recipe is quite popular and I make it very often.
Breakfast is the most important meal of the day because it regulates the blood sugar early in the day. It also helps reach satiety and provides improved energy levels. This in turn helps us in making right food choices throughout the day.
Health benefits of oats
Its high in fiber and is a low GI food ingredient. A variety of oats are available like steel cut, old fashioned, quick cooking. I mostly prefer the old fashioned because of its texture and taste. It's a great source of iron, folate and vitamin B1 (thiamin). Being rich in antioxidants it helps lower cholesterol, regulates blood sugar and aids in weight loss.
Therefore, I like to add a variety of oats recipe in my diet which includes sweet and savory.
My favorite is masala oats and its quick and satisfies immensely.
For winters, I like warm oatmeal porridge and baked chocolate oatmeal.
My family loves oatmeal chocolate chip cookies for their lunch boxes as sweet snacks.
About overnight oats
It is basically a combination of milk, oats, and sweetener along with some protein and nuts which is refrigerated overnight. It is a convenient grab and go breakfast option for busy mornings.
Overnight oats are different from regular oatmeal because it requires no cooking.
Since, I love Tiramisu and yet wanted to maintain a high protein healthy diet, I combined the two ideas together and created this healthy tiramisu overnight oats.
It is a great combination of coffee, oats, and chocolate. So, this a guilt-free way to enjoy Tiramisu dessert for breakfast but healthier.
About Tiramisu dessert
It's an Italian dessert with exotic taste and texture. It is basically made with lady fingers soaked in coffee then layered with mascarpone cream and dusted with cocoa powder. It tastes like a custard cake. However, we have been able to create a vegan version of this famous dessert.
Since, health has become so important in today's world and everyone is conscious about their diet and yet want to enjoy traditional taste, I came up with this protein tiramisu overnight oats.
Why you will love this
Its creamy, thick and flavorful.
Perfect for meal prep and easy to make
Healthy and vegan
High protein and yet tastes like dessert
Ingredients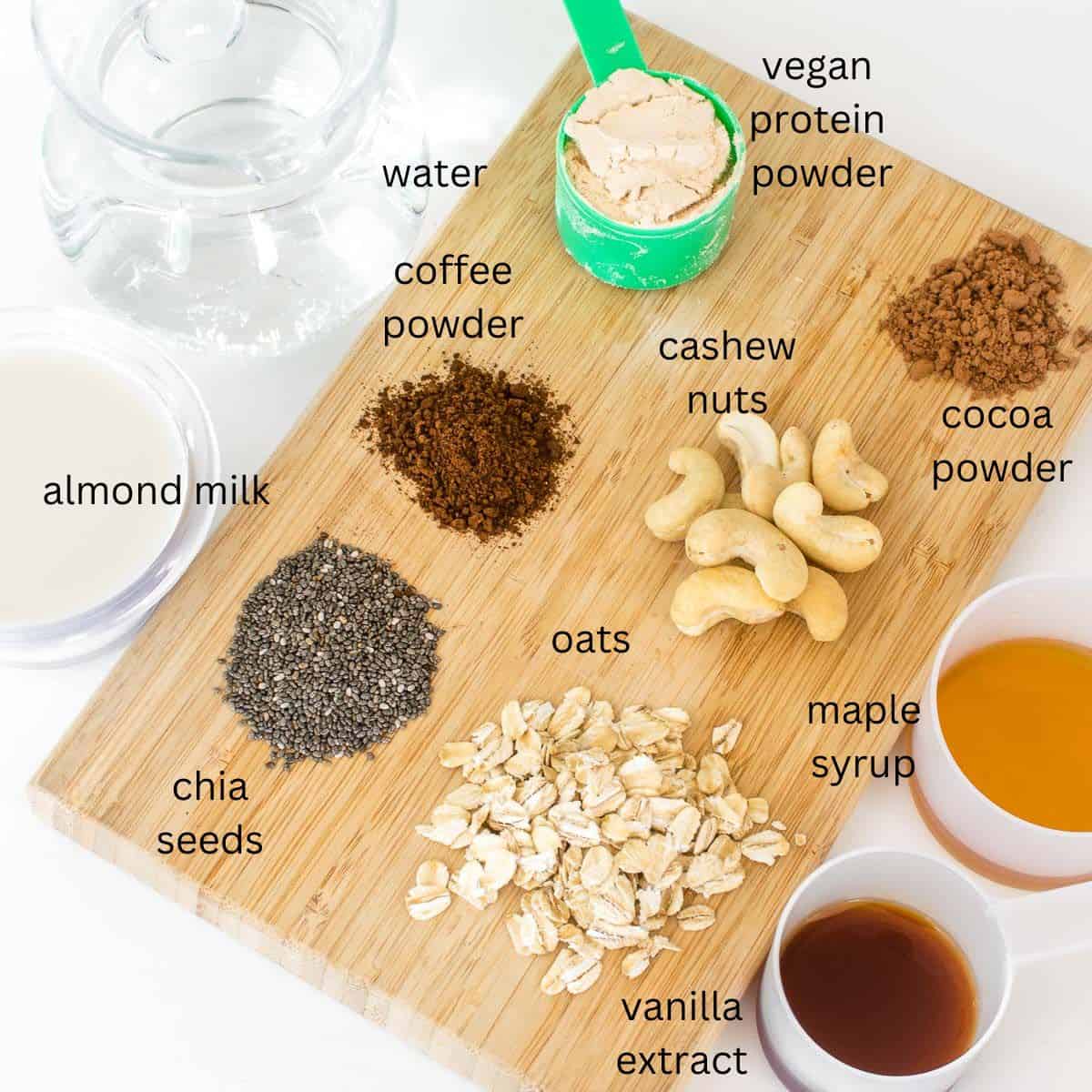 Ingredients notes
Oats – I used old fashioned oats for this recipe and it tasted excellent.
Chia seeds – this helps in adding fiber and protein to this vegan tiramisu overnight oats.
Coffee powder – I used instant coffee powder for this recipe which is super convenient to use. However, you may use brewed espresso also.
Cocoa powder – this is best for dusting and I used unsweetened cocoa powder. This gives a beautiful taste to this recipe and makes it attractive also.
Cashew nuts – I like nuts and cashew nuts helps in making the creamy layer perfect in taste and texture. You may use vegan Greek yogurt but I prefer cashew nut cream instead.
Protein powder – I used unflavored vegan protein powder from Naked but you may use any protein powder of your choice as long as it is vanilla flavored or plain.
Maple syrup – this is my favorite sweetener and I love using it in my recipes.
Almond milk – I used unsweetened almond milk for this dairy free tiramisu overnight oats recipe to make it lighter and healthier.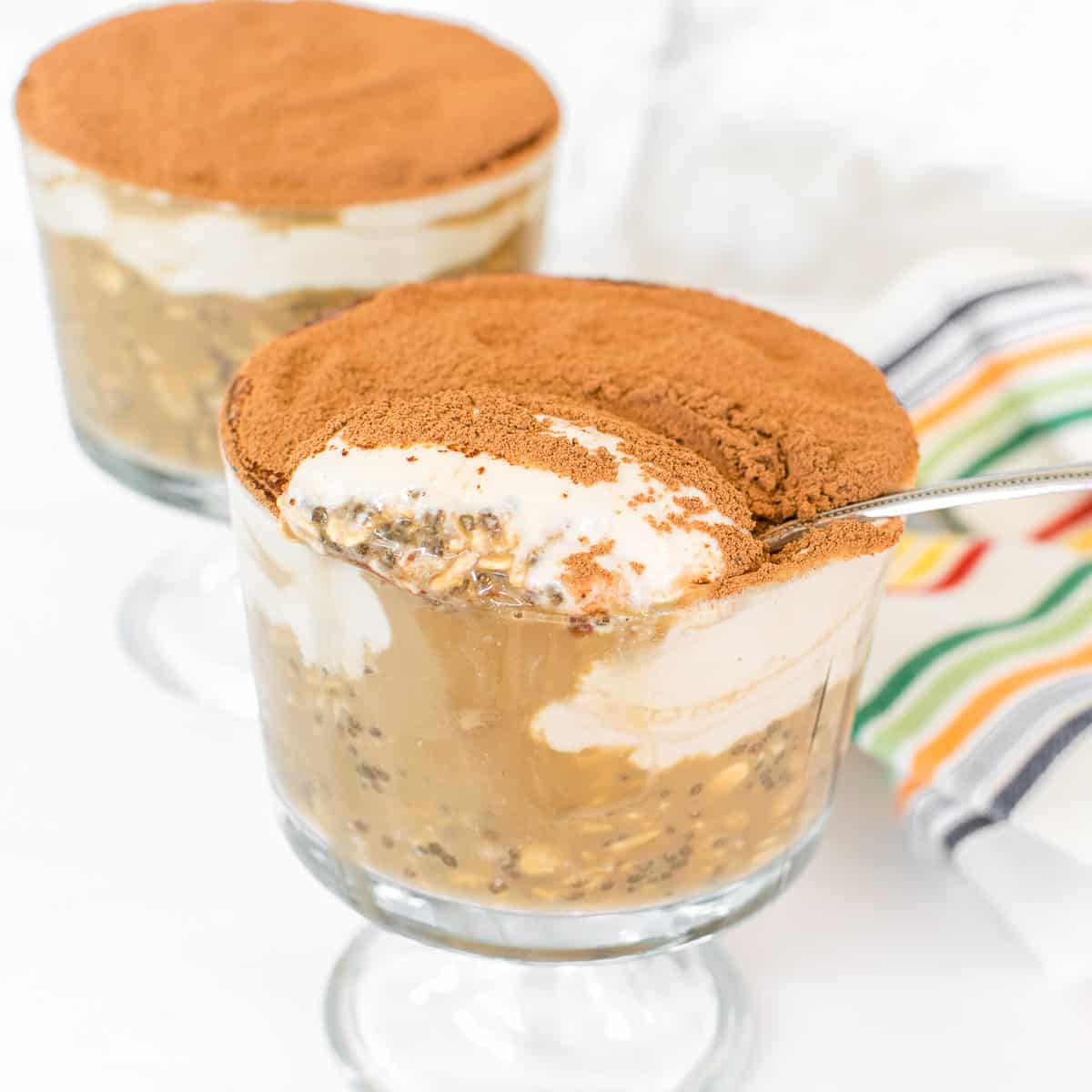 For detailed measurement of ingredients, please scroll down to the printable recipe card at the bottom of this post.
How to make
Step 1- Brewing
Firstly, in a cup, I combined warm almond milk, warm water and coffee powder. Then, I stirred it nicely and kept it aside until ready to use.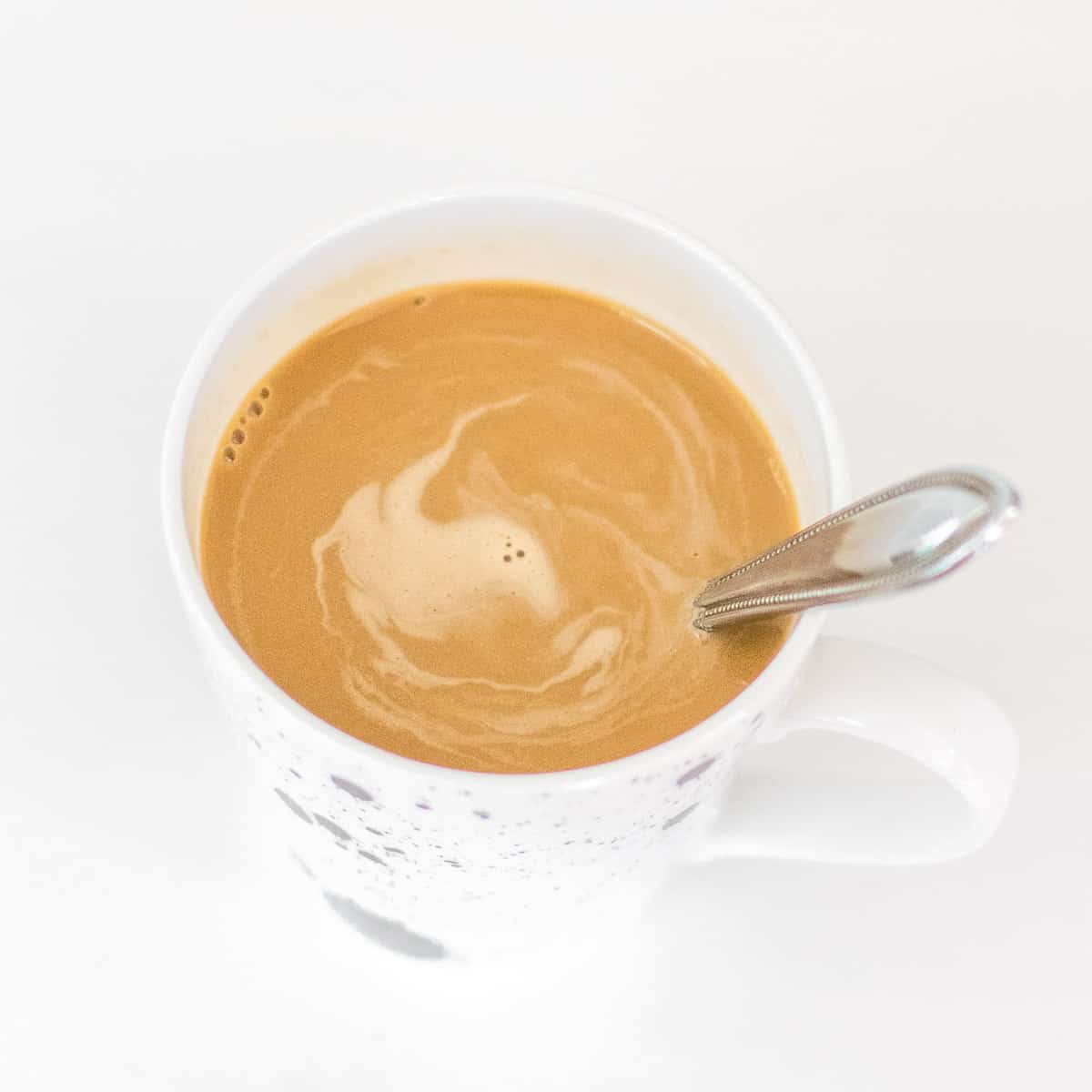 Step 2- Prepping oats
Here, in a bowl, I tossed together oats and chia seeds.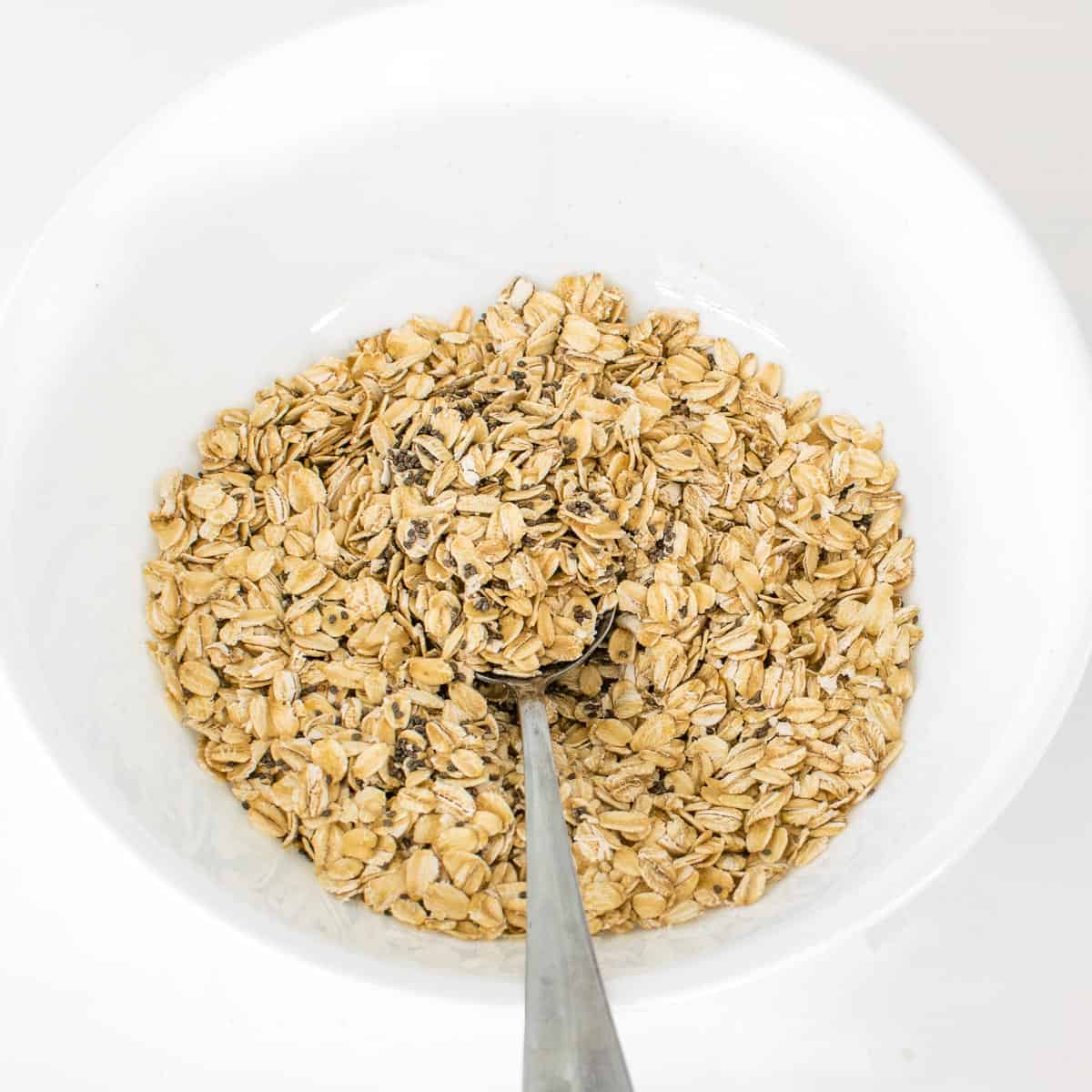 Next, in the oat mixture, I stirred in vanilla extract, maple syrup and brewed coffee. Then, I kept it aside until ready to layer.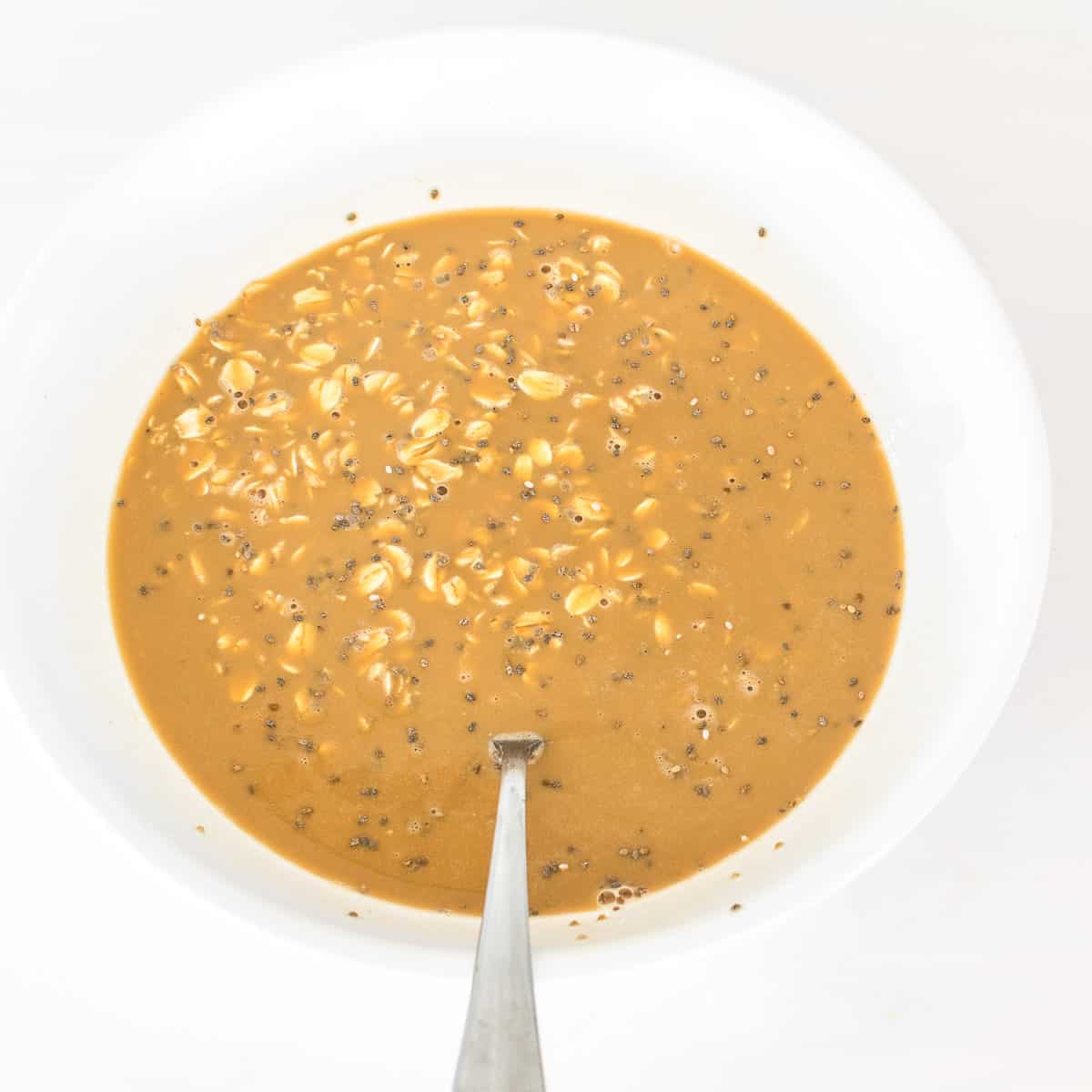 Step 3- Cashew cream layer
In this step, in a blender, I combined cashew nuts, protein powder, maple syrup, almond milk and vanilla extract.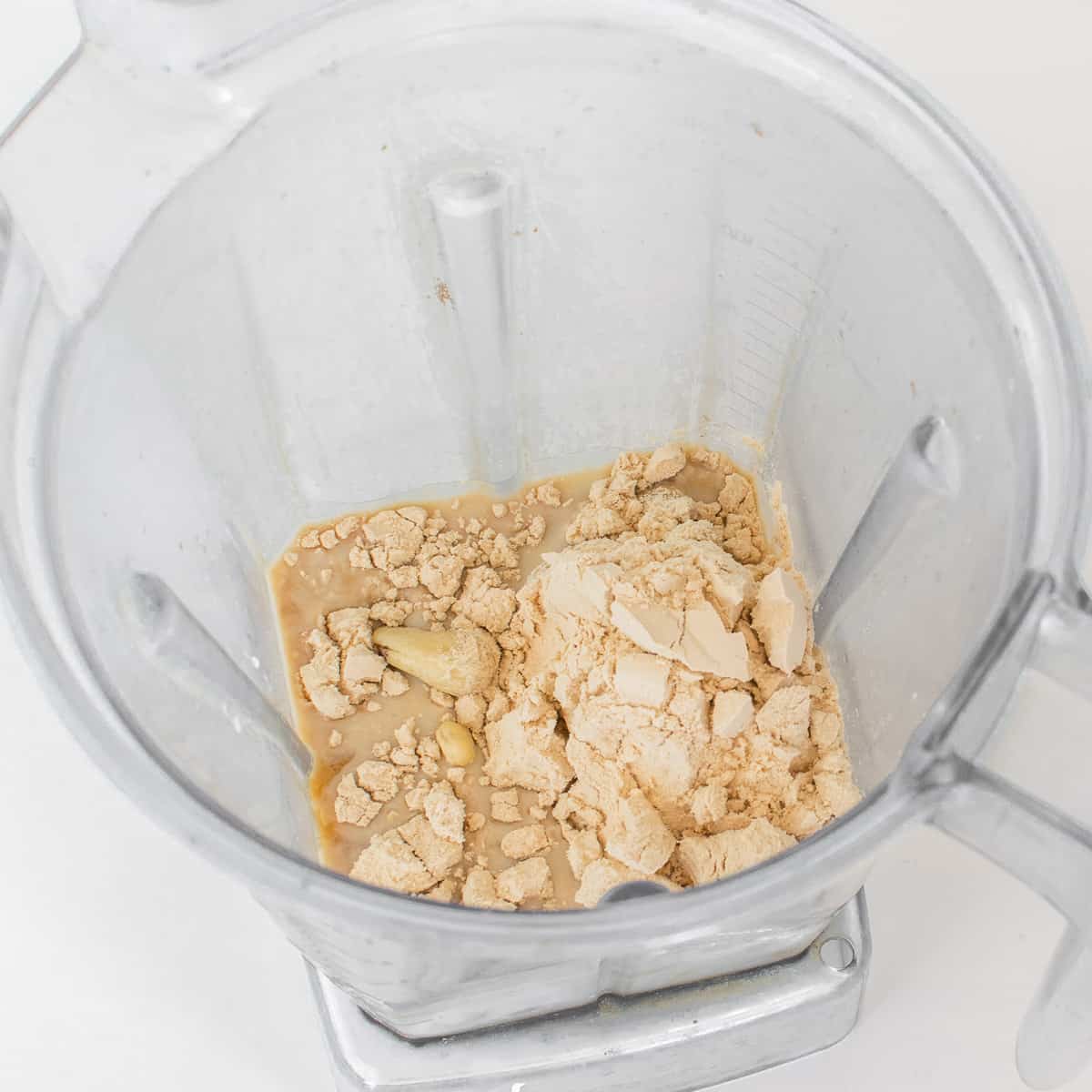 Thereafter, I blended it until smooth and creamy.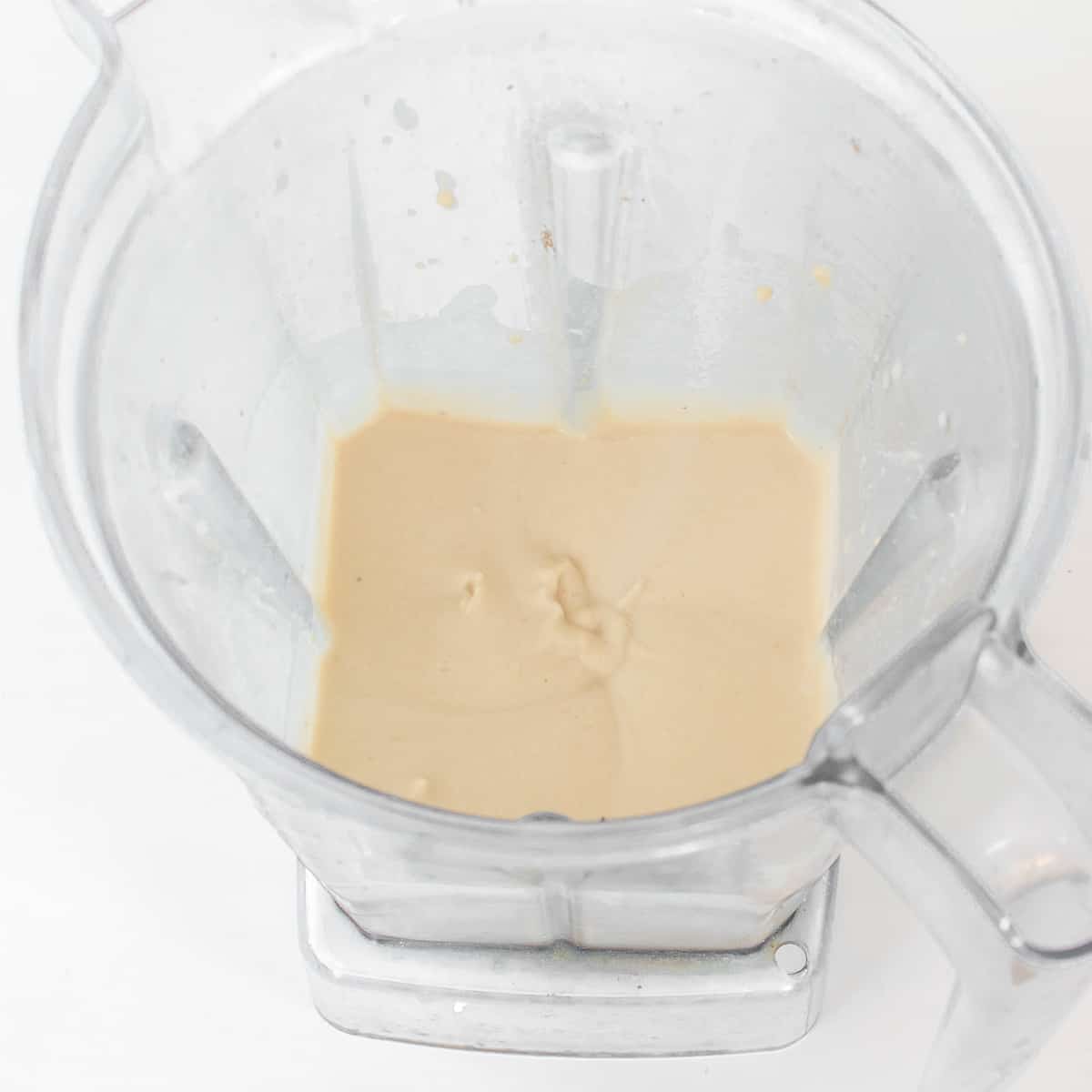 Step 4- Assembling
Now, in the serving bowls or mason jars, I spooned out the prepared oats equally.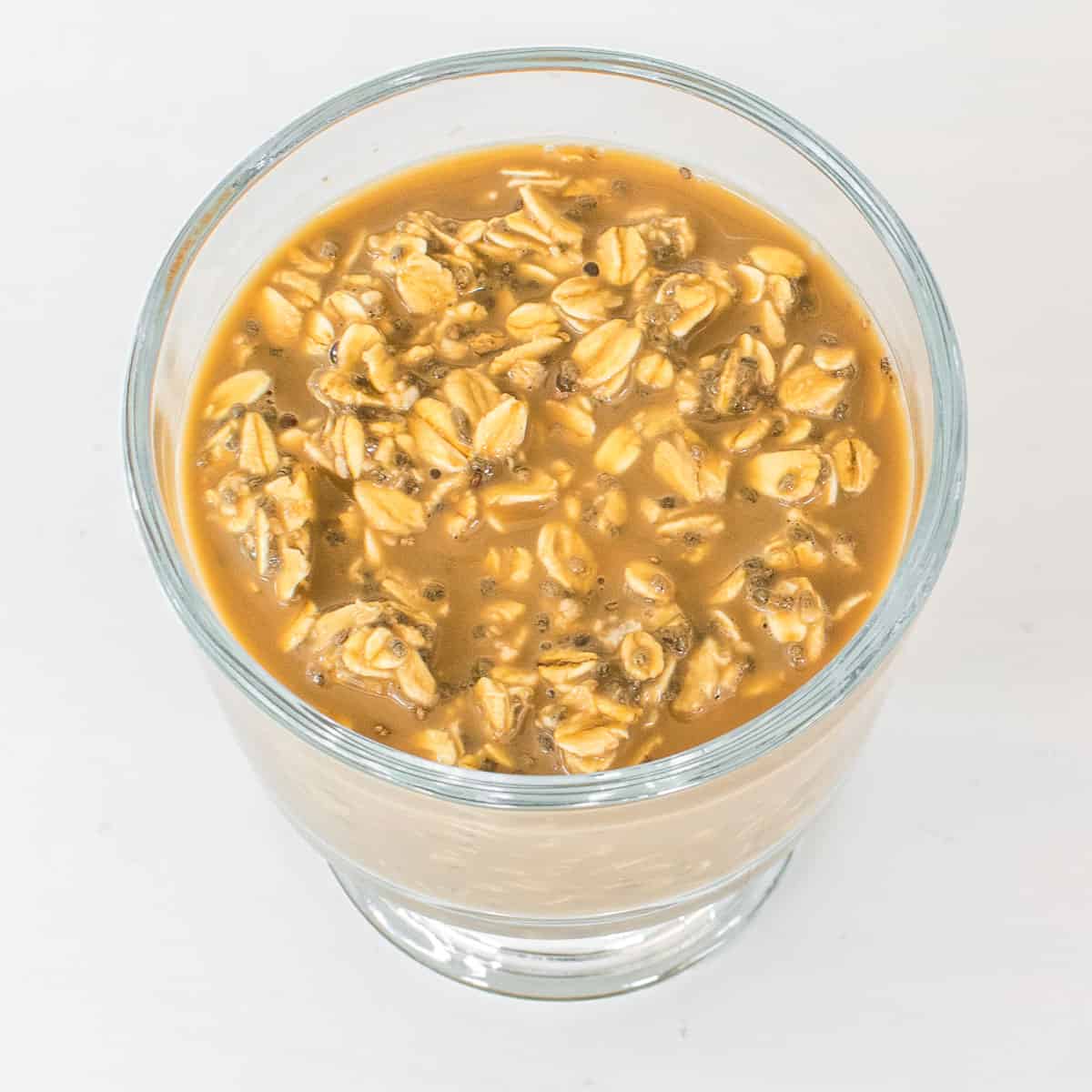 Then, I layered each of them with cashew cream up to a little below the rim.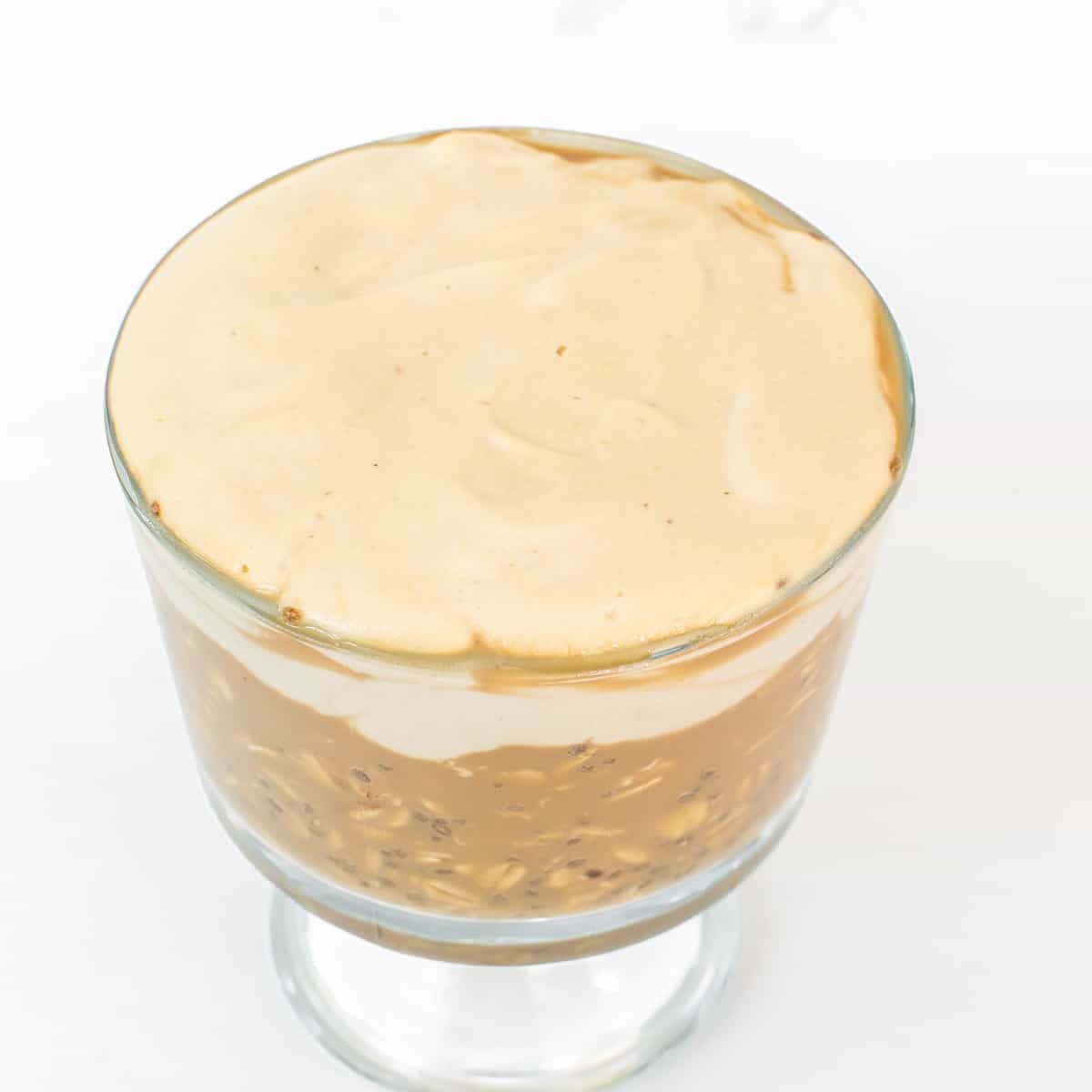 Lastly, with the help of a strainer, I dusted the cocoa powder to cover its top.
Step 4– Refrigerate
Then, gently, I placed them in the refrigerator for at least 8 hours. However, overnight refrigeration works best if you have time.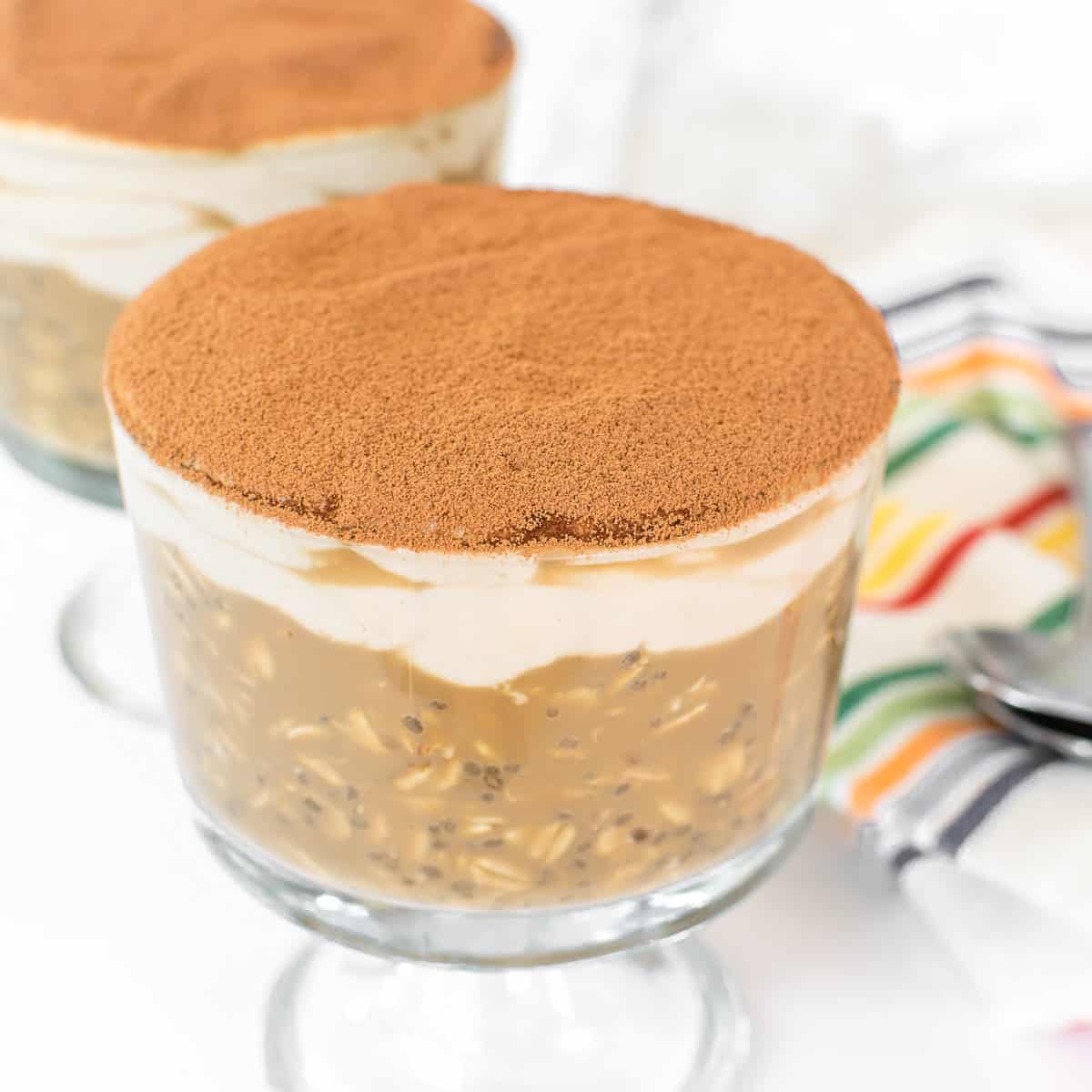 This is the best grab and go breakfast with delicious creamy taste and texture. It energizes and satisfies amazingly.
Storage tips
This Tiramisu overnight oats which is a scrumptious combination of chocolate and espresso can be refrigerated in the glass bowl or jars covered with a lid for up to 5 days. However, I like to enjoy it the next morning for the fresh flavors.
Expert tips
It is important to brew coffee in the warm liquid and then bring it to room temperature before mixing it with oats.
Most importantly, blend the cashew cream thoroughly and do not rush through this step. Use a high-speed blender for the best results.
This recipe is quite heavy and filling so be mindful of your portions if you are on a weight loss plan.
Frequently Asked Questions (FAQs)
Can I skip chocolate?
Yes! just skip dusting its top and leave the cashew cream as the top layer.
Is it possible to eat it warm?
This tiramisu oats tastes best when served cold but if you prefer it warm then cook the oats in brewed coffee and ½ tbsp cocoa powder. Spoon it out in a bowl and then top it with cashew cream. If you want to enjoy it warm then skip dusting the cocoa powder as it will dissolve.
Is it healthy?
Yes! absolutely. It's made with healthy plant-based ingredients that's high in nutrition.
What can I serve it with?
You may top it with berries, nuts, seeds, banana. But add your favorite topping just before serving for the best results.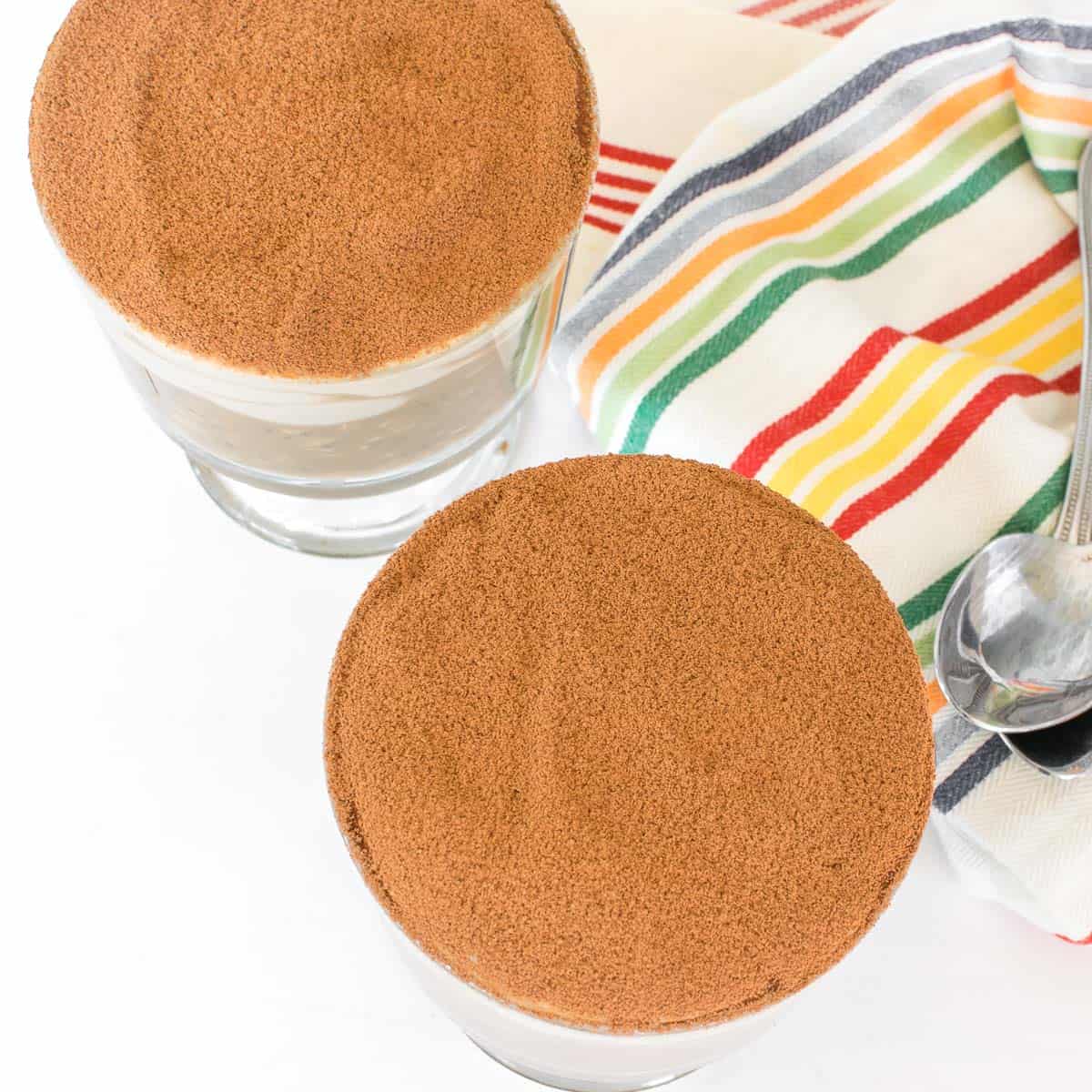 More vegan breakfast recipes
Silken Tofu Scramble
Healthy Blueberry Pancakes
Vegan Millet Porridge
Mushroom Avocado Toast
This post may contain affiliate links which means that if you click on them and make a purchase, I will get a small commission. Moreover, I share only those products which I use personally and love.
I hope you enjoy this recipe as much as we did. I am very excited to hear back from you.
Where to find me?
Follow me on Facebook or on Twitter. You may tag @kiipfit on Instagram with your recipe remake images because I would love to see what you cooked.
Did you make it?
If you get a chance to make this recipe then please leave your feedback in the comments below along with a 5-star rating.
In addition, you may checkout my cookbook for everyday comfort vegan recipes.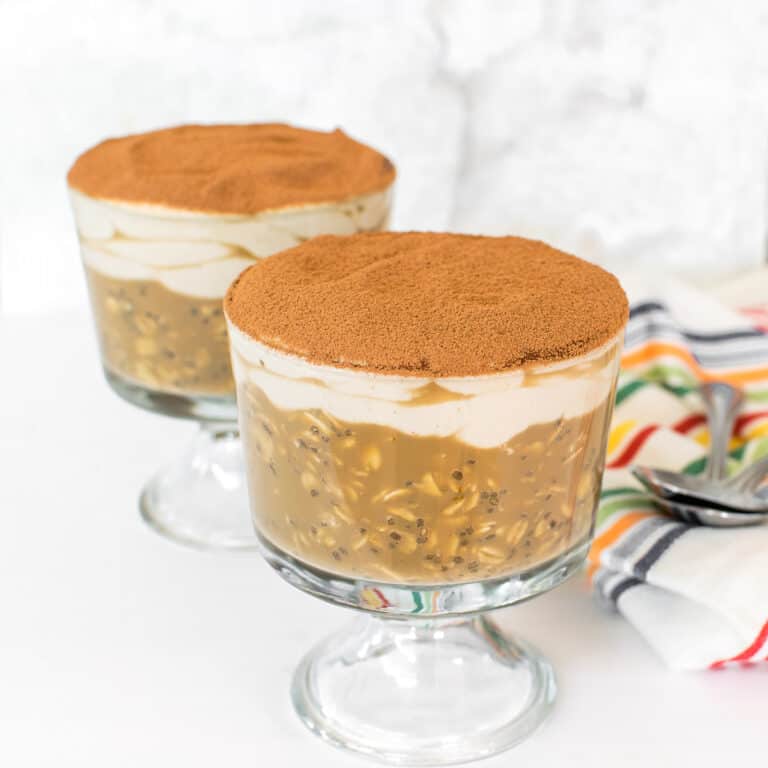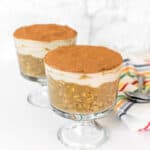 Print Recipe
High Protein Vegan Tiramisu Overnight Oats
We love desserts for breakfast. The luxurious taste of this High Protein Vegan Tiramisu Overnight Oats is a truly satisfying start to any day. Enjoy a delicious protein packed twist on your beloved classic Italian dessert.
Instructions
In a cup, combine warm almond milk, warm water and coffee powder. Stir and let it brew for few minutes until ready to use.

In a large bowl, combine oats and chia seeds and mix with a spoon.

Add maple syrup and vanilla extract to the oat mixture and stir in brewed coffee. Keep it aside.

In a blender, combine cashew nuts, maple syrup, vanilla extract, protein powder and almond milk. Blend it smooth until thick and creamy. Keep it aside.

In the serving bowls or in mason jars, spoon out the prepared oats equally. Top each of them with cashew cream up to a little below the rim. Then, dust each of them with cocoa powder to cover the top completely including the rim. (Use a strainer to dust the cocoa powder for the best results).

Carefully, place them in the refrigerator for at least 8 hours or overnight. When ready take them out and dig with your spoon and enjoy.
Notes
You may warm the almond milk in the microwave for about 30 seconds. It should not be too hot or boiling.
You may warm the water for brewing coffee in the microwave too for about 20 seconds.
You may measure almond milk and warm water together in a large cup and warm it in the microwave if desired. However, I warmed them separately in order to avoid overflowing.
If you feel that the oats mixture is runny then do not worry, once layered and refrigerated it will thicken and settle.
The nutritional information will vary depending on the type of protein powder you use in this recipe.
Nutrition
Calories:
341
kcal
|
Carbohydrates:
37
g
|
Protein:
13
g
|
Fat:
18
g
|
Saturated Fat:
3
g
|
Polyunsaturated Fat:
5
g
|
Monounsaturated Fat:
9
g
|
Trans Fat:
0.01
g
|
Sodium:
15
mg
|
Potassium:
512
mg
|
Fiber:
8
g
|
Sugar:
27
g
|
Vitamin A:
4
IU
|
Vitamin C:
0.3
mg
|
Calcium:
126
mg
|
Iron:
5
mg