This simple and healthy Avocado Milkshake is thick, rich, creamy and deliciously satisfying. It's an easy recipe to make and a perfect family beverage. This is made without ice cream and is a complete breakfast in a glass.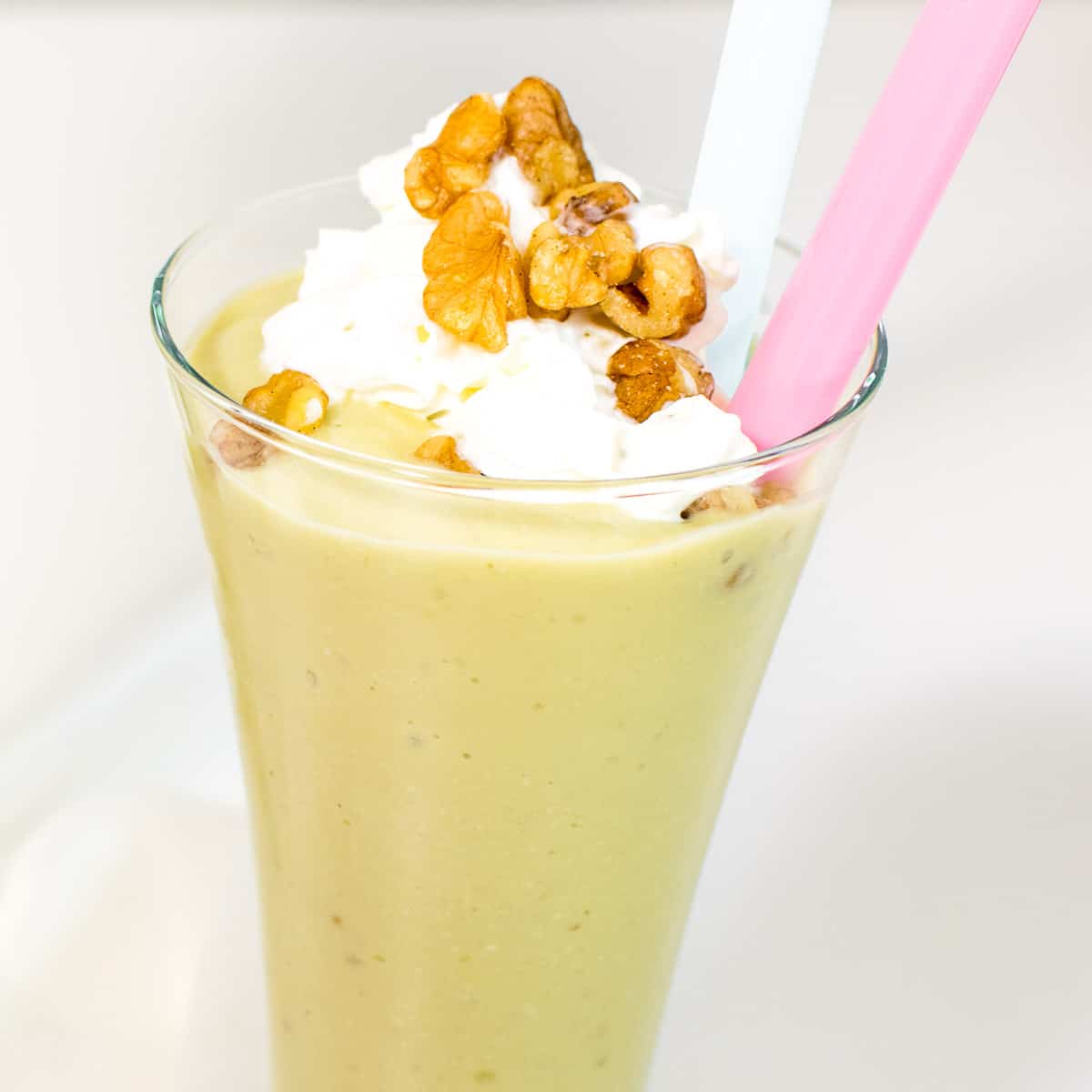 Recently, milkshakes have taken over my family. Therefore, I am experimenting with quite a lot of flavors. However, this avocado shake is the best so far.
Even though its color is green my daughter gets excited every time I blend it. I love the fact that no pre-planning is required.
So, whenever I want to use up those ripe avocadoes from my refrigerator, I simply blend this vegan avocado milkshake.
I often make my breaded avocado fries to enjoy it in different ways for my snack.
My other milkshakes like banana milkshake and peanut butter milkshake are also quite popular. You must try them along with this new milkshake recipe.
The best part is that the whipped cream in this recipe is optional so you may enjoy it as an avocado smoothie also. It will still taste as delicious as ever.
I also enjoy my turmeric ginger lemonade in summer.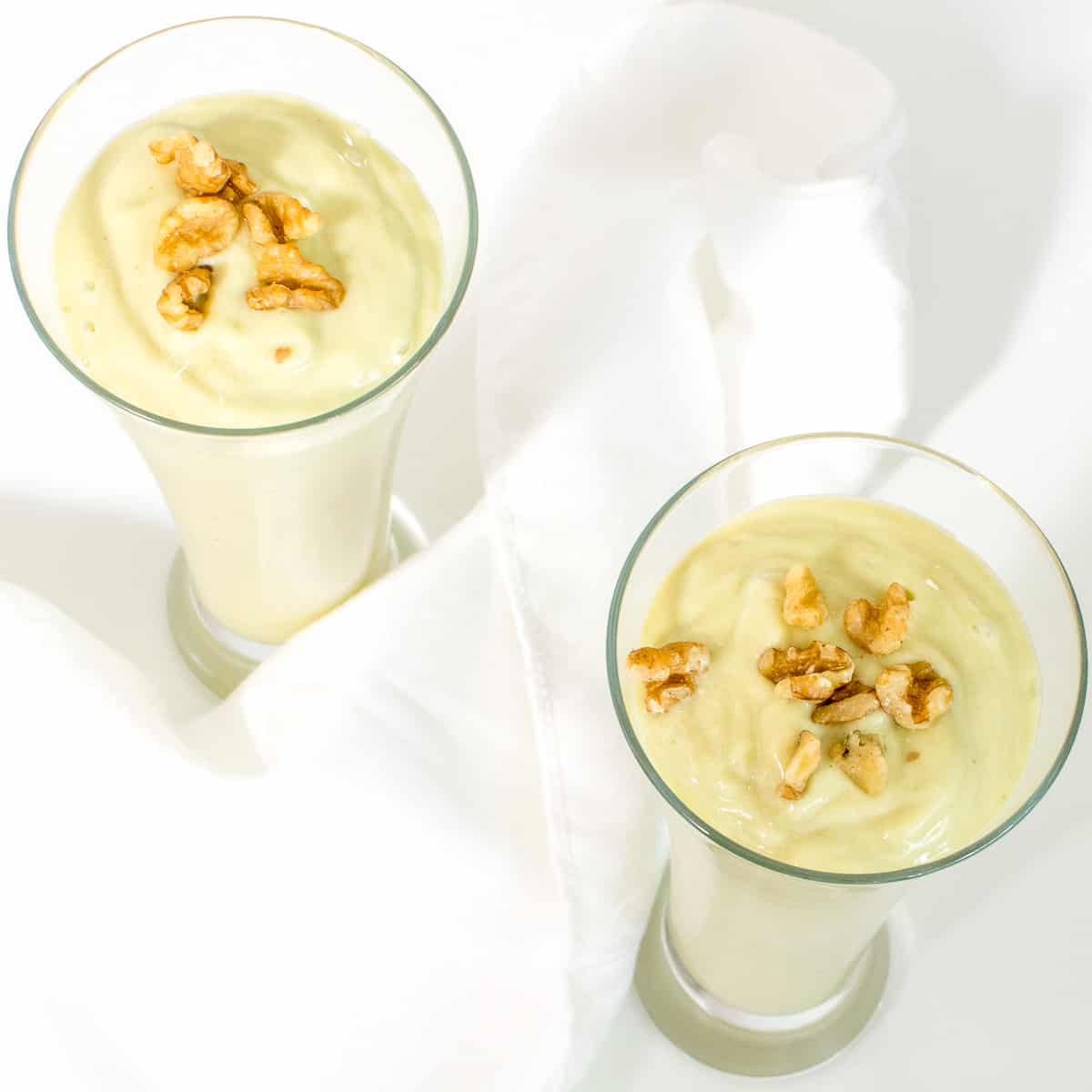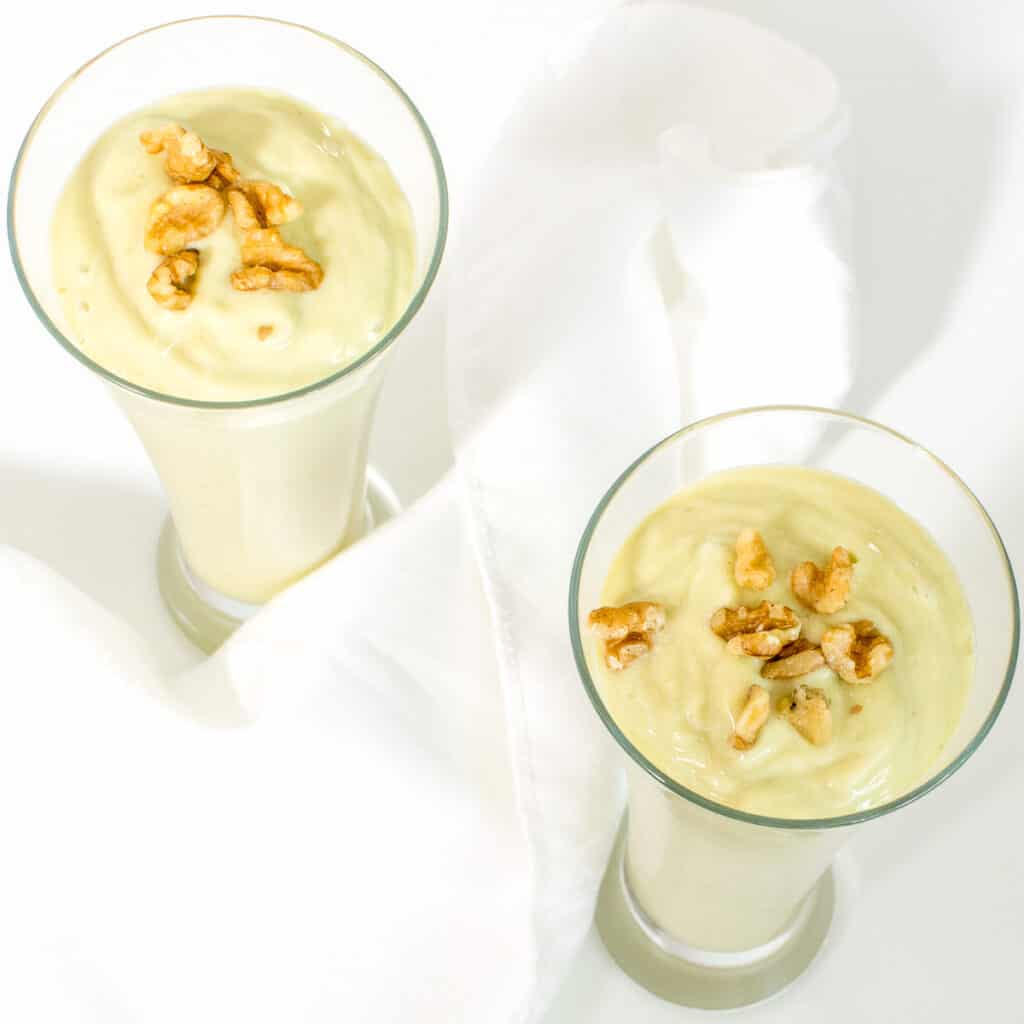 My other smoothie recipe that you may like:
Kale Smoothie
Hazelnut Cheesecake Smoothie
Chia Hemp Green Smoothie
Carrot Orange Spring Smoothie
However, today I am here to share this awesome avocado milkshake recipe.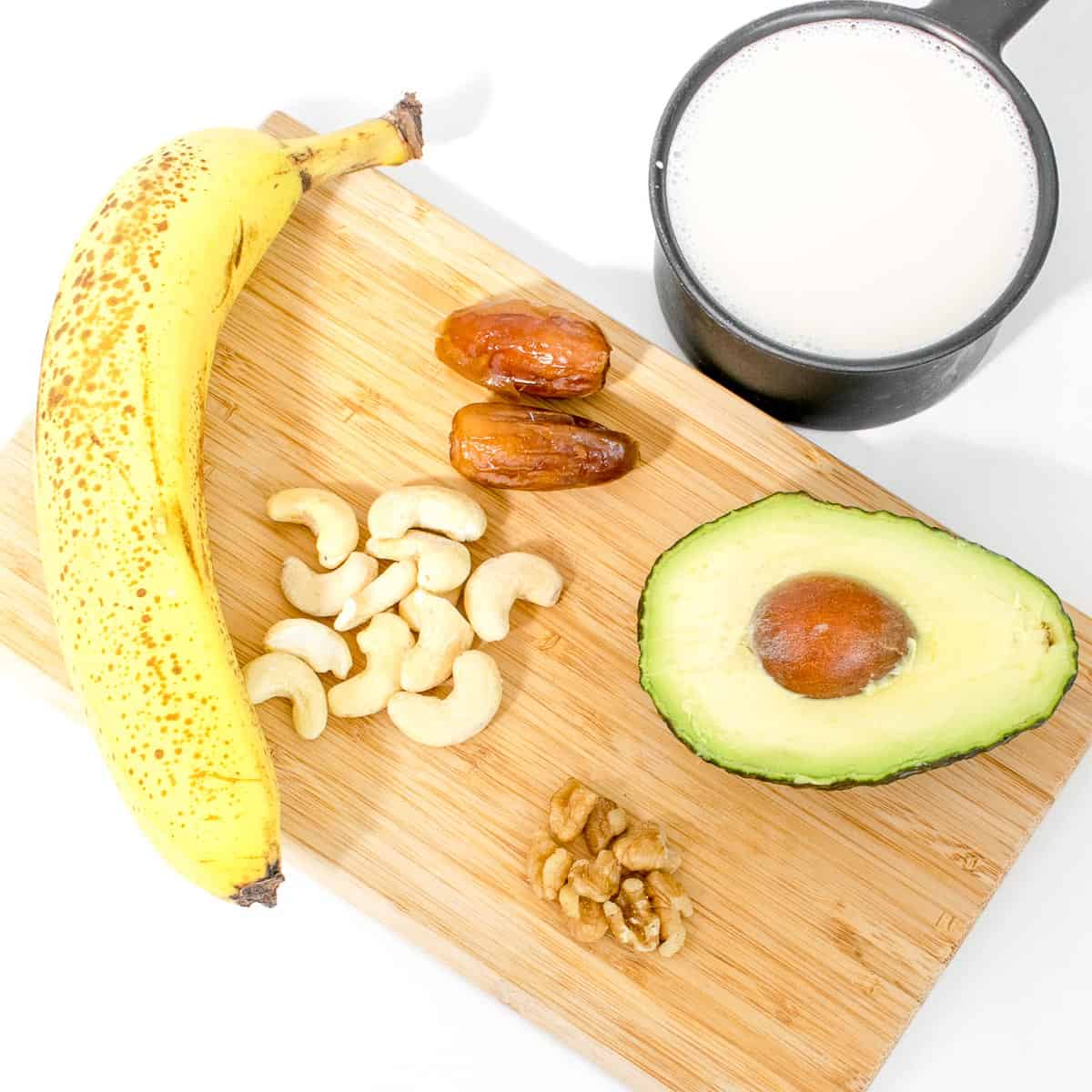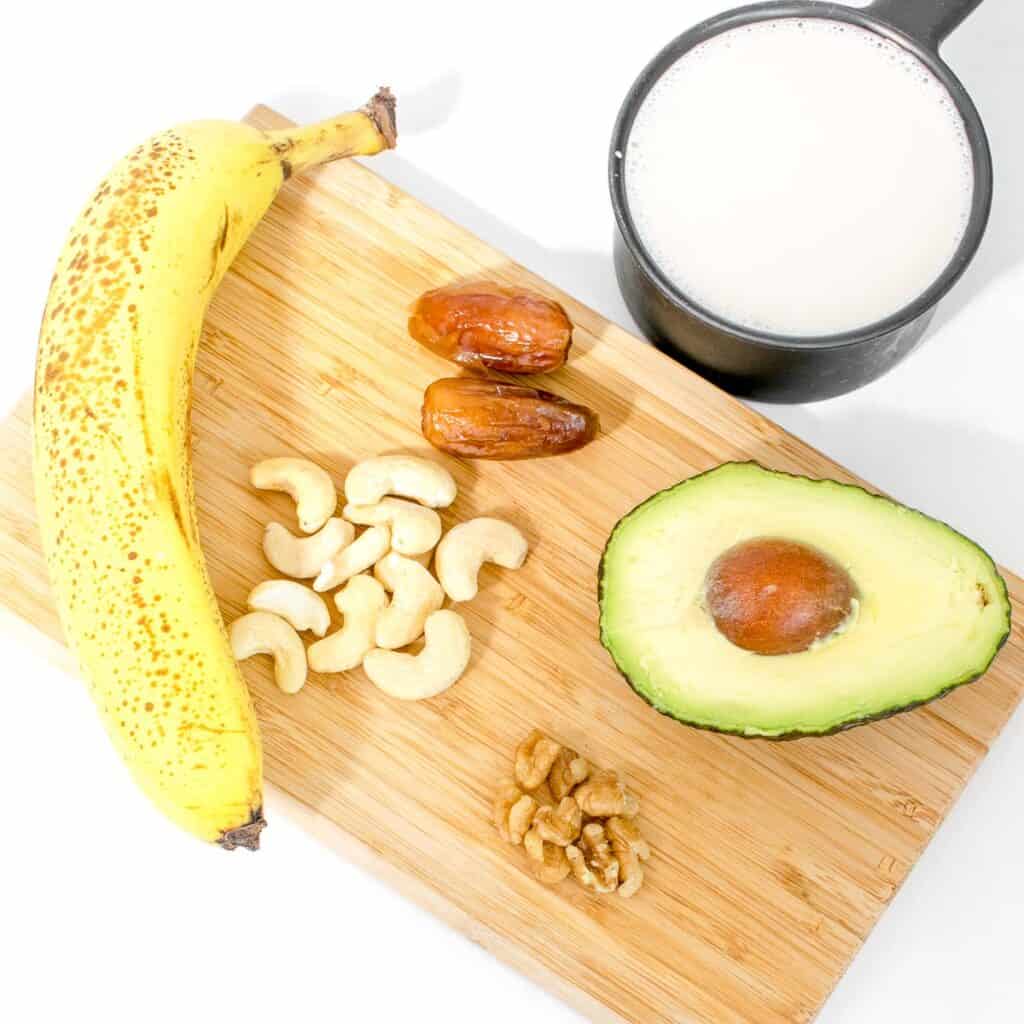 Ingredients you will need:
Cashew nuts
Dates
Oat milk
Vanilla extract
Avocado
Banana
Crushed ice
Toppings
Vegan whipped cream (optional)
Walnuts
I have used these easily available ingredients in this recipe which you may buy from any local grocery store. However, I have provided links to few of them here for your convenience.
If you plan to buy from these affiliate links then I get a small commission which in turn encourages me bring in more delicious recipes for you all.
Ingredients notes:
Cashew nuts – They provide healthy fats to this recipe. Along with making this milkshake creamy and nutty these also brings a subtle sweetness and gives it a thick base.
Dates – it's a natural way to sweeten this beverage along with providing more fiber and more nutrition. It's high in iron and is a great source for antioxidants. These promote brain health along with being a natural labor booster.
Oat milk – it's a creamy dairy free beverage which has a nice sweet flavor.
Avocado – It is an excellent source for healthy fats and is heart healthy. It is believed to reduce depression and improves digestion.
Banana – this helps in sweetening and also thicken this beverage. Its high in potassium and fiber.
Walnuts – it's a low-calorie healthy nut which provides healthy fats to this recipe. It's a great source for omega 3 and decreases inflammation.
Now that you have read the details of the ingredients that I used in this recipe, you must go through the steps very carefully.
Its easy and simple and yet you must follow every step so as to get the exact recipe.
How to make Avocado Milkshake
Firstly, I soaked cashew nuts and dates in hot boiling water for few minutes. Then, I drained them and washed with cold water immediately.
Secondly, in a blender, I combined cashew nuts, dates, milk, avocado, vanilla, banana in a blender and blended it smooth.
Next, I paused it and added crushed ice to it. Then, again I blended it smooth and made it thicker.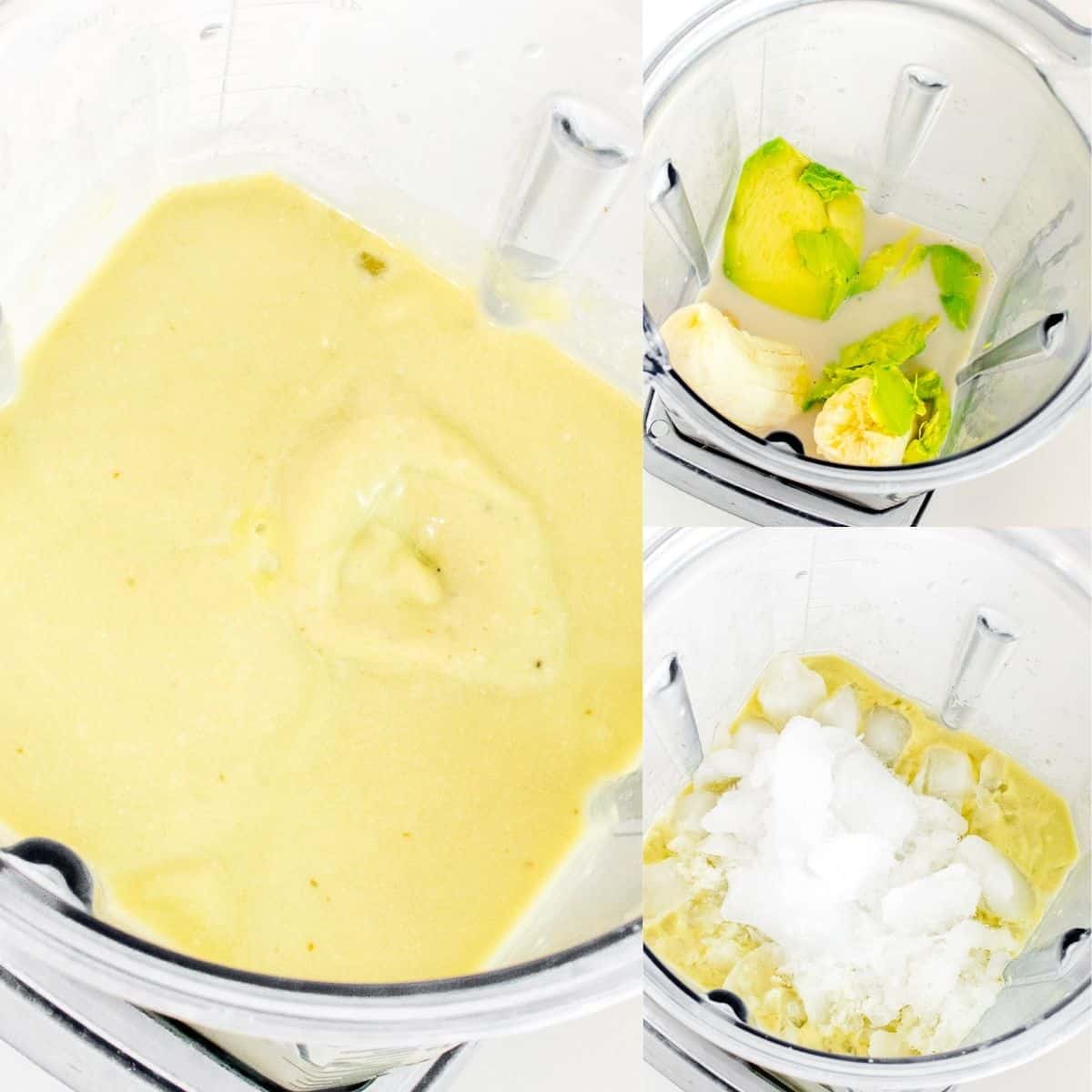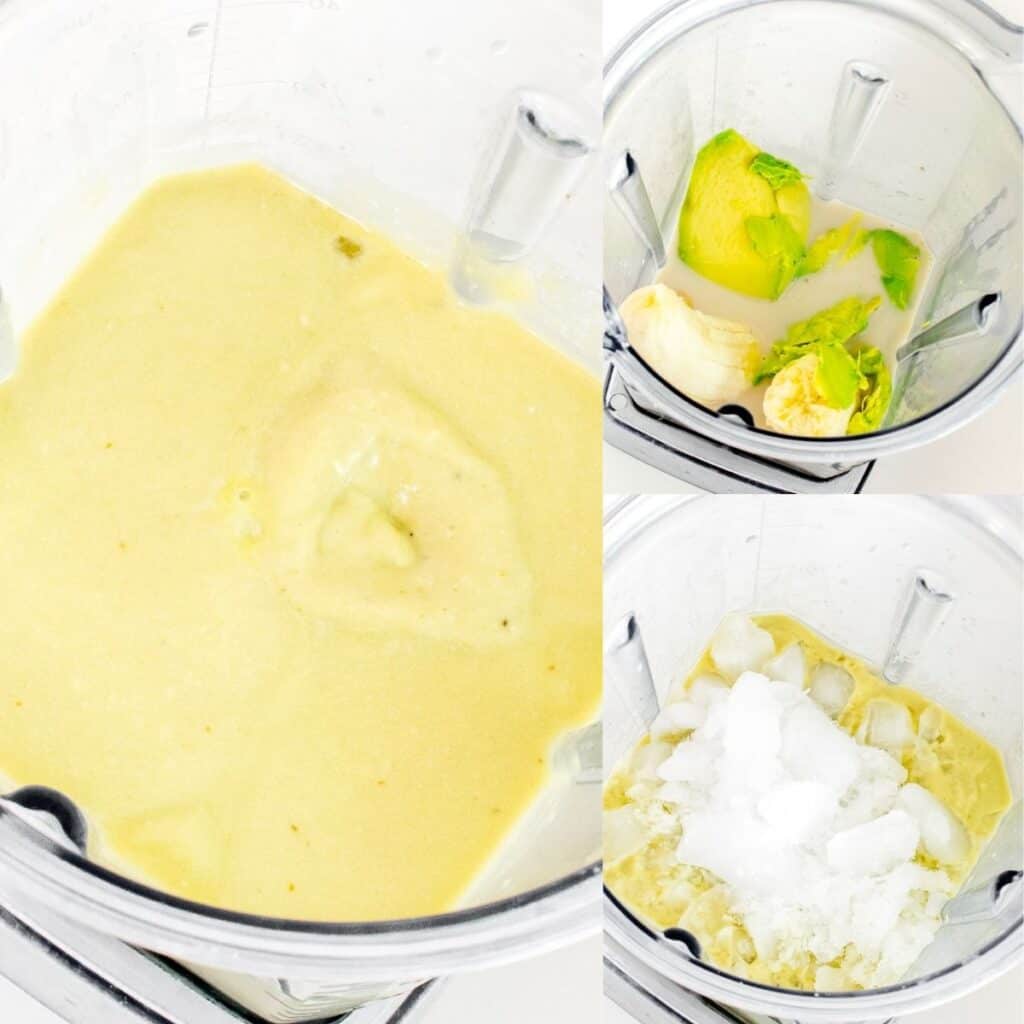 Thereafter, I poured it in the serving glasses.
Afterwards, I topped it with vegan whipped cream and lots of walnuts.
I served it immediately and we totally loved it. We continued sipping until the last sip.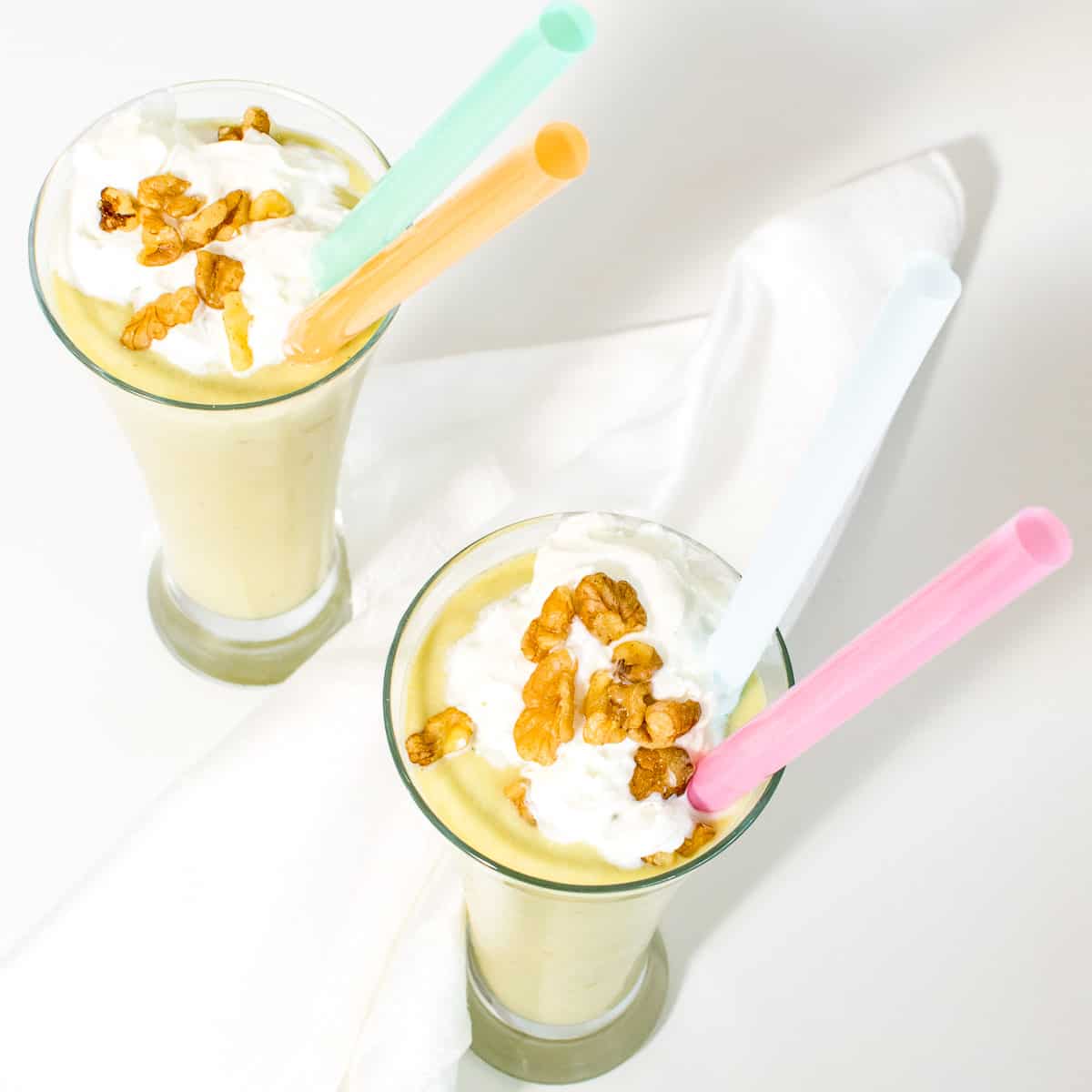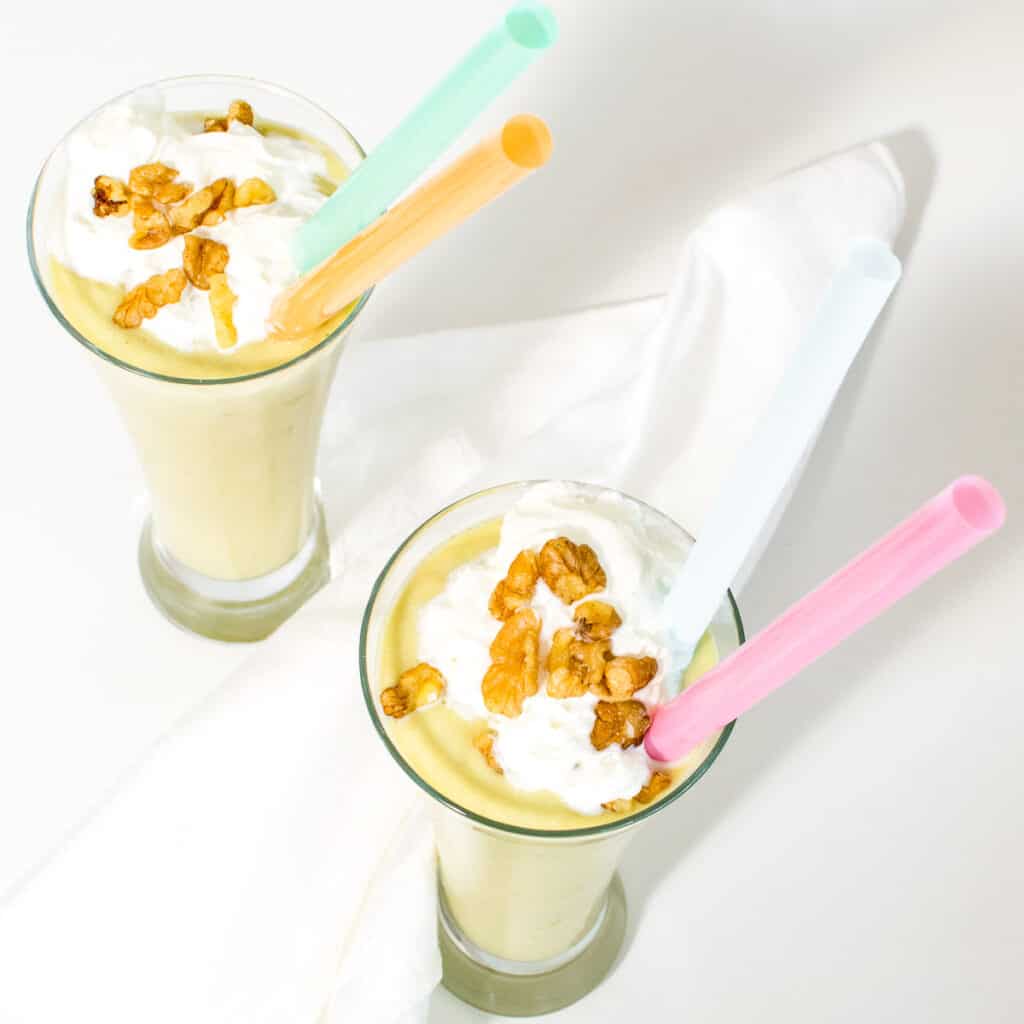 It was so good and so delicious that I made another batch immediately.
Therefore, this avocado shake recipe is very regular in my home and everybody's favorite.
I am sure you must be having all the ingredients in your fridge right now. So why wait?
Simply grab them and blend this refreshing drink. I assure you that you and your family will becomes its fan and will totally fall in love with it.
Expert tips:
After blending the smoothie, then add crushed ice to get the exact texture of this milkshake.
You may soak cashew nuts and dates together in very hot water but make sure to drain and wash them with cold water. This helps in getting cold milkshake or else it will be blended at room temperature and lose its texture.
Avocado Milkshake FAQs
How long does this last?
This tastes best when served immediately. If kept for long it will lose its texture and change in taste as well since avocado will start oxidizing.
Is it healthy?
Yes. I made it sugar free and sweetened it with natural whole food ingredients. Moreover, if you skip whipped cream and enjoy it as smoothie you may save on lot of calories. So therefore, this drink can be enjoyed frequently.
Is it made without ice cream?
Yes, I made this recipe without ice cream and it's very easy with the same comforting taste.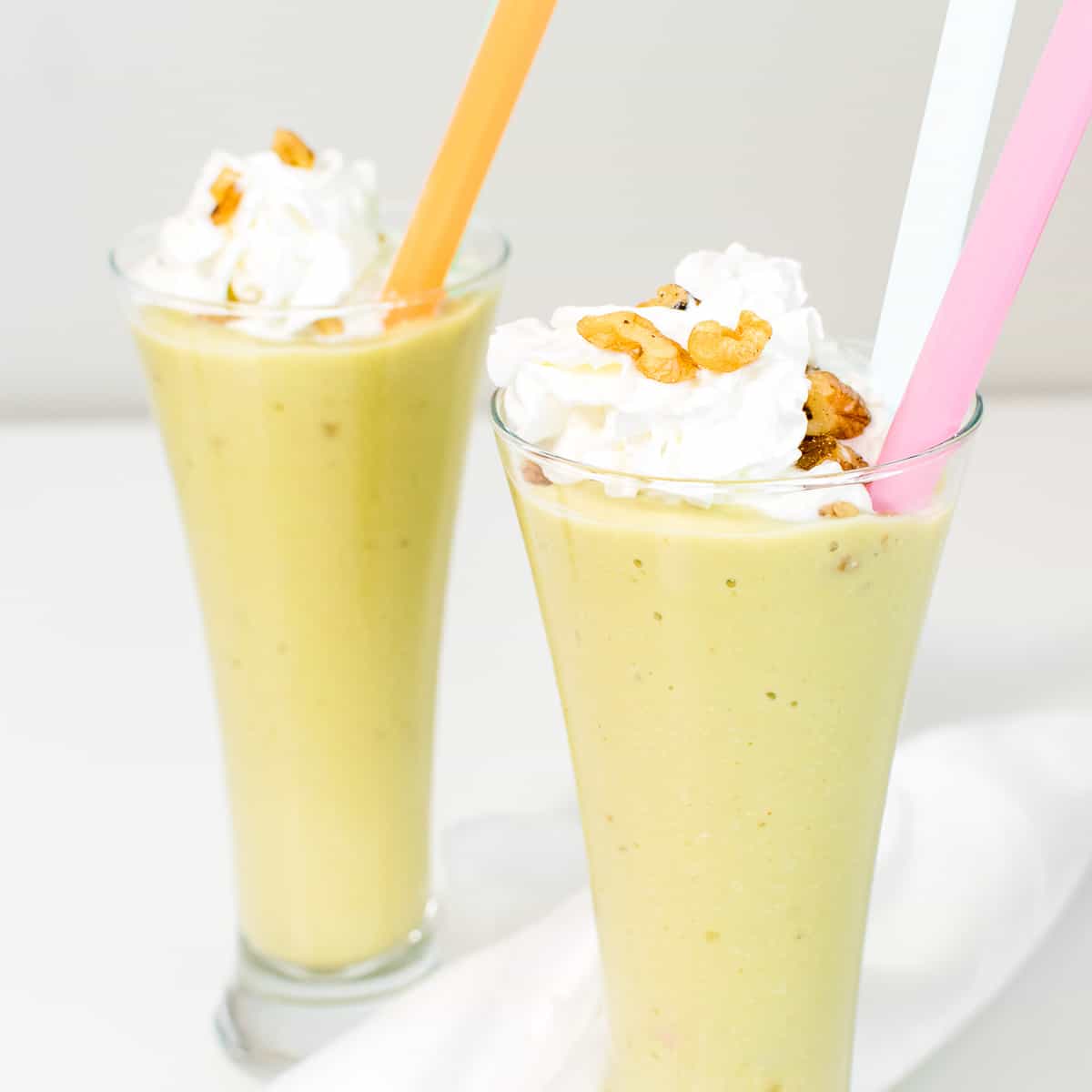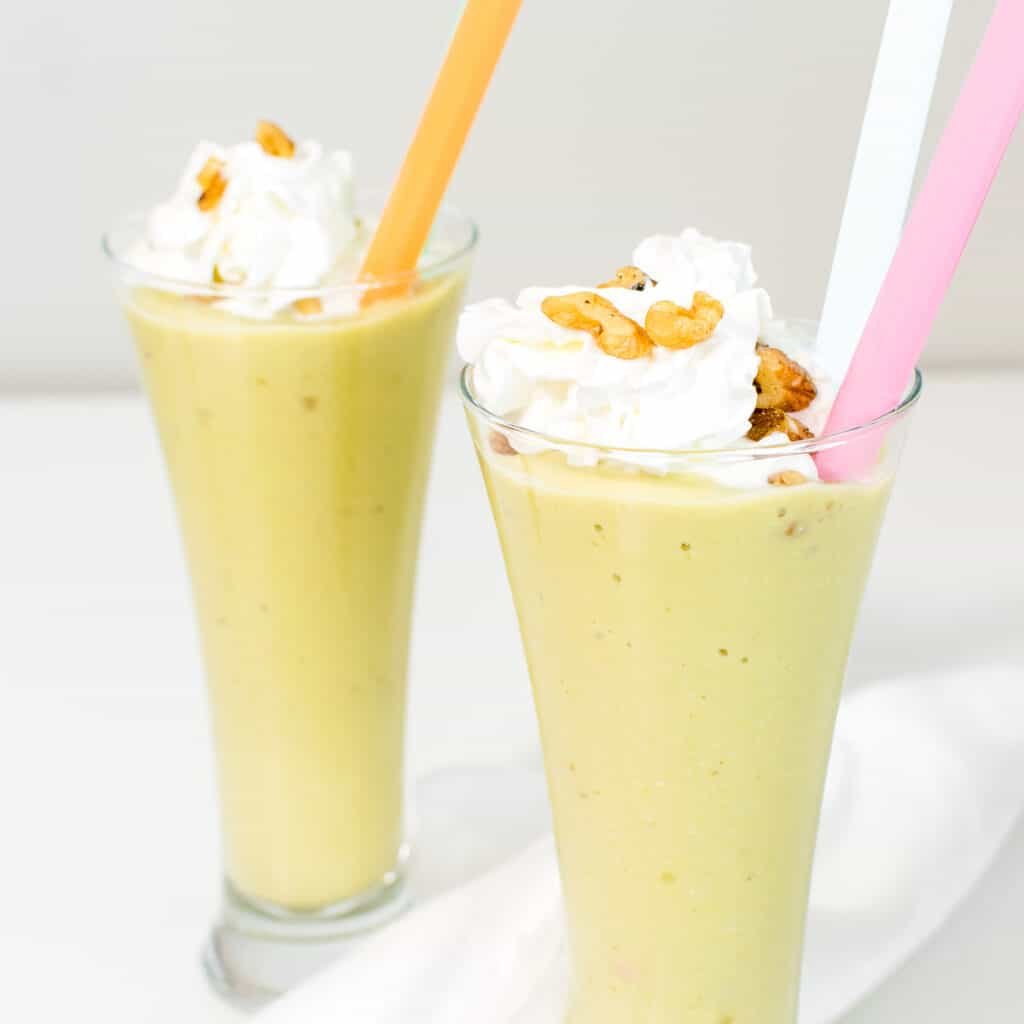 Did you make it?
If you get a chance to make this recipe then please leave your feedback in the comments below along with the ratings. In addition, you may tag @kiipfit on Instagram with your remake images of this recipe because we would love to see what you cooked.
You may also checkout my cookbooks for every day easy and comforting vegan recipes.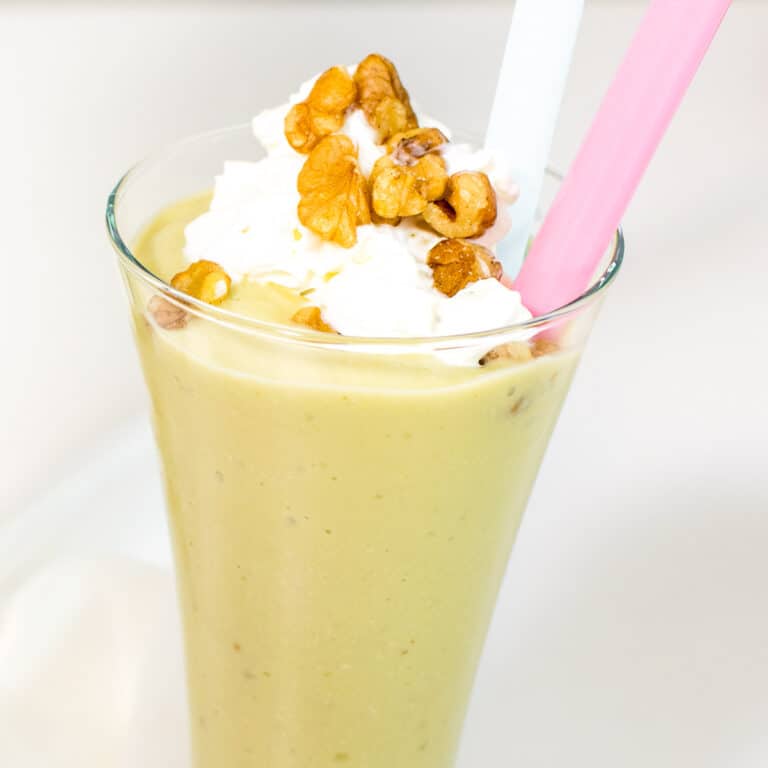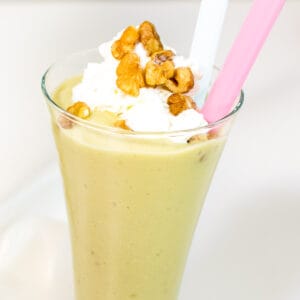 Print Recipe
Avocado Milkshake
This simple and healthy Avocado Milkshake is thick, rich, creamy and deliciously satisfying. It's an easy recipe to make and a perfect family beverage. This is made without ice cream and is a complete breakfast in a glass.
Ingredients
1/4

cup

raw cashew nuts

(soaked in warm water)

2

pitted

dates

(soaked in warm water)

1

cup

oat milk

1

tbsp

vanilla extract

1

ripe

banana

(with brown spots on its skin)

1

pitted

avocado

1

cup

crushed ice
Instructions
Drain the soaked cashew nuts and dates and wash it with cold water. In a blender combine the washed cashew nuts, dates, oat milk, banana, vanilla and avocado. Blend it smooth.

Pause and add crushed ice to it and blend it again.

Pour it in serving glasses and top it with whipped cream and chopped walnuts. Serve immediately.
Notes
This can be enjoyed as smoothie skipping whipped cream.
This is a complete breakfast and very filling.
If you want to enjoy it as a snack then the serving size would be 3 instead of 2.
This recipe tastes best when served immediately.
Frozen banana and frozen avocado are not required for this recipe. However, the banana must be ripe with brown spots on its skin. Over ripe banana is not needed here.
Nutrition
Calories:
372
kcal
|
Carbohydrates:
43
g
|
Protein:
9
g
|
Fat:
21
g
|
Saturated Fat:
1
g
|
Sodium:
58
mg
|
Potassium:
164
mg
|
Fiber:
2
g
|
Sugar:
15
g
|
Vitamin A:
250
IU
|
Vitamin C:
1
mg
|
Calcium:
186
mg
|
Iron:
1
mg