Spring and Summer are all about outdoor activities and keeping ourselves healthy. We try to go for hiking, participate in charity races or simply dip into the pool. We do various activities to stay fit but after that we also need healthy and flavorful dinner. After long hectic week days or on weekends we crave for something delicious and yet healthy and Asian food is by far my most favorite option because of the flavors and variety.
Peanuts are the main ingredient in any Asian dish and I can just live on peanuts. I love them and snack on them regularly. I decided to go with some easy and flavorful peanut sauce this time. I know there might be tons of recipes online with peanut sauce but trust me this one is different.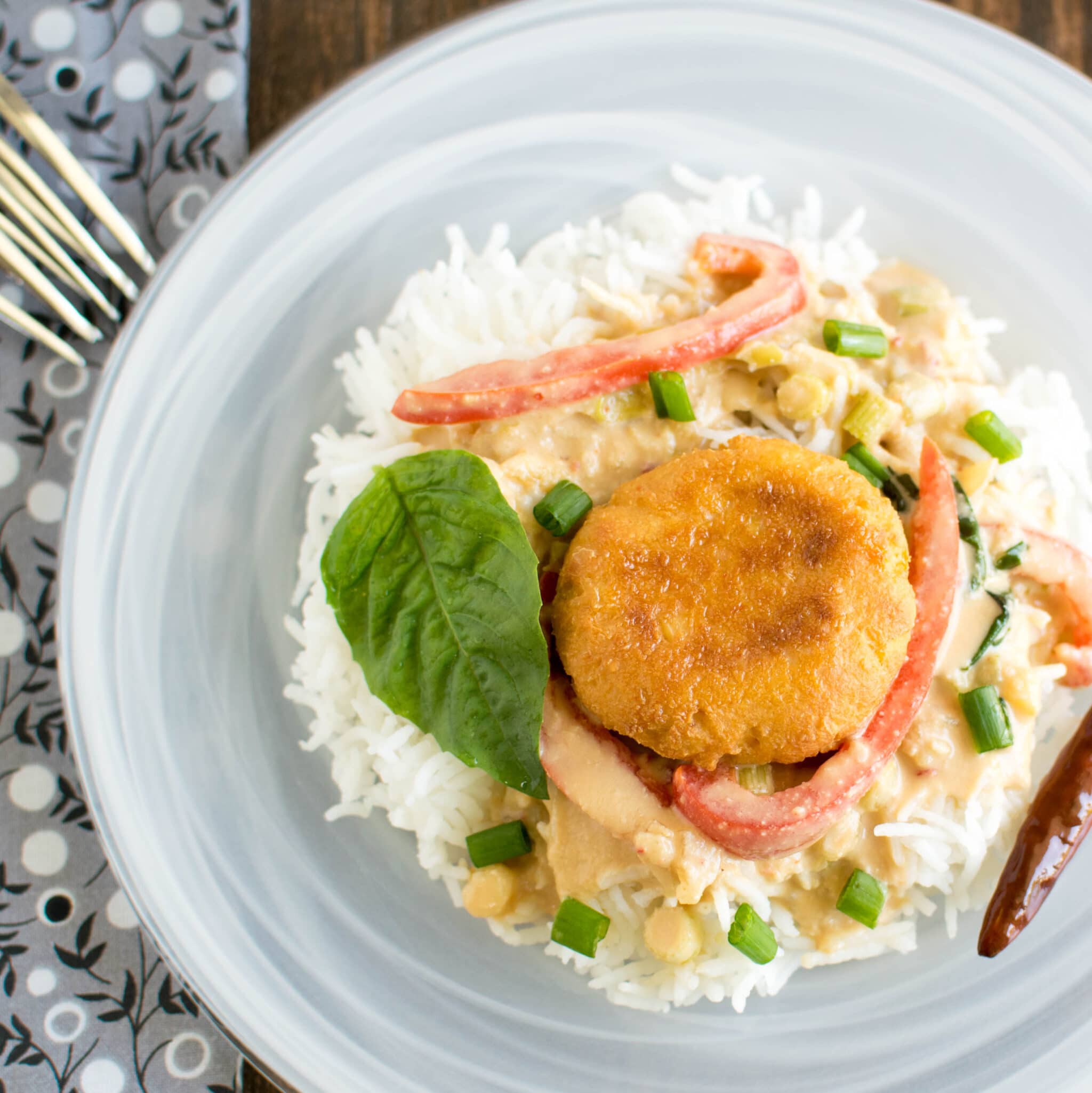 But before that I decided to bake some tofu coins to add some protein and calcium along with some flavors. This recipe is a hearty and healthy meal which you would love to eat and cook more than once. 🙂
For Tofu Coins I combined crumbled tofu (Make sure tofu is properly drained and pressed),  chickpea flour, sriracha sauce, salt and made them into cutlet/patty shape then spread the coin on the cookie sheet and baked in preheated oven for 30 minutes.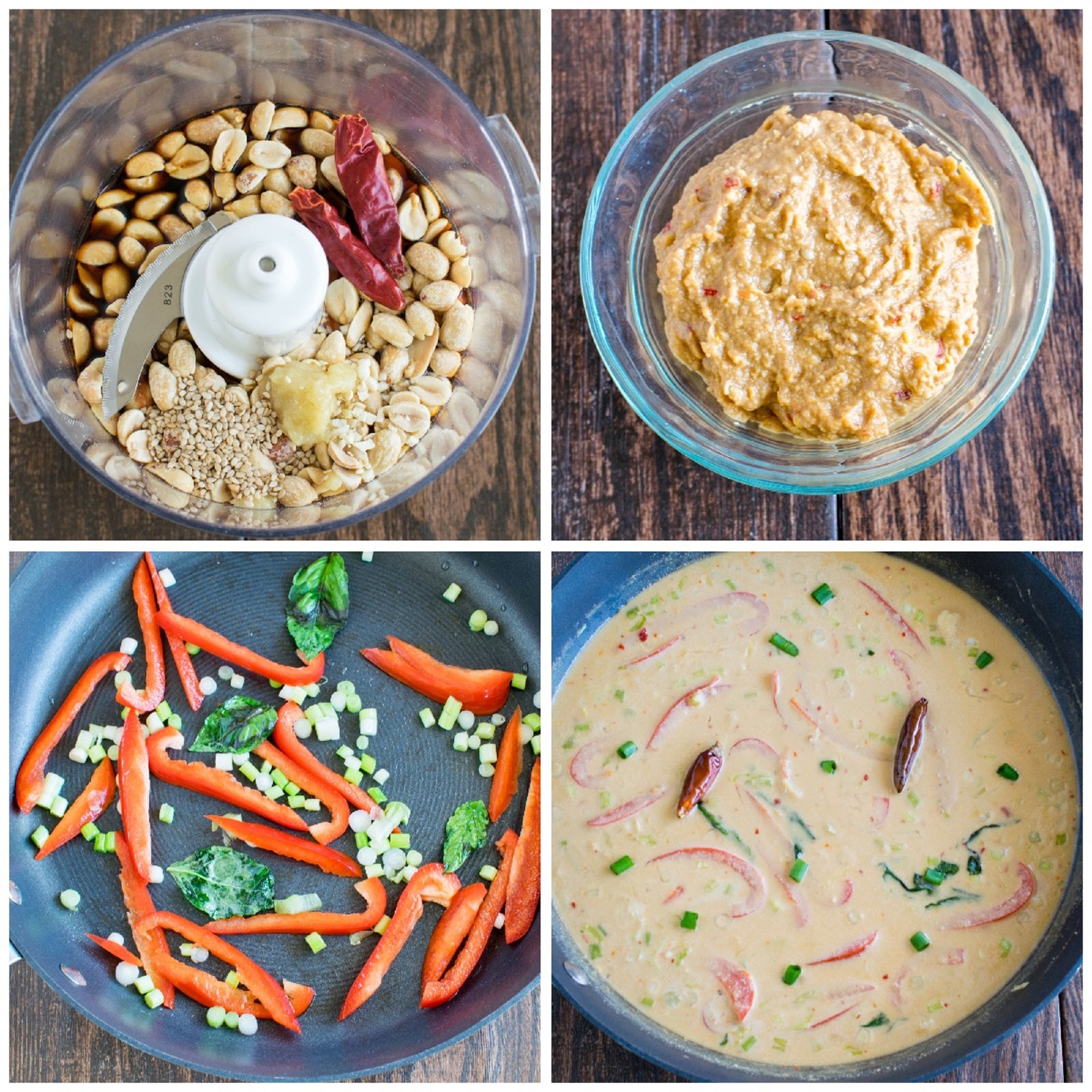 While the tofu coins were baking I prepared the peanut sauce to save time. I pureed dry roasted and salted peanuts, dry red chilies, ginger garlic paste, sesame seeds, vinegar and low sodium soy sauce.
In a pan I heated some olive oil and added basil leaves, scallions, some veggies, and made gravy by adding  water, brown sugar and salt. Yum!! I still remember the taste of this delicious meal Tofu Coins in Spicy Peanut Sauce.
Once the coins are baked and the sauce is ready put the tofu coins in the peanut sauce and serve it over the bed of steamed rice or boiled brown rice/quinoa.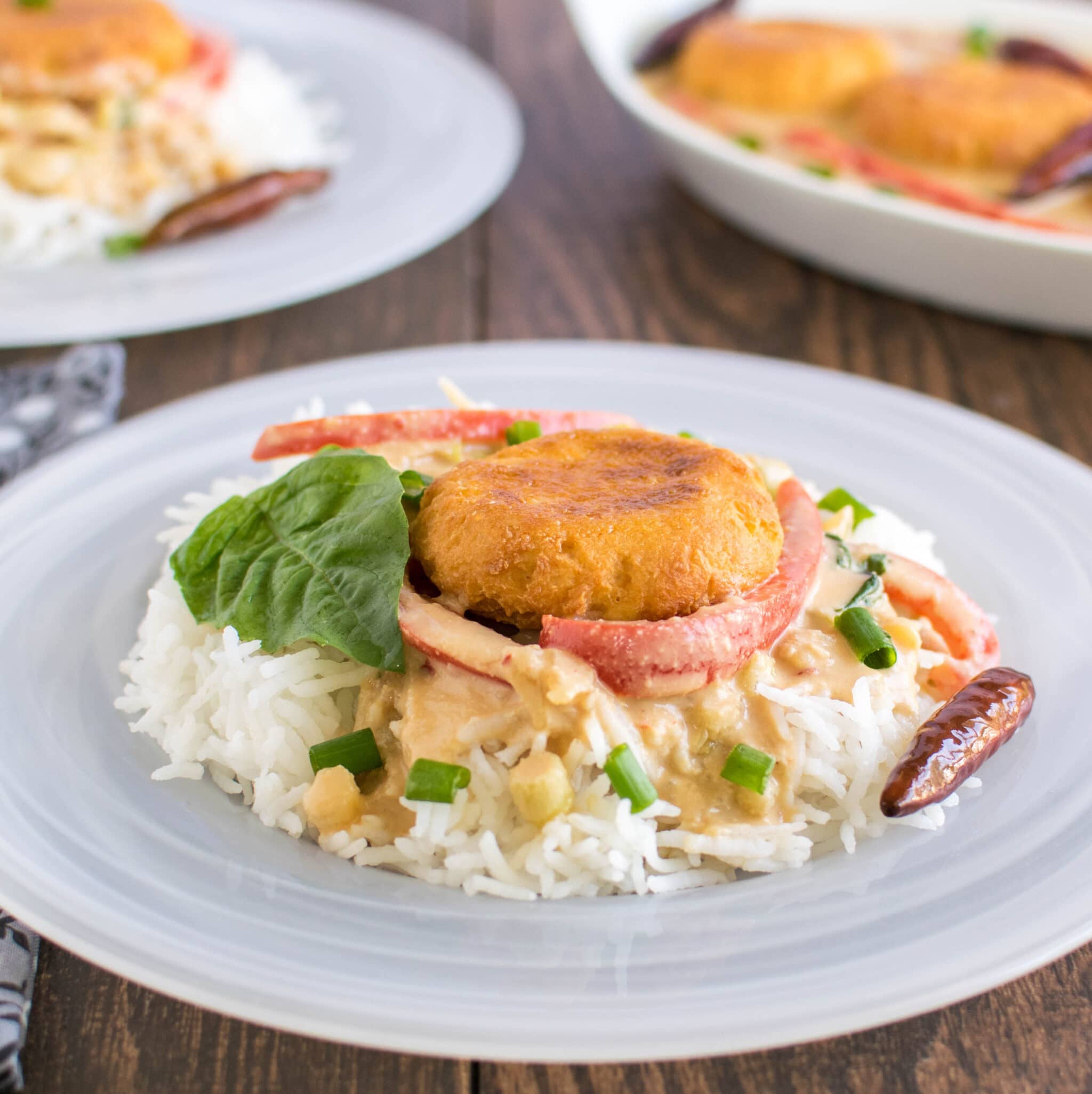 Tofu Coins in Spicy Peanut Sauce adds variety to our dinner menu and is perfect as a healthy comfort food as well. This recipe is a regular in my household and we all love it. 🙂
This is an easy and delicious meal that can be served if you are hosting a get together or just looking for some family time meal. 🙂
Tofu Coins in Spicy Peanut Sauce
Prep Time: 10 minutes
Cook Time: 30 minutes
Total Time: 40 minutes
Per Serving 188 calories
Fat 12 g
Carbs 11 g
Protein 13 g
Ingredients
For the Coins

1 14 oz. pack tofu (drained and pressed)
2 tbsp. chickpea flour
1 tbsp. sriracha sauce
½ tsp salt

For the Sauce

½ cup peanuts (roasted and lightly salted)
2 dry red chilies
1 tsp garlic ginger paste
1 tsp white sesame seeds
1 tbsp. vinegar
¼ cup soy sauce (low sodium)
1 tsp olive oil
4 basil leaves
¼ cup scallions
1 cup red bell pepper (thinly sliced)
¼ cup shredded cabbage
1 ½ cups water
1 tsp brown sugar
¼ tsp salt
Instructions
Preheat oven at 400 degree Fahrenheit and prepare a cookie sheet.
Crumble the tofu properly and combine chickpea flour, sriracha sauce and salt into it and mix very well with your hands until smooth.
Divide the tofu mix into 10 equal balls and press between palms gently. (Make sure there are no cracks in the tofu coins). Place them on the cookie sheet and bake in the oven for 30-35 minutes flipping the coins once after 25 minutes. (The tofu coins should be light golden brown in color).
In the meantime combine peanuts, red chillies, ginger garlic paste, sesame seeds, vinegar and soy sauce in a food processor and puree smooth. Keep it aside.
Heat oil in a nonstick pan and add basil leaves. Immediately add scallions, red bell pepper and cabbage and mix well.
Now add peanut puree to it along with water, brown sugar and salt. Mix well and let it boil for few minutes.
Once done take the peanut sauce in a serving bowl and arrange tofu coins on top and garnish with some green onions and fried red chilies. Serve hot with steamed rice/brown rice/quinoa.
Notes
Thai basil can also be used.

Maple syrup can also be used instead of brown sugar.

Make sure tofu is properly drained and pressed as much as possible so that the coins are firm enough not to fall apart.

Make sure to grease the liner on the cookie sheet very well to avoid sticking of the tofu coins.