This vegan Eggplant Stir Fry is a flavor bomb. Its salty, spicy and sweet in taste along with the health benefits of veggies. It serves as a great weeknight main course when served over steamed rice.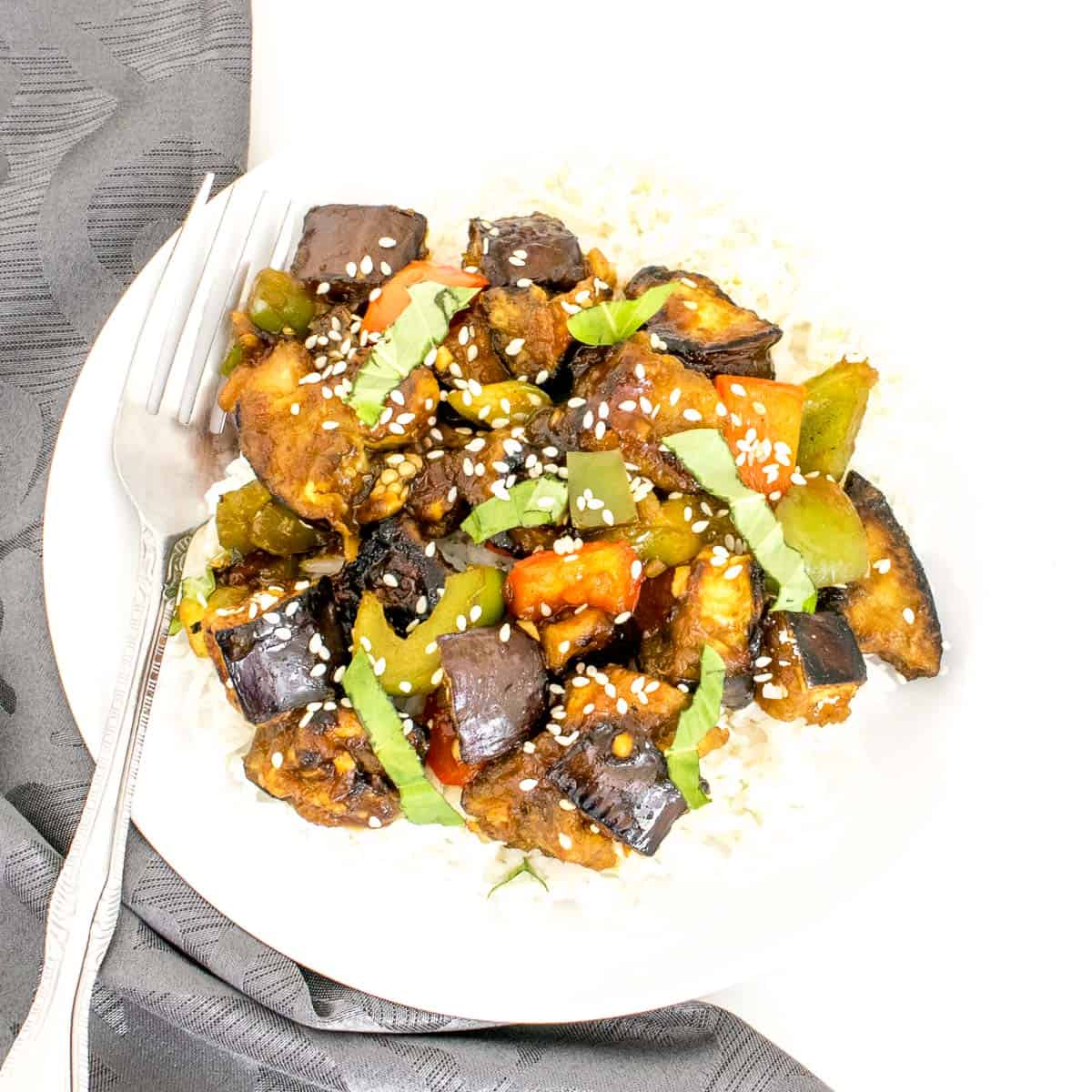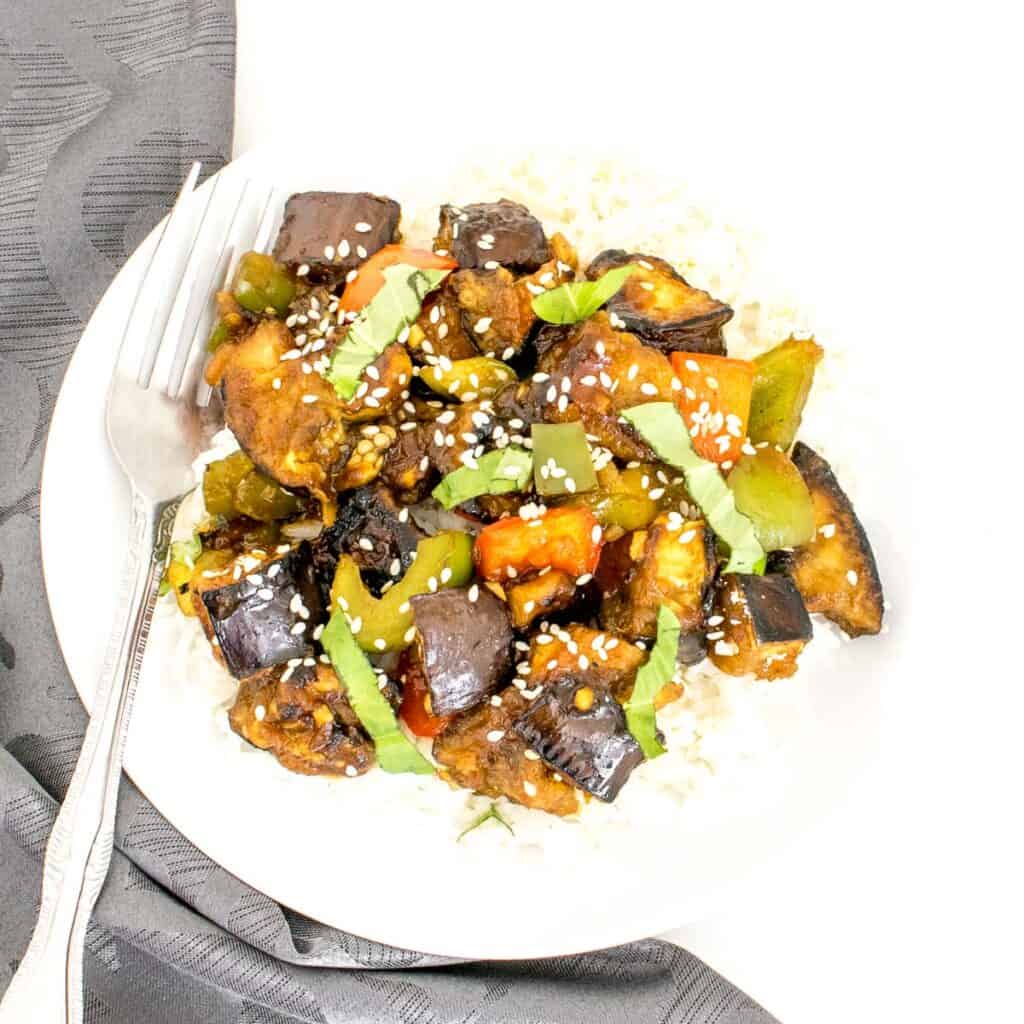 I have grown up eating eggplant in Indian style. Therefore, this vegetable is common in my house and I make recipes with it frequently like air fryer eggplant, burnt garlic eggplant and vegan moussaka.
However, this time I wanted something in a stir fry form to bring variety in our diet. Moreover, I was looking for an easier entrée for a weeknight. This pairs well with my gochujang noodles too.
What is stir fry?
Stir fry is a Chinese technique of cooking where oil is heated in a wok and ingredients are continuously sauteed. It is a quick way to make an entrée with delicious sauces and seasonings.
Why I chose stir fry option?
Its quick, easy, versatile and it gives an opportunity to add as many vegetables and a variety of vegan protein too. This way I can make a wholesome dinner within minutes with less oil.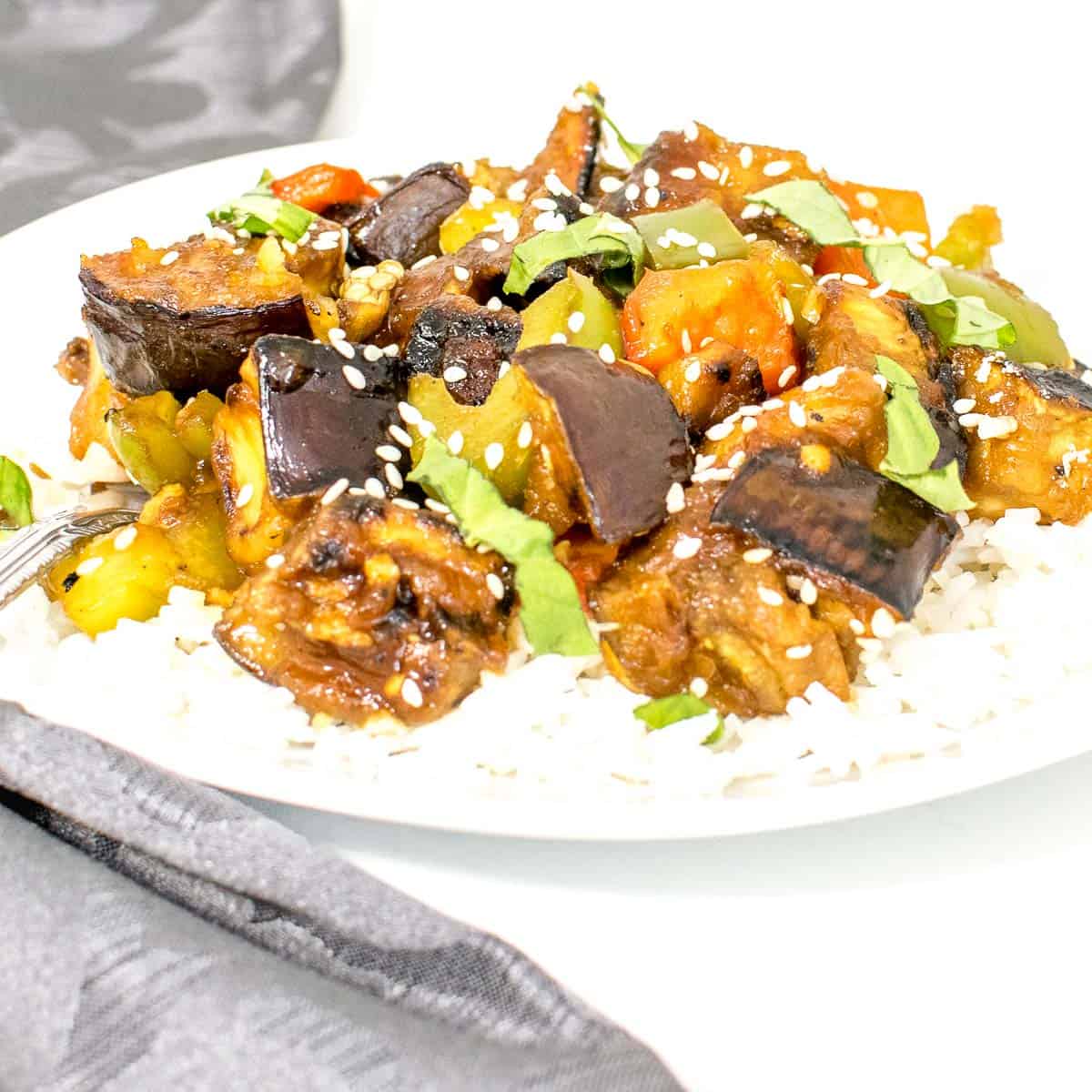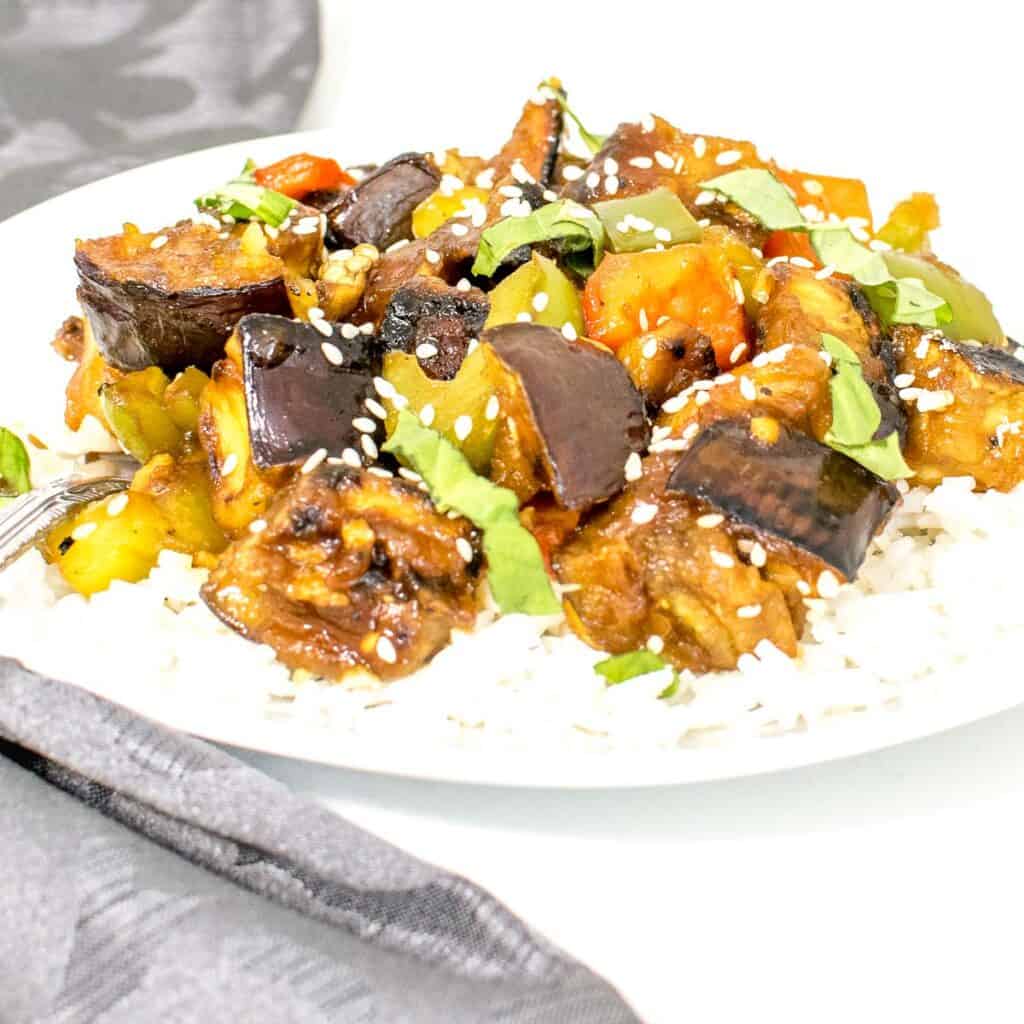 I have posted many vegans stir fry recipes like tempeh stir fry, vegetable stir fry noodles and spicy cashew broccoli stir fry. All of these have umami Chinese flavors.
However, this time, I decided to make eggplants as the star ingredient and it worked.
Therefore, today I am sharing eggplant stir fry recipe with you.
Ingredients you will need
Eggplant
Cornstarch
Oil
For sauce
Soy sauce
Sriracha sauce
Maple syrup
water
Ginger
Garlic
Others
Green bell pepper
Red bell pepper
Basil leaves
Sesame seeds
I have used these easily available ingredients which you may buy from any local grocery store. However, I have provided links to few of them here for your convenience.
If you plan to buy from these affiliate links then I get a small commission which in turn encourages me to bring in more delicious recipes for you.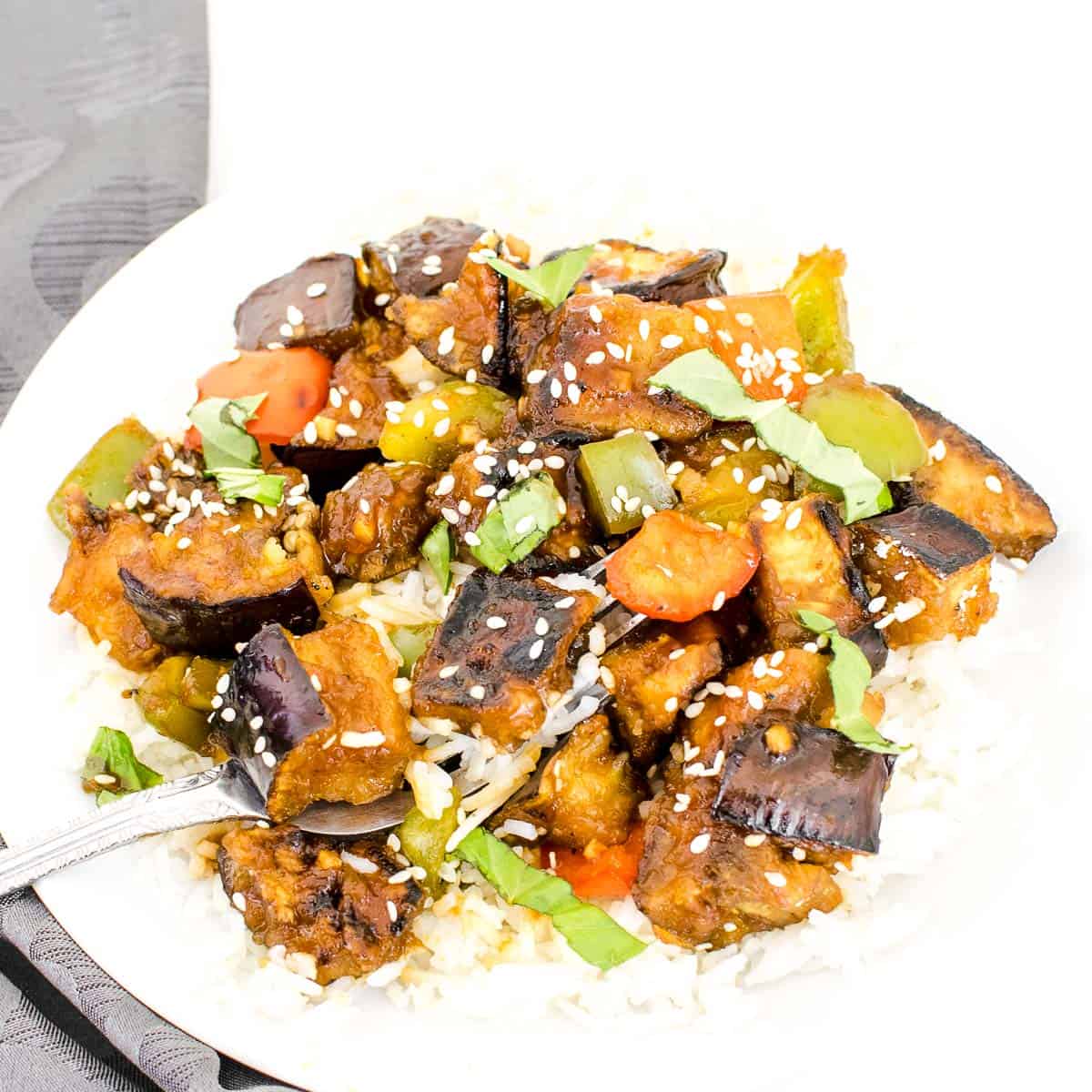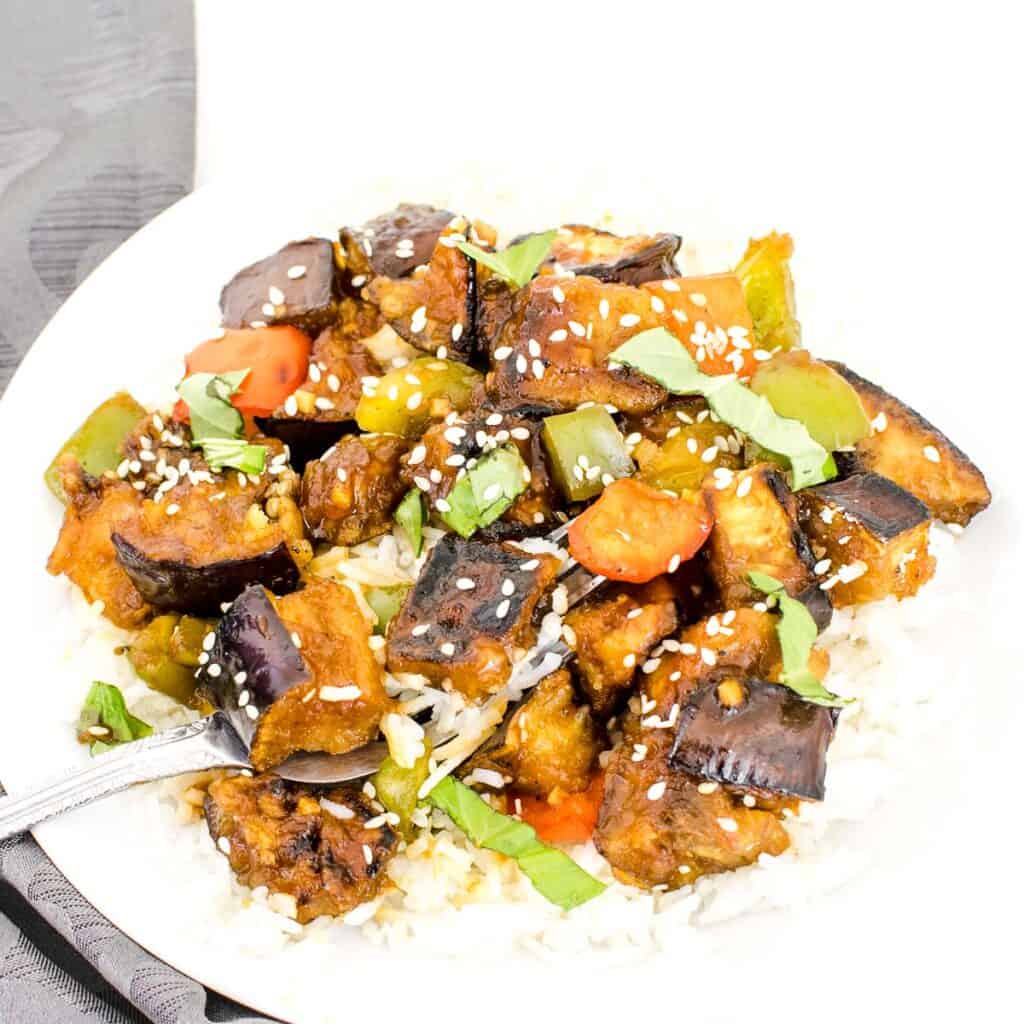 Ingredients notes:
Eggplants – Make sure to buy a regular eggplant that is smaller in size. Small to medium ones would work best here. Moreover, do not go for Chinese eggplant for this recipe. The regular ones are the best for this dinner entrée. This vegetable is high in vitamin A and C along with being able to fight against cell damage.
Cornstarch – I used gluten free cornstarch to make this recipe gluten free. I have used it to firm the eggplants after cooking. This way this vegetable does not become mushy and maintains its texture well.
Soy sauce – I used a low sodium one to balance out the salty taste in here. You may use tamari as well.
Sriracha – any hot sauce works here but I personally like sriracha in Asian cuisines.
Maple syrup – you may substitute it with brown sugar but maple syrup brings out a nice subtle flavor to this entrée. Moreover, it's a healthier sweetener as well.
Basil leaves – this is an important herb for the ultimate delicious end result. It is aromatic and packed with nutrition too. You may use regular or Thai basil here. Basil helps in stress management and blood sugar control. However, a couple seeking pregnancy should avoid Holy basil.
Bell peppers – these add a variety, color and antioxidants to this stir fry. Along with being loaded with vitamin C, its subtle sweet taste absolutely adds deliciousness to it.
I am sure you must already be craving for this recipe.
Even, I am excited to see what you come up with so don't forget to tag us if you make it.
How to make Eggplant Stir Fry
Step 1: how to prepare
Firstly, I rinsed eggplant and pat dried it with a kitchen tissue.
Secondly on a cutting board I trimmed the edges and chopped it into square pieces.
Then, I kept it aside.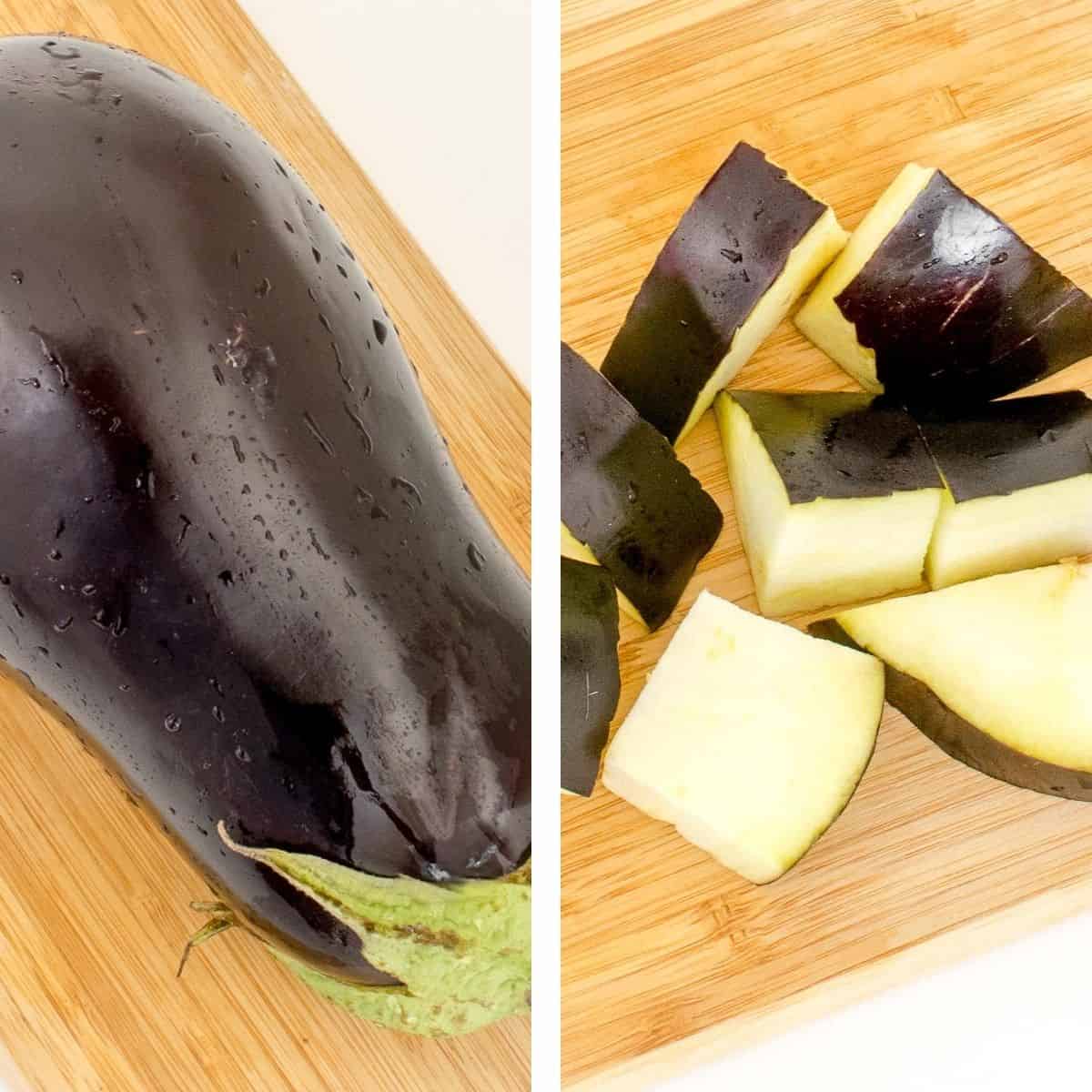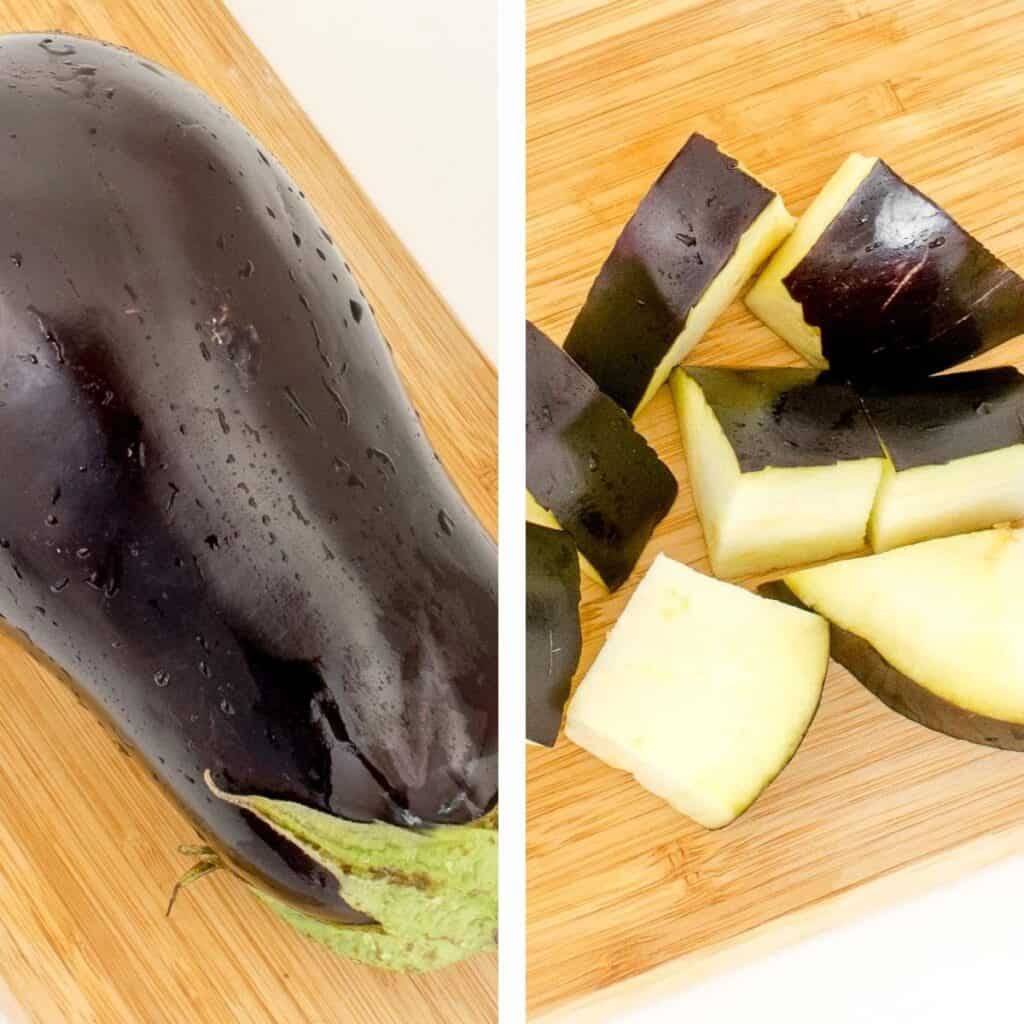 Step 2: how to sauté
Firstly, in a bowl, I combined chopped eggplant along with cornstarch and mixed it well.
Secondly, I heated oil in a nonstick pan and added the chopped eggplant.
Next, I sautéed it for about 10-15 minutes at medium-high flame or until they were soft but not mushy.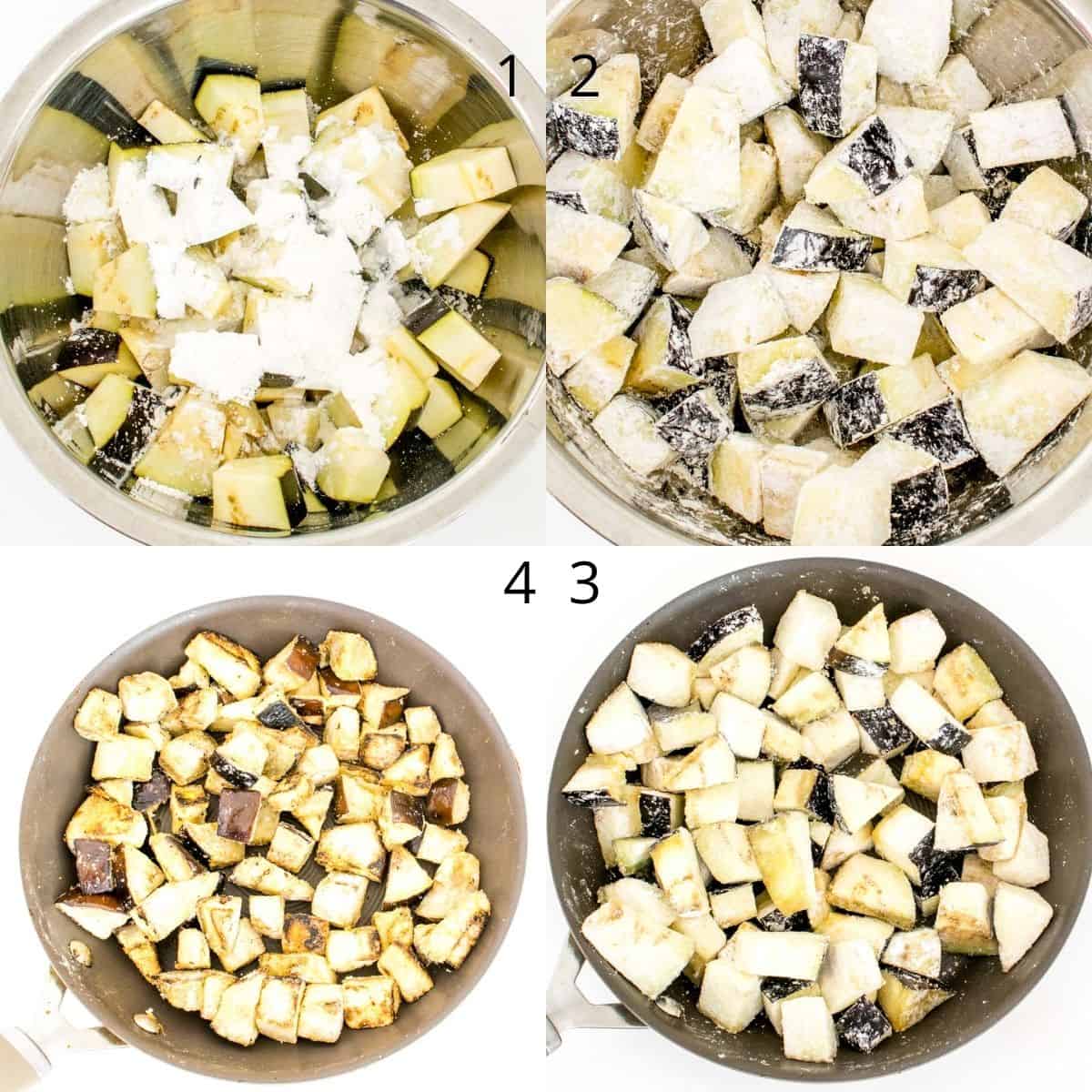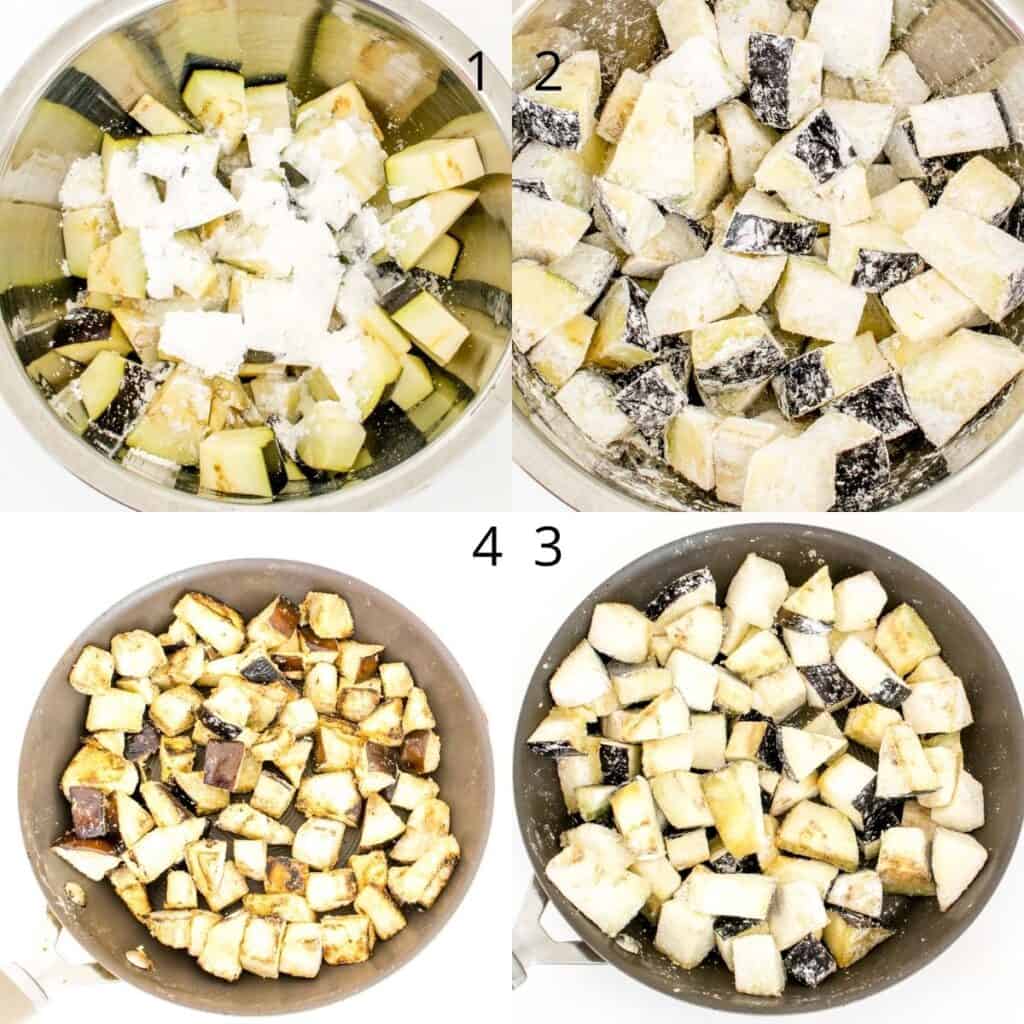 Step 3: how to make the sauce
In this step I combined all the sauce ingredients in a bowl and mixed it well.
Then, I kept it aside.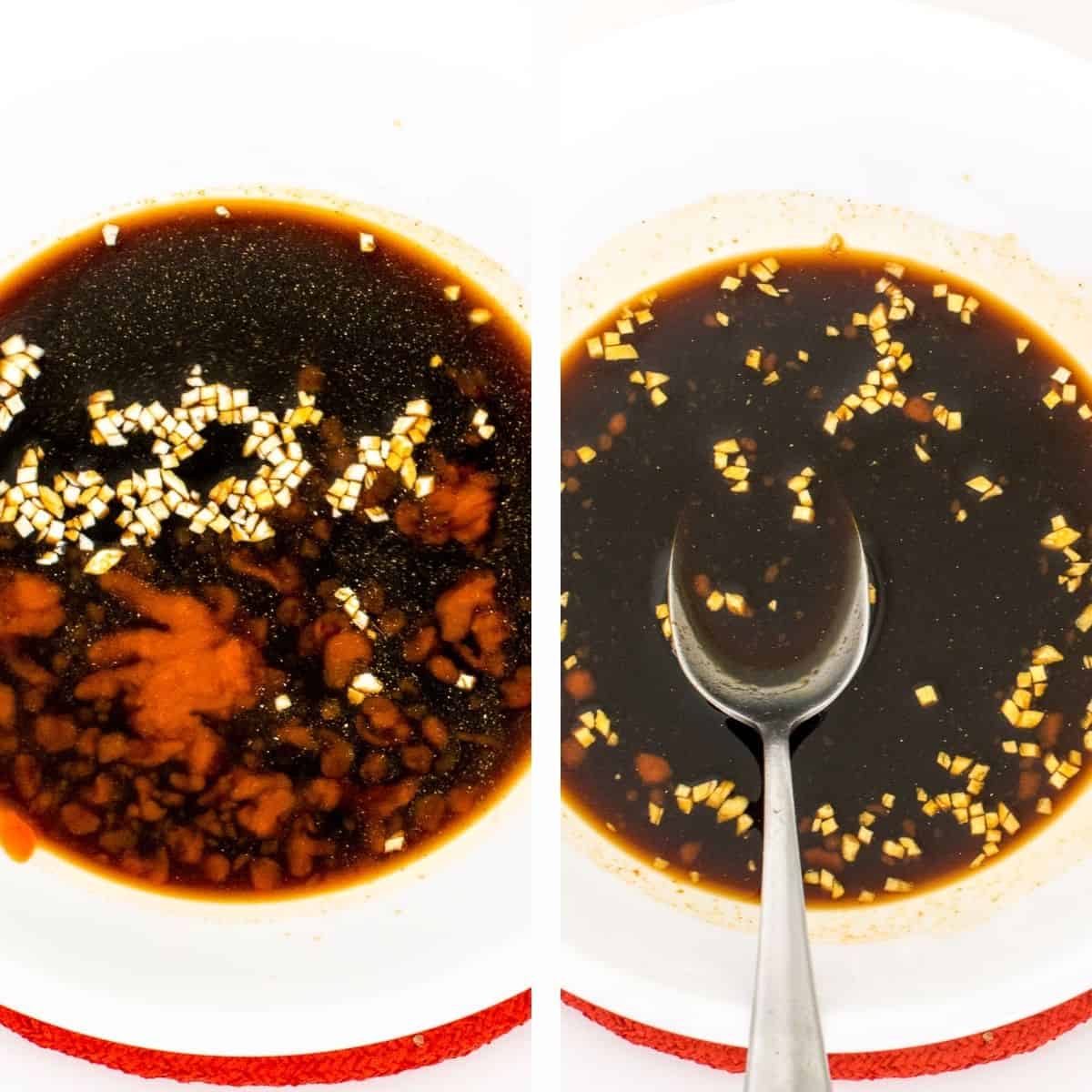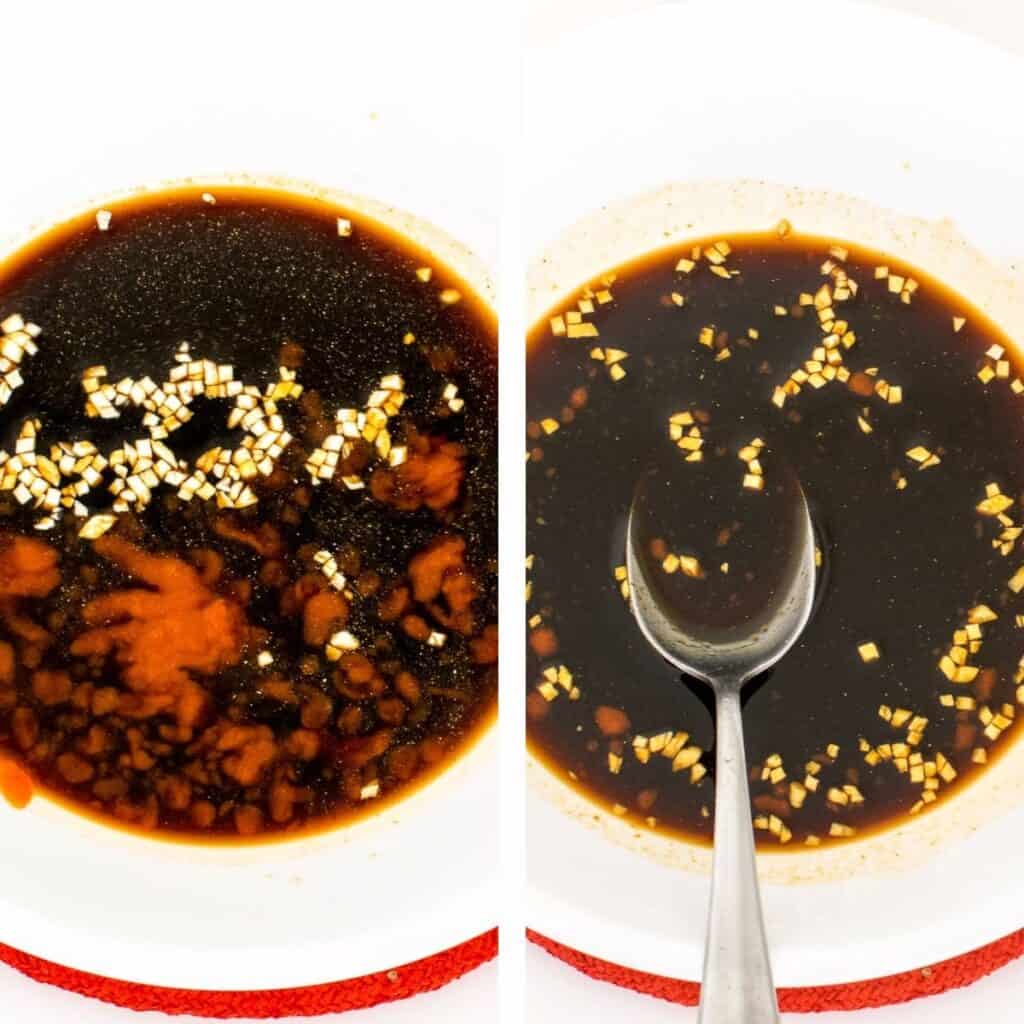 Step 4: how to assemble
Firstly, I tossed in bell peppers to the cooked eggplant followed by basil leaves.
Secondly, I folded in the sauce and gently mixed all the ingredients.
Next, I let it cook for few minutes until eggplant acquired the color of soy sauce.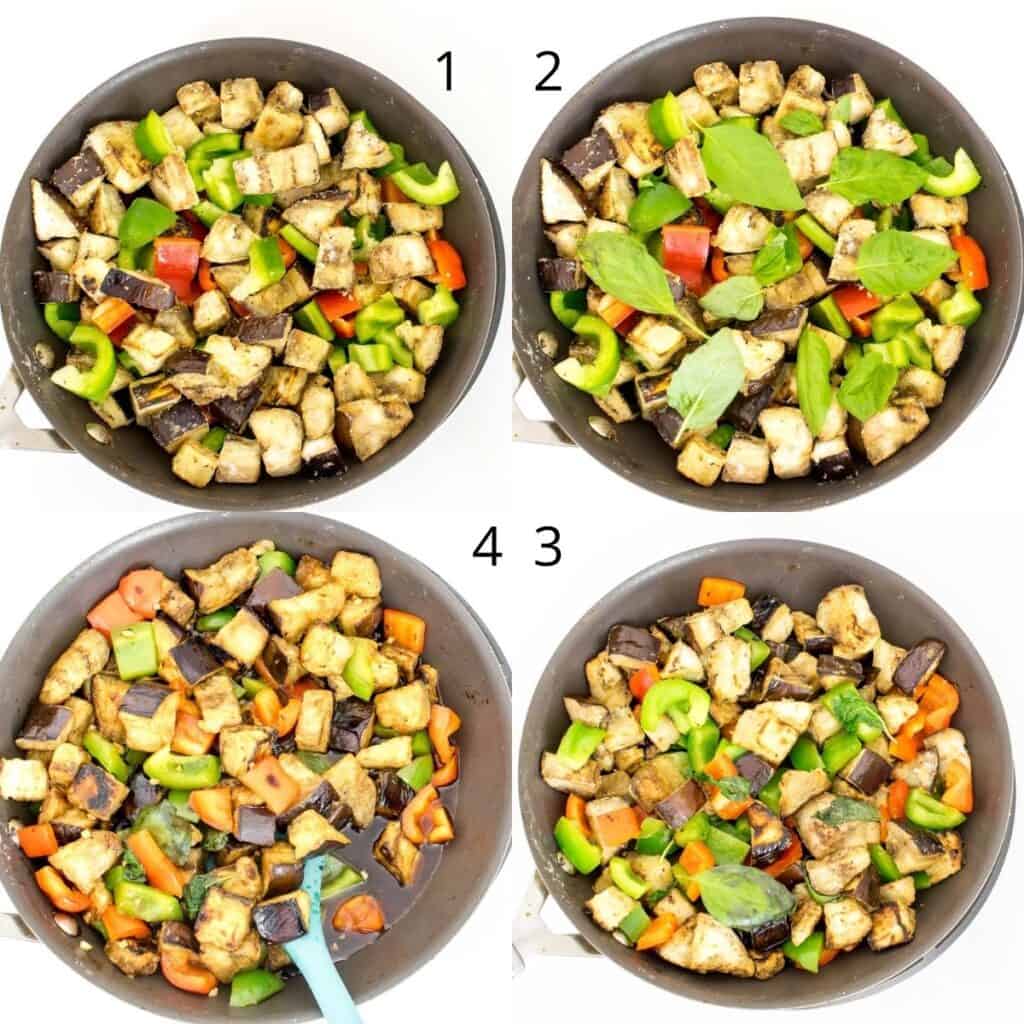 Lastly, I turned it off and garnished with sesame seeds and chopped basil.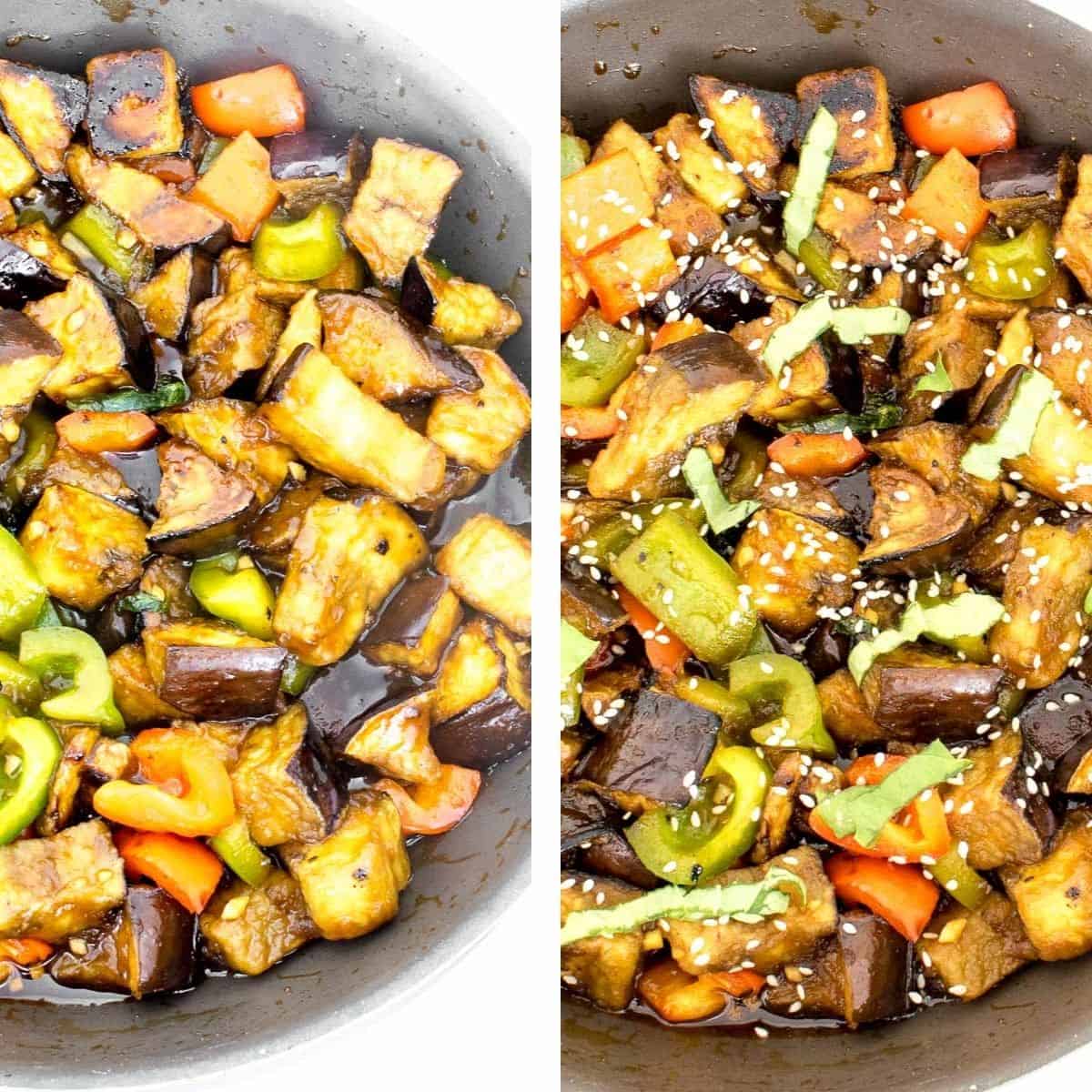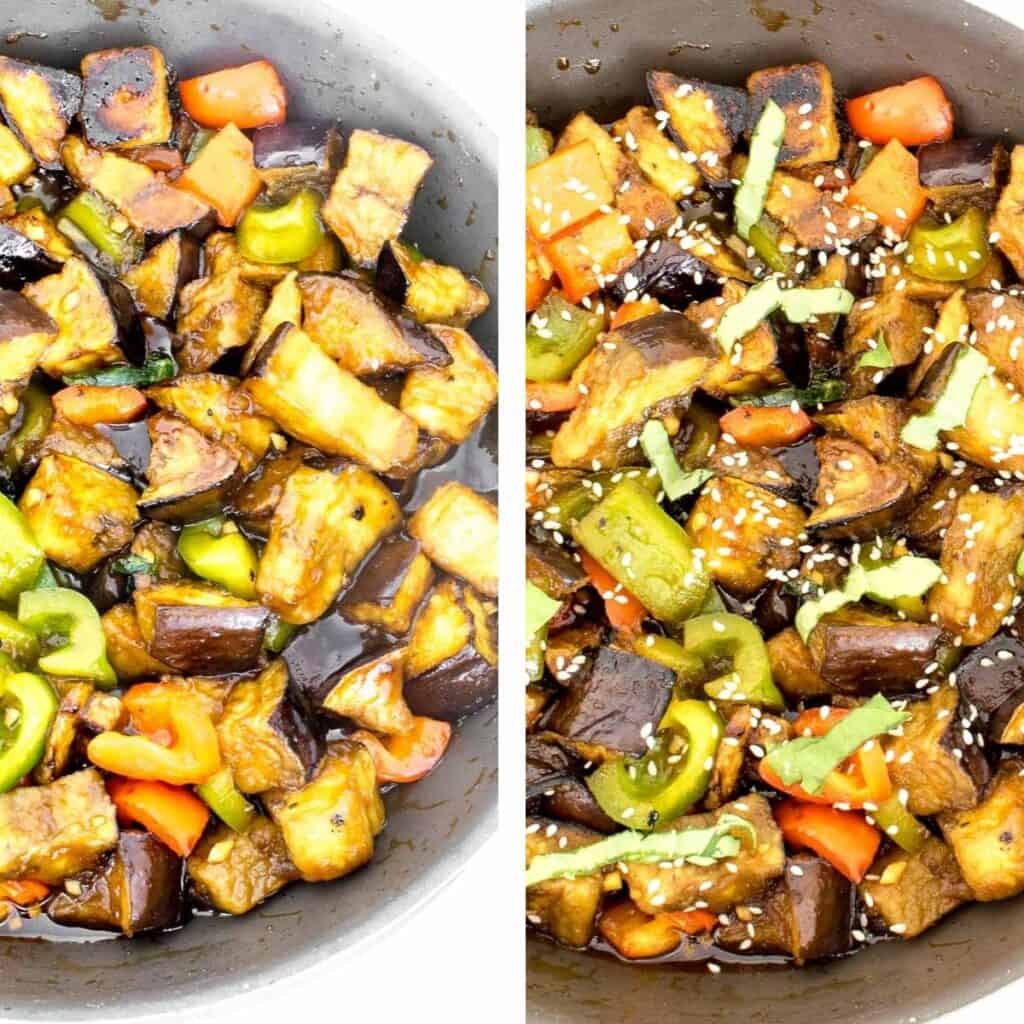 It was an instant hit.
My family loved it. In fact, husband enjoyed it for his lunch the next day.
Therefore, I was happy to have found a variety of ways to include this healthy vegetable into our diet.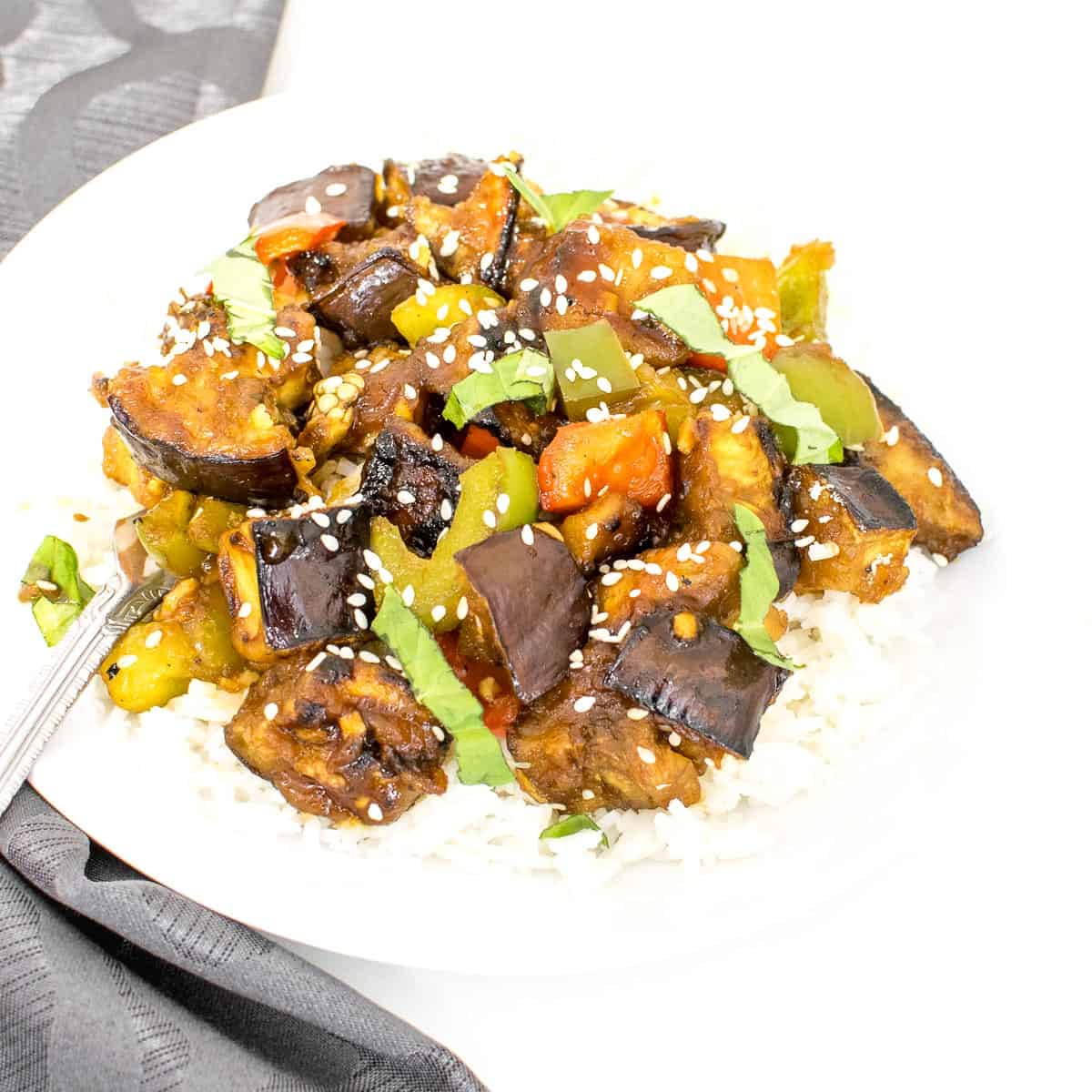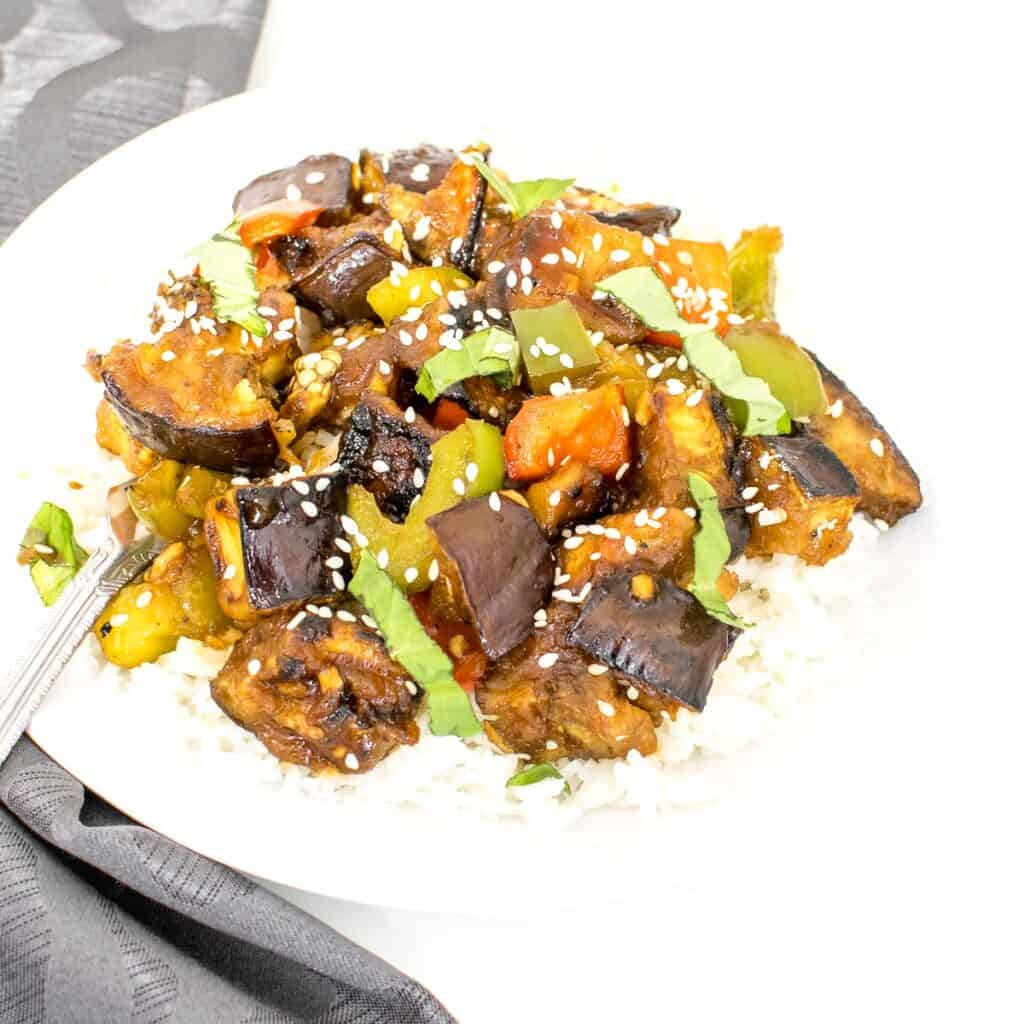 Hence, this easy eggplant stir fry with Chinese flavors have become our staple and I make it on rotation.
Expert tips:
Make sure to mix eggplants and cornstarch gently with a spoon.
While sautéing this vegetable it is important to use a flat spatula to flip the pieces without breaking them.
Most importantly, do not let them become mushy. Therefore, the pieces should be soft and cooked through inside but should not lose its texture.
When you add basil leaves it the sautéed vegetables while cooking, toss it well so that its aroma and flavor is mixed but at the same time the leaves should not wither.
Eggplant Stir Fry FAQs
How long does it last?
It tastes best when served immediately. However, the leftovers can be refrigerated for about 1 week in a glass container.
What should I look for when buying eggplant?
When you buy it, you will be tempted to buy the larger ones. But go for the ones that's smaller in size because they are sweeter and better in handling too. Make sure to get the one with shiny skin and have no brown spots. You may also press it with your finger gently to see if its ripe. The ripe ones are ready to cook.
Do I need to sweat them before cooking?
Not in this recipe since we have cooked the vegetable thoroughly before seasoning it.
If all the oil is absorbed, will it stick at the bottom or will it need more oil?
No, as long as you use a good quality nonstick pan. Also, make sure to flip all the pieces with a flat spatula at regular intervals of 2 minutes.
Do I need to peel it?
No, just cut into square pieces of small-medium size but it should not be finely chopped.
Will it taste bitter after stir frying?
Many people are sensitive to its unique taste but once cooked it is rich in taste and texture. Lot of times because of its mushy nature people tend to avoid it. But trust me I have balanced the taste well here and that's why I coated each piece with cornstarch so as to keep it firm and absorb its bitter taste if any.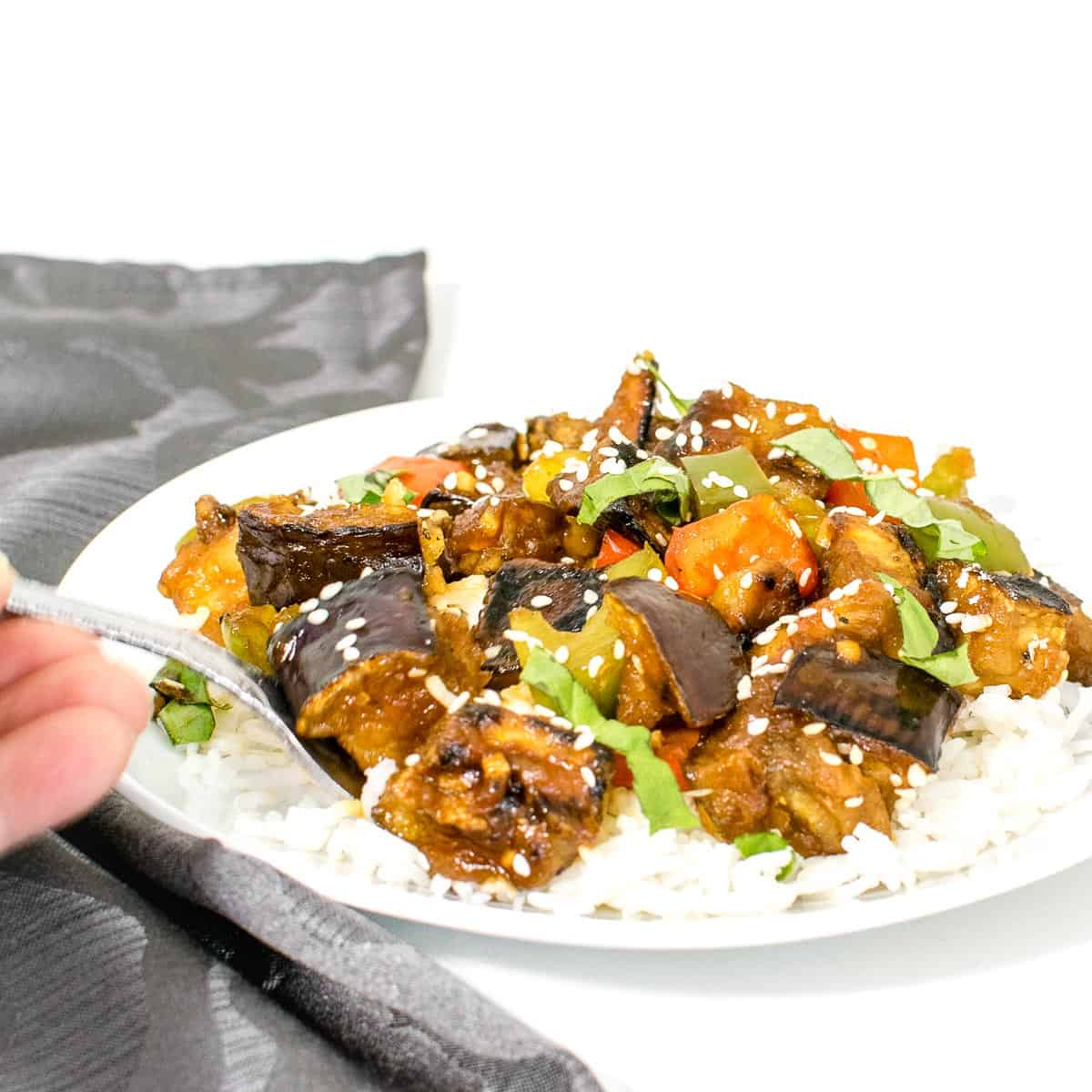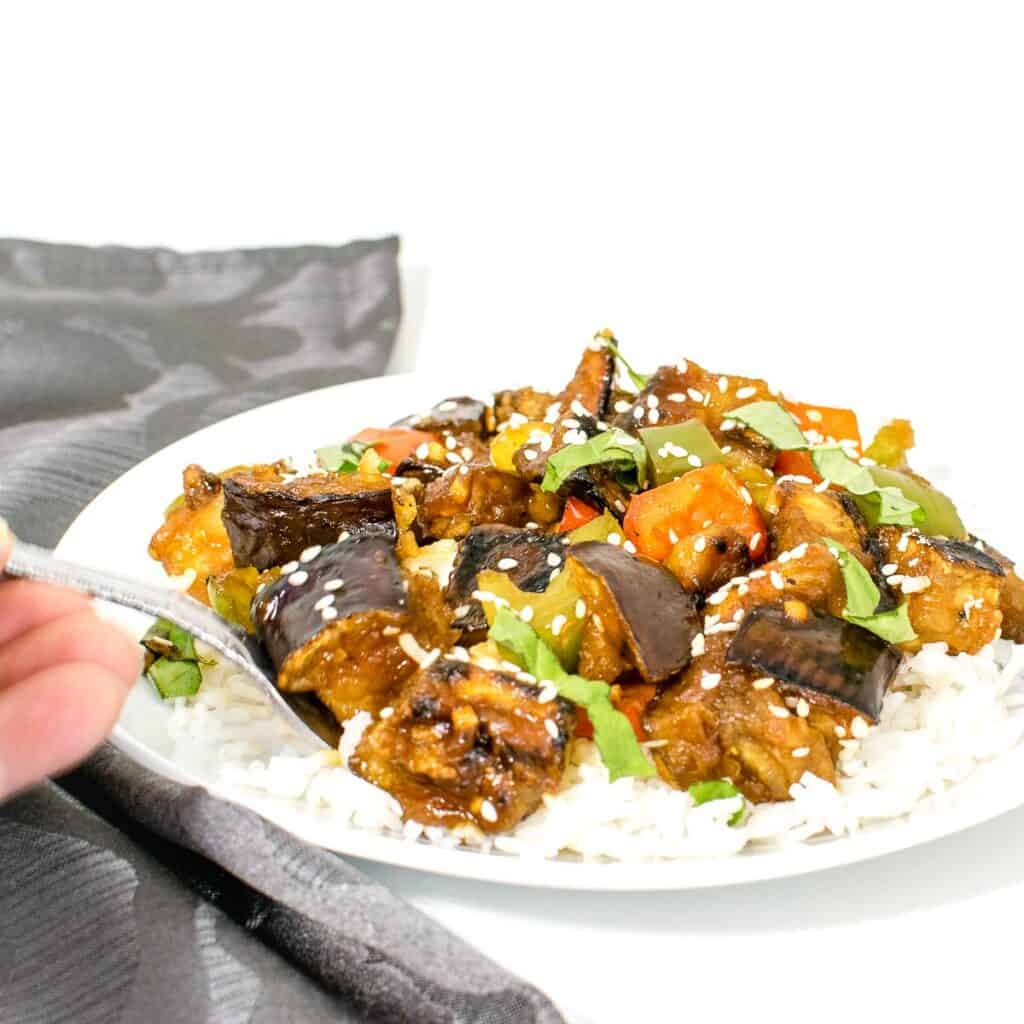 My other dinner entrees that might interest you:
Sweet and Sour Tofu
Sesame Tofu
Kung Pao Tofu
Spicy Orange Cauliflower
Did you make it?
If you get a chance to make this recipe then please leave your feedback in the comments below along with a 5-star rating. In addition, you may tag @kiipfit on Instagram with your recipe remake image because we would love to see what you cooked.
You may also checkout my cookbook for everyday vegan comfort recipes.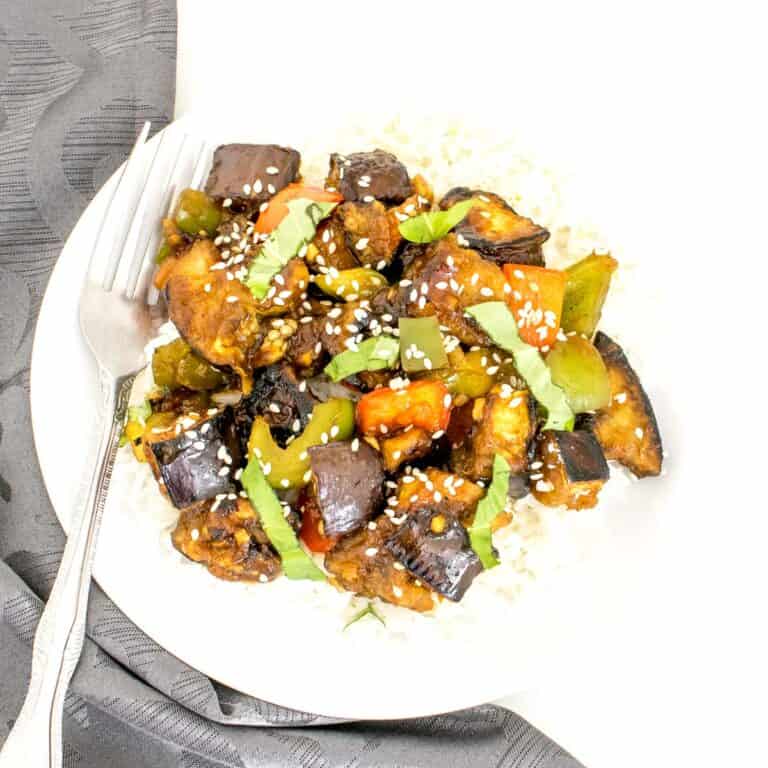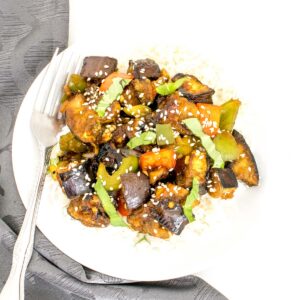 Print Recipe
Eggplant Stir Fry
This vegan Eggplant Stir Fry is a flavor bomb. Its salty, spicy and sweet in taste along with the health benefits of veggies. It serves as a great weeknight main course when served over steamed rice.
Ingredients
1

medium

regular eggplant

(not Chinese eggplant)

2

tbsp.

cornstarch

2

tbsp.

olive oil
Others
1/2

cup

green bell pepper

(cut into medium sized square pieces)

1/2

cup

red bell pepper

(cut into medium sized square pieces)

10

fresh basil leaves
Instructions
Rinse and pat dry eggplant. Chop it into medium sized square pieces.

In a mixing bowl combine chopped eggplant and cornstarch and gently mix so as to coat each piece.

Heat oil in a nonstick pan and sauté eggplant for 10-15 minutes on medium-high flame. All the oil would be absorbed which is normal. Make sure that eggplant does not stick to the bottom so sauté frequently until dark brown and cooked through inside. Eggplant should be soft but not mushy.

In the meanwhile, combine all the sauce ingredients in a mixing bowl and mix well. Keep it aside.

Toss in green and red bell peppers to the cooked eggplant. Mix well for 2 minutes making sure to not overcook or break eggplant. Add 10 basil and gently mix for only 20 seconds. Do not let basil leaves wither.

Now, fold in the sauce and gently mix. Let it cook at medium flame for 2-3 minutes. Eggplant should acquire the color of soy sauce.

Turn it off and garnish with sesame seeds and more chopped basil leaves. Serve with steamed rice.
Notes
Make sure to buy regular eggplant which should be small-medium in size. If your eggplant is large the measurements would need to adjust.
Make sure your eggplants have no brown spots on its skin and should be shiny.
While sautéing eggplant make sure to use a flat spatula to lift them from the bottom and flip them completely to the other sides. This helps in better sautéing without breaking.
Nutrition
Calories:
166
kcal
|
Carbohydrates:
18
g
|
Protein:
3
g
|
Fat:
10
g
|
Saturated Fat:
1
g
|
Polyunsaturated Fat:
2
g
|
Monounsaturated Fat:
6
g
|
Sodium:
1261
mg
|
Potassium:
179
mg
|
Fiber:
2
g
|
Sugar:
6
g
|
Vitamin A:
717
IU
|
Vitamin C:
44
mg
|
Calcium:
58
mg
|
Iron:
2
mg