Classic delicious and satisfying flavors come together to make this nutritious Peanut Butter Overnight Oats. It's simple, quick, creamy and requires only 5 ingredients. Perfect to grab and go on weekday mornings.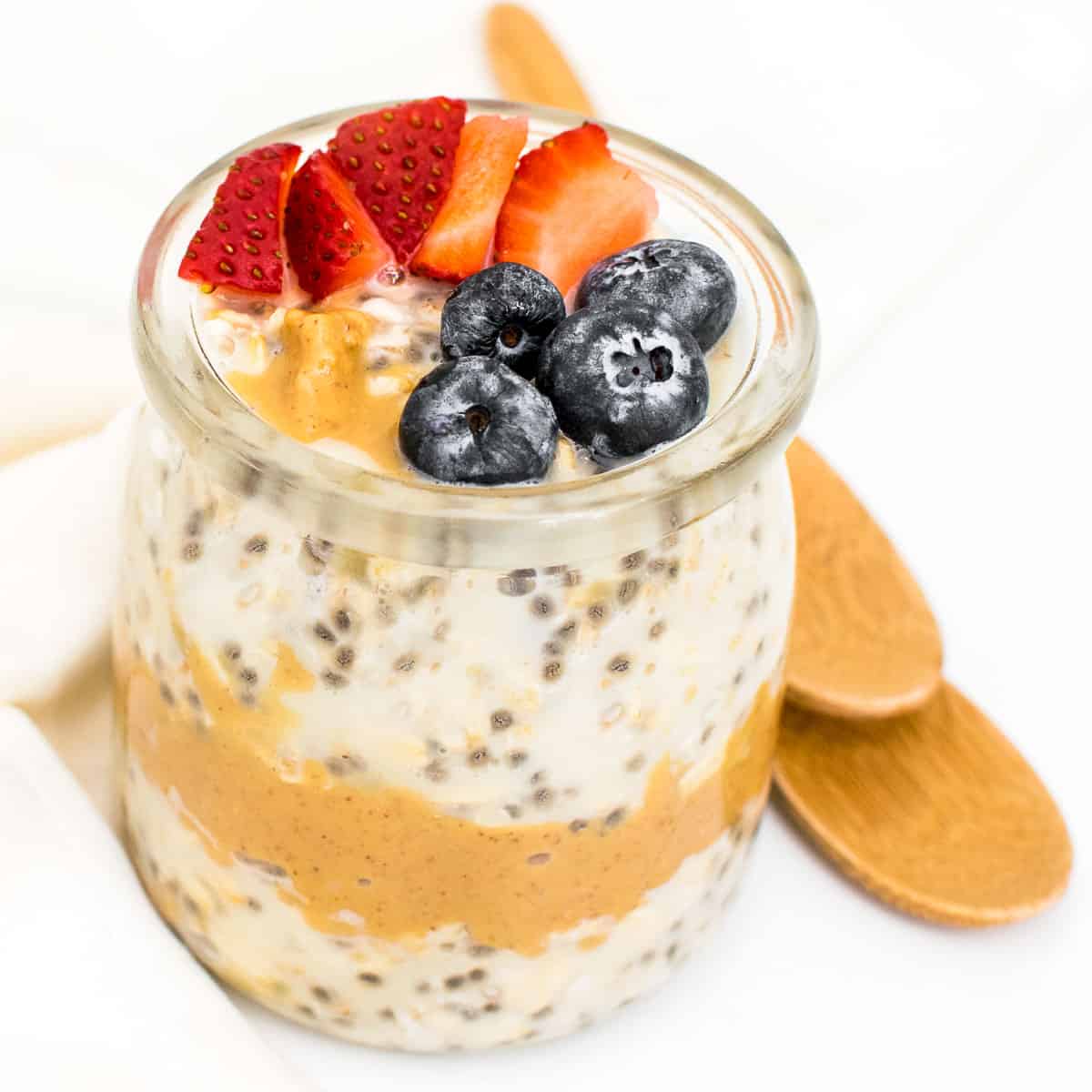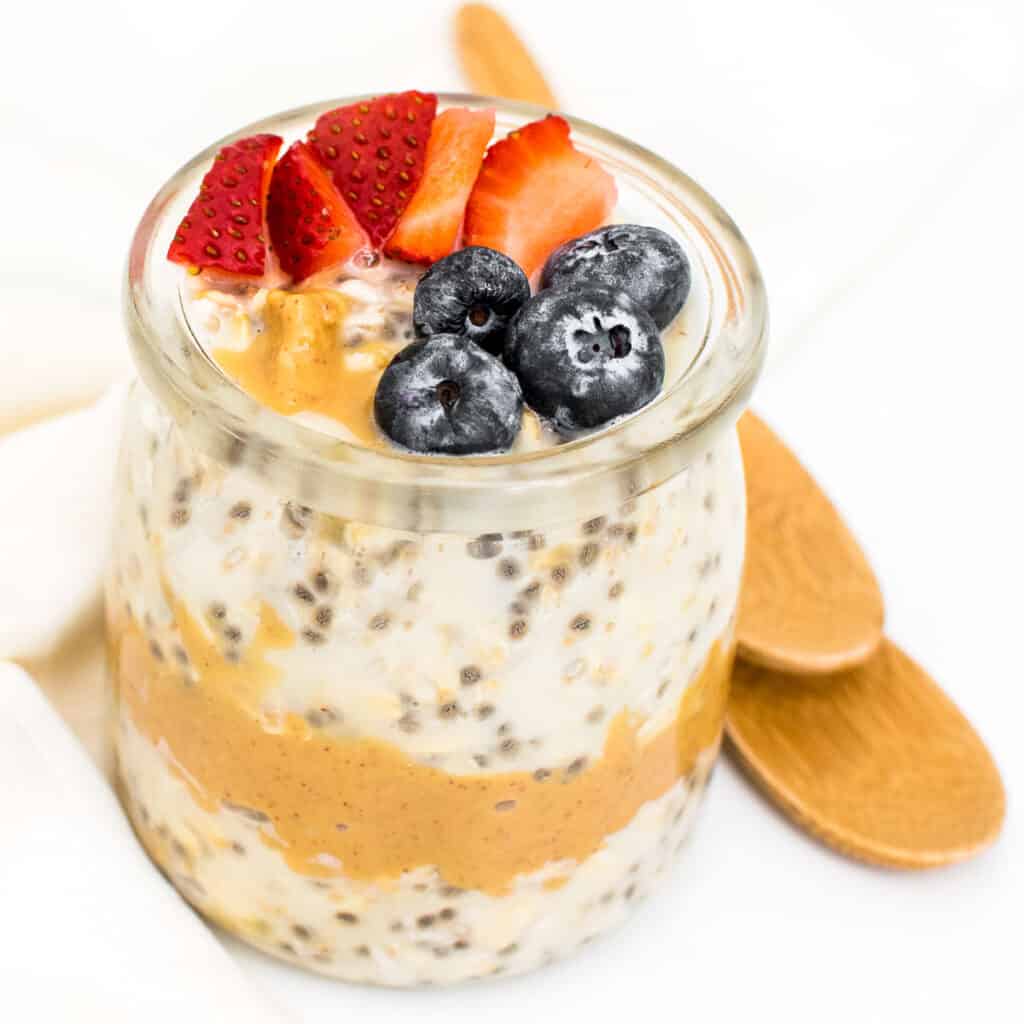 I am personally extremely fond of overnight oats so I often experiment with new flavors. This time, I wanted to go a bit traditional because of my craving for peanut butter.
However, I wanted it to be as healthy as possible. Therefore, in order to include more fruits in my diet I decided to sweeten it with banana.
It works like wonder and my daughter also love it. Infact it's a great way to include more fruits, fiber and iron rich food into your family's diet.
I have made carrot cake overnight oats earlier which is a fancier version. However, this oats with peanut butter by far is the easiest and the best.
This vegan overnight oat is completely customizable and is a rich breakfast treat. Any fruits pairs perfectly well here but I personally like to pair it with berries. Moreover, oats are rich in iron and vitamin C fruits with it helps in absorbing those iron.
My other oats recipe that you may like:
Chocolate Baked Oats
No Bake Oats Energy Bars
Oats and Chickpeas Pilaf
Raspberry Bars
Oatmeal Creme Pie Smoothie
Masala Oatmeal
Today, I am sharing this peanut butter overnight oats recipe.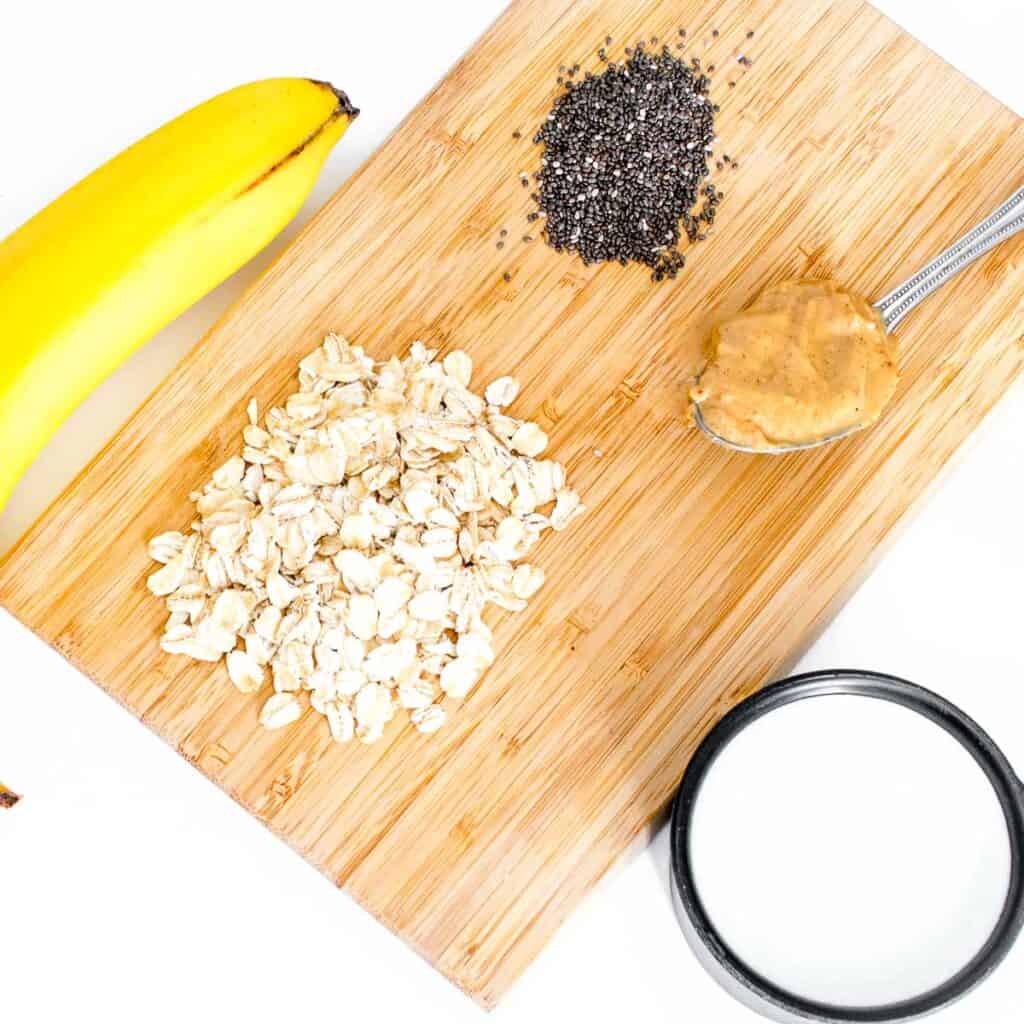 Ingredients you will need:
Banana
Oat milk
Chia seeds
Oats
Peanut butter
Fruits for topping
I have used these easily available ingredients in this recipe which you may buy from any local grocery store. However, I have provided links to few of them here for your convenience.
If you plan to buy from these affiliate links then I get a small commission which in turn encourages me to bring in more delicious recipes for you all.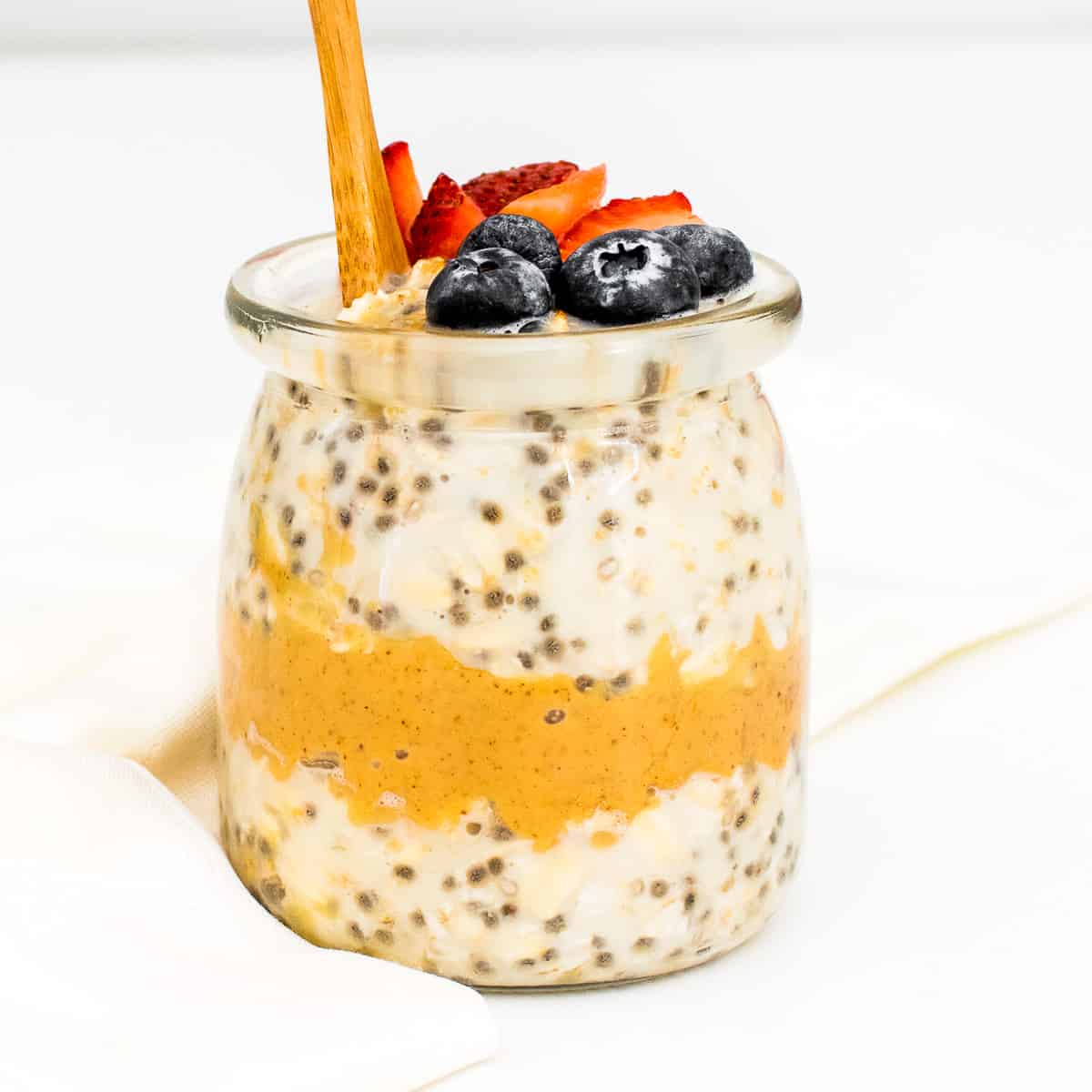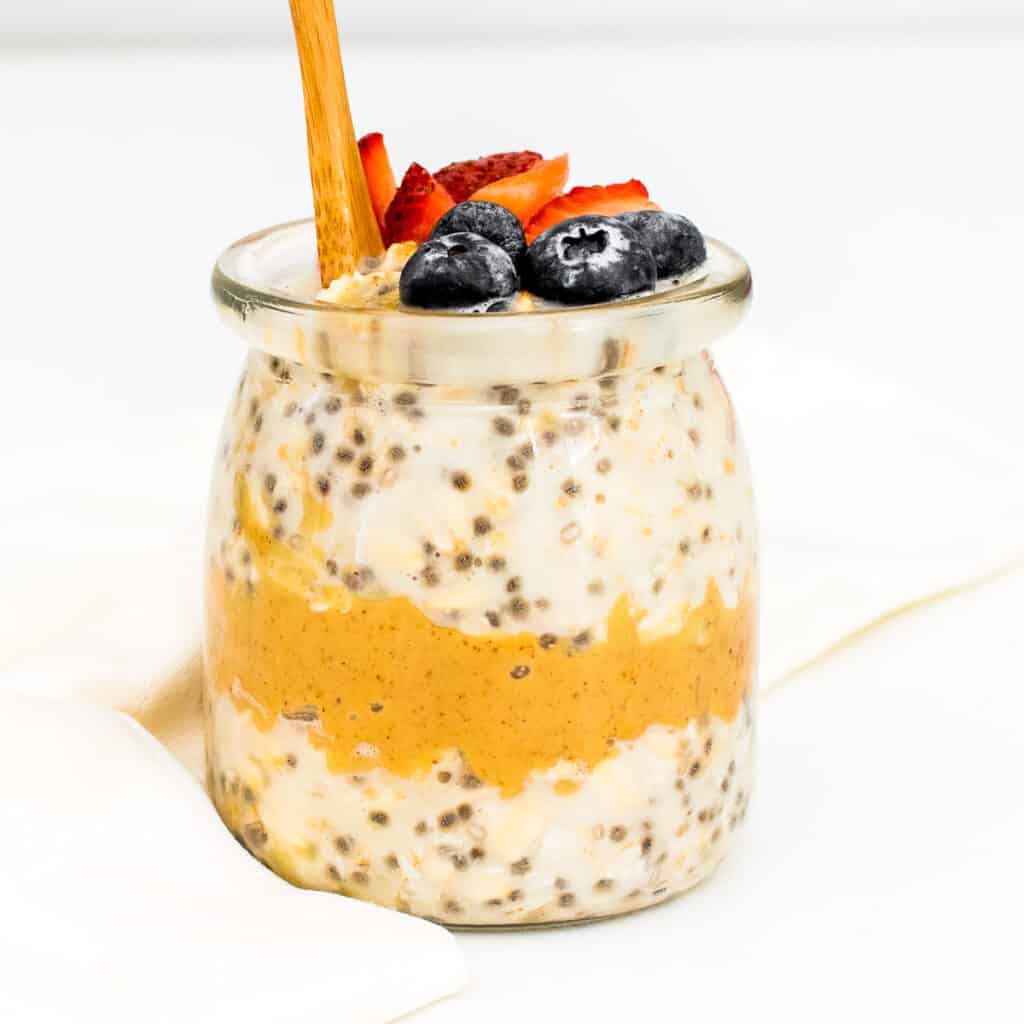 Ingredients notes:
Banana – it's a natural way to sweeten this oats recipe. Very high in fiber and potassium. It also binds well and provides some iron also. However, you may substitute it with maple syrup.
Oat milk – I used it to compliment oats in totality. Its creamy and sweeter comparatively. However, you may use unsweetened almond milk for this recipe as well.
Chia seeds – its high in protein and fiber. Binds well and is a great egg substitute. It also provides healthy fats to the recipe.
Oats – I used old fashioned oats in this recipe but you may use rolled oats as well. It is high in iron and fiber. Along with being a complex carbohydrate it is also rich in other vitamins and minerals.
Peanut butter – I used freshly ground peanut butter here but you may use any of your choice as long as it is unflavored.
After going through the ingredients in details now all you have to do it to go through the steps carefully.
Even though its easy and quick and you may be creative but following it helps in getting the texture.
For detailed measurement of the ingredients, please scroll down to the printable recipe card.
How to make Peanut Butter Overnight Oats
Step1: how to soak oats
Firstly, I mashed banana in a bowl and whisked in milk to it.
Secondly, I added chia seeds and stirred in oats.
Thereafter, I let it rest overnight in the refrigerator.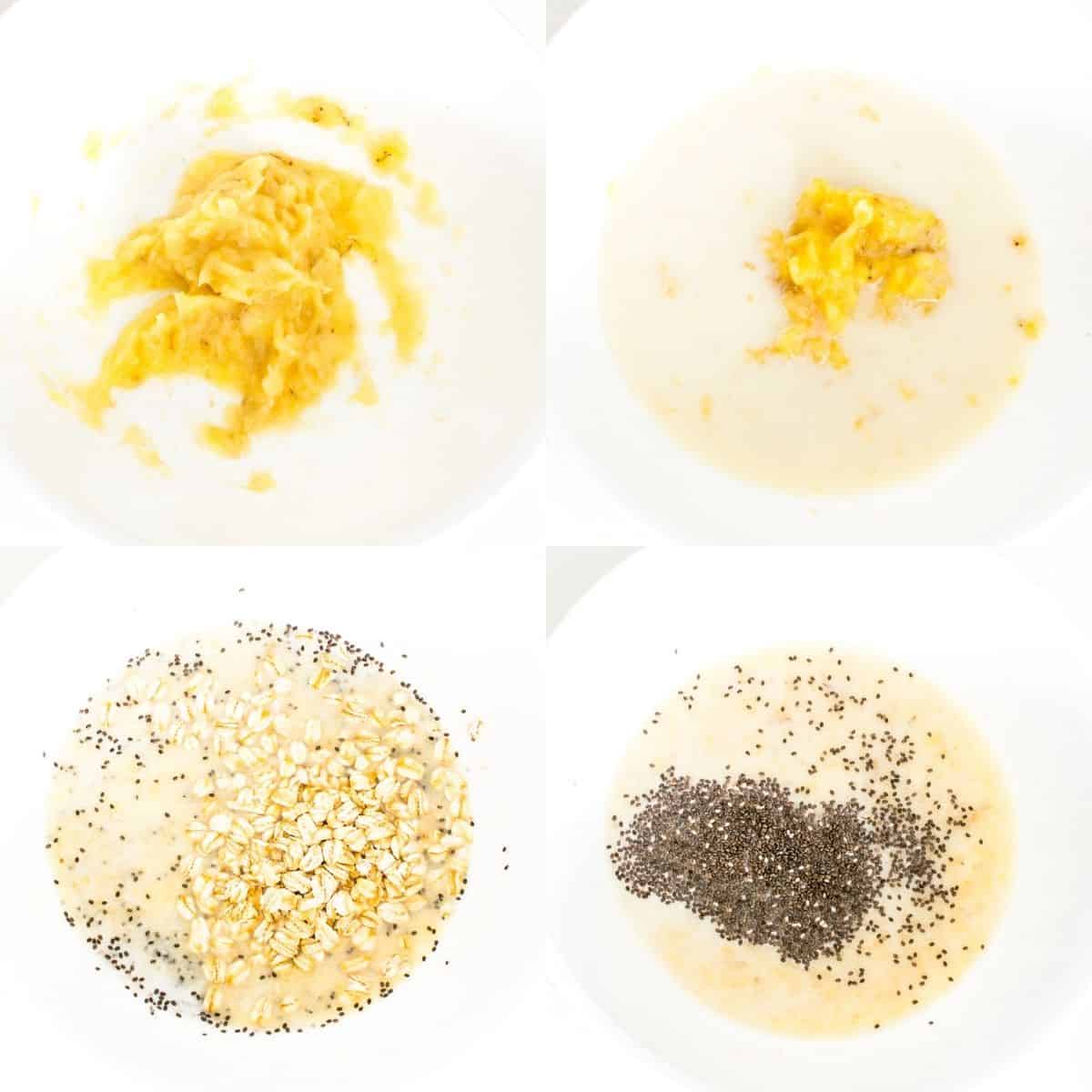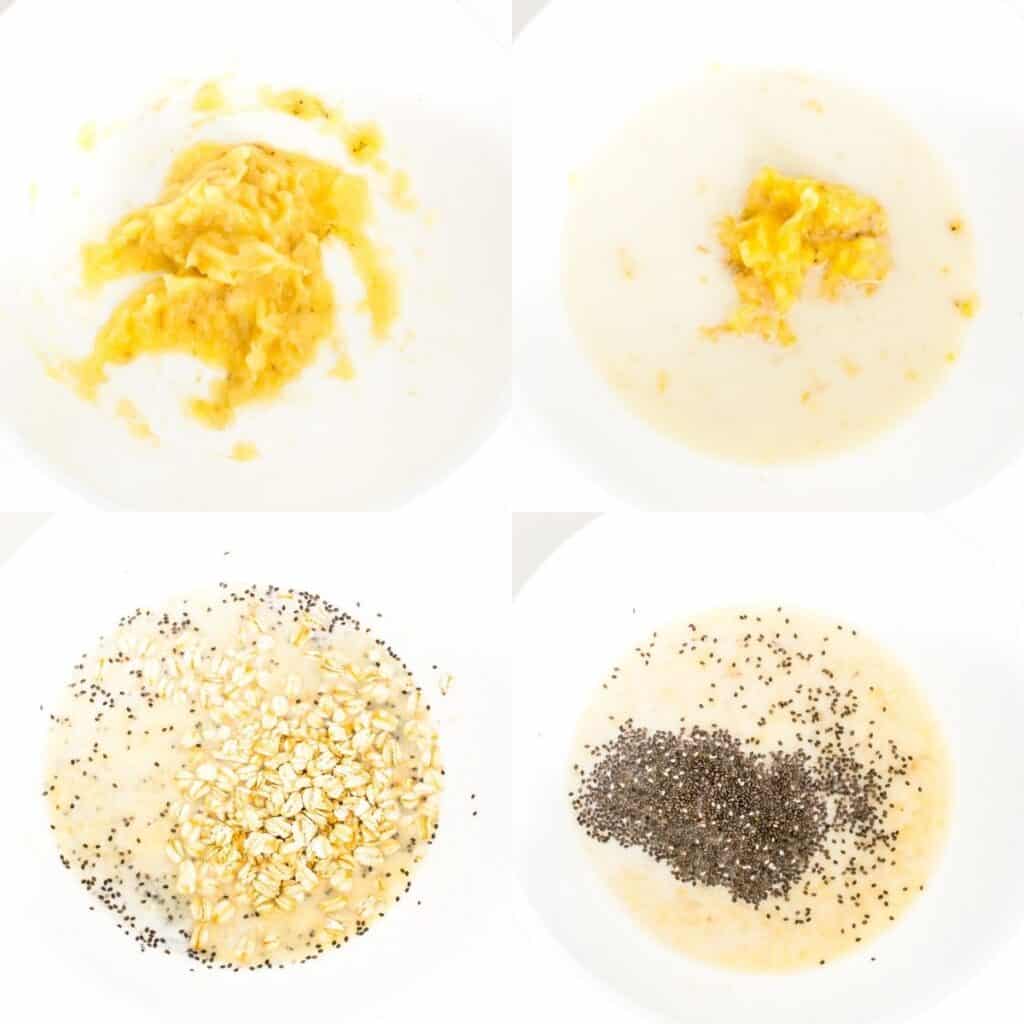 Step2: how to serve
Firstly, I spooned it out in a serving glass as the first layer (about 2-3 tbsp).
Secondly, I added another layer of peanut butter.
Thereafter, I filled the rest of the glass with the soaked oats.
Lastly, I topped it with berries and served.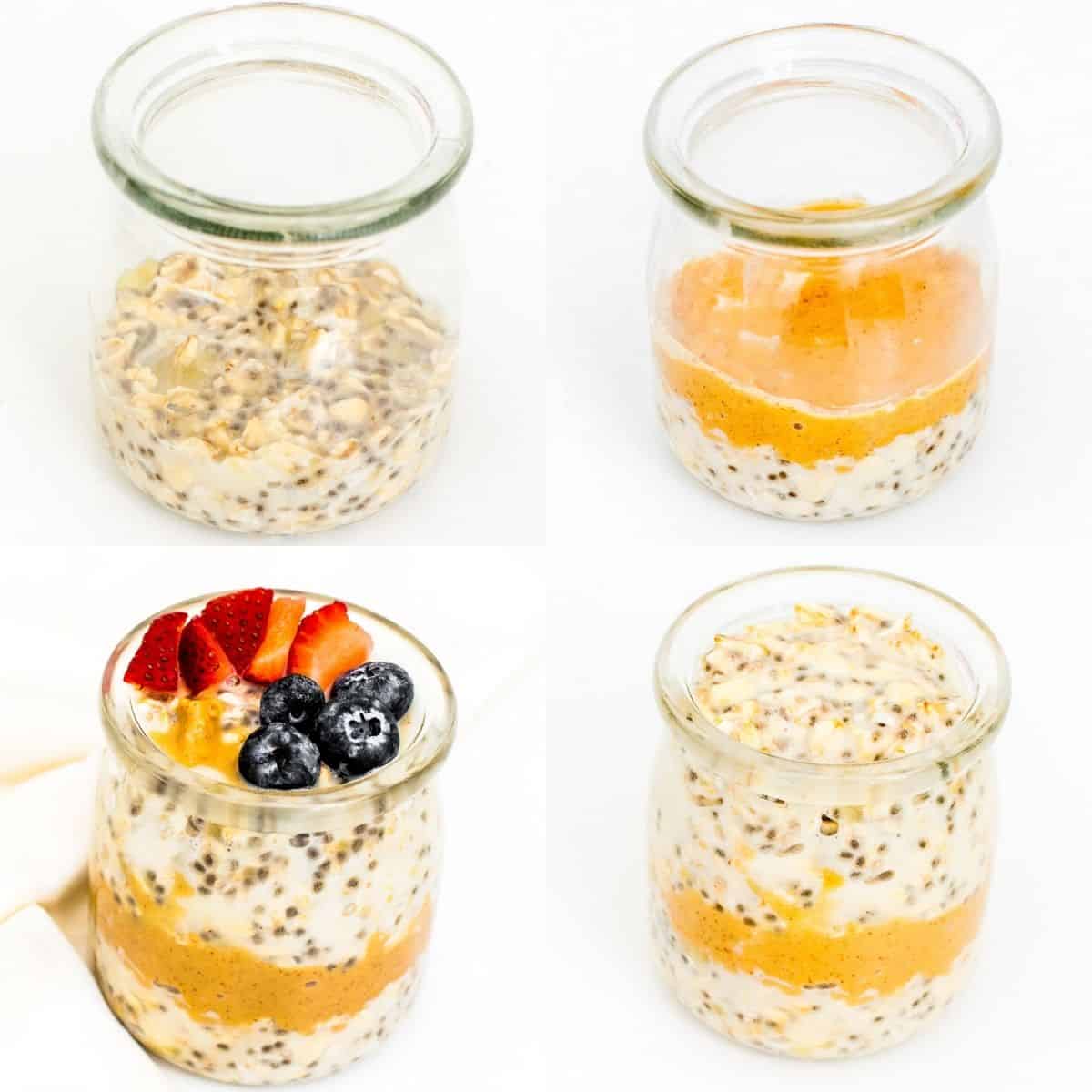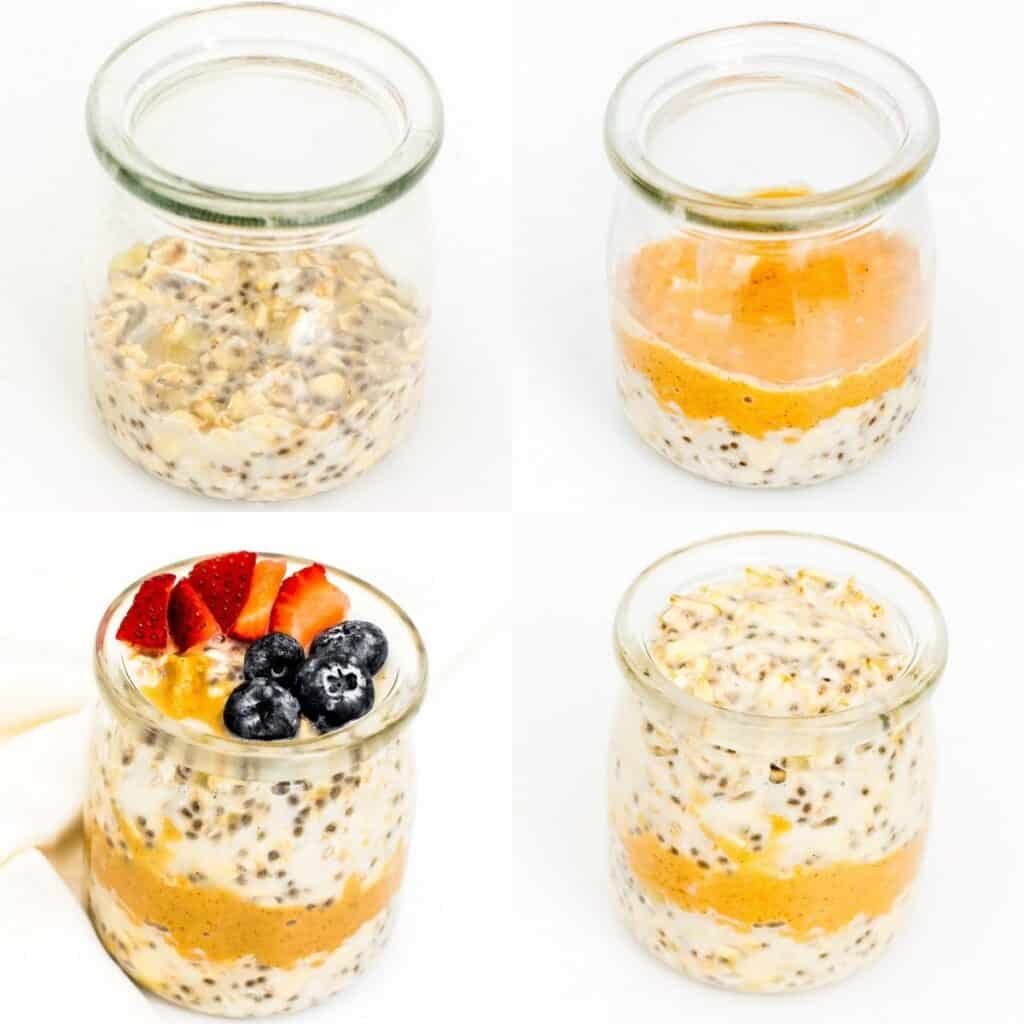 I and my older daughter simply loved this cool and creamy oats with creamy peanut butter.
It was the best brunch for us. Hence, she insisted that I share this vegan peanut butter overnight oats with you all so you can also enjoy it as much as we did.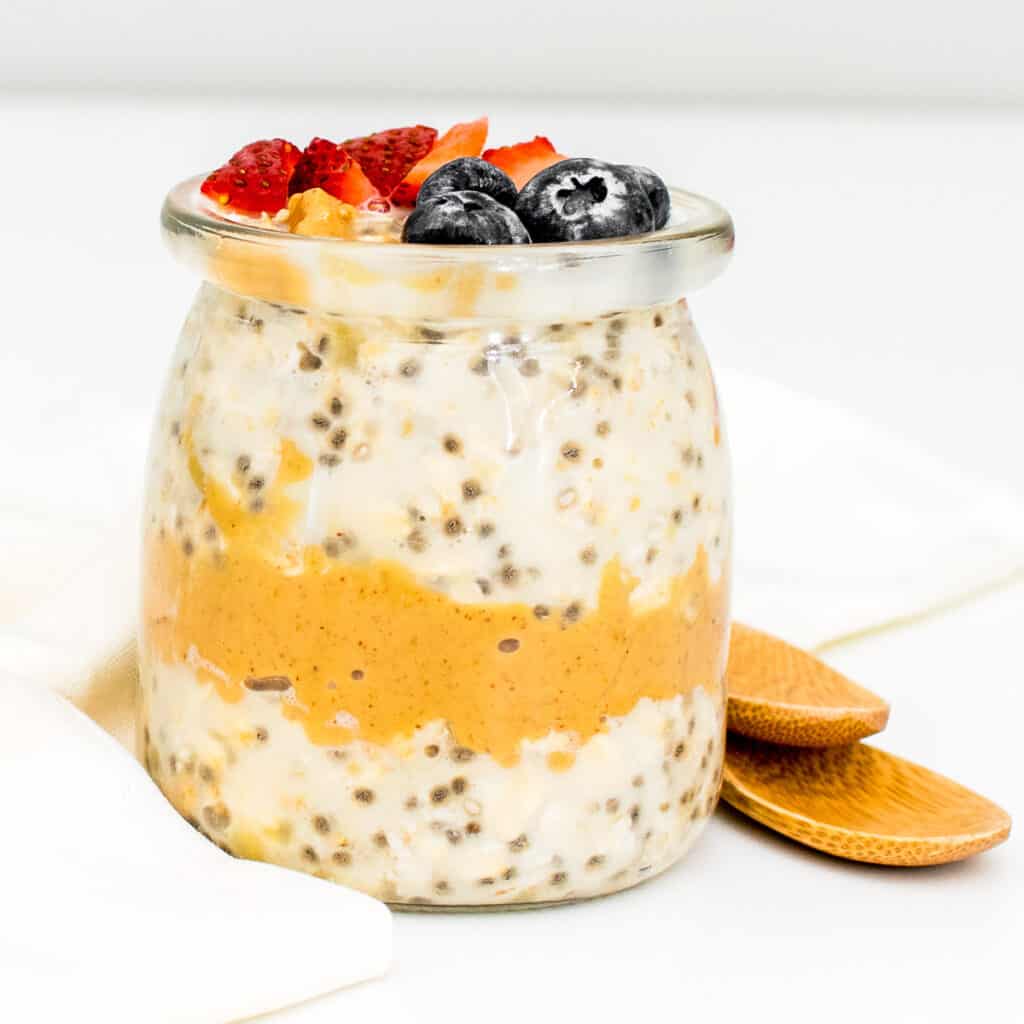 I make it quite frequently especially on sunny days and top it with a wide variety of juicy fruits.
Expert tips:
Make sure to mash banana extremely well so that its evenly sweetened. Also try and use ripe banana with brown spots so its sweet enough to match the right taste.
Stir chia seeds well until its soaked in milk nicely.
Peanut Butter Overnight Oats FAQs
How long do they last?
It tastes best when served the next morning. However, it can be refrigerated for 3-4 days. Therefore, make it in bulk and enjoy it every day.
Is it healthy?
It is rich in protein, fiber and iron. This recipe does not involve any cooking and is the easiest breakfast. It is high in calcium and healthy fats. I made it with no added sugar and sweetened it naturally with banana. Therefore, it a healthy breakfast which can be enjoyed frequently.
Can I soak oats for an hour instead of overnight?
Yes, soaking it for 30 minutes or 1 hour also work here. As long as it is soft and chewy oats are great to boost energy levels and by soaking, they become easily digestible.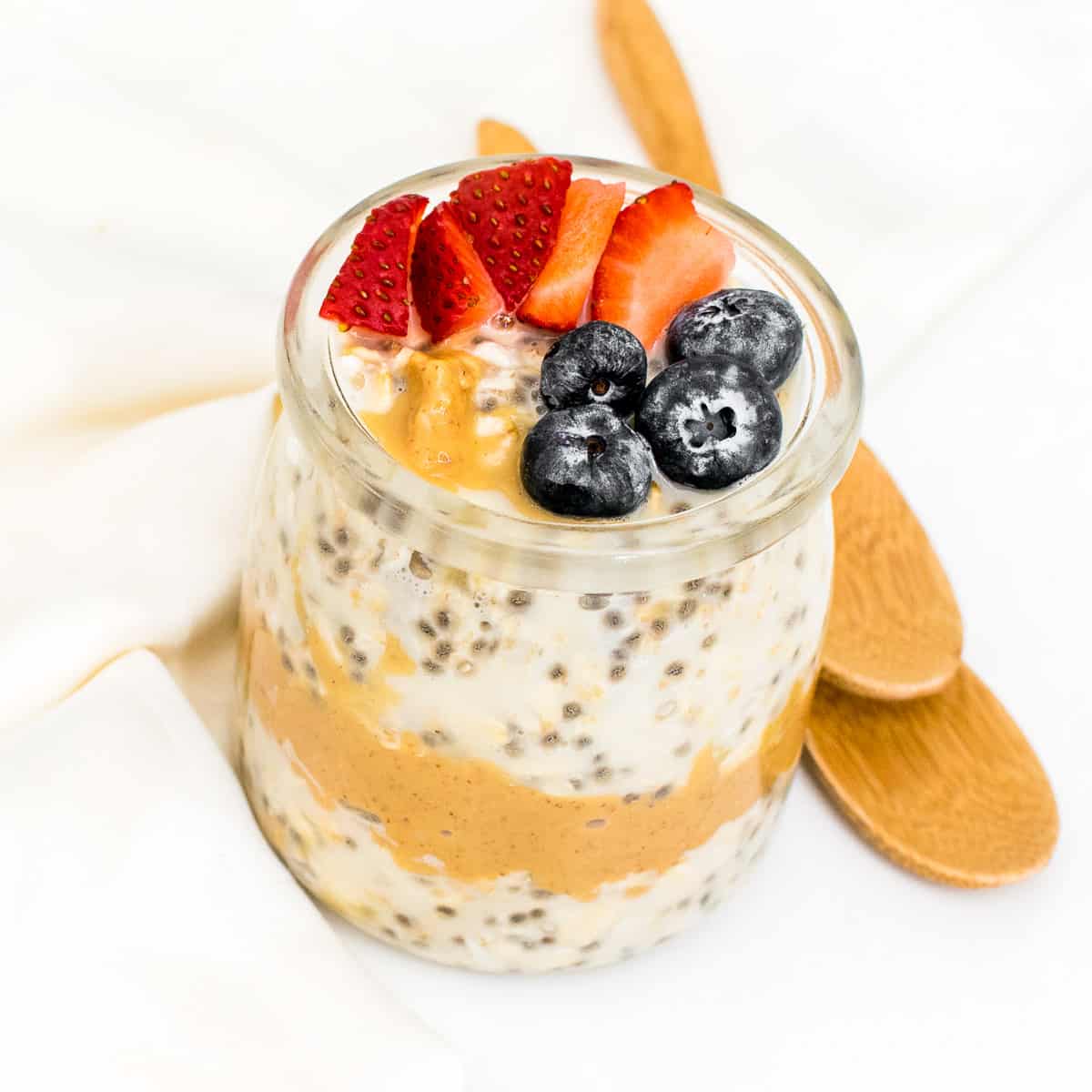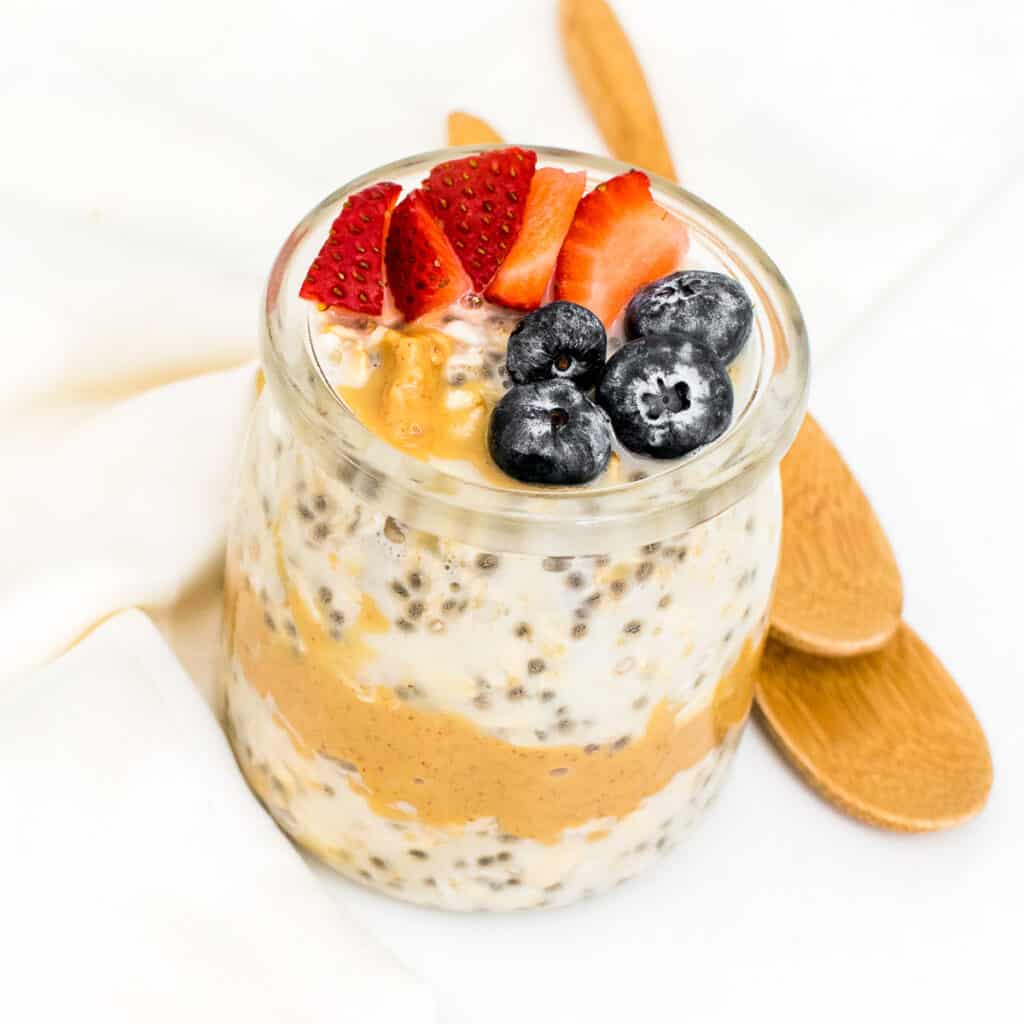 Did you make it?
If you get a chance to make this peanut butter overnight oats then please leave your feedback in the comments along with the ratings.
In addition, you may tag @kiipfit on Instagram with your remake images.
For everyday delicious vegan recipes, you may checkout my cookbooks as well.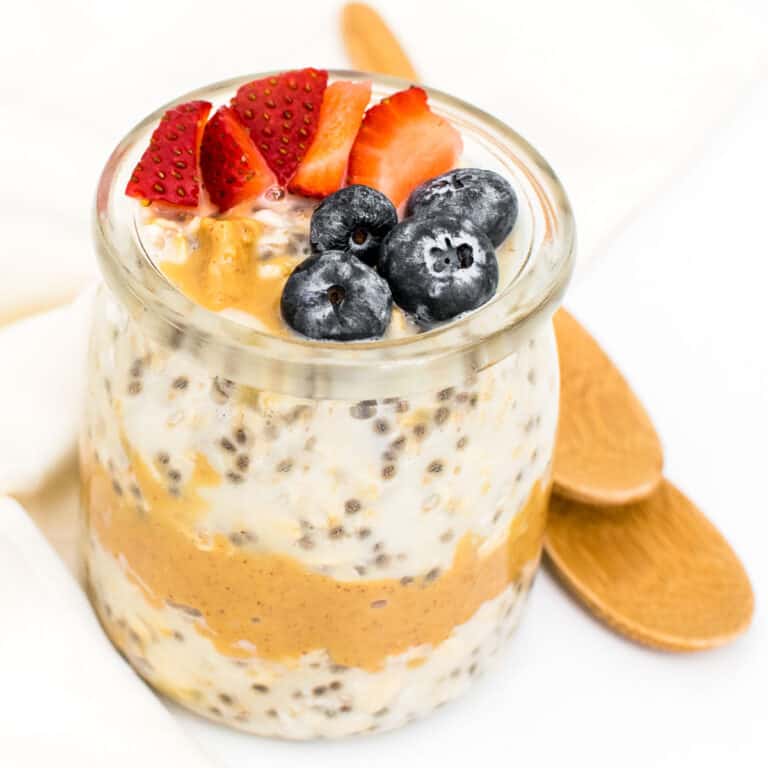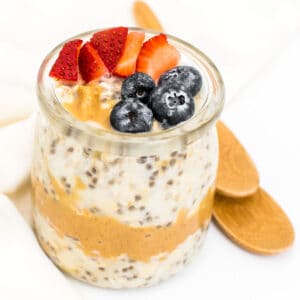 Print Recipe
Peanut Butter Overnight Oats
Classic delicious and satisfying flavors come together to make this nutritious Peanut Butter Overnight Oats. It's simple, quick, creamy and requires only 5 ingredients. Perfect to grab and go on weekday mornings.
Instructions
In a bowl mash banana very well. Then add milk to it and whisk it properly.

Then, add chia seeds and mix again. Add oats and stir. Cover and refrigerate it overnight.

When ready take it out of the refrigerator. Add first layer of 2-3 tbsp. of soaked oats. Then layer it with peanut butter. Fill the rest of the glass with soaked oats and top it with your choice of fruits. Enjoy!
Notes
For simplicity you may just serve it in a bowl and top it with peanut butter and fruits.
Variation1: blend banana, oat milk and peanut butter in a blender. Then pour it in a bowl and mix in chia seeds and oats. Let it rest covered in the refrigerator overnight. When ready take it out and top it with your favorite fruits.
Varitaion2: mash banana in a bowl and whisk 1 tbsp peanut butter in it. The whisk in milk. Add chia seeds and oats and let it rest overnight. When ready, take it out and spoon it out in a bowl or a glass and top it with more peanut butter and fruits of your choice.
For quick variation: you may simply mash banana and whisk in milk. Whip up peanut butter in it nicely so that there are no clumps. Add chia seeds and oats and let it rest for 30 minutes to 1 hour covered. When ready top it with fruits and enjoy. It might be little loose just like milk and cereal.
You may substitute banana for 1-2 tbsp. maple syrup if desired.
Almond milk can also be substituted for oat milk.
Nutrition
Calories:
301
kcal
|
Carbohydrates:
40
g
|
Protein:
10
g
|
Fat:
12
g
|
Saturated Fat:
2
g
|
Trans Fat:
1
g
|
Sodium:
117
mg
|
Potassium:
166
mg
|
Fiber:
3
g
|
Sugar:
9
g
|
Vitamin A:
187
IU
|
Vitamin C:
1
mg
|
Calcium:
162
mg
|
Iron:
1
mg