This easy Sweet and Sour Tofu is a healthier and flavorful Chinese entrée that is made vegan and is way better than takeout. It is well complemented with veggies and sautéed in homemade sauce thereby giving it a nice balance of sweetness and tangy taste.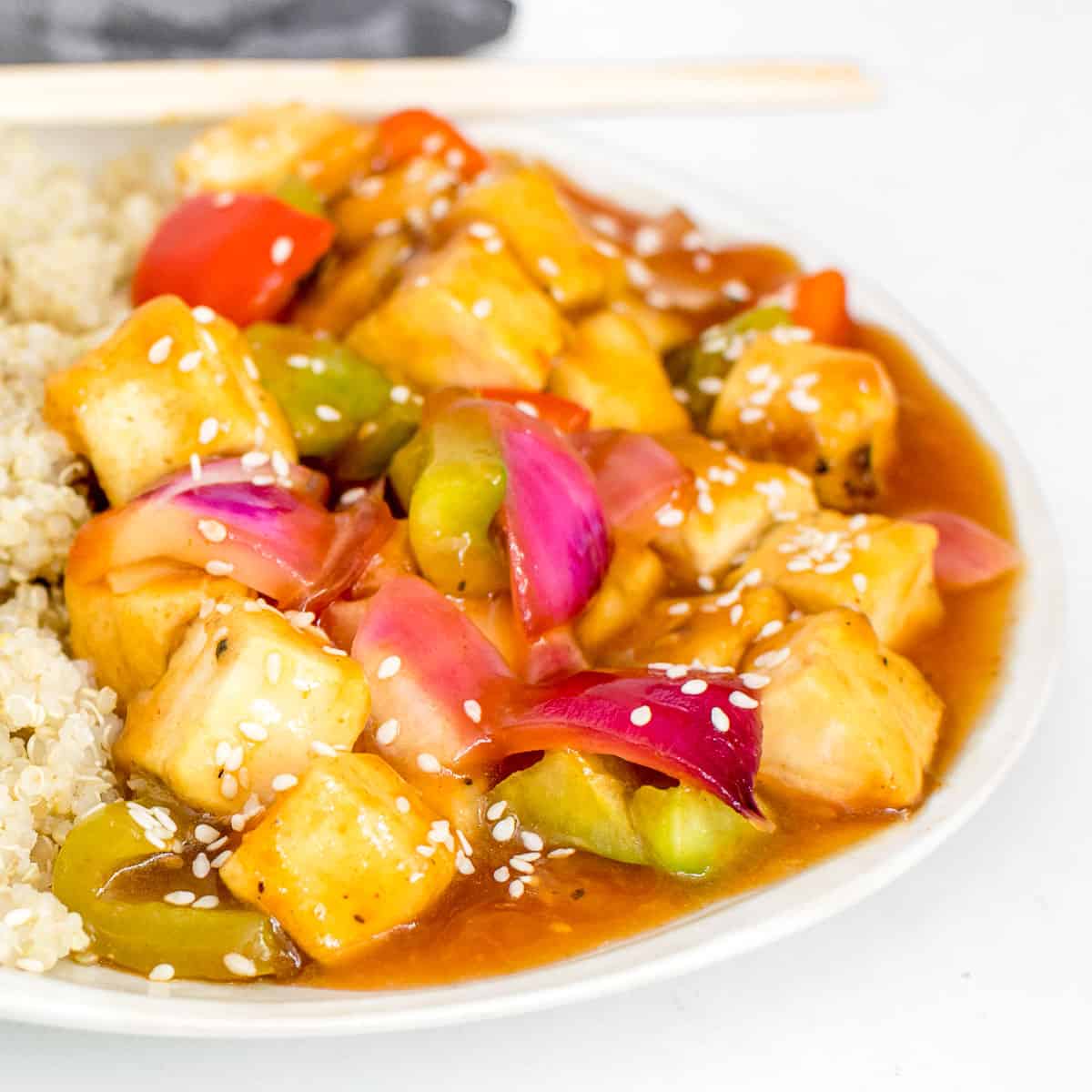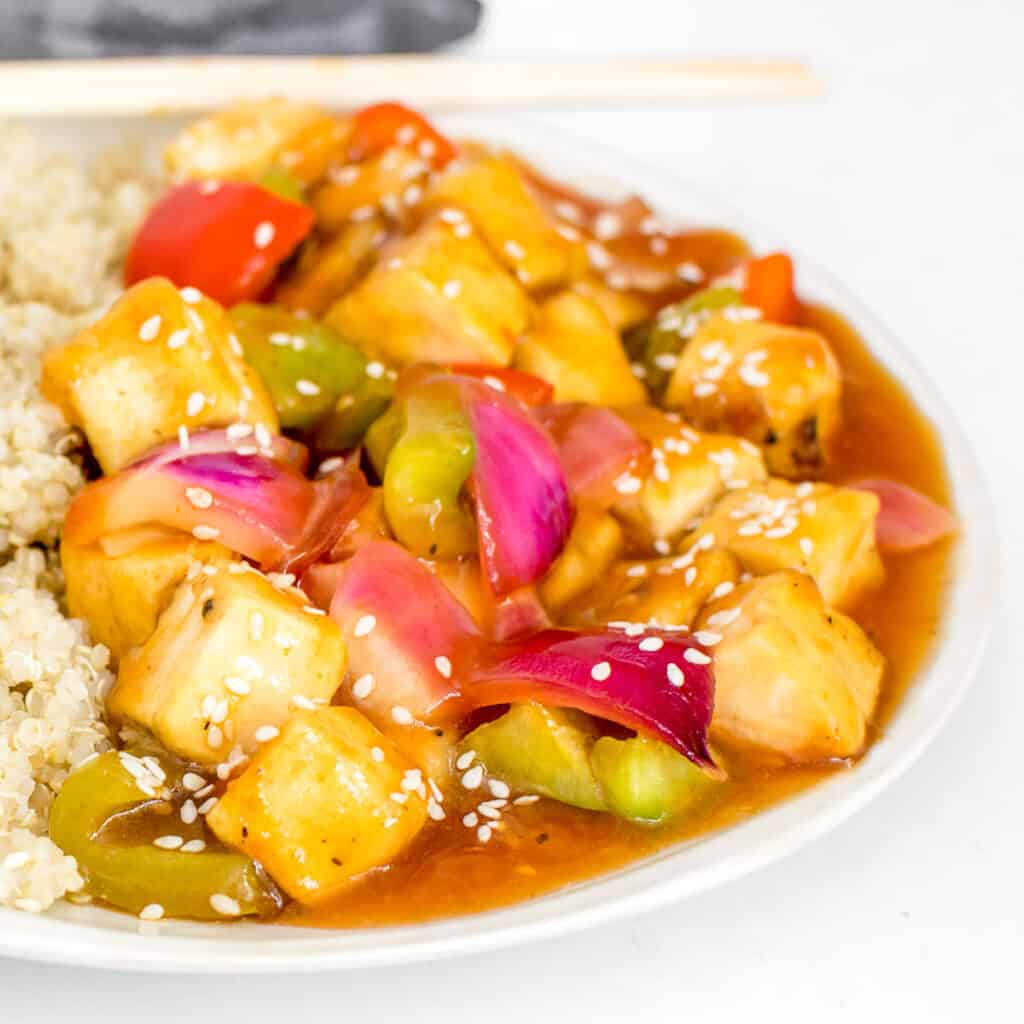 Tofu is my favorite vegan protein. I love its versatility that I can mold it to any kind of dish I want into.
It's a total delight and satisfying to cook tofu and consume it. My entire family loves it in any form.
I have made many tofu recipes like tofu nuggets, tofu katsu, tofu tikka masala, butter tofu but Chinese style tofu is our recent favorite.
I made this without pineapple because I wanted it to be naturally sweetened and have a stronger flavor of salt and vinegar. This helped me in balancing the taste of various sauces. Therefore, it was not overly sweetened.
However, this vegan sweet and sour chicken is the ultimate comforting dish for a weeknight meal.
Its quick and hassle free along with being the utmost scrumptious recipe.
I have been practically living on this sweet-sour tofu for the entire last week.
My other Chinese recipes that you may like:
Bang Bang Cauliflower
Vegan Dumplings
Sesame Tofu
Kung Pao Tofu
Spicy Orange Cauliflower
However, today I am here to share this awesome and my favorite sweet and sour tofu recipe.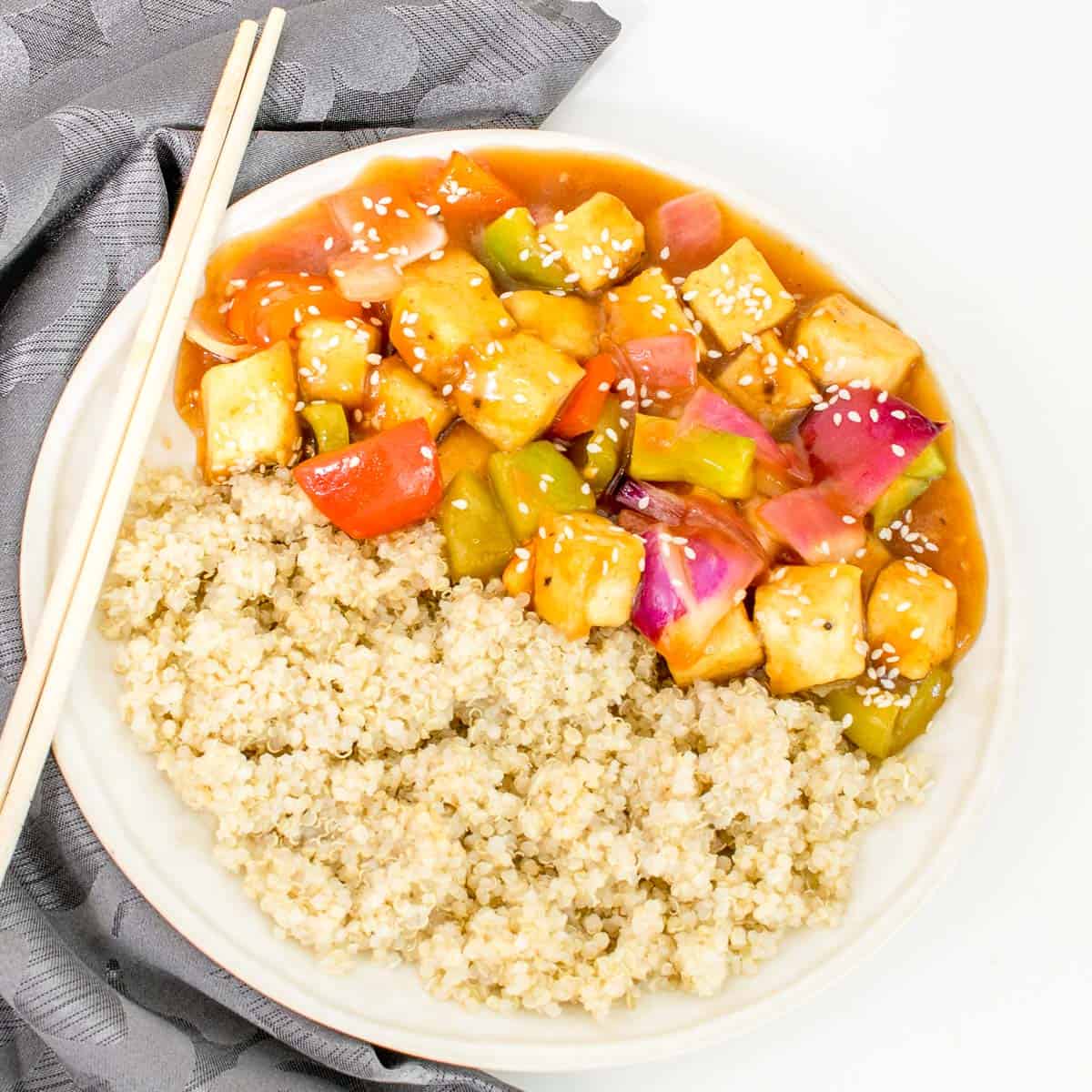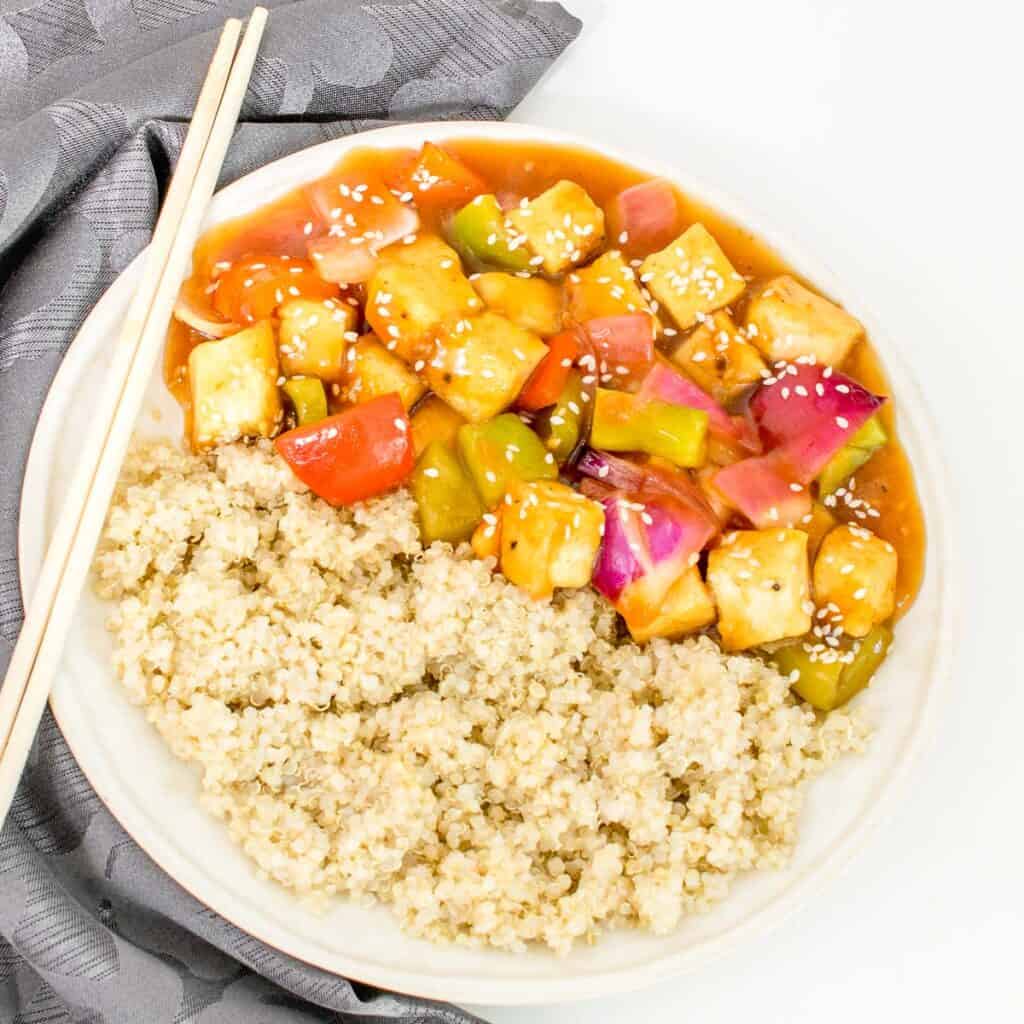 Ingredients you will need:
Sweet and sour sauce
Tofu
Cornstarch
Ginger
Garlic
Salt
Black pepper
Sesame oil
Onion
Red bell pepper
Green pepper
Vegetable broth
Vinegar
Salt as per taste
Sesame seeds to garnish
I have used these easily available ingredients which you may buy from any local grocery store. However, I have provided links to few of them here for your convenience.
If you plan to buy from these affiliate links then I get a small commission which in turn encourages me to bring in more delicious recipes for you all.
Ingredients notes:
Sweet and sour sauce – I used my homemade sauce for this which is very simple, quick and healthy. Its oil free and complements this dish excellently.
Tofu – it's a soy product and is high in protein and has essential amino acids too. It is also a valuable source of iron and calcium. This versatile plant protein can me molded into any type of recipe since it does not have a taste of its own. I used extra firm tofu here.
Cornstarch – I used it bind the entire recipe plus after coating tofu with cornstarch, it firms up which helps in crisping better.
Vegetable broth – even though water can be used here but broth gives it a little extra punch of flavor and enhances this dish.
After going through the ingredients, I am sure you would be excited to try this entrée ASAP.
So, follow the steps in detail and enjoy this deliciousness with your loved ones.
It's a great crowd pleaser too so enjoy serving it to your guests as well.
How to make Sweet and Sour Tofu
Step 1: how to marinate
Firstly, I drained and pressed tofu for at least 20 minutes. Then, I chopped it into medium sized square pieces.
Secondly, in a bowl, I added tofu, cornstarch, ginger, garlic, salt and black pepper.
Then, I tossed them gently without breaking tofu. I made sure that each piece was well coated with the marinate.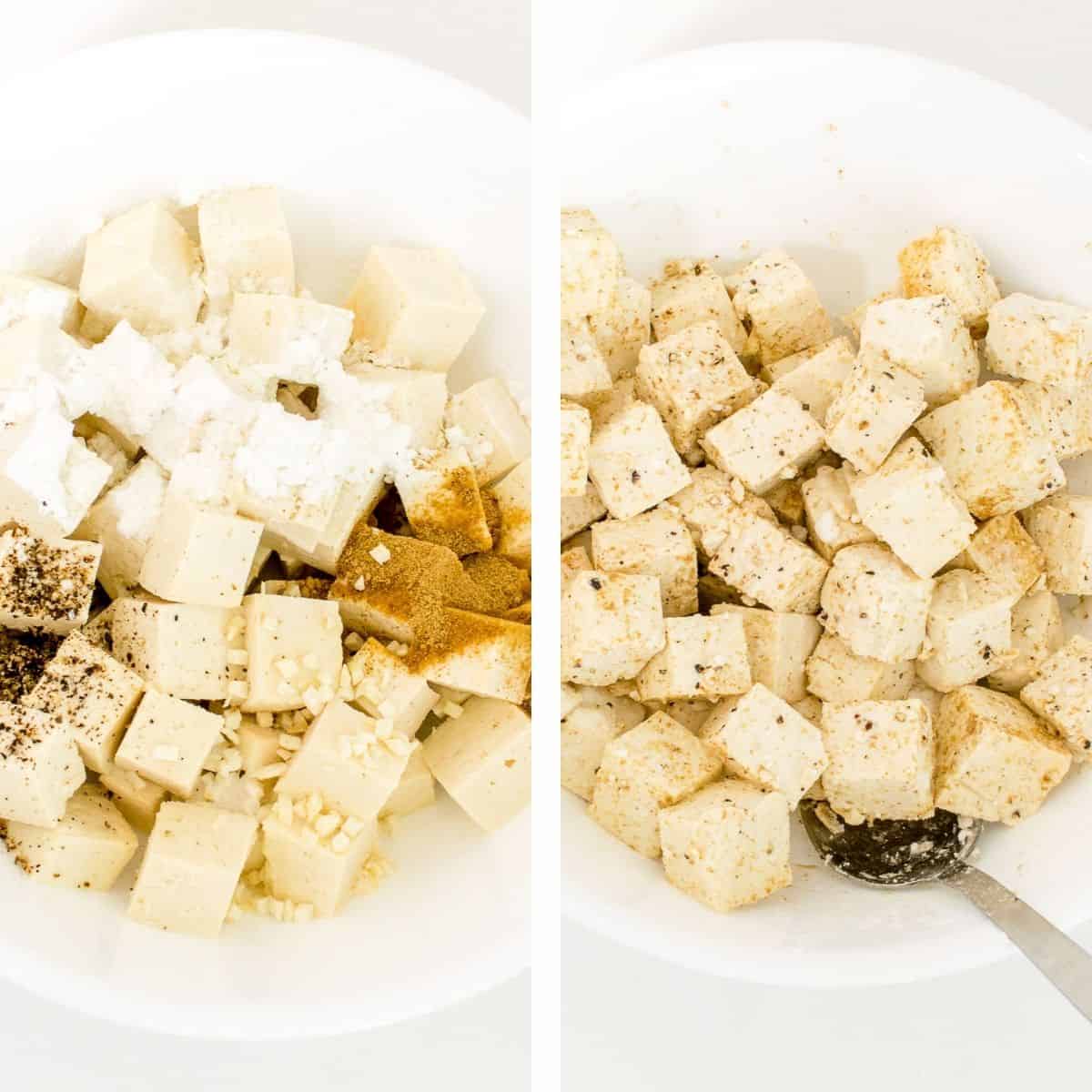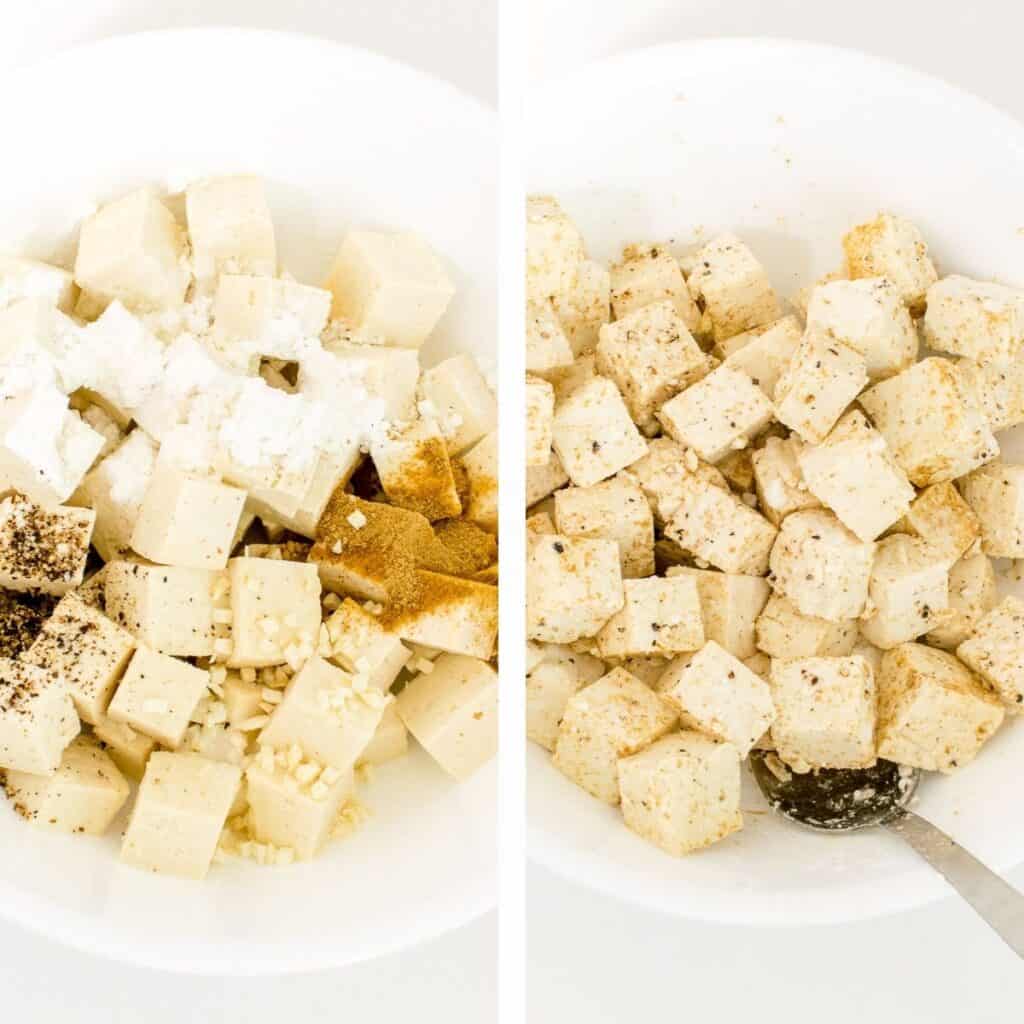 Step2: how to sauté
Firstly, I heated sesame oil in a nonstick pan. You may use a wok too here. Then, I placed each tofu pieces in it with a slight gap between each piece and cooked them golden from all sides on high-medium flame.
Secondly, I sauteed in onion, and bell peppers gently without breaking tofu. I sauteed them until the veggies were translucent and yet crunchy.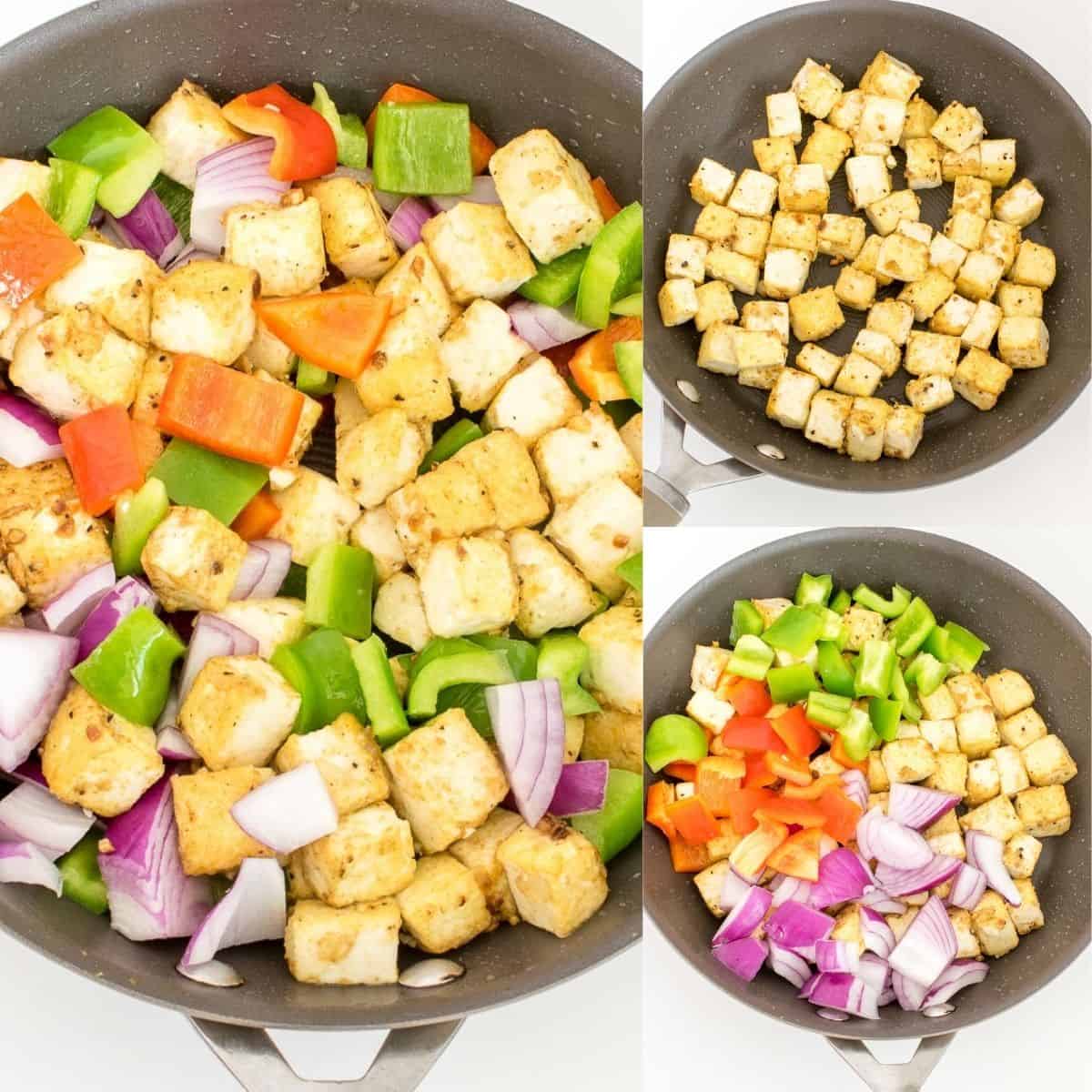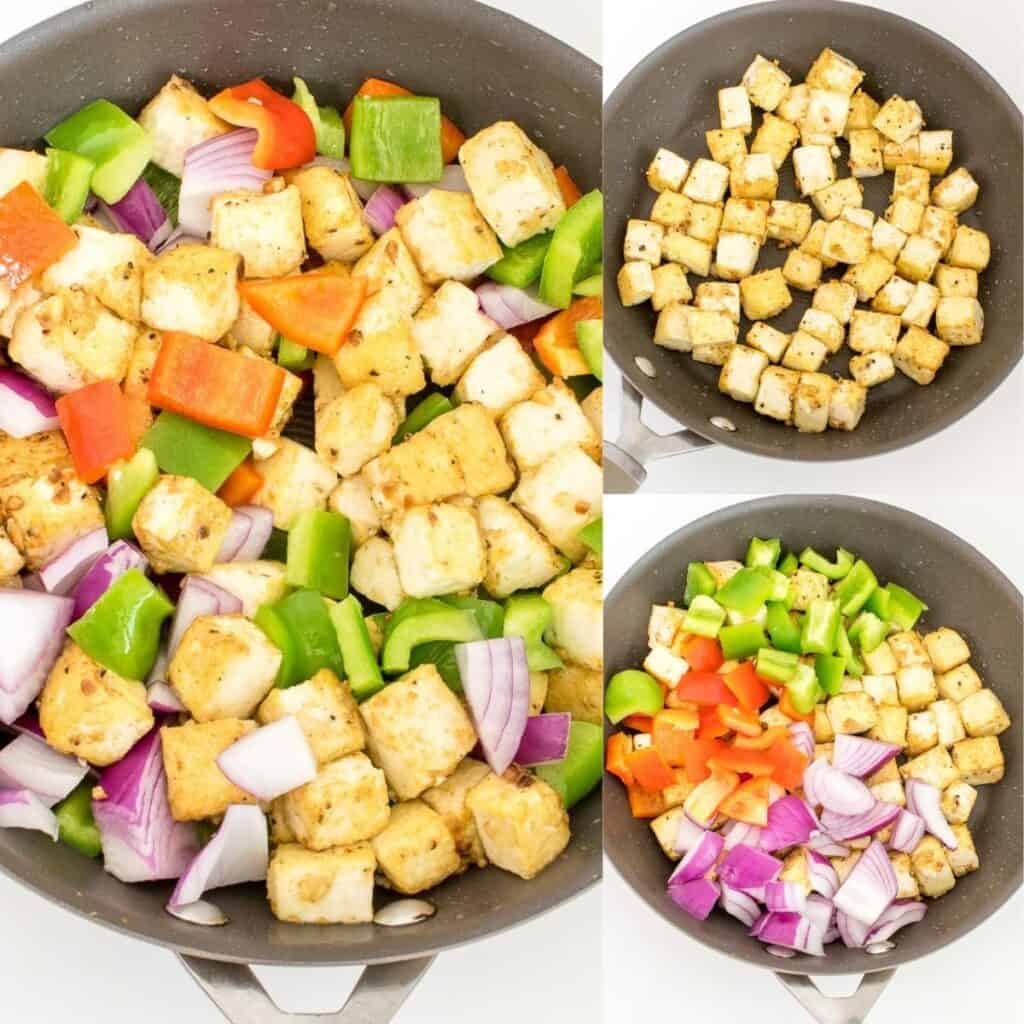 Step3: how to assemble
In this step, I poured in my homemade sweet and sour sauce followed by vegetable broth and vinegar.
Then, I mixed it gently and did a taste tasting. At this point I adjusted the salt as per taste.
Lastly, I turned it off and garnished with sesame seeds.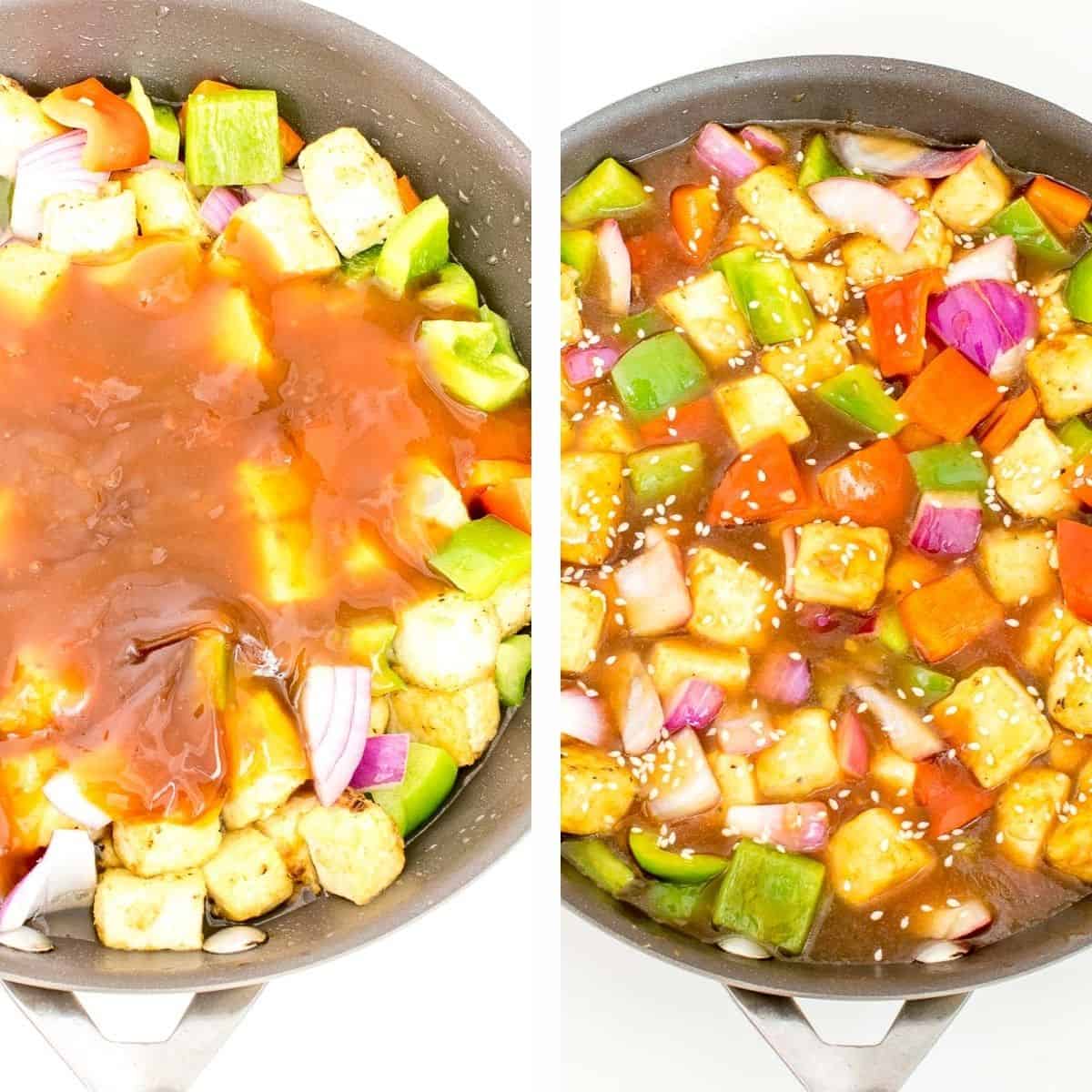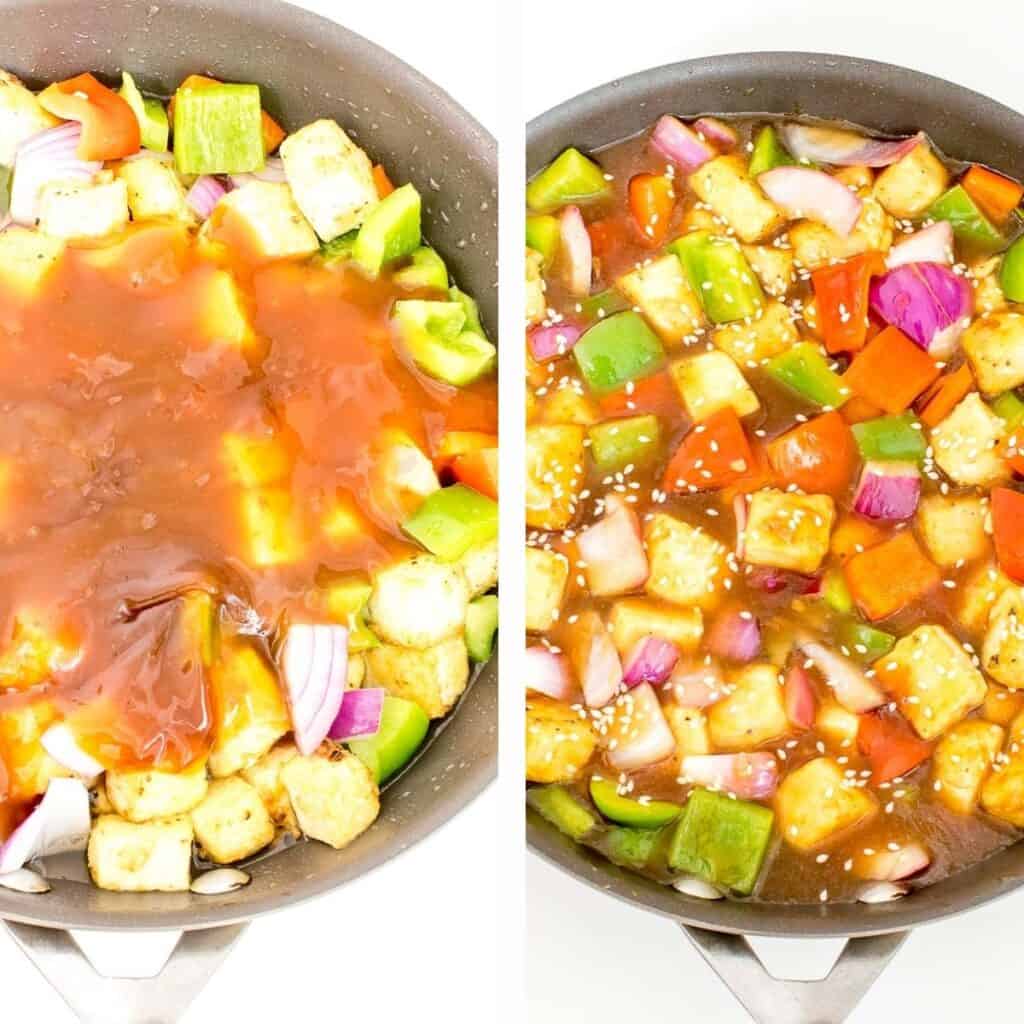 I personally enjoyed it with quinoa. This added more nutrition on my plate and helped me maintain the right portions.
But my husband devoured it with steamed white rice and my kids loved it with brown rice. So, this was a winner in all respect.
It was an instant hit and my toddler loved it so much that she wanted me to keep serving her.
I was delighted to have innovated a recipe that my entire family loves to eat together without fuss.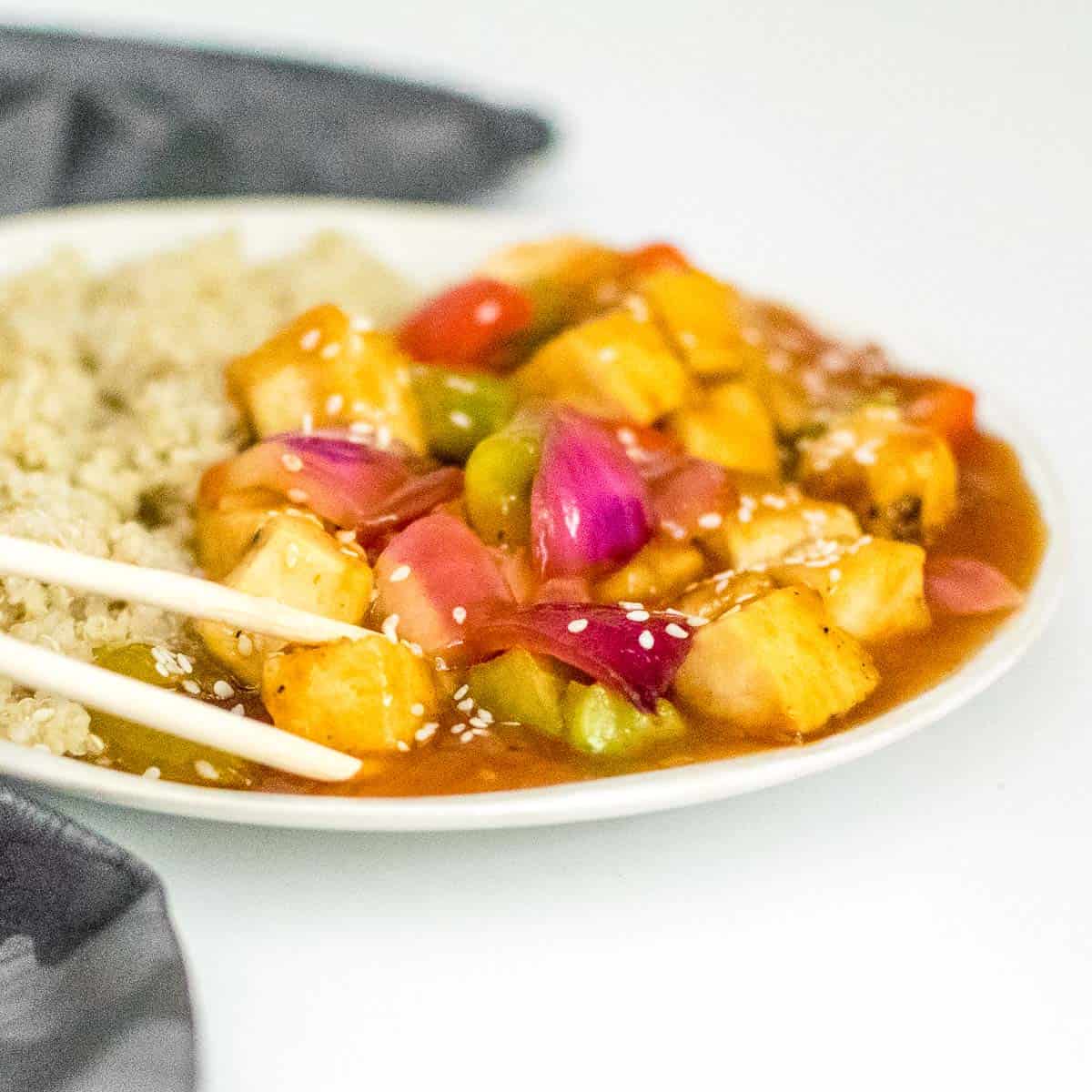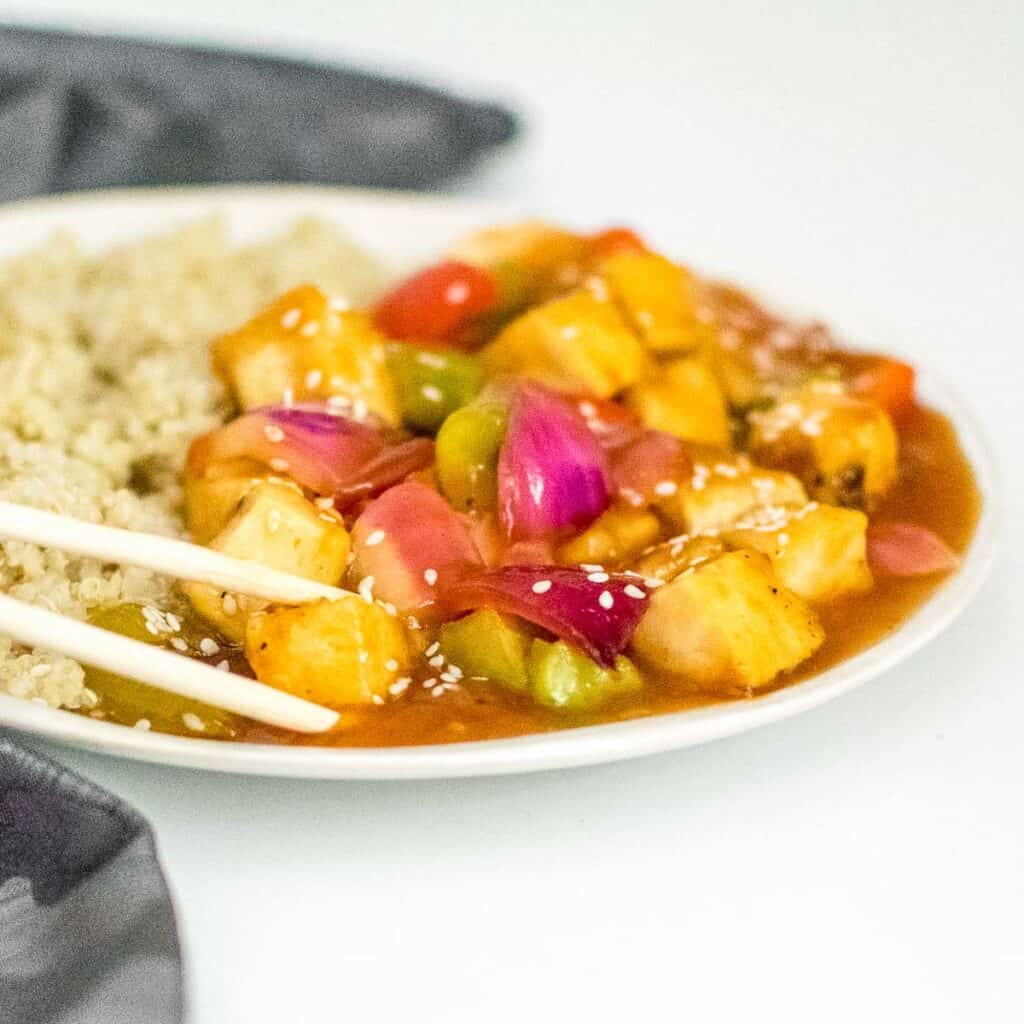 So, I insist you to start with this right away so you can see those smiling faces of your loved ones too.
Expert tips:
Make sure to press tofu for 20-30 minutes because the firmer tofu is the better would be the final outcome.
The trick to save time here is to make the sauce while tofu is pressing.
Most importantly cook tofu very well in oil before adding veggies for firm bites of the entire entrée.
Sweet and Sour Tofu FAQs
How long does it last?
This tastes best when served immediately. However, the leftovers can be refrigerated for about 1 week.
How does it taste?
It has a nice flavor of sweetness and mild tangy taste to it along with the chewy bites of tofu plus crunch of the veggies.
Is it healthy?
It is definitely high in protein and fiber rich. By adding sesame oil, I tried to include healthy fats and mild sauces. Overall, this entrée can be enjoyed frequently.
What to serve with it?
I personally like quinoa. However, brown rice or Jasmin rice goes well. In fact, steamed white rice also tastes good. Moreover, to make it full course meal you may serve vegan spring rolls on the side.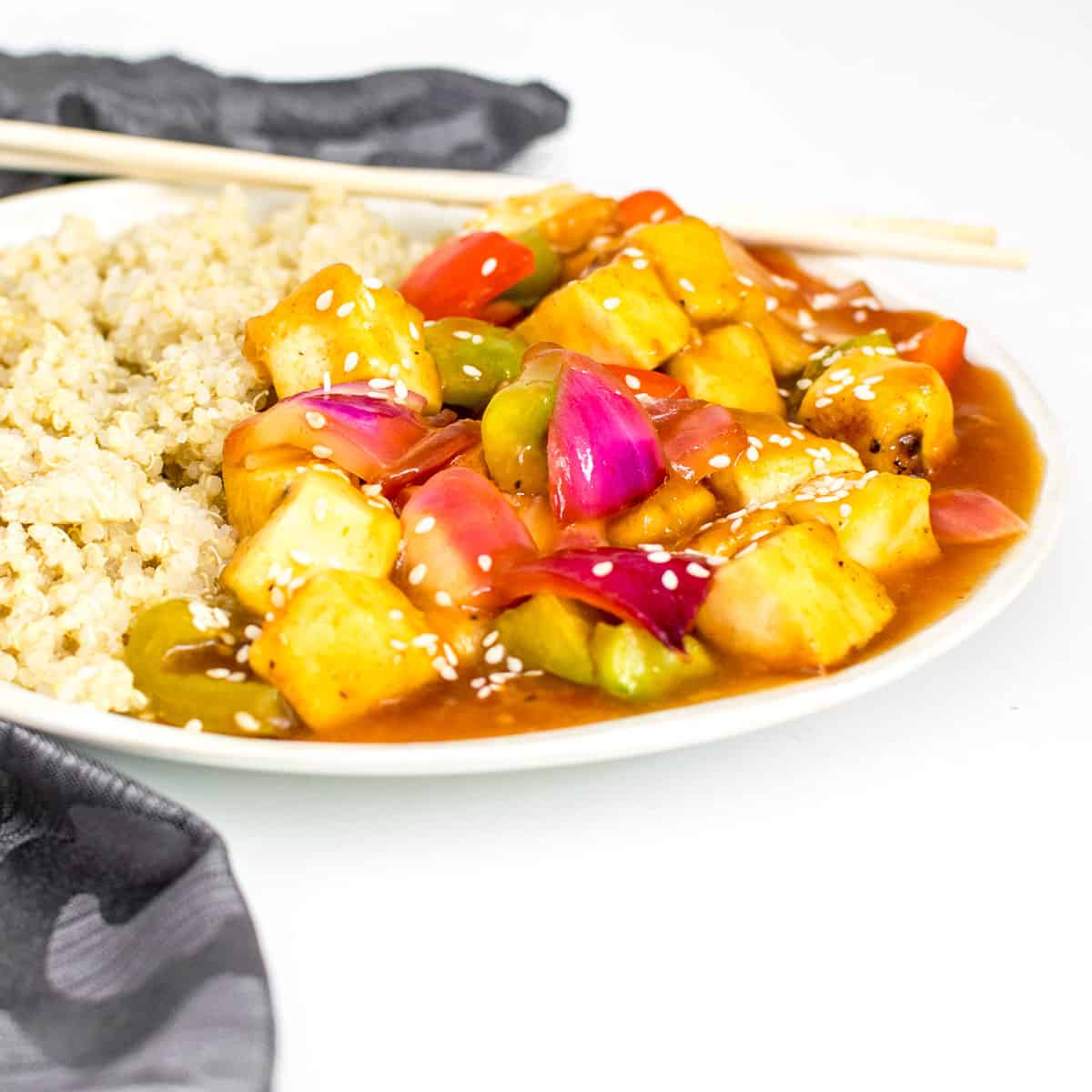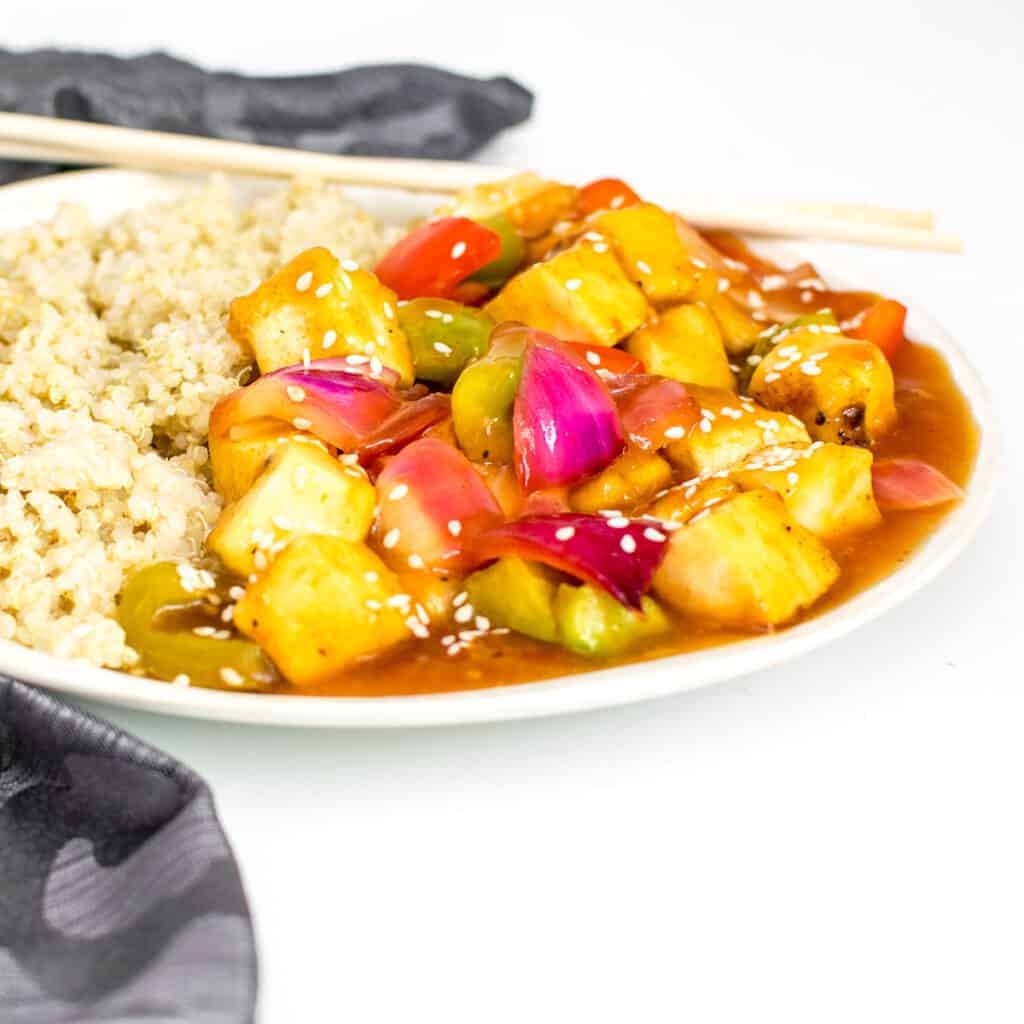 Did you make it?
If you get a chance to make this recipe then please leave your feedback in the comments along with a 5-star rating. In addition, you may tag @kiipfit on Instagram with your recipe remake image because we would love to see what you cooked.
You may follow me on Facebook and also checkout my cookbook for everyday comforting vegan recipes.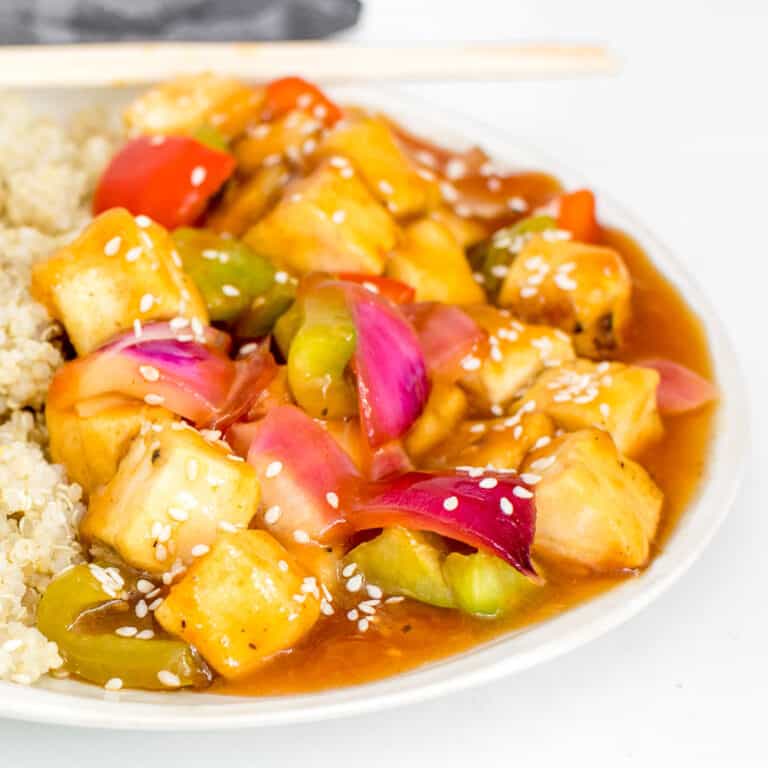 Print Recipe
Sweet and Sour Tofu
This easy Sweet and Sour Tofu is a healthier and flavorful Chinese entrée that is made vegan and is way better than takeout. It is well complemented with veggies and sautéed in homemade sauce thereby giving it a nice balance of sweetness and tangy taste.
Ingredients
Instructions
Prepare sweet and sour sauce following the link provided and keep it aside. In a mixing bowl, combine tofu, cornstarch, ginger, garlic, salt and black pepper. Toss it gently without breaking tofu and keep it aside. (Make sure each tofu piece is well coated).

Heat sesame oil in a nonstick pan or a wok and place each tofu piece. Let it cook until its golden at the bottom and gently flip over all the pieces with a flat spatula making sure that they don't break. Let it cook again until golden from the bottom. Then, keep flipping all the pieces to other sides until its golden from all sides. This will make them crisp and firm.

Then, toss in onions, and bell peppers and mix gently.

Fold in prepared sweet and sour sauce along with vegetable broth, 2 tbsp. vinegar. Mix nicely and let it cook for 2-3 minutes at medium flame. Do a taste testing and adjust salt. Turn it off and garnish with sesame seeds. Serve hot with quinoa/rice.
Notes
For pressing tofu – take a dish with high sides and place a thick layer of kitchen towel. Place the tofu block on it and cover the top with more kitchen towel and then place something heavy on the top. Let it press for at least 20 minutes. If you have time press it for 30 minutes. Then, drain the water and chop into small square pieces.
You may make sweet and sour sauce ahead of time and refrigerate it. Use it when ready.
Refrigerate the leftovers of this entrée for about 1 week. Warm it in microwave thoroughly.
Nutrition
Calories:
291
kcal
|
Carbohydrates:
23
g
|
Protein:
14
g
|
Fat:
16
g
|
Saturated Fat:
1
g
|
Polyunsaturated Fat:
3
g
|
Monounsaturated Fat:
3
g
|
Sodium:
60
mg
|
Potassium:
49
mg
|
Fiber:
1
g
|
Sugar:
1
g
|
Vitamin A:
101
IU
|
Vitamin C:
15
mg
|
Calcium:
23
mg
|
Iron:
1
mg