This easy vegan Tempeh Stir Fry is a perfect weeknight dinner or leftover lunch for the next day. It's made with simple ingredients and is packed with delicious Chinese flavors.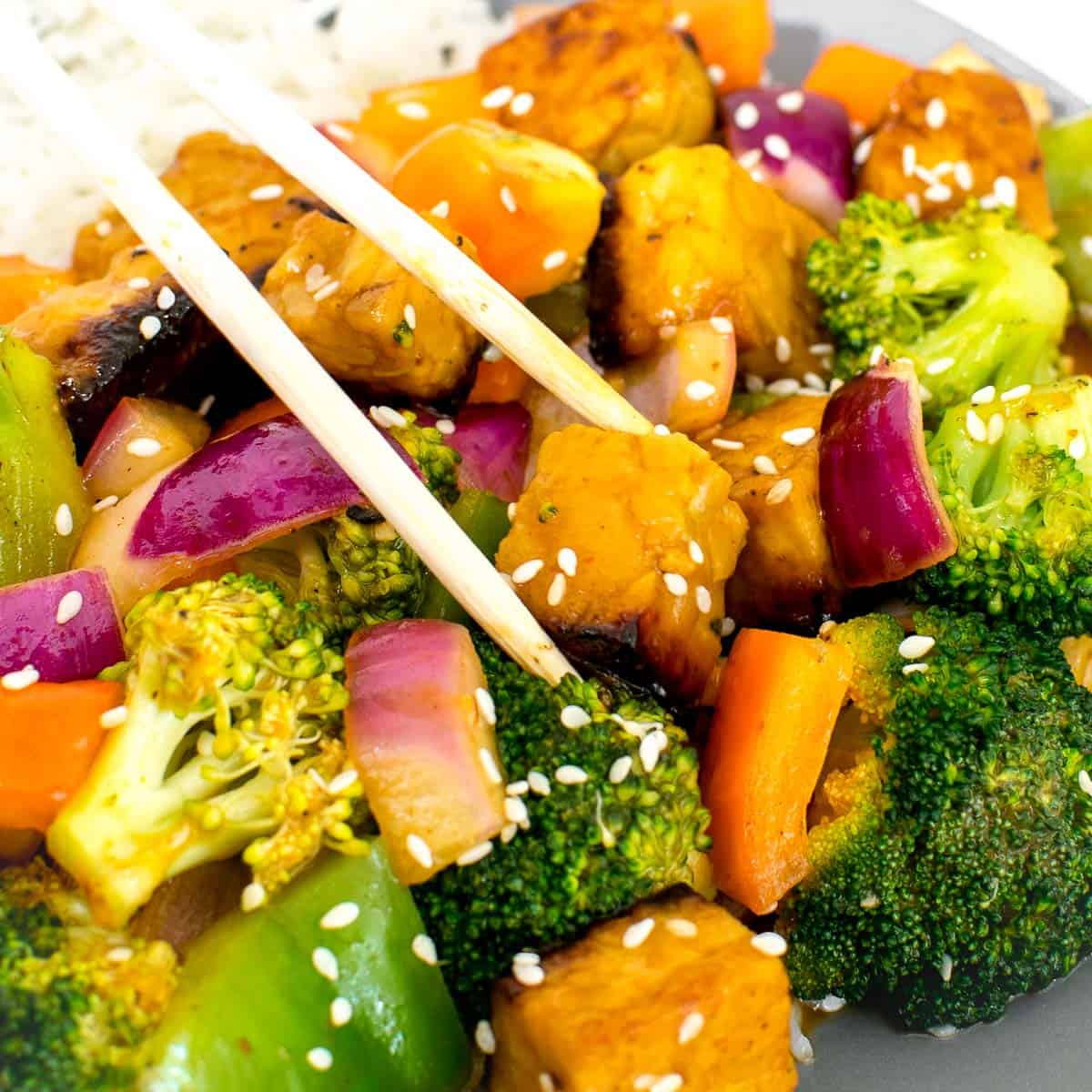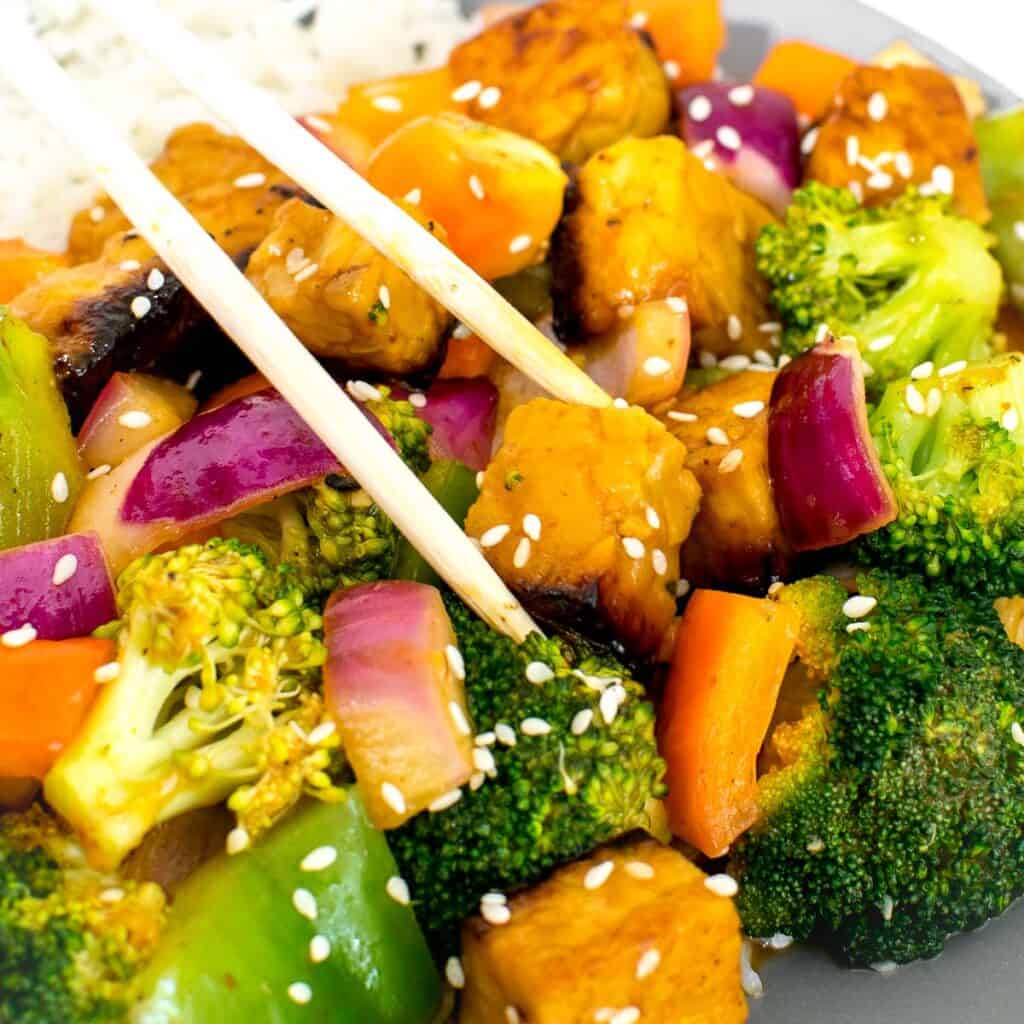 Tempeh has a very specific taste to it so it takes a while to get accustomed to it. But once you get the hang of it this is the best vegan protein you can ever imagine.
Therefore, this tempeh stir fry is a must try and I guarantee its a winner.
Its versatile and easy to handle as well. Moreover, this stir fried tempeh is simply outstanding. It tastes as delicious as ever even after days. So therefore, it's great for meal planning also.
My other vegan recipes with tempeh recipes are:
Air Fryer Tempeh Bacon
Tempeh Mac and Cheese
Moroccan tempeh Wraps
Black Rice Sriracha Tempeh Bowl
One Pot Peanut Butter Curry
But this time I wanted to make it with Chinese flavors and yet simple and easy with handy ingredients. Therefore, Chinese tempeh was ringing in my mind.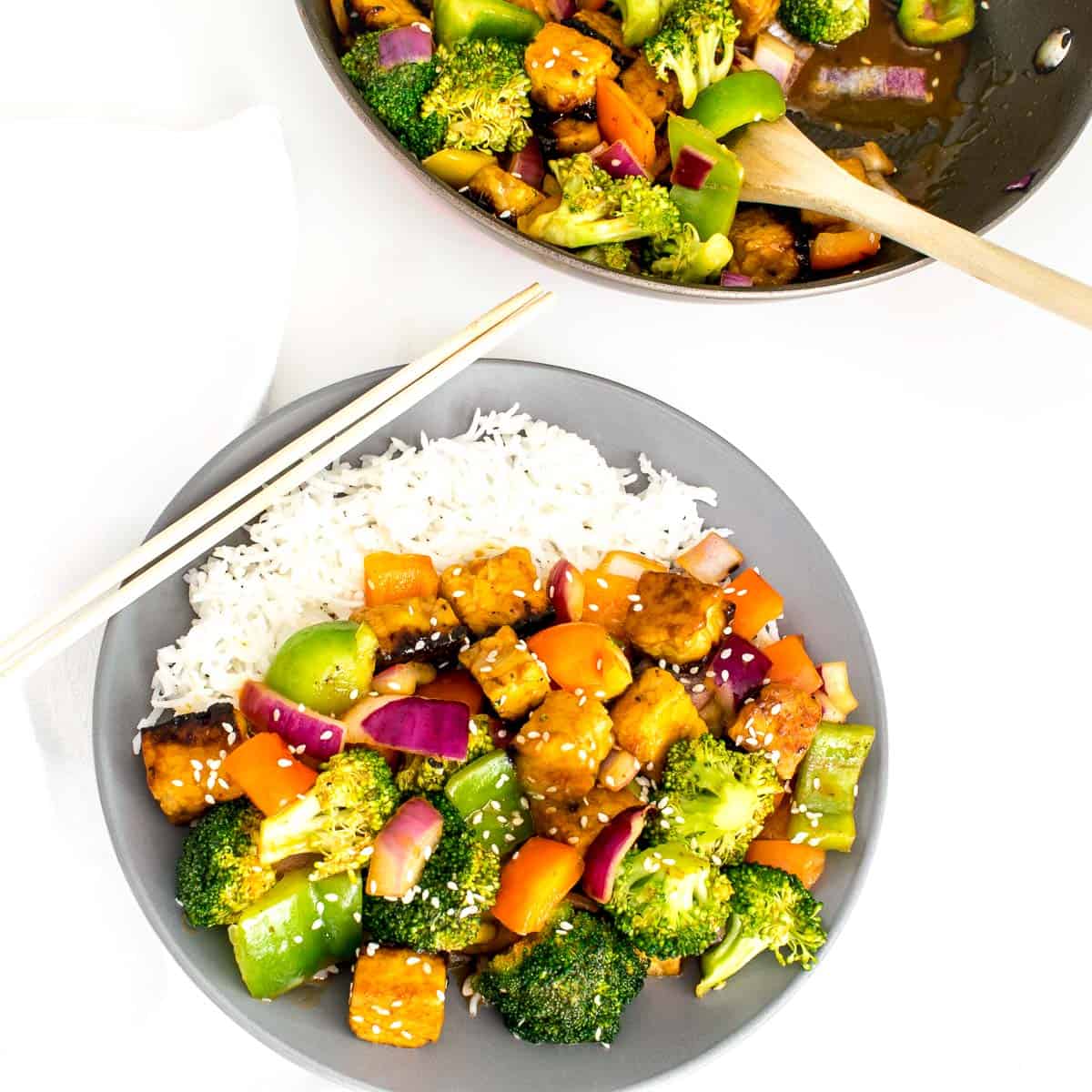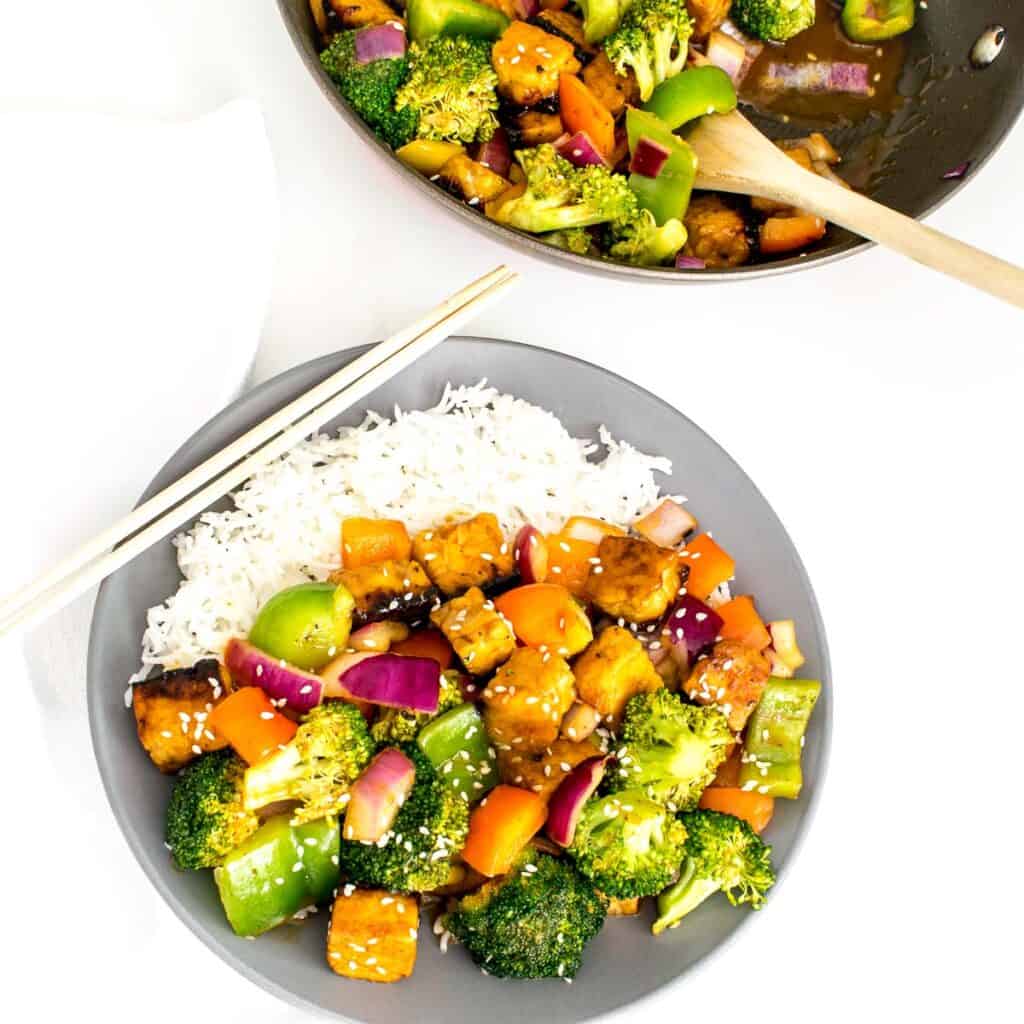 If you have been following my blog you must have noticed my cravings for Chinese because recently, I posted quite a few of them.
Other Chinese recipes that might interest you:
Sweet and Sour Tofu
Bang Bang Cauliflower
Sesame Tofu
Kung Pao Tofu
However, today I am here to share this tempeh broccoli stir fry with you.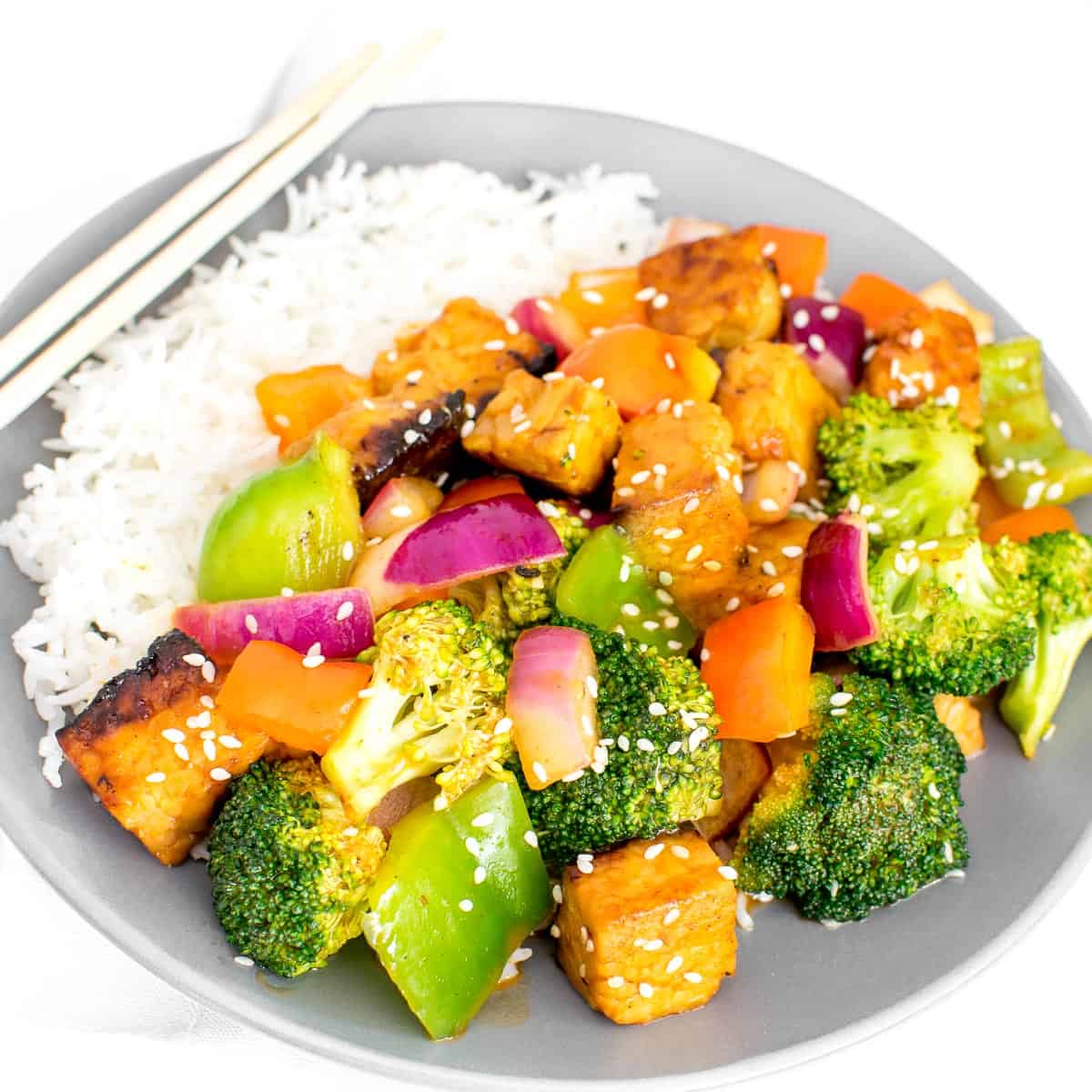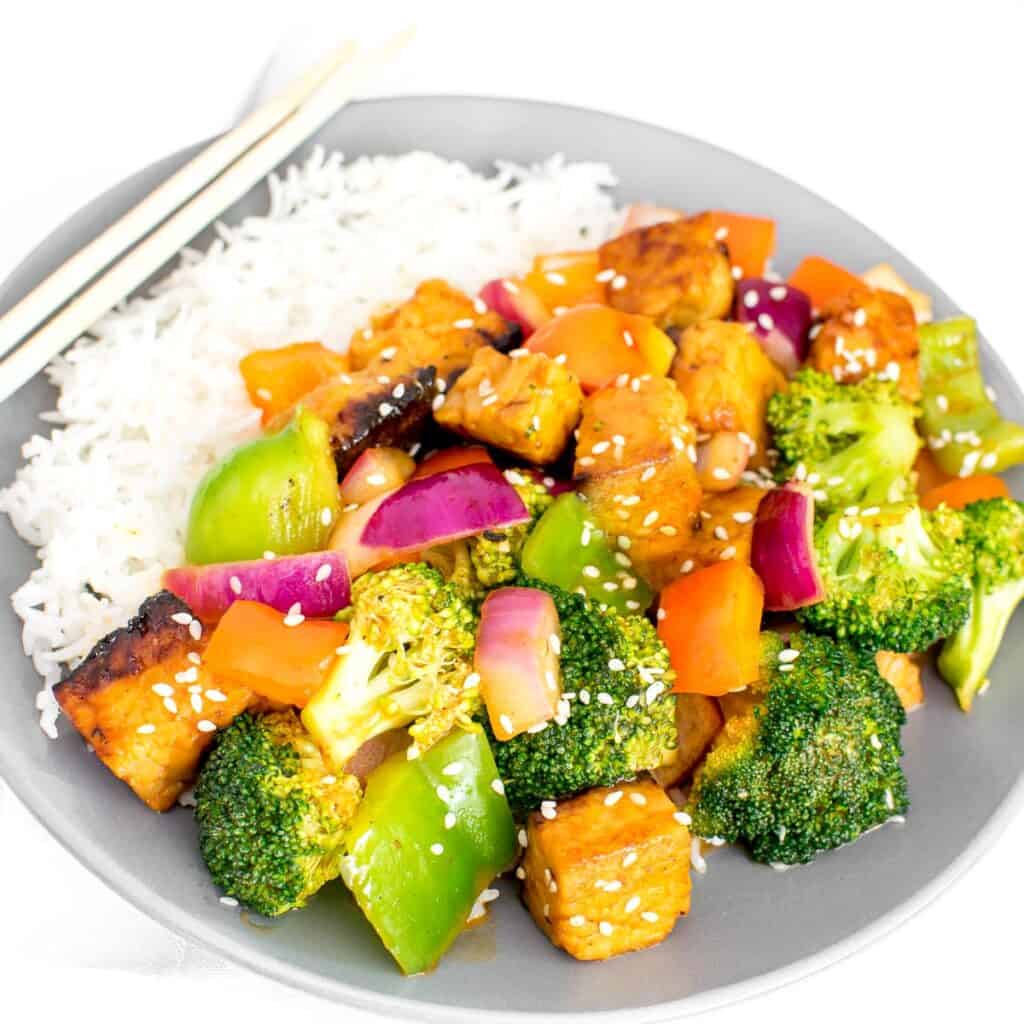 Ingredients for stir fry tempeh
Tempeh
For sauce
Soy sauce
Maple syrup
Vinegar
Sriracha sauce
Ketchup
Water
Cornstarch
For sautéing
Olive oil
Broccoli
Onion
Green bell pepper
Red bell pepper
For garnishing
Sesame seeds
I have used these easily available ingredients in this stir fried tempeh recipe which you may buy from any local grocery store. However, I have provided links to few of them here for your convenience.
If you plan to buy from these affiliate links then I get a small commission which in turn encourages me to bring in more delicious recipe for you.
Ingredients notes:
Tempeh – it's fermented soy bean. Its high in protein and mostly gluten free in nature. Even though you may find few varieties of it I usually prefer original tempeh for my recipes.
Soy sauce – even though you may substitute it for tamari, I prefer low sodium soy sauce because its easily available and moreover I always have it handy in my refrigerator.
Maple syrup – it's a natural and healthier sweetener. Also, it brings out the right color in this recipe. However, you may substitute it with brown sugar if desired.
Sriracha sauce – the idea here is to use hot sauce and I personally like the taste and flavor of sriracha sauce.
Ketchup – this I used to add a bit of sweetness and a touch of tomatoes.
Cornstarch – I used it to bind the sauce after cooking so the final result is thick and saucy instead of a runny sauce.
Broccoli – I like them blanched so that its easy to digest. Moreover, it's a super veggie and makes this tempeh recipe healthier and beautiful too.
Bell peppers – any colored bell peppers work here. They are packed with vitamin C and fiber plus adds a bit of natural sweetness to this stir fry recipe.
Onion – I used red onion for its taste and texture. However, any type onion works here.
Now, that you have gone through the ingredients in detail I am sure you are excited to start with this entrée.
Therefore, lets dive into its step so you can enjoy this deliciousness with your loved ones and I get to see what you cooked in your kitchen.
How to make Tempeh Stir Fry
Step1: How to make the easy vegan stir fry sauce
Firstly, I combined all the sauce ingredients and whipped it smooth with a spoon. I made sure that there were no lumps. Then, I kept it aside.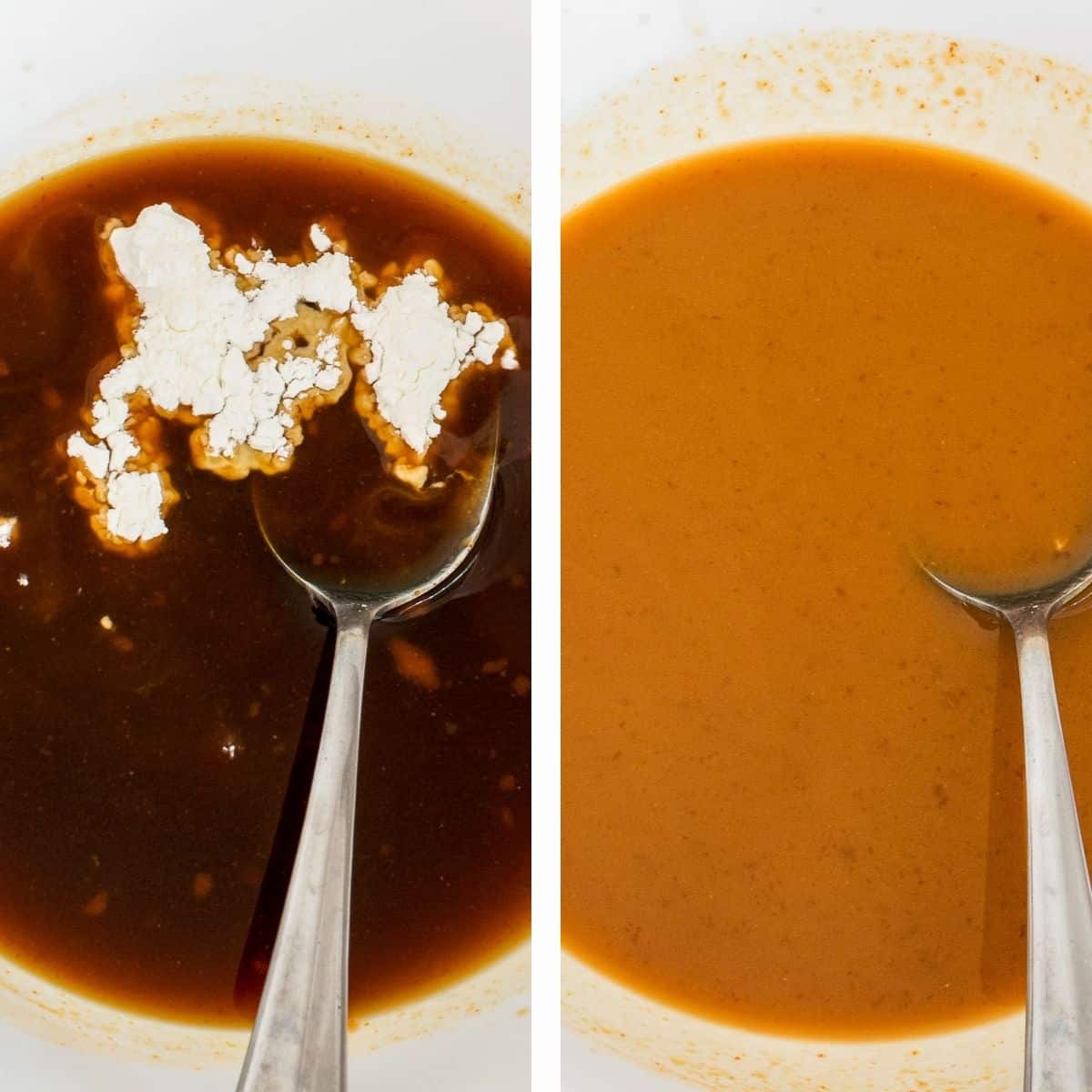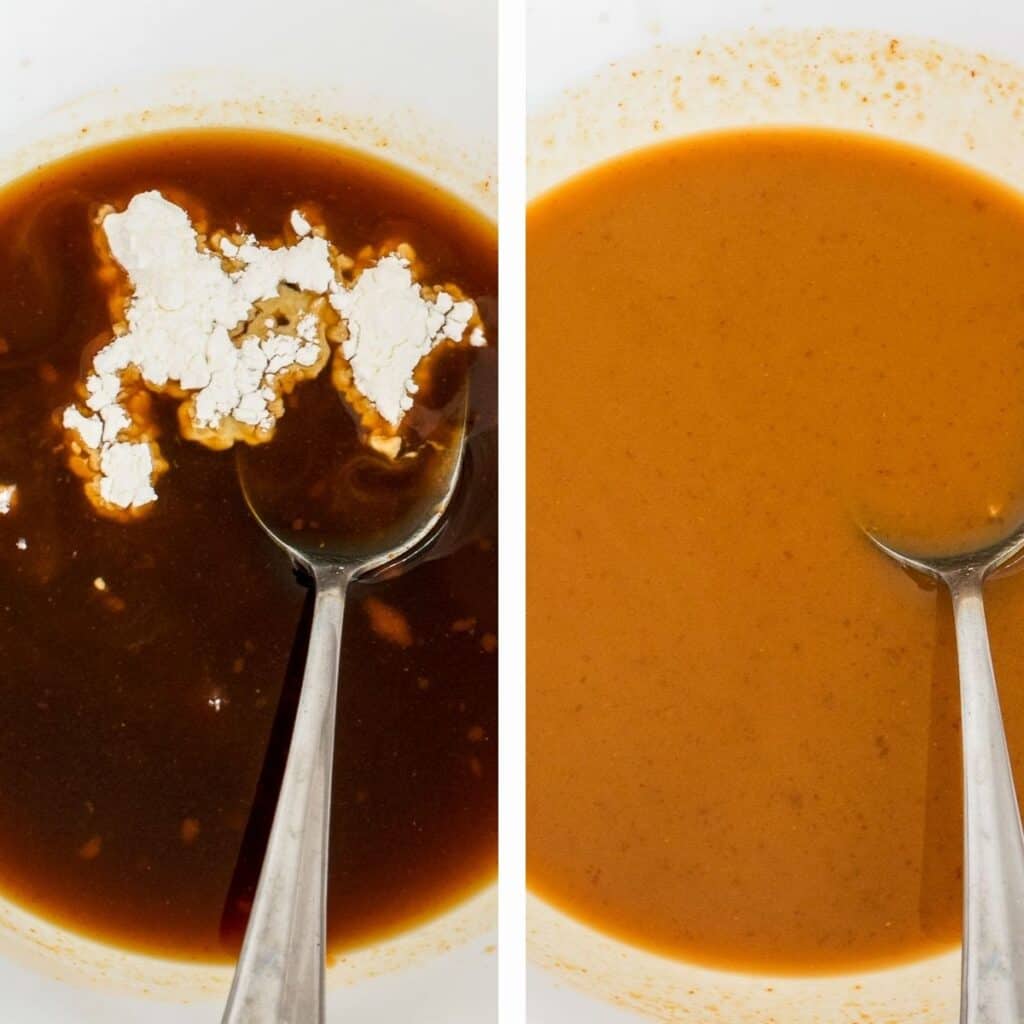 Step2: how to marinate
Firstly, I chopped tempeh into square pieces.
Secondly, I tossed chopped tempeh into the sauce and mixed well so that each piece is well coated.
Then, I let it rest of 5 minutes.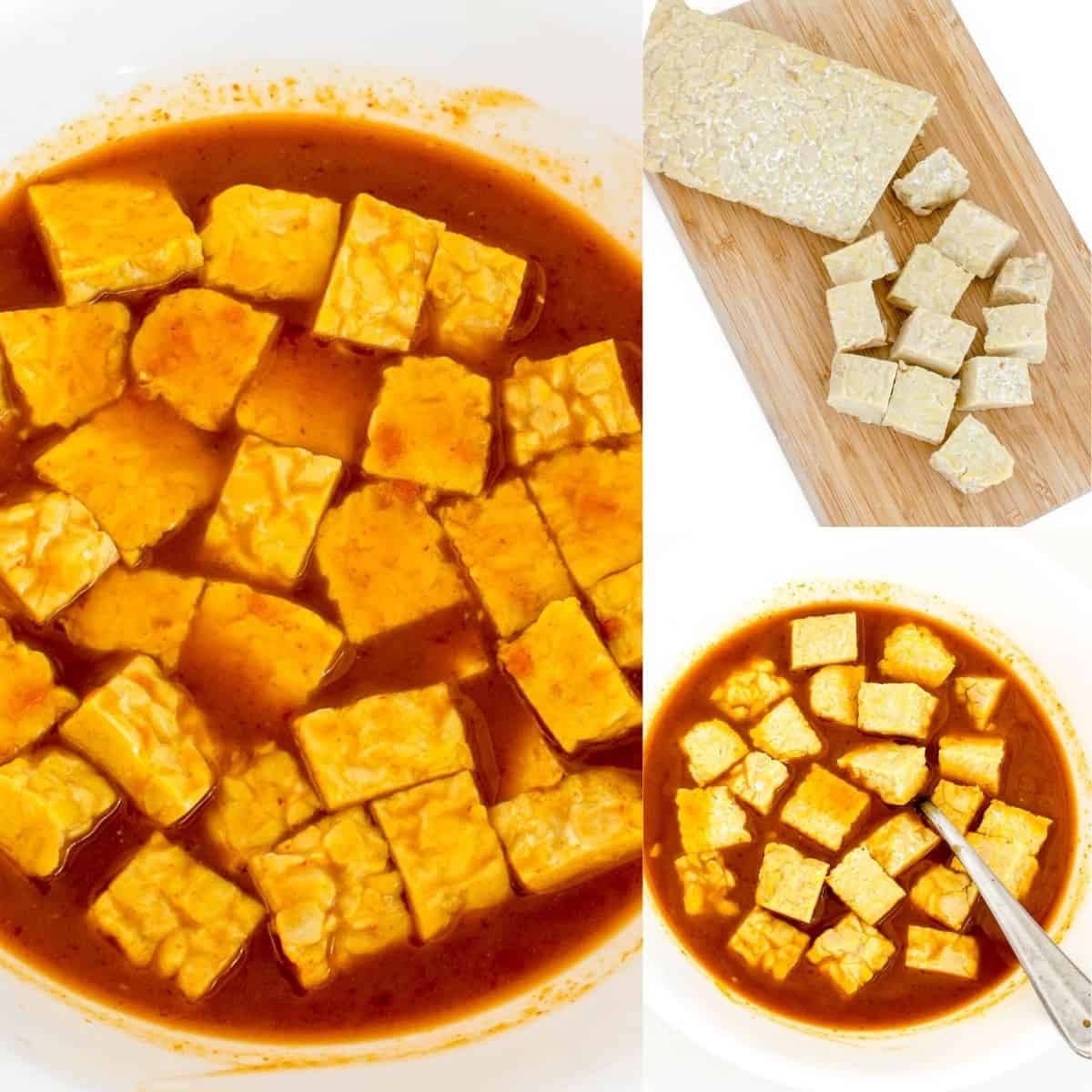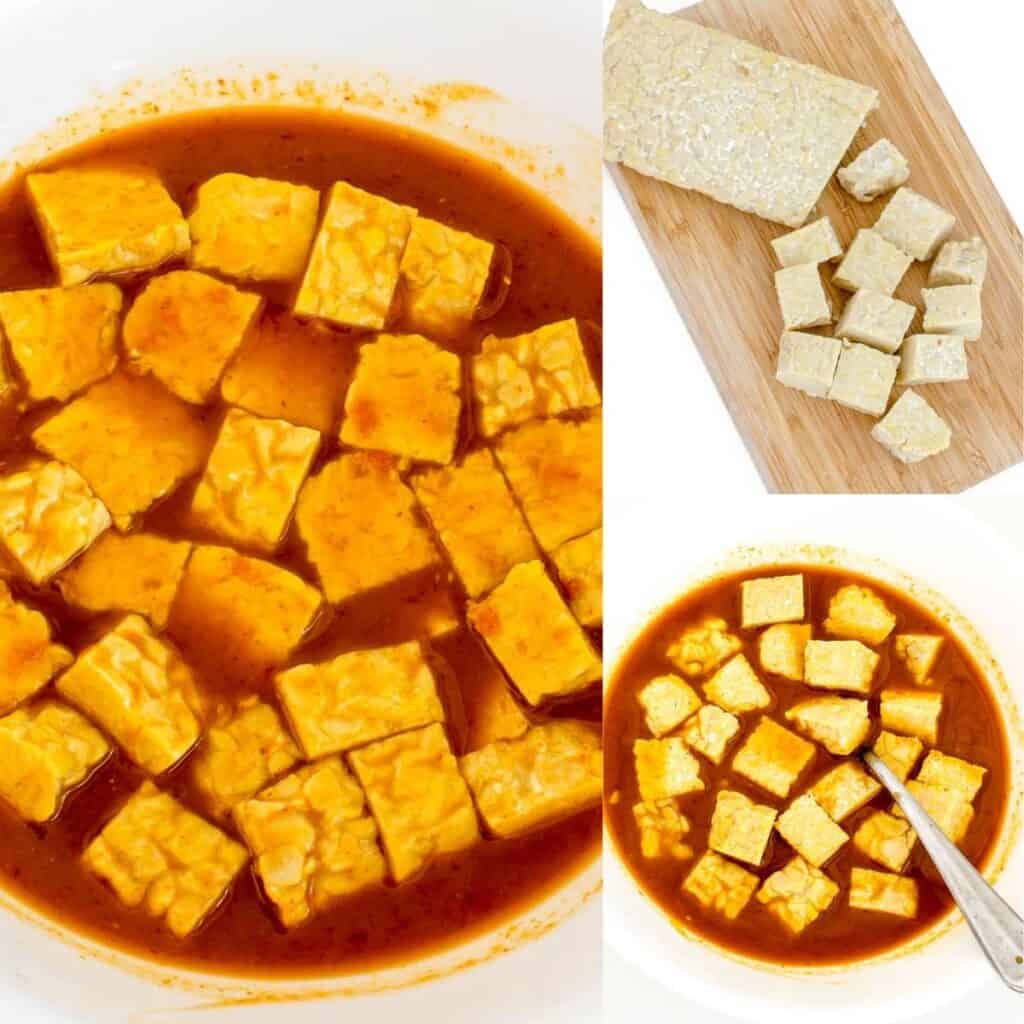 Step3: how to cook tempeh
Firstly, I heated olive oil in a nonstick pan and then with the help of tongs I placed each tempeh piece on it.
Secondly, I saved the sauce for later use.
Next, I flipped the pieces to all sides so as to cook them from all sides. I slightly overcooked them so that they are easy to digest and tastes smoother.
Thereafter, with the help of tongs I took out all the pieces in a separate plate and kept it aside.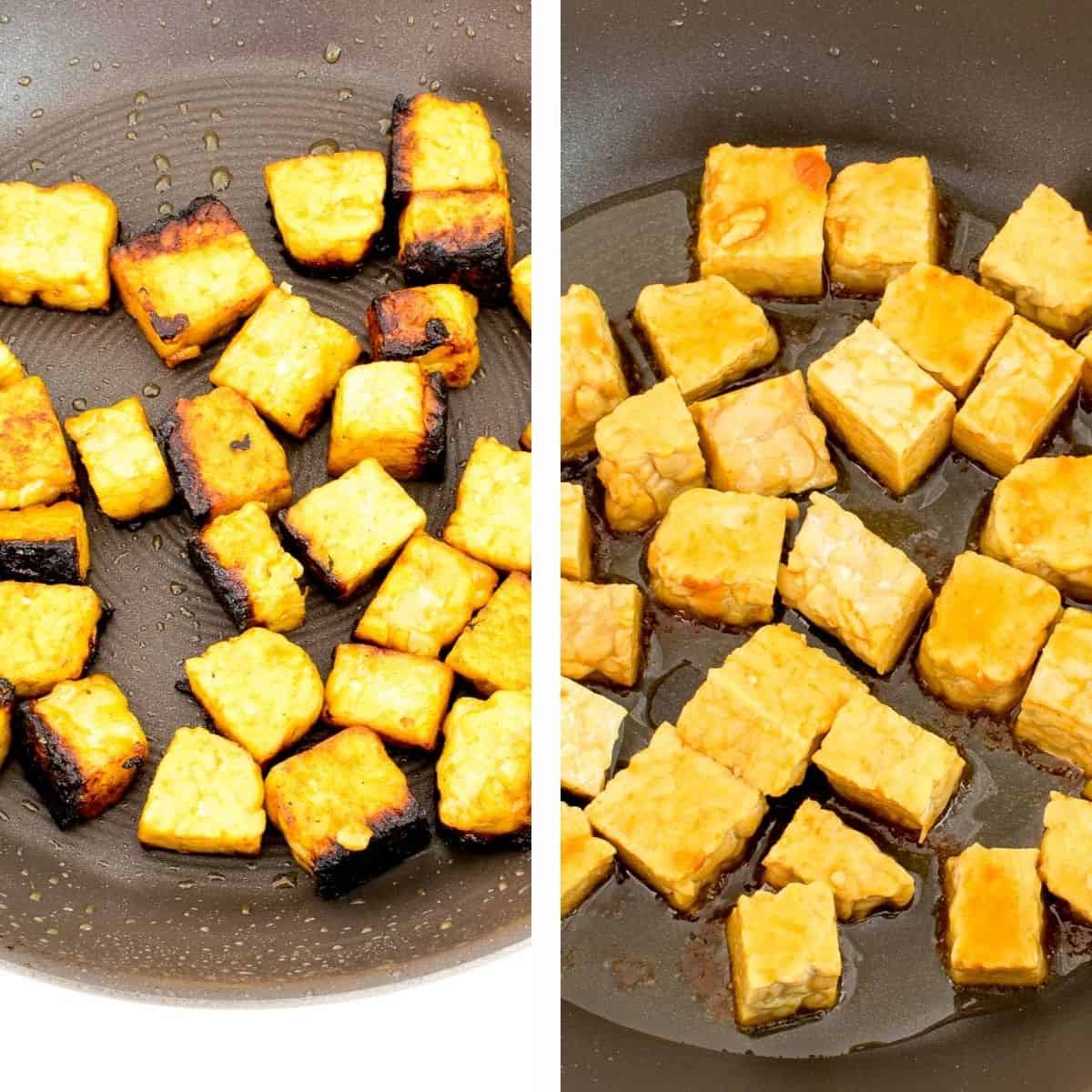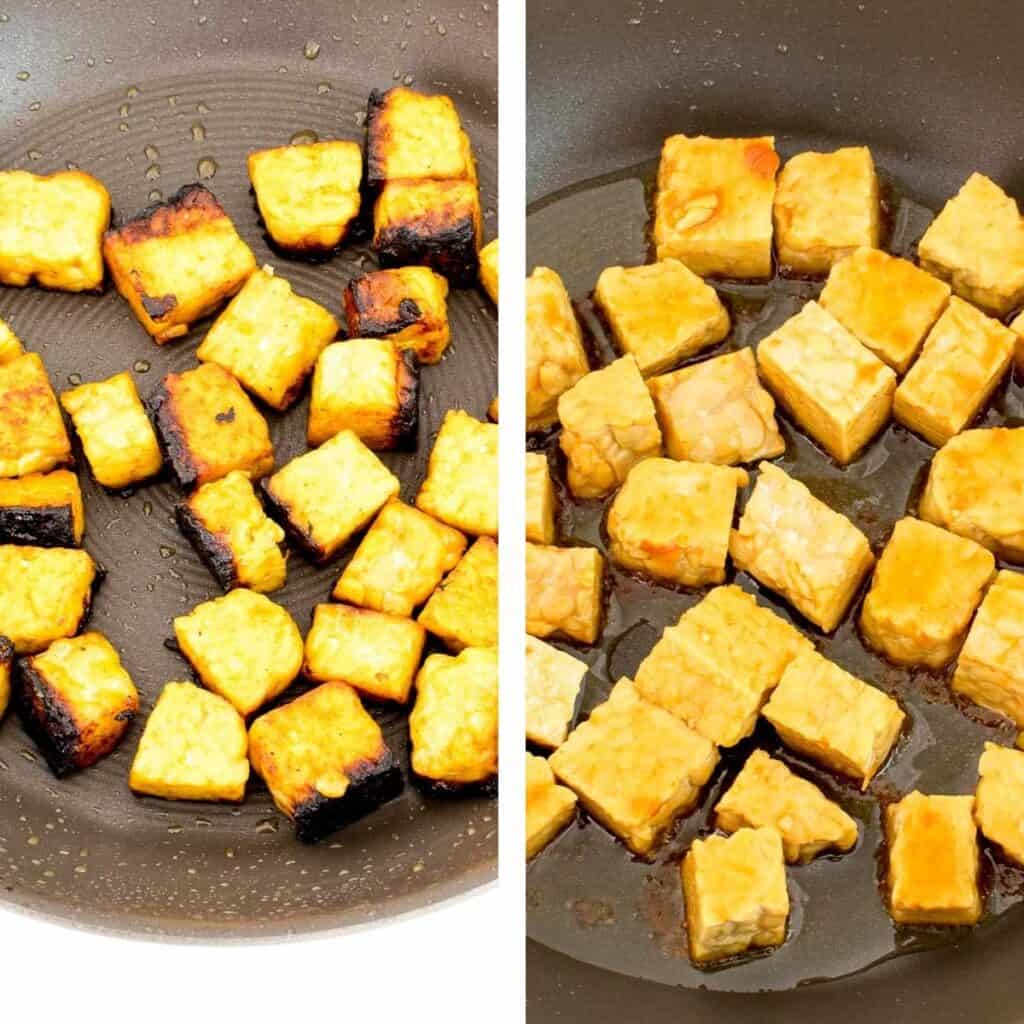 Step4: how to assemble
Firstly, in the same pan I sauteed broccoli for 2 minutes.
Secondly, I added rest of the veggies to it and sautéed again for 2 minutes.
Thereafter, I poured in the sauce along with the cooked tempeh to it.
Afterwards, I quickly mixed everything making sure that all the veggies are well coated in the sauce.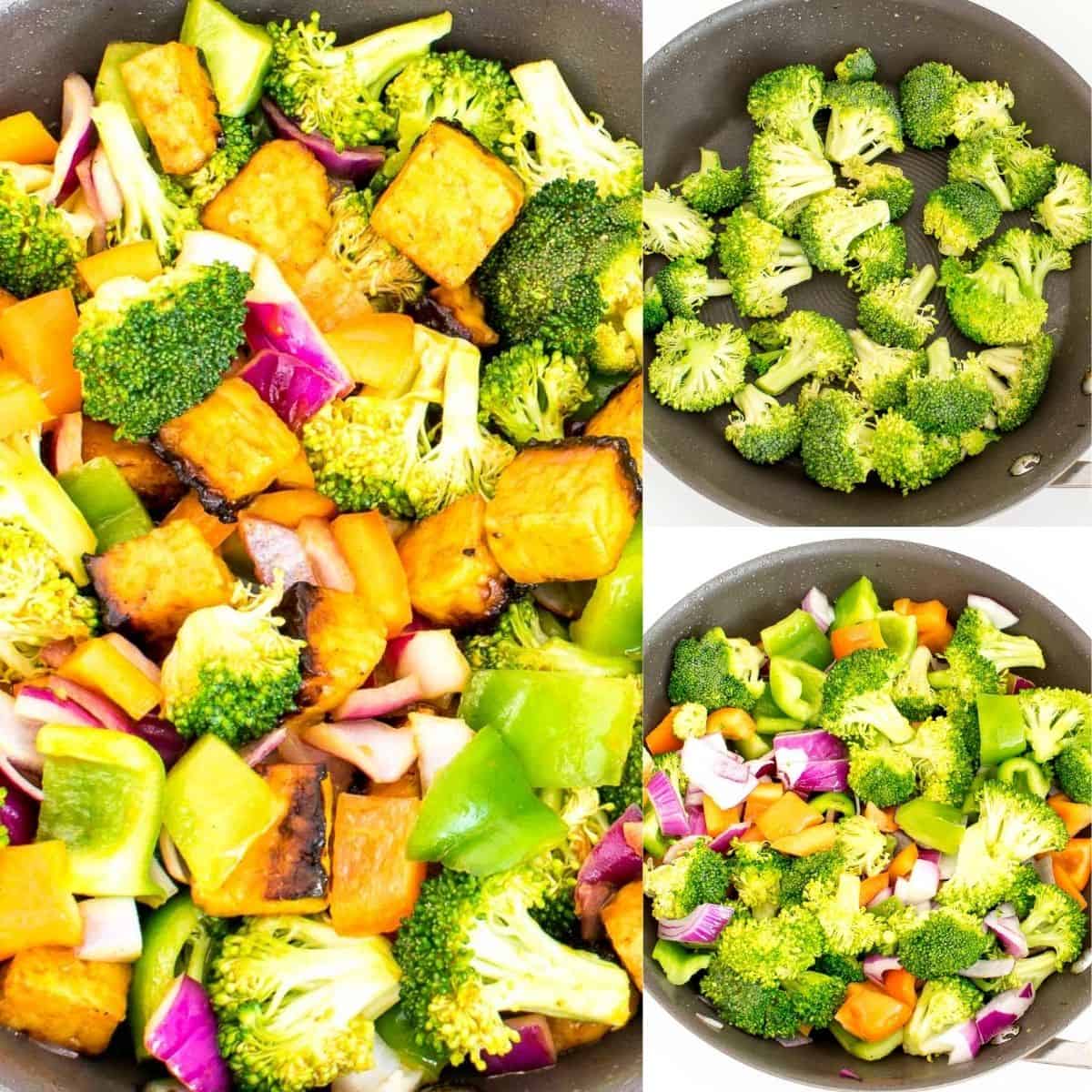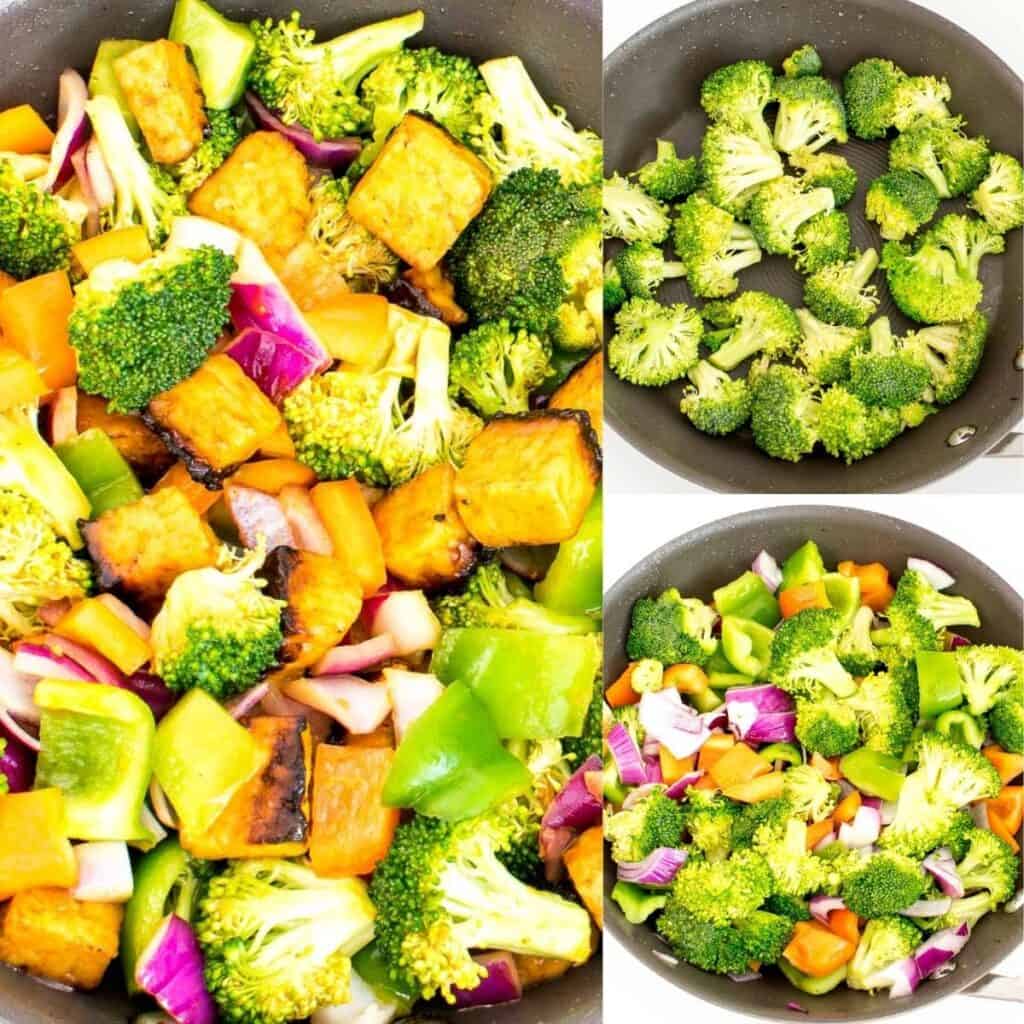 Next, I turned it off and garnished with sesame seeds and served with steamed rice.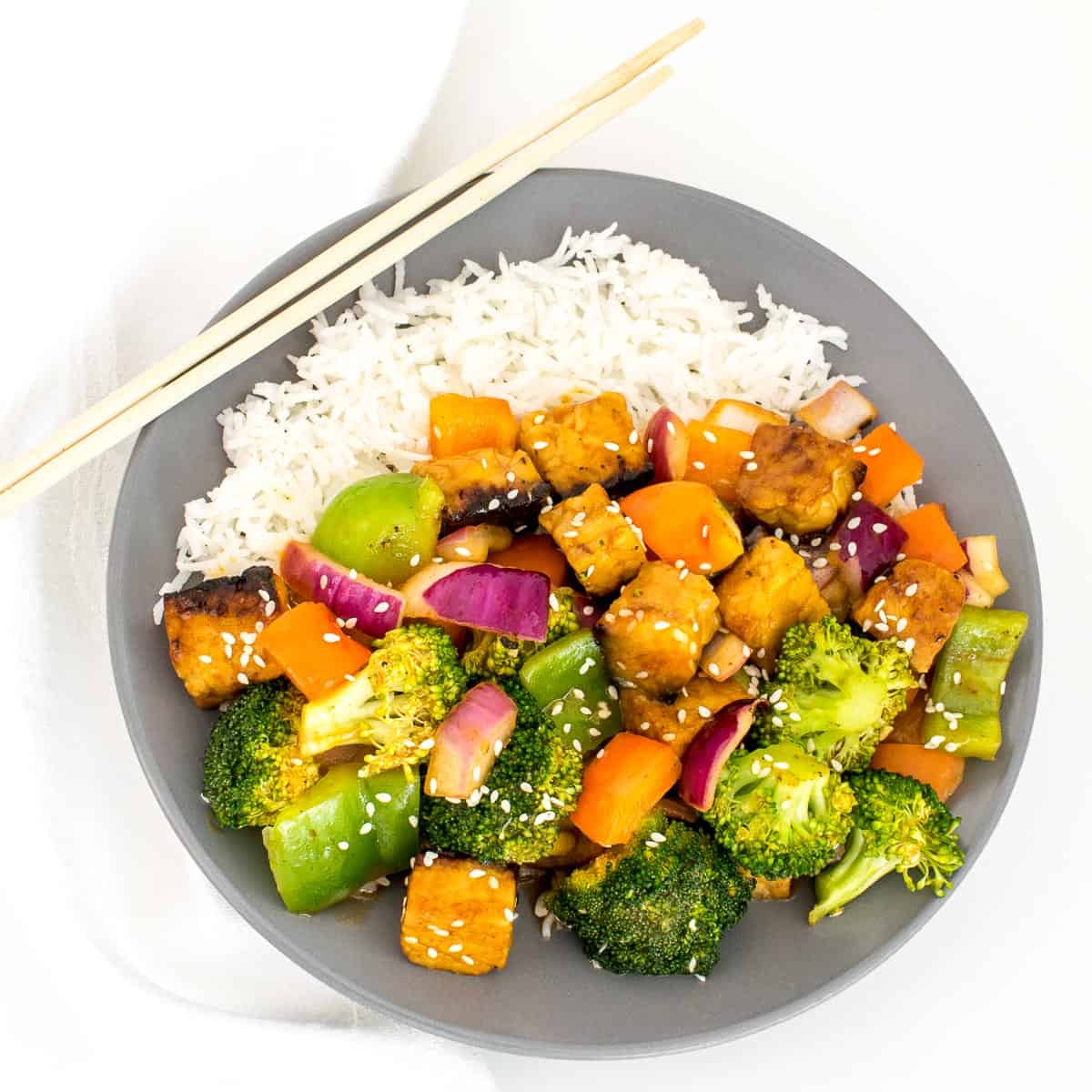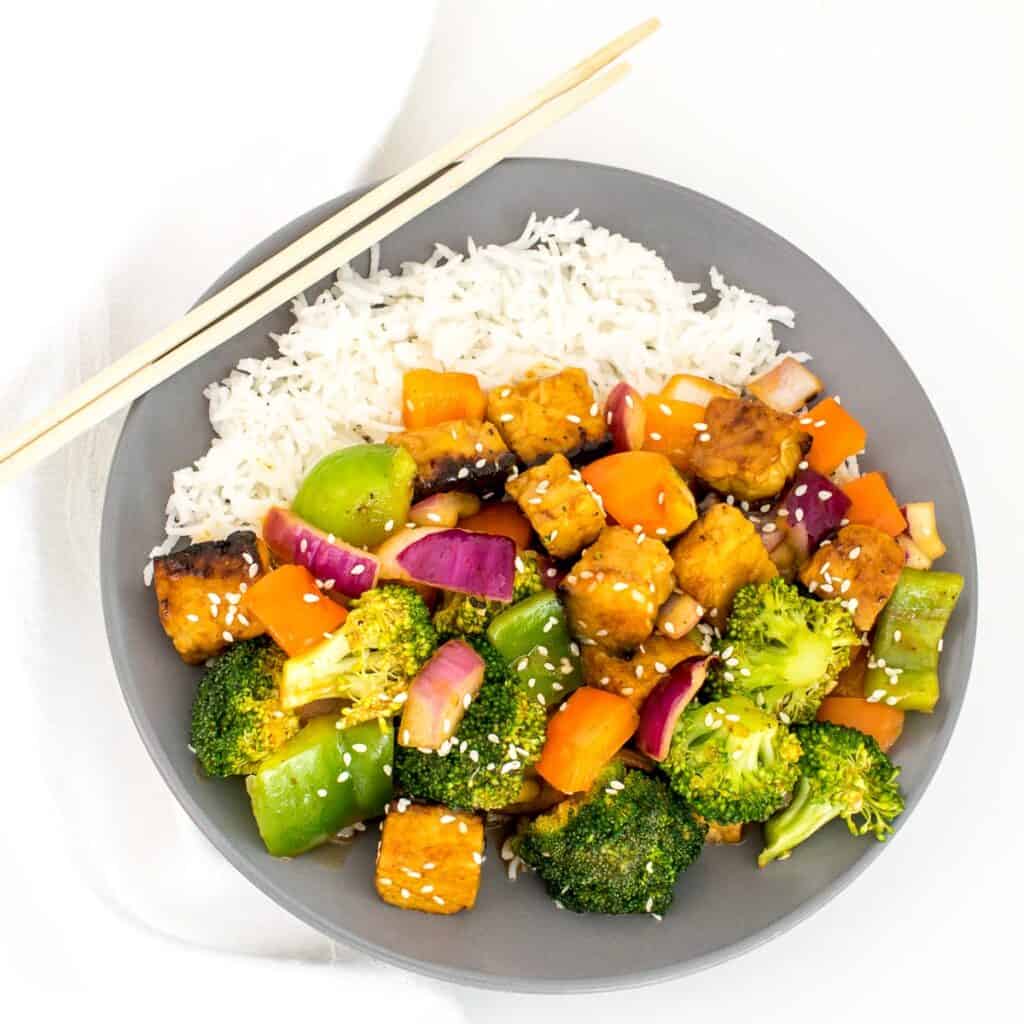 My toddler picked all the broccoli from it and loved the flavors immensely.
Rest of my family loved this entrée and finally they enjoyed tempeh. I was super happy to see their satisfied faces.
It took me years to make my family love this vegan protein. But finally, they got the hang of this Asian tempeh stir fry and is their favorite. So, this is great way to make your family fall in love with it.
Expert tips:
It is important to note that while cooking marinated tempeh, place only the pieces soaked in the sauce. Make sure to save that sauce for later use.
Keep tossing all the tempeh from all sides to make sure they do not stick to the pan.
It is advisable to blanch broccoli before sautéing as this makes the vegetable easier to digest and also its color brighten up immensely.
Tempeh Stir Fry FAQs
How long does this last?
This tastes best when served immediately. However, leftovers can be refrigerated for about 2 weeks in an air tight container.
How does this taste?
This has a Chinese flavor with a mild sweetness and spicy taste to it.
Can I bake tempeh?
Yes, preheat oven at 400-degree Fahrenheit, place marinated tempeh pieces on a baking sheet that is covered with parchment paper. Then bake it for 20-25 minutes or until golden brown in color. However, sautéing vegetables tastes better in this recipe.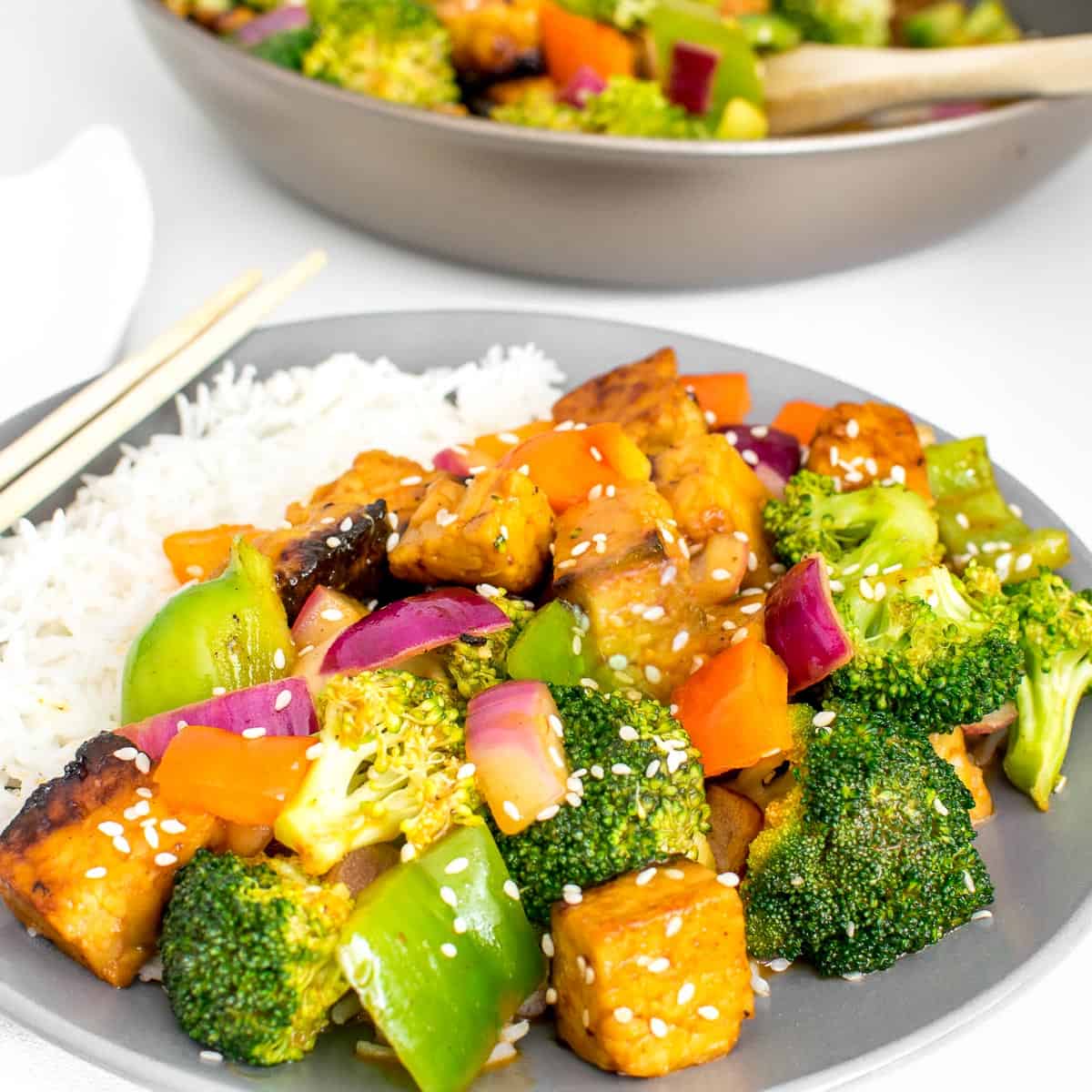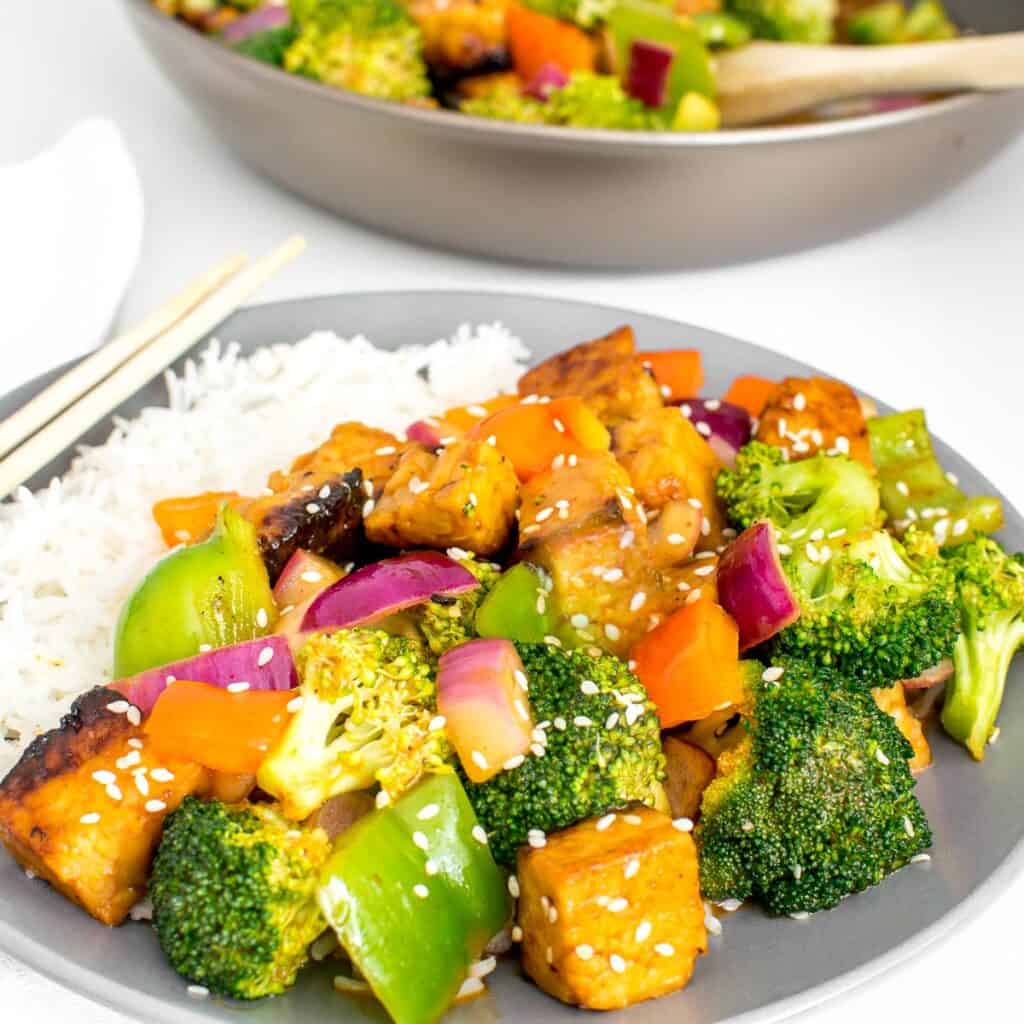 Did you make it?
If you get a chance to make this recipe then please leave your feedback in the comments below along with a 5-star rating. In addition, you may tag @kiipfit on Instagram with your recipe remake images because we would love to see what you cooked.
You may also checkout my cookbooks for everyday comforting vegan recipes.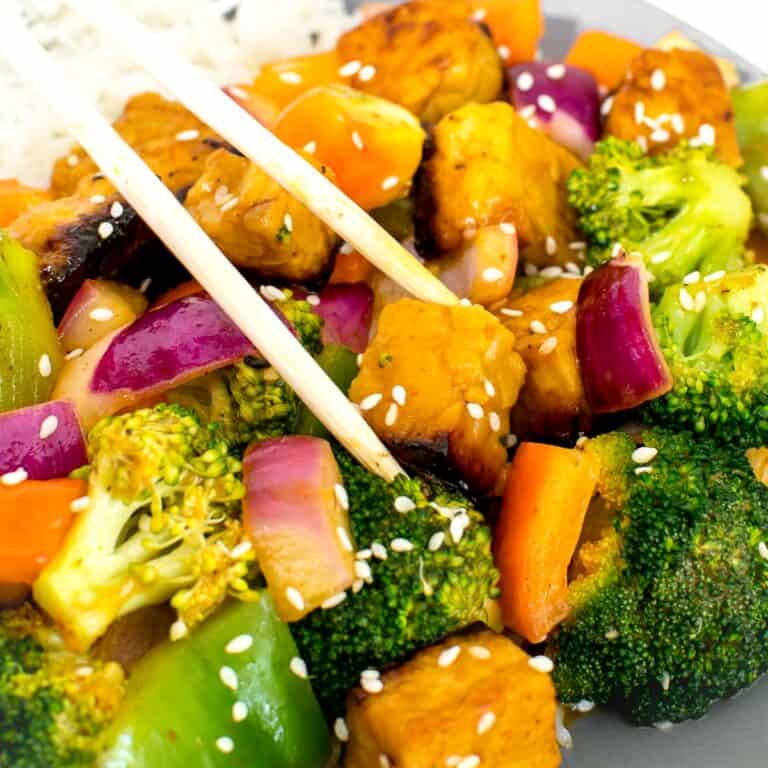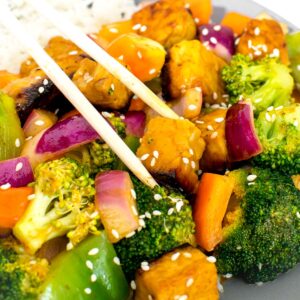 Print Recipe
Tempeh Stir Fry
This easy vegan Tempeh Stir Fry is a perfect weeknight dinner or leftover lunch for the next day. It's made with simple ingredients and is packed with delicious Chinese flavors.
Ingredients
Instructions
In a mixing bowl combine all the sauce ingredients and whip it smooth making sure there are no lumps.

Toss the chopped tempeh in the sauce and marinate for 5 minutes.

Heat oil in a nonstick pan and place marinated tempeh on it with the help of tongs or fork. Save the sauce for later use. Cook tempeh from all sides until its brown in color and well cooked from all sides (Tempeh should be slightly on the overcooked side). With the help of tongs take out the tempeh pieces in a separate plate and keep aside.

In the same pan sauté broccoli for 2 minutes at medium heat.

Now, sauté onions, red and green bell pepper in it for another 2 minutes.

Pour in the remaining sauce over the veggies and quickly mix in the cooked tempeh. Fold everything properly and turn it off. Garnish with sesame seeds and serve with steamed rice.
Notes
for blanching broccoli – bring water to a boil in a saucepan and place broccoli florets in it. Let it cook for 2 minutes. Turn it off and drain using a strainer or a sieve. Let it cool down a bit and use as directed.
Refrigerate the leftovers in an air tight container for 2 weeks.
Nutrition
Calories:
198
kcal
|
Carbohydrates:
13
g
|
Protein:
12
g
|
Fat:
11
g
|
Saturated Fat:
1
g
|
Polyunsaturated Fat:
2
g
|
Monounsaturated Fat:
6
g
|
Sodium:
772
mg
|
Potassium:
258
mg
|
Fiber:
2
g
|
Sugar:
8
g
|
Vitamin A:
825
IU
|
Vitamin C:
66
mg
|
Calcium:
67
mg
|
Iron:
1
mg