This vegan Mushroom Fried Rice is budget friendly and a comforting meal with Chinese flavors. It's made with 10 simple ingredients. This recipe is perfect for meal planning and is an excellent lunch option too.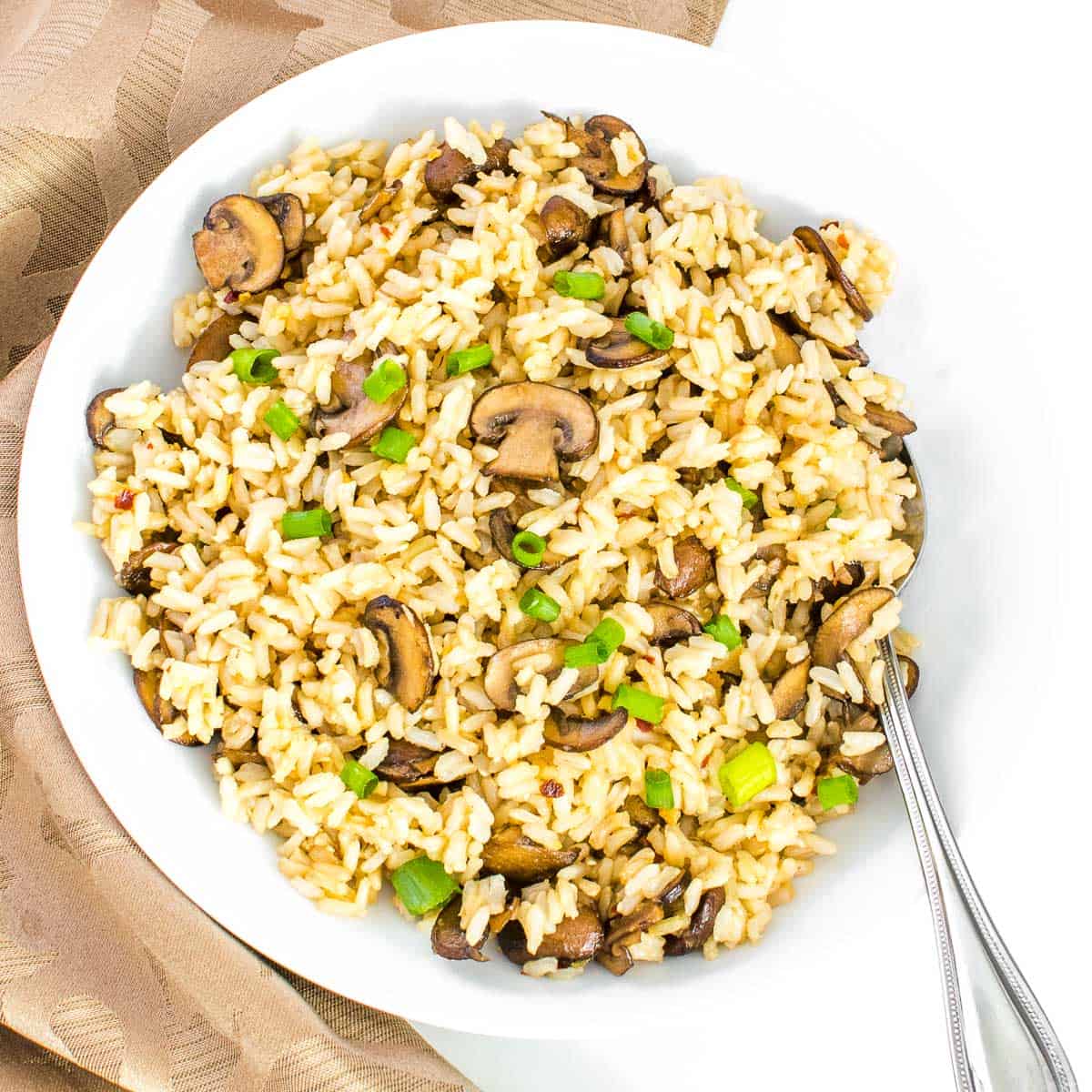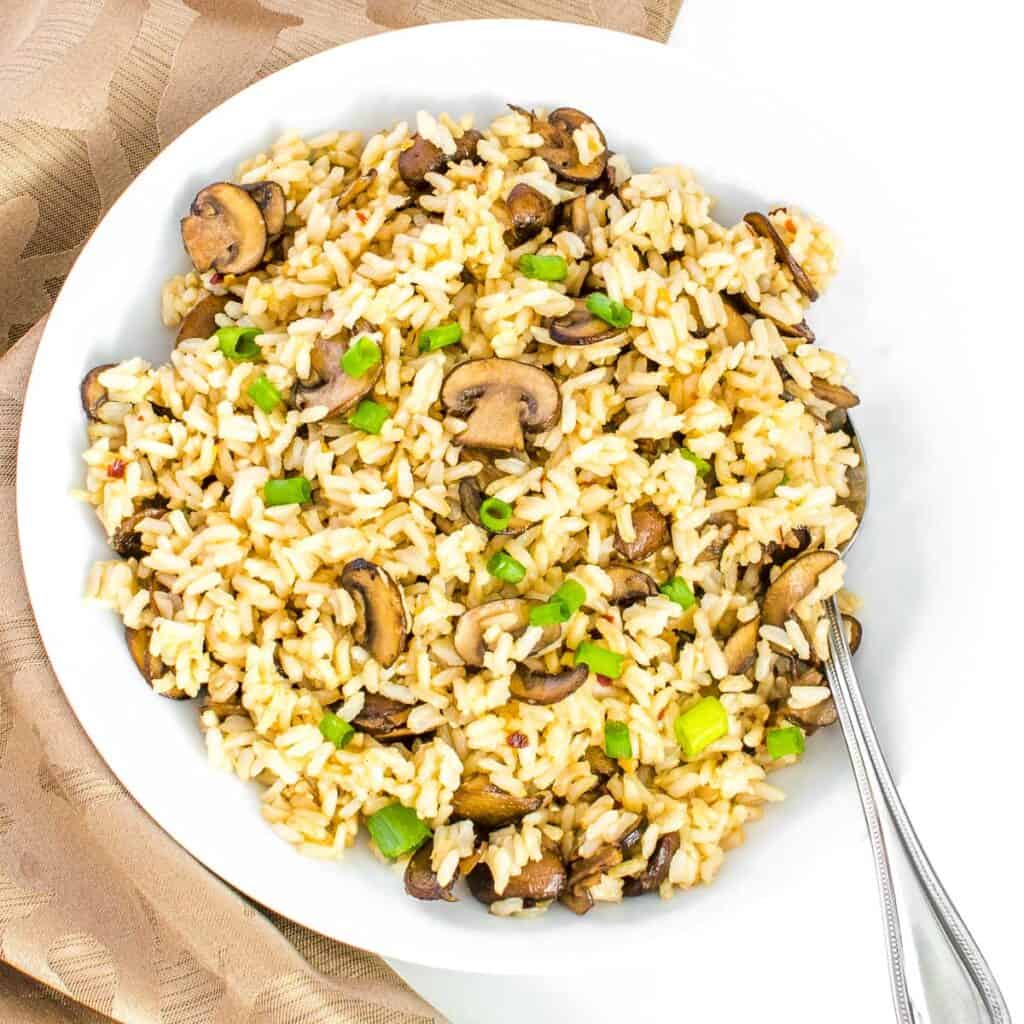 We are genuinely fond Chinese recipes, therefore, I keep trying and experimenting vegan versions of my favorite dishes like vegan dumplings and vegan spring rolls.
It's always healthier to cook at home and also I get the opportunity to include as many variations as I want to it.
But mostly, I try and create the restaurant style Chinese food with a healthier twist. This of course is absolutely guilt free and yet satisfying.
What is fried rice?
It is basically steamed white/brown rice stir fried in little oil along with vegetables, protein and soy sauce.
In this recipe I decided to feature mushrooms in a fried rice.
To add more variety in our diet, I also make tofu fried rice very often.
Why I chose brown rice?
Brown rice has more fiber as compared to white rice. It is chewy and even though takes a bit longer time to cook but is a great source for Vitamin B2 (riboflavin). This also provides folate along with calcium and potassium. Moreover, it is less processed as compared to white rice.
My family loves to indulge in rice and its our staple in India. Therefore, we grew up eating rice every day.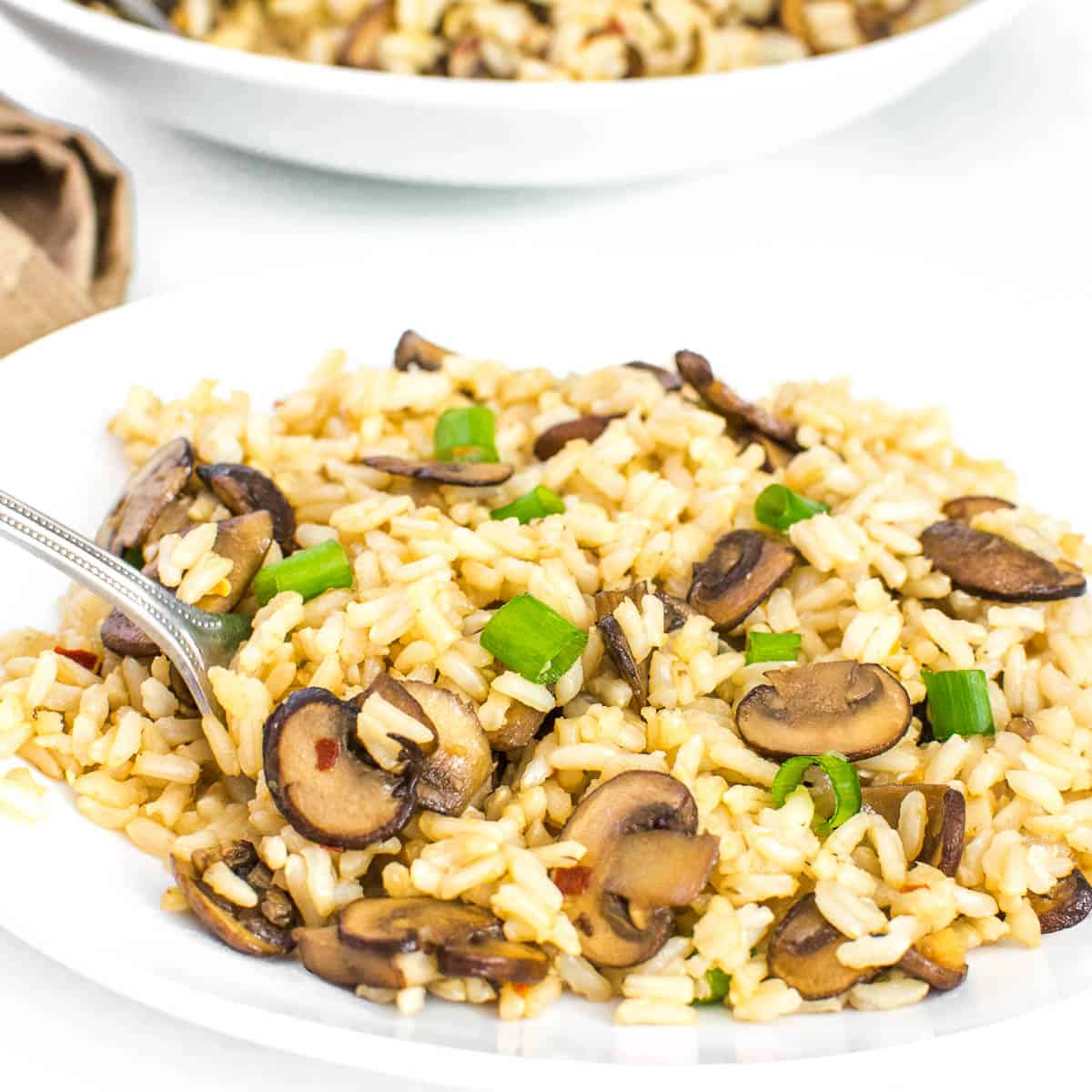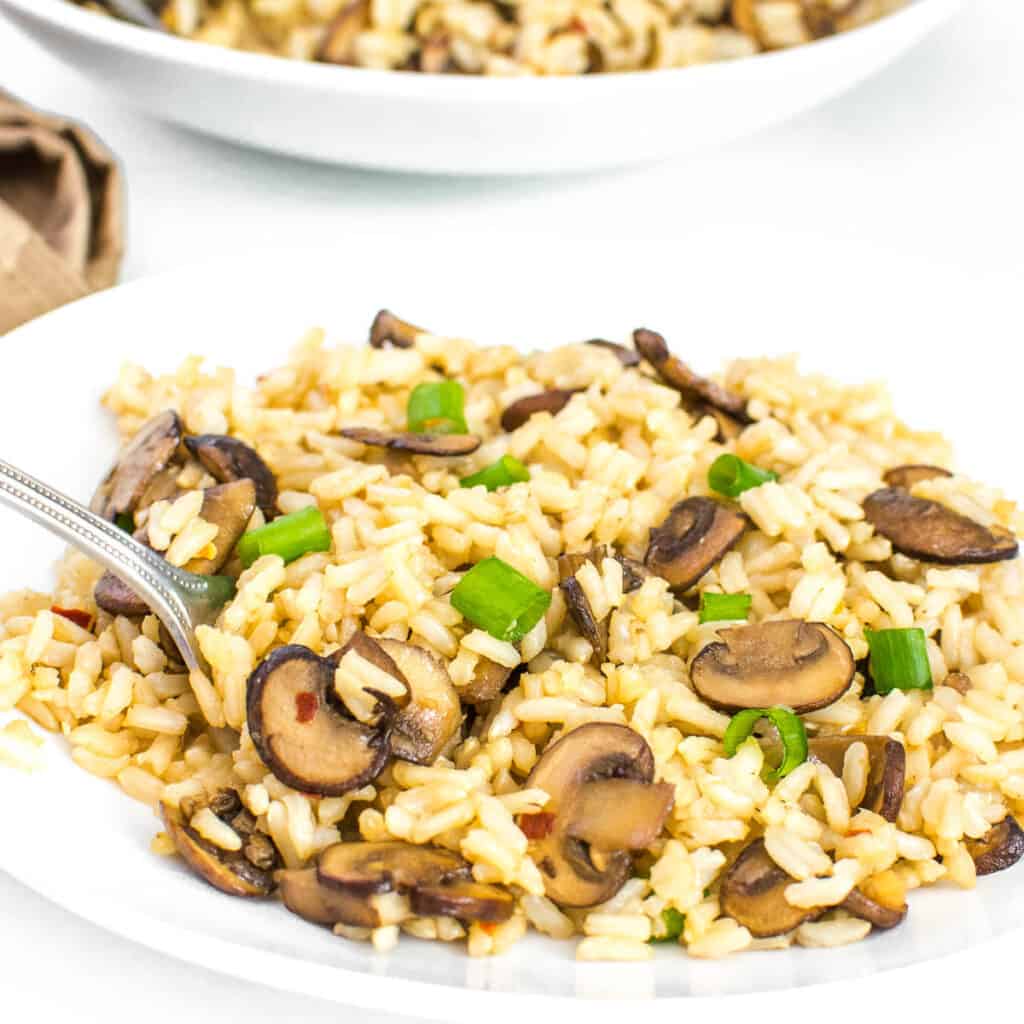 However, I was able to get my girls get the taste of brown rice. They loved it and now we regularly enjoy it.
If cooked well it tastes delicious with a dash of vegan butter. So, when I sautéed it with the rest of the ingredients, I was extremely happy with its aroma.
I served it for lunch as one dish and my husband instantly liked it. He asked it again the next day I decided to make it fresh.
Now that he likes this mushroom fried rice so much, I keep cooked brown rice ready in my refrigerator and sauté this recipe quickly whenever he desires.
It's a wholesome meal for me as well especially after an hour-long strength training.
If its dinner time I usually serve it with my popular sweet and sour tofu and we relish our Chinese dinner on a weeknight.
So, here I am to share this mushroom fried rice recipe with you all.
Ingredients you will need
Brown rice
Sesame oil
Baby Bella mushrooms
Ginger
Garlic
Scallions/green onions
Soy sauce
Chili flakes
Salt
I have used these easily available ingredients which you may buy from any local grocery store. However, I have provided links to few of them here for your convenience.
If you plan to buy from these affiliate links then I get a small commission which in turn encourages me to bring in more delicious recipes for you all.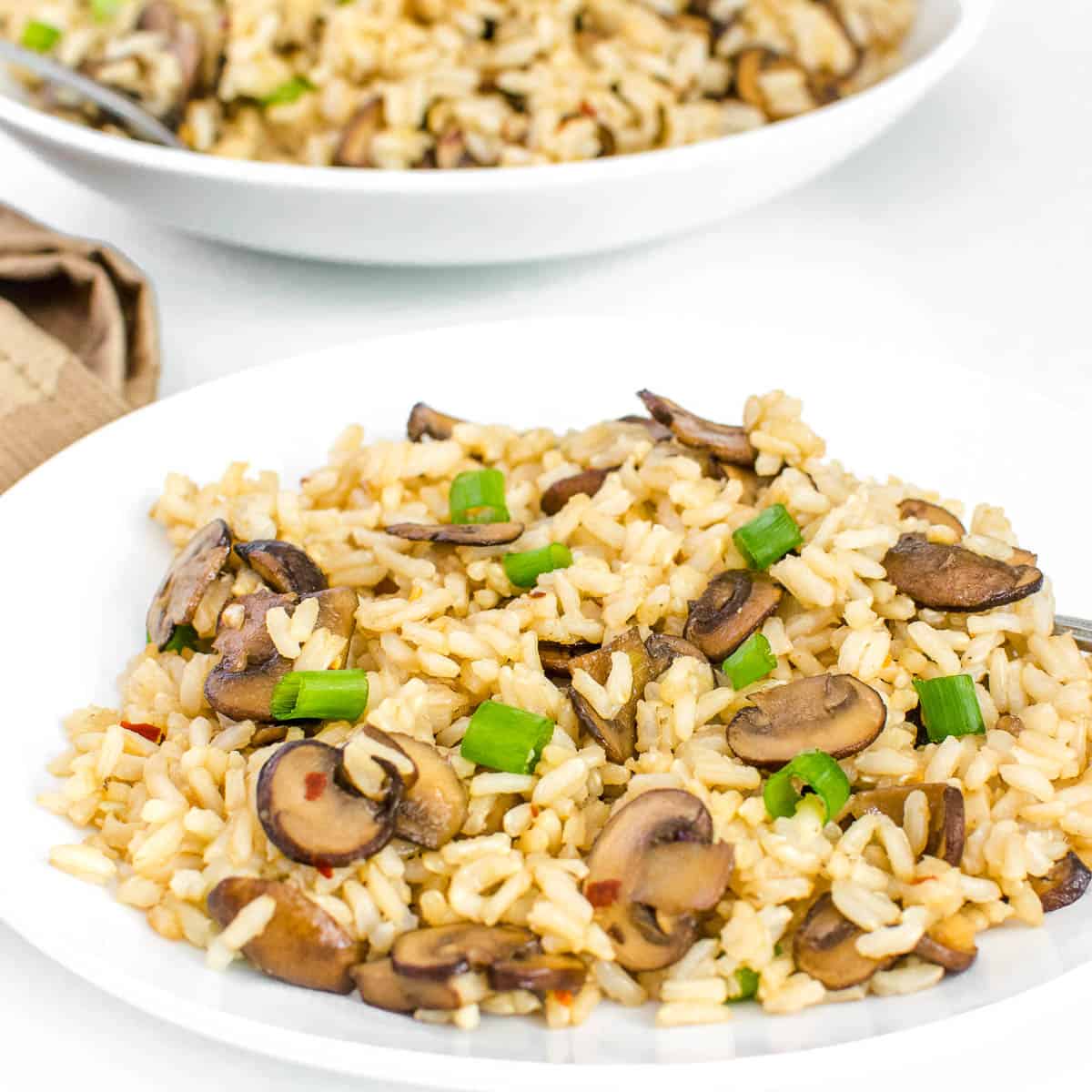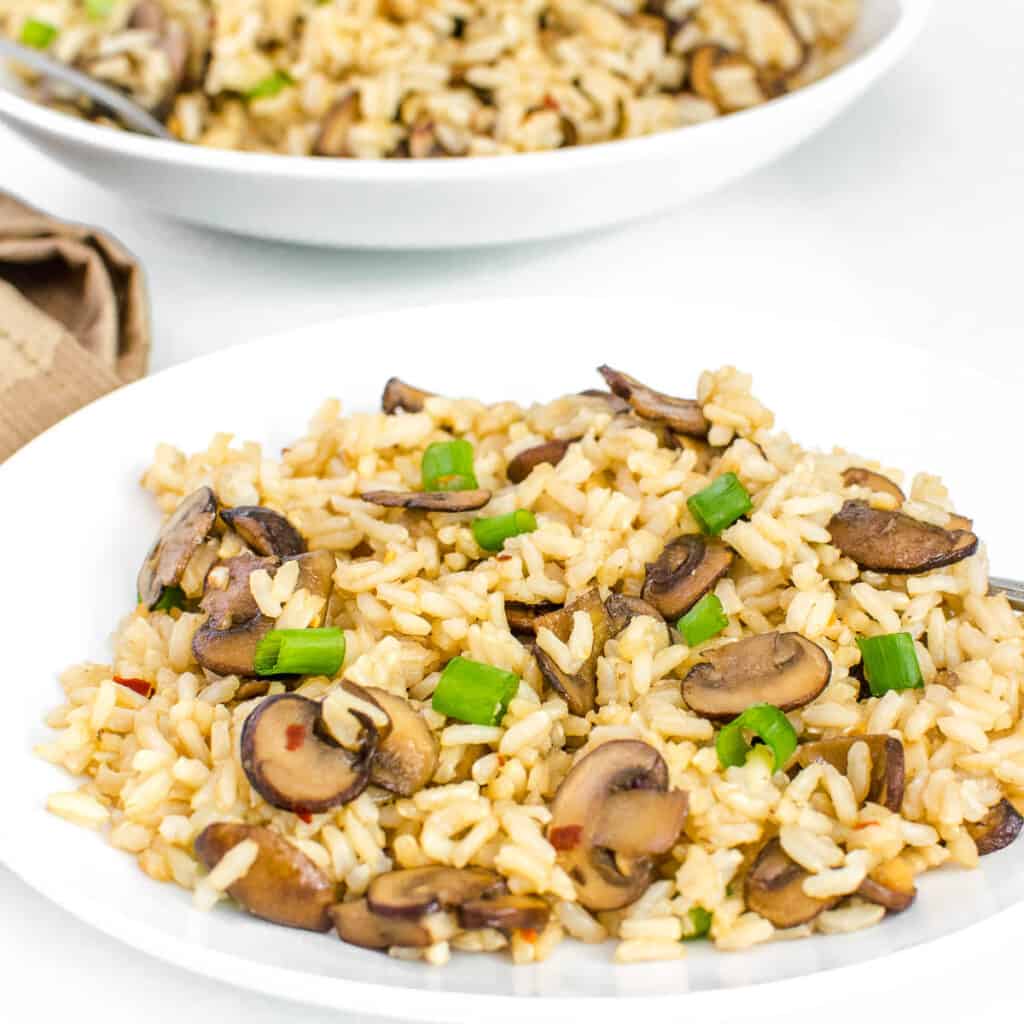 Ingredients notes:
Brown rice – cook it well as per the package instructions or follow the instructions provided below in this recipe. It must be chewy yet soft in texture. Long grain brown rice works best here. However, you may substitute it with long grain white rice as well.
Baby Bella mushrooms – I like its taste, color and the final outcome. Moreover, its easily available and the most popular kind of mushrooms. However, you may use buttoned white mushroom too here.
Sesame oil – olive oil also works great but sesame oil adds a bit of extra flavor to this Chinese mushroom rice.
Scallions – we need both the white and its green part for this recipe. The white part of scallion is used while cooking and the green part is used for garnishing. Therefore, this is the best way to use the full scallion without any wastage.
Soy sauce – I recommend using low sodium soya sauce here to monitor the sodium intake. However, dark soy sauce also works great also. Just be careful when adding salt.
For detailed measurement of ingredients, please scroll down to the printable recipe card.
How to make Mushroom Fried Rice
Step1: how to cook rice
Firstly, I thoroughly rinsed uncooked brown rice which also helps washing away extra starch from it.
Secondly, I combined it with 2 cups water in a saucepan and cooked at high flame until it started to boil.
Then, I stirred it and let it cook until half of the water was absorbed.
Thereafter, I turned the flame to medium and covered the top of the saucepan with the lid. I made sure to leave a little gap for the steam to escape.
I let it cook until all the liquid was absorbed. Then I turned it off and fluffed with a fork.
Later, I kept it aside.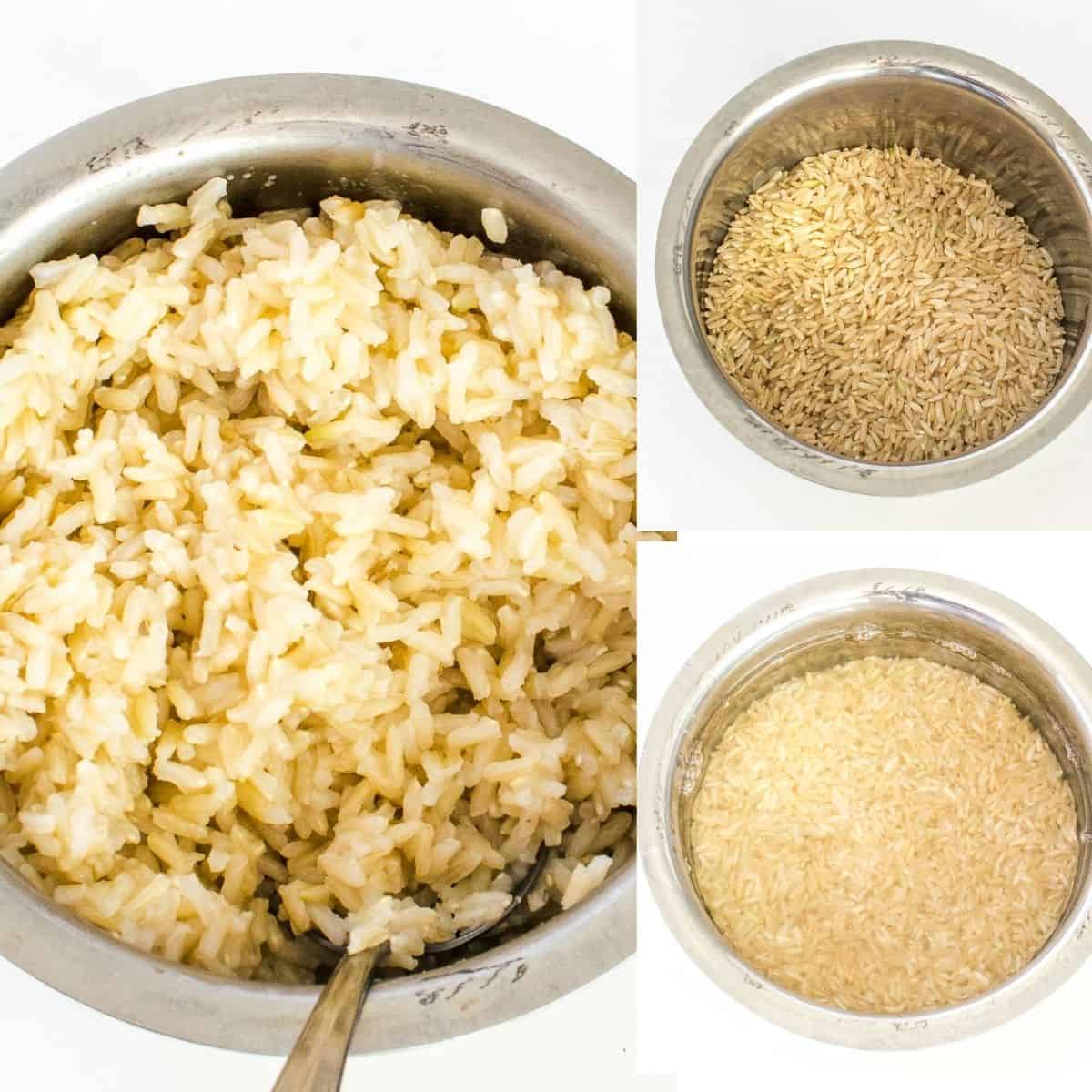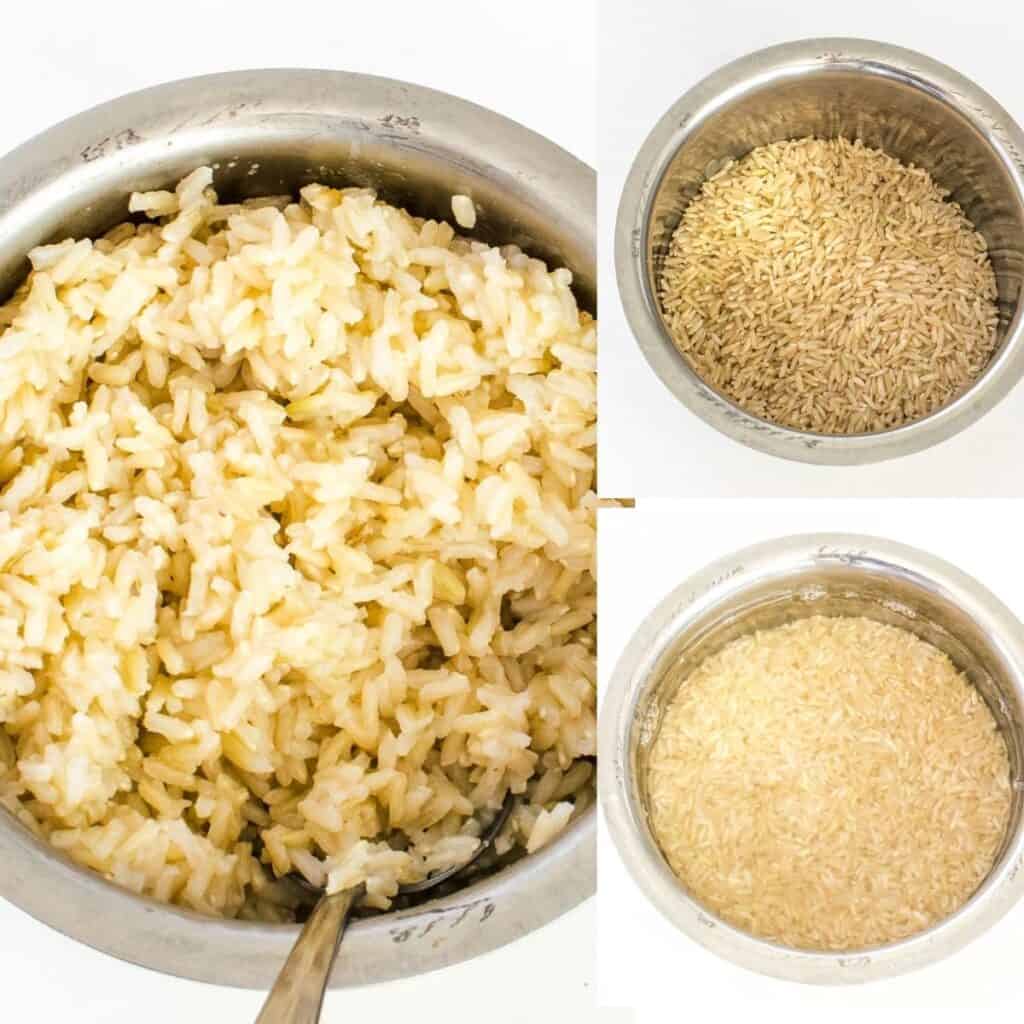 Step2: how to prepare mushrooms
Firstly, I rinsed them thoroughly under the running water.
Secondly, I lightly dapped them with kitchen towel and sliced them.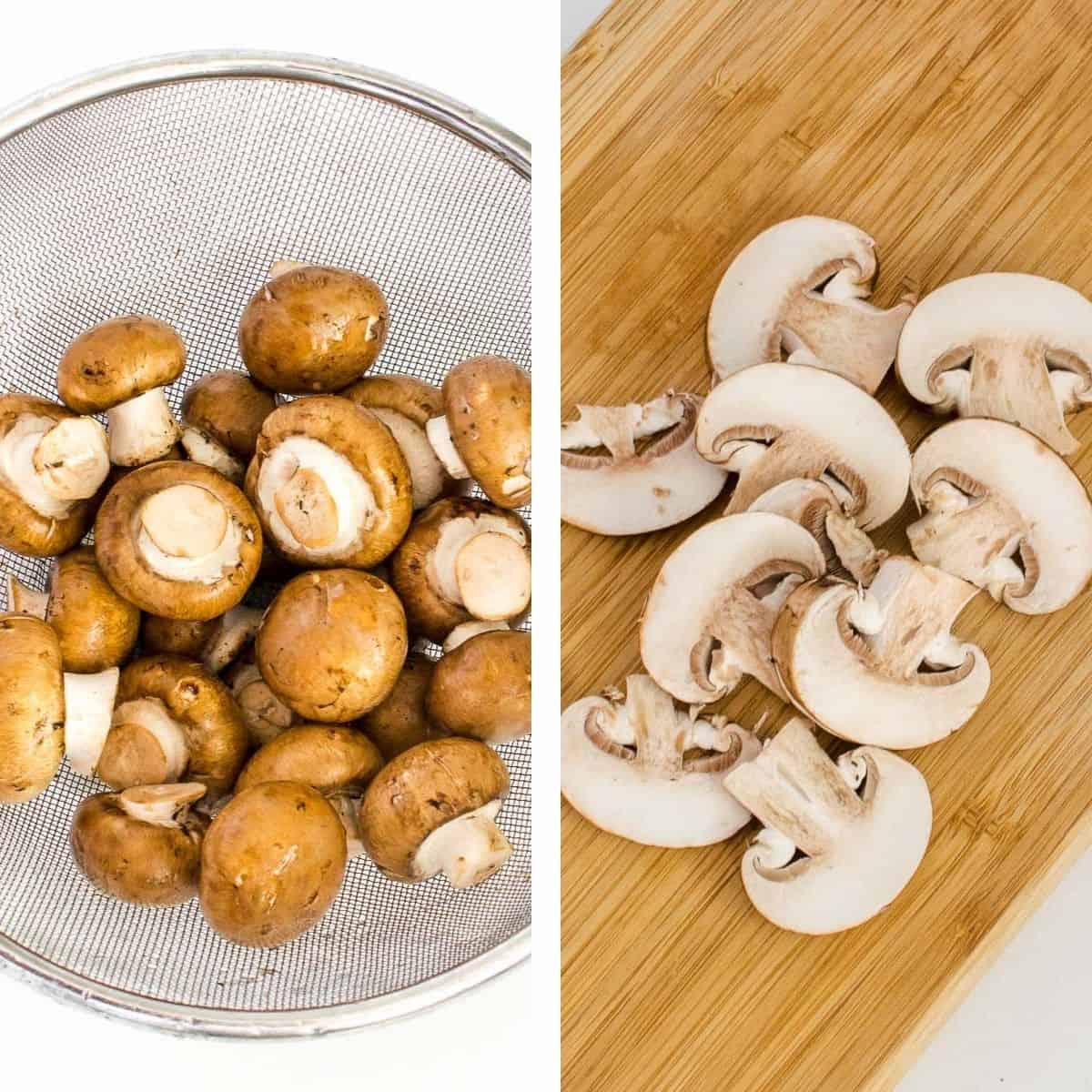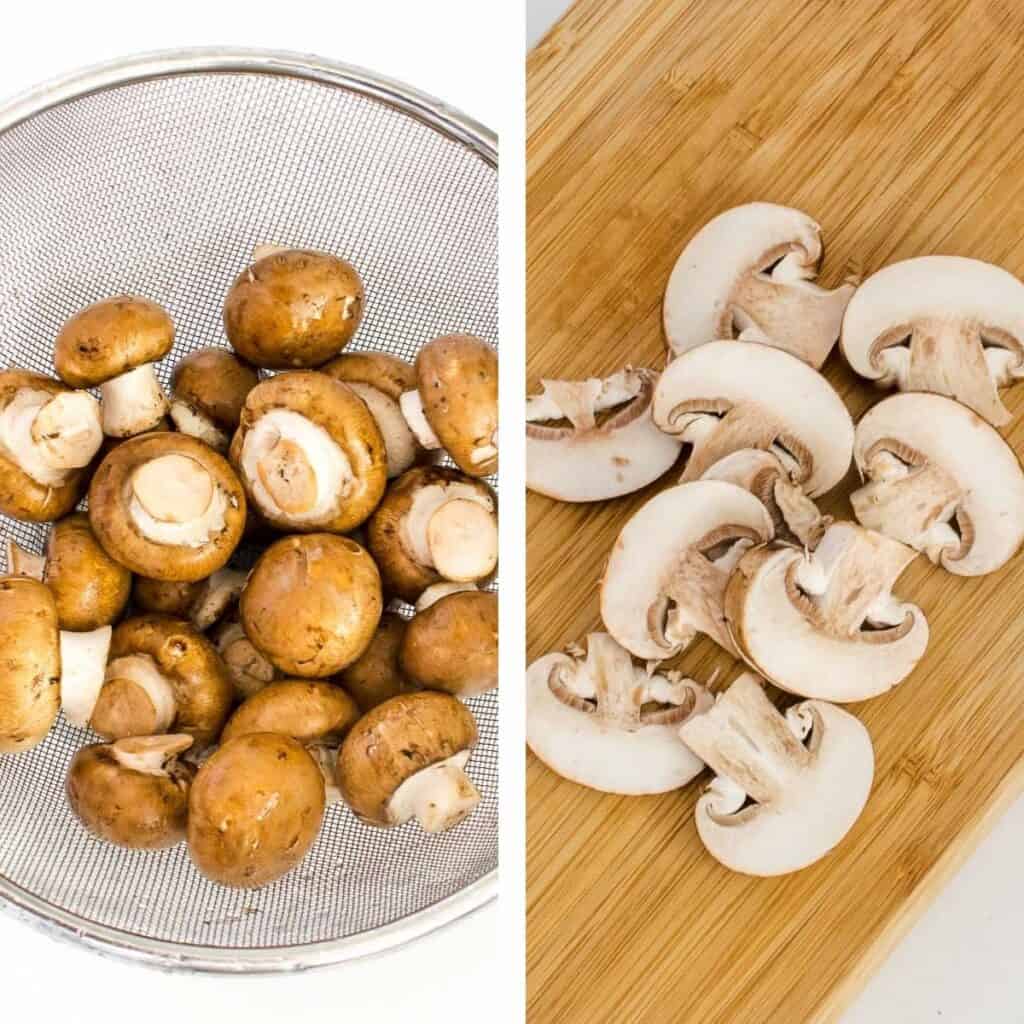 Step3: how to assemble
Firstly, I heated oil in a nonstick pan/wok and sauteed mushrooms until they were brown and cooked well.
Secondly, I added ginger, garlic and scallions to it and mixed them.
Thereafter, I added soy sauce, chili flakes and salt to it. I mixed it again.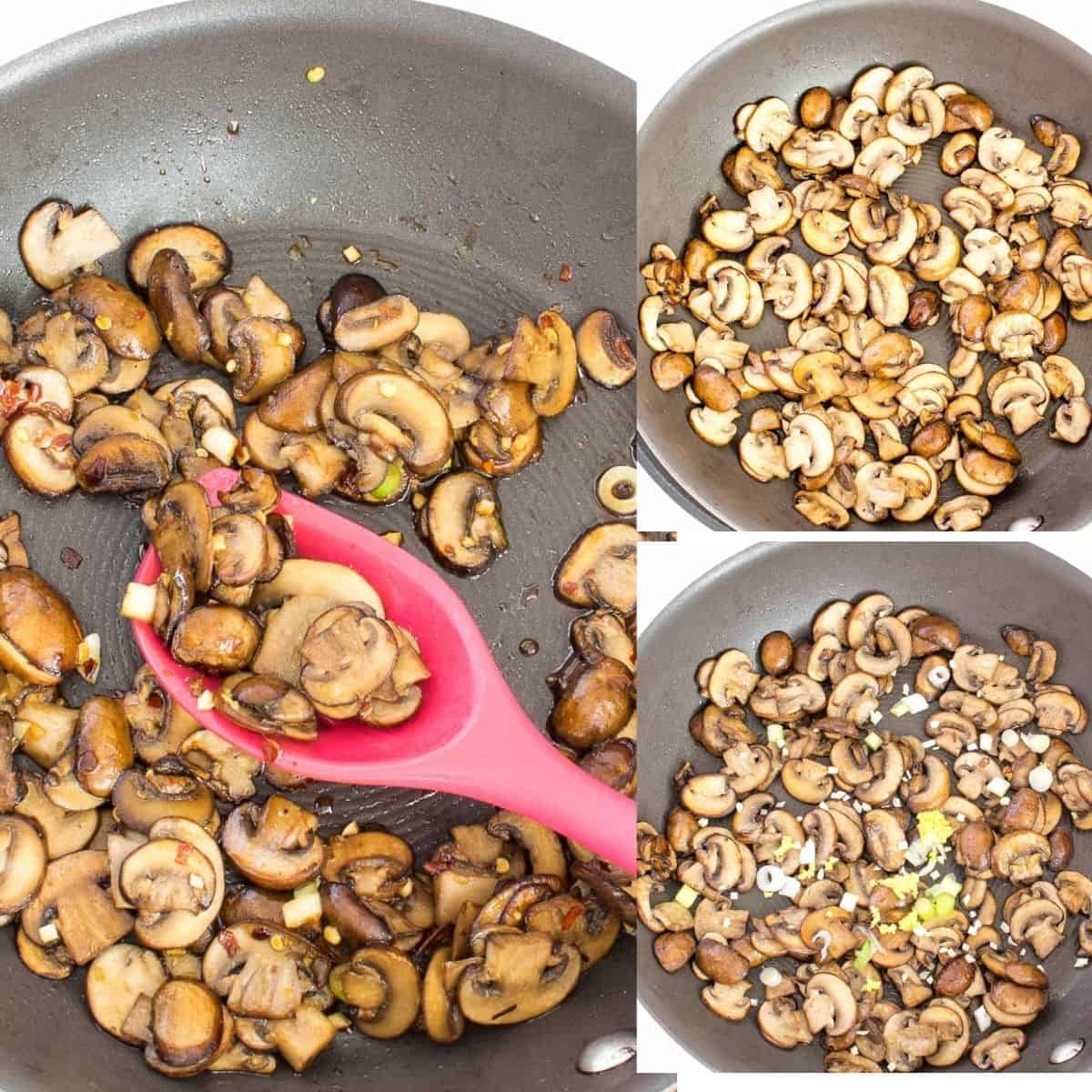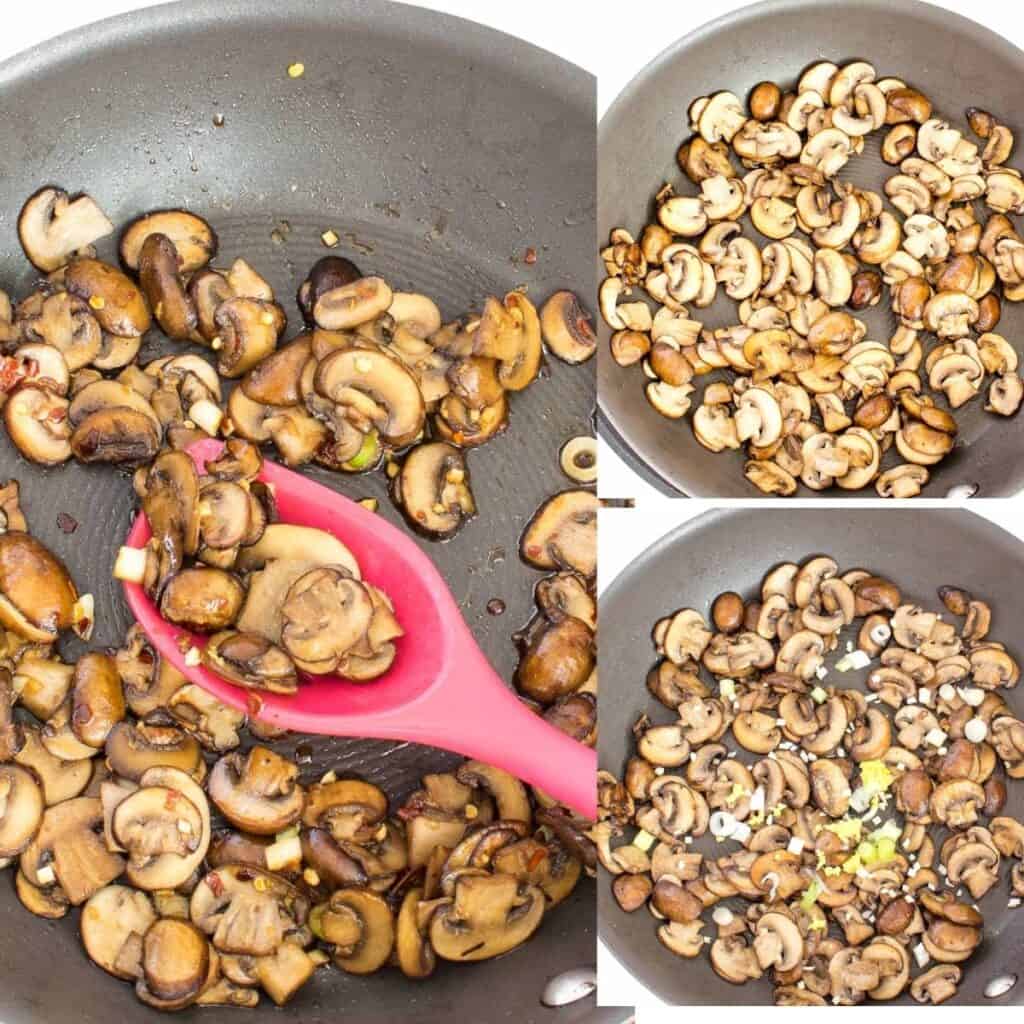 Afterwards, I folded in cooked brown rice and mixed well.
Then, I let it cook for 2 minutes at low flame. Later I mixed it again scraping from the bottom.
Lastly, I turned it off and garnished with green onions and served it hot.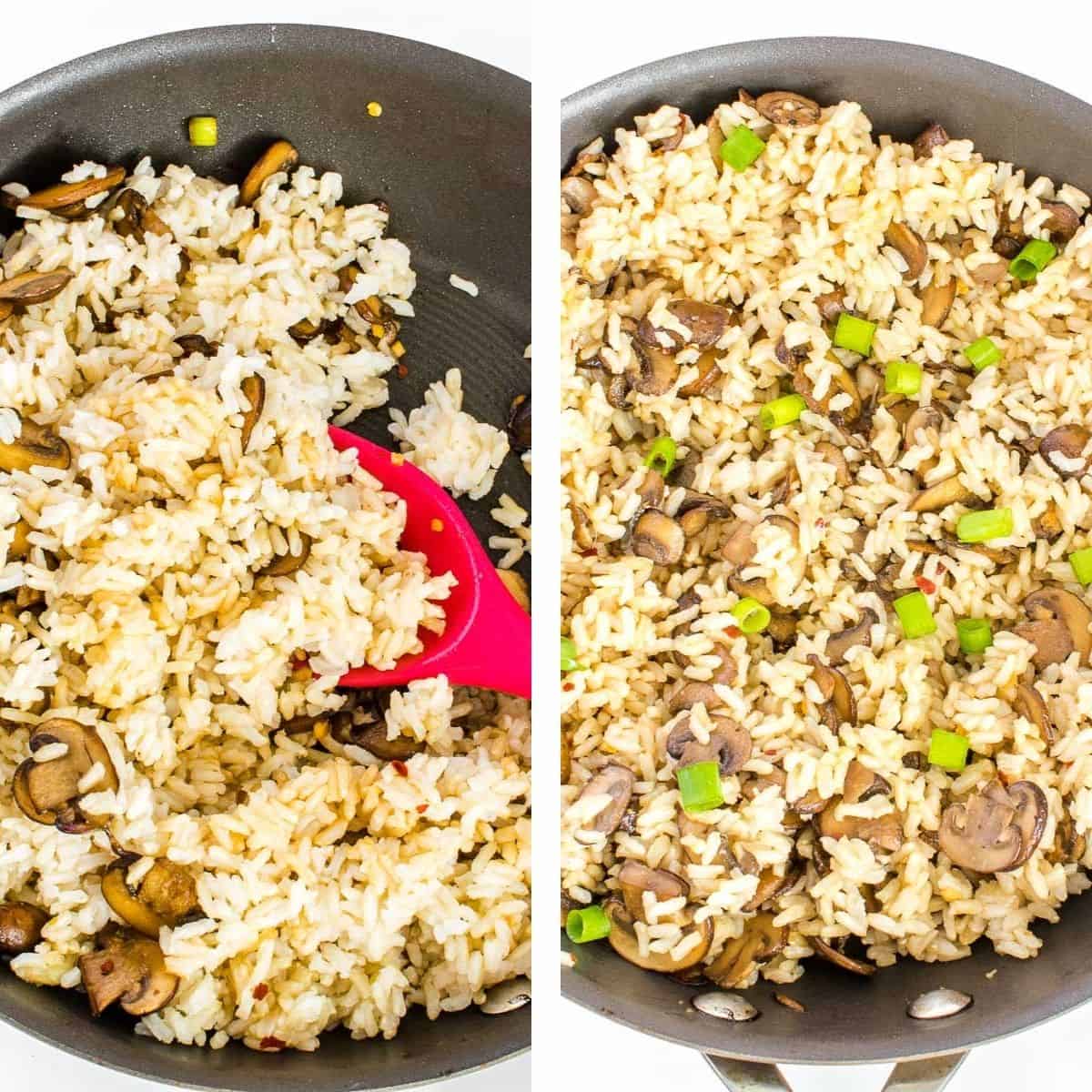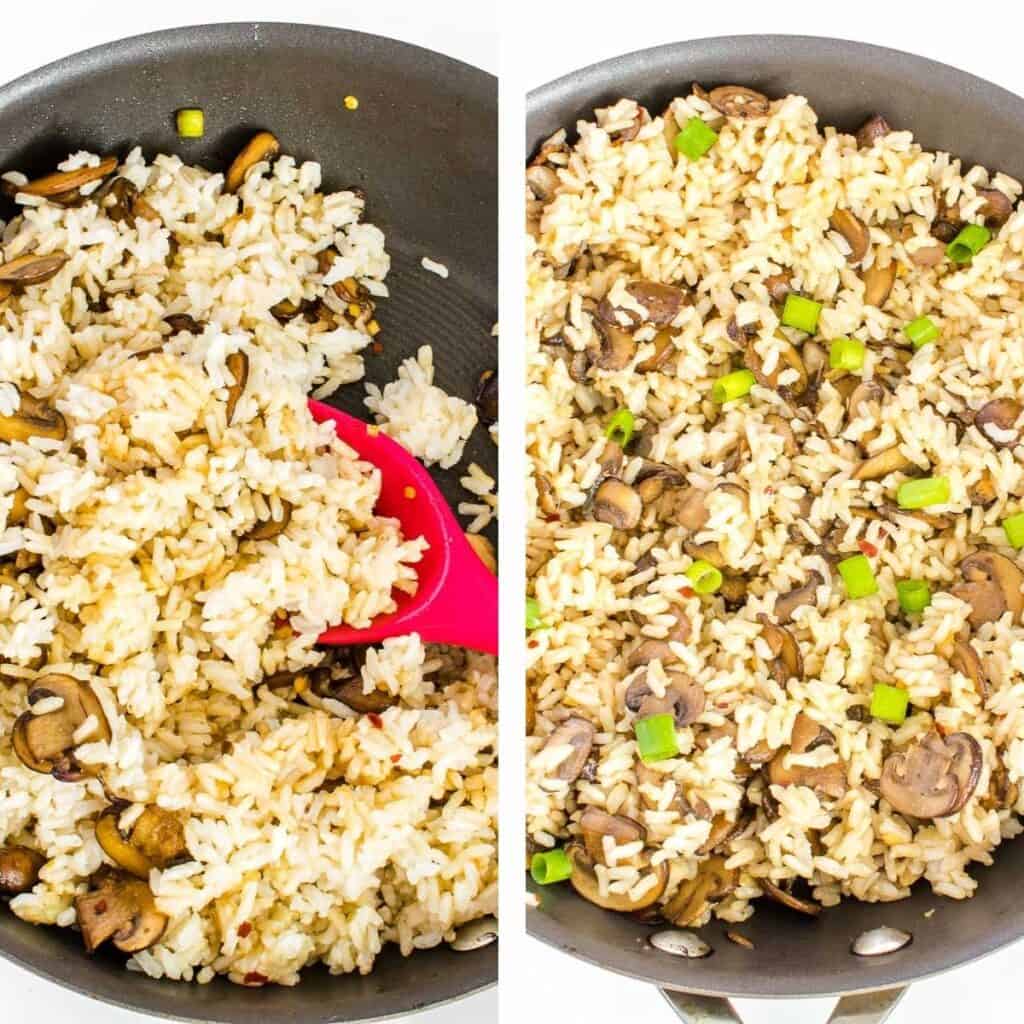 We loved it. This has become our staple. It's a healthier dish with balanced vitamin D along with complex carbohydrate.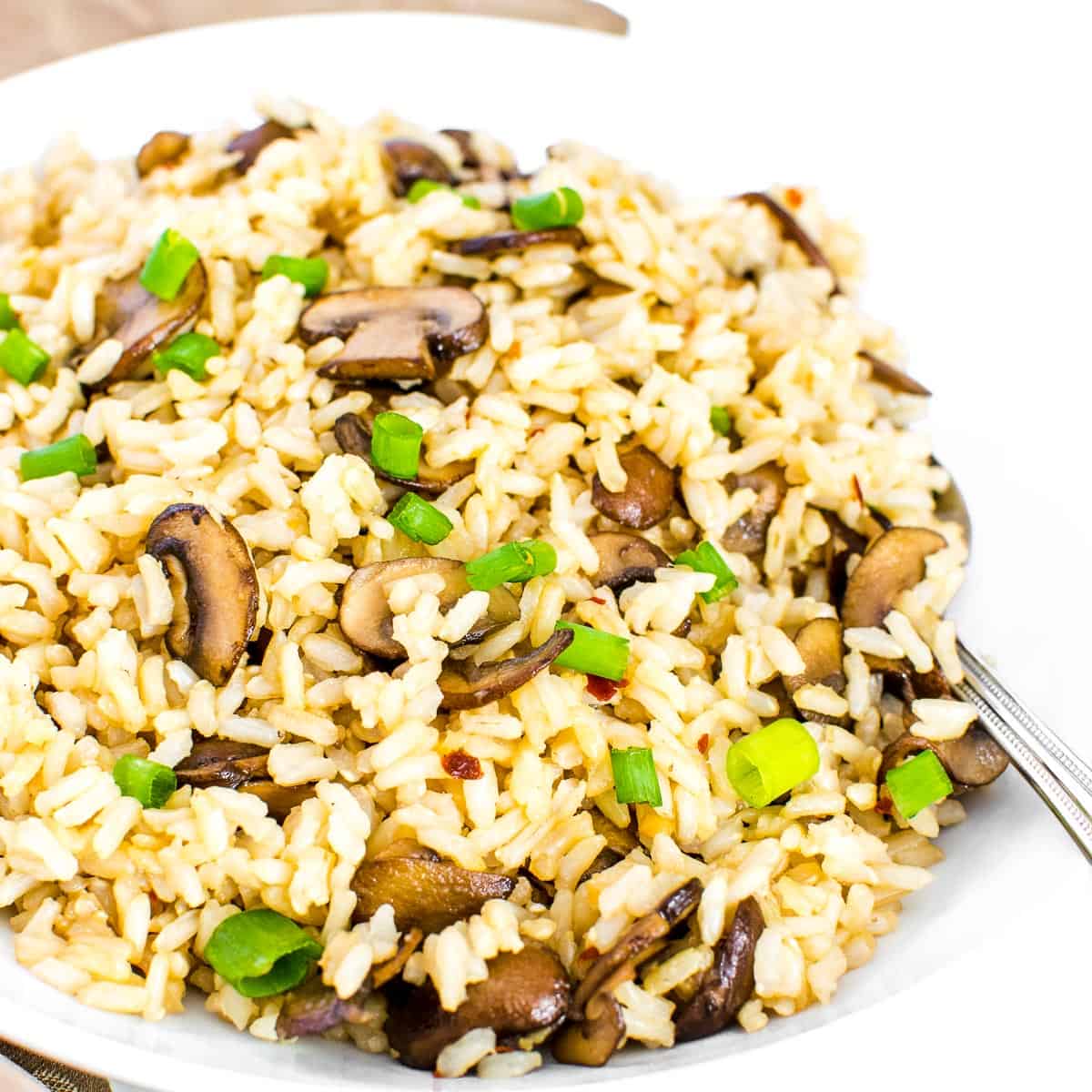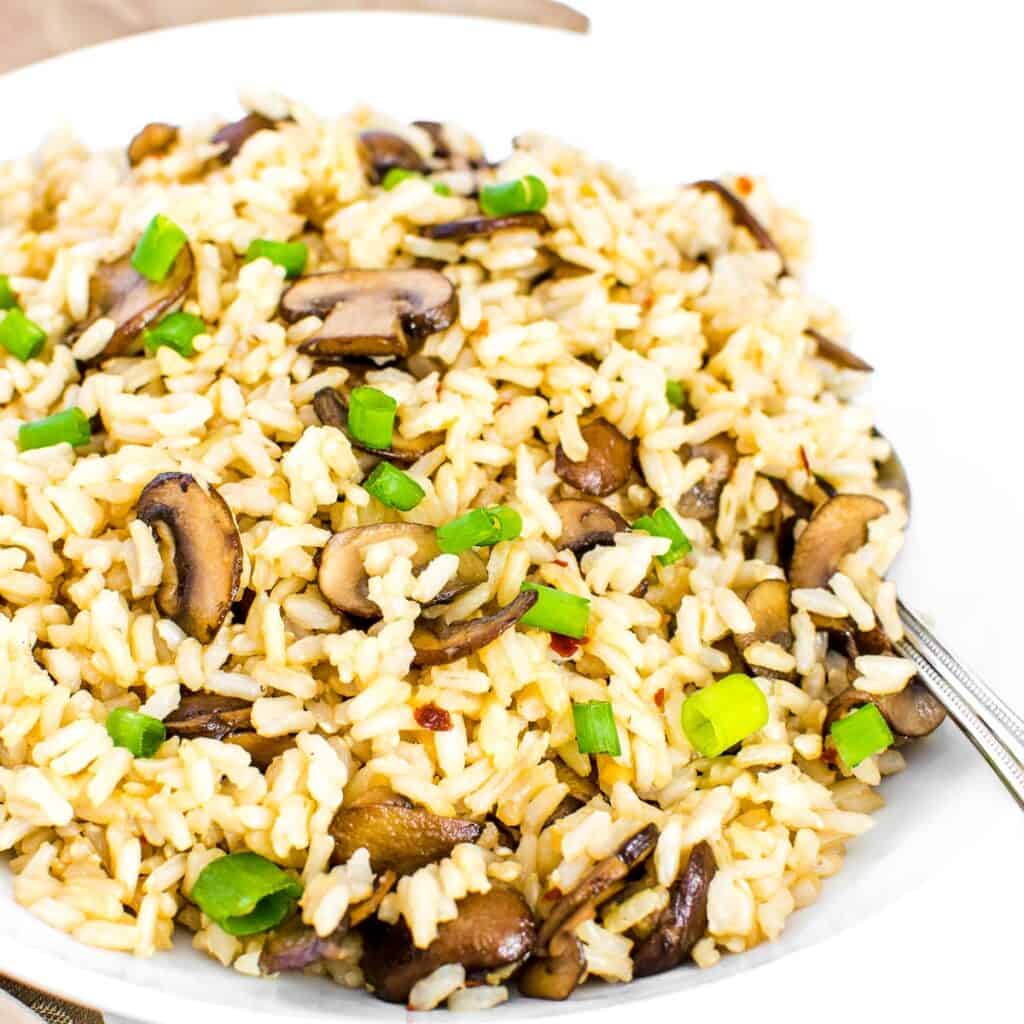 Simply pair it with your favorite protein and make it a complete meal.
Expert tips:
It is important to let the brown rice cook at medium flame. The slow cooking method works best and makes it soft, chewy and delicious.
While sautéing mushrooms, make sure these are cooked thoroughly. These should be brown in color and will shrink in size as they cook through.
It is important to let this recipe stand at low flame only for 2 minutes. Do not exceed this time or else it will start crisping.
Mushroom Fried Rice FAQs
How long does it last?
This taste best when served immediately. However, the leftovers can be refrigerated in an air tight glass container for about 2 weeks.
How can I prep for this ahead of time?
Either you can make the entire recipe and refrigerate or simply refrigerate the cooked brown rice. Make sure to bring it to room temperature before storing. Then, when ready, toss it with the rest of the ingredients and enjoy it fresh.
How does it taste?
Its chewy with salty taste and a hint of spicy flavor.
How can I make it restaurant style?
First of all, make sure to use long grain brown rice. Then, when you fold it in the pan with the other ingredients do not stir too much. After few mixes spread it and let it sit at low flame for 2 minutes. It will start crisping. Turn it off and mix gently scrapping from the bottom to get the right texture.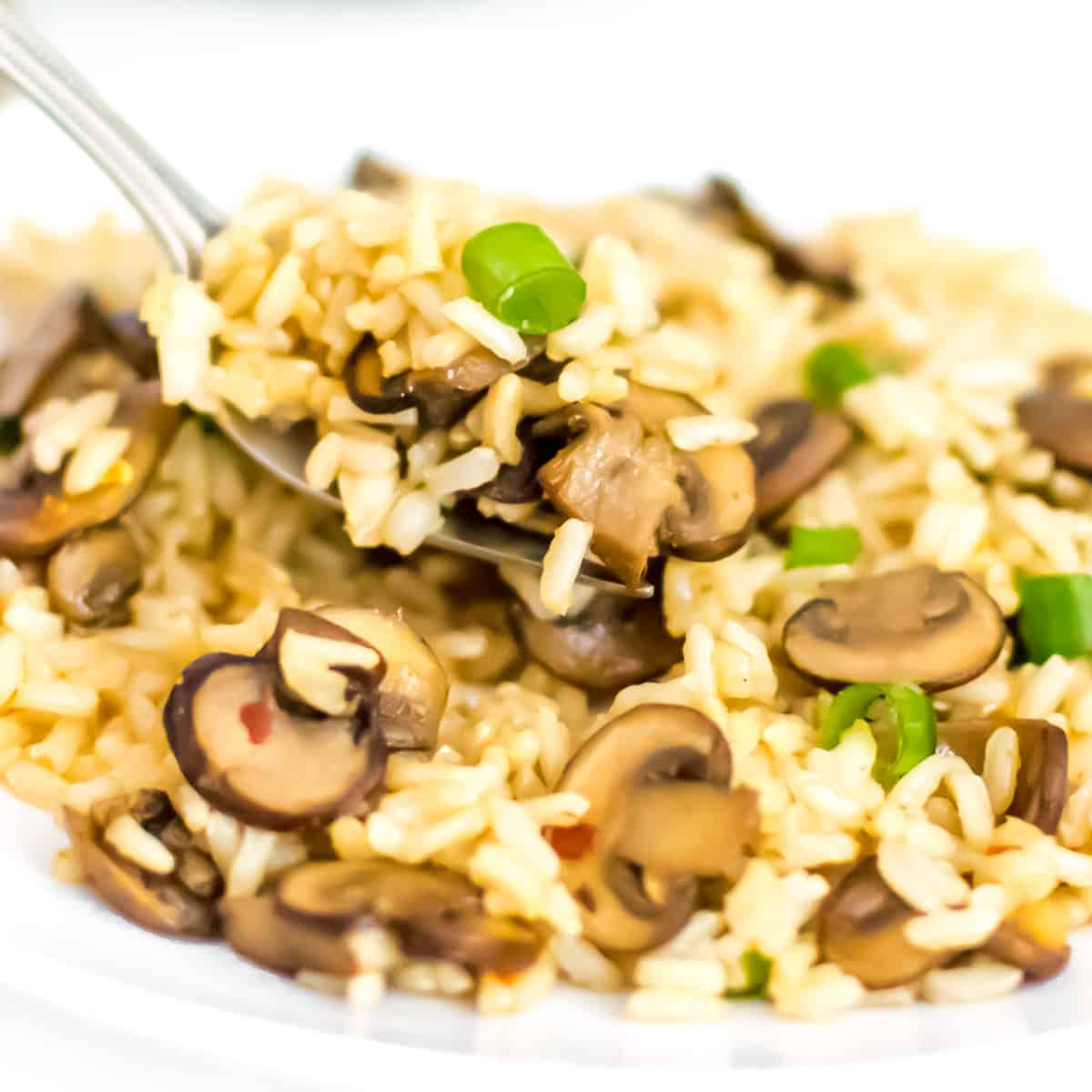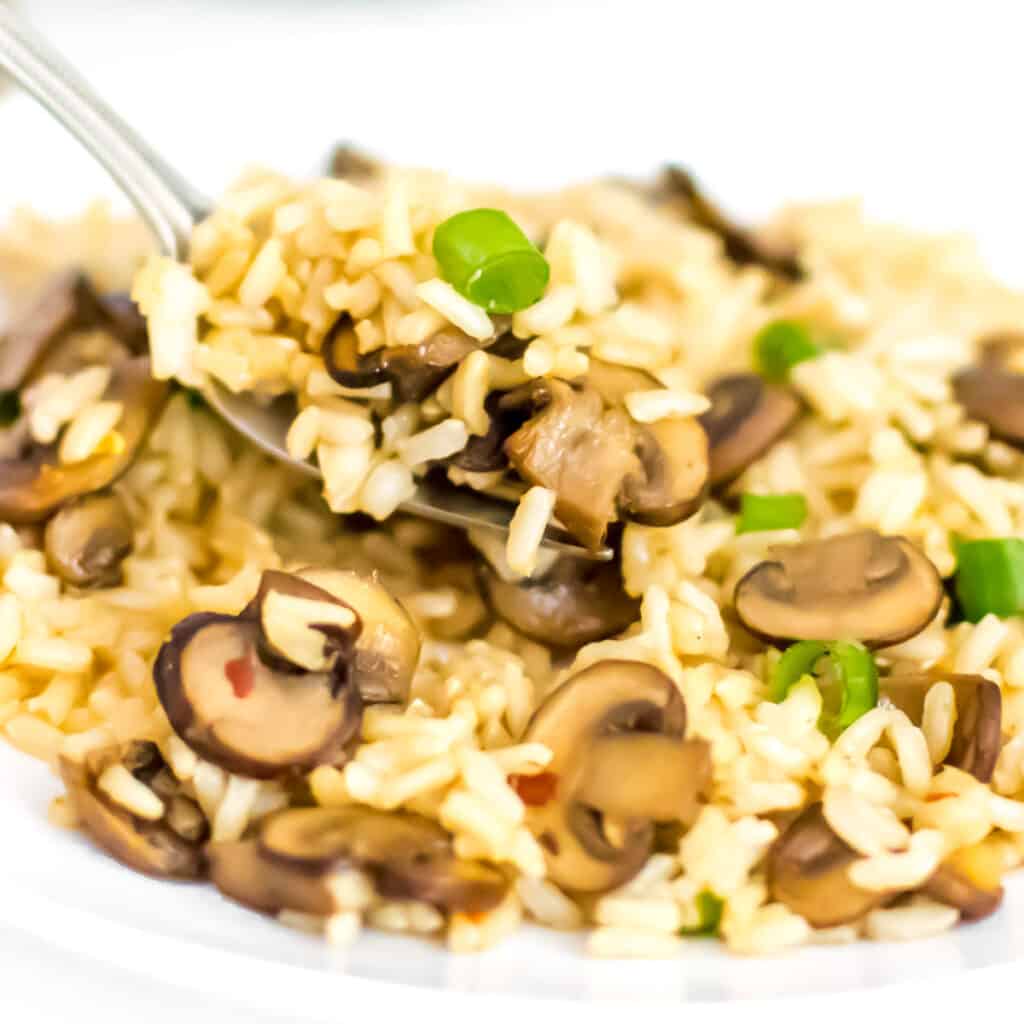 Hungry for more?
If you are enjoying this recipe then you might like instant pot coconut rice, vegan mushroom red rice soup, butternut squash black rice salad, brown rice tofu scramble and many more.
Did you make it?
If you get a chance to make this recipe then please leave your feedback in the comments with a 5-star rating. In addition, you may tag @kiipfit on Instagram with your recipe remake images because we would love to see what you cooked.
You may also checkout my cookbook for everyday comfort vegan recipes.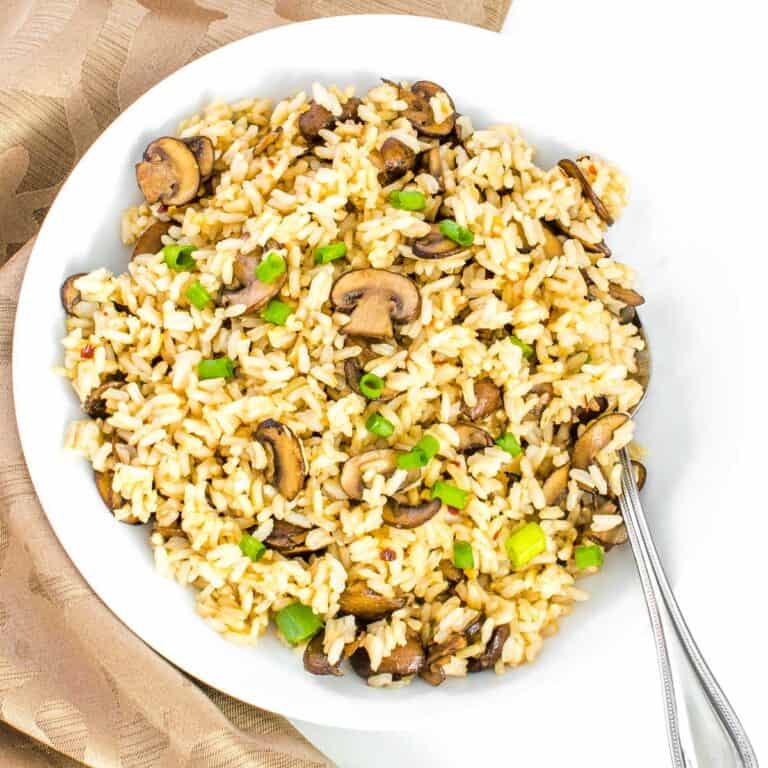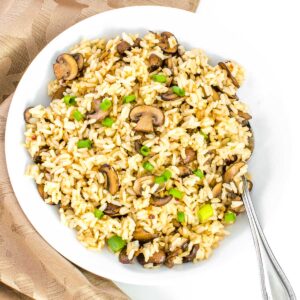 Print Recipe
Mushroom Fried Rice
This vegan Mushroom Fried Rice is budget friendly and a comforting meal with Chinese flavors. It's made with 10 simple ingredients. This recipe is perfect for meal planning and is an excellent lunch option too.
Instructions
Rinse brown rice and combine it with water in a sauce pan. Let it cook at high heat until it starts to boil and form bubbles. Stir and let it cook at high until it absorbs half of the water. Lower the heat to medium flame and let it cook half covered until all the water is absorbed. (Do not cover it fully with a lid because it will overflow). Turn it off and keep it aside.

In a nonstick pan/wok heat oil and toss in sliced mushrooms. Sauté at medium-high flame and let it cook for 5-8 minutes or until they are brown in color and well cooked.

Add, ginger, garlic, white portion of green onions (also known as scallion) and mix well.

Add soy sauce, chili flakes and salt. Mix roughly and fold in brown rice. Mix properly and let it cook at low flame for 2 minutes. Mix again from the bottom. Turn it off and garnish with green onions. Serve hot.
Notes
Brown rice can be cooked ahead of time and refrigerated for about a week. When ready just follow the rest of the instructions for this recipe.
If consuming it without any entrée or side dish then the servings would be 2.
If pairing it along with some entrée then the serving would be 4. Nutritional value in this case would be, Cal: 168 fats:8 Carb: 22 Protein:5
This recipe can be refrigerated in an air tight glass container for about 2 weeks.
Nutrition
Calories:
335
kcal
|
Carbohydrates:
43
g
|
Protein:
10
g
|
Fat:
15
g
|
Saturated Fat:
2
g
|
Polyunsaturated Fat:
6
g
|
Monounsaturated Fat:
6
g
|
Sodium:
547
mg
|
Potassium:
63
mg
|
Fiber:
1
g
|
Sugar:
1
g
|
Vitamin A:
125
IU
|
Vitamin C:
2
mg
|
Calcium:
19
mg
|
Iron:
1
mg