Light and fluffy this Vegan Chocolate Mousse is the ultimate dessert with delectable flavors. No cooking involved, perfectly sweetened has added protein. Only 5 ingredients and a blender are all you need.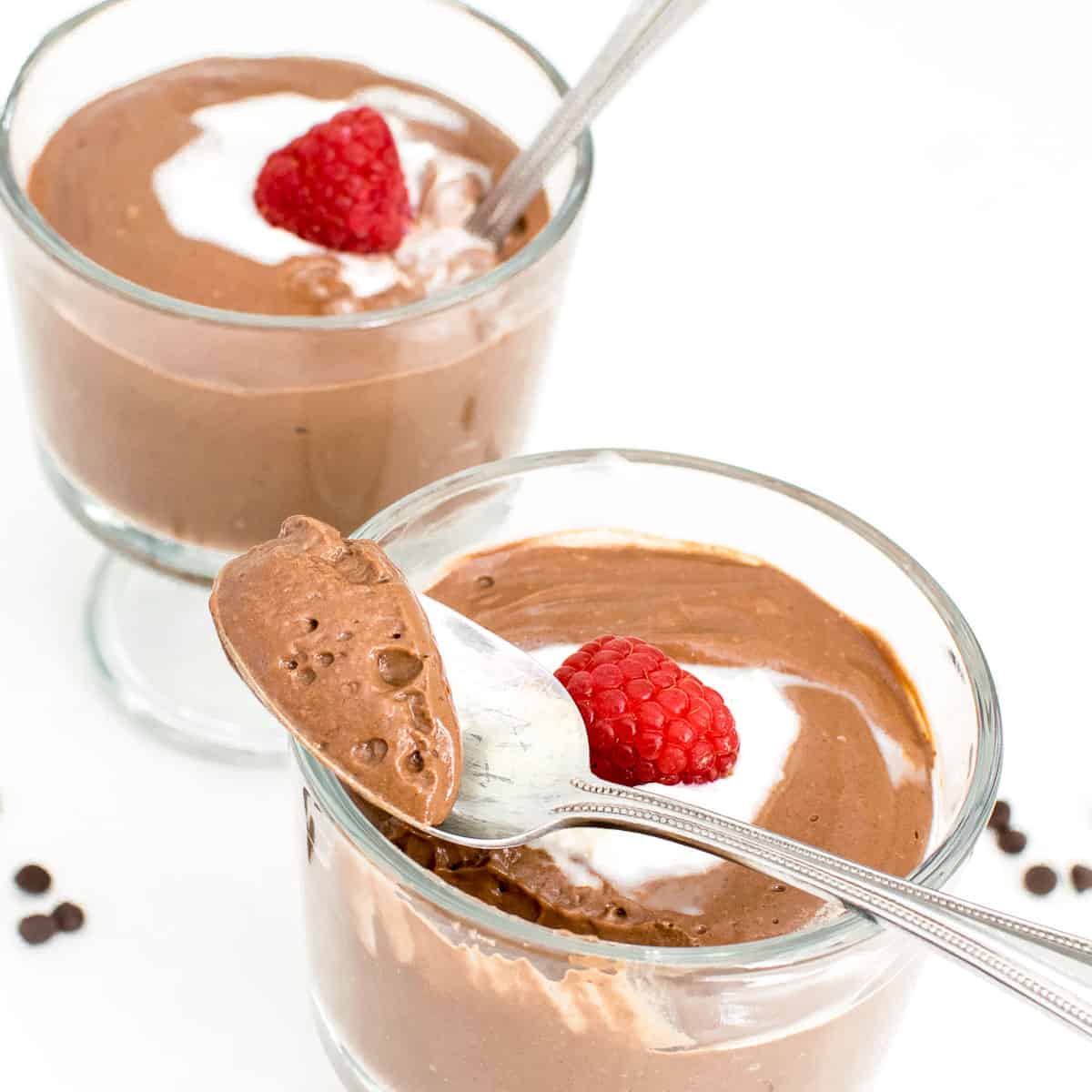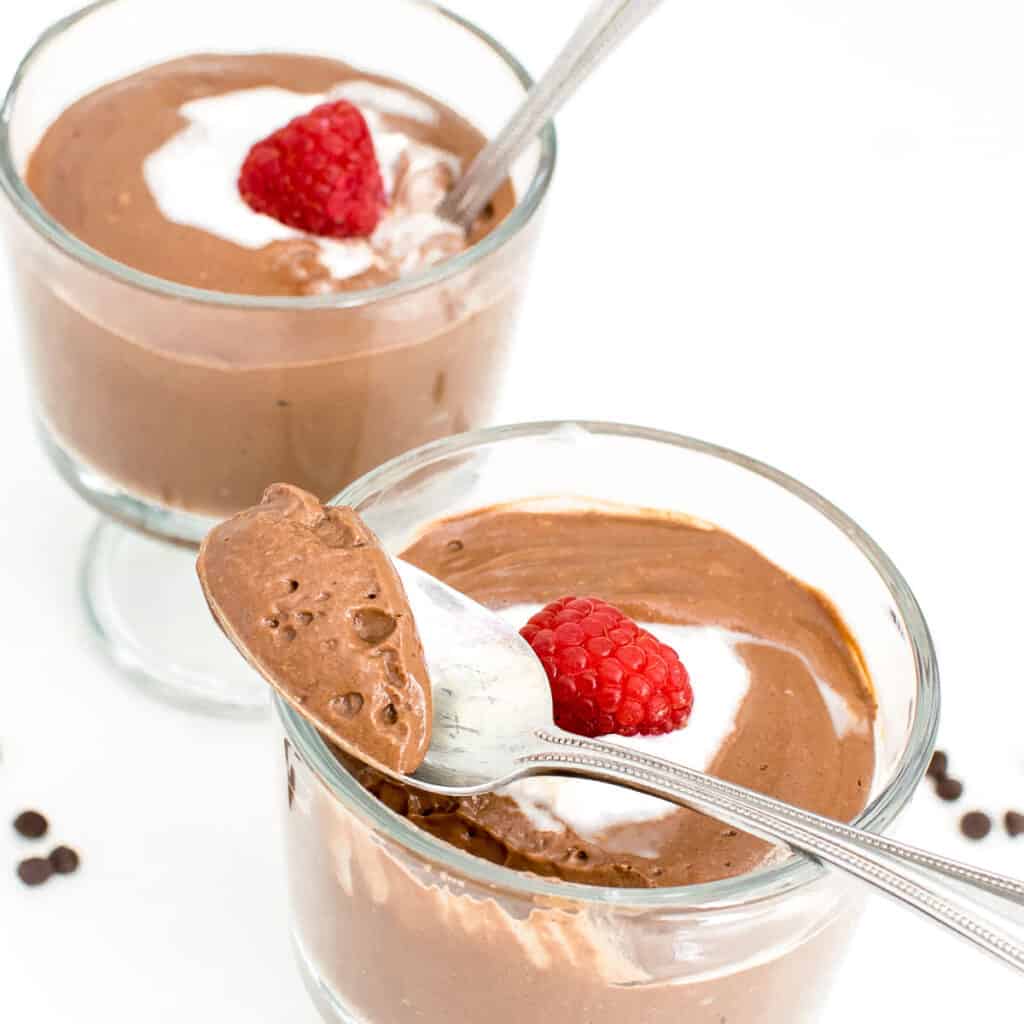 This is a rich and creamy chocolatey dessert that's lighter than air with a perfect texture. It's a dreamy dessert for all chocolate lovers.
So, for all the chocolate lovers I have a very easy yet healthier vegan chocolate cake recipe for you which is very popular among my friends.
I included silken tofu in this recipe to add protein and yet achieve the same comforting tastes. It worked like wonders. I was overjoyed to see my kids enjoying this. Also, I sweetened it naturally with dates.
I created vegan pumpkin mousse as well with silken tofu and its our favorite too.
Therefore, this healthy vegan chocolate mousse is our best choice and I am sure it will be yours too.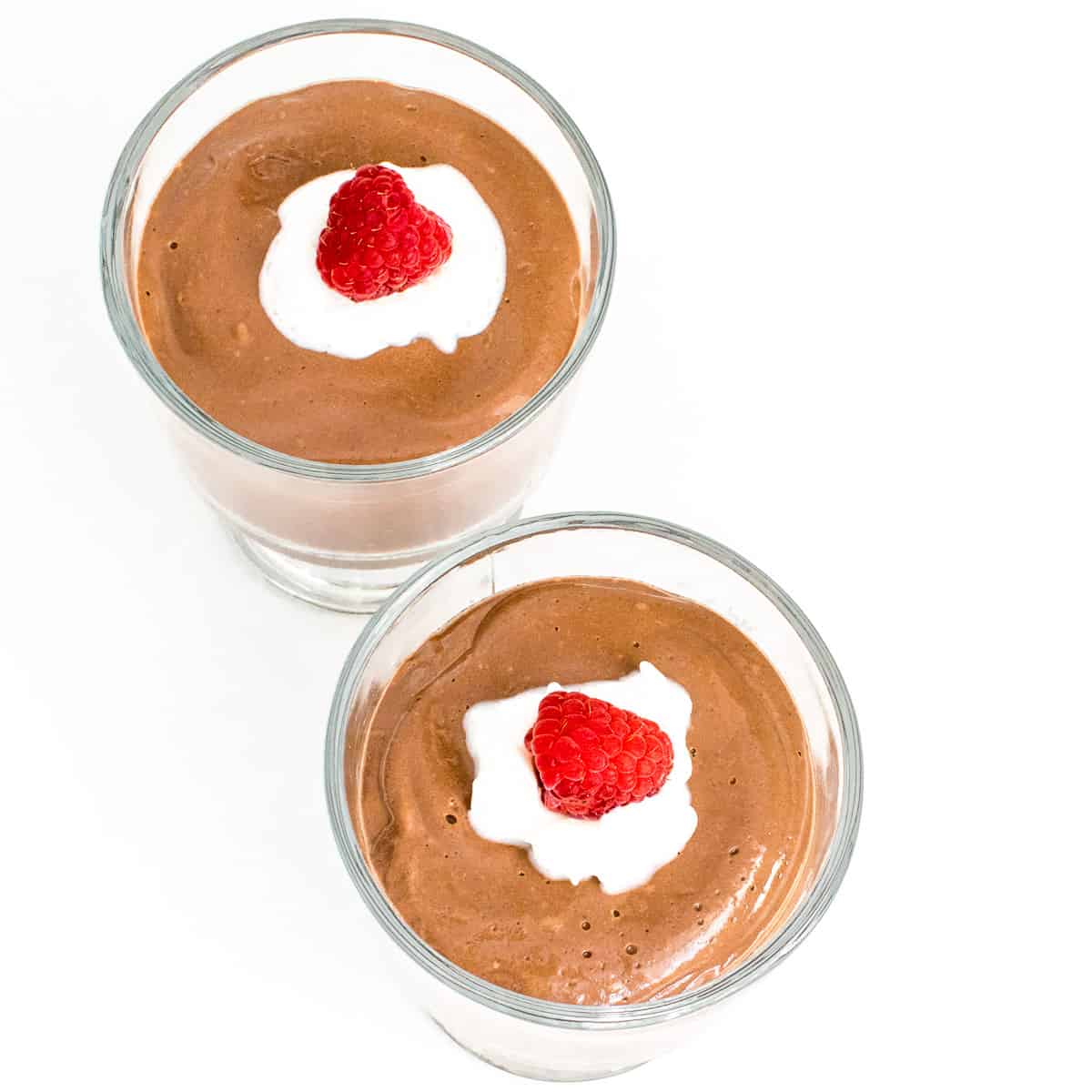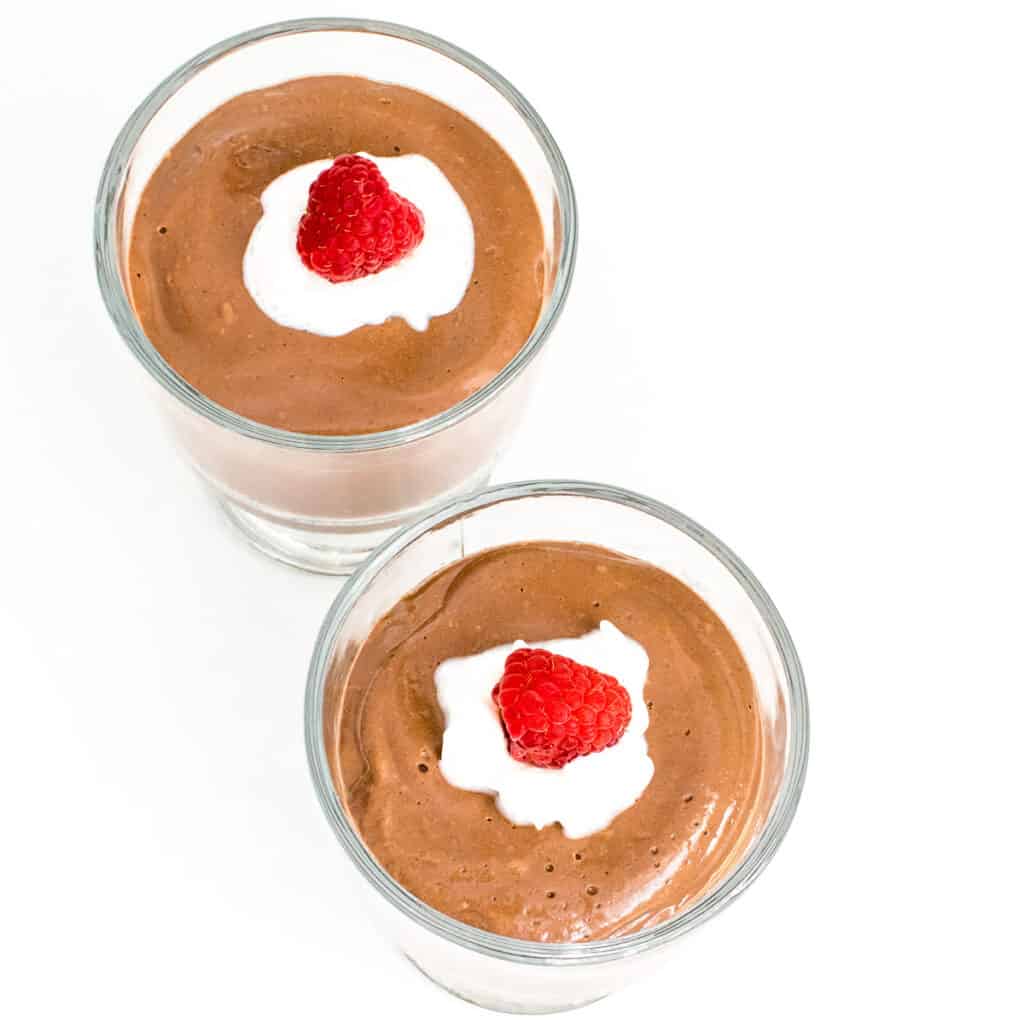 I have used silken tofu in my recipes earlier like in vegan omelette, vegan cottage cheese, lentil mustard green sticks but this tofu chocolate mousse is by far outstanding.
Personally, I enjoy it as is but my kids love it with some whipped cream.
What is chocolate mousse?
It is a French dessert and can be made into any flavor. However, chocolate is the most common and most desired one. It is a soft dessert that has air bubbles to give it a light and airy texture. Originally, it is made from eggs, heavy cream, butter and sugar.
However, due to varied diet types luckily, I found a great way to enjoy the same chocolate mousse in a vegan form and also healthier.
Therefore, this chocolate dessert is butter free, cream free and sugar free.
So, here I am sharing my vegan chocolate mousse recipe with you today.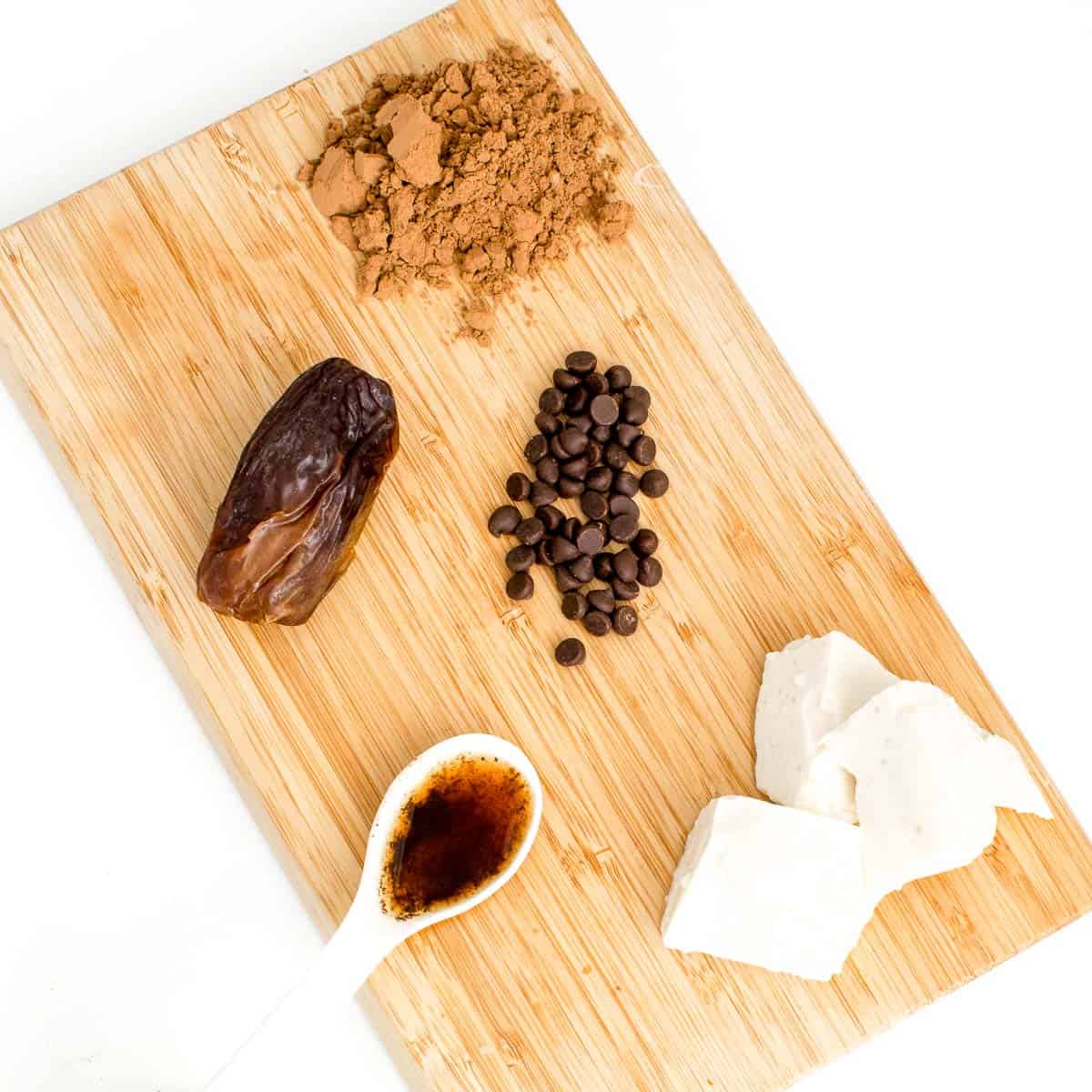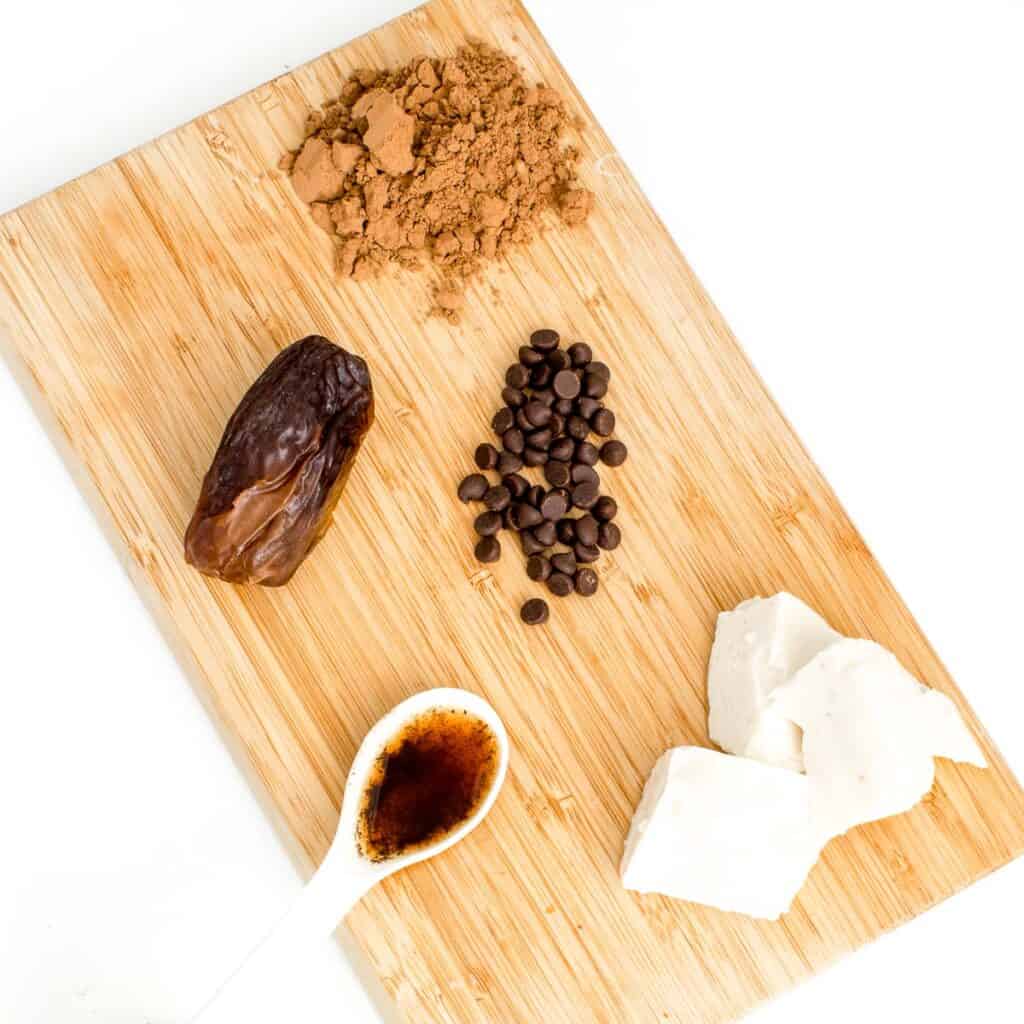 Ingredients you will need
Silken tofu
Dates
Vanilla extract
Dairy free chocolate chips
Unsweetened cocoa powder
I have used these easily available ingredients which you may buy from any local grocery store. However, I have provided links to few of them here for your convenience.
If you plan to buy from these affiliate links then I get a small commission which in turn encourages me to bring in more delicious recipes for you all.
Ingredients notes:
Silken tofu – it's a soy product and is very soft to handle This can be eaten raw and is high in protein. It is very similar to soft tofu but silkier in texture which helps to bring out the silky texture of this vegan mousse.
Dates – It's a natural sweetener with many health benefits. Moreover, they make this dessert healthier and guiltfree. Dates are high in fiber and are natural booster for labor. It's a great source of antioxidants and promotes brain health. This dry fruit is an energy rich snack and are rich in iron.
Dairy free chocolate chips – I used dairy free mini chocolate chips to make it easy and convenient for all to enjoy. However, you may use nay dark chocolate of your choice and adjust the sweetener as per taste.
Unsweetened cocoa powder – I used dark unsweetened cocoa powder from Hershey's but for a rich dark flavor you may use Dutch cocoa powder as well.
I am sure by now you must be excited to get started with this recipe.
So, lets dive into its steps for you can enjoy this deliciousness with your loved ones.
How to make Vegan Chocolate Mousse
Firstly, I blended tofu, dates and vanilla extract in a blender absolutely smooth. This may take about 2-3 minutes. You might see bubbles in the blender which is what we want for this recipe. Then, I kept it aside.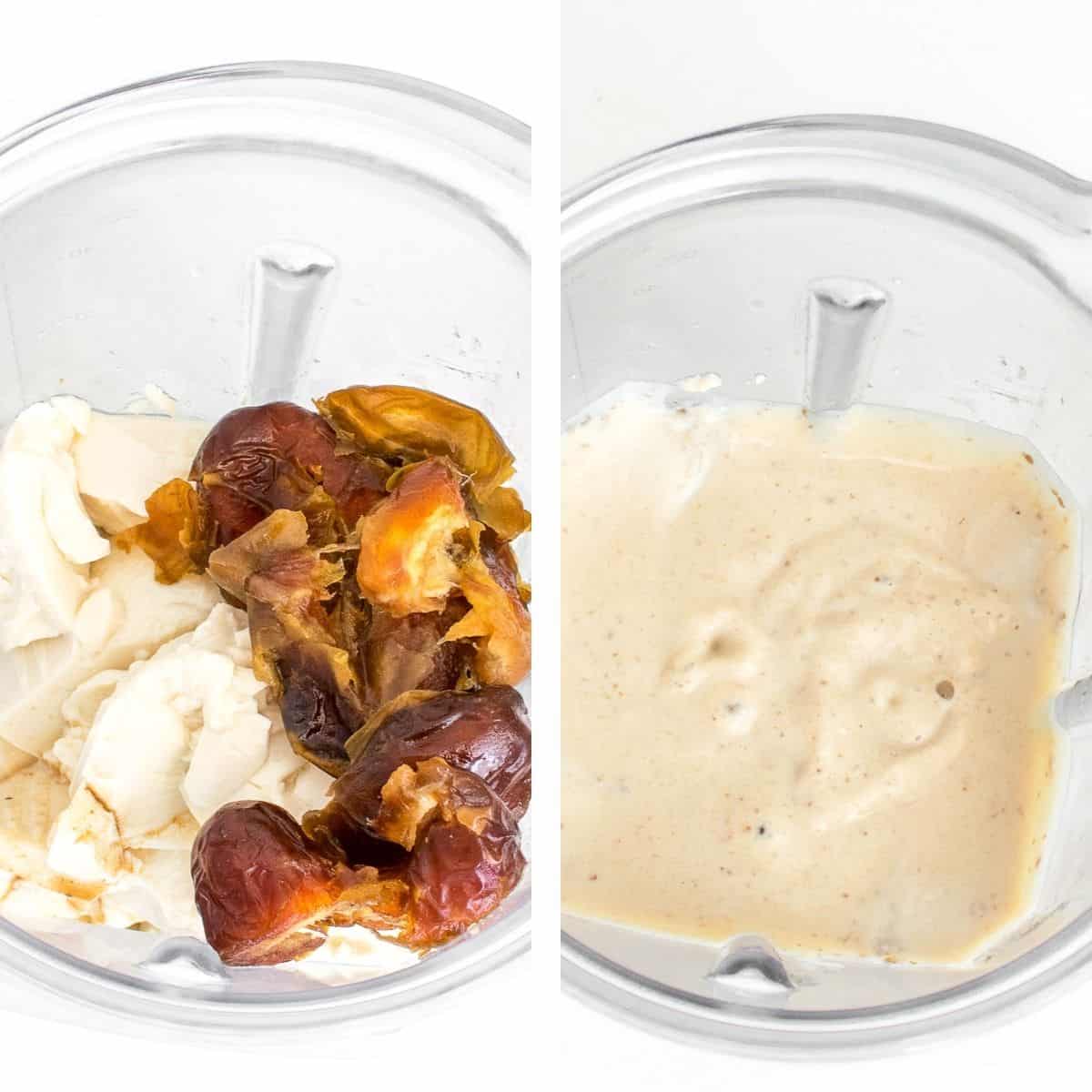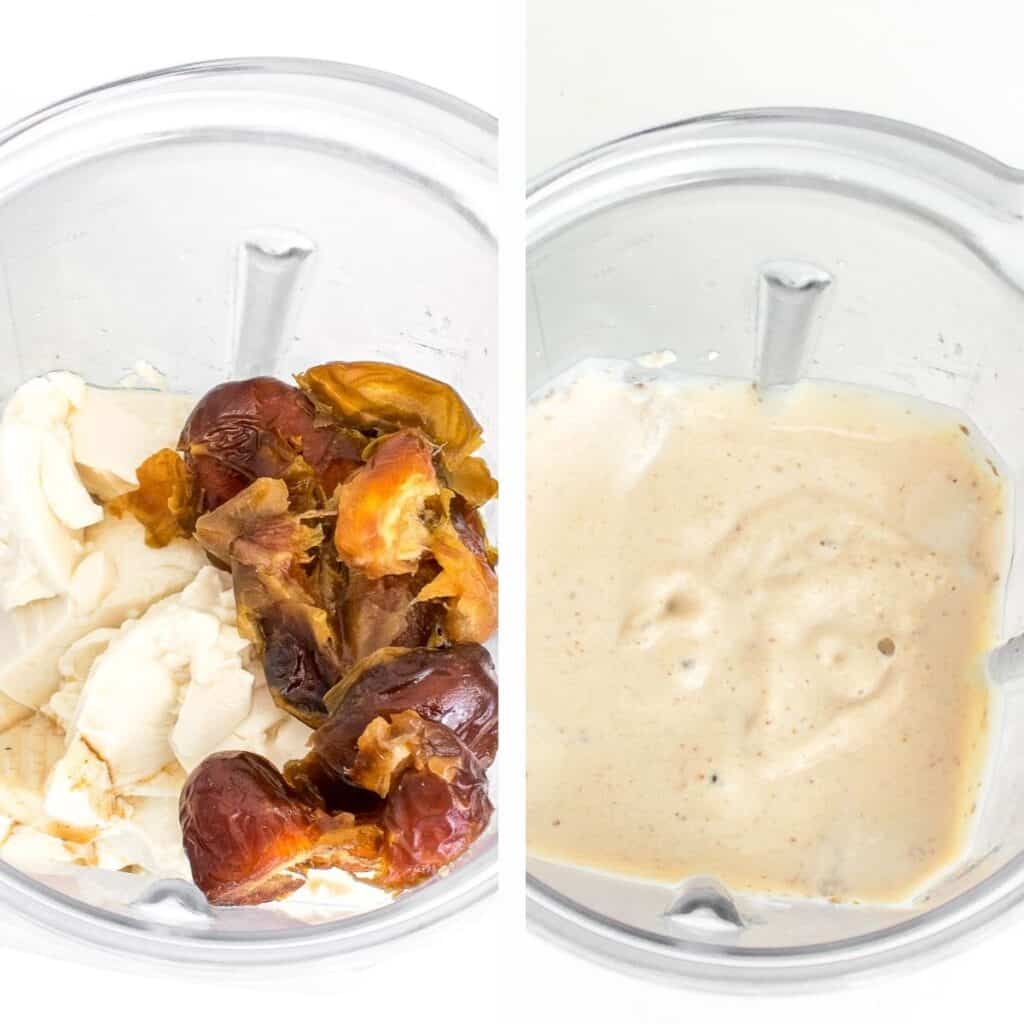 Secondly, I melted the chocolate chips in the microwave for 1-1/30 minutes and stirred in cocoa powder nicely while it was still warm.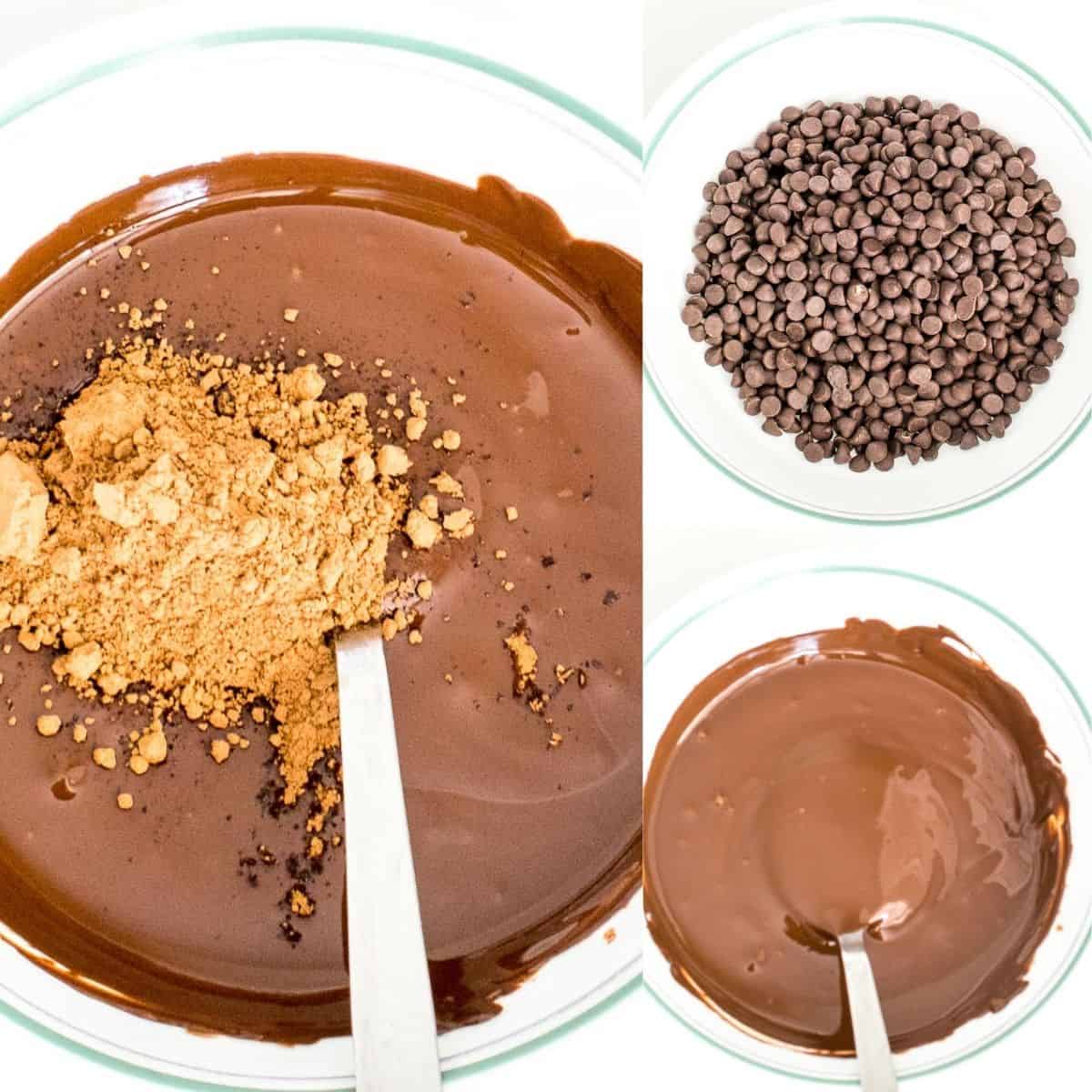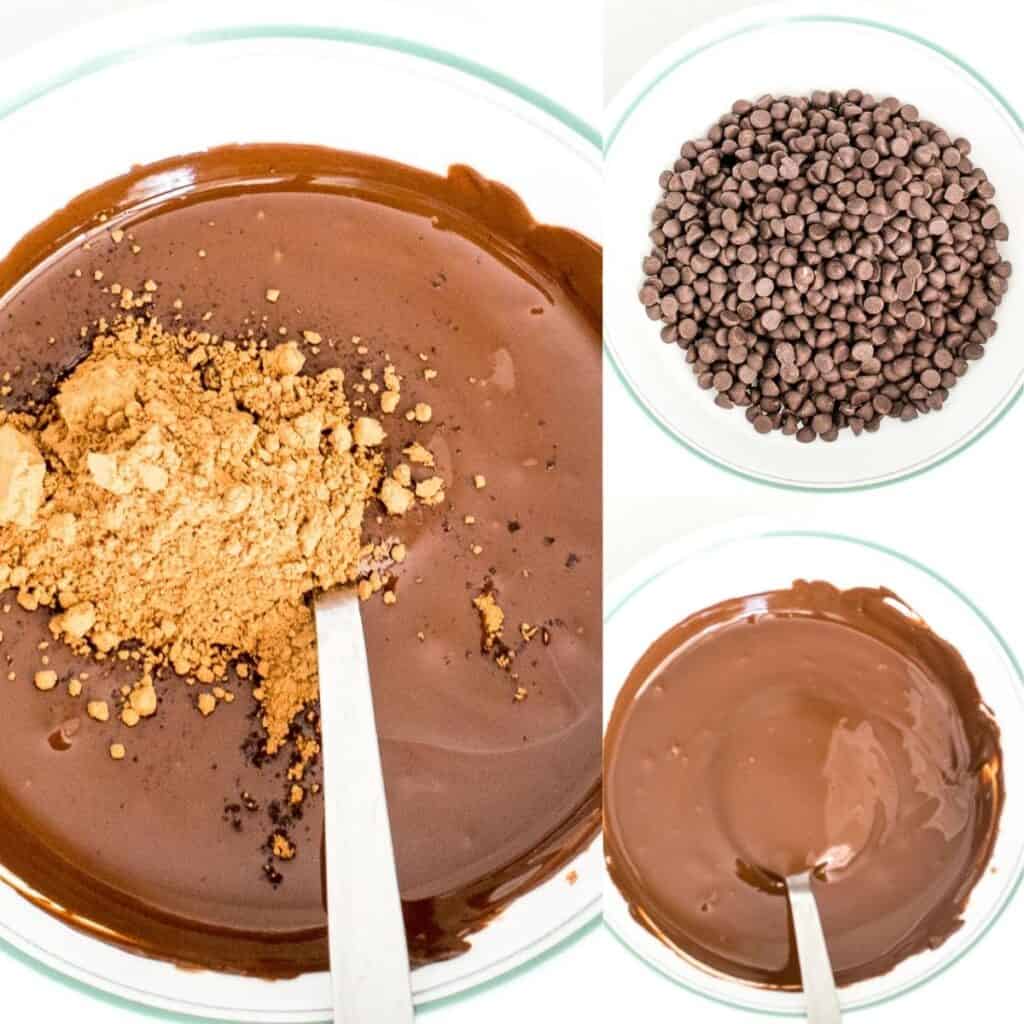 Next, I poured in the melted chocolate into the same blender along with other ingredients and blended it smooth for 3-4 minutes.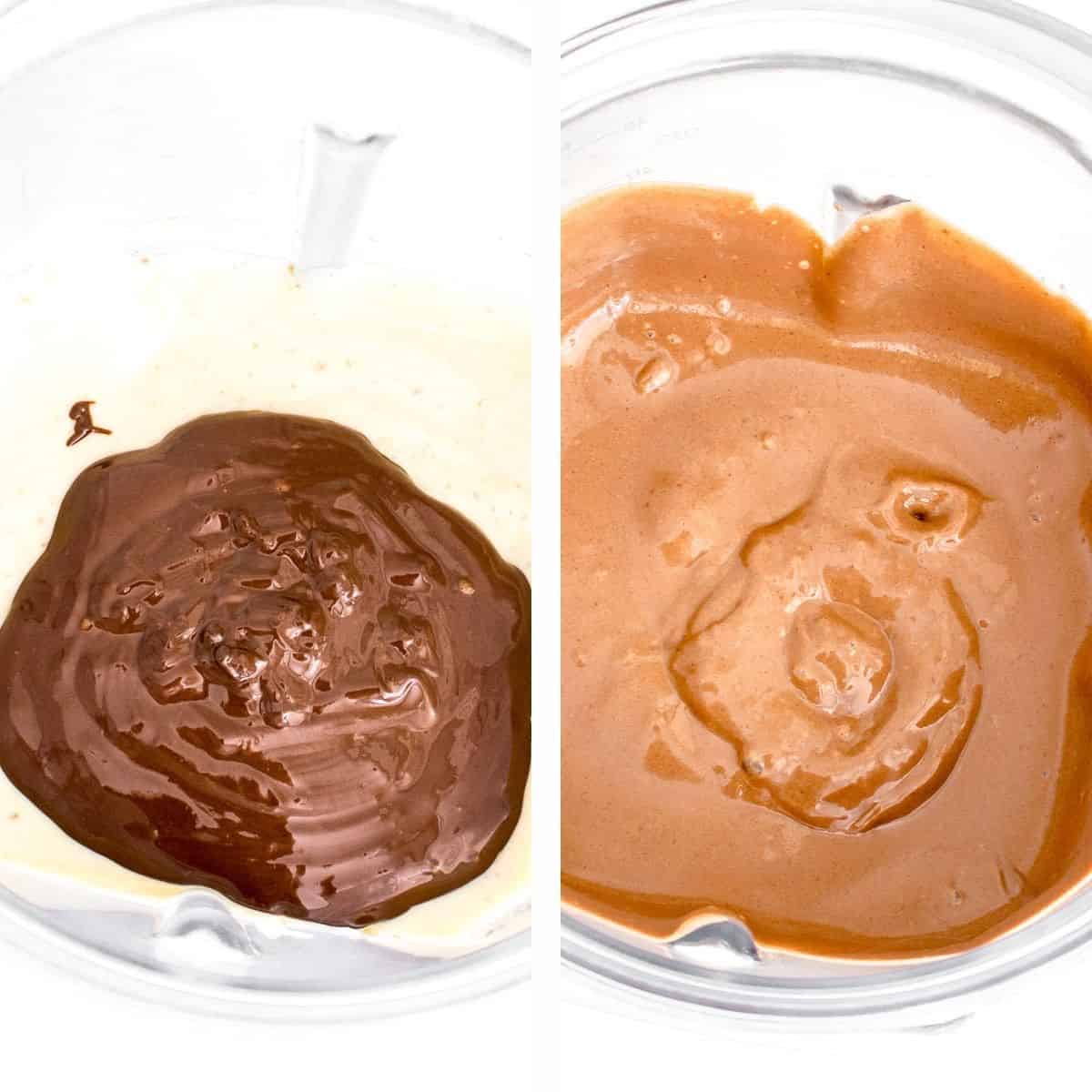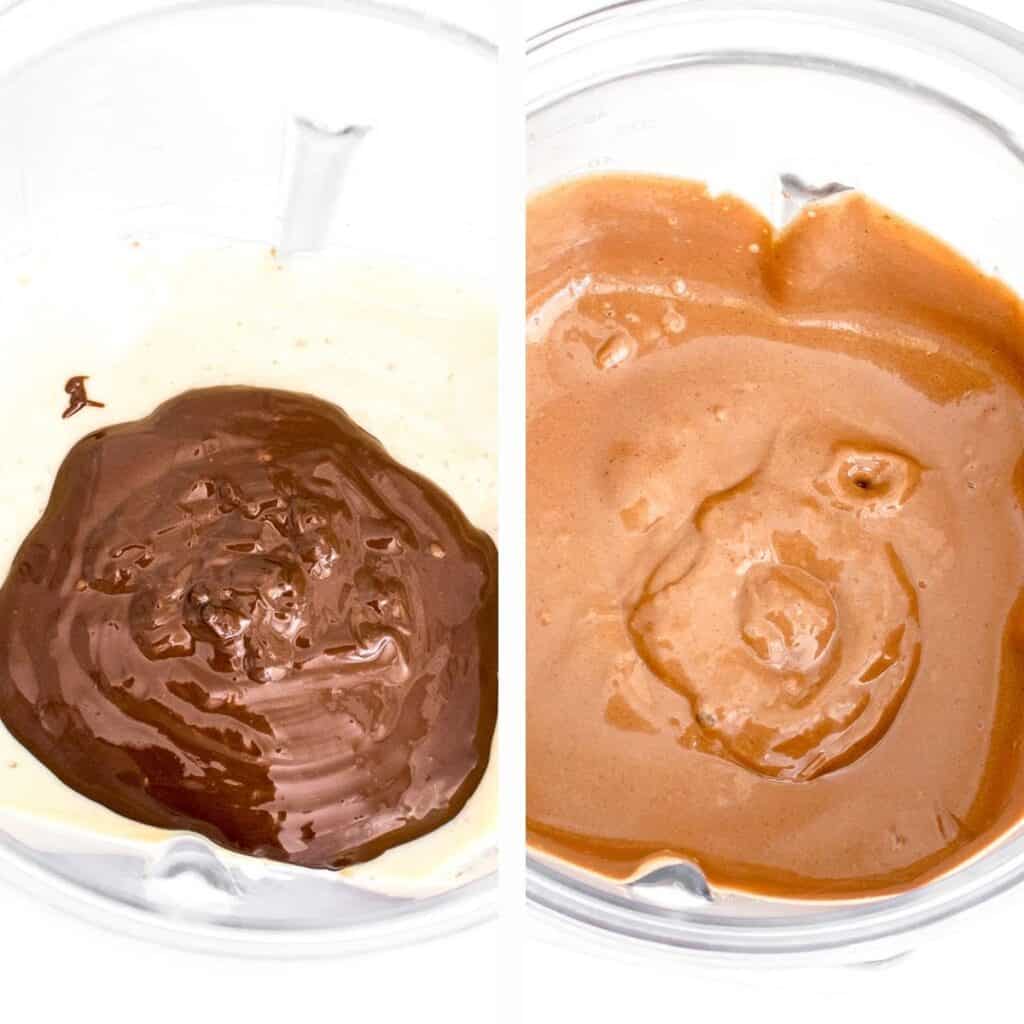 Thereafter, I spooned it out in the serving bowls or glasses and let it reirrigate for about 1 hour.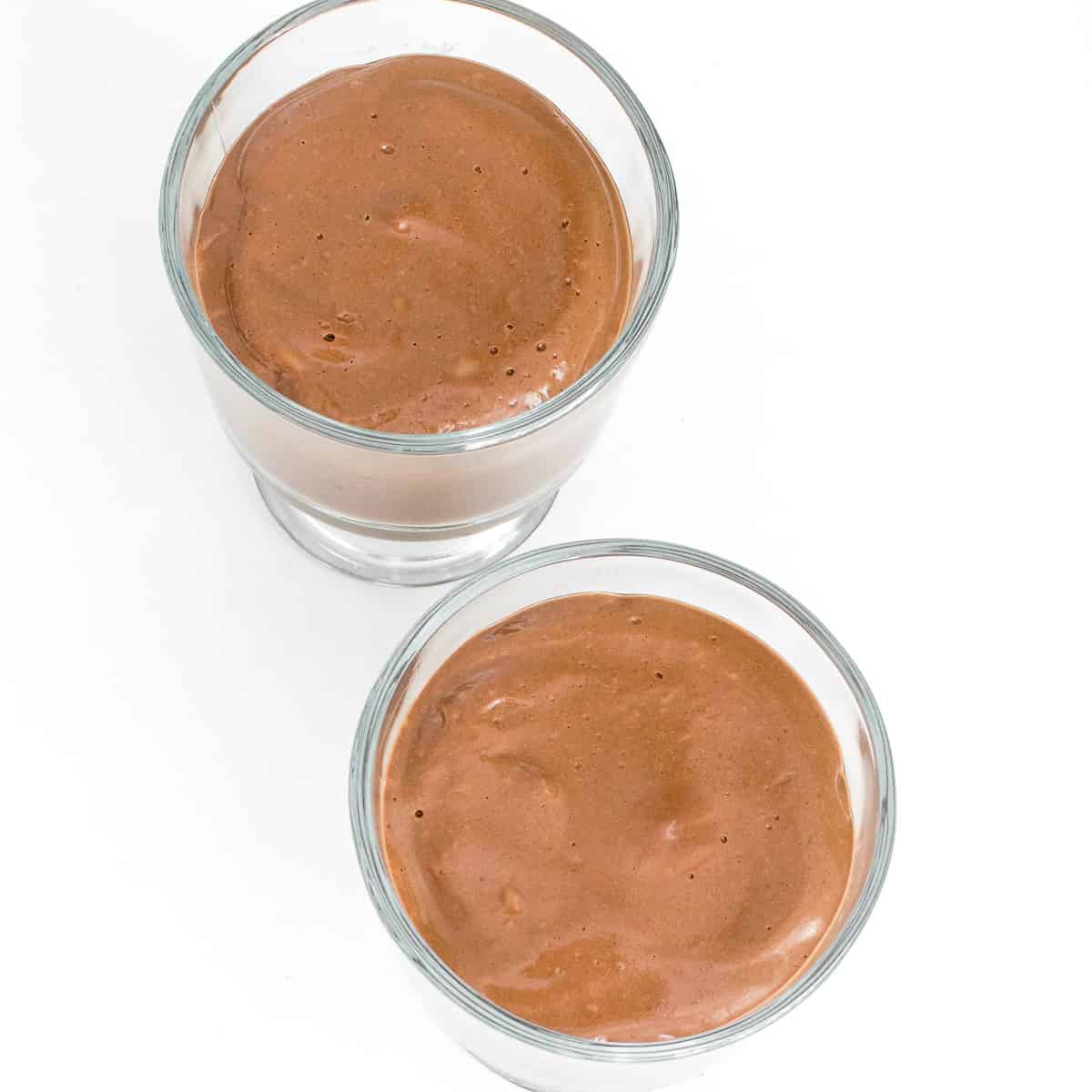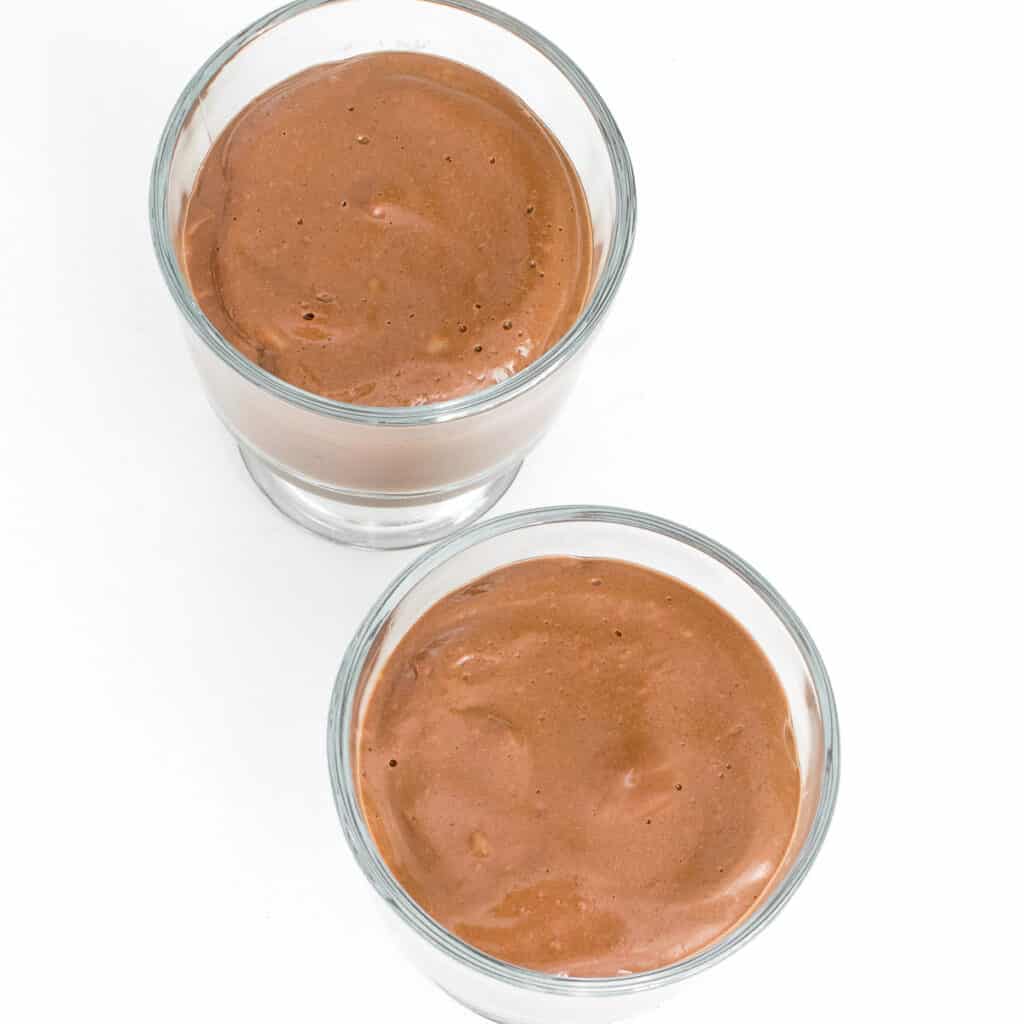 This helps in settling down and acquire its right texture.
Lastly, I garnished with vegan whipped cream and berries.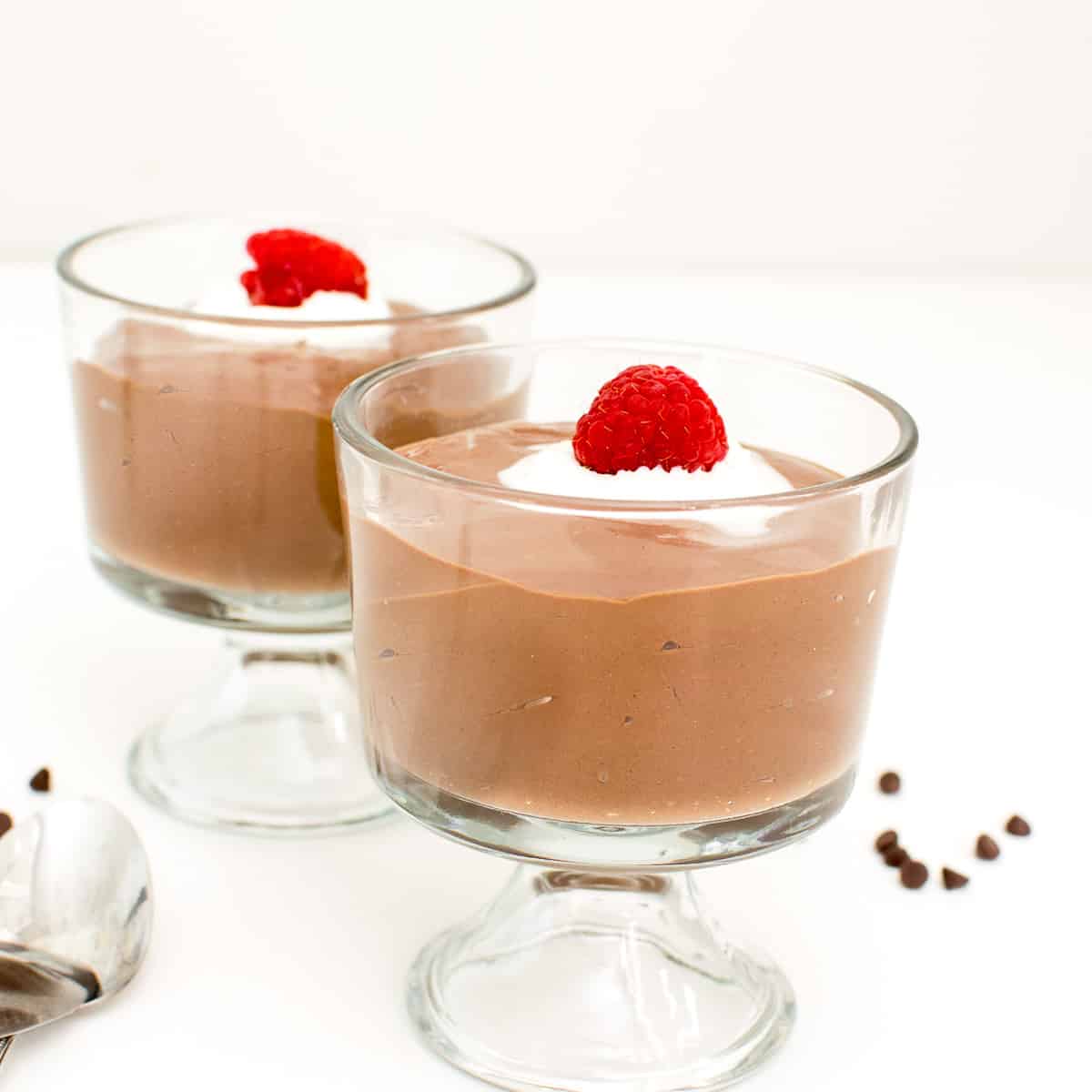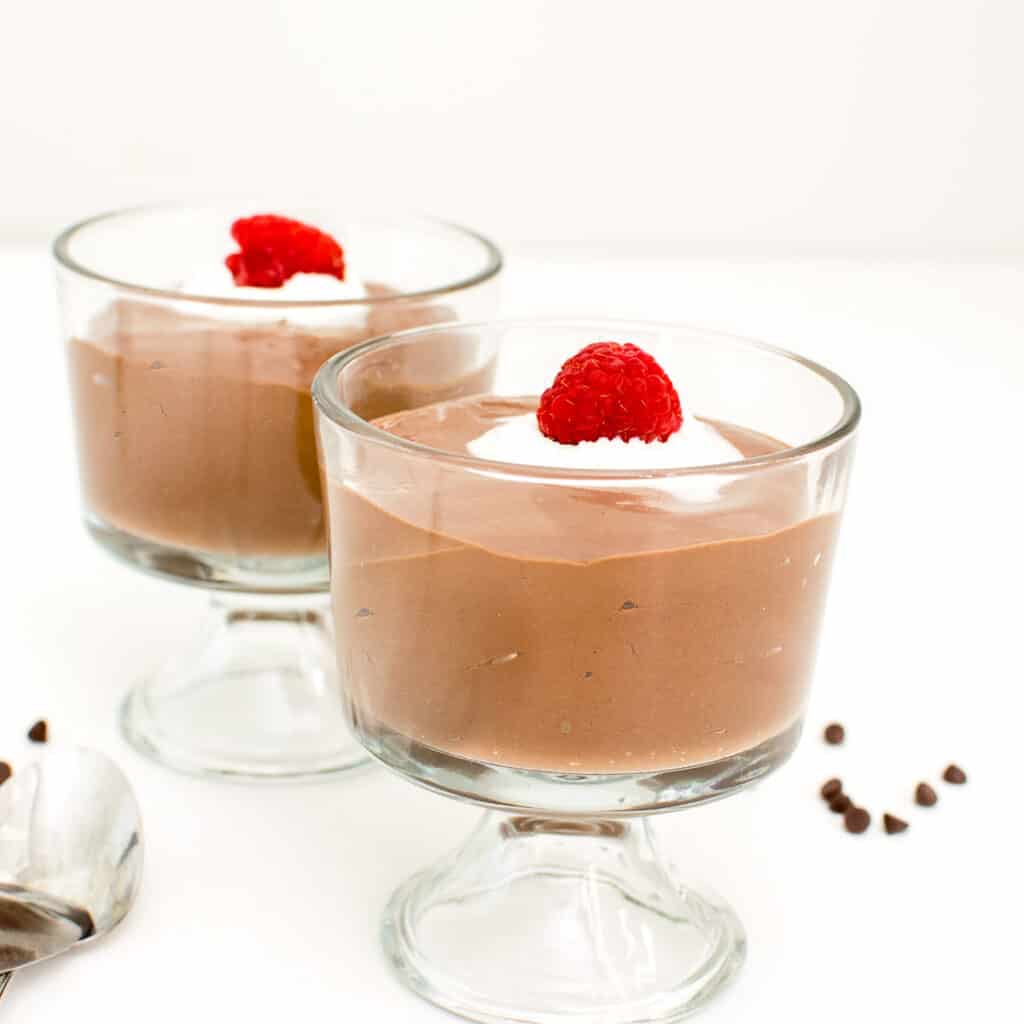 We all happily licked even the last bit of it from our bowl.
It was soooo good that my girls asked for more. I must have made it innumerable times by now because of its simplicity.
Hence, whenever, we crave for chocolate I simply make this dessert and satisfy our cravings.
Moreover, I enjoyed the fact that I fed some protein to my family even without their knowledge.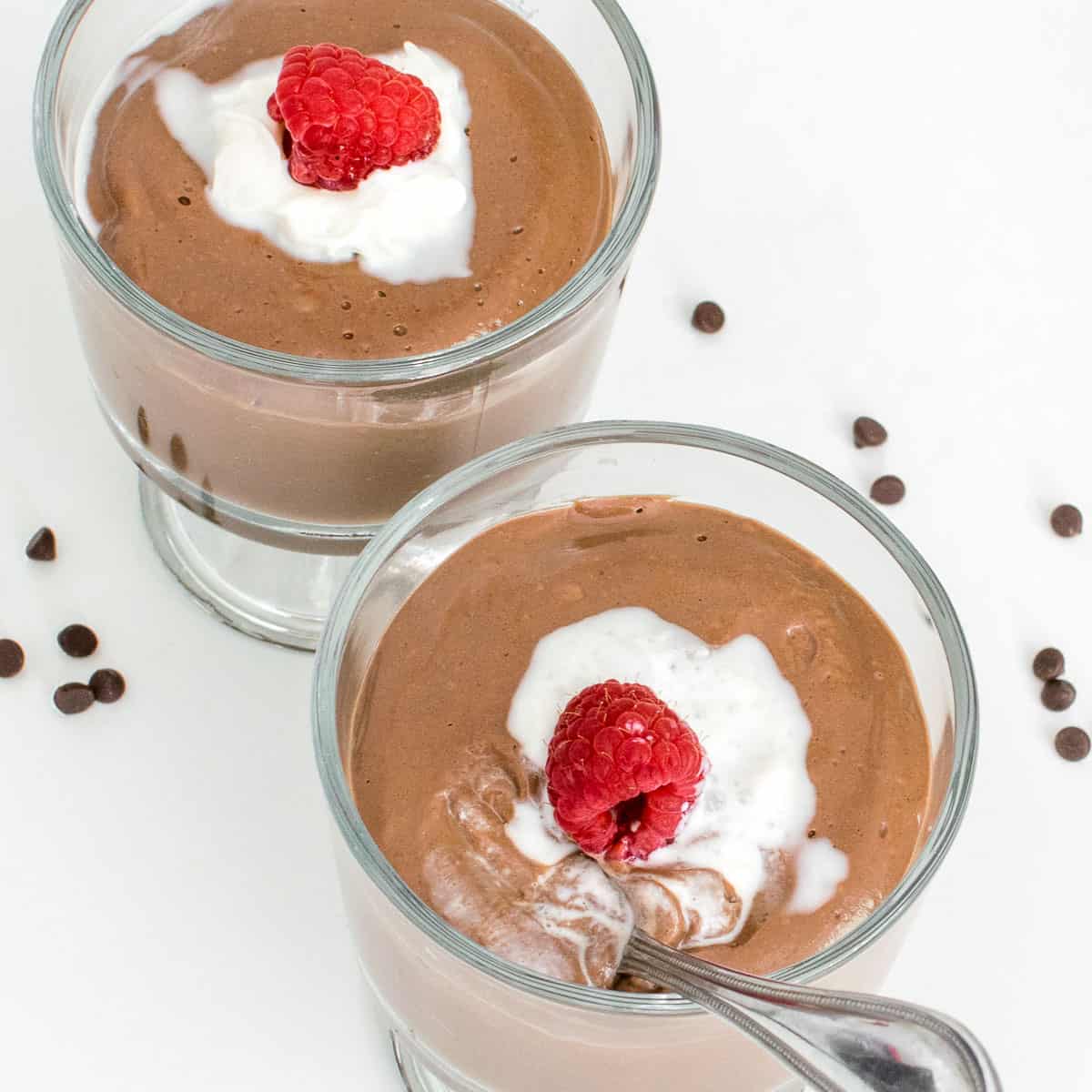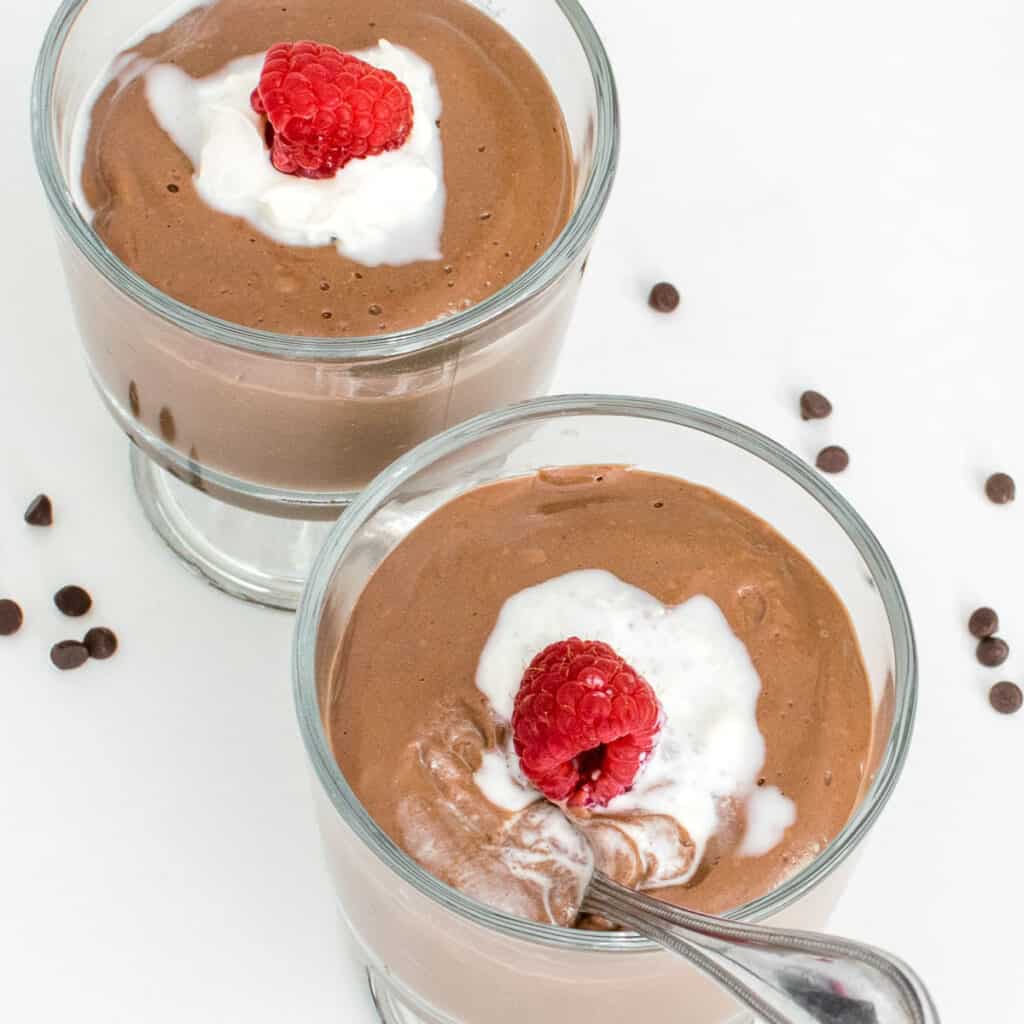 Therefore, keep the ingredients secret to yourself and enjoy the happy smiles on your loved one's faces.
Expert tips:
It is important to first blend tofu with dates and vanilla extract thoroughly. As this helps in lightning and loosing tofu.
Most importantly do not let the melted chocolate cool down and stir in cocoa powder immediately. This helps in enhancing the chocolatey flavor of this dessert.
Once everything is blended make sure to refrigerate for at least 1 hour. You go upto 2 hours but refrigerate in serving bowls or glasses because it will shape accordingly.
Vegan Chocolate Mousse FAQs
How long do it last?
This can be refrigerated for about 2 weeks in the glass bowls.
Can I freeze it?
Tofu does not freeze very well so I would recommend refrigerating it.
How do I make sure that my mousse is not runny?
Make sure to wipe out your blender well before starting. Drain the excess liquid from silken tofu pack but do not press it. Drain and wipe dates to avoid any extra moisture. Most importantly please stick to the measurements. Even though its ok to use any silken tofu make sure to use either 12.3 oz. or 16 oz. pack and can be either firm, soft or extra firm.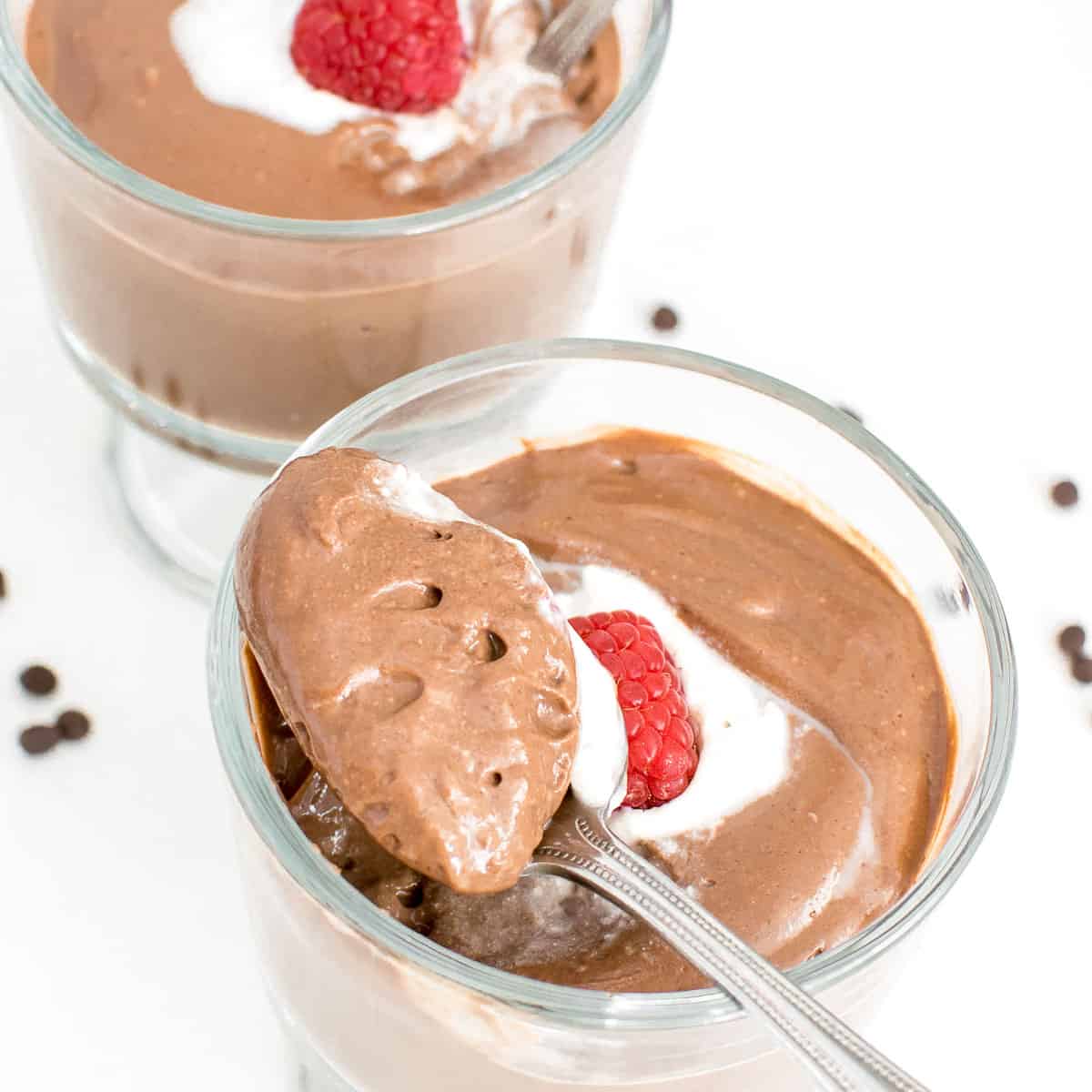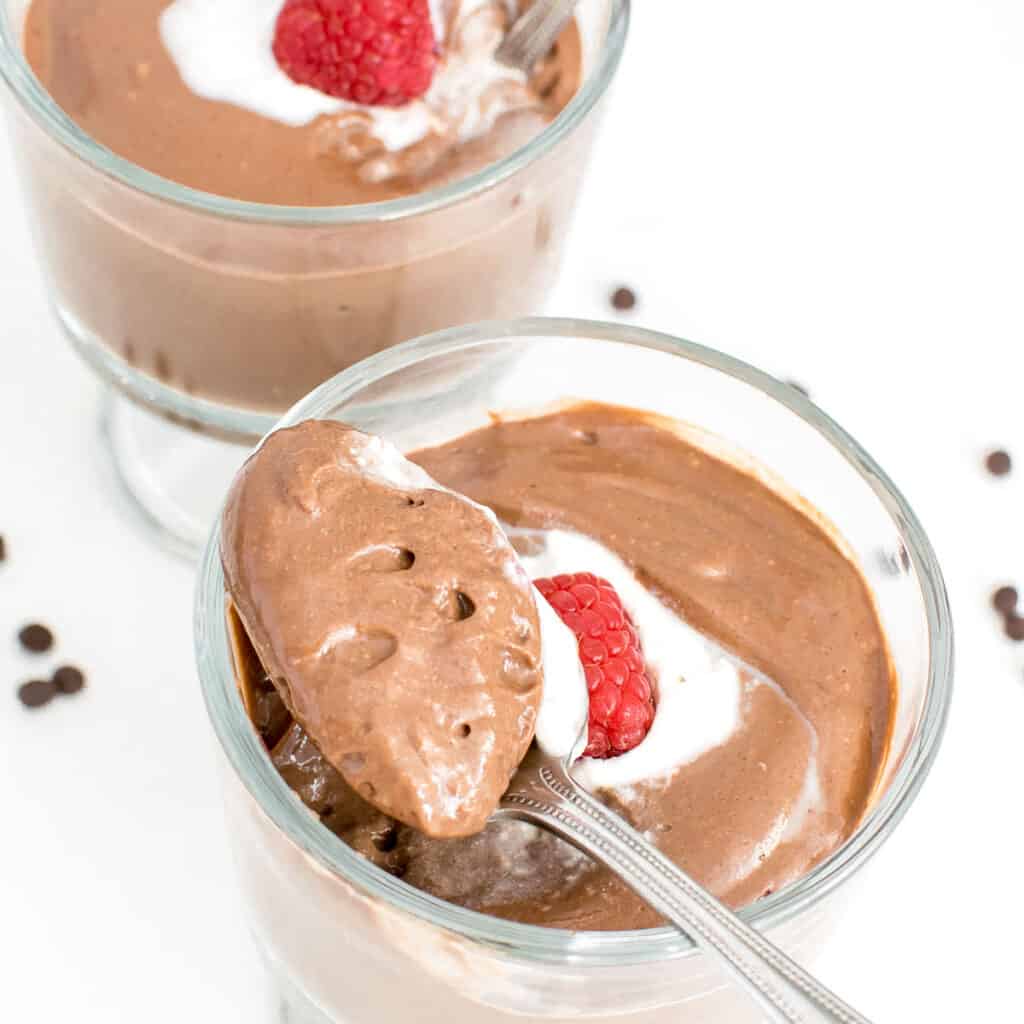 Other chocolate desserts that might interest you:
Zucchini Chocolate Chip Cookies
Chocolate Truffle Energy Bites
White Chocolate Cranberry Cookies
Vegan Chocolate Protein Cookies
Peanut Butter Chocolate Brownies
Did you make it?
If you get a chance to make this recipe then please leave your feedback in the comments along with a 5-star rating. In addition, you may tag @kiipfit on Instagram with your recipe remake image because we would love to see what you cooked.
You may also checkout my cookbooks for everyday comfort vegan recipe.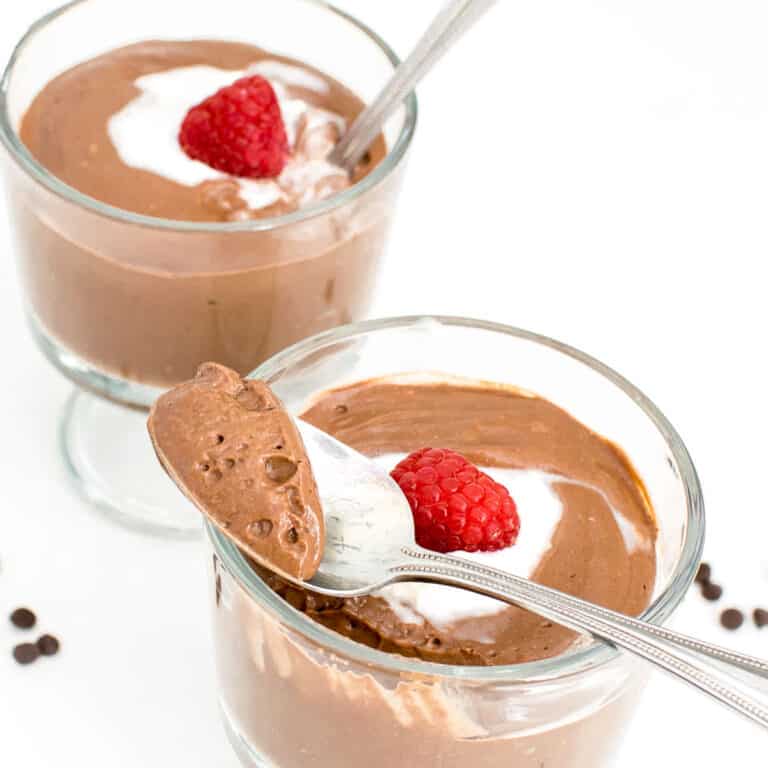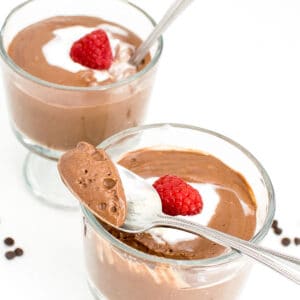 Print Recipe
Vegan Chocolate Mousse
Light and fluffy this Vegan Chocolate Mousse is the ultimate dessert with delectable flavors. No cooking involved, perfectly sweetened has added protein. Only 5 ingredients and a blender are all you need.
Instructions
Combine silken tofu, dates and vanilla extract in a blender and blend it smooth. This may take 2-3 minutes and you might see bubbles in it. This is exactly what we want but do not stress over it. Keep it aside.

In a microwavable bowl, combine chocolate chips and microwave at high for 30 seconds. Take it out and stir with a spoon. Microwave it again for 30 seconds. Take it out and stir again with a spoon. Microwave again for another 40 seconds. Take it out and stir vigorously with a spoon. It should be liquid and melted by now. Stir in cocoa powder to the warm melted chocolate. (Do not let the melted chocolate cool down).

Pour the chocolate in the blender and blend it smooth for about 3-4 minutes.

Spoon it out in the serving glasses/bowls and let it rest in the refrigerator for about 1 hour. When ready enjoy it as is or top it with vegan whipped cream and berries and grated chocolate.
Notes
I used vegan chocolate chips in this recipe but you may use 70% dark chocolate as well in this recipe. Roughly chop and measure it into ¾ cup and then melt it in microwave.
Any unsweetened dark cocoa powder works here.
You may use 12.3 oz. or 16 oz. silken tofu for this recipe. The serving size will change slightly though. Firm, soft or extra firm silken tofu works in this recipe.
Make sure to let it rest for at least 1 hour to get the bubbles and airy chocolate mousse. You may go up to 2 hours.
Blend all the ingredients very well especially tofu and dates. The smoother they are the better consistency for the mousse.
Refrigerate the leftovers in a glass container for about 2 weeks.
Nutrition
Calories:
246
kcal
|
Carbohydrates:
20
g
|
Protein:
8
g
|
Fat:
12
g
|
Saturated Fat:
1
g
|
Polyunsaturated Fat:
1
g
|
Monounsaturated Fat:
1
g
|
Sodium:
1
mg
|
Potassium:
39
mg
|
Fiber:
1
g
|
Sugar:
1
g
|
Calcium:
3
mg
|
Iron:
1
mg