This classic British Indian recipe of Tofu Tikka Masala just got healthier with a vegan spin to it. Its oil free and yet rich, thick and creamy. This gluten free curry is easy to make along with being satisfying and comforting weeknight meal.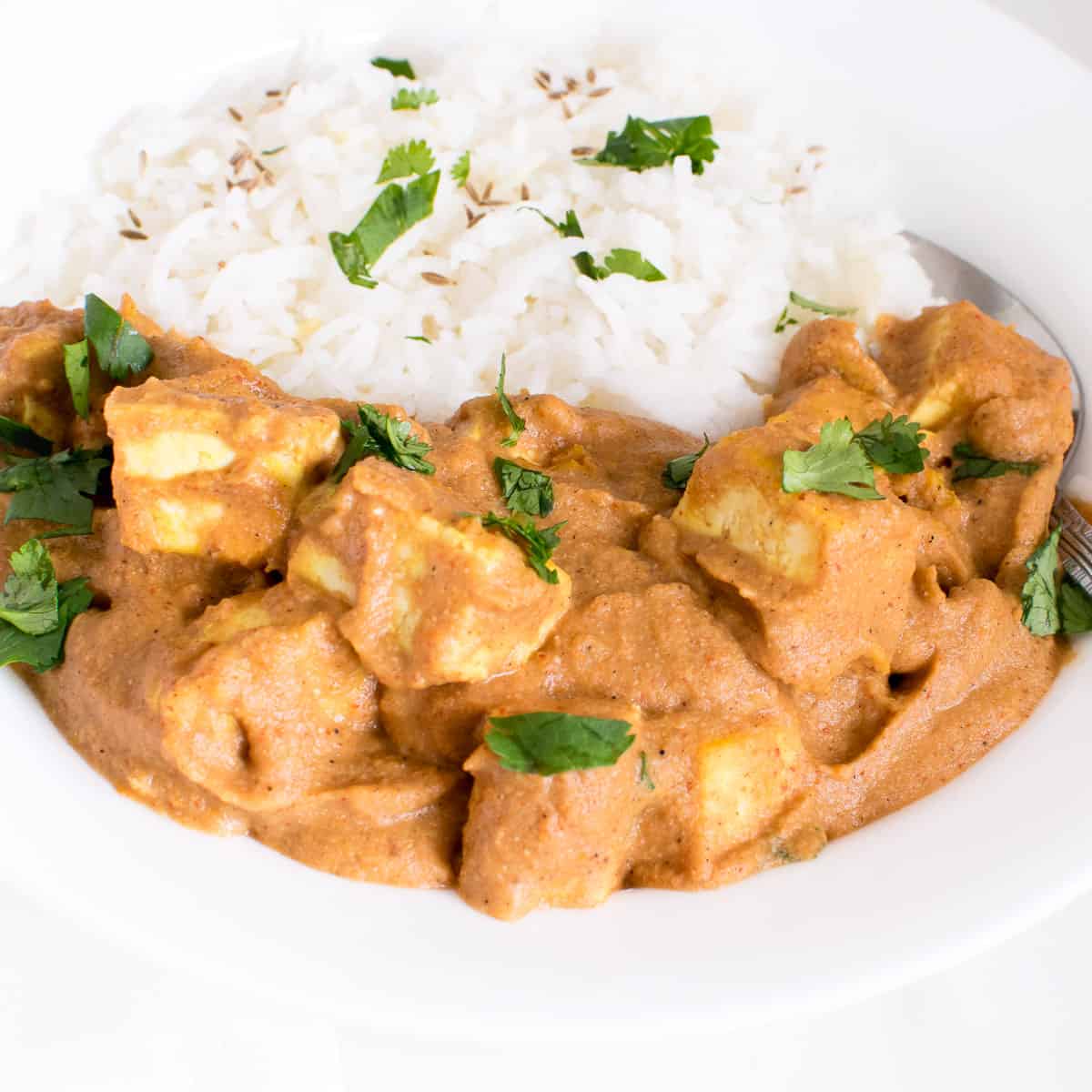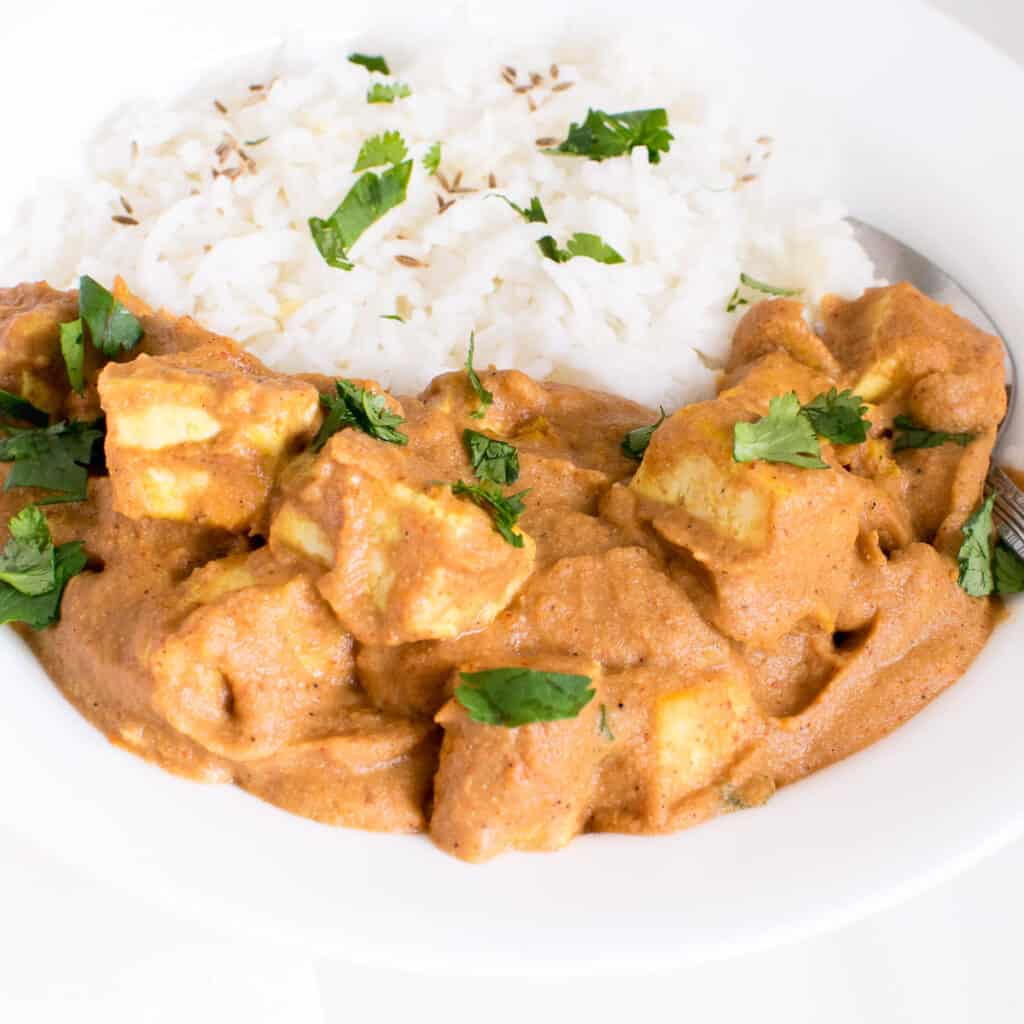 The concept of tikka masala is quite popular among British which eventually caught up with the Americans. It is a favorite take out and is a wholesome meal.
I wanted to work on a vegan tikka masala so that it fits to most diet types. Moreover, this way it becomes desirable and pleasurable to cook at home.
Hence, I decided to add tofu to it. There are many ways to include protein in this dish but I decided to marinate tofu in my homemade vegan buttermilk instead of a vegan yogurt.
I have tried other variation earlier with cauliflower tikka masala and it was a big hit.
If you are looking to add tofu in your diet then you must try my vegan creamy cajun pasta.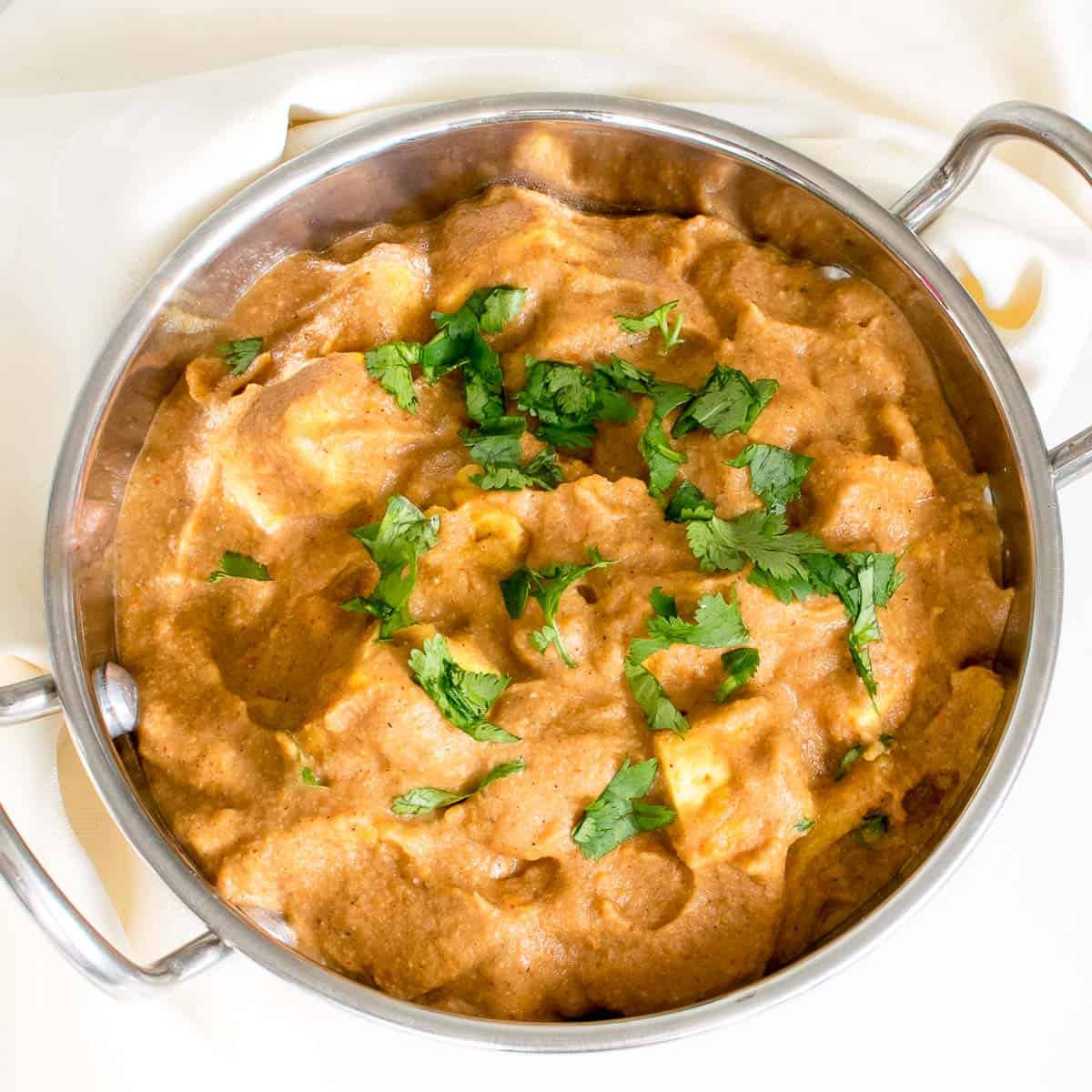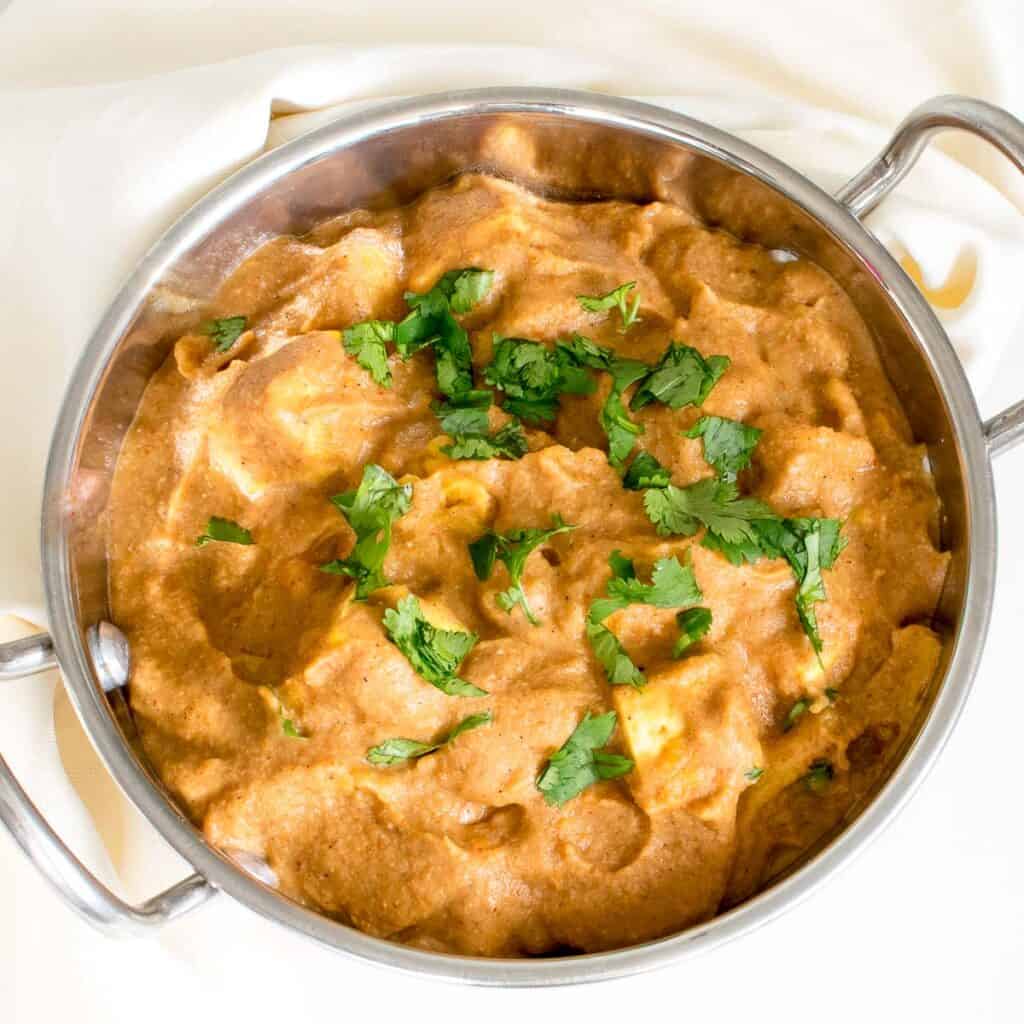 Curries are very frequent in my house since it's a complete satisfying meal. Moreover, it is usually a one pot meal so it's easy to make and serve as well.
My other Indian curries that you may like are:
Butter Tofu
Dal Makhani
Malai Kofta
Turmeric Tofu cashew Curry
Instant Pot Herbed Lentil Masala Curry
Vegan Jackfruit Masala Curry
Vegan Seitan Cilantro Masala
Kidney Beans Spinach Masala
However, today I am here to share this awesome tofu tikka masala recipe:
Ingredients you will need:
For tofu
Coconut milk
Vinegar
Cornstarch
Turmeric
Chili powder
Salt
For the curry
Onion
Tomato paste
Ginger
Garlic
Coconut milk
Cashew nuts
Cumin powder
Coriander powder
Turmeric powder
Chili powder
Garam masala
Salt
Cilantro
I have used these easily available ingredients in this recipe which you may buy from any local grocery store. However, I have provided links to few of them here for your convenience.
If you plan to buy from these affiliate links then I get a small commission which in turn encourages me to bring in more delicious recipes for you all.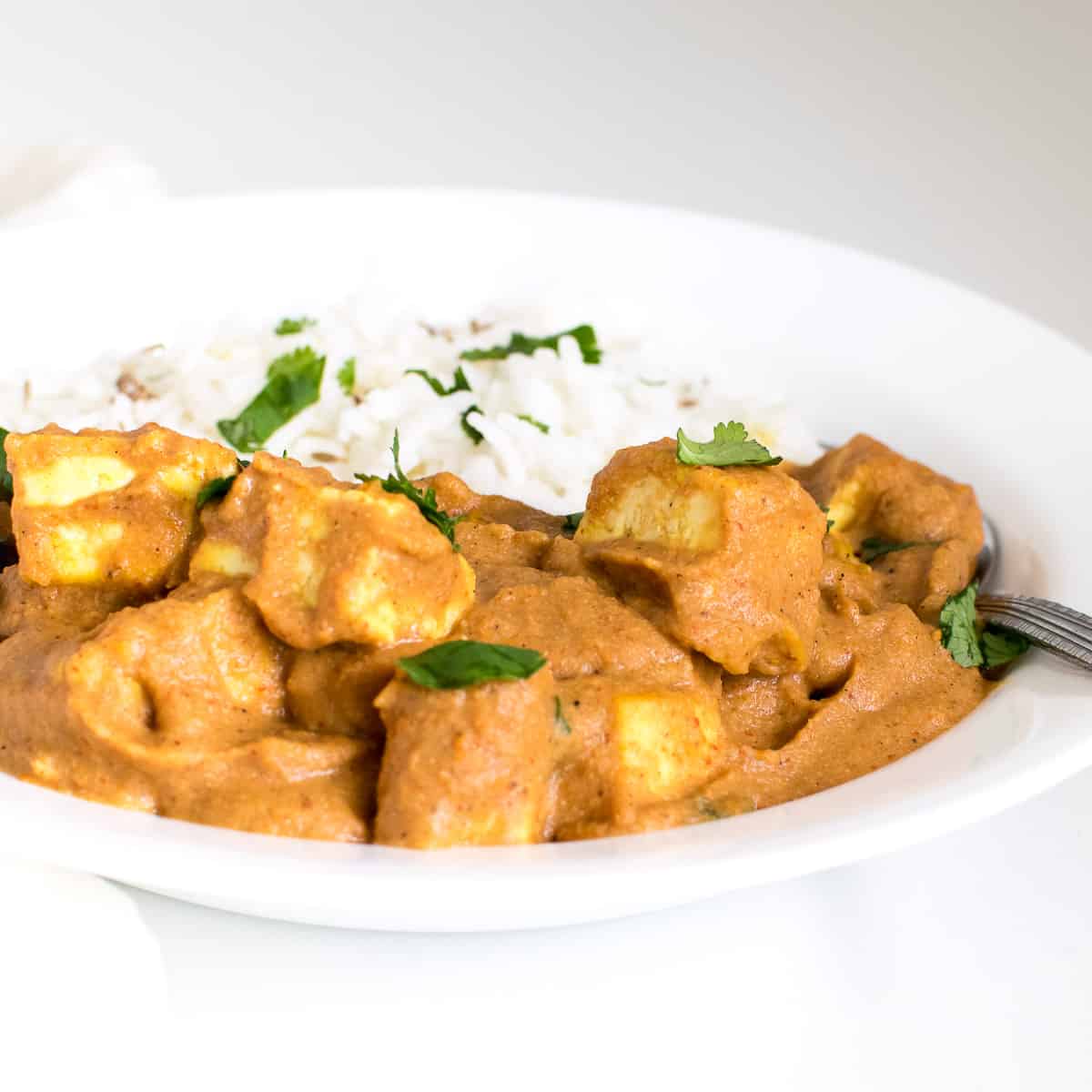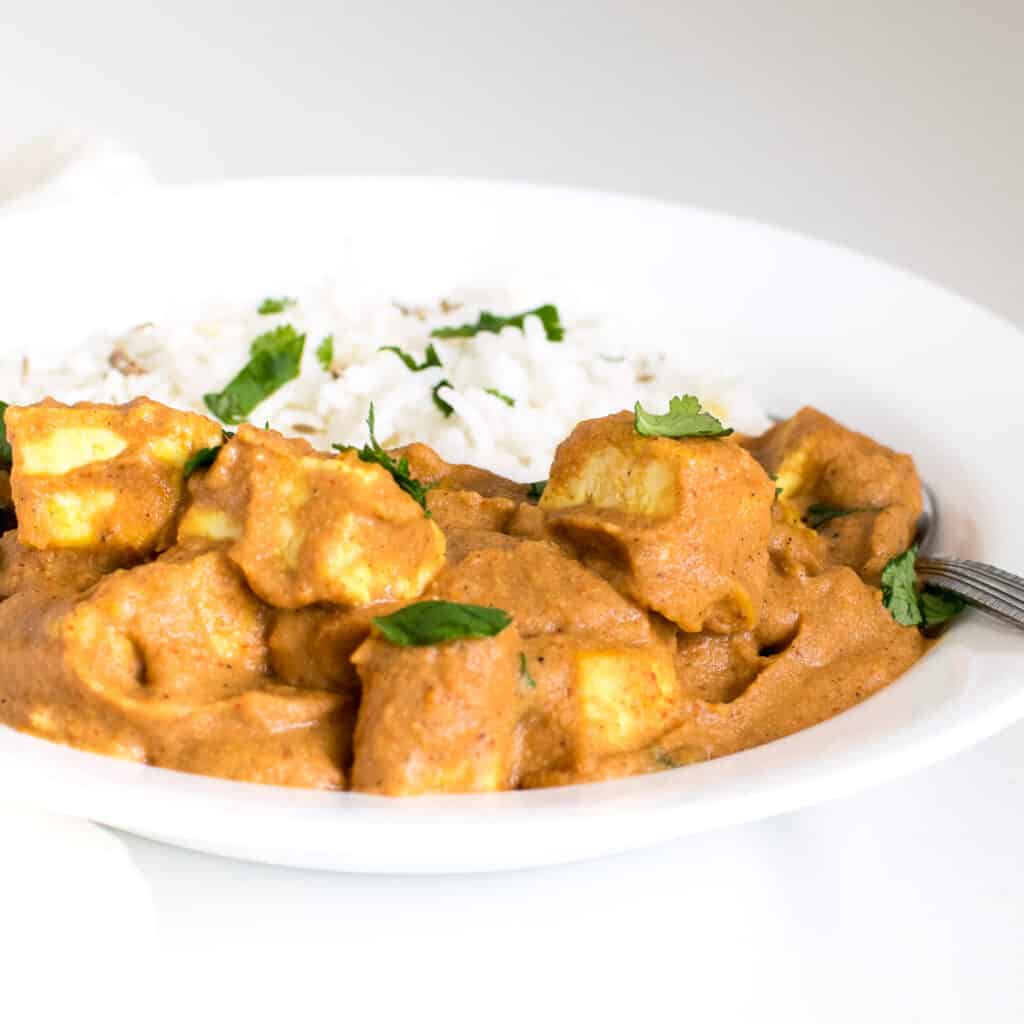 Ingredients notes:
Coconut milk – as always, I have again used tetra pack coconut milk to make it lighter and lower in calories. Moreover, it helps in making this curry not so coconutty also.
Cornstarch – this thickens the buttermilk a bit and helps the tofu to firm up while baking. When we add it in the curry masala after baking the flavors enhances a lot.
Turmeric – it has medicinal properties and a must for all Indian recipes. It also has healing properties and is absolutely healthy for the body.
Tomato paste – I purposefully like to use tomato paste in tikka masala recipe because it brings out a nice red color to it. Therefore, it helps me to avoid any food color to my recipes. Also, I like the slight tangy flavor which blends perfectly with the entrée.
Cashew nuts – I used a minimum quantity of it in my recipe this time. However along with being nutritious and healthy, these nuts add healthy fats to this curry recipe. Moreover, it also makes this dish creamy and rich which again helps me to make it oil free and cream free.
Garam masala – its an important spice in this recipe because it brings out its authentic flavors. It's a very common Indian spice which is basically a medley of a variety of whole spices ground into powder form
Therefore, you may have noticed that I have used minimum and yet simple ingredients which might already be there in your kitchen pantry and refrigerator.
So, why wait…. simply go to the steps and get started with it.
How to make Tofu Tikka Masala
Firstly, I stirred buttermilk by combining coconut milk and vinegar. Then, I added spices to it and tossed in chopped tofu. Next, I let it rest for atleast 15 minutes. However, if you have time let it rest for 30 minutes.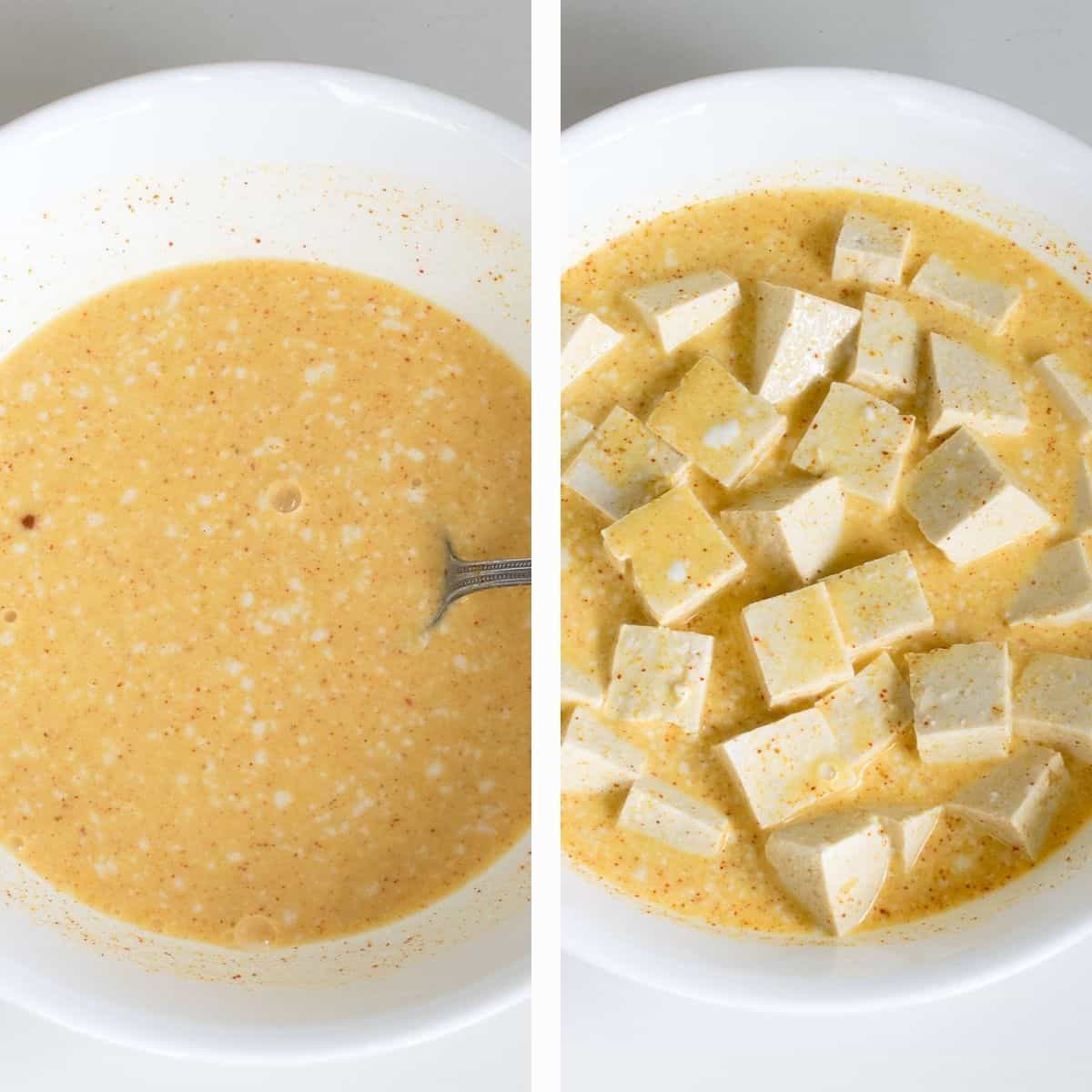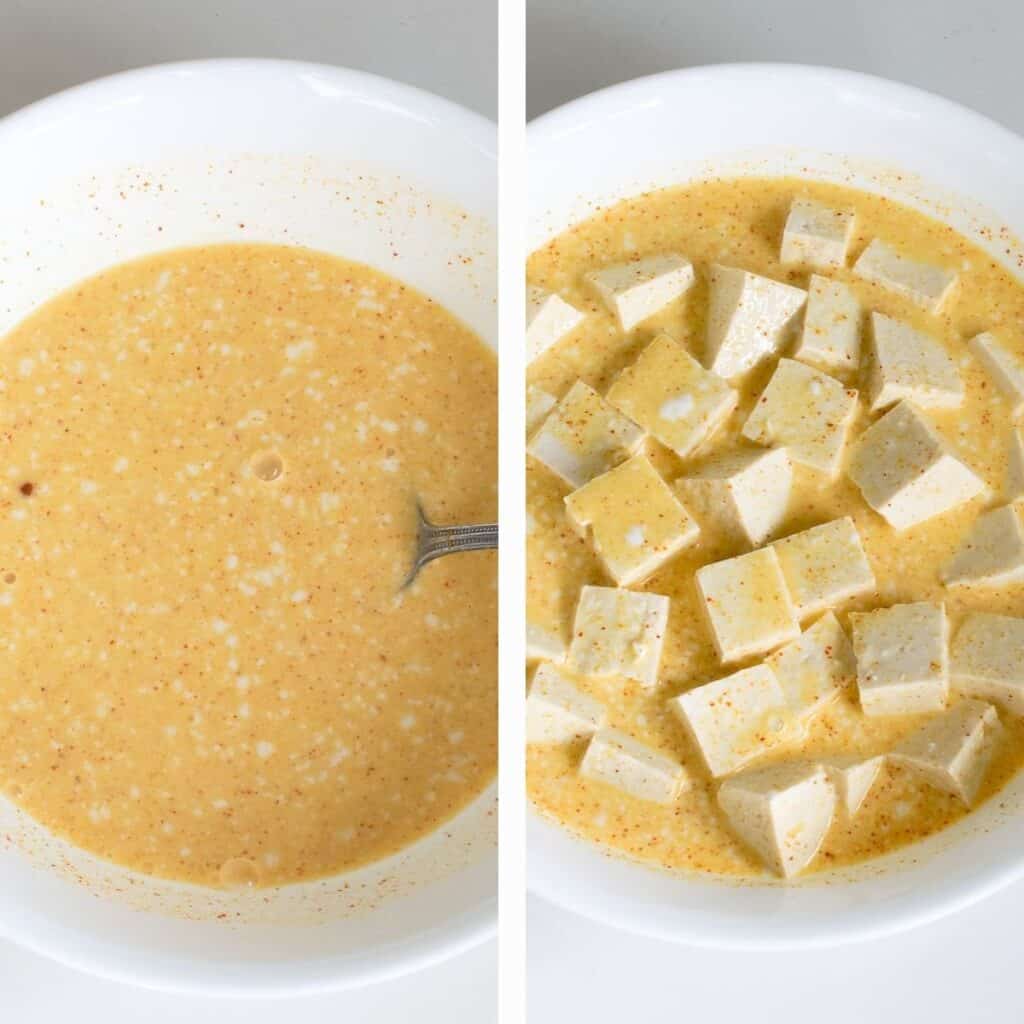 Secondly, I combined onion, tomato paste, ginger, garlic, cashew nuts and coconut milk in a blender and blended it smooth. Then, I kept it aside.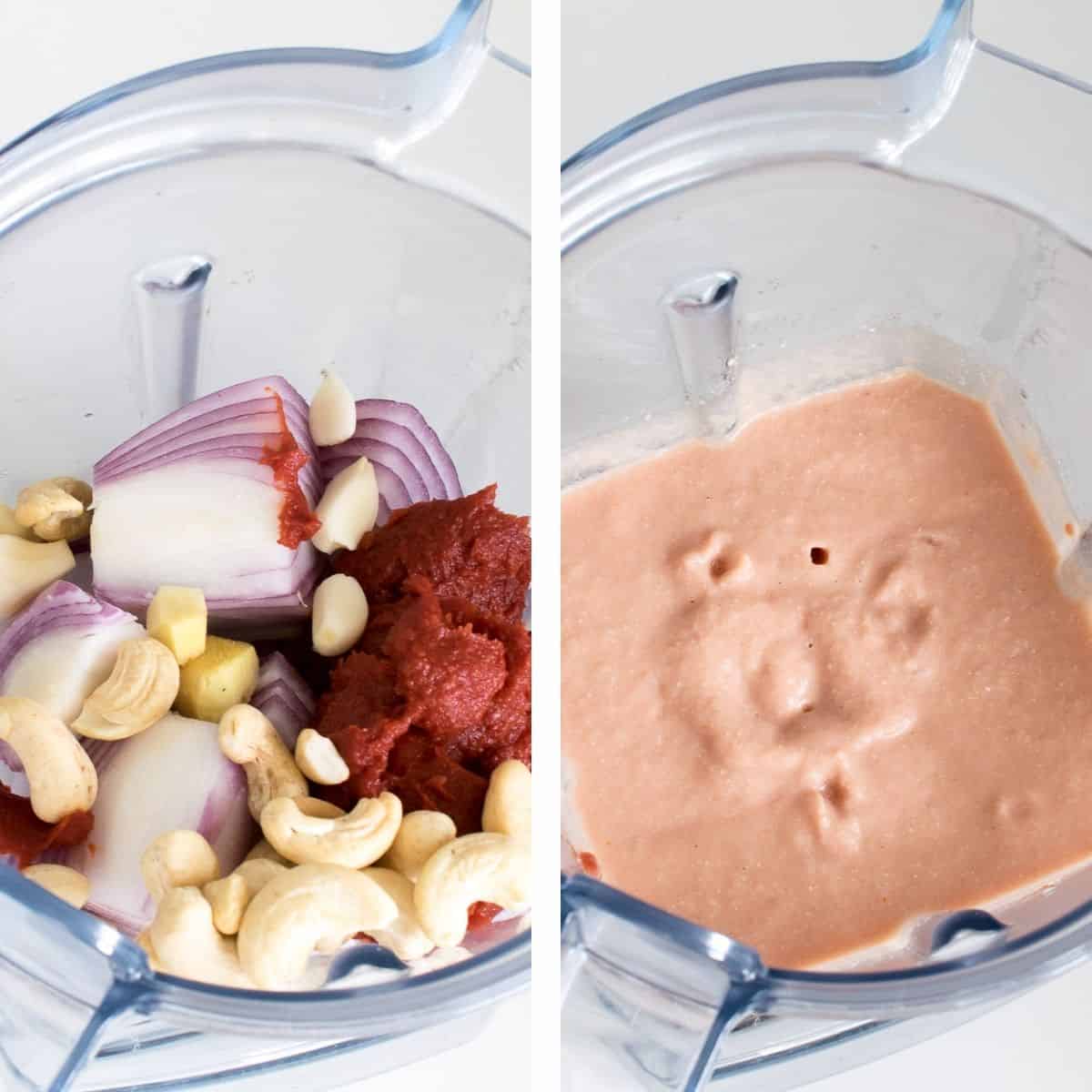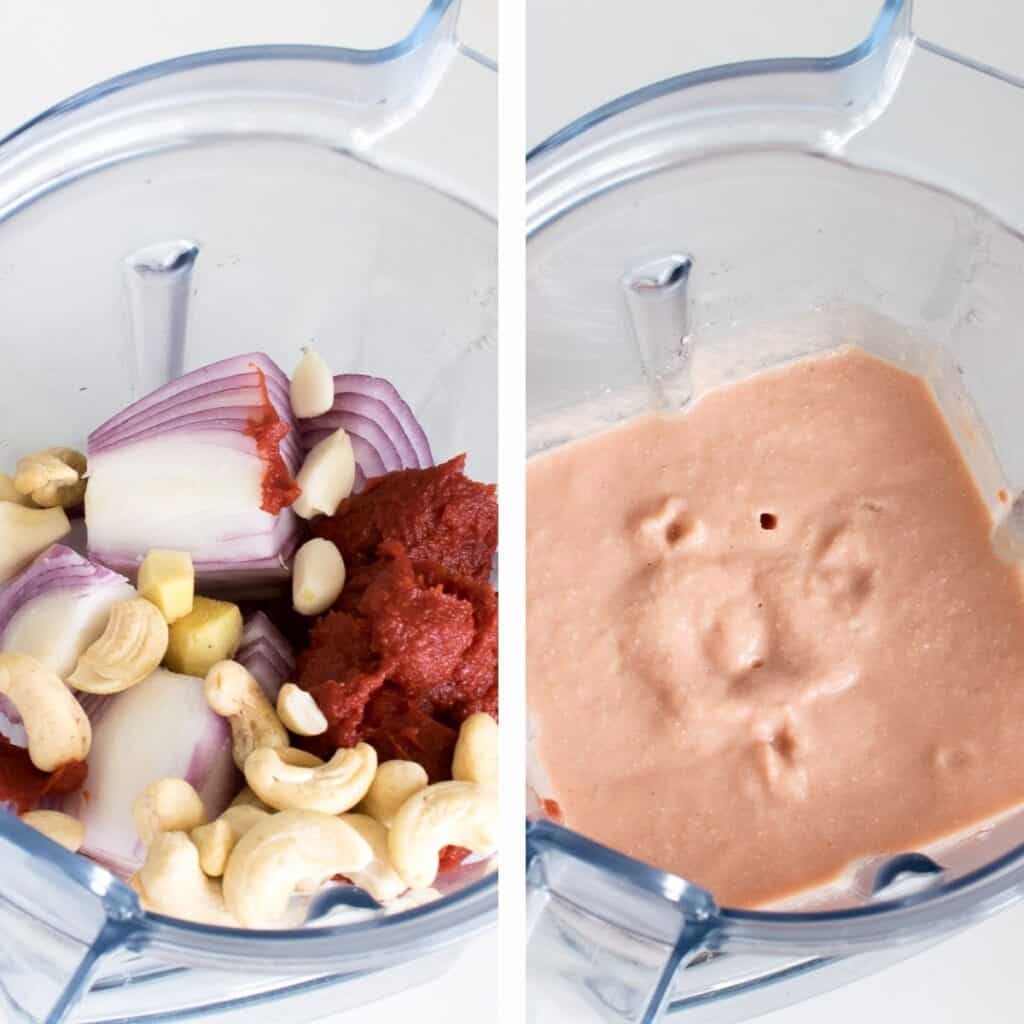 Next, I placed the tofu pieces on a prepared baking sheet and coated each piece generously with the buttermilk. Then, I placed the baking sheet in the preheated oven at 375-degree Fahrenheit and baked for 30 minutes.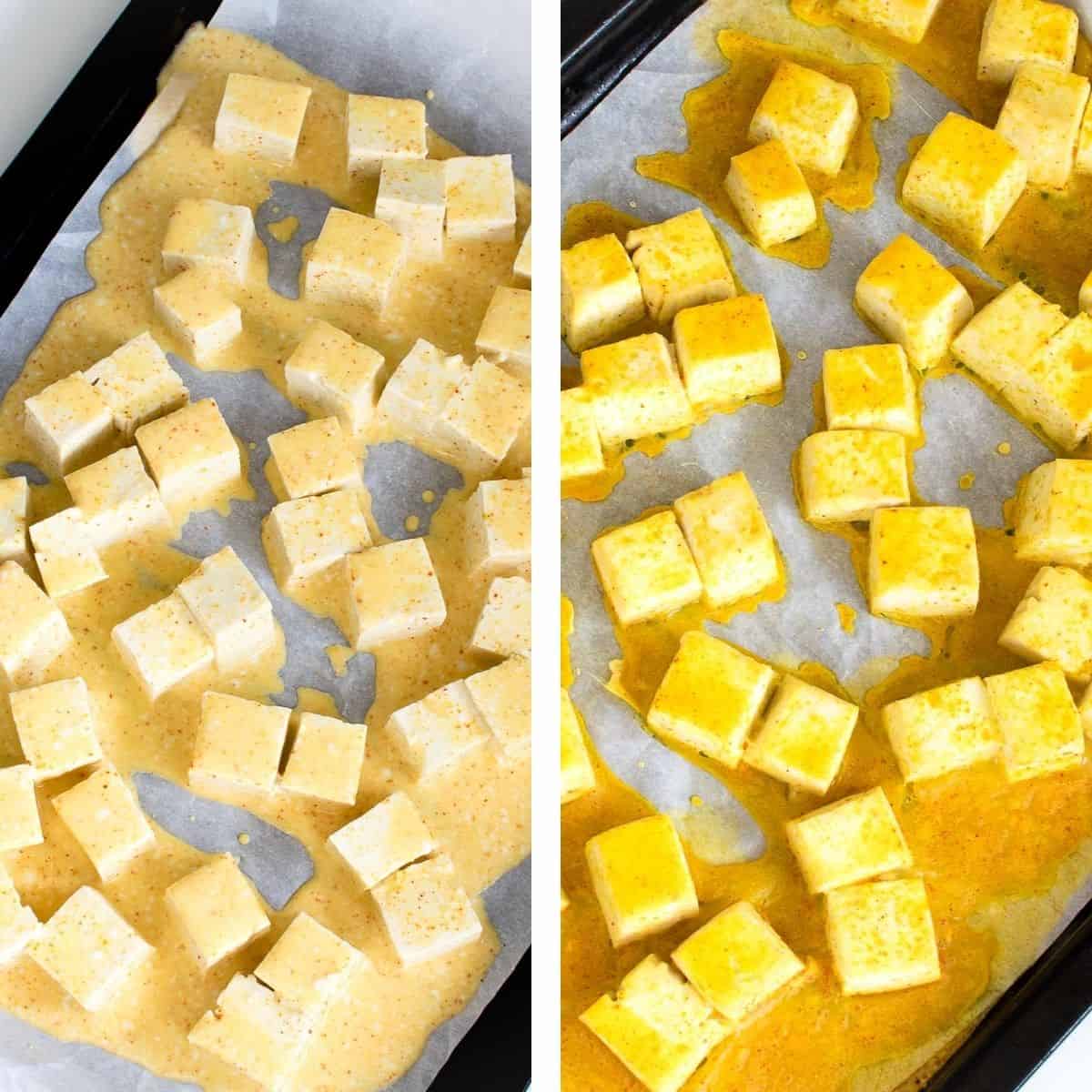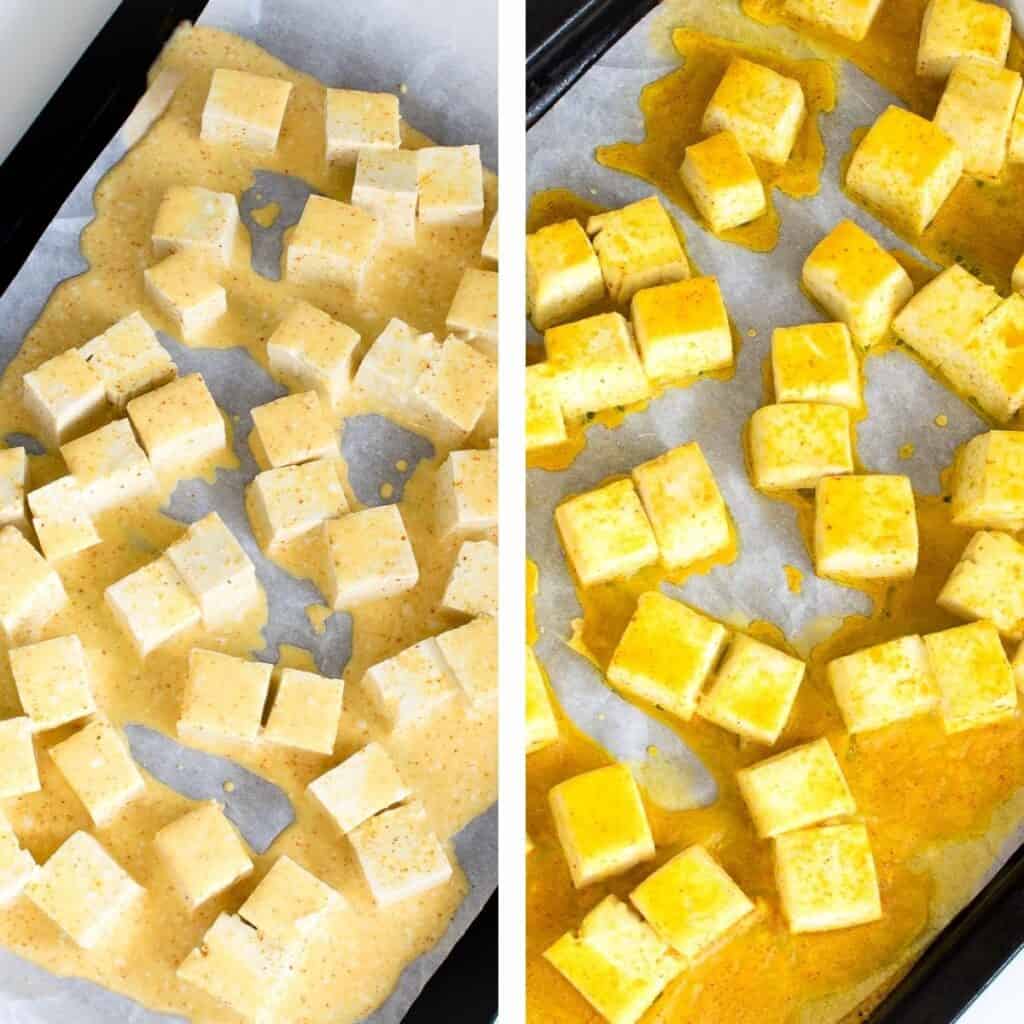 In the meanwhile, I heated a nonstick pan and then poured the blended masala in it. Then, I stirred it and cooked covered for about 10-15 minutes. I made sure to stir it at intervals so as to avoid any sticking at the bottom. (Be careful of the splashed).
Thereafter, I added all the spices and sautéed it nicely at lower-medium flame. Let it cook for 2 minutes uncovered.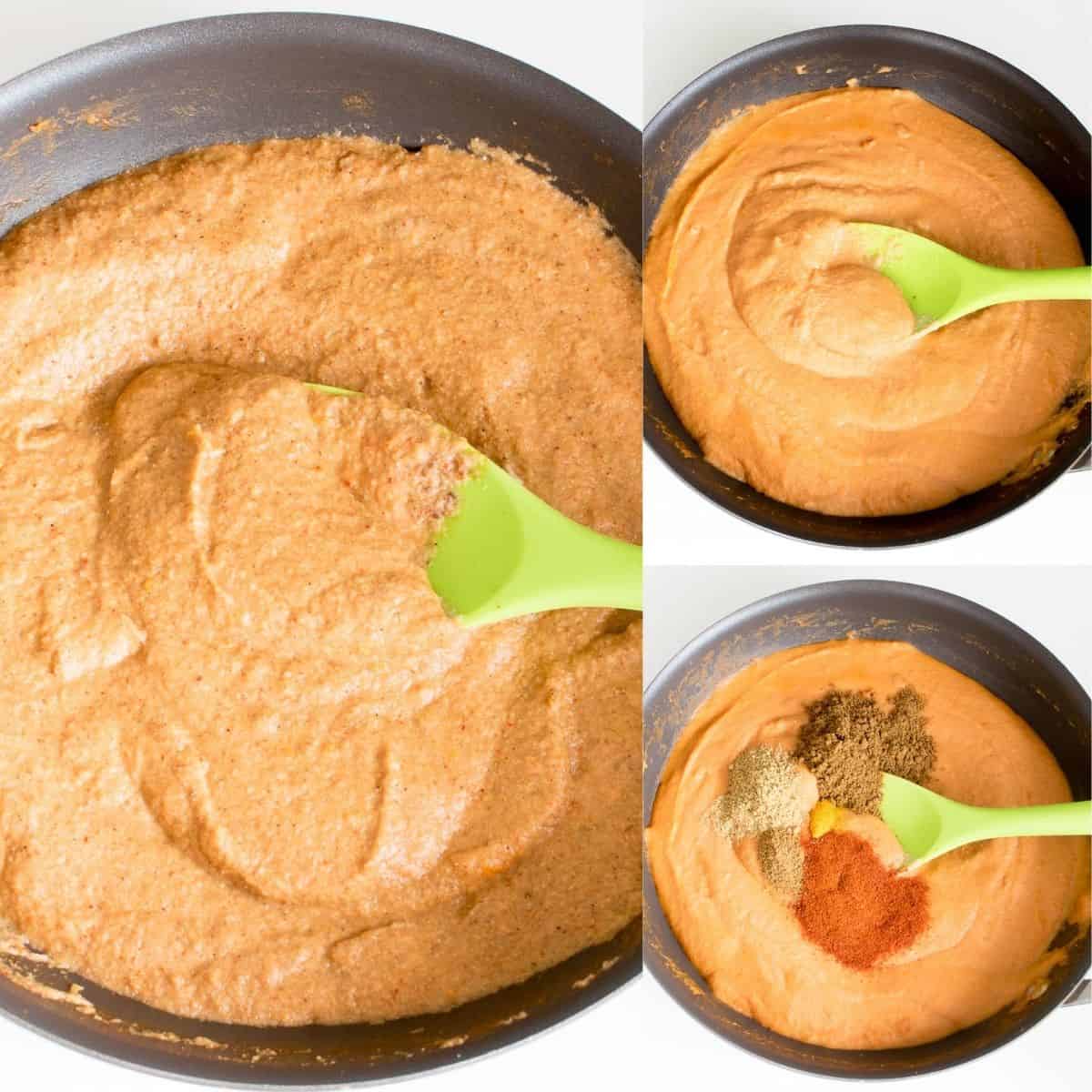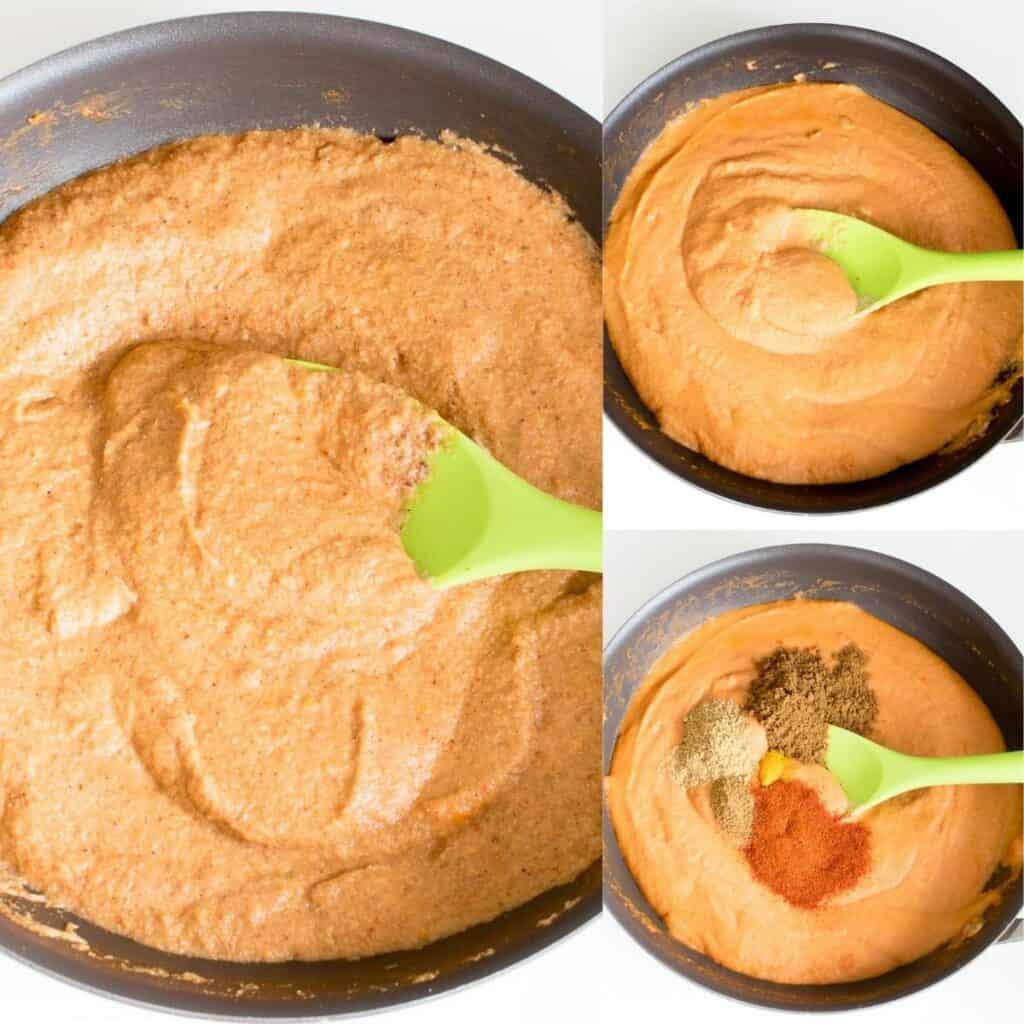 Once the tofu is baked, I added them in the cooked curry along with salt and the remaining coconut milk.
Afterwards, I mixed everything very gently making sure that tofu does not break.
Lastly, I turned it off and garnished with chopped cilantro.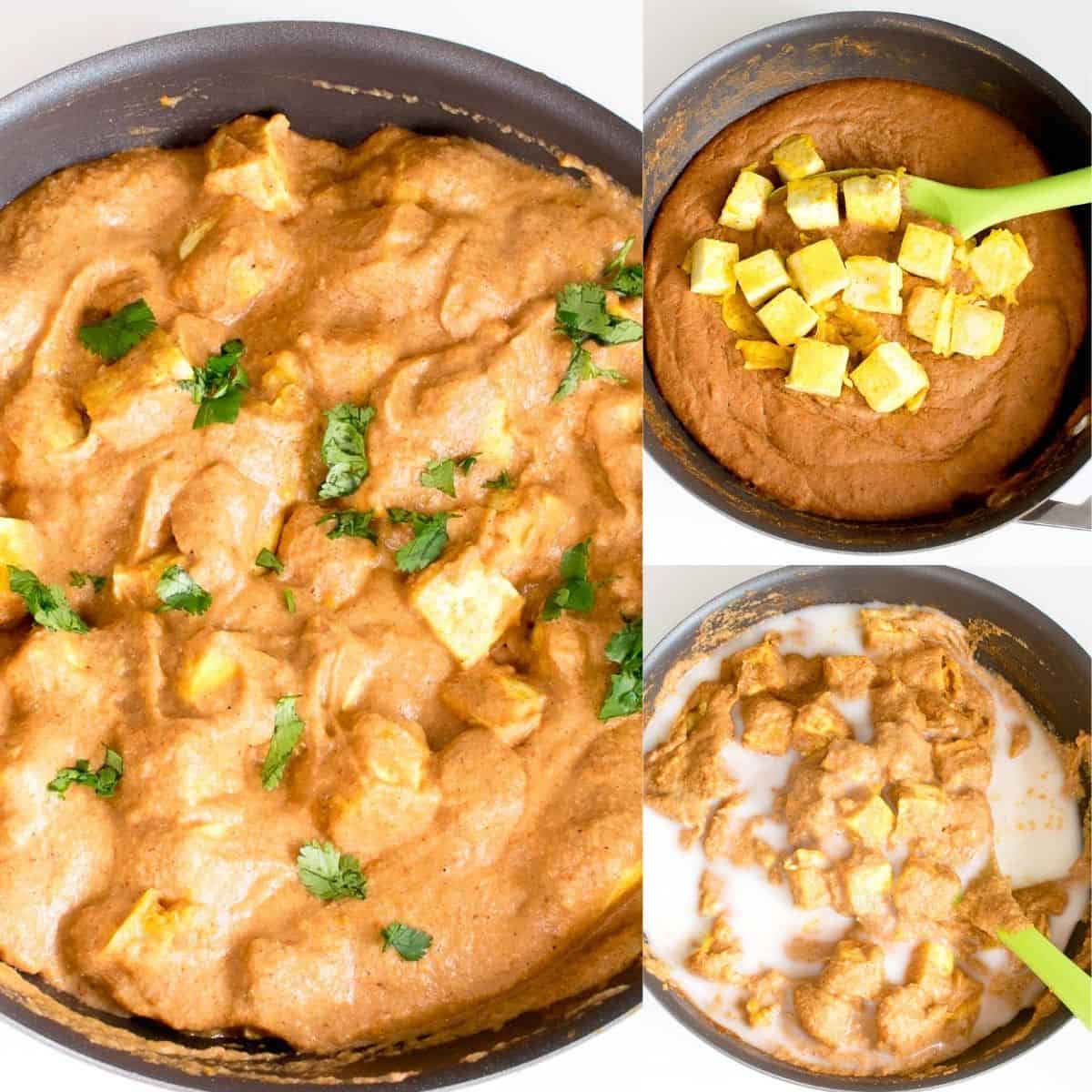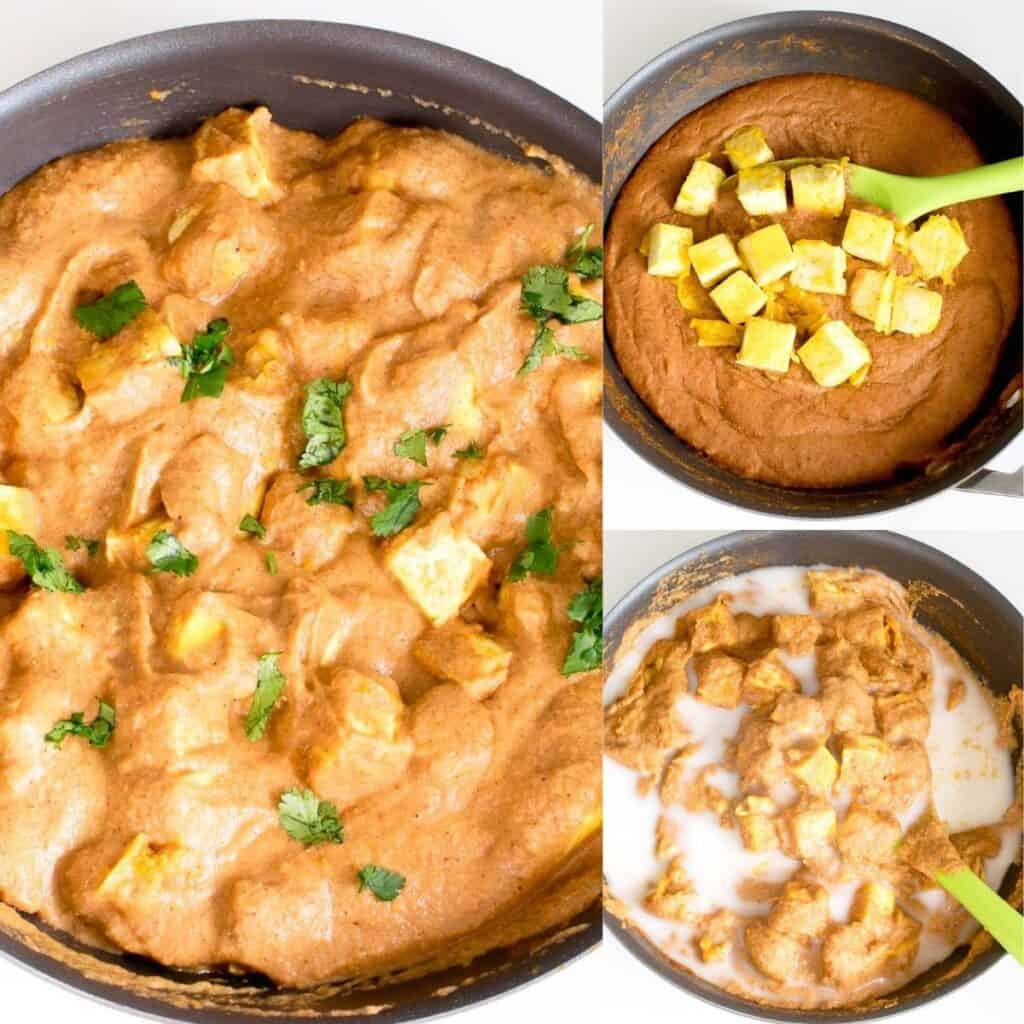 I served it with rice and it was an instant hit. My family adored this Indian tofu recipe and was absolutely delighted with this weeknight meal.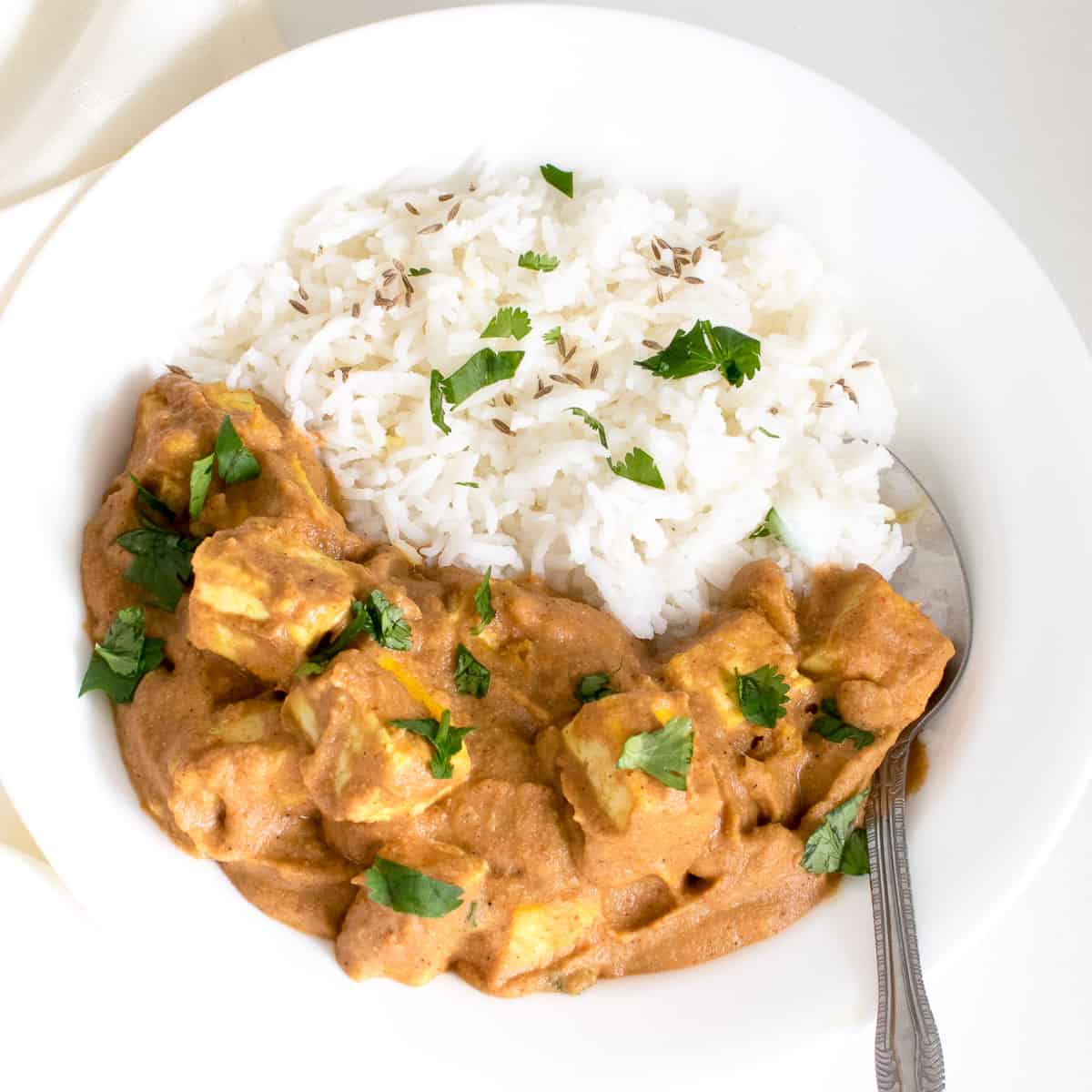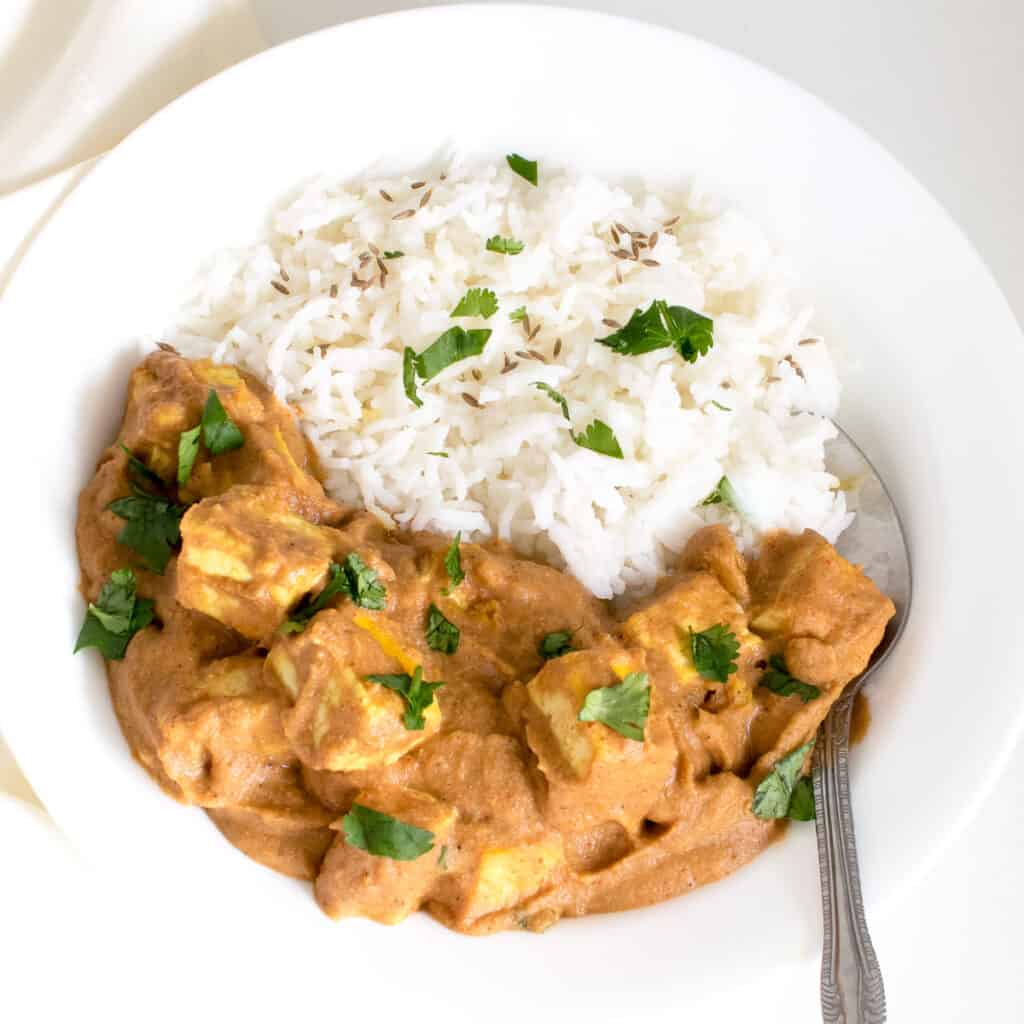 Now, I have added it in my weekly menu so I make it quite frequently.
Expert tips:
Make sure to press the tofu very nicely because the firmer it is the better.
It is important to generously coat tofu pieces with the buttermilk to get the right flavor. So, if desired you may pour the buttermilk on the baking sheet. They will all get cooked. Then, once baked make sure to scrape all the buttermilk from the parchment paper and put them in the curry along with the tofu. This step is important for the right flavors to blend.
It is to be noted that tomato paste should be used in this recipe instead of fresh tomatoes. Also, garam masala is very important so do not skip this spice.
You may want to stir the masala at intervals of 3 minutes to make sure that it does not stick at the bottom.
Tofu Tikka Masala FAQs
How long does it last?
It tastes best when served immediately. However, refrigerate the leftovers in an air tight container for about 5 days.
Is it healthy?
I have made it absolutely oil free, butter free and cream free which helps us to save some calories. Moreover, I have used healthy and fresh ingredients in the entire recipe. Tofu is a soy product which is high in protein and calcium. I also used tetra packed coconut milk with is low in calories and is lighter on the tummy. As for cashew nuts, its nutritious and adds healthy fats to this dish. Therefore, overall, this Indian entrée is healthy and can be enjoyed as everyday meal.
How does it taste like?
It tastes like a good blend of Indian spices along with a mild tang from the tomato paste. With the addition of cashew, it tastes thick and rich and the coconut milk helps in getting the right consistency of this recipe.
What is tikka masala?
It is basically a tomato cashew base gravy flavored with a variety of Indian spices. There are many variations but my family likes this the best. Even though its an Indian recipe but it originated in Britain and was developed by a British chef. However, this dish is not commonly served in India but is very popular overseas.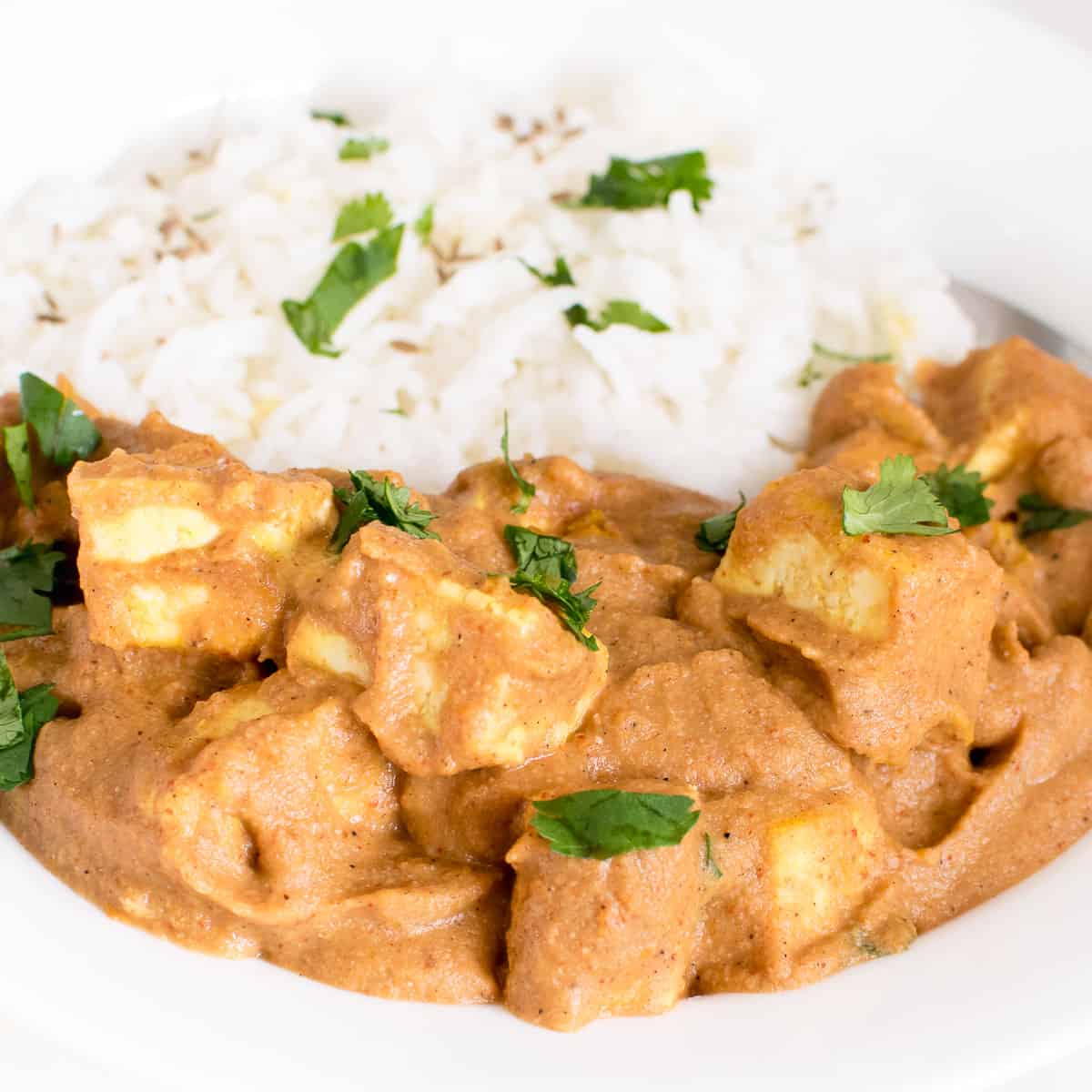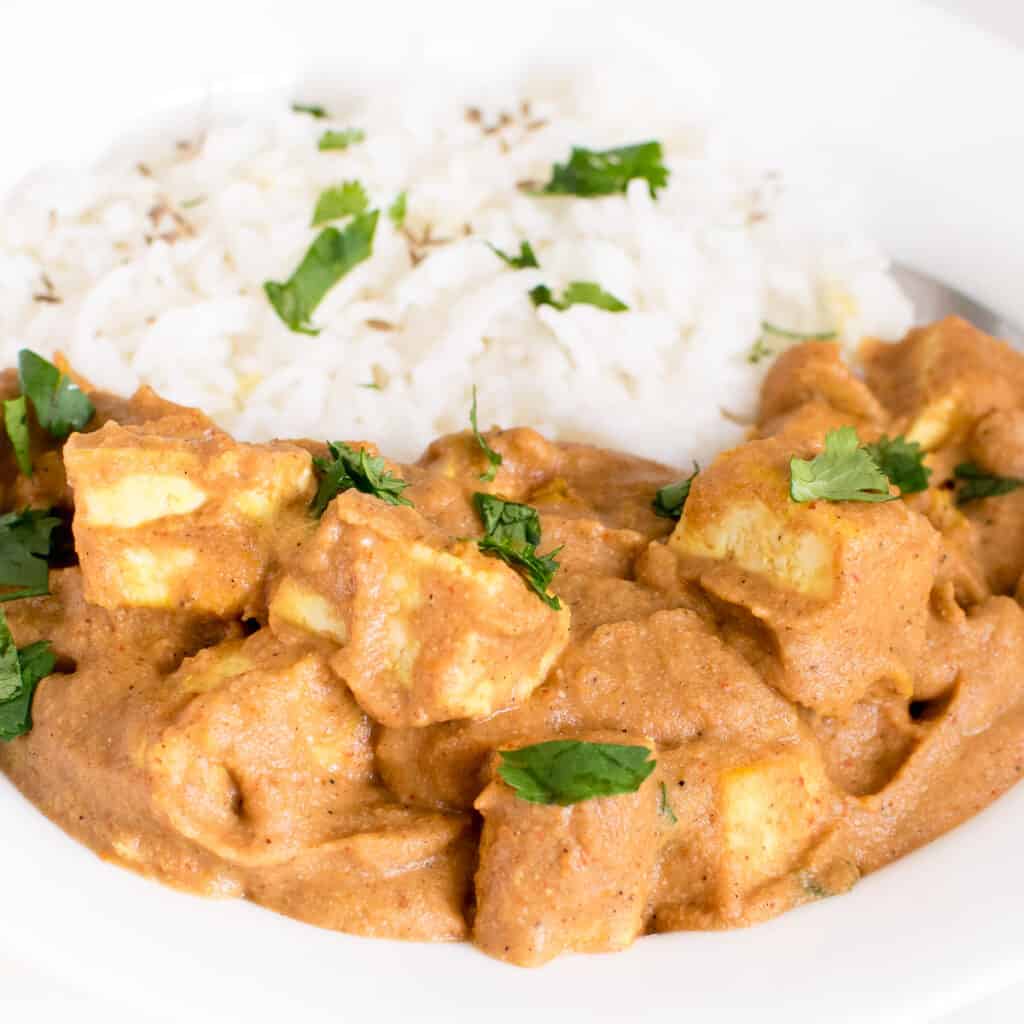 Did you make it?
If you get a chance to make this recipe then please leave your feedback in the comments below along with the ratings. In addition, you may tag @kiipfit on Instagram with your recipe images because we would love to see what you cooked.
If you desire to explore more of my delicious recipes then you may checkout my cookbooks.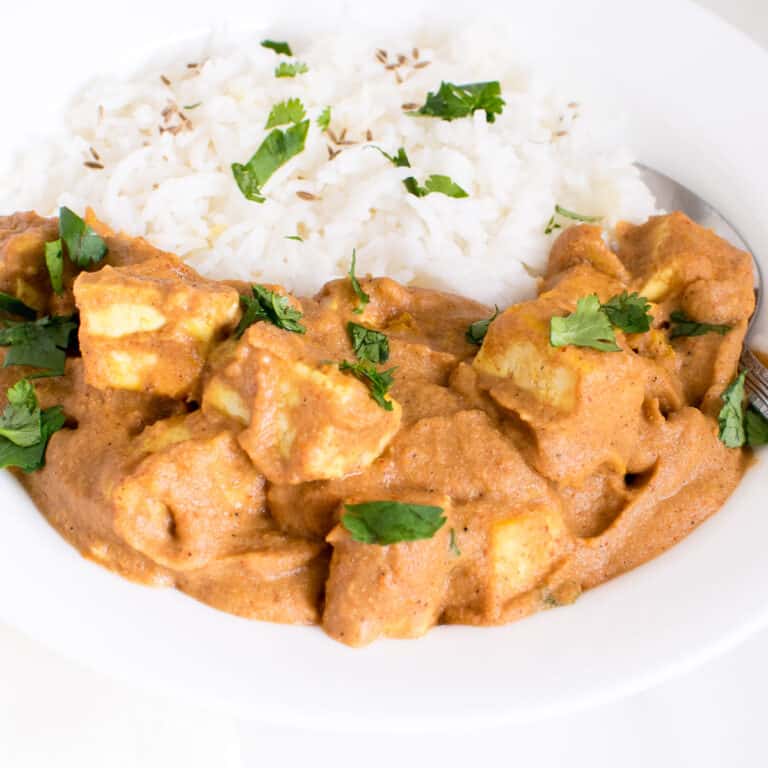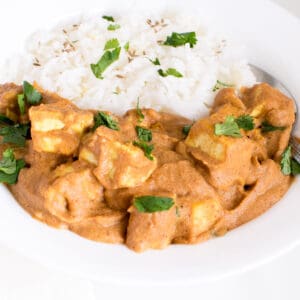 Print Recipe
Tofu Tikka Masala
This classic British Indian recipe of Tofu Tikka Masala just got healthier with a vegan spin to it. Its oil free and yet rich, thick and creamy. This gluten free curry is easy to make along with being satisfying and comforting weeknight meal.
Instructions
In a mixing bowl combine 1 cup unsweetened coconut milk and white vinegar. Stir and let it stand for 5 minutes so that it becomes a vegan buttermilk. Now, in the buttermilk add cornstarch, 1 tsp turmeric powder, ¼ tsp chili powder, ½ tsp salt. Stir nicely until all the cornstarch is well dissolved. Add tofu to it and let it marinate for 15 minutes.

Preheat the oven at 375-degree Fahrenheit and prepare a baking sheet with a parchment paper. Spoon out the tofu pieces in the prepared baking sheet. With the spoon drizzle the turmeric buttermilk generously over each piece of tofu and bake it in the middle rack of the oven for 30 minutes. (discard the leftover buttermilk). Once done, turn off the oven and take it out. Keep it aside on a flat surface.

Combine onion, tomato paste, ginger, garlic, 1 ¼ cup coconut milk and cashew nuts in a blender and blend it smooth.

Heat a nonstick pan and pour the blended masala in it. Stir, and cook covered at medium-high flame for 10-15 minutes or until it starts to thicken. (be careful of the splashes).

Add all the spices (cumin powder, coriander powder,¼ tsp turmeric, ½ tsp chili powder, garam masala). Stir nicely and then add salt as per taste. Let it cook uncovered at low flame.

Now, add the tofu pieces to the cooked masala. Scrape cooked buttermilk that sticks on the parchment paper and add it to the curry. Mix gently without breaking tofu. Let it cook for 2 minutes at low-medium flame.

Add remaining ¼ cup coconut milk and stirnicely. Turn it off and garnish with chopped cilantro. Serve with steamedrice/jeera rice.
Notes
Make sure to coat each tofu pieces with the buttermilk generously when placing on the baking sheet.
Also, make sure to scrape the cooked buttermilk from the parchment paper and stir in the cooked masala curry.
Adjust the chili powder as per taste.
While the masala cooks at high flame be careful of the splashes. You may wear gloves and remove the lid to stir it.
Make sure to press the tofu nicely to make it firmer.
Since I have used tetra pack coconut milk it may not curdle or thicken too much after adding vinegar which is ok. We just want a slight texture and the tangy taste of it in the recipe.
If you have time then marinate tofu in the buttermilk for 30 minutes. Longer the better and the tastier.
Do not use full fat or any other canned coconut milk or else the taste of this recipe will change. So, use the coconut milk that come in a tetra pack just like any other milk.
I used gluten free cornstarch in this recipe. 
This recipe tastes best when served immediately but refrigerate the leftovers for about 5 days.
Nutrition
Calories:
234
kcal
|
Carbohydrates:
13
g
|
Protein:
17
g
|
Fat:
12
g
|
Saturated Fat:
32
g
|
Sodium:
385
mg
|
Potassium:
523
mg
|
Fiber:
5
g
|
Sugar:
6
g
|
Vitamin A:
235
IU
|
Vitamin C:
7
mg
|
Calcium:
38
mg
|
Iron:
3
mg