This Asian flavored Cilantro Tofu Soup is a healthy and lip smacking clear soup. Its low in calories and high on taste. Being vegan and gluten free this soup fits into almost all diets and takes only about 15 minutes from start to finish.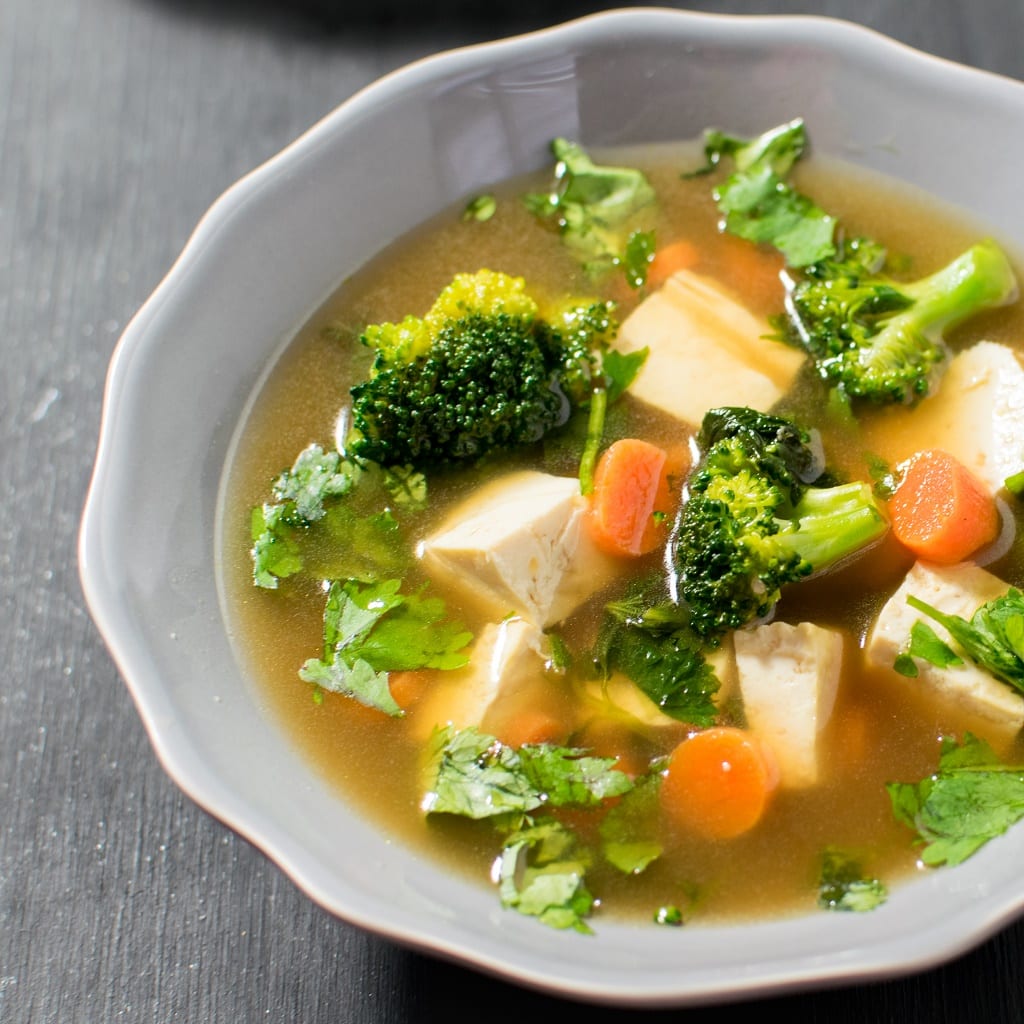 I am fond of Asian flavors and especially in the form of pho or Ramen or any Asian flavored stew.
But as the New Year has arrived, reminding us of resolutions. I have gone back to cooking more at home and eat as healthy as possible.
After a fun New Year party and hang overs I was craving for a simple stew with Asian flavors to overcome my hangovers.
Hence, to get back to my New Year goal I came up with Cilantro Tofu Soup.
I made this soup with the leftover ingredients at home. I had no stamina to go for grocery over the weekend.
Also since the work week starts full-fledged I wanted to gain back my energy, perk myself up to face the hectic week ahead.
Moreover, its a familiar cozy clear soup to enjoy when its gloomy and cloudy and cold outside.
Even if flu struck you, this tofu soup is the savior. It soothens me and comforts me all the time.
I love tofu and its my favorite vegan protein. It does not have a taste of its own but its so versatile that it can be made into any kind of recipe.
One of my most popular sweet and sour tofu is absolutely delish and out of this world. For my kids snacking i prefer making these tofu nuggets.
I also made Indian version of the most popular dish as butter tofu and its a popular one too.
However, I was amazed at how delicious could tofu tastes in a soup. It totally tasted like chicken soup and so nutritious too.
Therefore, I am here to share this cilantro tofu recipe today with you.
Ingredients you will need
olive oil
Cilantro
Carrots
Broccoli florets
Extra firm tofu
Vegetable broth
Low sodium soy sauce
Crushed black pepper
Lemon juice
Salt
I have used these easily available ingredients which you may buy from any local grocery store. However, I have provided links to few of them here for you convenience.
If you plan to buy from these affiliate links then I get a small commission which in turn encourages me to bring in more delicious recipes for you all.
Ingredients notes:
Olive oil – even though any oil can be used in this recipe, I preferred olive oil to keep it light and convenient.
Cilantro – this herb provides a natural refreshed flavor to this soup recipe.
Vegetables – any vegetables of your choice can be used here but make to include carrots. They provide crunch to this recipe and balances the overall taste with its sweetness.
Tofu – Extra firm tofu is a must. it should be properly drained. You may use high protein tofu as well. The firmer the better.
Vegetable broth – this is a must to get the right flavor and texture.
Soy sauce – any Asian cuisine is incomplete without soy sauce. I used low sodium soy sauce here which balances the salt flavor well.
How to make Cilantro Tofu Soup
Firstly, I heated oil in a saucepana dn sauteed fresh chopped cilnatro in it. I did a quick sautee making sure that cilnatro does not loose its flavor and aroma.
Secondly, I tossed in vegetables and sauuted them crunchy.
Next, I folded in chopped tofu and sauteed until it was cooked from inside.
Thereafter, I poured in vegetable broth along with the seasonings. Then, I let it cook for few minutes so that all the ingredients are well blended and evolved.
Lastly, I removed it form heat and stirred in lemon juice.
As soon as I ladled the it in our bowl we immediately loved every bit of it.
This soothing and satisfying meal was ready within minutes.
We all devoured it together while planning and organizing the house for back to work week ahead.
Therefore, My schedule is ready. I am somewhat organized to overcome the holiday hangover to kick start the new year with new goals, new energy, new motivations and of course new healthy recipes 🙂
Expert tips:
For a nice flavor of broccoli in this soup you may blanch it first before sautéing.
Tofu will tastes even better if its pressed and drained. It work well if you like firmer tofu in your soup.
Most importantly, do not overcook tofu as it softens and will start to break.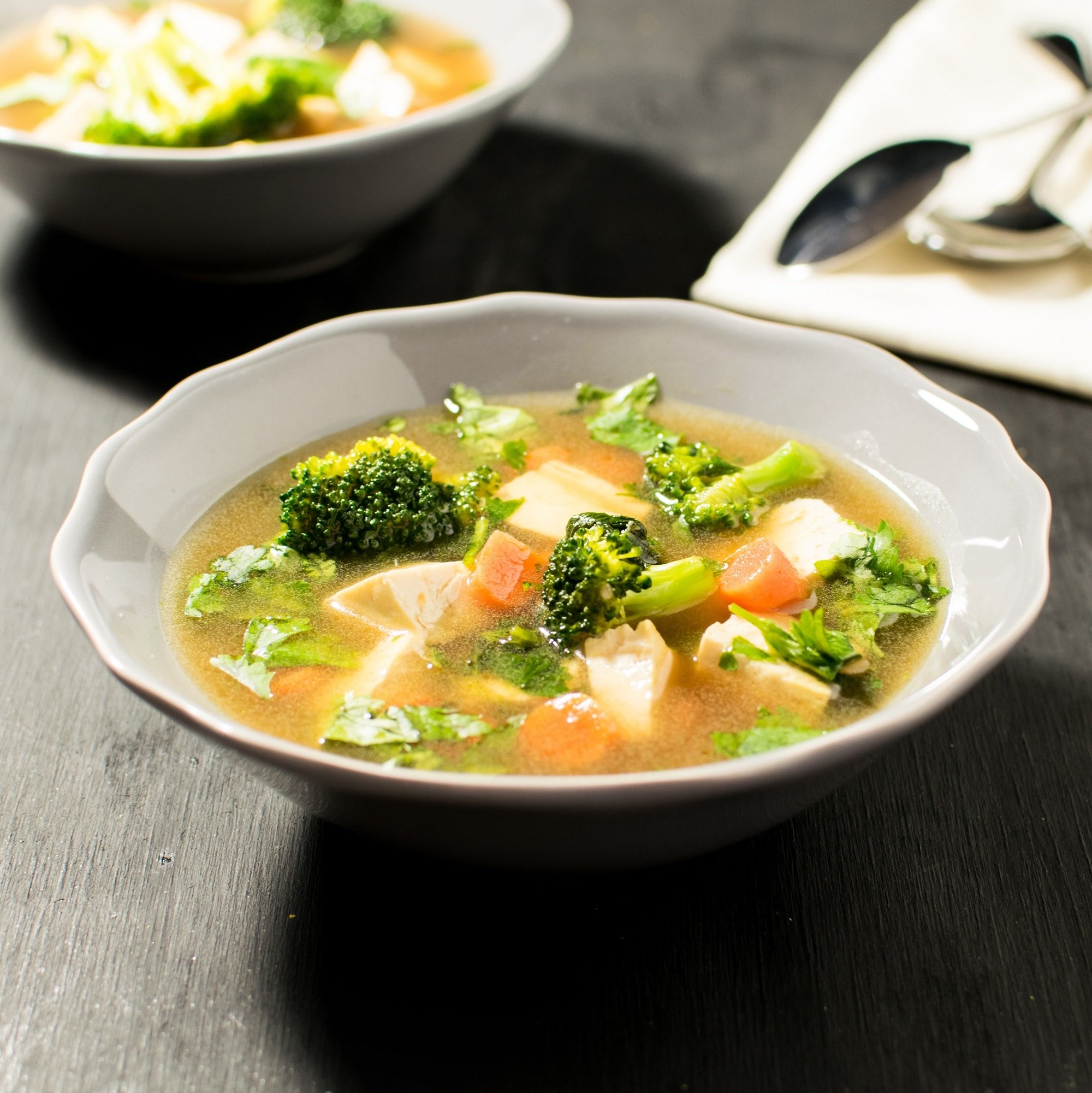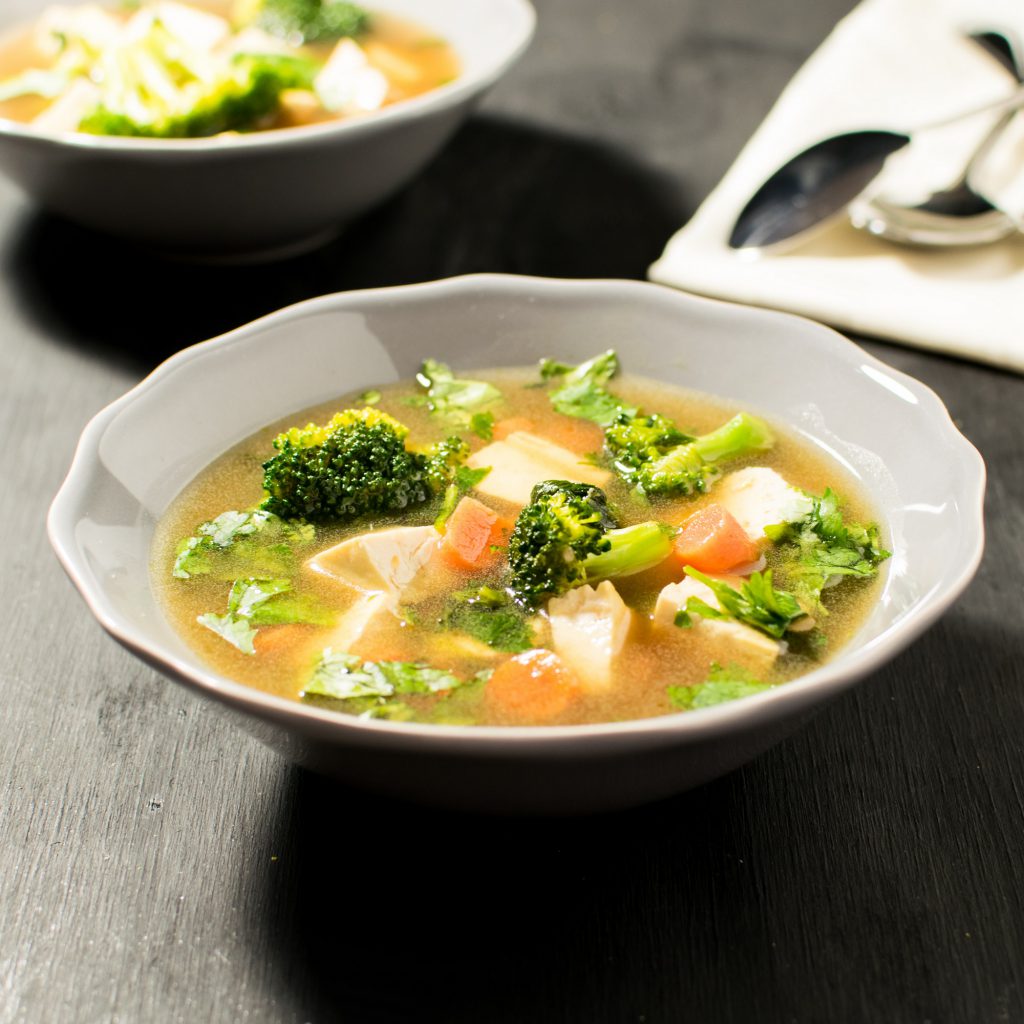 Cilantro Tofu Soup FAQs
How long does this last?
This soup tastes best when served immediately. However it can still be refrigerated in a glass container for 1-2 days.
Can I make it oil free?
Yes, Just skip the oil and boil the vegetable broth first followed by all the ingredients.
How does it taste?
It has a salty and clear taste with a blandness of tofu along with the crunchiness of vegetables. However, tofu absorbs the flavors and provides an overall satisfying taste.
It is healthy?
Yes, it has a balanced combination of protein, fiber and healthy fats.
Can I use cooked tofu here?
I have added tofu directly into the soup and it cooks in it. However, if you want to sauté tofu beforehand. Then, heat oil in a nonstick and sauté tofu until golden from all side. Then, add tofu to this soup as per the direction.
My other soup recipes that might interest you
Butternut Squash Sweet Potato Soup
Did you make it?
If you get a chance to make this recipe then please leave your feedback in the comment section below and rate this recipe also.
You may also tag @kiipfit on Instagram and I will definitely shout it out there. I love to see what you cook in your kitchen.
In addition you may checkout my vegan cookbook for everyday vegan comfort recipes.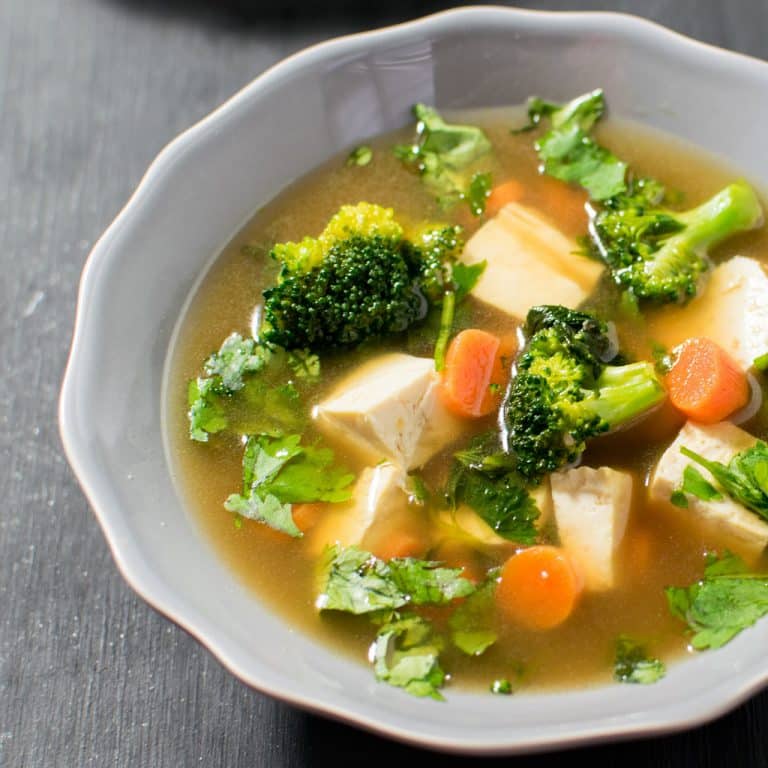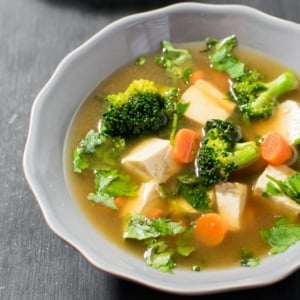 Print Recipe
Cilantro Tofu Soup
This Asian flavored Cilantro Tofu Soup is a healthy and lip smacking clear soup. Its low in calories and high on taste. Being vegan and gluten free this soup fits into almost all diets and takes only about 15 minutes from start to finish.
Instructions
In a sauce pan heat oil and add cilantro. Saute for 30 seconds.

Add carrots and broccoli and saute for another 30 seconds.

Add tofu and saute again for 30 seconds to one minute.

Add vegetable broth, soy sauce, black pepper, lemon juice and salt.

Cook uncovered on medium flame for 5-7 minutes.

Serve warm and garnish with more chopped cilantro.


Notes
Feel free to adjust lemon juice as per your taste. If you like your soup to be on a tangy side add few extra drops of lemon juice to it.
This soup tastes best when served immediately. However, it can be refrigerated for 1-2 days. Juts warm it up nicely before serving. 
Variation: For oil free version skip the oil and sauteing. Just boil the vegetable broth and add all the ingredients until done. The vegetables should be soft but chewy. 
Nutrition
Calories:
125
kcal
|
Carbohydrates:
6
g
|
Protein:
12
g
|
Fat:
8
g
|
Saturated Fat:
1
g
|
Sodium:
1210
mg
|
Potassium:
36
mg
|
Fiber:
1
g
|
Sugar:
2
g
|
Vitamin A:
571
IU
|
Vitamin C:
11
mg
|
Calcium:
5
mg
|
Iron:
1
mg