This Brown Rice Tofu Scramble is a comforting yet protein packed nutritious meal. Its loaded with health and taste in the same plate. Its an easy, satisfying and delicious lunch.
The lunch dilemma – It happens to all of us.
Once we have made soups, salads, sandwiches and eaten at all the best possible healthy eateries, we crave for some fresh home cooked lunch while at work or at home or at school. Hmmmmm.
I am always asking myself whether I want to eat salad again today? The answer immediately comes to my mind NAAAHHH!!! 🙂 . At that point I try and explore my kitchen refrigerator and kitchen pantry like never before.
Sometimes, I tell myself it's time to organize the shelves but my question is mostly unanswered and tummy growling.
But, I end up eating lettuce and wait for another afternoon in some hope of coming up with an idea for lunch. 🙂
With so much thought Brown Rice Tofu Scramble was created in my kitchen with the ingredients that were handy at that time. 🙂 .
Basically I was cleaning up the refrigerator before making another grocery trip.
Doesn't that sound fun?
How to make this Brown Rice?
Firstly brown rice needs to be rinsed thoroughly and since I am always impatient I never soak the rice but if you have time I would recommend you soak the brown rice in water for some time. The ratio of rice and water should be 1:3. Cook at medium flame stirring at intervals to avoid sticking. Once the water is almost absorbed simmer the flame. Cover and cook until water is absorbed. After few minutes remove the lid and fluff with a fork.
How to make Brown Rice Tofu Scramble
Firstly, I heated oil in nonstick pan
Secondly, I added garlic, fresh oregano leaves (I used fresh oregano because it gave the recipe a subtle flavor and aroma), onions and sauteed well.
Then, I tossed in crumbled tofu. (Make sure that tofu is as dry as possible and add the crumbled tofu to the pan and cook very well until golden brown and completely dry. While cooking tofu little care needs to be taken in order to bring out the chewy texture and a fully cooked flavor. Any raw taste of tofu will spoil the recipe).
Next, I tossed in the rest of the ingredients and cooked again for a few minutes and served it warm.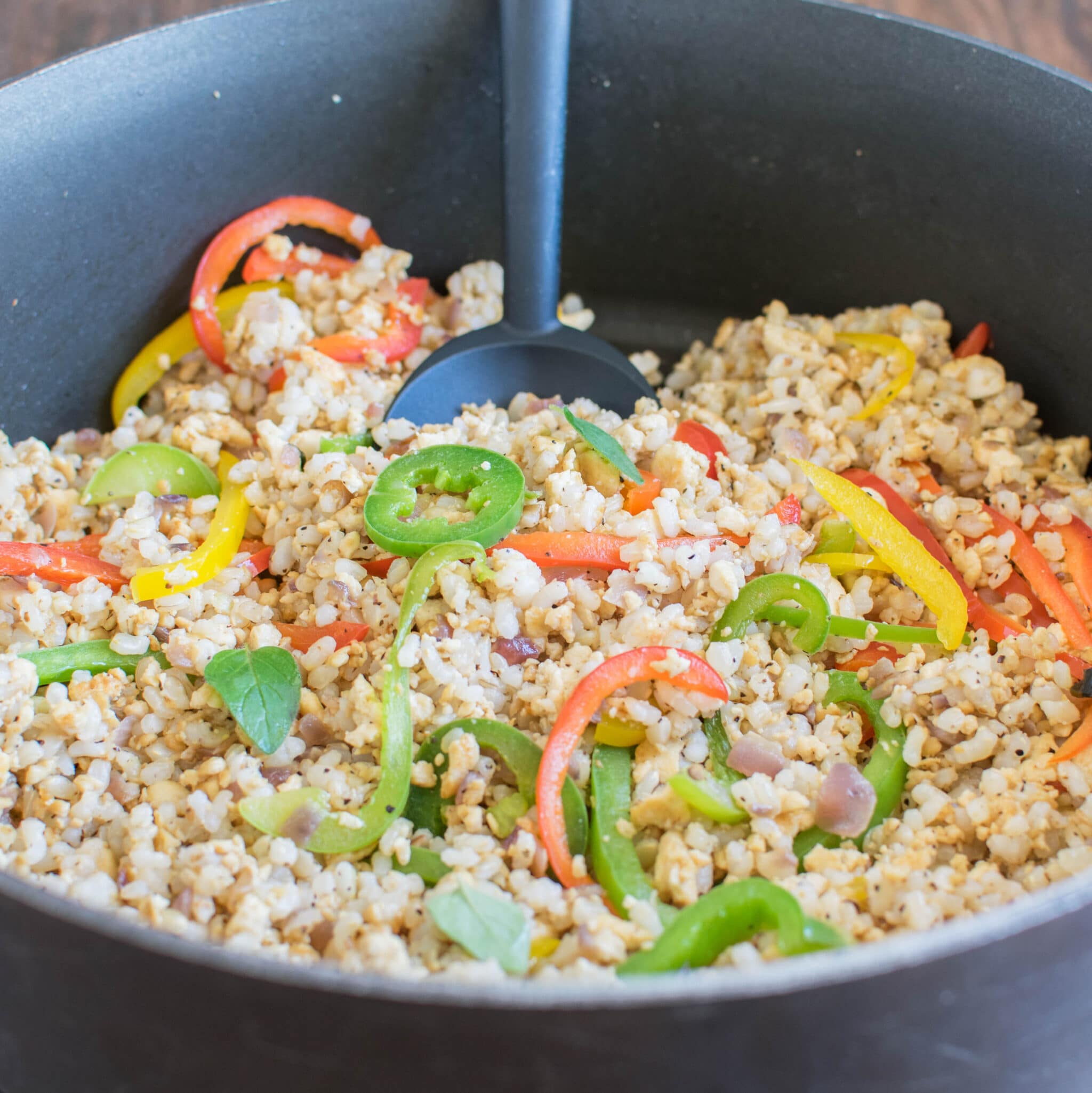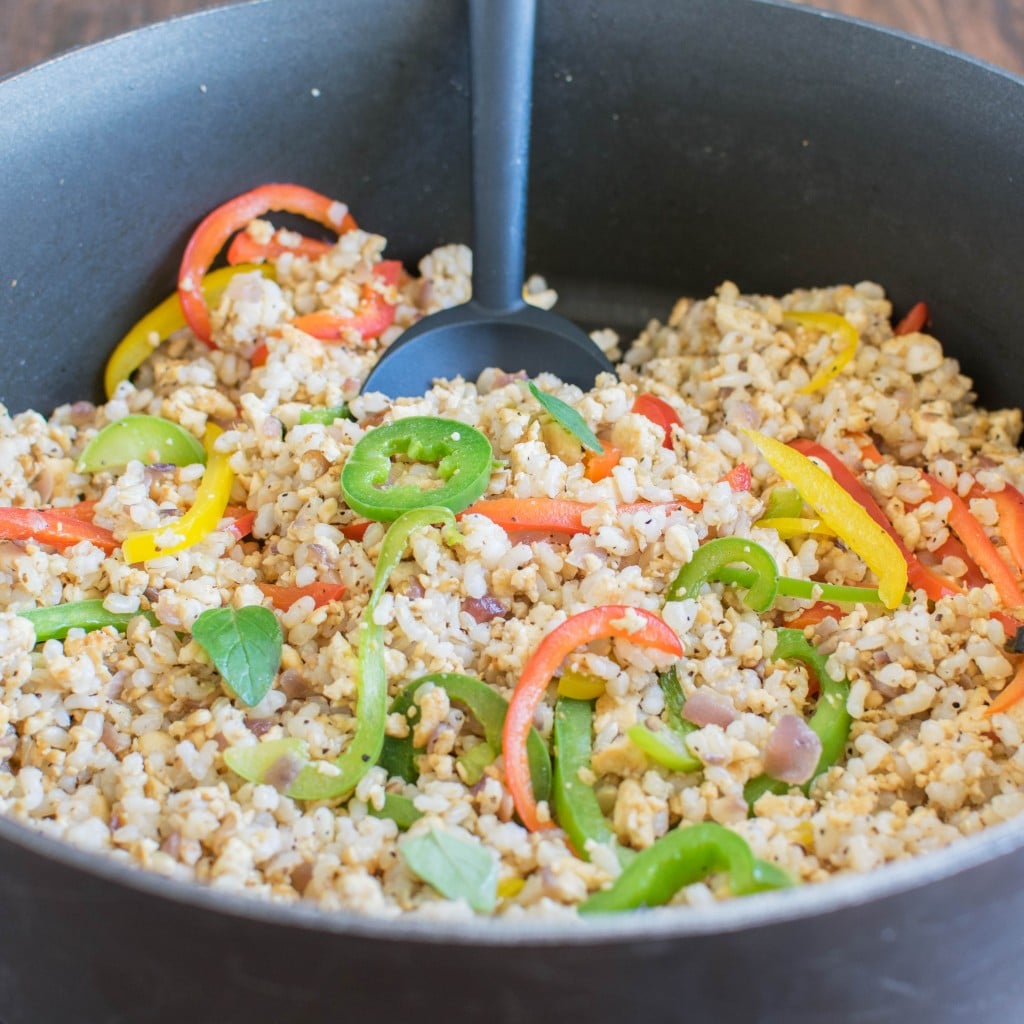 I topped it with some fresh lettuce (my favorite green leaves) for myself but you can enjoy this dish as is.
Usually, I like to double this recipe and refrigerate.
I packed it for lunch for my husband the next day and after a long time he enjoyed a healthy home cooked lunch.
Brown Rice Tofu Scramble tastes as delicious at room temperature and is a perfect lunch box idea as well. 🙂
You may also like:
Black Beans and Brown Rice with Garlicky Kale
Red Wine Vinegar Tofu with Quinoa
Did you make it?
If you get a chance to make this recipe then please leave your feedback in the comments below along with the ratings. In addition, you may tag @kiipfit on Instagram because we love to see what you cooked.
Print Recipe
Brown Rice Tofu Scramble
This Brown Rice Tofu Scramble is a comforting yet protein packed nutritious meal. Its loaded with health and taste in the same plate. Its an easy, satisfying and delicious lunch.
Ingredients
1

tbsp

olive oil

1

tsp

chopped garlic

8

fresh

oregano leaves

1

cup

chopped red onion

1

14 oz

pack of extra firm tofu

(drained, pressed and crumbled)

1 1/2

cup

colored bell peppers

1

tbsp

sliced jalapeno pepper

1

tsp

salt

1/2

tsp

crushed black pepper

1 1/2

tsp

lemon juice

2

cups

cooked brown rice
Instructions
Heat oil in a nonstick pan and add garlic and oregano leaves.

Once garlic starts to brown add onions and saute until light golden brown.

Add crumbled tofu and cook open until golden brown in color and tofu dries up further. Keep stirring occasionally to avoid any sticking or over cooking.

Add bell peppers and jalapeno pepper, mix well, cover and cook for 3-4 minutes or until the bell peppers soften but retains its crunchy texture. (Avoid over cooking).

Add salt, black pepper and lemon juice and mix well.

Lastly, add brown rice and saute well. Cook opened for 1-2 minutes and turn off the fame.

Garnish with more oregano leaves and serve hot.
Notes
Dried oregano can also be used instead of fresh oregano leaves.
Make sure to press tofu very well and try to dry it up as much as possible. Cook tofu very well until golden in color to get the chewy texture and avoid any raw taste.
For a nice soft and chewy texture of brown rice the ratio of rice and water should be 1:3 and cook in medium flame till the water is almost absorbed stirring at interval to avoid sticking in the pan. Then simmer the flame and cover and cook until water is fully absorbed. 
I have provided step wise images in the post above for your reference.
Nutrition
Calories:
325
kcal
|
Carbohydrates:
43
g
|
Protein:
15
g
|
Fat:
11
g
|
Saturated Fat:
1
g
|
Sodium:
777
mg
|
Potassium:
136
mg
|
Fiber:
3
g
|
Sugar:
1
g
|
Vitamin A:
45
IU
|
Vitamin C:
1
mg
|
Calcium:
56
mg
|
Iron:
2
mg