This oil free vegan Thai Red Curry Vegetables is easy to make and totally customizable. Its healthier and better than the takeout. Simply make it from scratch and enjoy this deliciousness in the comfort of your home.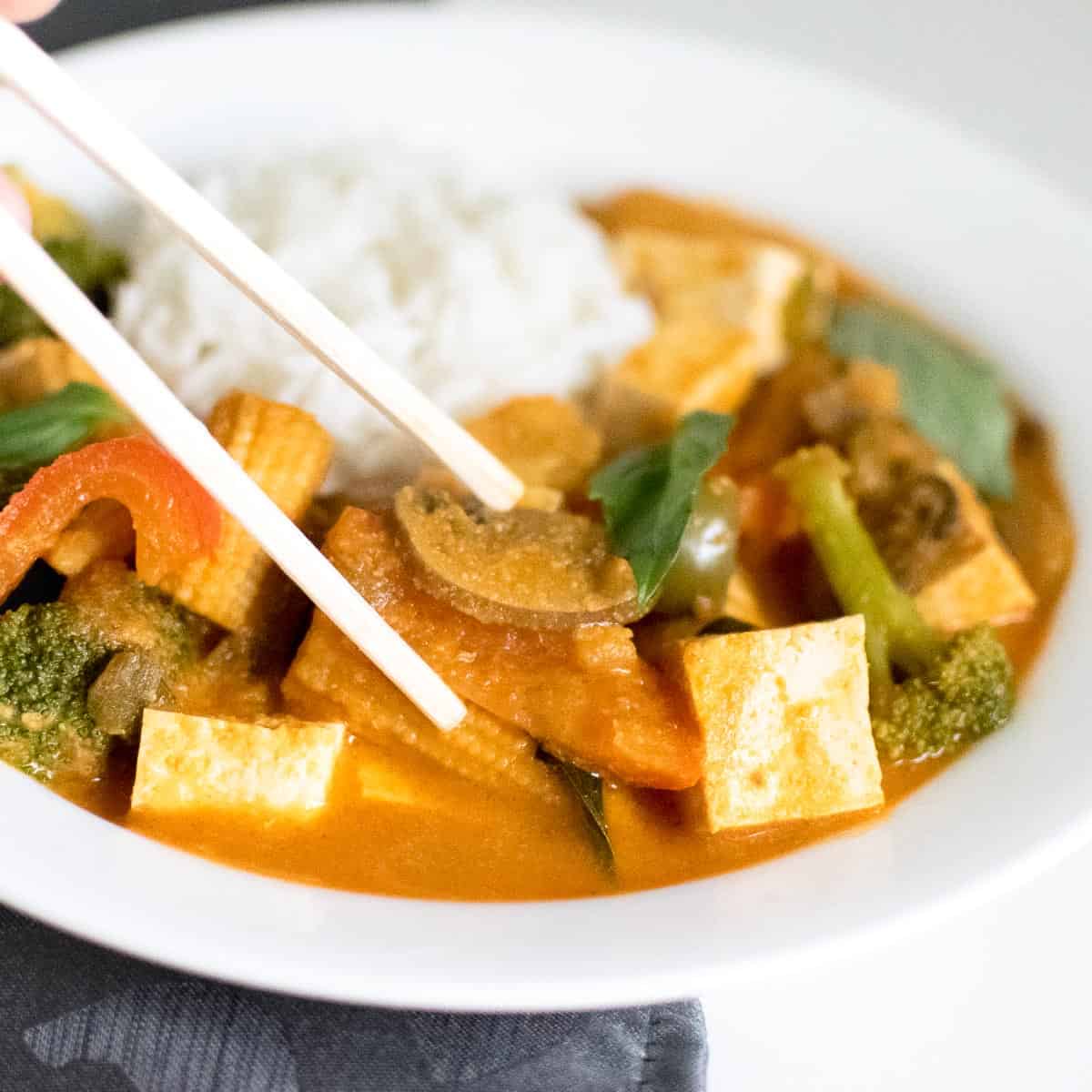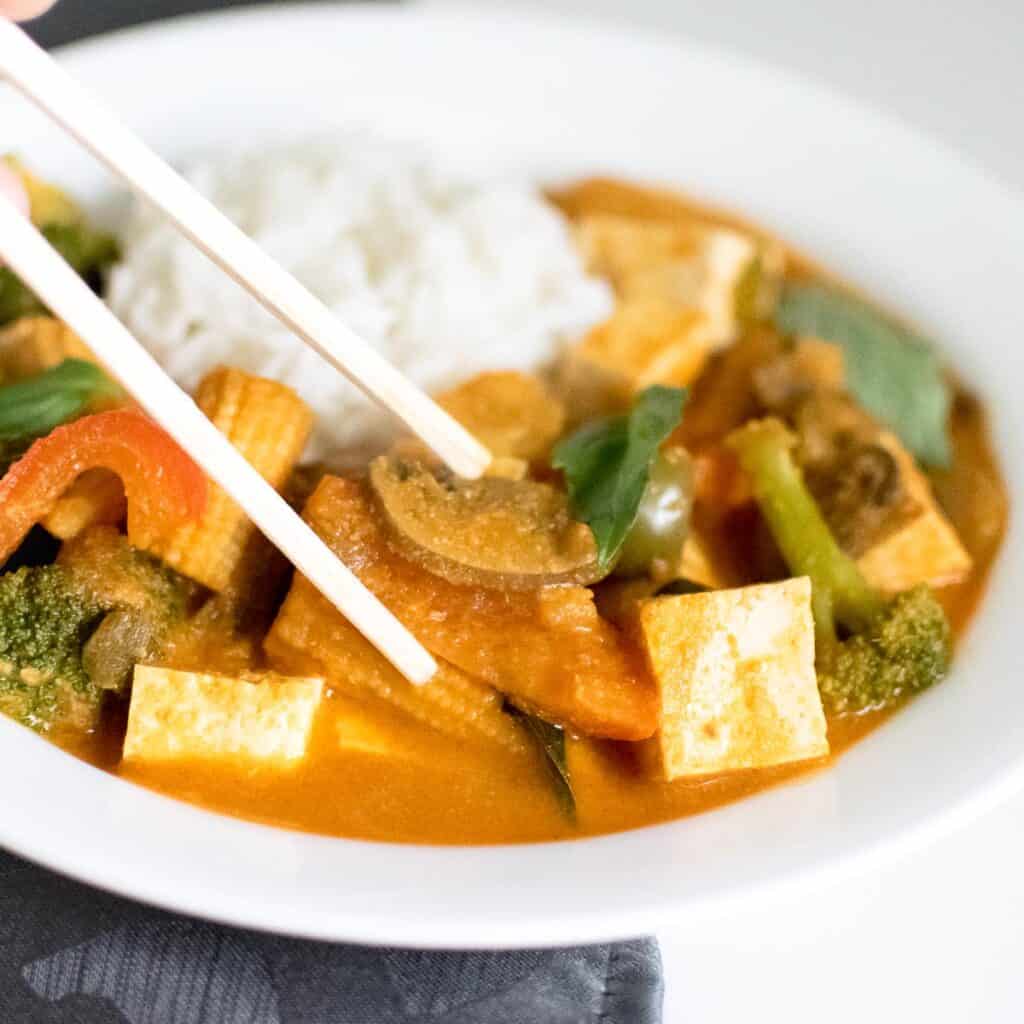 My family is very fond of Thai curries and it has always been our first preferred take out. However, I was always concerned about its calories and the fat content.
So, I have been working on this vegan Thai curry recipe. Here, I worked on bringing its calories down and making it lighter on the tummy. This way it gets easier for us to enjoy it as an everyday meal specially to have a satisfying mid-week break.
I have tried Thai flavors in my other recipes which you may enjoy trying out as well like:
Thai Peanut Chickpea Patties
Thai Curry Pasta Salad
Instant Pot Tom Yum Soup
Thai Curry Red Rice Soup
Creamy Coconut Pasta
Yellow Curry Veggie Quinoa with Tofu
Basically, it's a medley of few aromatic spices combined with a variety of chilies. Coconut flavor dominates Thai recipes and makes it amazingly delicious.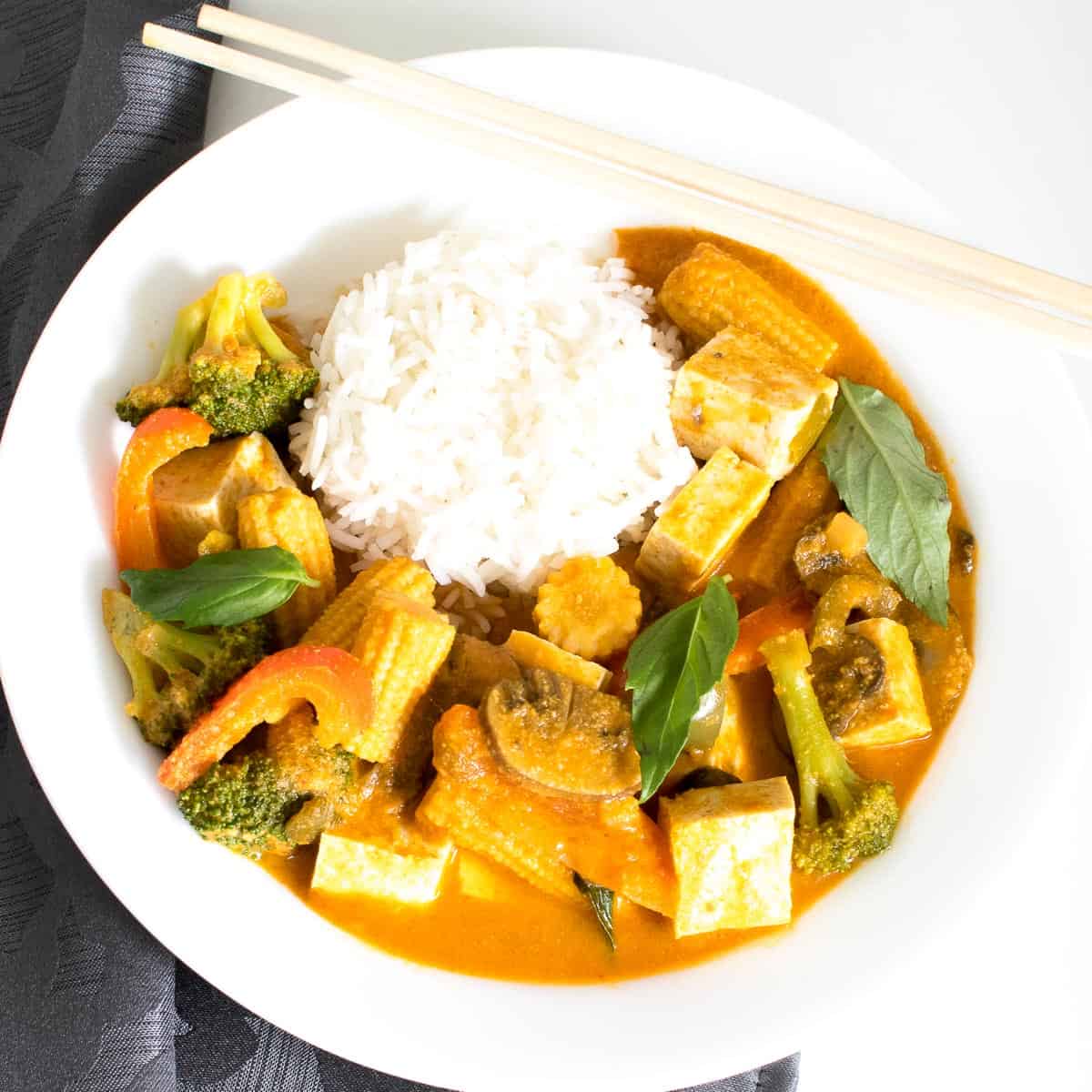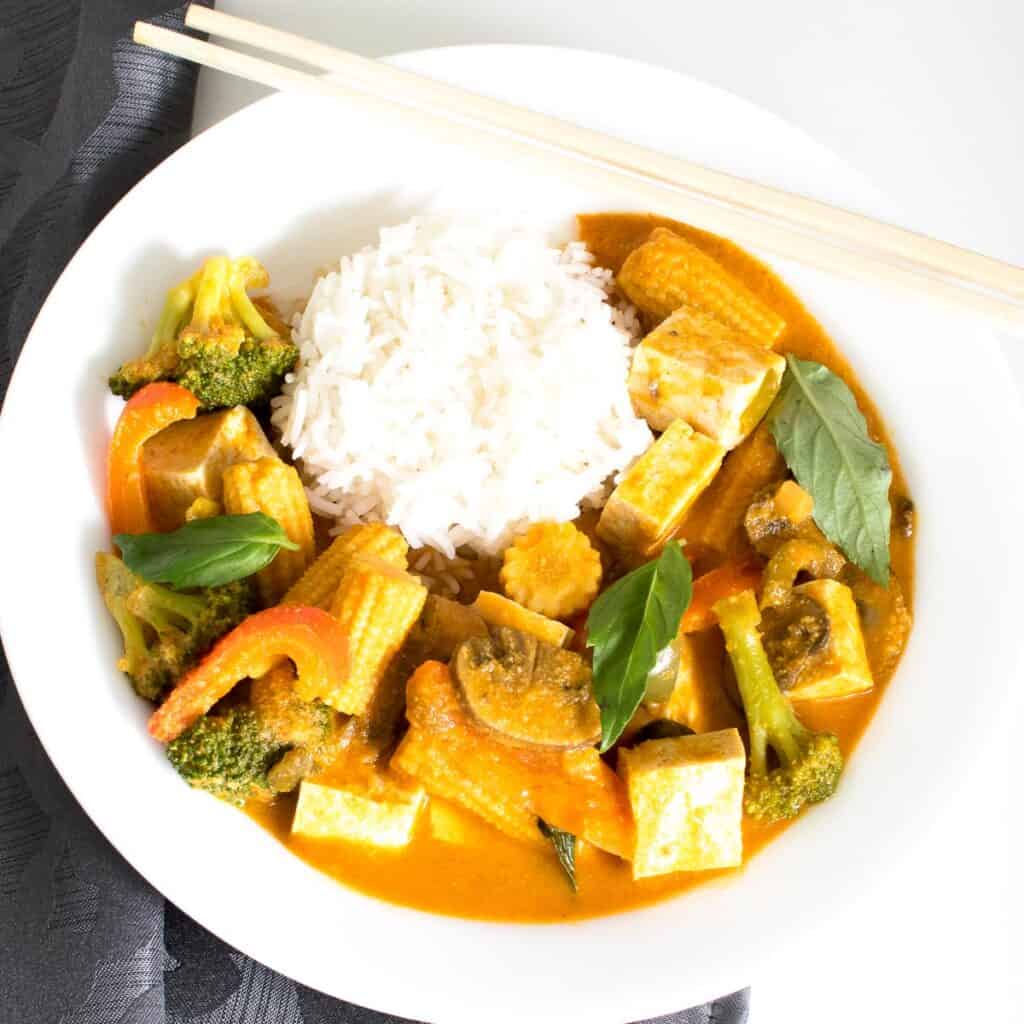 So, here I am to share this awesome and my personal favorite red Thai curry recipe with vegetables and tofu.
Ingredients you will need:
For the sauce
Coconut milk
Coconut flakes
Red curry paste
Ginger
Garlic
Soy sauce
Vinegar
For the vegetables
Scallions
Red and green bell peppers
Mushrooms
Baby corn
Tomatoes
Broccoli florets
Extra firm tofu
Others
Basil leaves
Salt
Maple syrup
Lemon juice
Sriracha sauce
Crushed chili flakes
I have used these easily available ingredients in this recipe which you may buy from any grocery store. However, I have provided links to few of them here for your convenience.
If you plan to buy from these affiliate links then I get a small commission which in turn encourages me to bring in more delicious recipes for you all.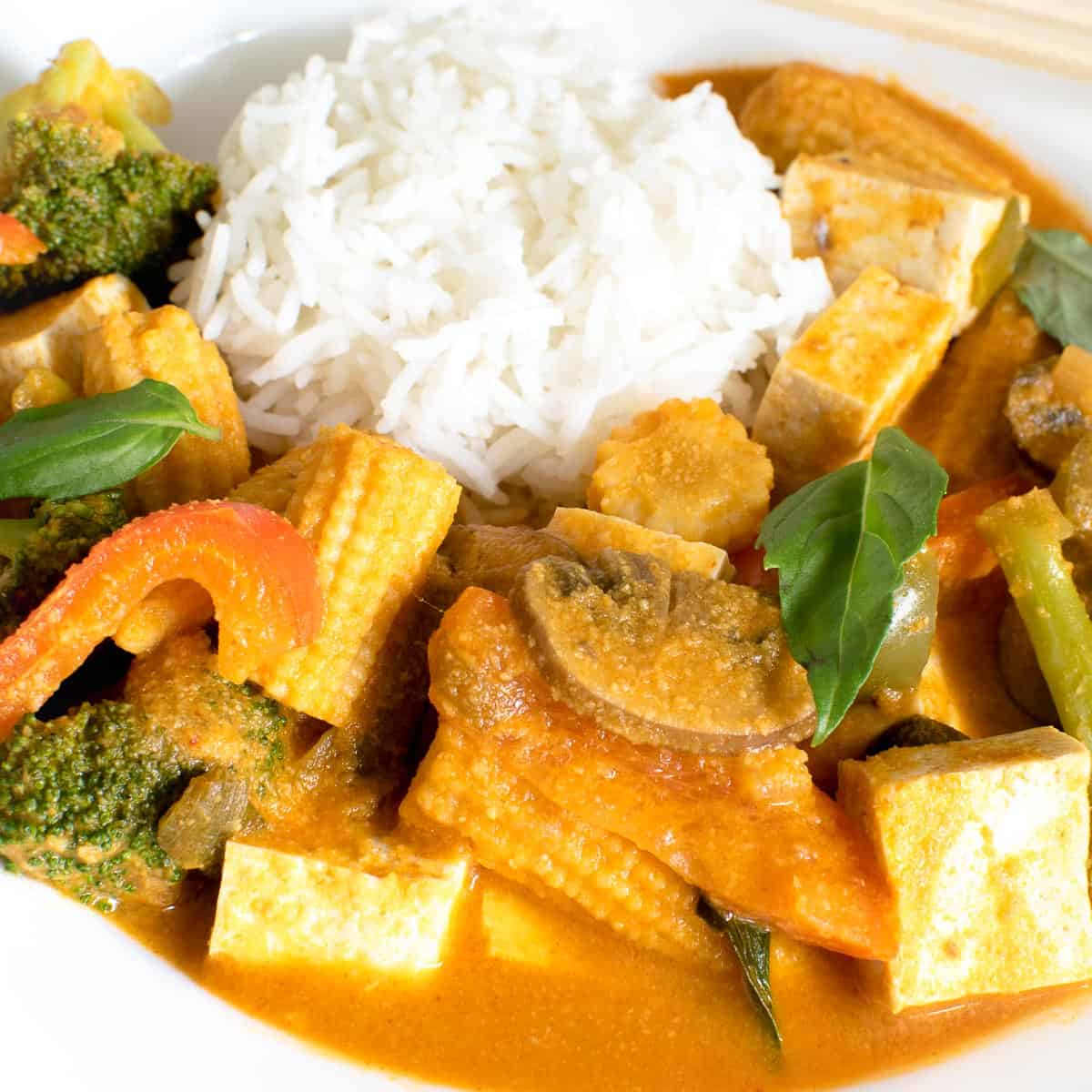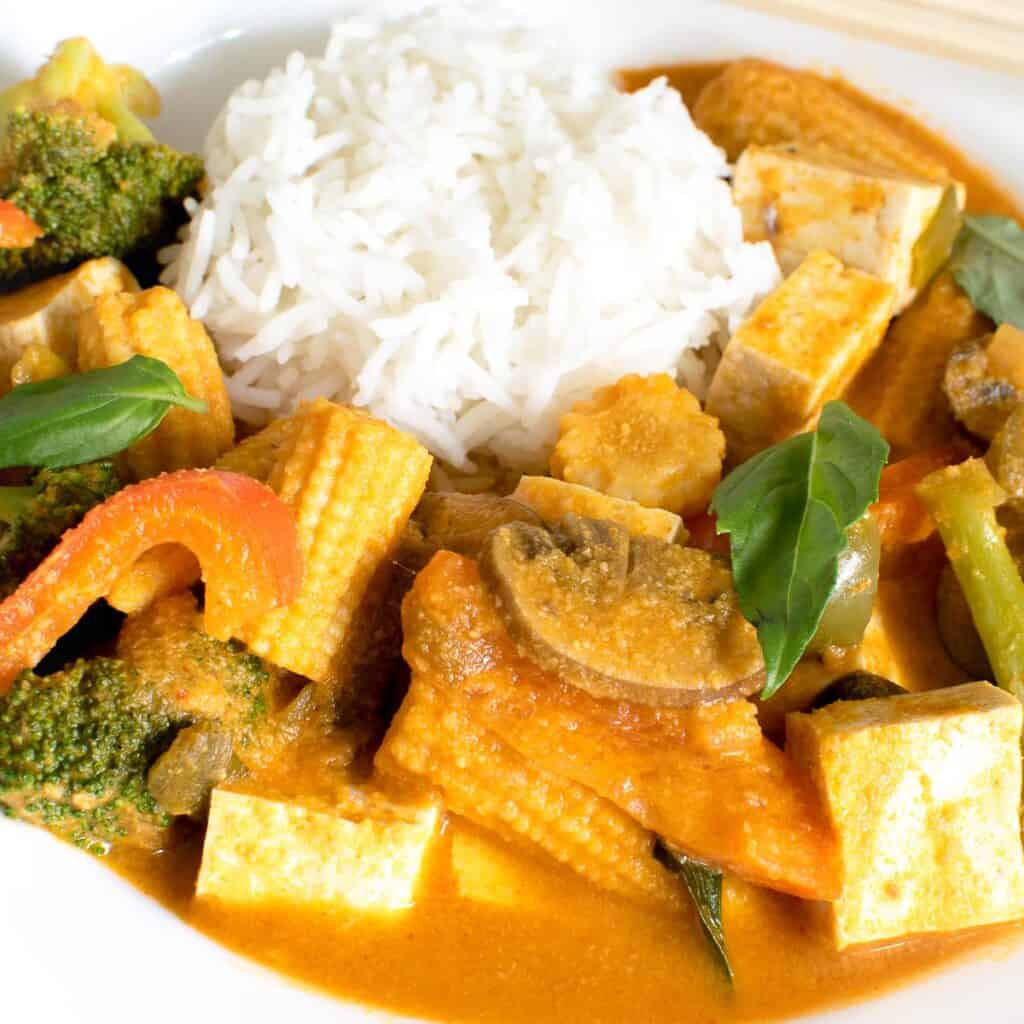 Ingredients notes:
Coconut milk – I used tetra pack version in this recipe so as to make this recipe lighter and low in calories and fats. It's easy to work with and makes any recipe healthier and guilt free.
Coconut flakes – I added this unsweetened coconut flakes here to give this curry recipe an authentic flavor. It makes this recipe extra delicious and helps me substitute full fat coconut milk as well thereby making it healthier.
Red curry paste – there are many versions of this paste but make sure to read the ingredients properly so that you get the vegan version of it. However, when you add this paste to the curry make sure to add heaped table spoons to get that traditional Thai aroma and taste.
Mushrooms – I used Bella mushrooms and sliced them. It's a good source of vitamin D and moreover makes this recipe even more desirable.
Broccoli florets – it's a good idea to blanch this vegetable first and then use it in this curry. Hence, we do not have to overcook this curry and also broccoli becomes even more desirable and easily digestible.
Tofu – I used the extra firm tofu which I drained nicely. Then, I gave it enough time to be pressed and then roughly chopped. I like the option of fresh tofu in curry which I normally prefer in the restaurants so I tried to replicate that texture and taste. Moreover, tofu adds protein to this recipe and makes it even more wholesome and a complete meal.
The best part of this Thai red curry is that you can play around with its ingredients. You may add your choice of vegetables and adjust the seasonings as per your taste. It is therefore a fun weekday meal with lots of flavors.
How to make Thai Red Curry Vegetables
Firstly, I blended all the sauce ingredients in a blender until it was smooth. This may take about 3-4 minutes because we do not want to chew on coconut flakes.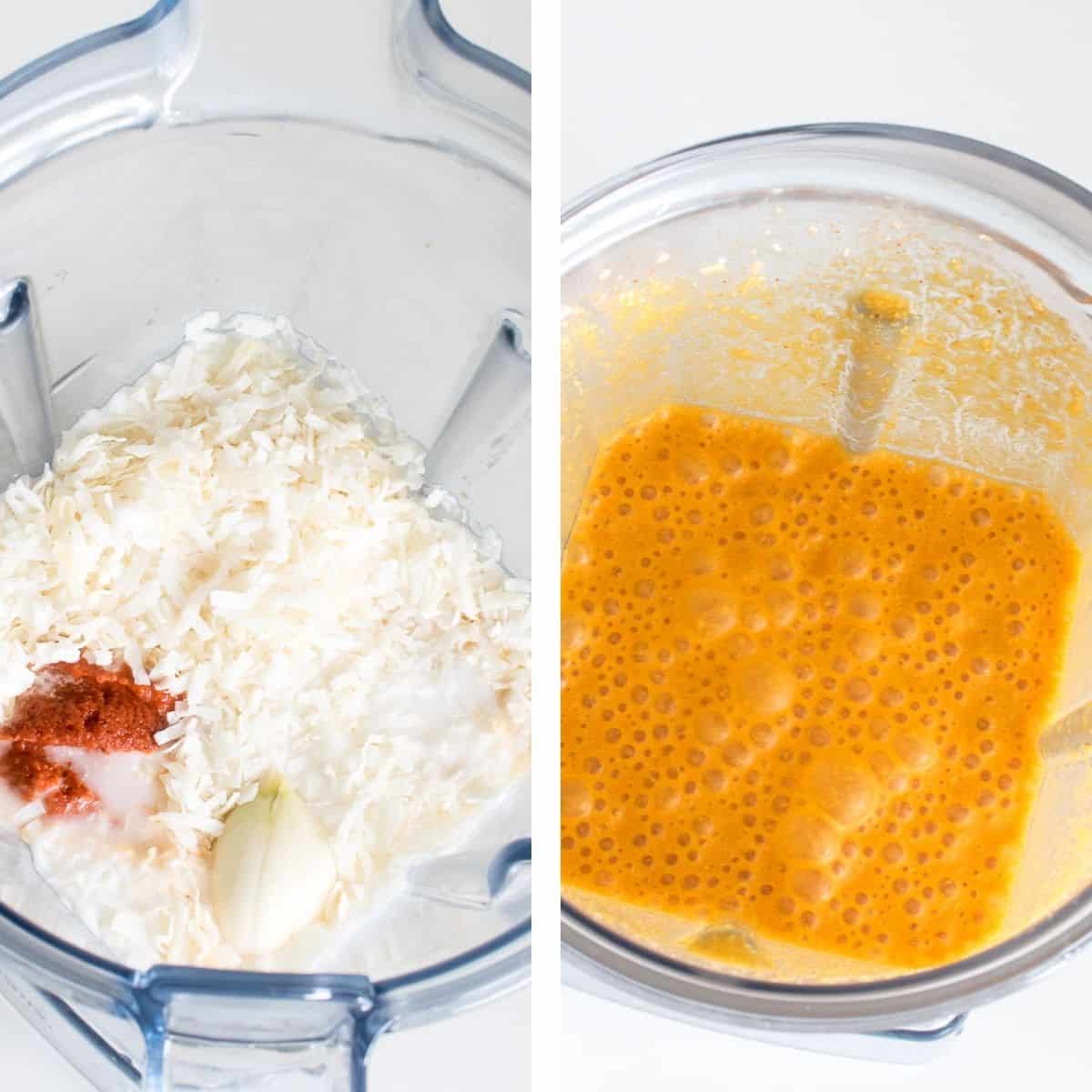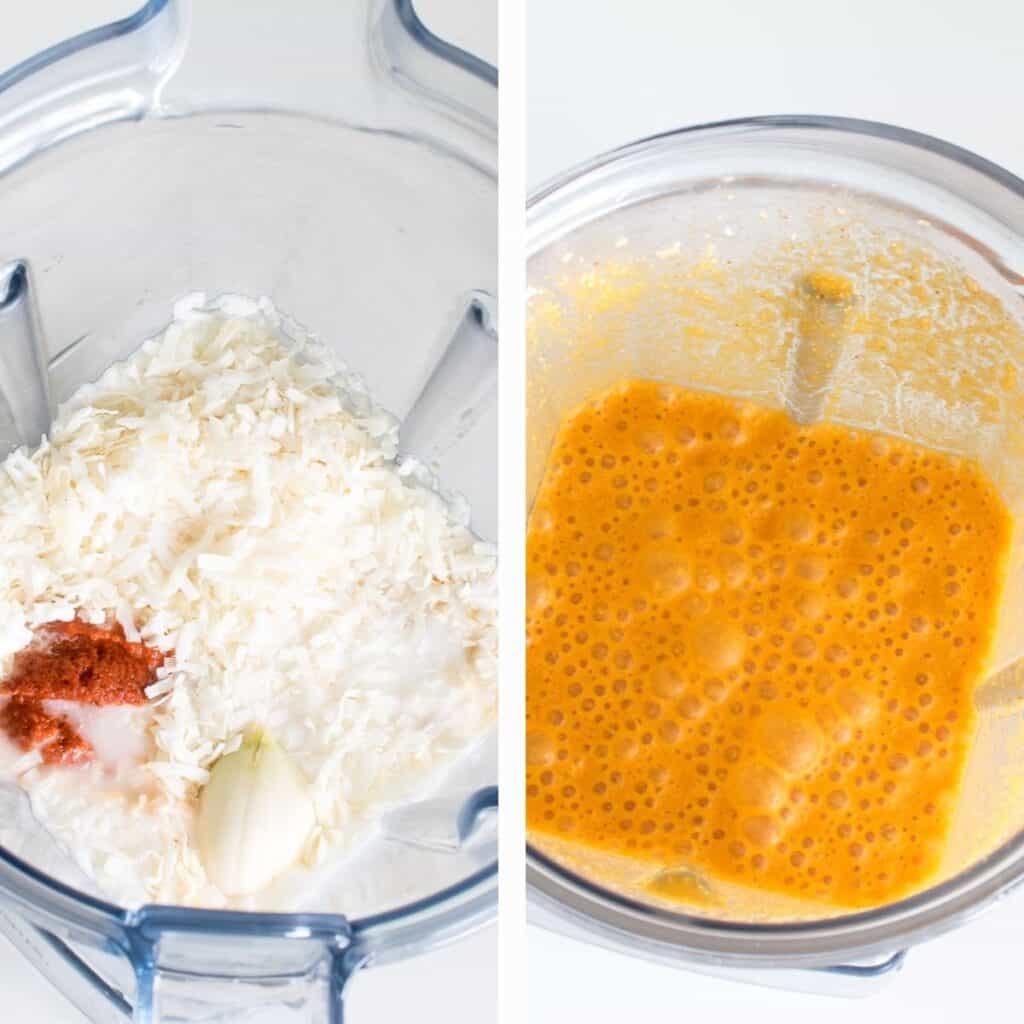 Secondly, I heated a nonstick pan and poured the sauce in it. Then, I stirred and let it cook covered for few minutes.
Next, I lowered the heat to medium and stirred once again followed by adding scallions, peppers and mushrooms. Then, I let it cook covered until mushrooms were well done.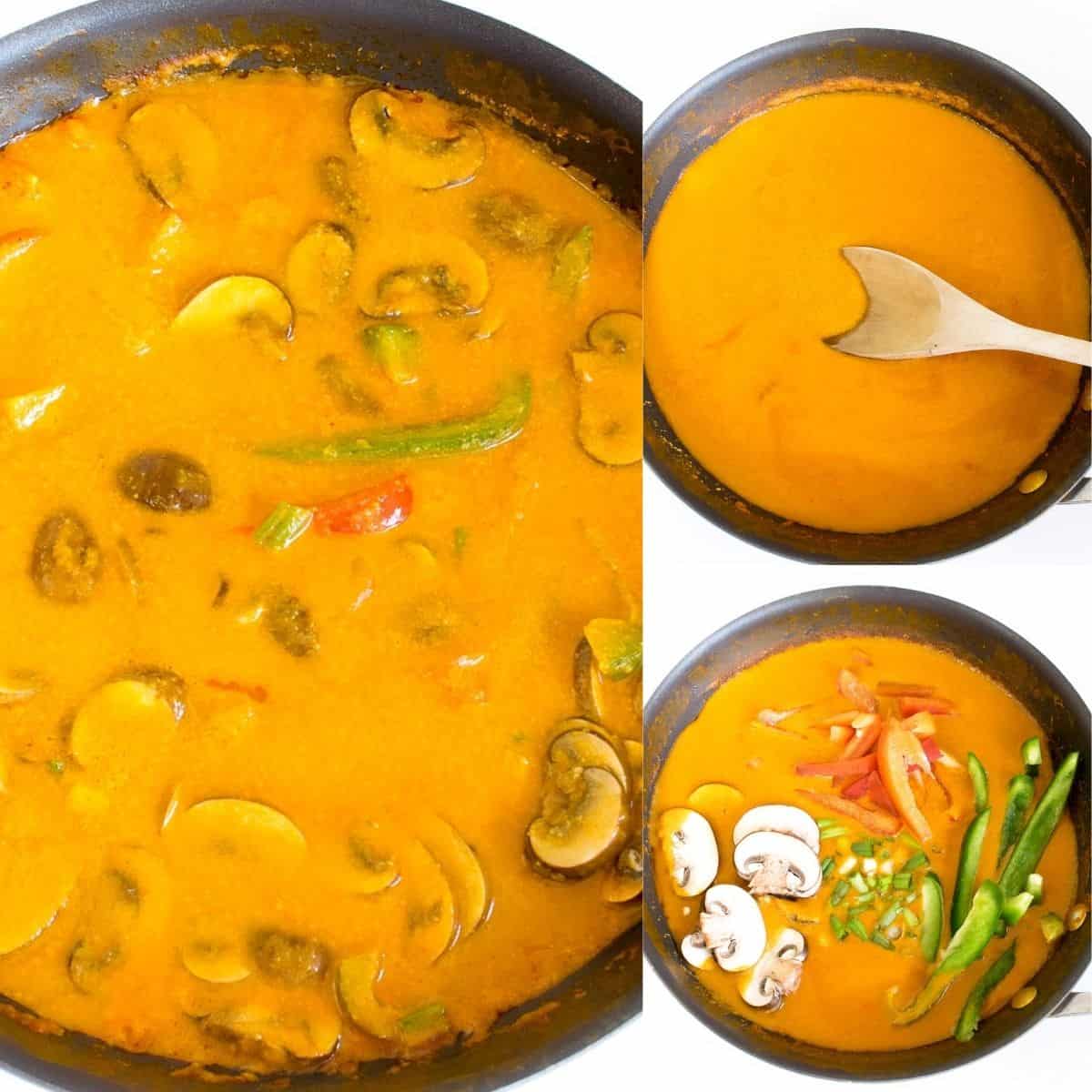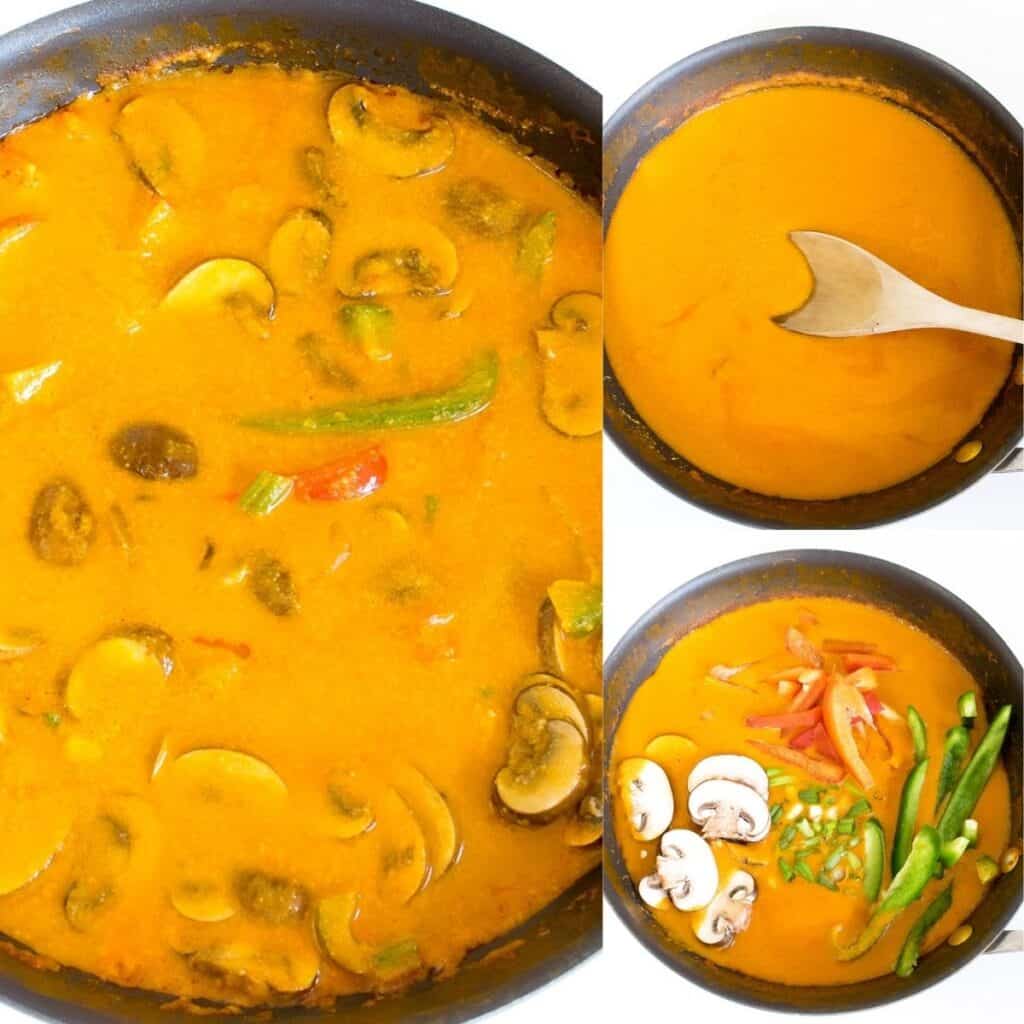 Thereafter, I added baby corn, tomatoes and broccoli florets. Then, I mixed nicely and cooked uncovered for a few minutes.
Afterwards, I tossed in tofu, basil leaves and salt.
Lastly, I added maple syrup, lemon juice and little more coconut milk to get the right consistency and stirred gently to combine all the ingredients. Then, I turned it off.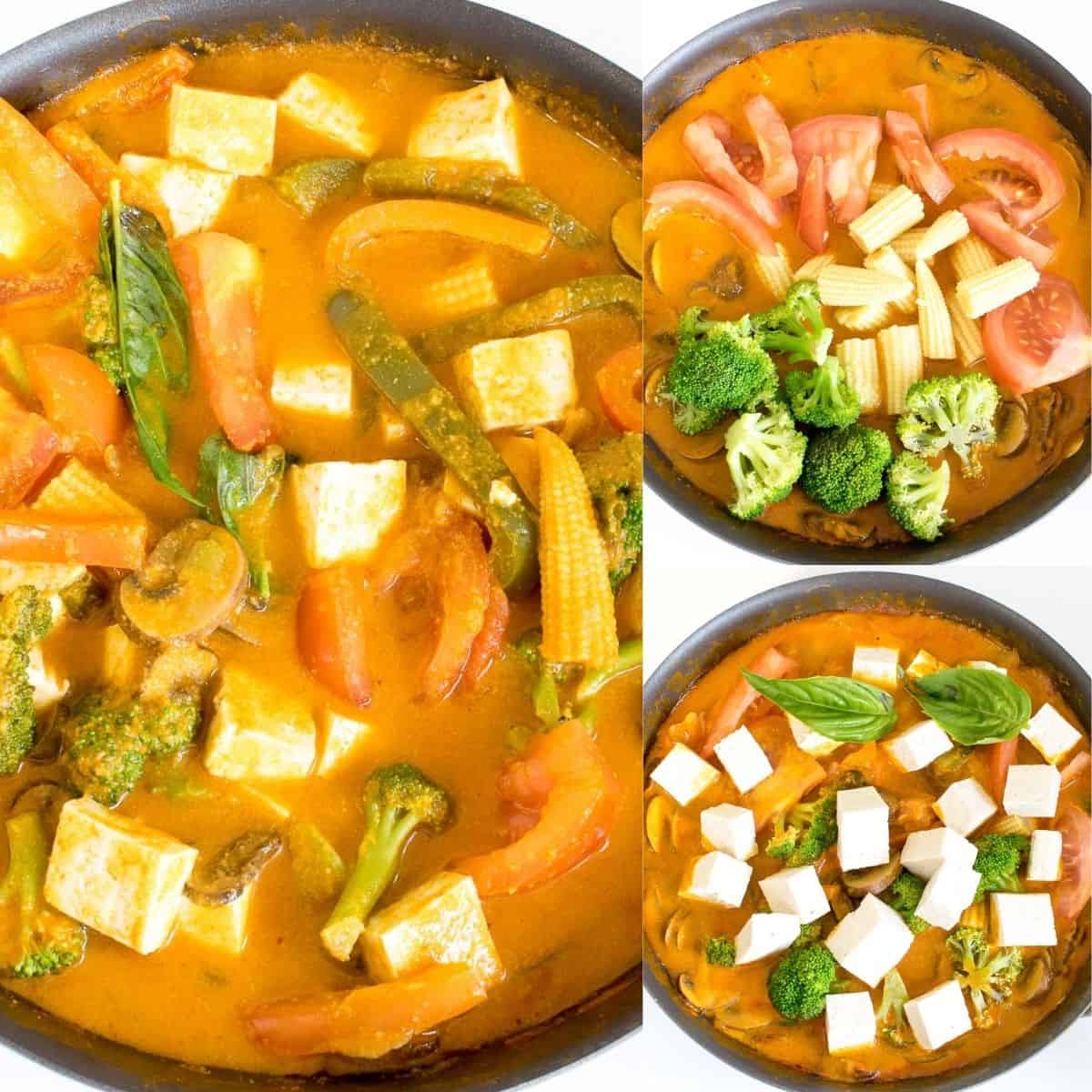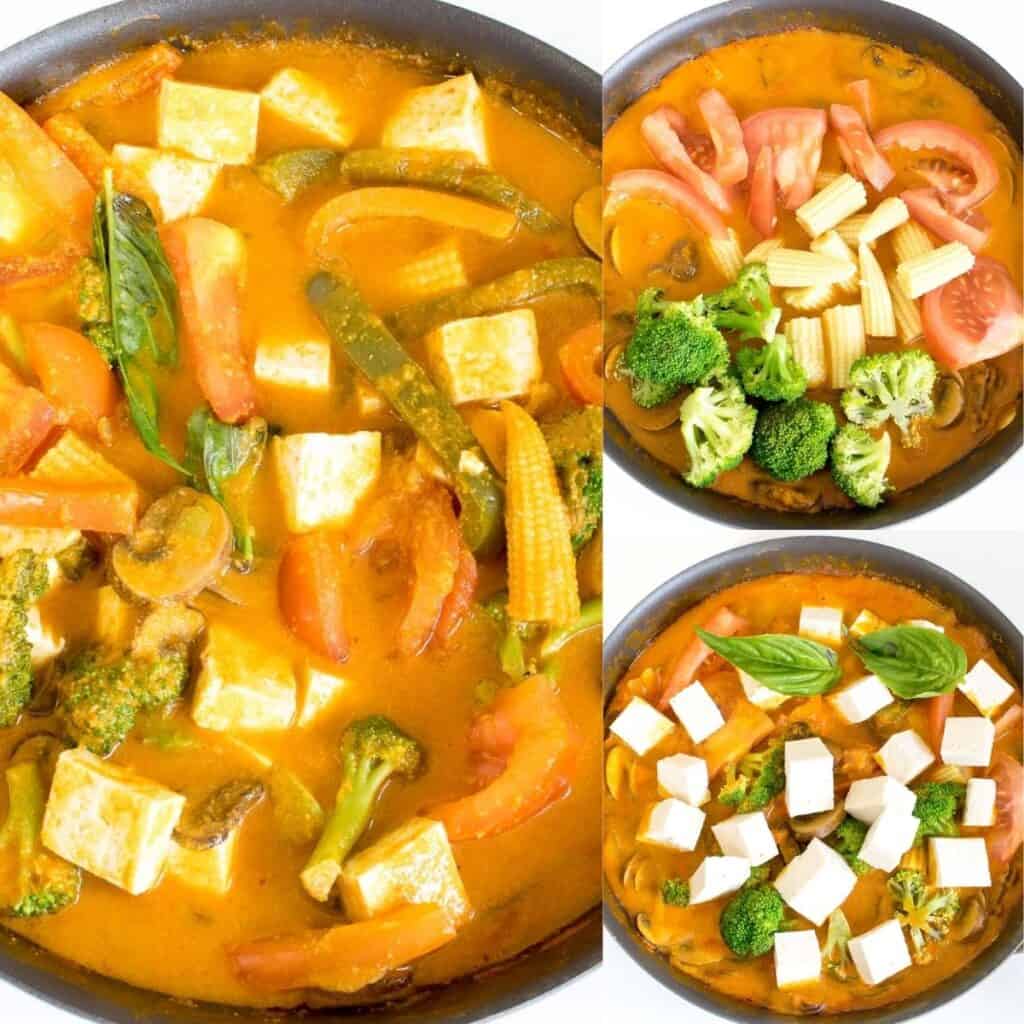 Later, I served it with steamed rice to my kids and brown rice for us.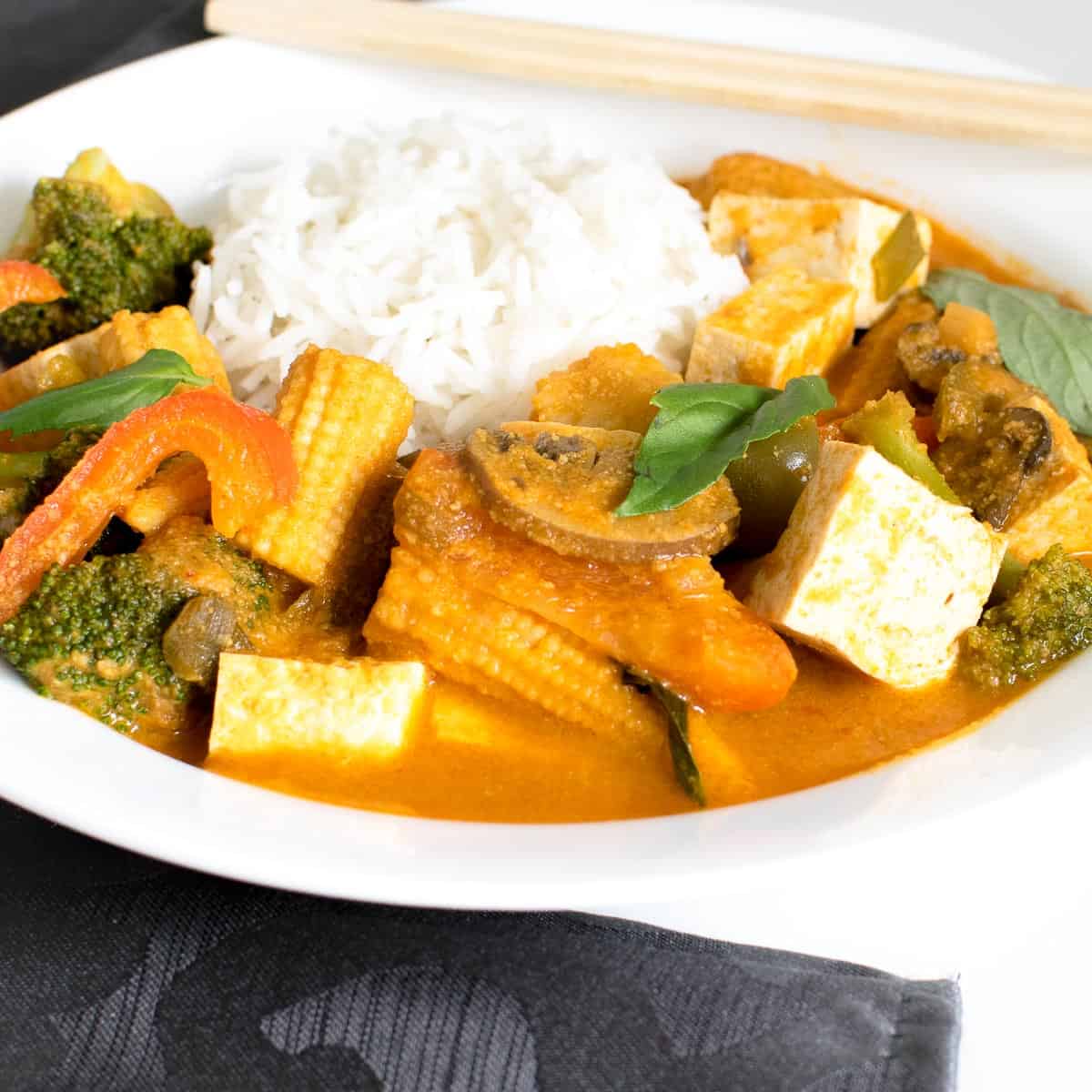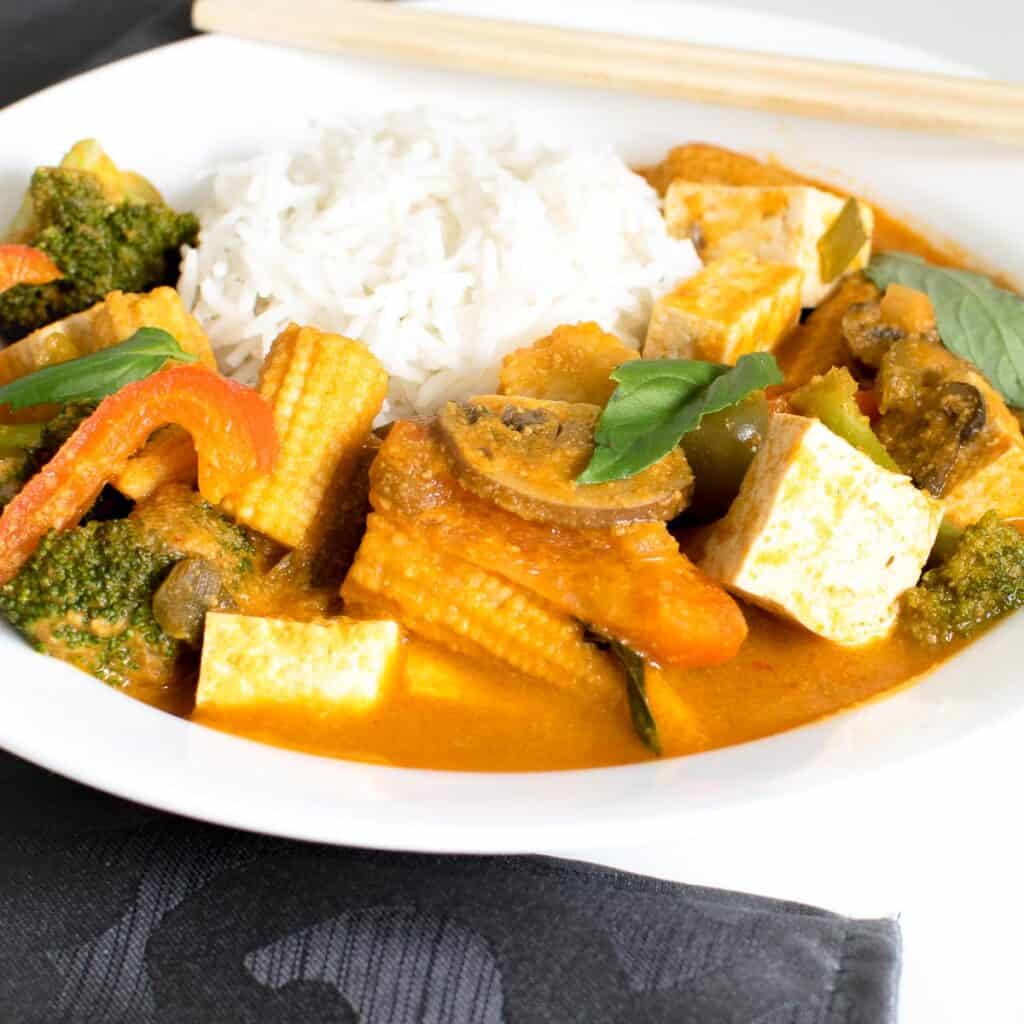 Whoa!!! It was all gone the same night and I didn't even get a chance to save for the next day. So, I ended up making it twice in a week.
Even my kids loved the curry and it was a total hit in my house.
Expert tips:
Make sure to use a good quality nonstick pan so that the sauce does not stick at the bottom since its an oil free recipe.
It is important to use coconut flakes here so as to get the same authentic taste. However, blending plays an important part too, so take time to blend it absolutely smooth. The coconut flakes should not have any chewy bites after blending.
You may blanch broccoli florets in a steamer or simply boil it for 1 minute in water and then drain. Either way works great here.
If your bell peppers are large then use half or if they are small then you may use ¾ or full depending on your choice.
The measurement of the sauce plays an important role but you may tweak the vegetables in measurement and varieties.
Thai Red Curry Vegetables FAQs
How long does it last?
This taste best when served the same day. However, refrigerate the leftovers in an air tight container for about a week.
Is it healthy?
I made it oil free so we save quite a bit of calories there. Instead of full fat coconut milk I used tetra pack version to lighten this recipe and substituted with coconut flakes which also which adds healthy fats to this recipe. The vegetables are high in vitamins, minerals and fiber. Tofu adds protein. So overall, it's a healthy, low calorie comforting recipe.
How does it taste like?
Its mildly spicy with a hint of sweetness along with the Thai flavors. Its rich, thick and pairs well with steamed rice/brown rice/quinoa.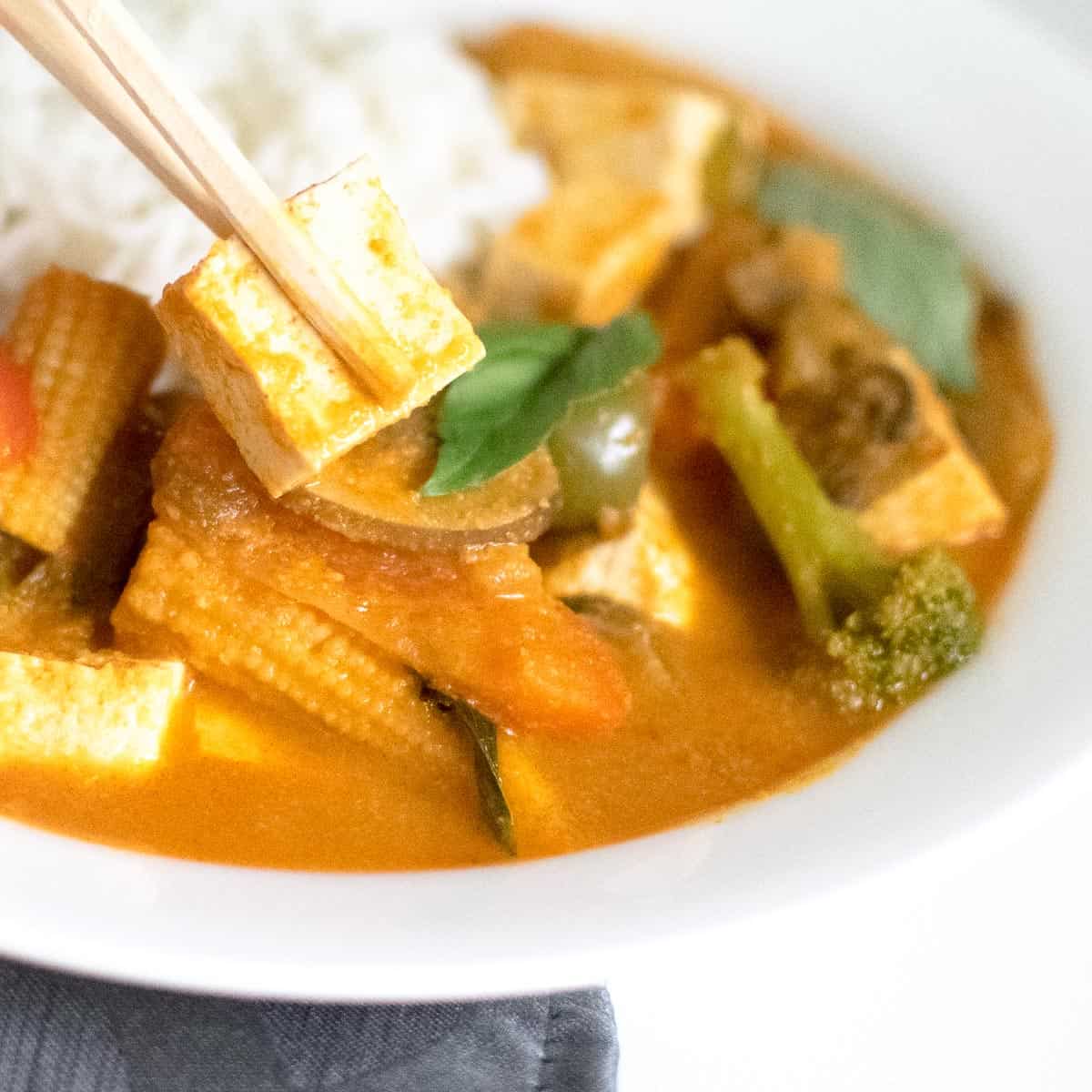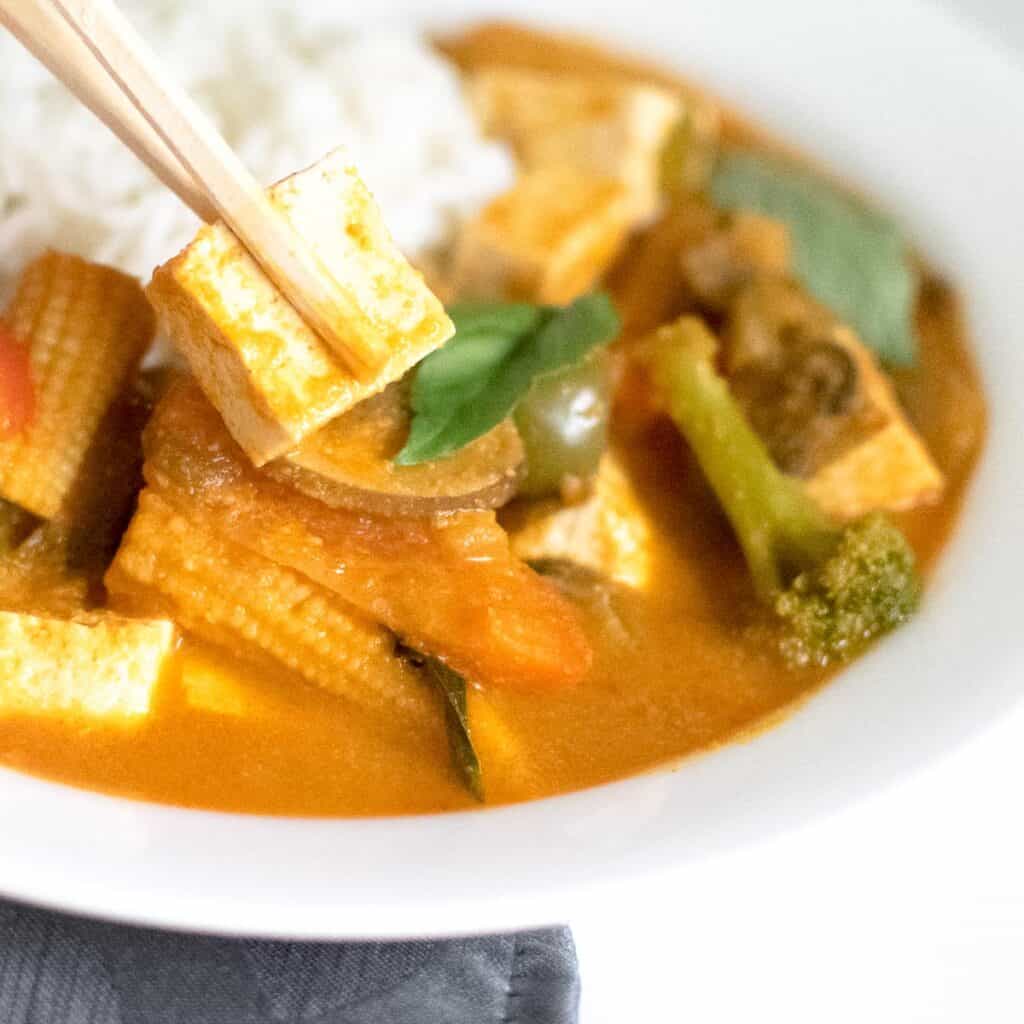 Other curry recipes that you may like:
Potato Mushroom Curry
Asian Tofu Curry
Veggie Beetroot Curry
Butter Tofu
Did you make it?
If you get a chance to make this recipe then please leave your feedback in the comments below along with the ratings. In addition, you may tag @kiipfit on Instagram with your recipe images because we would love to see what you cooked.
If you desire to explore more of my delicious recipes then you may checkout my cookbooks.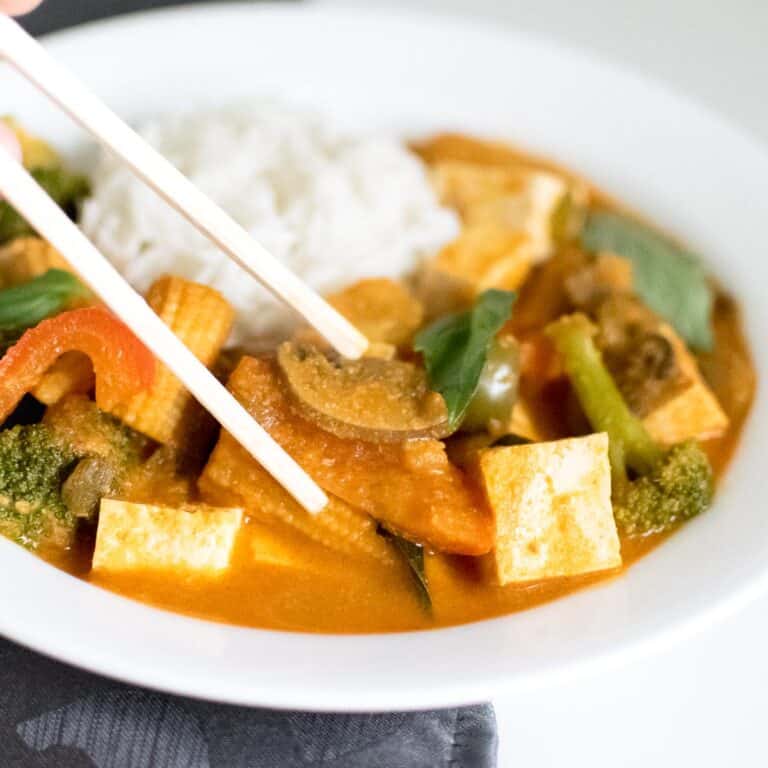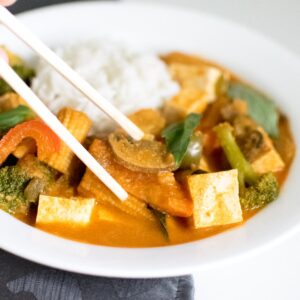 Print Recipe
Thai Red Curry Vegetables
This oil free vegan Thai Red Curry Vegetables is easy to make and totally customizable. Its healthier and better than the takeout. Simply make it from scratch and enjoy this deliciousness in the comfort of your home.
Ingredients
For vegetables
2

tbsp

scallions/green onions

1/2

of large

red bell pepper

(sliced)

1/2

of large

or 3/4 of small green bell pepper

(sliced)

1

cup

sliced Bella mushrooms

1/2

cup

roughly chopped baby corn

1/2

of large

or 1 small tomato

(sliced)

1

cup

blanched broccoli florets

(see notes)

1

14oz

extra firm tofu

(drained, pressed and chopped)
Instructions
In a blender combine all the ingredients of the sauce and blend it smooth (about 3-4 minutes).

Heat a nonstick pan and pour the sauce in it. Stir and cook covered at high for 3-4 minutes. Then bring the flame to medium and continue cooking for 5 minutes or until it starts to thicken. Stir at intervals of 2 minutes to avoid any sticking at the bottom.

Remove the lid and add scallion, red and green bell peppers and mushrooms. Stir and cook covered for 5-7 minutes or until the mushrooms are soft and properly cooked.

Add baby corn, tomatoes, broccoli florets and cook uncovered for 2-3 minutes at medium flame. Stir once or twice to make sure all vegetables are well coated with the sauce.

Add chopped tofu, basil leaves and salt. Mix gently without breaking tofu. Then add maple syrup, ¼ cup coconut milk, lemon juice. Stir and cook uncovered for 4-5 minutes, make sure to gently mix twice at intervals.

Turn it off and garnish with sriracha sauce and crushed chili flakes as per taste. Serve with steamed rice/brown rice/quinoa.
Notes
To blanch broccoli florets – boil water in a saucepan and place a steamer on it. Then place the florets and steam covered for few minutes or until the florets are soft. Or simply boil some water, add broccoli florets to it and boil for 1-2 minutes. Turn it off and drain.
I used coconut milk that comes in tetra pack just like any other regular milk.
Make sure to use unsweetened coconut flakes and blend it well. Do not be in a rush and blend for 3-4 minutes in a high-speed blender.
This recipe tastes best when served the same day. However, refrigerate the leftovers in an air tight glass container for about a week
Nutrition
Calories:
242
kcal
|
Carbohydrates:
12
g
|
Protein:
18
g
|
Fat:
12
g
|
Saturated Fat:
35
g
|
Sodium:
528
mg
|
Potassium:
444
mg
|
Fiber:
5
g
|
Sugar:
9
g
|
Vitamin A:
21
IU
|
Vitamin C:
5
mg
|
Calcium:
30
mg
|
Iron:
3
mg