This refreshing and perfectly spiced Apple Smoothie is packed with nutrition and flavors. It's easy and made with only 8 ingredients. It is vegan and gluten free so it fits into most diet types.
This is a sponsored post but I have tried the products myself. Therefore, all the opinions and reviews are mine.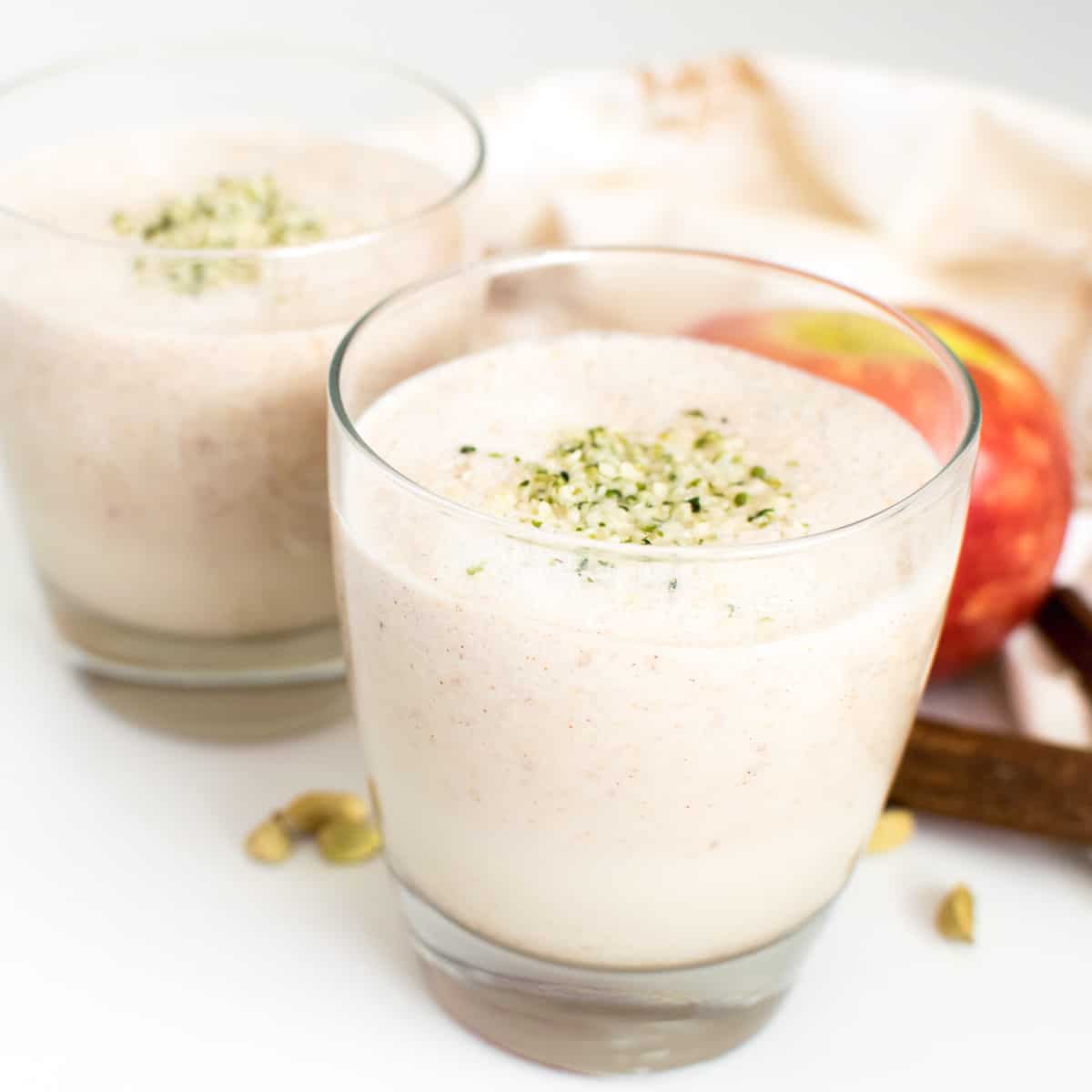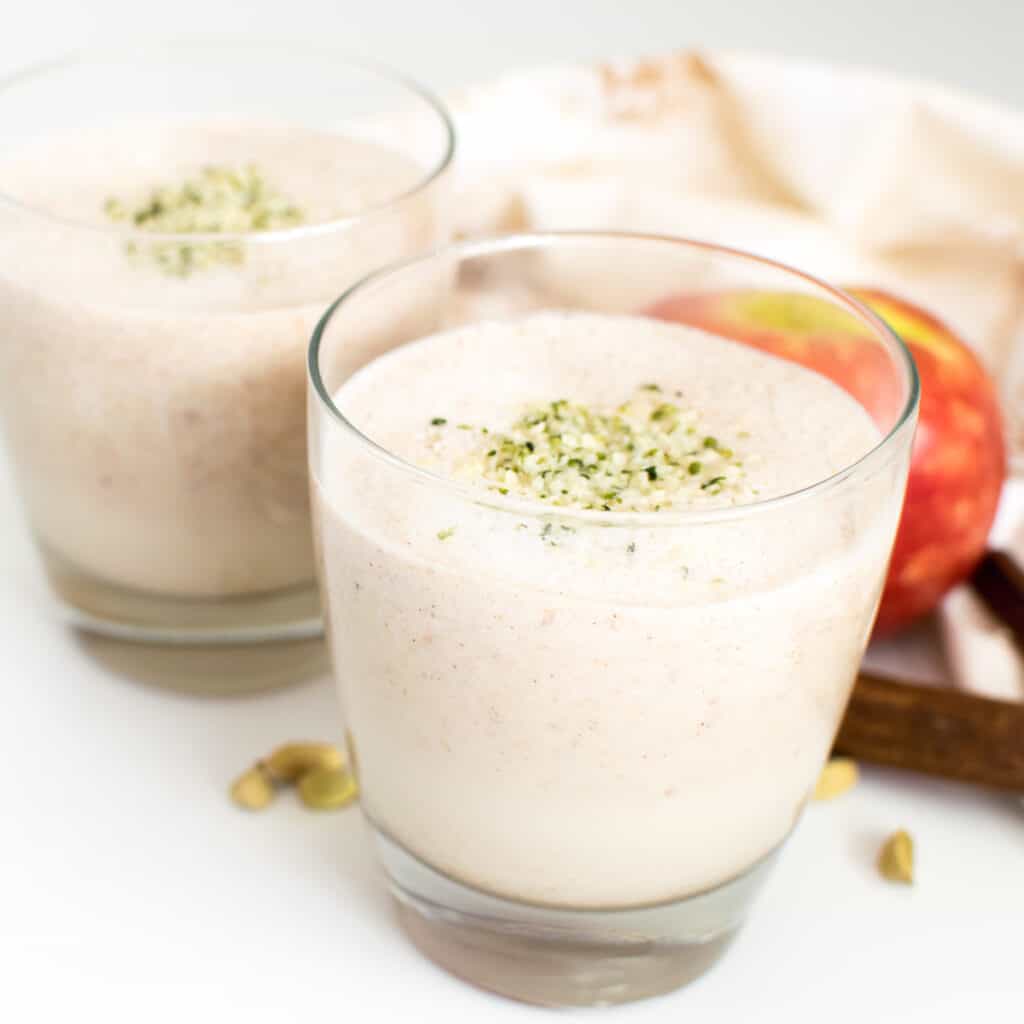 Smoothies are quite regular for us. Its Fall season, moreover, cinnamon and pies have simply overtaken all the food menus, so, I had to come up with something closer to apple pies.
Therefore, I innovated this apple smoothie recipe which my family loves. In fact, now they demand this beverage every day. As for me, I am very happy to enjoy it as my post workout vegan smoothie.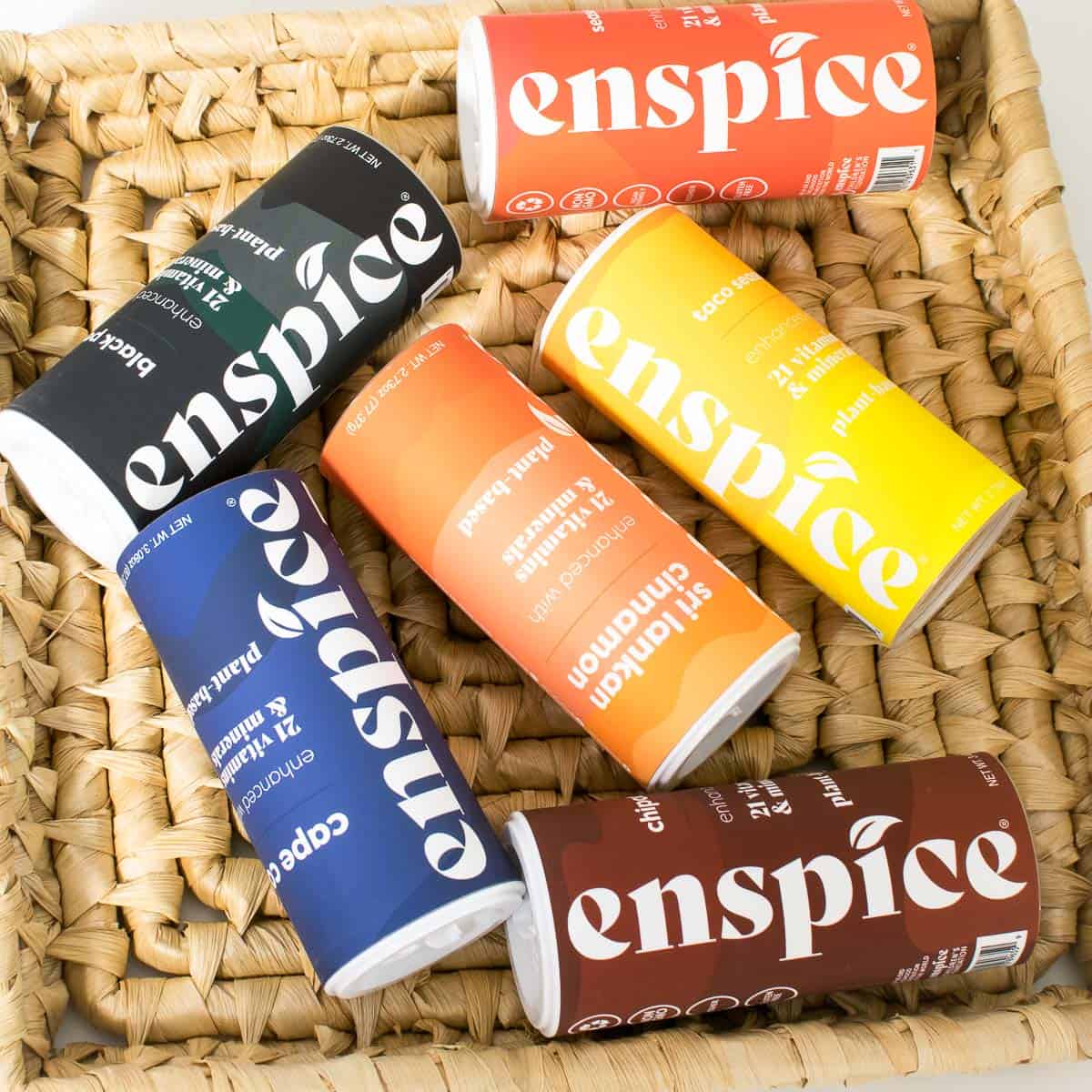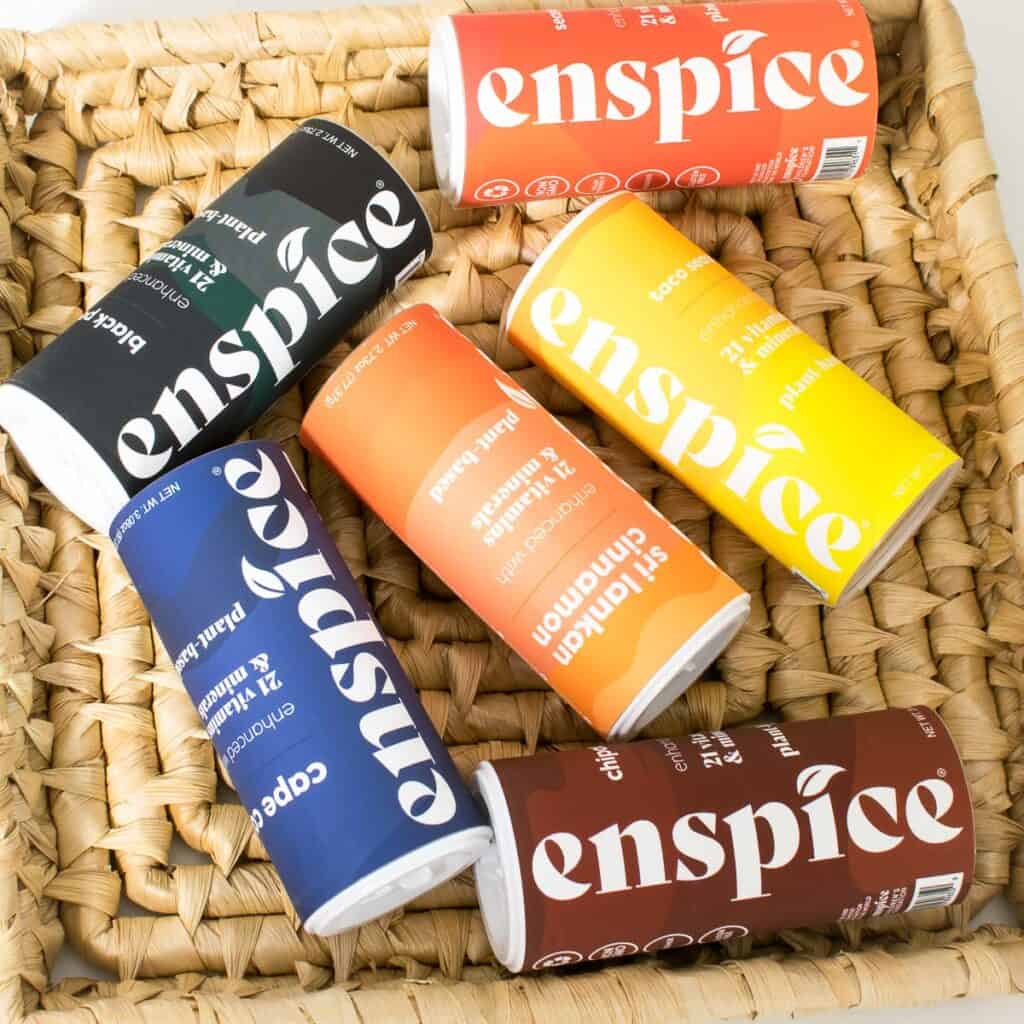 About Enspice
It is a public benefit corporation which aims at ending the child malnutrition. Therefore, in order to put back nutrition in food they came up with spices packed with nutrients and minerals.
About the spices
These spices are enhanced with 21 plant-based vitamins and minerals from 10 organic plants.
The variety of spices include taco seasoning, Sri Lankan cinnamon, seasoned salt, black pepper.
It is an interesting fact that 1 tsp of enspice contains 50% of the FDA daily values.
These spices are heat resistant and are non-GMO, kosher and gluten free.
They are providing exclusive 10% discount to my readers. Just use the code MOMSMEET10. Also, it is worth mentioning that each purchase from here donates one meal per child.
Therefore, I would highly recommend to participate in this awesome cause this holiday season.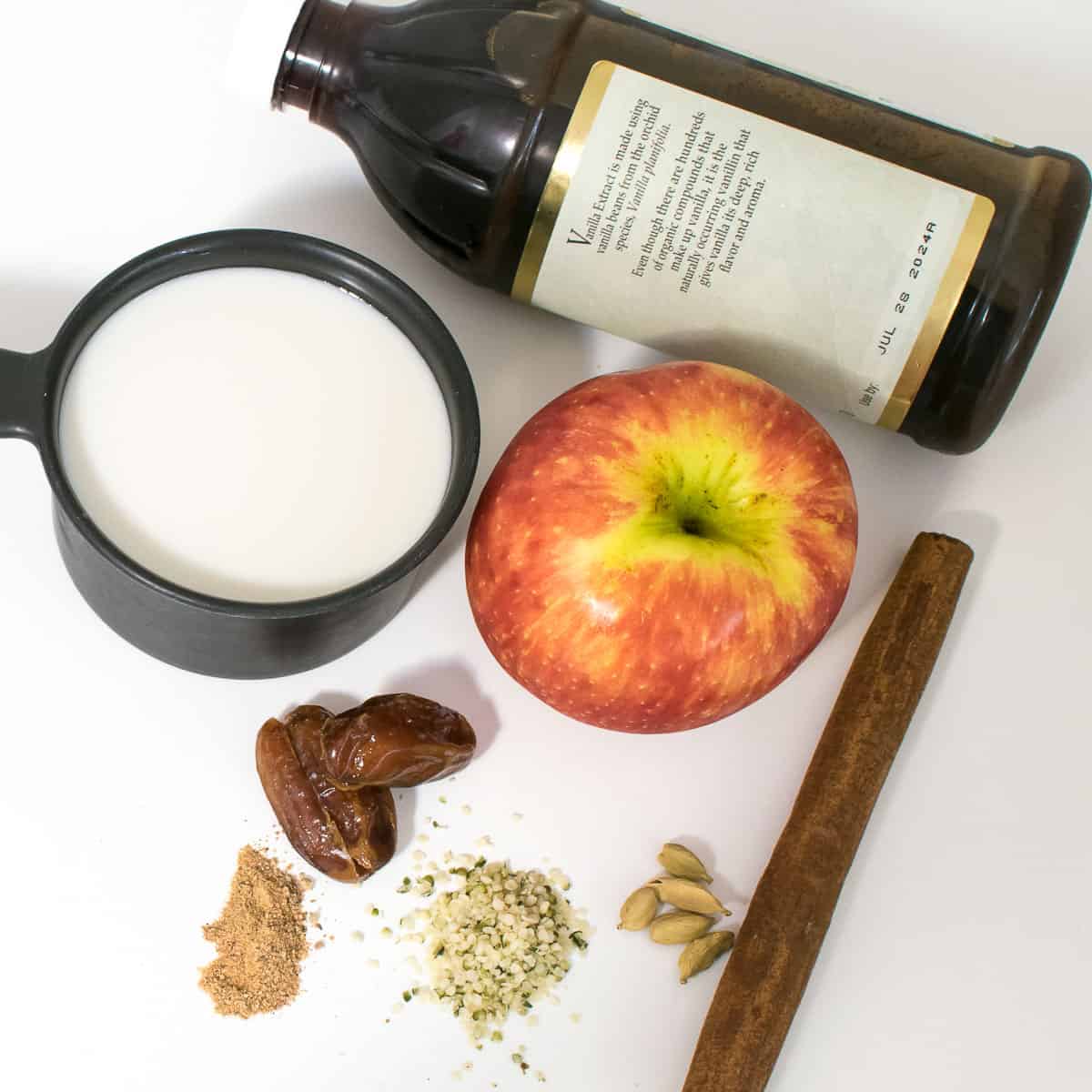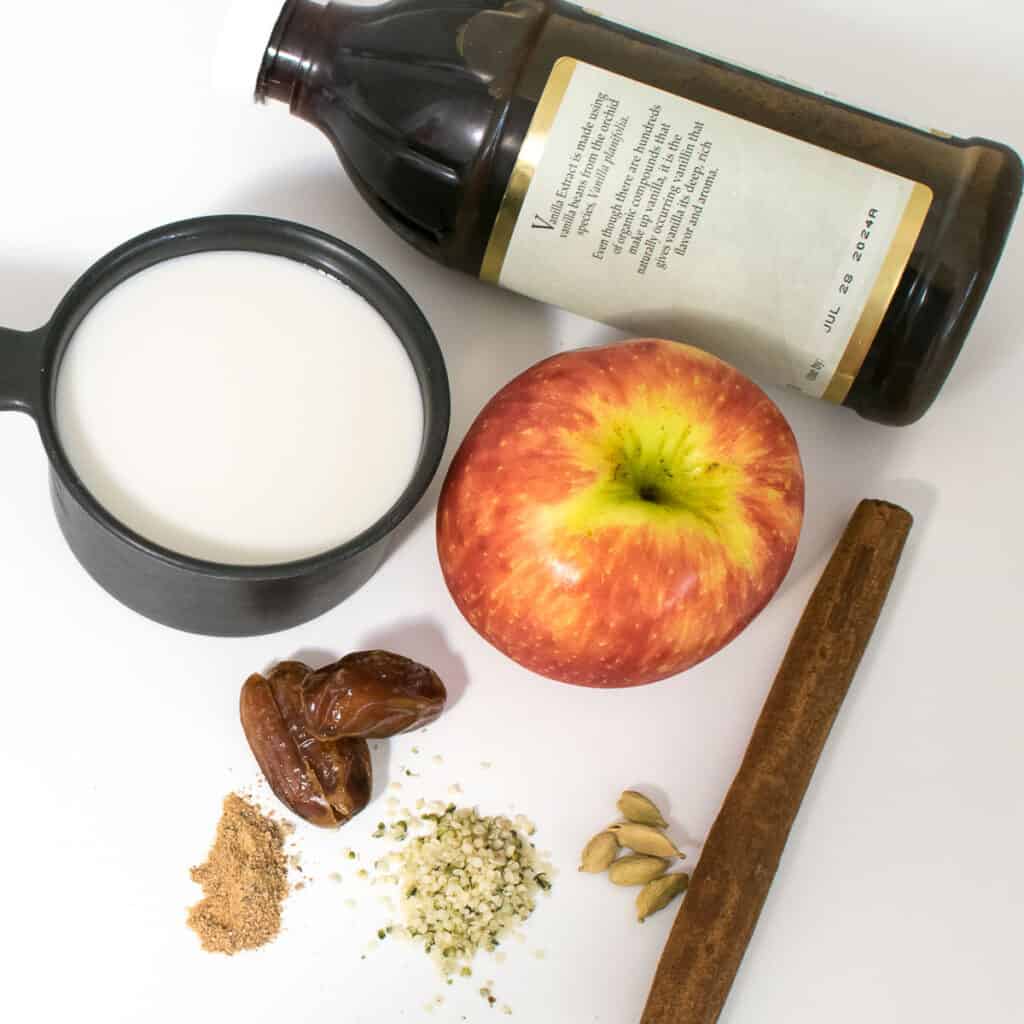 Ingredients you will need
Apples
Cinnamon powder
Cardamom powder
Nutmeg
Vanilla extract
Dates
Oat milk
Hemp seeds
I have used easily available ingredients in this recipe which you may buy from any store. However, I have provided links to few of them for your convenience.
If you plan to buy from these affiliate links then I get a small commission which in turn helps me to bring in more delicious recipes for you all.
Ingredients notes:
Apples – They are immensely nutritious fruit which is very low in calories and has innumerous health benefits.
Cinnamon – I used this particular product from enspice which enhanced its flavors immensely. However, you may use your choice of cinnamon powder in this smoothie.
Cardamom – it gives a nice sweet hint to this recipe and compliments well with cinnamon.
Nutmeg – I used almost a pinch of it to give it a fall season flavor. By adding nutmeg this smoothie is completely flavored with warm spices.
Dates – I only use 2 of them to balance the tang of the apples. They are very nutritious because these are fiber rich and a great source of antioxidants. They also promote brain health and improves fertility and induces natural labor.
Hemp seeds – as we all know is one of the super foods. Its high in protein and fiber. This also reduces the risk of heart disease and aids in digestion also.
So, by now you must have realized that along with simple ingredients , I have used very healthy and nutritious ingredients in this vegan smoothie.
It's a family beverage for all ages and the tastiest post workout recovery drink.
How to make Apple Smoothie
Firstly, in a mixing bowl, I combined chopped apples, cinnamon, cardamom, nutmeg and vanilla extract and mixed them with a spoon.
Secondly, I spooned them on a baking sheet and baked in the pre-heated oven for 15 minutes. Then, I turned it off and took out the baking sheet to let it cool down a bit.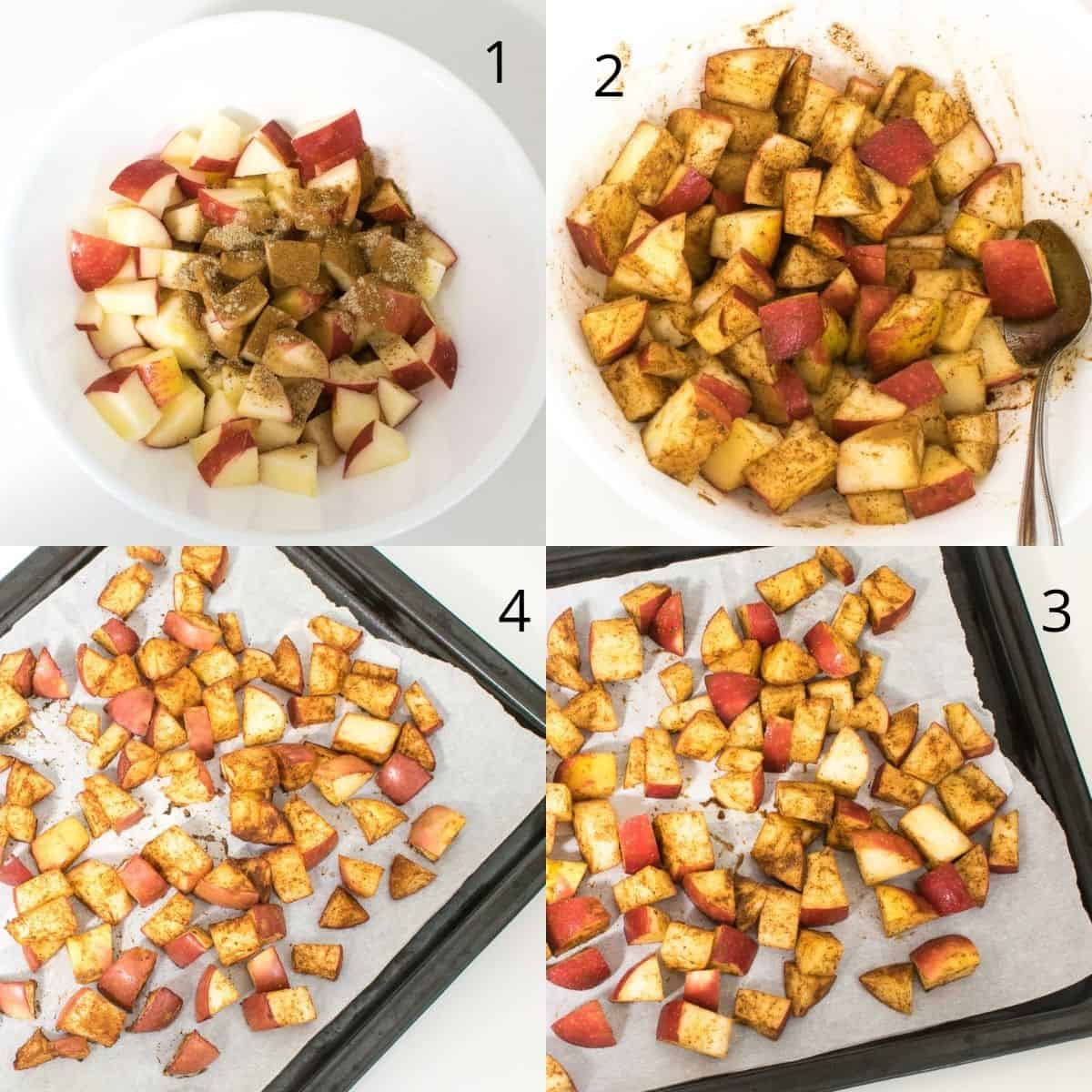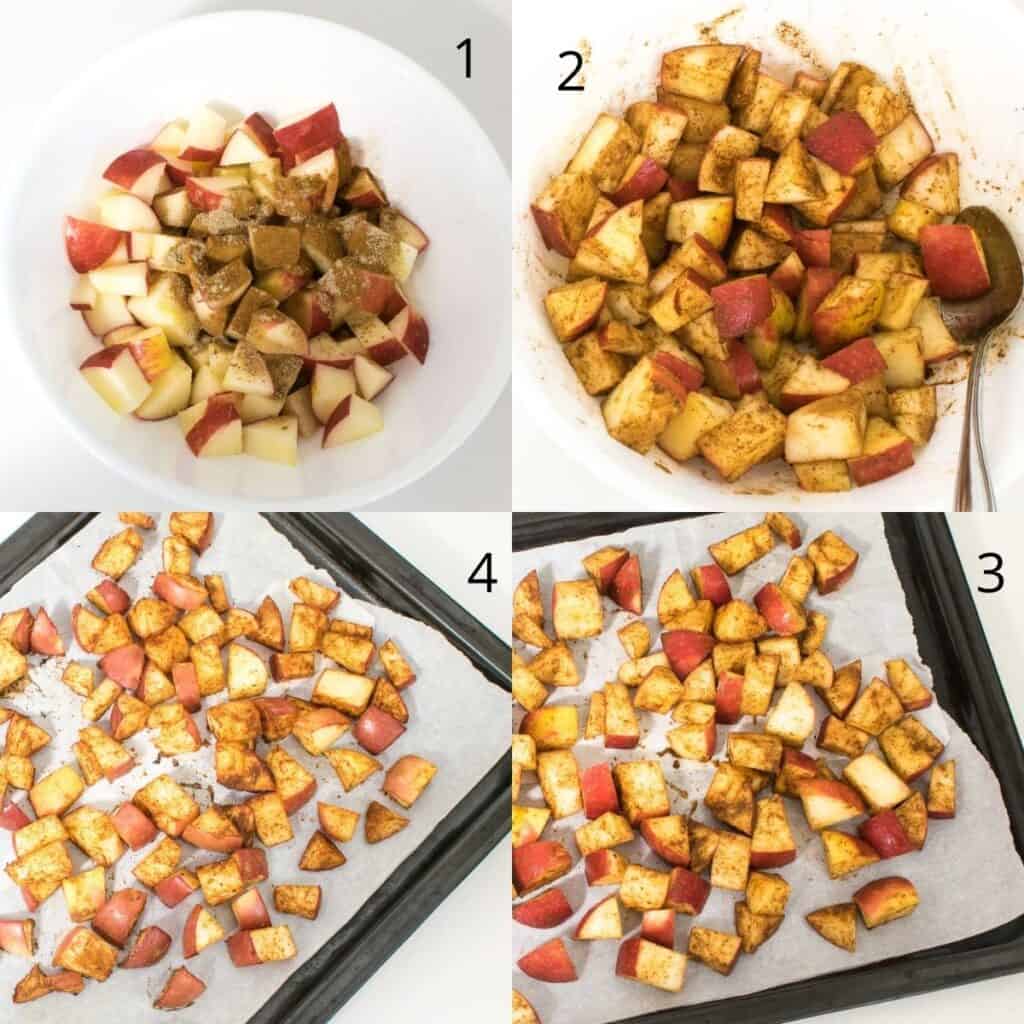 Next, I combined all the ingredients in the blender and blended it smooth.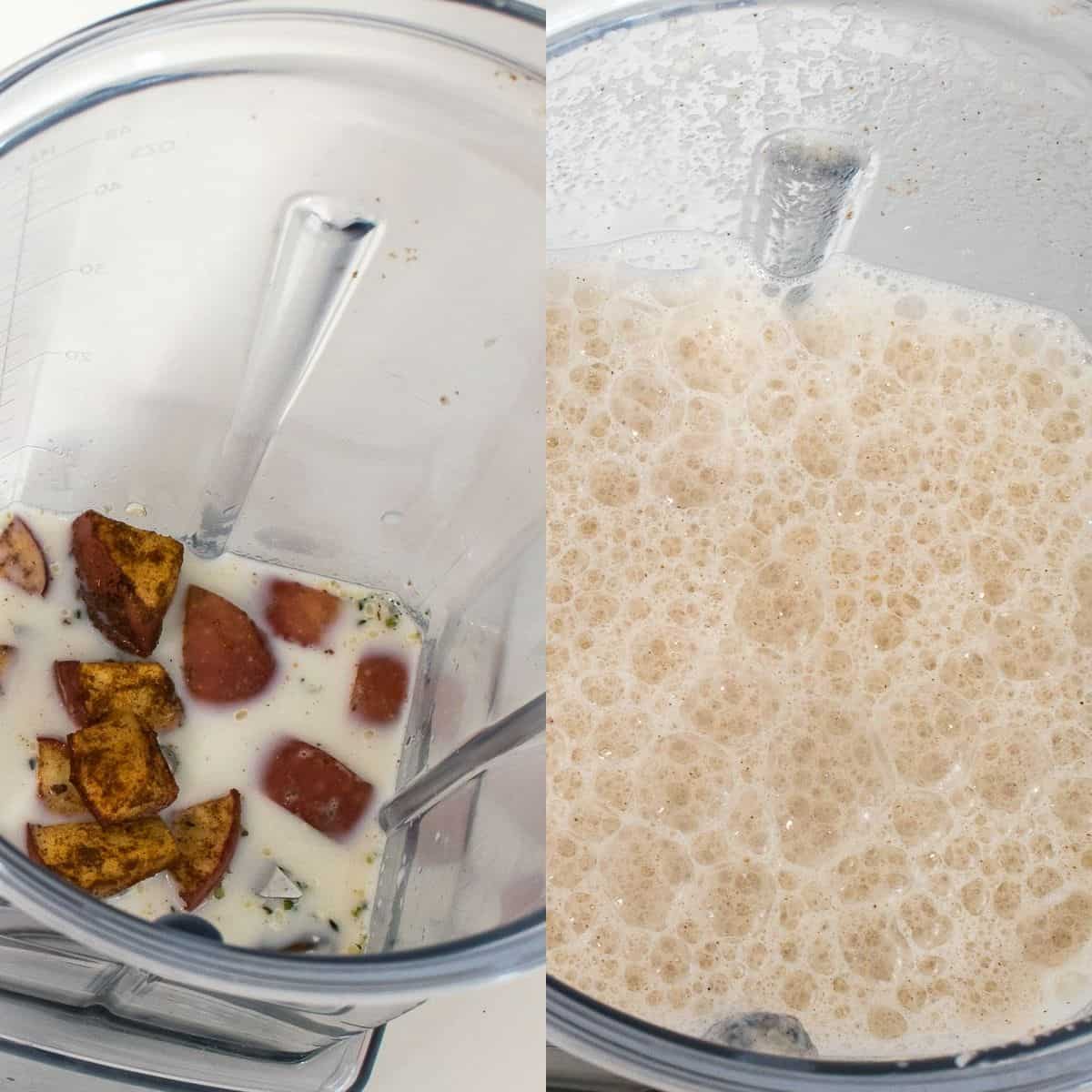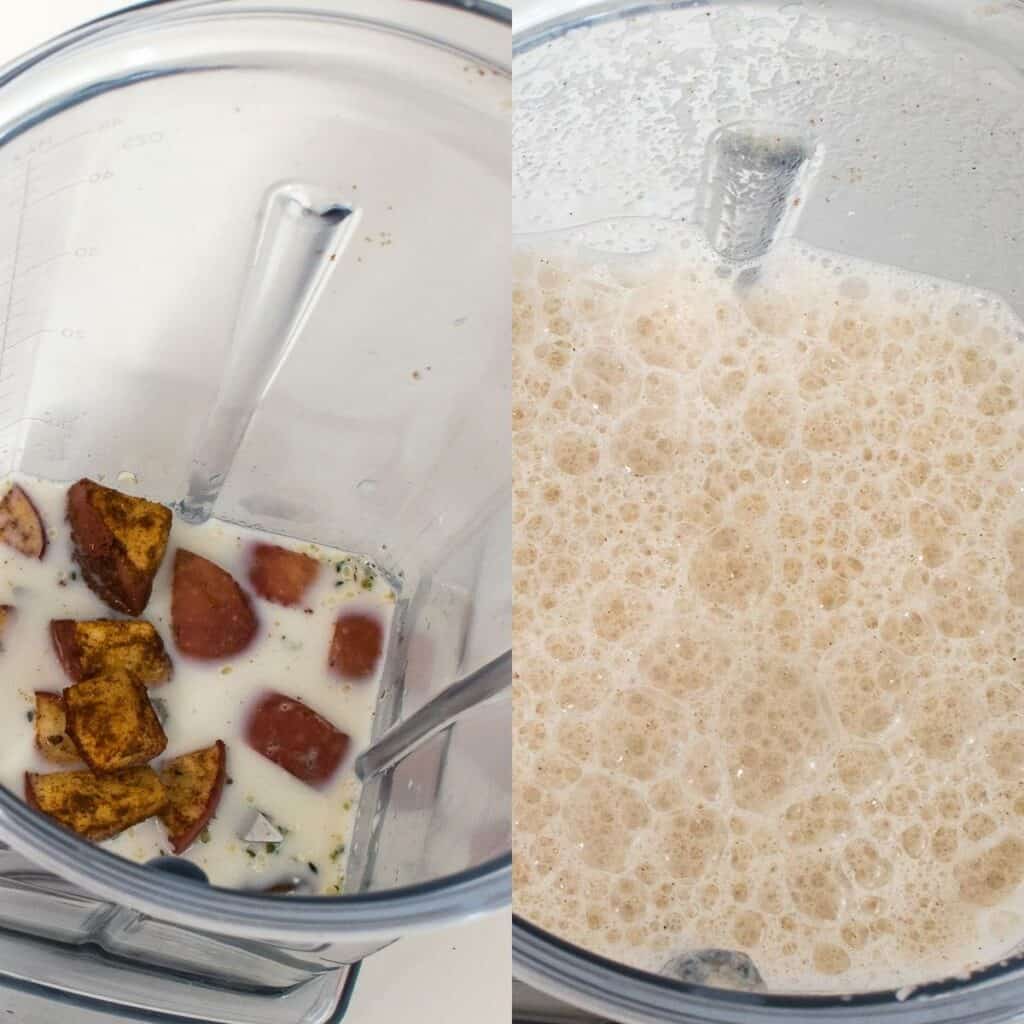 Lastly, I poured it in the serving glasses and served it immediately.
We all enjoyed this smoothie with apples. It refreshed us immensely and energized us as well.
Expert tips:
You may roughly chop the apples because finally they are blended.
It is important to bake apples the get the right flavors in this smoothie.
Its better to use high power blender for this recipe to make sure that dates and apple are perfectly blended.
I have made this recipe in very few easy steps. So, I would recommend to just go through these steps once and blend it. You and your family would love this so much that they would want you to make it again and again.
Apple Smoothie FAQs
How long does this last?
It tastes best when served immediately after blending. However, if I have an extra leftover, I usually refrigerate in a glass to be used the next day. Simply stir and serve.
Is it healthy?
Yes, apples are one of the most nutritious fruit. I only added few spices to add little extra flavors to this recipe. There is no added sugar in here as I used dates to enhance the sweetness. Also, I added hemp seeds to include some plant-based protein to it. Therefore, it's a low-calorie nutritious beverage.
Can I make it without baking apples?
I have tried both versions and my family loves with baked apples. The spices bring out better flavor when baked.
How does it taste?
It has a nice tang of apples and sweetness of dates. Its cinnamon flavor balances well with cardamom and a slight crunch of hemp seeds makes it delectable and desirable.
What type of apples should I use in this recipe?
I used red delicious apples which helped me in cutting out the added sugar. Make sure your apples are sweet or else this smoothie might become a bit tangy.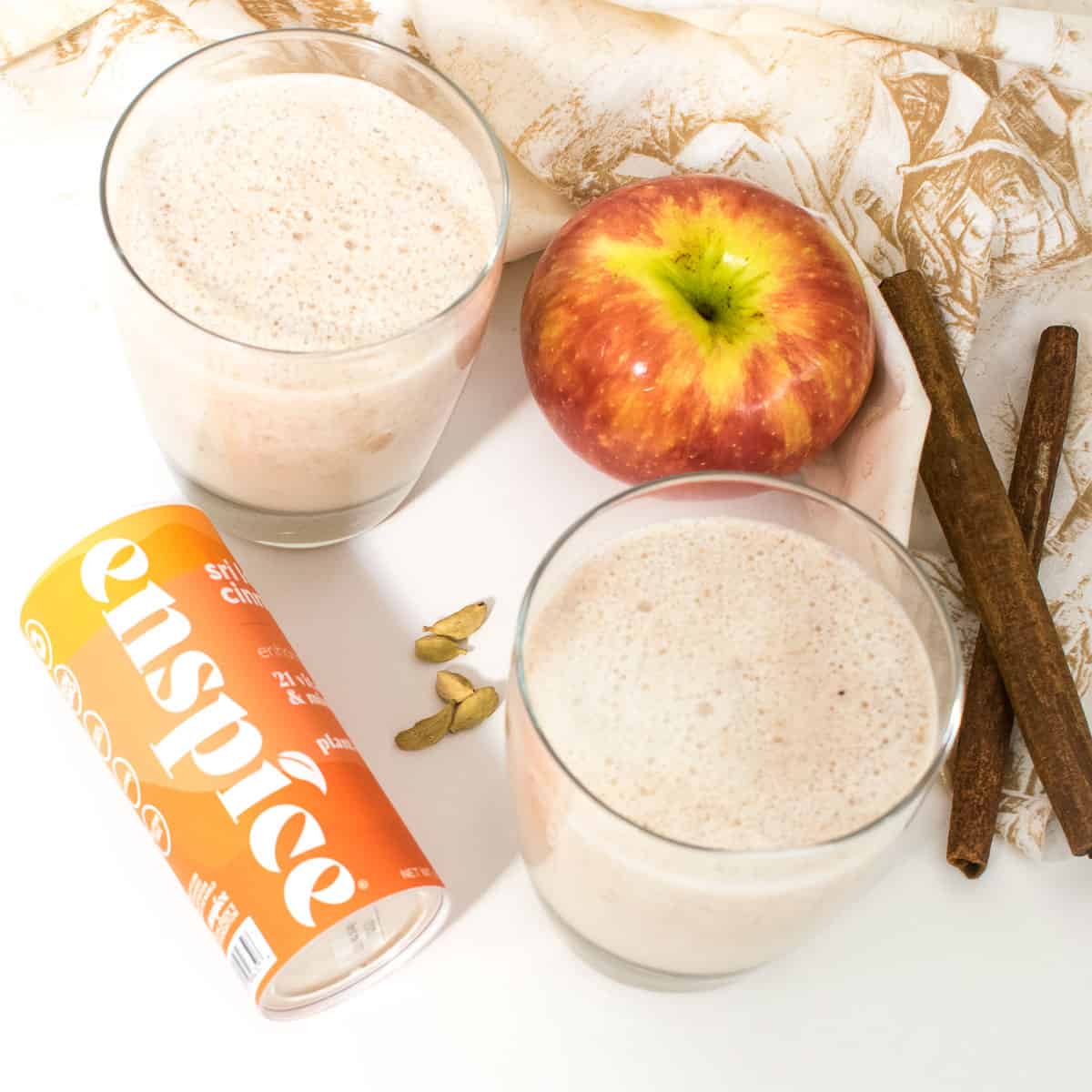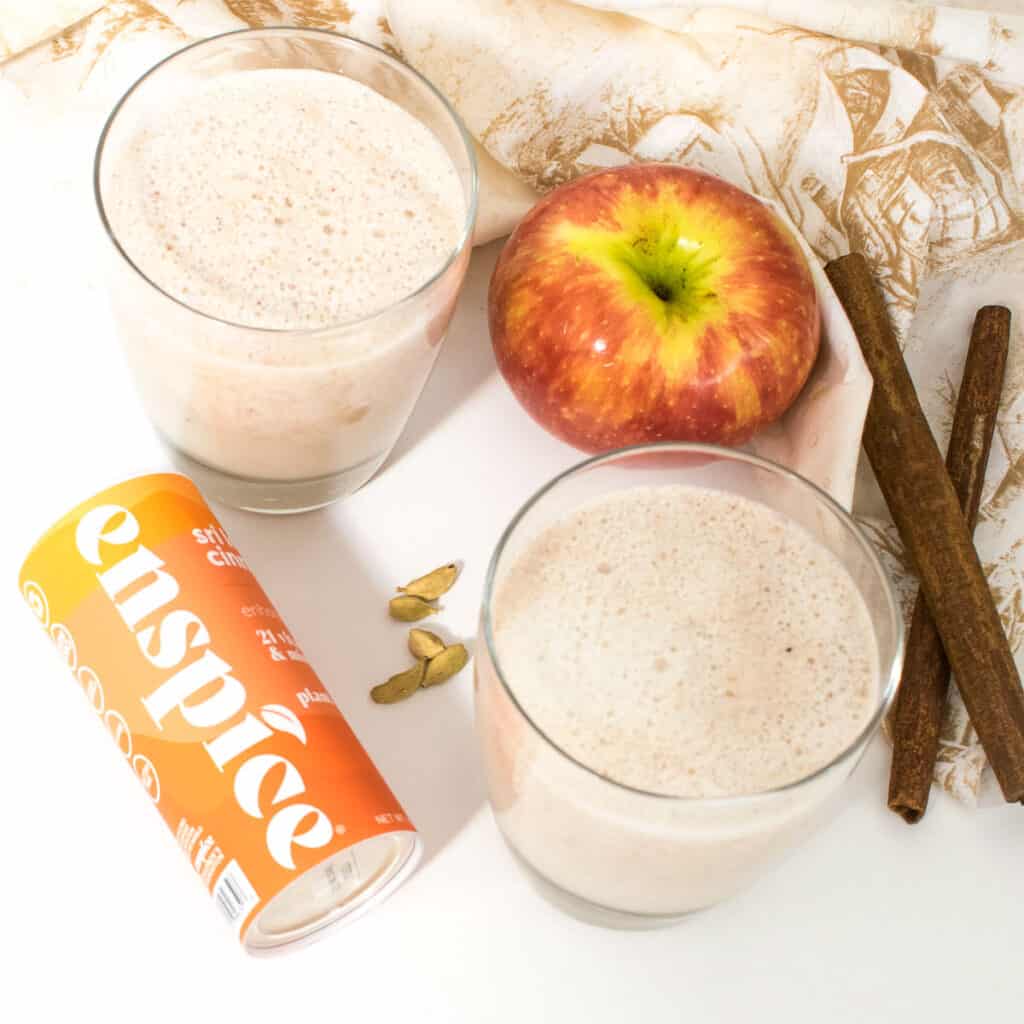 You may also like:
Vegan Kale Smoothie
Banana Milkshake
Matcha Smoothie
Oatmeal Crème Pie Smoothie
Hazelnut Cheesecake Smoothie
Immune Boosting Persimmon Ginger Smoothie
Other apple recipes that you may like:
Air Fryer Apple Dumplings
Apple Jam
Peanut Butter Apple Pancakes
Apple Buckwheat chocolate Chips Cookies
Apple Sauce Pumpkin Cookies
Spiced Apple Carrot Soup
Did you make it?
If you get a chance to make this recipe then please leave your feedback in the comments below along with the ratings. In addition, you tag @kiipfit on Instagram with your recipe images because we would love to see what you cooked.
If you desire to explore more delicious recipes of mine then you may checkout my cookbooks.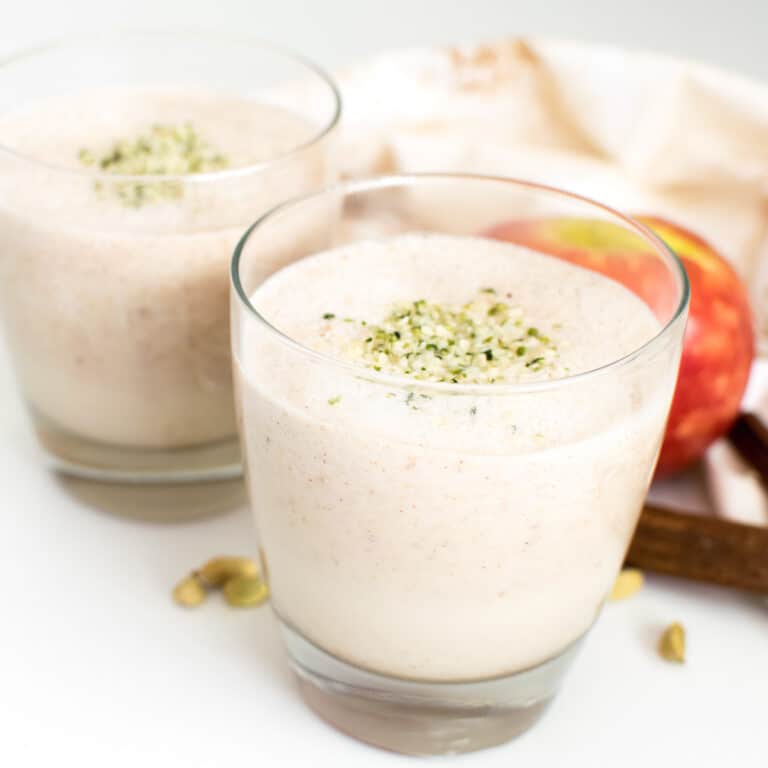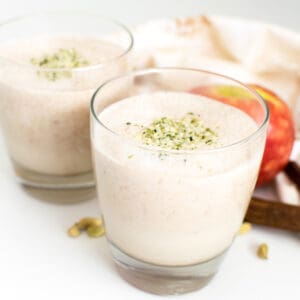 Print Recipe
Apple Smoothie
This refreshing and perfectly spiced Apple Smoothie is packed with nutrition and flavors. It's easy and made with only 8 ingredients. It is vegan and gluten free so it fits into most diet types.
Instructions
Preheat oven at 400-degree Fahrenheit and prepare a baking sheet with parchment paper. In a mixing bowl, combine chopped apples, cinnamon powder, cardamom powder, nutmeg and vanilla extract. Mix it well with a spoon.

Now, spoon the apples on the prepared baking sheet and bake it in the preheated oven in the middle rack for 15 minutes. Turn it off and take it out. Let it cool down a bit.

In a blender combine dates, oat milk, hemp seeds and the cooked apples. Blend it smooth.

Pour it immediately in the serving glasses and enjoy!
Nutrition
Calories:
153
kcal
|
Carbohydrates:
28
g
|
Protein:
3
g
|
Fat:
4
g
|
Saturated Fat:
1
g
|
Sodium:
95
mg
|
Potassium:
99
mg
|
Fiber:
2
g
|
Sugar:
16
g
|
Vitamin A:
410
IU
|
Calcium:
296
mg
|
Iron:
2
mg