This vegan Mango Lemonade is citrusy, juicy and an ultimate refreshment to beat the heat! It's easy and quick beverage that even kids can enjoy.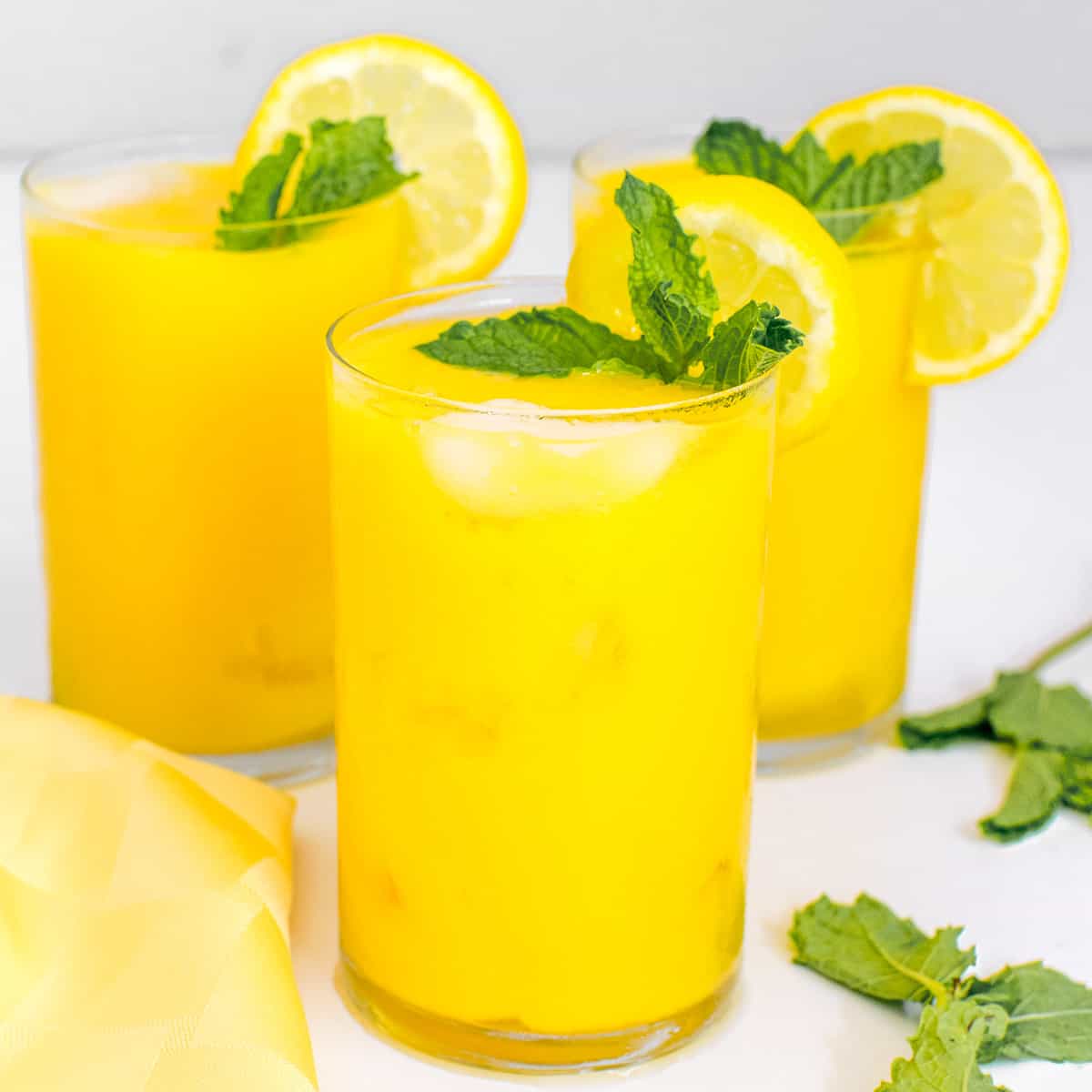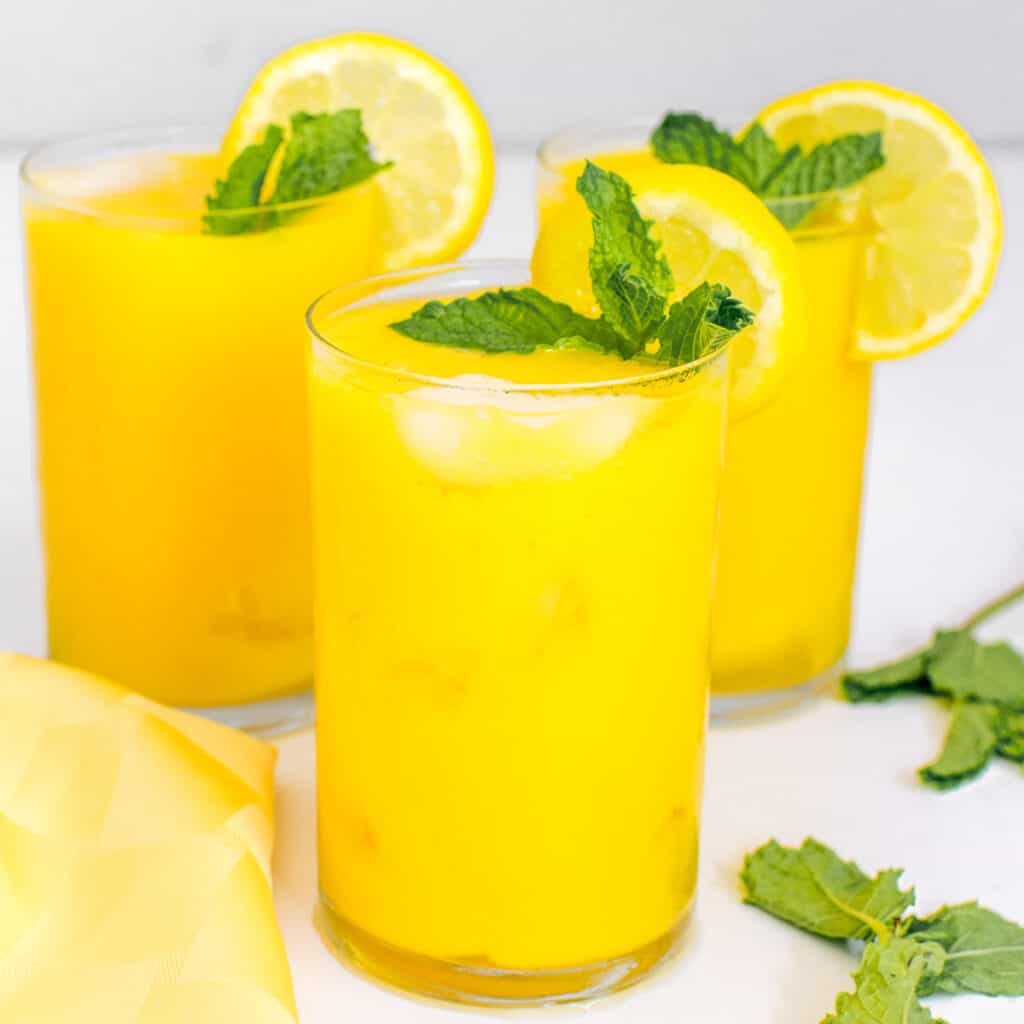 Mangoes are for summer and lemonade is the only beverage that everybody wants when the sun is at its peak.
This time I decided to blend this summer fruit into lemonade and it was an instant hit.
In fact, my daughter wanted to put a stall outside in the neighborhood with my homemade mango lemonade.
We did it and everybody passing by tried it and totally appreciated and loved every sip of it.
It has a beautiful color that goes well with the weather and looks so attractive that you can happily serve it to your guests as well. Hence, it is a crowd pleaser too.
I have made mango smoothie bowl and vegan mango lassi which worked like wonders. I make it on rotation for my kids and myself.
My eggless mango cookies are also quite popular and are nicely flavored yet made with healthier ingredients.
Mango pancakes are Yashvi's favorite and is a must when in season. It has real flavors made with real ingredients.
Every year this time, I stock my refrigerator with mangoes and innovate kid friendly recipes with them. However, this time I used frozen ones to bring out a certain consistency of my recipe.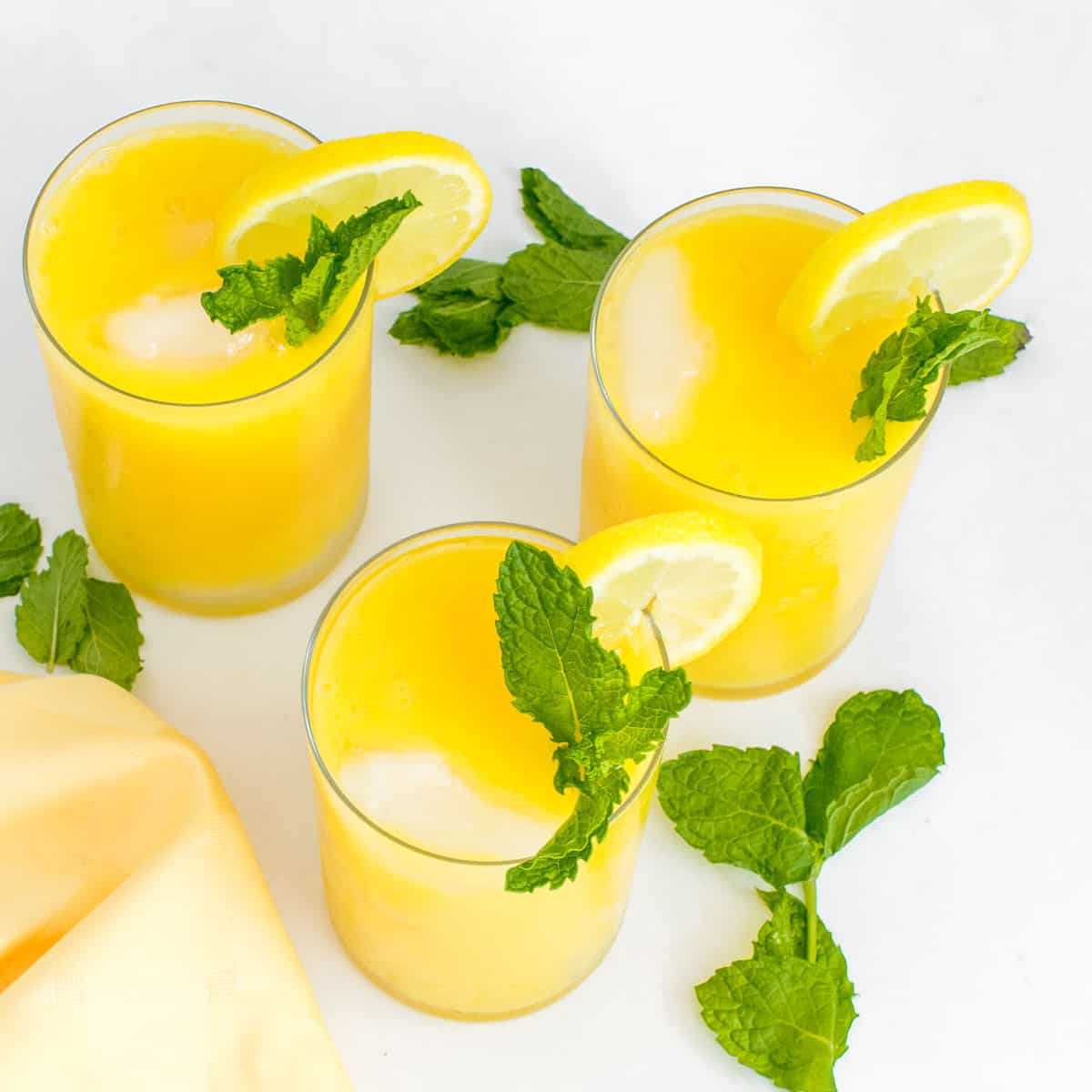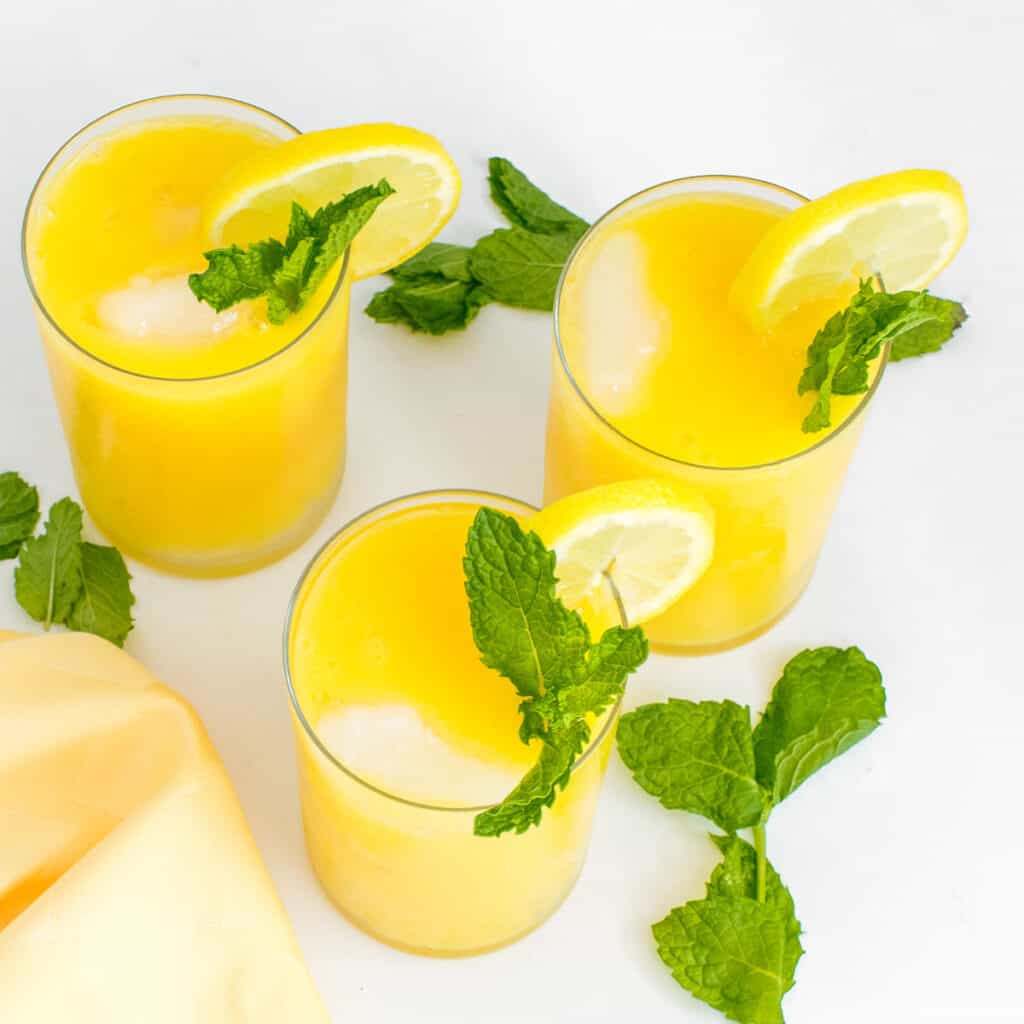 Whether its frozen or fresh, every year we totally gorge on this summer fruit heartily. We all love mangoes.
I remember in my childhood days, when I was in India, my dad used to bring big crates of mangoes and it used to be our staple throughout the season.
We enjoyed this fruit all through the day with every meal. Sometimes, we used to just start juicing it or eating directly. I remember the juice dripping through our fingers to our elbows and mom running around to clean us.
It always felt like mango festival so here I try and create similar atmosphere for my kids as well.
I want them to enjoy this fruit every season and create memories which they will remember all through their lives.
Moreover, mangoes are rich in vitamins and minerals and are a great source of antioxidants. They improve immunity and benefit skin and hair immensely.
Also, it's a healthy alternative to late night snacks and or desserts because its health benefits outpowers its sugar content. However, even though it is sweet but its sweetness is natural and healthy.
My other popular summer beverages are:
Turmeric Ginger Lemonade
Iced Matcha Latte
Peanut Butter Milkshake
Avocado Milkshake
Banana Milkshake
Peach Smoothie
Vegan Iced Cappuccino
Mango Chia Energy Drink
However, today I am here to share this hydrating mango lemonade recipe.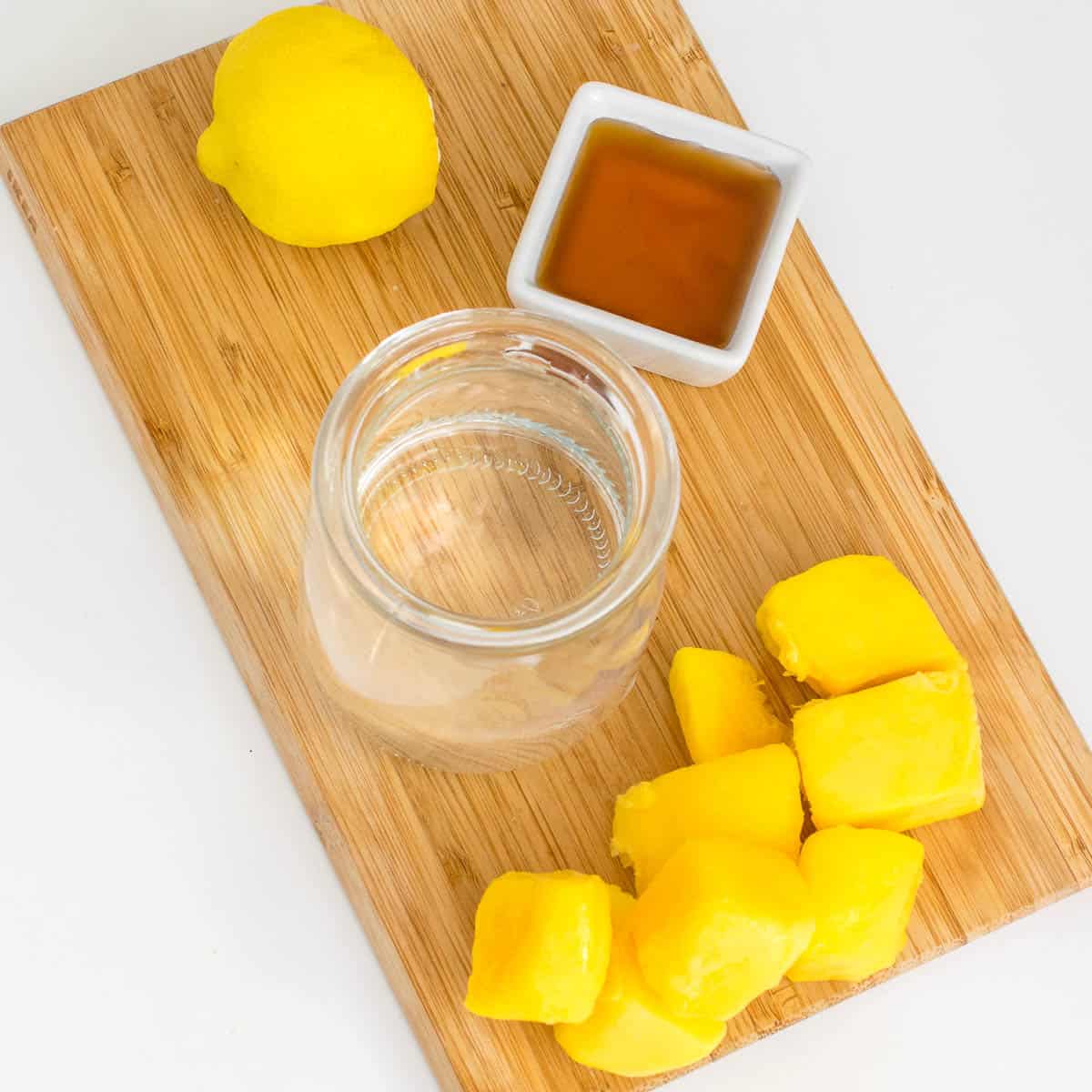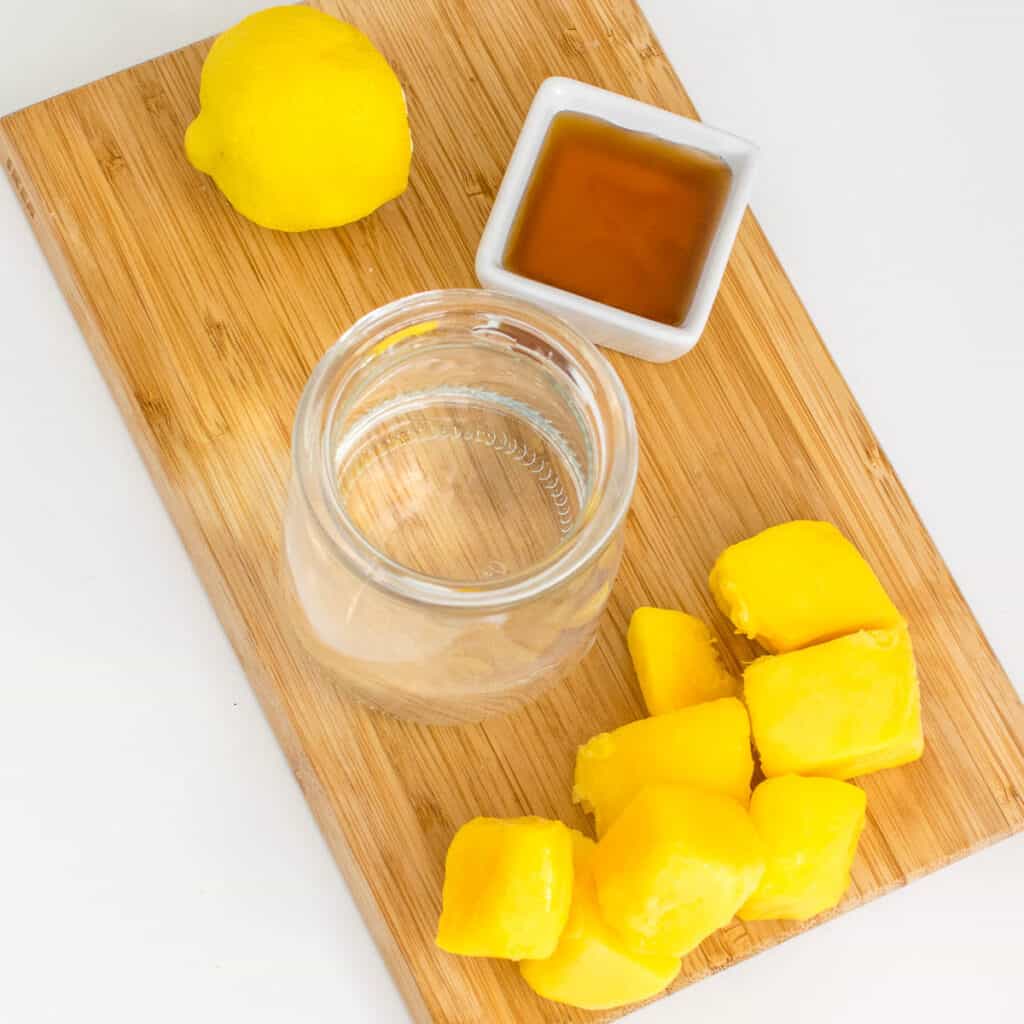 Ingredients you will need
Mango chunks
Water
Lemon juice
Maple syrup
Ice cubes
Mint leaves
I have used these easily available ingredients which you may buy from any local grocery store. However, I have provided links to few of them here for your convenience.
If you plan to buy from these affiliate links then I get a small commission which in turn encourages me to bring in more delicious recipe for you all.
Ingredients notes:
Mango chunks – I used frozen ones to thicken the lemonade a bit but you may use fresh ones. This would be lightly thinner in consistency but as delicious as ever.
Lemon juice – you may squeeze fresh lemon juice or use bottle ones. Also, you may simply peel and blend a lemon in it as well instead of juicing.
Maple syrup – this should be used as per taste because my daughter liked it on a sour side but we liked it on a sweeter side. So, this sweetener depends on individual taste. However, do not overly sweeten it.
Now, after going through the ingredients in details I am sure you must be excited to quickly make it.
So, simply follow two simple steps and enjoy it with your loved ones.
How to make Mango Lemonade
Firstly, I blended mango chunks, water, lemon juice and maple syrup in a blender.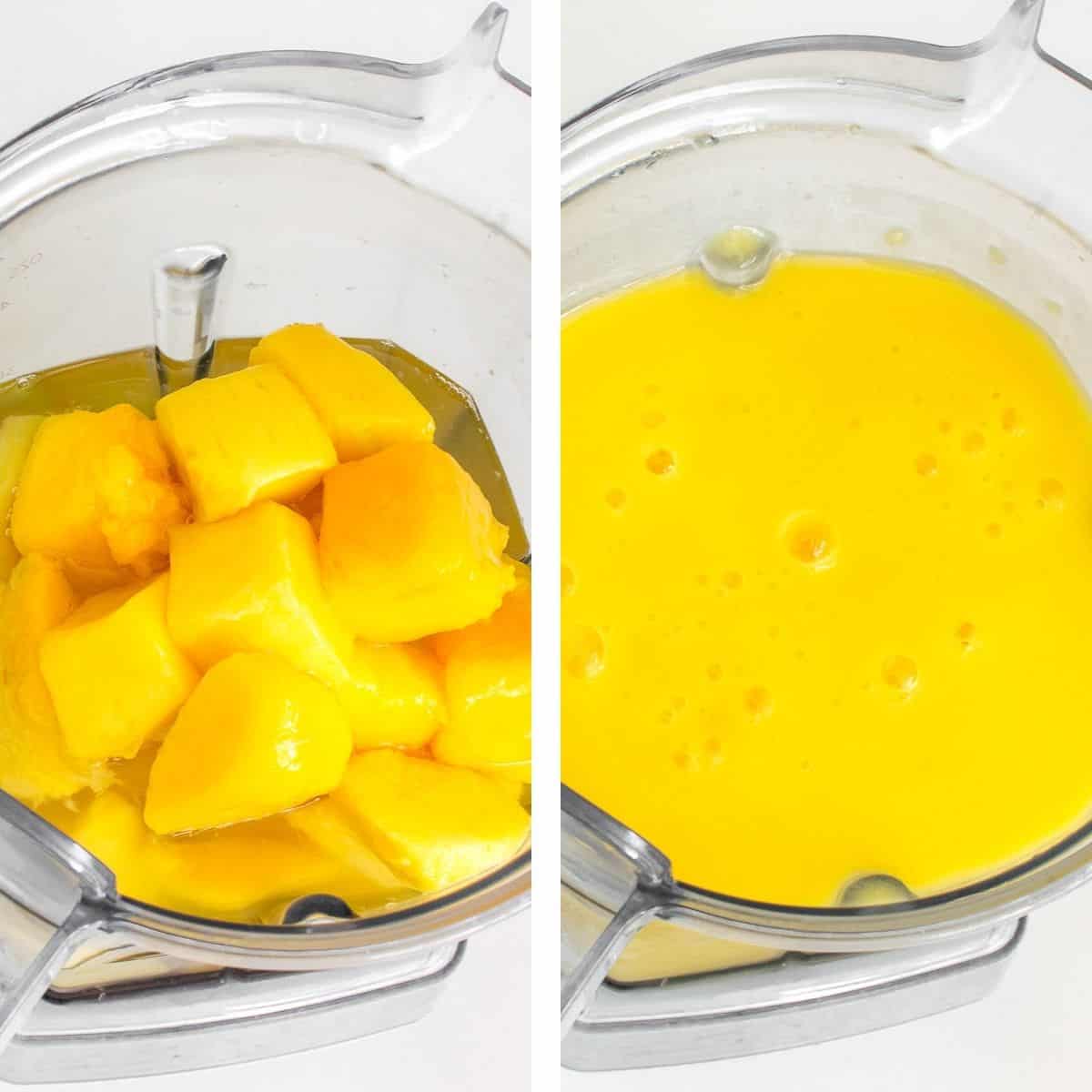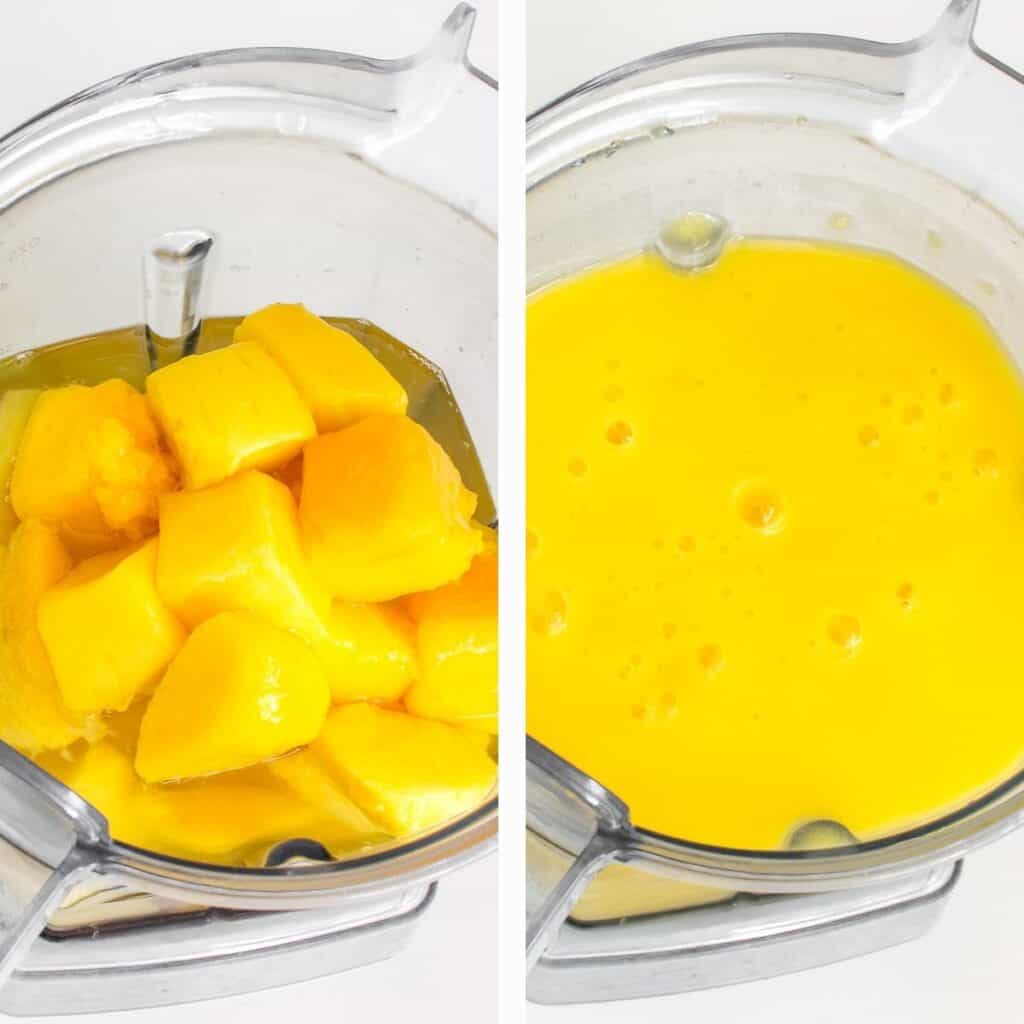 Secondly, I added ice cubes in the serving glasses.
Thereafter, I poured it over ice.
Lastly, I garnished it with lemon wedges and mint leaves.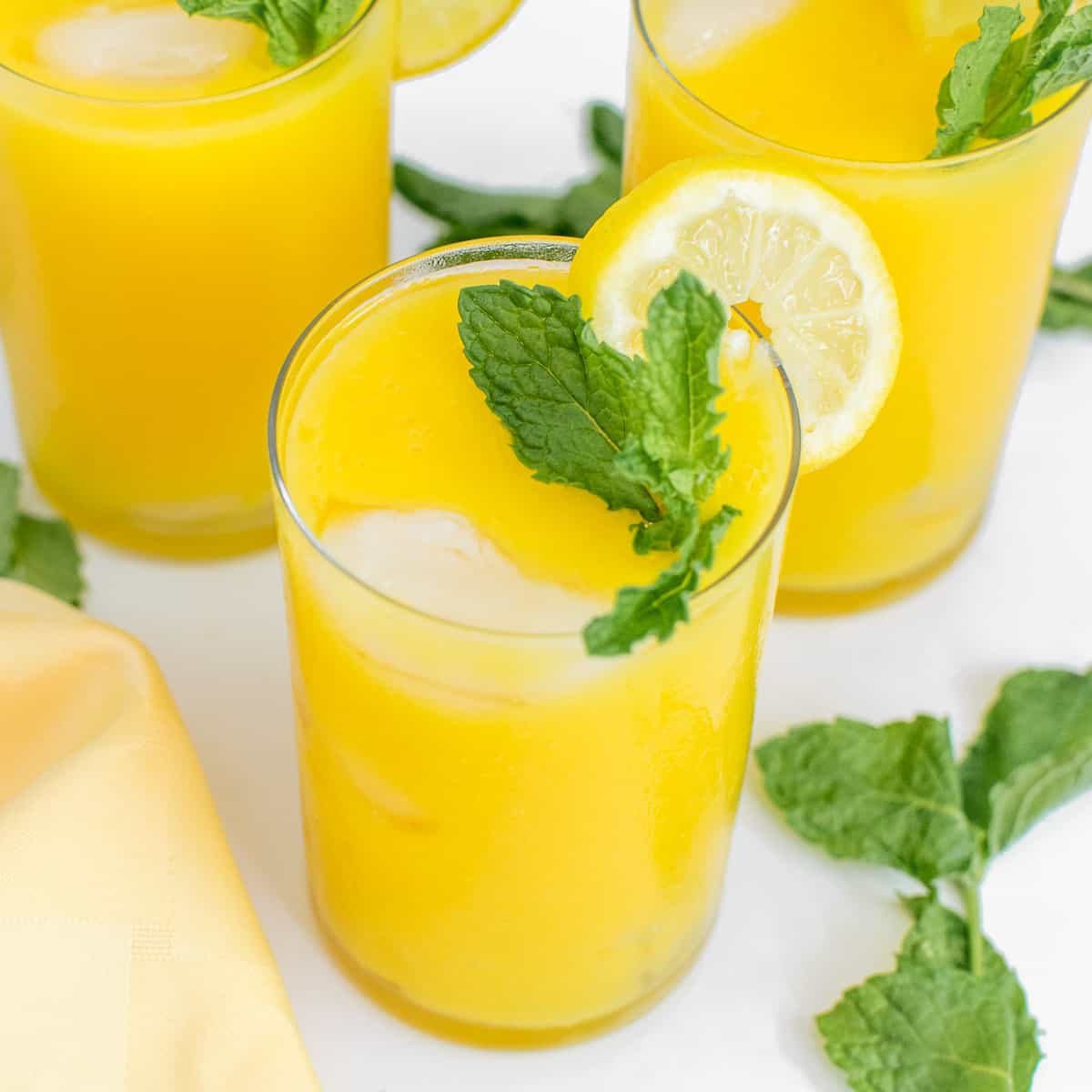 It looked so pretty that we all quickly grabbed our glasses and finished it within minutes.
We totally loved every sip of it.
In fact, my kids loved it so much that I make this every other day. Therefore, now it's your turn to make it and enjoy this delicious beverage.
I think it's the simplest recipe to enjoy this fruit and absolutely perfect for all ages and for all occasions.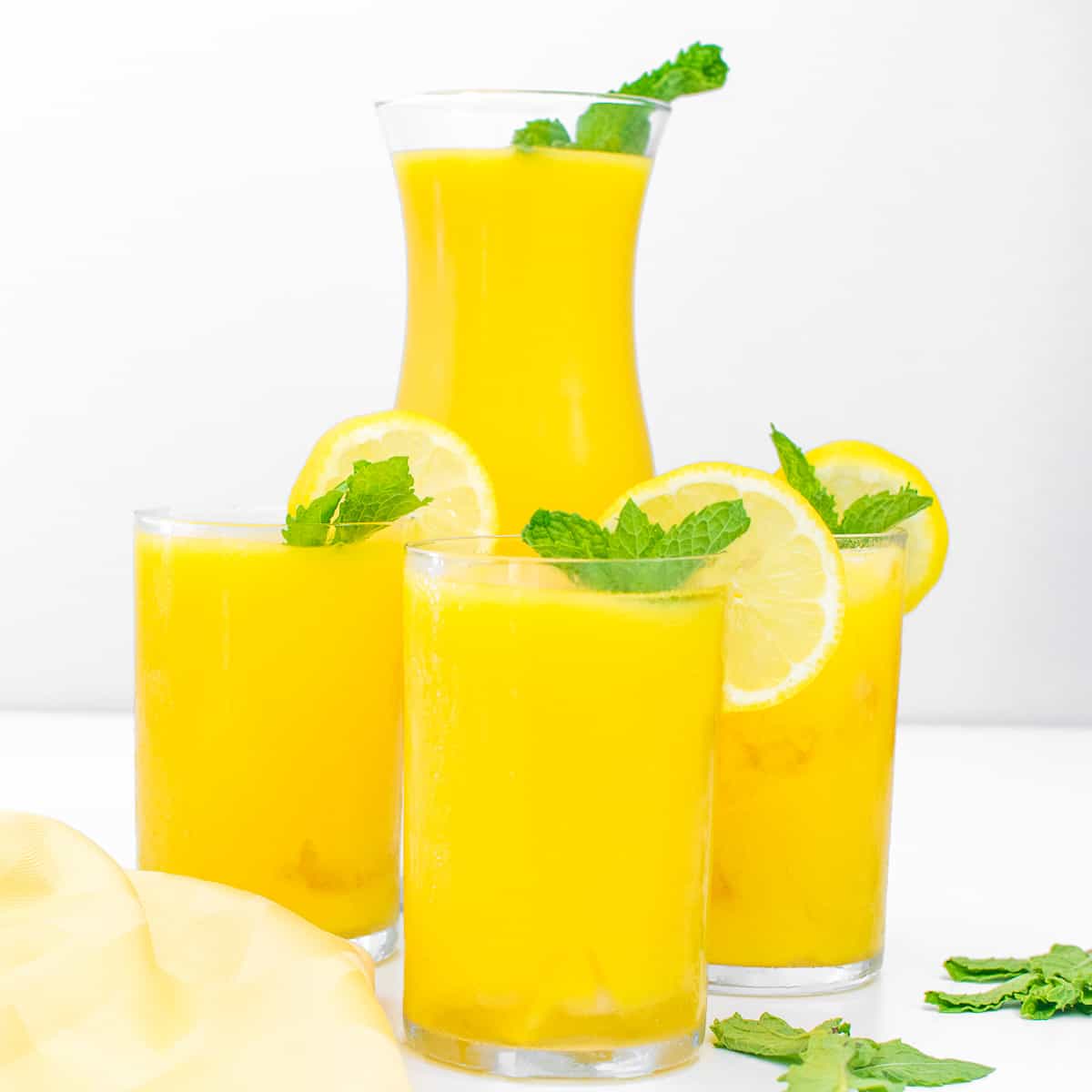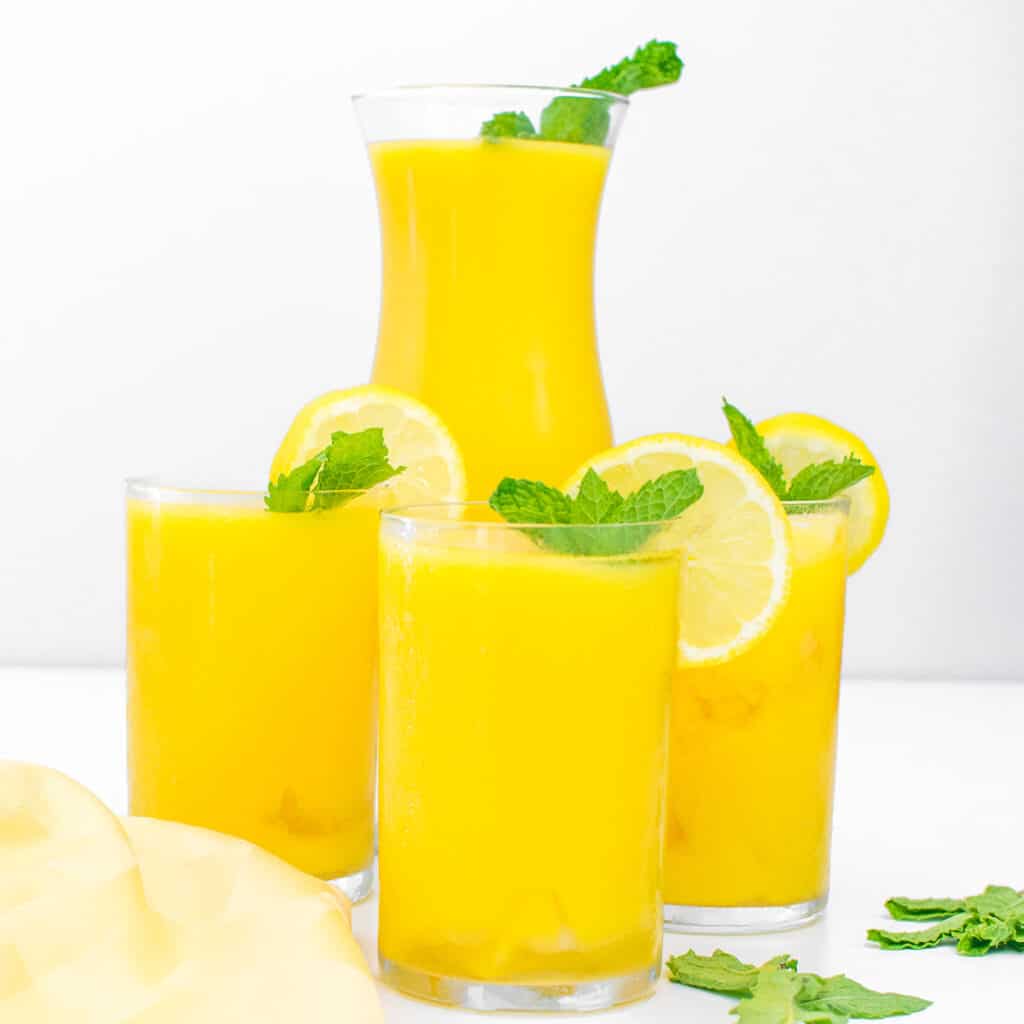 Expert tips:
Make sure to blend it smooth so that the frozen chunks melt down properly. It should not be very thick. Feel free to add some more water to get the right consistency.
Add ice cubes first in the glass and then pour over the drink.
Mango Lemonade FAQs
How long does it last?
This tastes best when served immediately.
Is it healthy?
Yes, because I have used simple and healthy ingredients. In fact, the sweetener that I used it maple syrup and not white sugar so its minimally processed. Moreover, its loaded with vitamin C and fiber.
How does it taste like?
It has a strong sour taste and a tang from lemon along with a balanced sweetness to it.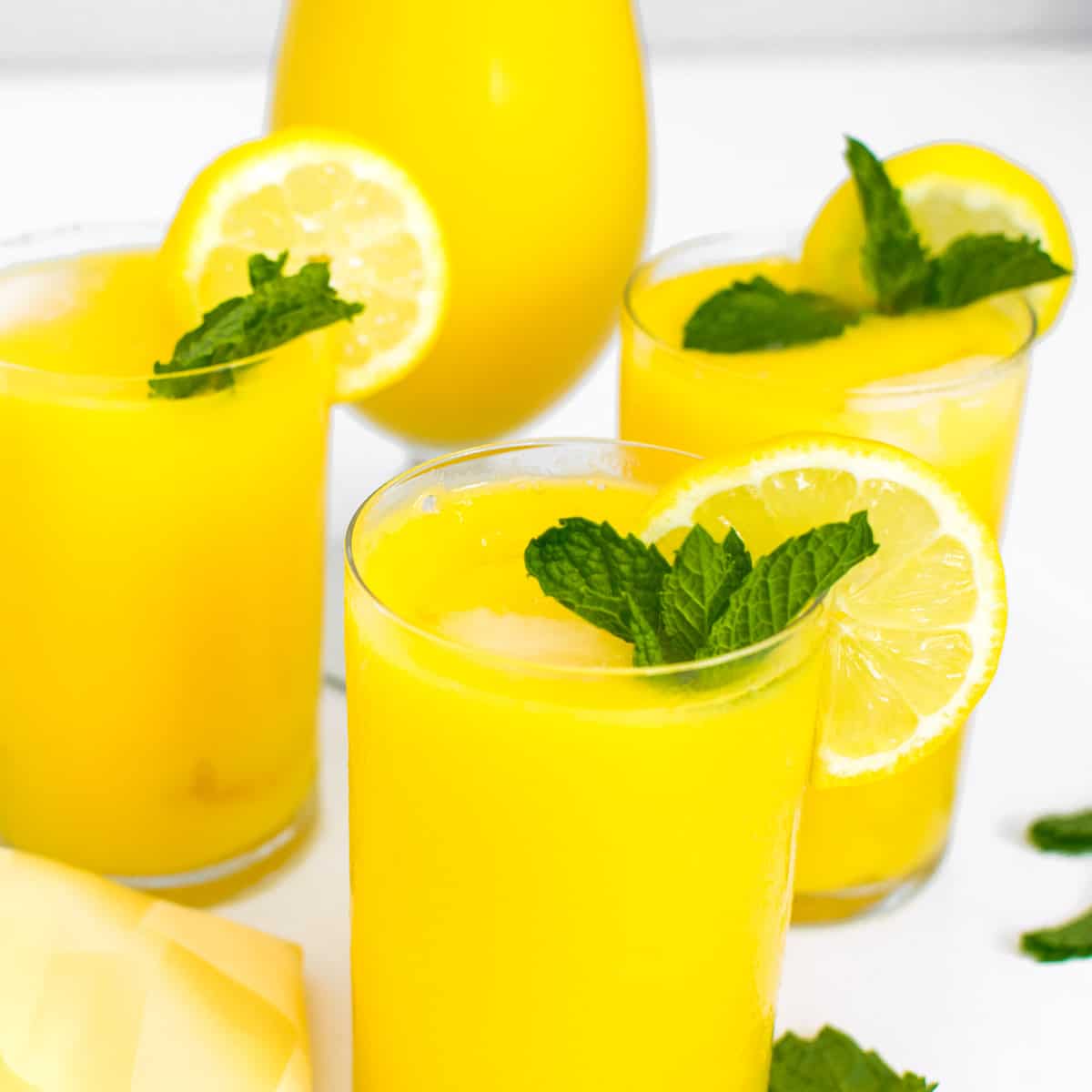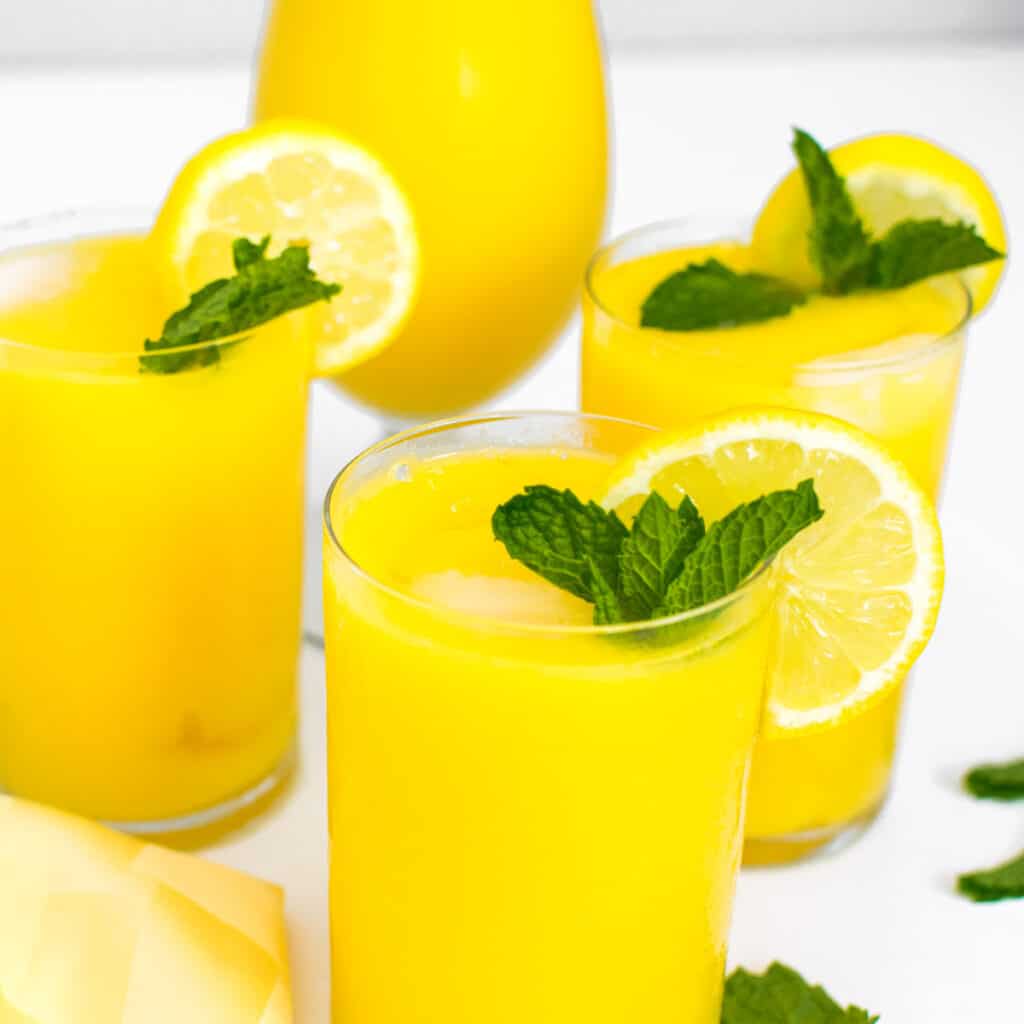 Did you make it?
If you get a chance to make this recipe then please leave your feedback in the comments along with a 5-star rating. In addition, you may tag @kiipfit on Instagram along with your recipe remake images because we would love to see what you cooked.
You may also checkout my cookbook for everyday comforting vegan recipes.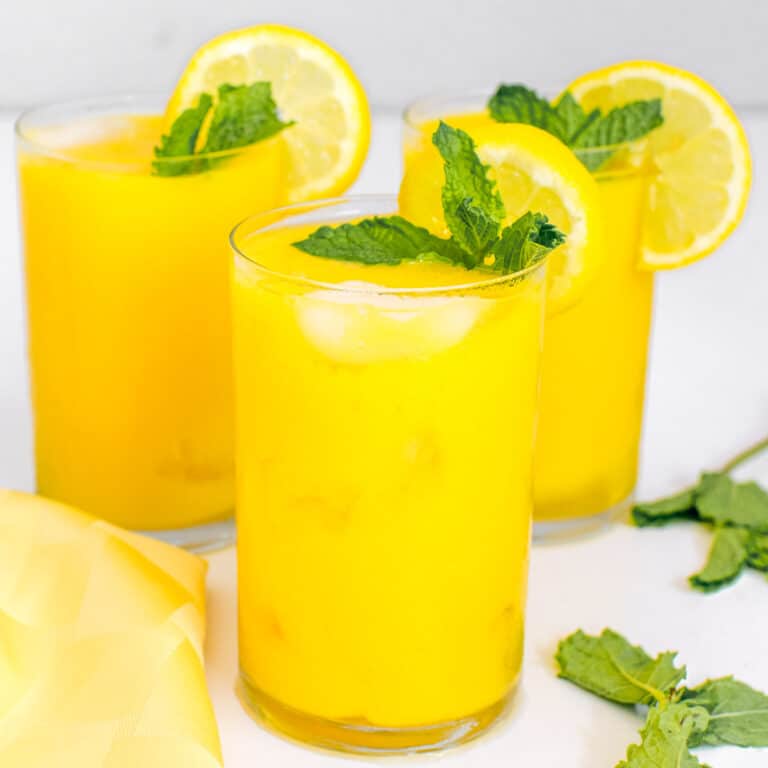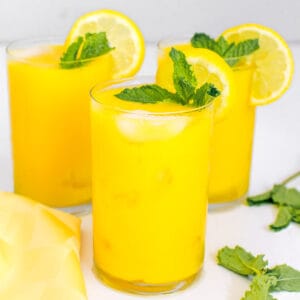 Print Recipe
Mango Lemonade
This vegan Mango Lemonade is citrusy, juicy and an ultimate refreshment to beat the heat! It's easy and quick beverage that even kids can enjoy.
Instructions
In a blender combine mango chunks, water, lemon juice and maple syrup. Blend it smooth.

Place ice cubes in the serving glasses and pour the lemonade over ice. Garnish with mint leaves and serve.
Notes
This recipe tastes best when served immediately.
Fresh mango chunks also work in this recipe.
Feel free to adjust maple syrup as per taste but do not exceed 4 tbsp. of it or else this lemonade will become overly sweetened.
If your mangoes are ripe and sweet then start with 1 tbsp. maple syrup and adjust as per taste.
Nutrition
Calories:
82
kcal
|
Carbohydrates:
22
g
|
Fat:
1
g
|
Saturated Fat:
1
g
|
Polyunsaturated Fat:
1
g
|
Sodium:
7
mg
|
Potassium:
32
mg
|
Fiber:
1
g
|
Sugar:
5
g
|
Vitamin A:
1
IU
|
Vitamin C:
6
mg
|
Calcium:
13
mg
|
Iron:
1
mg