This refreshing and hydrating vegan Kale Smoothie is easy to blend and flavor packed with a variety of fruits. Chia seeds makes it healthier and adds fiber and protein to it. Its gluten free and suitable to fit into almost all diets.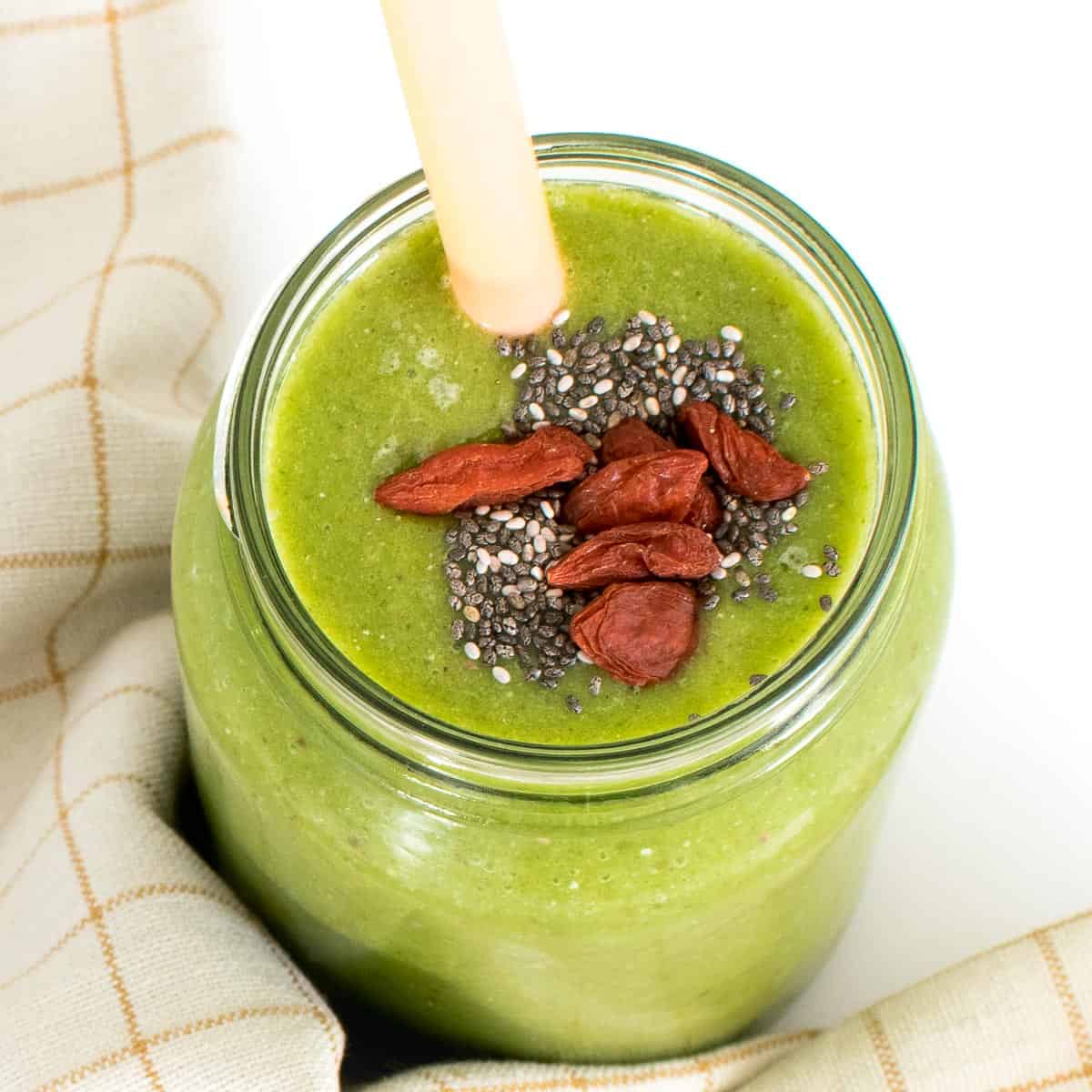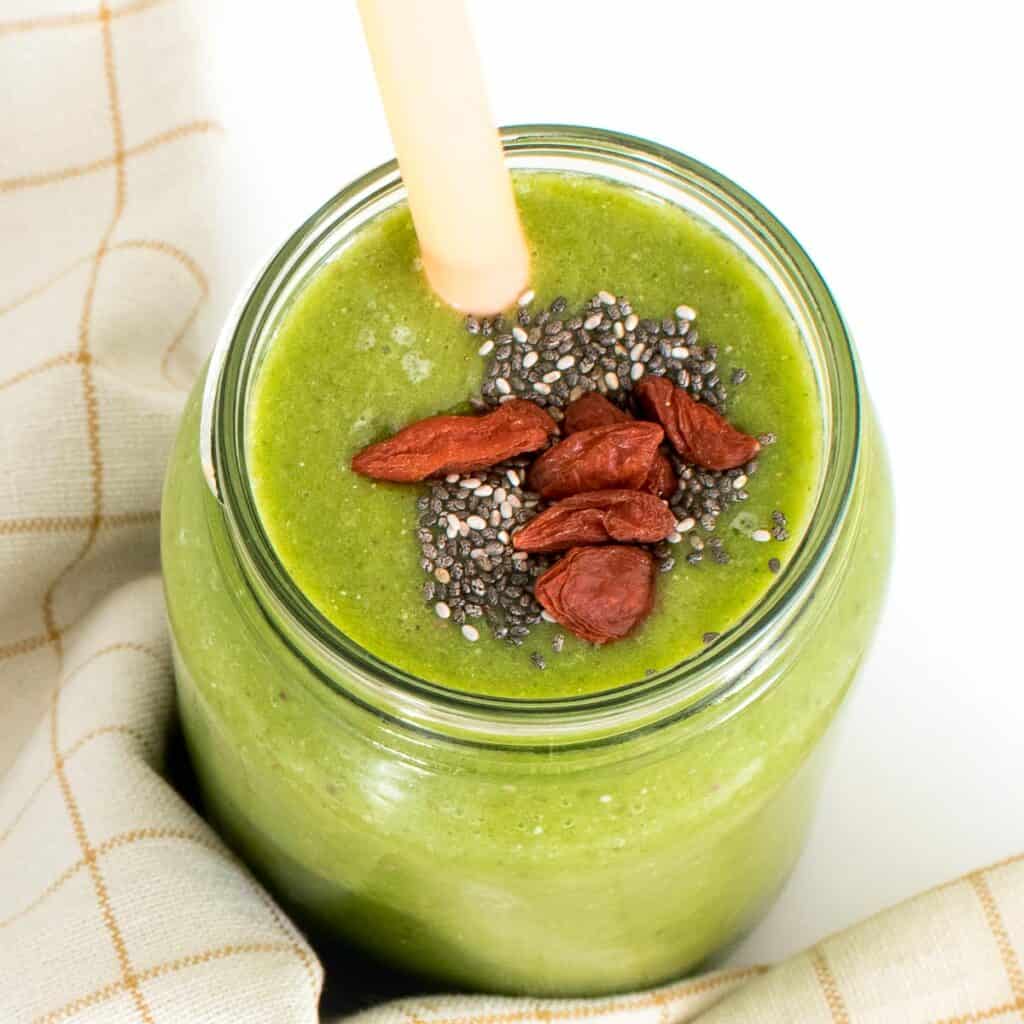 Smoothies are my favorite to go meal. I can enjoy it any time of the day. I feel energetic with smoothies but this one is my favorite.
Usually, I mix spinach and kale together in my smoothies to boost the nutrients. However, this time I decided to go with kale only. Surprisingly, I actually liked the rustic flavor of kale in it.
It's a great detox beverage with a nice smooth texture and a medley of delicious fruits and veggies.
You would also like to note, that my girls totally loved and enjoyed the last bit of drop. So here I am to share this awesome kale smoothie recipe with you.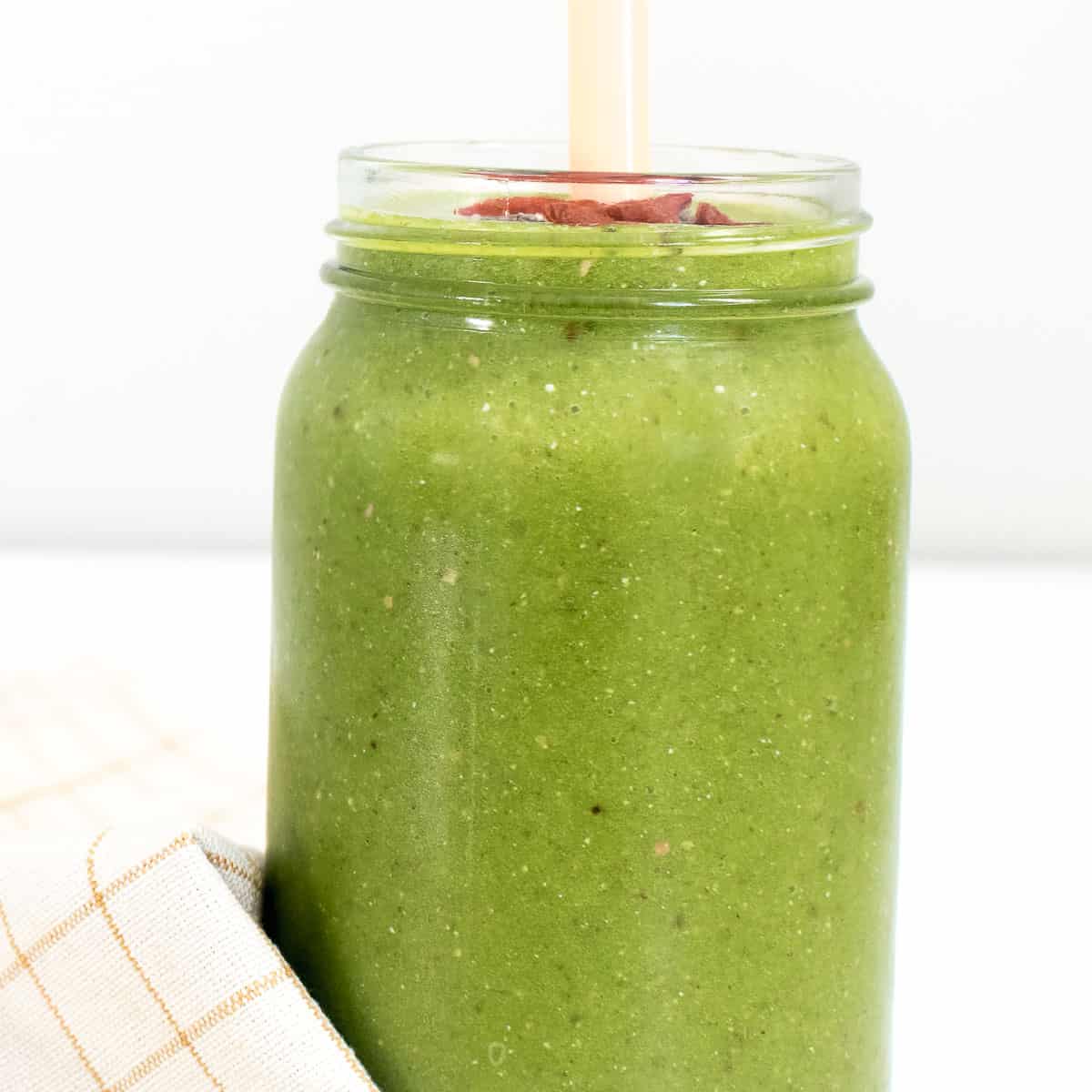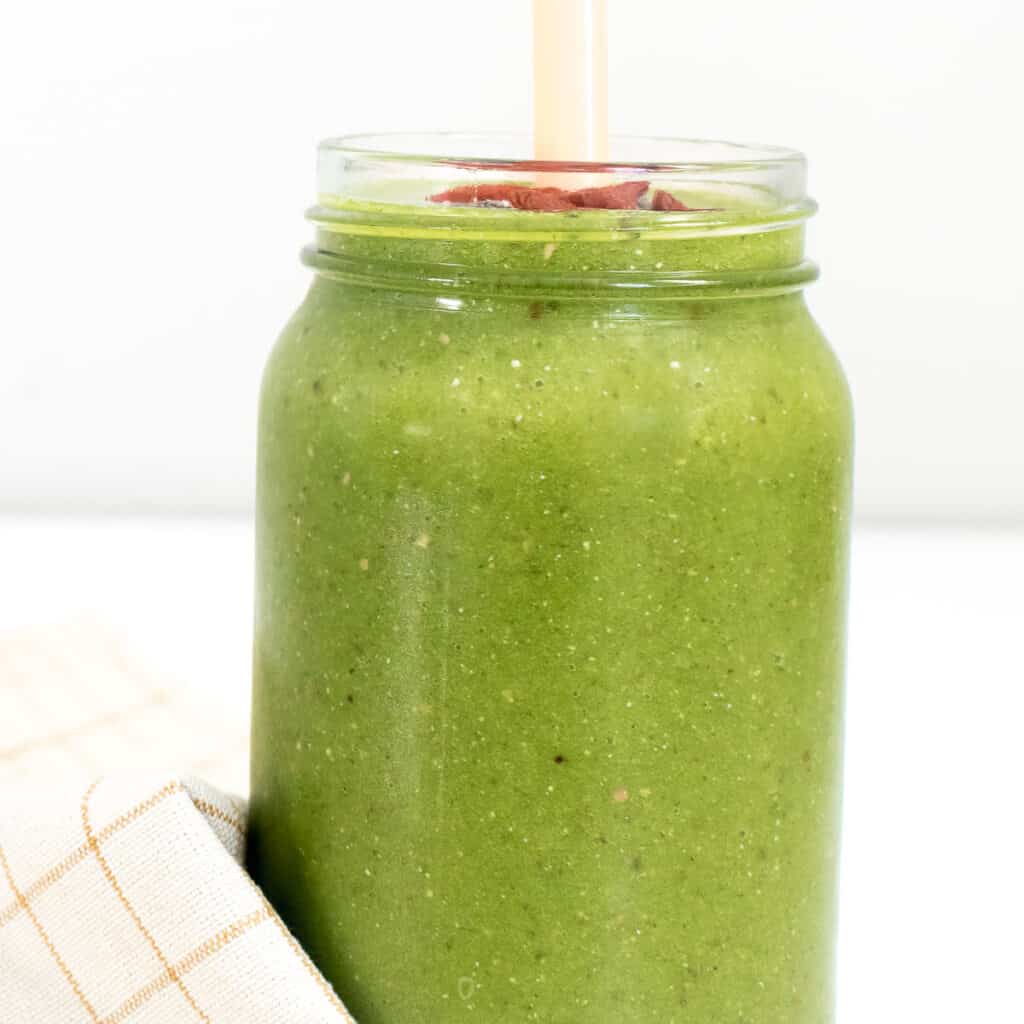 Ingredients for Kale Smoothie
Baby kale
Frozen pineapple
Frozen mango
Pomegranate kernels
Banana
Dates
Chia seeds
Coconut water
Goji berries (optional)
I have used these easily available ingredients which you may buy from any grocery store. However, I have provided links to few of them here for your convenience.
If you plan to buy from these affiliate links then I get a small commission which in turn encourages me to bring in more delicious recipes for you all.
Ingredients notes:
Kale – I used baby kale because it's a bit more mellowed in taste than the adult kale. However, if you like the taste of raw kale then you may use the adult kale as well. In both the case this smoothie recipe would taste amazingly delicious.
Pineapple – I used the frozen pineapple chunks so that its easy for us to make it all year round. Moreover, the frozen fruits also give a nice thick texture to this beverage making it more satisfying.
Mango – I again used its frozen chunks to give this drink a nice tropical flavor. However, this smoothie is desirable all year round.
Pomegranate – I used the frozen kernels to add a bit of crunch and sweetness to this smoothie.
Banana – this sweetens it naturally and balances the flavor of all the fruits.
Dates – this adds fiber and nutrition to it along with sweetening. These also balances out the kale flavor making it a smooth flavored drink.
Coconut water – instead of adding dairy free milk to it I added coconut water to lighten this beverage and give it a lightened texture as well.
Chia seeds – as we all know it's a super food rich in protein, fiber and other vitamins and minerals. It adds a lot of health to this beverage.
Goji berries – it's a super food too with lot of nutrition. Even though its optional in this recipe but if you get a chance to garnish it with goji berries it adds a chewy texture with delectable taste to this smoothie.
So, therefore, if you are looking for a simple, quick and no cooking recipe and yet want to detox, this kale pineapple smoothie with mango and banana is absolutely a must on your menu.
How to make Kale Smoothie
It's a very simple two step recipe.
Firstly, I combined all the ingredients (except goji berries) in a blender and blended it smooth. This may take about 3-4 minutes depending on the power and speed of your blender.
Next, I poured it in the serving glasses and garnished with goji berries.
Lastly, I served it immediately.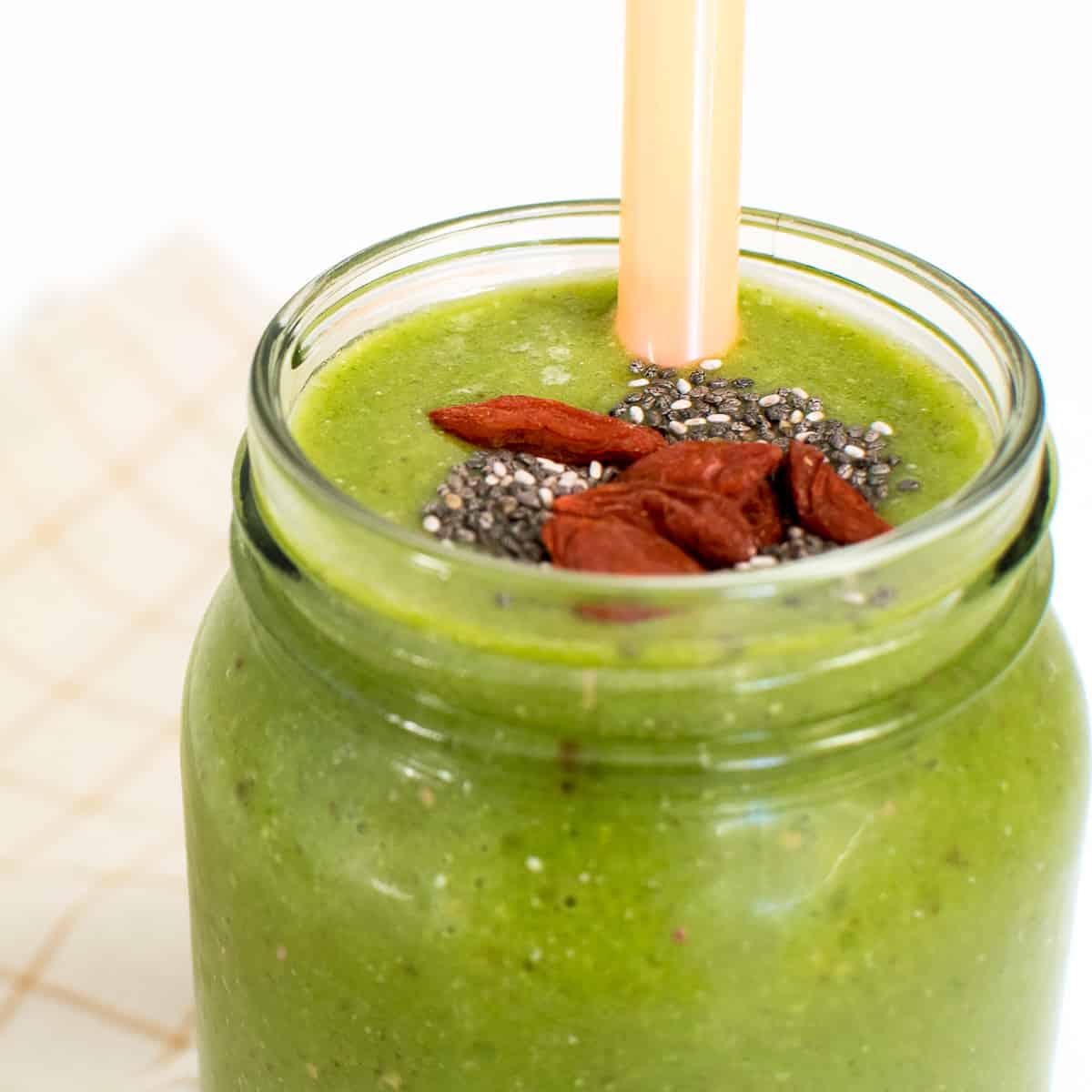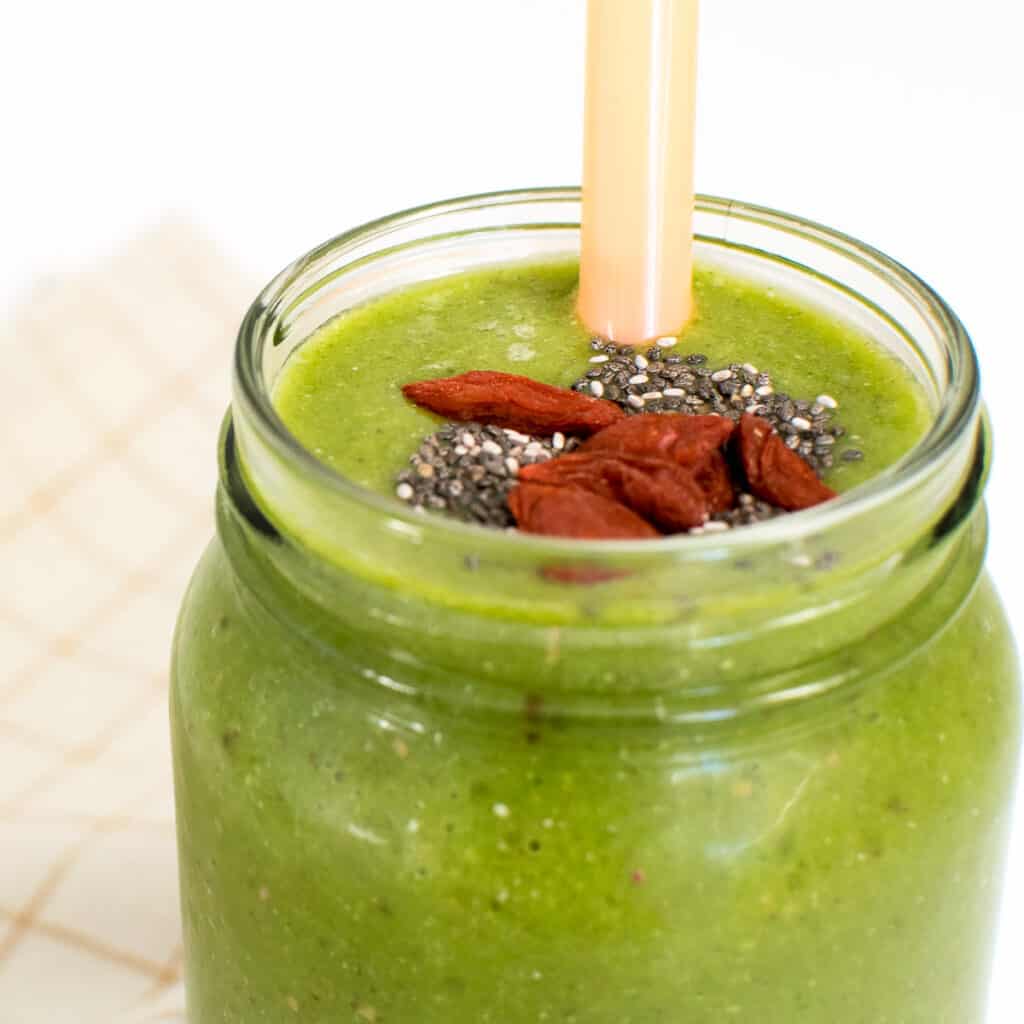 Voila! We all were super happy and satisfied with it. In fact, my kids wanted me to make it gain the next day. Since, then I must have made it almost everyday until I ran out of ingredients.
Hence, I would insist you to try it ASAP and enjoy this smoothie with kale as much as we did.
Expert tips:
It is important to keep all the fruits frozen until ready to use so as to get the thick consistency of this smoothie.
Even though goji berries are optional in this recipe but if you get a chance to add it, you would like this beverage even more as its taste enhances even more.
I have used baby kale but you may use adult kale as well. However, make sure to measure it properly as mentioned in this recipe.
Kale Smoothie FAQs
How long does it taste?
This tastes best when served immediately. If kept for longer it will lose its freshness and texture.
How does it taste like?
It has a variety of flavors of fruits and a mild hint of kale. It has a sweet, slight tangy and mild coconut flavor to it.
Is it healthy?
Yes, absolutely. It is gluten free and paleo too. It is made with natural whole foods. I did not add any processed sugar or any other processed food. Its hydrating and great for detox. It can be enjoyed everyday as post workout beverage or as a snack or as breakfast too.
What are health benefits of kale?
It is a nutrient dense ingredient. Its loaded with antioxidant and rich in fiber. Along with being an excellent source of vitamin C it helps in lowering cholesterol, thereby reduces heart disease risk. Kale is also low in calories and has cancer fighting substances. Overall, its one of the superfood raw vegetable which should be consumed frequently.
This vegan kale smoothie recipe is power packed and antioxidant loaded. Therefore, I would insist you to blend this ASAP and include into your healthy eating routine.
You may also like:
Banana Almond Butter Smoothie
Chia Hemp Green Smoothie
Superfood Green Smoothie
Matcha Smoothie
Turmeric Mint Protein Smoothie
Kale Honey Dew Melon Smoothie
Pear Spinach Mango Smoothie
Apple Smoothie
Did you make it?
If you get a chance to make this recipe then please leave your feedback in the comments below along with the ratings. In addition, you may tag @kiipfit on Instagram along with your recipe image because we would love to see what you cooked.
If you desire to explore more of my delicious recipes then you may checkout my cookbooks.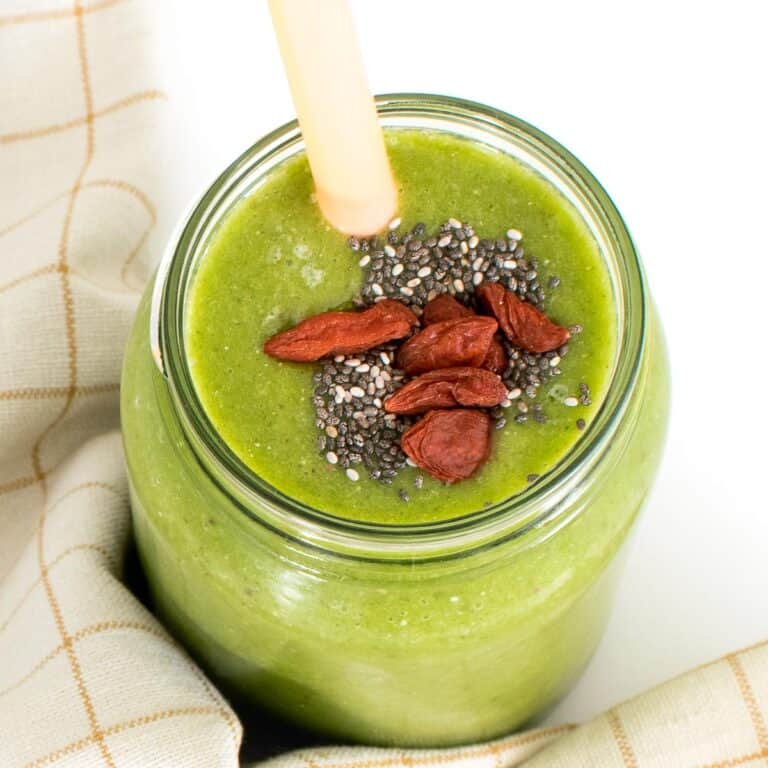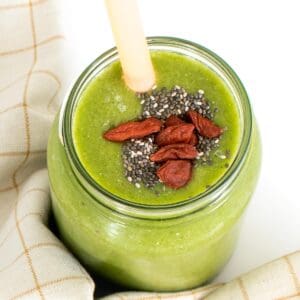 Print Recipe
Kale Smoothie
This refreshing and hydrating vegan Kale Smoothie is easy to blend and flavor packed with a variety of fruits. Chia seeds makes it healthier and adds fiber and protein to it. Its gluten free and suitable to fit into almost all diets.
Ingredients
2

cups

baby kale

1/2

cup

frozen pineapple chunks

1/2

cup

frozen mango chunks

1/4

cup

frozen pomegranate kernels

1

large

banana

2-3

pitted dates

2

tbsp

chia seeds

3

cups

coconut water

2

tbsp

goji berries to garnish

(optional)
Instructions
In a blender combine all the smoothie ingredients (except goji berries) and blend it smooth.

Pour it into the serving glasses, garnish with goji berries if desired and serve immediately.
Nutrition
Calories:
255
kcal
|
Carbohydrates:
51
g
|
Protein:
7
g
|
Fat:
4
g
|
Saturated Fat:
1
g
|
Sodium:
254
mg
|
Potassium:
795
mg
|
Fiber:
7
g
|
Sugar:
12
g
|
Vitamin A:
29
IU
|
Vitamin C:
10
mg
|
Calcium:
108
mg
|
Iron:
1
mg