Vegan Sweet Potato Casserole is oil free and a must have classic on your holiday table! It has a perfect crunch at the top and melt in mouth soft at the bottom. It's crumble in the middle layer is made with the combination of quinoa, oats and warm spices.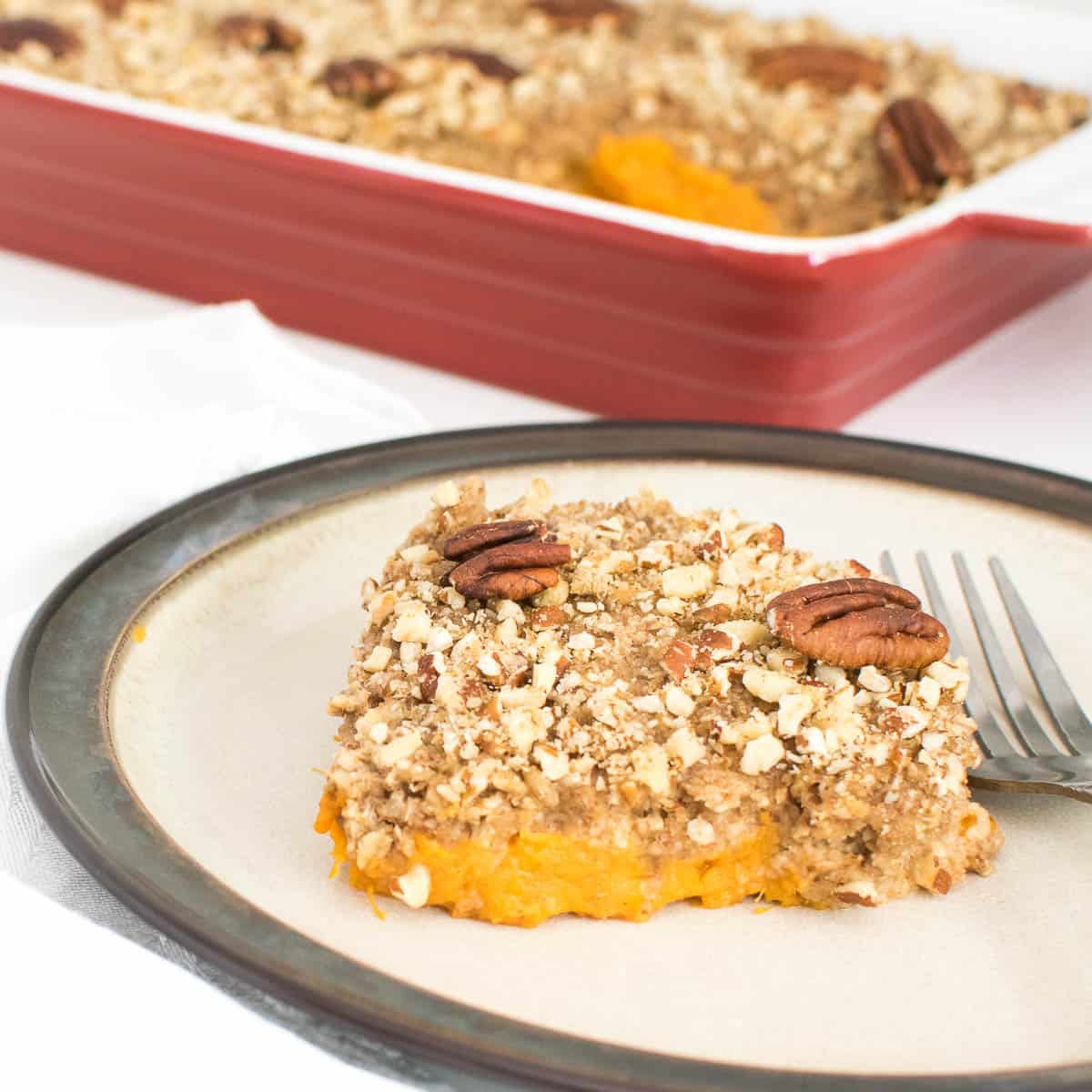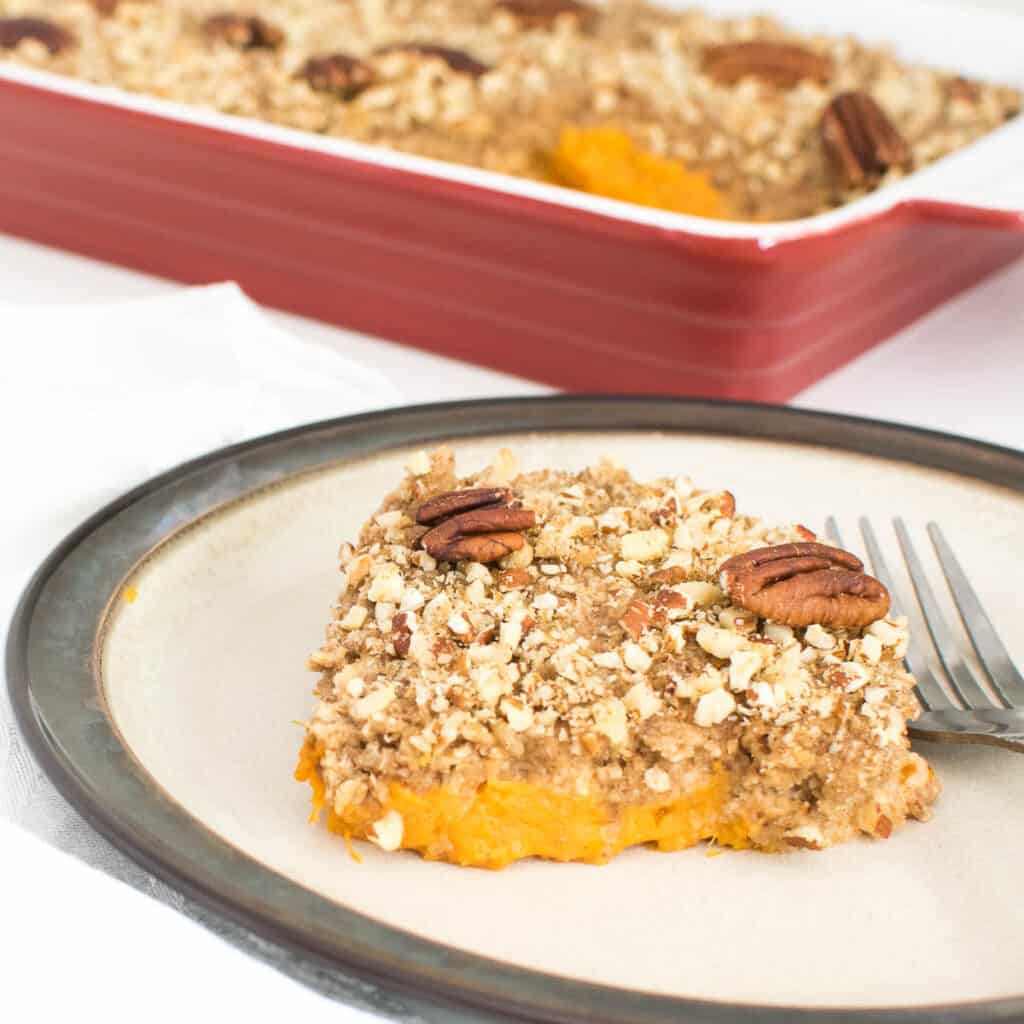 I have been wondering about this sweet potato recipe for a while. As soon as the weather cooled down, I craved for this casserole. However, in my mind I wanted to create a healthier version.
To add variety to my menu for sweet potatoes, I often make my sweet potato pizza crust and we all love it so much.
My most important goal was to make it as tasty and comforting without oil or butter. I also minimized the added sugar. After few practices I succeeded.
The crunchy top with aromatic spices and delicious nutty flavor is mind blowing.
It served excellent as a dessert for us but I know it can be served as a side dish for the Thanksgiving table for many.
Its not overly sweetened and is lighter on the tummy. Therefore, I made holiday indulgence fun and guilt free.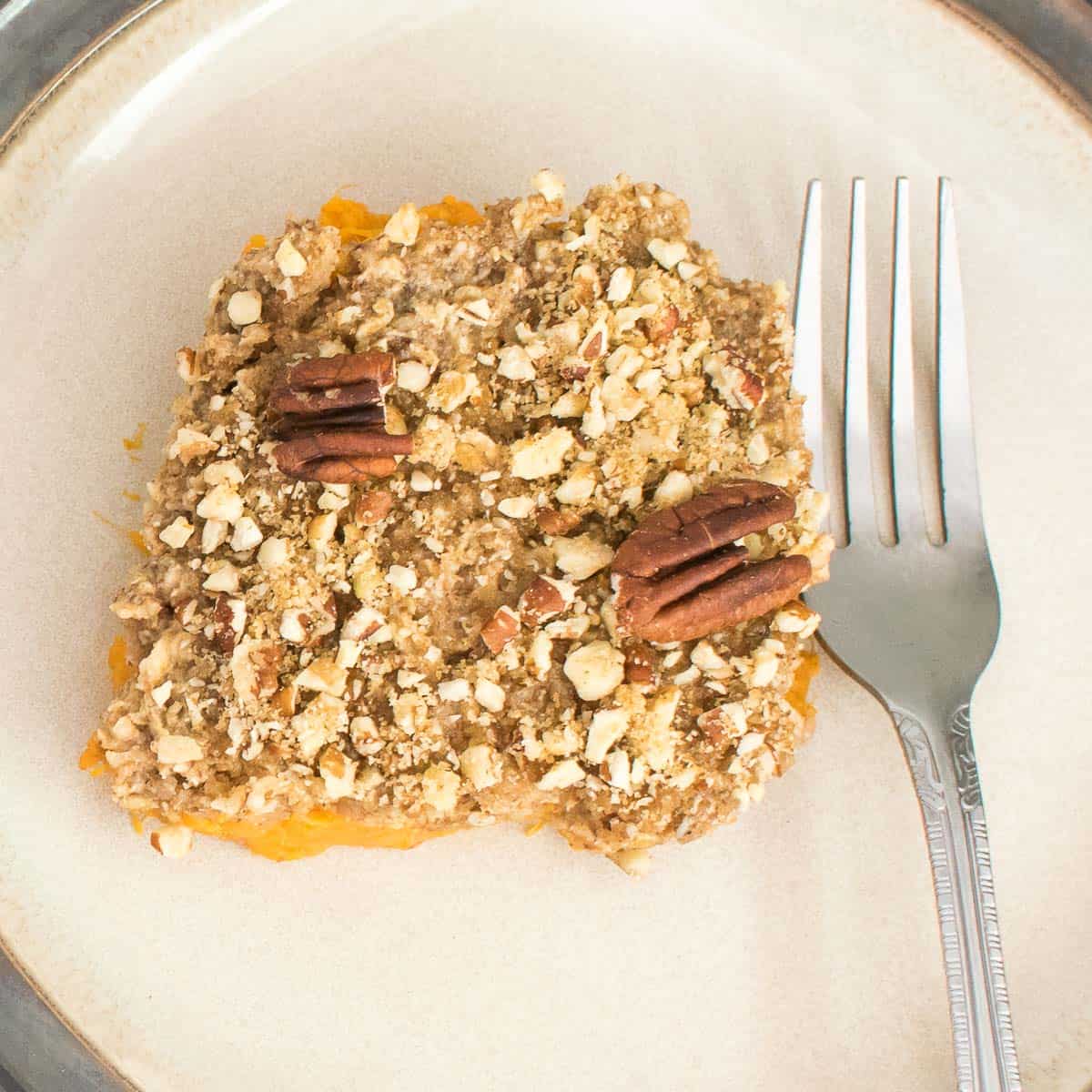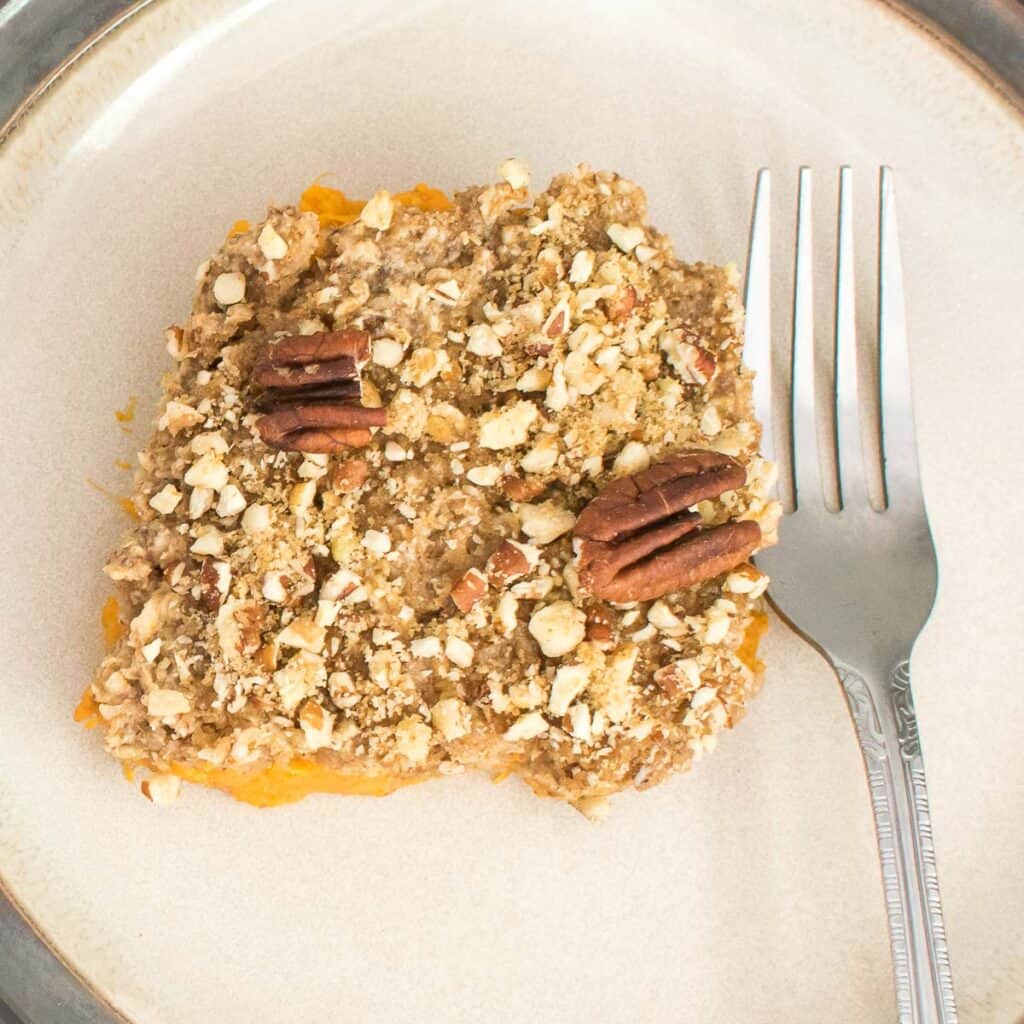 Ingredients you will need
For the sweet potatoes
Sweet potatoes
Cinnamon powder
Cardamom powder
Maple syrup
Vanilla extract
Dairy free milk
For the crumble
Quinoa flour
Oats
Pecans
Walnuts
Cinnamon powder
Cardamom powder
Salt
Brown sugar
Dairy free milk
For the toppings
Brown sugar
Pecans
Walnuts
I have used these easily available ingredients in this recipe which you may buy from any local grocery store. However, I have provided links to few of them here for your convenience.
If you plan to buy from these affiliate links, then I get a small commission which in turn encourages me to bring in more delicious recipes for you all.
Ingredients notes:
Sweet potatoes – these are high in fiber and has healthy fats in it. They are the main star of my recipe.
Cinnamon powder – it brings out a nice flavor in this recipe making it a perfect side dish for Fall season.
Cardamom powder – this brings a hint of sweetness and compliments the aroma of cinnamon.
Maple syrup– I have used this as sweetener but in a minimum quantity so as to only balance out the flavors.
Dairy free milk – this makes it extra creamy and gives it a nice gooey texture.
Quinoa flour – it is gluten free in nature and comes under the category of superfoods. It's a complete protein and is a versatile grain.
Oats – it is high in fiber and a whole grain. I used old fashioned oats which is a low GI food and helps to make this sweet potato dish a bit crunchy.
Pecans – its important ingredients in this recipe. It gives a nice nutty taste plus a bit of crunch to this recipe.
Walnuts – it's a low GI food with many health benefits. It compliments well with pecans in this recipe.
How to make Vegan Sweet Potato Casserole
Firstly, I mashed all the potato ingredients in a mixing bowl.
Secondly, I spread it evenly in a baking casserole dish. Then, I kept it aside.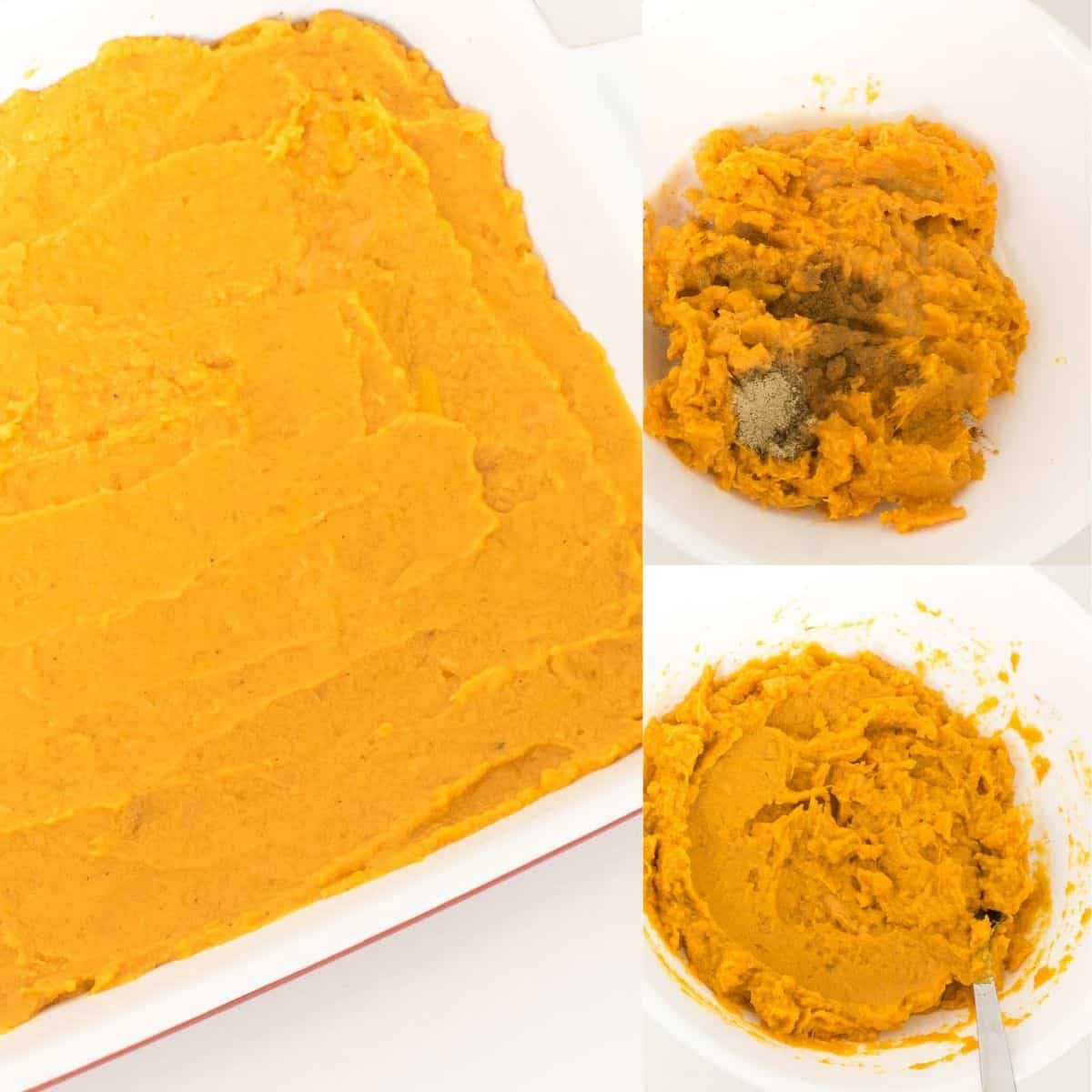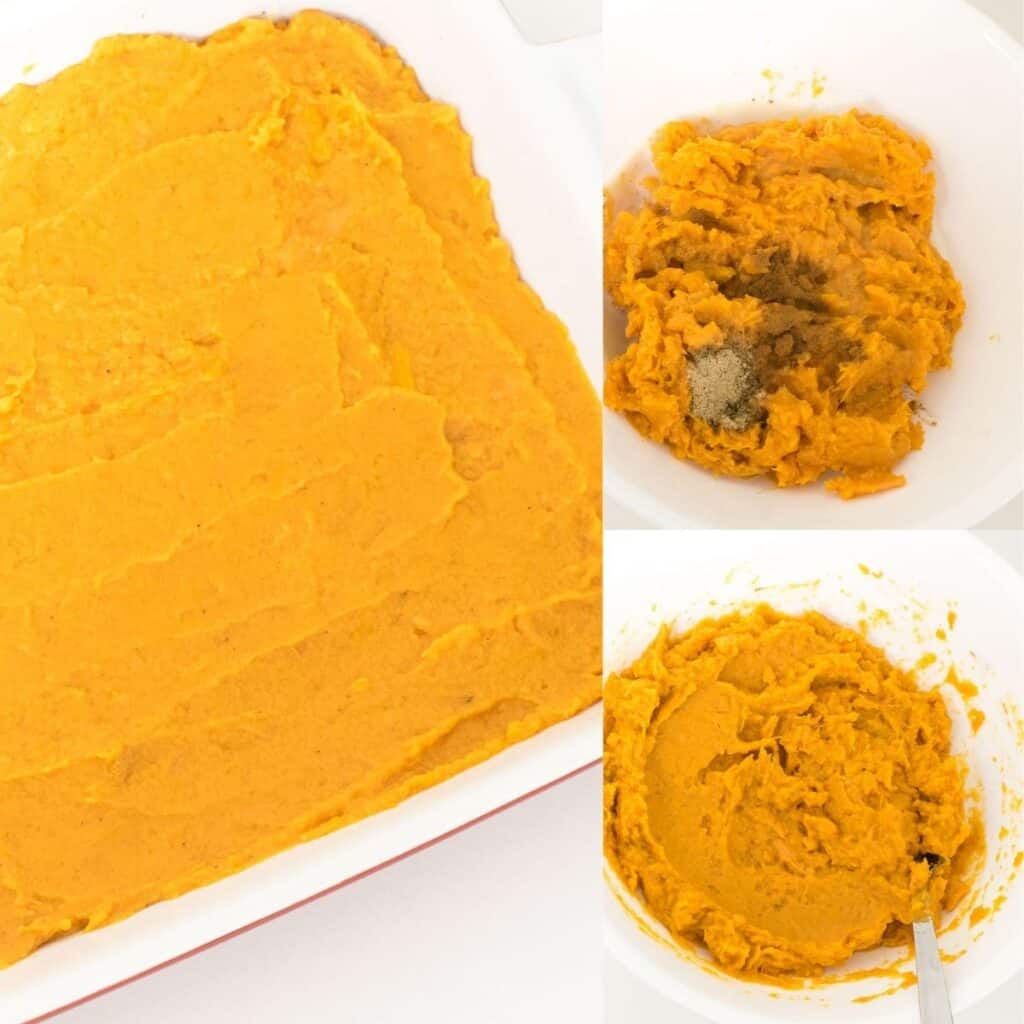 Next, I Combined all the crumble ingredients in the food processor and processed it until it started sticking to each other.
Thereafter, I spooned it out and spread it on the sweet potatoes as the second layer.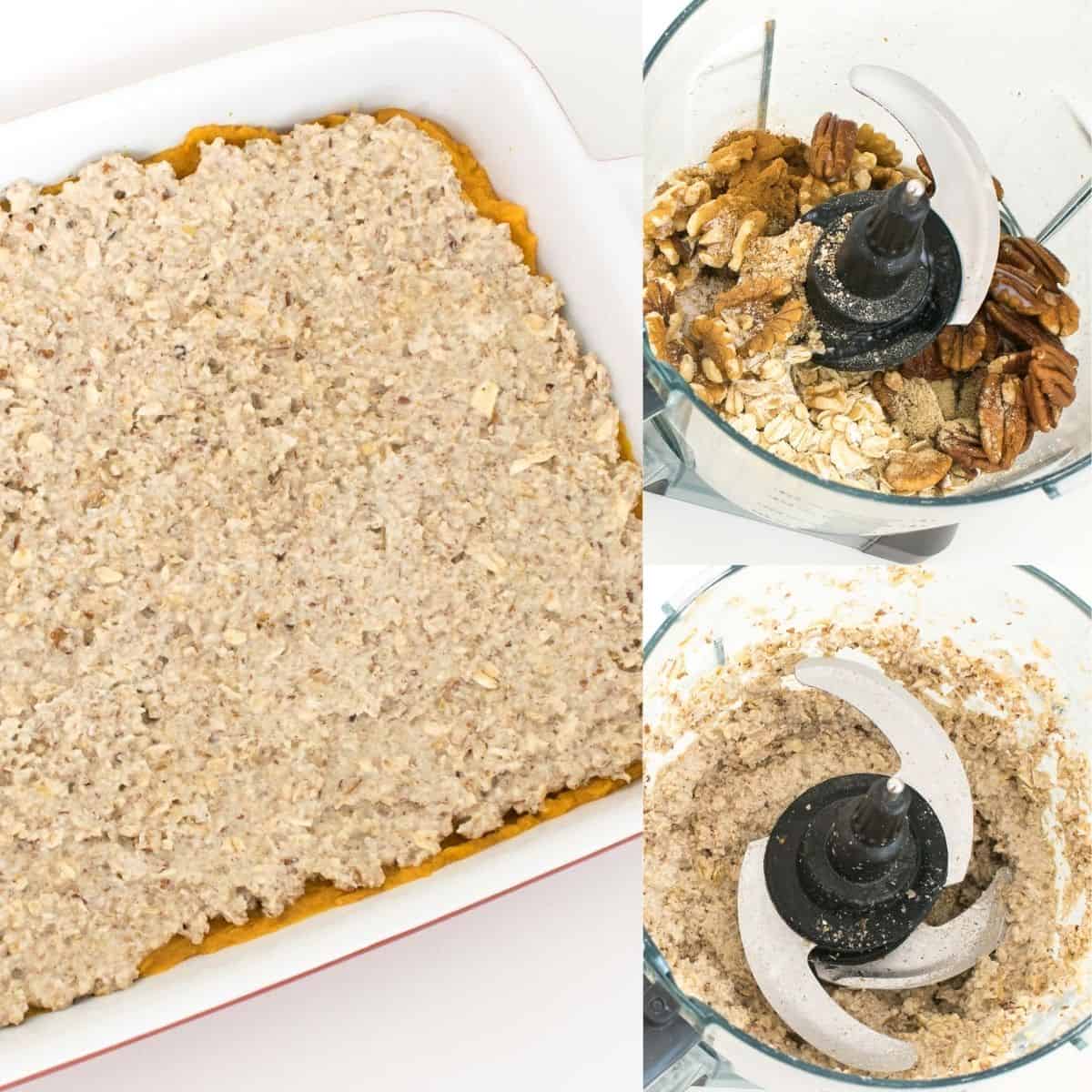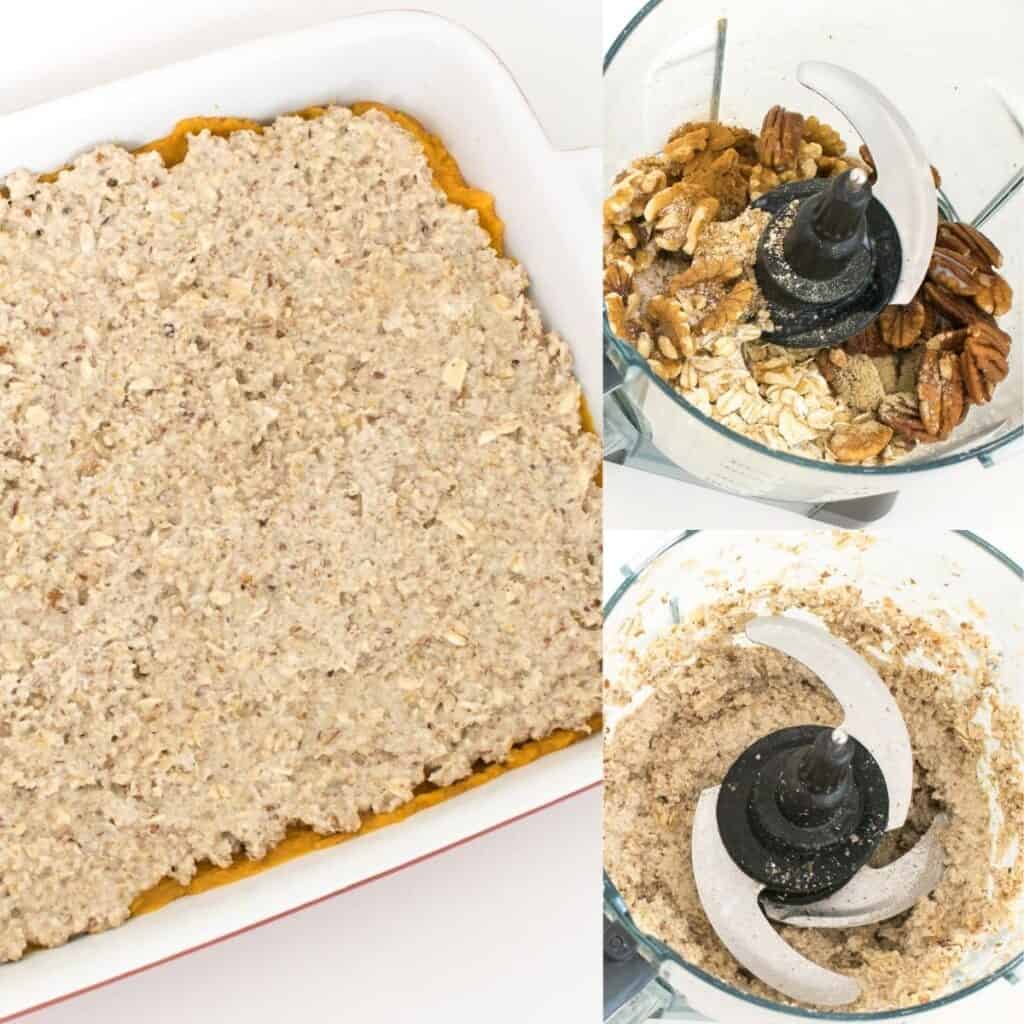 Afterwards, In the food processor again, I crushed the topping ingredients and then I spread it as the third and final layer on the sweet potatoes.
Then, I garnished it with some more pecans and baked it in a pre-heated oven for about 30 minutes or until the top became brownish in color.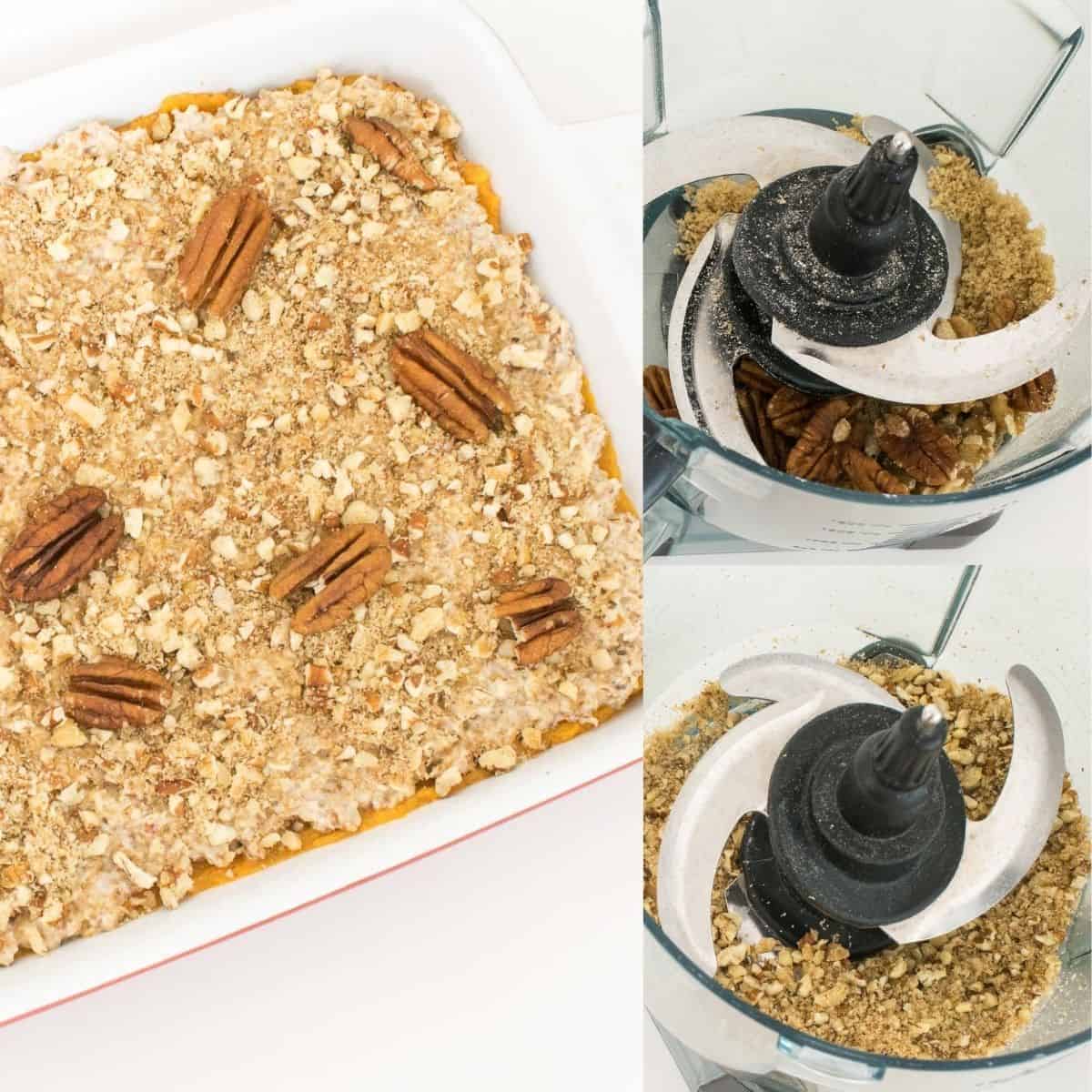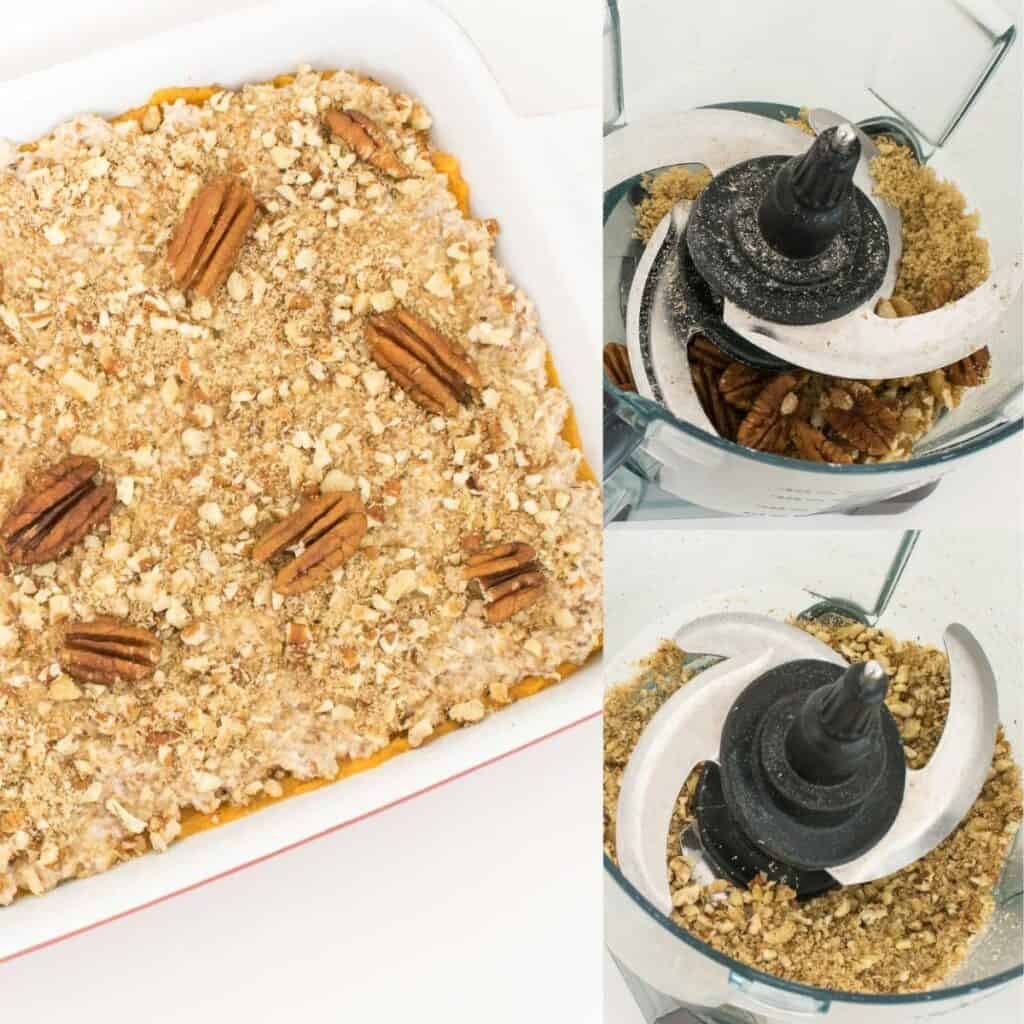 Lastly, I turned it off and took it out. Then, I scooped big squared pieces and served it warm.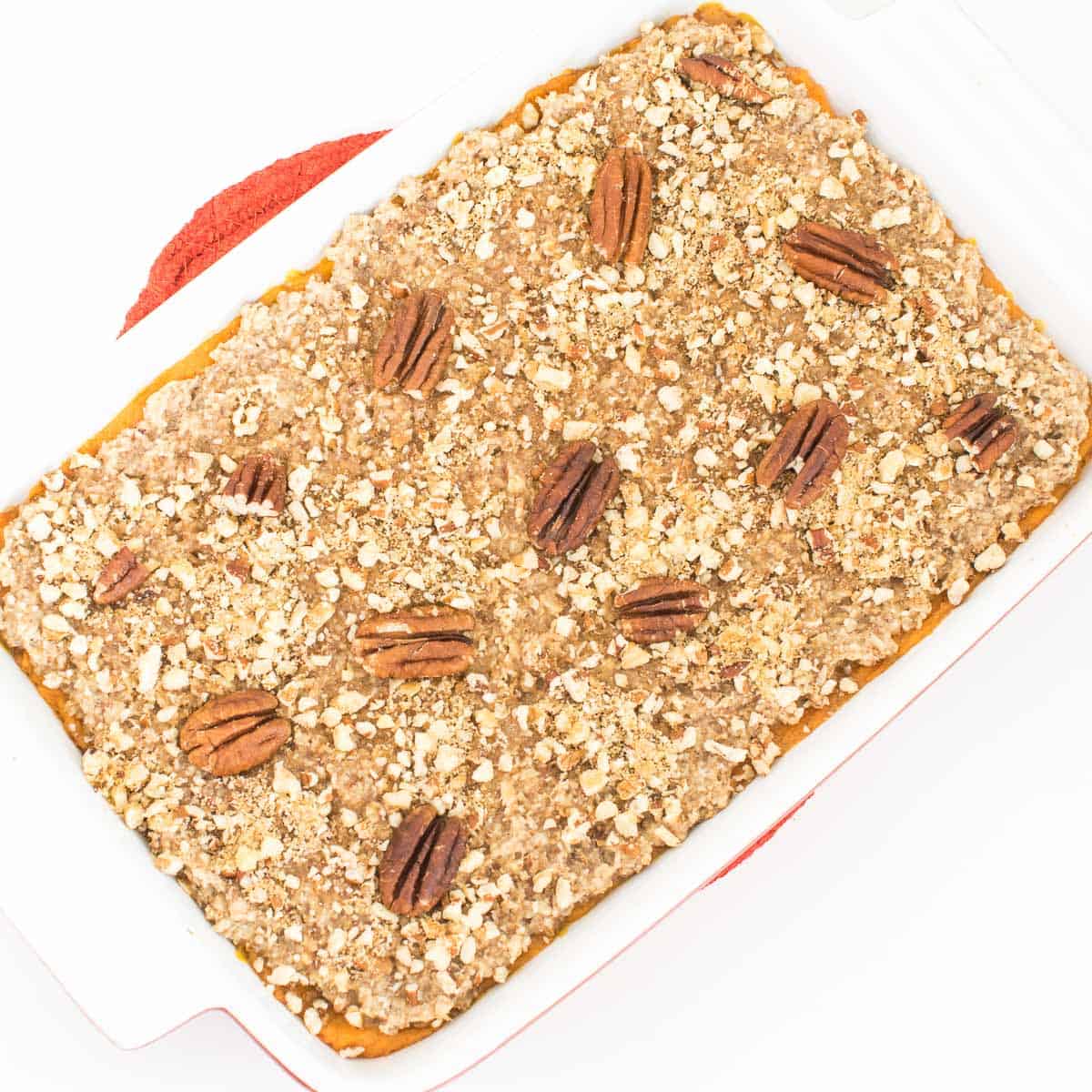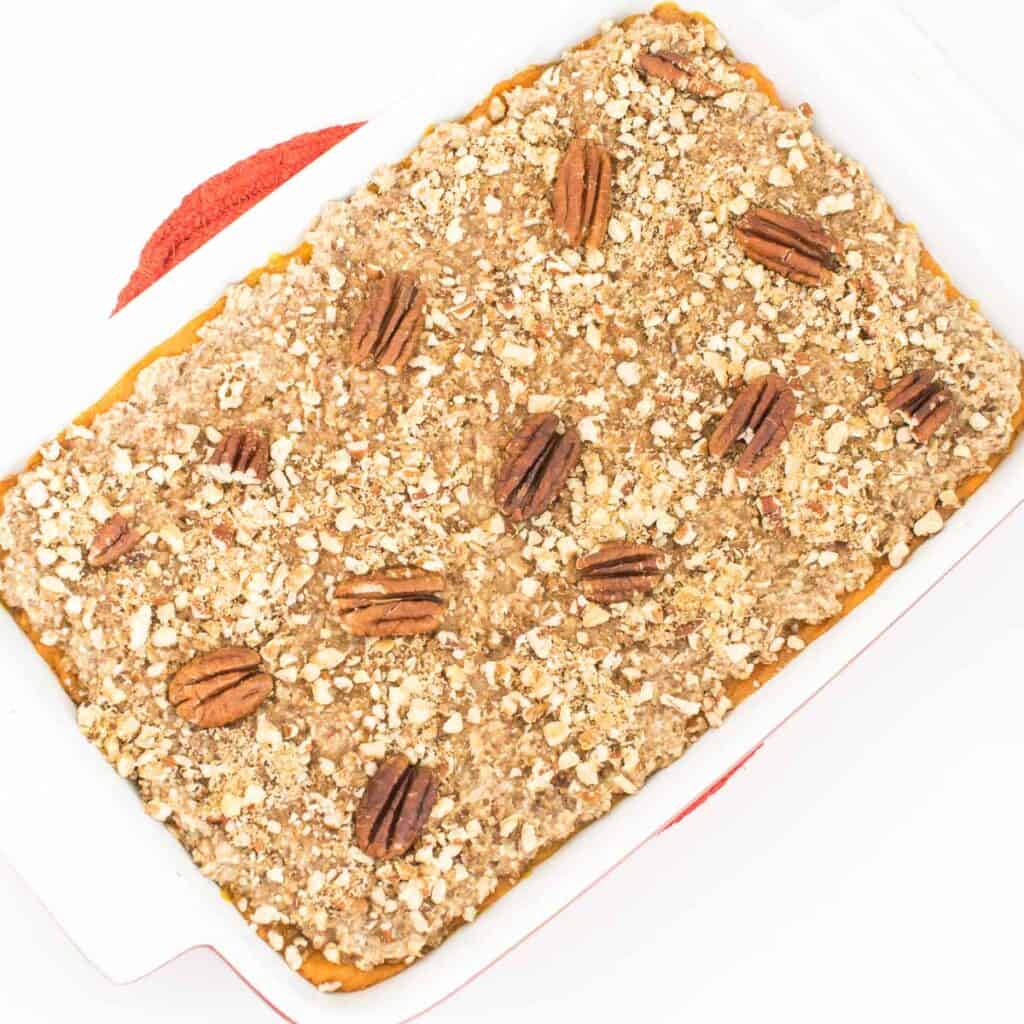 This dairy free sweet potato casserole tastes outstanding. We all enjoyed it heartily. Therefore, I have decided to make this vegan casserole dish frequently whenever we crave for desserts.
Expert tips:
It is advisable to measure the mashed potatoes after boiling and peeling to get to the right measurement.
Do not use a big baking dish or else you might get a thin layer. I used about 9-inch rectangular baking dish which gave it a pretty nice thickness to this dish.
It is important to note that since the toppings are supposed to be dry crushed, you may first grind them and take it out in a bowl. Then grind the crumble ingredients in the same food processor.
So, by now you must be drooling for this recipe. Simply follow the steps as explained and you will fall in love with this vegan sweet potato recipe.
I assure you that its very simple and easy to make it. You would enjoy seeing your family and friends praising you for this recipe.
Vegan Sweet Potato Casserole FAQs
How long does it last?
It tastes best when fresh out of oven. However, leftovers can be refrigerated in an air tight container for about a week. Re-bake it before consuming.
How can I prep before time?
You may prepare the entire casserole up to the second layer and refrigerate overnight. When ready to serve, simply grind the third layer topping while your oven is pre-heating. Then bake as per the instructions.
Is it healthy?
First of all, I made it oil free and butter free. Sweet potatoes are healthier form of potatoes and I used quinoa and oats as whole grains instead of processed flour. Moreover, I used raw nuts and minimum sweetener that to the minimally processed ones. This sweet potato casserole is healthier comparatively but again its best to enjoy it on occasions and holidays and in proportion.
How do I thicken it?
I have already made it in the perfect thick form. Simply follow the instructions and measurements and you will love this recipe.
How long can it sit out?
It tastes best when served immediately out of the oven. However, it can be kept for a while until it comes down to room temperature.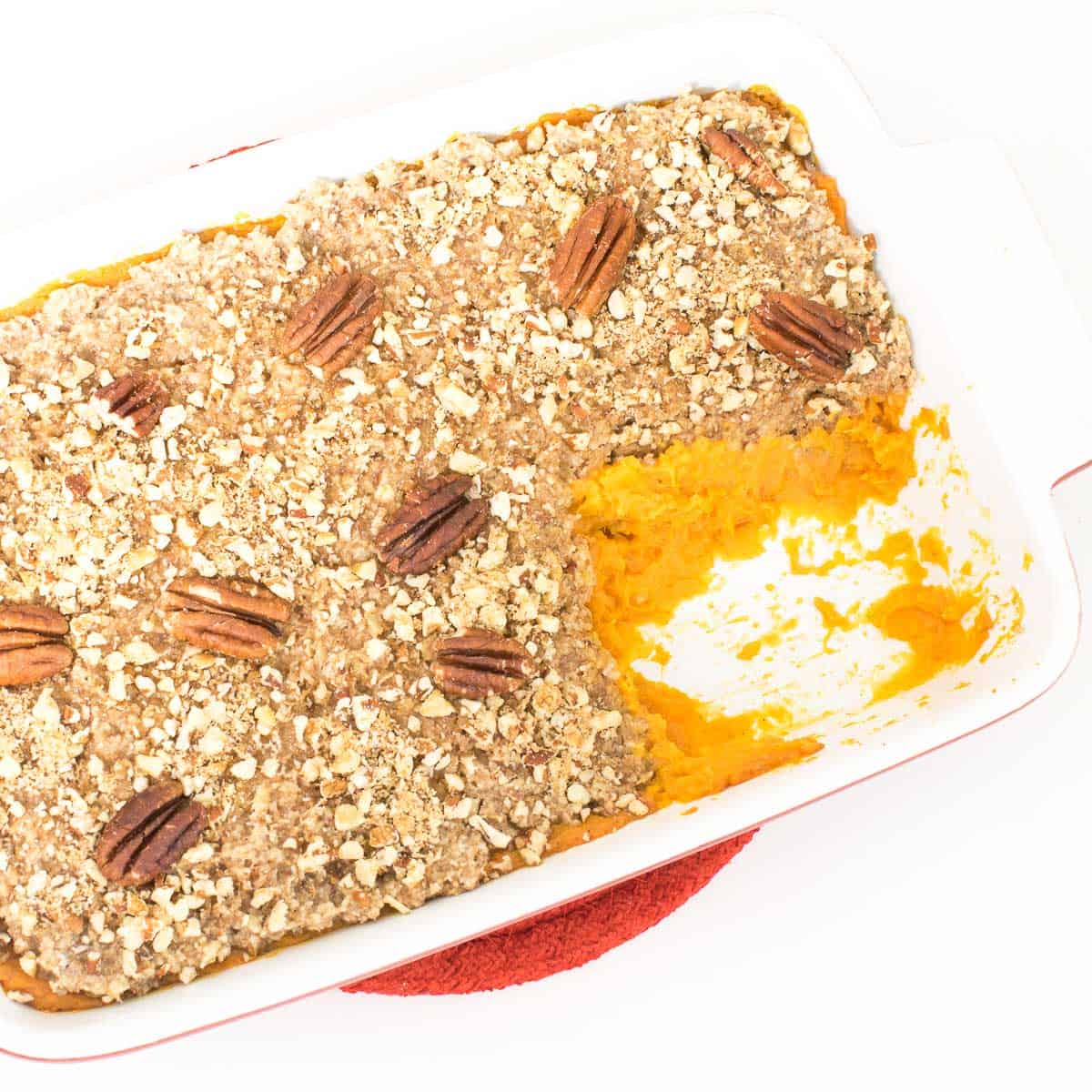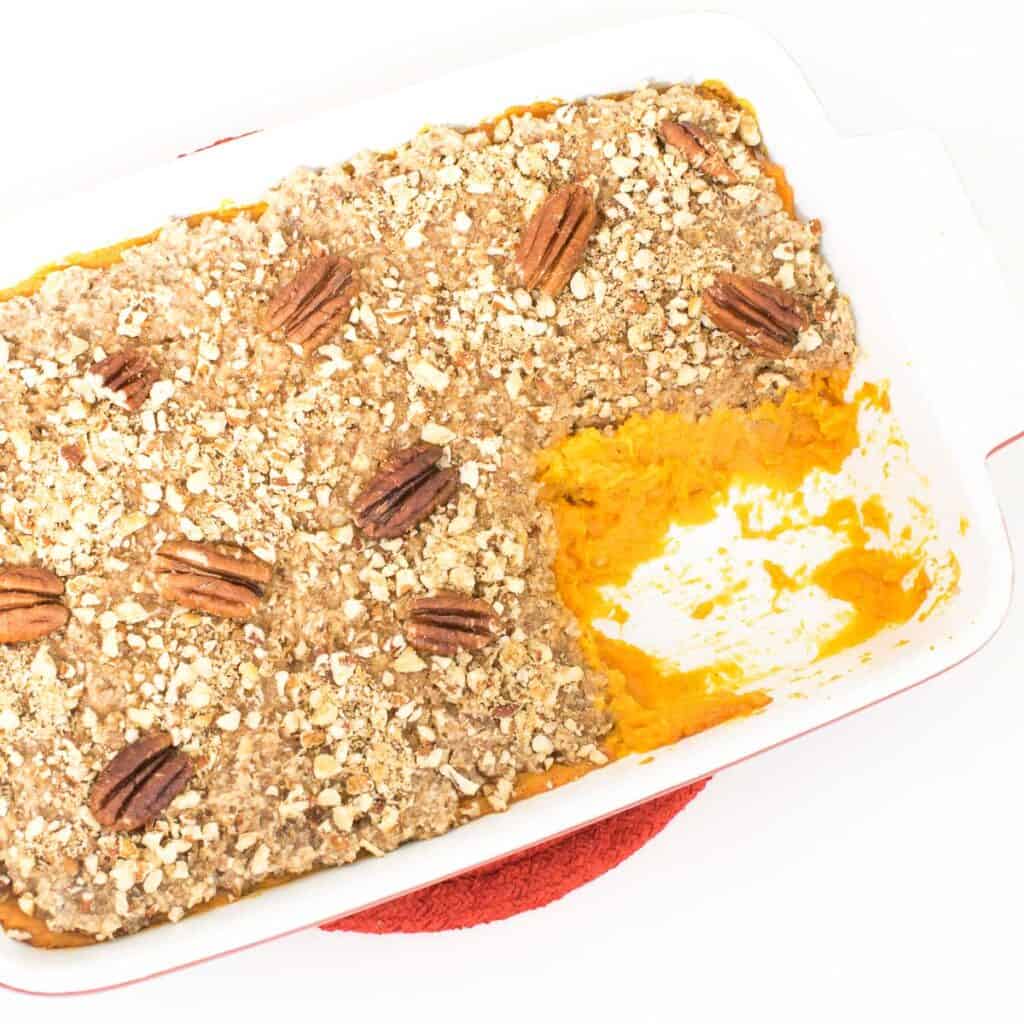 You may also like:
Vegan Green Bean Casserole
Creamed Corn Casserole
Cheesy Spinach Tofu Casserole
Other sweet potato recipes that you may like:
Sweet Potato Brownies
Air Fryer Sweet Potato Latkes
Sheet Pan Sweet Potato Pancakes
Peanut Butter Sweet Potato Cookies
Did you make it?
If you get a chance to make this recipe then please leave your feedback in the comments below along with the ratings. In addition, you may tag @kiipfit on Instagram with your recipe images because we would love to see what you cooked.
If you desire to explore more of my delicious recipes then you may check out my cookbooks.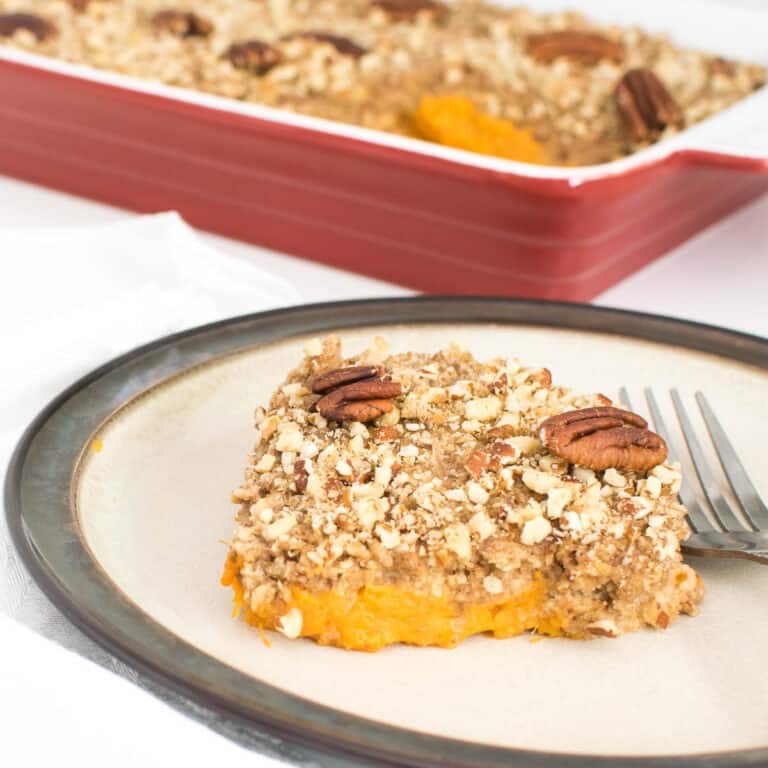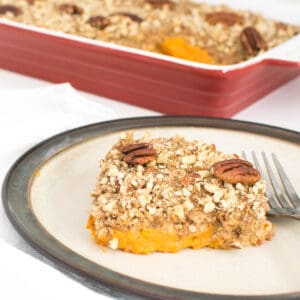 Print Recipe
Vegan Sweet Potato Casserole
Vegan Sweet Potato Casserole is oil free and a must have classic on your holiday table! It has a perfect crunch at the top and melt in mouth soft at the bottom. It's crumble in the middle layer is made with the combination of quinoa, oats and warm spices.
Ingredients
For the sweet potatoes
3

cups

mashed or 2 large boiled and peeled sweet potatoes

(see notes)

1/2

tsp

cinnamon powder

1/4

tsp

cardamom powder

2

tbsp

maple syrup

1

tsp

vanilla extract

1/4

cup

dairy free milk
Instructions
Preheat oven at 350-degree Fahrenheit and prepare a 9inch square/rectangular baking casserole dish. In a large mixing bowl combine all the sweet potato ingredients and mash it well with a spoon.

 Spoon it out on the baking dish and spread it evenly with a spatula. Keep it aside.

In a food processor combine all the crumble ingredients and pulse or crush until it starts to stick each other.

Spoon it out and spread it evenly as the second layer on the sweet potatoes in the baking dish. Keep it aside.

Again, in the food processor, combine the ingredients for toppings and crush or pulse until it has a chopped texture.

Spread it evenly as the third layer on the sweet potato in the baking dish. Garnish it more with few pecan pieces.

Bake it in the middle rack of the oven for 30 minutes or until it is golden brown in color. Turn it off and take it out. Slice it or scoop it and serve.
Notes
Microwave option: in a microwavable bowl combine some water and slice the potatoes into two halves (along with the skin) and microwave for10 minutes or until it softens. Peel and mash.
Instant pot option: Peel the sweet potatoes and roughly chop them. Add water as to cover the potatoes. Close the li and seal the valve. Pressure cook it at steam potato option or manual at high for 15 minutes. Once done, release the pressure and open the lid. Drain the water and mash.
Stove top option: in a stockpot or Dutch oven peel and chop the potatoes and cover it with water. Turn it on at high and cook covered for 15-20 minutes or until soft. Turn it off, drain the water and mash with a food masher.
Measure the mashed sweet potatoes up to 3 cups.
Make sure to pulse or chop or crush the toppings to get the crunch and brownish coating at its top after baking. (do not over blend or over process because we do not want very fine powder).
This recipe can be made in the Dutch oven if you plan to boil the potatoes in it. Simply mash the potatoes in it after boiling and mix in the ingredients. Then follow the rest of the steps as explained in the instructions.
Nutrition
Calories:
315
kcal
|
Carbohydrates:
43
g
|
Protein:
7
g
|
Fat:
14
g
|
Saturated Fat:
1
g
|
Sodium:
117
mg
|
Potassium:
99
mg
|
Fiber:
2
g
|
Sugar:
13
g
|
Vitamin A:
116
IU
|
Vitamin C:
2
mg
|
Calcium:
65
mg
|
Iron:
1
mg