This creamy and loaded Chocolate Peanut Butter Smoothie is a perfect mood booster. Its filling and ready in only 5 minutes. Its like a healthy dessert in a beverage form that is made with superfoods.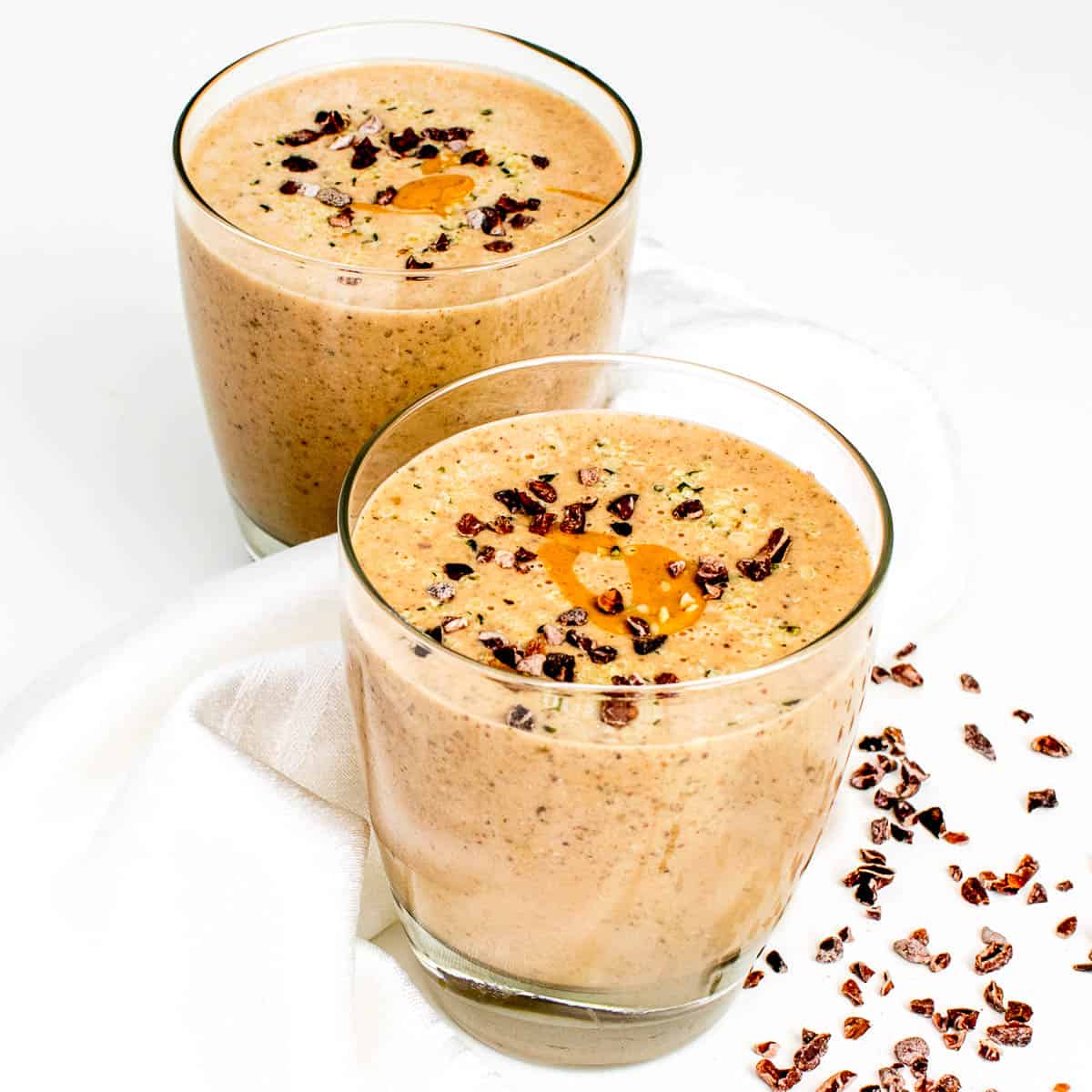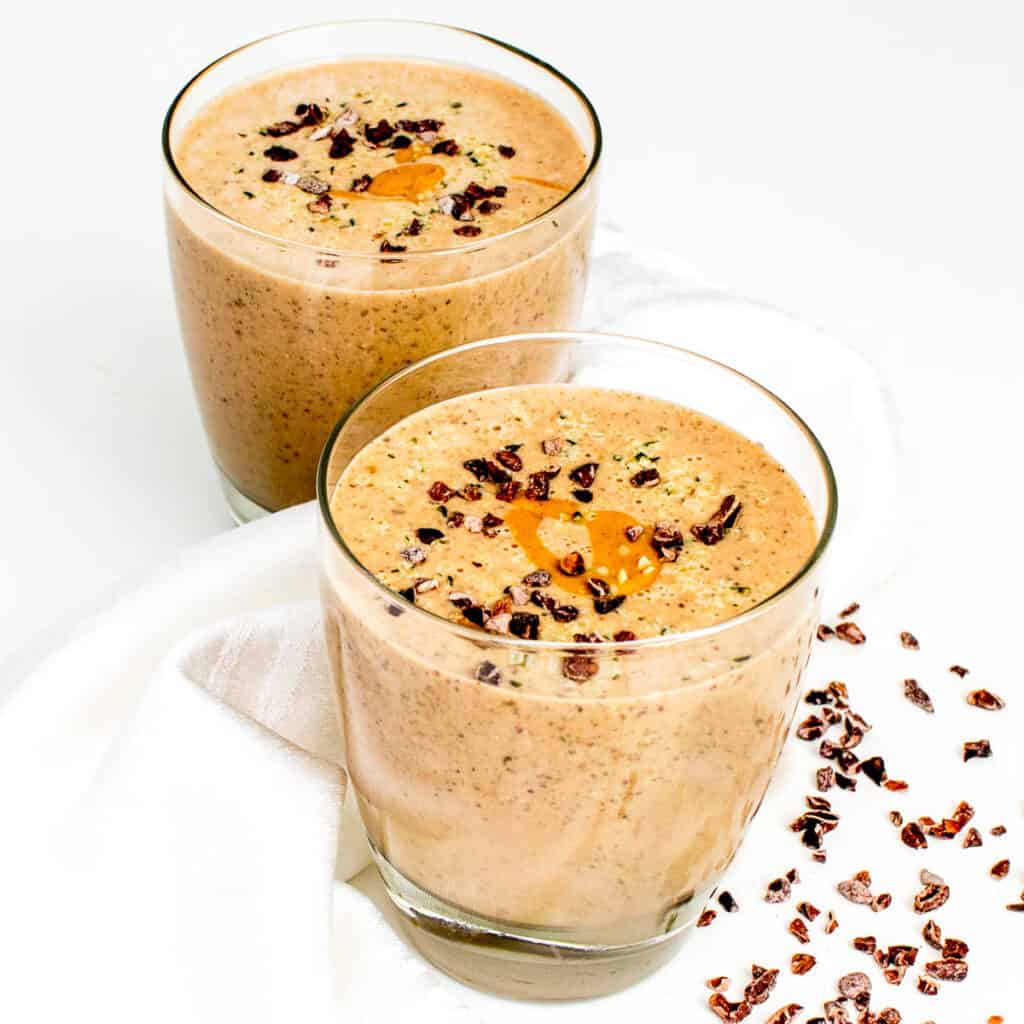 By now you all must have been well aware that I am a smoothie fan. It's an everyday beverage in my house and my entire family likes to refresh themselves with it all year round.
Therefore, in order to bring more variety, I continue experimenting with new flavors. My recent craze is the combination and chocolate and peanut butter and trust me this smoothie is just like a melted ice cream.
I also like to add superfoods in my smoothie which in turn helps me to enjoy delicious homemade protein shakes.
It's delicious in every sip and is made with only 7 main ingredients. Hence, it's a great way for kids to enjoy chocolate for breakfast and adults too.
I have tried peanut butter milkshake too and it was an instant hit with my family and friends too.
So, this time chocolate peanut butter protein smoothie was on my to do list. I succeeded and I make it regularly for my kids for after school snack.
Have you tried my healthy and easy vegan chocolate cake yet? You must because it's simple, easy and a delectable. Moreover, its Yashvi's favorite and I often bake it on demand.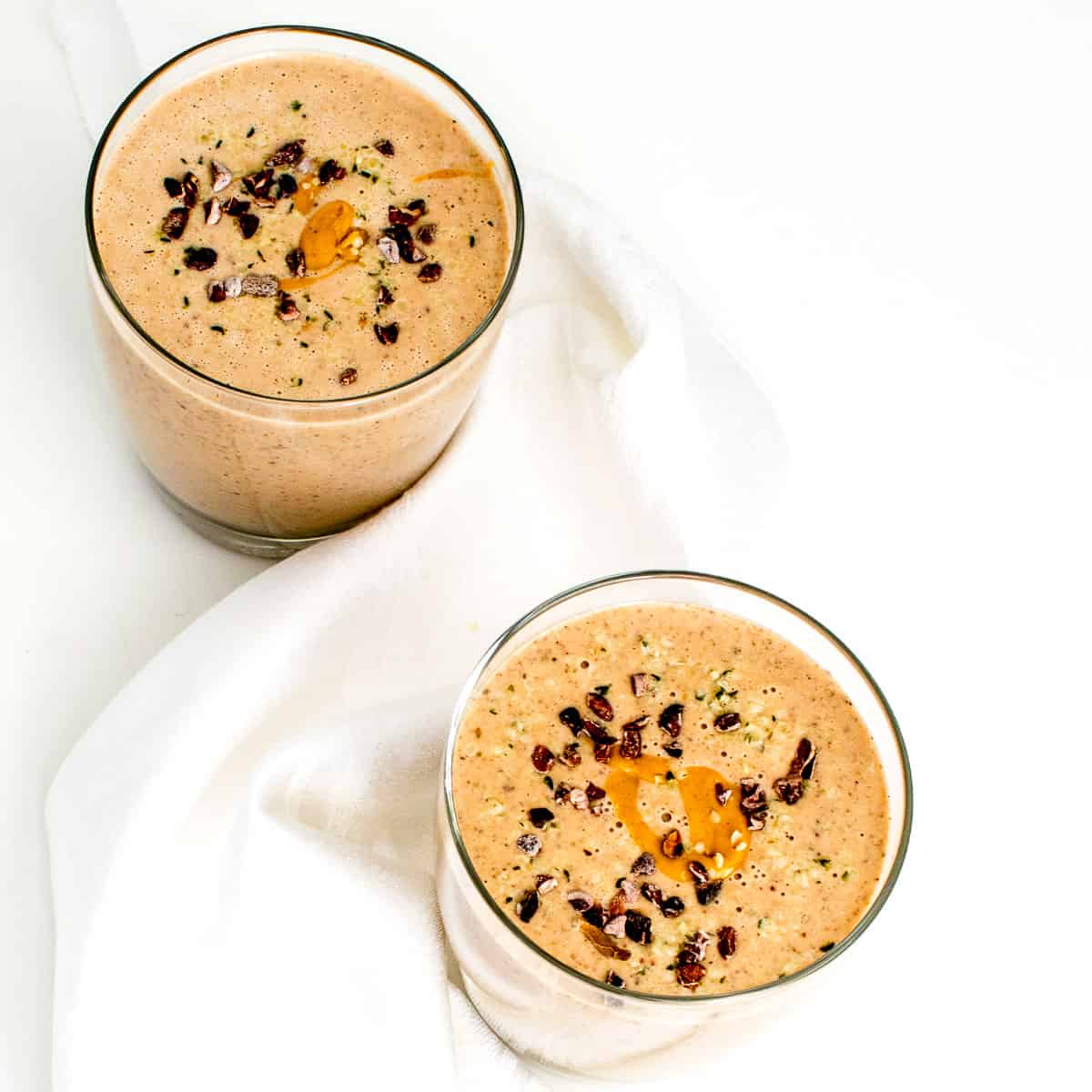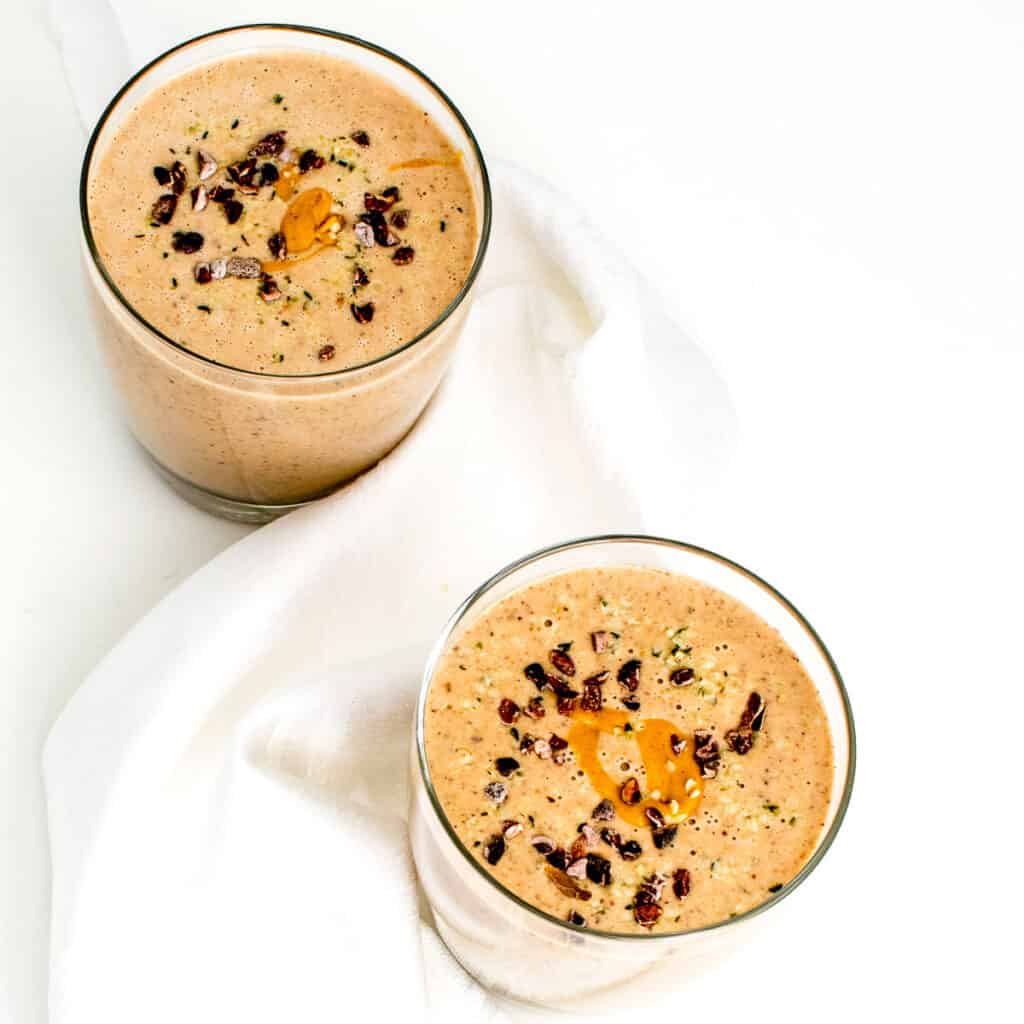 This is my new found favorite smoothie with delectable flavors and absolutely pleasing too.
Therefore, if you are looking for a combination of chocolate and peanut butter in your dessert then this must be your go to recipe. Its my favorite go to smoothie for any time of the day and whenever craving strikes.
My other smoothie recipes that you may like:
Banana Almond Butter Smoothie
Hazelnut Cheesecake Smoothie
Chocolate Mocha Protein Smoothie
Salted Caramel Oatmeal Smoothie
Almond Butter Hemp Smoothie
Coffee Hemp Smoothie
However, today I am here to share this amazing chocolate peanut butter smoothie recipe with you all.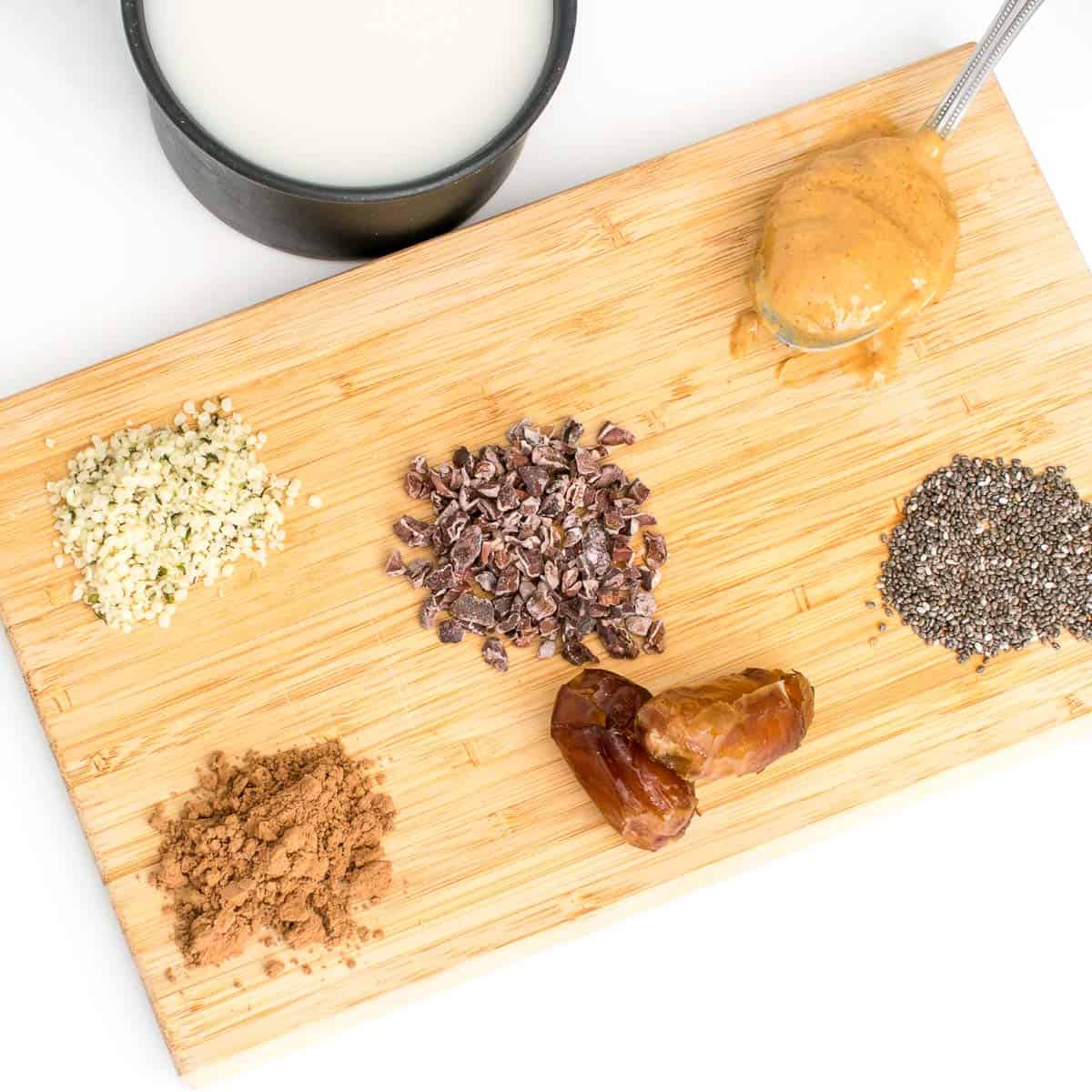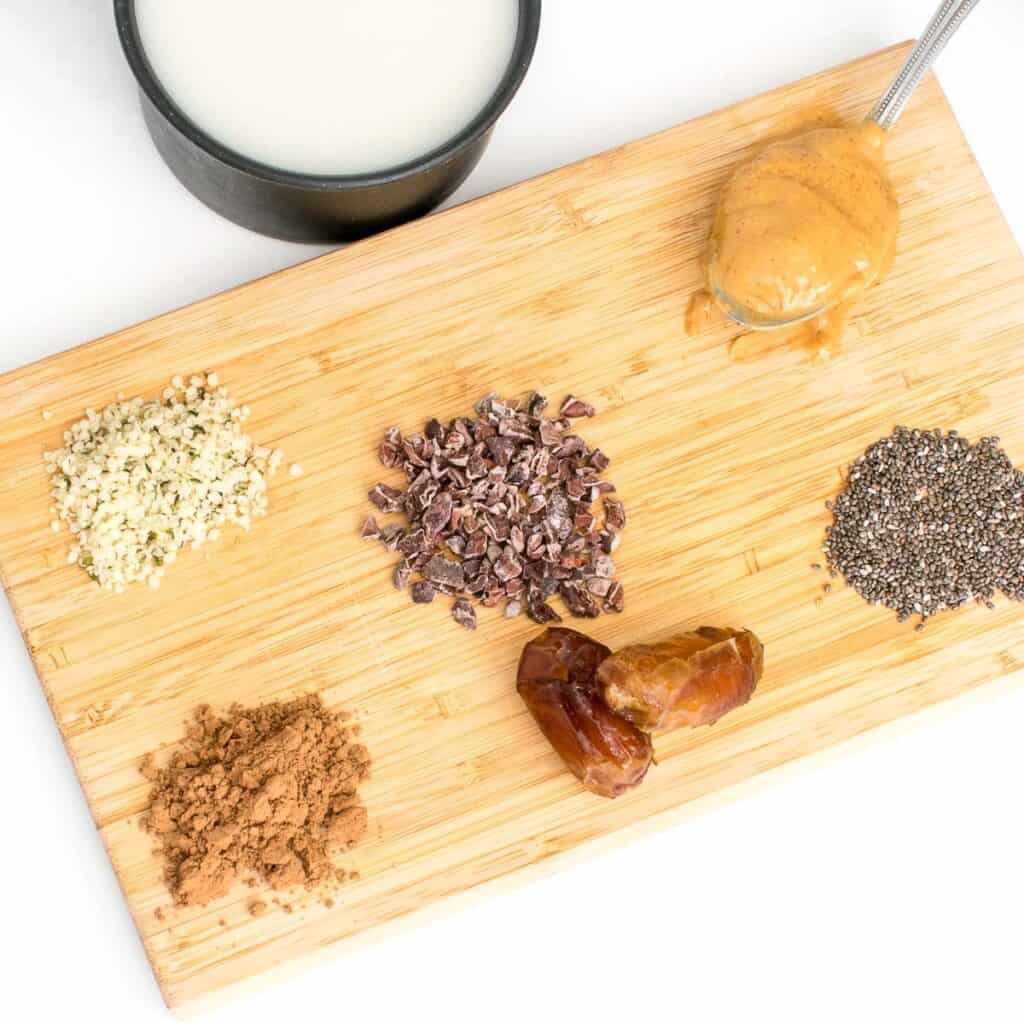 Ingredients for Chocolate Peanut Butter Smoothie
Almond milk
Cocoa powder
Dates
Cocoa nibs
Chia seeds
Hemp seeds
Peanut butter
Crushed ice (optional)
I have used these easily available ingredients which you may buy from any local grocery store. However, I have provided links to few of them here for your convenience.
If you plan to buy from these affiliate links then, I get a small commission which in turn encourages me to bring in more delicious recipes for you all.
Ingredients notes:
Almond milk – Even though any dairy free milk can be used in this recipe, I personally prefer unsweetened almond milk to lighten it up.
Dates – this adds lot of fiber and nutrition to this smoothie. It promotes natural labor and is a great antioxidant along with promoting brain health.
Cocoa powder – its rich in theobromine which in turn protects from many diseases and helps in reducing inflammation.
Cocoa nibs – it's a superfood that gives a chocolaty flavor and nutty crunch to this chocolate smoothie.
Hemp seeds – this adds protein and fiber to this recipe along with being a vegan superfood.
Chia seeds – These are great egg substitute and are a great source of protein and fiber. It also transforms into a jelly like texture making this vegan chocolate smoothie thicker and creamier.
Peanut butter – it's the star of this recipe and high in protein too. It also adds healthy fats to this beverage.
I am sure you must already be having these simple ingredients so simply go through the easiest steps. Then, enjoy it all year round with your loved ones.
How to make chocolate peanut butter smoothie
Firstly, I combined all the ingredients (except ice) in a blender and blended it smooth.
Secondly, I paused it and then again, I added crushed ice to it.
Afterwards, I roughly blended it again.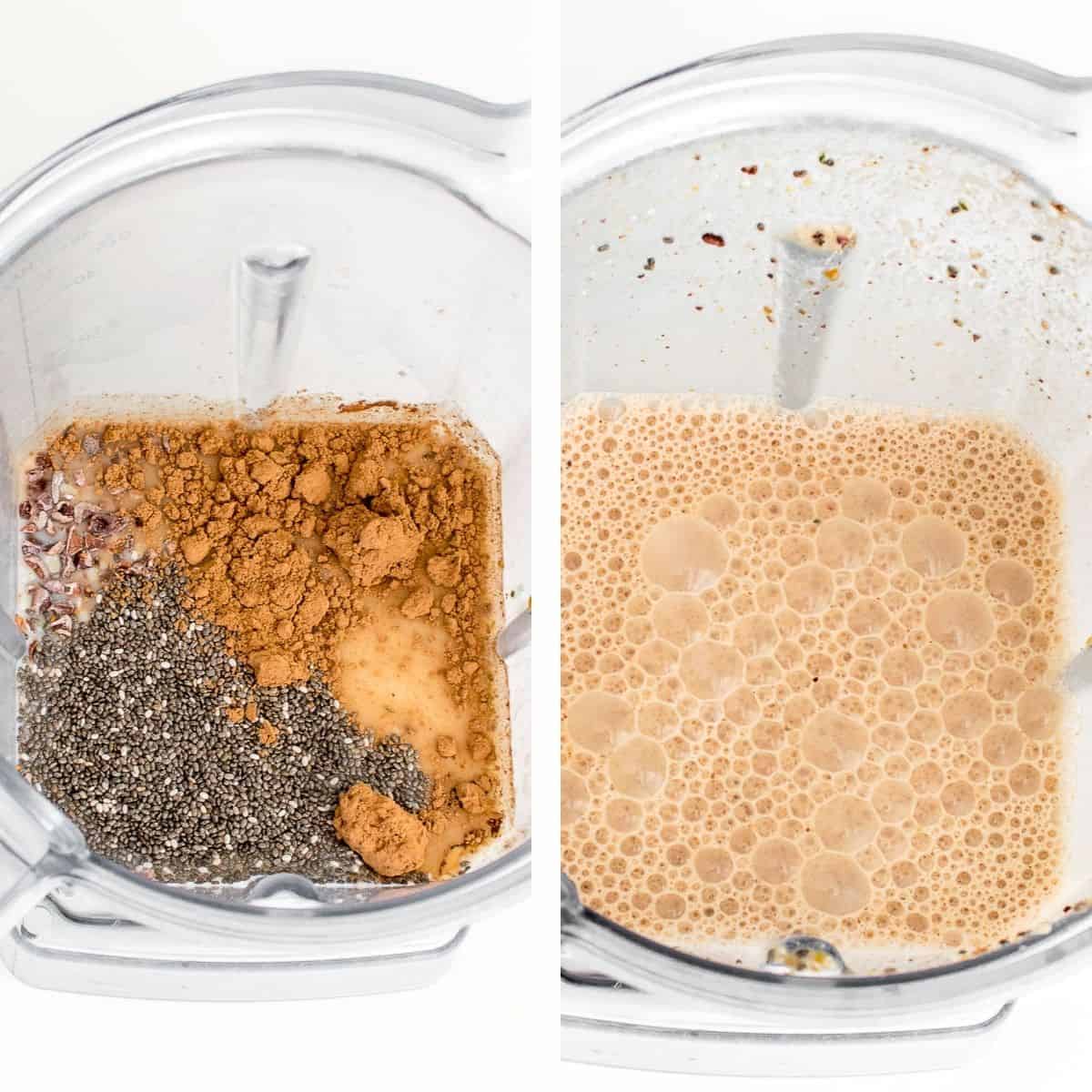 Lastly, I poured it in the serving glasses and garnished it with more peanut butter and cocoa nibs.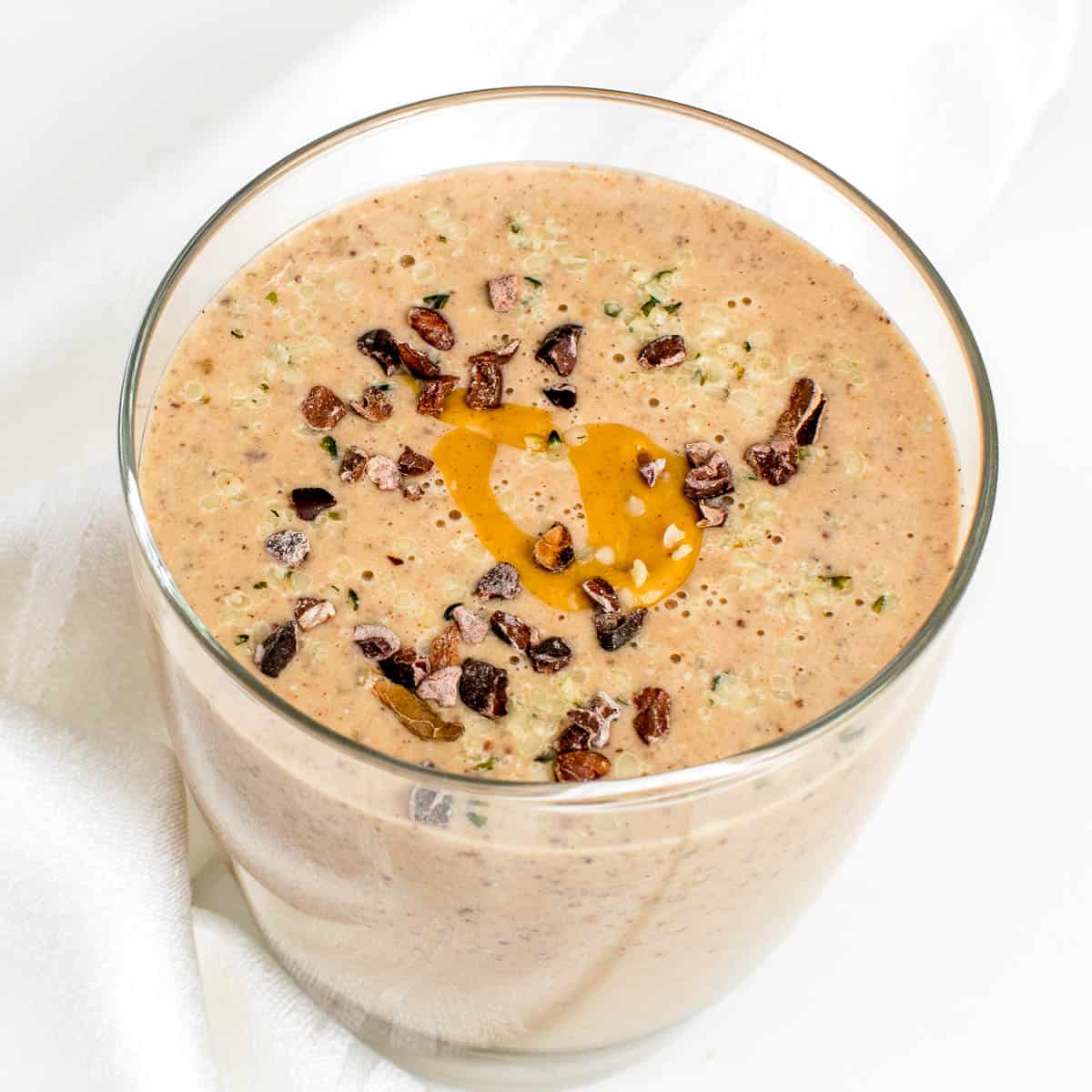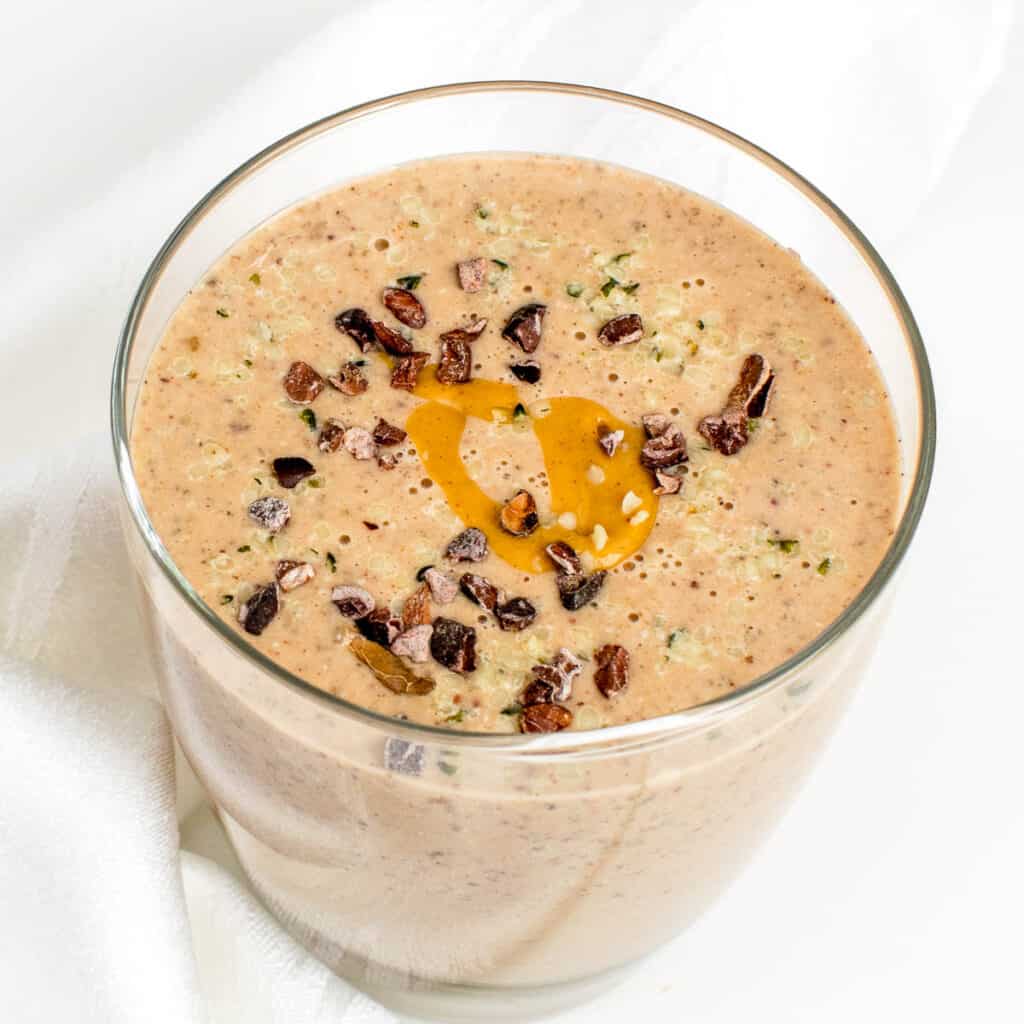 It was so delicious and this vegan chocolate peanut butter smoothie was gone within minutes.
Whenever the sun is at its peak and we look for some dessert like refreshment, I simply blend it and we all relish every sip of it.
Overall, it's a healthy treat for breakfast and a lighter dessert for all ages. Sometimes, I freeze it in ice cream molds and my kids simply love it in an ice cream form too.
Expert tips:
Make sure to blend the ice after blending all the ingredients of the smoothie first. This thickens the smoothie.
It is advisable to garish it with more cocoa nibs to give that extra crunchy bites to it.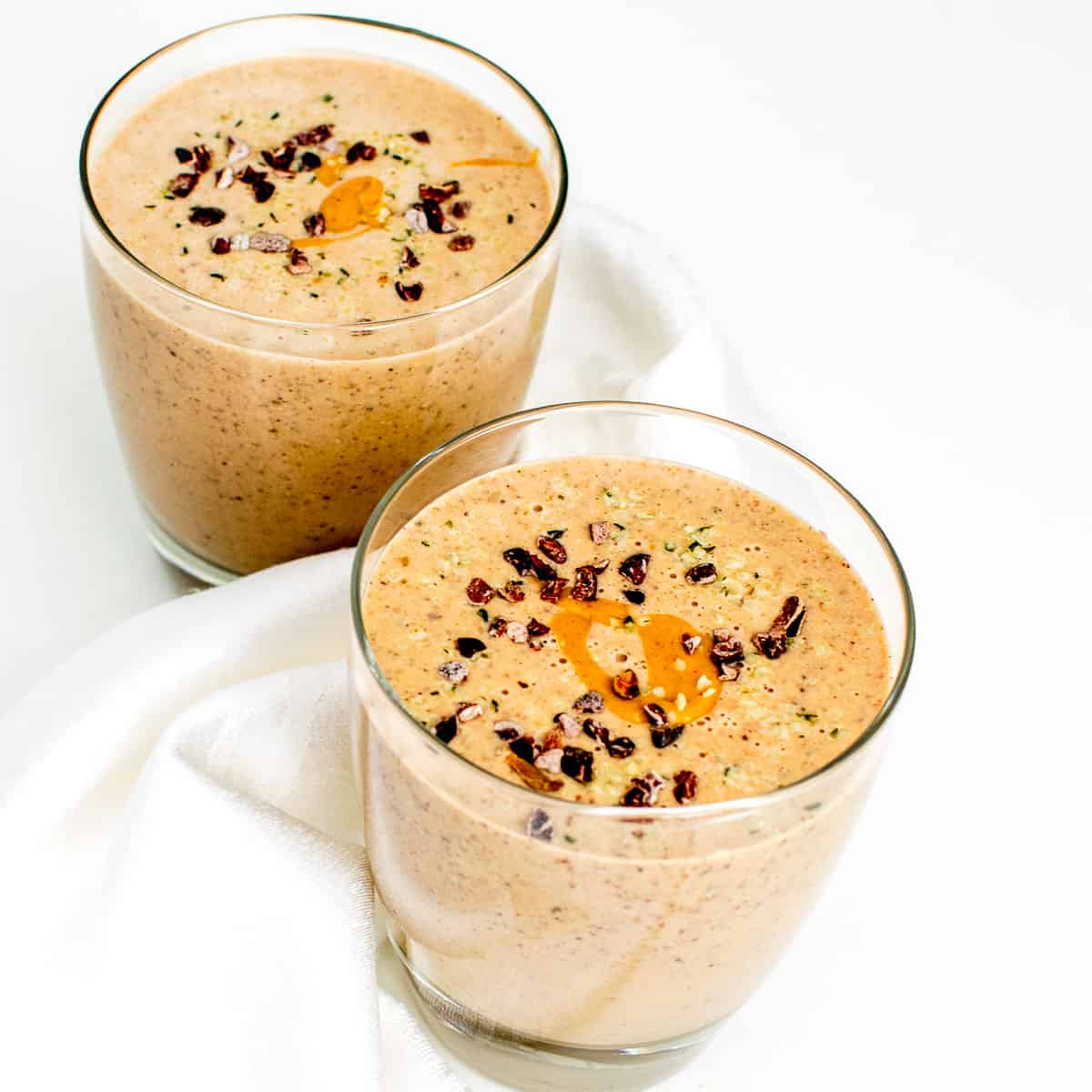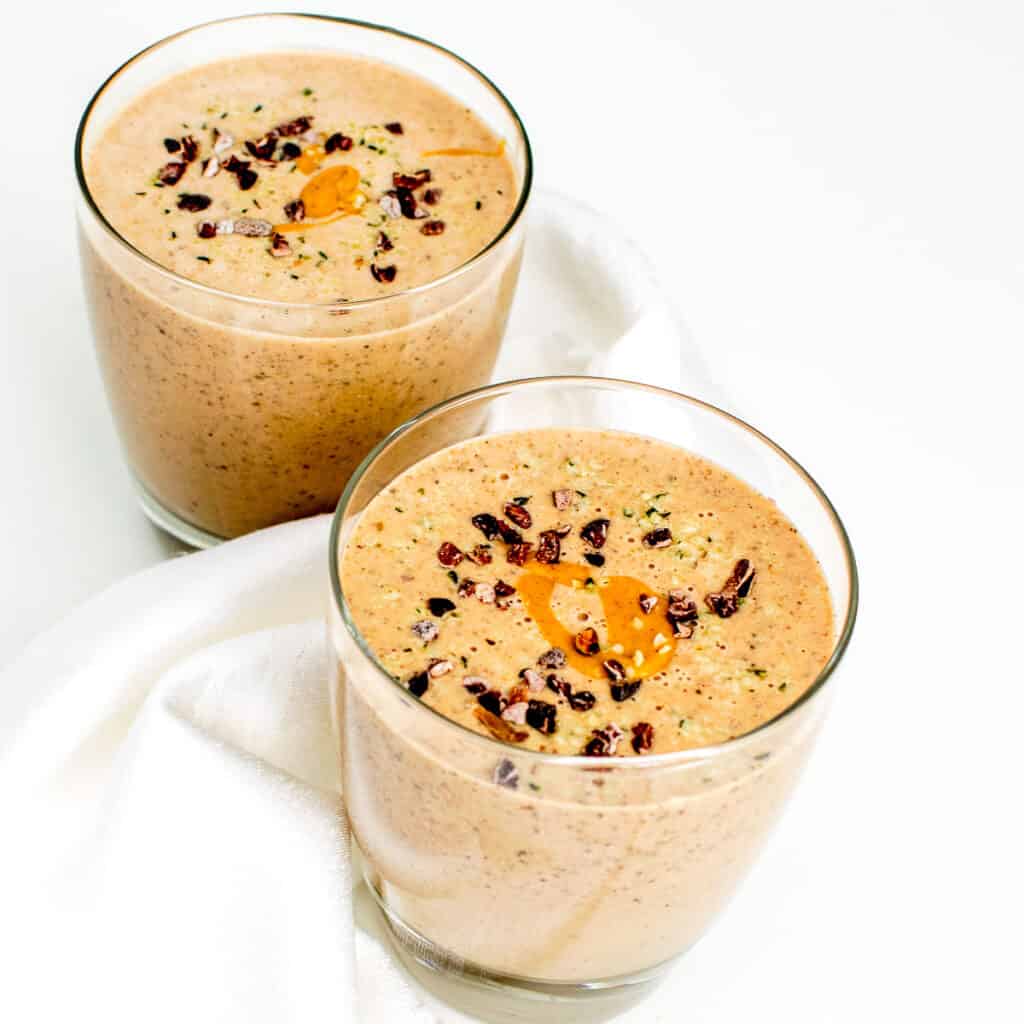 It's a great post workout refreshment too because its high in protein and satisfying too. This also serves as a great after school snack. Moreover, for me its like a meal replacement because it is substantial and nourishing.
Chocolate Peanut Butter Smoothie FAQs
How long does it last?
This tastes best when served immediately. However, you may refrigerate it overnight for it to thicken and enjoy it as a smoothie bowl.
Is it healthy?
Yes. This is a great combination of protein, fiber, calcium and other nutrition. Its sugar free and I sweetened it naturally with dates.
What can I substitute for dates?
Maple syrup works best here to substitute dates.
How does it taste like?
It is a creamy and thick smoothie with a strong chocolaty flavor along with nutty taste from the peanut butter. It also has crunch bites from cocoa nibs.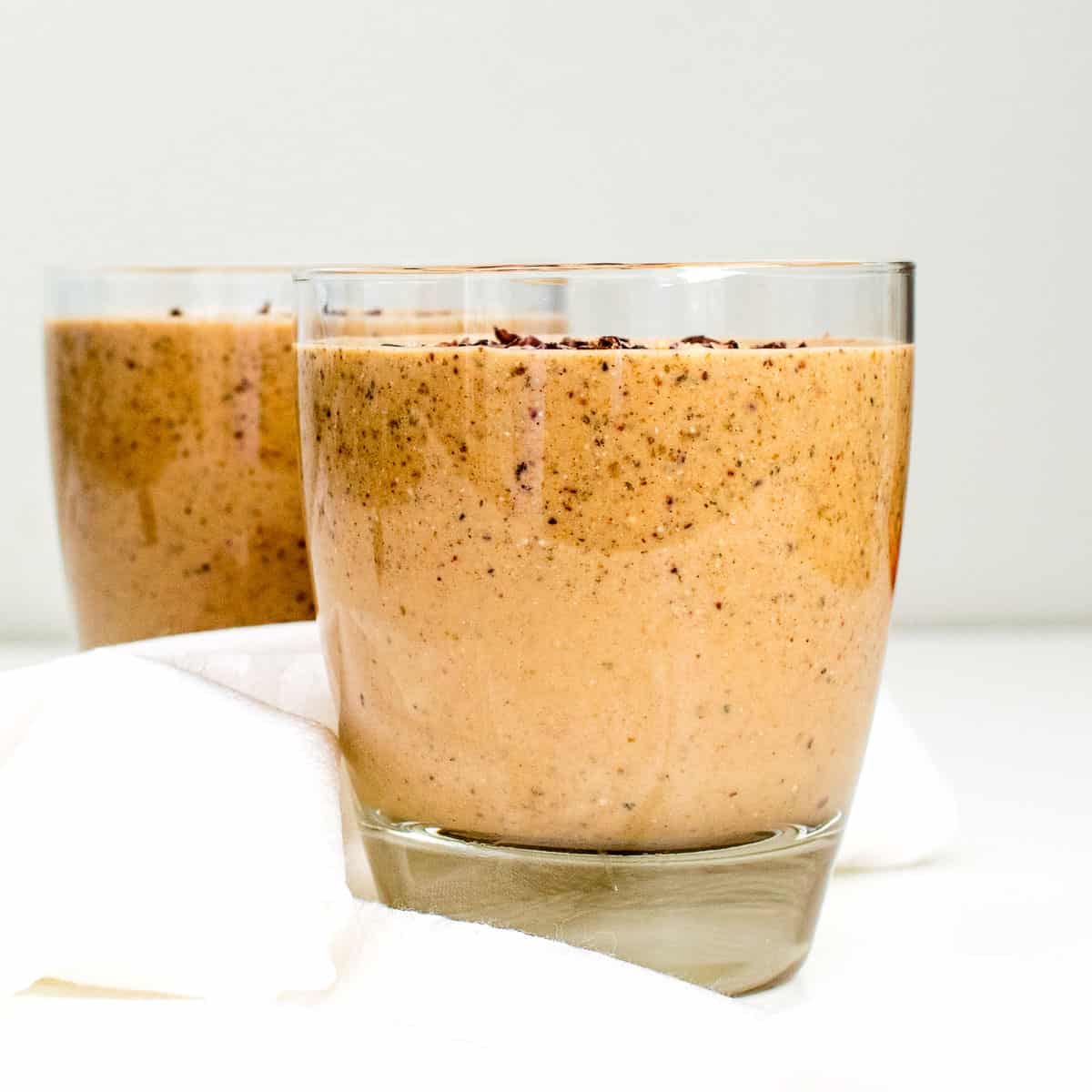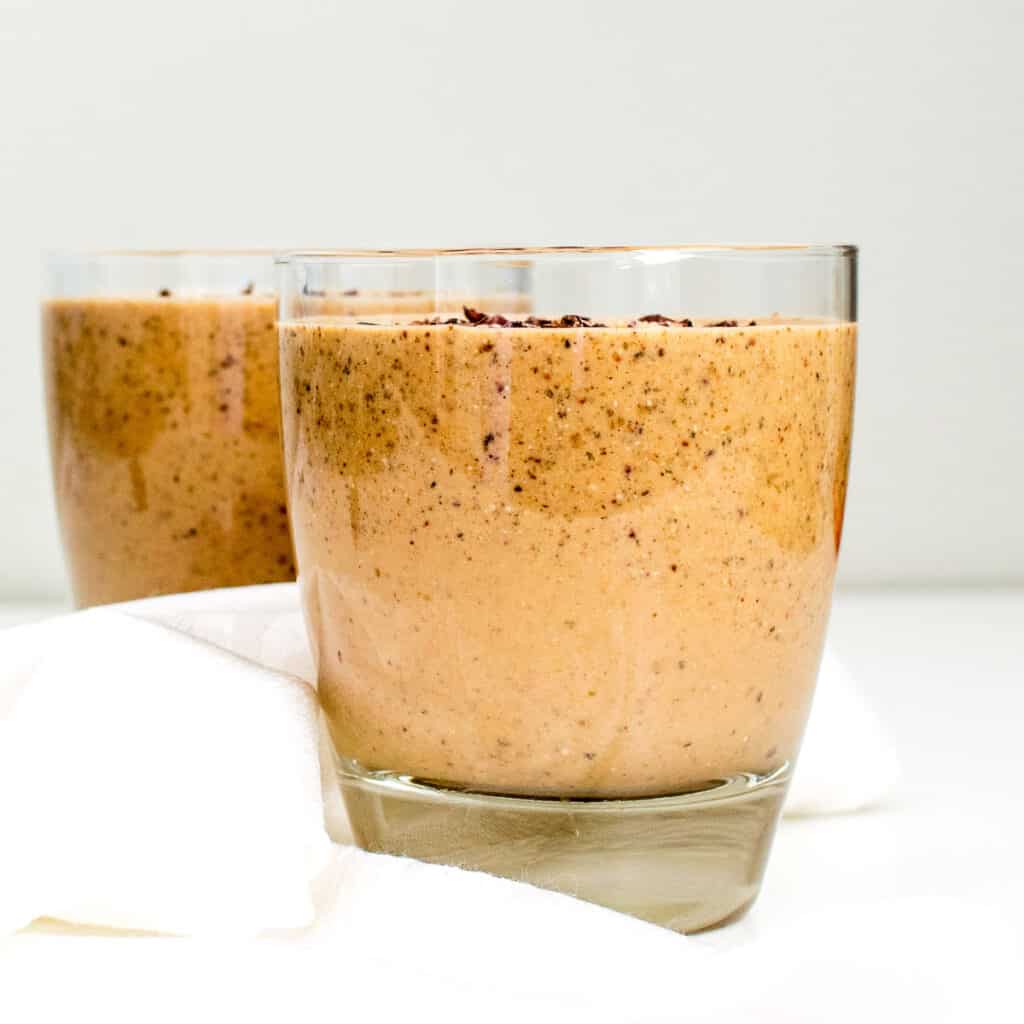 Did you make it?
If you get a chance to make this recipe then please leave your feedback in the comments along with a 5-star rating. In addition, follow me on Facebook or tag @kiipfit on Instagram with your recipe remake image because we would love to see what you cooked.
You may also checkout my cookbooks for everyday comforting vegan recipes.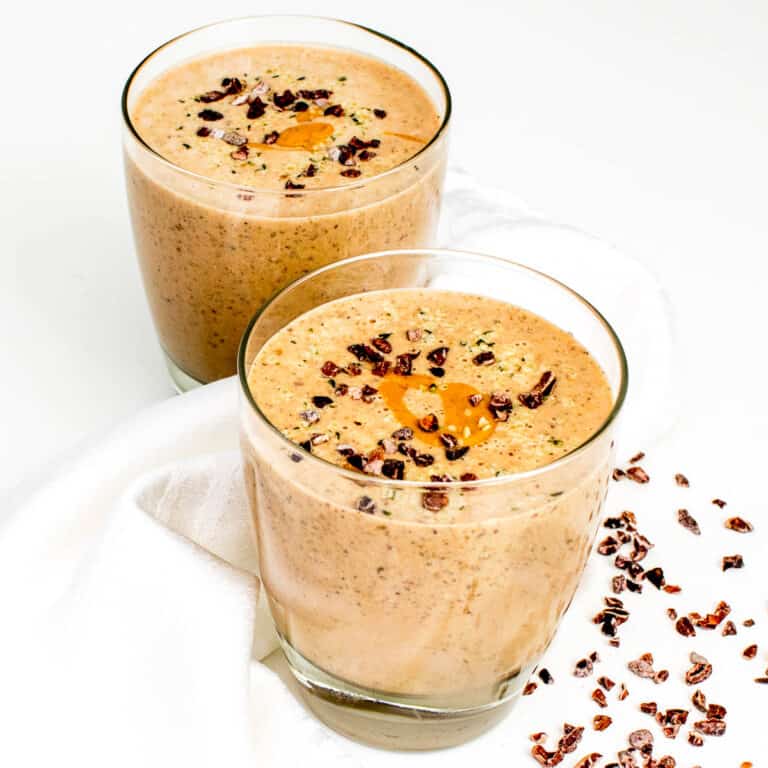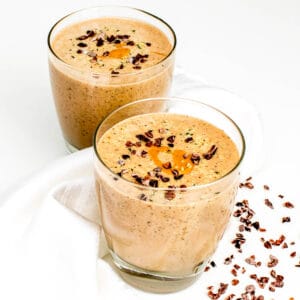 Print Recipe
Chocolate Peanut Butter Smoothie
This creamy and loaded Chocolate Peanut Butter Smoothie is a perfect mood booster. Its filling and ready in only 5 minutes. Its like a healthy dessert in a beverage form that is made with superfoods.
Instructions
Combine all the ingredients (except ice) in a blender and blend it smooth. Pause and add crushed ice to it and blend it again.

Pour in the serving glasses and garnish with more cocoa nibs and serve chilled.
Notes
If you like the taste of banana in your smoothie then you can use 1 ripe banana instead of dates. Or else 1 tbsp. maple syrup substitutes perfectly for dates.
You may blend and refrigerate this smoothie for a day or overnight. Simply stir and enjoy it with a spoon just like a smoothie.
Make sure to add crushed ice in the blender once the other ingredients are blended.
You may go up to 6 dates if you like your smoothie sweeter. But if you do not blend ice in it then keep it to 5 dates.
Nutrition
Calories:
287
kcal
|
Carbohydrates:
27
g
|
Protein:
9
g
|
Fat:
17
g
|
Saturated Fat:
4
g
|
Polyunsaturated Fat:
9
g
|
Monounsaturated Fat:
5
g
|
Trans Fat:
1
g
|
Sodium:
76
mg
|
Potassium:
144
mg
|
Fiber:
4
g
|
Sugar:
2
g
|
Vitamin A:
3
IU
|
Vitamin C:
1
mg
|
Calcium:
47
mg
|
Iron:
1
mg