Make your own Pineapple Habanero Sauce this grilling season to pair it with your favorite appetizer, or glaze your grilled veggies and protein with this homemade hot sauce. Its sweet, salty and very spicy with a nice tang to it.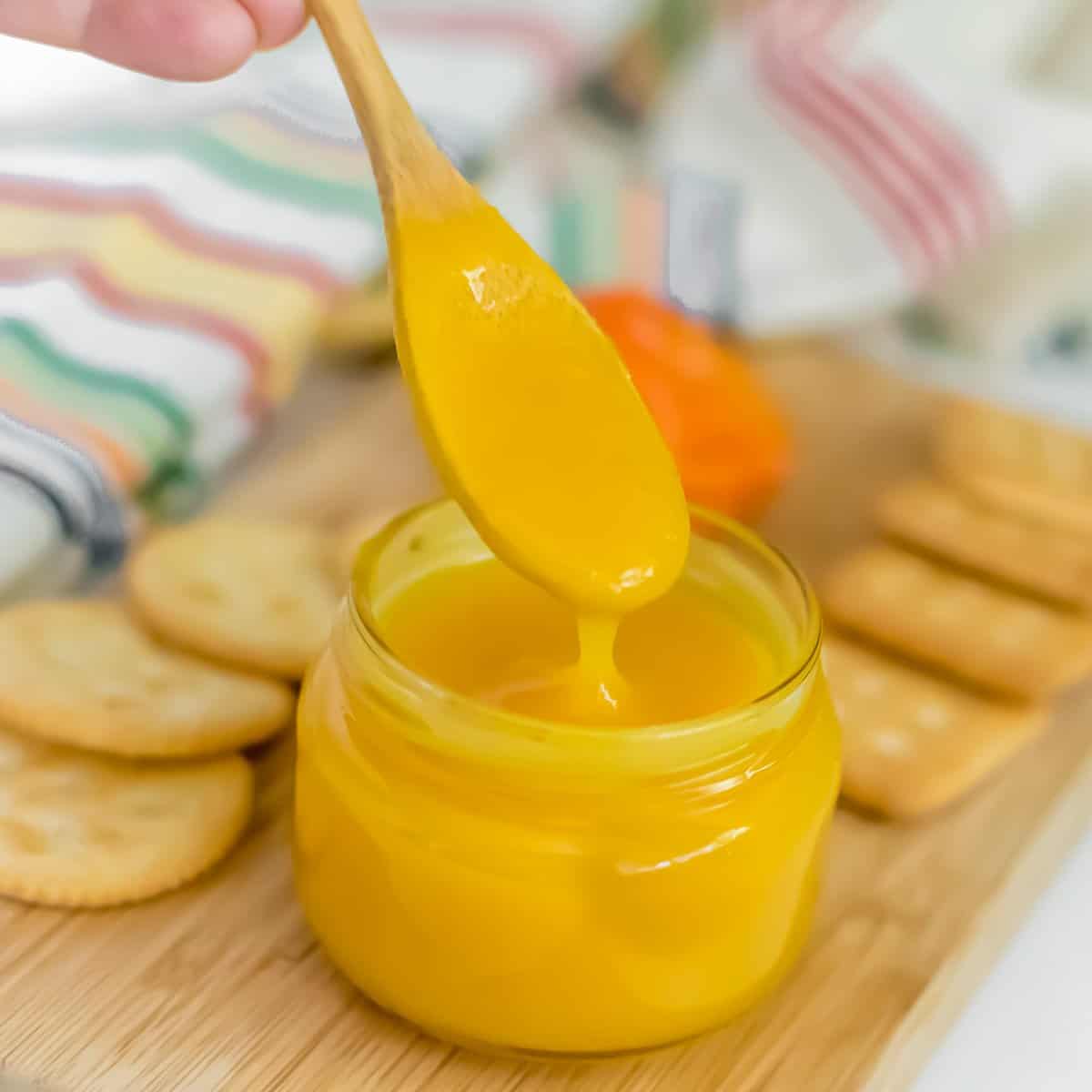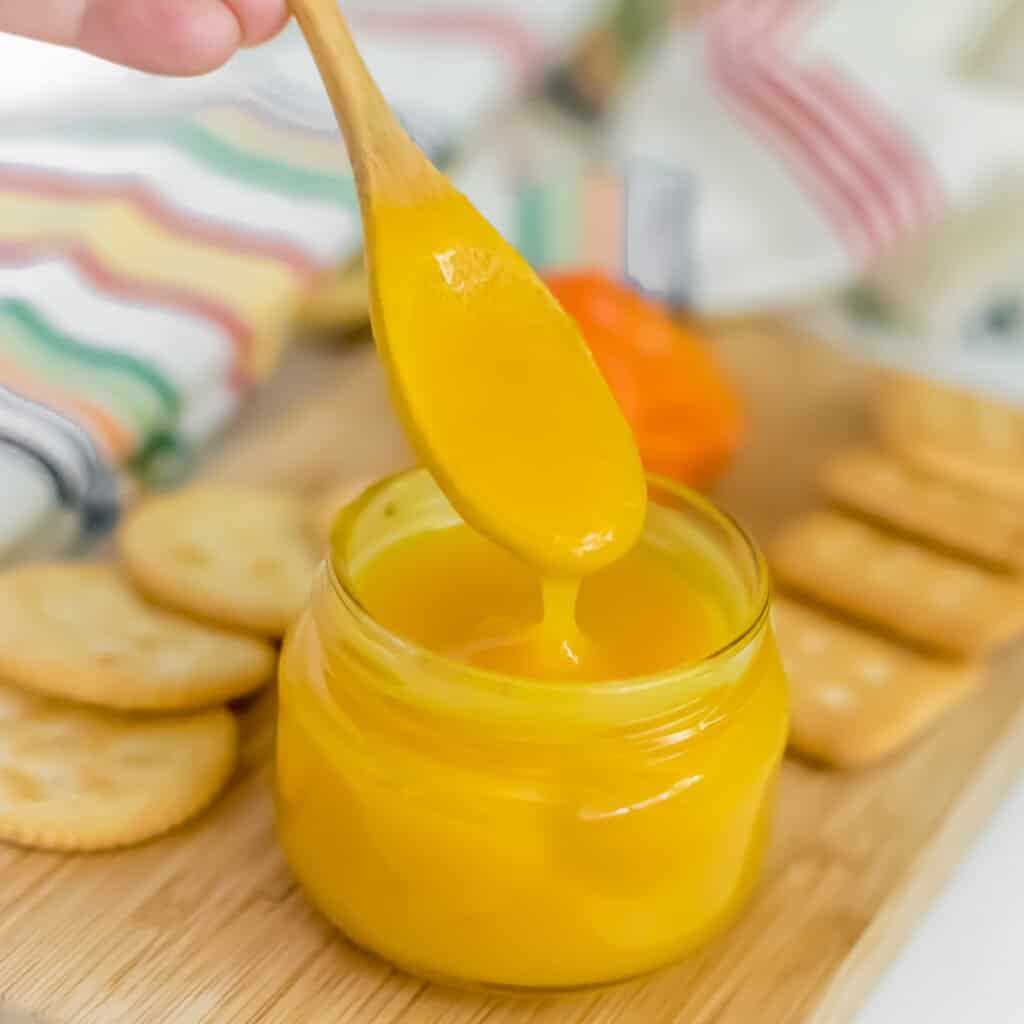 Recently, I have been enjoying making a variety of hot sauces at home. Pineapple is in the season and I just love the spicy habanero.
So, I decided the combine the two ingredients and blend it into a sauce. This is so versatile and so perfect to pair it with anything.
Moreover, grilling season just started so it works as delicious glaze over your choice of grilled protein or simply smear your plate with this sauce for dipping.
The best part is that you can make it ahead of time and refrigerate.
Health benefits of pineapple
It's packed with nutrition especially vitamin C. Along with fighting inflammation it also aids in digestion. This fruit is a great weight loss booster and is an awesome post recovery snack.
How to buy the right pineapple?
It should be golden in color with large eyes on the outside. When you smell the bottom of pineapple you should get a fresh sweet aroma and should not be super firm. When you squeeze it, you should be able to press it a tiny bit but at the same time it should not be mushy and squishy.
How to store pineapple?
Its easy to store this fruit. You may keep it on the counter at room temperature for couple of days or refrigerate it as is for few extra days. If planning to store cut pineapple chunks, then you must store pineapple chunks in an air tight plastic container in the refrigerator for about 1 week.
More pineapple recipes for you to try:
Pineapple banana smoothie
Pineapple orange salsa
Tropical smoothie
Pineapple raspberry dip
What is habanero pepper?
It's a spicy pepper small orange colored Chile pepper that's popularly grown in Mexico. Usually, its not eaten as a whole and so I made a creamy sauce for my roasted sweet potatoes and made habanero tofu curry also. It tastes amazing in pasta too so I made orange habanero pasta.
How to cook with habanero peppers?
It is important to carefully handle habanero peppers since its very spicy. Usually, I recommend wearing food gloves while handling habanero peppers. It is important to wash hands with soap and cold water after you are done with it. I also recommend washing the knife and cutting board with water to wash away any leftover seeds. If by any chance any seed popovers near your eyes or face or if you touch your face with pepper hands it might have a burning sensation. In that case make sure to wash that area with lots of cold water and put ice on that area for it to heal.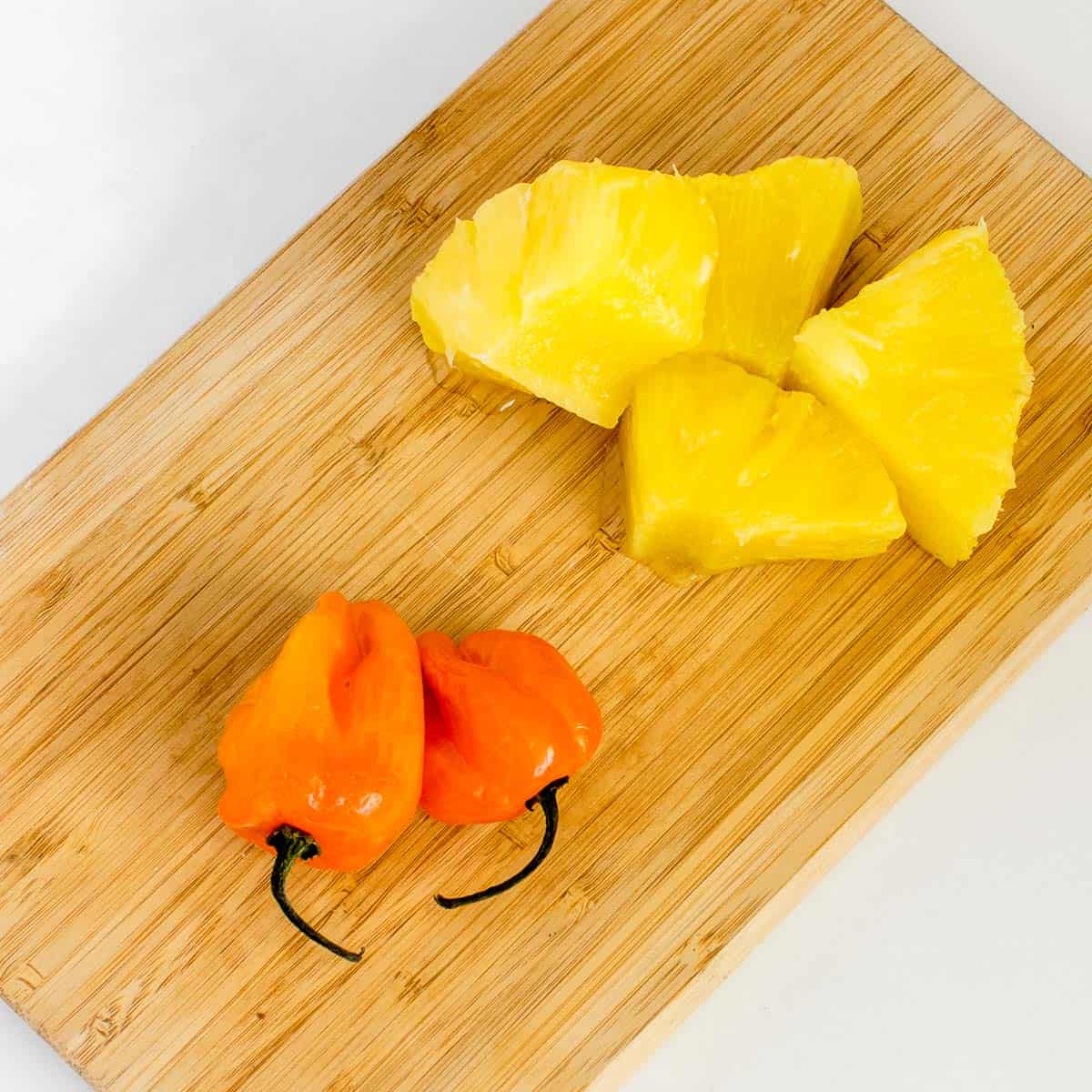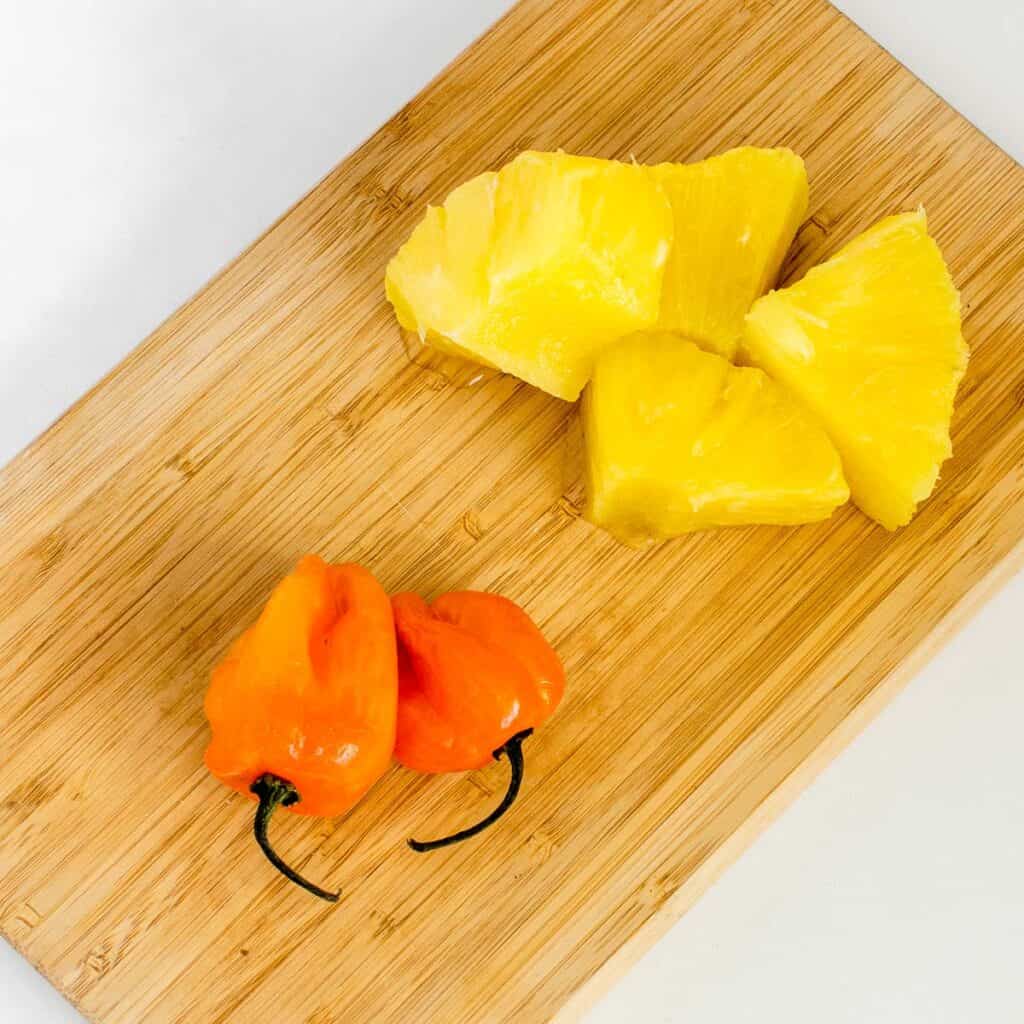 Ingredients for Pineapple Habanero Sauce recipe
Pineapple chunks
Habanero peppers
Lemon juice
Apple cider vinegar
Garlic powder
Salt
Mini sweet yellow pepper
Maple syrup
I used only 8 simple ingredients and in just few steps you can enjoy this versatile pineapple and habanero sauce.
Ingredients notes:
Pineapple chunks – I used fresh chunks which was store bought but you can cut your own whole pineapple.
Habanero peppers – just 2 is sufficient for this recipe. However, you may adjust to 1 as per your taste.
Mini sweet yellow peppers – orange sweet pepper also works here and gives a nice bright color to it.
Apple cider vinegar – I used this along with lemon juice to give the right acidic flavor to this pineapple sauce recipe.
Maple syrup – I added a tiny bit of sweetener to balance the spicy hot taste but brown sugar also works in this hot sauce recipe.
For detailed measurement of ingredients, please scroll down to the printable recipe card at the bottom of this post.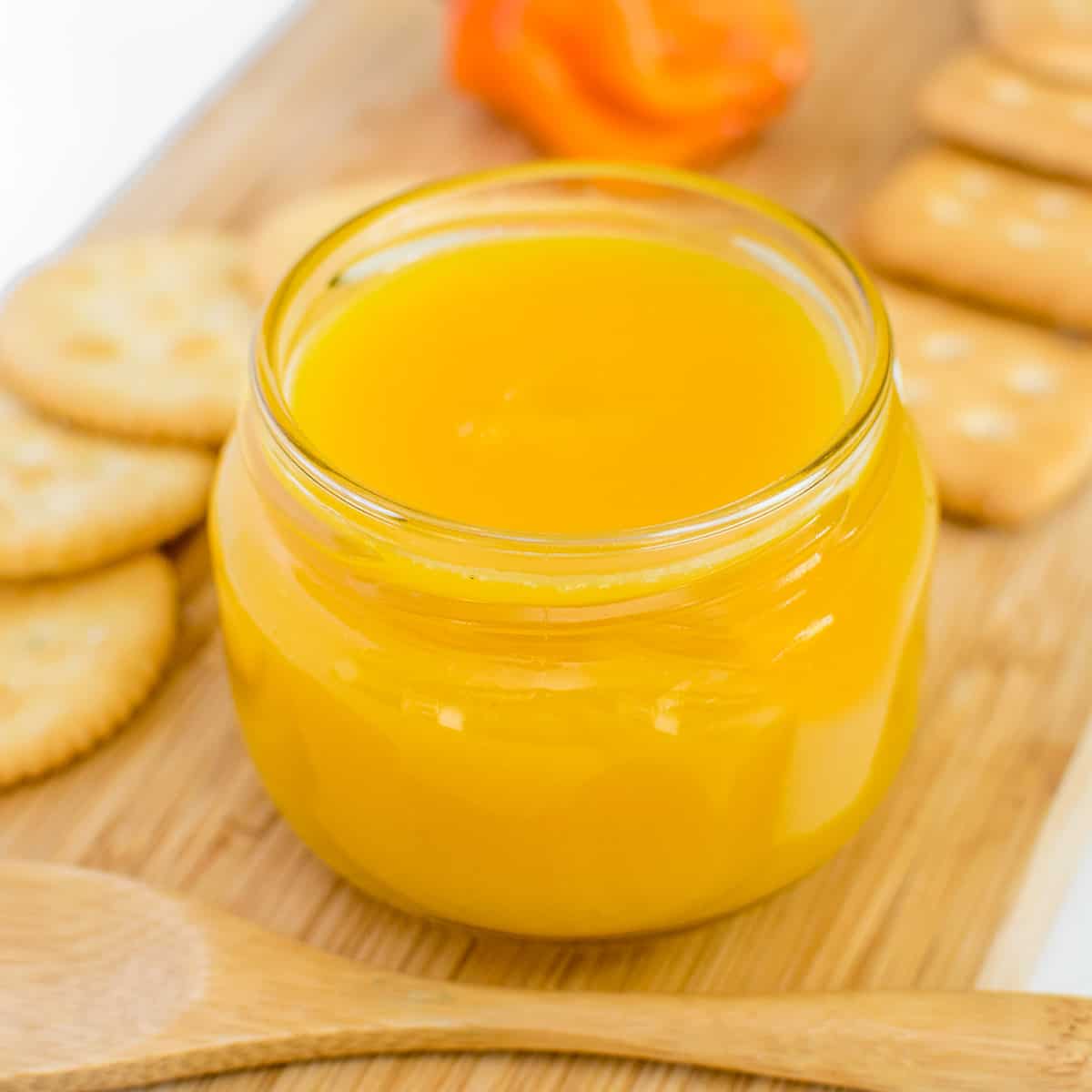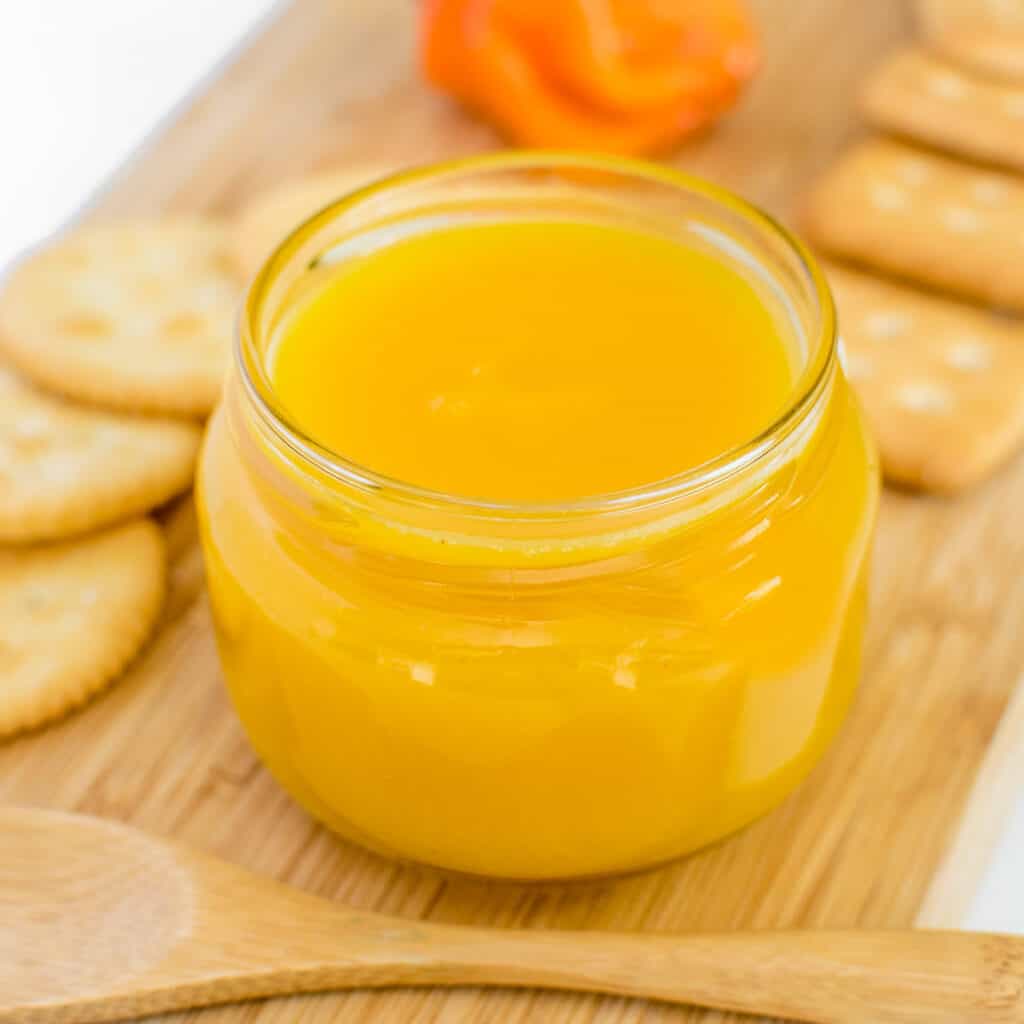 How to make Pineapple Habanero Sauce
Firstly, in a blender, I combined all the ingredients (except maple syrup) and blended it smooth.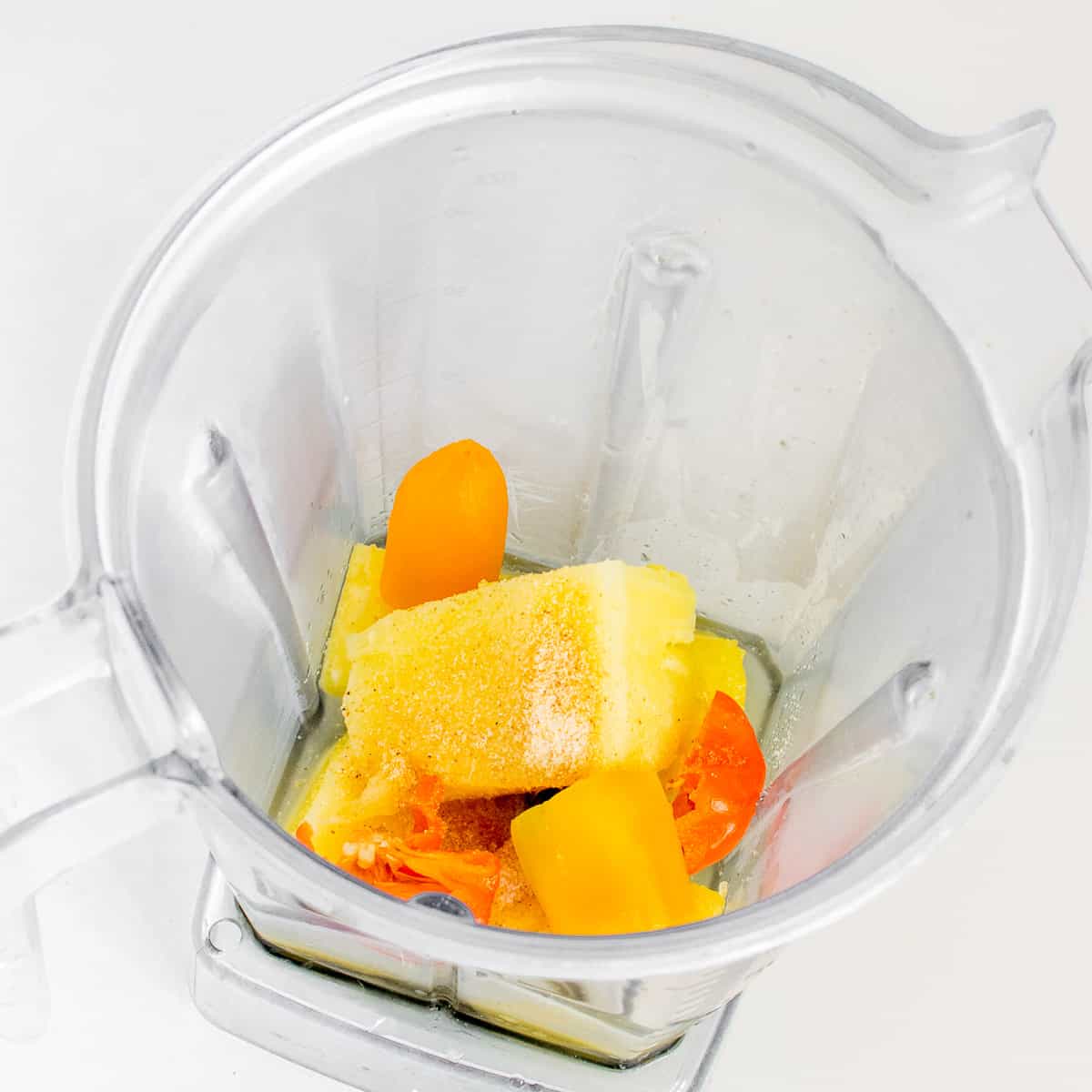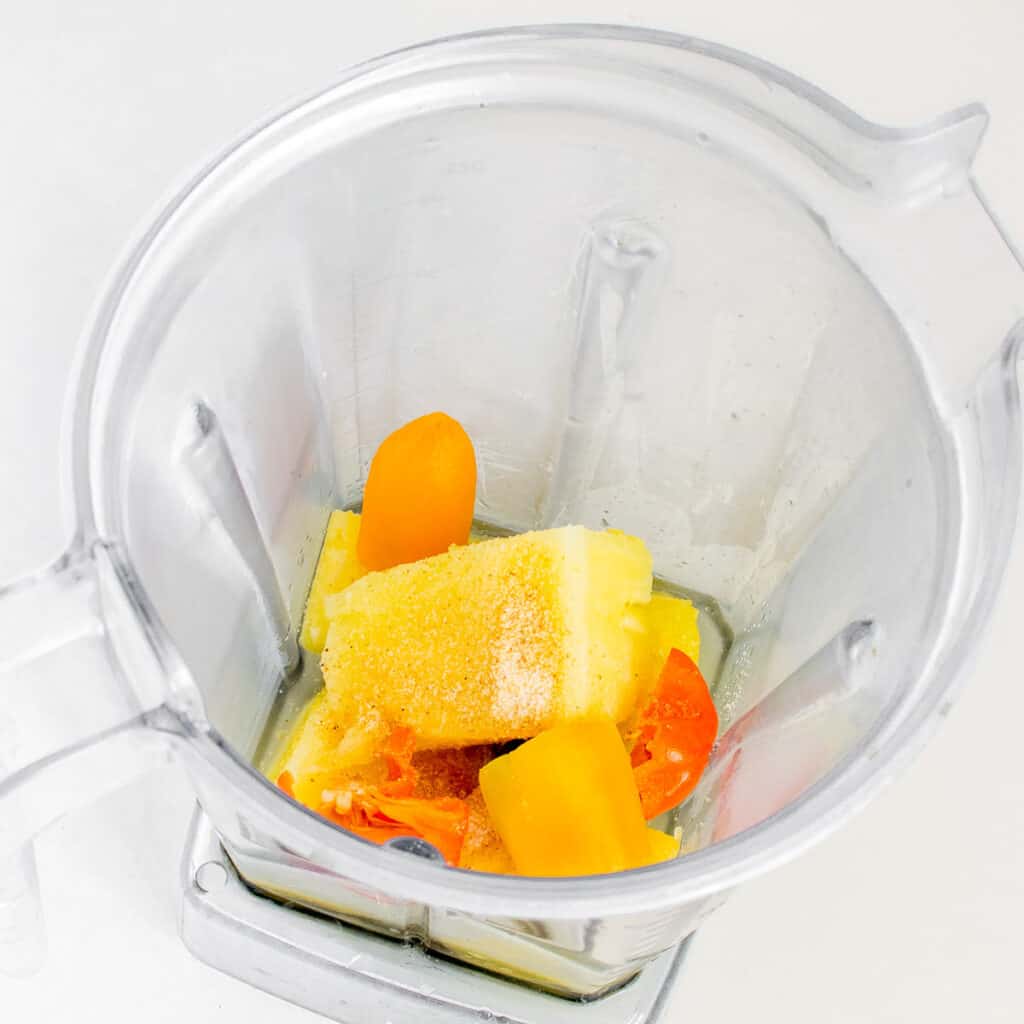 Secondly, I strained the sauce with the help of a sieve/strainer into a sauce pan. Then, I discarded the leftover pulp.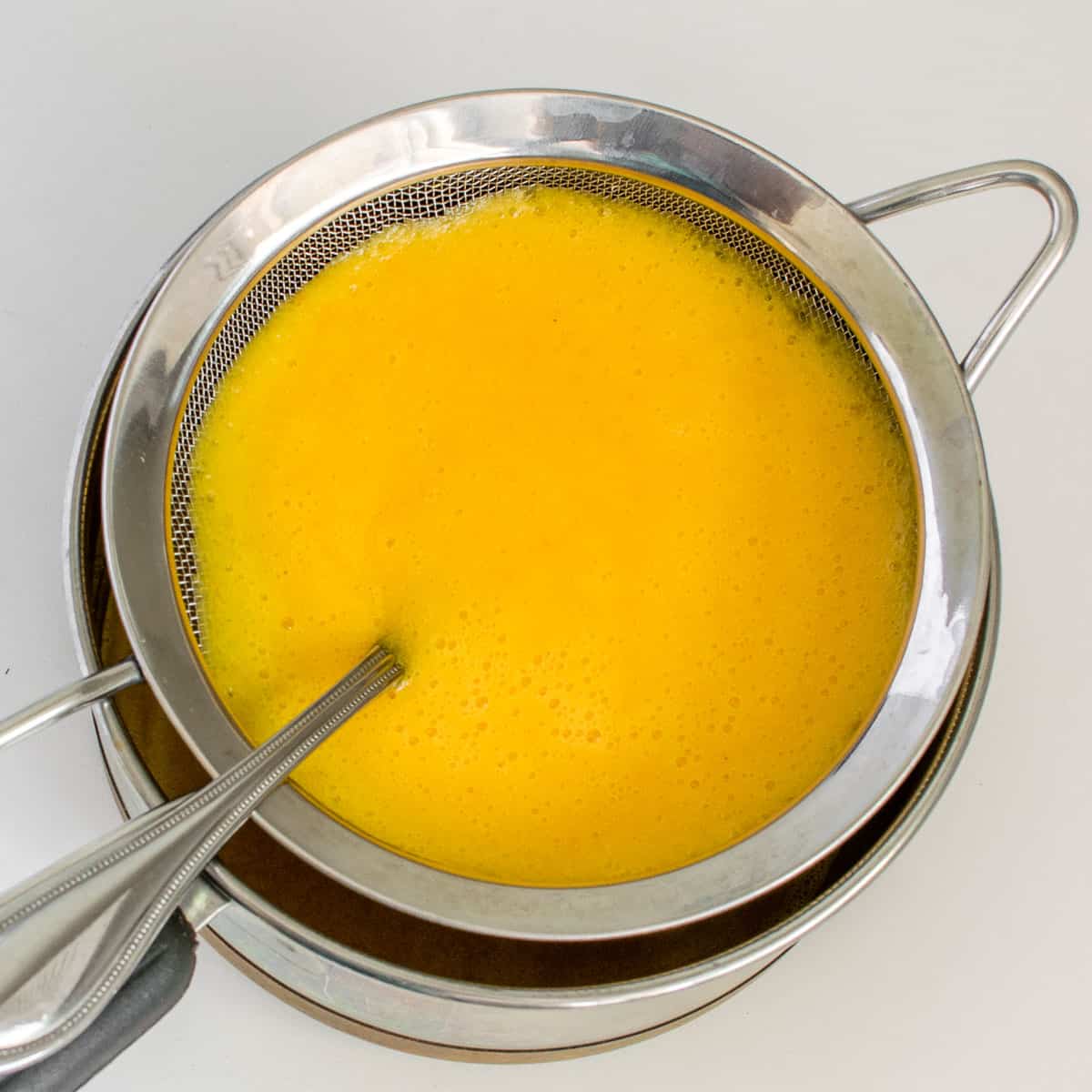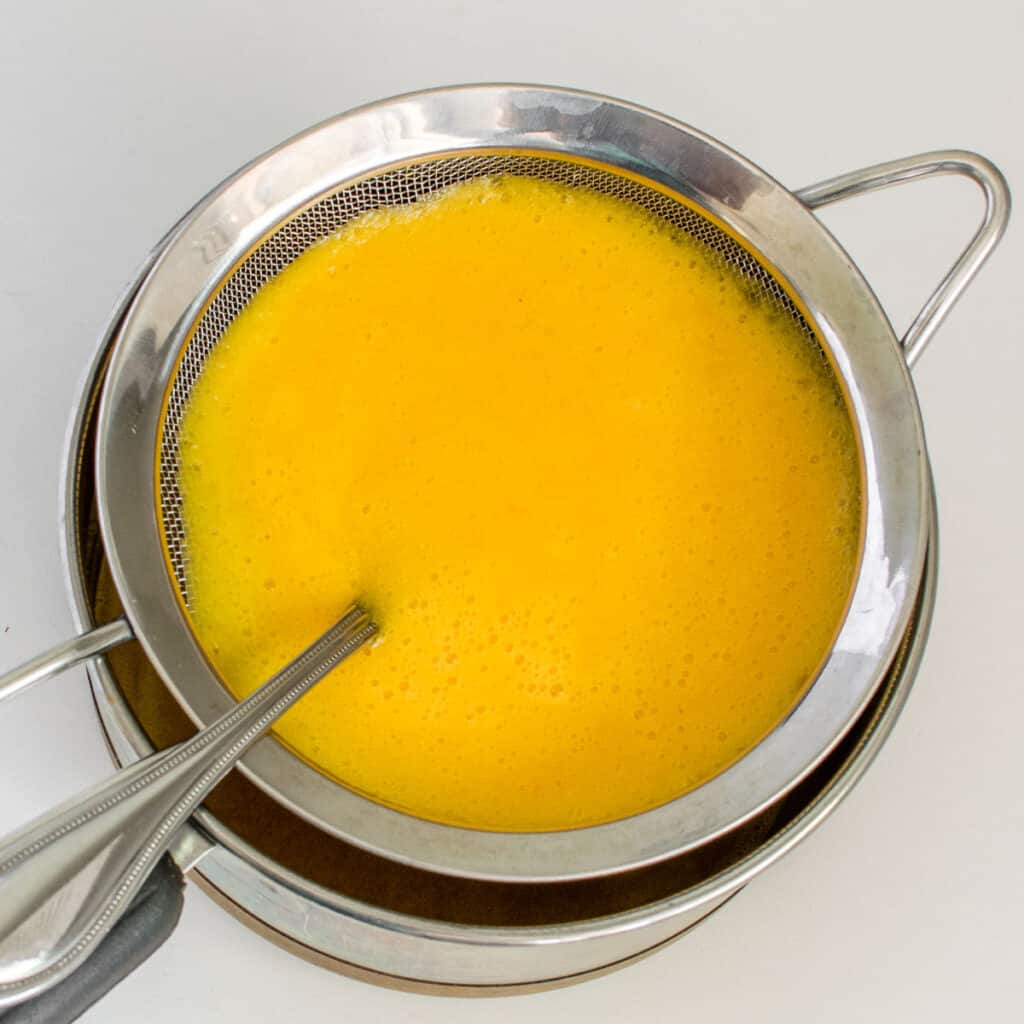 Thereafter, I cooked the sauce on the stove top at high flame. As soon as it started to bubble, I stirred in maple syrup.
Afterwards, I let it cook on high for 5 minutes and kept stirring at intervals.
Later, I turned it off and removed from heat. I let it cool down at room temperature.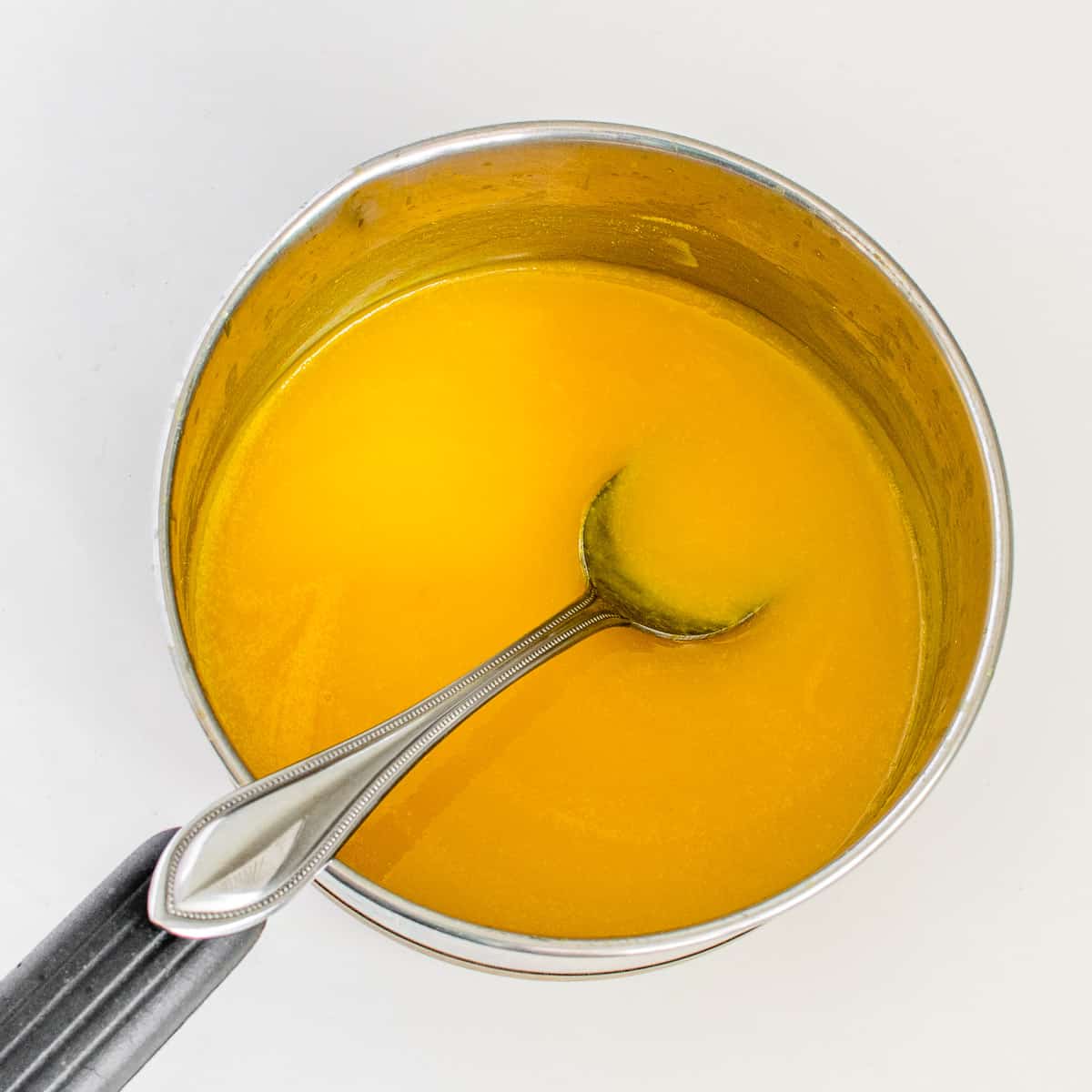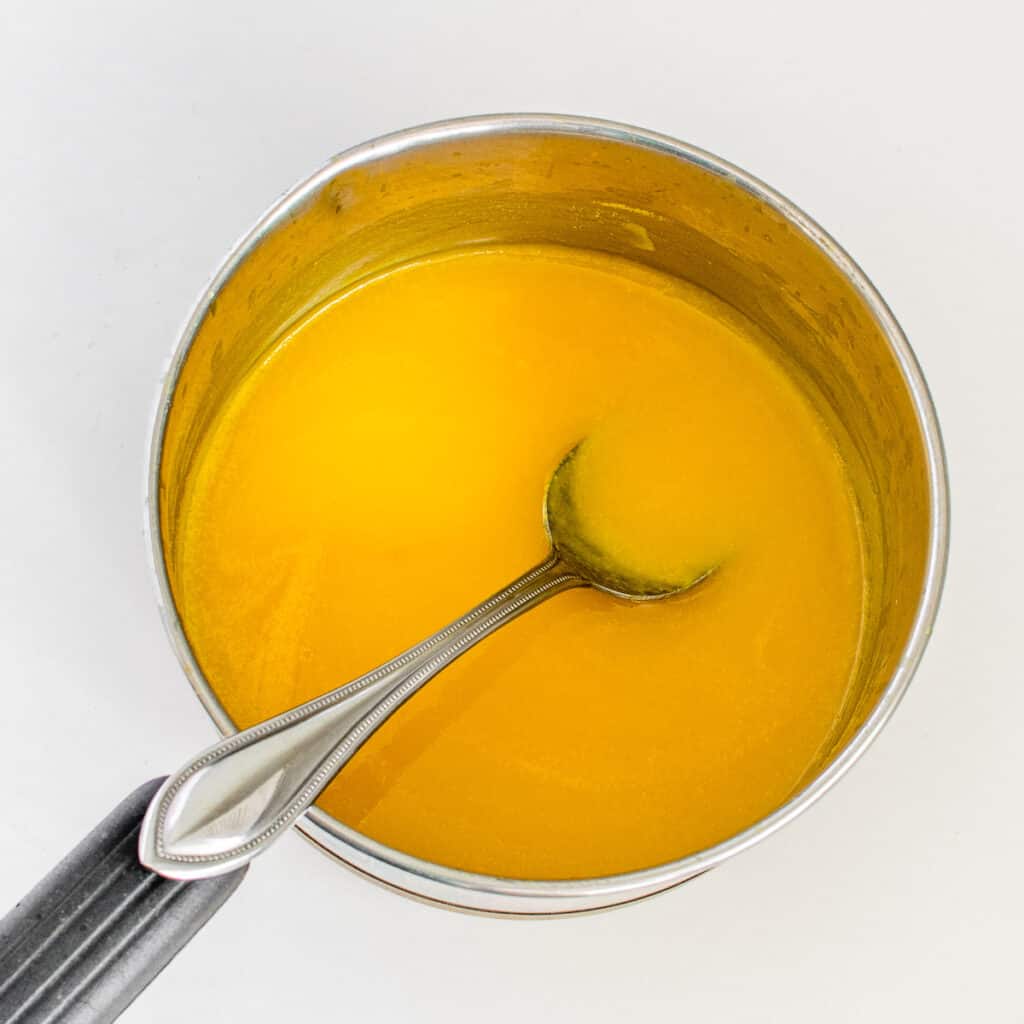 Lastly, I poured it in a glass jar with a tight lid and refrigerated.
I have been using this sauce over almost all my recipes and enjoying the heat from its spicy flavor.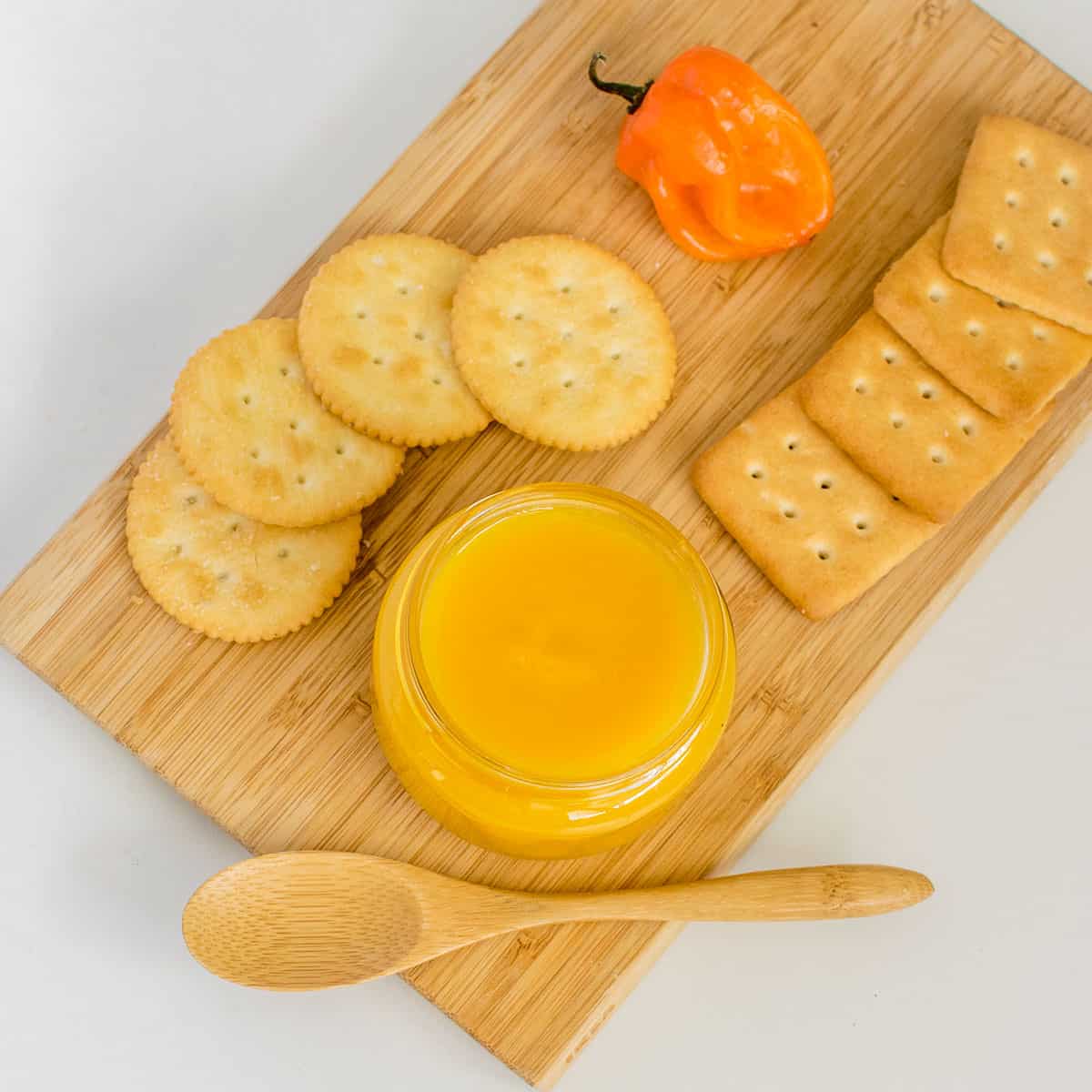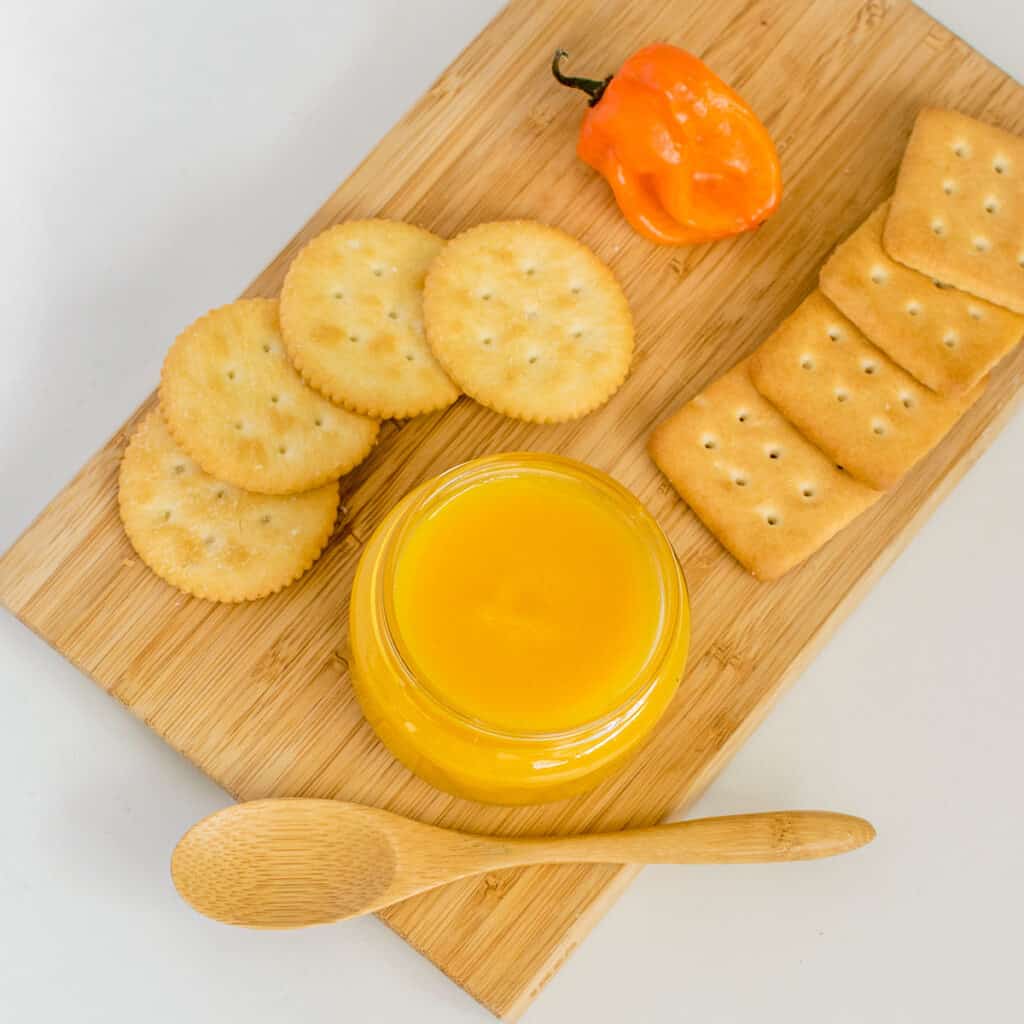 How to serve vegan pineapple habanero sauce?
It is amazing as is with crackers and chips as a dip
Vegan spring rolls
Drizzle over crispy broccoli
Pairs excellent with air fryer carrots
I even sometimes like to simply stir fry tofu or tempeh in this sauce.
Sometimes, I like to stir fry vegetables in this sauce instead of chili garlic sauce.
If you like spicy pizza then you might drizzle or dip your slice in this sauce.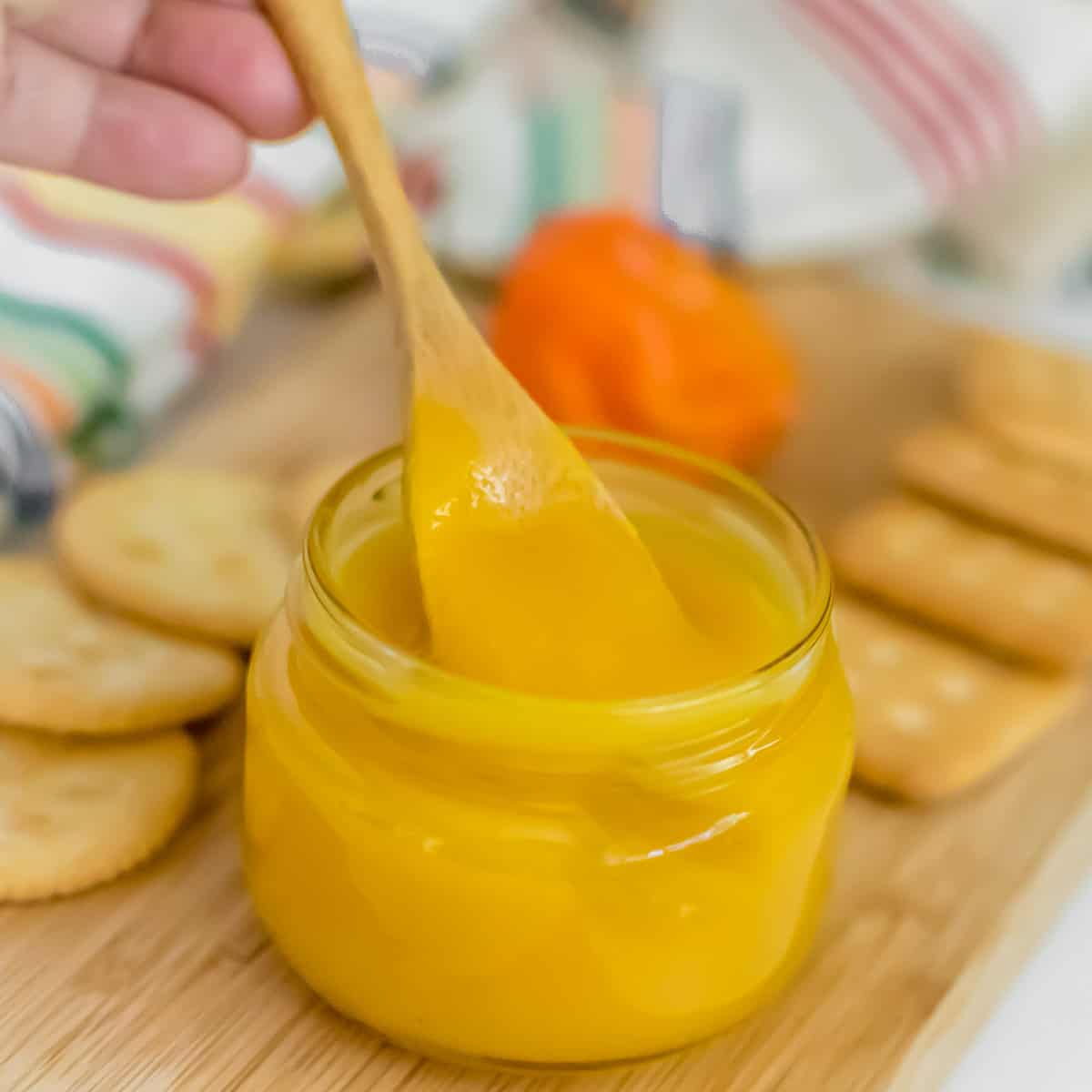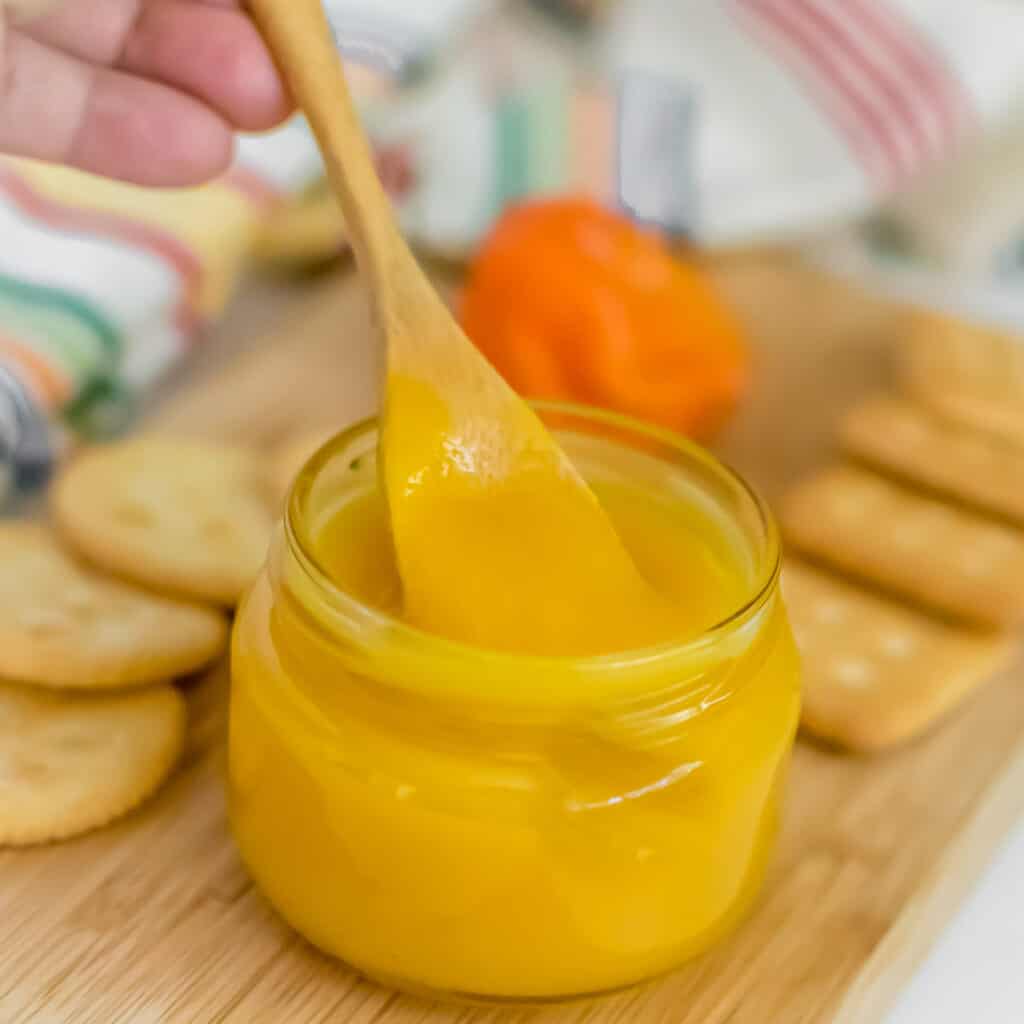 Expert tips:
It is important to blend it well in a blender but make sure to not add any other extra liquid except for the leftover pineapple juice.
Strain it well for a smooth texture and most importantly do not overcook. It will thicken in the refrigerator.
Pineapple Habanero Sauce FAQs
How long does it last?
Once it is cooled at room temperature refrigerate in an air tight glass jar for 3 weeks.
Can I use frozen pineapple chunks?
I tested this recipe a few times with variations and fresh pineapple works best here.
How can I store it for a longer time?
Smaller quantities work best for this recipe. Also, since it's the simplest sauce I usually blend it every month and refrigerate it.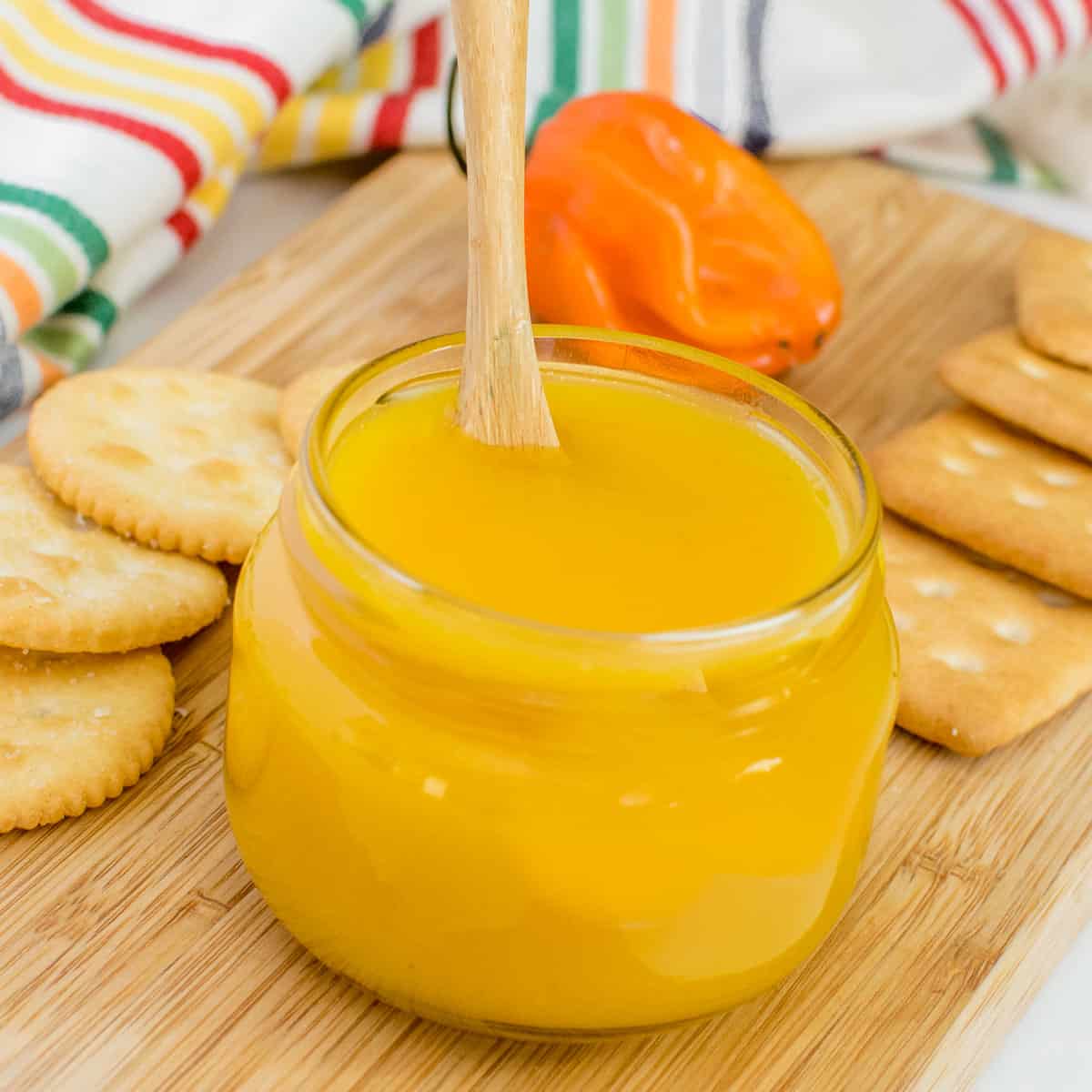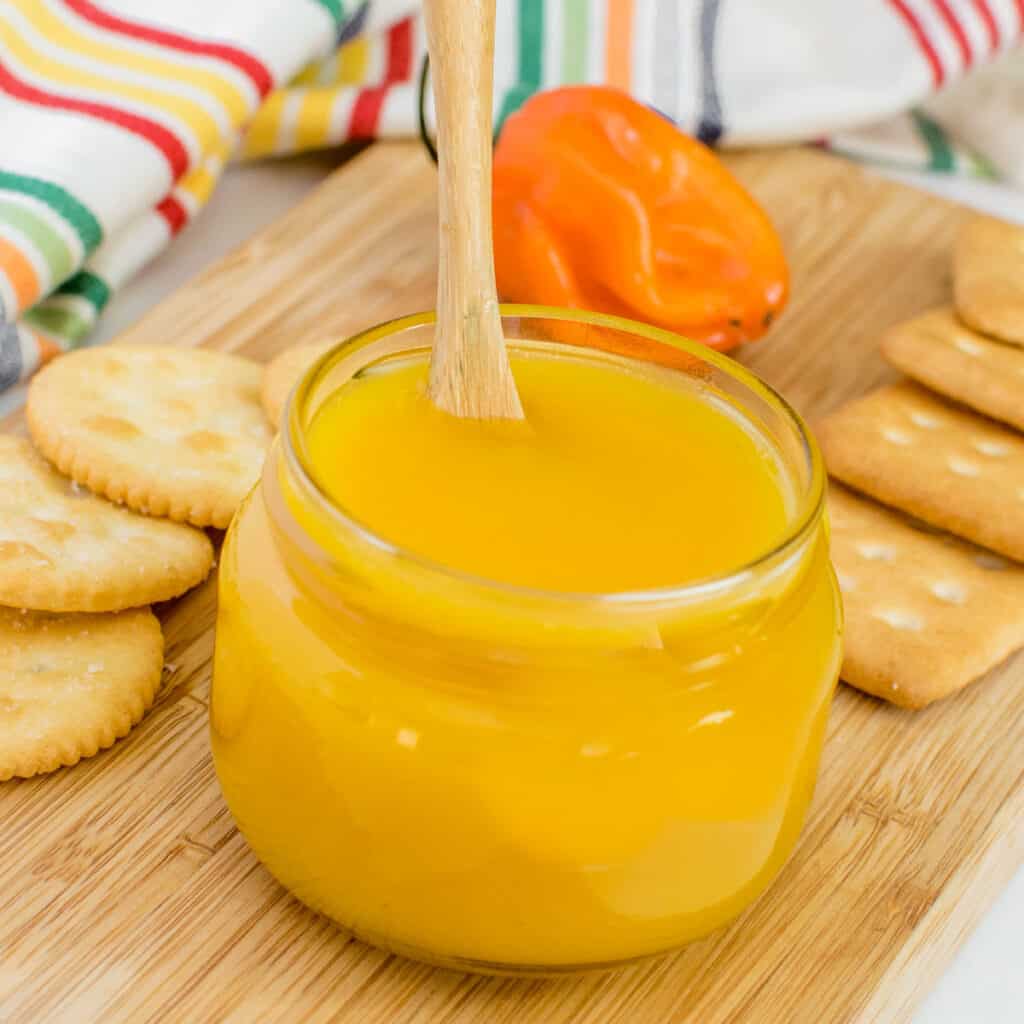 My other sauces that you might like:
Sweet and sour sauce
Lemon Tahini Dressing
French Onion Dip
Instant Pot Cranberry Sauce
This post may contain affiliate links which means that if you click on them and also make a purchase, I will get a small commission. Moreover, I share only those products which I use personally and love.
I hope you enjoy this recipe as much as we did. I am very excited to hear back from you.
Where to find me?
Follow me on Facebook or on Twitter. You may tag @kiipfit on Instagram with your recipe remake images because I would love to see what you cooked.
Did you make it?
If you get a chance to make this recipe then please leave your feedback in the comments below along with a 5-star rating.
In addition, you may checkout my cookbook for everyday comfort vegan recipes.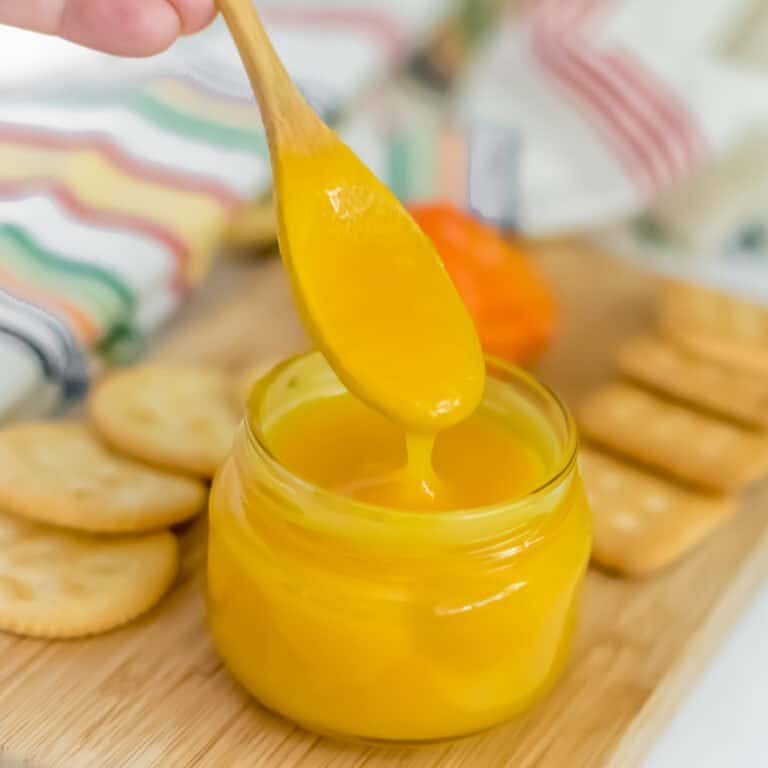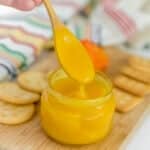 Print Recipe
Pineapple Habanero Sauce
Make your own Pineapple Habanero Sauce this grilling season to pair it with your favorite appetizer, or glaze your grilled veggies and protein with this homemade hot sauce. Its sweet, salty and very spicy with a nice tang to it.
Ingredients
1

cup

fresh pineapple chunks along with its juice

(see notes)

2

whole

habanero peppers along with its seeds

(stems removed)

2

whole

mini sweet yellow peppers

(stems removed)

2

tbsp

lemon juice

2

tsp

apple cider vinegar

1/2

tsp

garlic powder

1/2

tsp

salt

1

tsp

maple syrup
Instructions
In a blender combine pineapple chunks along with its leftover juices, habanero peppers, lemon juice, cider vinegar, garlic powder, salt and sweet mini yellow peppers in a blender and blend it smooth.

With the help of a sieve or a strainer strain the blended sauce into a saucepan or a small stockpot. Discard the leftover pulp.

Turn on the flame and cook the sauce. Once it starts to bubble stir in maple syrup and cook it on high flame and keep stirring at intervals for 4-5 minutes or till you notice that the sauce has reduced a bit and it is slightly thickened. Do not overcook it and do not let it stick at the bottom.

Turn off the flame and let it cool down to room temperature. Then fill it up in a glass jar with a tight lid and refrigerate.
Notes
I used store bought freshly cut pineapple chunks and used the leftover juice from the box. If you plan to cut it yourself then make sure to save whatever juice is released while cutting and slicing and use that that juice to blend. Do not use frozen pineapple chunks.
This is supposed to be a very spicy hot sauce so make sure to use the seeds for habanero peppers.
This recipe makes up to ¾ cup.
Once stored in a glass jar this sauce stays good for about 3 weeks. It may thicken a bit over time, but once stirred or mixed in your choice of recipe it will come back to its right consistency again. So, do not add any extra liquid to it.
Nutrition
Calories:
16
kcal
|
Carbohydrates:
4
g
|
Protein:
1
g
|
Fat:
1
g
|
Saturated Fat:
1
g
|
Polyunsaturated Fat:
1
g
|
Sodium:
194
mg
|
Potassium:
12
mg
|
Fiber:
1
g
|
Sugar:
1
g
|
Vitamin A:
1
IU
|
Vitamin C:
2
mg
|
Calcium:
2
mg
|
Iron:
1
mg