This refreshing and hydrating Pineapple Banana Smoothie is packed with vitamin C and has delectable tropical flavors. It's fruity, creamy and satisfying along with being healthy.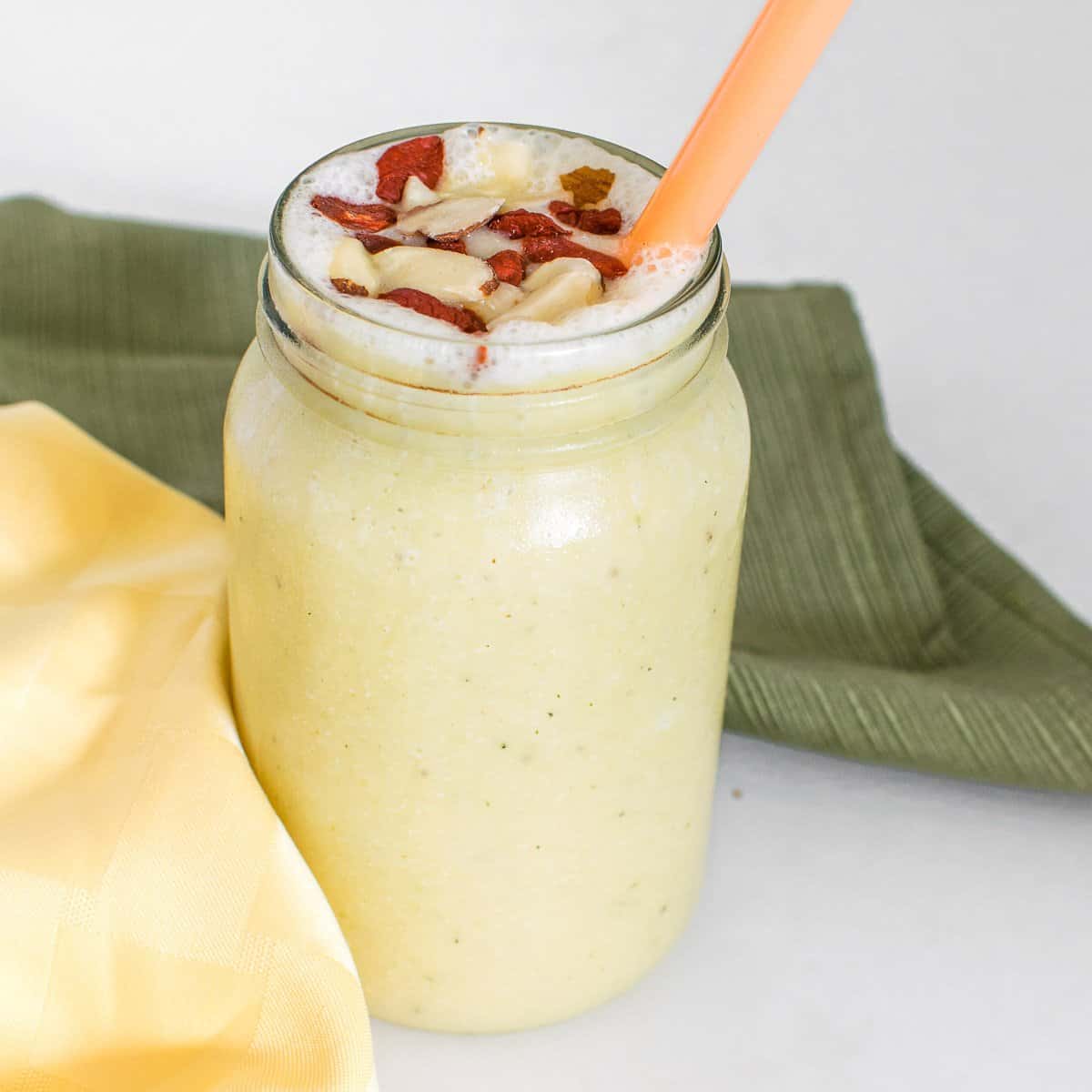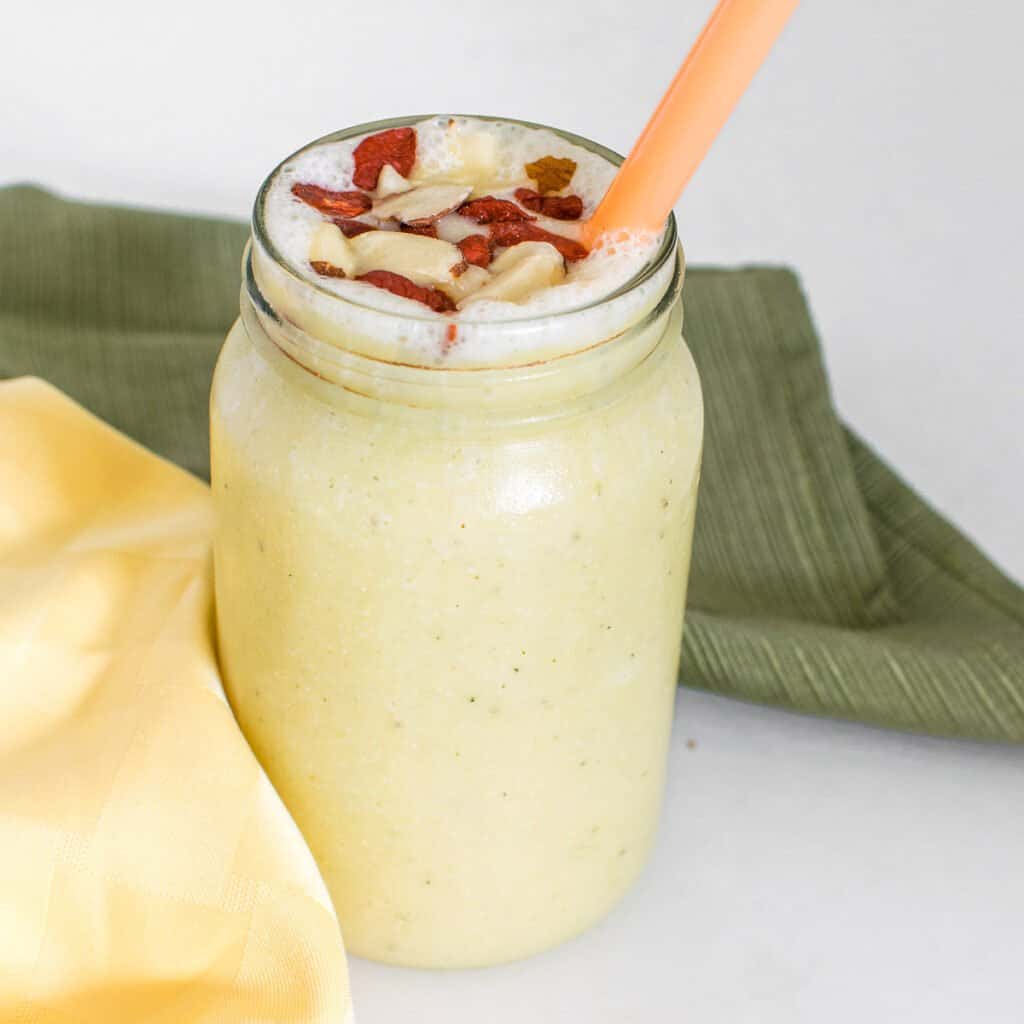 Pineapples are flooding the market and Yashvi demanded pineapple smoothie as soon as she saw them. It's her favorite fruit and I had simply had to make it for her. It has amazing texture and taste and we all enjoy it frequently when in season.
My pineapple dip is quite regular during warm season but this pineapple banana smoothie recipe is by far the best thing I discovered so far.
Its quick and easy and super rejuvenating.
Are Smoothies healthy?
Often times, it is thought that drinking nutrition is like eating too much of any food item. But that's not true. Smoothies are a great way to hydrate and replenish. It's a quick way to provide sufficient balanced nutrition to your body. However, it should be consumed in the right proportion.
On this note my vegan orange smoothie is an excellent breakfast.
Health benefits of pineapple
This fruit is loaded with antioxidants and helps in digestion because of its enzymes content. It also eases the symptoms of arthritis and boost immunity along with suppressing inflammation. Overall, it's a healthy fruit and should be consumed when in season.
Health benefits of banana
It's packed with iron and potassium along with magnesium. It's a natural sweetener and works great as vegan egg also. It supports digestive health and heart health. Sometimes, it also aides in weight loss since it helps in feeling fuller and is fiber rich too.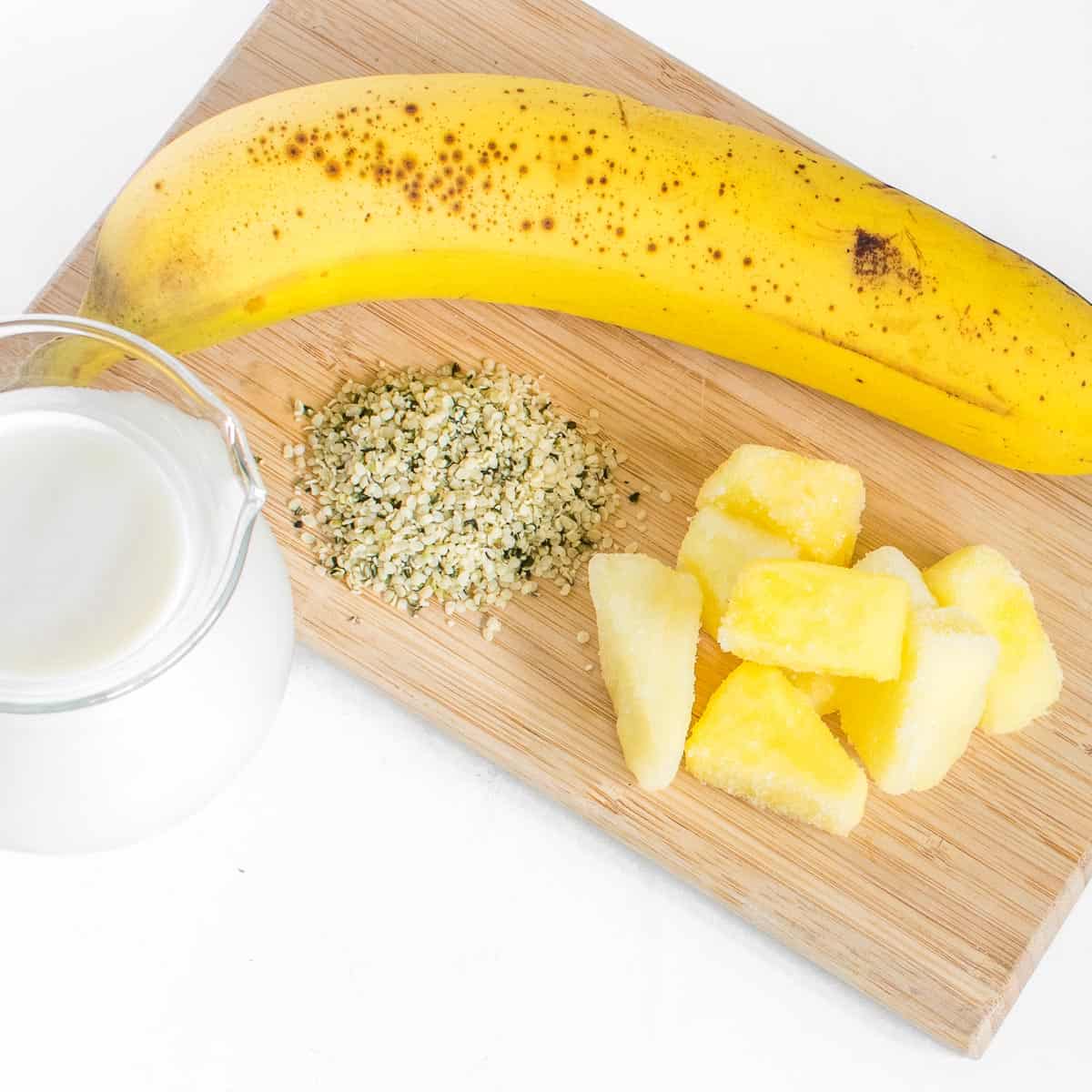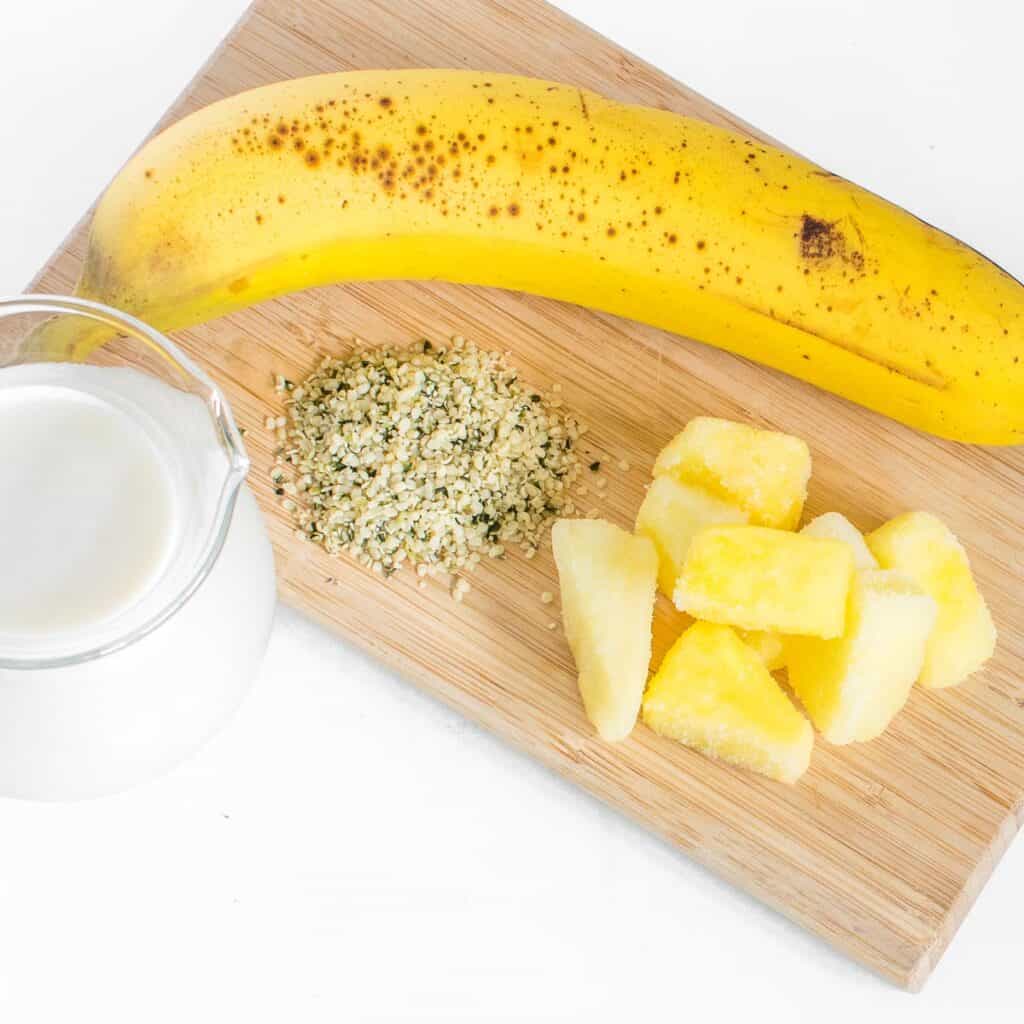 Ingredients for vegan pineapple banana smoothie
Frozen pineapple chunks
Ripe banana
Hemp seeds
Almond milk
Goji berries (optional)
Slivered almonds (optional)
I have used these handful of ingredients to make it simple and easy.
Ingredients notes:
Pineapple – I used frozen chunks but you may use fresh chunks as well. If you love pineapples and want a really strong taste of it and then go up to 1 ½ cups of pineapple chunks in this recipe.
Banana – make sure to use banana with brown spots on its skin. I used banana as a sweetener here so make sure its ripe and sweet when you use it here.
Hempseeds – its packed with protein and fiber. I used hempseeds to add protein to this recipe in order to make it a post workout recovery drink as well.
Almond milk – unsweetened almond milk works great here because it keeps this beverage light and low in calories. However, any dairy free milk works here except coconut milk.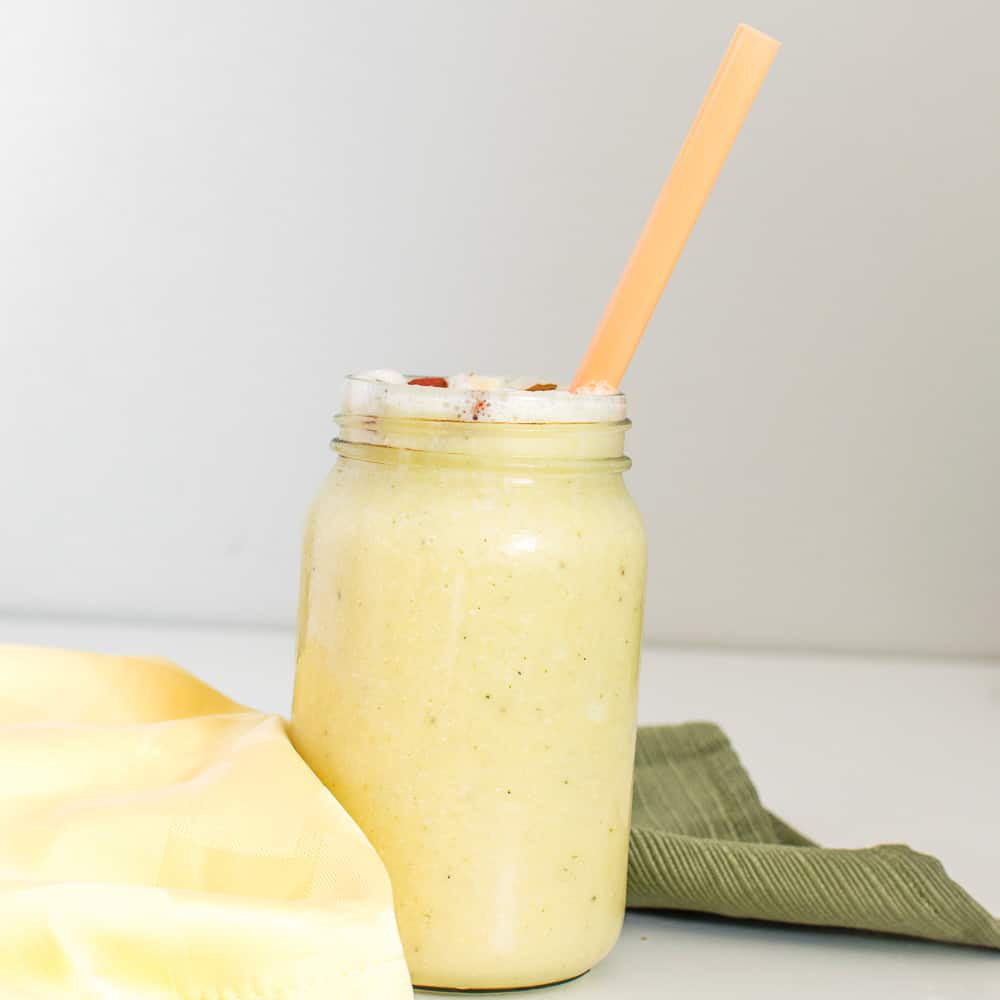 For detailed measurement of ingredients, please scroll down to the printable recipe card at the bottom of the post.
How to make Pineapple Banana Smoothie
Firstly, in a blender, I combined all the ingredients (except garnishing ingredients).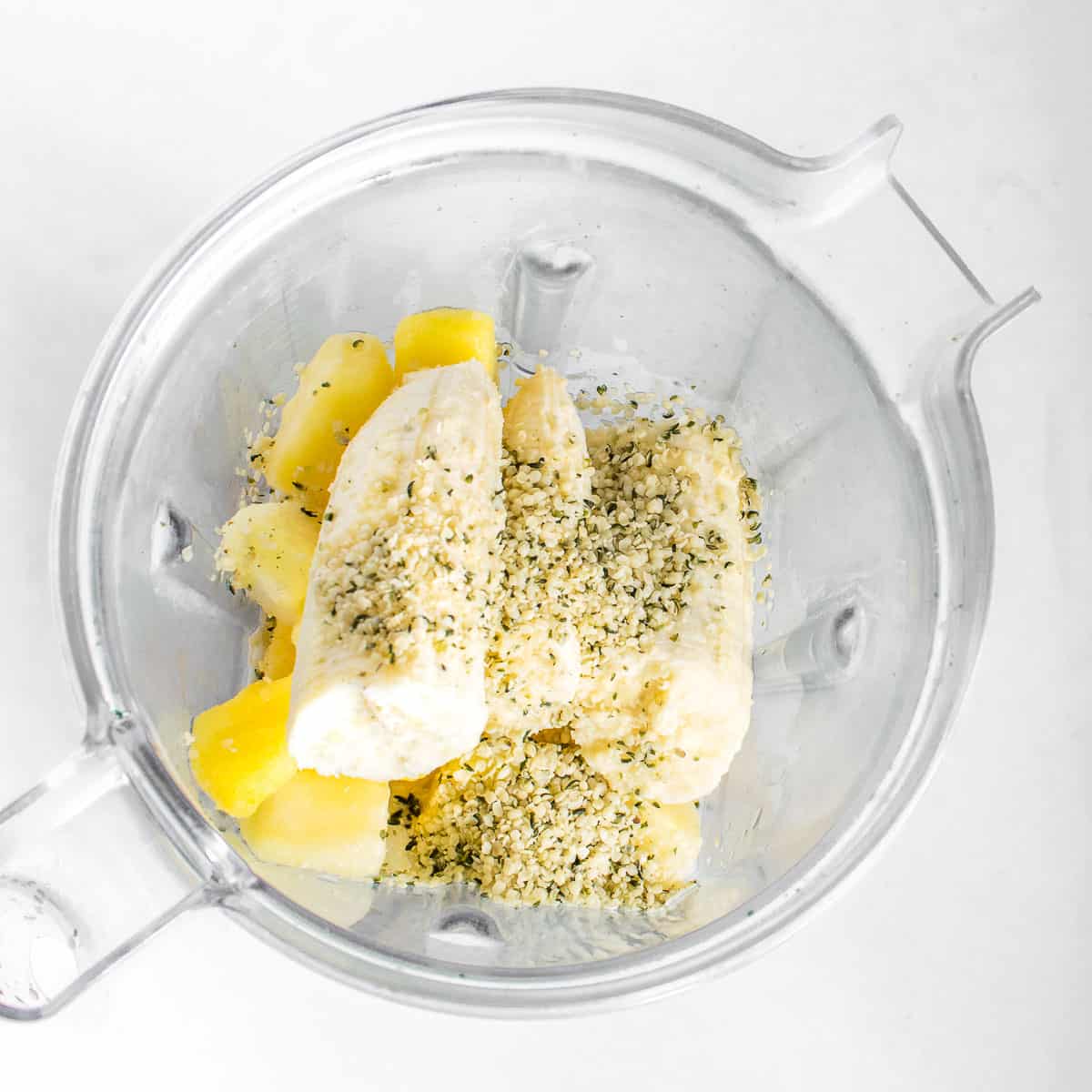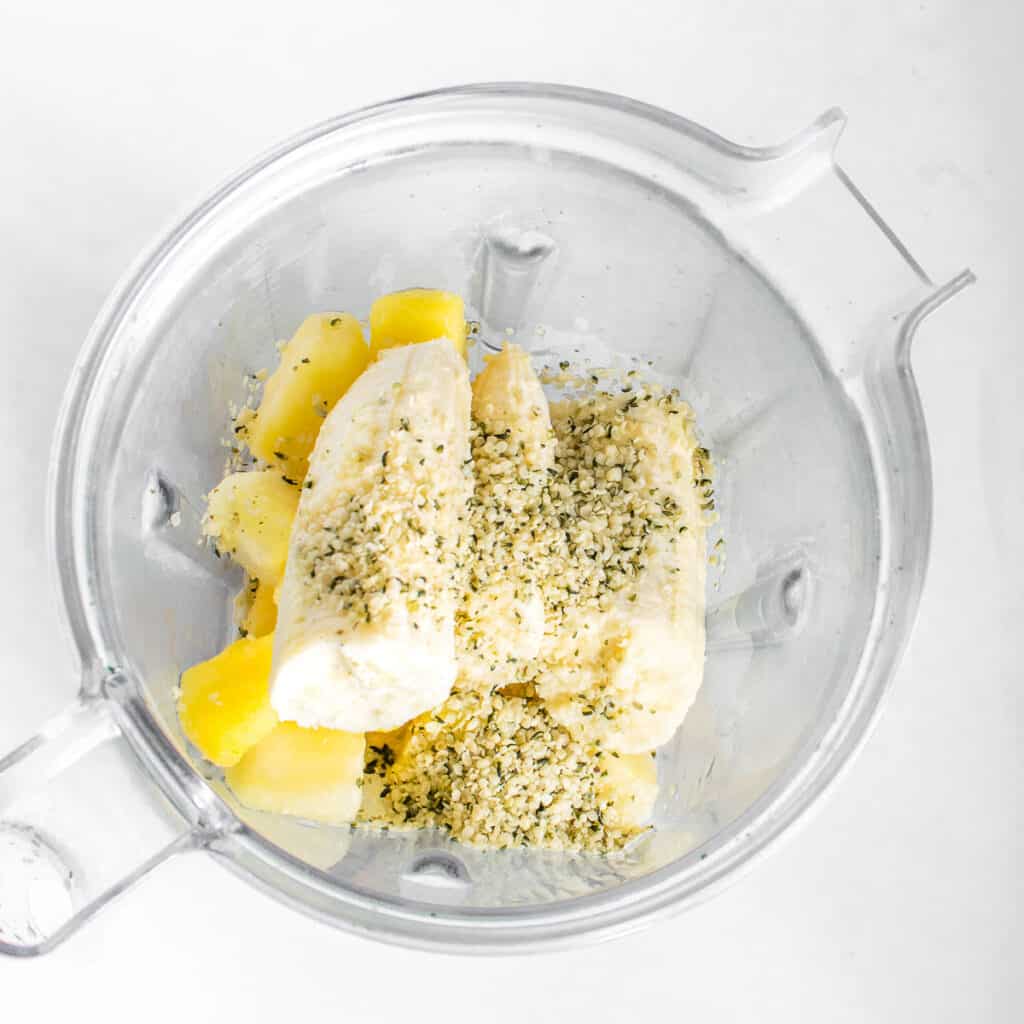 Secondly, I blended it absolutely smooth.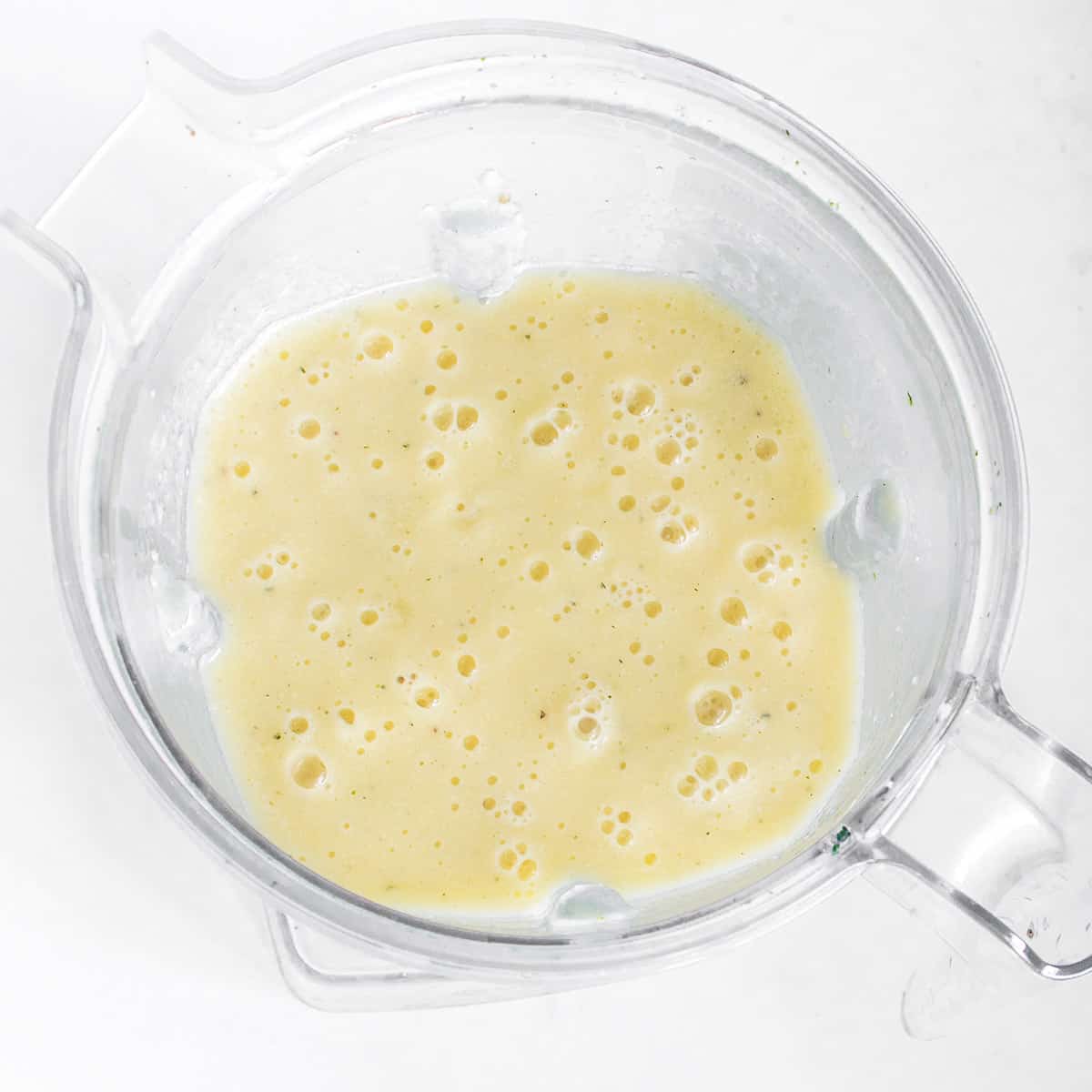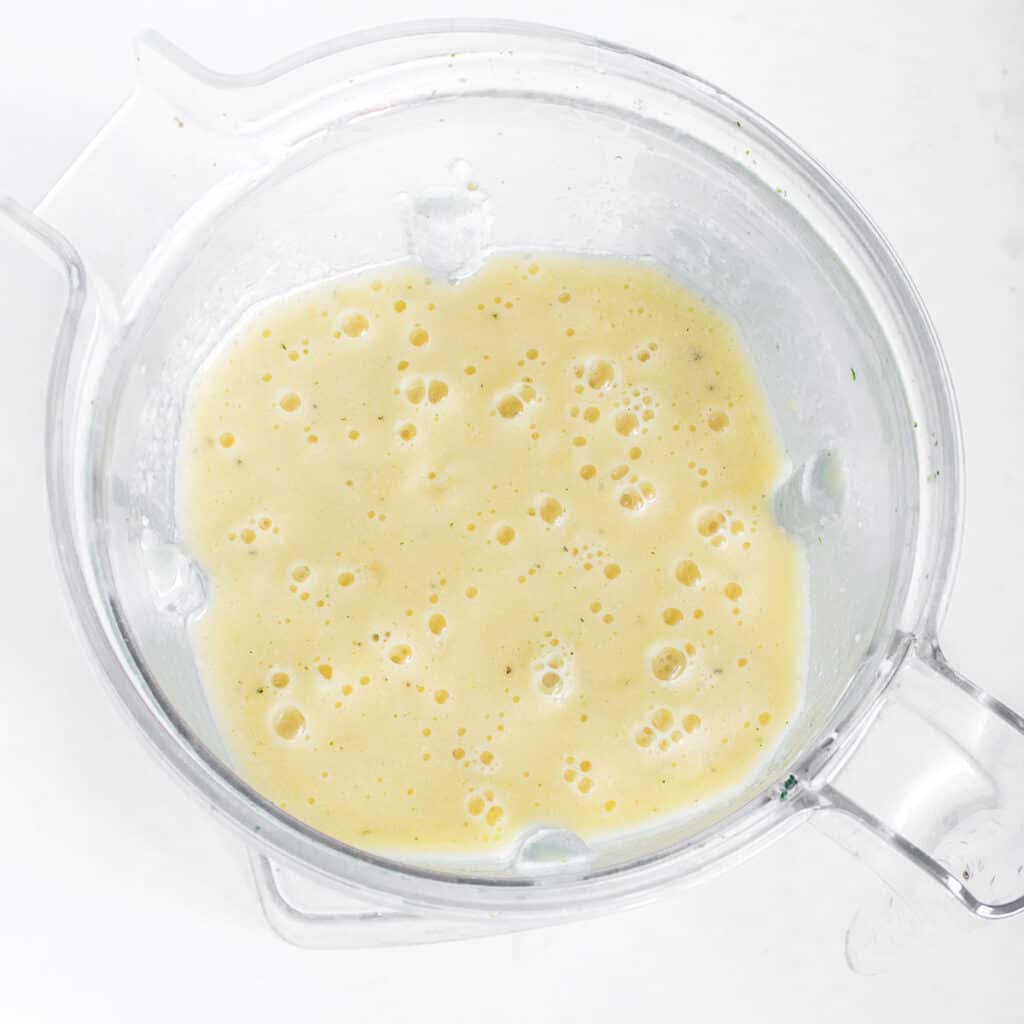 Next, I poured in in the serving glasses.
Then, I garnished them well and served immediately.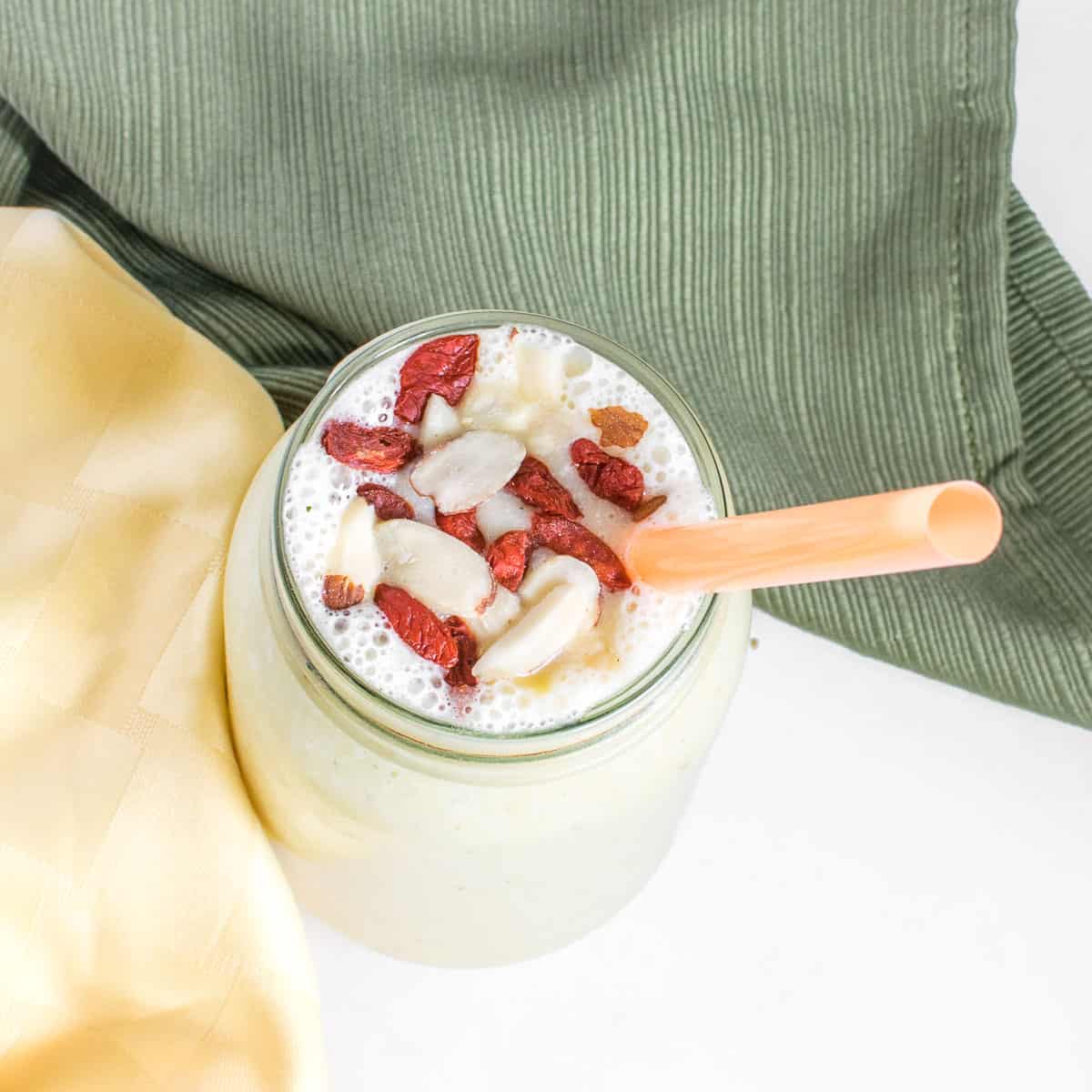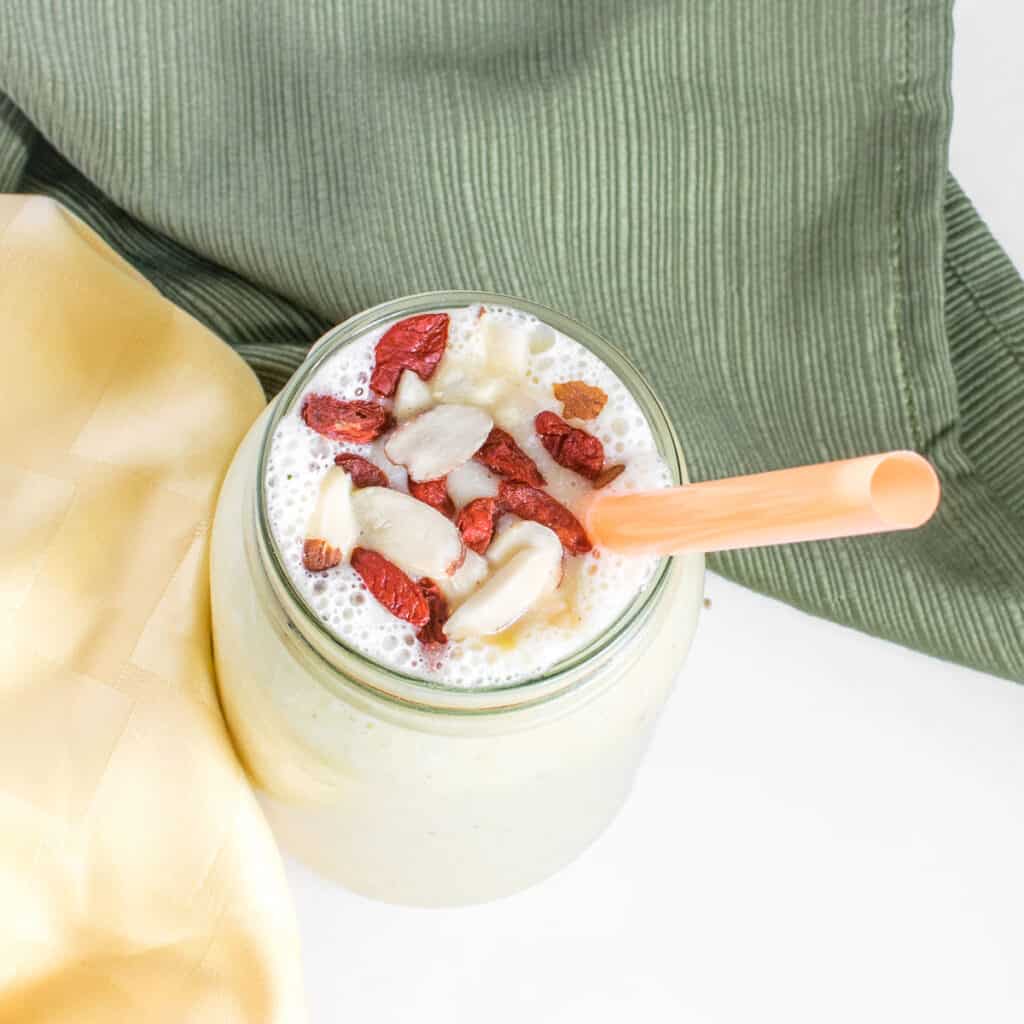 My family devoured it so much that they now want me to blend this frequently.
Pineapple Banana Smoothie FAQs
How long does it last?
This tastes best when served immediately. If it sits for long time it will settle at the bottom of the glass. In that case simply stir it with a spoon and enjoy.
Does pineapple and banana help in weight loss?
Both the fruits are great for digestion and packed with antioxidants along with being rich in fiber. Therefore, these fruits are great for weight loss if eaten in proportion.
Is this smoothie healthy?
Yes! It's sweetened with fruits and blended with almond milk. I also added hempseeds to add protein to it. Hence, its very healthy, low in carbs and low in calories too.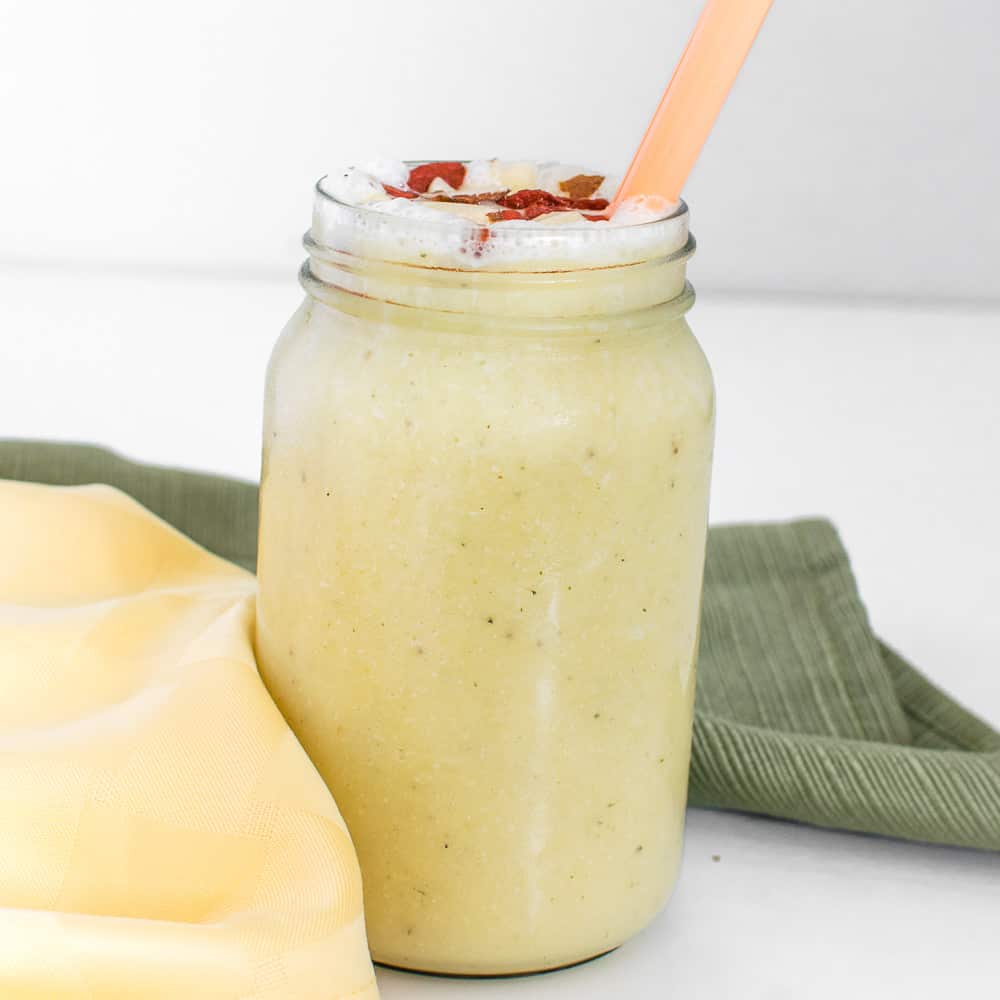 My other smoothie recipes that you might like:
Raspberry Smoothie
Kale Smoothie
Peach Smoothie
Vegan Strawberry Shortcake Protein Smoothie
This post may contain affiliate links which means that if you click on them and also make a purchase, I will get a small commission. Moreover, I share only those products which I use personally and love.
I hope you enjoy this recipe as much as we did. I am very excited to hear back from you.
Where to find me?
Follow me on Facebook or on Twitter. You may tag @kiipfit on Instagram with your recipe remake images because I would love to see what you cooked.
Did you make it?
If you get a chance to make this recipe then please leave your feedback in the comments below along with a 5-star rating.
In addition, you may checkout my cookbook for everyday comfort vegan recipes.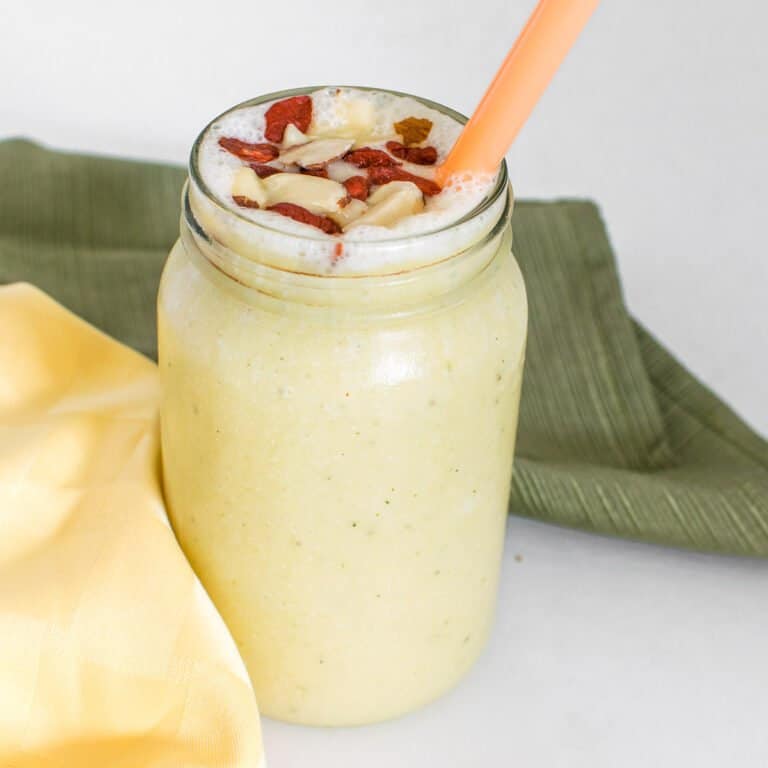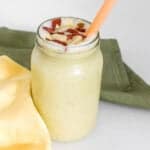 Print Recipe
Pineapple Banana Smoothie
This refreshing and hydrating Pineapple Banana Smoothie is packed with vitamin C and has delectable tropical flavors. It's fruity, creamy and satisfying along with being healthy.
Ingredients
for garnishing (optional)
Instructions
In a blender combine all the ingredients of the smoothie and blend it smooth.

Pour it in the serving glasses and garnish generously. Enjoy immediately!
Notes
Any unsweetened dairy free milk ( except coconut milk )works here.
I used frozen pineapple chunks but you may use fresh ones also. The consistency would be thinner if you use fresh pineapple.
You may substitute goji berries with dried cranberries or other dried berries of your choice.
The nutritional information is provided without garnishes. It will vary depending on the types and quantity of your garnishes. 
Nutrition
Calories:
173
kcal
|
Carbohydrates:
26
g
|
Protein:
5
g
|
Fat:
7
g
|
Saturated Fat:
1
g
|
Polyunsaturated Fat:
11
g
|
Monounsaturated Fat:
2
g
|
Sodium:
1
mg
|
Potassium:
243
mg
|
Fiber:
2
g
|
Sugar:
8
g
|
Vitamin A:
44
IU
|
Vitamin C:
6
mg
|
Calcium:
3
mg
|
Iron:
1
mg