Crunchy and healthy Air Fryer Crispy Broccoli is a great side dish to serve and comes together in just 10 minutes. Its flavorful, vegan and so perfectly roasted.
This is a sponsored post but all the opinion and review is mine. I have personally used this product and I simply love it.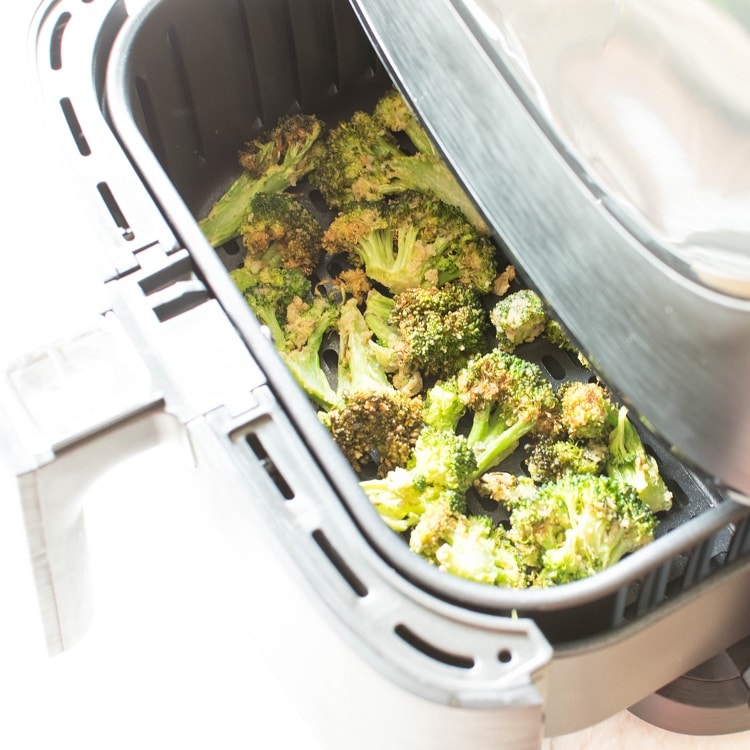 When it comes to broccoli many of us are picky especially kids. Hence, I decided to roaste broccoli in my air fryer.
It turned out so good that my little one could not stop munching on this nutritious vegetable. Therefore, I make this air fryer broccoli on repeat every week.
I often make vegan broccoli cheddar soup for my family its a much desired weeknight meal.
Recently, I innovated air fryer brussels sprouts and its a hit in my family.
Health benefits of broccoli
Its packed with vitamins, minerals and fiber. its a great source for antioxidants and reduces inflammation. It promotes healthy digestion and also contains certain amount of protein thereby being an excellent vegetable for vegans and vegetarians. At the same time this vegetable supports brain health, skin health and immune system. Overall, its a superfood vegetable that must be included in our diet.
More broccoli recipes for you to try:
Broccoli Stir Fry
Lentil Broccoli Breakfast Cutlets
Garlic Spaghetti in Broccoli Cheese sauce
Have you invested in an air fryer yet?
Its an amazing kitchen gadget that cooks food in minimum oil or no oil and makes your food crispy and delicious and super healthy. I got a nice surprise from Cosori in the form of Air fryer.
It simply brought lot of excitement and joy in my hectic world. I was encouraged me to set up my kitchen and office quickly to get back to work.
About Cosori Air Fryer
This 5.8 Quart Cosori Air Fryer has a square nonstick basket. It is removable and dishwasher safe. It is great for almost all types of diet. I personally enjoy it because I can now indulge in some more variety of goodies and not worry about the calories.
Is it healthy to cook in an air fryer?
It is healthy to use Air Fryer because no deep frying or too much oil is required to cook anything. If by any chance you grease the food in it with extra oil this air fryer will strain that extra oil in the basket itself. Thereby, making your food healthy and yet delicious.
I like the fact that cooking in Air fryer takes less time than cooking in traditional way. This Air Fryer is square which fits nicely in most the kitchen counter tops as compare to the round ones.
It is absolutely easy to cook with just one tap of the button.
I have personally tried this product and I must say that I am very happy with Cosori Air Fryer. Now, we have a party at home at every meal without sacrificing on health or taste.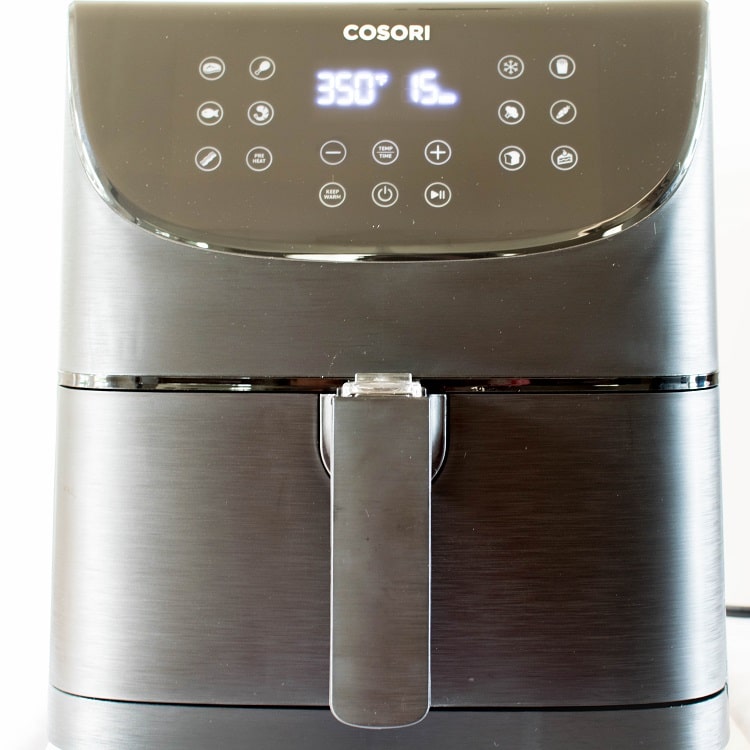 Ingredients for air fryer crispy broccoli recipe
broccoli florets
oregano
basil
parsley
salt
panko crumbs
cooking spray
garlic powder
I made this vegan air fryer broccoli with only 8 ingredients which I am sure you must already be having in your pantry.
Ingredients notes:
broccoli – make sure to make bite sized broccoli florets and then measure. I used fresh broccoli which works great here.
herbs – this is the best part and flavors this air fryer roasted broccoli excellently. I used all the dried herbs but fresh herbs also work here.
panko crumbs – this is a Japanese bread crumbs that is vegan. It helps in crisping broccoli very well. however, vegan bread crumbs also work in this recipe.
cooking spray – you may use 1 tbsp. olive oil to coat the herbs and panko as well.
garlic powder – I used this just before serving to ass to the its flavor.
For detailed measurement of ingredients, please scroll down to the printable recipe card at the bottom of this post.
How to make Air Fryer Crispy Broccoli
Firstly, in a mixing bowl, I combined oregano, basil, parsley, salt and mixed it with a spoon.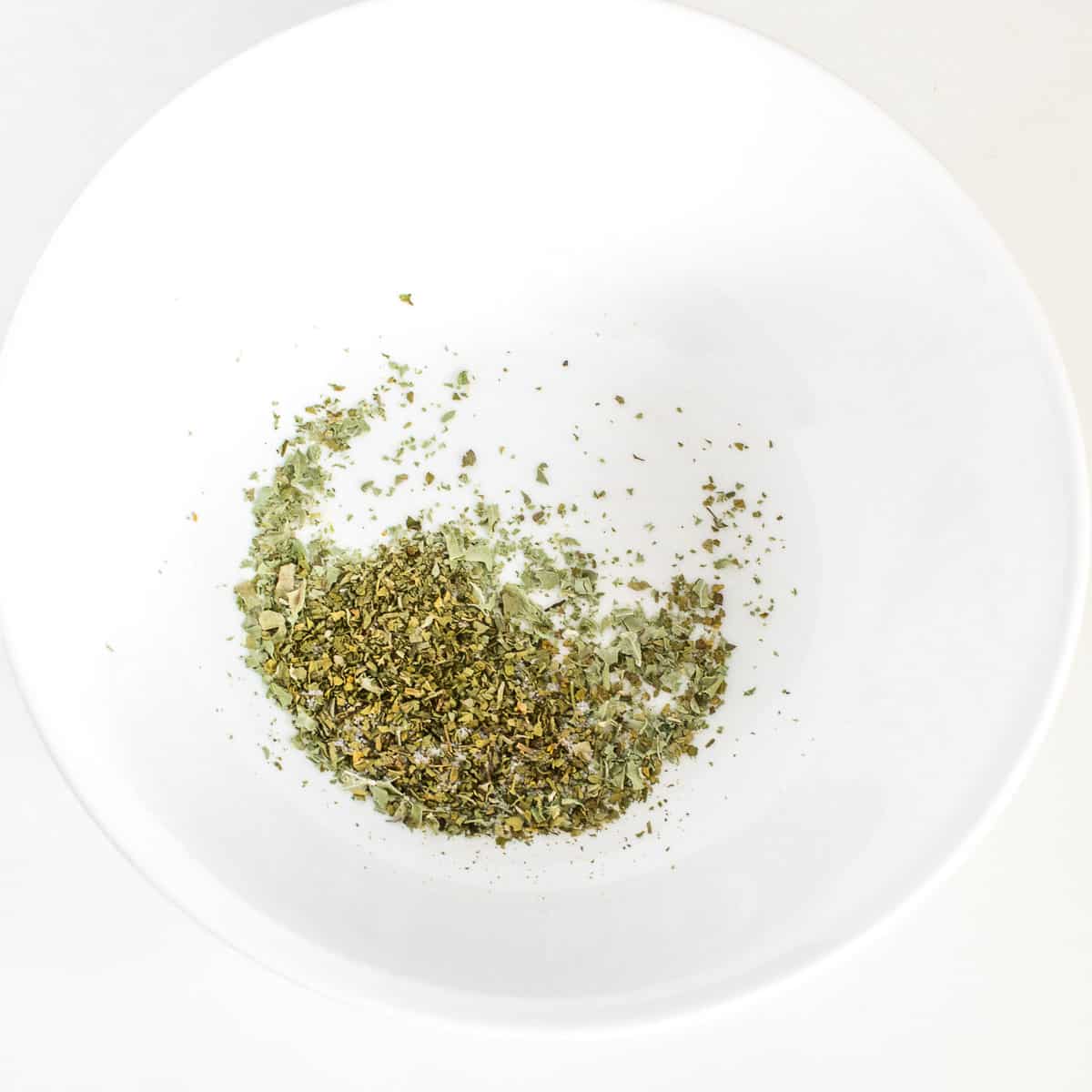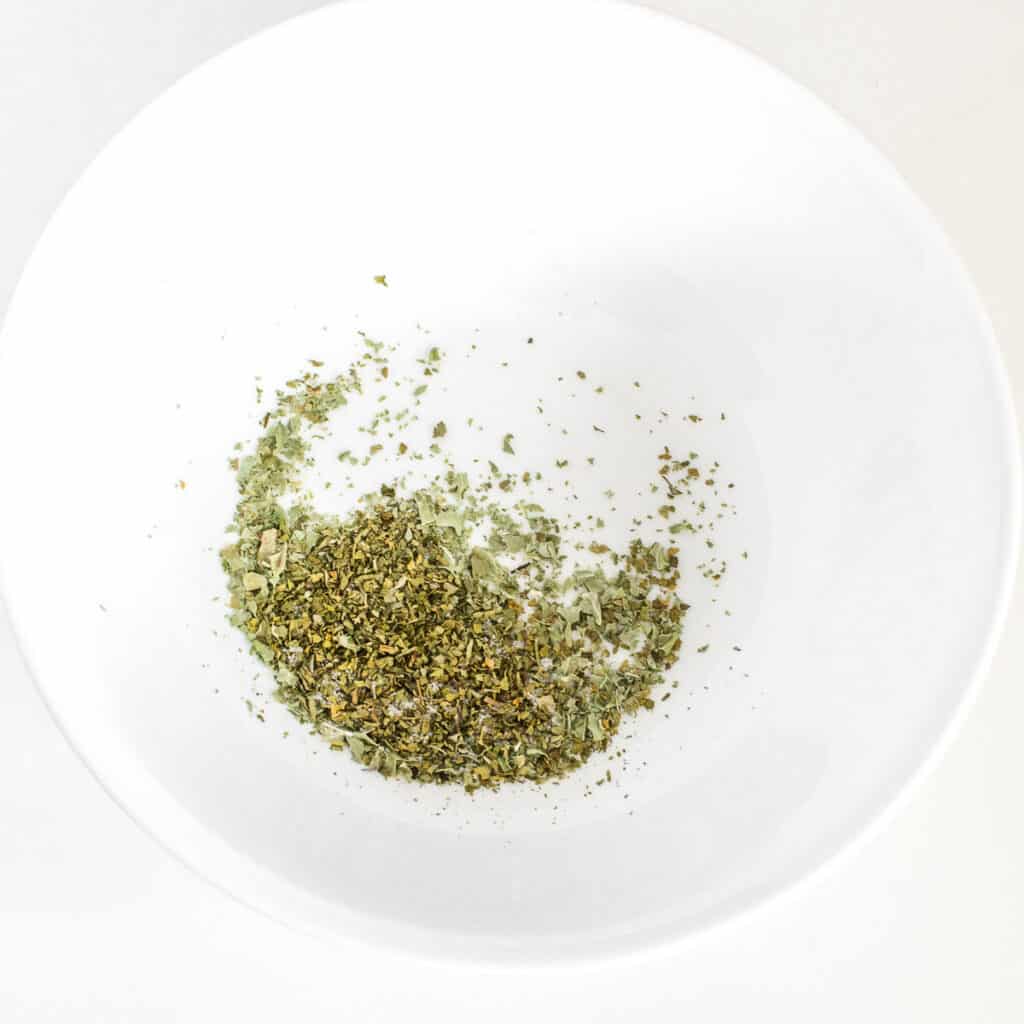 Secondly, I added panko crumbs to it and mixed it well with a spoon.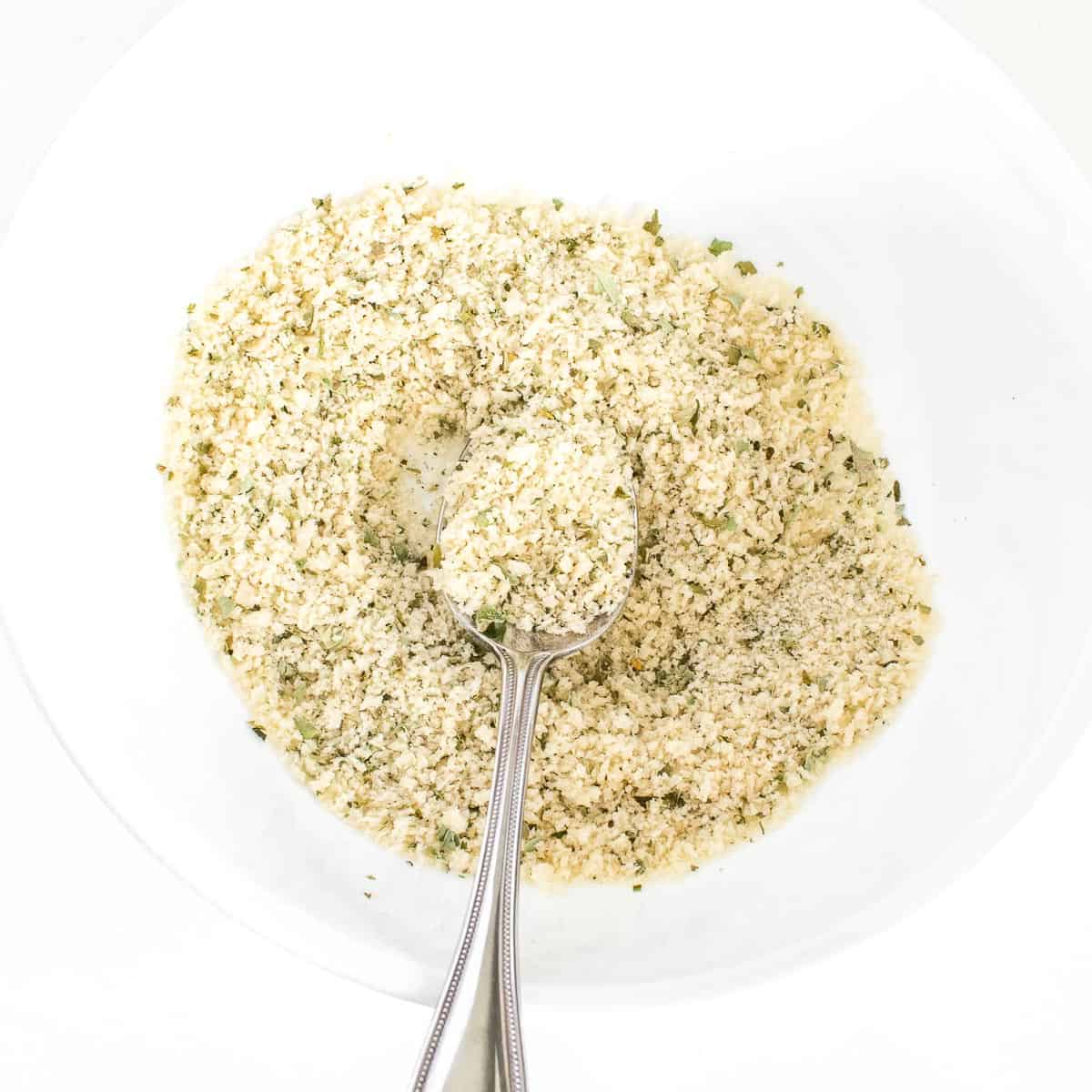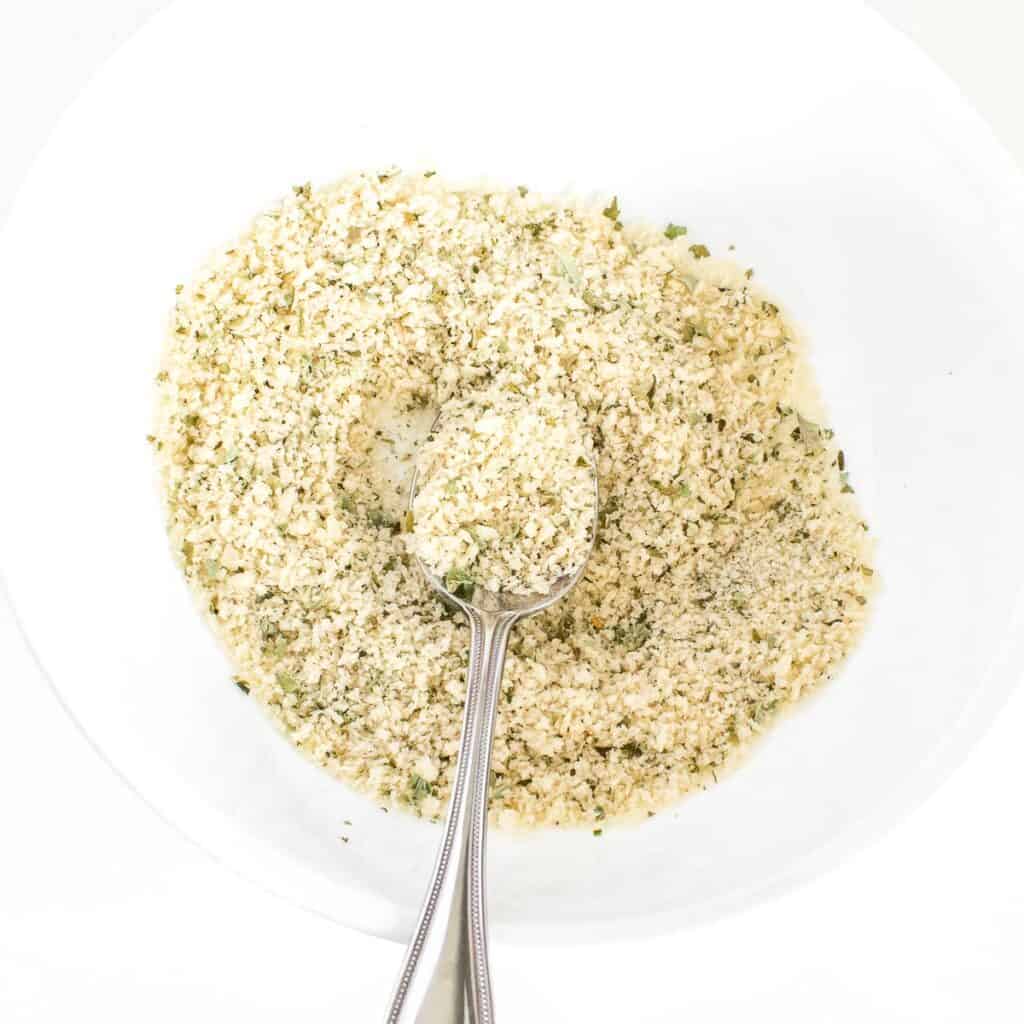 Thereafter, I tossed in broccoli florets and mixed it well so that each floret is well coated with the panko mixture.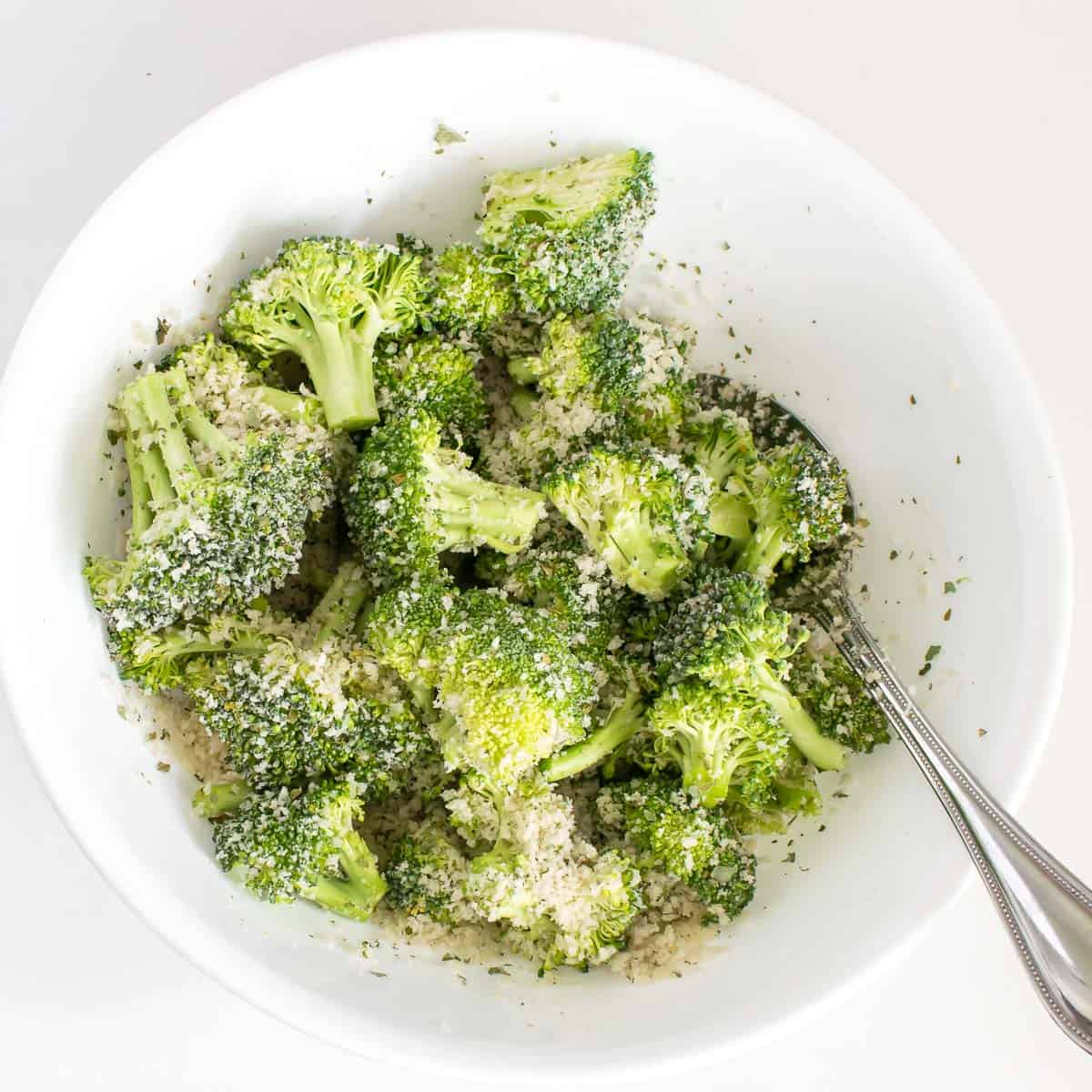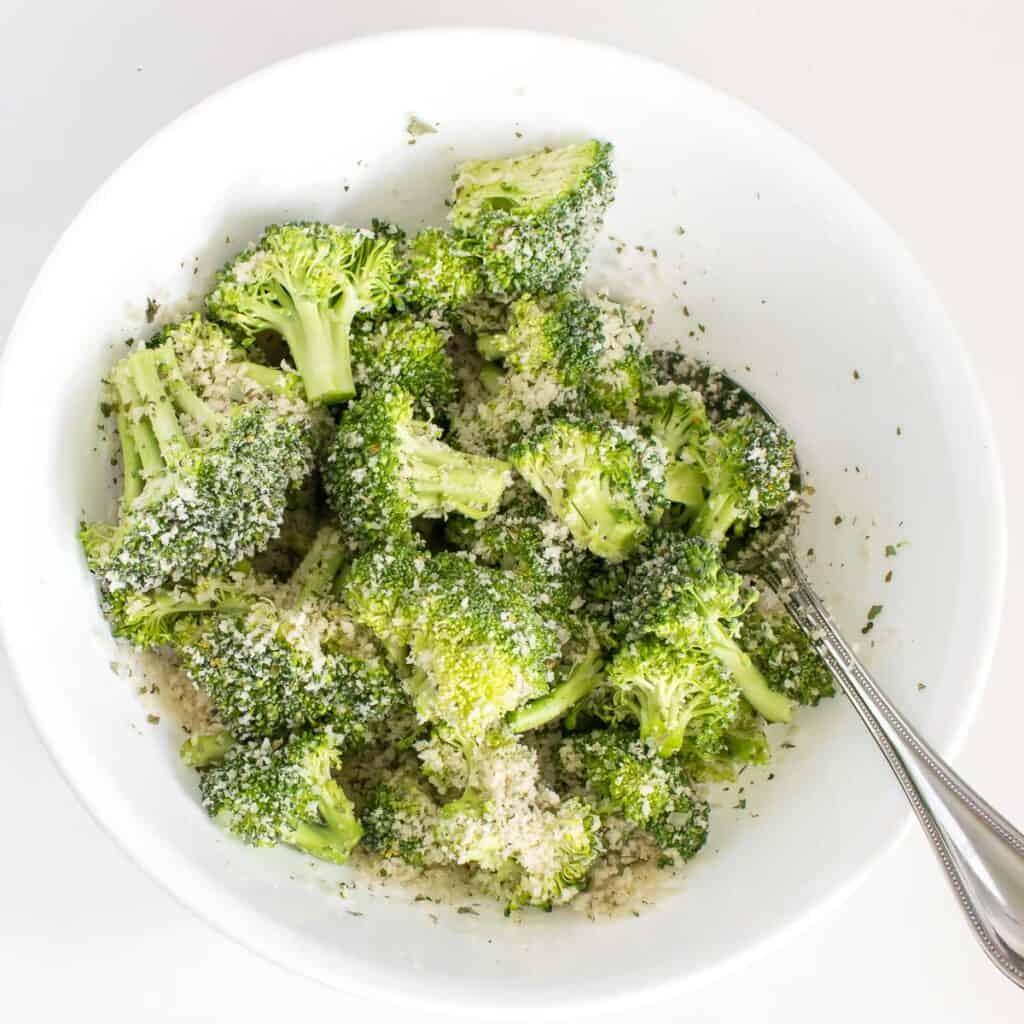 Afterwards, I spread a parchment in the air fryer basket and spooned the broccoli into it along with the leftover panko crumbs from the bowl.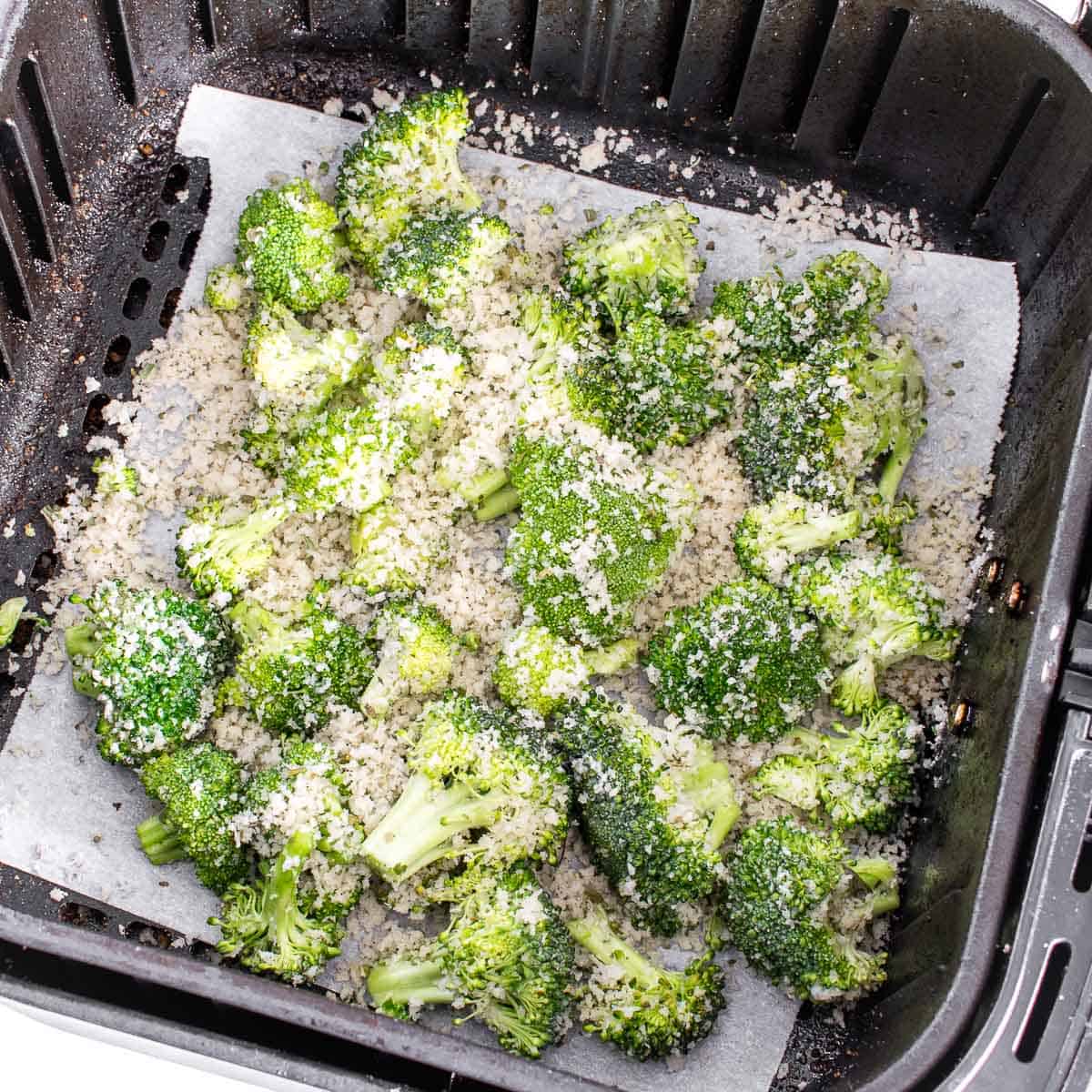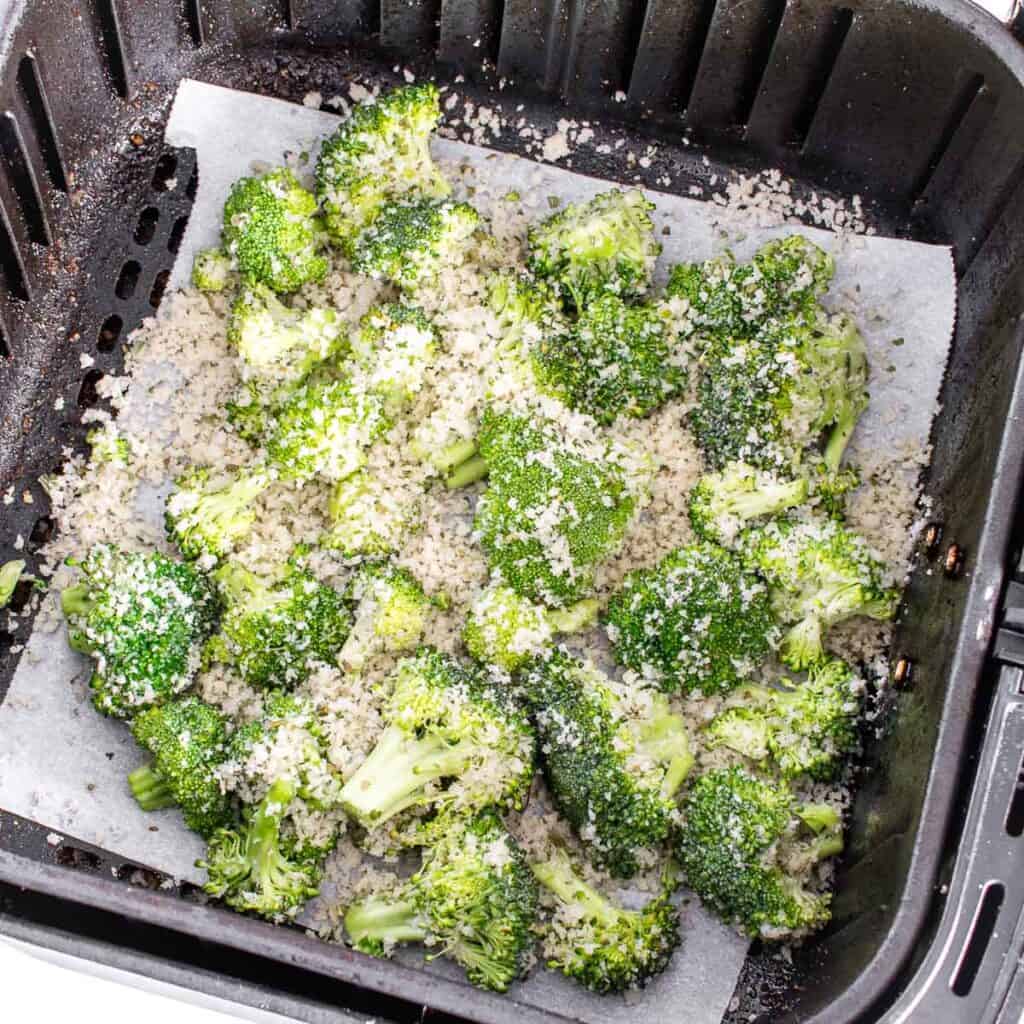 Next, I attached the basket to the main air fryer and turned it on at 400 degree for for 7 minutes. At 5 minutes, I paused and with the help of tongs I flipped all the broccoli florets. Then, I attached the basket again and turned it on again for only 2 minutes.
Lastly, I turned it off an detached the air fryer basket. Then, with the help of tongs, I took out all the roasted broccoli florets in a serving plate and discard the leftover panko crumbs if any.
Later, I sprinkled garlic powder and served immediately.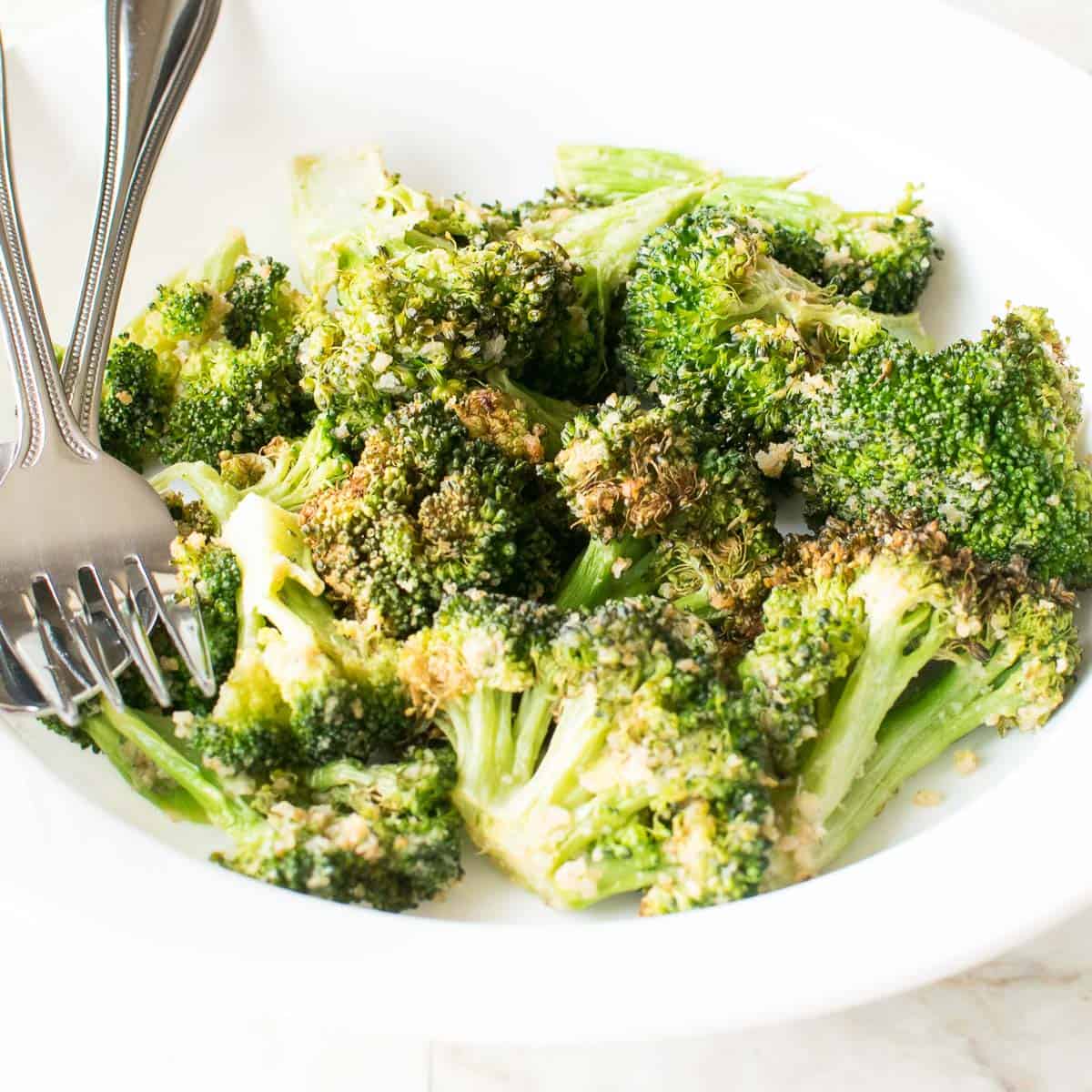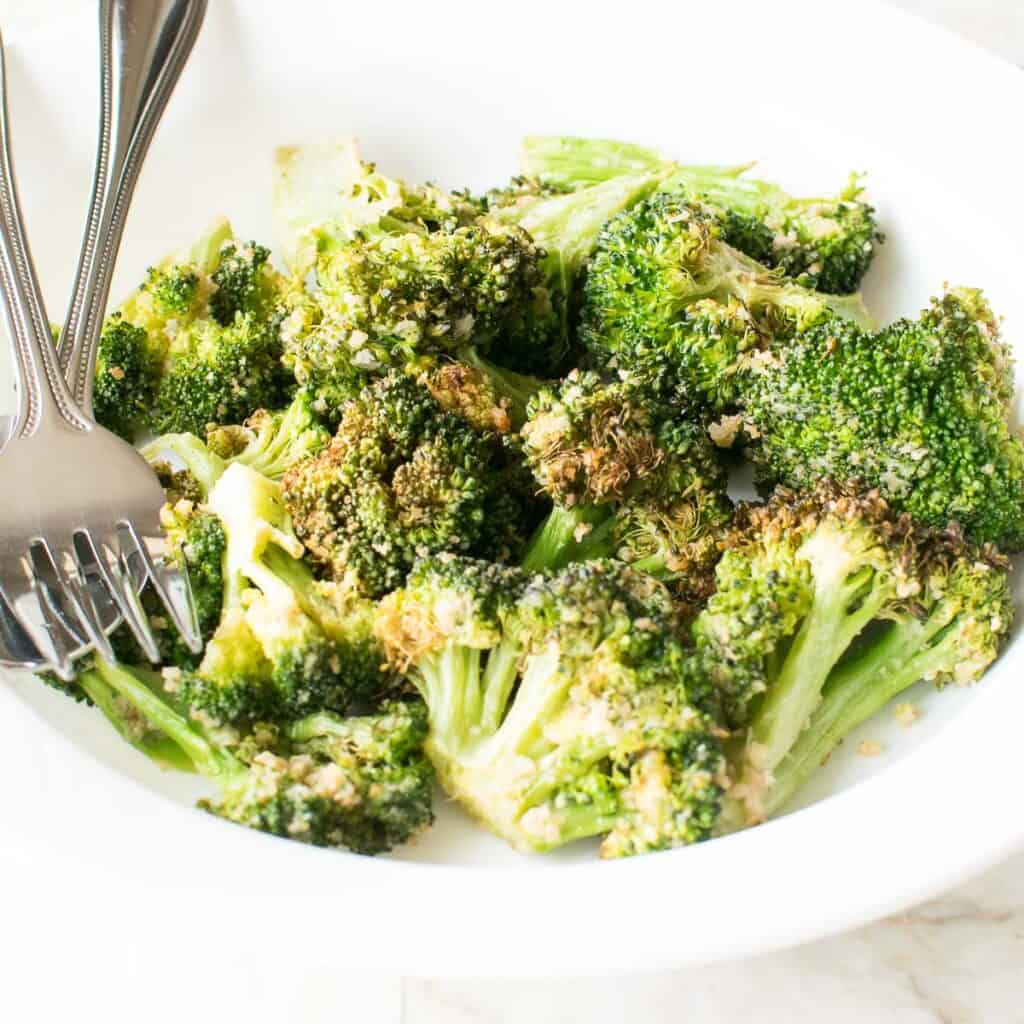 It was an instant hit and my family loved it.
Now, even my kids love broccoli made in air fryer and enjoy this recipe as a side dish.
Variations for easy air fried broccoli
For crisper version you may let it cook for 10 minutes. But make sure flip the florets at 5 minutes. It may look darker in color but extremely crisp and tastier.
You may sprinkle vegan parmesan cheese over them along with garlic powder just before serving.
Expert tips:
It is important to add extra panko crumbs so the each floret is crisp. Therefore, discard the leftover panko from the basket if needed.
Most importantly, flip the florets after 5 minutes for even cooking from all sides.
Make sure to spoon out the entire broccoli panko mixture on the parchment paper placed in the basket for less cleaning afterwards.
Air Fryer Crispy Broccoli FAQs
How long does it last?
It tastes best when served immediately. If kept for longer it might get mushy.
Do I need to boil or blanch broccoli to make it crunchy?
In this recipe, pre cooking of broccoli is not required.
Can I use frozen broccoli?
I made fresh broccoli florets in air fryer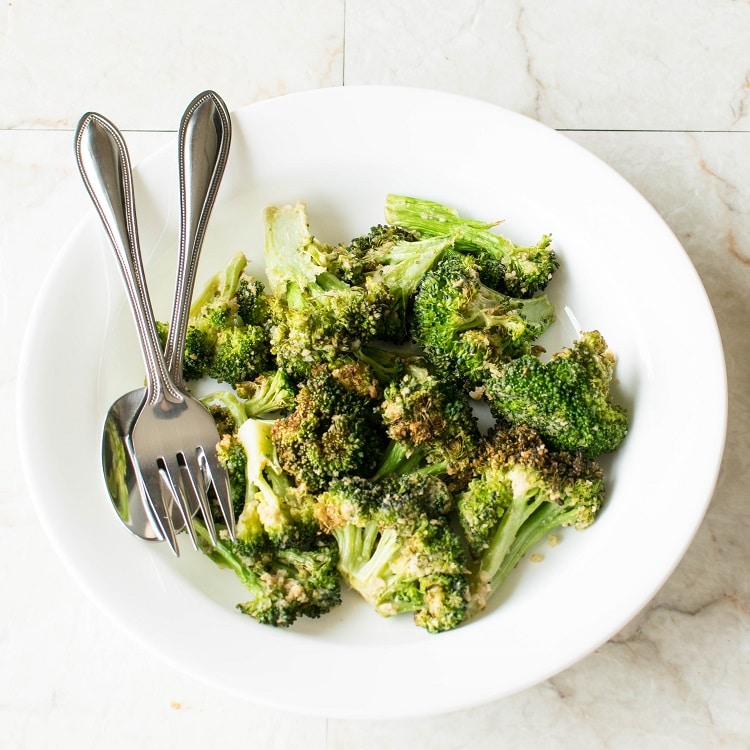 My other air fryer recipes that you might like:
Air Fryer Sweet Potato
Air Fryer Carrots
Apple Dumplings
Air Fryer Okra
Vegan Spring Rolls
Air Fryer Mushrooms
This post may contain affiliate links which means that if you click on them and also make a purchase, I will get a small commission. Moreover, I share only those products which I use personally and love.
I hope you enjoy this recipe as much as we did. I am very excited to hear back from you.
Where to find me?
Follow me on Facebook or on Twitter. You may tag @kiipfit on Instagram with your recipe remake images because I would love to see what you cooked.
Did you make it?
If you get a chance to make this recipe then please leave your feedback in the comments below along with a 5-star rating.
In addition, you may checkout my cookbook for everyday comfort vegan recipes.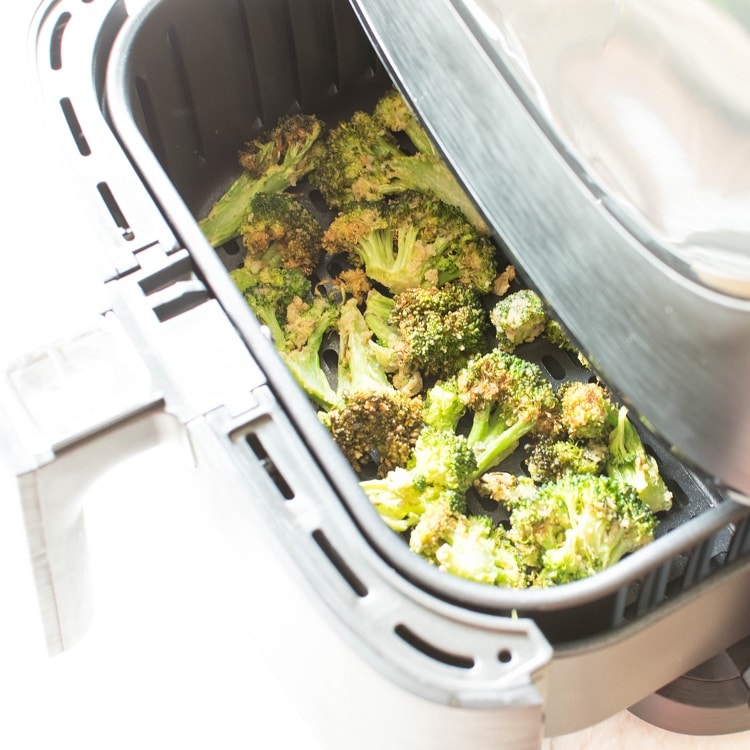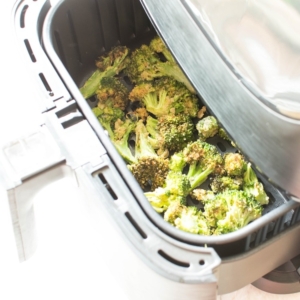 Print Recipe
Air Fryer Crispy Broccoli
Crunchy and healthy Air Fryer Crispy Broccoli is a great side dish to serve and comes together in just 10 minutes. Its flavorful, vegan and so perfectly roasted.
Instructions
In a mixing bowl, combine oregano, basil, parsley and salt. Mix it with a spoon.

Toss in panko crumbs and mix nicely.

Fold in broccoli florets to the panko mixture and mix well so that each floret is well coated with the panko mixture. Grease it with cooking spray and toss again.

Place a parchment paper in the air fryer basket and spoon out the broccoli along with panko in the basket. Spread it with a spoon and place all the florets in a single layer. Grease it again with cooking spray for crispier texture.

Attach the basket to the air fryer and tur it on at 400 degree for 7 minutes. At 5 minutes, pause and flip the broccoli florets with the help of tongs. Attach it again to the air fryer and start air frying for 2 more minutes.

Turn it off and detach the basket. With the help of tongs take out cooked broccoli florets in the serving plate and discard the leftover panko crumbs in the air fryer basket.

Sprinkle some garlic powder and serve immediately.
Notes
I used fresh broccoli florets here and that works well. 
You may also sprinkle vegan parmesan cheese along with garlic powder over broccoli before serving. 
For darker color and crisper you may let it air fry for 10 minutes but make sure to flip at 5 minutes. 
Cooking spray is optional but it brings out a nice color and texture. 
This recipe serves 2 people so if you want to double the recipe then I would recommend air frying in two batches. 
Nutrition
Calories:
62
kcal
|
Carbohydrates:
12
g
|
Protein:
4
g
|
Fat:
1
g
|
Saturated Fat:
0.2
g
|
Polyunsaturated Fat:
0.3
g
|
Monounsaturated Fat:
0.1
g
|
Sodium:
85
mg
|
Potassium:
314
mg
|
Fiber:
3
g
|
Sugar:
2
g
|
Vitamin A:
569
IU
|
Vitamin C:
81
mg
|
Calcium:
63
mg
|
Iron:
1
mg