I love the aroma of fresh garlic lightly sautéed in oil. It makes me hungry every time I smell it anywhere in the world and no matter how full I am. And when it comes to chili garlic sauce I go crazier!!!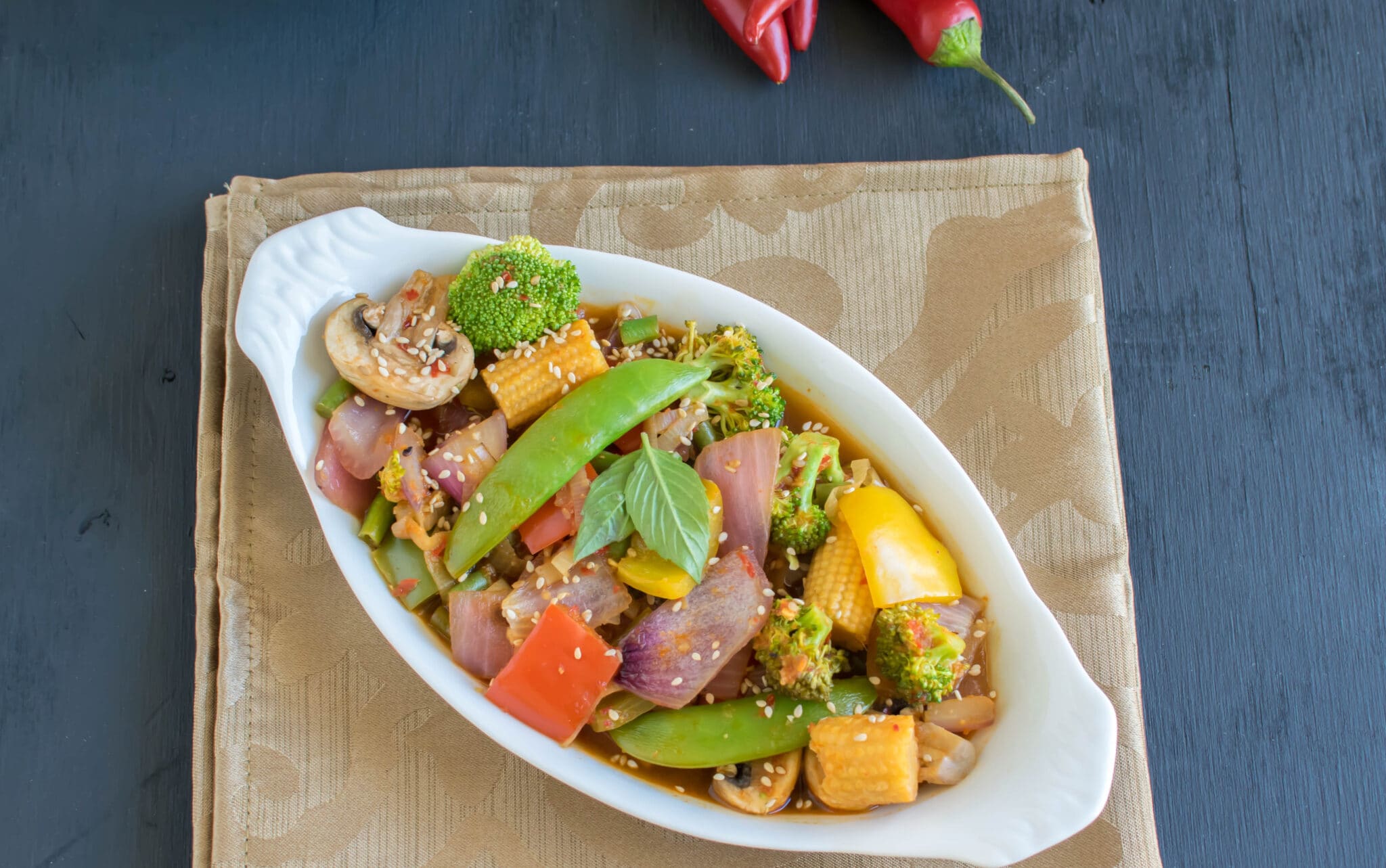 I enjoyed cooking this recipe where I made chili garlic sauce at home from scratch and loved using fresh red chilies. They just took away my heart and the spicy flavor that was generated in this recipe became my family's favorite entrée and henceforth Vegetables in Chili Garlic Sauce has become a fixed weekly entrée in my family's meal plan. 🙂 .  Love them when they relish health food and encourage me with their satisfied smiles. 🙂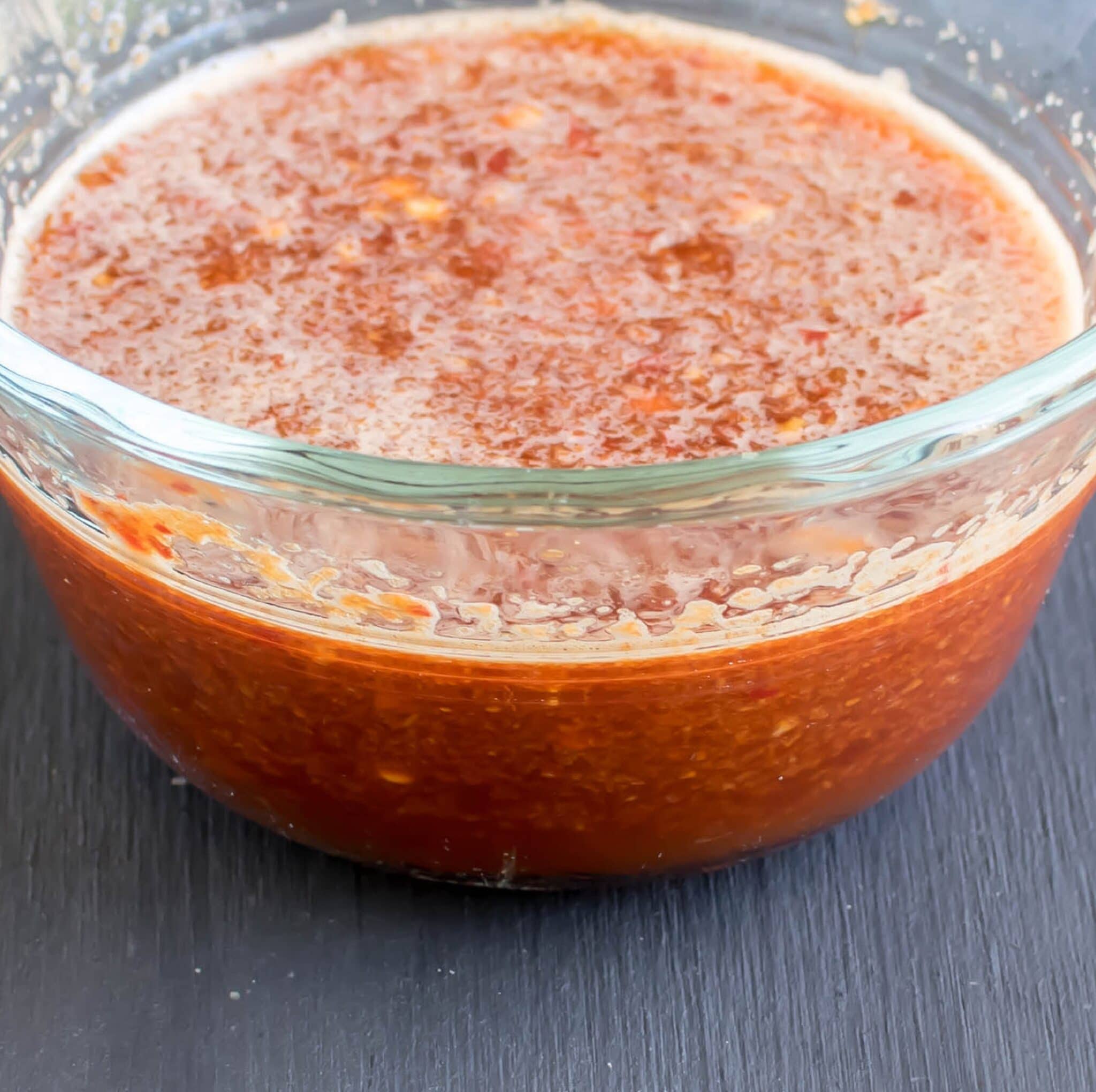 I made a simple chili garlic sauce without too much cooking so that it's easy to cook during week nights as because we deserve good, delicious and healthy dinner during the busy week. 🙂 . I simply processed the sauce ingredients in the blender and kept is aside for few minutes for the flavors to blend properly. In the meantime heated oil in the wok/pan and added the herbs and vegetables and sautéed them well until cooked and yet crunchy (just make sure that the vegetables are not mushy).  Toss in the chili garlic sauce and let it cook for a few minutes. Serve them warm with steamed white/brown rice.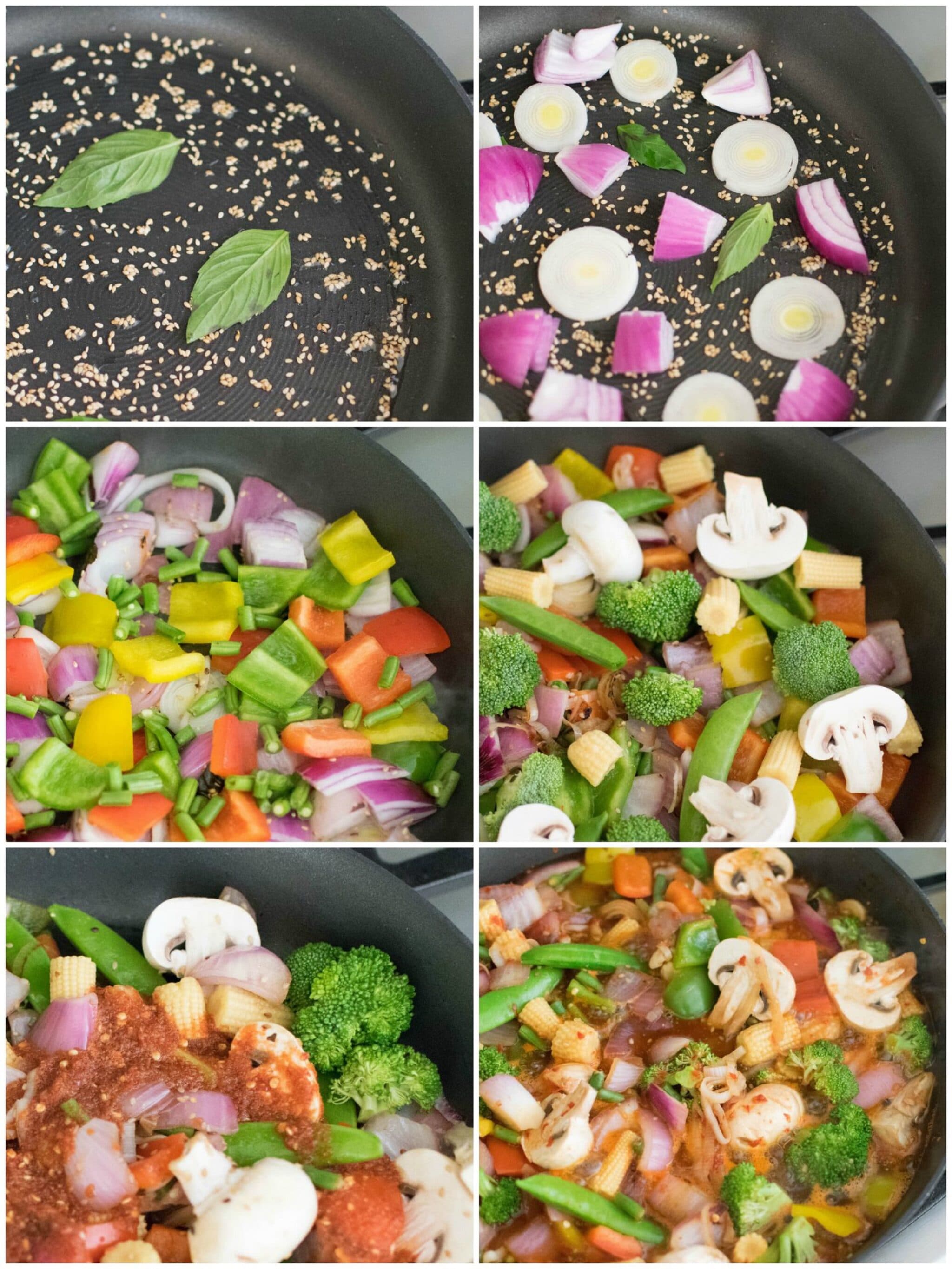 I loved Vegetables in Chili Garlic Sauce with brown rice and so did my family. Now with this recipe the take out order for Chinese cuisine has reduced and we devour this healthful Chinese recipe that has a slight fusion twist to it and what I especially like about this entree is that it's also vegan friendly so that my vegan friends don't miss out on the fun of eating healthy Chinese entrée. 🙂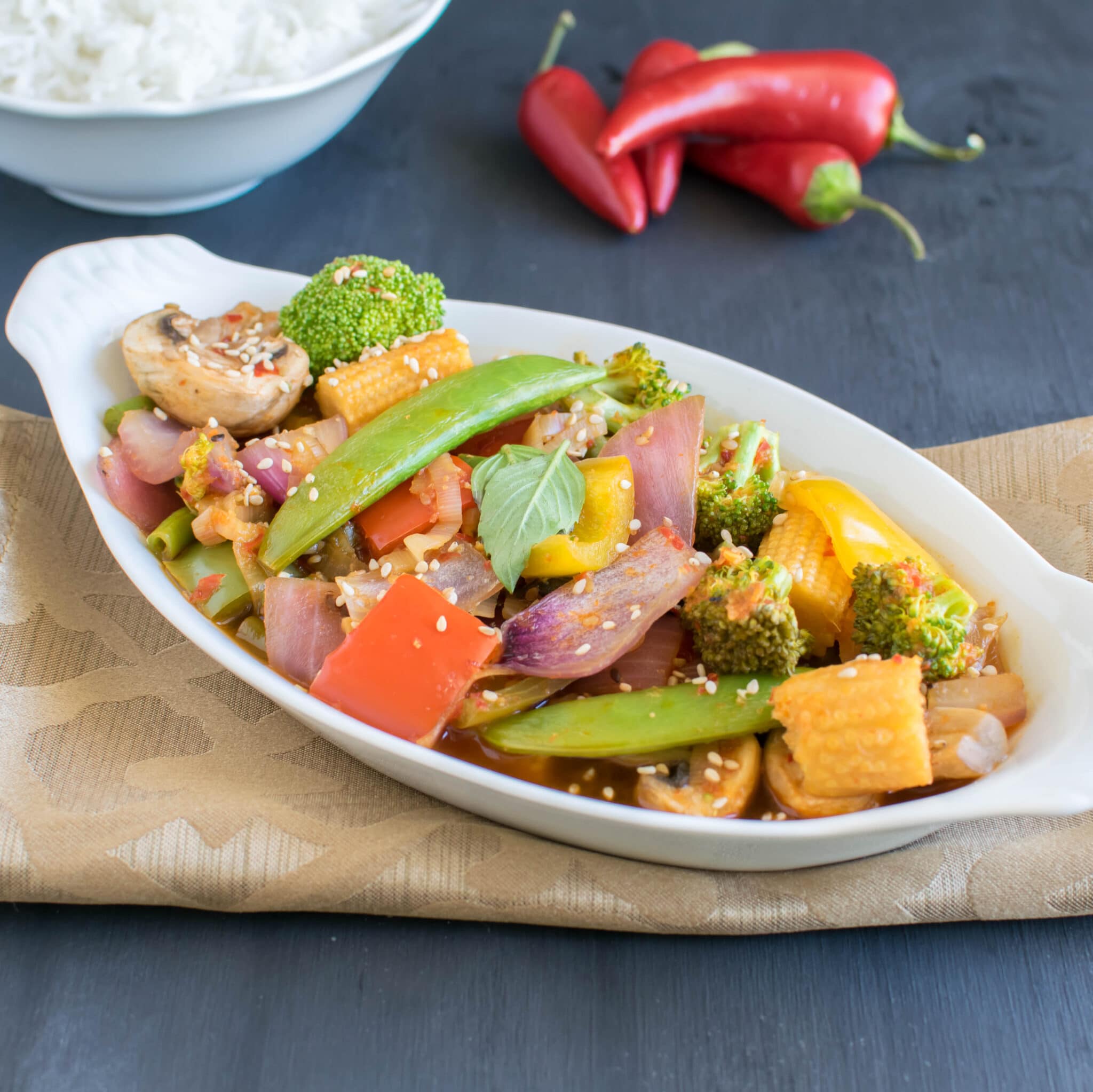 Vegetables in Chili Garlic Sauce
Prep Time: 10 minutes
Cook Time: 15 minutes
Total Time: 25 minutes
Per Serving 97 calories
Fat 2 g
Carbs 17 g
Protein 4 g
Ingredients
For the sauce

3 fresh red chilies (stems removed)
¼ cup low sodium soy sauce
1 tbsp. vinegar
½ tsp maple syrup (or sugar)
1 tbsp. chopped garlic
½ tsp chopped ginger

Others

1 tsp olive oil
1 tsp white sesame seeds
5 Thai Basil leaves
¼ cup leeks (sliced)
1 red onion (peeled and squared)
1 ½ cup colorful bell peppers (red, green and yellow squared)
½ cup French beans (chopped)
1 cup broccoli florets
½ cup chopped baby corn
½ cup sugar snap peas
½ cup white mushroom (sliced)
1 ½ cup water
Salt according to taste
Instructions
In a blender or food processor combine all the ingredients for the sauce and grind smooth.
Heat oil in a nonstick pan/wok and add sesame seeds and basil leaves.
Add leeks and red onions and Sauté well for a minute.
Add bell peppers and French beans and cook covered for 1-2 minutes.
Now add rest of the vegetables, Sauté well and cook covered for 2 minutes.
Add the prepared chili garlic sauce and water to the sautéed vegetables and mix well. Cook covered for 4 minutes.
Turn off the flame and serve hot with steamed rice/brown rice.
Notes
I would highly recommend using fresh red chilies in this recipe to bring out the real chili garlic sauce flavor. It's easily available in any American store or Asian supermarkets named as long red pepper.

Salt is optional and use it sparingly according to taste.