Easy and lip-smacking Vegetables in Chili Garlic Sauce is absolutely similar to the famous Asian Huy Fong spicy sauce. Its garlicky and spicy made from scratch at home with the same comforting taste and no preservatives.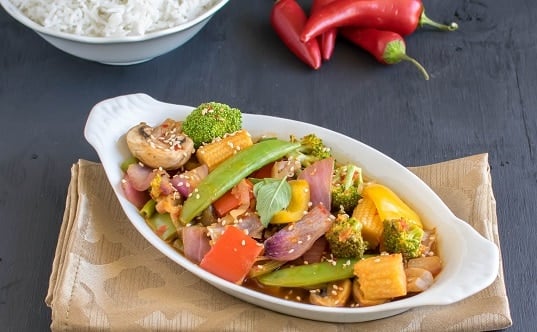 Chili garlic sauce is very common and extremely regular in my diet. I love to simply pair almost all my food this sauce.
Hence, I decided to toss my favorite vegetables in this vegan chili garlic sauce and enjoy the delicious Chinese entrée in the comfort of my home.
This Asian sauce is so versatile and I have been enjoying making a variety of sauces at home. Therefore, I tried sweet and sour sauce too and came out perfectly well.
I have used it as a condiment until I discovered it to make this Chinese chili garlic sauce as a base for my vegetable entrée.
What type of peppers to use?
To get the vibrant red color and the best spicy taste, usually, I recommend using the fresh red chiles or fresh red jalapeno peppers. Thai red chilies also work in this recipe.
How to safely work with these chili peppers?
It is important to be mindful when working with this spicy chili. However, there are ways to protect yourself and the most recommended way is to wear food cloves. Also, keep your face little away when chopping or blending this pepper and do not hover closely on it. If, by any chance, any seed happens to get into your eyes wash it immediately with cold water. After you are done with the peppers make sure to wash your hands with cold water and soap.
Health benefits of fresh red chilies?
These are packed with Vitamin C and therefore helps boost immune system. However, these chilies should be consumed in moderation as over consumption may cause heart burn.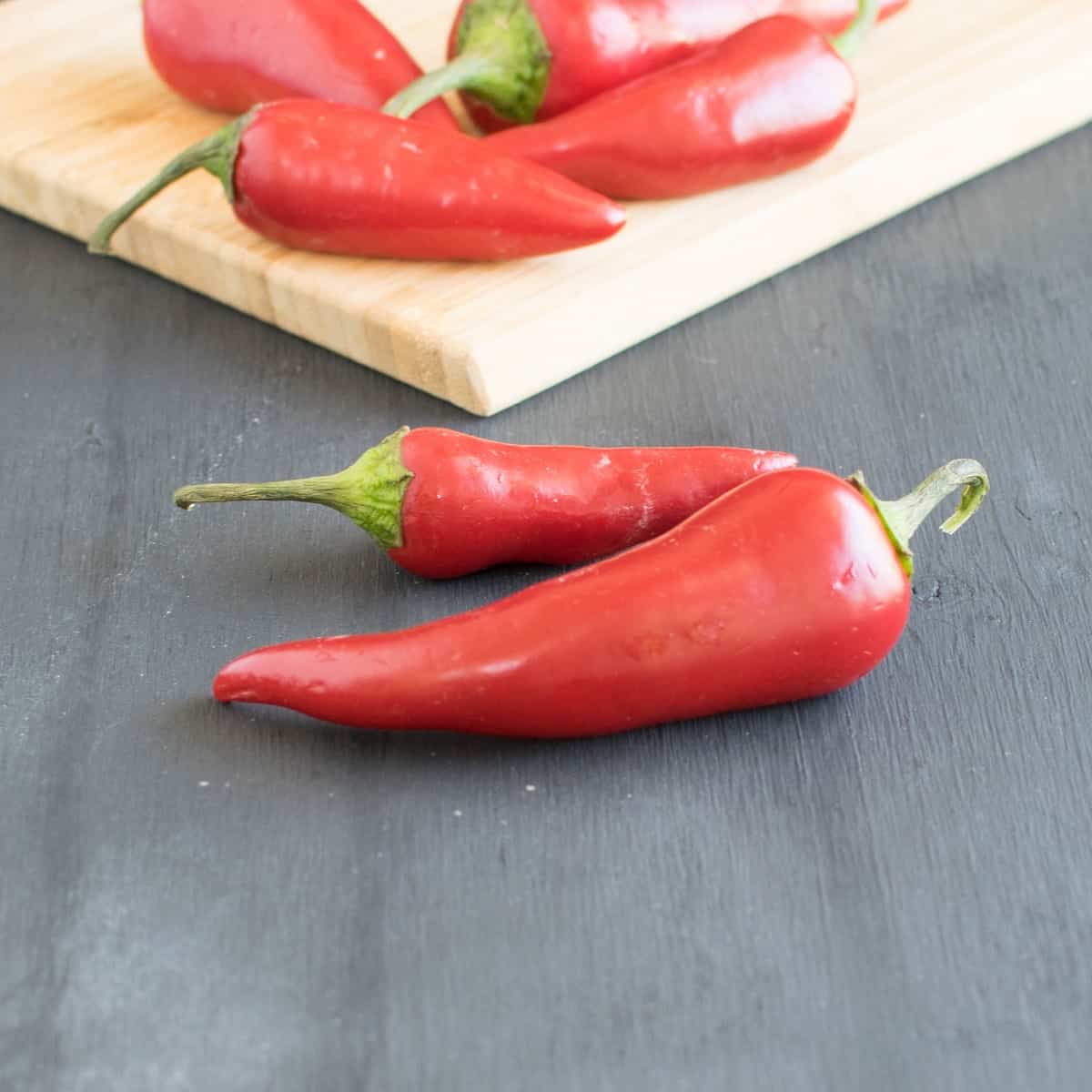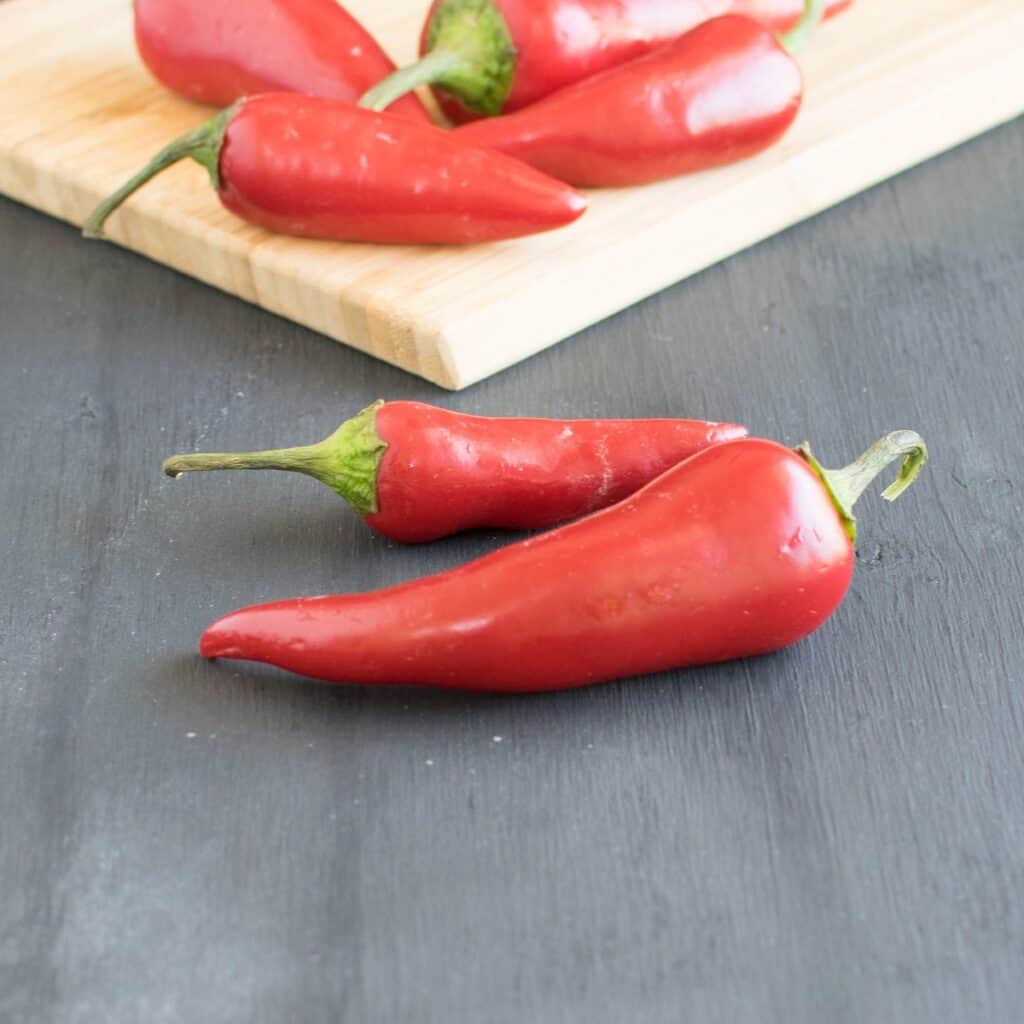 Ingredients for chili garlic sauce recipe with vegetables
For the sauce
Fresh red chilies
Soy sauce
Vinegar
Maple syrup
Garlic
Ginger
Others
Olive oil
Sesame seeds
Basil
Leeks
Onion
Bell peppers
French beans/green beans
Broccoli
Baby corn
Sugar snap peas
Mushrooms
Water
Salt
These ingredients are very easy to find and the entire combination makes a delicious chili and garlic sauce tossed in with colorful vegetables.
Ingredients notes:
Red chilies – fresh red chilies works best here. Its bright in color and make sure they are slightly firm and longer when you buy.
Soy sauce – I like to use reduced sodium soy sauce for my recipe but you may use regular or dark as well in a reduced quantity to make this easy chili garlic sauce.
Maple syrup – I always use maple syrup for my recipes but brown sugar also works in this sauce recipe.
Garlic – it's one of the main ingredients and so make sure to use fresh so as to get the strong flavor and aroma.
Vegetables – any vegetables of your choice can be used here.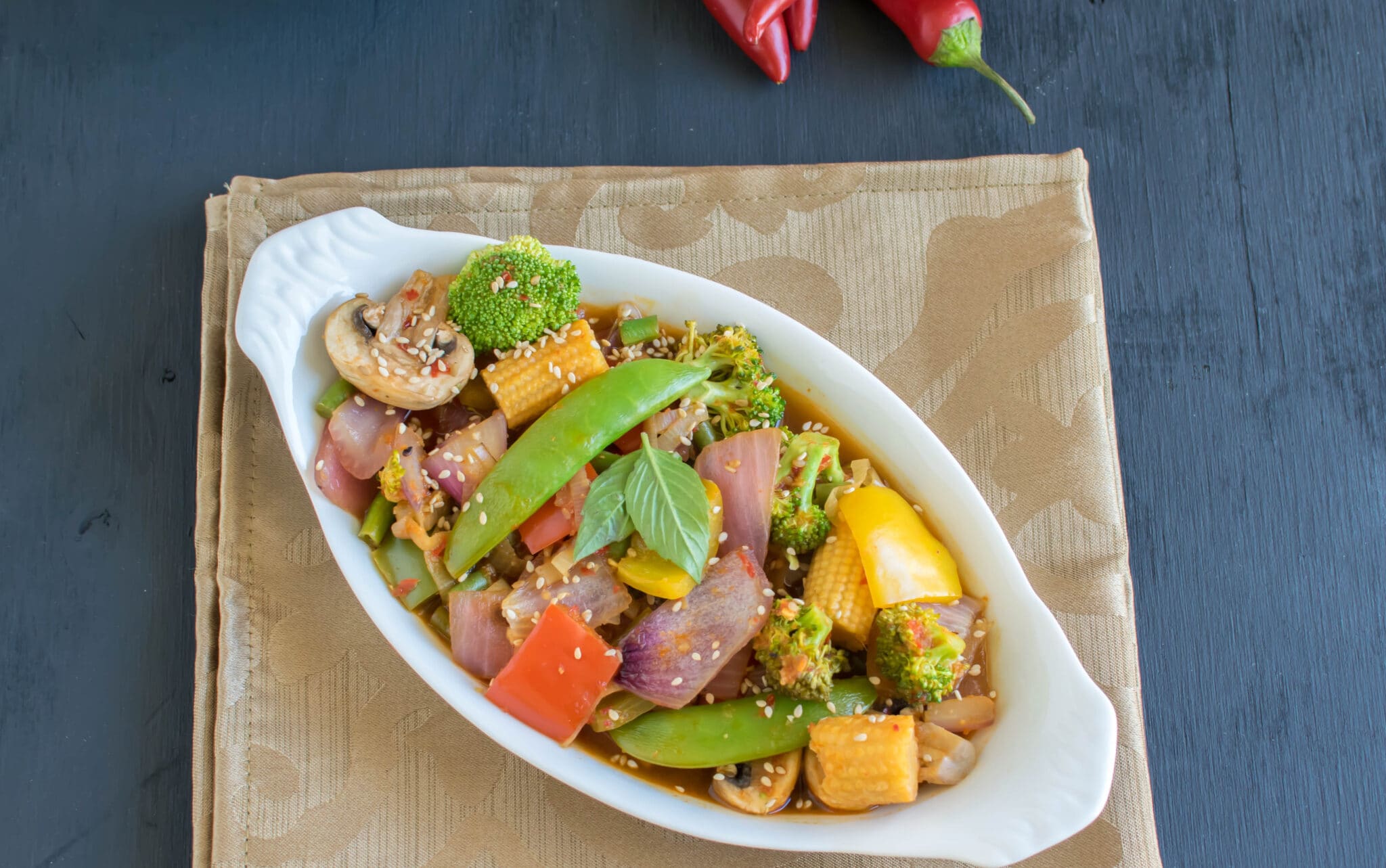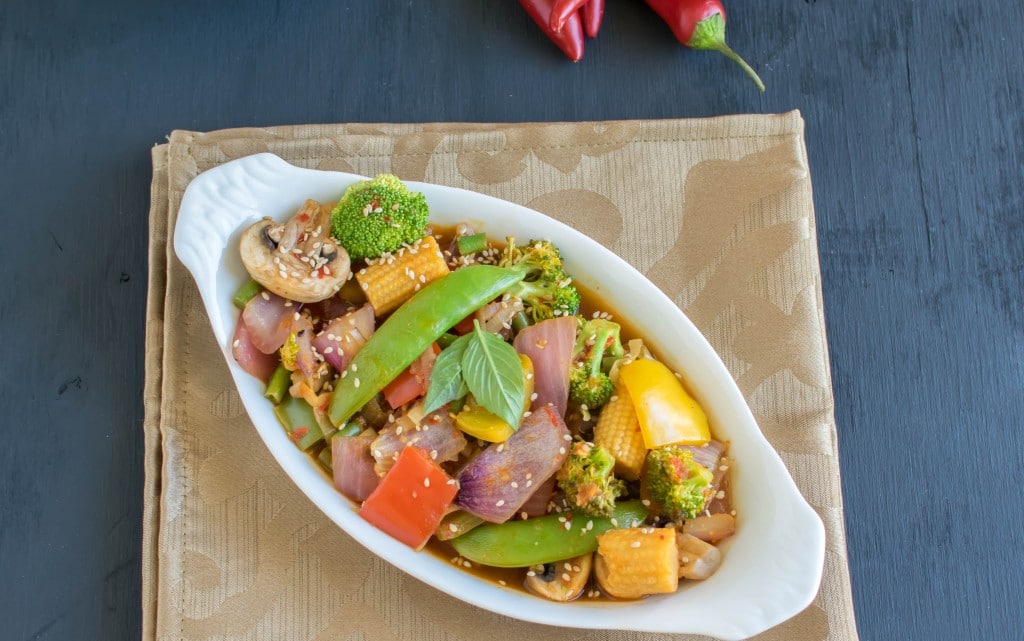 For detailed measurement of ingredients, please scroll down to the printable recipe card at the bottom of this post.
How to make Vegetables in Chili Garlic Sauce
Step 1: prepare the sauce
Firstly, I removed the stem of the red chilies and combined them in a food processor/blender along with soy sauce, vinegar, maple syrup, ginger and garlic.
Secondly, I blended them smooth and spooned it out in a small bowl and kept it aside.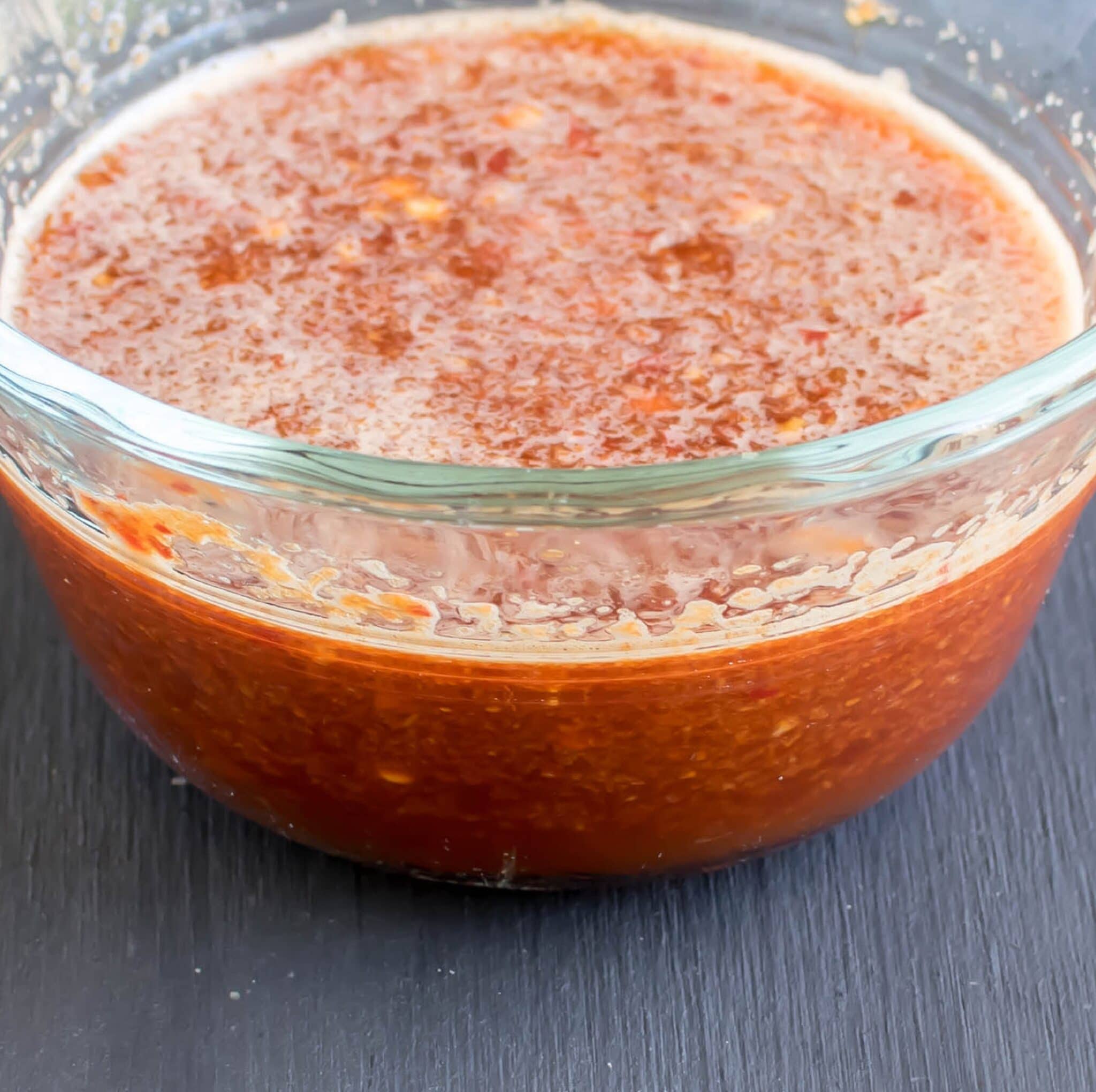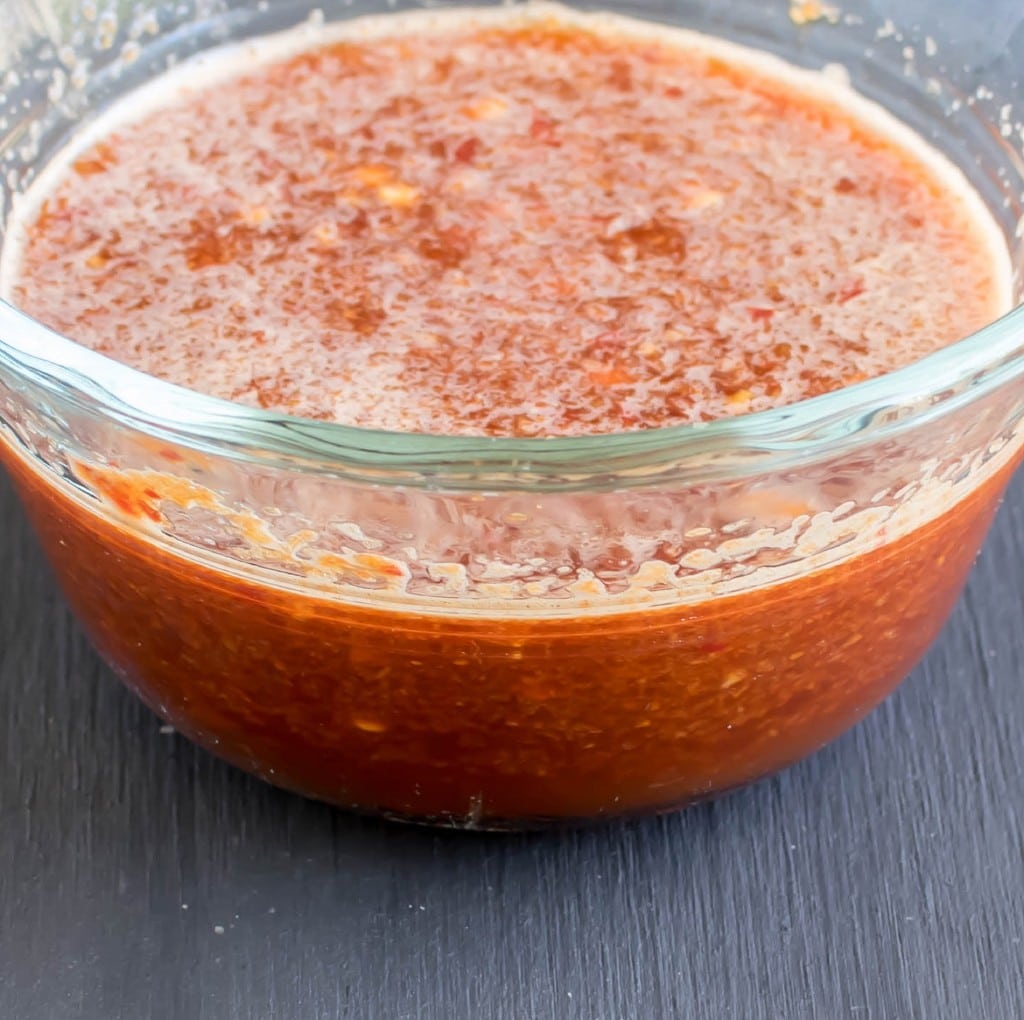 Steps 2: how to sauté
Firstly, I heated oil in a nonstick pan and added sesame seeds along with basil leaves.
Secondly, I tossed in leeks and onions and sautéed it well.
Next, I mixed in all the vegetables and mixed it well. I let them cook until the vegetables were soft but crunchy.
Step 3: how to assemble
In this step, once the vegetables were cooked properly, I folded in the prepared sauce and mixed it well until all the vegetables were well coated.
Then, I let it cook covered at medium flame for few minutes and turned it off.
Later, I removed the lid and gently mixed it again scraping from the bottom.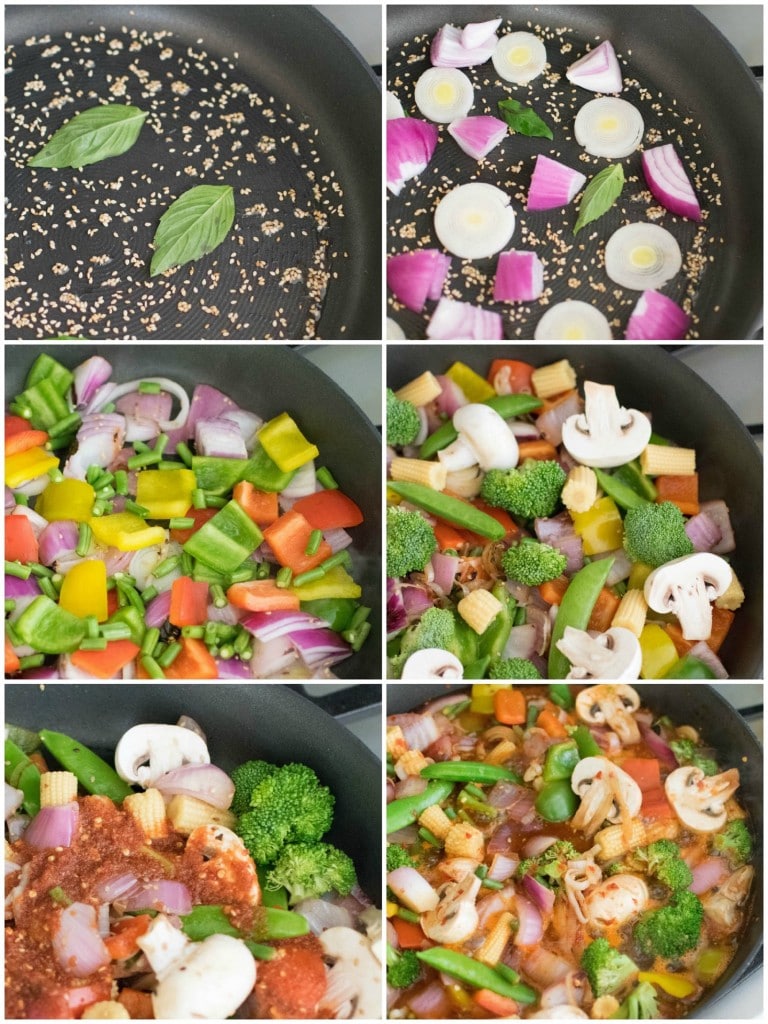 I served it over brown rice and we all loved it.
How to serve this entrée:
You may pair this entrée with steamed brown rice or white rice. However, to make it a complete meal, I like to serve it with mushroom fried rice or schezwan fried rice or stir fry noodles.
Serve as dipping sauce with:
Spring rolls
Bang bang cauliflower
Vegan dumplings
Expert tips:
Make sure to use a high-speed blender to make a smooth chili garlic paste like sauce. The thicker the better. However, for this entrée you may add a little water for easy stir fry.
It is important to cook all the vegetables properly but make sure they are not mushy.
Vegetables in Chili Garlic Sauce FAQs
How long does the sauce last?
You may refrigerate it in an air tight glass container for about 2-3 weeks. Use it when and however desired.
Can I use any protein in this stir fry entrée?
Yes, tofu and seitan will work best here and will add lot of nutrition too. Just make sure to slightly cook these protein options first in oil before adding the vegetables.
What is the difference between chili sauce and chili garlic sauce?
Chili sauce has slightly pungent taste to it because its fermented. However, chili garlic sauce is not fermented and is simply made by adding a little sweetener.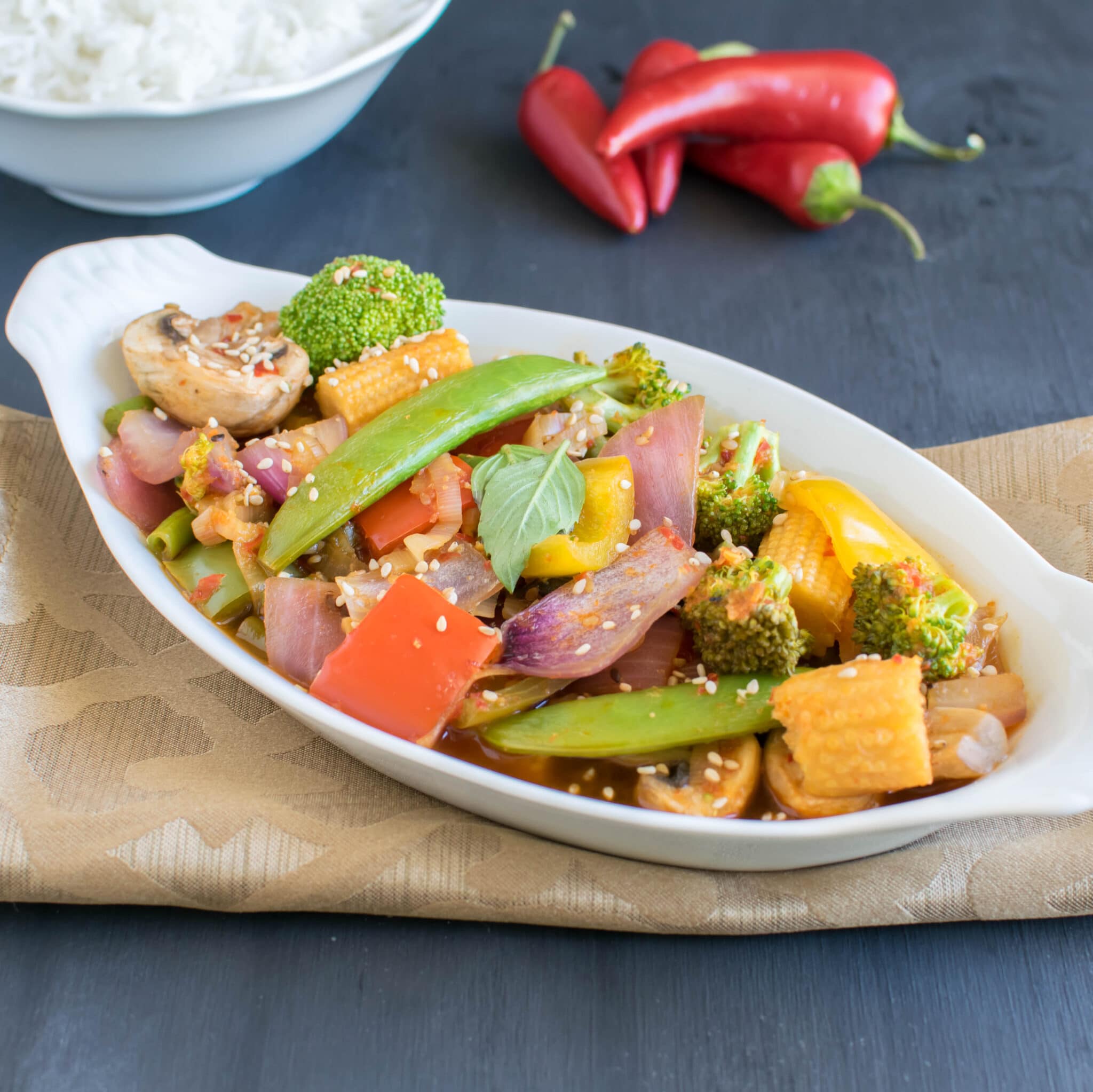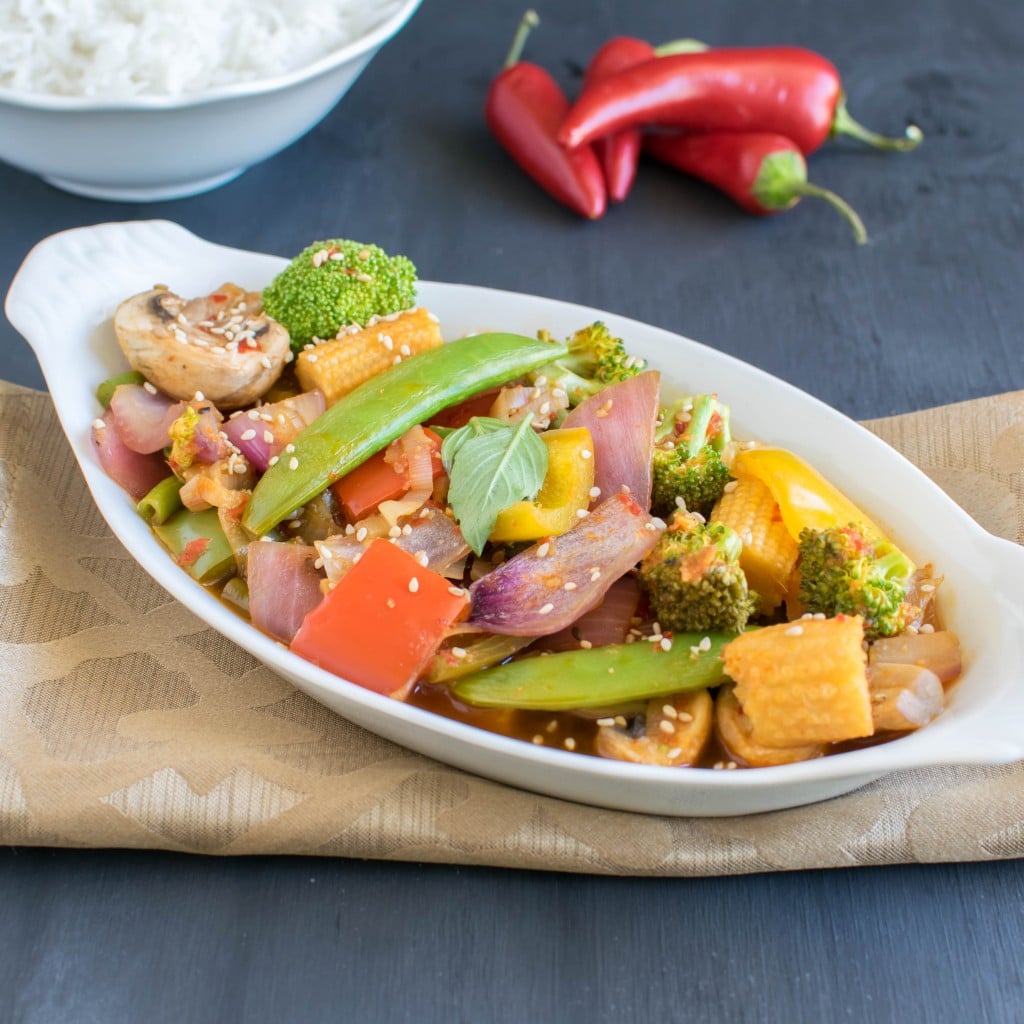 My other Chinese entrée that you might like:
Sweet and Sour Tofu
Orange tofu
Spicy Orange Cauliflower
Eggplant Stir Fry
Tempeh Stir Fry
Garlic Eggplant
This post may contain affiliate links which means that if you click on them and also make a purchase, I will get a small commission. Moreover, I share only those products which I use personally and love.
I hope you enjoy this recipe as much as we did. I am very excited to hear back from you.
Where to find me?
Follow me on Facebook or on Twitter. You may tag @kiipfit on Instagram with your recipe remake images because I would love to see what you cooked.
Did you make it?
If you get a chance to make this recipe then please leave your feedback in the comments below along with a 5-star rating.
In addition, you may checkout my cookbook for everyday comfort vegan recipes.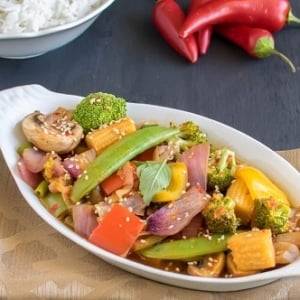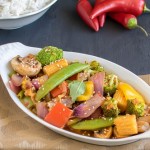 Print Recipe
Vegetables in Chili Garlic Sauce
Easy and lip-smacking Vegetables in Chili Garlic Sauce is absolutely similar to the famous Asian Huy Fong spicy sauce. Its garlicky and spicy made from scratch at home with the same comforting taste and no preservatives.
Ingredients
others
2

tsp

olive oil

1

tsp

white sesame seeds

5

fresh basil leaves

1/4

cup

sliced leeks

1

whole

red onion

(peeled and squared into medium sized cubes)

1 1/2

cups

colored bell peppers

(squared into medium sized cubes)

1/2

cup

chopped French beans/green beans

1

cup

broccoli florets

1/2

cup

chopped baby corn

1/2

cup

sugar snap peas

1/2

cup

sliced white mushrooms

1 1/2

cup

water

salt as per taste
Instructions
In a blender or food processor combine all the ingredients for the sauce and blend it smooth. Keep it aside.

Heat oil in a nonstick pan/wok and add sesame seeds and basil leaves.

Add leeks and red onions and sauté well for a minute.

Add bell peppers and French beans/green beans and cook covered for 1-2 minutes.

Now add rest of the vegetables, sauté well and cook covered for 2 minutes.

Add the prepared chili garlic sauce and water to the sautéed vegetables and mix well. Cook covered for 4 minutes.

Turn off the flame and serve hot with steamed rice/brown rice.
Notes
This chili garlic sauce can be refrigerated in an air tight glass container for 2-3 weeks and used as and when desired. 
This sauce can be used in the entrée to stir fry or as dipping sauce to compliment any appetizers. 
Vegetables in chili garlic sauce entrée tastes best when served immediately. You may refrigerate the leftovers to be used the next day. Warm it well before serving.
You may include tofu in this entrée recipe if desired. After adding sesame seeds and basil to the hot oil sauté chopped tofu until golden in color and then follow the rest of the steps by adding vegetables in the explained sequence.
Nutrition
Calories:
97
kcal
|
Carbohydrates:
17
g
|
Protein:
4
g
|
Fat:
2
g
|
Saturated Fat:
1
g
|
Polyunsaturated Fat:
1
g
|
Monounsaturated Fat:
2
g
|
Sodium:
587
mg
|
Potassium:
161
mg
|
Fiber:
1
g
|
Sugar:
2
g
|
Vitamin A:
308
IU
|
Vitamin C:
29
mg
|
Calcium:
31
mg
|
Iron:
1
mg