This soft and fluffy Pumpkin Cake Recipe with Quinoa Flour is full of delectable Fall flavors. Its oil free and gluten free along with being vegan. Its moist and perfectly sweetened and beautifully garnished.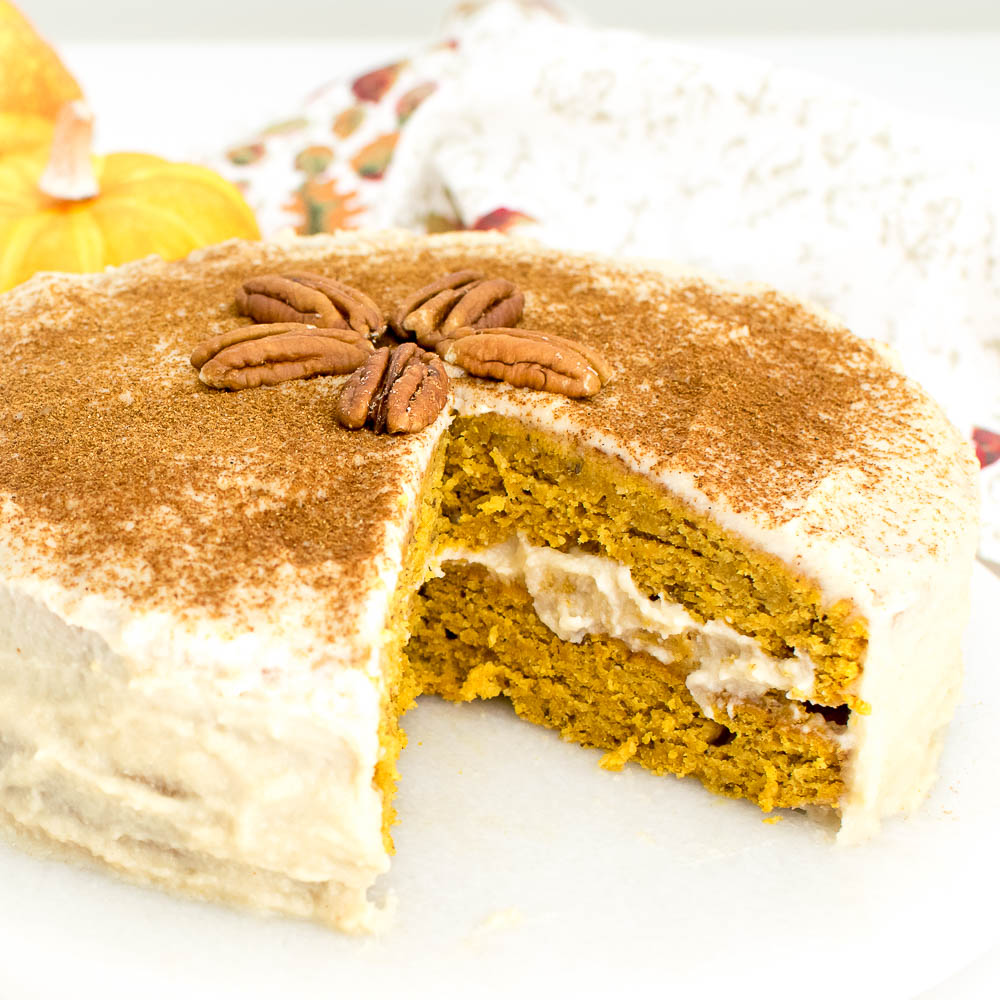 I have recently found my interest in baking layered cakes and have been enjoying my new found love. Its fun for me as well as for my girls. I usually like to plan baking projects with them and they in turn like being messy with the batter and the frosting. Its like a family afternoon event for all of us which ends up with delicious treat as well.
I created healthy and no cook vegan pumpkin mousse and it is so delicious and so pretty.
However, I am working on creating healthier desserts so that we can enjoy the holidays guilt free. Therefore, I try to use whole grains and make them oil free and butter free with minimum sweetener possible along with healthier options.
Therefore, I created another cake recipe with fall produce and that is my very delicious vegan pear cake.
Even though I have used quinoa flour earlier in my recipes but baking a cake with it was totally a new challenge for me. However, I quickly realized that its very easy to handle and absorbs liquid quite well.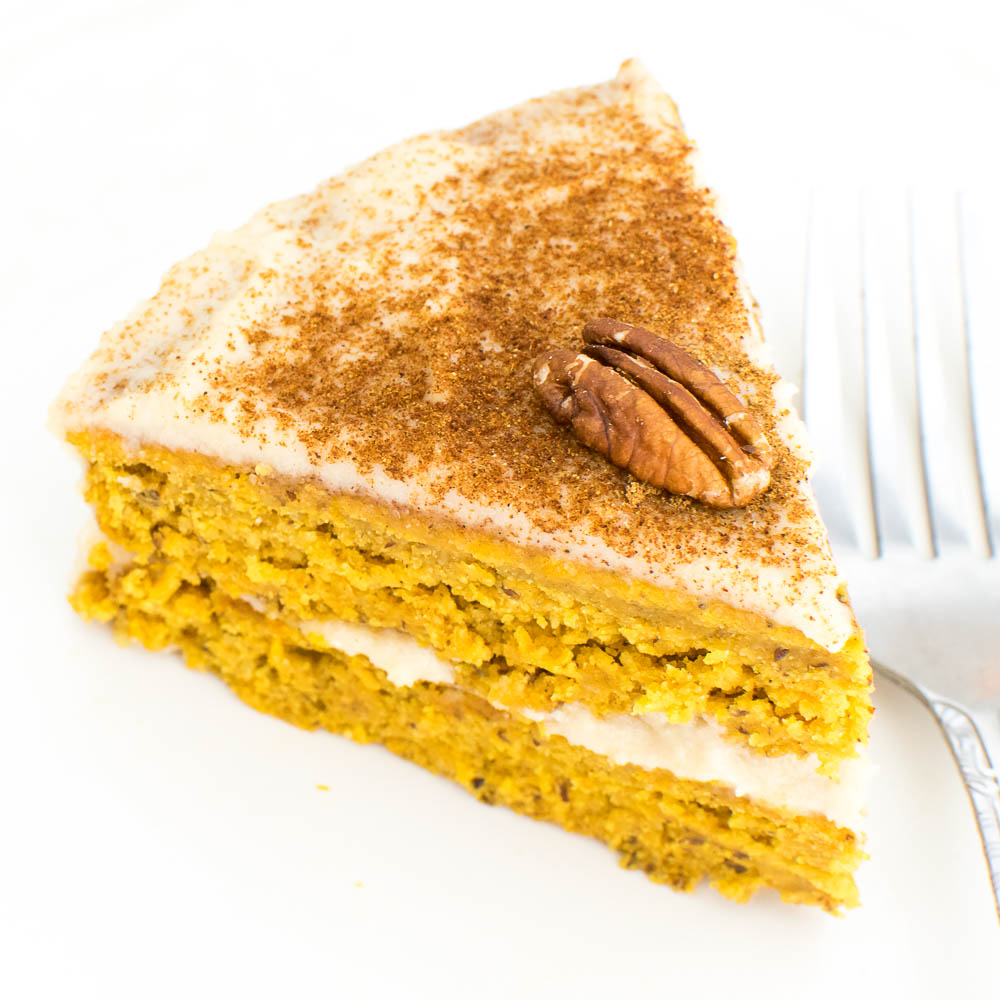 So, after my family approved this vegan pumpkin cake, I decided to share its recipe here.
Ingredients for Pumpkin Cake Recipe with Quinoa Flour
For the cake
Dry ingredients
Quinoa flour
Almond flour
Baking powder
Baking soda
Salt
Pumpkin pie spice
Wet ingredients
Soaked flaxmeal
Pumpkin puree
Maple syrup
Vanilla extract
Apple cider vinegar
Oat milk
Frosting
Cashew nuts
Oat milk
Granulated sugar
Garnish
Pumpkin pie spice
Powdered sugar
Raw pecans
I have used easily available ingredients in this recipe which you may buy from any local grocery store. However, I have provided links to few of them here for your convenience.
If you plan to buy from these affiliate links, then I get a small commission which in turn encourages me to bring more delicious recipes for you all.
Ingredients notes:
Quinoa flour – it is gluten free by nature and yet good absorbent. Quinoa is in itself a healthy grain and one of the super foods. Its is a complete protein with the required complex carbohydrate. It worked great in this cake recipe and you won't even taste it prominently here.
Almond flour – I used this to balance out the flavor of quinoa and give this cake a smoother yet sweeter taste to mellow down the strong aroma and taste of quinoa.
Pumpkin pie spice – its very important in this cake to get the right taste and flavor.
Flaxmeal – it provides omega 3 and is a great vegan substitute for eggs.
Pumpkin puree – I used a store bought canned pumpkin puree. It worked very well in giving this cake a nice pumpkin flavor and color.
Cashew nuts – I used it in the frosting because it gave a pleasant nutty flavor to it and also complimented well the dry ingredients.
Powdered sugar – I mixed this with pumpkin pie spice to garnish the top of the cake to give it a bit of more sweetness and a nice texture along with making it more presentable.
Pecans – it adds to the beauty of this cake along with a nice taste to it.
So, I assure you that your family would continue praising you for this pumpkin cake forever. Trust me, once you start this recipe you will find it very easy and quick as well. These ingredients are absolutely easy to handle that even a novice baker would be able to bake this cake and enjoy.
How to make Pumpkin Cake Recipe with Quinoa Flour
Firstly, I combined all the dry ingredients in a mixing bowl and mixed it with a spoon.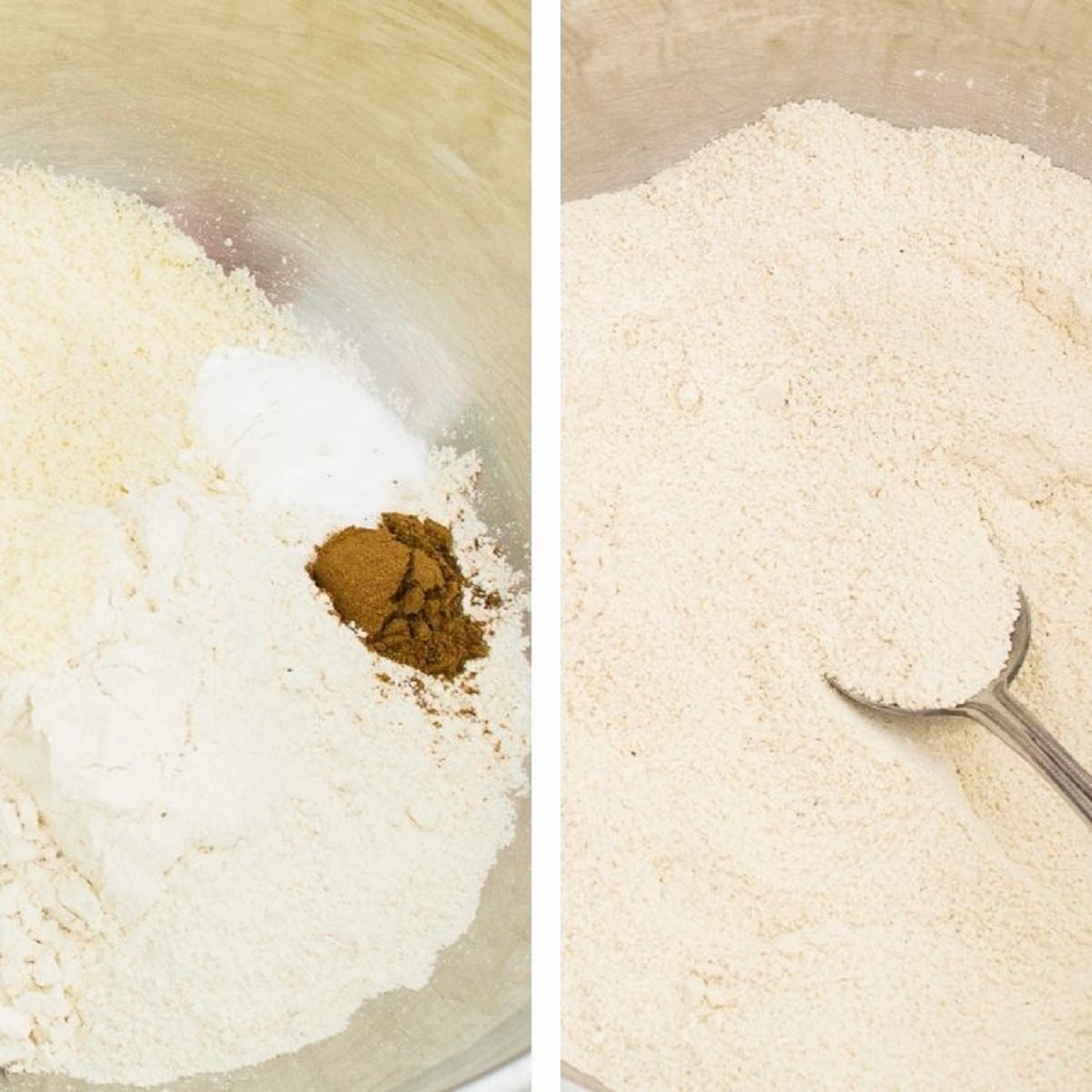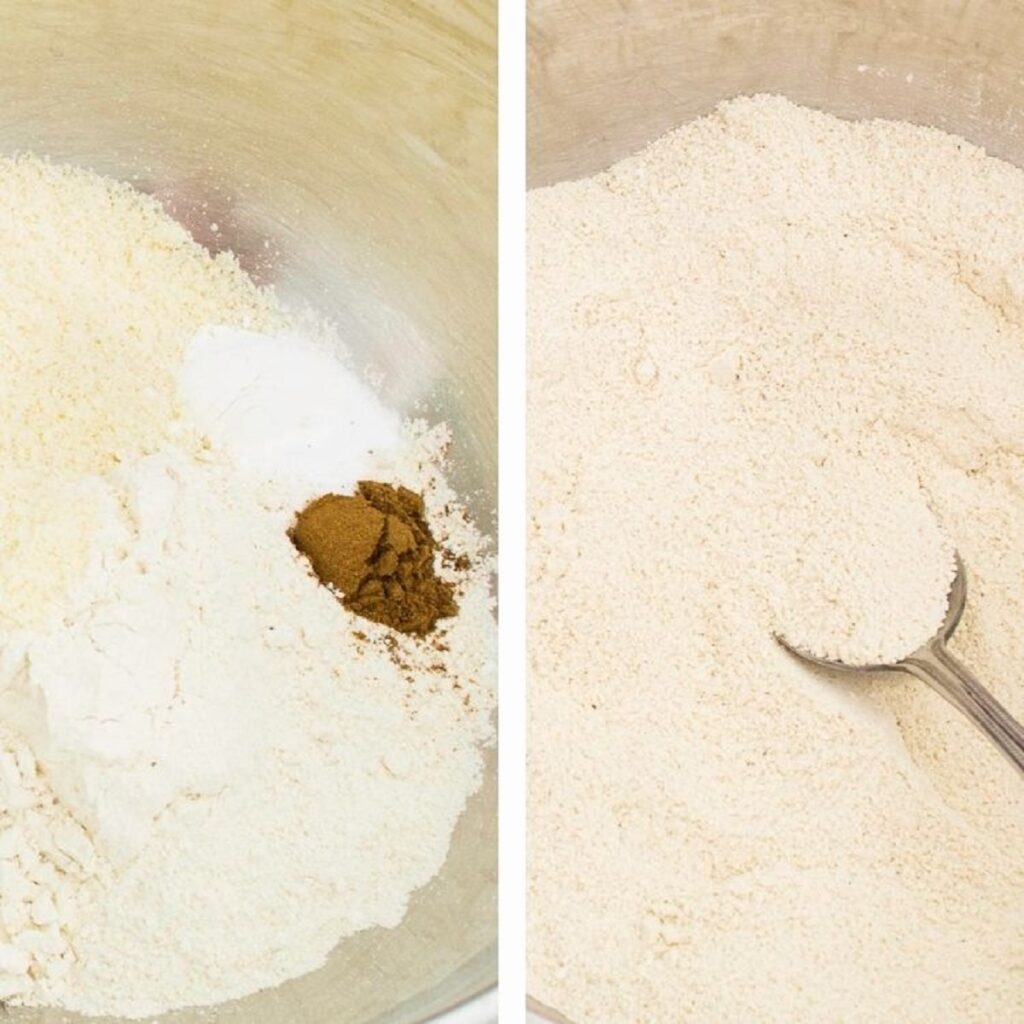 Secondly, I combined all the wet ingredients (except milk) in another mixing bowl and whipped it up nicely.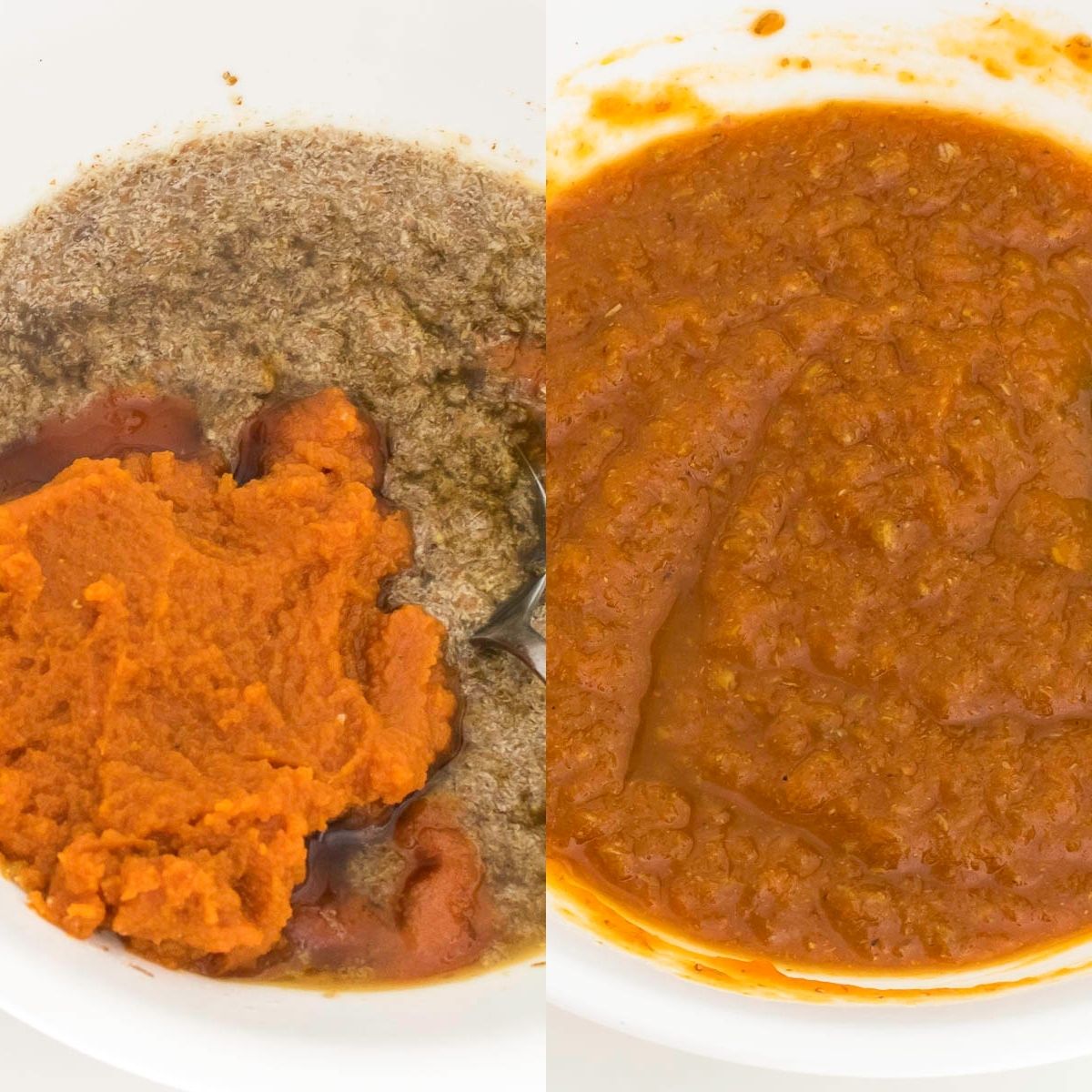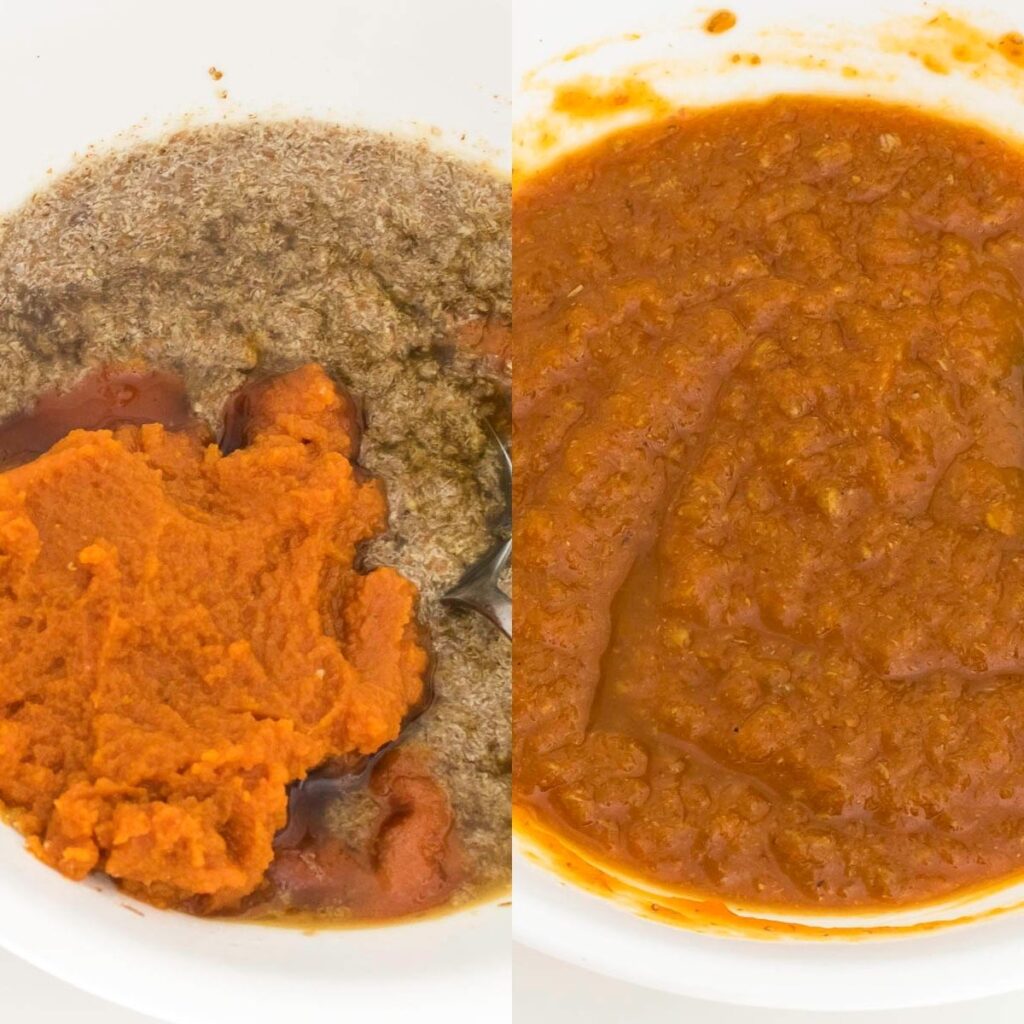 Next, I folded in wet ingredients into the dry ingredients and whipped it. The batter would be slightly stiff at this time and then I poured oat milk in it. I whip it again.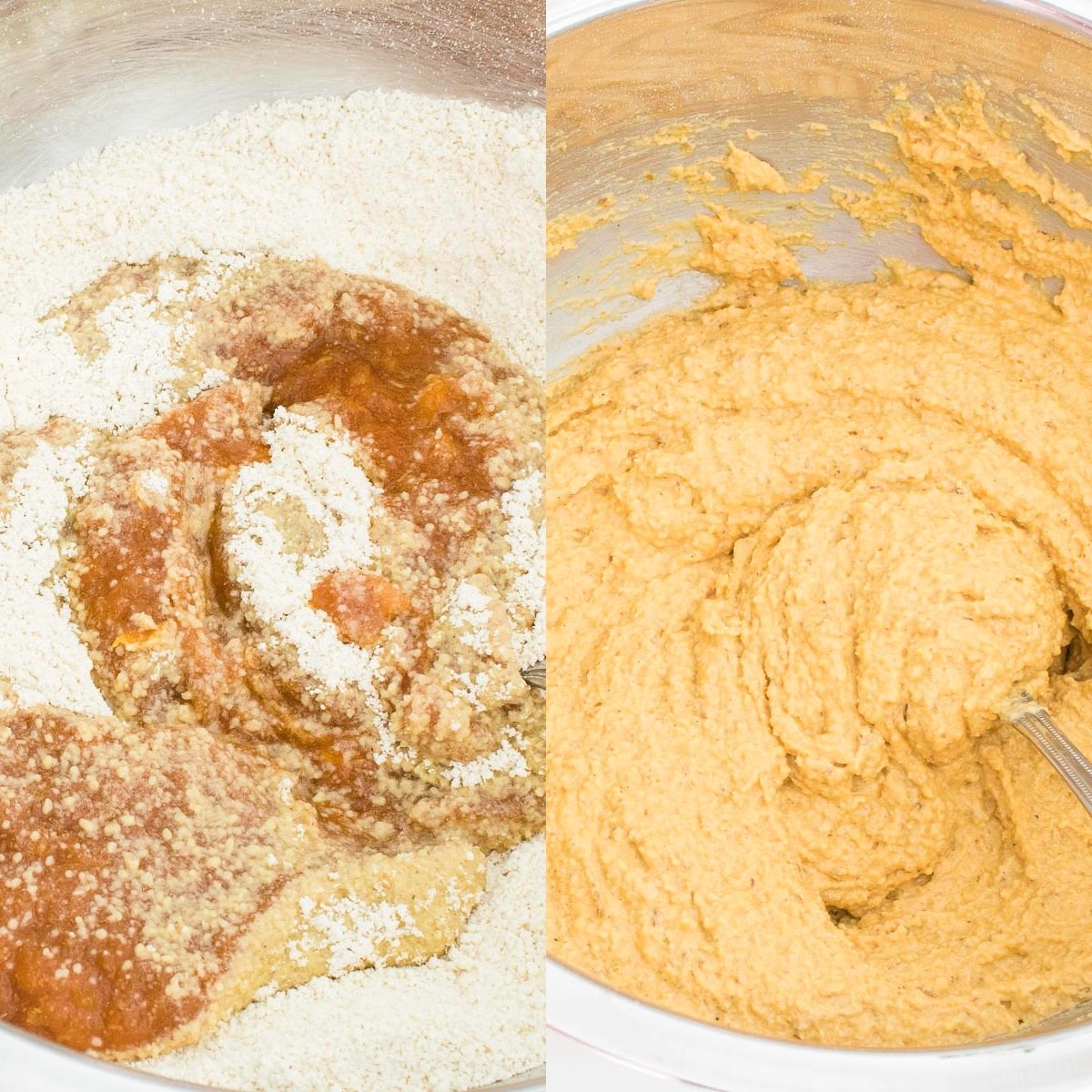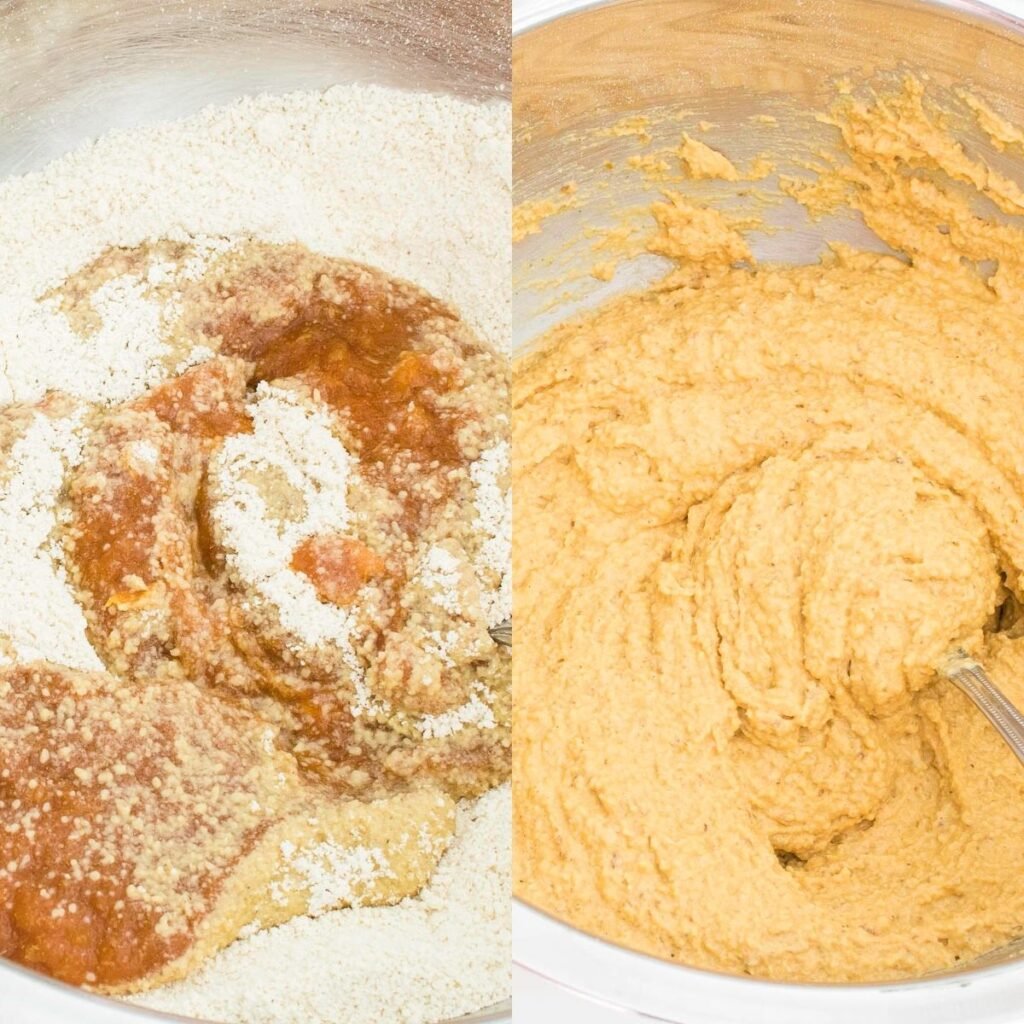 Thereafter, I poured the batter equally in two 8 inches prepared cake pan and tapped them a bit to evenly spread the batter.
Afterwards, I placed them in the middle rack of the oven and baked them for 30 minutes. Once done, I took them out of the oven and let them cool completely.
In the meanwhile, I blended the frosting in the blender.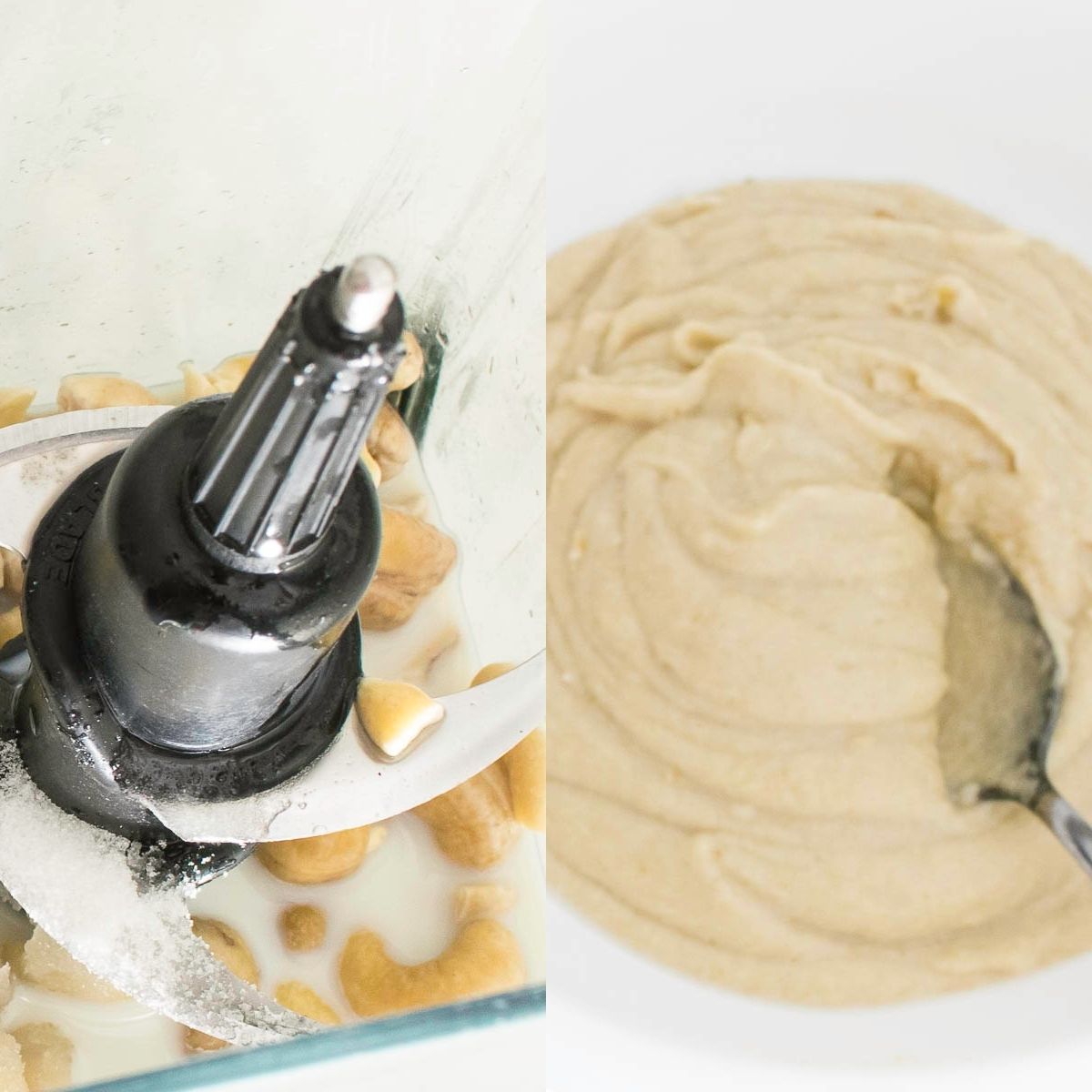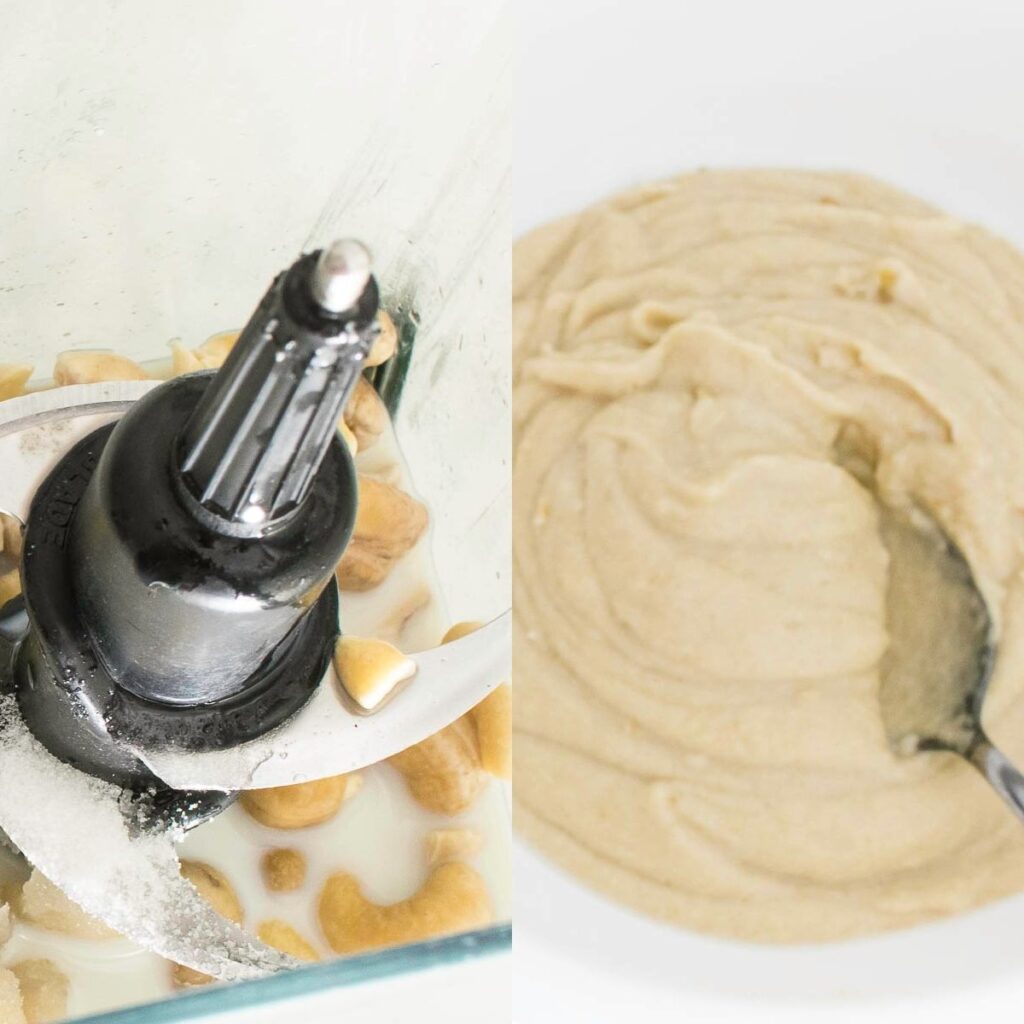 Then, I inverted the cake pan and released the cakes on the flat surface. Next, I covered the top of one of the cakes with the frosting with the help of a butter knife. Then, I placed the second cake on its top and covered the entire cake with the frosting.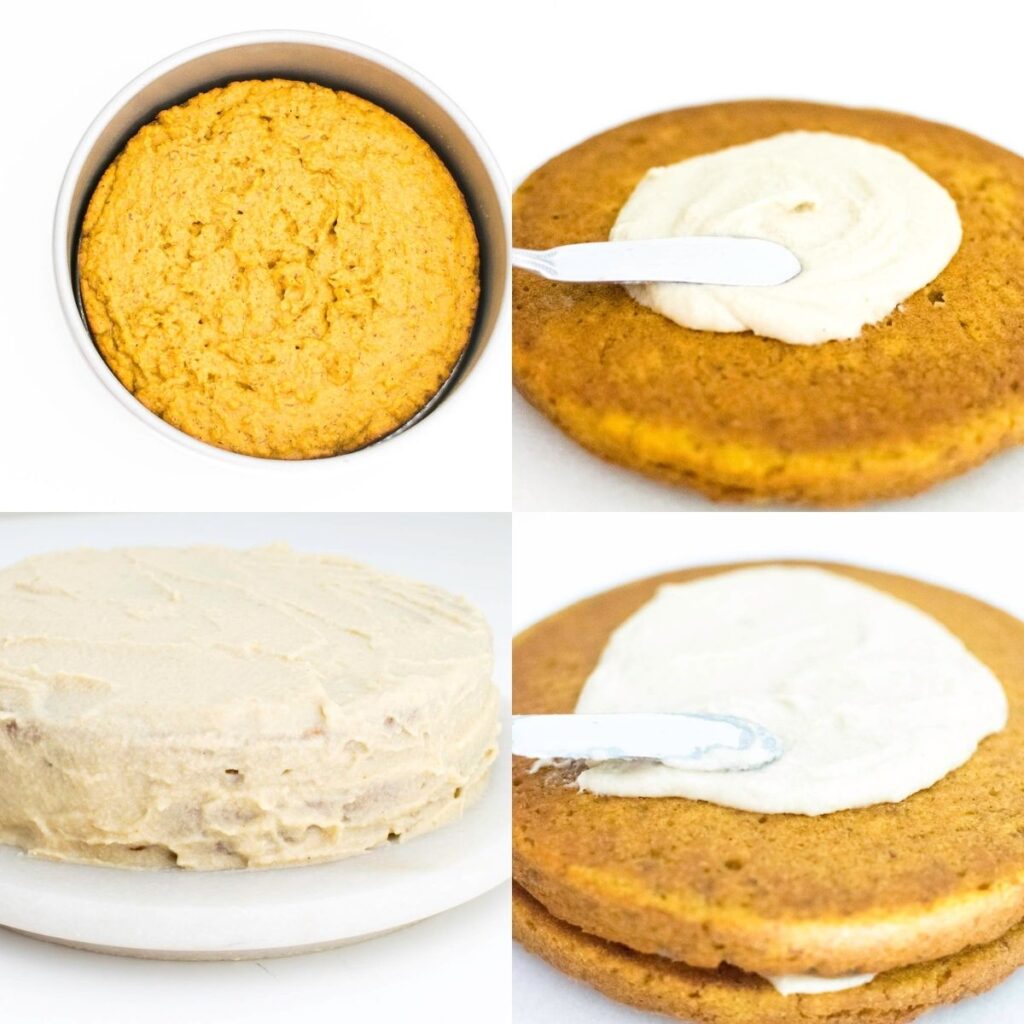 Lastly, I combined the pumpkin pie spice and powdered sugar in a sieve and garnished the top of the cake by slightly tapping it with a spoon and spreading it evenly. Then, I decorated the cake with pecans and served.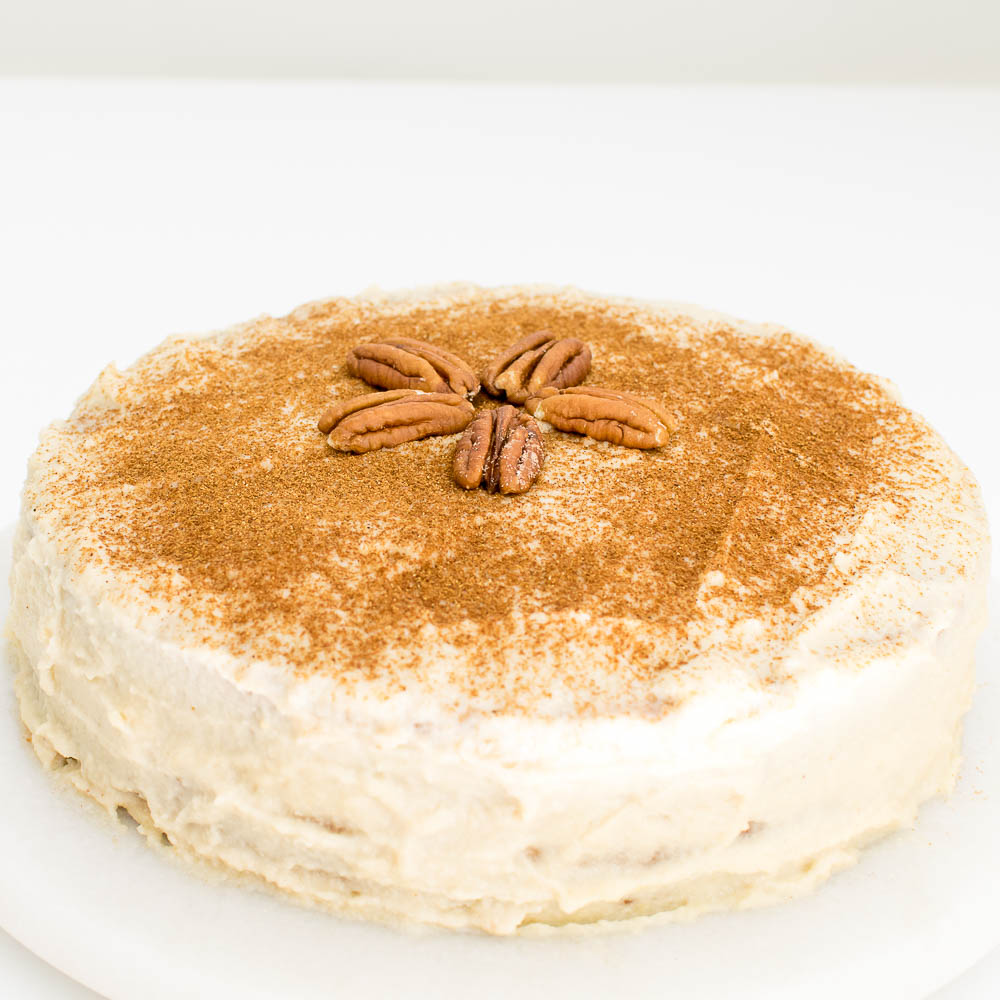 We all heartily enjoyed this pumpkin spice cake. There were hardly any leftovers from this cake because we love it so much.
Expert tips:
I did not add milk along with other wet ingredients because we do not want milk to curdle since we used apple cider vinegar. Therefore, I preferred adding milk to the batter directly to get its right consistency.
If you plan to use parchment paper then make sure to place them properly inside the bottom of the cake pan so the shape of the cake does not change.
Most importantly, do not tap the cake pan with the surface. Simply lift them between palms firmly and rotate and twist so the batter spreads evenly.
Pumpkin Cake Recipe with Quinoa Flour FAQs
How long do they last?
This cake tastes best when consumed the same day. However, the leftovers can be refrigerated for about a week.
Is this healthy?
I made this layered pumpkin cake with healthy flour and nuts. I made it oil free and butter free because of which we save on quite a bit of calories. The sweetener that I used is mostly maple syrup except for granulated sugar in the frosting to give it the right color. Overall, this easy pumpkin cake recipe is healthier and guilt free comparatively. However, I would still recommend enjoying this dessert occasionally because it has a bit of sugar in it.
Should I use a canned or fresh pumpkin puree?
I used a canned pumpkin puree in this recipe. You may use fresh puree but make sure it does not contain any extra liquid or moisture.
How far ahead can I make this cake?
You may bake the cake a day ahead overnight and let them cool down to room temperature. Then store them away in the refrigerator overnight. You may also make the frosting and refrigerate overnight. Simply assemble everything and decorate as per the instructions couple of hours before serving so the cake comes down to room temperature again.
Can I freeze the leftovers?
I have personally not tried freezing it because its ok to refrigerate for a week and that worked pretty well for us.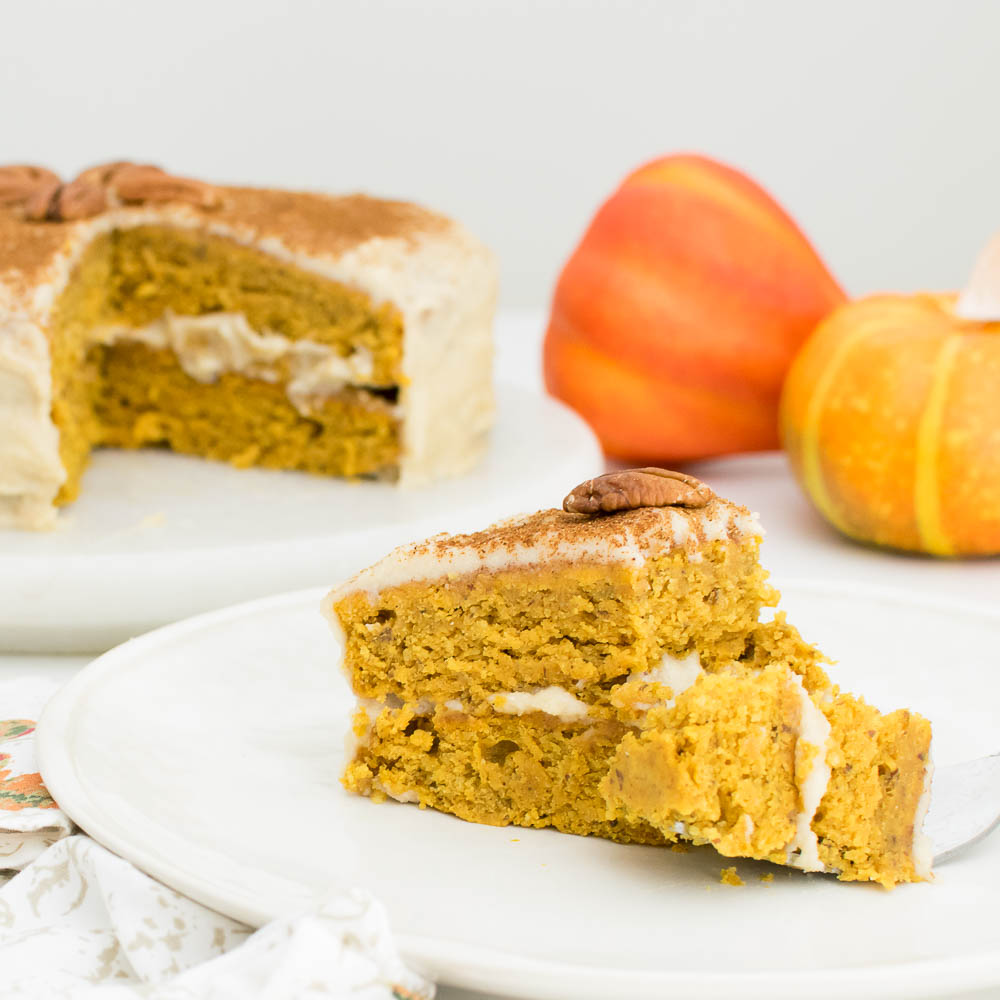 You may also like:
Pan Seared Apple Almond Cake
Vegan Strawberry Cake (oil free)
Oil Free Cherry Cake Recipe
Easy Vegan Chocolate Cake
Vegan Carrot Cake with Oat Flour
Other pumpkin recipe that you may like:
Vegan Pumpkin Muffins
No Bake Vegan Pumpkin Bars
Pumpkin Pie Spice Spelt Waffles
Frosted Pumpkin Cheesecake Coffee Flax Cookies
Almond Butter Pumpkin Oatmeal Cookies
Vegan Pumpkin Fettuccine
Apple Sauce Pumpkin Cookies
Peanut Butter Pumpkin Oatmeal Porridge
Persimmons Pumpkin Orange Smoothie
Apple Pumpkin Soup with Caramelized Onion
Did you make it?
If you get a chance to make this recipe then please leave your feedback in the comments below along with the ratings. In addition, you may tag @kiipfit on Instagram with your recipe image because we would love to see what you cooked.
If you desire to explore more delicious recipes of mine then you may checkout my cookbooks.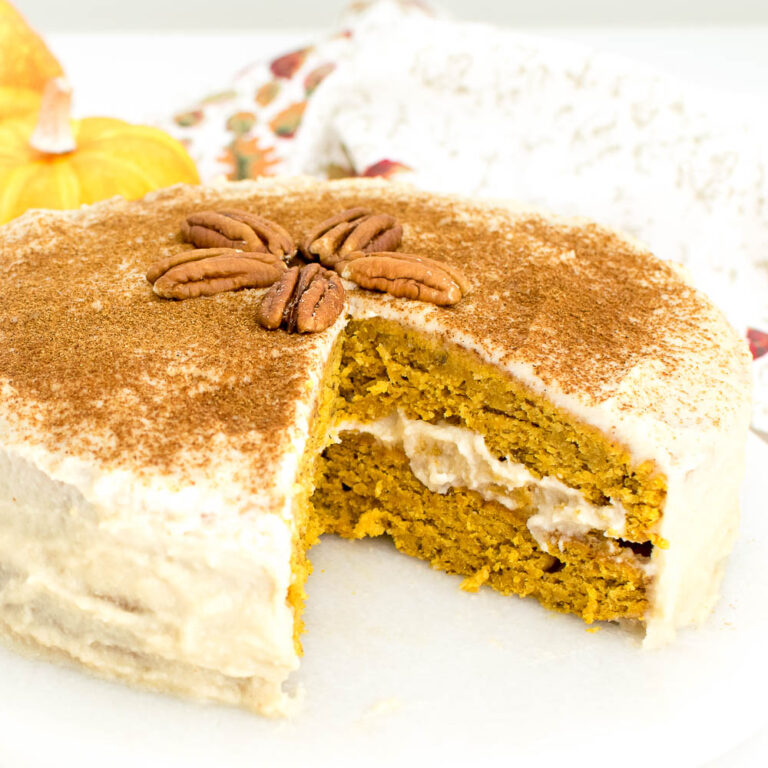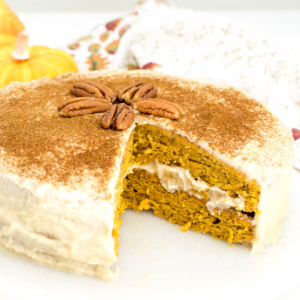 Print Recipe
Pumpkin Cake Recipe with Quinoa Flour
This soft and fluffy Pumpkin Cake Recipe with Quinoa Flour is full of delectable Fall flavors. Its oil free and gluten free along with being vegan. Its moist and perfectly sweetened and beautifully garnished.
Ingredients
wet ingredients
1/4

cup

flaxmeal

(soaked in 1/2 cup water)

1

cup

pumpkin puree

1

cup

maple syrup

1

tbsp

vanilla extract

1/2

tbsp

apple cider vinegar

1/4

cup

oat milk
For the frosting
1

cup

raw cashew nuts

1/2

cup

oat milk

4

tbsp

white granulated sugar
Instructions
Preheat oven at 350-degree Fahrenheit and prepare two 8 inches cake pans by greasing them or placing the parchment paper inside them. In a mixing bowl combine all the dry ingredients for the cake and mix well with a spoon.

In another bowl combine all the wet ingredients (except milk) in a bowl and whip it well with a spoon.

Now, fold in wet ingredients into dry ingredients and whip it with a spoon. Now, add oat milk to it and whip it well until a thick smooth batter is formed.

Pour the batter equally in the two cake pans at their center. Then tap them gently to evenly spread the cake all through the pan. Place them in the middle rack of the oven and bake them for 30 minutes or until the testes comes out clean. Once done, turn it off and take the cake pans out of the oven. Let them cool down completely for an hour in the cake pan without disturbing.

In the meanwhile, combine all the frosting ingredients in a blender and blend it smooth. Spoon it out in a bowl and refrigerate until ready to use.

Now, invert the cake pans and place the cakes on a flat surface. With the help of a butter knife spread ¼ of the frosting on the top of the 1st cake.

Place the second cake on it and cover the entire cake with the frosting with the butter knife.

Now, mix the ingredients for garnishing in a small bowl and put it into a small sieve. Tap it and spread the spice all over the top of the cake. Decorate with pecans.
Notes
If required you may cool down the cake overnight. It becomes easy to invert and release the cake.
If you use parchment paper then make sure to cut it in the shape of the cake pan so it fits nicely at its bottom or else the shape of the cake would be slightly off.
You may prepare the frosting a day ahead or overnight. Also, you may taste test the sweetness of the frosting while blending.
The leftovers can be refrigerated in an air tight container for about 1 week.
Nutrition
Calories:
383
kcal
|
Carbohydrates:
53
g
|
Protein:
10
g
|
Fat:
17
g
|
Saturated Fat:
1
g
|
Sodium:
141
mg
|
Potassium:
262
mg
|
Fiber:
5
g
|
Sugar:
27
g
|
Vitamin A:
3850
IU
|
Vitamin C:
1
mg
|
Calcium:
164
mg
|
Iron:
2
mg