Vegan Pumpkin Mousse is the easiest creamy dreamy Fall dessert. No cooking involved and bursting with flavors, it's a luscious treat made in a blender.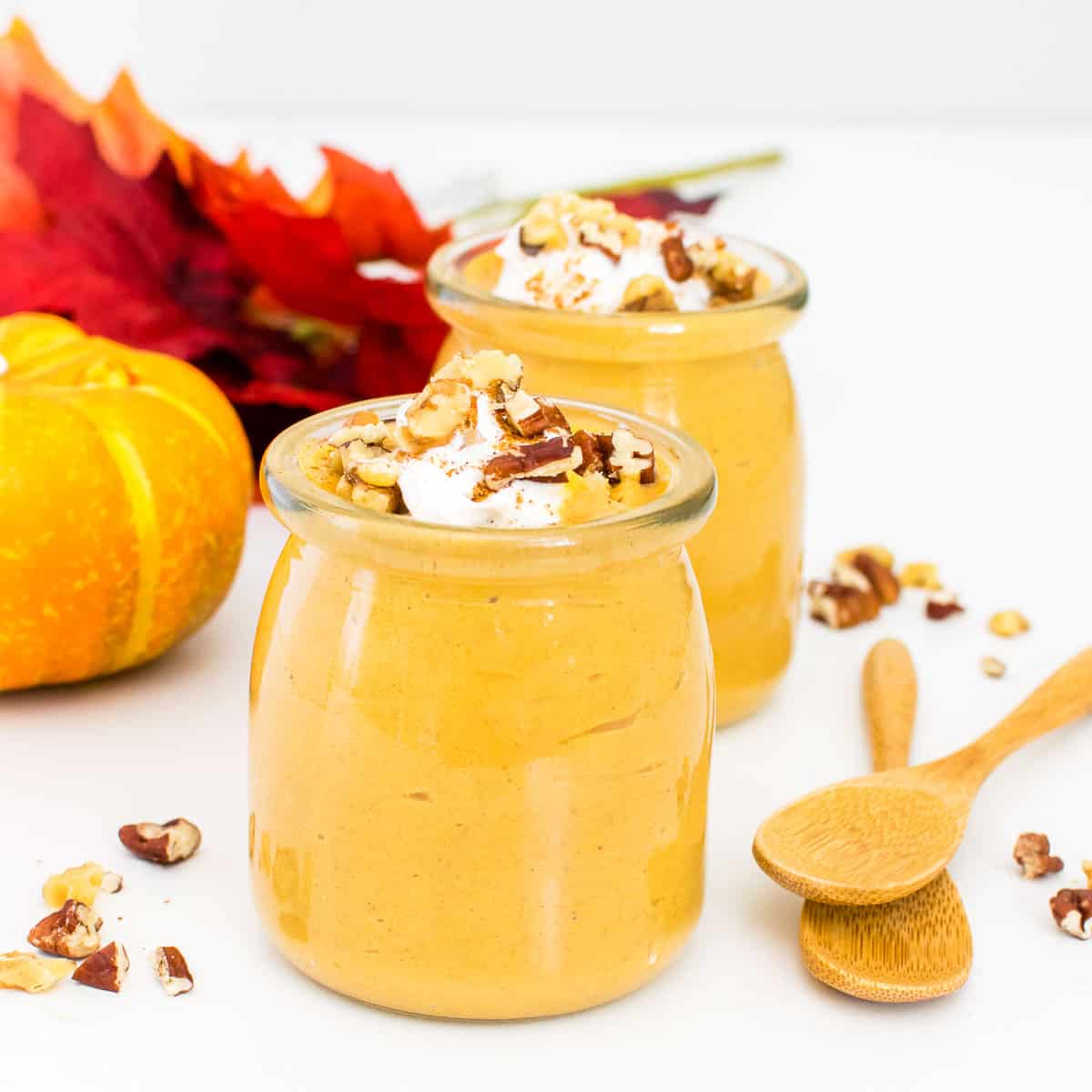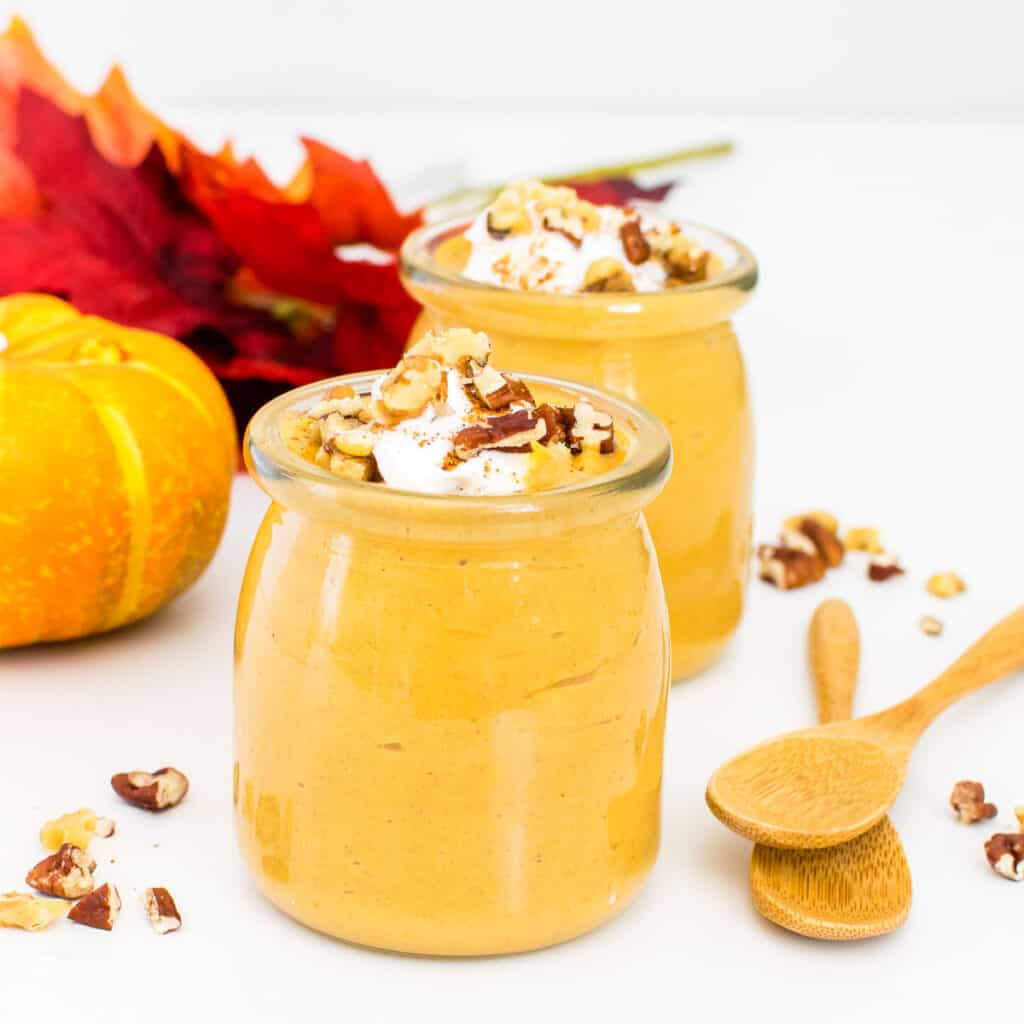 Who does not like mousse well I am crazy for vegan chocolate mousse. Hence, I wanted to try the same style of mousse but with pumpkin.
Therefore, I came up with this healthy, nutritious and so delicious dairy free pumpkin mousse.
Why you will love this pumpkin mousse
First its soft and silky and its fun to lick the spoon
Its easy, quick and it's a no bake dessert
I have used healthy ingredients so its guiltfree
Its so beautiful and attractive to present to your guest and bring Autumn happiness to your table.
It's a make ahead recipe too.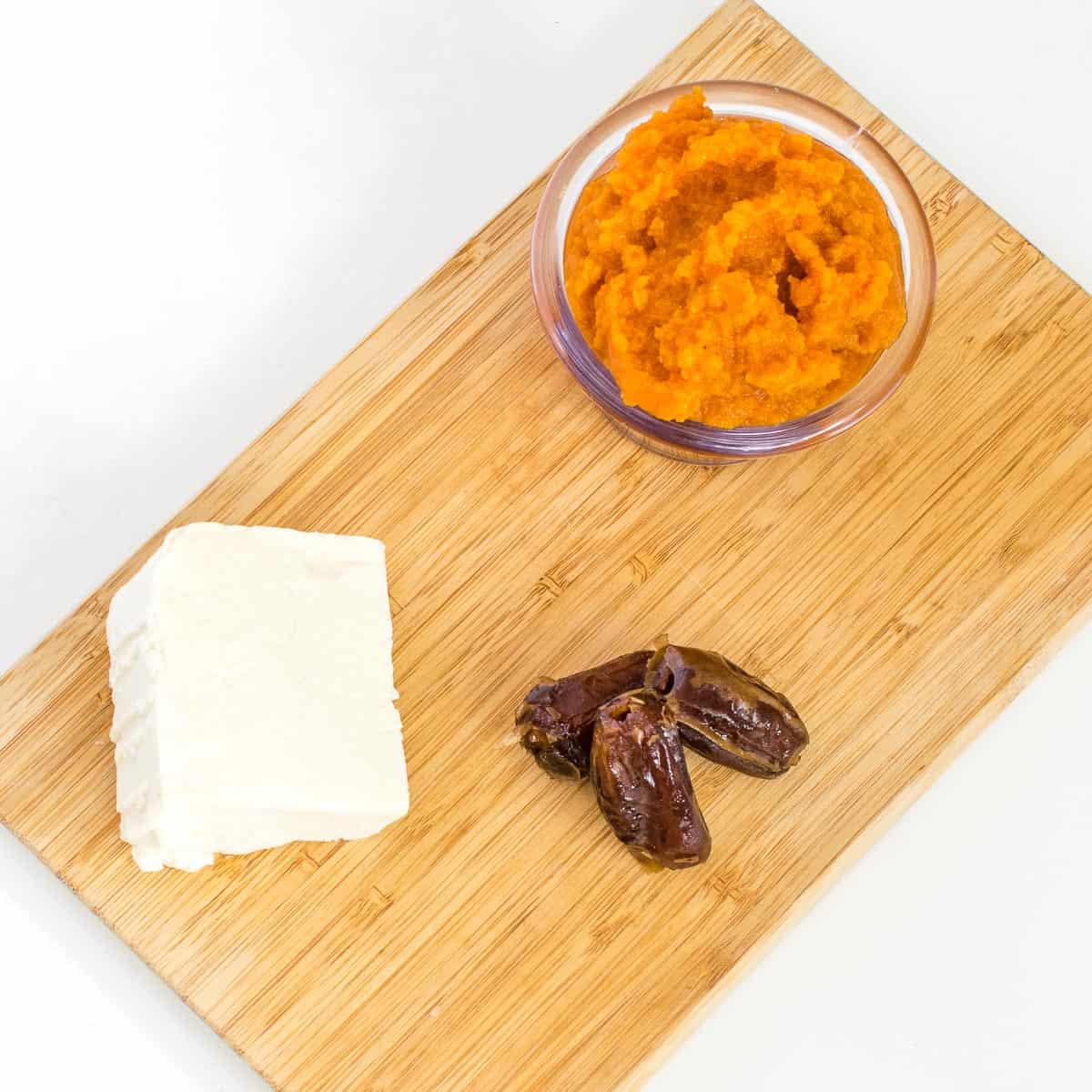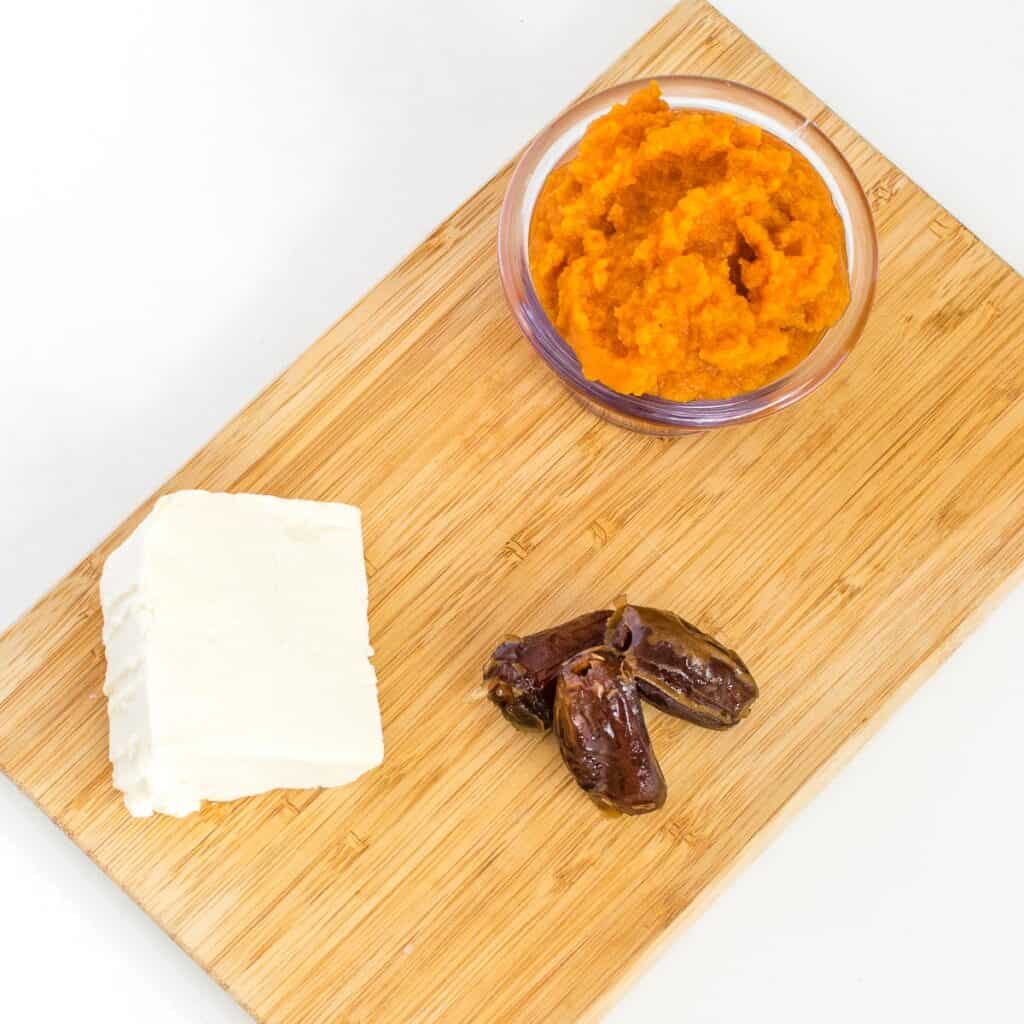 Ingredients for vegan pumpkin mousse recipe
Silken tofu
Dates
Pumpkin puree
Pumpkin pie spice
Vanilla extract
Vegan whipped cream
Chopped walnuts
Chopped pecans
I used 5 main ingredients for this gluten free pumpkin mousse and then garnished it with my favorite toppings. So simple and so easy and so delectable that's it's definitely a crowd pleaser.
Ingredients notes
Silken tofu – you may use soft tofu as well but silken tofu works best here. Since mousse should be airy, fluffy and have bubbles so silken tofu blends well and brings out this nice texture.
Dates – I wanted to make it refined sugar free and on a healthier note so I used dates to naturally sweeten this pumpkin dessert.
Pumpkin puree – I used canned pumpkin puree but you may use your homemade one too.
Pumpkin pie spice – this is a must to add fall aroma and taste to this recipe.
Nuts – walnuts and pecans pairs well with pumpkin desserts and so I used them to garnish this mousse recipe but you may top it with your choice of nuts too.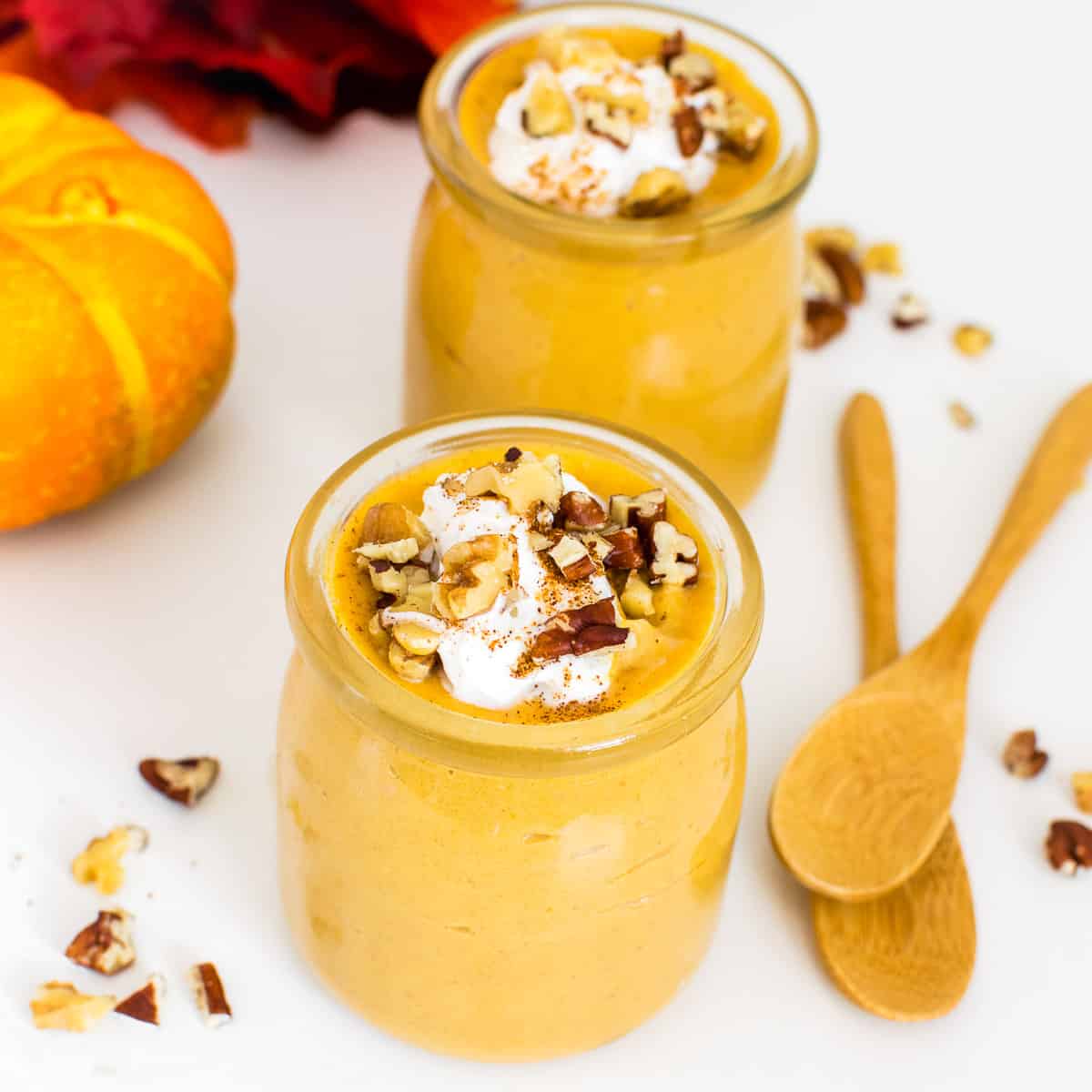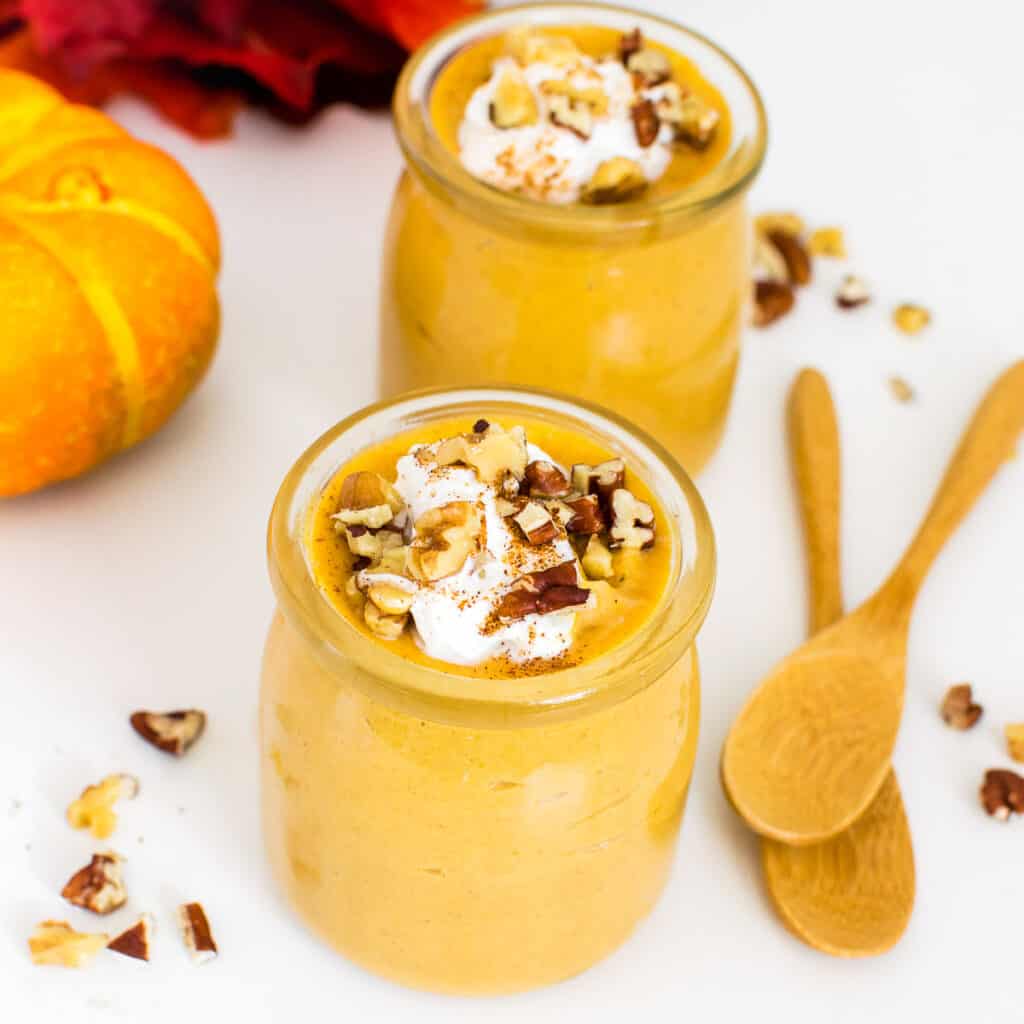 For detailed measurement of ingredients, please scroll down to the printable recipe card at the bottom of this post.
How to make Vegan Pumpkin Mousse
Firstly, I drained extra water from silken tofu and then combined it with drained pitted dates in the blender.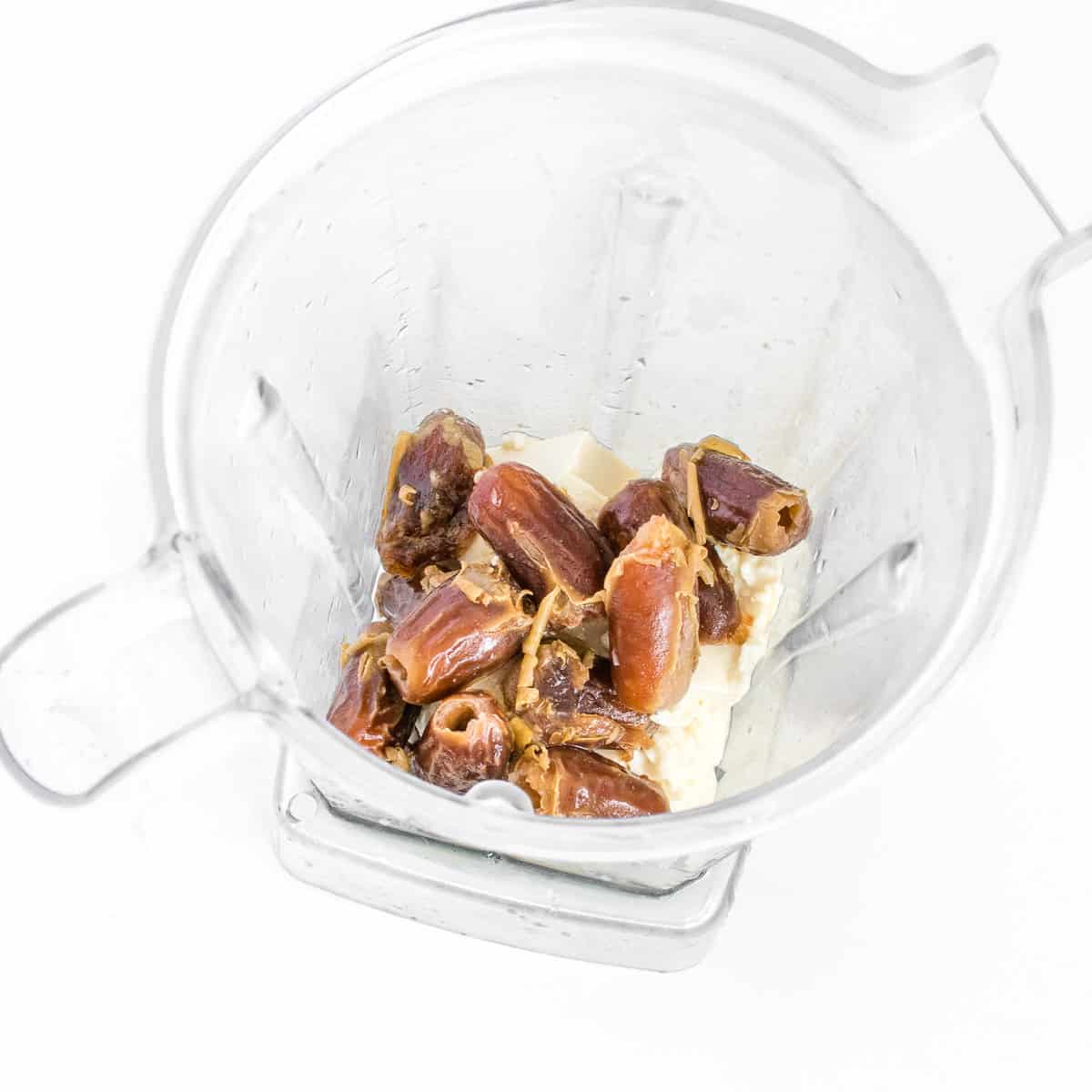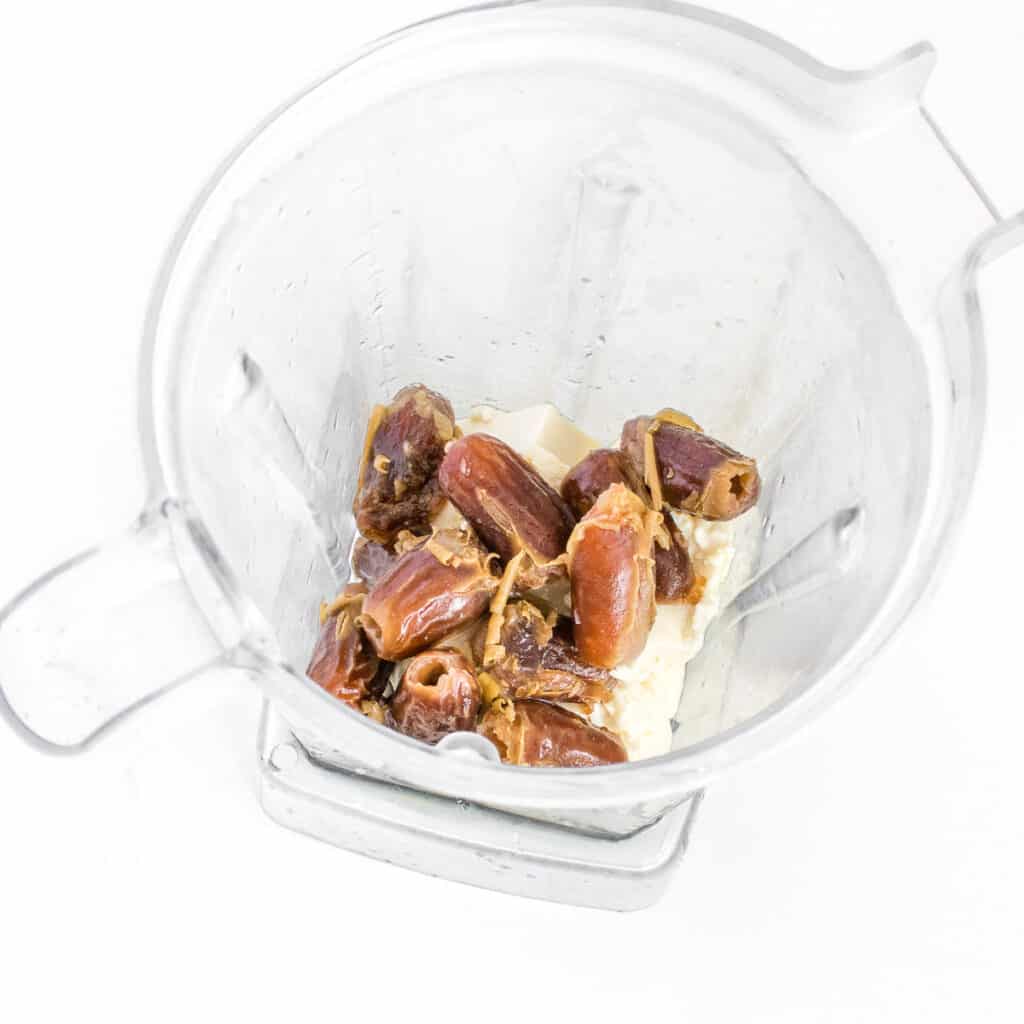 Secondly, I blended it smooth until a nice thick texture was formed and had some bubbles.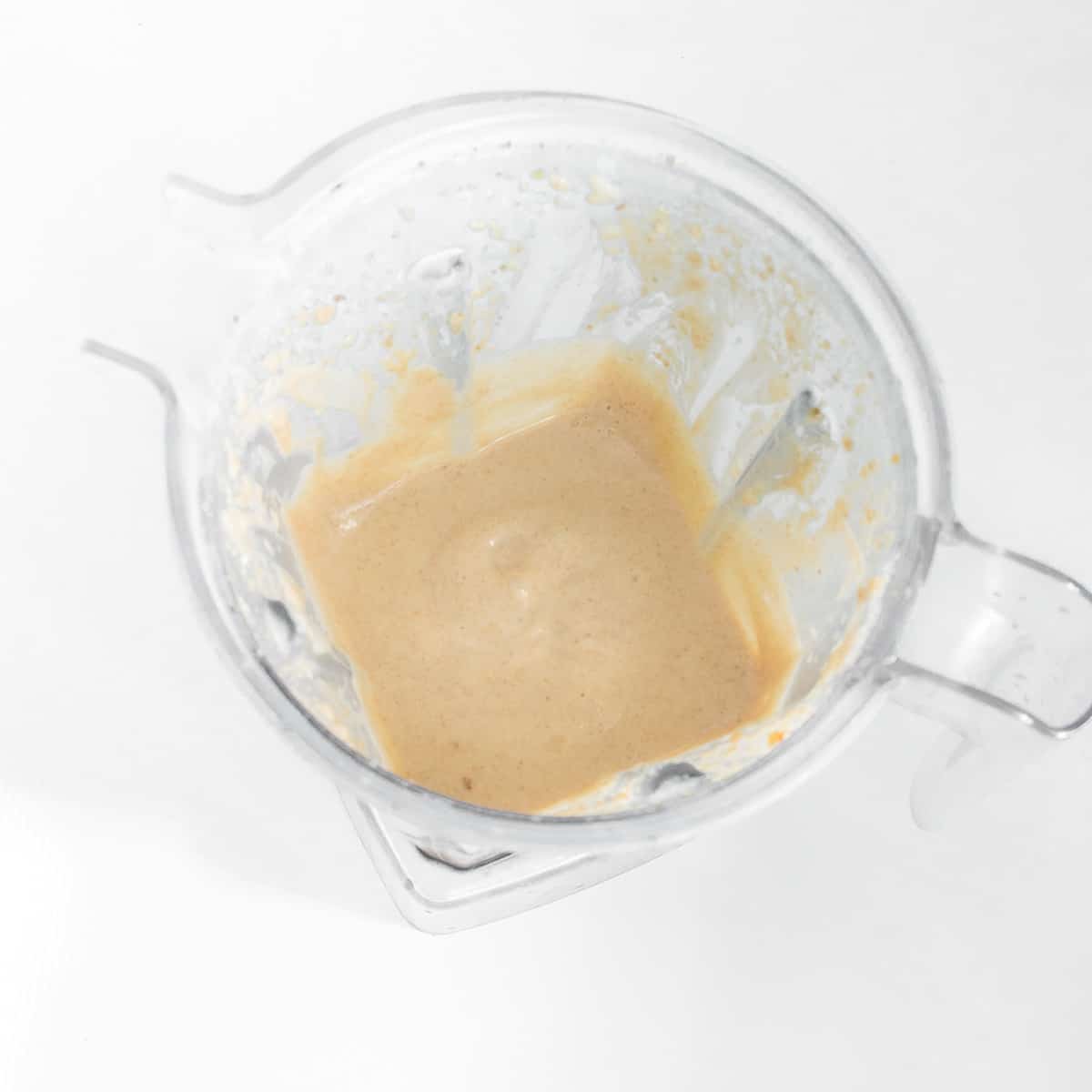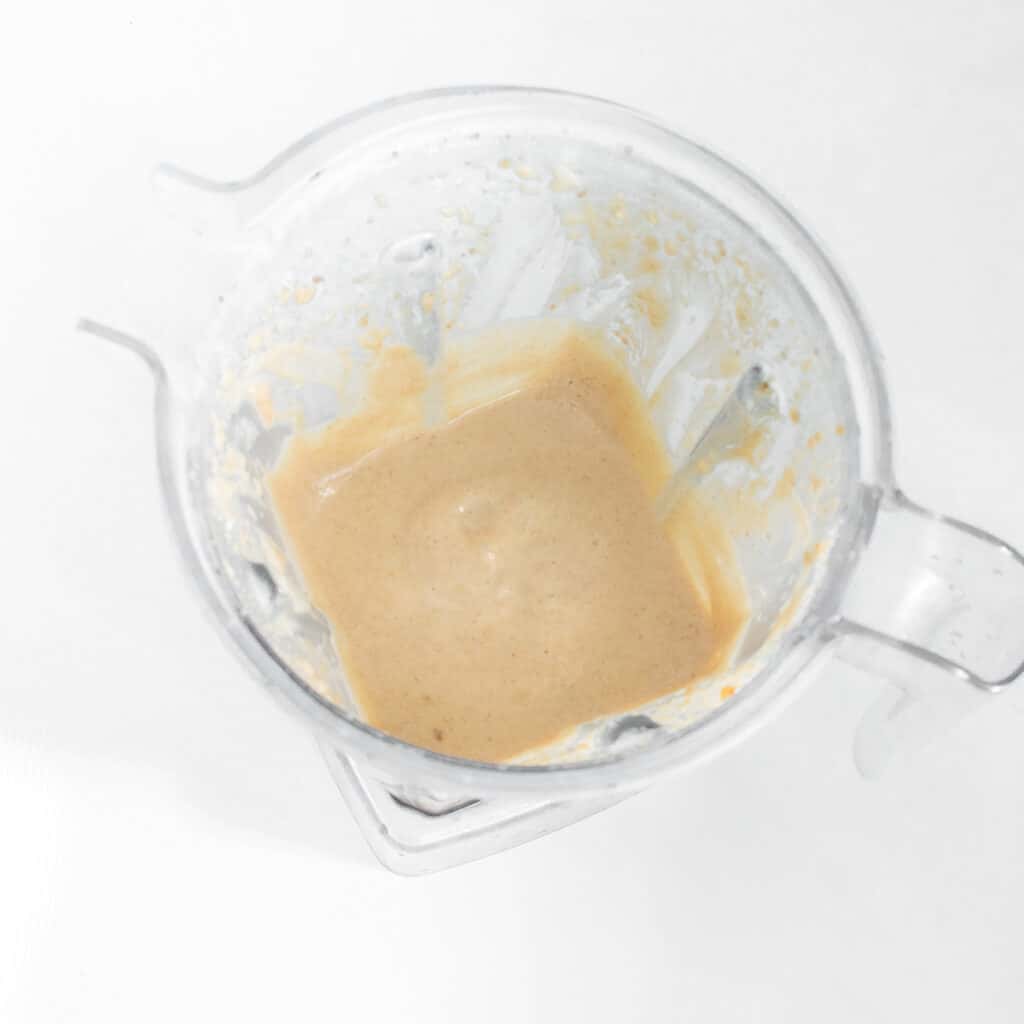 Next, I added pumpkin puree, pumpkin pie spice and vanilla extract to it.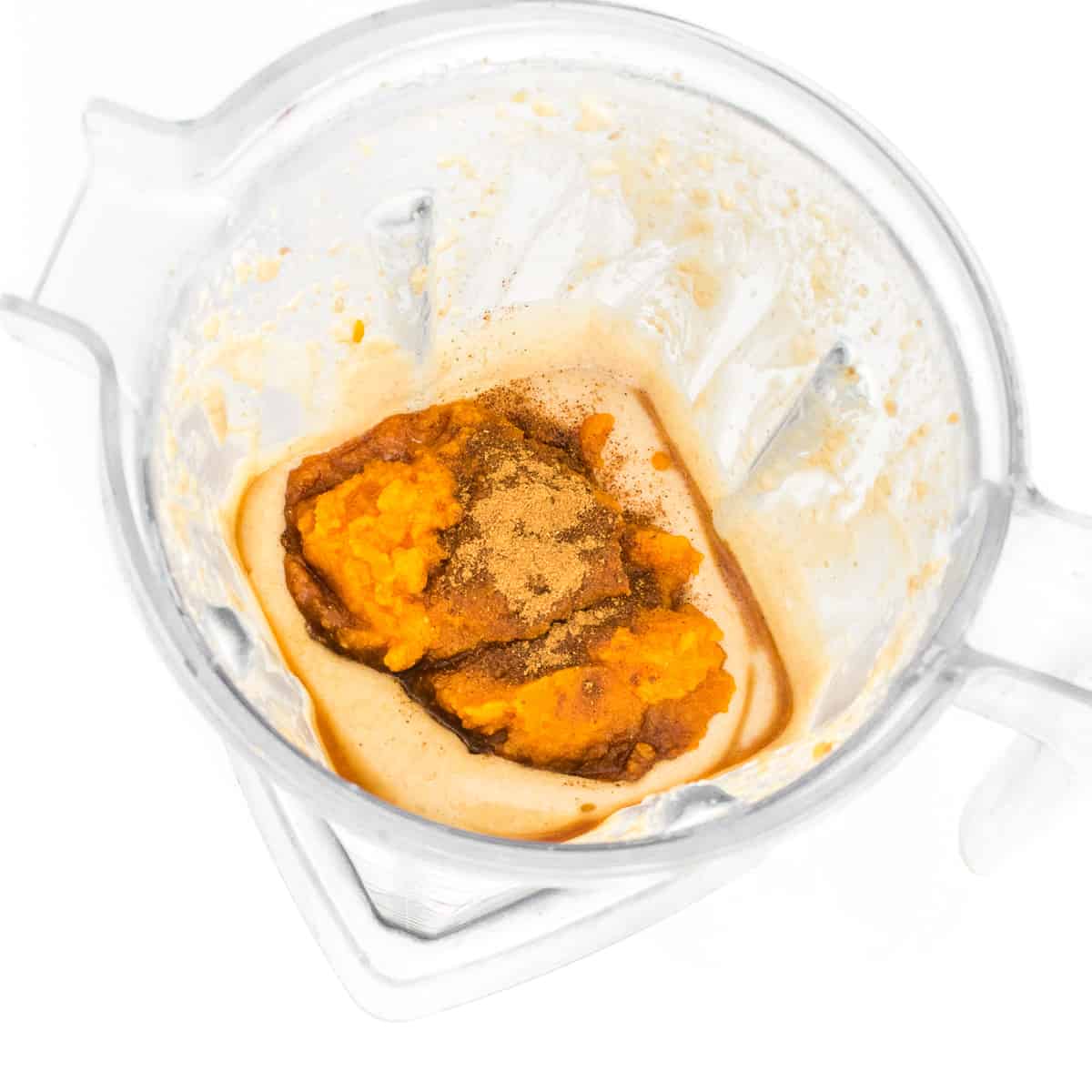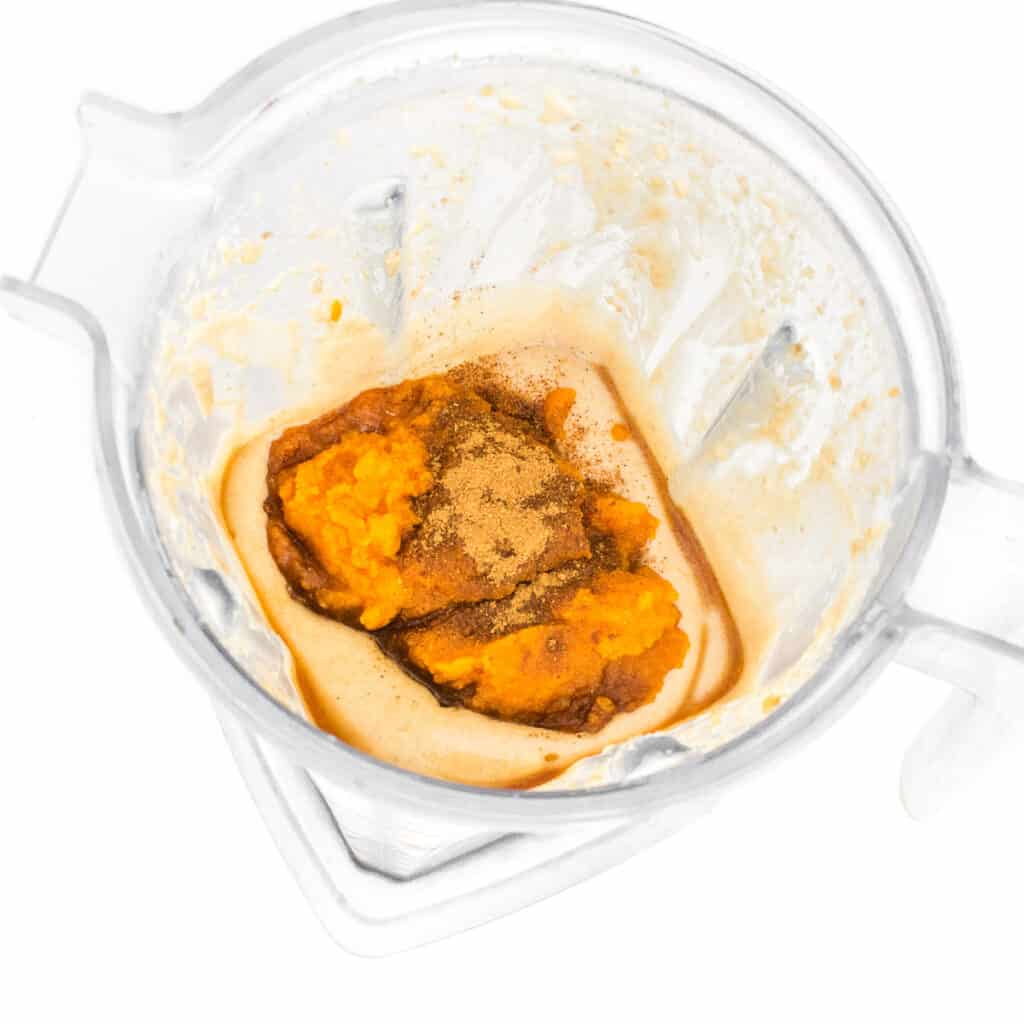 Then, I blended it smooth. At this stage it was thick and fluffy.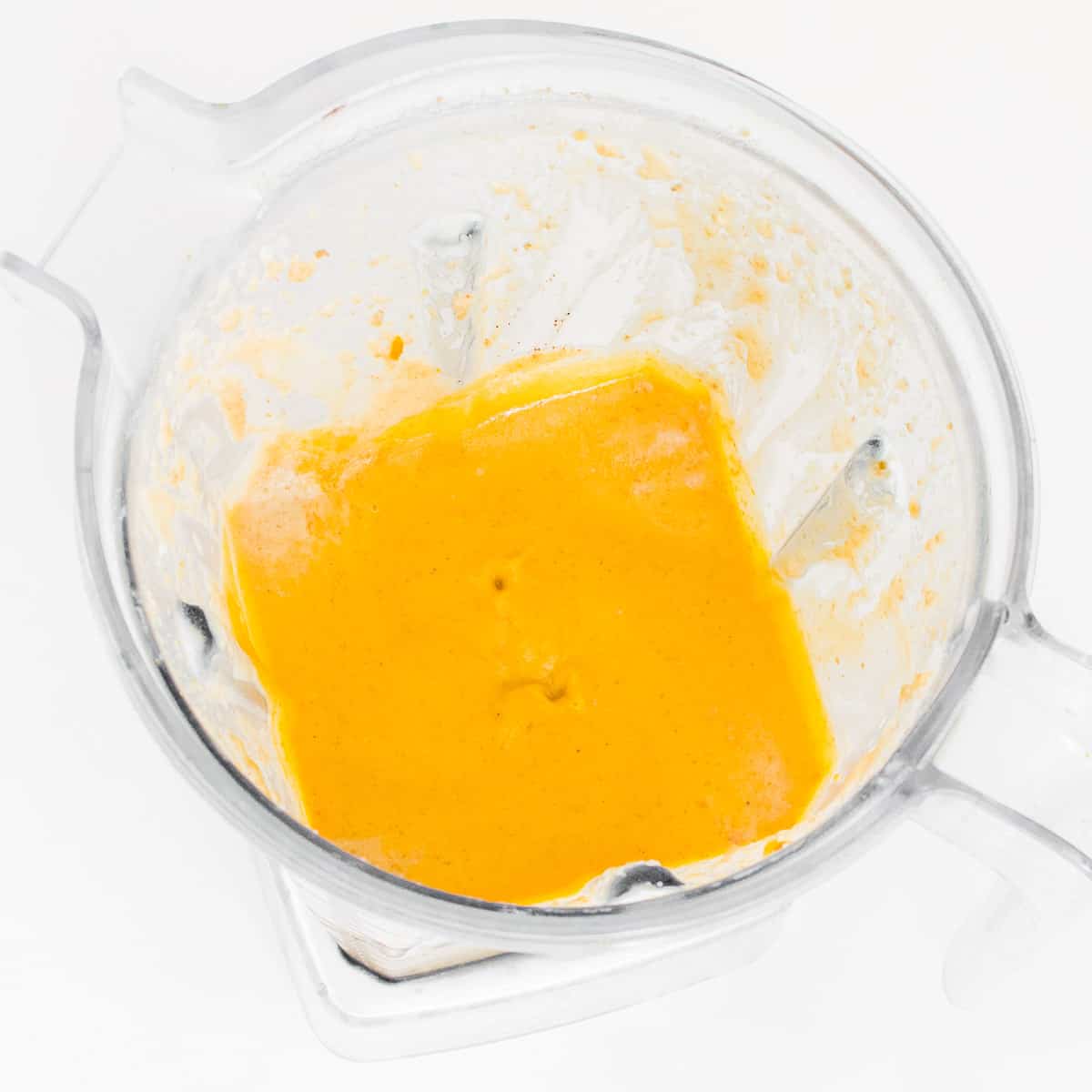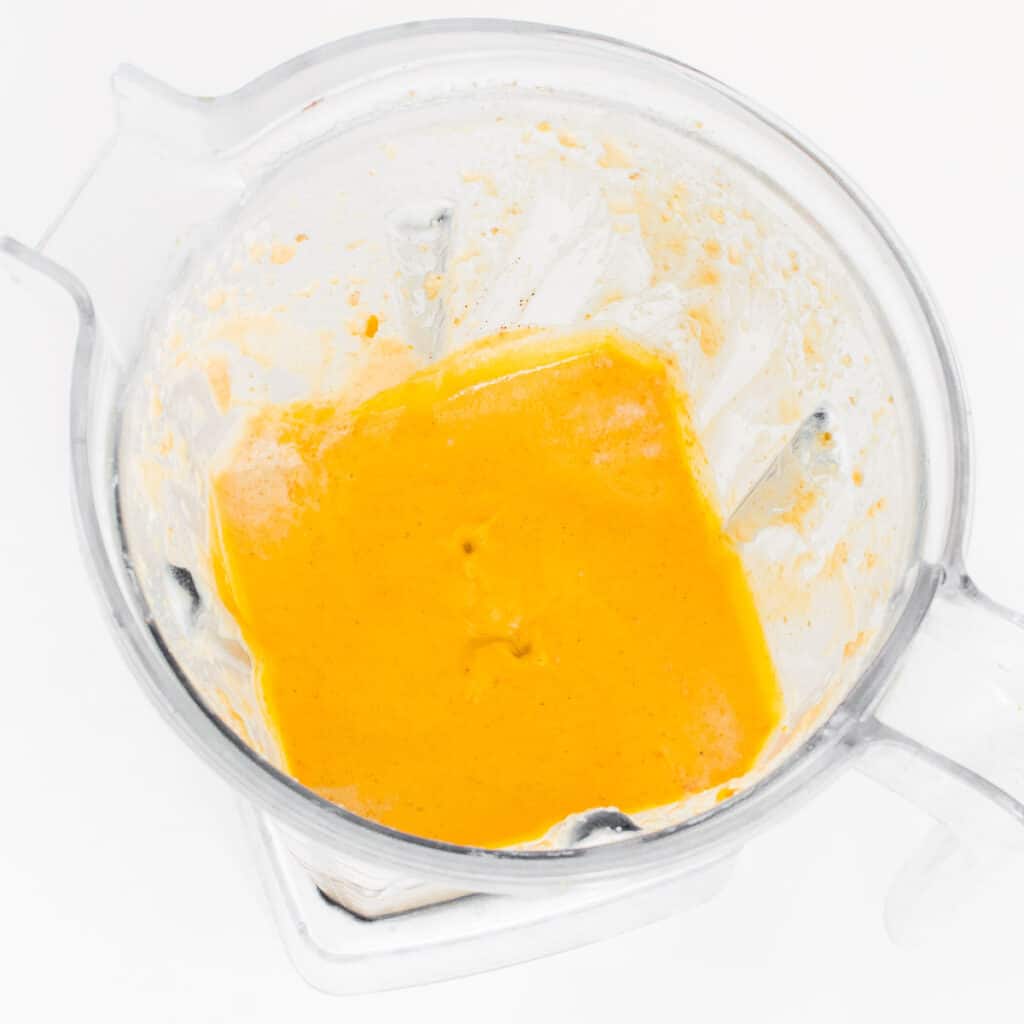 Thereafter, I spooned it out in the serving glasses and refrigerated to settle for about 20 minutes.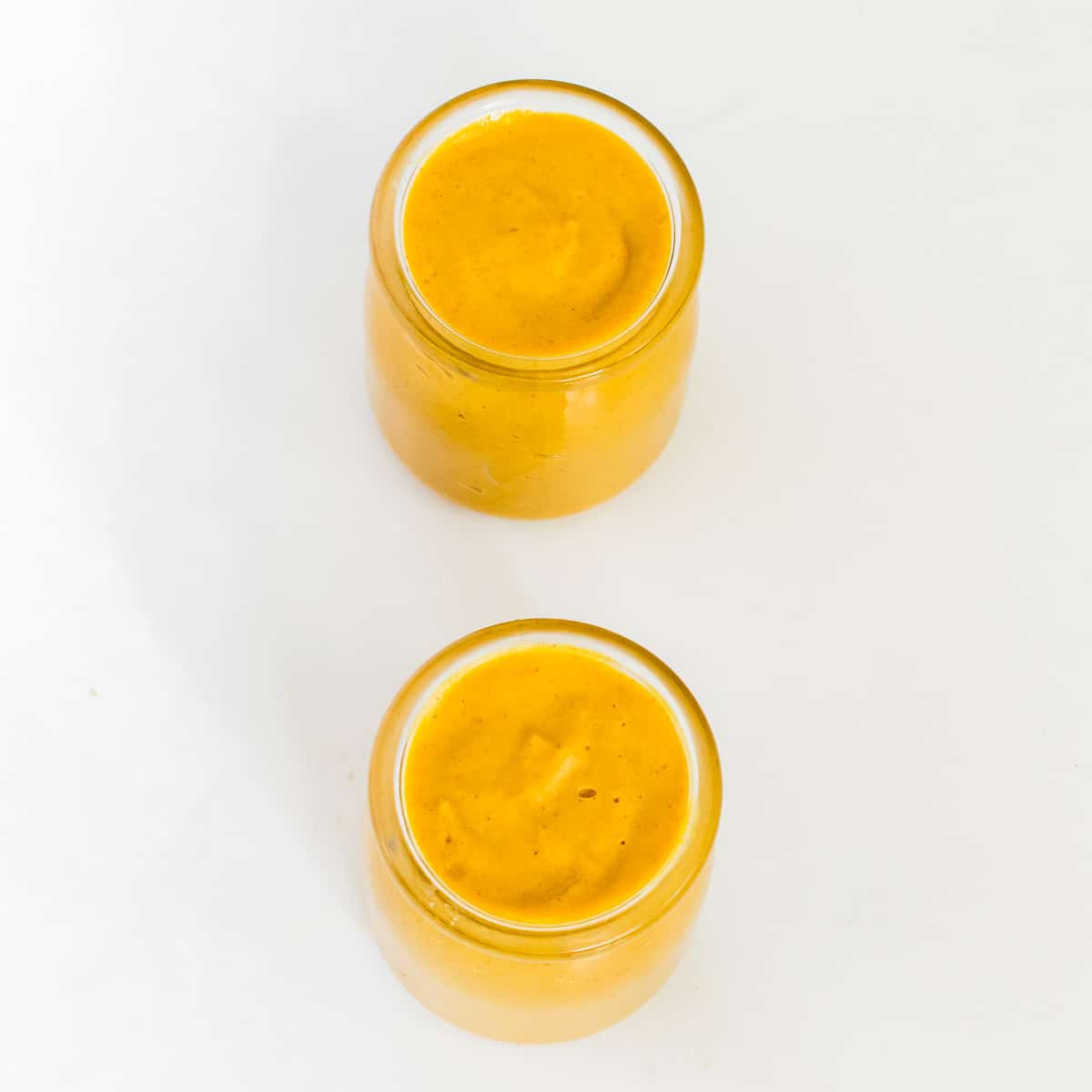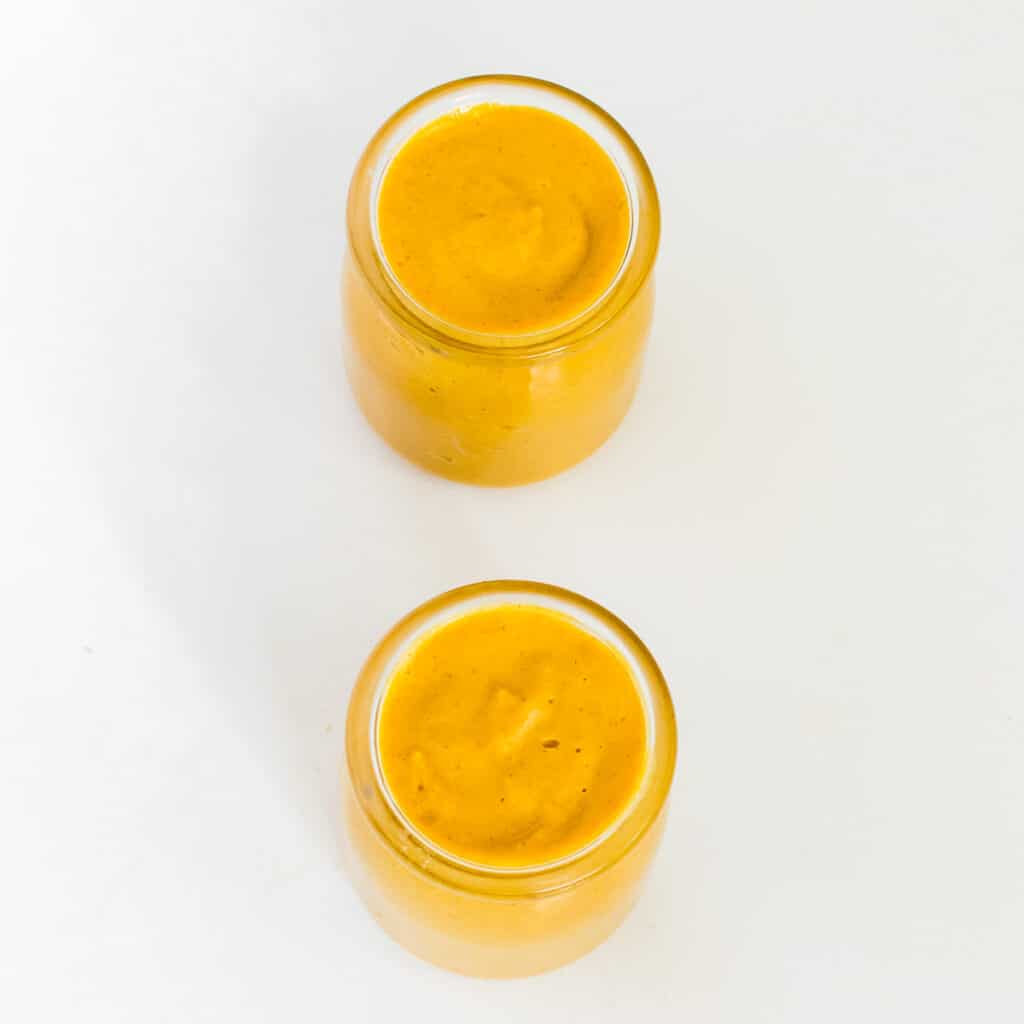 Lastly, I took the serving glasses out of the refrigerator and topped each of them with whipped cream, chopped walnuts and chopped pecans.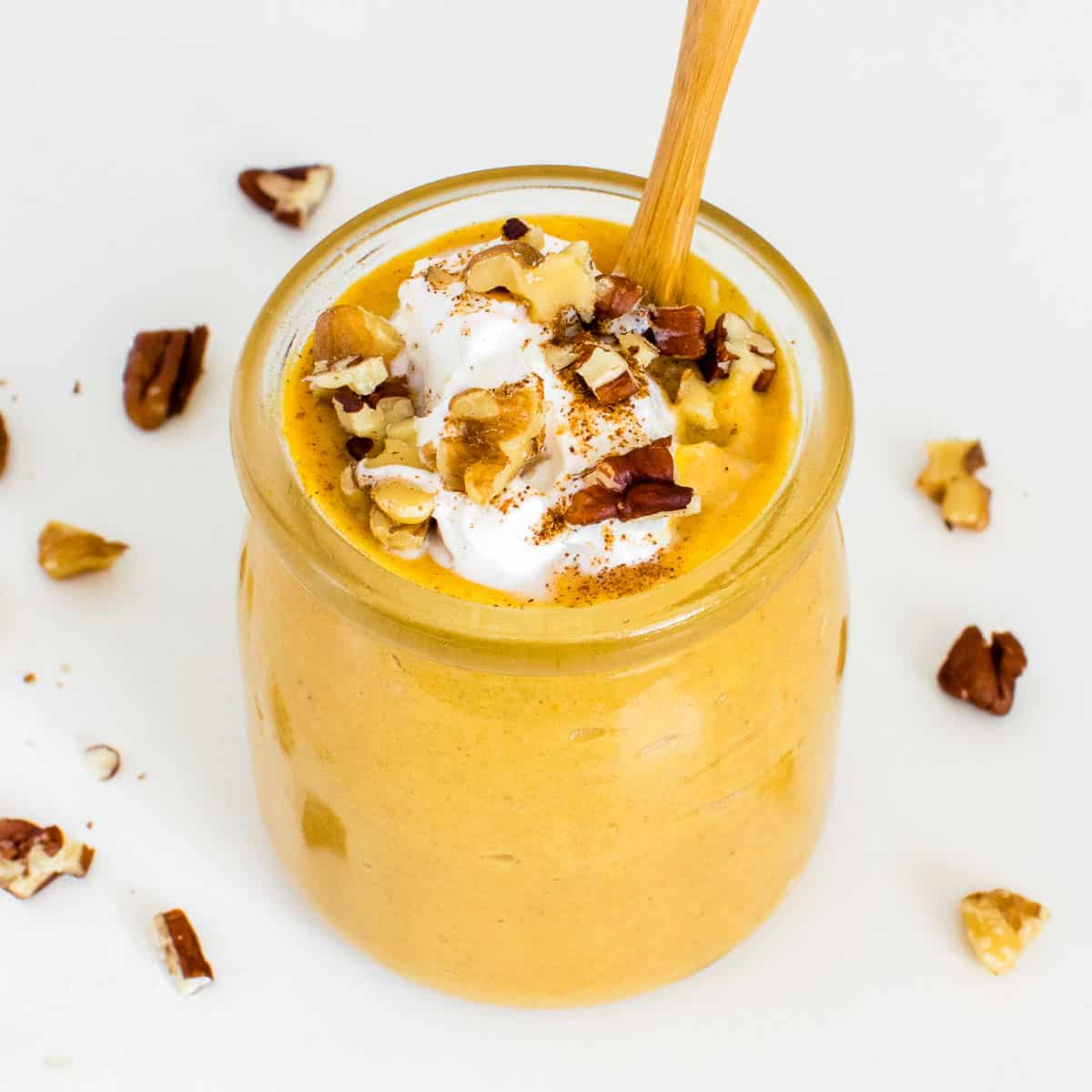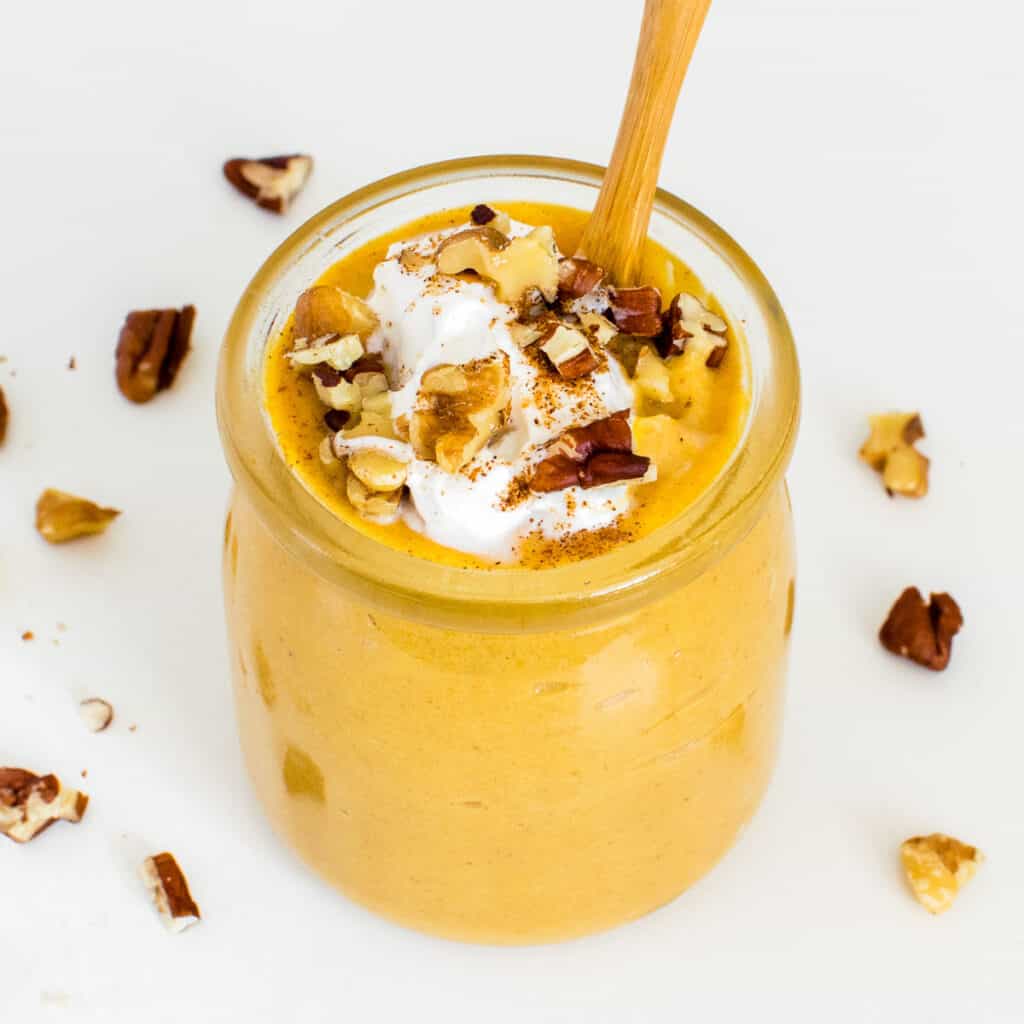 We loved licking even the last bit of it. This was divine and its on my menu to serve to my guests throughout the season.
Expert tips
It is important to first blend tofu and dates together until dates are well blended to make it fluffy and airy.
Make sure to scrape at intervals from all sides and blend. At the same time keep a check that your blender should not be too warm because we do not want a runny mousse.
As soon as you add puree and seasonings, blend only for maximum 1 minute or until all ingredients blends together. Do not over blend at this stage or it would lose its thick texture.
Vegan Pumpkin Mousse FAQs
How long does it last?
You may make it ahead of time and let them settle in the serving bowls/glasses overnight or for 12 hours. Garnish just before serving.
How does it taste like?
It has a nice smooth creamy texture with the beautiful light orange color and a nice spiced aroma. Its mildly sweetened and has strong pie spice taste.
Can I add chocolate to it?
You may add dairy free chocolate chips as one of the garnishes if desired.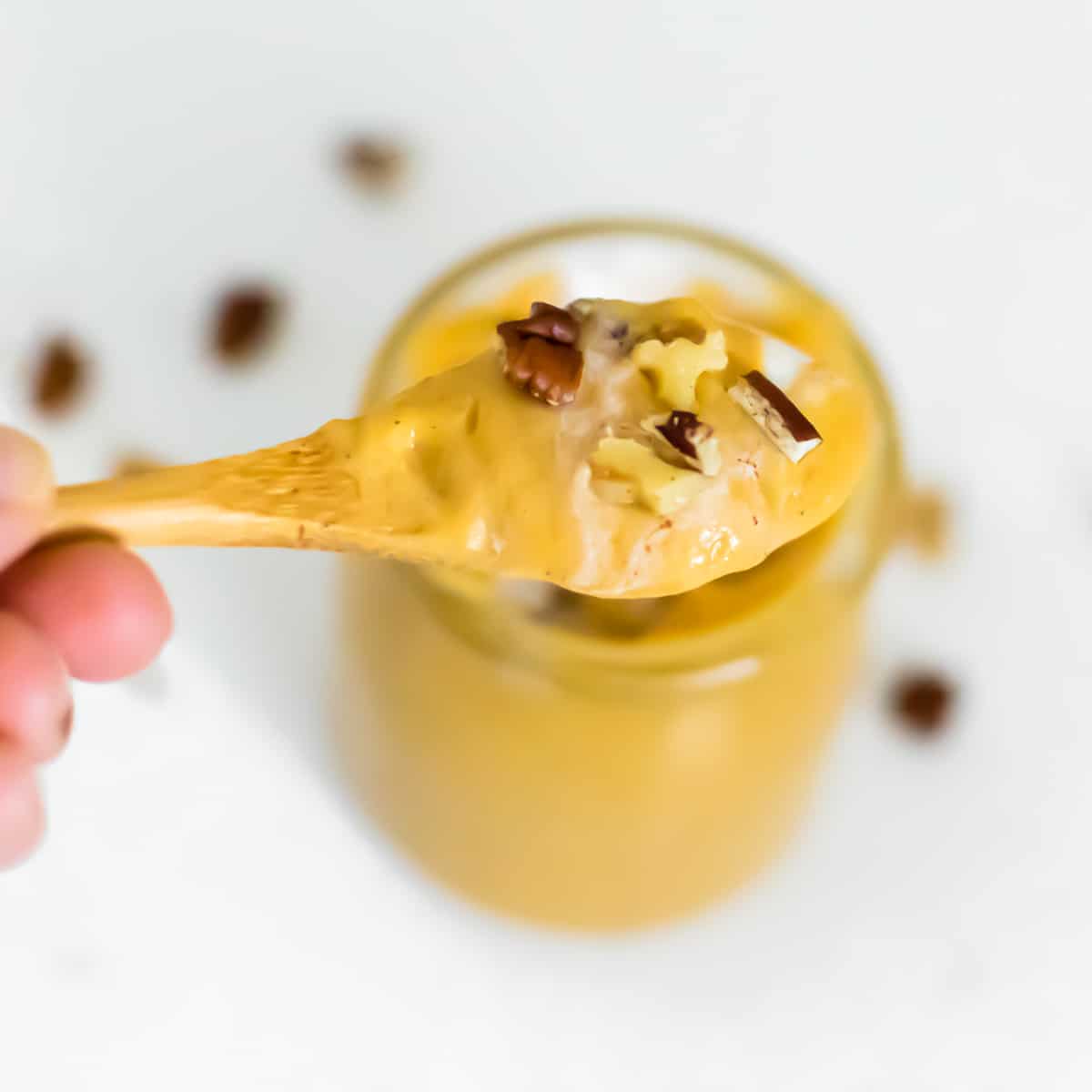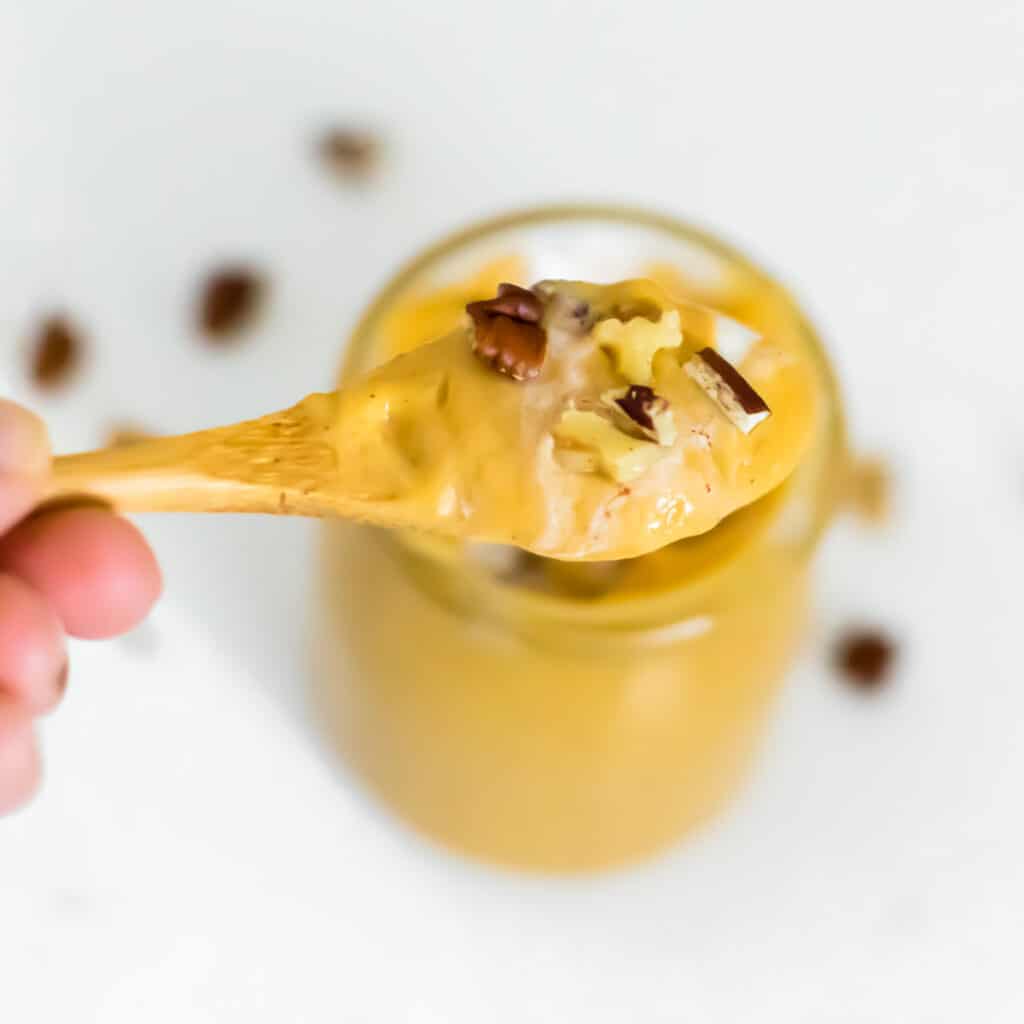 More vegan pumpkin desserts
No Bake Vegan Pumpkin Bars
Vegan Pumpkin Cake
Vegan Pumpkin Muffins
Pumpkin Oatmeal Cookies
This post may contain affiliate links which means that if you click on them and also make a purchase, I will get a small commission. Moreover, I share only those products which I use personally and love.
I hope you enjoy this recipe as much as we did. I am very excited to hear back from you.
Where to find me?
Follow me on Facebook or on Twitter. You may tag @kiipfit on Instagram with your recipe remake images because I would love to see what you cooked.
Did you make it?
If you get a chance to make this recipe then please leave your feedback in the comments below along with a 5-star rating.
In addition, you may checkout my cookbook for everyday comfort vegan recipes.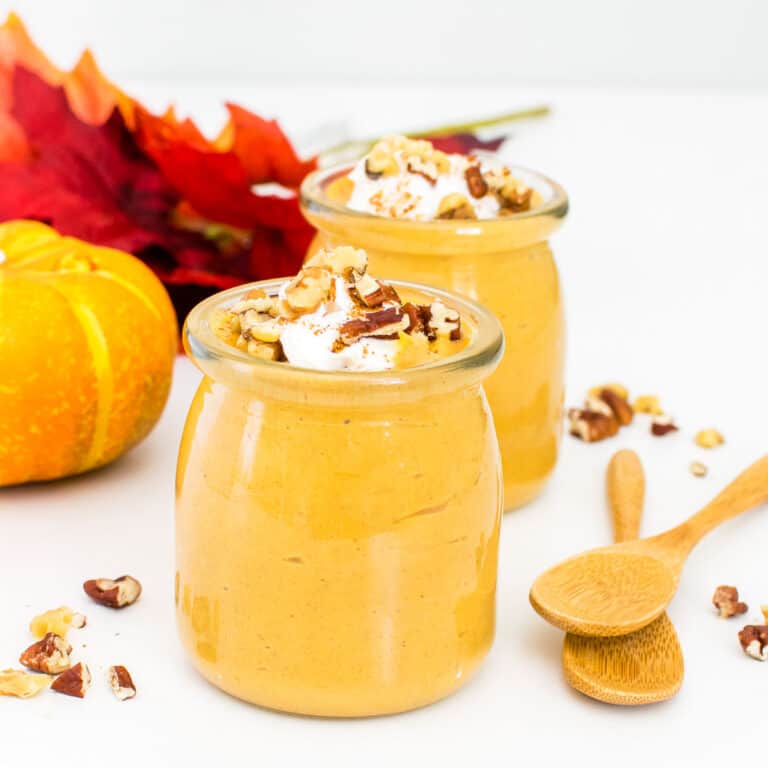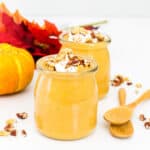 Print Recipe
Vegan Pumpkin Mousse
Vegan Pumpkin Mousse is the easiest creamy dreamy Fall dessert. No cooking involved and bursting with flavors, it's a luscious treat made in a blender.
Instructions
Drain extra water from silken tofu (do not press tofu). Pat dry the drained dates with a kitchen towel. Combine silken tofu and dates in a blender and blend it smooth until couple of bubbles form at its top (may take 3-4minutes). Make sure to pause and scrape from all sides at intervals.

Then, add pumpkin puree, pumpkin pie spice and vanilla extract to the blended tofu in the same blender. Blend it smooth again. It should be thick not pouring consistency.

Spoon it out in the 2 serving bowls or glasses and let it set in the refrigerator for about 20 minutes. You may also refrigerate overnight. But do not exceed 12 hours because it loses its color.

When ready to serve garnish it with whipped cream, chopped walnuts and chopped pecans. Enjoy!
Notes
Make sure to soak dates in extra warm water until it can be squished with fingers easily. After draining the dates pat dry them with kitchen towel to remove extra moisture.
This pumpkin mousse needs to be settled in the serving glasses or bowls so spoon it out equally into the serving containers before refrigerating.
You may make ahead and refrigerate in the serving containers overnight or 12 hours. Garnish just before serving.
If you have 16 oz silken tofu pack then just use half of it. If you have 12 oz silken tofu pack then use 3/4 of it for this recipe. 
Nutrition
Calories:
307
kcal
|
Carbohydrates:
60
g
|
Protein:
8
g
|
Fat:
6
g
|
Saturated Fat:
1
g
|
Polyunsaturated Fat:
5
g
|
Monounsaturated Fat:
3
g
|
Sodium:
10
mg
|
Potassium:
382
mg
|
Fiber:
3
g
|
Sugar:
4
g
|
Vitamin A:
9539
IU
|
Vitamin C:
3
mg
|
Calcium:
67
mg
|
Iron:
2
mg