This soft and moist Vegan Strawberry Cake (Oil Free) is absolutely a delectable family dessert. It is made with fresh ingredients and is bursting with flavors. It's a delicious summer treat for all ages.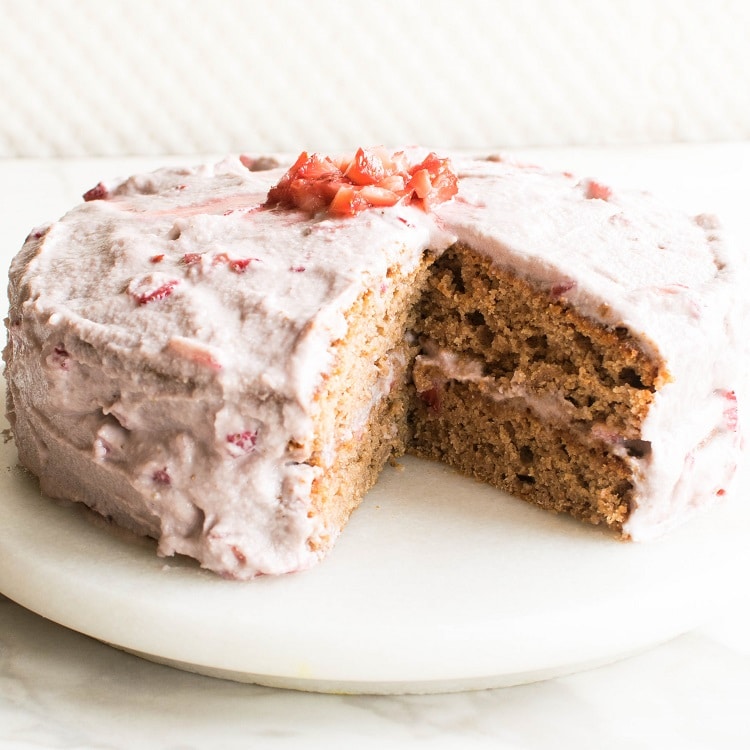 Whenever, I bake a cake my older one is always eager to help especially with the frosting part. Therefore, I must say that it's a fun baking project for kids.
We totally enjoyed over the weekend baking this strawberry cake from scratch and then loading it with icing.
Usually i use oat flour in lot of my recipes so I decided to bake this vegan strawberry cake with oat flour. It turned out excellent and lighter than what we usually get.
So if you are looking for more recipes with oat flour I got you covered.
Oat flour recipes:
Raspberry Glazed Chocolate Oatmeal Cookies
Almond Butter Pumpkin Oatmeal Cookies
Oil Free Vegan Blueberry Muffins
While I whipped up the batter, we ended up licking it quite a bit. Then, when I blended the frosting my toddler decided to completely go overboard and literally ate it all. Hence, I blended it twice and of course some extra.
I must have baked this healthy vegan strawberry cake like 4 times by now. Finally, I confidently wanted to share this recipe with you all.
Health benefits of strawberries
Its packed with vitamin C, fiber and antioxidant thereby helping helping heart health. These also help in lowering blood pressure and improves cholesterol. They help in smooth bowl movement and also facilitates in maintain healthy body weight.
More strawberry recipes for you to try:
Vegan Strawberry Shortcake Protein Smoothie
Strawberry Chocolate Lassi
Strawberry Quinoa Breakfast Bars
Caramelized Strawberry Sauce Pancakes
Strawberry Yogurt Vegan Cookies
Spicy Strawberry Walnut Dip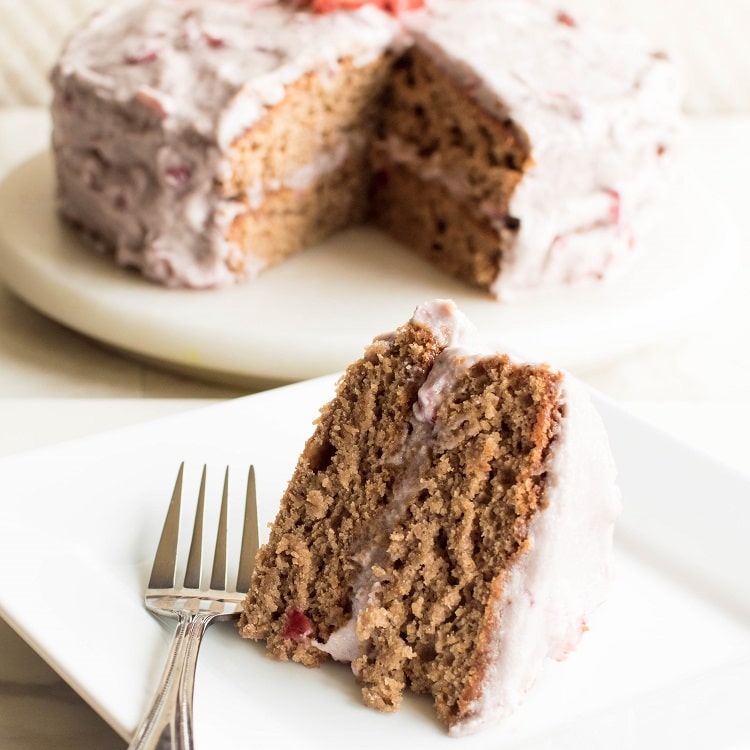 Ingredients for easy vegan strawberry cake
Wet ingredients
Strawberries
Sugar
Vanilla extract
Apple cider vinegar
Dry ingredients
Oat flour
Almond flour
Cornstarch
Sugar
Baking powder
Baking soda
Salt
Frosting
Cashew nuts
Strawberries
Oat milk
Sugar
Toppings
Strawberries
Maple syrup
These ingredients are easily available and its lot of fun to bake this delicious kid friendly vegan dessert.
Ingredients notes:
Strawberries – its best to use them seasonal because they are fresh, bright and absolutely delicious with its juicy sweet flavors.
Granulated sugar – I used the regular white sugar for this vegan strawberry cake recipe so as to keep its natural color intact.
Oat flour – It's a high fiber whole grain ingredient. Moreover, it's a healthier grain and comes in two variations of whole grain and gluten free. Both works well in this recipe.
Almond flour – Its gluten free ingredients with the goodness of vitamins and minerals. It provides a nice subtle nutty flavor in this cake recipe.
Cornstarch – Since this is a vegan cake, I used cornstarch to bind this cake better. After baking, the cake comes out stronger and firmer which in turn helps in layering easily.
Cashew nuts – Since, I made this strawberry cake recipe absolutely oil free and butter free, I used cashew nuts to make this frosting not only delectable but creamier and thicker as well.
For detailed measurement of ingredients, please scroll down to the printable recipe card at the bottom of this post.
How to make Vegan Strawberry Cake (Oil Free)
Step 1: prepare strawberries
Firstly, I cooked strawberries with sugar and vanilla extract. Next, I blended it in a blender and set it aside.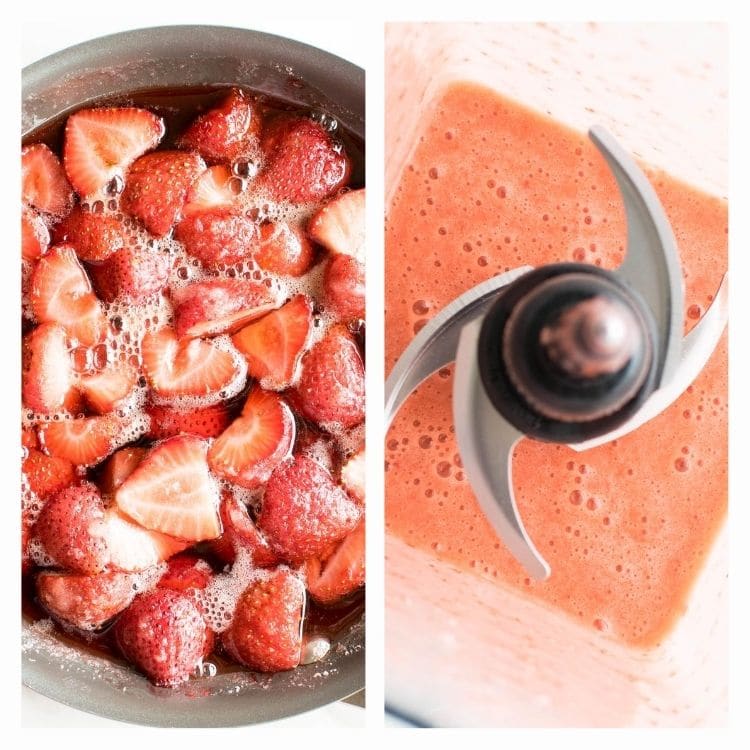 Step 2: prepare the batter
Secondly, I combined all the dry ingredients in a large mixing bowl and mixed it thoroughly.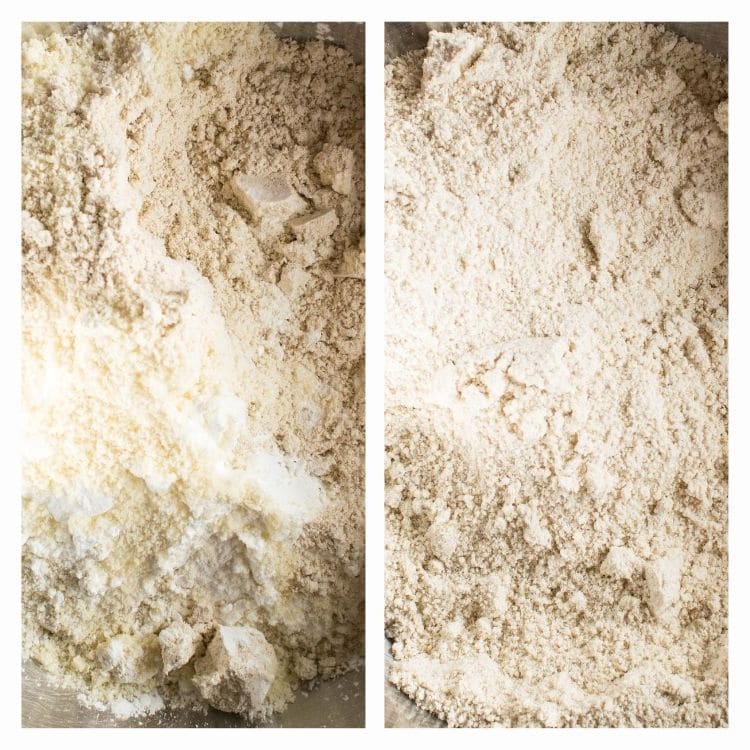 Thereafter, I folded in the wet ingredients into the dry ingredients and whipped up the batter.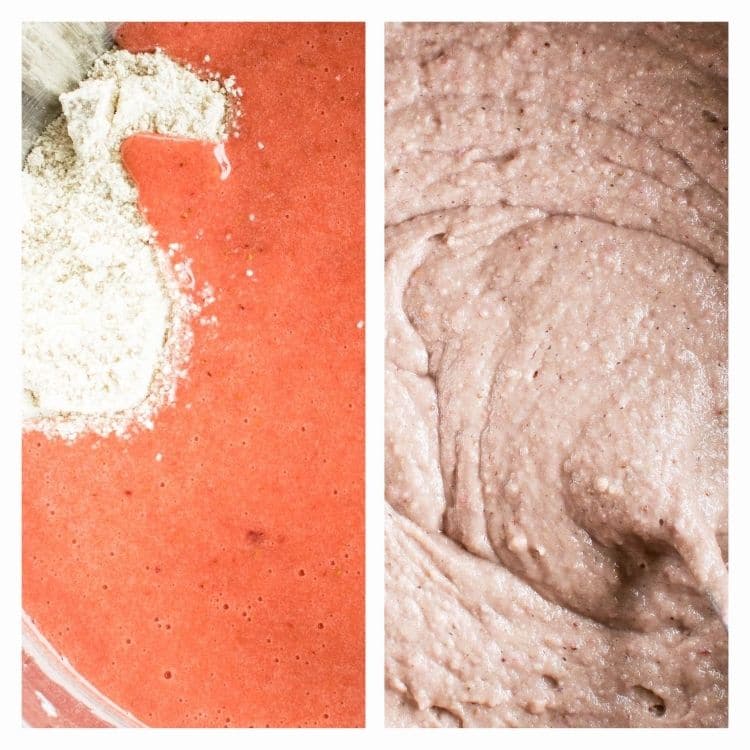 Immediately, I poured the batter into two 8-inch cake pans and placed them in a pre-heated oven and baked them for 30 minutes.
Step 3: prepare the frosting
In the meanwhile, I blended the frosting ingredients in a blender and then folded in some more chopped strawberries to it. Immediately, I refrigerated it until I was ready to use it.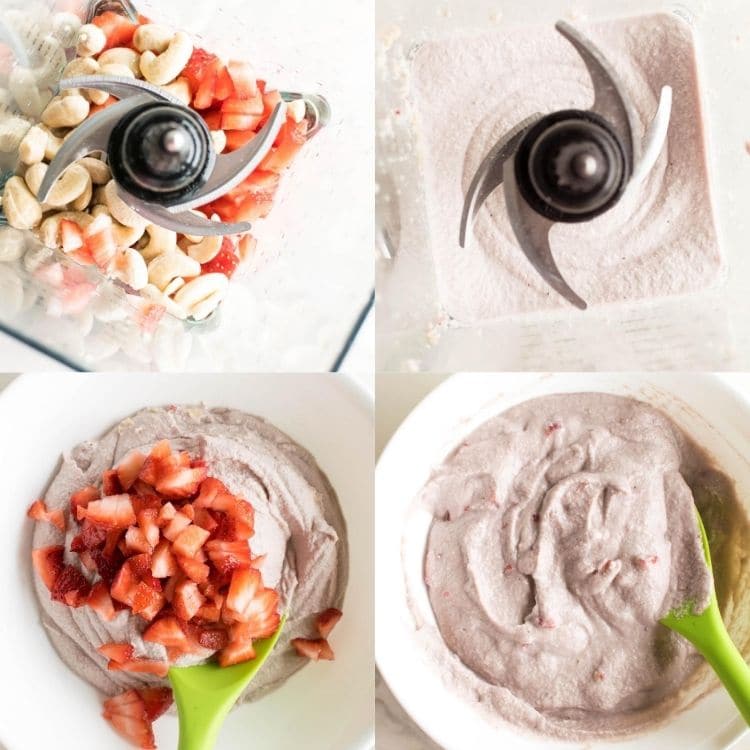 Once the cakes were baked, I took them out and let them cool for at least 15 minutes. If you have time, I would recommend letting cool for longer. This step helps the cake to become firmer.
Step 4: layering and covering
Then, I released both the cakes from these pans and started frosting on one of them. Followed by another layer of cake and then, I covered the entire cake with the frosting.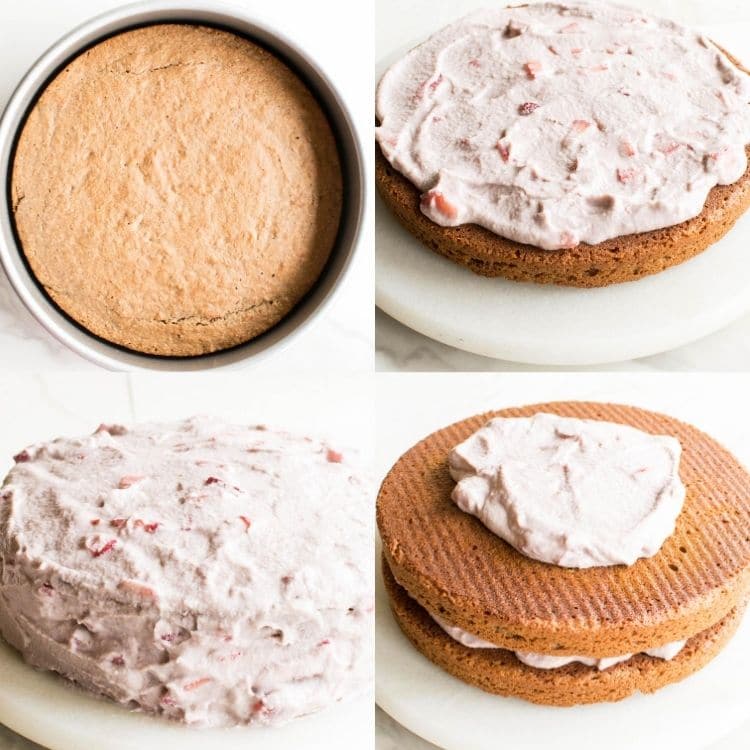 Step 5: prepare strawberry topping for garnishing
Lastly, in a nonstick pan I cooked the toppings and once cooled I topped the cake with it.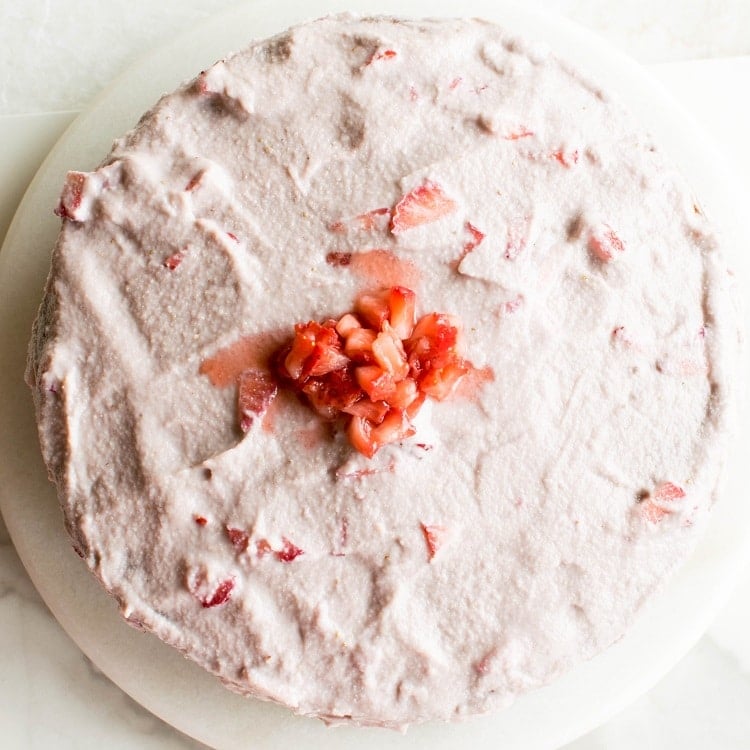 My family has been enjoying this easy strawberry cake recipe for a while now. Its one of our favorite dessert. Moreover, its light in tummy and great on taste buds.
Expert tips:
Most importantly, I always bring the ingredients to room temperature first before starting the baking process.
While measuring the flours make sure to measure them directly from the container and cut the extra with a flat knife from the top.
Always measure strawberries after chopping or slicing for this recipe.
Do not get confused between cornstarch and corn flour. They are both different ingredients. Make sure to use cornstarch for this recipe.
Vegan Strawberry Cake (Oil Free) FAQs
Should I make this with fresh or frozen strawberries?
I made this cake with fresh strawberries which brings out a scrumptious and delectable flavor.
How long do they last?
Leftovers can be refrigerated in an air tight container for about 2 weeks.
Do I need to use a cake mix for this recipe and which one?
I have made this strawberry cake from scratch so therefore no cake mixes are required.
If I make it oil free will it still be moist, soft and fluffy?
Absolutely. This moist strawberry cake is perfectly baked and its soft and fluffy. I have tested it several times and got approval from various family members and friends.
Is this healthier?
It's a vegan dessert and definitely environmentally friendly. Even though I have made it oil and butter free but the sugar content is sufficient enough to increase its calories. Although, I have used healthy flours but still it's a sweet treat which should be consumed on special occasions and not too often. Therefore, its not a health food but because I have used whole grains in this recipe this dessert sums up to a guilt free treat that can be enjoyed little more frequently comparatively.
How does it taste like?
It has a nice subtle flavor of fresh strawberries with a touch of nutty flavors. The frosting is light and fluffy and not overly sweetened. Overall, it's a desirable vegan strawberry cake for the entire family.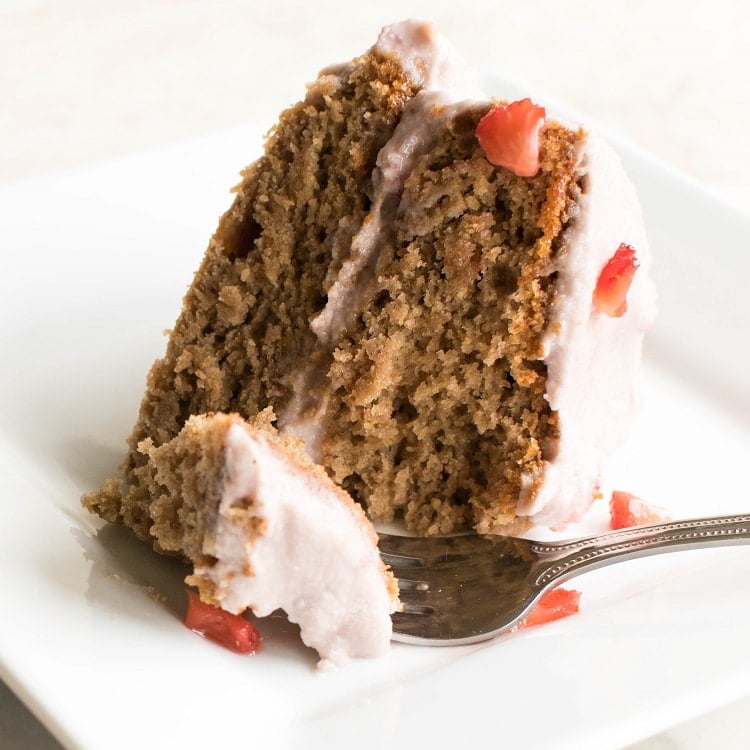 My other cake recipes for you to try:
Vegan Orange Cake
Pan Seared Vegan Apple Almond Cake
Easy Vegan Chocolate Cake
Vegan Carrot Cake with Oat flour
This post may contain affiliate links which means that if you click on them and also make a purchase, I will get a small commission. Moreover, I share only those products which I use personally and love.
I hope you enjoy this recipe as much as we did. I am very excited to hear back from you.
Where to find me?
Follow me on Facebook or on Twitter. You may tag @kiipfit on Instagram with your recipe remake images because I would love to see what you cooked.
Did you make it?
If you get a chance to make this recipe then please leave your feedback in the comments below along with a 5-star rating.
In addition, you may checkout my cookbook for everyday comfort vegan recipes.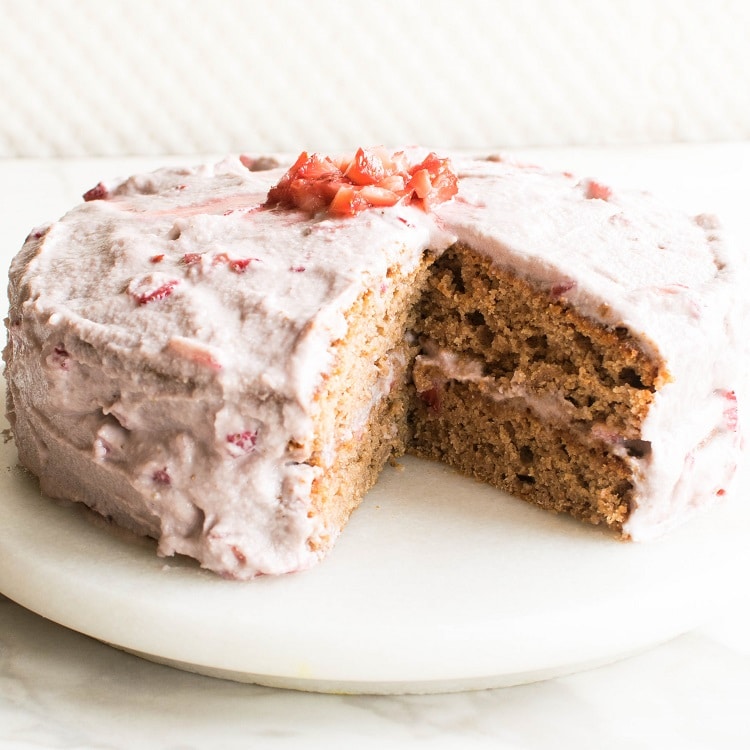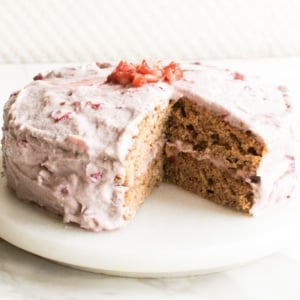 Print Recipe
Vegan Strawberry Cake (Oil Free)
This soft and moist Vegan Strawberry Cake (Oil Free) is absolutely a delectable family dessert. It is made with fresh ingredients and is bursting with flavors. It's a delicious summer treat for all ages.
Ingredients
Wet ingredients
1

16 oz box or 3 cups

sliced into halves fresh strawberries

3/4

cup

granulated or white sugar

2

tsp

vanilla extract

1

tbsp

apple cider vinegar
Frosting
1

cup

raw cashew nuts

(soaked in warm water and drained)

1 1/4

cup

chopped fresh strawberries

6

tbsp

oat milk

1/4

cup

granulated or white sugar
Toppings
1/4

cup

finely chopped fresh strawberries

1

tbsp

maple syrup
Instructions
In a nonstick pan combine sliced strawberries,sugar and vanilla extract ( from wet ingredients). Cook on high heat until strawberries are soft (about 2 minutes). Turn it off and let it cool.

Preheat oven at 350-degree Fahrenheit and prepare two 8-inch cake pans by lightly greasing them with a cooking spray. Blend the cooked strawberries in a blender until smooth.

In a large mixing bowl combine all the dry ingredients and mix very well making sure that there are no lumps of soda. You may rub it with hands to smoothen out the ingredients.

Pour the blended strawberry into the dry ingredients. Add apple cider vinegar to it. Whip it well with a spatula until all ingredients blend very well into each other.

Divide the batter and pour it equally into the two cake pans. Place them in the middle rack of the oven and bake it for 30 minutes. Turn it off and take them out. Let them cool in the cakes pan for atleast 15 minutes without disturbing. As they cool down, they will leave the pans.

In the meanwhile, in a blender combine cashew nuts, ¾ cup strawberries and oat milk. Blend it until smooth and creamy scraping the sides. Take it out in a bowl and fold remaining ½ cup strawberries and sugar. Refrigerate until ready to use.

Now, turn the cake pan on flat surface and release the cakes. Put a thick layer of frosting on top of one of the cakes and spread it evenly with a butter knife. Gently, place the second cake as another layer on the frosted cake and cover the entire cake with the frosting using a butter knife.

In a nonstick pan combine the ingredients for toppings and cook until strawberries are soft (about 2 minute). Lastly, garnish the cake with this topping and enjoy.
Notes
It is important to bring all the ingredients to room temperature before starting the baking process.
This cake can be sliced into desired pieces and refrigerated in an air tight container for about 2 weeks.
One-layer option: prepare a 9-inch cake pan and pour the entire batter into it. Bake it in a preheated oven for 30 minutes. Take it out and let it cool and release it from the cake pan. Then, cover the outside of the cake with the frosting.
For complete gluten free option: use gluten free oat flour. Almond flour is gluten free and that cornstarch I used here is gluten free too. The baking time would be the same but the cooling time may vary. Cool the cake completely if using GF oat flour before icing. In this case the cake might be slightly crumble more when slicing.
Make sure to use cornstarch and not corn flour. They are two different ingredients.
Nutrition
Calories:
396
kcal
|
Carbohydrates:
66
g
|
Protein:
6
g
|
Fat:
5
g
|
Saturated Fat:
1
g
|
Sodium:
242
mg
|
Potassium:
186
mg
|
Fiber:
3
g
|
Sugar:
3
g
|
Vitamin A:
23
IU
|
Calcium:
77
mg
|
Iron:
2
mg