This healthy Peach Smoothie is made with summer fruits and is naturally sweetened. It's refreshing, hydrating and packed with vegan protein.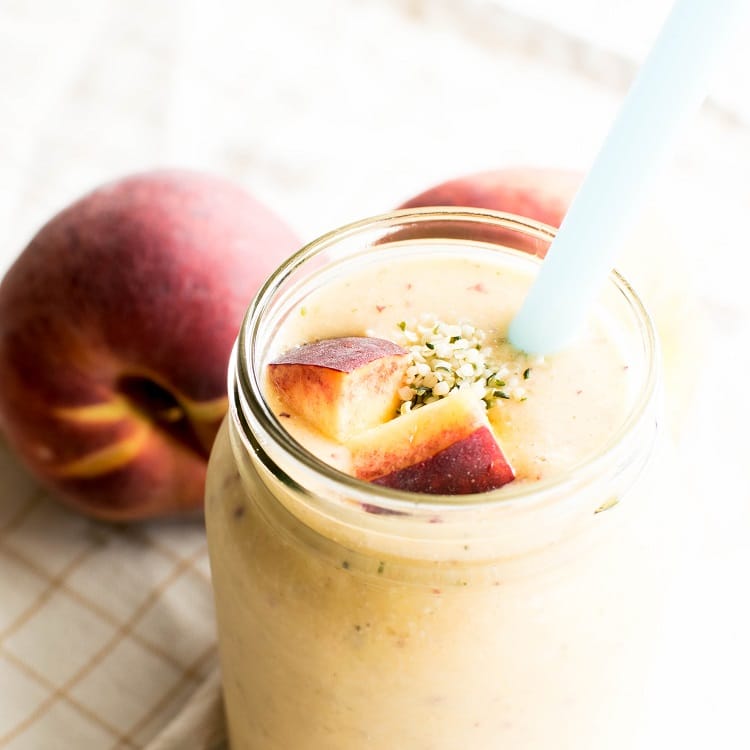 Smoothies are frequent in my home all year round. However, I try and use seasonal produce for my smoothies most of the time. Since peaches are in the season so it had to go into my beverage.
I often like to blend creamy watermelon smoothie recipe in season to quench thirst during summer.
I enjoy blending variety of fruits and veggies together with some dairy free milk along with some protein seeds into it to make it wholesome and healthier. So, therefore, this peach smoothie recipe is one of my kind.
Therefore, my best orange smoothie is absolutely delish.
When I am extra creative I also make my air fryer peaches and my family loves it. My peach salsa is another favorite and I bet its a winner.
I am very excited to share it with you here because I would love you to enjoy this easy peach smoothie.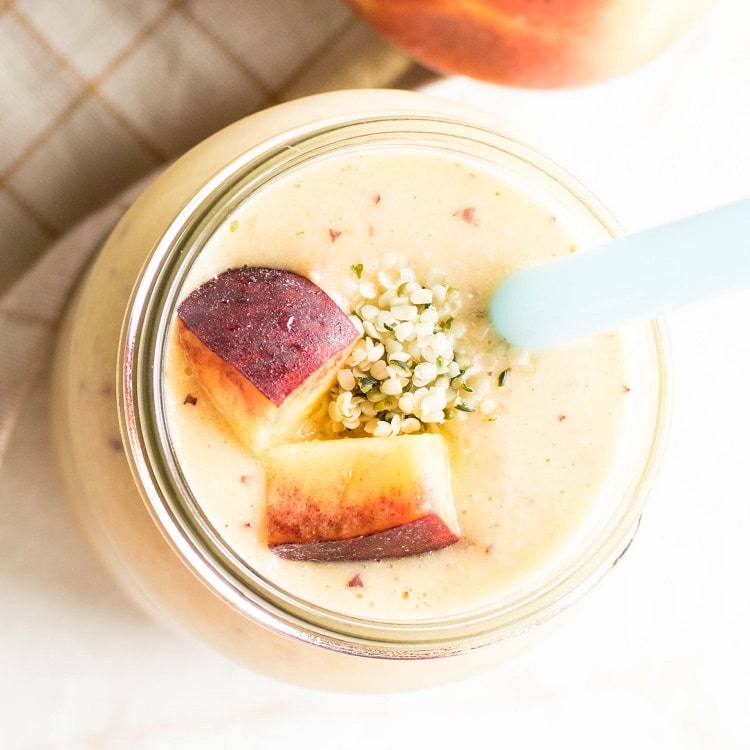 Ingredients for Peach Smoothie
Fresh peaches
Frozen mango chunks
Frozen banana
Hemp seeds
Dairy free milk
Almond butter
Dates
All these are easily available ingredients. I have not used any expensive or exotic ingredients for this vegan smoothie recipe.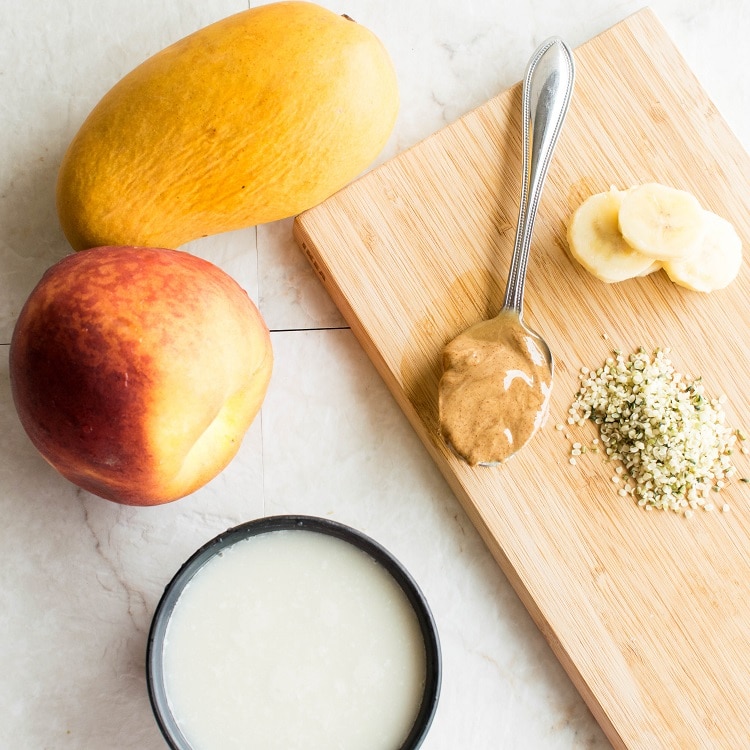 Ingredient notes:
Peaches – I have used fresh yellow peaches for this recipe but you may use frozen as well. I love the juice and softness of this fruit. Moreover, I wanted to enjoy it seasonal so I used the fresh produce. If it's not in the season then go ahead blend the frozen ones but make sure that you use yellow peaches or yellow nectarines.
Banana – Usually, I blend fresh bananas along with the rest of the ingredients but this time I went with a frozen one. I was happy that it gave this smoothie a thick and creamy texture. I must tell you that freezing a banana is extremely simple and it actually makes your smoothie creamy.
Hemp seeds – It's a vegan protein seeds that comes under the super food category. Its high in fiber and other nutrients. I usually like to add some protein to my beverages and this time I decided to go with this. Also, I did not want to change the original colors of the blended fruits so hemp seeds worked very well with my smoothie recipe.
Almond butter – It gives a subtle almond like taste to the smoothie making it rich and flavorful. If you have nut allergy then simply skip this altogether.
Dates – they are absolutely optional in this recipe. If you are watching calories or are not fond of dates then simply skip it. However, my family loves a little sweetened smoothie so I blended these for them in this peach smoothie recipe.
How to make Peach Smoothie
Firstly, I combined all the ingredients in a blender (except dates) and then blended it smooth. At this stage I quickly taste tested it. For me, it tasted perfect so I poured my share into my glass. Then, I added dates to the rest of it and blended it again.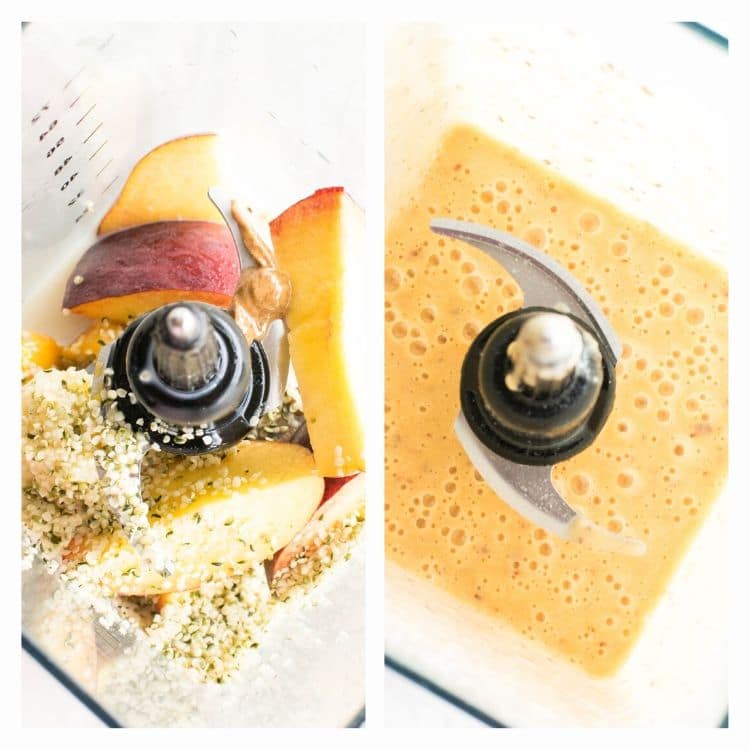 Lastly, I poured it in the serving glasses and served immediately.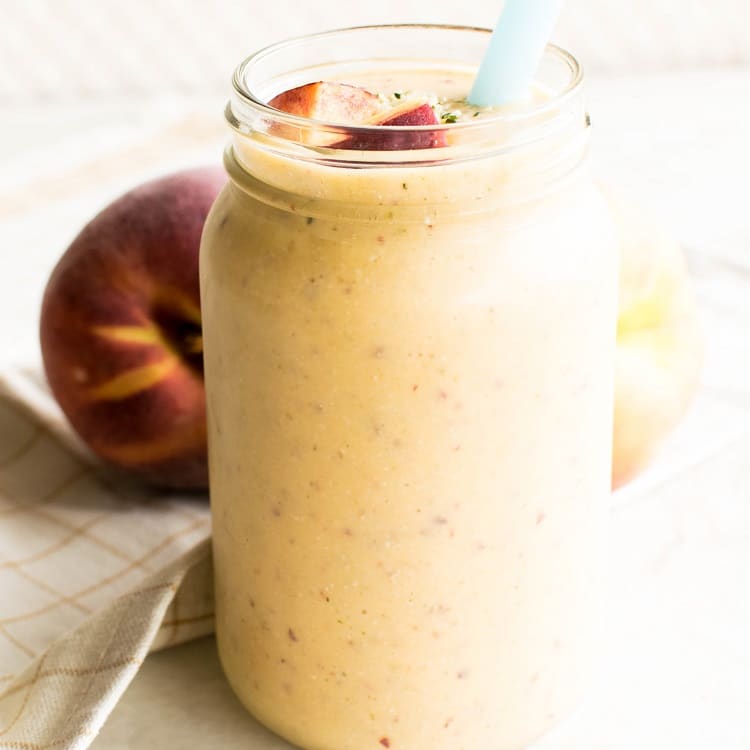 Expert tips:
When you freeze banana make sure to peel it. You may freeze it overnight or if you are short of time just one hour of freezing will work too.
It is important to use a high-speed blender to make sure that the dates are well blended or else there might be bite sized pieces in your beverage.
Please do not get tempted to use peanut butter in this recipe for simple reason that we do want peanut flavor in it.
I know it is extremely easy to blend so I urge you to not wait and quickly try it out since summer is already here and the sun is shining bright.
Peach Smoothie FAQs
What kind of peaches should I use here – canned or frozen?
I used fresh yellow peaches to give it a seasonal touch. If it's not available then you use frozen ones but not canned.
Can I make it ahead of time?
This peach smoothie tastes best when served immediately.
Do I need to peel peaches?
No, blend it with the skin to add fiber and taste to this drink.
Is this healthy?
I have blended fruits along with protein rich hemp seeds and dairy free milk. Therefore, this vegan peach smoothie is very healthy and kid friendly too.
How do you I cut the peaches for this smoothie?
As I mentioned earlier that you do not need peel peaches for this recipe. So, wash it thoroughly and simply slice them and dispose of the middle big seed.
You may also like:
Peaches and Potatoes Stir Fry
Roasted Peaches Parfait
Peach Pecan Pasta
Apricot Cucumber Chia Smoothie
Antioxidant Blackberry Smoothie
Kale Honey Dew Melon Smoothie
Watermelon Cherry Cooler
Chia Hemp Green Smoothie
Did you make it?
If you get a chance to make this recipe then please leave your feedback in the comments below along with the ratings. In addition, you may tag @kiipfit on Instagram because we would love to see what you cooked.
If you desire to explore more delicious recipes of mine then you may check out my cookbooks.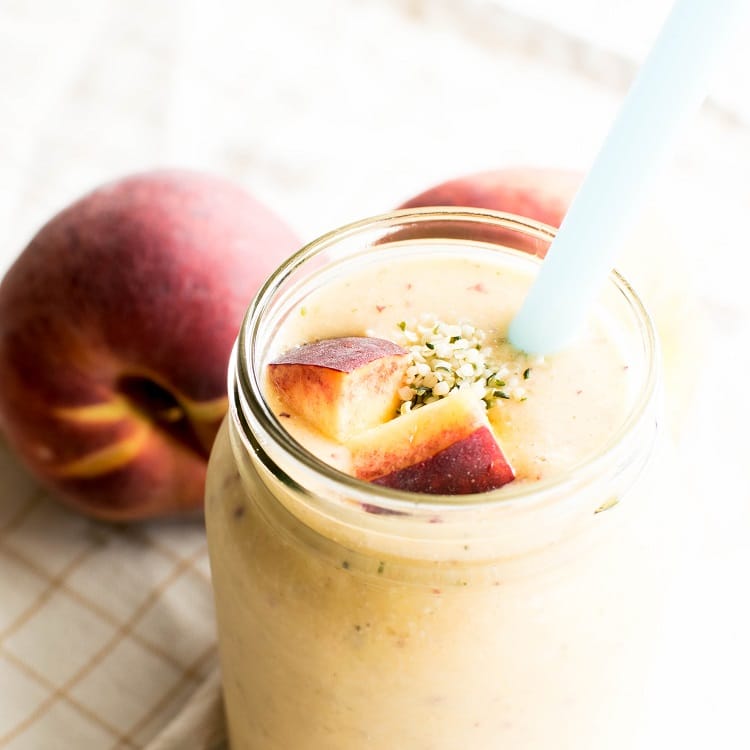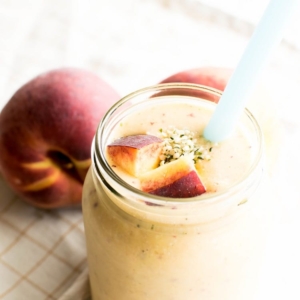 Print Recipe
Peach Smoothie
This healthy Peach Smoothie is made with summer fruits and is naturally sweetened. It's refreshing, hydrating and packed with vegan protein.
Ingredients
2

whole

fresh yellow peaches

(seeds removed and sliced)

1

cup

frozen mango chunks

1

large

frozen banana

(see notes)

1/4

cup

hemp seeds

2 1/2

cups

unsweetened dairy free milk

1

tbsp

almond butter

2

pitted dates

(optional)
Instructions
In a blender combine all the ingredients (except dates ) and blend it smooth. Taste test at this stage. If it is sweet enough for you then pour into serving glass immediately. Or else add the dates and blend it again.

Pour it into serving glasses and enjoy itimmediately.
Notes
Personally, I liked it without the dates because I do not like a very sweet smoothie. However, my family like it with dates and it became a bit sweeter as well.
This smoothie taste best when served immediately.
I have used fresh yellow peaches in this recipe. You may try it with frozen yellow peaches if desired.
How to freeze banana -Peel a ripe banana (not overripe but it should be in the process of browning). Place it in a Ziplock bag and seal it. Now, keep the bag in the freezer until you are ready to blend this smoothie.
For almond butter – make sure to use the one that is unflavored. Check the ingredients and it should say only roasted almonds so that it does not have any salt or sweetener to make this smoothie healthier.
I have provided the nutritional value with out dates. If you add dates then the nutritional value will change to = Calories: 245 Fat: 8 Carb: 30 Protein: 6
Nutrition
Calories:
216
kcal
|
Carbohydrates:
22
g
|
Protein:
6
g
|
Fat:
9
g
|
Saturated Fat:
1
g
|
Sodium:
1
mg
|
Potassium:
30
mg
|
Fiber:
1
g
|
Sugar:
1
g
|
Vitamin A:
65
IU
|
Calcium:
31
mg
|
Iron:
2
mg