This Breakfast Orange Smoothie (Vegan) is packed with vitamins and nutrients for a delicious morning boost. It's made with fresh oranges, mangoes, carrots, dates and superfoods.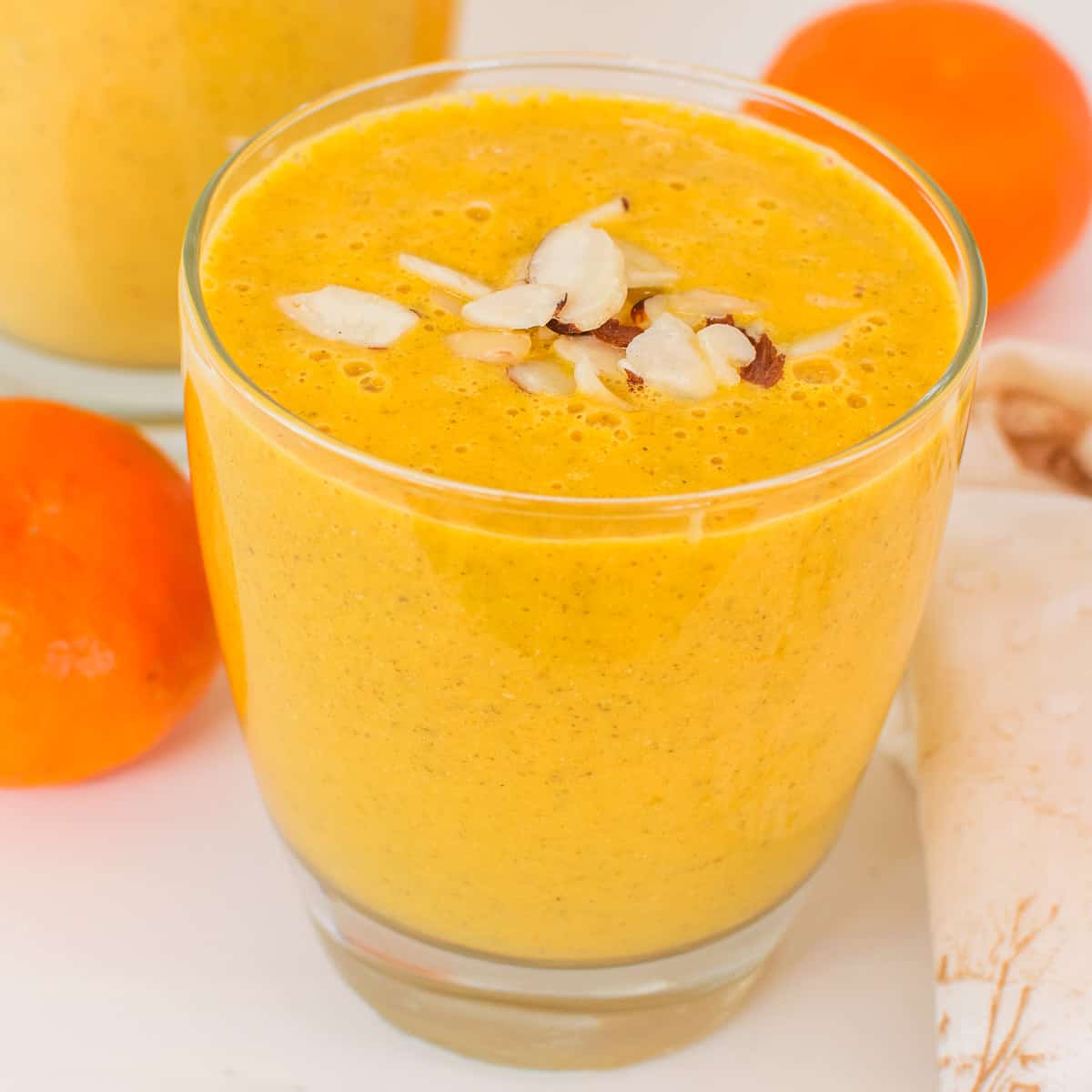 This orange smoothie is a perfect refreshing mid-day snack and good for on-the-go breakfast.
So grab your blender now and blend it ASAP.
Benefits of consuming smoothies for breakfast
It is said that breakfast is the most important meal of the day. Hence, the proper balance of nutrition intake at the start of the day is crucial. Smoothies help in fulfilling our nutrition intake in the morning thereby helping us reach our satiety. This in turn helps us make right choices of food throughout the day.
Almost every weekend we start our day with fresh orange juice pancakes.
Health benefits of oranges
Its packed with vitamin C which improves immunity. Due to its high fiber content oranges help improved digestion. They also reduce blood pressure and may reduce kidney stones also. This zesty citrus fruit also help improves brain function.
Often times, orange juice is the most wanted morning beverage. Kids definitely love it. But when I served my homemade creamy smoothie made with oranges, my family instantly loved it.
I love its fresh and citrus flavor. Hence, I delightfully, bake my vegan orange drizzle cake as our dessert.
For savory dinner, I often make my orange sauce tofu.
Often times, I crave for cauliflower orange chicken.
Therefore, I love to be creative with oranges and try to come up with various recipes. This time, I simply decided to blend this easy orange smoothie.
Why you will love this
Easy and quick
Dairy free
kid friendly
Packed with vitamin C and vitamin A
High in fiber and protein
Only 8 ingredients
Ingredients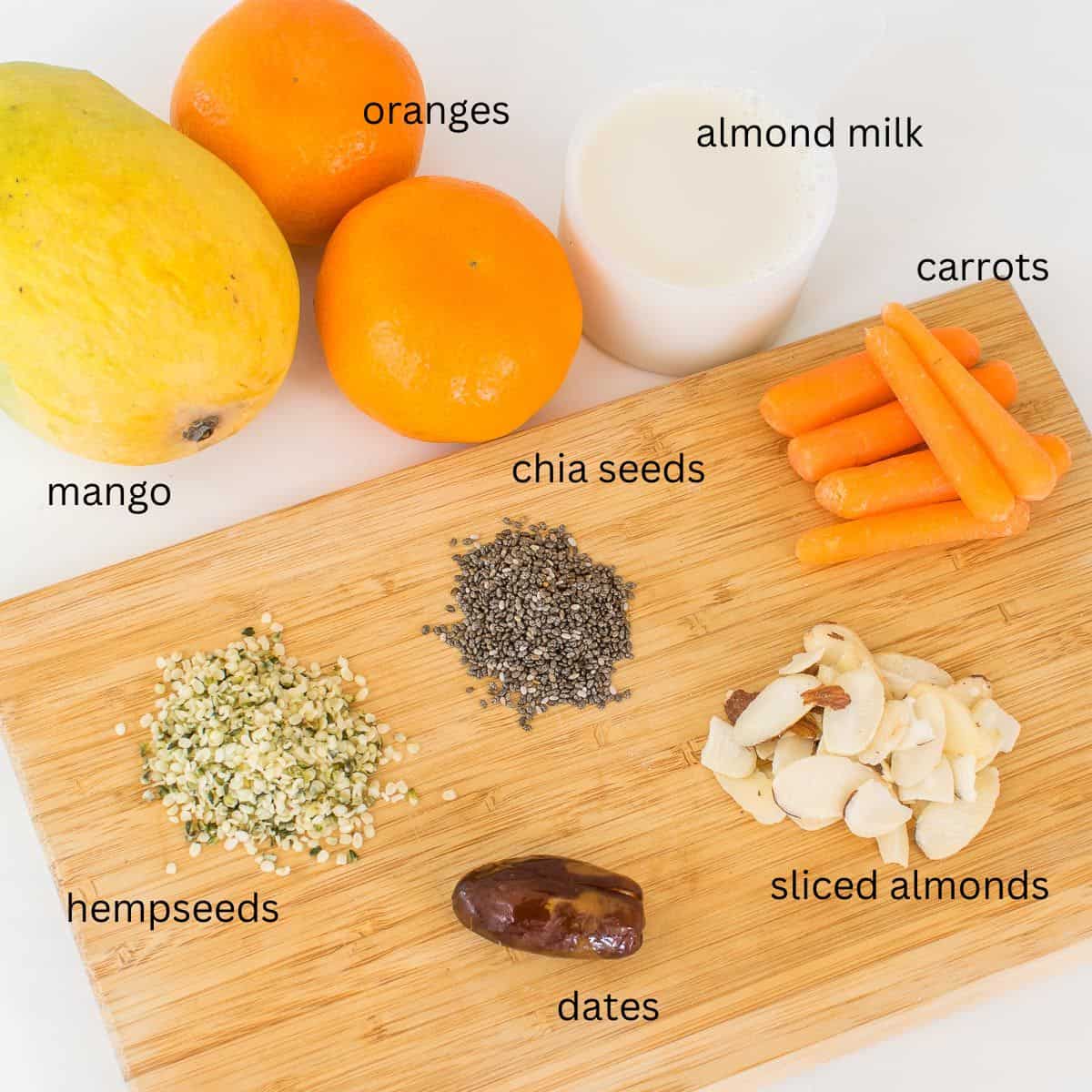 Ingredients notes
Oranges – I used small California mandarin oranges (cuties) because I find them perfectly sweet and zesty.
Mangoes – Fresh or frozen mangoes can be used in this recipe.
Carrots – I used baby carrots for convenience. You may use regular carrots as well. so 1 large regular carrot will work fine in this orange breakfast smoothie.
Dates – I added dates so as to maintain the citrus flavor and the beautiful tint of this smoothie. I felt banana overpowered other flavors and so dates worked better for us. However, you may use banana instead of dates in this fresh orange smoothie if desired.
Chia seeds – I added this superfood in it for protein and healthy fats.
Hempseeds – This adds more protein and fiber making this recipe healthy and nutritious.
Almond milk – Any dairy free milk works in this healthy orange smoothie.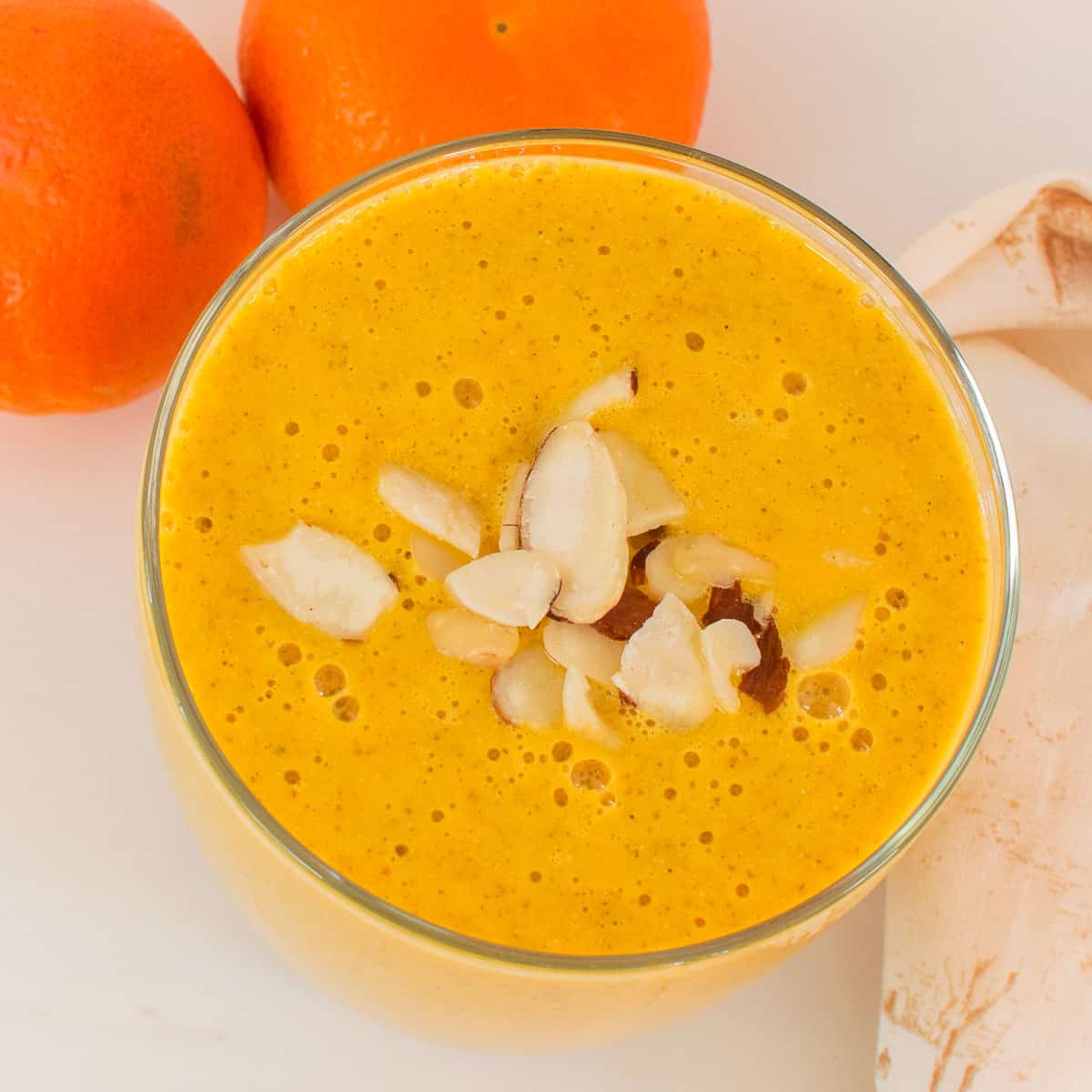 For detailed measurement of ingredients, please scroll down to the printable recipe card at the bottom of this post.
How to make
Firstly, in a blender, I combined peeled oranges, mango chunks, carrots, dates, chia seeds, hempseeds and almond milk.
Secondly, I blended it smooth.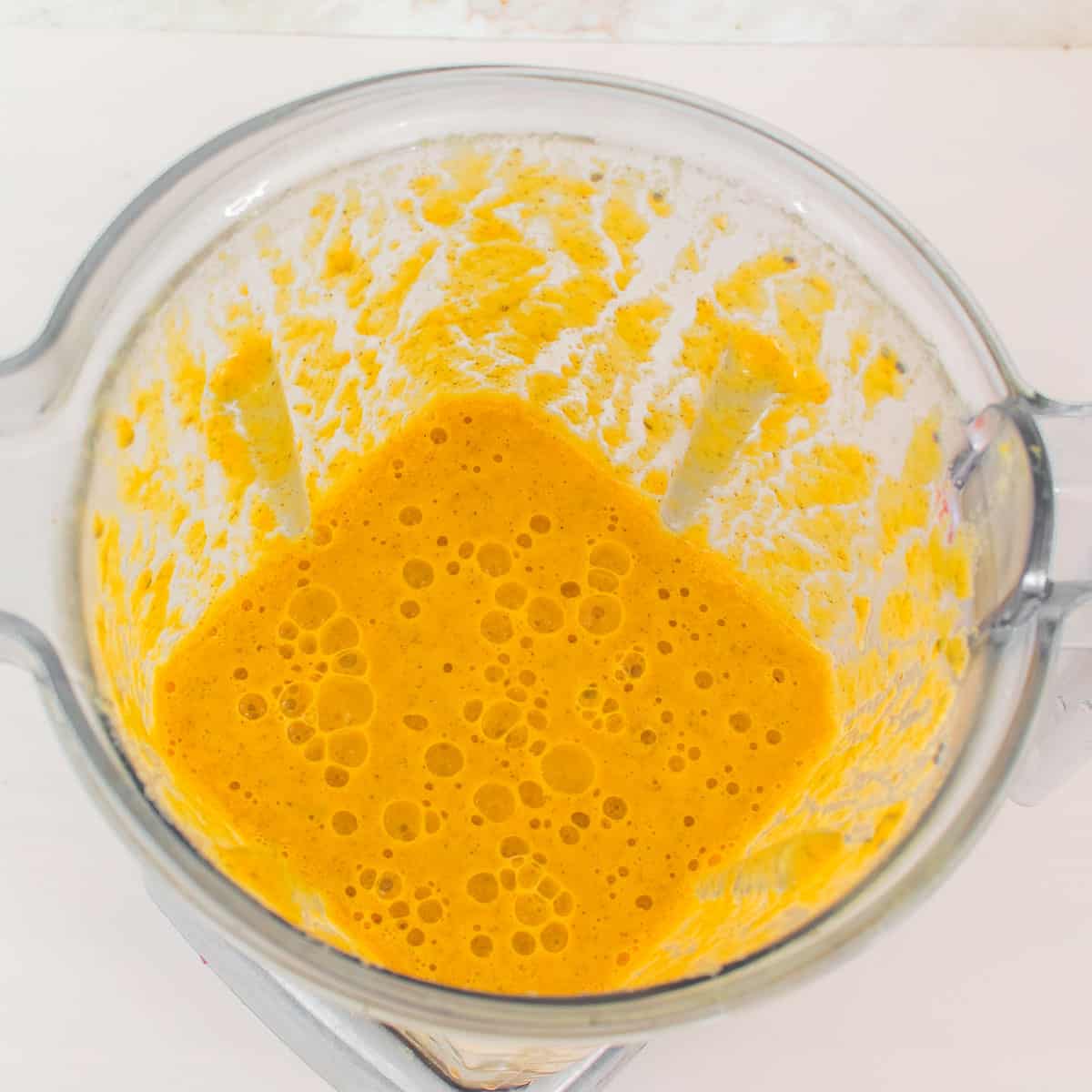 Lastly, I poured it in the serving glasses and garnished with sliced almonds.
This protein orange smoothie was refreshing, energizing and so satisfying.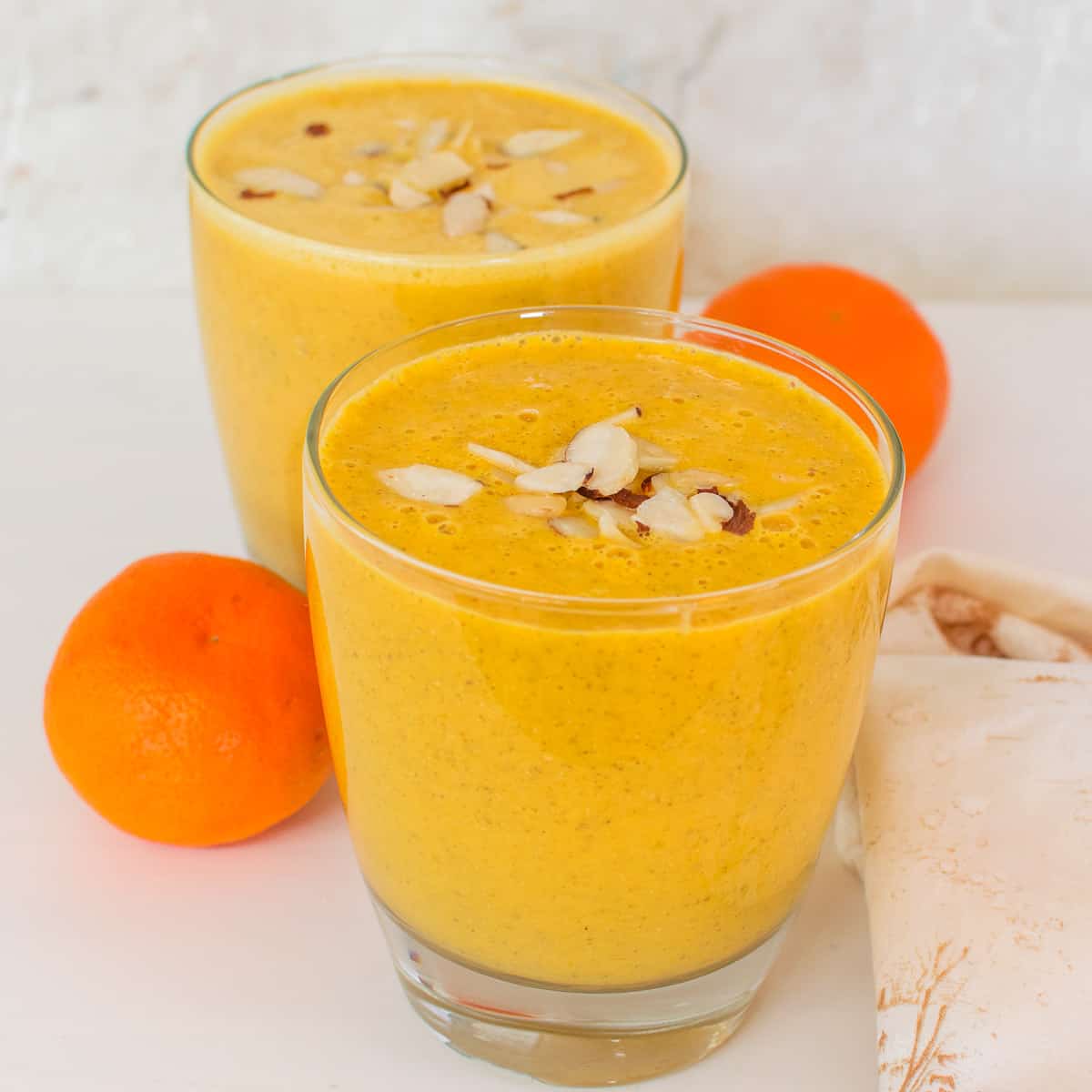 Variations
You can be creative with this smoothie since its homemade.
Ginger: Grate 1/8 inch fresh root ginger in the blender for better digestion.
Pineapple: Instead of mango you can add fresh or frozen pineapple chunks for a more tangy flavor in this recipe.
Date syrup: Instead of whole dates you can add 1-2 tbsp of date syrup to it.
Expert tips
It is important to peel the skin of oranges. If you add whole orange, this smoothie will taste a bit tart. Also, roughly remove the extra pulp without stressing too much.
Make sure to use high speed blender for this smoothie. It is important to remember that blending might take up to 2 minutes so do not rush through it.
Frequently Asked Questions (FAQs)
How long does it last?
Since it is made from fresh fruits and veggies, this smoothie is best served immediately. If kept for longer it loses its taste and texture.
Can I use orange juice instead of fresh oranges?
My family personally liked the taste of this smoothie with fresh oranges. Hence, I recommend using fresh oranges instead of orange juice because you might need to add more dates or other sweetener to it.
How can I make this smoothie more creamy?
To make it extra creamy you may blend 2 tbsp cashew nuts along with other ingredients.
More vegan smoothie recipes
Healthy Pineapple Banana Smoothie
Lemon Smoothie Recipe
Fresh Raspberry Smoothie Recipe
Creamy Peach Smoothie
This post may contain affiliate links which means that if you click on them and make a purchase, I will get a small commission. Moreover, I share only those products which I use personally and love.
I hope you enjoy this recipe as much as we did. I am very excited to hear back from you.
Where to find me?
Follow me on Facebook or on Twitter. You may tag @kiipfit on Instagram with your recipe remake images because I would love to see what you cooked.
Did you make it?
If you get a chance to make this recipe then please leave your feedback in the comments below along with a 5-star rating.
In addition, you may checkout my cookbook for everyday comfort vegan recipes.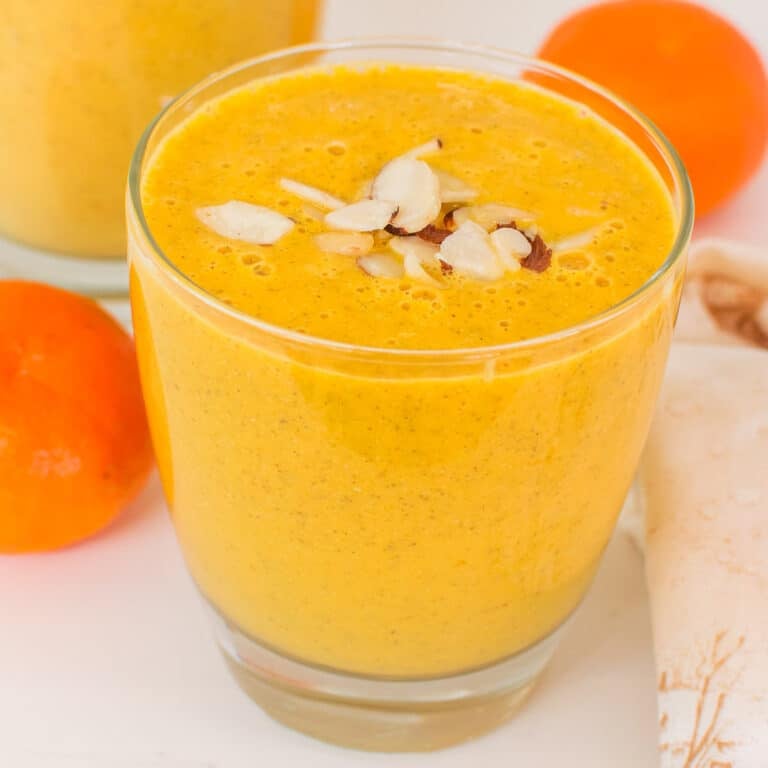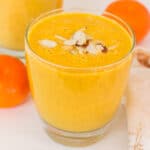 Print Recipe
Breakfast Orange Smoothie (Vegan)
This Breakfast Orange Smoothie (Vegan) is packed with vitamins and nutrients for a delicious morning boost. It's made with fresh oranges, mangoes, carrots, dates and superfoods.
Instructions
In a blender combine oranges, mango chunks, baby carrots, dates, chia seeds, hempseeds and almond milk.

Blend it very smooth. May take up to 2 minutes.

Pour the smoothie in serving glasses and garnish with sliced almonds. Serve immediately.
Notes
After peeling the oranges, you may roughly remove the extra fiber and pulp from the orange slices if desired. 
Feel free to add more dates depending on your taste. However, the nutritional value will vary. 
This orange smoothie tastes best when served immediately.
You may use 1 banana instead of dates but the taste will change a bit from the original recipe. You may also use 1-2 tbsp date syrup in place of whole dates if desired. 
If you like ginger you may grate 1/8 inch fresh root ginger into the blender with other ingredients.
Nutrition
Calories:
223
kcal
|
Carbohydrates:
33
g
|
Protein:
9
g
|
Fat:
10
g
|
Saturated Fat:
1
g
|
Polyunsaturated Fat:
13
g
|
Monounsaturated Fat:
4
g
|
Trans Fat:
0.01
g
|
Sodium:
1
mg
|
Potassium:
61
mg
|
Fiber:
3
g
|
Sugar:
0.2
g
|
Vitamin A:
3
IU
|
Vitamin C:
0.1
mg
|
Calcium:
51
mg
|
Iron:
1
mg