Juicy, sweet and flavorful Air Fryer Peaches are the best summer dessert made with real fruit, seasoned with cinnamon and topped with oats and nuts for crunchy deliciousness. Its quick, easy and a crowd pleaser.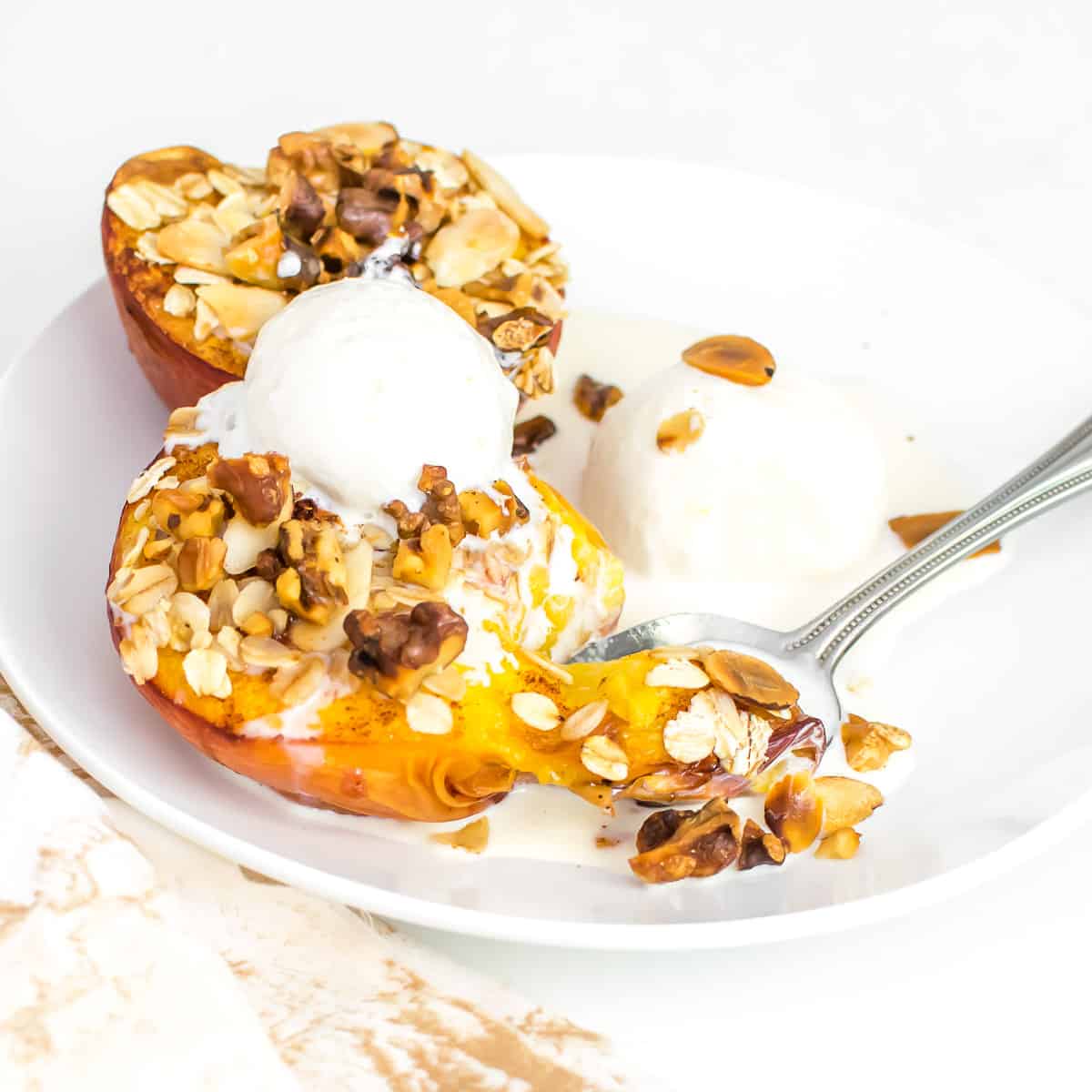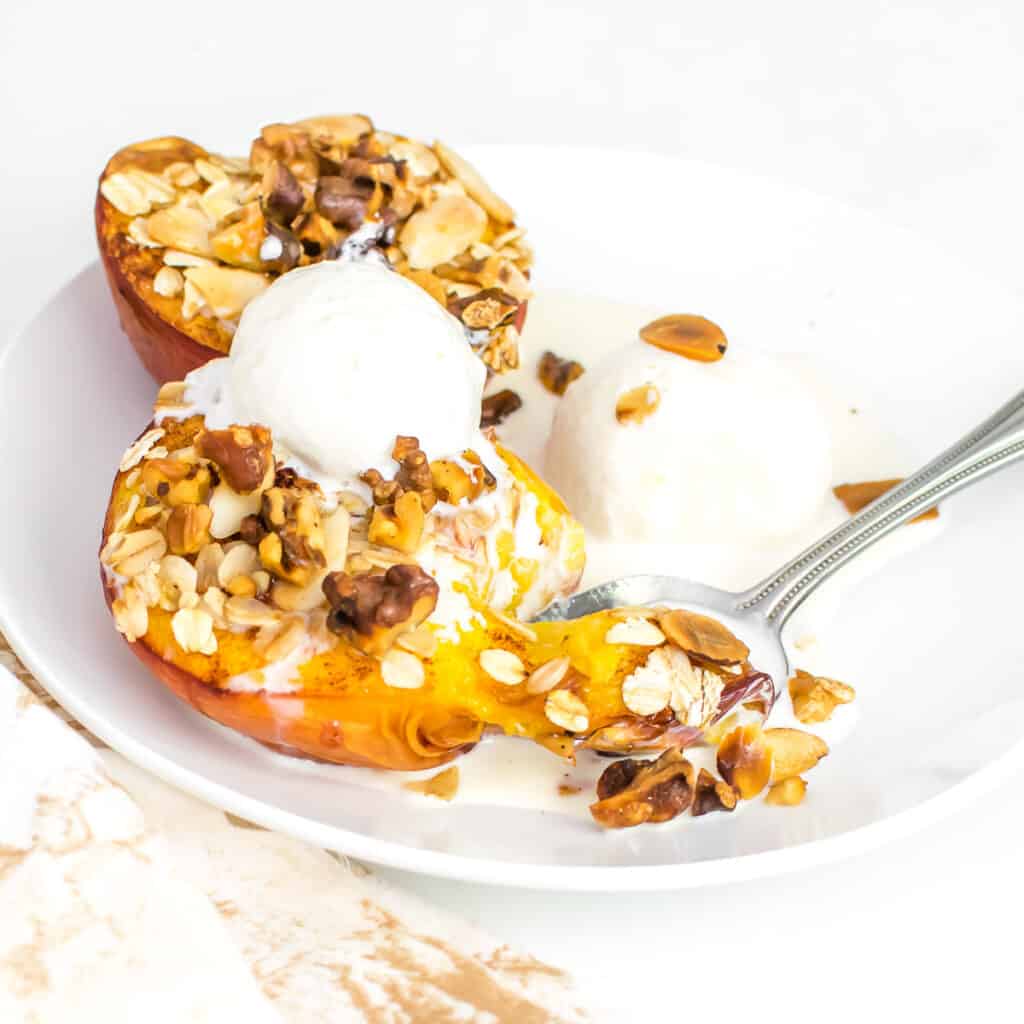 I usually make peach cobbler every season and my peach smoothie is super quick and a healthy way to enjoy this fruit. However, air fryer peach dessert is an outstanding treat for all ages.
Its so quick and hassle free and also mess free. I tweaked this recipe by adding topping while air frying instead of sprinkling granola. We loved it this way and I am sure it will be a winner recipe for you as well.
How to buy peaches
Yellow peaches are the most delicious ones and the versatile variety. These are the most commonly used for desserts. When buying just make sure that they are firm and not mushy. However, we do want them to be sweet and slightly ripened. So, when you press it gently with your finger, you should be able to feel the softness but your finger should not be pressed in with the fruit.
Health benefits of peaches
Peaches contain both soluble and insoluble fiber and is known to decrease inflammation. These also help building stronger immunity and promotes healthy eyes and smoother skin.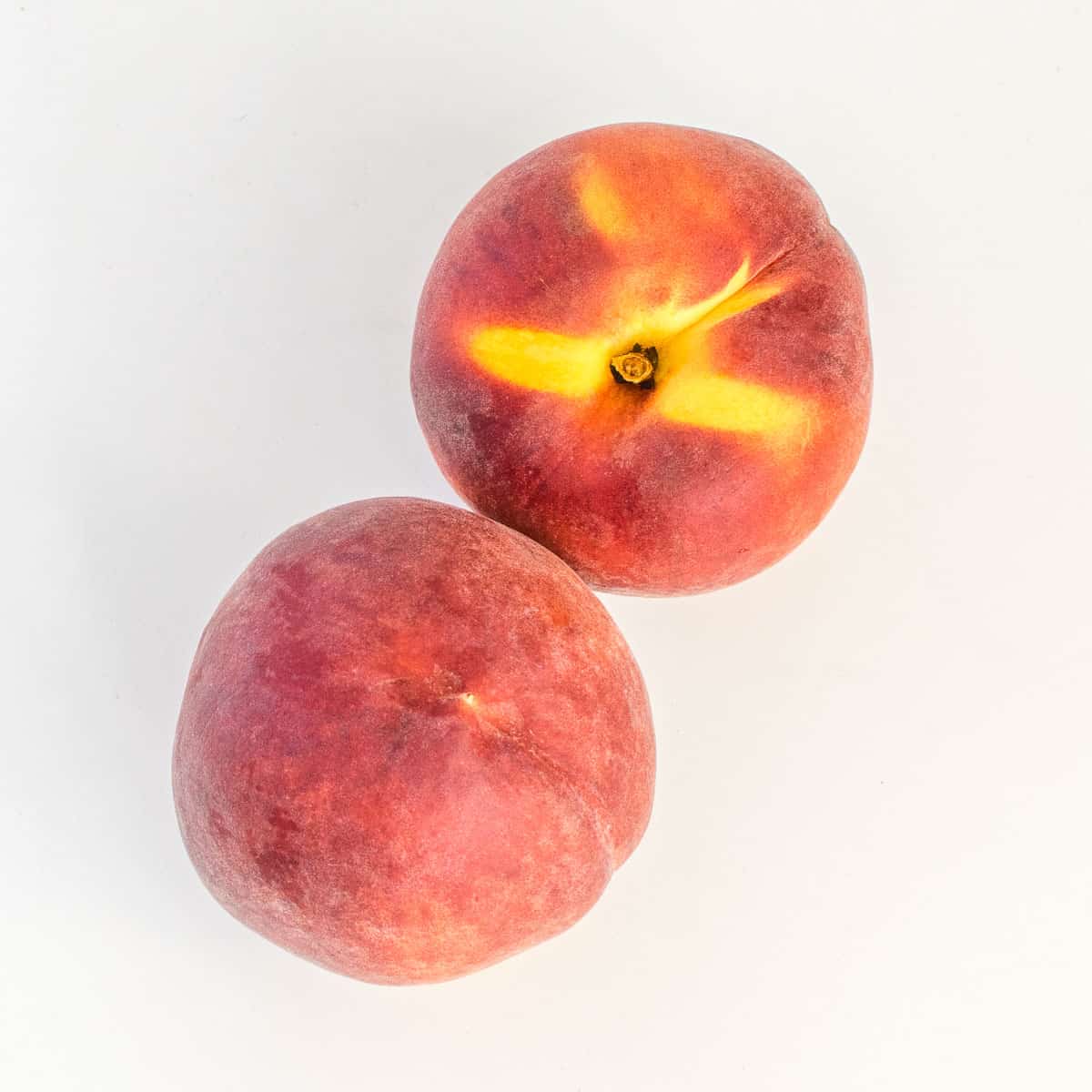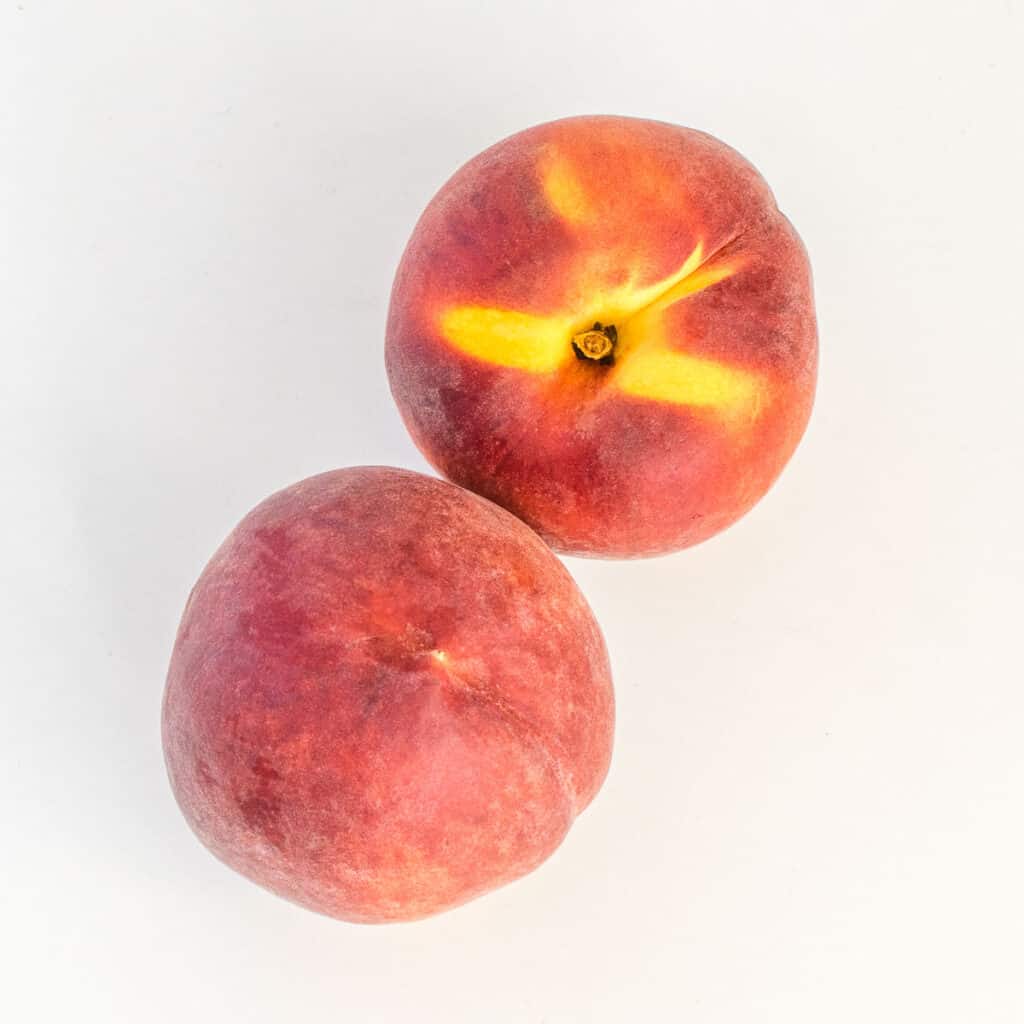 You will love these air fried peaches because they are:
Healthy fruit dessert
Easy and quick
Vegan dessert
Deliciously sweet and juicy
Ingredients for best air fryer peaches recipe
Yellow peaches
Maple syrup
Cinnamon
Oats
Slivered/sliced almonds
Chopped walnuts
Only 6 simple ingredients and you can serve this air fryer grilled peaches within minutes to your loved ones.
Ingredients notes:
Peaches – make sure to use firm yellow peaches with its skin. However, nectarines and apricots also work here.
Maple syrup – it gives a nice caramelized aroma and flavor to this air fryer peaches recipe.
Cinnamon – it adds to it flavor and is also know to have many health benefits.
Oats – I used old fashioned oats to make it wholesome and give crunch to these air fried peaches.
Nuts – I used almonds and walnuts because these were handy. You may also use pecans if desired.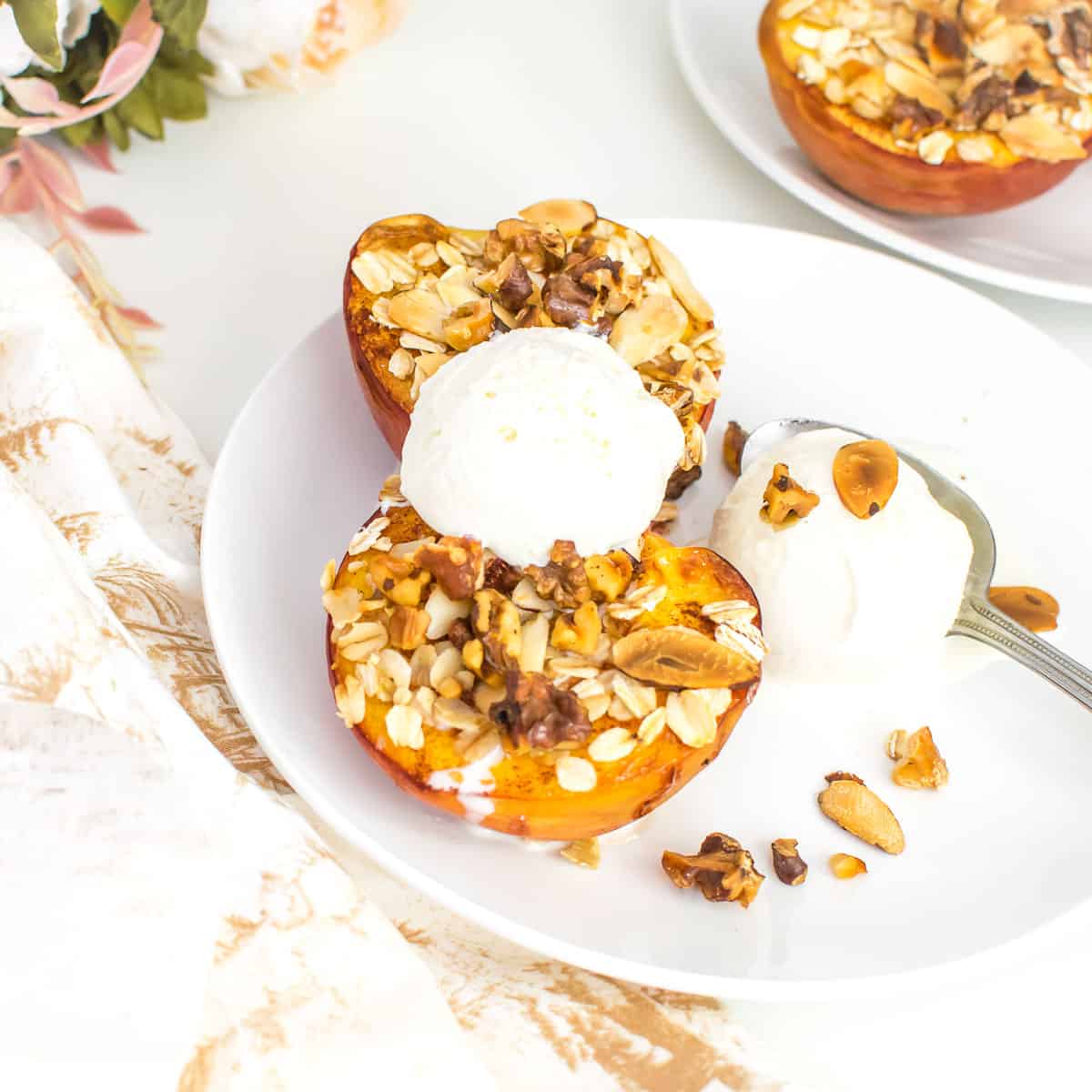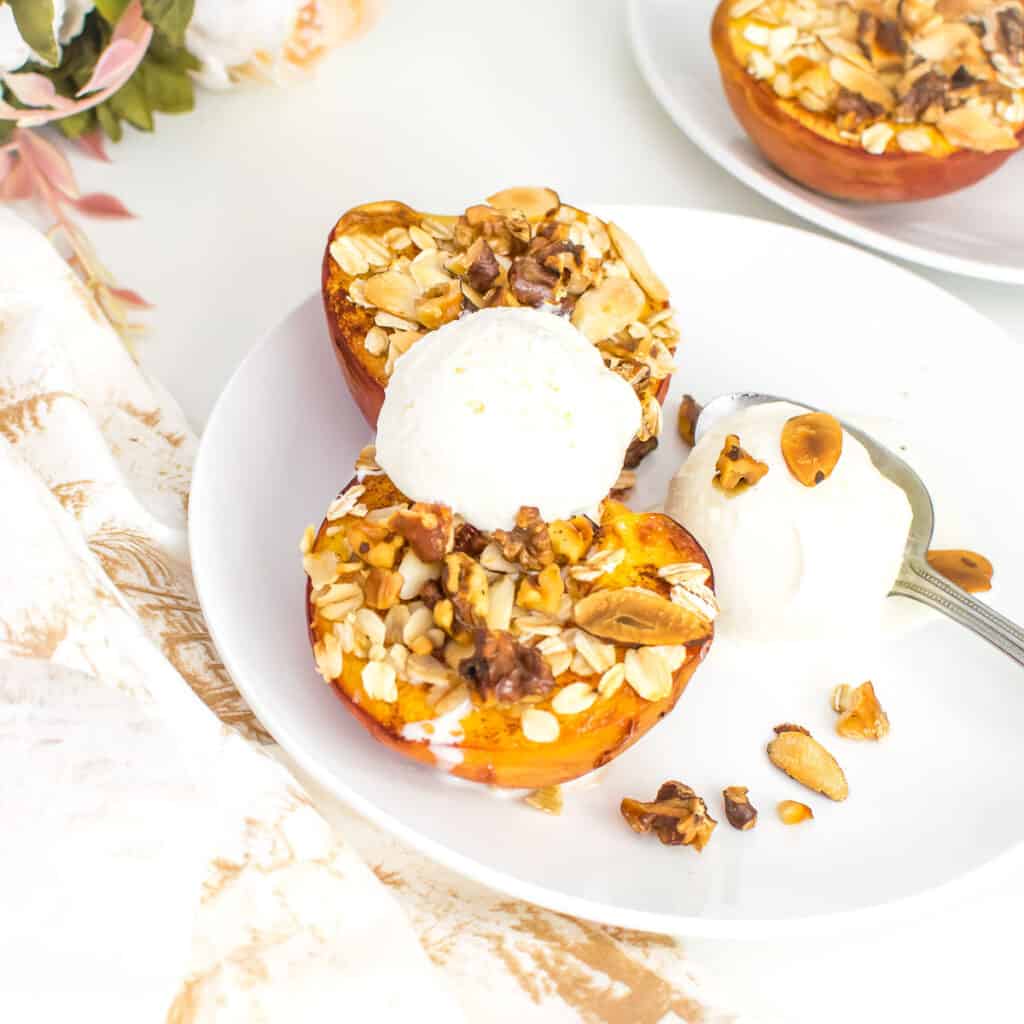 For detailed measurement of ingredients, please scroll down to the printable recipe card at the bottom of this post.
How to make Air Fryer Peaches
Firstly, with a sharp knife, I slit the peach all around it.
Secondly, with the help of both my hands, I twisted it and separated the two halves.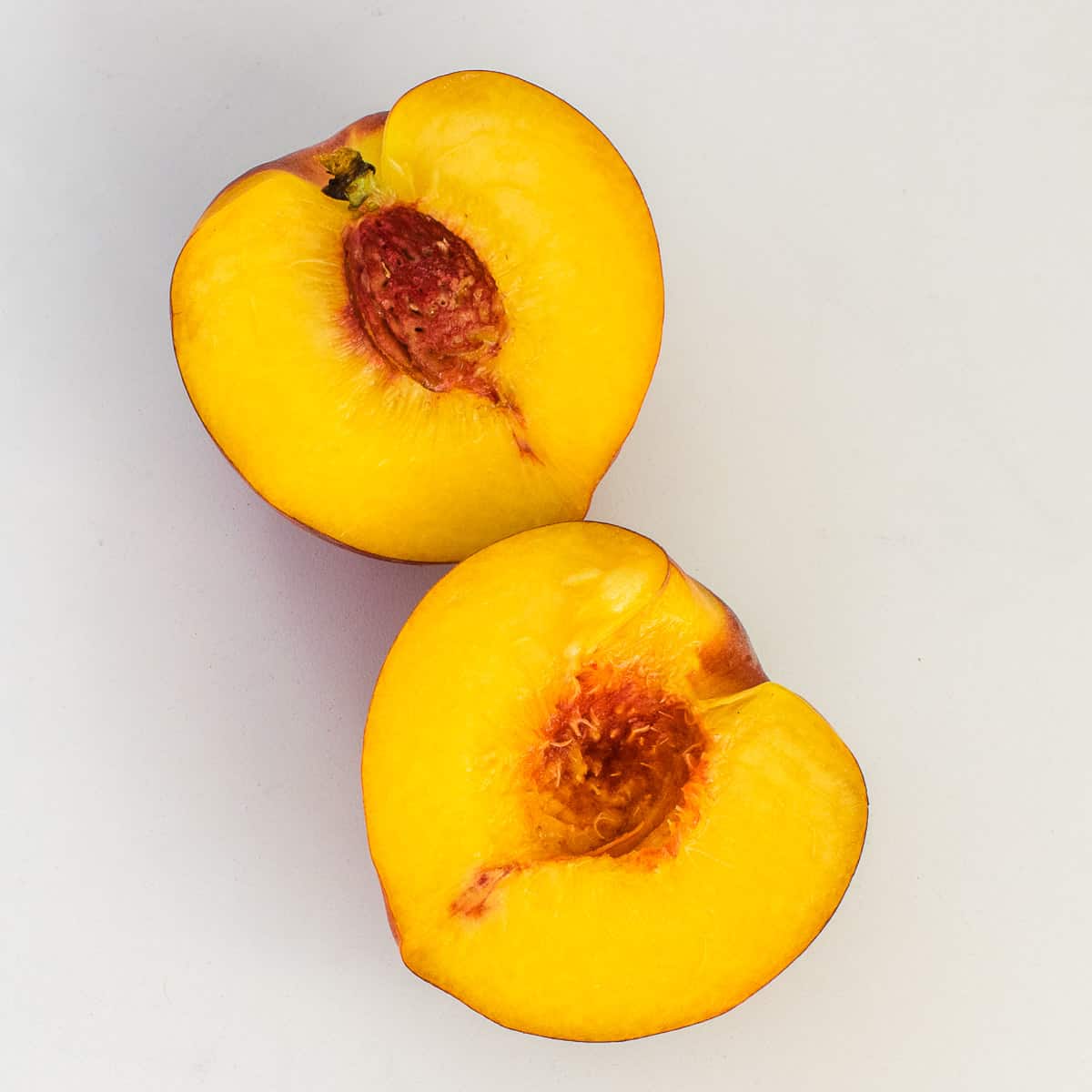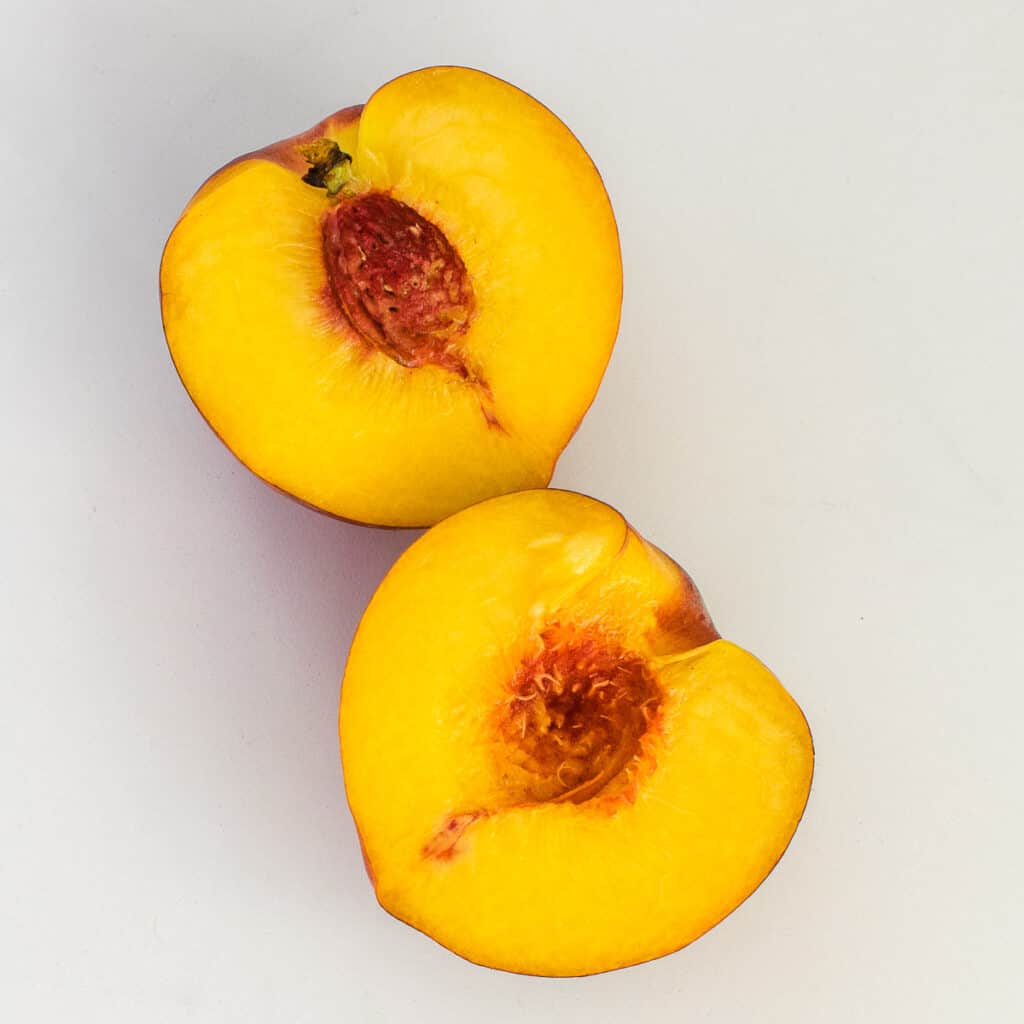 Next, I removed its seeds and placed it in the prepared air fryer basket with its skin at the bottom.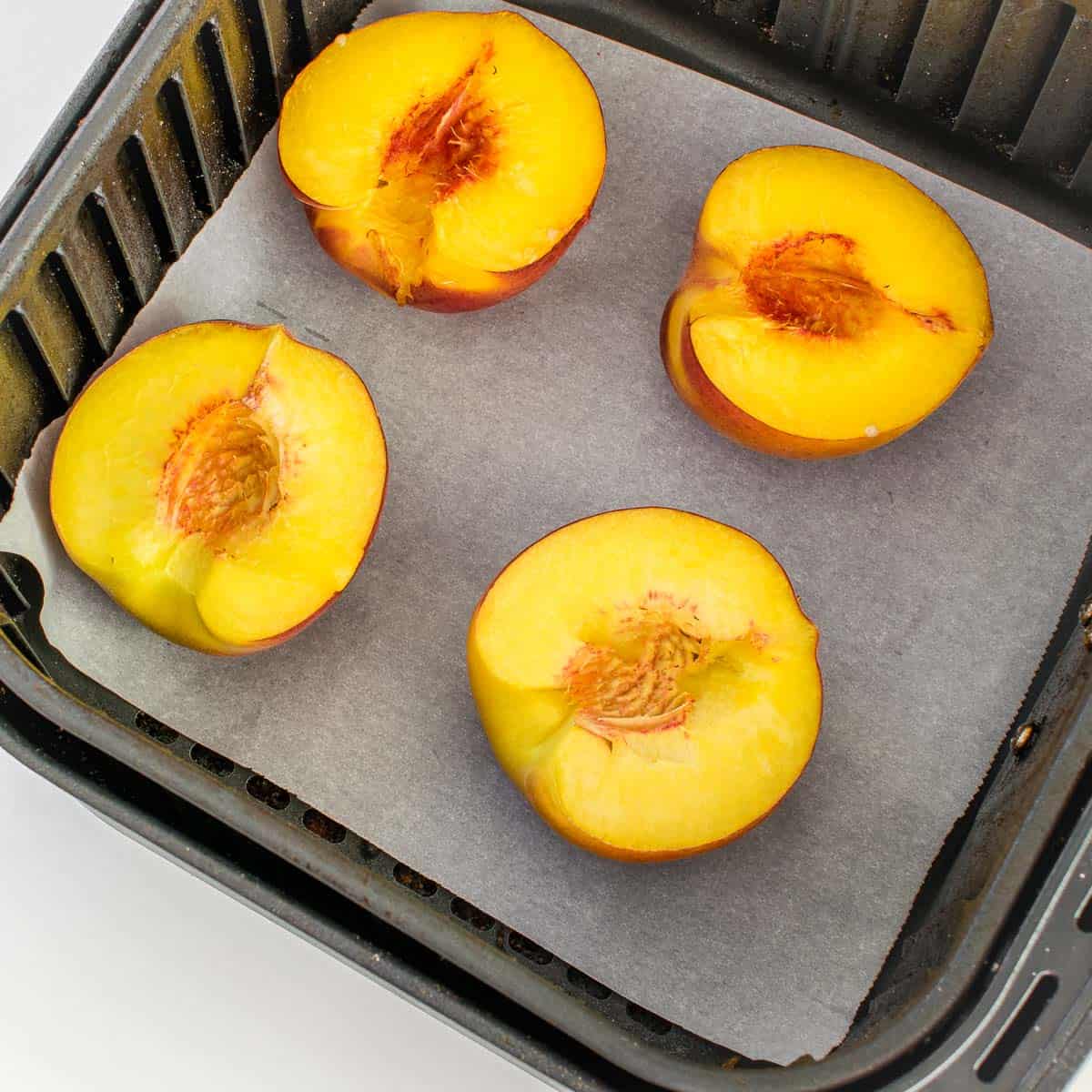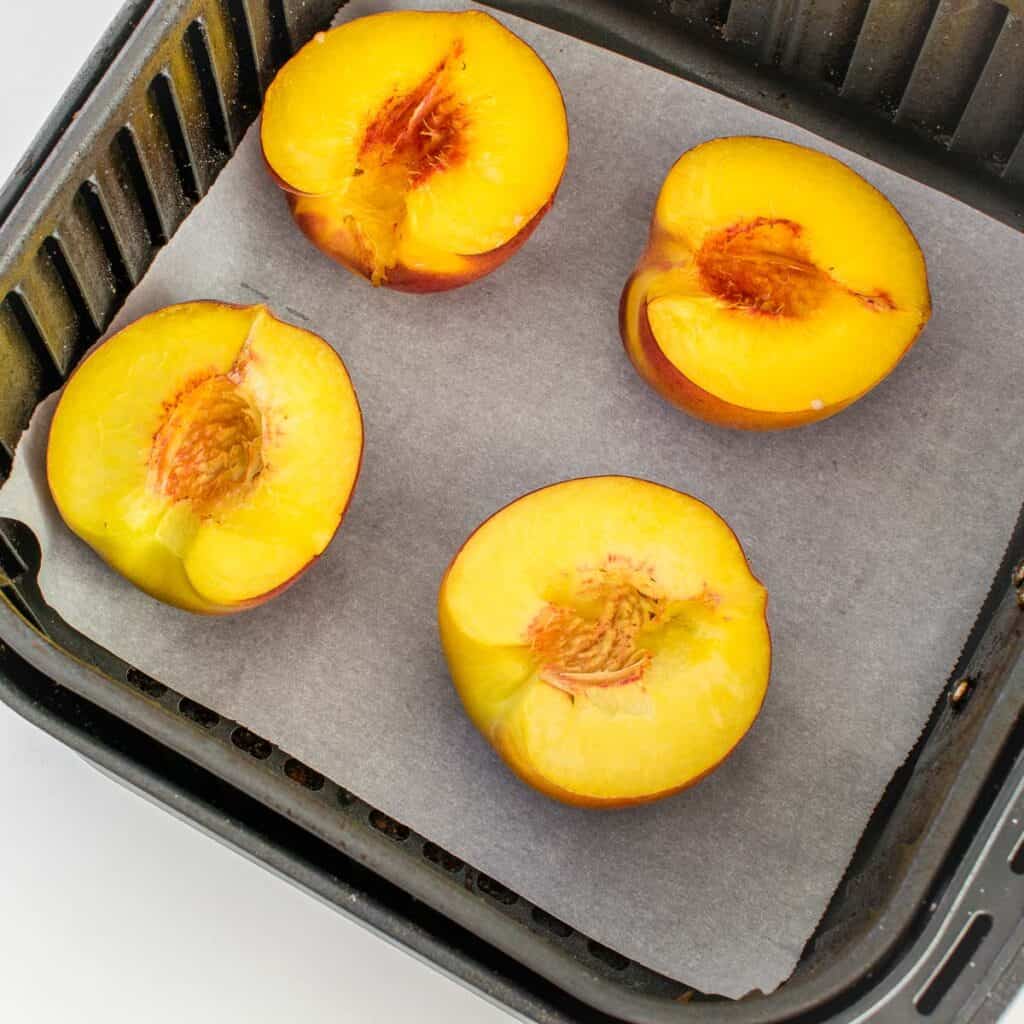 Thereafter, I air fried for 5 minutes at 350-degree Fahrenheit.
Once done, I took out the basket and drizzled maple syrup on each of them and sprinkled cinnamon.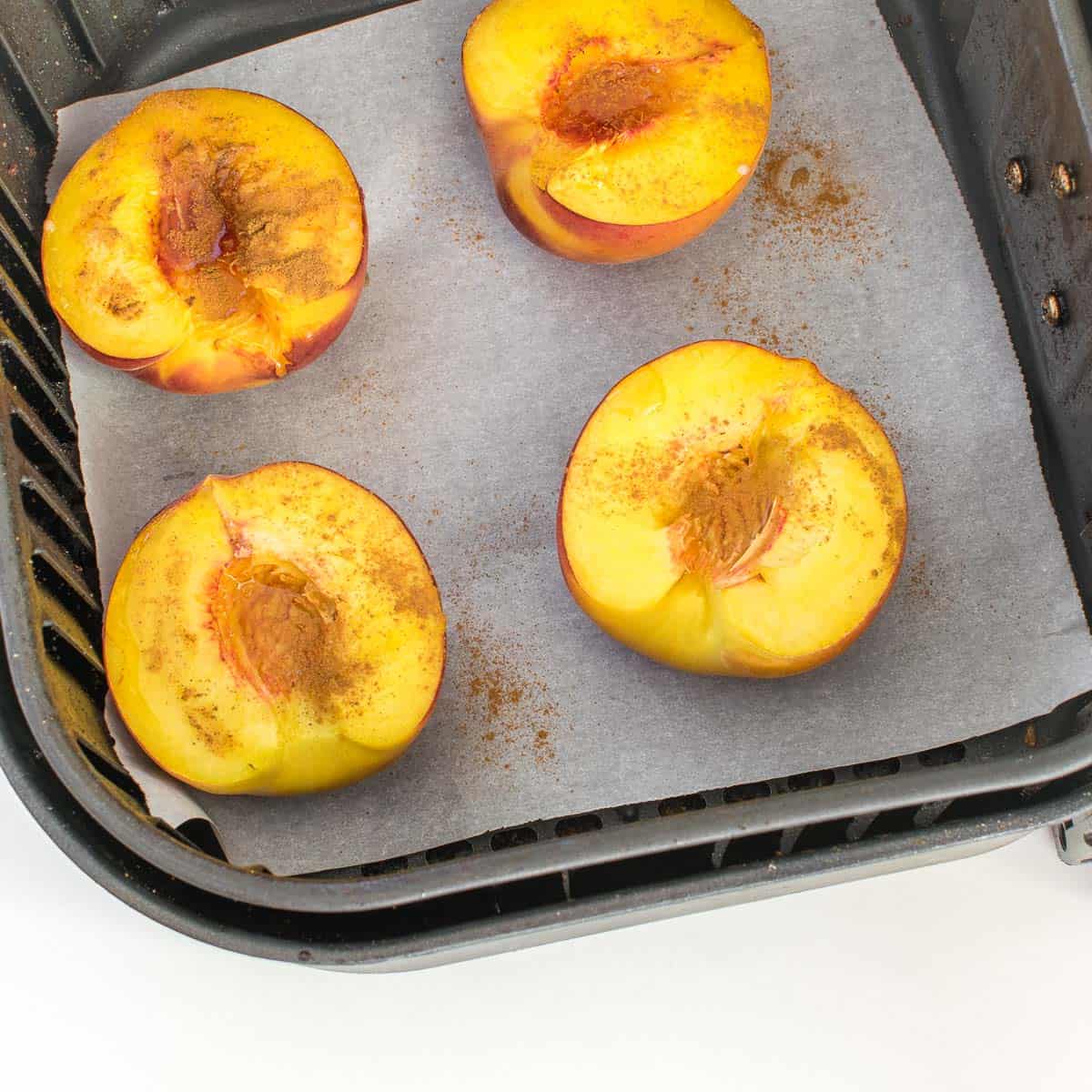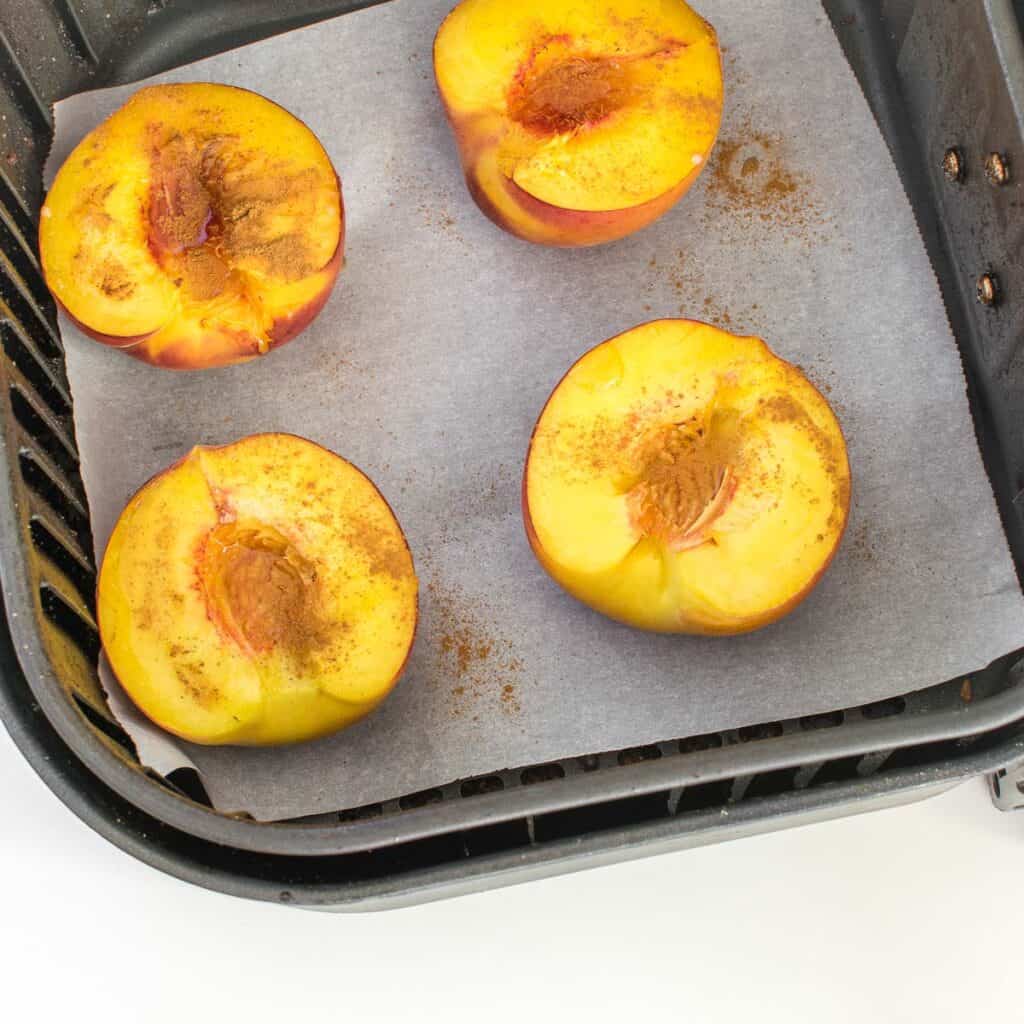 Then, I topped them with oats and nuts.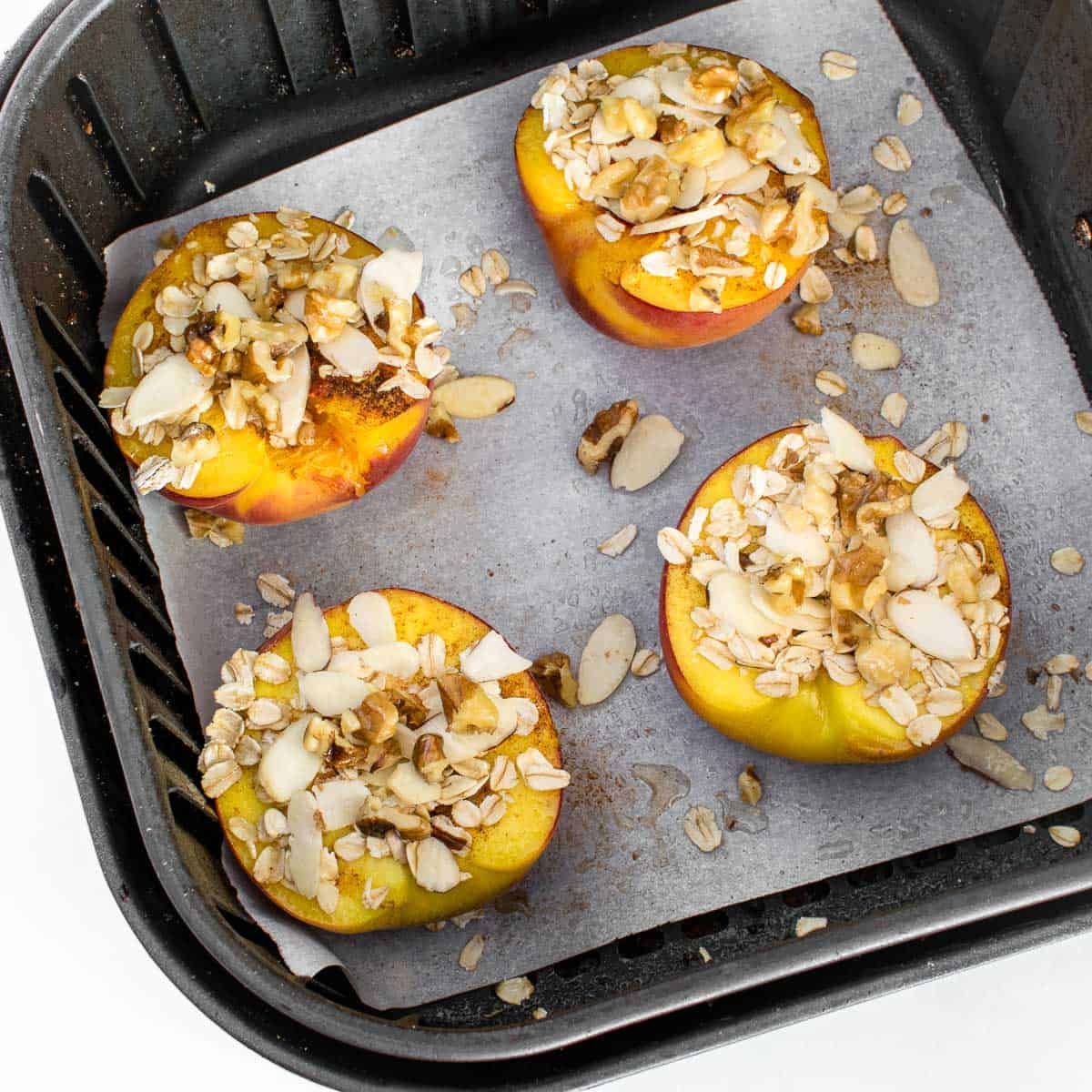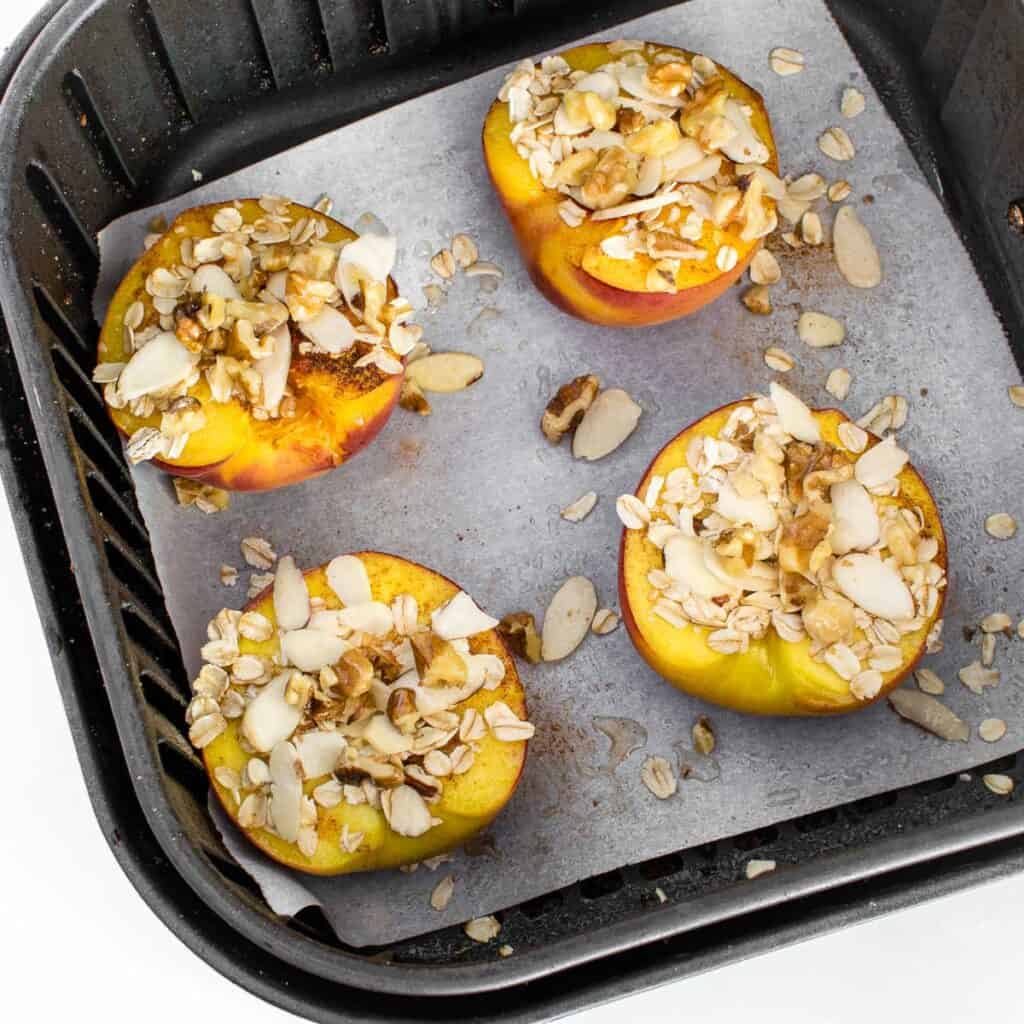 Afterwards, I attached the basket again to the air fryer and turn it on at 350-degree Fahrenheit for another 7 minutes.
Once done, I detached the basket and placed the grilled peaches on the serving plate while they were still hot.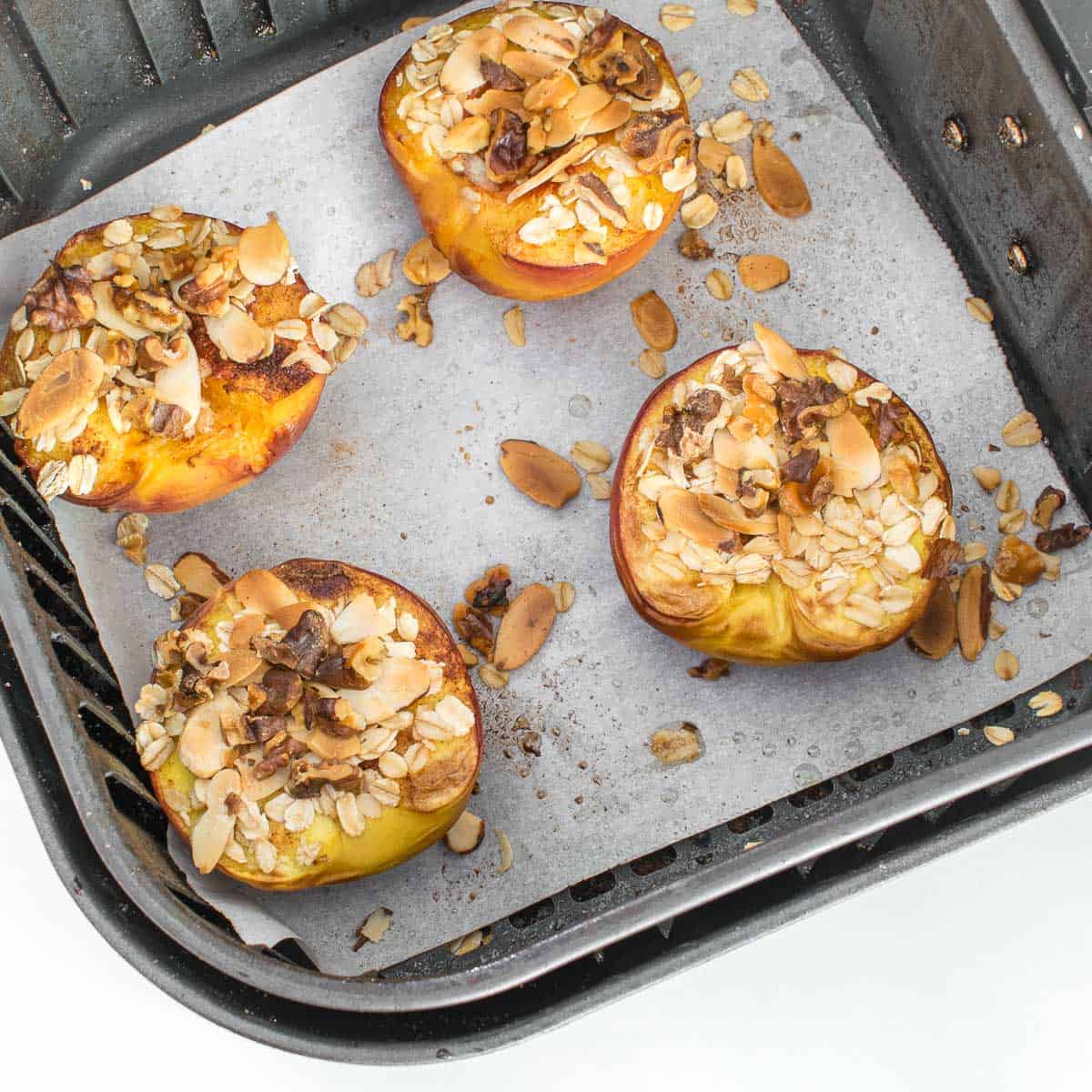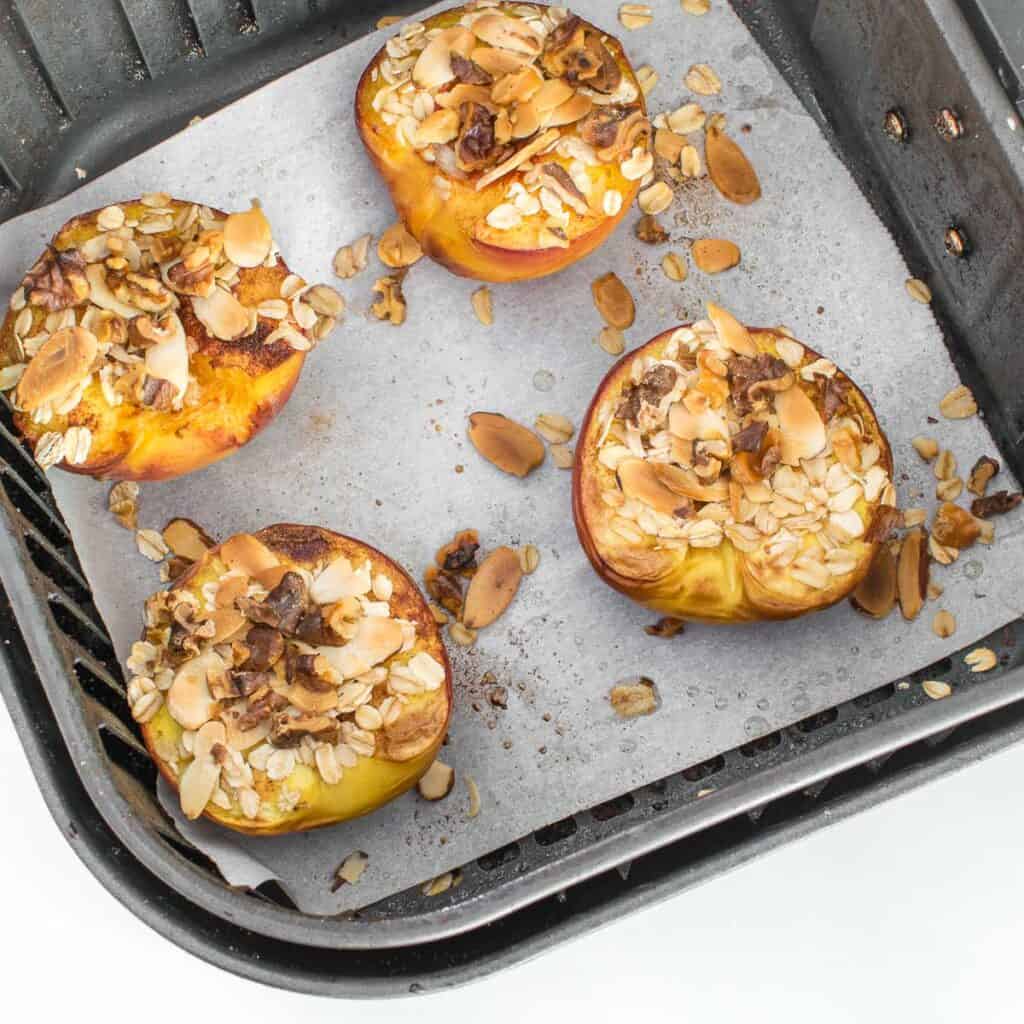 Lastly, I scooped vegan vanilla ice cream over them and served immediately.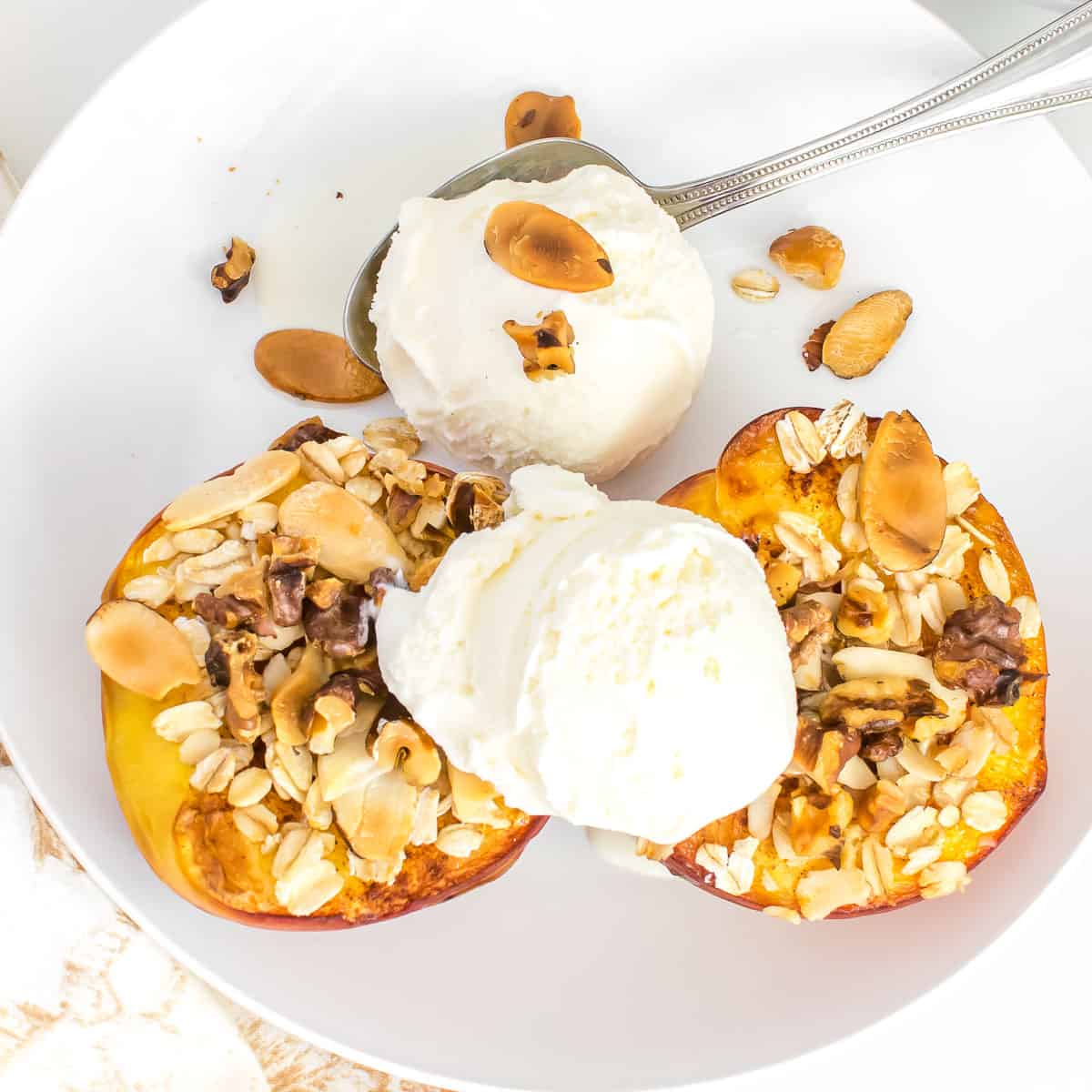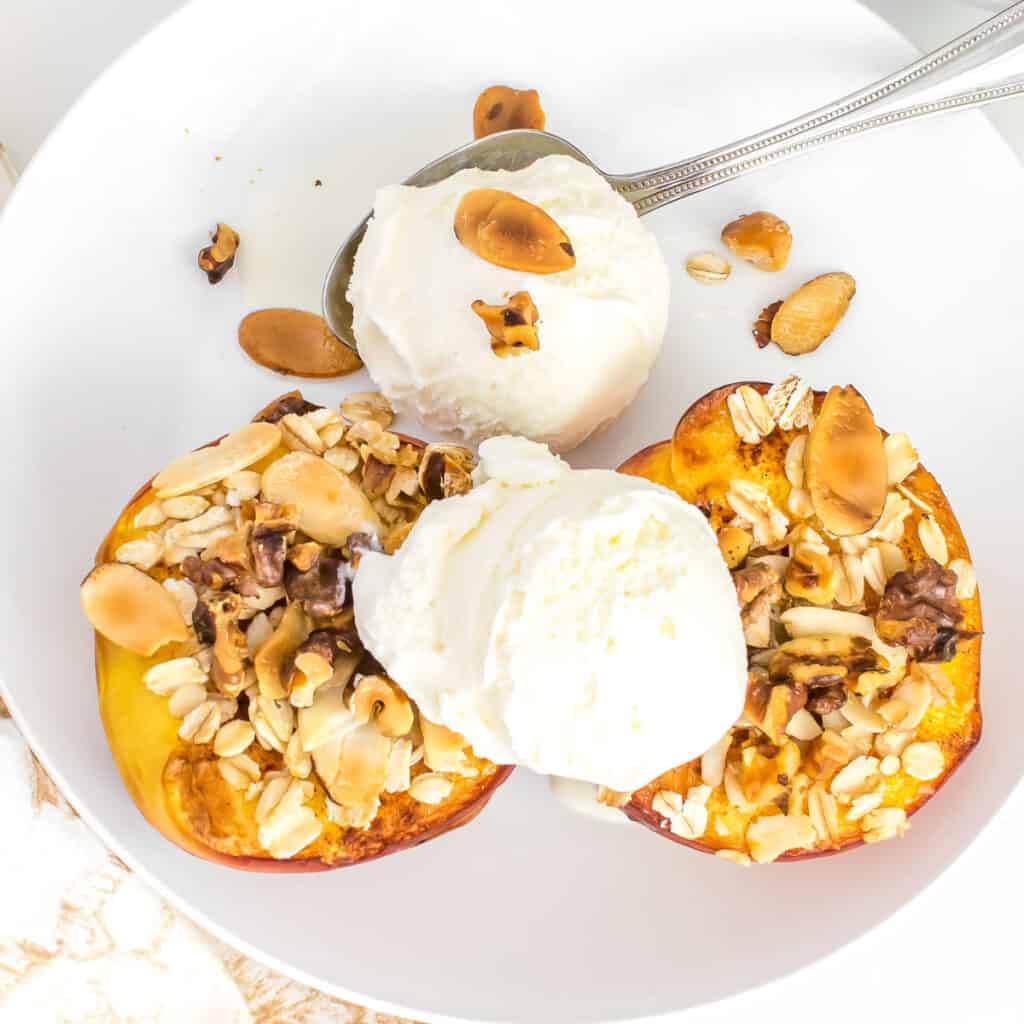 We devoured it thoroughly and I make it quite frequently on short notices.
What to serve with air fryer peaches
I usually love it as is but my kids love it with lots of vanilla ice cream. Granola as toppings goes well and hazelnut chia snack works well too as toppings here.
Expert tips:
It is important to buy the right peaches so make sure to buy firm peaches that's ripe but not mushy.
Most importantly, make sure to size your parchment paper as per your air fryer basket. Any extra parchment paper may cover the top of peaches while air fryer which would lead not uncooked peaches.
Make sure to drizzle maple syrup over the peaches while they are still hot.
Air Fryer Peaches FAQs
How long do they last?
This taste best when served immediately.
Can I freeze them?
You may refrigerate the leftovers to be used the next day but freezing will not work. Oats might get soggy and nuts may lose its texture too. If you refrigerate then air fry it again for 1 minute or so until its warm again but do not cook again or else will have burnt taste.
Can I use canned peaches for this recipe?
I recommend using fresh peaches for the best results and fresh taste.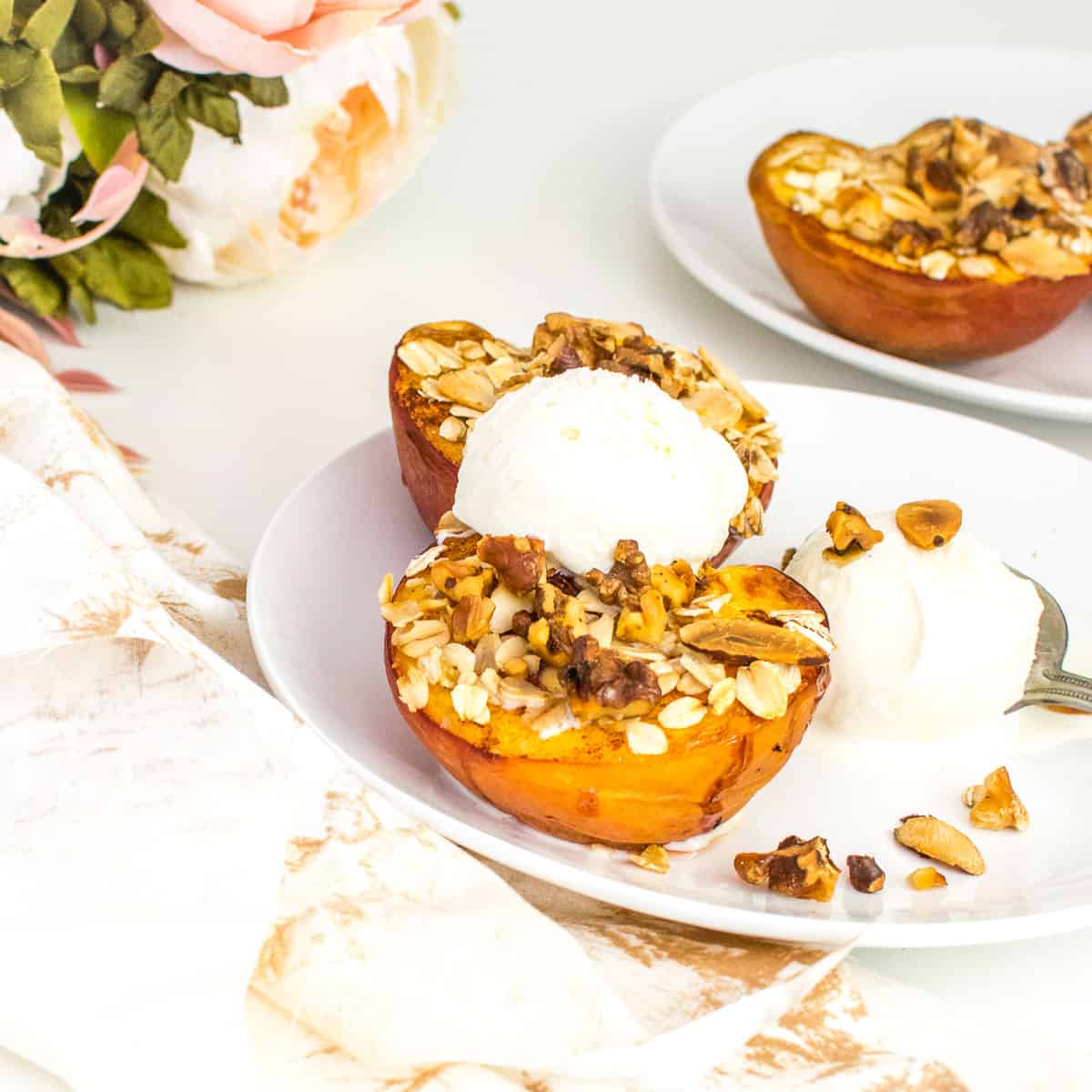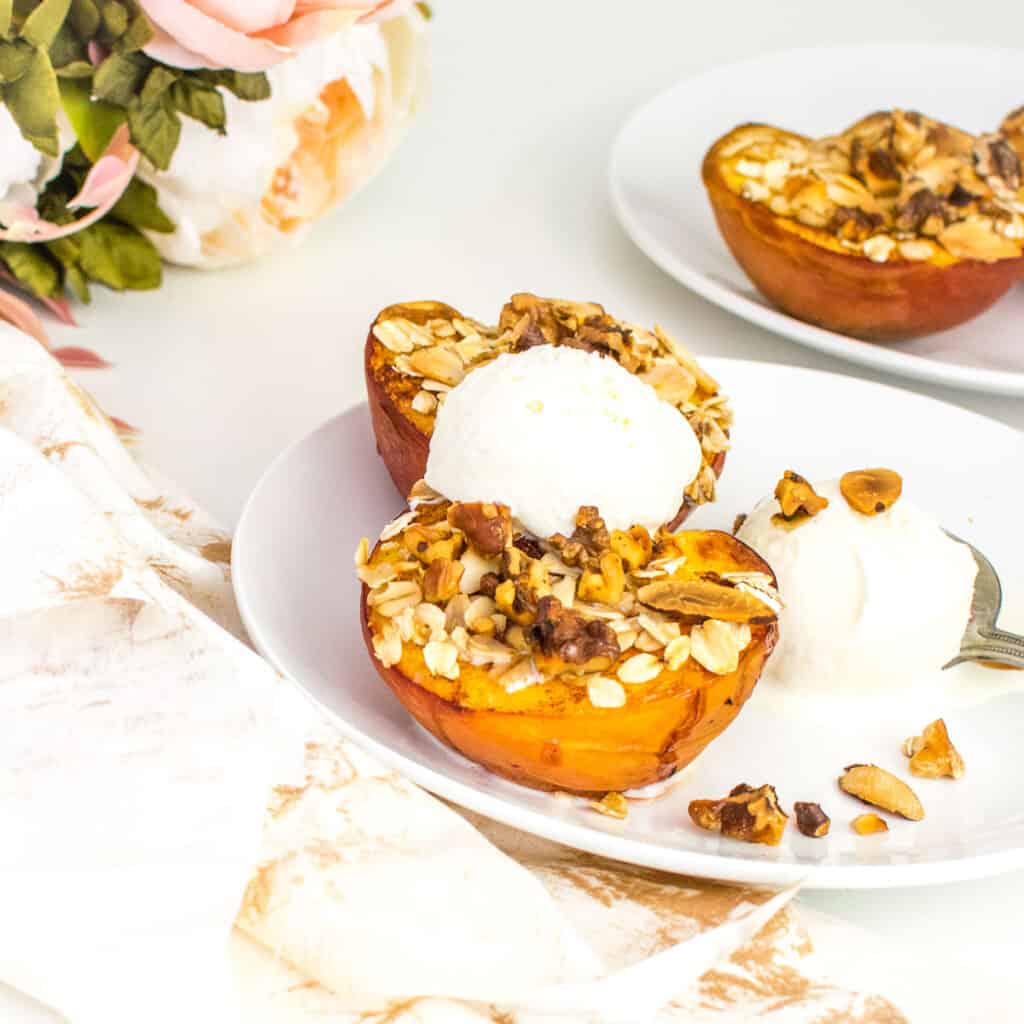 My other air fryer desserts are:
Apple Fritters
Air Fryer Cookies
Apple Dumplings
This post may contain affiliate links which means that if you click on them and also make a purchase, I will get a small commission. Moreover, I share only those products which I use personally and love.
I hope you enjoy this recipe as much as we did. I am very excited to hear back from you.
Where to find me?
Follow me on Facebook or on Twitter. You may tag @kiipfit on Instagram with your recipe remake images because I would love to see what you cooked.
Did you make it?
If you get a chance to make this recipe then please leave your feedback in the comments below along with a 5-star rating.
In addition, you may checkout my cookbook for everyday comfort vegan recipes.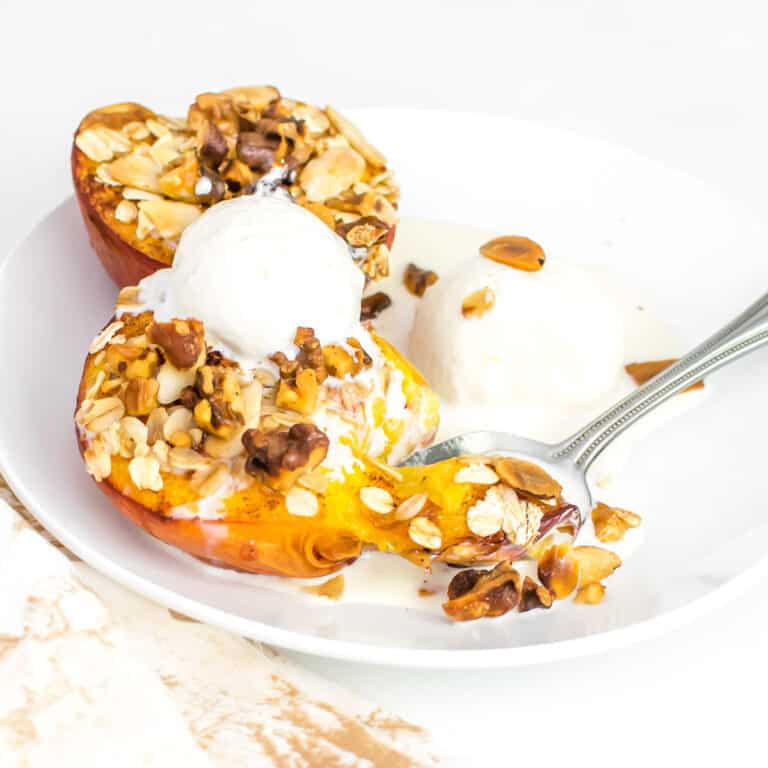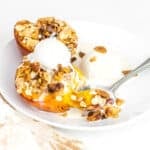 Print Recipe
Air Fryer Peaches
Juicy, sweet and flavorful Air Fryer Peaches are the best summer dessert made with real fruit, seasoned with cinnamon and topped with oats and nuts for crunchy deliciousness. Its quick, easy and a crowd pleaser.
Instructions
With a sharp knife make a cut around the peach. Then with the help of both the hands twist it and separate. Remove the seed with the knife. Repeat this same process for the other peach and keep them aside.

Place a parchment paper in the air fryer basket (make sure to size it properly and there should not be extra paper folding or hanging). Place the peaches in the air fryer basket with skin side at the bottom. Air fry at 350-degree Fahrenheit for 5 minutes.

Detach the basket and drizzle maple syrup over each of the peaches and sprinkle cinnamon powder. Then sprinkle oats, almonds and walnuts over each of the halved peaches equally. Lightly grease them from the top with a cooking spray.

Attach the basket again with the air fryer and turn it on at 350 degree for another 7 minutes.

Once done, detach the basket from the air fryer and carefully place the cooked peaches on the serving plates and top it with lots of vegan vanilla ice cream. Enjoy!
Notes
The peaches should have yellow flesh inside and should be medium ripe. It should be firm not mushy but not super hard. You should be able to press it sightly with your fingers.
Feel free to drizzle more maple syrup as per your taste.
Variation: Follow step 1 and 2. Then, air fryer peaches for 5 minutes at 350-degree Fahrenheit and drizzle maple syrup and cinnamon powder. Air fryer again for another 5-7 minutes. Detach it and place the peaches on the serving plate. Top it with ice cream and your choice of granola and nuts.
The nutritional value is provided without ice cream or any other additional toppings.
The serving size is half peach per person.
Nutrition
Calories:
87
kcal
|
Carbohydrates:
16
g
|
Protein:
3
g
|
Fat:
2
g
|
Saturated Fat:
0.3
g
|
Polyunsaturated Fat:
2
g
|
Monounsaturated Fat:
1
g
|
Sodium:
1
mg
|
Potassium:
60
mg
|
Fiber:
1
g
|
Sugar:
2
g
|
Vitamin A:
1
IU
|
Vitamin C:
0.04
mg
|
Calcium:
19
mg
|
Iron:
0.4
mg