This Orange Tofu is a vegan adaptation of the classic orange chicken! It's made healthier with sweet, salty, spicy and sticky sauce for those busy weeknights. A delicious and comforting 30 minutes Chinese meal.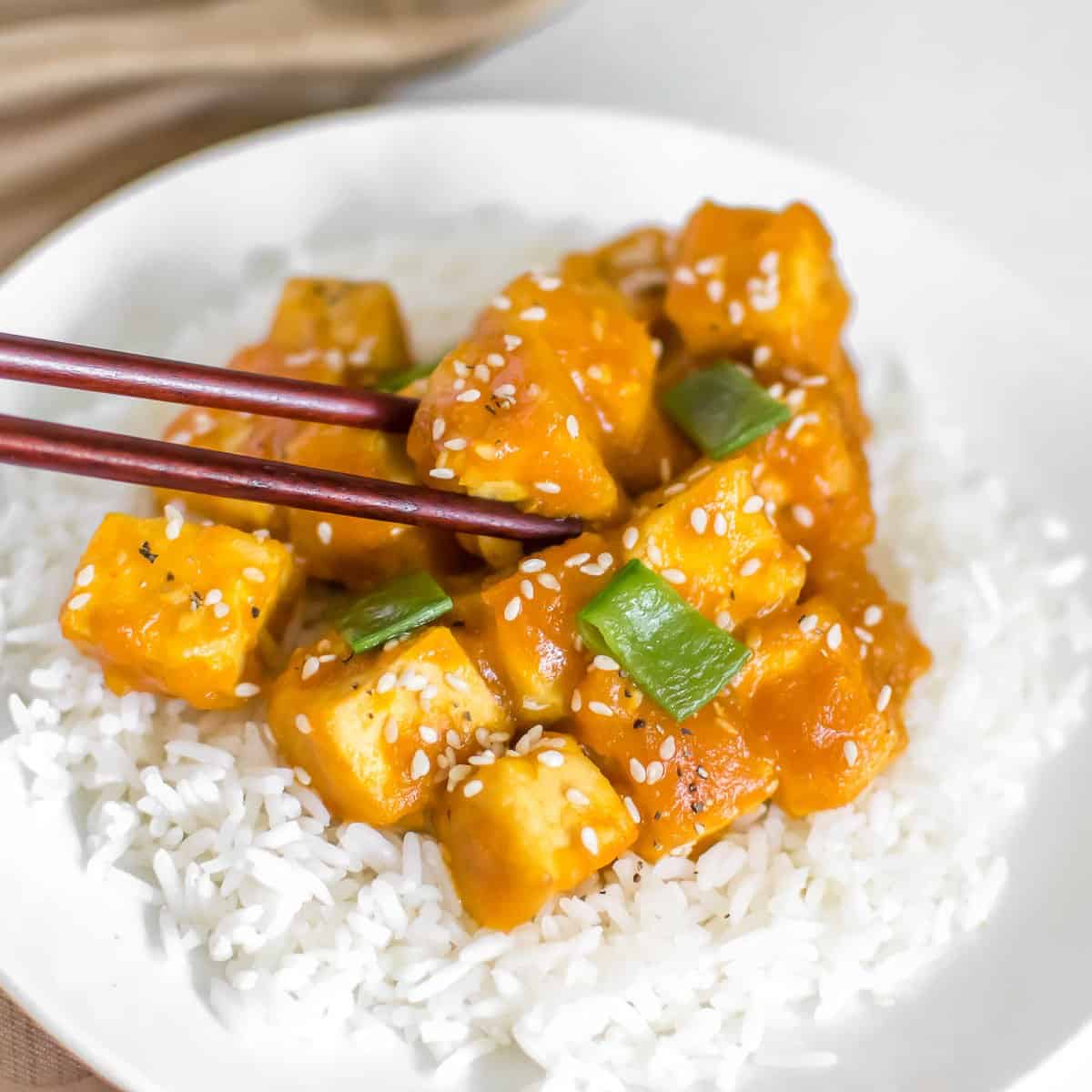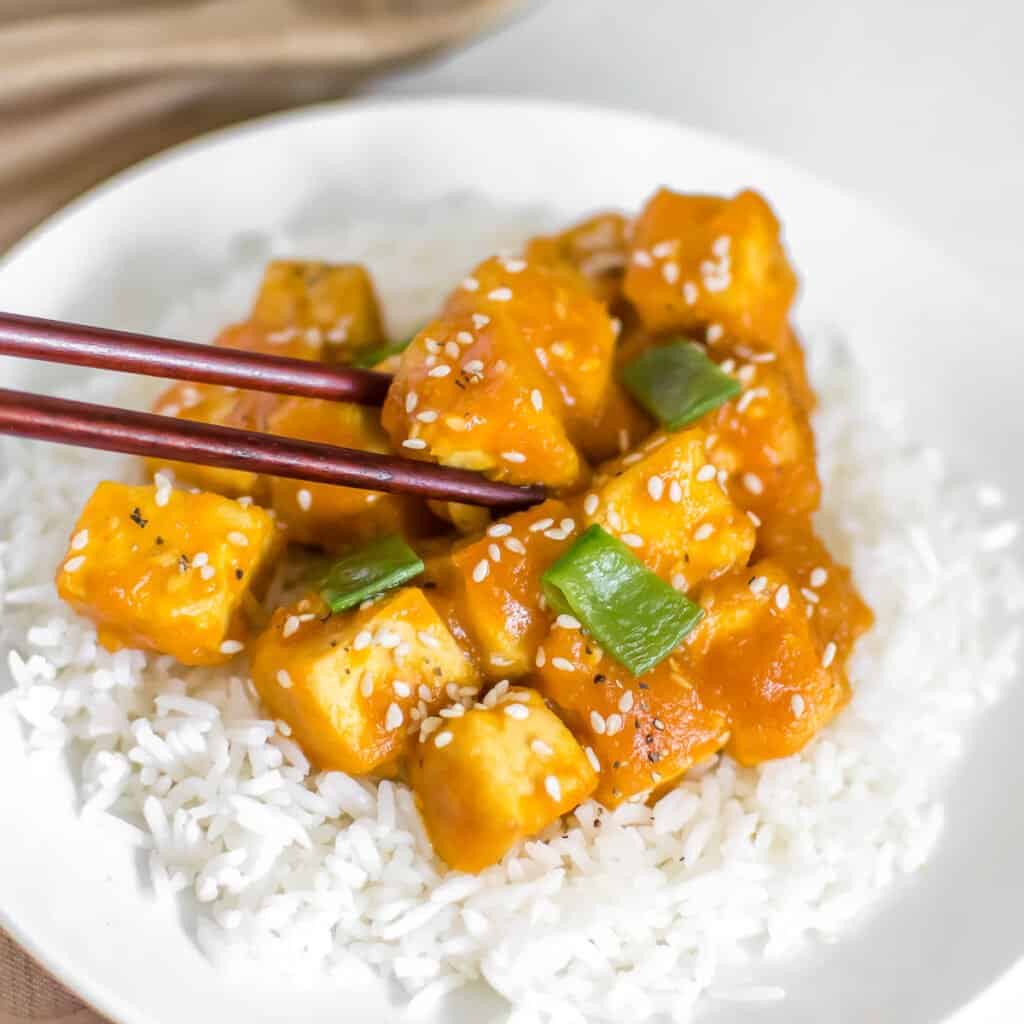 I adapted this vegan orange tofu from my spicy orange cauliflower. I realized that the sweet orange sauce is very much appreciated but with a spicy hint in it becomes more satisfying. So here it is our recent favorite weeknight dinner.
You must also try my cashew broccoli stir fry which is spicy and so comforting.
Its very simple and comes together quickly and it's a hassle-free dish. I have provided stove top and oven baked options here. However, my favorite version is the stove top version.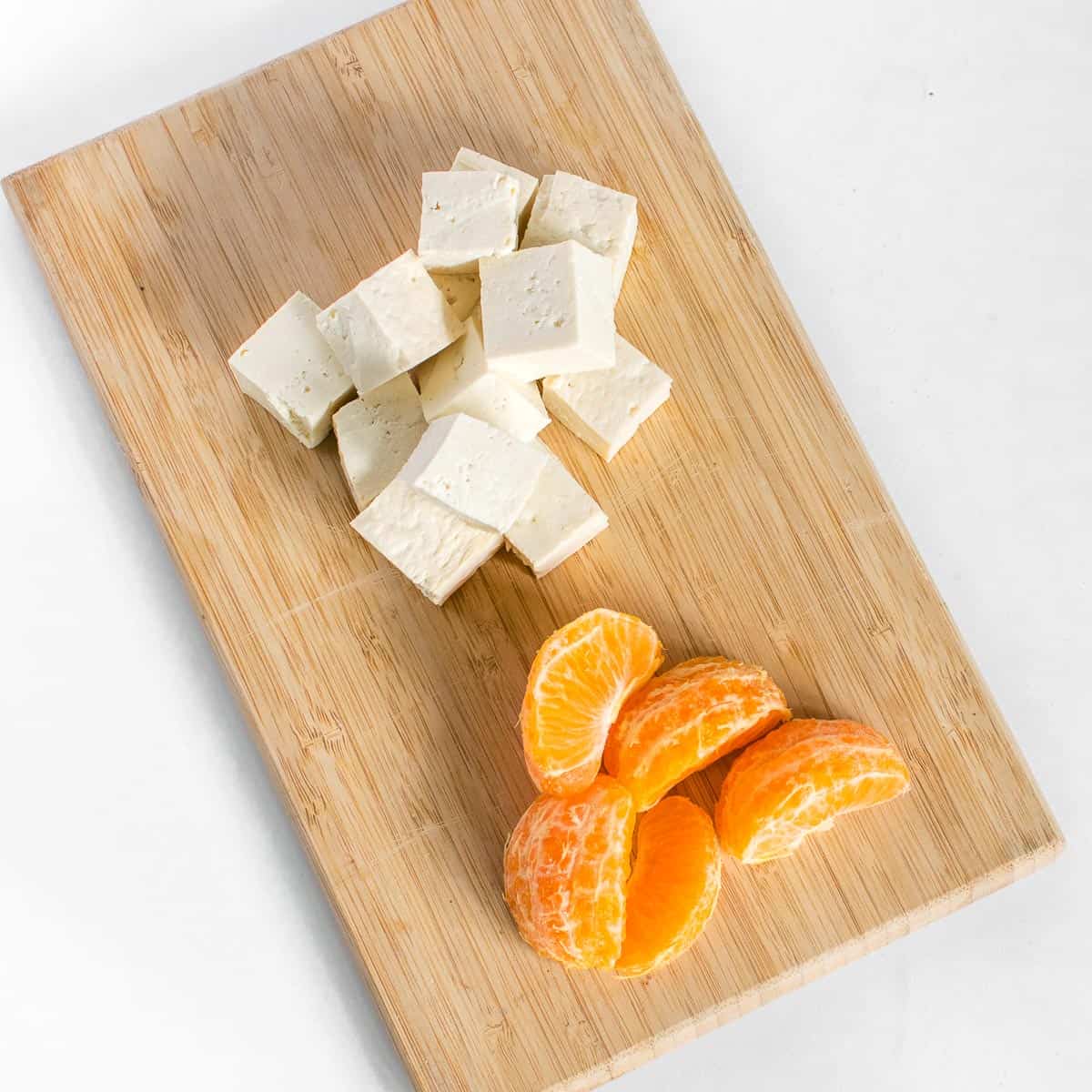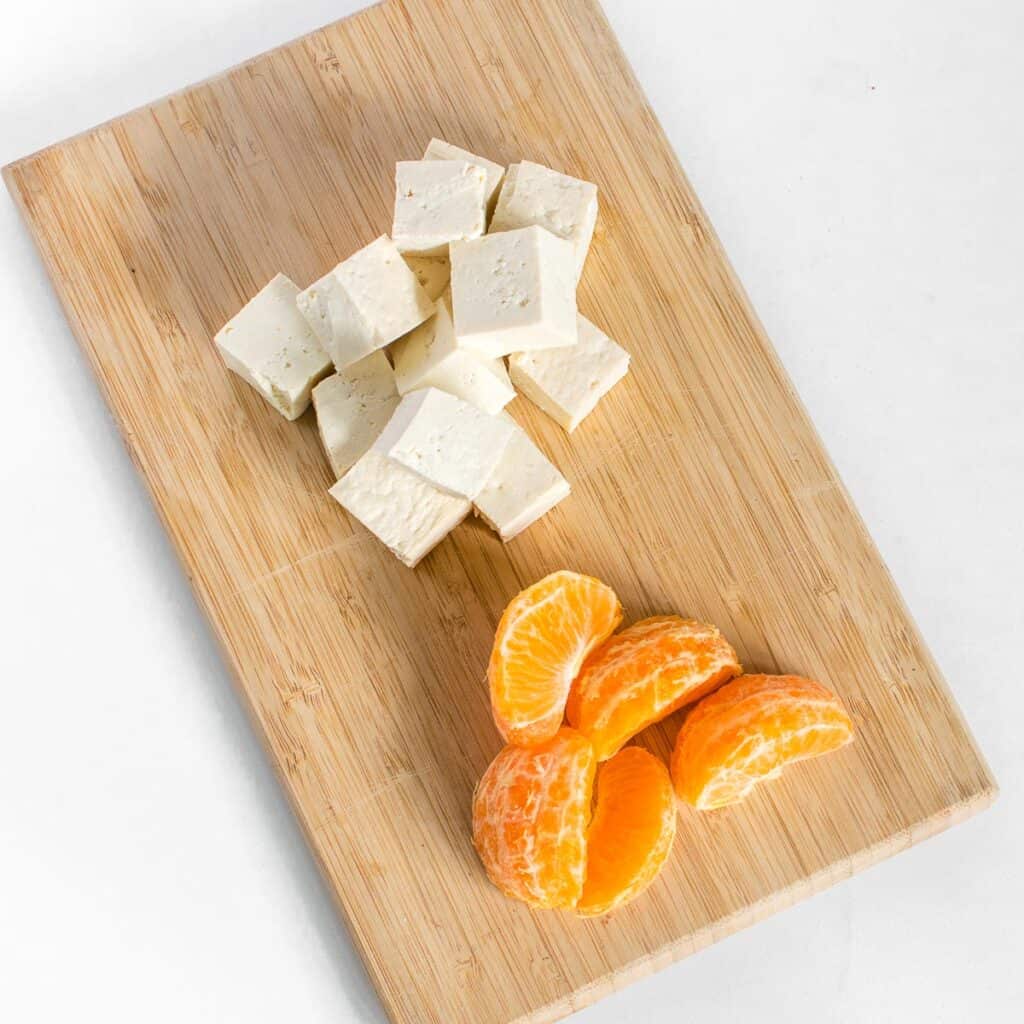 So, lets get deep into it because I guarantee you will love this orange tofu recipe in your first attempt.
Ingredients for orange tofu stir fry
Tofu
Cornstarch
Salt
Pepper
Oranges
Orange zest
Soy sauce
Vinegar
Maple syrup
Ginger
Garlic
Olive/sesame oil
Sesame seeds
Green onions
These are very simple and easy to find ingredients which I used here.
Ingredients notes:
Tofu – usually, I like high protein or super firm tofu but extra firm works excellent here too.
Cornstarch – Chinese food requires the use of cornstarch for certain consistency and sticky sauces.
Oranges – I used fresh oranges here to give that extra flavor.
Orange zest – simply use a fine grater to grate the skin of 1 orange.
Oil – sesame oil brings a delectable Chinese flavor but olive oil is fine too.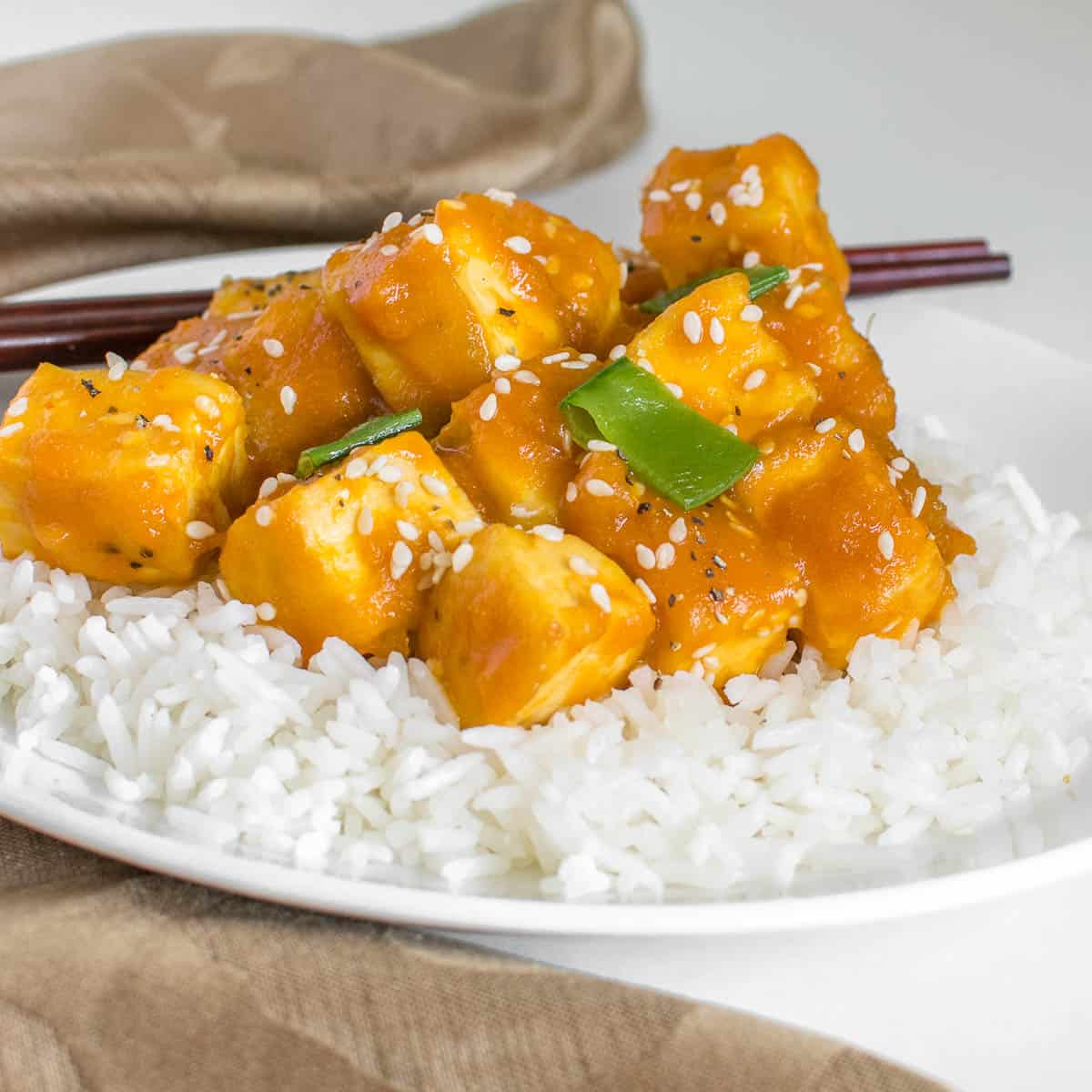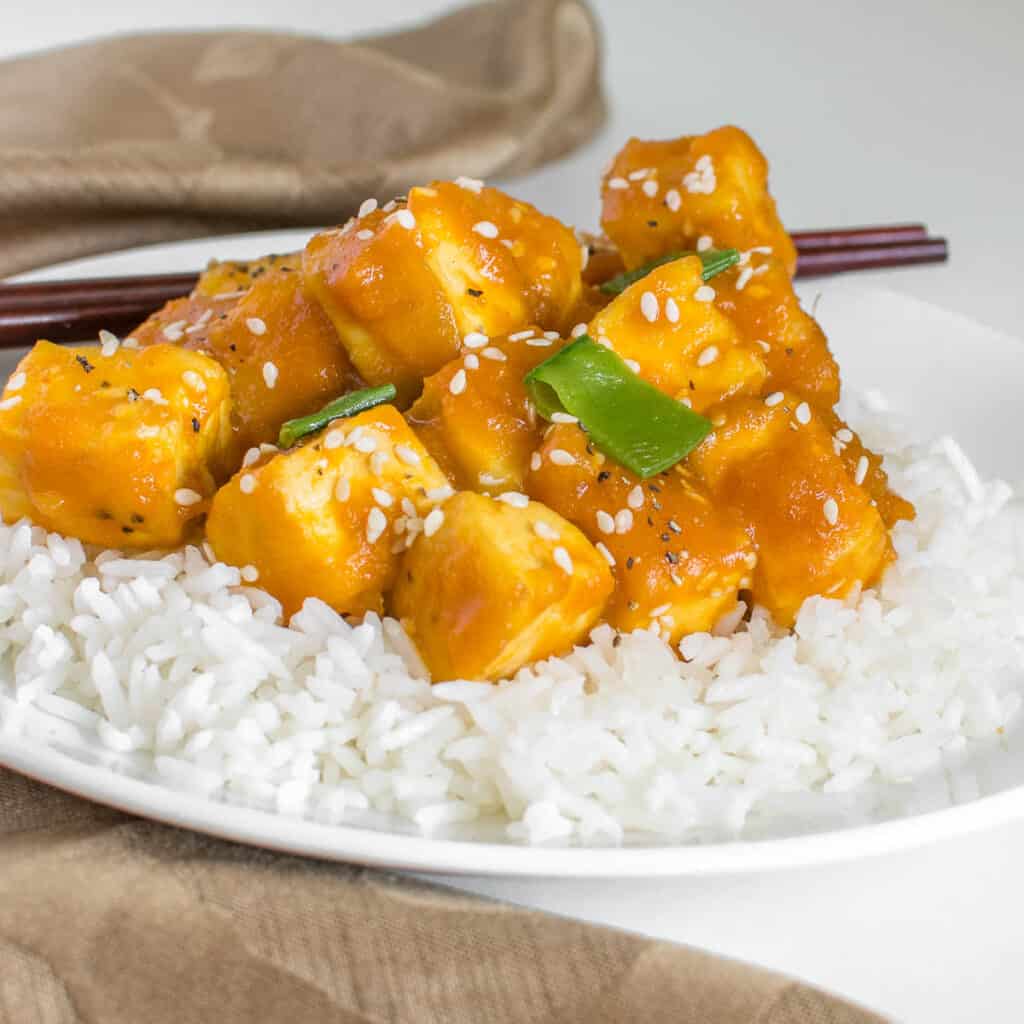 For detailed measurement of ingredients, please scroll down to the printable recipe card at the bottom of this post.
How to make Orange Tofu
Step 1: how to cook tofu
Firstly, I combined tofu pieced with cornstarch mixture and mixed it well making sure that each piece is well coated.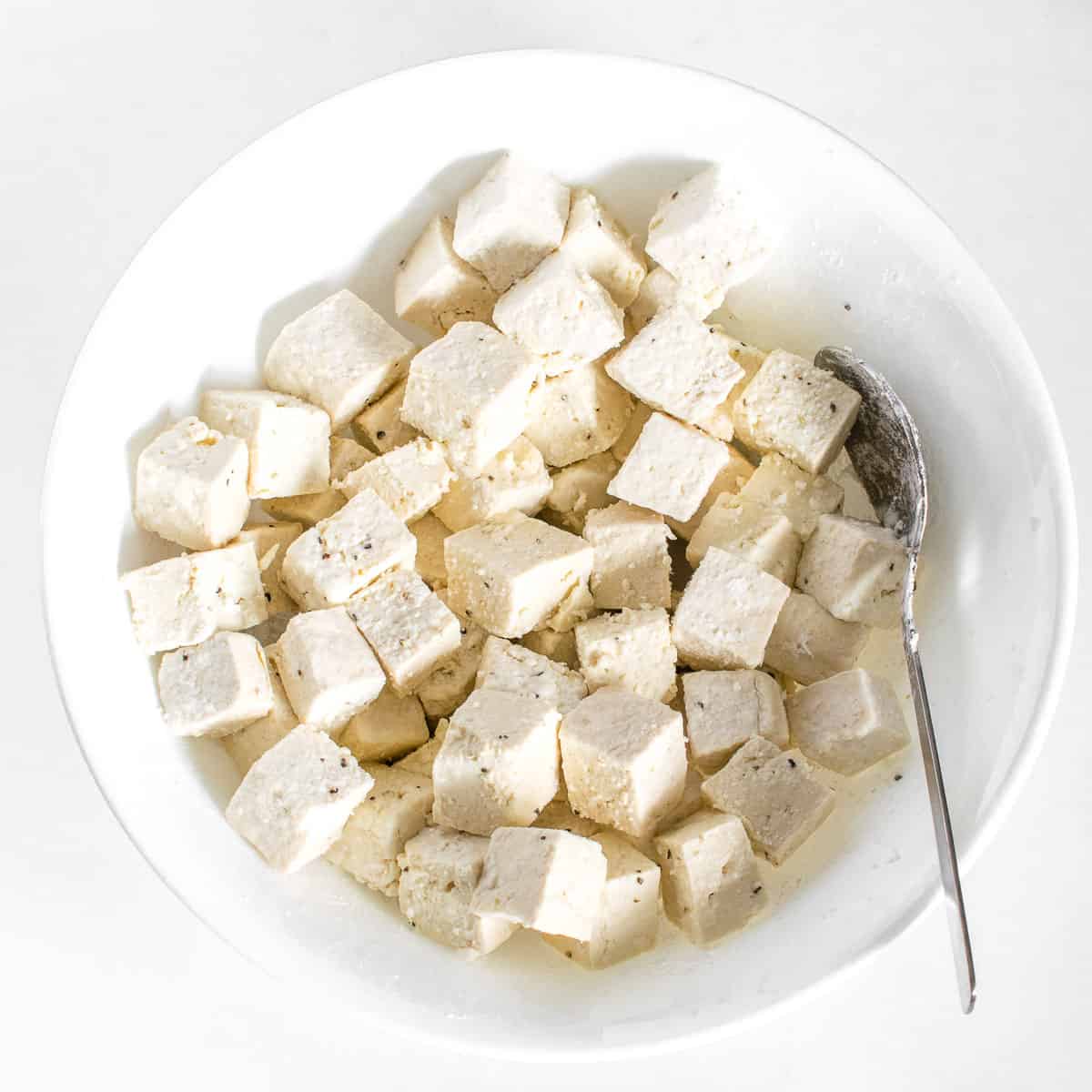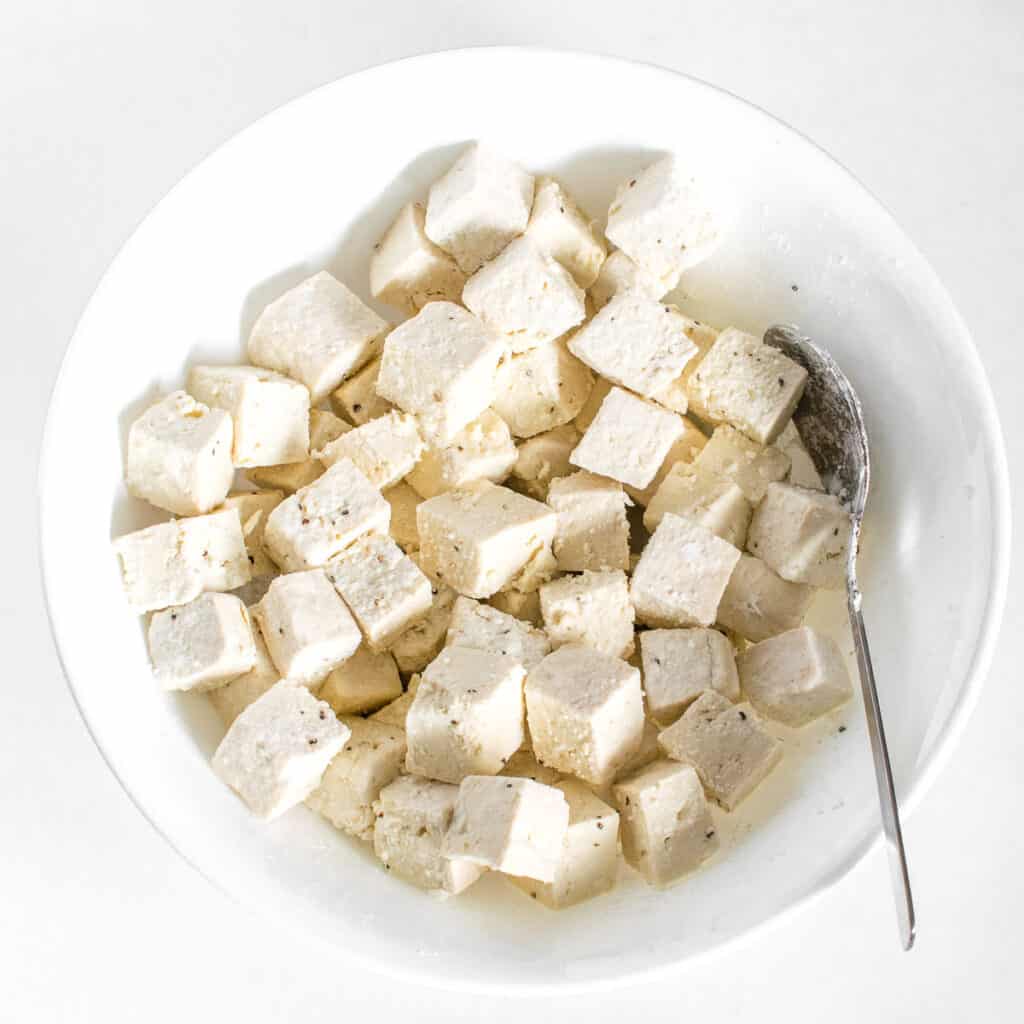 Secondly, I heated oil in a nonstick pan and sautéed tofu until golden in color and crispy.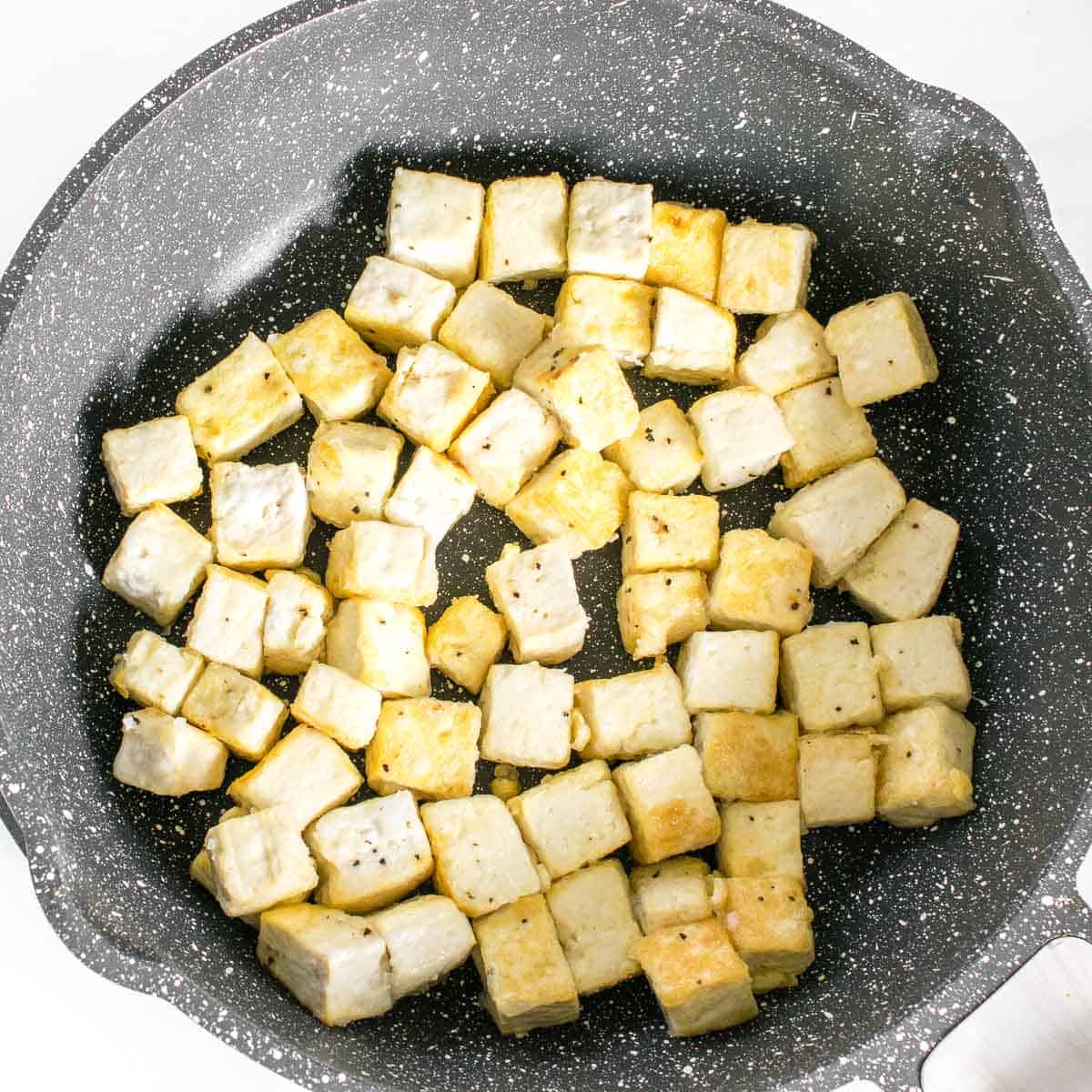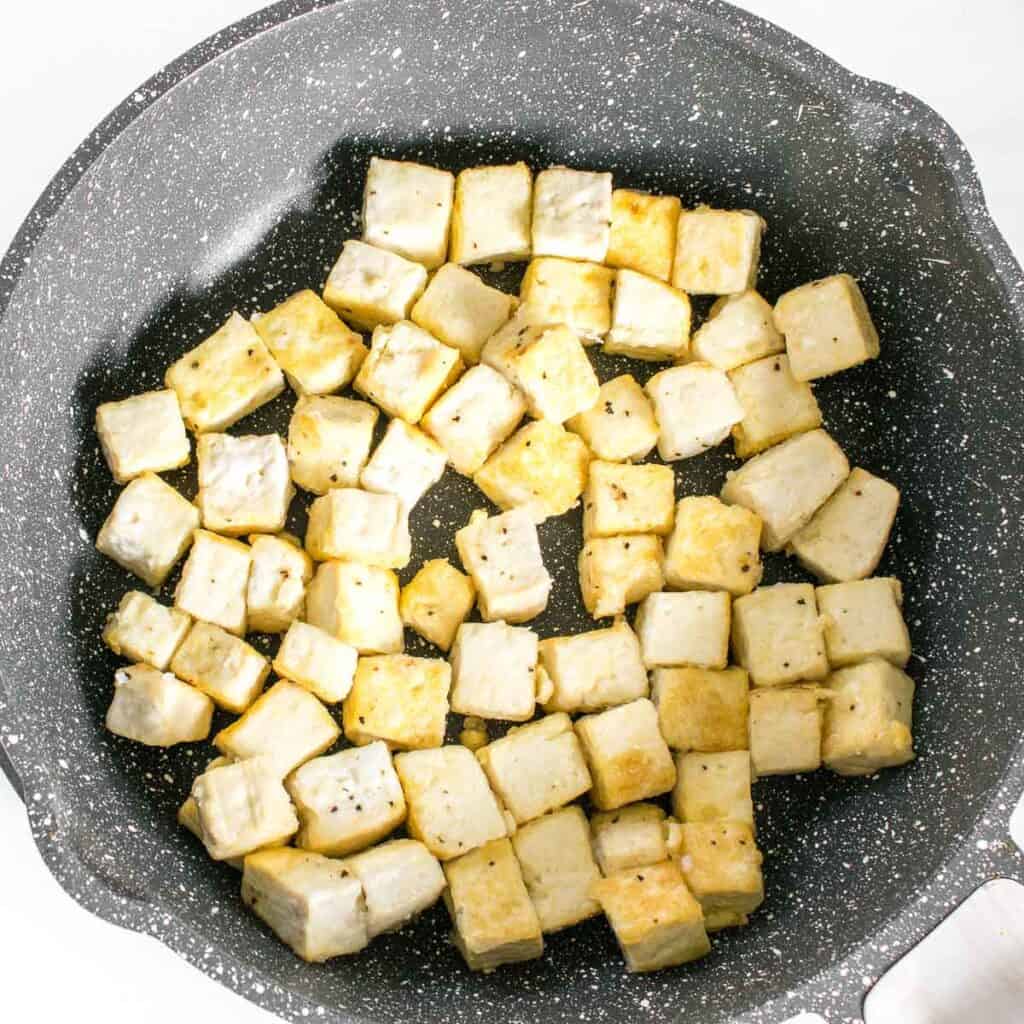 Step 2: how to prepare the sauce
Firstly, I combined all the sauce ingredients in a blender.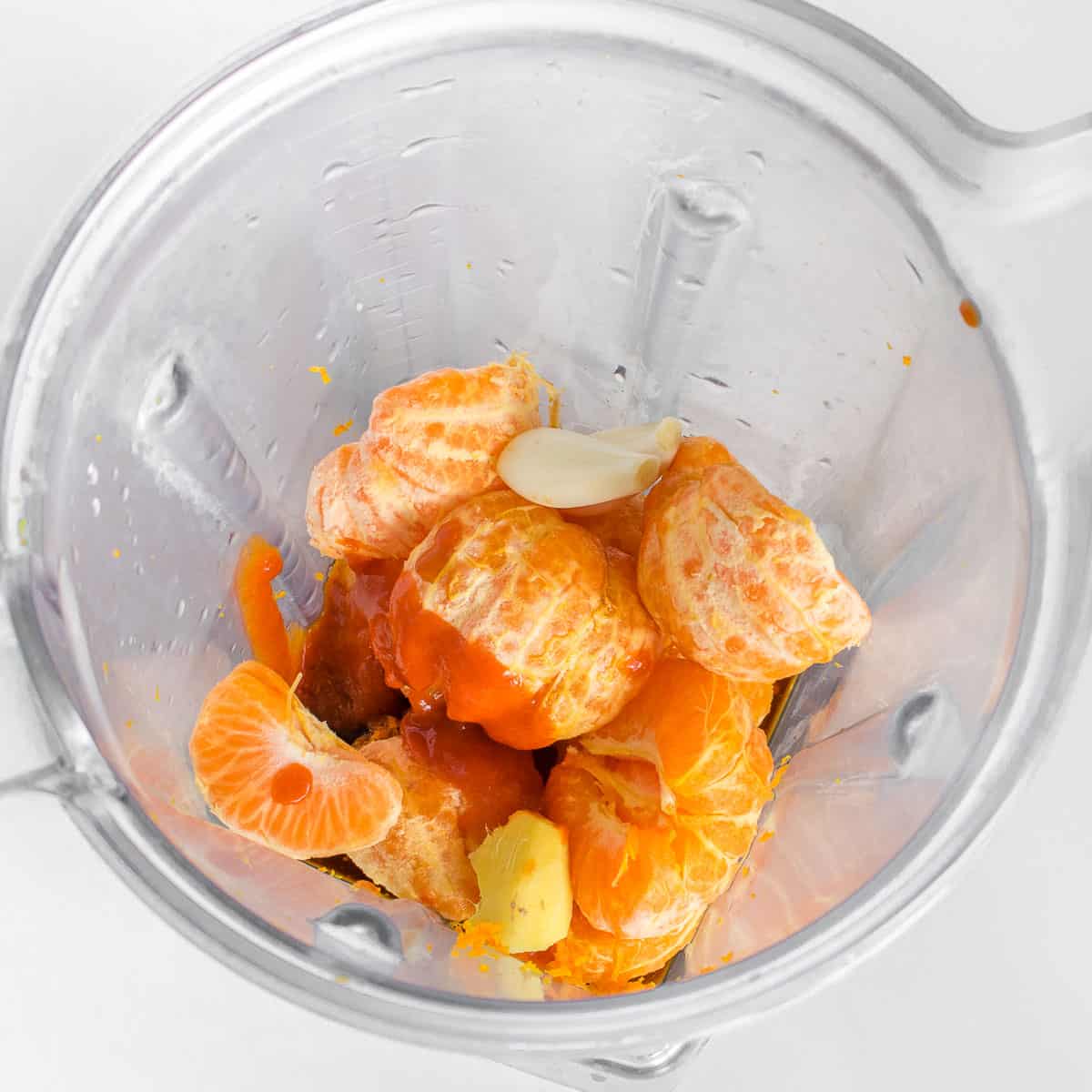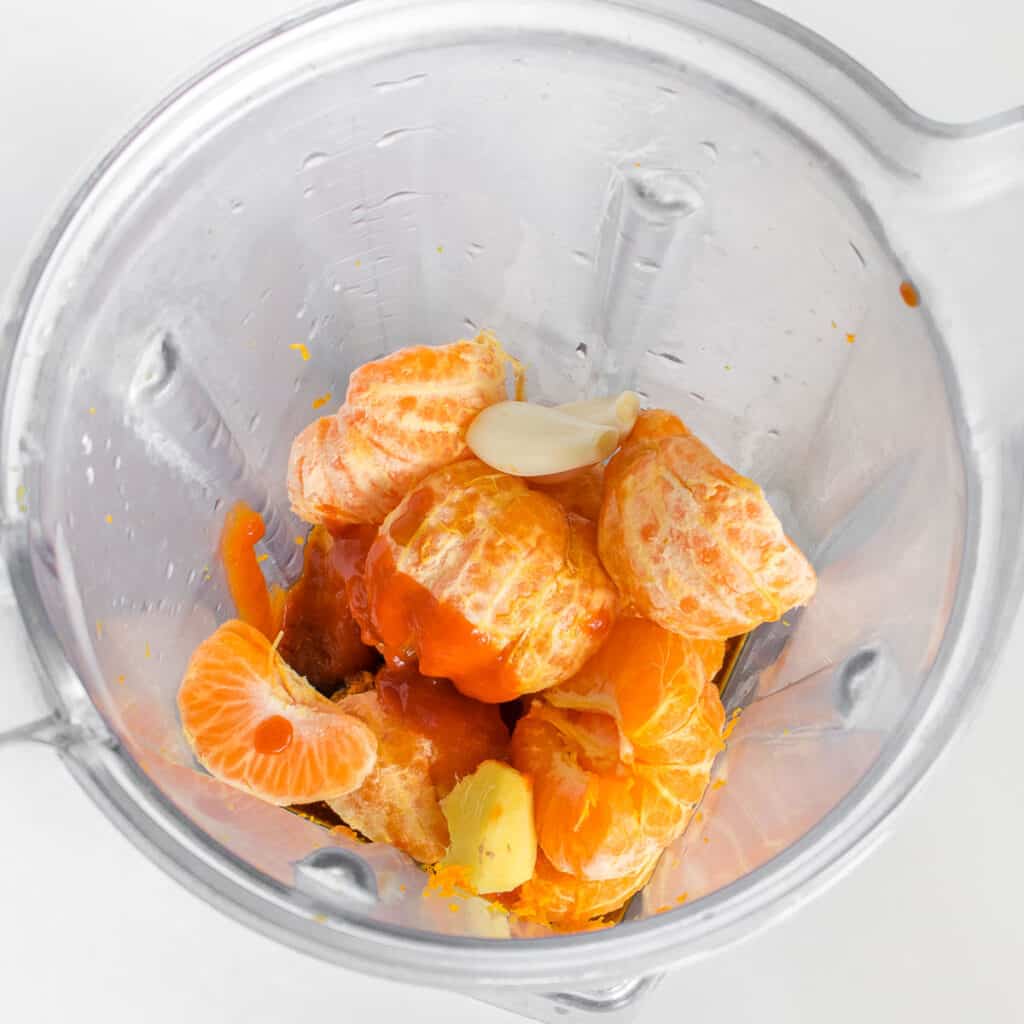 Then, I blended it smooth so that there was no pulp and kept it aside.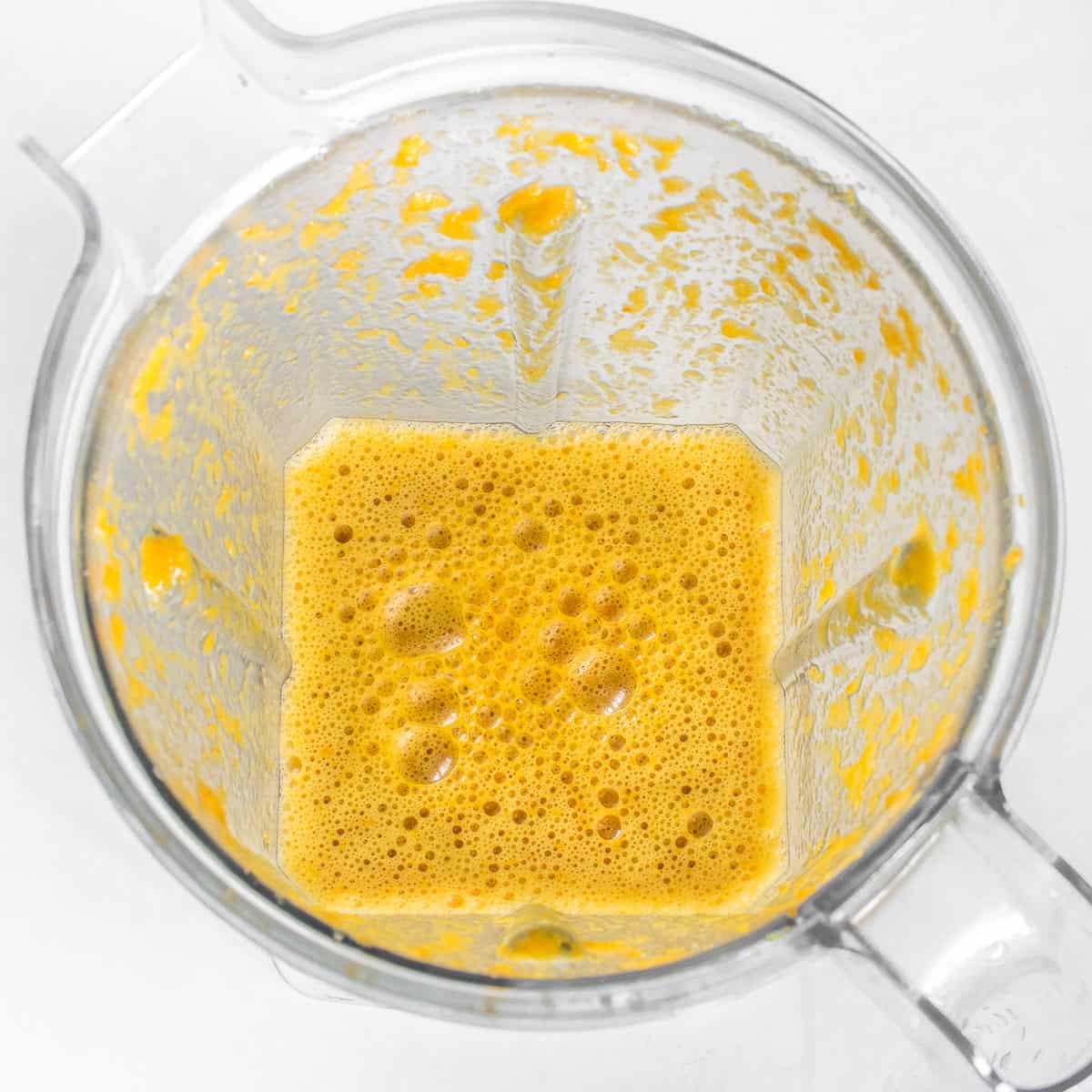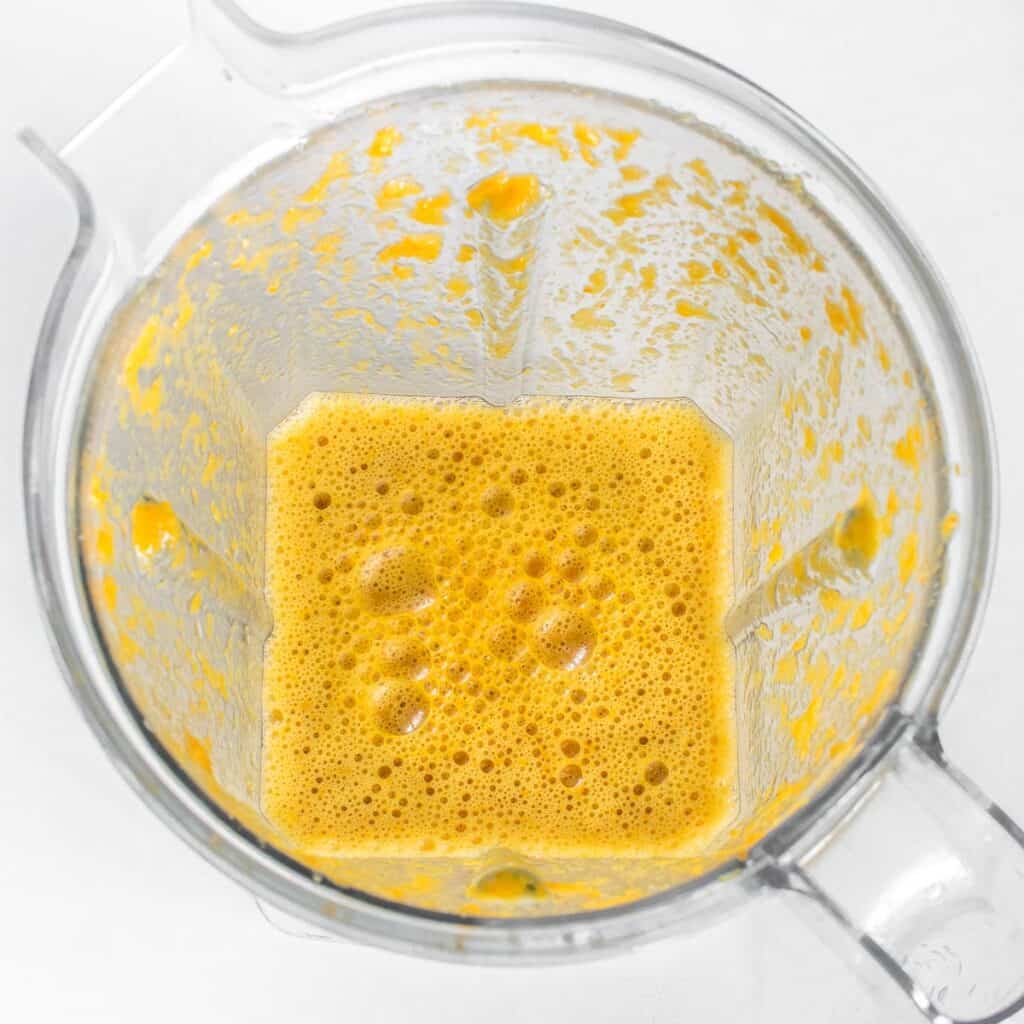 Step 3: how to assemble.
As soon as the tofu was cooked, I poured the blended sauce over it.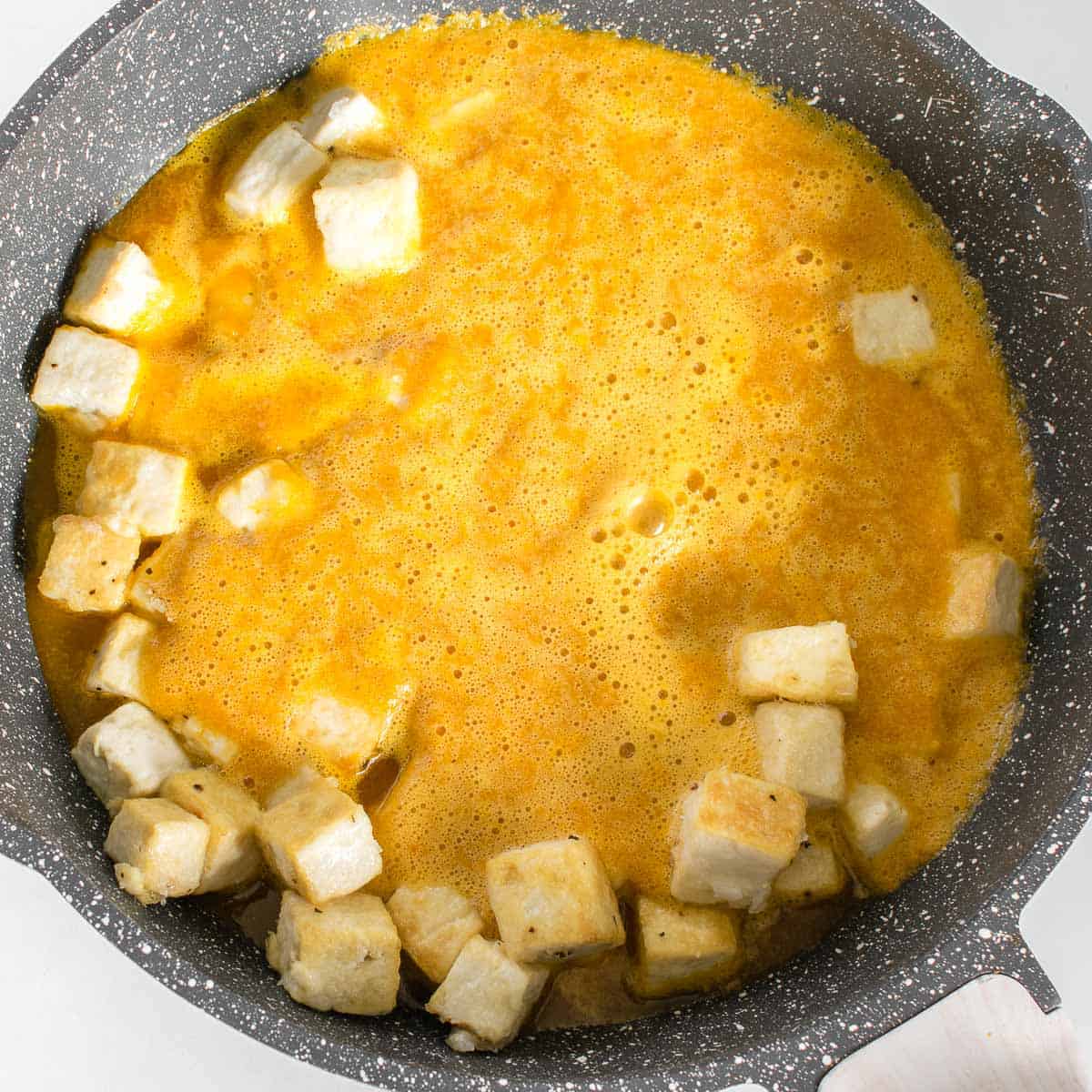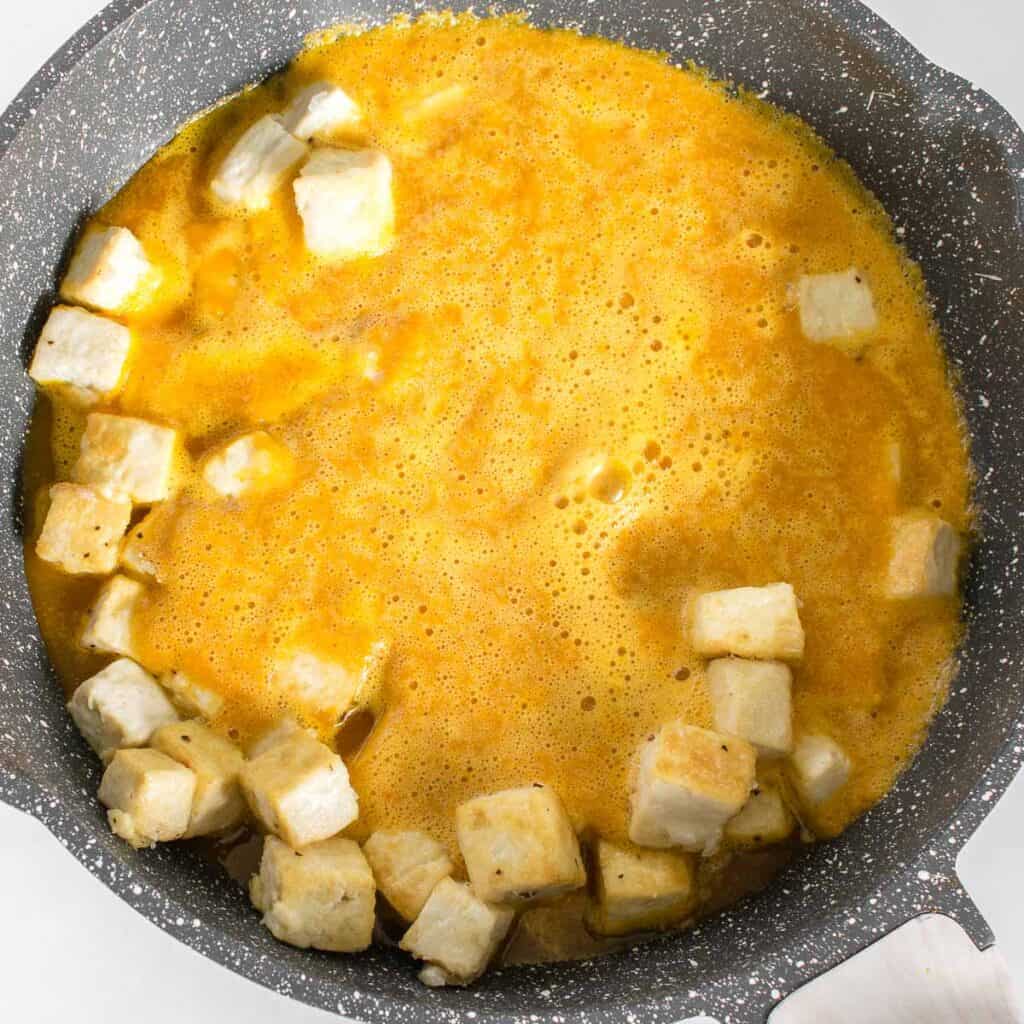 Then, I stirred it gently and let it cook at high until it started to thicken.
Next, I let it cook covered for 3 minutes until the sauce became sticky.
Lastly, I turned it off and let it rest for 2 minutes.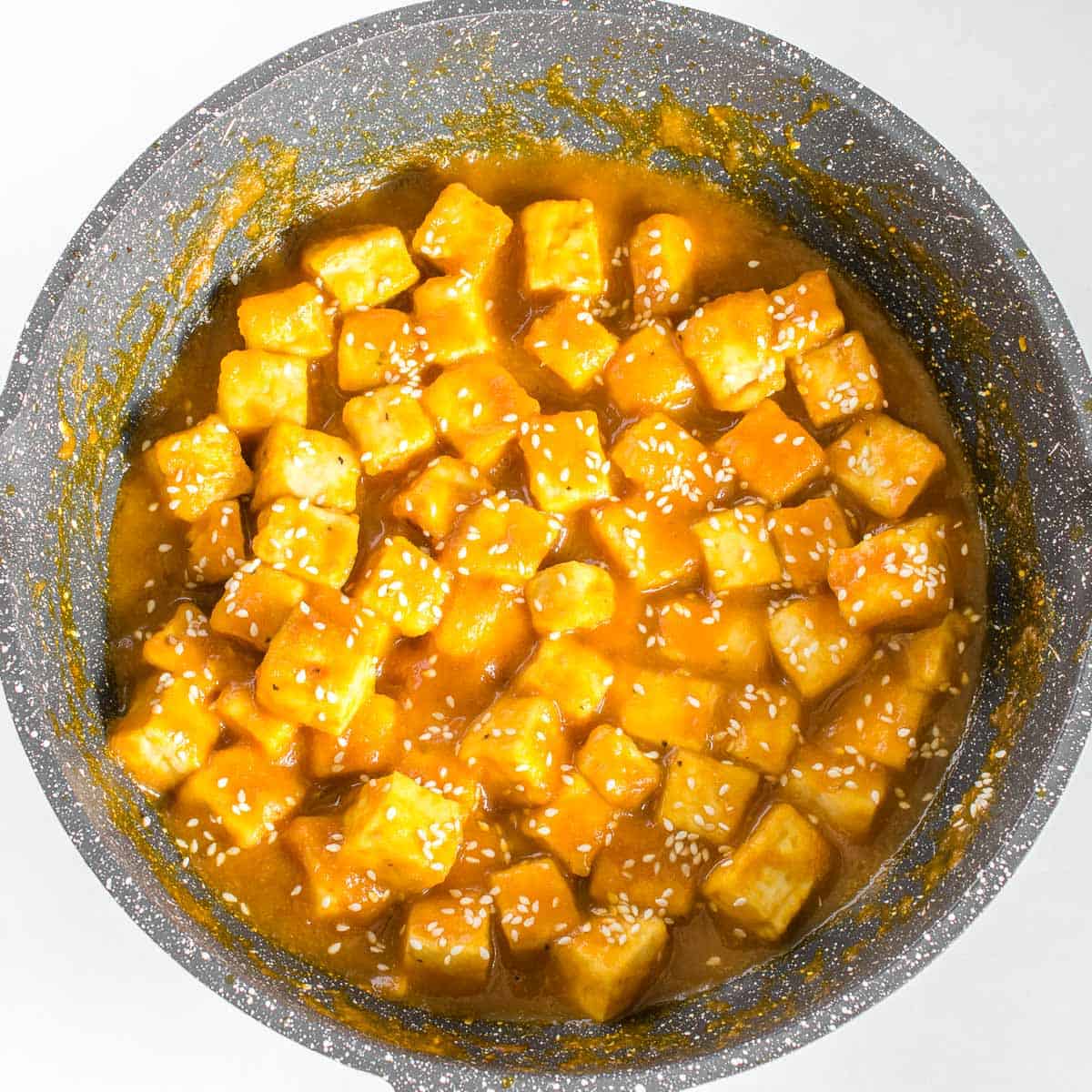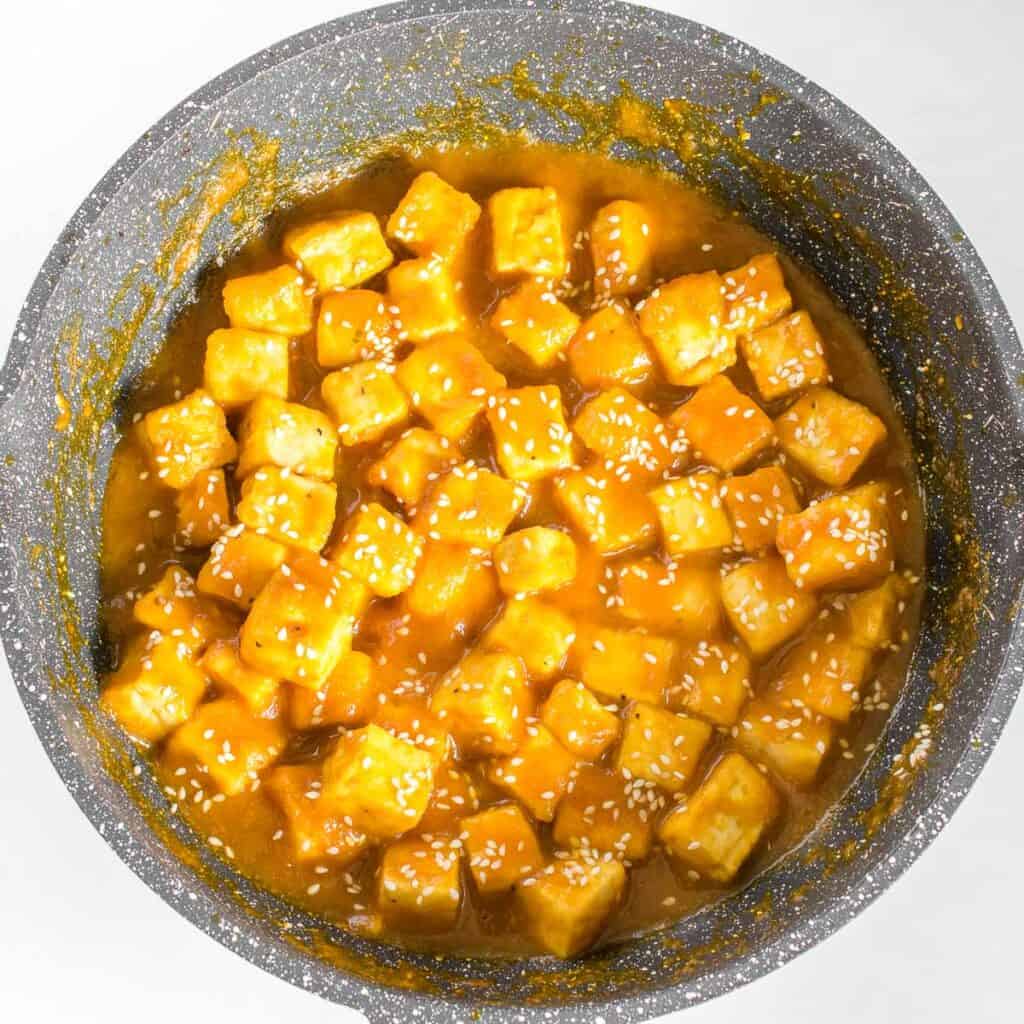 Just before serving, I garnished it and served over the bed of steamed rice.
We loved it. In fact, my friends did a take away from me while I was testing this recipe.
Overall, it's a winner recipe and a must try.
Oven bake option (oil free):
I prepared the tofu in cornstarch mixture and placed in a single layer on a prepared baking sheet. Then, I baked it in the middle rack of a pre-heated oven at 400-degree Fahrenheit for 25 minutes. Then, I flipped each piece and baked again for another 20 minutes. Once done, I took it out and combined it with the vegan orange sauce and cooked in the pan on the stove top until thickened and became sticky.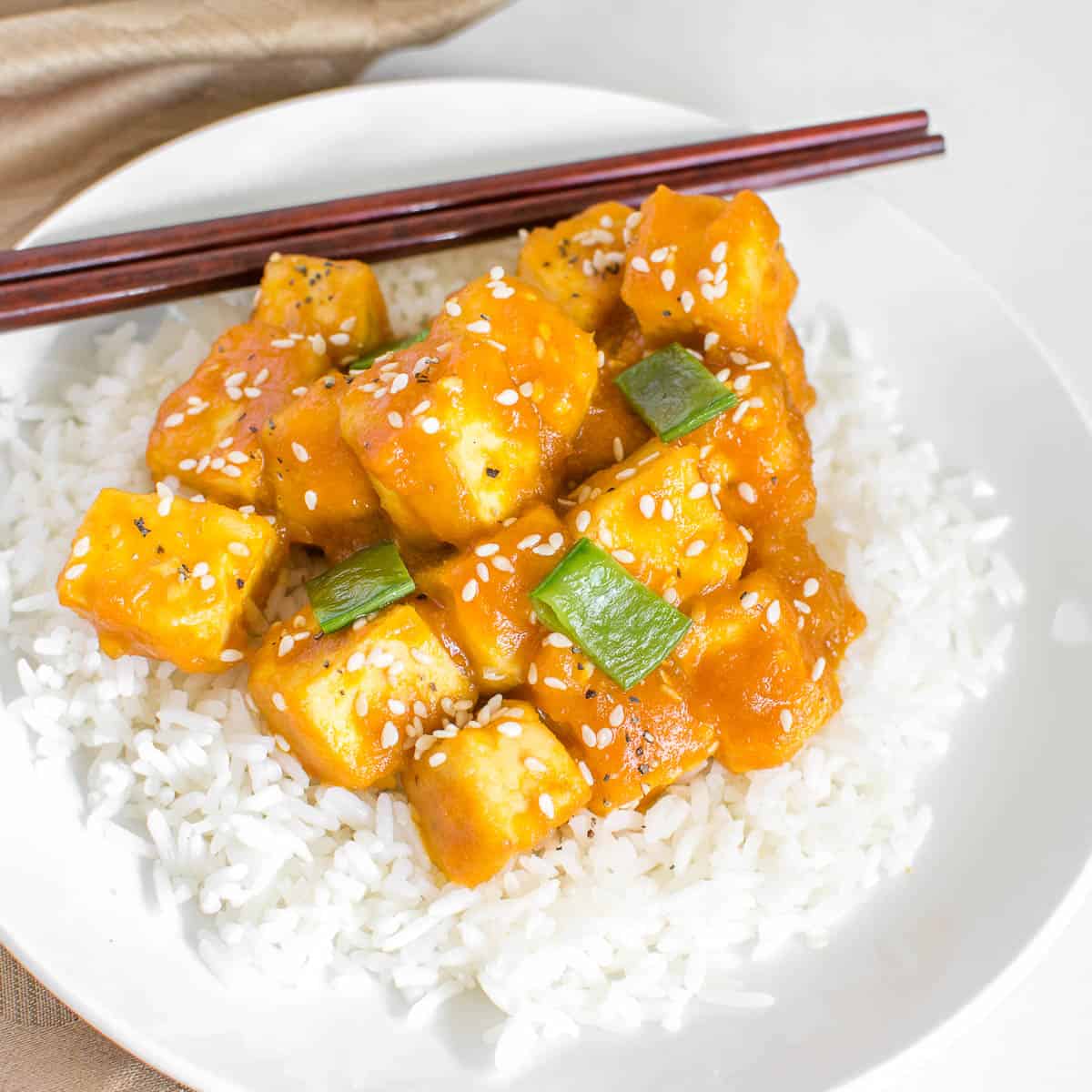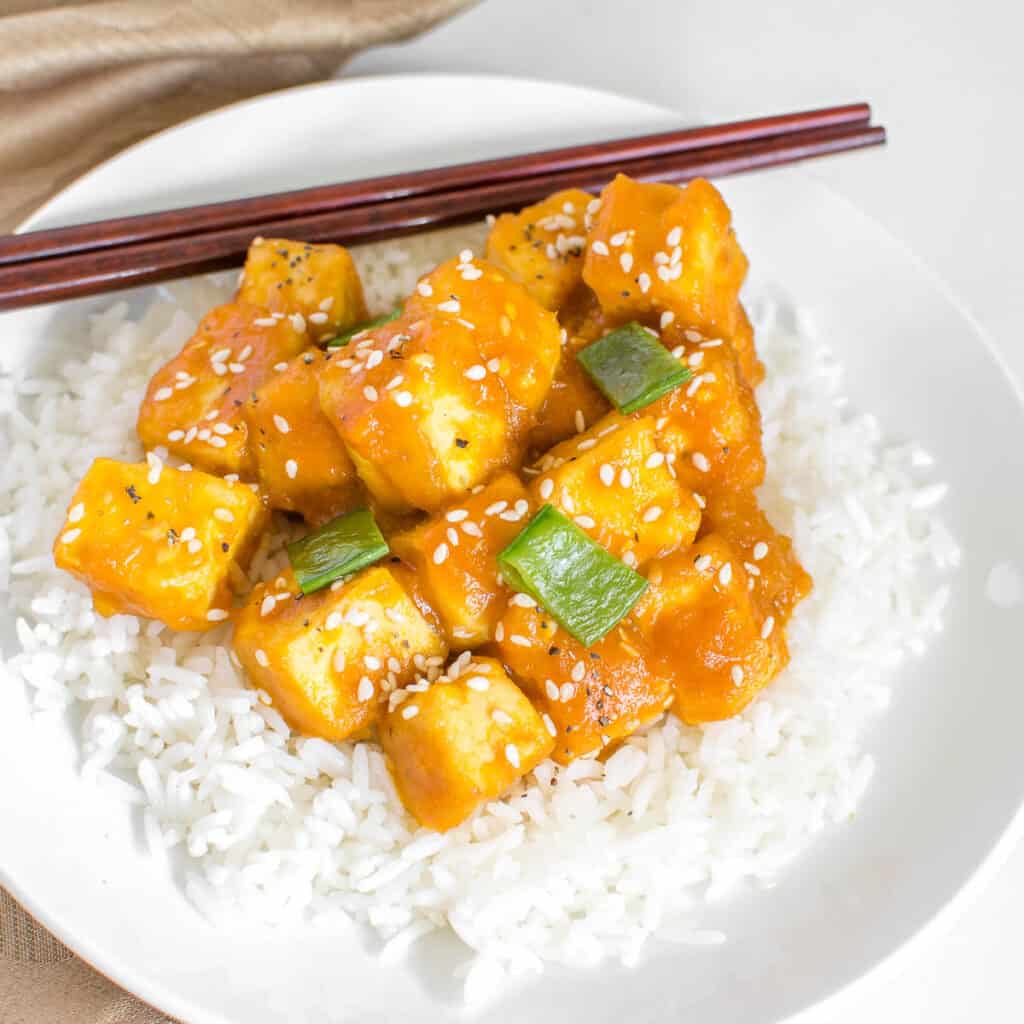 Expert tips:
It is important to blend the sauce and keep it ready so that you may pour it as soon as tofu is cooked.
Most importantly, let the sauce bubble and keep stirring at intervals to check on the consistency as well as avoid sticking at the bottom. (Do not leave it at high flame for very long).
Moreover, be mindful of the measurements and stick to it as mentioned for the perfect balance of flavors and its right sticky consistency.
Orange Tofu FAQs
How long does it last?
This taste best when served immediately. However, refrigerate the leftovers in a glass container to be used the next day. Warm it well in the microwave before serving.
What is orange tofu?
Traditionally it's a Chinese dish made with the combination of chicken and orange sauce. Its sweet, salty and sticky in taste and texture. However, we have been able to adapt it in our vegan diet and can be made with cauliflower or tofu and still has the same comfort flavor.
What can I serve this orange tofu with?
It goes well with plain steamed rice or brown rice. I personally pair it with quinoa to add more protein to my diet. If you want to make a fancy presentation then pair it with schezwan fried rice or mushroom fried rice.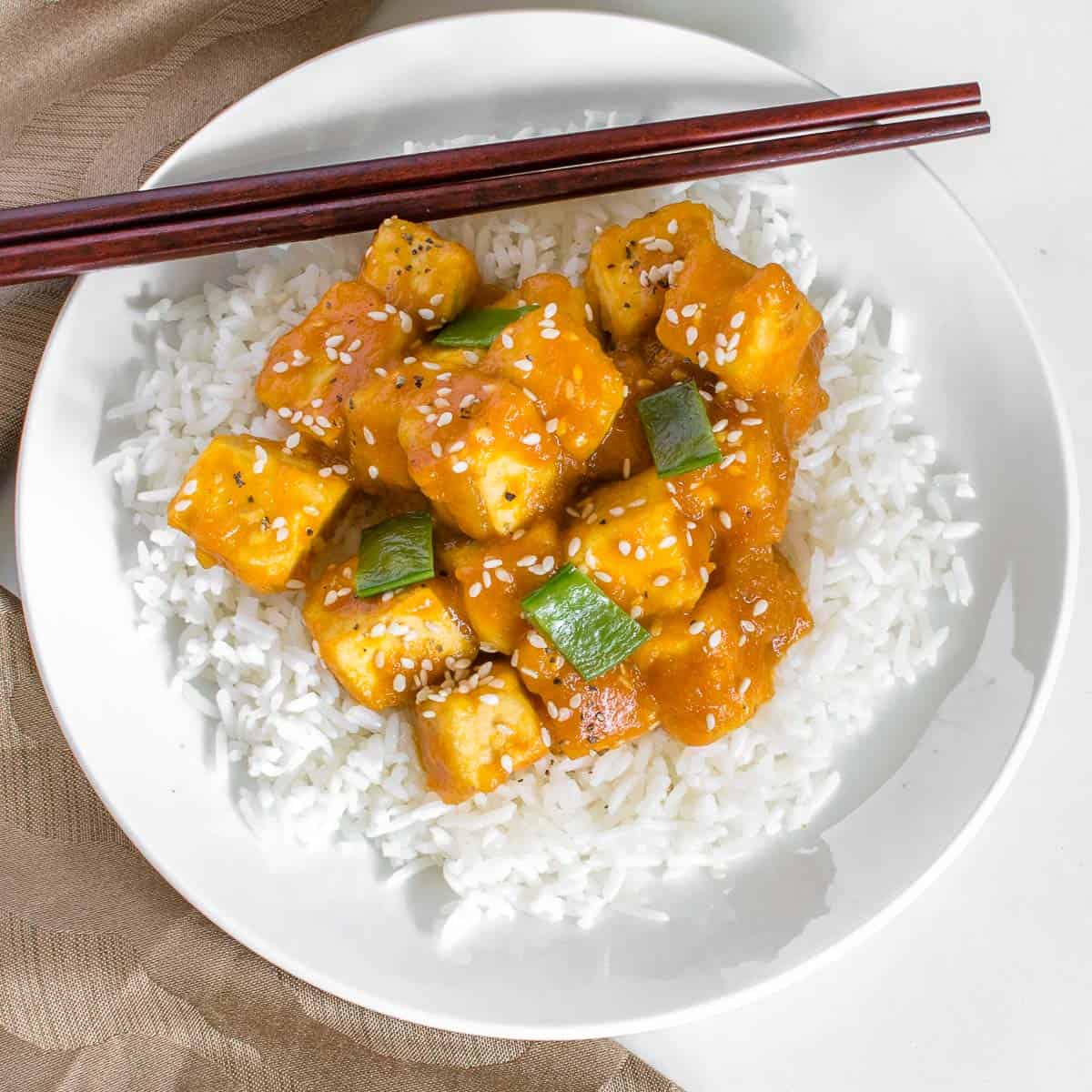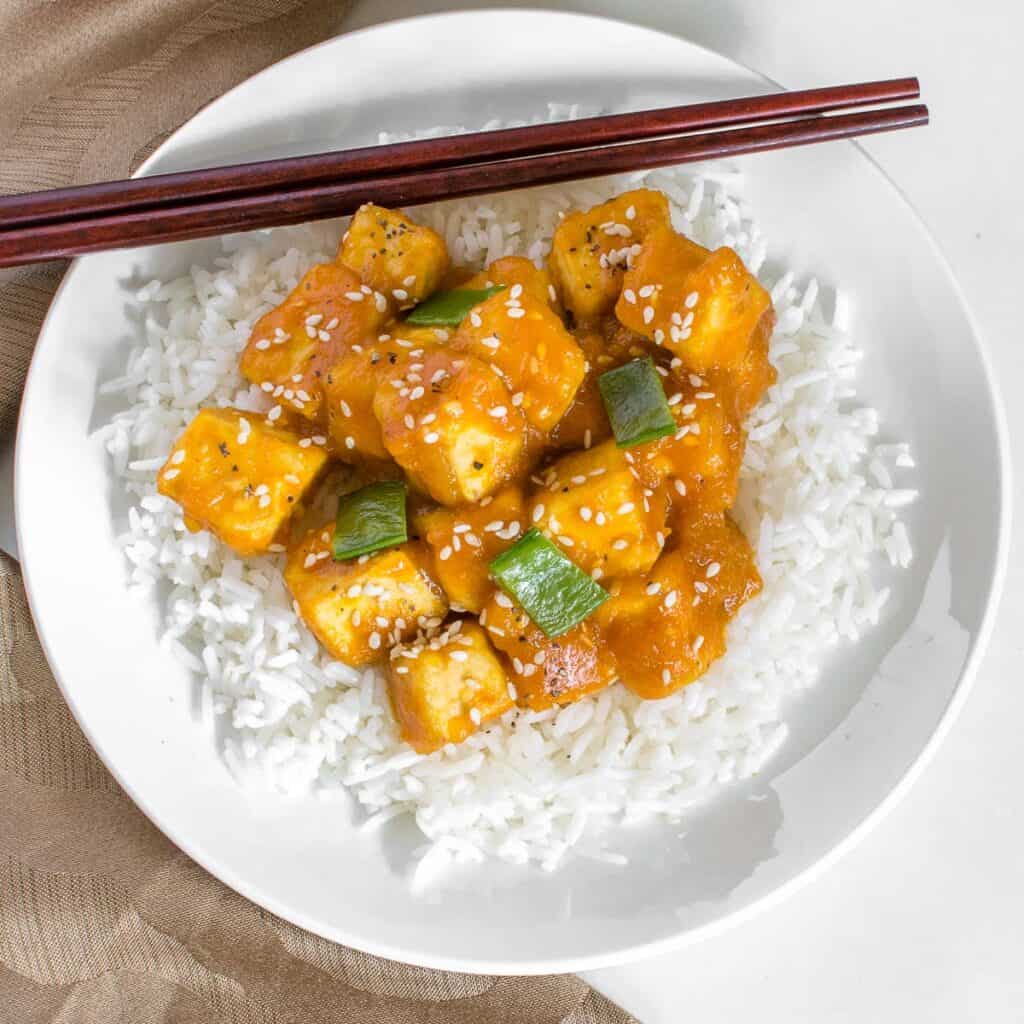 My other tofu recipes that you may like:
Tofu Sandwich
Sweet and Sour Tofu
Tofu Nuggets
Tofu Katsu
Sesame Tofu
Tofu Tikka Masala
Butter Tofu
Kung Pao Tofu
This post may contain affiliate links which means that if you click on them and also make a purchase, I will get a small commission. Moreover, I share only those products which I use personally and love.
I hope you enjoy this recipe as much as we did. I am very excited to hear back from you.
Where to find me?
Follow me on Facebook or on Twitter. You may tag @kiipfit on Instagram with your recipe remake images because I would love to see what you cooked.
Did you make it?
If you get a chance to make this recipe then please leave your feedback in the comments below along with a 5-star rating.
In addition, you may checkout my cookbook for everyday comfort vegan recipes.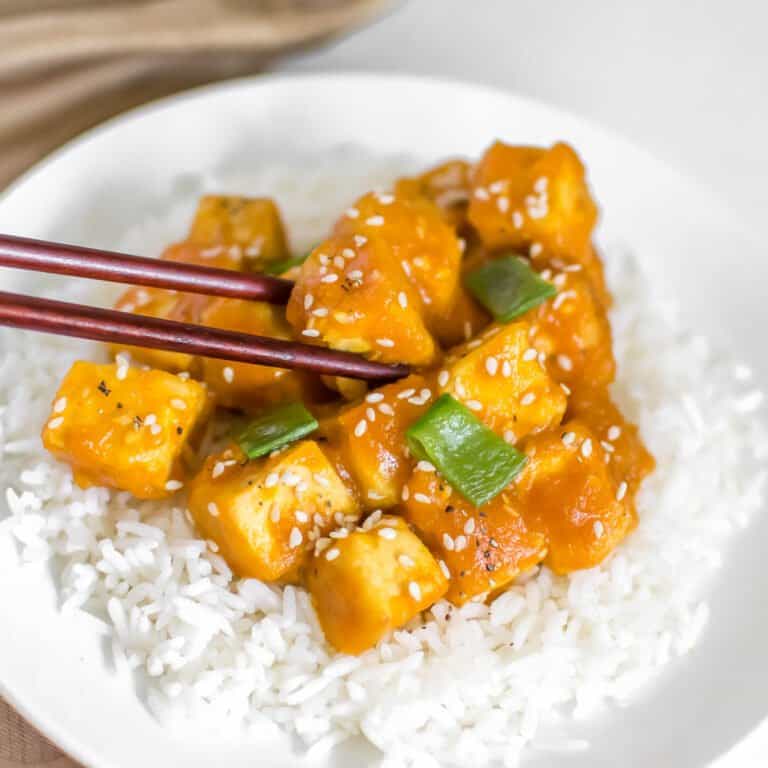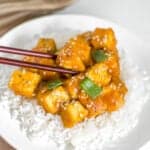 Print Recipe
Orange Tofu
This Orange Tofu is a vegan adaptation of the classic orange chicken! It's made healthier with sweet, salty, spicy and sticky sauce for those busy weeknights. A delicious and comforting 30 minutes Chinese meal.
Ingredients
1

14 oz. pack of

extra firm tofu

( drained, pressed and chopped)

2

tbsp

cornstarch

salt to taste

(very little though)

freshly ground black pepper
Instructions
In a mixing bowl combine chopped tofu, cornstarch, salt and pepper. Mix gently so that tofu does not break but make sure to coat each tofu piece with cornstarch.

Heat oil in a nonstick pan/wok and sauté tofu in it until golden brown and crispy.

In the meanwhile, in a blender, combine all the sauce ingredients (oranges, orange zest, soy sauce, vinegar, maple syrup, ginger, garlic). Blend it very smooth so that the pulp does not show up while cooking or eating.

Pour this sauce on cooked tofu in the pan itself. Let it cook uncovered at high flame until the bubbles form. Stir at every 2 minutes interval to check its consistency. As soon as it starts to thicken lower the flame to low-medium and let it cook covered for 2 minutes.

Remove the lid and stir again. Turn off the flame and let it rest covered for 3-4 minutes for the sauce to thicken a bit more.

Garnish and enjoy with steamed white rice/brown rice/quinoa.
Notes
I used California small mandarin oranges ( cuties ) for this recipe.
No need to strain the orange sauce. Simply blend it longer for 3-4 minutes.
Make sure to pour the sauce in the pan as soon as the tofu is golden in color and on crispy side.
Oven bake option/ oil free option: prepare the tofu as explained in step1. Pre-heat oven at 400-degree Fahrenheit and prepare a baking sheet with a parchment paper. Place the prepared tofu in a single layer on the baking sheet and bake it in the middle rack of the oven for 25 minutes. Take it out and flip all the pieces and bake again for another 20 minutes. Once done, turn it off and take it out. Now, in a pan combine the blended sauce and tofu together and let it cook as explained in step 4 and step 5. Lastly garnish and serve.
Additional salt was not required for us. But feel free to adjust the salt if desired after cooking. 
This recipe has spicy hint to it with being salty, sweet and tangy with a prominent orange taste.
Nutrition
Calories:
202
kcal
|
Carbohydrates:
10
g
|
Protein:
17
g
|
Fat:
10
g
|
Saturated Fat:
1
g
|
Polyunsaturated Fat:
1
g
|
Monounsaturated Fat:
1
g
|
Sodium:
866
mg
|
Potassium:
190
mg
|
Fiber:
2
g
|
Sugar:
11
g
|
Vitamin A:
534
IU
|
Vitamin C:
26
mg
|
Calcium:
54
mg
|
Iron:
1
mg