Thick, rich and creamy, this Vegan Mango Lassi is a satisfying summer beverage. It's easy, quick and a delicious family friendly recipe. Indian mango yogurt smoothie made tastier with saffron.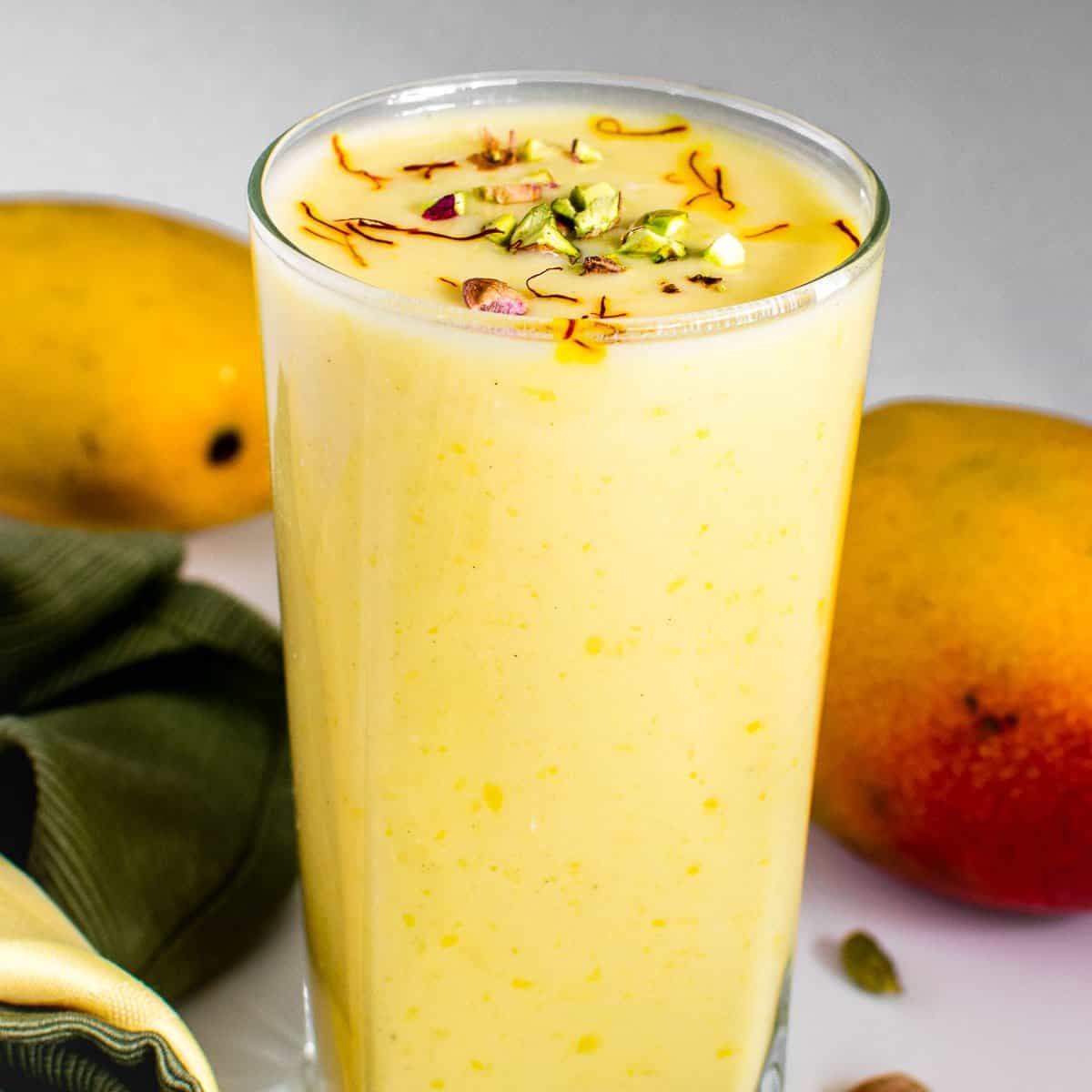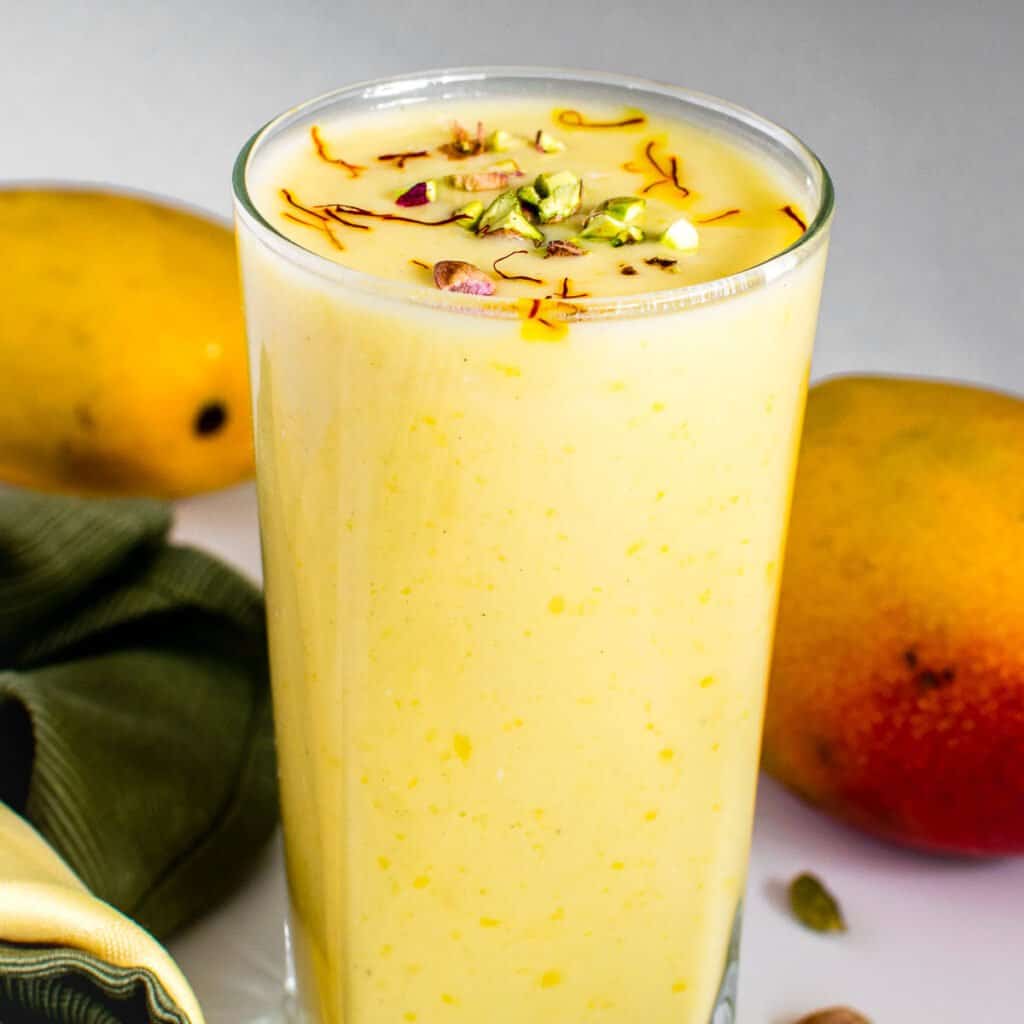 As summer approaches we all want to stay hydrated but if we get dessert like beverage, it's even more desirable.
Everyone loves mangoes and mango lassi has become very popular all over the world. Hence, I decided to make it at home and bring the delicious flavors in the warmth of my house.
What is Lassi?
It is a yogurt-based drink from the lands of Punjab in India. Punjab is a state in North India and lassi originated from there. Usually, lassi is paired with paratha for breakfast. It a favorite and the most popular combination.
Traditionally, lassi is made in clay pots and blended manually with a wooden hand food masher by rotation and mixing the drink. With the invent of blenders making lassi has become easy. Originally, lassi was only made from plain yogurt, sugar and water and ice and topped with cream. Over the years, a lot of variation has taken over and one of them is vegan mango lassi.
What is Mango Lassi?
Basically, it's a mango yogurt smoothie which is made with fresh mangoes, yogurt, sugar, ice water and saffron. Then, they are simply blended and enjoyed cold.
However, it's a versatile drink and can easily be made into different variations.

Health benefits of mangoes
It's a summer fruit and rich in antioxidants. They aid in digestion and are packed with fiber along with improving skin and hair. Its also an excellent source of vitamin A and vitamin K.
How to buy mangoes?
A variety of mangoes are available in the market and they all have unique flavor and aroma of their own. They vary in their taste, texture, color and looks. So, while buying mangoes make sure to gently press each of them and make sure they are soft and mostly with yellow colored skin. Also, they should have soft aroma in them.
More vegan mango recipes that you might like:
Mango Smoothie Bowl
Quinoa Mango Pudding
Vegan Mango Pancakes
Sriracha Mango Dip
Mango Coconut Cookies
Black Rice Mango Salad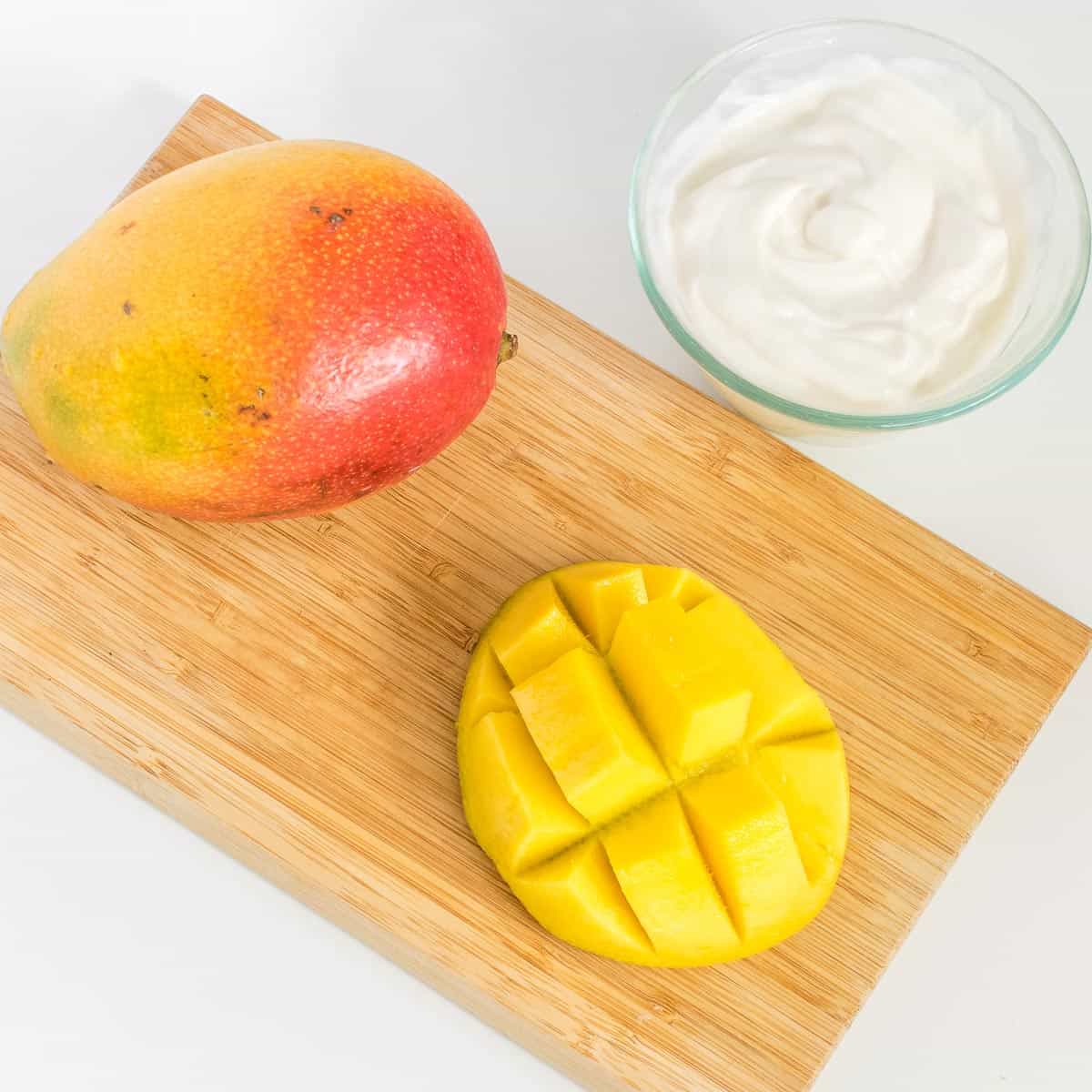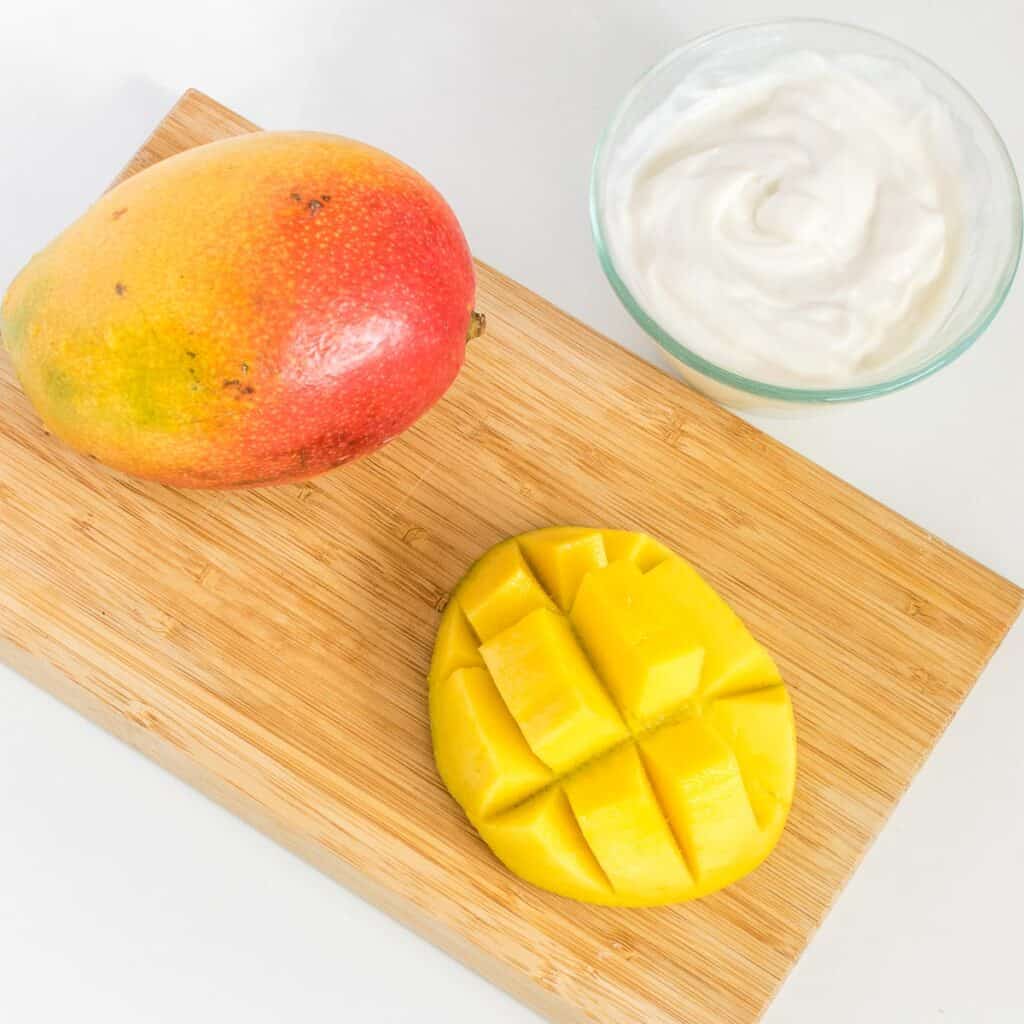 Ingredients for Vegan Mango Lassi recipe
Fresh and frozen mangoes
Vegan yogurt (almond milk or coconut milk based)
Almond milk or tetra pack coconut milk
Cardamom
Maple syrup
Pistachio
Saffron
I used all these easy ingredients which mostly every household have. These are easily available in any store it's a no fuss healthy mango lassi recipe.
Ingredients notes:
Mangoes – I used fresh and frozen both to thicken this lassi and make it richer and creamier.
Vegan yogurt – even though any yogurt is fine here my favorite is coconut milk-based yogurt because it makes this beverage creamier.
Dairy free milk – this makes this Indian yogurt smoothie creamier and richer and so I love to add milk in here.
Cardamom – you may use store bought ground cardamom or simply crush 3-4 green cardamom and remove the skin.
Sweetener – I prefer maple syrup for this recipe because it brings a nice caramelized flavor here. But white sugar also works fine for this lassi.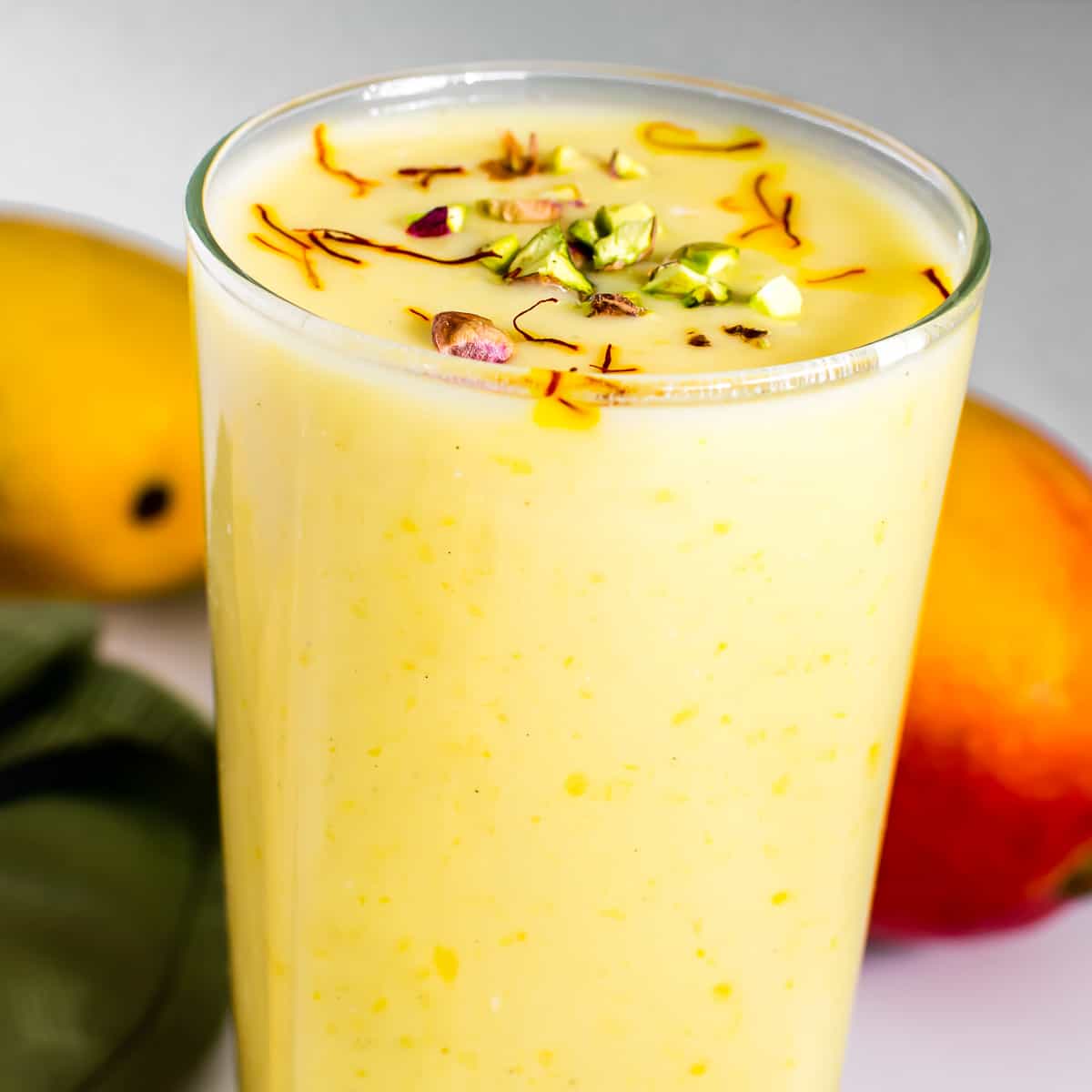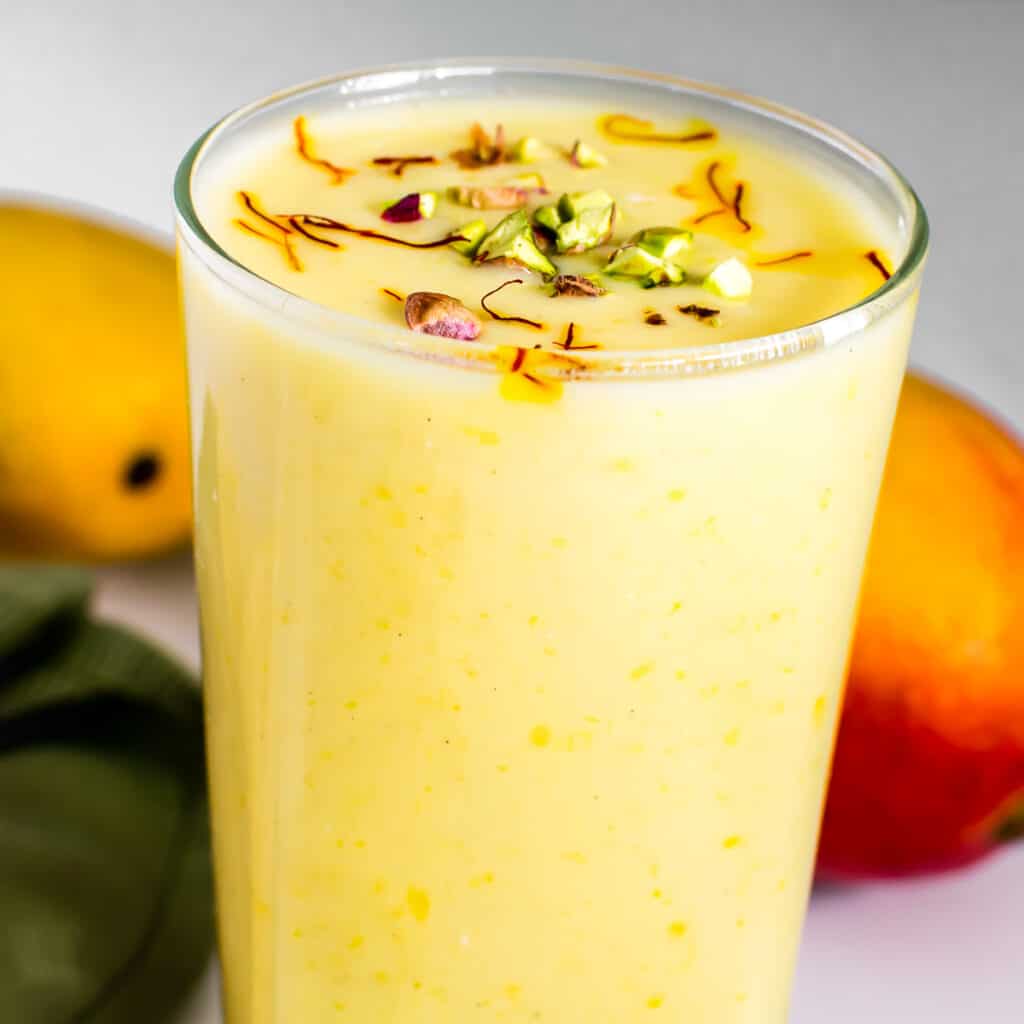 For detailed measurement of ingredients, please scroll down to the printable recipe card at the bottom of this post.
How to make Vegan Mango Lassi
Step 1: how to prepare mango puree
Firstly, in a blender I combined fresh and frozen mango chunks and then I blended it very well.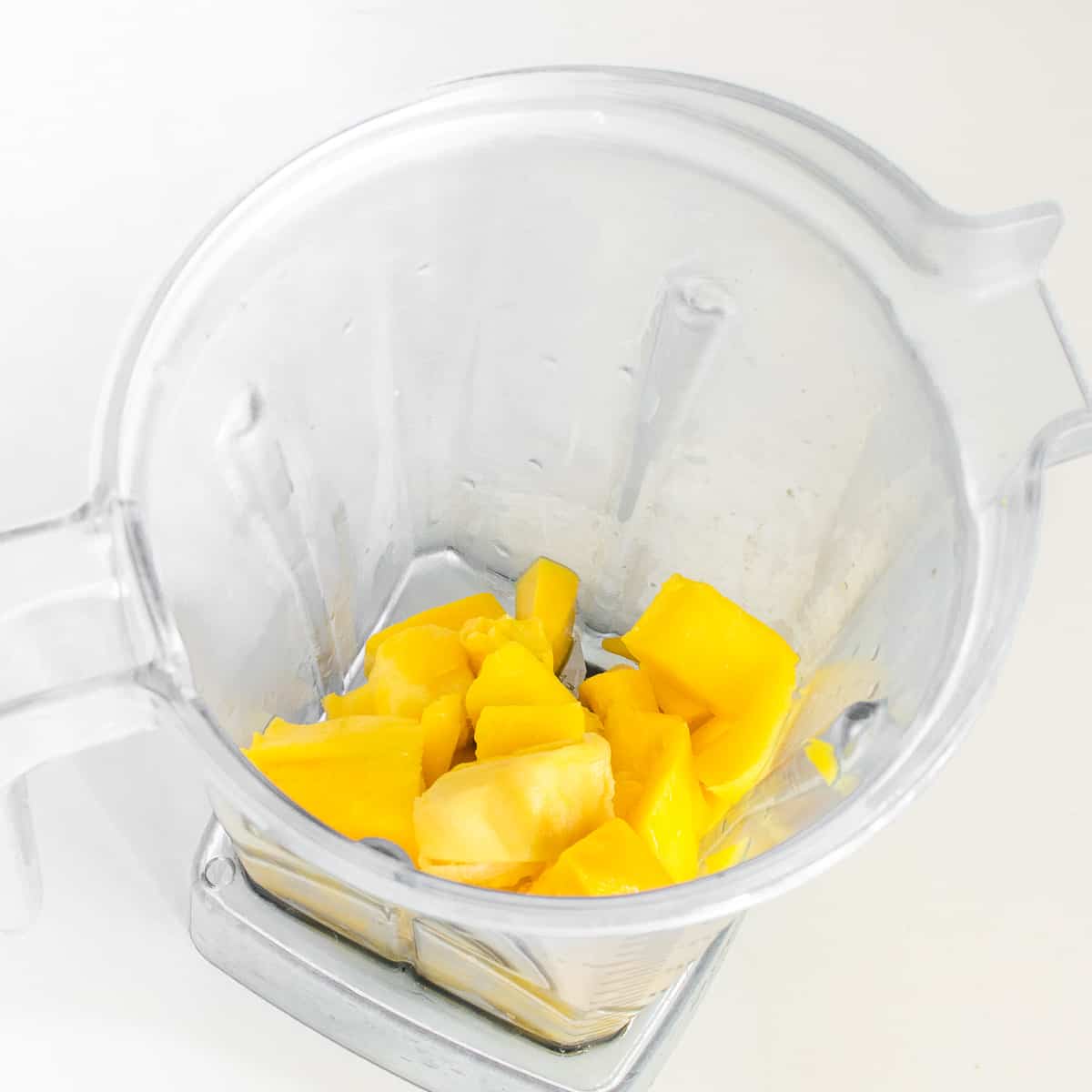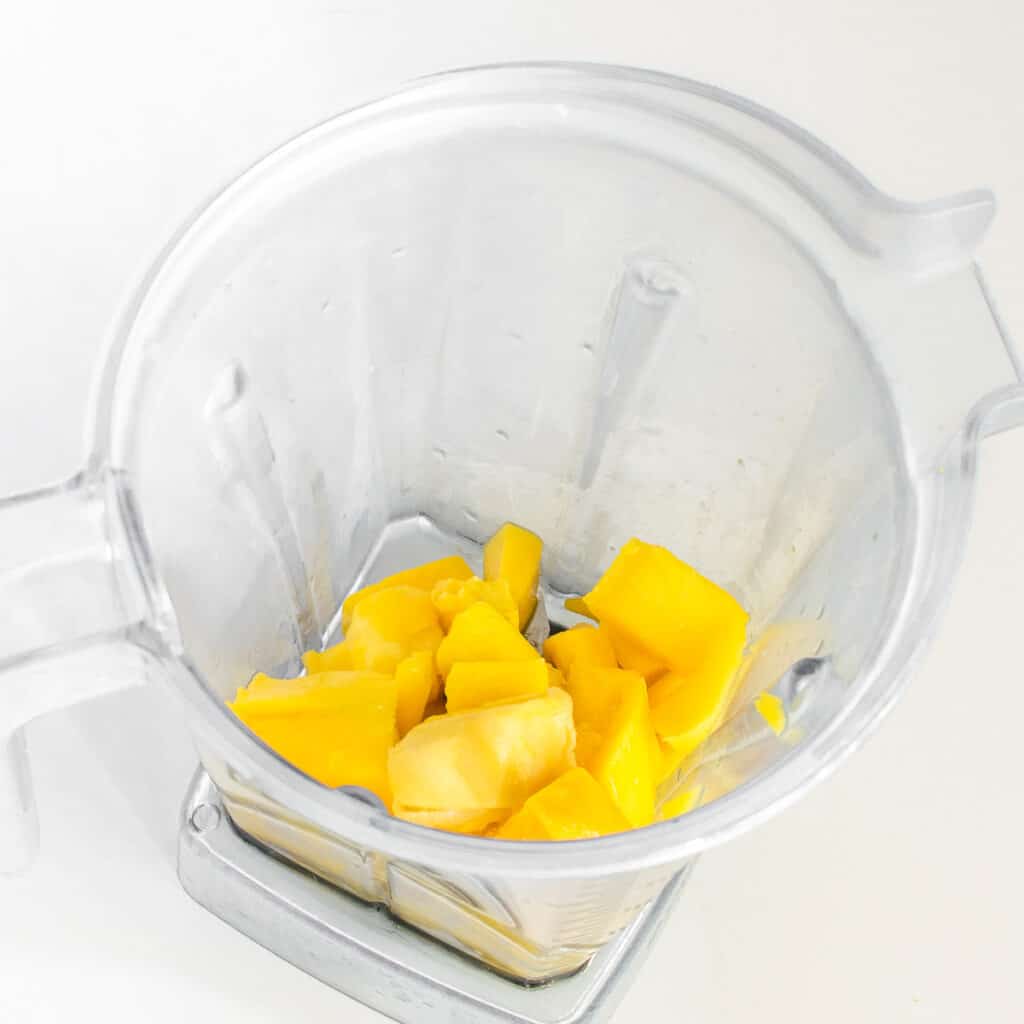 Secondly, I spooned it out in a strainer with a bowl underneath it. Then, I swished the blender with little water and poured it in the strainer.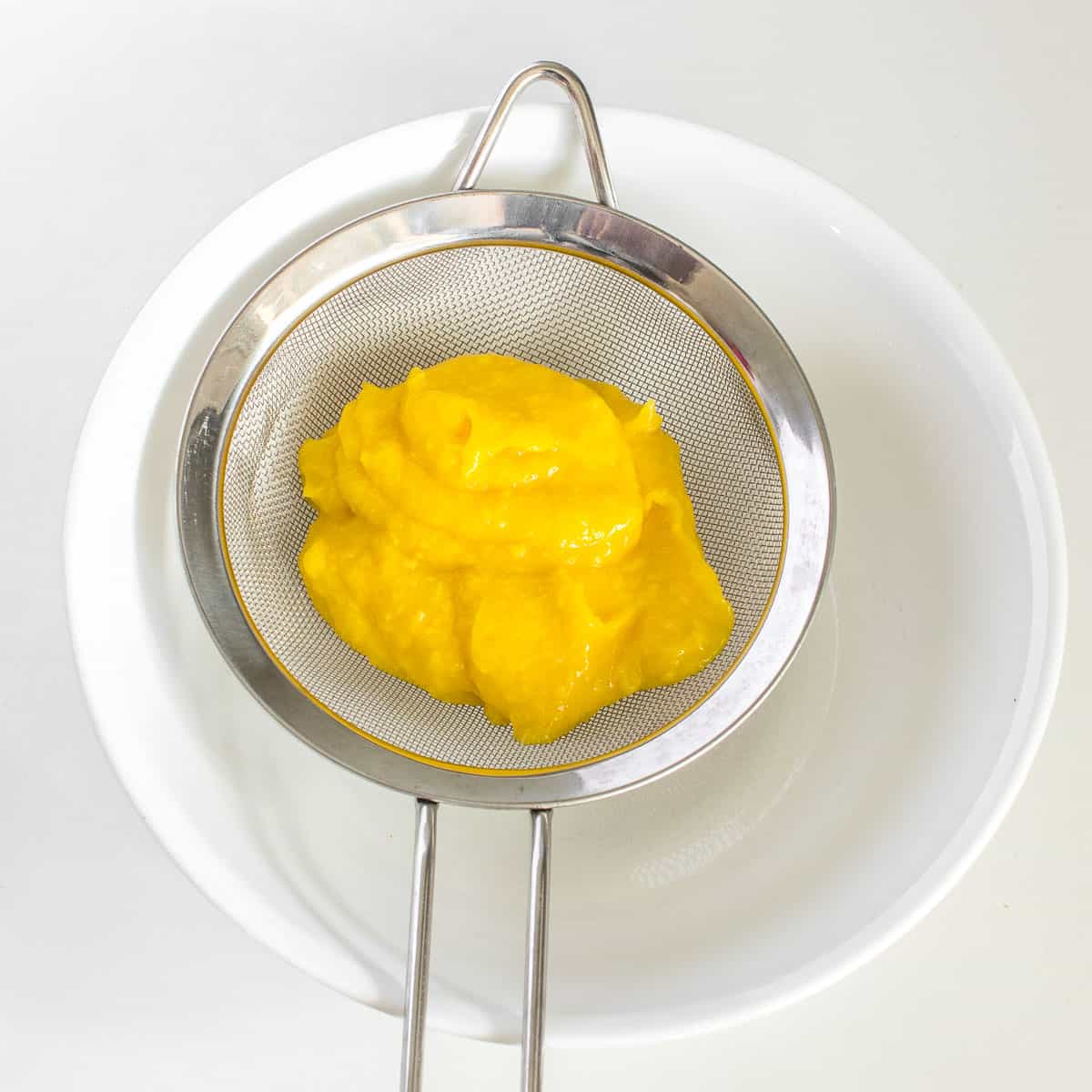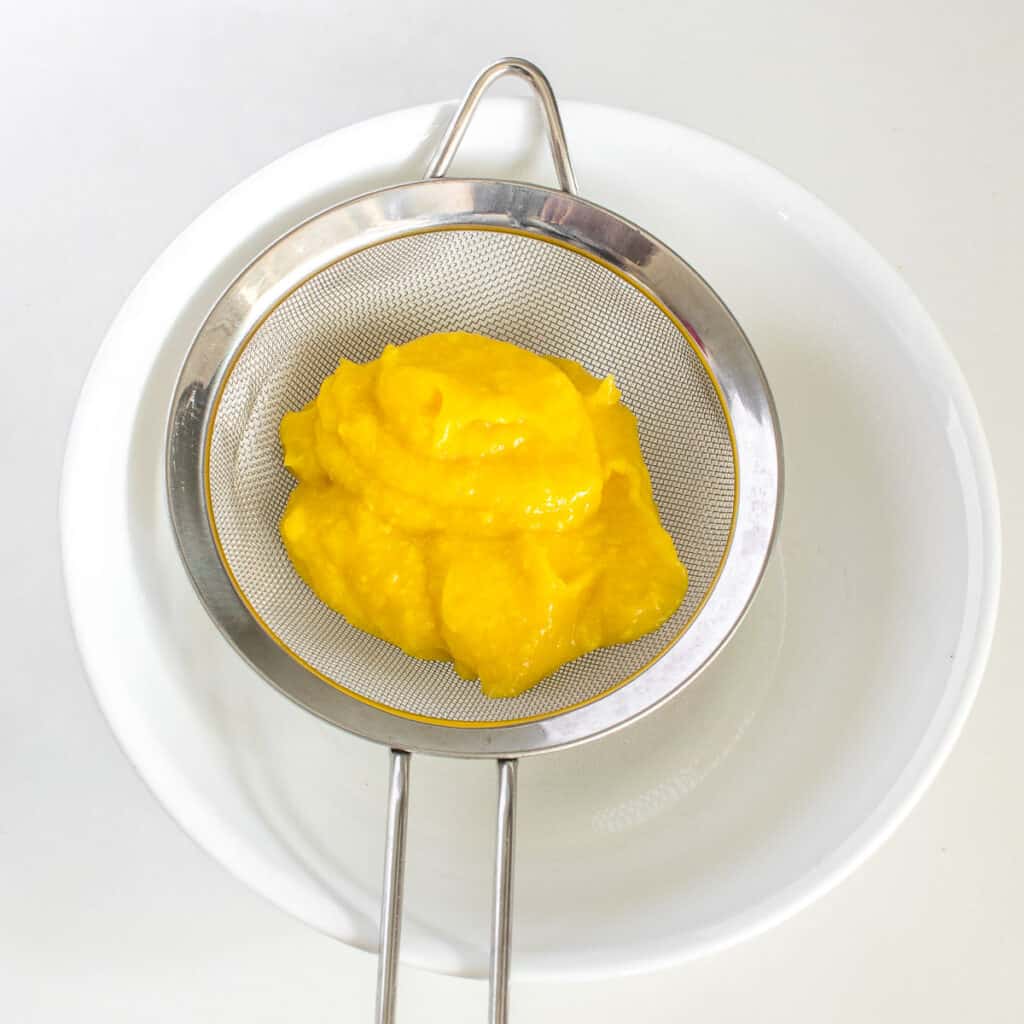 Next with the help of a spoon, I whisked the pulp and strained it as much as possible and discarded the leftover pulp. Then, I stirred the mango puree in the bowl and kept it aside.
Step 2: how to blend the lassi
In this step, I added rest of the ingredients into the pureed mango.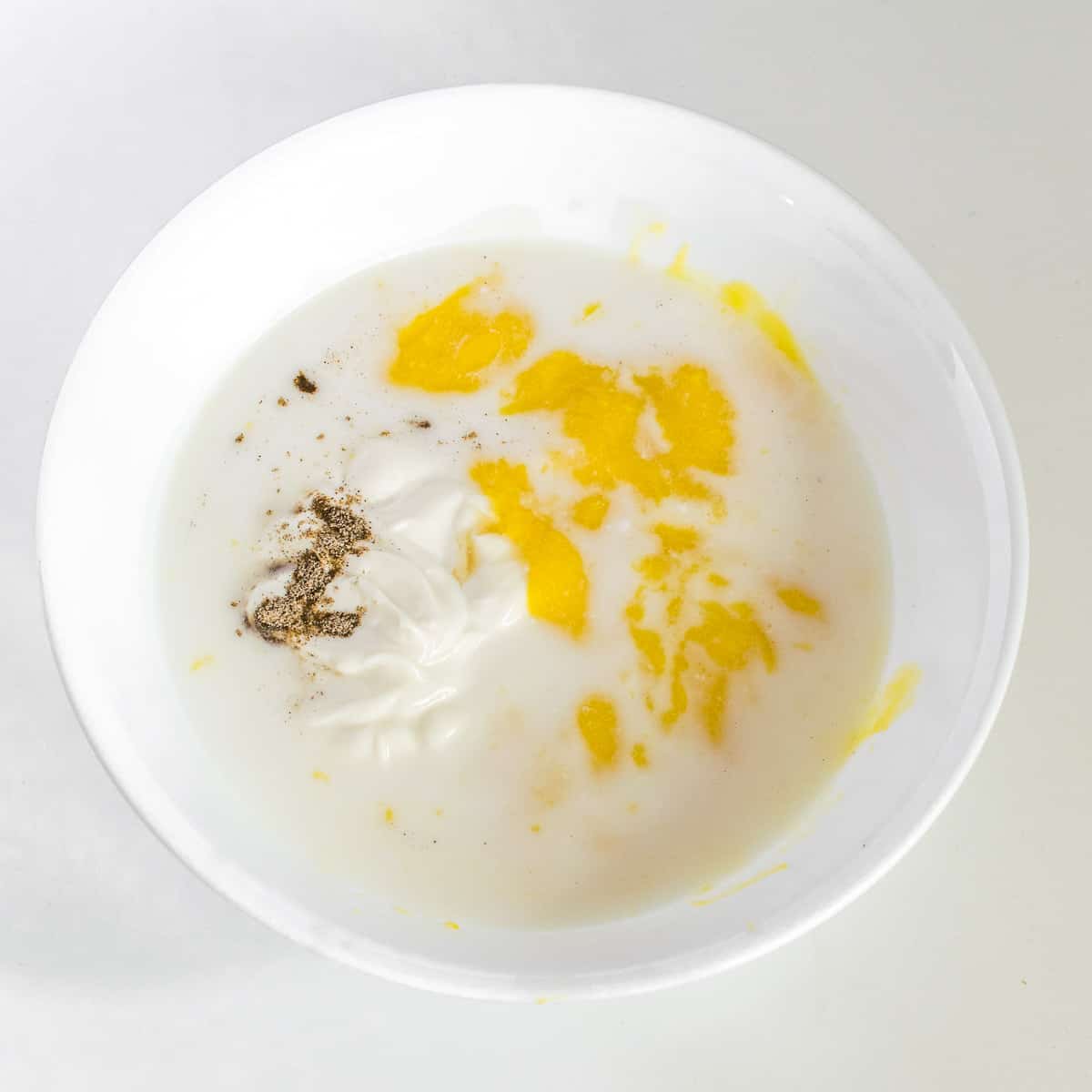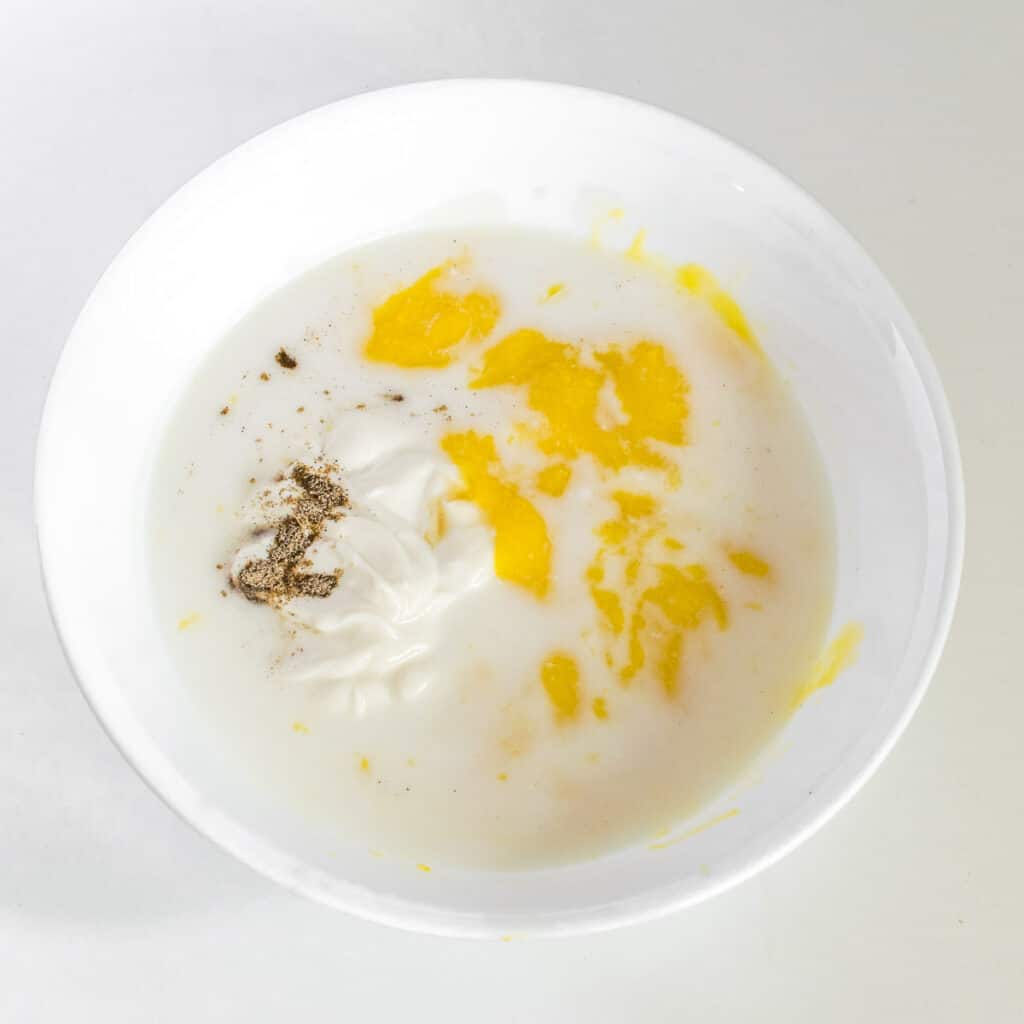 Next, with the help of a wooden hand whisk beater, I blended it smooth. ( You may use electric immersion blender or any hand blender to blend it).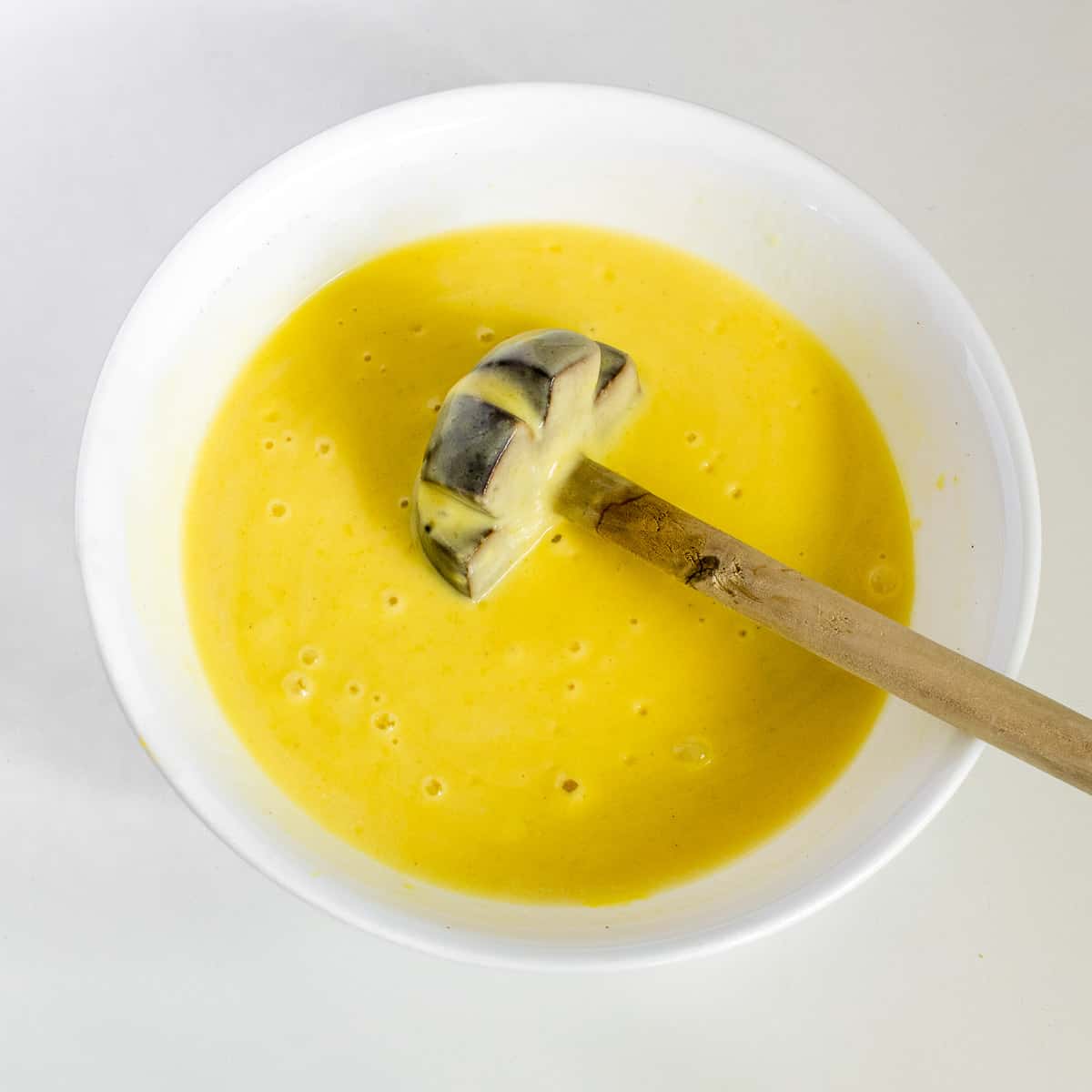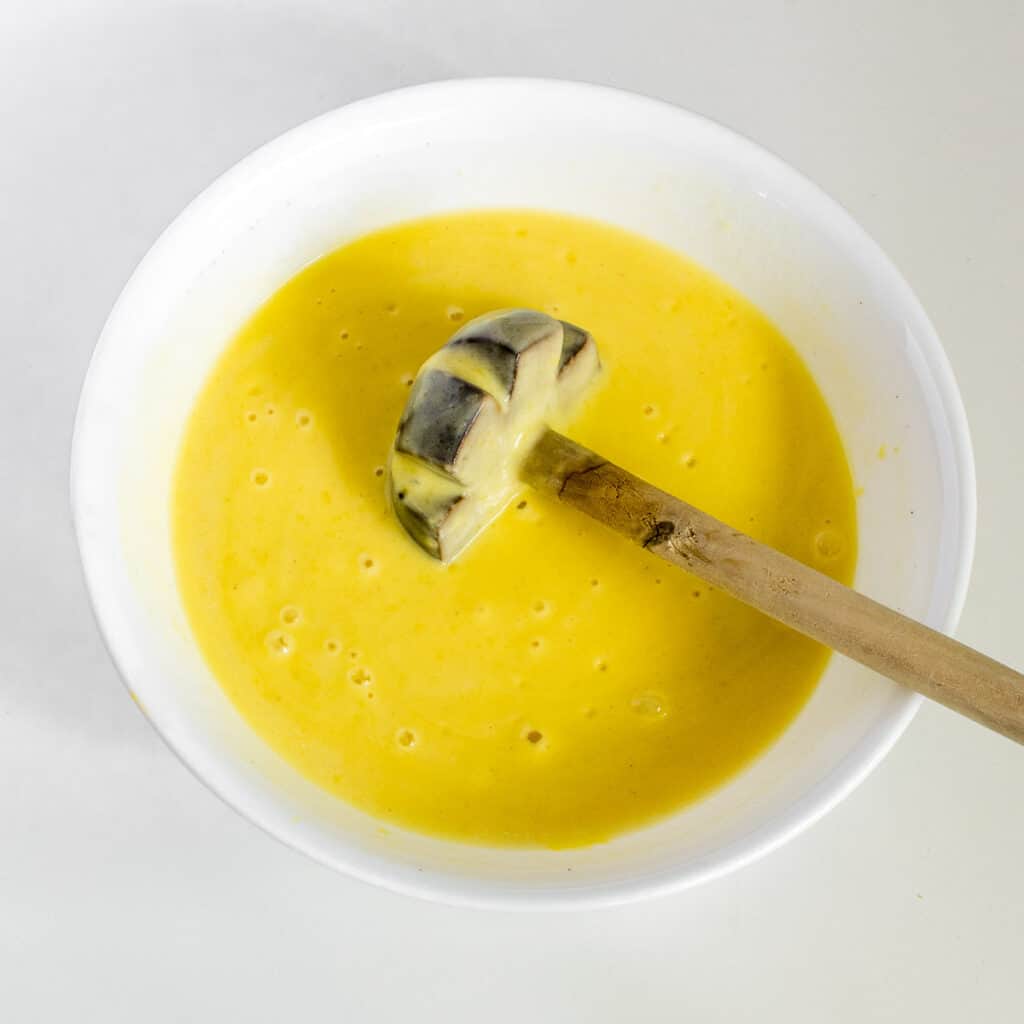 Step 3: how to serve
Lastly, I poured it in the serving glasses. Then, I garnished it with chopped pistachio and saffron strands and served immediately.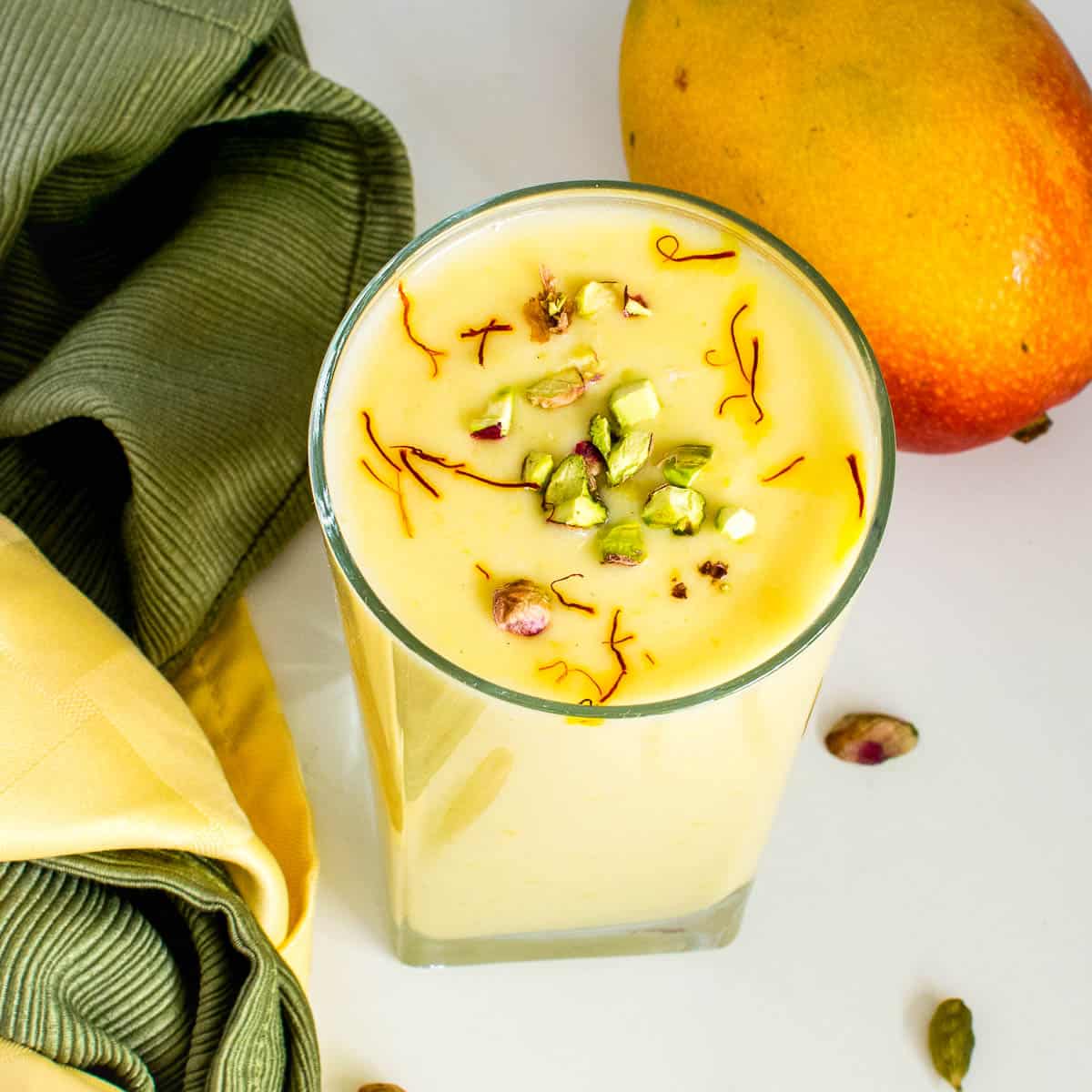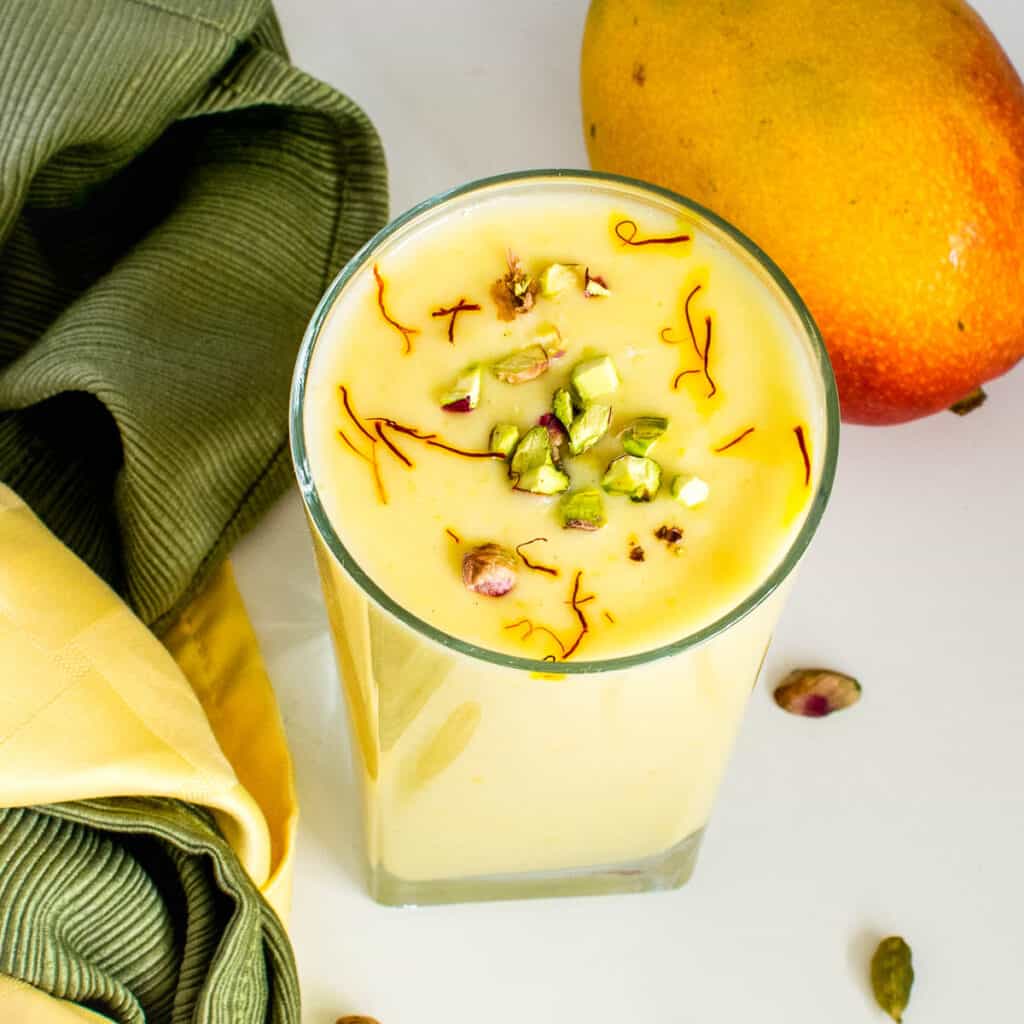 Pair this dairy free Mango Lassi with:
Mushroom avocado toast
Masala oatmeal
Masala pasta
Savory Vegan French Toast
Expert tips:
It is important to puree the mangoes first and strain it for the best results.
Most importantly, hand blending is the best for creamier lassi.
Vegan Mango Lassi FAQs
How long does it last?
This taste best when served immediately. However, you may refrigerated it in a glass container for a few hours without garnishes. When ready, stir and garnish.
Is it healthy?
It is packed with calcium, antioxidants, probiotics and other vitamins and minerals. Overall, it's a healthy Indian yogurt drink which can be enjoyed frequently.
What type of mango can I use in this recipe?
You may use any variety of mangoes here as long as they are ripe and sweet.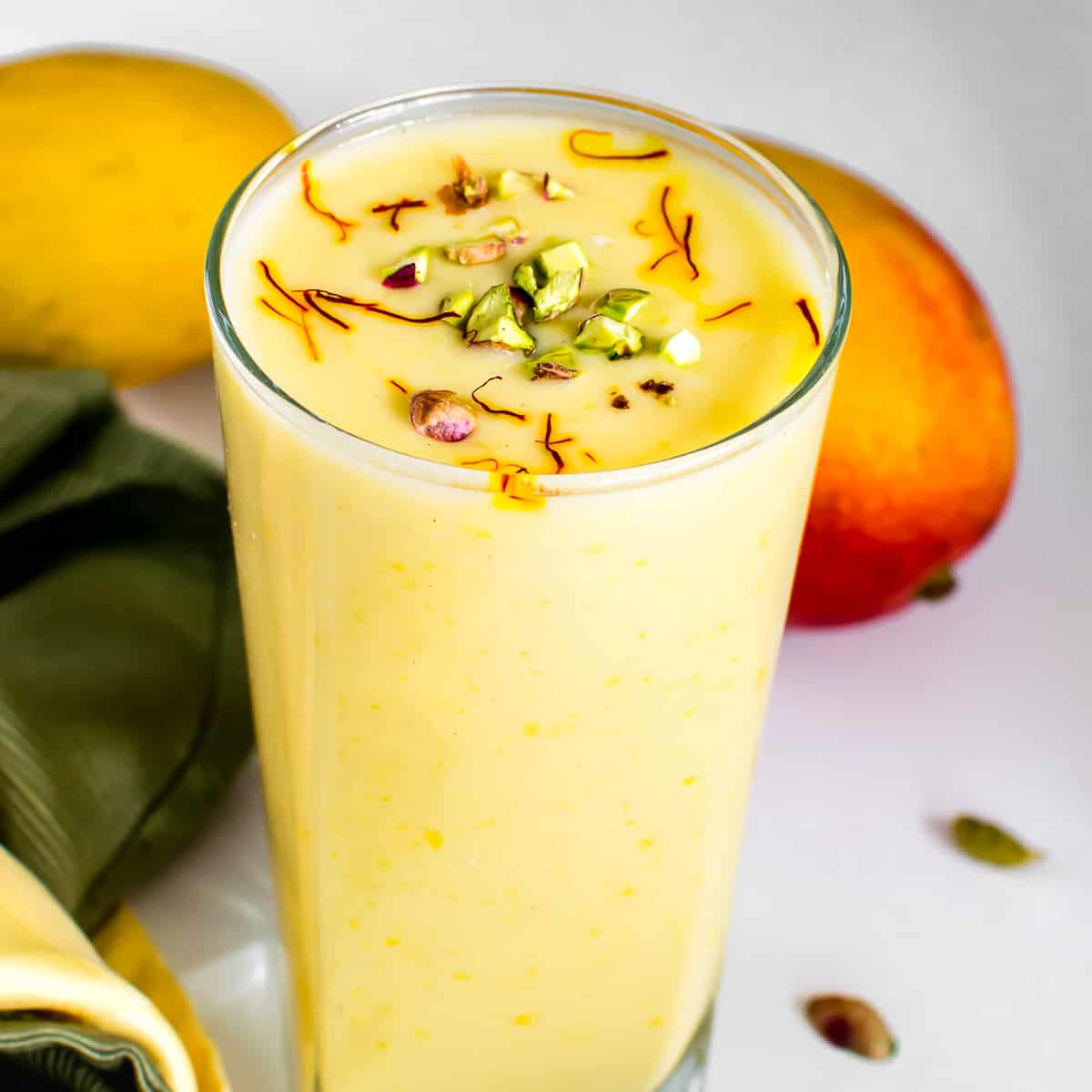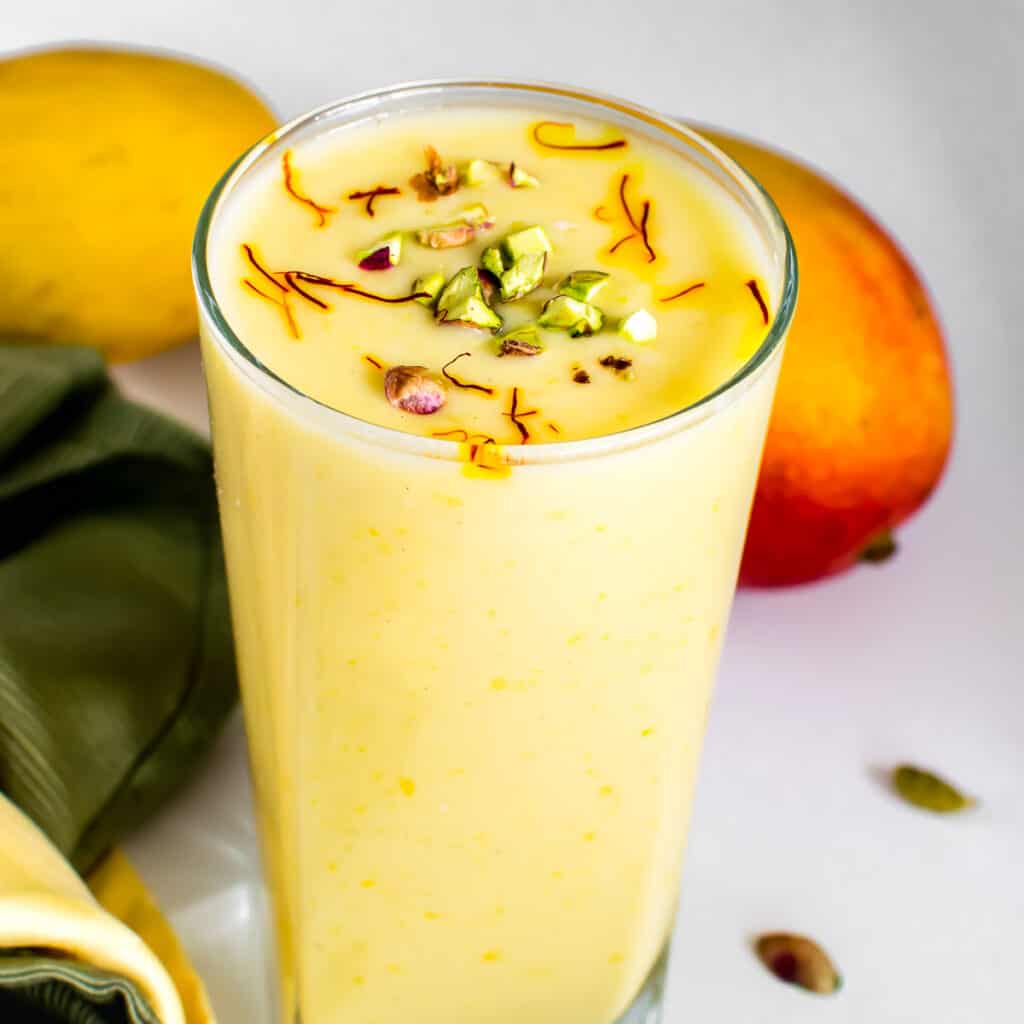 My other beverage recipes that you might like:
Mango Lemonade
Strawberry Chocolate Lassi
Mango Chia Energy Drink
Peanut Butter Milkshake
Banana Milkshake
Peach smoothie
This post may contain affiliate links which means that if you click on them and also make a purchase, I will get a small commission. Moreover, I share only those products which I use personally and love.
I hope you enjoy this recipe as much as we did. I am very excited to hear back from you.
Where to find me?
Follow me on Facebook or on Twitter. You may tag @kiipfit on Instagram with your recipe remake images because I would love to see what you cooked.
Did you make it?
If you get a chance to make this recipe then please leave your feedback in the comments below along with a 5-star rating.
In addition, you may checkout my cookbook for everyday comfort vegan recipes.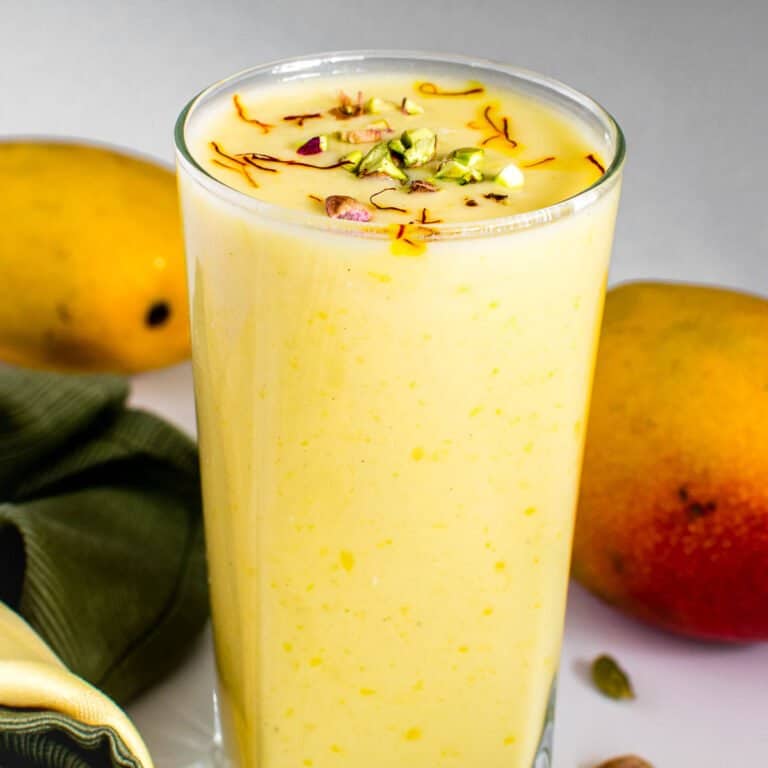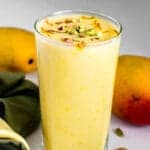 Print Recipe
Vegan Mango Lassi
Thick, rich and creamy, this Vegan Mango Lassi is a satisfying summer beverage. It's easy, quick and a delicious family friendly recipe. Indian mango yogurt smoothie made tastier with saffron.
Ingredients
for garnishing
Instructions
In a blender combine frozen and fresh mango chunks and blend it smooth.

Place the sieve or strainer on a big bowl and spoon out the blended mangoes on it. If needed swish the blender with very little water about 1/8 cup and pour it in the strainer. Strain the puree in a big bowl as much as possible and discard the leftover pulp. You may whisk it with the help of a spoon or a whisk to strain the mango pulp.

Now, in the strained mango puree add vegan yogurt, milk, cardamom and maple syrup. With the hand immersion blender or wooden hand whisk beater and blend it smooth.

Pour it in the serving glasses and garnish with chopped pistachio and few saffron strands. Serve immediately.
Notes
This taste best when served immediately.
You may blend mangoes and strain and refrigerate the puree for a week. Use it when ready.
I personally blended this lassi in a traditional style and used wooden hand whisk beater to blend it but electric hand blender or immersion blender also works here.
1 full fresh mango will make up to 1/2 cup heaped mango chunks.
Nutrition
Calories:
198
kcal
|
Carbohydrates:
40
g
|
Protein:
5
g
|
Fat:
3
g
|
Sodium:
1
mg
|
Potassium:
3
mg
|
Fiber:
1
g
|
Vitamin C:
1
mg
|
Calcium:
1
mg
|
Iron:
1
mg