This tropical flavored Mango Smoothie Bowl is a healthy breakfast option that comes together in just 15 minutes. Top it with your favorite toppings and enjoy the sunshine in a bowl with a spoon.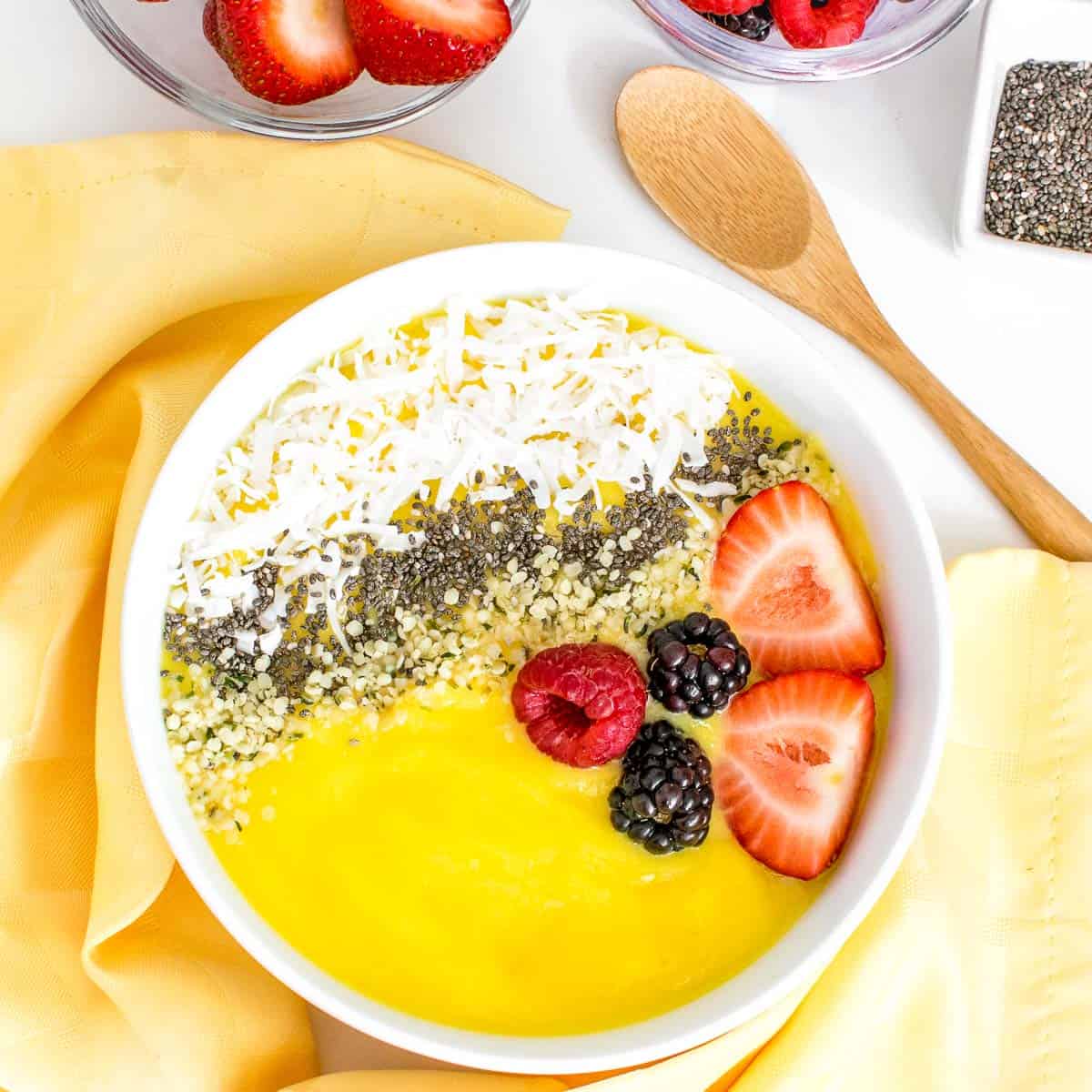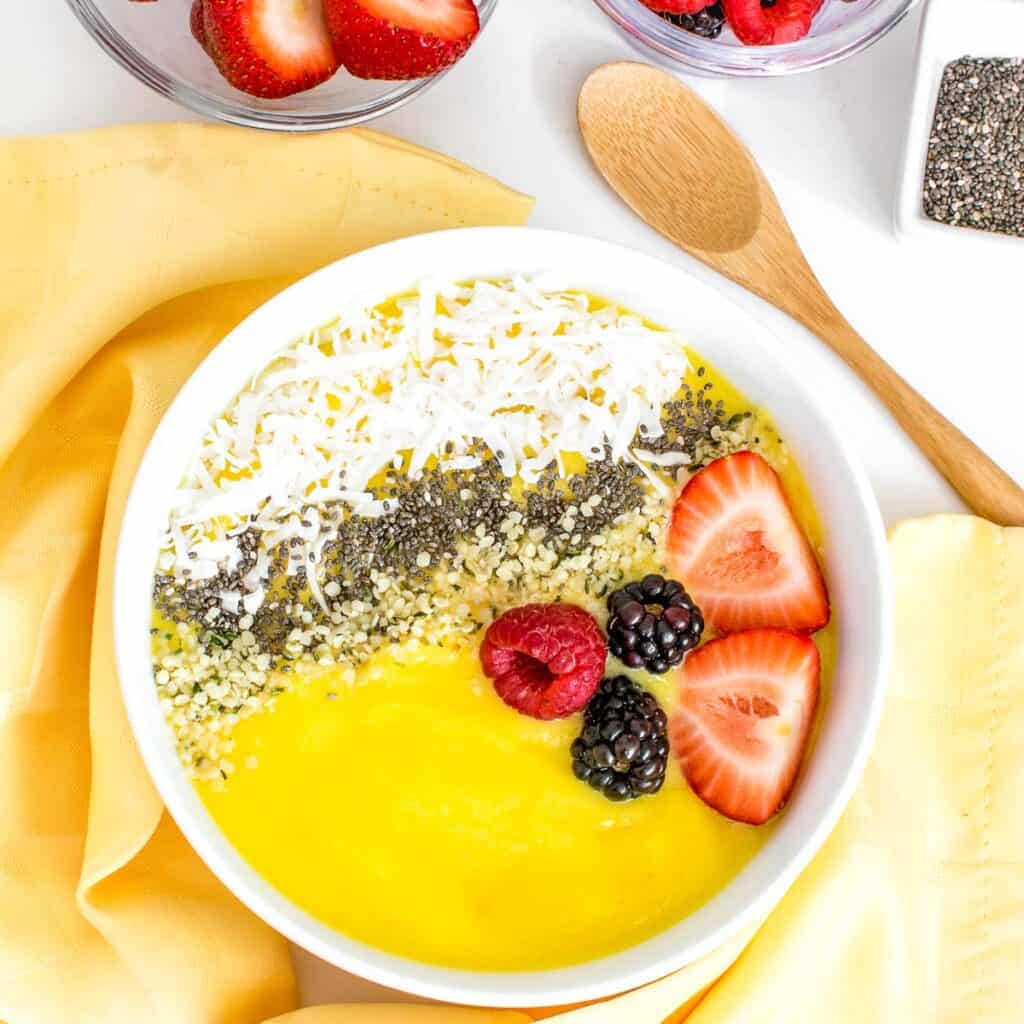 Smoothie bowls are my most preferred breakfast because I get a chance to enjoy a smoothie with a spoon. This way I get hydrated and yet satisfaction of chewing.
Therefore, it's a complete morning meal.
As soon as mangoes are in season, I simply stock them in my refrigerator. This says that I love seasonal produce because they are at its best.
However, this vegan mango smoothie bowl is absolutely delectable and satisfying. With sweet and tangy flavors, I topped it with coconut flakes while I imagined myself in a tropical island.
This mango bowl is so good and absolutely desirable for all age groups along with being nutritious too.
I like the fact that this smoothie bowl can be customized. So, it gives you an opportunity to be as creative as possible.
It's a healthy way to start your mornings and is quick to fix too.
Since I used frozen mangoes here, this banana mango smoothie bowl can be made all year round.
I have few popular recipes with mango like mango pudding, Vegan mango pancakes, sriracha mango dip, mango chia energy drink, mango coconut cookies, black rice mango salad and vegan mango lassi .
I am sure you would love them all.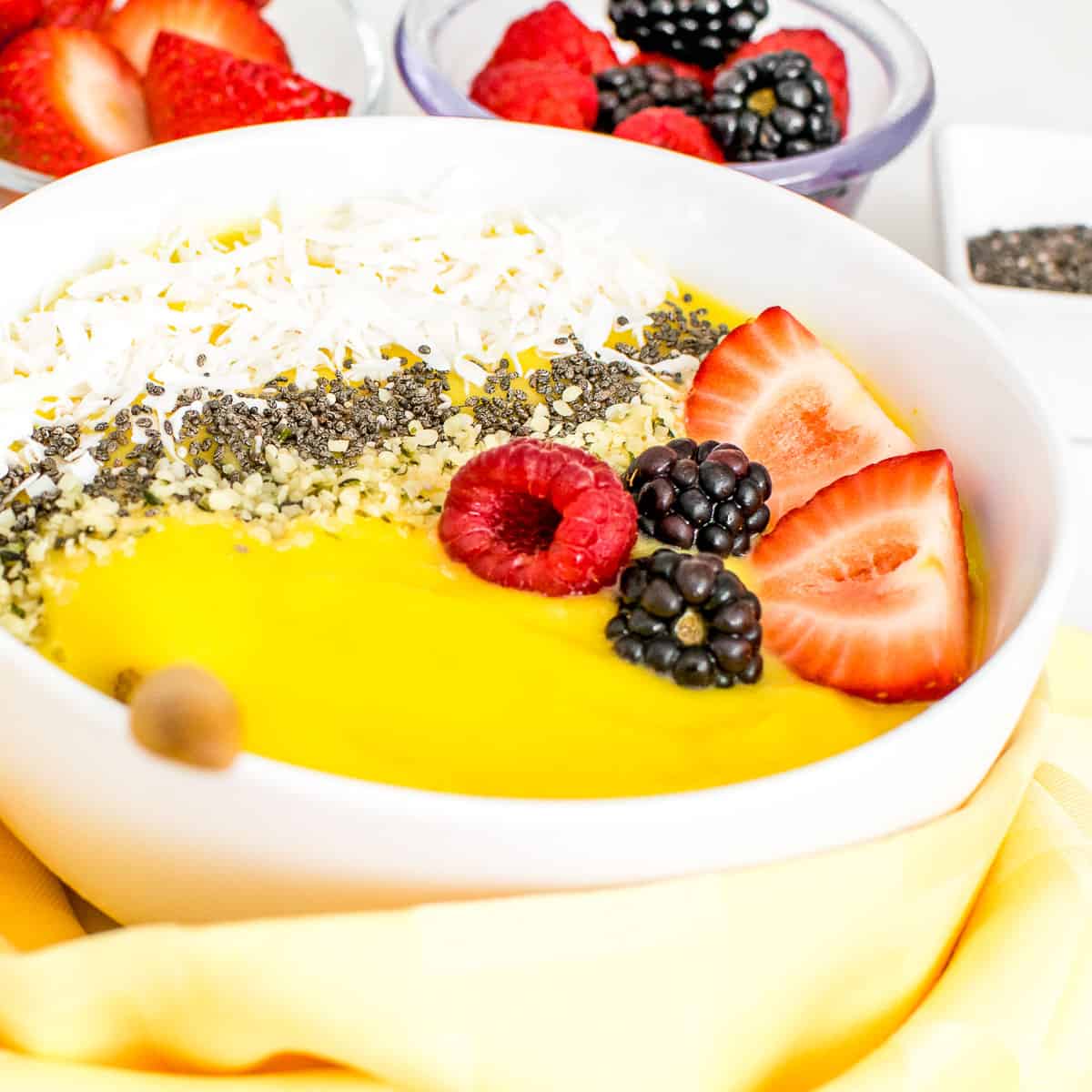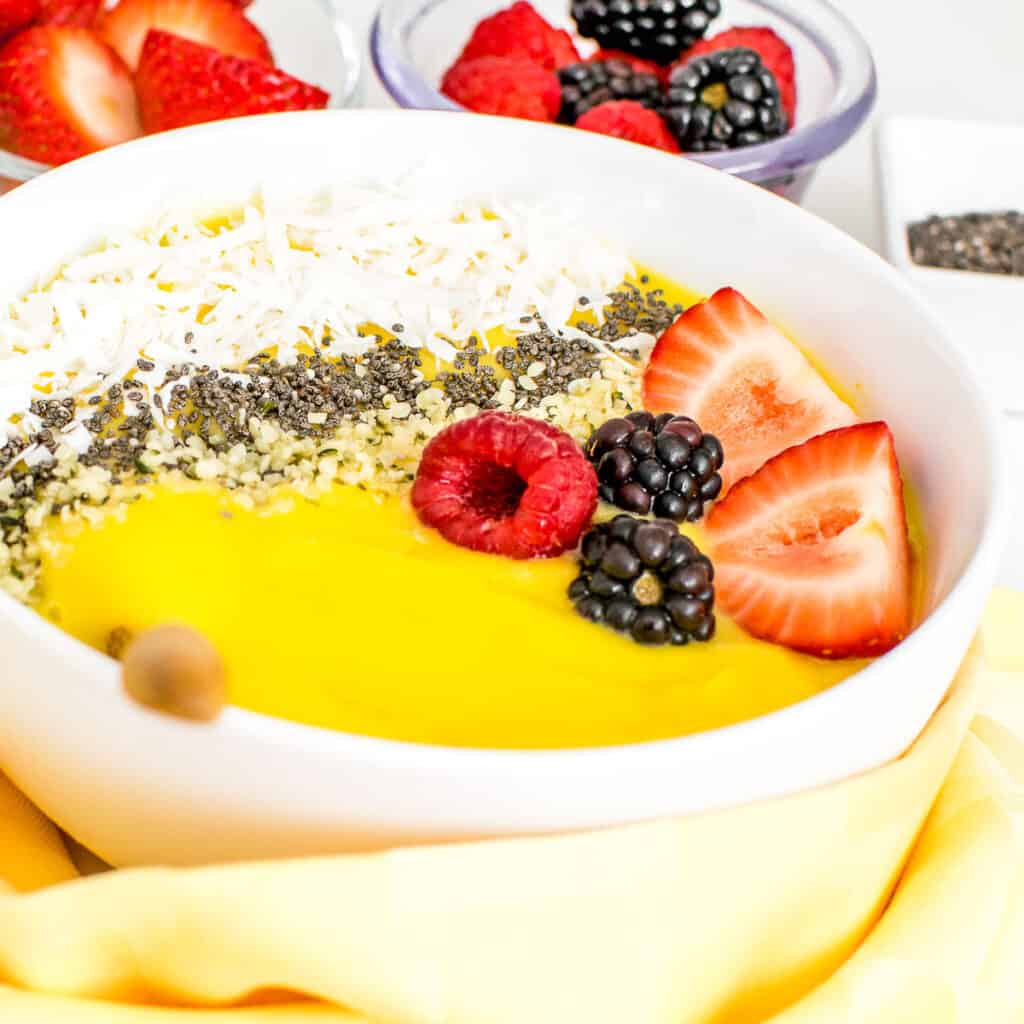 My other smoothie bowl recipes are:
Raspberry Smoothie Bowl
Healthy Coffee Smoothie Bowl
Arugula Quinoa Smoothie Bowl
Carrot Oatmeal Smoothie Bowl
However, today I am here to share this mango smoothie bowl recipe with your all.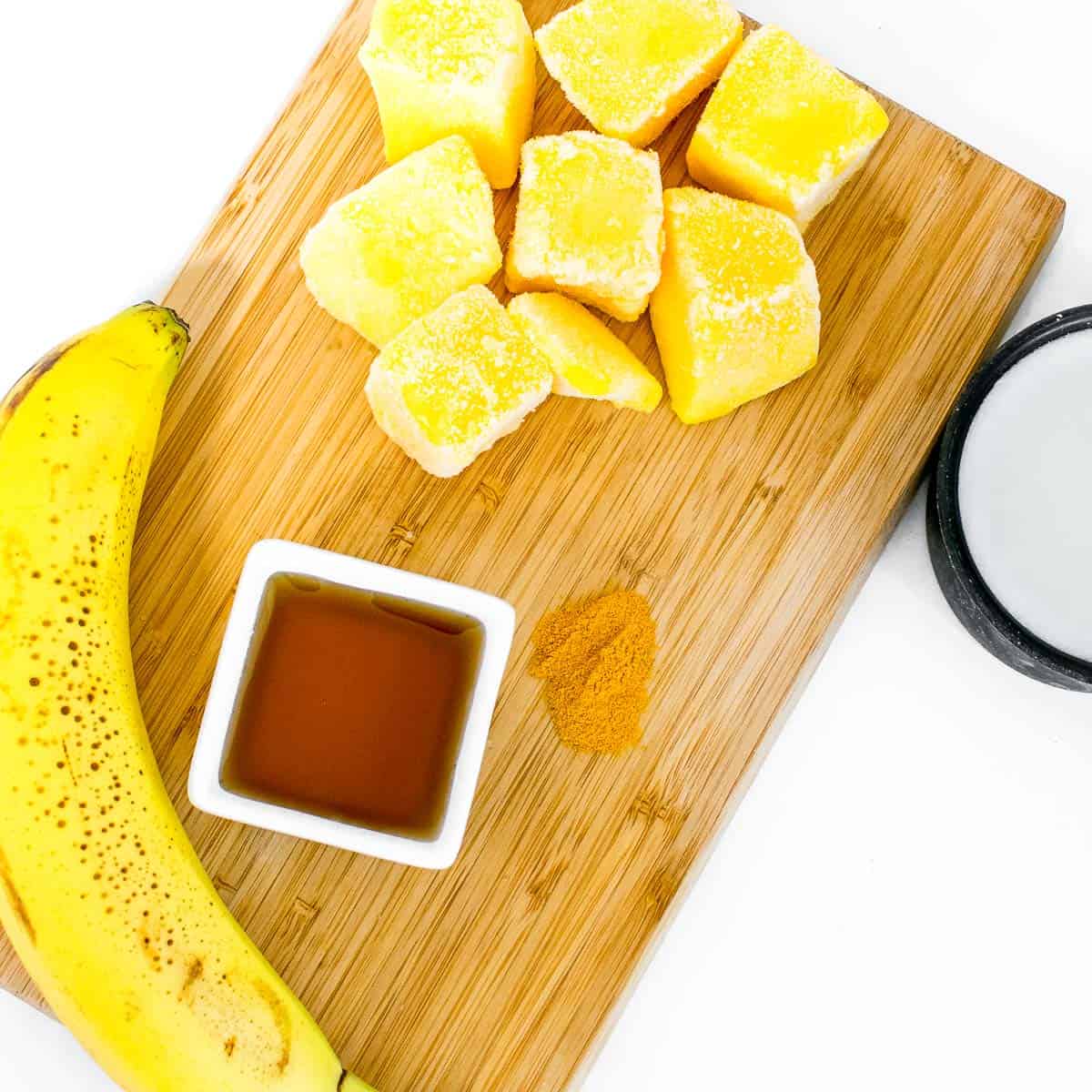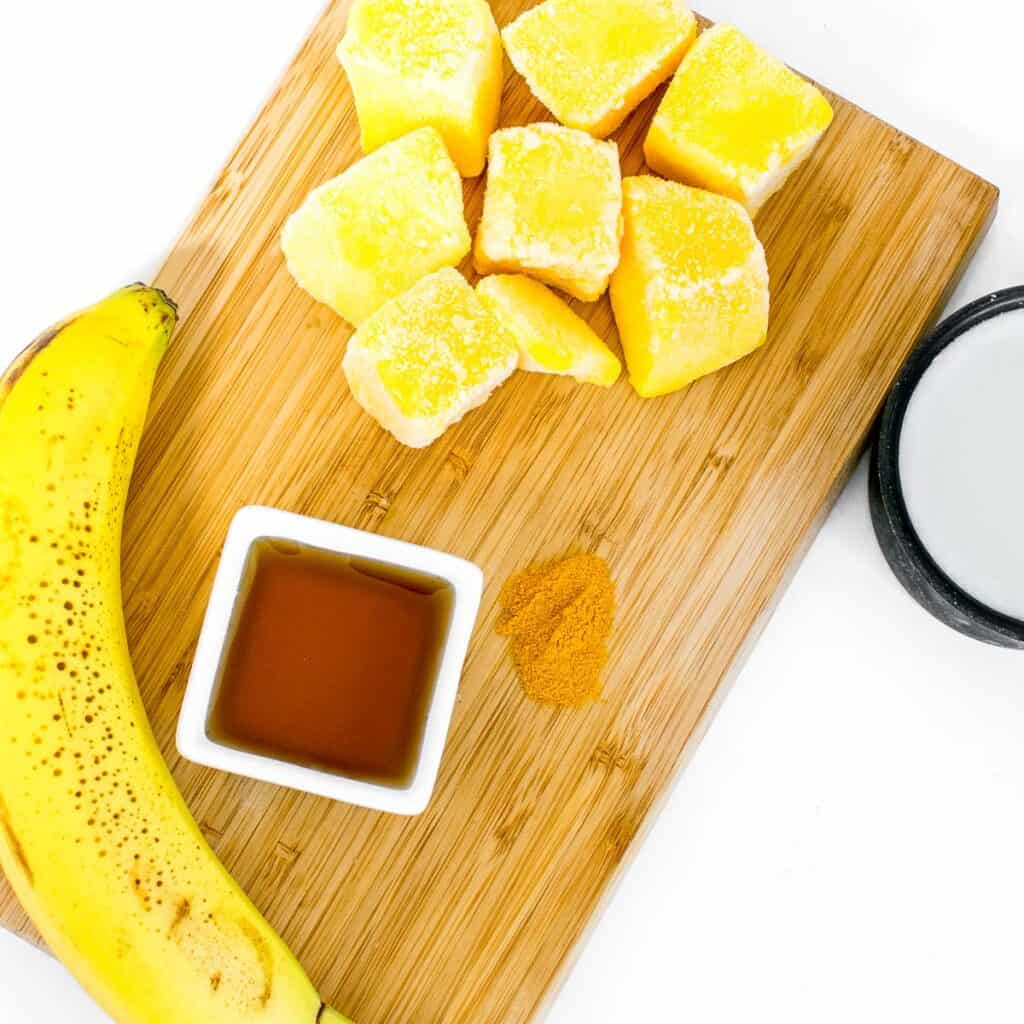 Ingredients you will need:
Frozen mango
Turmeric
Almond milk
Banana
Maple syrup
Toppings
Coconut flakes
Chia seeds
Hempseeds
Berries
I have used these easily available ingredients which you may buy from any local grocery store. However, I have provided links to few of them here for your convenience.
If you plan to buy from these affiliate links then I get a small commission which in turn encourages me to bring in more delicious recipes for you all.
Ingredients notes:
Mangoes – it's a summer fruit loaded with vitamin C. It is the main hero of this recipe. Its high in antioxidants and boosts immunity. Improves digestive health and also supports eye health.
Turmeric – this helps to bring out the perfect yellow color of this mango bowl. It has medicinal properties and is a great anti-inflammatory.
Almond milk – Even though any dairy free milk can be used here but I used almond milk so as to keep it lighter and lower in calories.
Banana – this thickens this smoothie bowl along with sweetening it naturally. Its high in magnesium and fiber.
Maple syrup – I used a tiny bit of it to balance out the tangy flavor of mango. If you like the tangy taste then you may skip maples syrup.
Coconut flakes – since this recipe has a tropical touch to it so coconut flakes pairs well here as the topping.
Chia seeds – I added this to add protein and fiber to this recipe.
Hempseeds – this enhances the protein content, fiber and healthy fats of this recipe.
Berries – they look pretty here as topping along with providing vitamin C and antioxidants and fiber.
After going through the details of the ingredients I am sure you are excited to make this recipe quickly.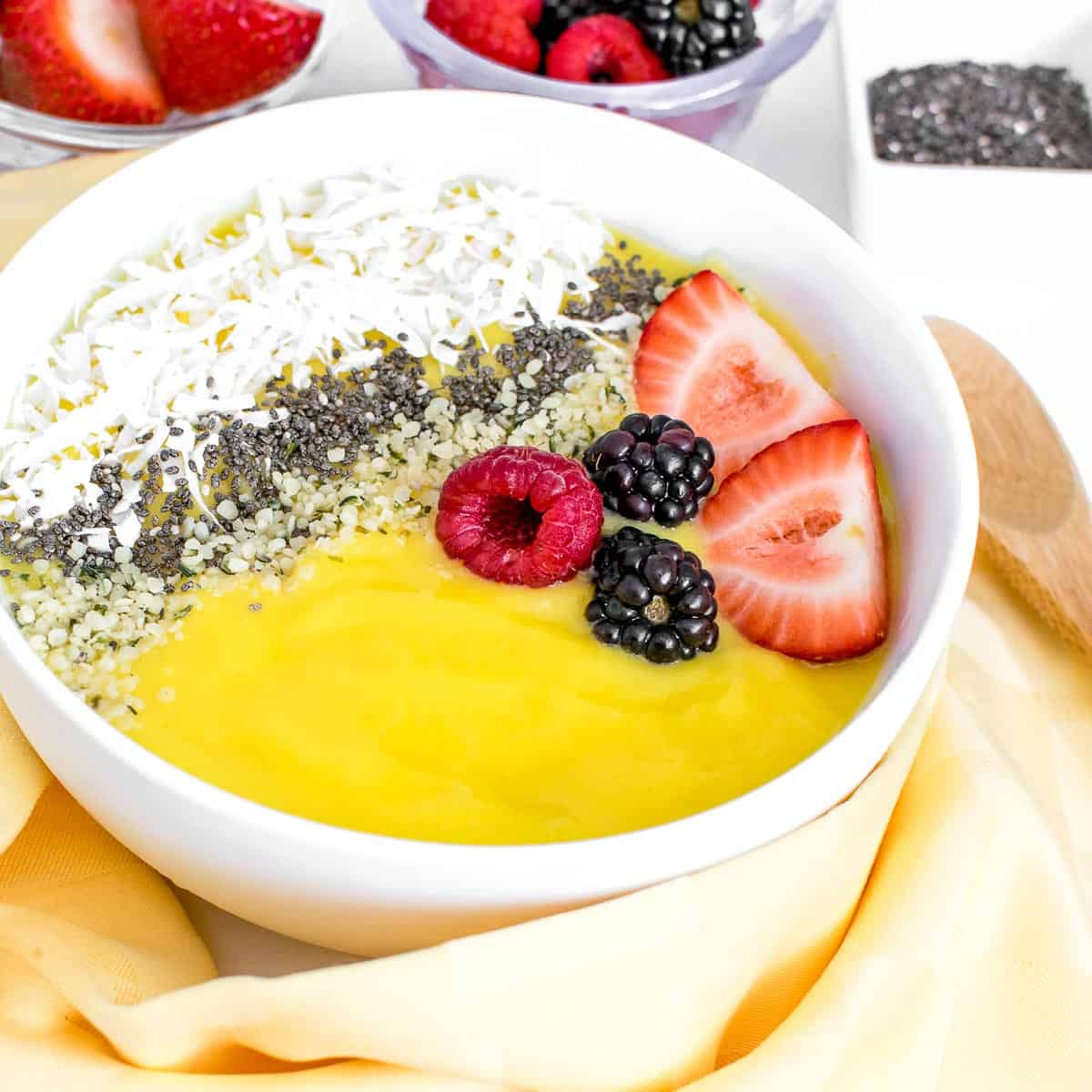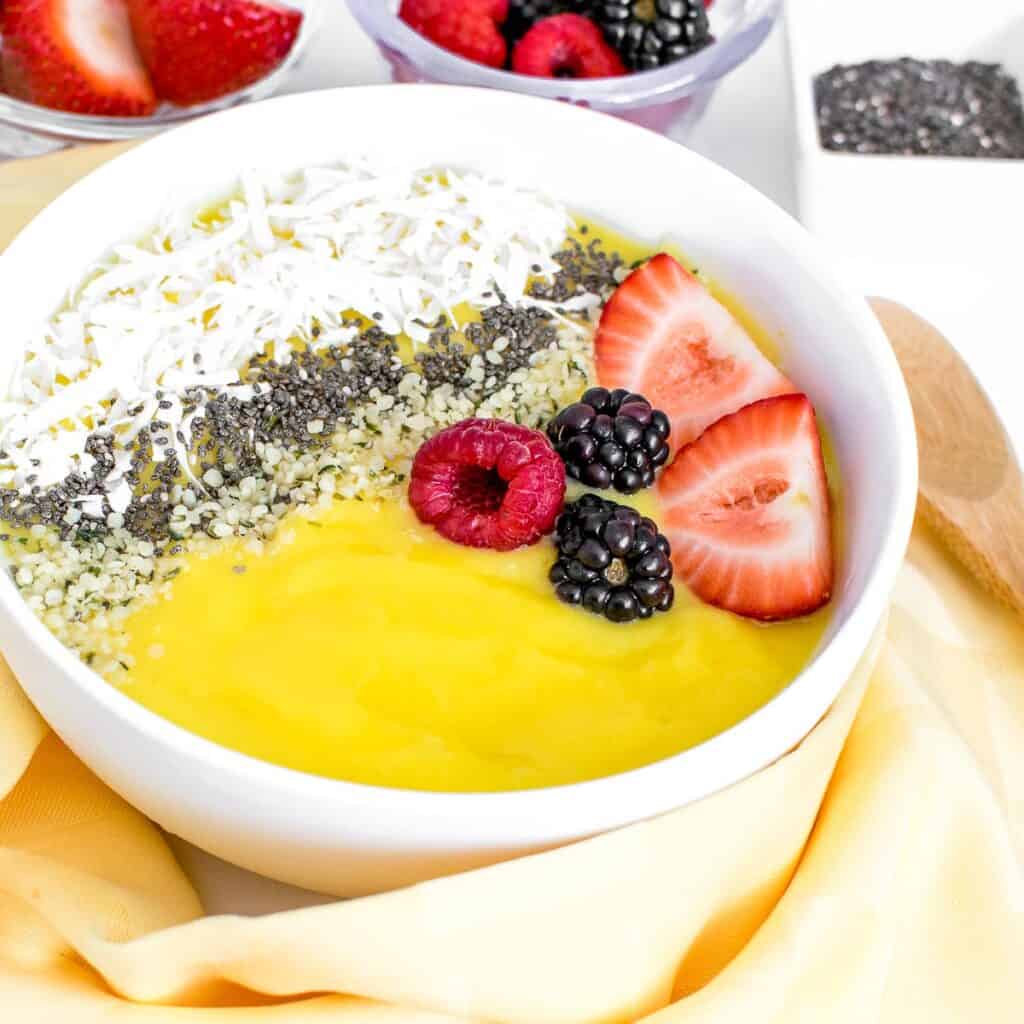 Also, you must already be having them in your kitchen right now so I would insist you to get started with it ASAP.
Your family would love this morning meal to beat the heat as it is nutrition packed and luscious in taste.
So, now quickly read through the steps and enjoy this bowl of deliciousness.
How to make Mango Smoothie Bowl
Firstly, I combined frozen mangoes, turmeric, almond milk, banana and maple syrup in the blender and blended it smooth.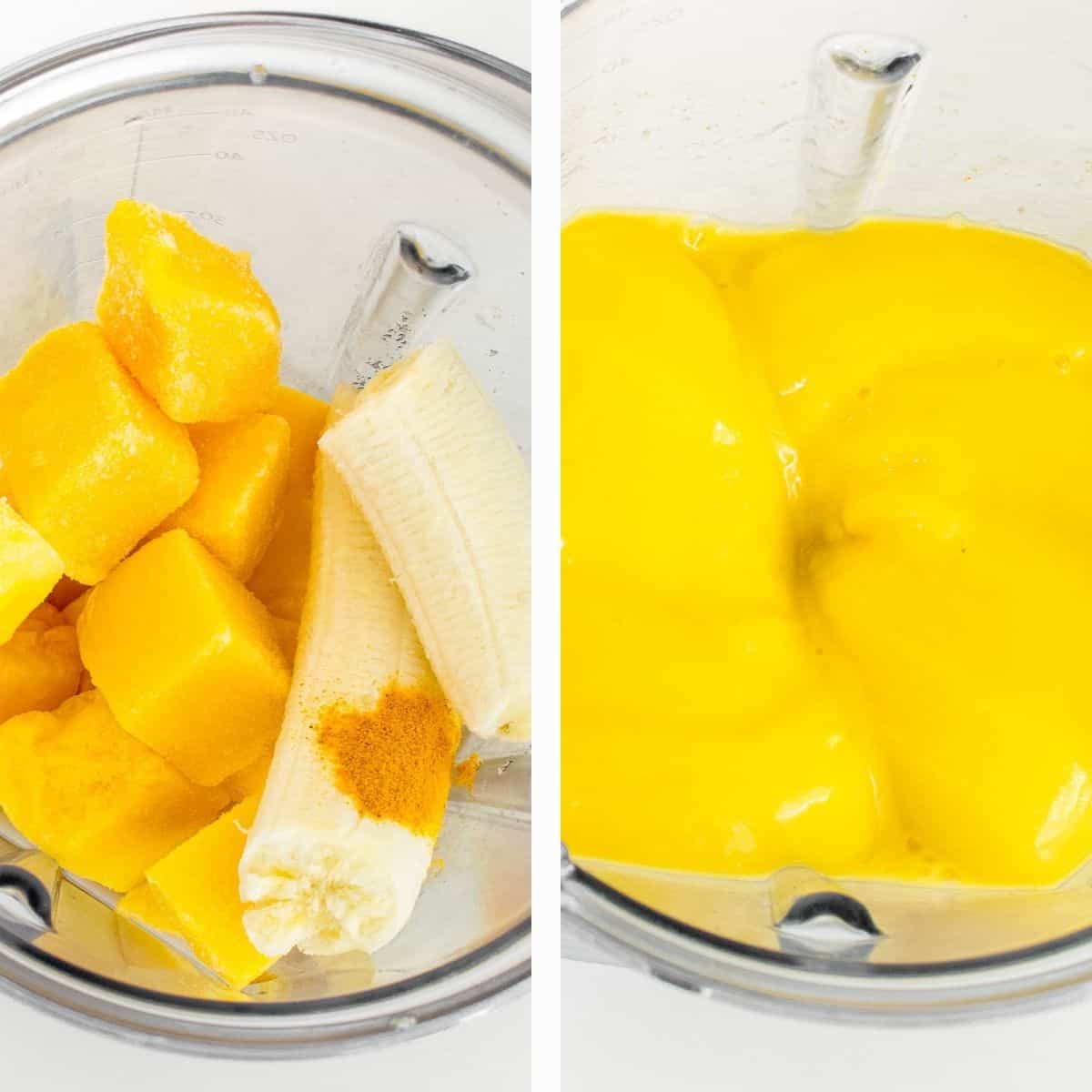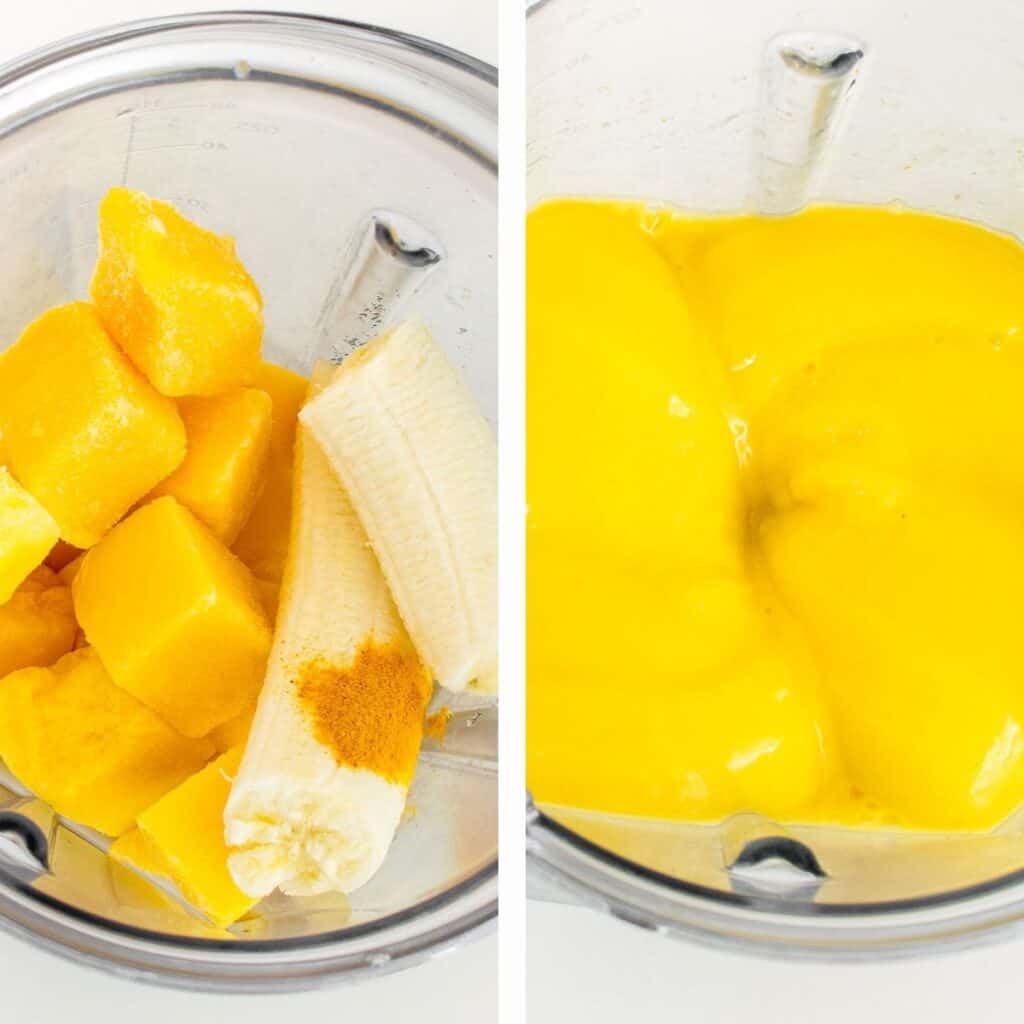 Secondly, I spooned it out in the serving bowl.
Lastly, I topped it with my favorite toppings and served it immediately.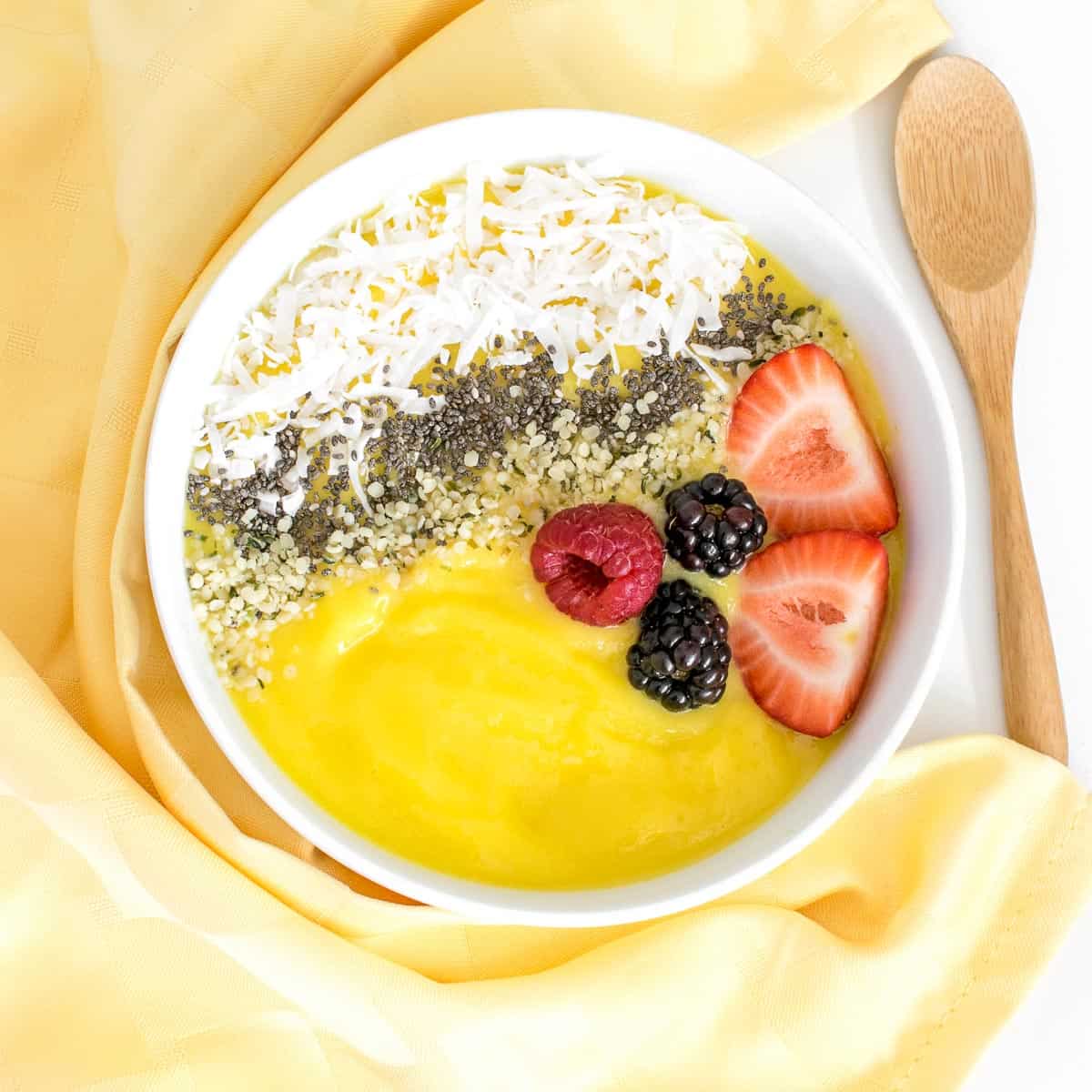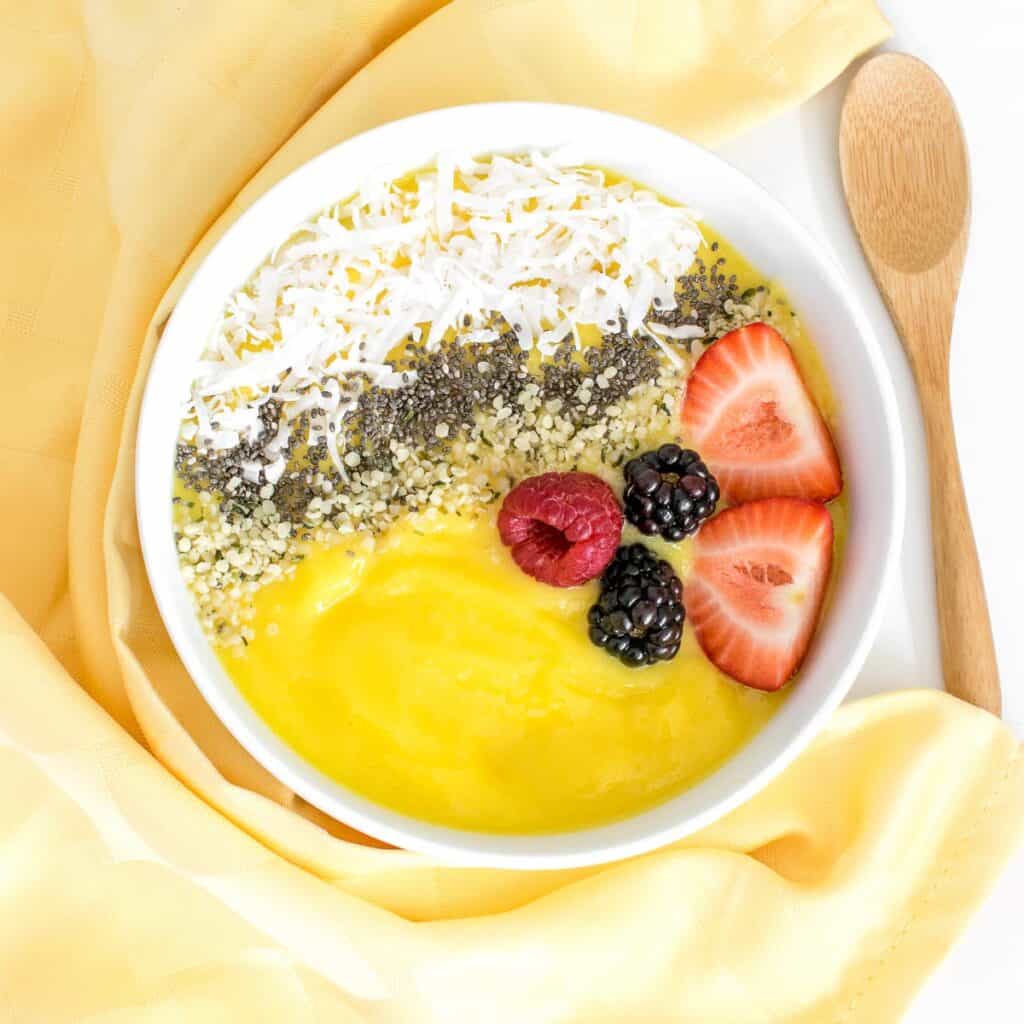 It was an instant hit and we all enjoyed it. At the same time, it works as a healthy substitute for ice cream.
Expert tips:
While blending pour almond milk at the bottom. Use a strong spatula to keep pushing the ingredients in the blender towards the blade so it blends well.
It is important to use the frozen mangoes immediately from the freezer.
This is my easiest and most delicious mango recipe so far so it's a must try.
Your family would become it fan and it will be your top most breakfast item.
I make this on rotation and very frequently and each time my family devours it happily.
Mango Smoothie Bowl FAQs
How long do they last?
This tastes best when served immediately. If kept for long it loses its texture but still tastes the same.
Is it healthy?
Yes, it's a bowl full of fruits and protein along with fiber.
How does it taste like?
It tastes almost like frozen ice cream along with crunchy bites of seeds and chewy texture of berries. Overall, it's sweet with a mild hint of tang.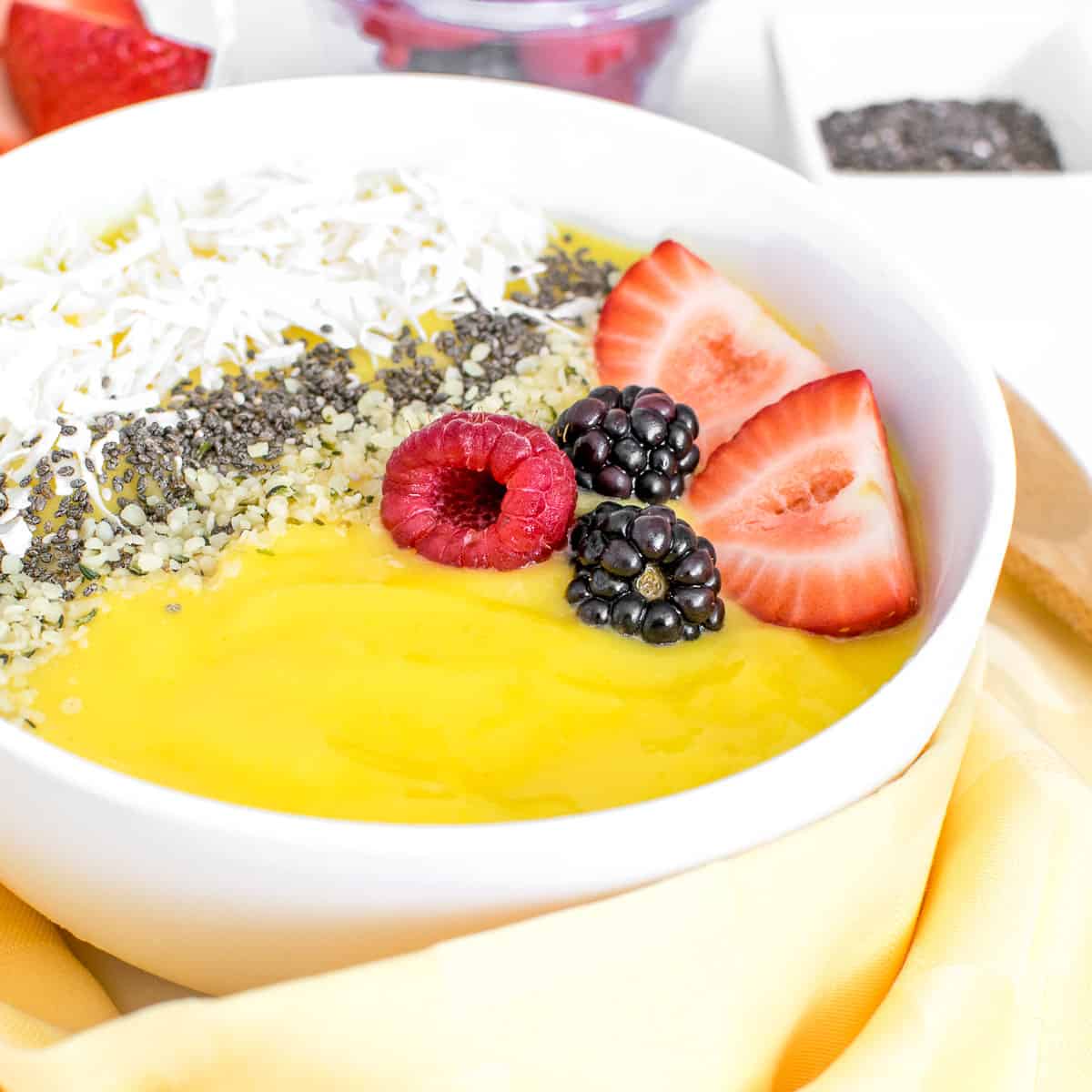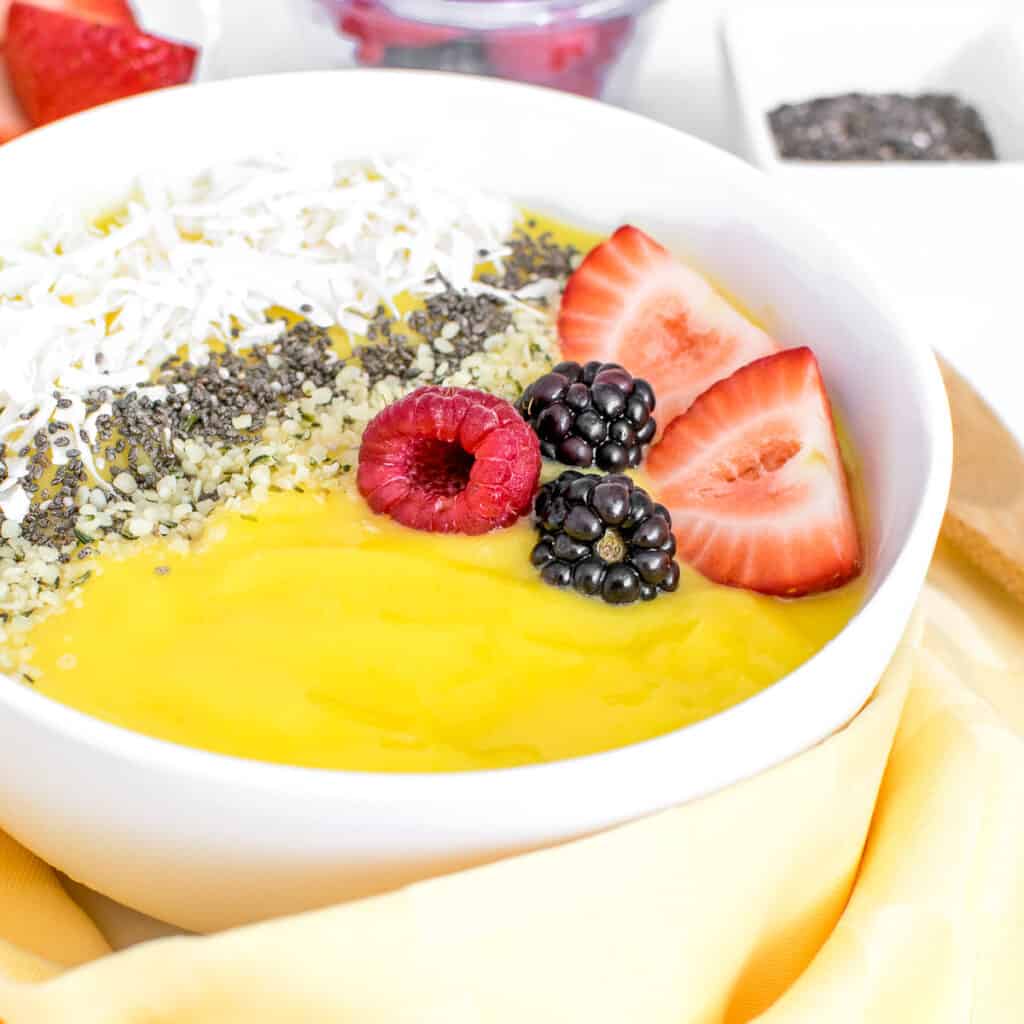 Did you make it?
If you get a chance to make this recipe then please leave your feedback in the comments below along with 5-star ratings.
In addition, you may tag @kiipfit on Instagram with your recipe remake images or follow me on Facebook.
You may also checkout my cookbooks for everyday comfort vegan recipes with a healthier twist.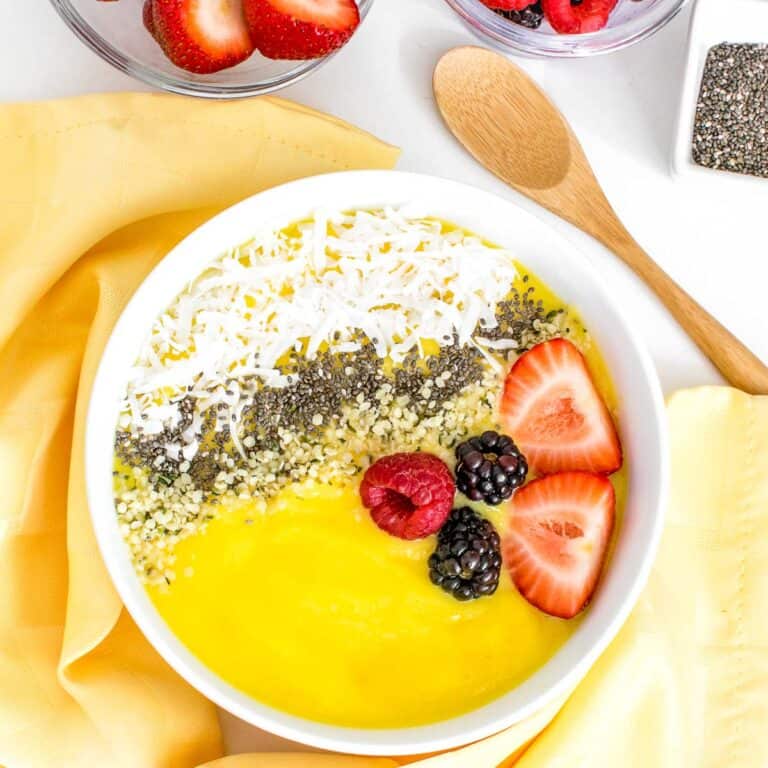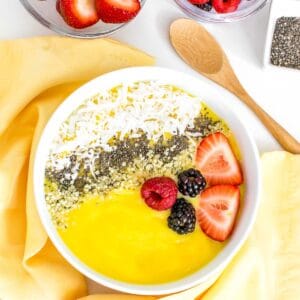 Print Recipe
Mango Smoothie Bowl
This tropical flavored Mango Smoothie Bowl is a healthy breakfast option that comes together in just 15 minutes. Top it with your favorite toppings and enjoy the sunshine in a bowl with a spoon.
Instructions
In a blender combine mango chunks, turmeric, almond milk, banana and maple syrup and blend it smooth. This may take about 5 minutes. Pause at intervals to push the ingredients with a spatula closer to the blades to get a smoother consistency.

Spoon out the smoothie in serving bowl and top it with your favorite toppings and serve immediately.
Notes
This recipe tastes best when served immediately.
Make sure to use frozen mango chunks to get the thick consistency.
The nutritional value is provided without the toppings. Rough nutritional value with the suggested toppings would be calories 304 fat 11 carbs 53 protein 10.
Nutrition
Calories:
171
kcal
|
Carbohydrates:
42
g
|
Protein:
2
g
|
Fat:
2
g
|
Saturated Fat:
1
g
|
Polyunsaturated Fat:
1
g
|
Monounsaturated Fat:
1
g
|
Sodium:
124
mg
|
Potassium:
269
mg
|
Fiber:
2
g
|
Sugar:
14
g
|
Vitamin A:
44
IU
|
Vitamin C:
6
mg
|
Calcium:
127
mg
|
Iron:
1
mg