This creamy and refreshing Banana Milkshake is a keeper and is desirable on any day. It's a perfect crowd pleaser. Moreover, its kid friendly and made with minimum ingredients.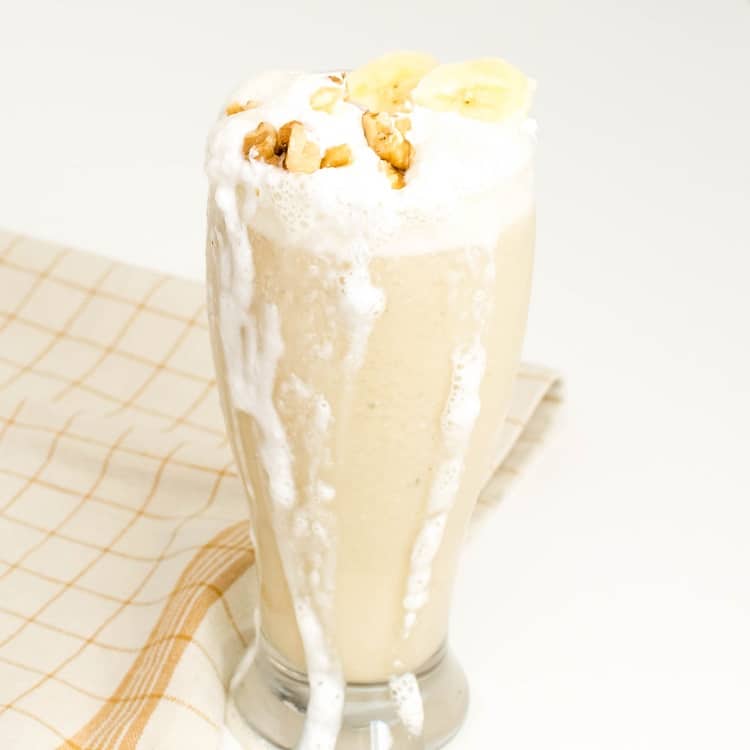 Since its summer I usually have frozen bananas in my freezer. My elder daughter has been asking for a chilled drink with some whipped cream. So therefore, I got this vegan banana milkshake idea from there on. Without waiting any longer, I quickly blended it.
VOILA!!! It was an instant hit not only with my kids but my entire family simply loved it.
I must have made this banana milkshake without ice cream everyday for almost 2 weeks.
This summer we have been making lots of smoothies but this milkshake has been the most favorite.
I usually avoid milkshakes because I always thought ice cream was an important ingredient. I was amazed that I could blend it this way also and still taste equally good.
Finally, I am here to share the details of this banana milkshake recipe with you.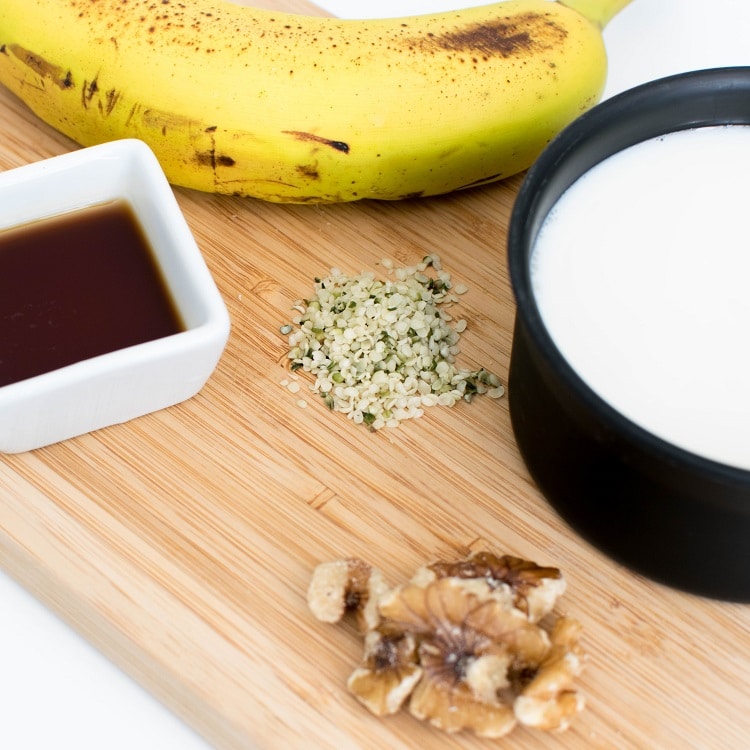 Ingredients you will need
Frozen banana
Hempseeds
Vanilla extract
Oat milk
Crushed ice
Toppings
Vegan whipped cream
Chopped walnuts
Banana slices
I have used very simple and easily available ingredients which you may buy from any local grocery stores. However, I have provided links in this recipe of few ingredients for your convenience.
If you buy from those affiliate links, I get a small commission which in turn encourages me to bring out more delicious recipes for you all.
Ingredients notes:
Banana – it's a healthy fruit that is available all year round. Along with being high in potassium. It's a versatile fruit and is a great natural sweetener in smoothies. Sometimes, I use it as vegan egg substitutes as well in few baking recipes. Frozen banana makes this vegan shake recipe creamier and thicker.
Hempseed – I like to add little extra nutrition to my recipes. With this, I added a bit of protein to it and made a healthier drink.
Vanilla extract – it gives this shake a nice vanilla flavor which an ice cream would have provided.
Oat milk – You may get tempted to use any other dairy free milk but after few testing I realized oats milk made this banana milkshake recipe creamiest. Therefore, I would insist you on using oats milk for this recipe.
Vegan whipped cream – this makes it really exciting especially for the kids.
Walnuts – this adds nutty flavor plus some health benefits to this milkshake recipe.
So, by now you may have realized that all the ingredients which I used here are super easy. In fact, you may already have them in your fridge and pantry.
Hence, go ahead and blend it right away so you can also enjoy this delicious beverage while the sun is shining bright.
For detailed measurement of the ingredients, please scroll down to the printable recipe card.
How to make Banana Milkshake
Firstly, I combined all the shake ingredients in a blender and blended it smooth until it was creamy, thick and smooth.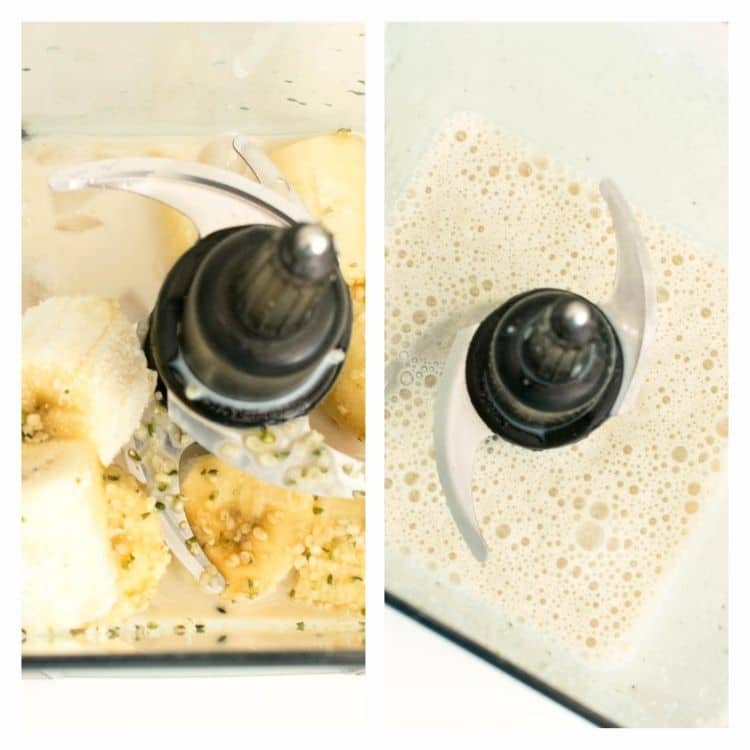 Next, I poured it in the serving glasses and garnished it with the toppings.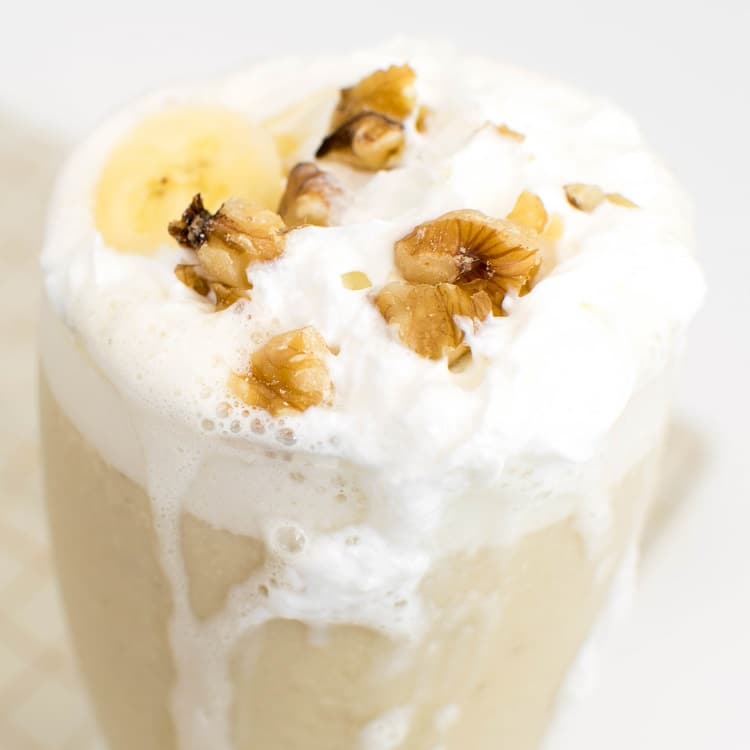 It's a fun and scrumptious yet hydrating beverage for all age groups. We all enjoy it pretty often. In fact, sometimes I enjoy it for my mid-morning snack as well.
In fact, my father in law loves this easy banana milkshake. I make this almost every other day and very frequently for my kids.
Sometimes, when they fuss over cooked meals this vegan shake comes in very handy for me.
Expert tips:
Make sure to use crushed ice which facilitates this banana shake recipe to be creamier and acts like a thickener.
As soon as you blend it pour immediately in the glasses. If kept for longer this milkshake may lose its texture and color as well. Not to forget the taste might start to change as well.
Top it with whipped cream just before serving or else it will start melting.
Even if you do not plan to top it with whipped cream, I would recommend you on garnishing with chopped walnuts and extra banana slices to make it extra tasty and desirable.
Banana Milkshake FAQs
How long do they last?
This recipe tastes best when served immediately.
Is it healthy?
Yes, it is a healthy snack in a beverage form with the good goodness of potassium, calcium and other essential nutrients.
Can I consume it daily?
It is up to individual choice and depends on one's physical activity. Bananas are high in carb and by adding it to dairy free milk, we add extra calories to it. So, make sure you burn it out well and follow a healthy eating diet all day.
Can I use banana at room temperature?
If you use banana ta room temperature it would be more like a smoothie. If you are short of time then atleast freeze the banana for 1 hour to get the delicious creamy shake exactly like my recipe. However, overnight freezing is preferable.
What kind of banana should I use for this recipe?
Try to use ripe banana that has just started to change its skin color. We do not need over ripe banana for this milkshake.
I am sure by now you all must be drooling over this refreshing beverage. So why wait?
I think you should you get started right away. At least freeze the banana so that by the time you grab rest of the ingredients that fruit is ready to blend.
I guarantee you will fall in love with this banana shake without ice cream because it's so good. Also, your family, especially kids will ask for it every day.
Moreover, it's not only simple and easy to enjoy and serve, it's a great way to use up extra leftover bananas without too much prep. It is also a no cooking recipe which is why its one my recent favorite.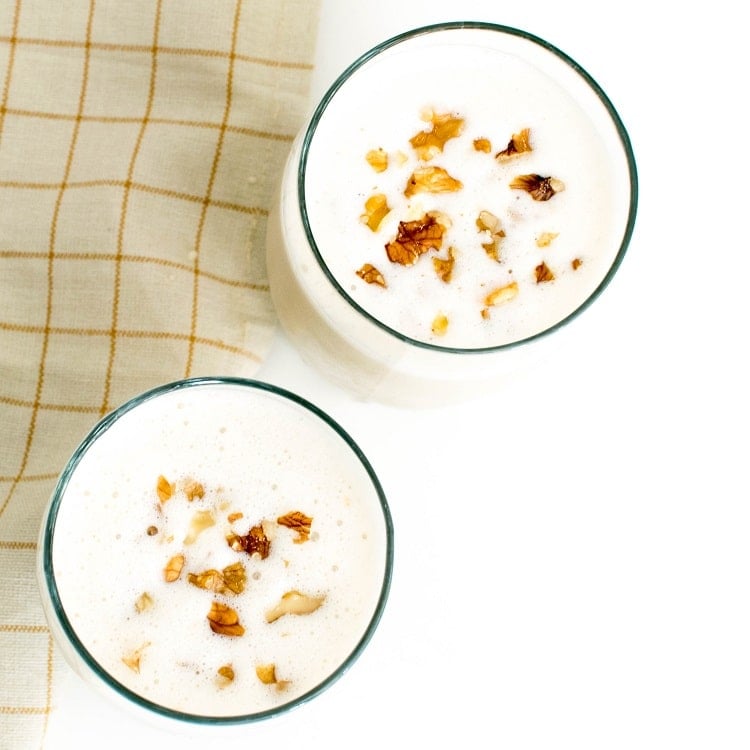 You may also like:
Peach Smoothie
Oatmeal Crème Pie Smoothie
Vegan Strawberry Shortcake Protein Smoothie
Hazelnut Cheesecake Smoothie
Salted Caramel Oatmeal Smoothie
Carrot Orange Spring Smoothie
Wondering what to do with extra bananas
Peanut Butter Banana Amaranth Cookies
Banana Hazelnut Protein Bars
Baked Banana Chocolate Popsicles
Did you make it?
If you get a chance to make this recipe then please leave your feedback in the comments below along with the ratings. In addition, you may tag @kiipfit on Instagram with your recipe picture because we would love to see what you cooked.
If you desire to explore more delicious recipes of mine then you may check out my cookbooks.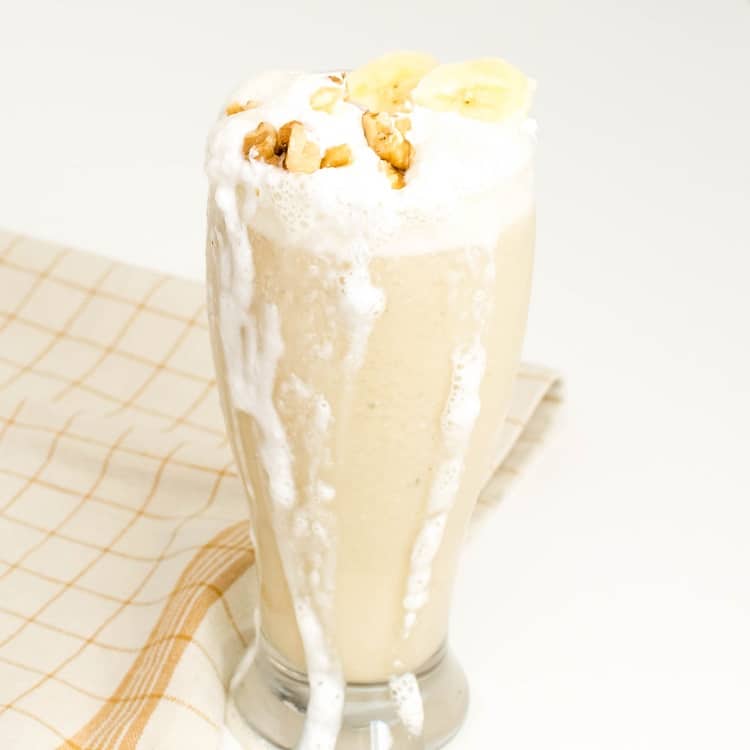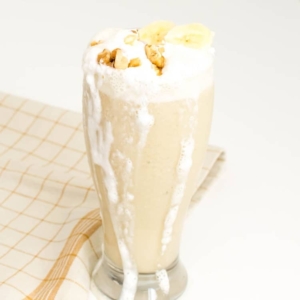 Print Recipe
Banana Milkshake
This creamy and refreshing Banana Milkshake is a keeper and is desirable on any day. It's a perfect crowd pleaser. Moreover, its kid friendly and made with minimum ingredients.
Instructions
In a blender combine frozen banana, hemp seeds,vanilla extract, oats milk and crushed ice and blend it until smooth and creamy.

Pour it in the serving glass. Top it with whipped cream, walnuts and banana slices. Enjoy immediately.
Notes
To freeze banana – peel the bananas and chop them roughly. Place them in a zip lock bag and freeze overnight for creamier banana shake.
If you make it without ice it would be little less cold and on a runny side. By adding crushed ice this shake becomes a little thicker since I made it without ice cream.
I used oat milk to make this shake creamier. Any other dairy free milk may vary its consistency.
This recipe tastes best when served immediately.
The nutritional details without toppings : calories-182 carb-30 fat-6 protein-5 .
Nutrition
Calories:
320
kcal
|
Carbohydrates:
43
g
|
Protein:
7
g
|
Fat:
16
g
|
Saturated Fat:
2
g
|
Sodium:
115
mg
|
Potassium:
162
mg
|
Fiber:
3
g
|
Sugar:
20
g
|
Vitamin A:
492
IU
|
Calcium:
355
mg
|
Iron:
2
mg