This nutty and irresistible Peanut Butter Milkshake is absolutely a delicious treat. Its beautiful to present and refreshing to serve. Along with being vegan its creamy without any ice cream and yet satisfying.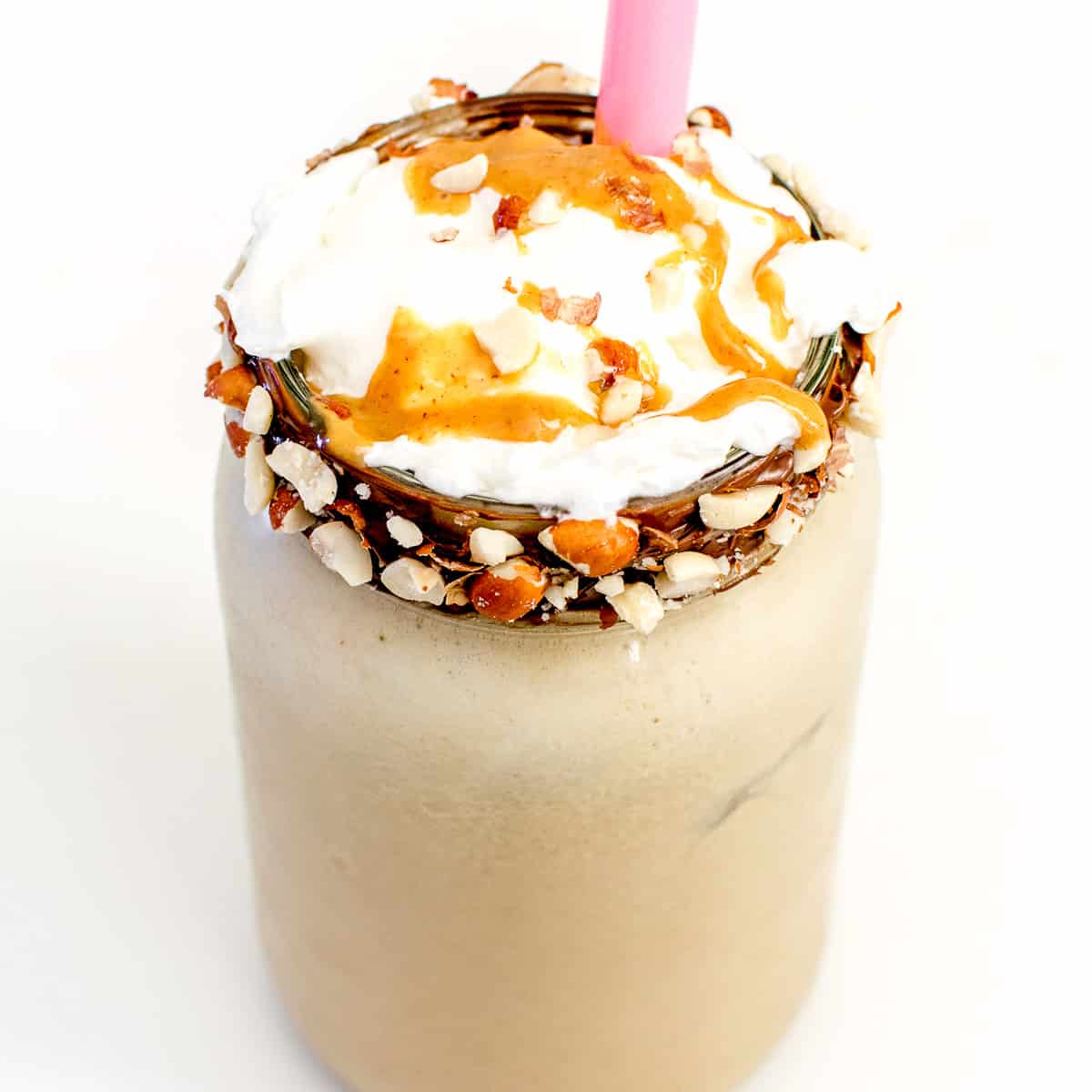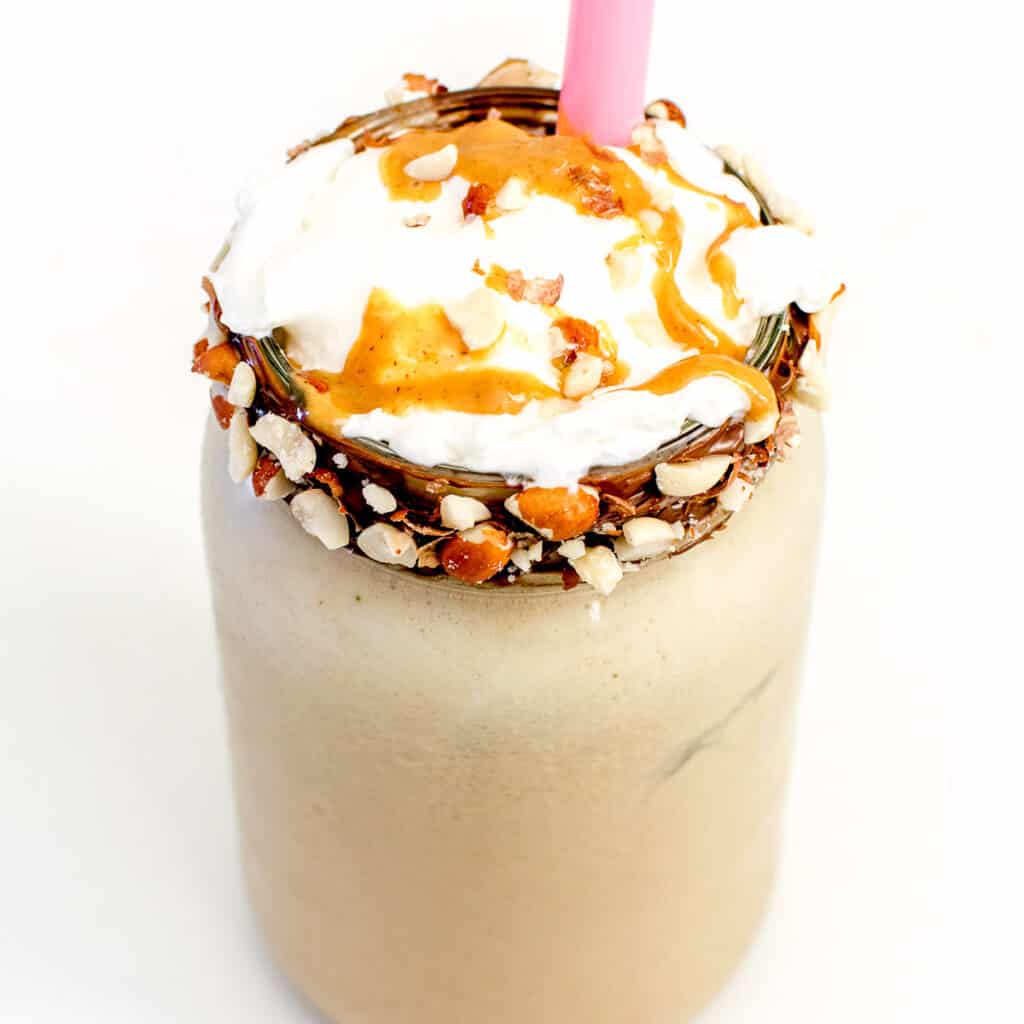 Milkshakes are my favorite. It reminds of my childhood days where we would indulge in calorie loaded creamy milkshakes.
Since, we are more conscious of nutrition now, I avoid getting one from the restaurants. Also, because I love peanut butter so much, I decided to include it in my shake.
At the same time, I ran out of vegan ice cream so I decided to blend all other ingredients in a blender. After that I used crushed ice to thicken my peanut butter shake.
Voila! My imagination came true and my technique worked. Therefore, I skip the calories of ice cream now and blend my shakes with whatever I have handy in my refrigerator.
Therefore, this peanut butter milkshake without ice cream is my favorite go to beverage. Moreover, Ruvanshi surprised me. She got very attracted to it and took a sip. In next 5 minutes it was all gone and I hardly got a chance for another sip.
She loved it so much that this vegan peanut butter milkshake became her lunch and she enjoyed a large serving of this. Hence, I made another round and yet came out exactly the way I wanted.
I was super happy and became sure of my new recipe. Immediately, I knew I had to share this recipe with you all.
My banana milkshake is also quite popular and if you are looking for a variety then you must try it as well.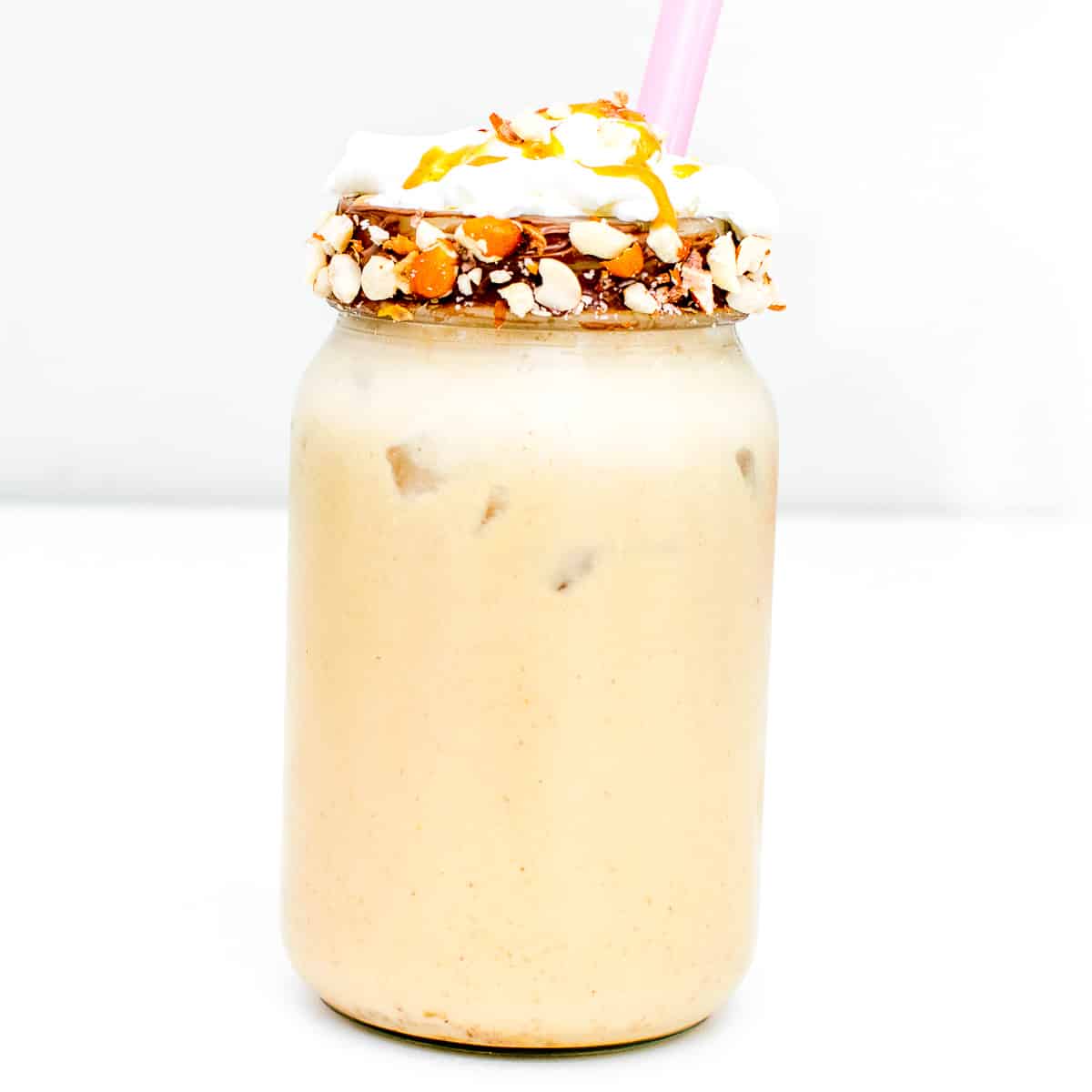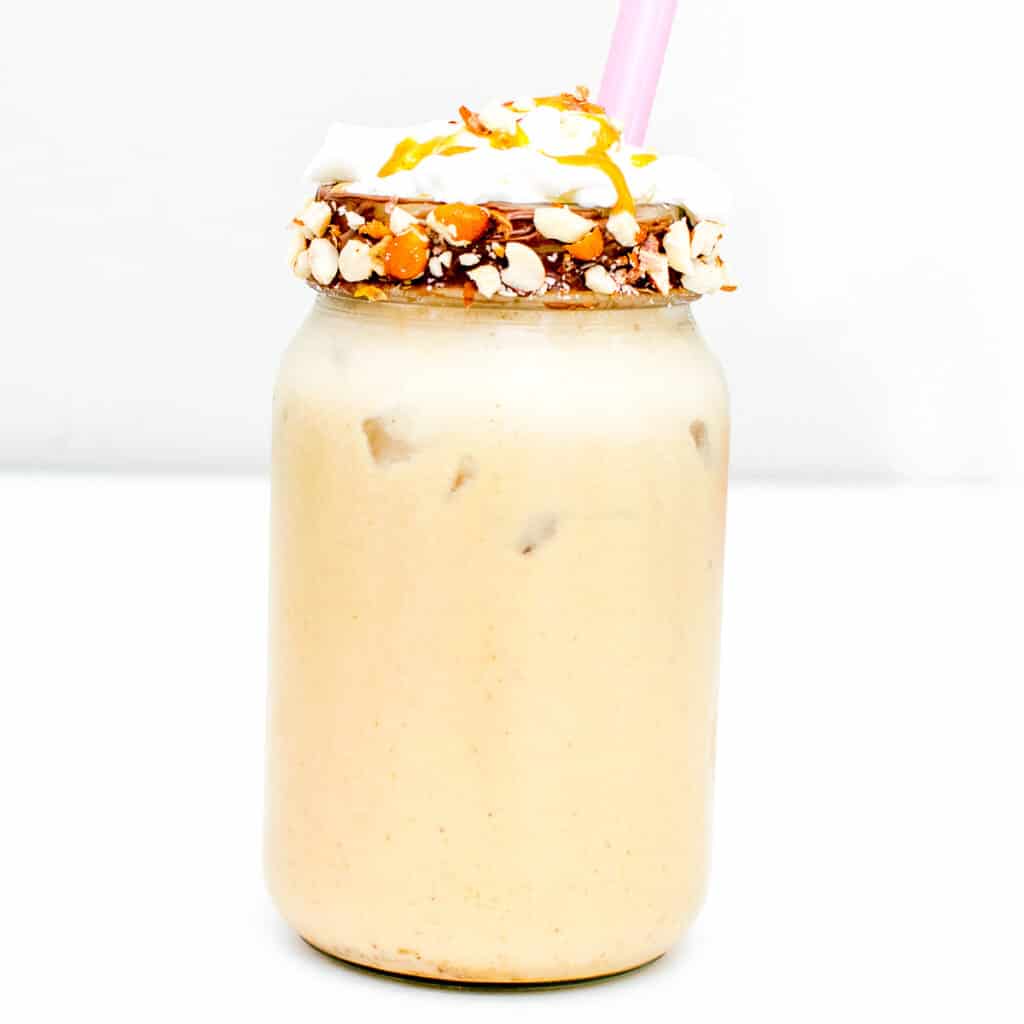 If you are peanut butter fan then you must check these recipes:
Peanut Butter Overnight Oats
Peanut Butter Cake
No Bake Peanut Butter Cheesecake Bars
Peanut Butter Bulgur Waffles
My other smoothie recipes that you may like:
Kale Smoothie
Apple Smoothie
Peach Smoothie
Strawberry Shortcake Smoothie
However, today I am sharing this freshening vegan peanut butter milkshake with you all.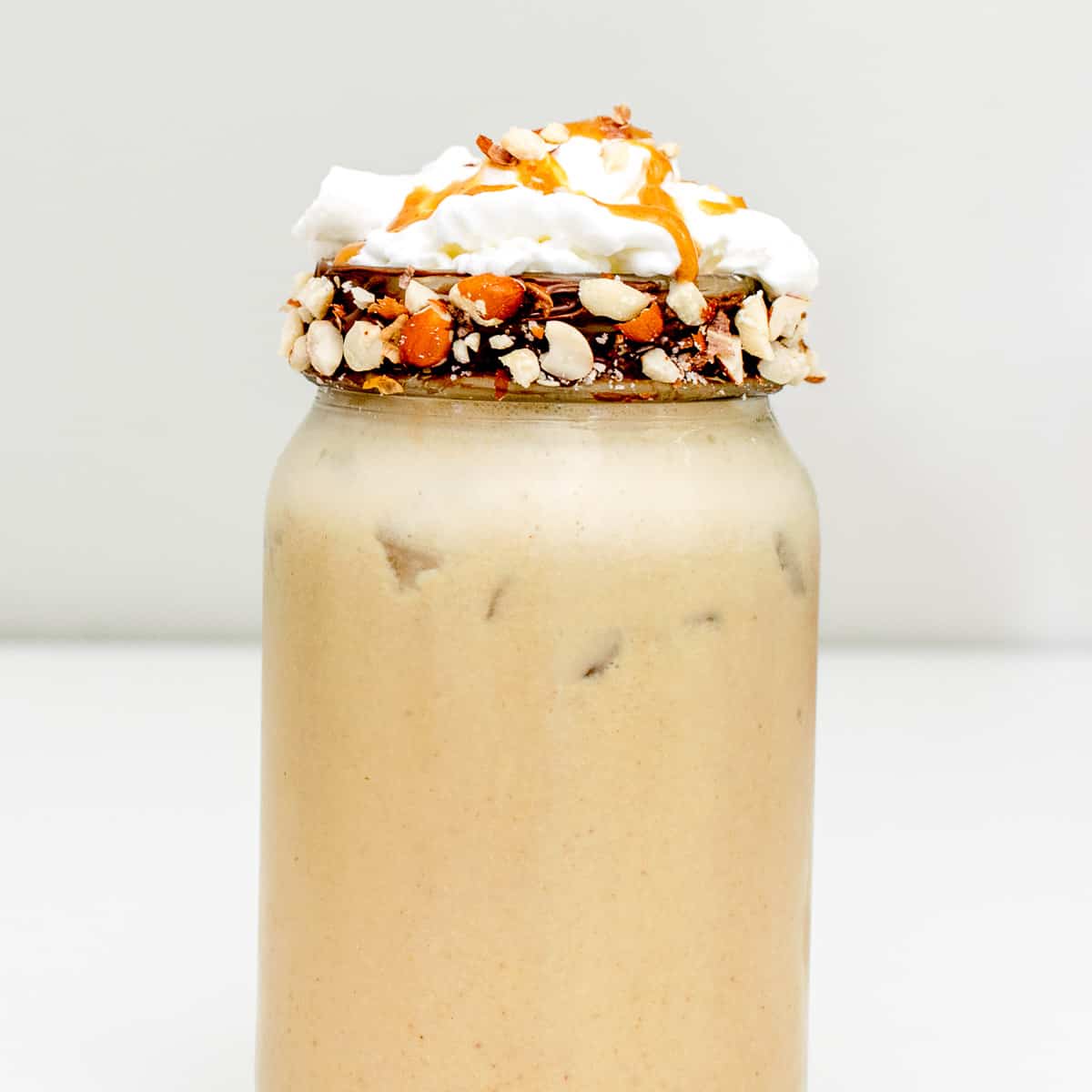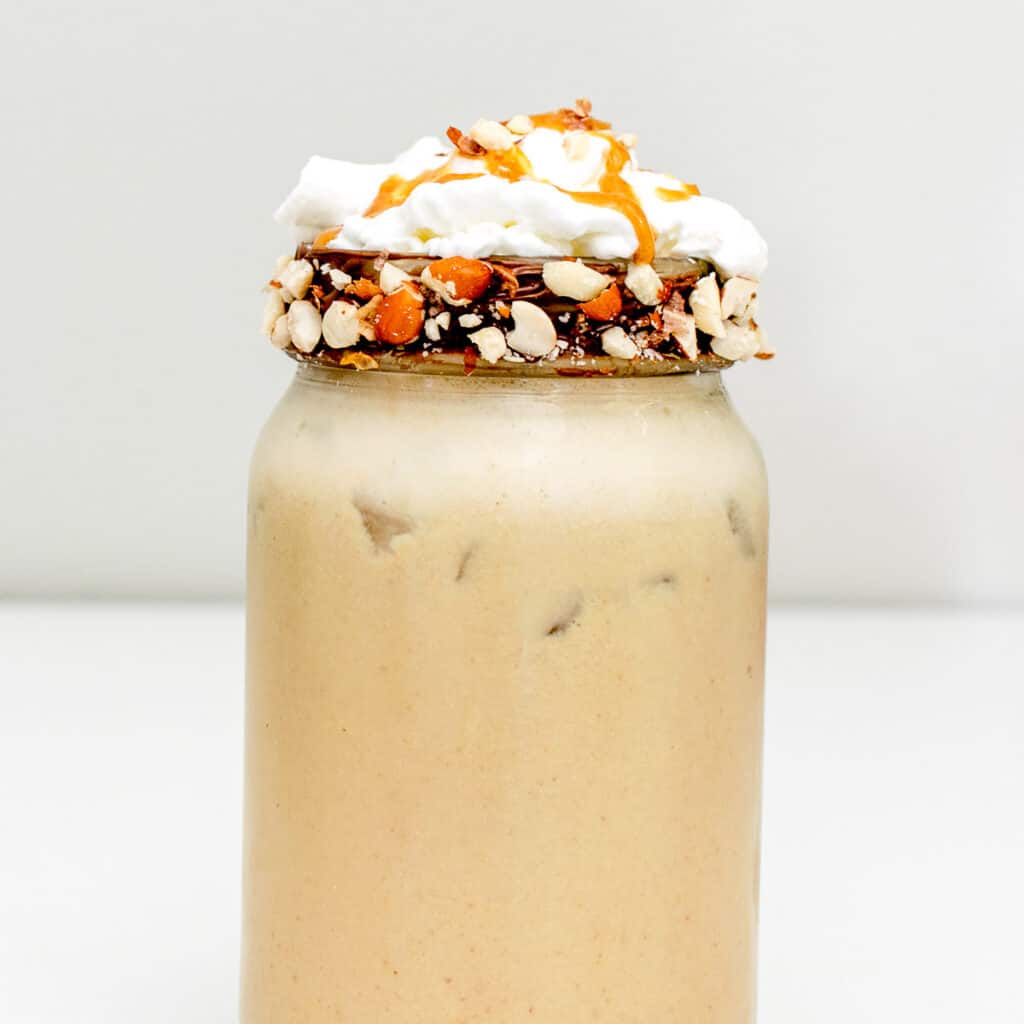 Ingredients you will need
Oat milk
Peanut butter
Dates
Vanilla extract
Crushed ice
Toppings
Melted chocolate/vegan nutella
Raw peanuts
Vegan whipped cream
I have used these easily available ingredients which you buy from any local grocery store. However, I have provided links to few of them here for your convenience.
If you plan to buy from these affiliate links then I get small commission which in turn encourages me to bring in more delicious recipes for you all.
Ingredients notes:
Oat milk – I would recommend sticking to oat milk since its creamy and thicker as compared to other dairy free milk.
Peanut butter – I used creamy peanut butter and also it should unflavored.
Dates – these are natural sweetener with lots of nutrition. They are a great source of fiber and iron.
Melted chocolate – I used dairy free chocolate chips and melted it. However, for extra flavor you may decorate the glass with vegan Nutella as well instead of melted chocolate.
Now, after going through the ingredients all you have to do it to read the steps carefully. I am sure you must be having all the ingredients in your refrigerator so you must get started with it ASAP to enjoy this deliciousness right away.
How to make Peanut Butter Milkshake
Step1: how to blend
Firstly, I combined oat milk, peanut butter, dates and vanilla extract in a blender and blended it smooth.
Secondly, I added crushed ice to it and blended it again.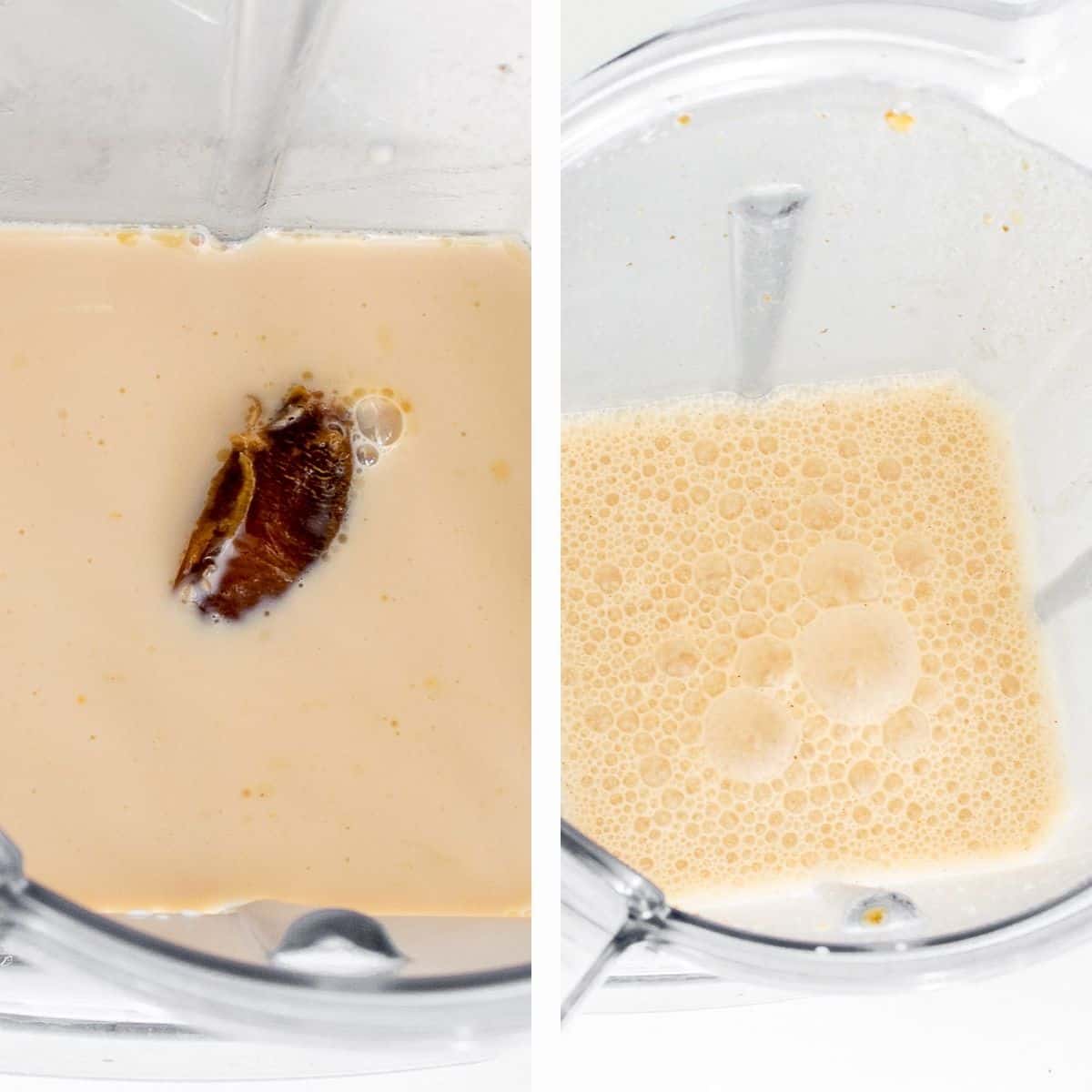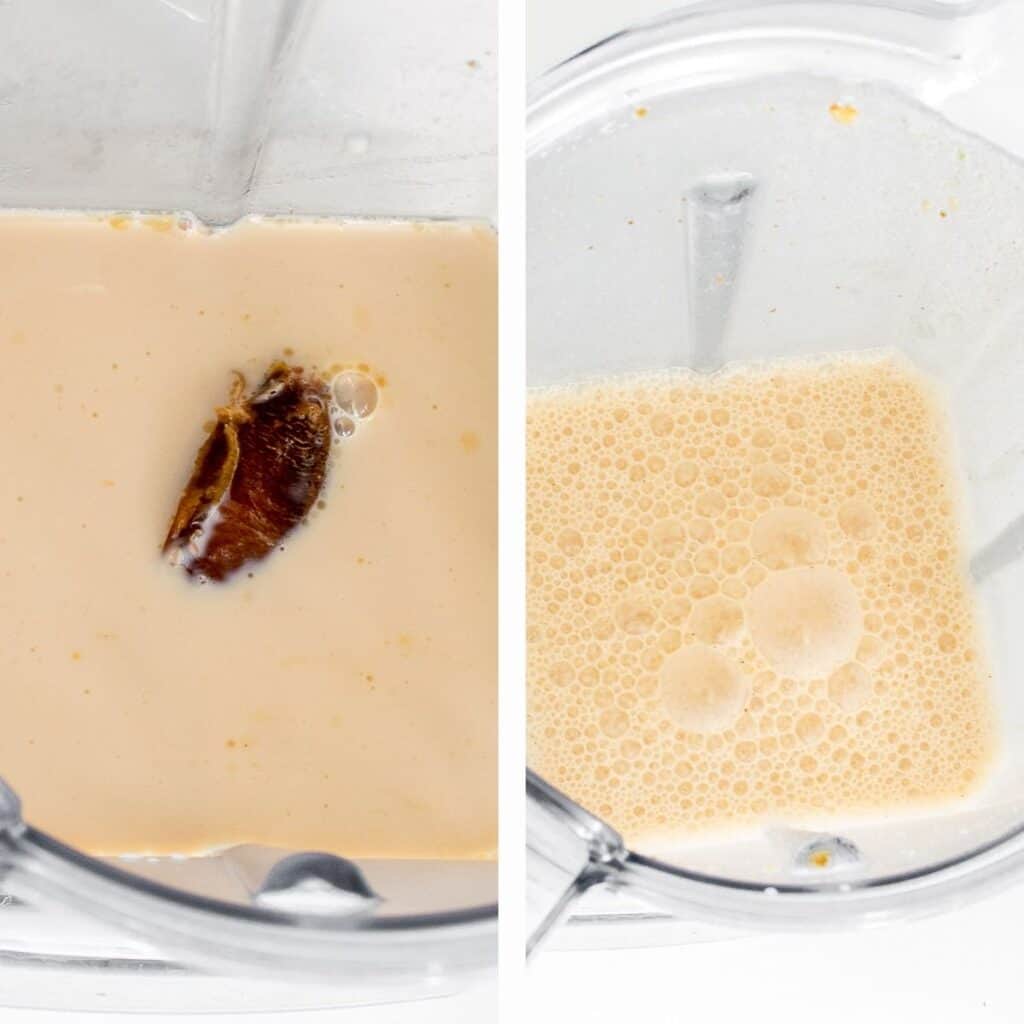 Step 2: how to assemble
Firstly, I melted chocolate chips and covered the glass rim with it very well.
Secondly, I crushed some raw peanuts roughly to stick to the chocolate covered rim.
Next, I poured the shake in the same glass.
Thereafter, I topped with whipped cream.
Lastly, I drizzled some more peanut butter and sprinkled some more crushed peanuts.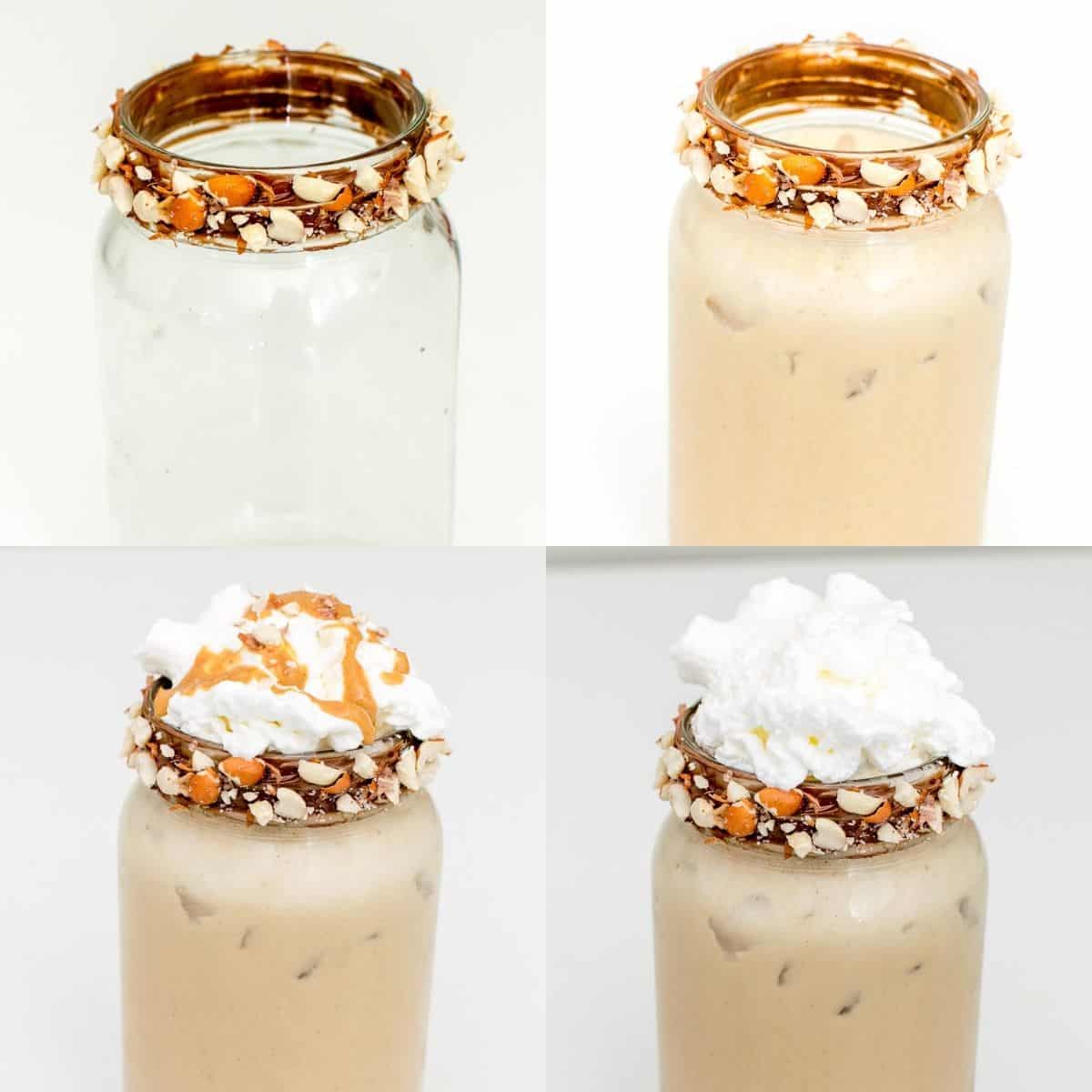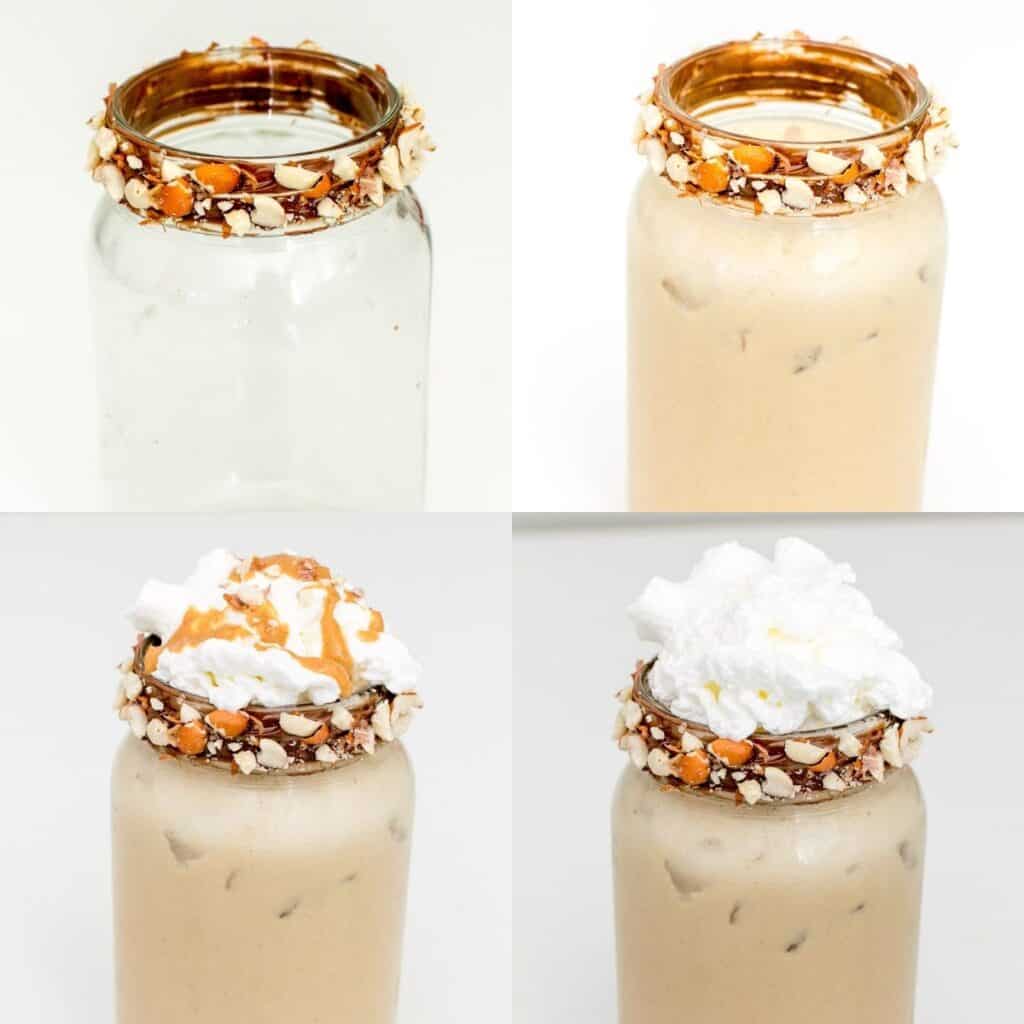 I served it immediately and we all loved it. Infact I made 3 rounds of it in only half an hour. It was so good and inviting.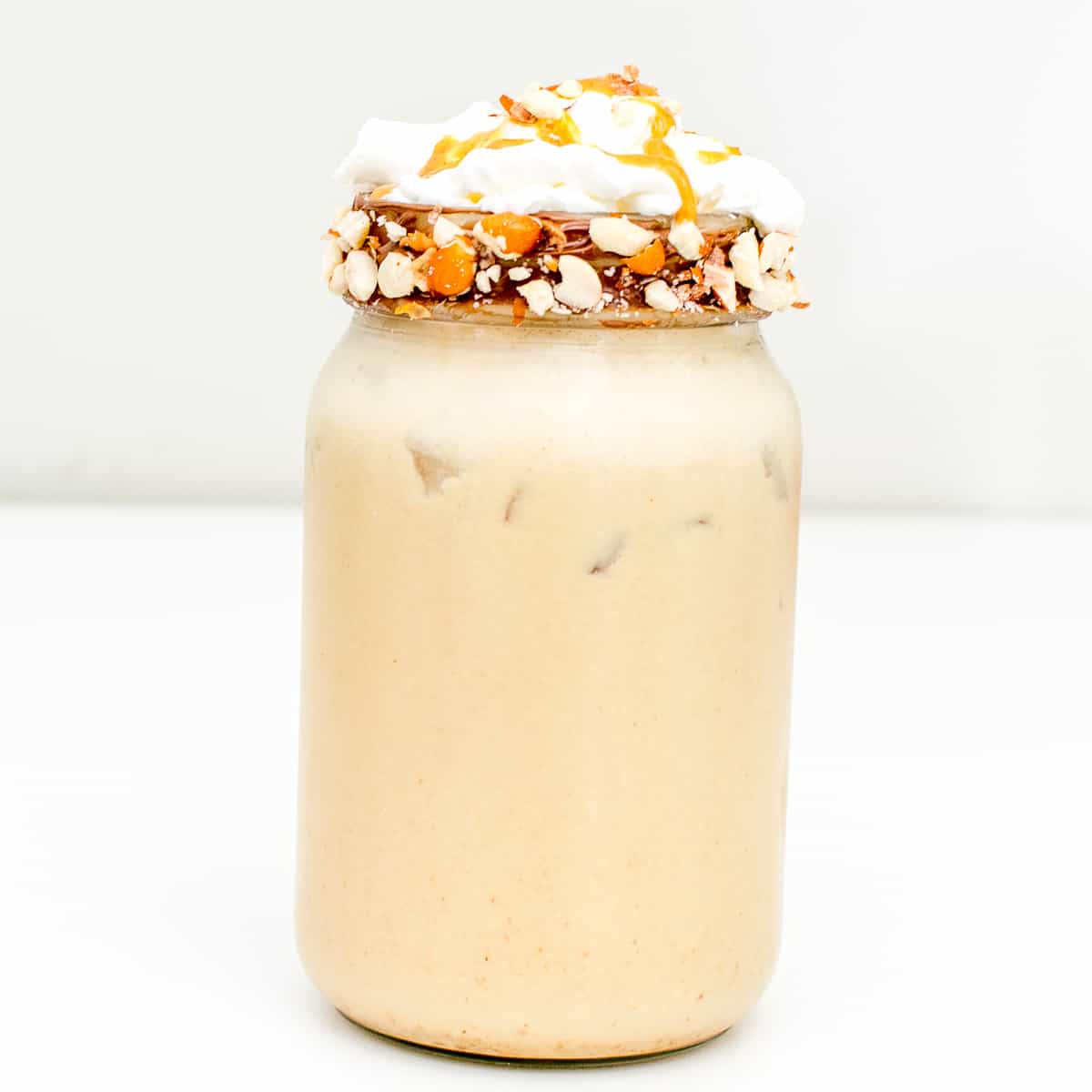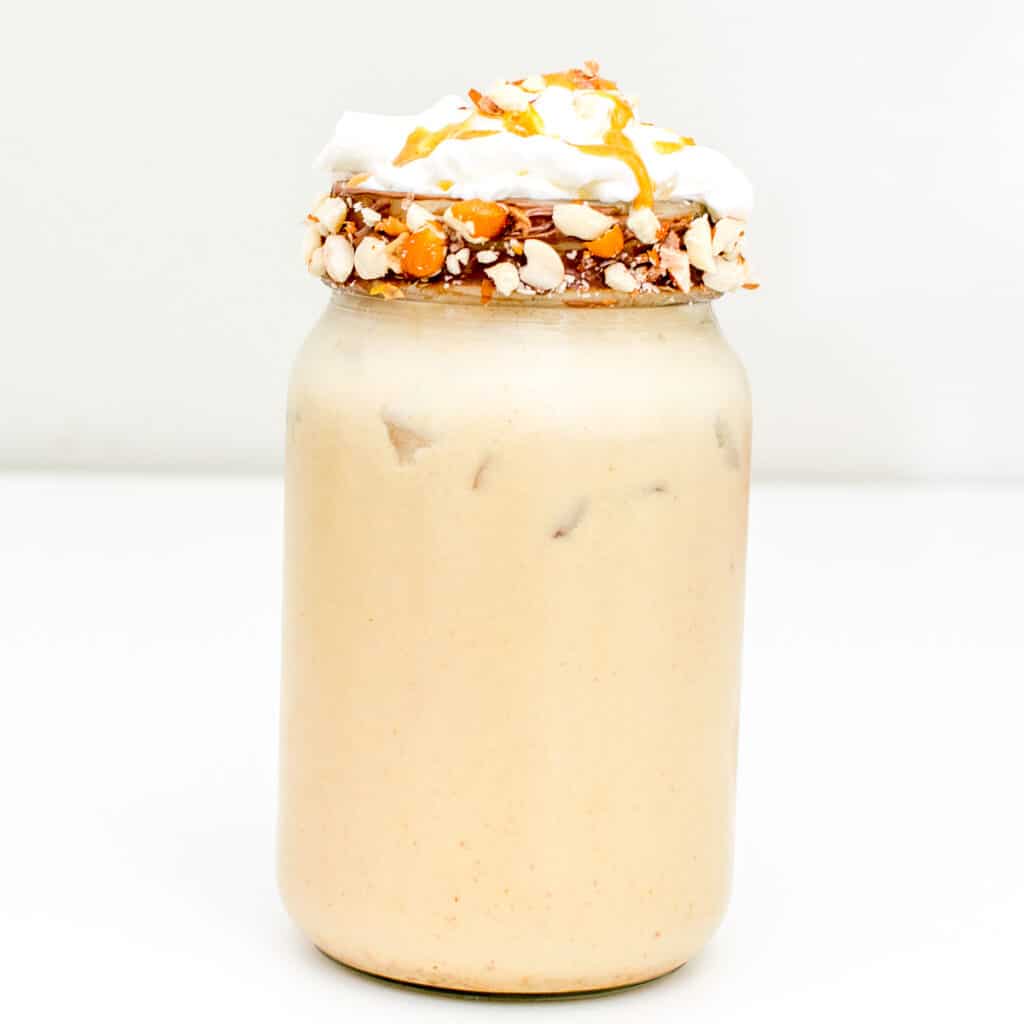 Expert tips:
It is better to decorate the glass rim first before blending the shake. This way you can enjoy a thicker milkshake.
It is important to add crushed ice after other ingredients are blended so as get the right texture.
Overall, it's a quick and easy recipe which can be made in a short notice and without too much plan.
Peanut Butter Milkshake FAQs
How long do they last?
This tastes best when served immediately.
Is it healthy?
I made it without ice cream so we save on some calories. Moreover, its sugar free since I sweetened it with dates. To make it healthier you may skip whipped cream as well and save some more calories. Overall, it's a healthier shake which you may enjoy frequently.
Can I add vegan ice cream to it?
Yes, you can certainly add ice cream to this shake. However, you may want to adjust the measurements by reducing vanilla extract to 1 tsp and skipping dates altogether to avoid over sweetening the shake or may add 2 dates to it depending on your taste.
Did you make it?
Please leave a 5-star rating if you get a chance to make this recipe and love it. I love to read your feedbacks so I would appreciate your comments as well.
In addition, you may follow me on Facebook or tag @kiipfit on Instagram with your recipe remakes.
You may also checkout my cookbooks for everyday comforting vegan recipes.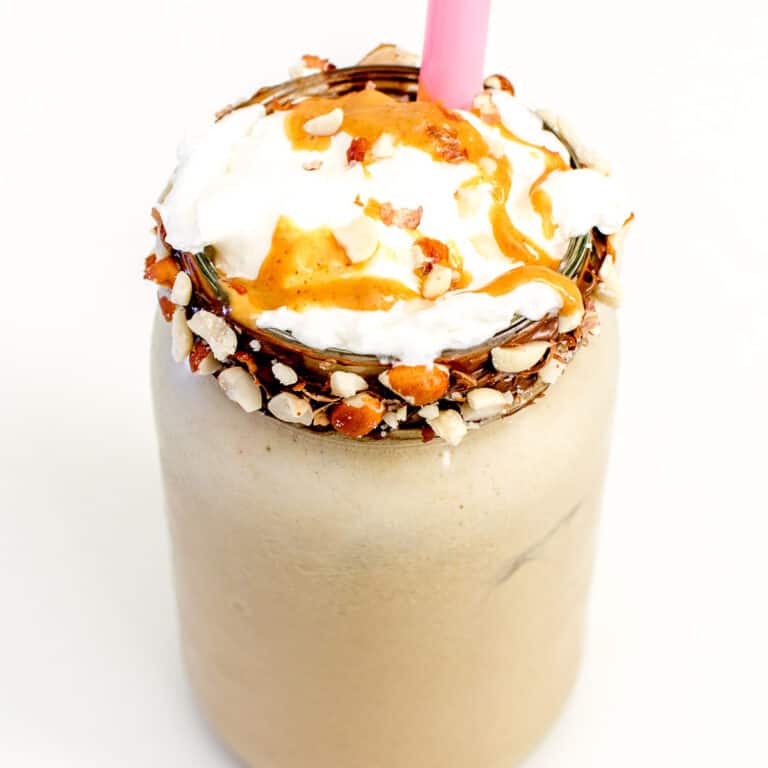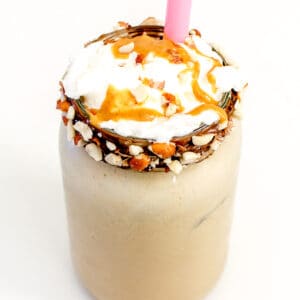 Print Recipe
Peanut Butter Milkshake
This nutty and irresistible Peanut Butter Milkshake is absolutely a delicious treat. Its beautiful to present and refreshing to serve. Along with being vegan its creamy without any ice cream and yet satisfying.
Instructions
In a blender combine oat milk, 2 tbsp peanut butter, dates and vanilla extract and blend it smooth. Once blended smooth, pause and add crushed ice to the blender. Blend the entire milkshake for 30seconds or until it thickens a bit.

Now, decorate the rim of the jar/glass with melted chocolate and stick crushed raw peanut to it.

Pour the milkshake in it carefully. Top it with whipped cream, drizzle some peanut butter and sprinkle some more crushed peanuts. Enjoy immediately.
Notes
For melting chocolate – take 1 tbsp of dairy free chocolate chips in a microwavable bowl and microwave it for 20 seconds. Stir with a spoon. If the chips have partially melted then whip it up vigorously or else microwave it more for another 10 seconds. Now with the help of the back of the spoon cover the glass rim with the chocolate instead of inverting it into the chocolate.
This recipe tastes best when served immediately. If kept for longer it starts liquidating and looses its texture.
This recipe makes 1 large milkshake and 2 small milkshakes.
Nutrition
Calories:
310
kcal
|
Carbohydrates:
41
g
|
Protein:
7
g
|
Fat:
15
g
|
Saturated Fat:
2
g
|
Sodium:
155
mg
|
Potassium:
199
mg
|
Fiber:
2
g
|
Sugar:
12
g
|
Vitamin A:
246
IU
|
Calcium:
185
mg
|
Iron:
1
mg